In this article, I will analyze the best wedding website builders so you will get an idea of what to choose for your wedding site.
Planning and organizing a wedding is challenging. You must find a venue, send out invitations, manage travel plans for faraway guests, and make seating arrangements. I could go on and on.
One way to reduce the stress of planning a wedding is to set up a website. Apart from being modern and chic, a wedding site lets you automatically collect RSVPs, put out updates for your guests, and even make a gift registry.
We tested dozens of website builders and compiled a list of the best website builders for wedding websites. Check below the table comparison:
The Top 11 Best Wedding Website Builders
Wix is the best wedding website builder, catering specifically to this niche with its templates and features. Known for its ease of use, Wix enables you to set up a beautiful and functional wedding site in just minutes, ensuring a seamless planning experience.
To get started with Wix, you must fill out a form so that Wix knows precisely what kinds of services you need. Select "blog" and choose "wedding."
Then, you will be shown an additional area to select which pages you want on your site and the features you need. This is where you choose if you need an events page for updating guests and tracking RSVPs.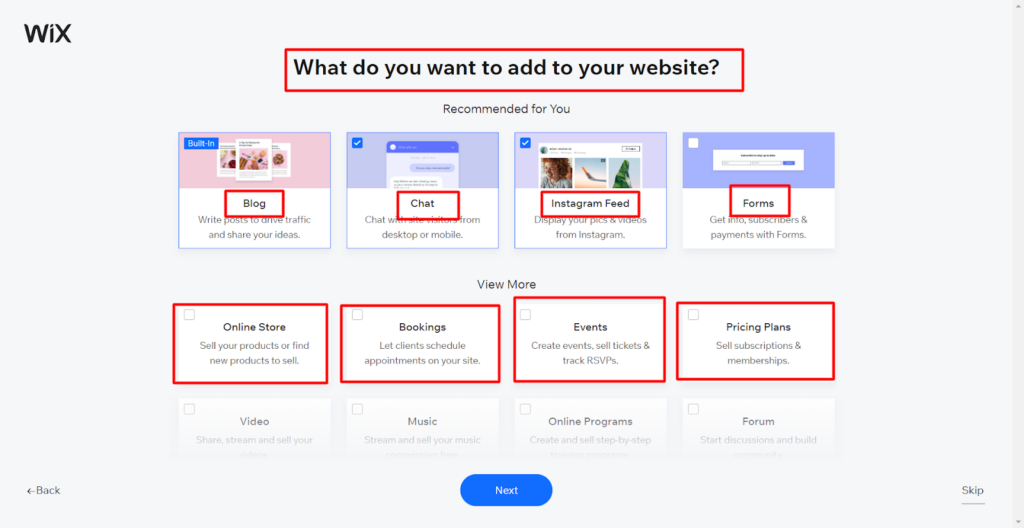 You will have two options: design your site from scratch or use a template. We recommend that you select a template. Wix has 800+ mobile-responsive templates, 20+ specifically for wedding blogs.
You can edit the website texts, add additional pages, and make any other customizations you want. Publishing your site only takes one click. Be careful, though, because you are stuck with whatever template you chose.
Wix stands out because it makes designing your wedding site easy while still giving you a lot of control in the process. You are free to maintain high-level customization like editing headings and section copy. But you can also add your code.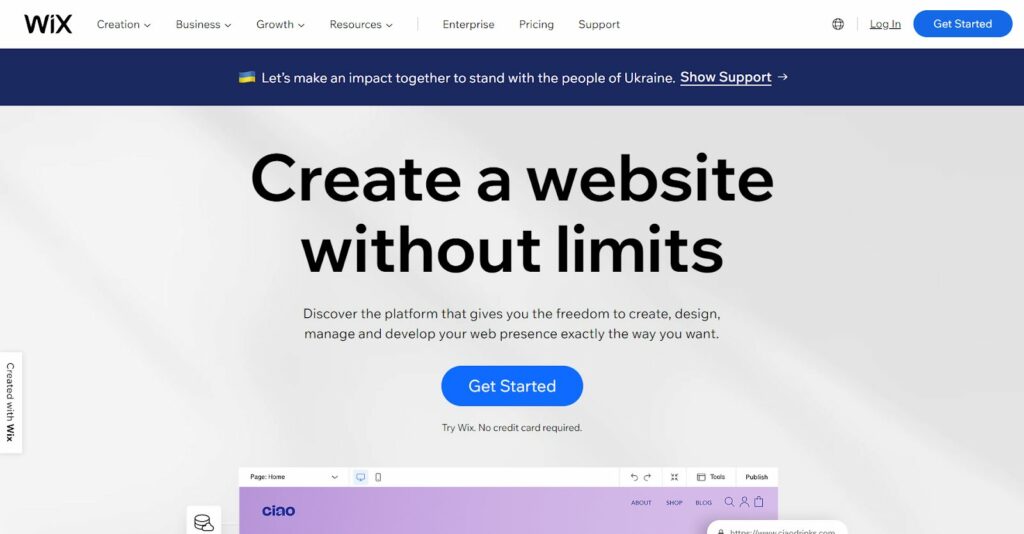 Wix allows you to design your site for free. You only pay for hosting and a domain when the site is ready to be launched.
If you are not sure and want to know more about reading: Wix Review – Features, Pricing Pros & Cons, Rating
Pricing
Wix pricing ranges from $4.50 to $35 per month. Wix's Combo plan, which costs $8.50, should offer you all the features you need for a wedding site.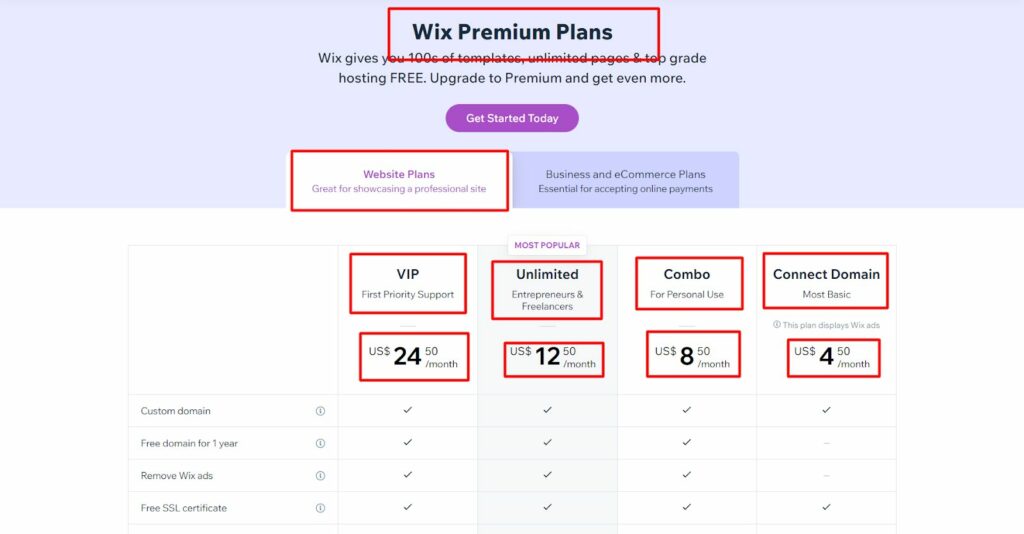 The Knot is the best all-in-one wedding site builder available. To begin with, the builder has 160+ mobile-responsive wedding site designs. It's easy to choose because the templates are usually arranged in the most popular floral, rustic, and other styles.
When you've picked a template and signed up, the next step is to customize the design to fit your vision.
However, The Knot stands out from other wedding site builders because of the planning tools and vendor connections it offers.
First up is the gift registry. The Knot has a gift registry where you connect all the gifts you wish to receive on your wedding day. You can connect with Etsy, Target, and Bed Bath and Beyond. You can start a new registry, connect with brands, and find gifts by type—for instance, kitchen appliances and tableware.
Second is the budget tracking tool. This tool lets you thoroughly plan your wedding and get a total breakdown of the costs. The Knot gives you budgeting tips on how to save hidden costs.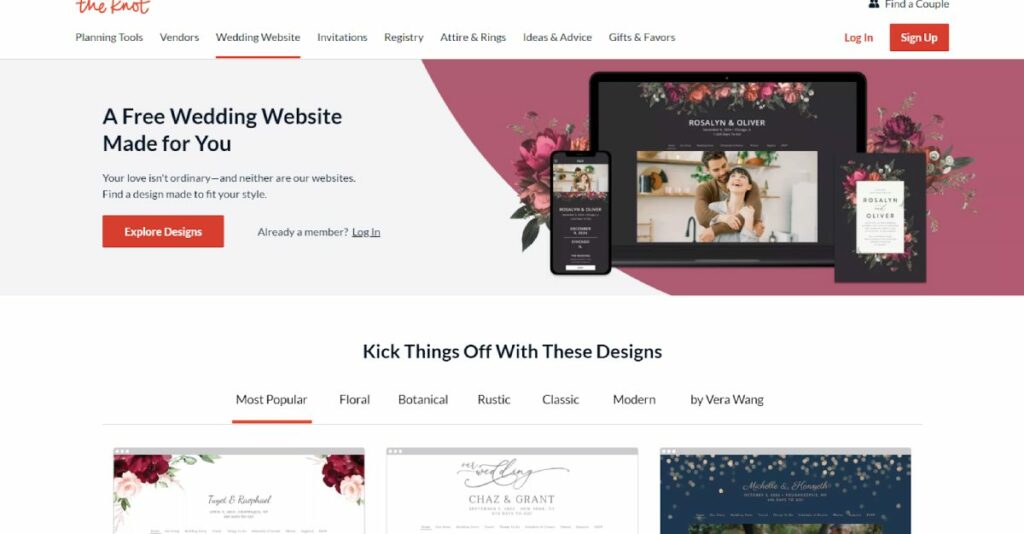 The third is the mobile app. The Knot has a mobile app on both Android and iOS. The mobile software allows you to plan your wedding directly from your phone. You can access most features like site building, wedding planning, and gift registry.
Fourth is the vendor network. The Knot has a network of vendors you can contact directly for their services. Inside The Knot app, you can message photographers, videographers, wedding cake bakers, and venue managers. You can even pick up a bridal gown from 50+ brands.
Other The Knot features include paperless invitations, guest management, email, and SMS group texts.
Pricing
The Knot is entirely free. To have a custom domain, you have to purchase it for $20. The Knot makes money when you do other things like hire vendors through its network or buy an invitation card design.
Wedsites is both a website builder and a project manager. The builder was made for couples looking to plan their wedding seamlessly and document the wedding story on a stunning site.
Once you land on the homepage, you can begin by selecting a template from the 30+ available. One thing that makes Wedsites stand out is that the templates are changeable anytime, even after your site is live.
Customizing a template is simple: dragging and dropping page elements and sections, adjusting blocks, and rewriting texts. You can upload custom fonts and monograms to make a design fit your vision ideally.
Because this site builder is designed for weddings, all features are tailored to that. Wedsites make it easy to track RSVPs, plan seating arrangements, and even add a countdown banner.
Wedsites also offer you other features for planning your wedding stress-free. For one, the builder has powerful project management tools that help you keep track of the guests, RSVPs, and meal preferences. You can add customized questions to the RSVP form.
Another feature is the budget breakdown and payment reminders. Wedsites has a tool that analyzes how much to put aside for your wedding so that you're not caught by surprise.
The only letdown is that the templates are not as many as Wix's, and customization is limited.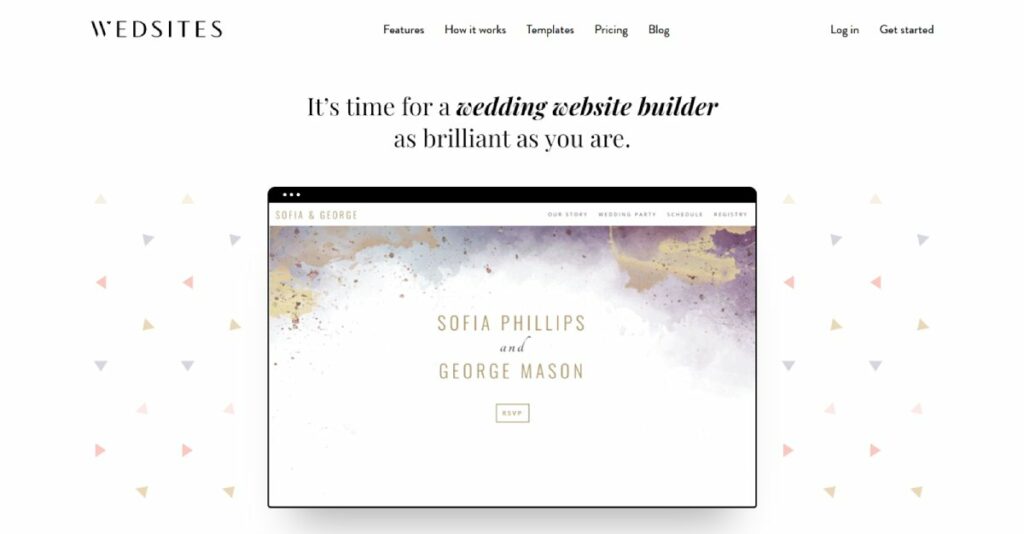 Pricing
You can build and publish a site for free on Wedsites' subdomain. The free tier, Lite, allows you templates, site analytics, gift registry, and cash fund features.
The next tier is the standard which costs a one-time fee of $99. It allows extra features like custom RSVPs, guest management, paperless invitations, and two users for the account.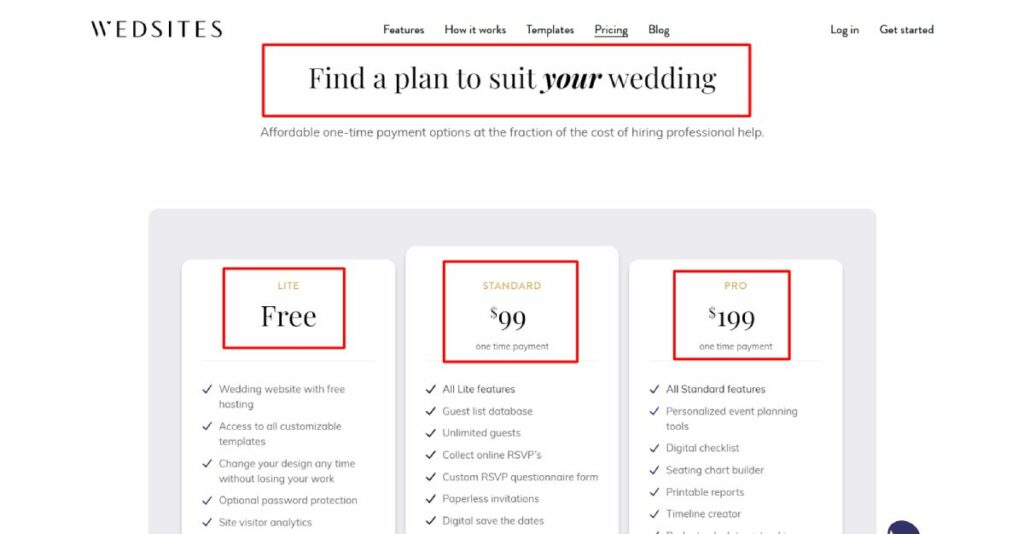 The next tier, called Pro, costs $199 one-time. You get all Standard features plus a personalized digital checklist, support for up to 5 users, and budget tracking.
Squarespace is famous today for one particular reason – stunning designs.
If you want a wedding site that will look amazing, and if you want to develop that site by yourself with no help, Squarespace is a good choice. With 110+ templates available, you have many design options for your site.
One letdown is that Squarespace does not have wedding-specific templates. But it makes up for the shortcoming with the highly easy-to-use site builder. It is almost effortless to customize any design in Squarespace.
What Squarespace lacks in wedding-specific features, it more than makes up for because of integrations. Squarespace integrates with several apps, including Stripe, Jotform, and PayPal.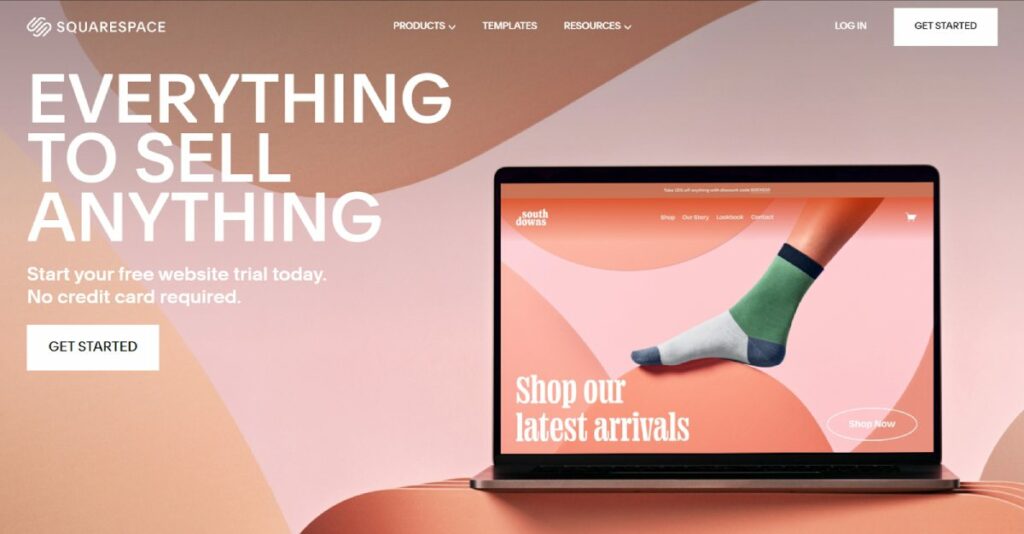 Squarespace is straightforward to use. You click a few buttons and drag and drop elements into pages. Some people complain that the customization features are too narrow. Their platform is one of the best no code website builders on the market.
There is no preview button. All the changes you make are immediately available on the internet.
Pricing
Squarespace pricing ranges from $16 to $49 per month. All the plans allow for custom domain registration and free SSL certification.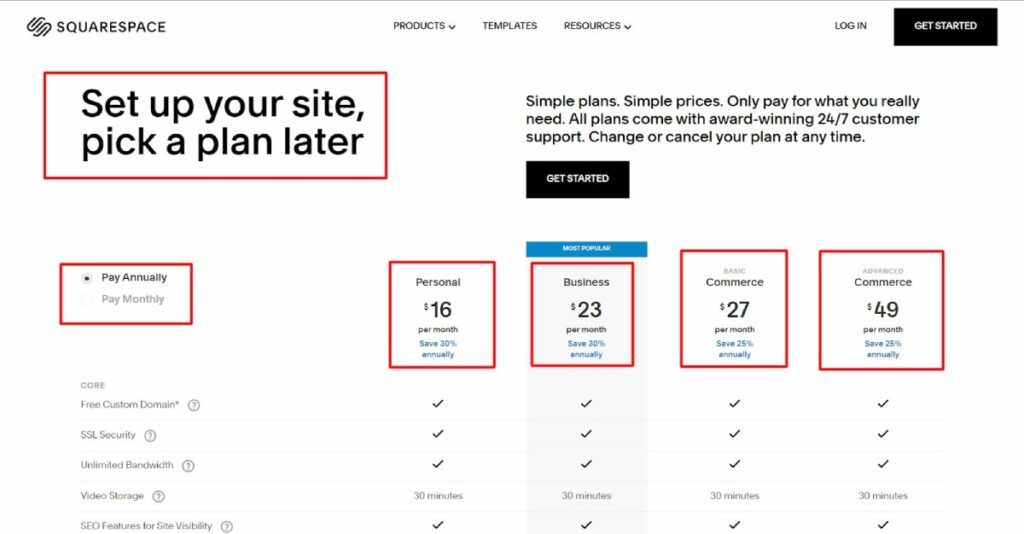 This is another wedding website builder that offers all-in-one wedding site-building and guest management. The difference is that Appy Couple also has a mobile app that allows you to work from your mobile phone. It has extra features like photo and video social sharing.
Just like the other wedding site builders, Appy Couple has beautifully-designed templates. The builder supports drag-and-drop, which allows you to customize your site very quickly. Plus, templates are changeable even after your site is live.
You can do several cool things with Appy Couple. You can run polls, map guests to hotels, add Uber discounts, and make travel arrangements.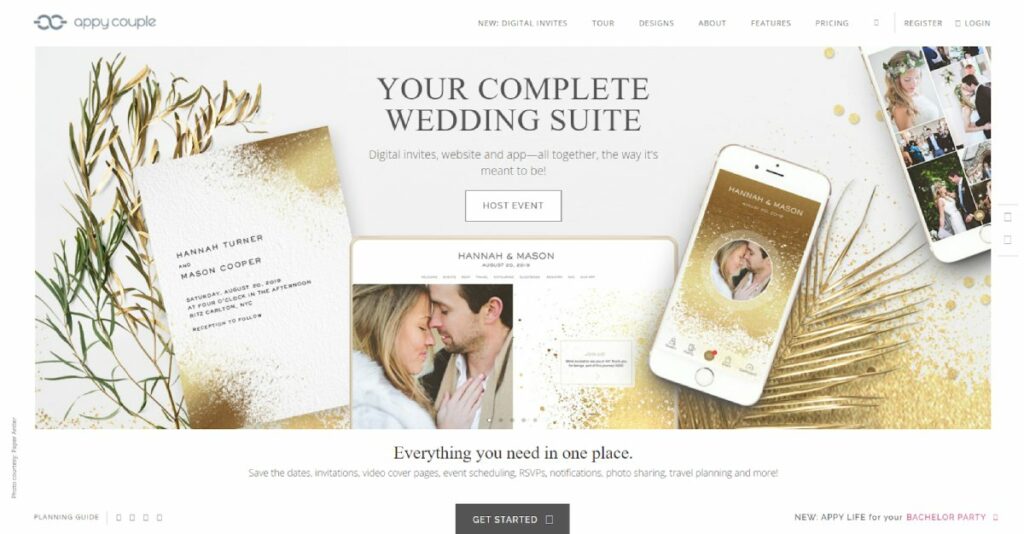 Suppose you're planning on hosting multiple events. In that case, Appy Couple allows you to customize numerous guest lists based on who will be there. You can customize your emails to go out to only the guests invited to an event.
Other Appy Couple features include a date countdown banner on the top of your site, virtual toasts, and a gift registry.
Pricing
Appy Couple's pricing is straightforward. It costs $49 per year or $12 a month. You get access to all features, no matter your plan.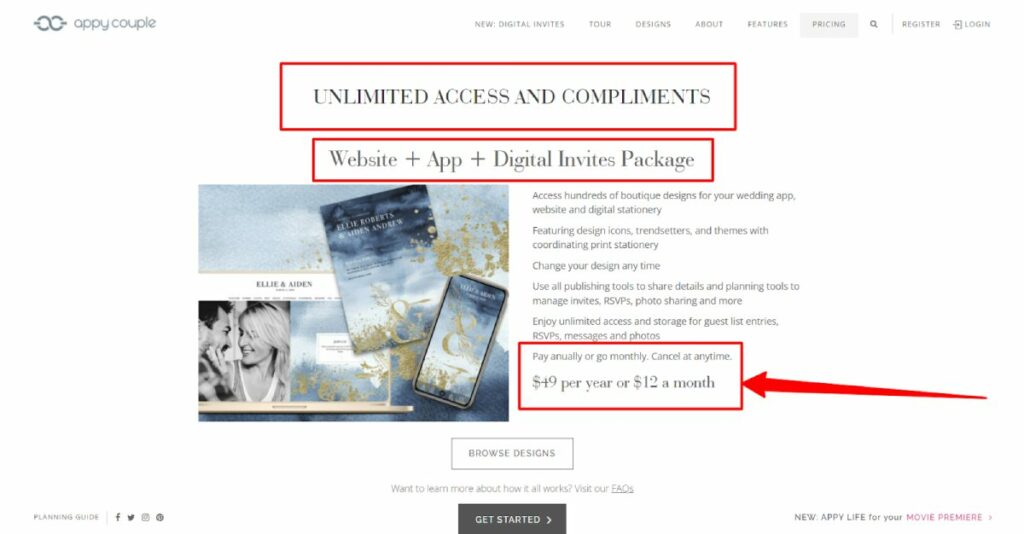 WordPress is vast. We're talking tens of thousands of themes, website templates, and plugins. It has become the generic go-to site builder and content management system for anyone who wants to launch a site.
Building a wedding site with WordPress is straightforward and completely codeless. You just create a WordPress account, choose a domain, and select a theme.
Once a theme is installed, you're set to begin customization and setting up pages. You can add all the pages that you need to your wedding site. For instance, a page for your love story, a page for updates, and another page for a gift registry.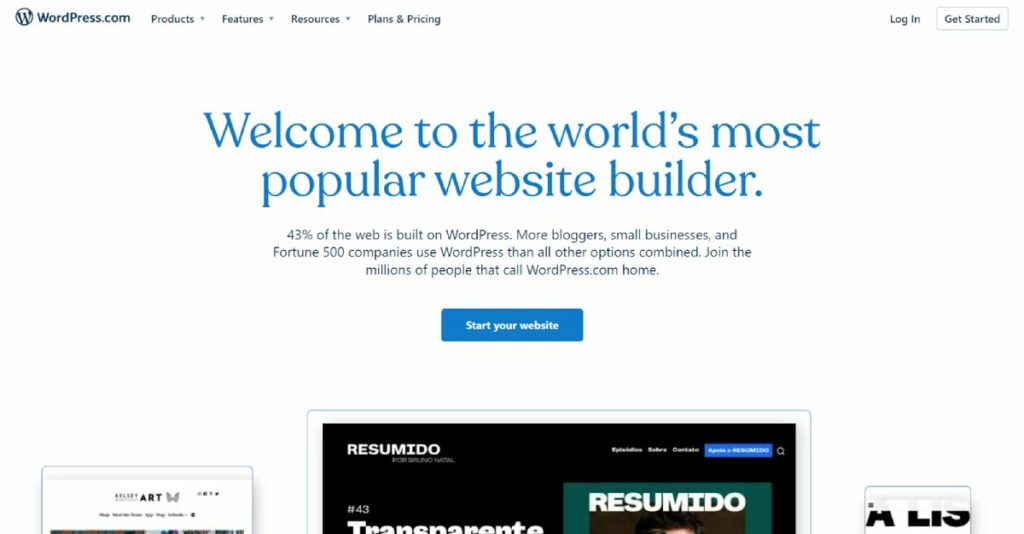 Unless you select a wedding theme that has layouts for wedding pages already in it, you may have to build them out yourself and find the plugins to use, all by yourself. The bright side is that there are tons of WordPress tutorials online. Plus, there's a WordPress plugin for just about anything you want to do with your site.
Pricing
WordPress pricing starts from $0 to $45 per month. All the tiers give you access to the free site builder as long as you've bought WordPress Hosting.
The personal or premium tier will do for a simple and custom domain wedding site. They cost $4 per month and $8 per month, respectively, when paid annually.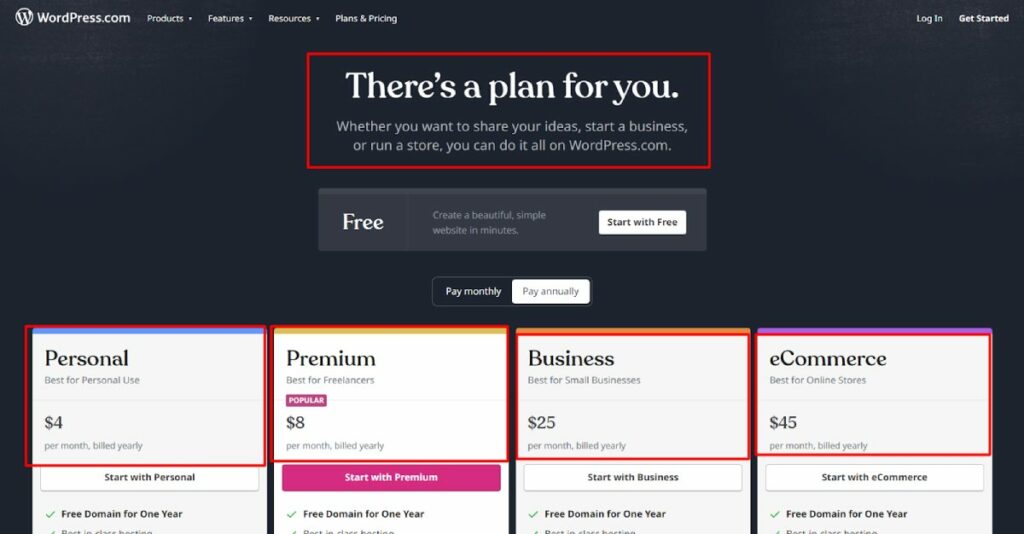 Zyro is the website builder to choose when budgeting is a top concern. The site builder costs $2.99 per month for a personal website. And for that price, it offers lots of features.
To begin with, Zyro has 130+ mobile-responsive and customizable templates. Every template is beautifully designed to put you and your spouse's love story front and center. Zyro's simplistic and stunning designs make them responsive on any device. You can edit them while in desktop or mobile mode.
The editor itself is easy to use. You just have to click on a page element to change its size, color, or text. You can also add or remove entire sections and pages. With Zyro, your site can be ready in less than an hour. You can build for free until you're ready to connect a domain and publish.
Zyro's biggest con is that it has no template for wedding sites yet. However, with some tweaking, you can tweak any template to match your vision.
Do you want a gift registry? You may use Zyro's online store functionality. To manage guests, use the store dashboard. And to send customized emails, use Zyro's CRM.
Pricing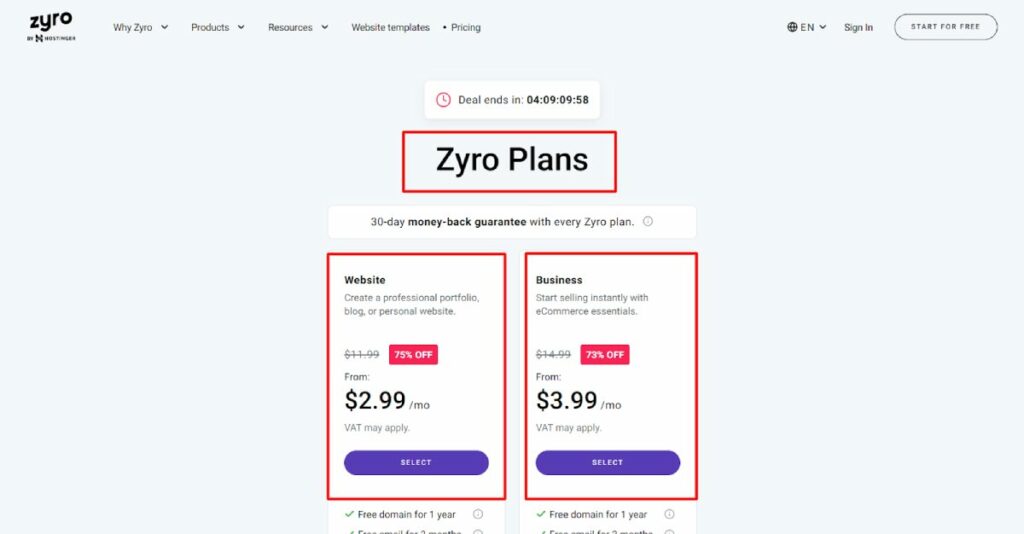 Zyro's pricing is divided into two: Personal Sites and Online Stores. A personal wedding site on Zyro will cost you $2.99 per month. If you need to use the online store functionalities, you'll have to pay $3.99 per month.
Joy is another all-in-one planner and wedding site builder like The Knot. While it doesn't have the vendor network that makes The Knot stand out, it offers handmade and stunning site designs that are 100% customizable. The templates are 100+, all mobile-responsive, with multiple themes.
Apart from the templates, Joy has an in-built gift registry like The Knot. The registry connects to online stores and different brands. The site builder also supports cash funds and charity donations. However, the Joy site builder is better than The Knot because it charges 0% transaction fees.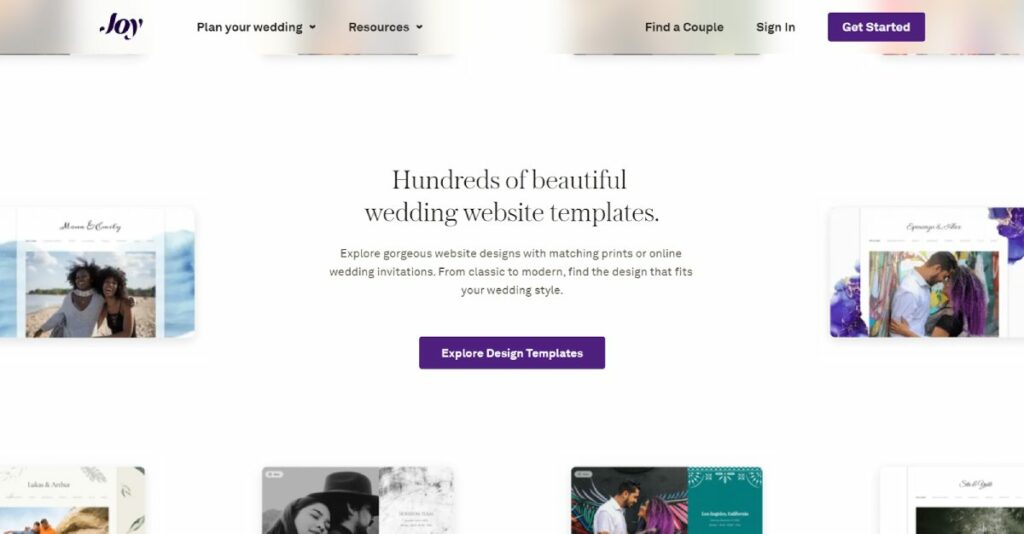 Joy allows you to track custom RSVPs, your guests, and travel arrangements. If there are multiple events, you can customize which guests are invited to which and keep some events private. From inside Joy, you can make seating arrangements and track your budget. The builder has a mobile app that makes it even easier to plan your big day.
You can send automated and customized email updates to guests, Save the Dates, and custom RSVP questions.
Pricing
Joy is free of charge, including wedding site building, guest management, travel planning, and RSVPs. Joy makes a commission when a product is sold through the gift registry.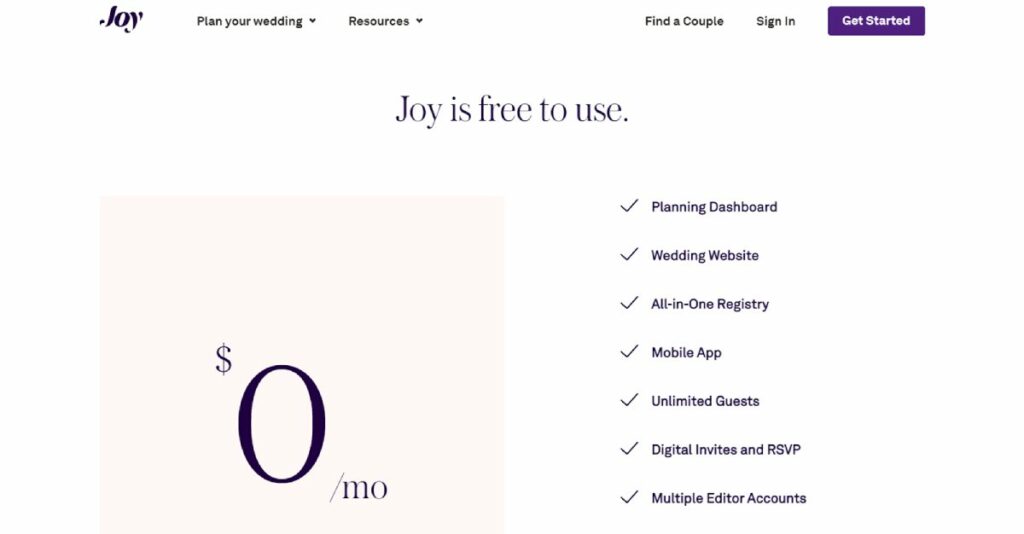 This site builder offers the standard features of wedding sites – design templates, paperless invitations, printed cards, gift registries, and custom RSVPs. The templates are designed by independent artists who get paid fairly for their work. The templates have a demo feature and can be changed after the site is launched.
Minted allows you to contact vendors like photographers and wedding concierges directly. The wedding concierge helps you plan your wedding according to your budget.
However, Minted is unique because of its in-depth online store. Designing a site and publishing it is accessible on Minted, but the site makes money when you purchase from their store. They sell printable wedding cards and invitations. When you buy in bulk, the company ships you free samples.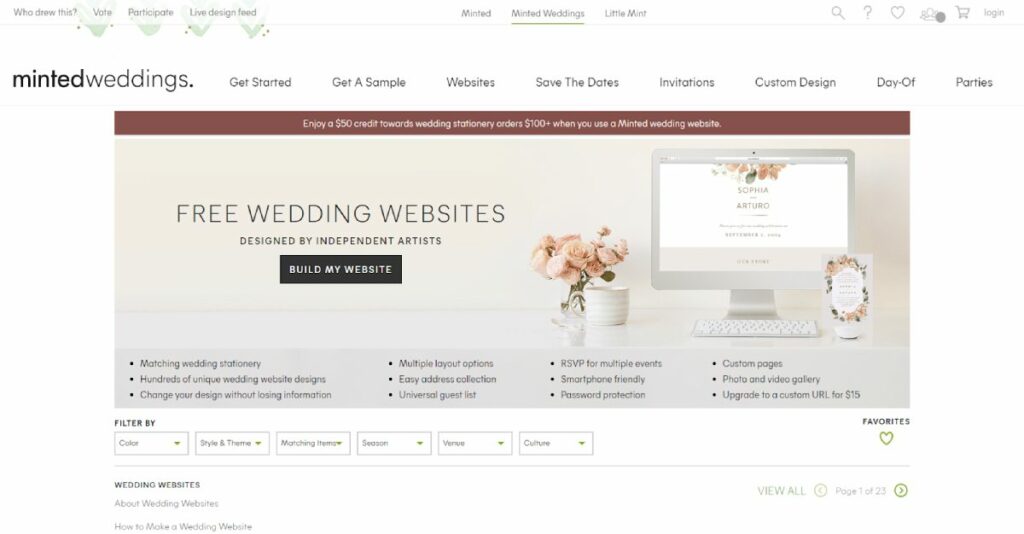 The site builder also sells gifts for newlyweds, which is fantastic for guests who may be confused about what to get you. You can even order thank-you cards and personalized wedding souvenirs through Minted.
Other features include venue address collection, a universal guest list, and the ability to password-protect your wedding site.
Pricing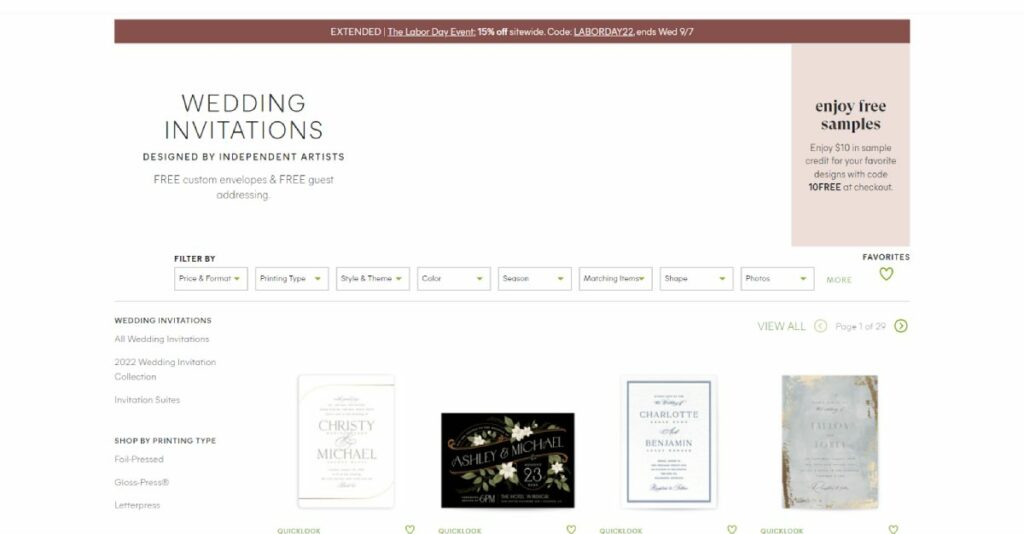 Minted is entirely free of charge. Upgrading to a premium tier allows you a custom URL and password protection. You must pay a one-time fee of $15.
Zola is a wedding-specific site builder. It offers 400+ wedding site designs to select from. All the designs come with multiple color themes that you can customize to fit your vision. Once you've picked a plan, you need to do a little tweaking in the site editor and then publish your site.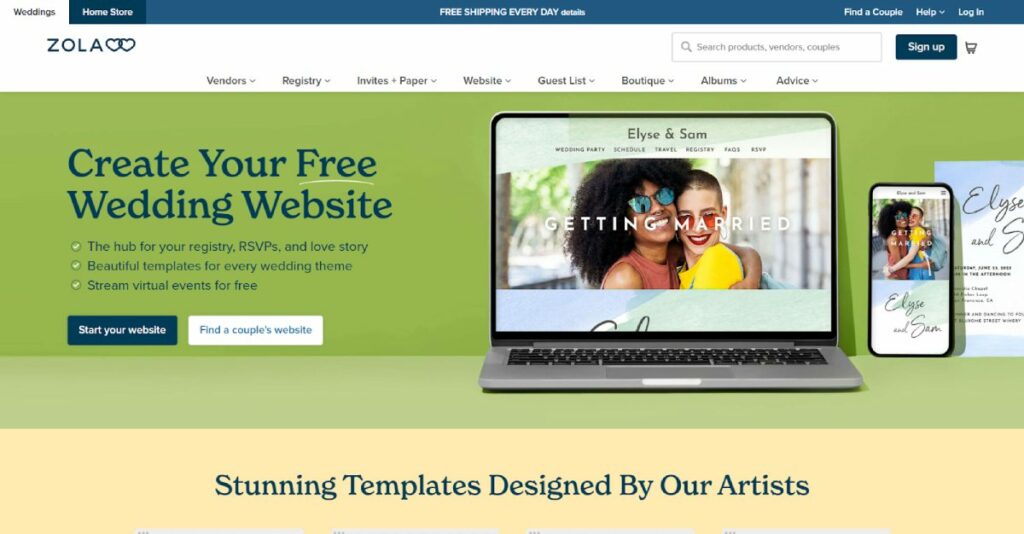 The site builder has a gift registry connecting over a thousand brands and stores. The best part is that all your gifts are exchangeable and efficiently shipped to you.
Zola offers features like automatic customized RSVPs, paperless and printed invitation cards, guest list management, a wedding checklist, and a vendor network. The vendor network is extensive, allowing you to select from your locale. Some professionals available are photographers, videographers, florists, caterers, and even DJs.
The RSVPs are entirely customizable. You can add questions and polls to them. When a guest accepts an RSVP, they are automatically added to your guest list. You can send group emails and SMS to your guest list.
Pricing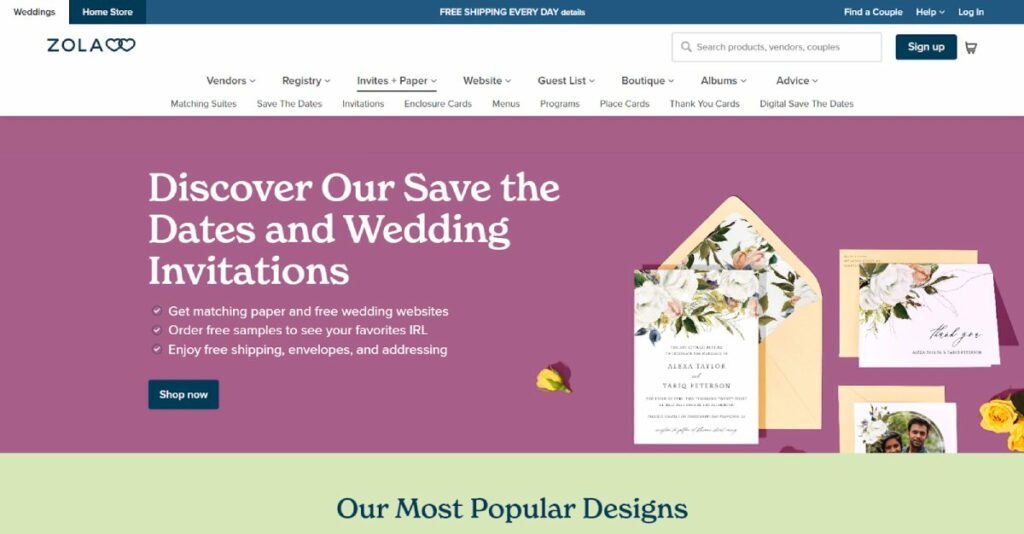 Zola site builder is free unless you want a custom domain. The site builder makes money when you purchase items through their store or run cash funds.
Wedding Wire is majorly a wedding planning tool. It connects you with 250,000+ wedding vendors ready to offer professional services for your wedding. They include photography, planning, catering, and music.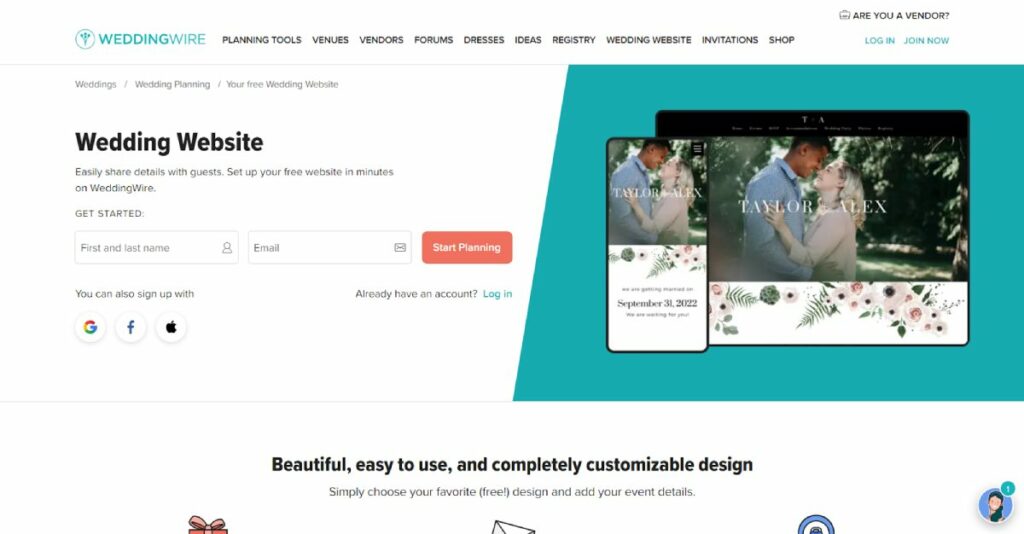 Creating a site on Wedding Wire is completely free of charge. You pick a design from over a hundred options available, customize the pages, and launch.
Other Wedding Wire features include custom RSVPs, guest list management, Save the Dates, Change the Dates, invitations, and gift registries.
Pricing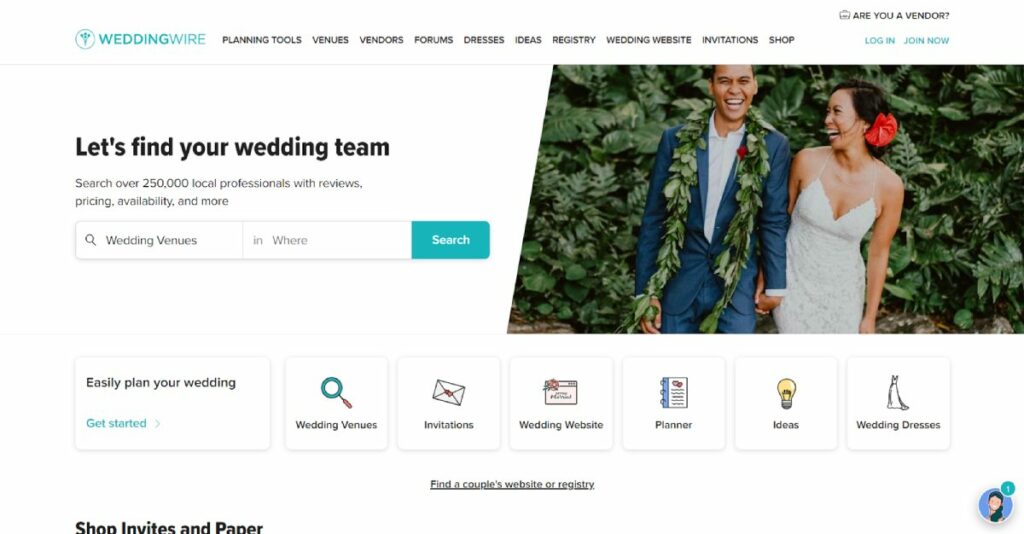 Like other tools, website building is free. Wedding Wire makes money when you buy items through their store.
How to Design a Beautiful Wedding Website
Designing a wedding website is practical, which is why many couples do it. But when they start the process, they usually get bugged down by the details and design visions. To make the process easier for you so that you can create a stunning wedding website in no time, here are the steps to follow, in order:
Pick a name for the website
This step can be completed in a few minutes. Most times, the name of a wedding spouse is a combination of first names. For instance, janeandpeter.com. It can also be something like peterwedsjane.com. You have to decide the name now, so it doesn't waste your time down the line. Get a pen and paper, and write down five choices. Pick the best one.
If you are looking for cheap domain names: 13 Best Cheap Domain Registrars (with Free Email)
Select a wedding website builder
To select a wedding site builder, consider your budget and skills in designing a site. If you know little about web development, you should probably choose an easy-to-use builder like Wix or Appy Couple. They have wedding site templates, which means you only have to edit text, colors, and images. The Knot will probably be the best for you if you want easy connections with many wedding vendors.
Choose a template and select a color theme.
Sign up for the site builder you've chosen to get started. Choose a template and a color theme. Don't waste too much time here. Most wedding site builders allow you to change templates even after the site is live.
Upload high-quality pictures
Next up, replace the stock images with pictures of you and your spouse. For this process, use high-quality images.
Start with the custom RSVPs
The first feature you should implement is the RSVP. How will your friends reserve their seats at your wedding? Most site builders let you customize RSVPs by including personalized questions.
Add in other pages
Create additional pages to have further details. Nice touches include your love story, a gift registry, and a countdown page. Be as creative as you want.
Launch your site
When your wedding website is ready, click the launch or publish button to put it on the internet. Most website builders allow you to post a site for free on their subdomain—for instance, janewedspeter.wix.com or janewedspeter.minted.com. For a custom domain like janewedspeter.com, you must register it for about $10.
Wedding Website Builders FAQs
Conclusion
Wedding website builders are fun to use if you pick the right one and follow the proper steps to get it done. When choosing a wedding site builder, consider the features you want, your budget, and your web design skills.