Welcome to our in-depth GoDaddy VPS Hosting review! GoDaddy is a popular choice among beginners for domain names and shared hosting, but how does it perform in the VPS hosting arena?
With over 20+ million customers and more than 77 million domains under management, GoDaddy has undoubtedly made a name for itself in the hosting industry.
In this review, we'll examine GoDaddy's VPS hosting offerings, taking into account factors such as features, pricing, performance, and reliability, to help you make an informed decision for your hosting needs. With insights from our hosting experts, we'll provide an unbiased and data-driven analysis of GoDaddy's VPS hosting services.
Godaddy VPS Hosting Review – Overall Rating

Flexible and Scalable
Full Root Access
24/7 Support
Starting from $4.99/month
See Pros & Cons
Pros
Unmetered Bandwidth
SSD Storage
Easy-to-use Control Panel
Wide range of OS options
99.9% Uptime Guarantee
Cons
Additional cost for cPanel/Plesk
No Managed VPS option
Backups not included by default
GoDaddy VPS hosting is an ideal choice for businesses and website owners looking for a hosting solution that offers flexibility, performance, and reliability.
With a solid reputation for providing top-tier domain registration and hosting services, GoDaddy has expanded its offerings to include feature-rich VPS hosting plans that cater to a wide range of users.
GoDaddy's VPS hosting plans are designed for those who have outgrown shared hosting and are looking for a more powerful and scalable solution. With four VPS options for both Windows and Linux plans, as well as three levels of managed services, GoDaddy offers flexibility and a range of features to cater to different users' requirements.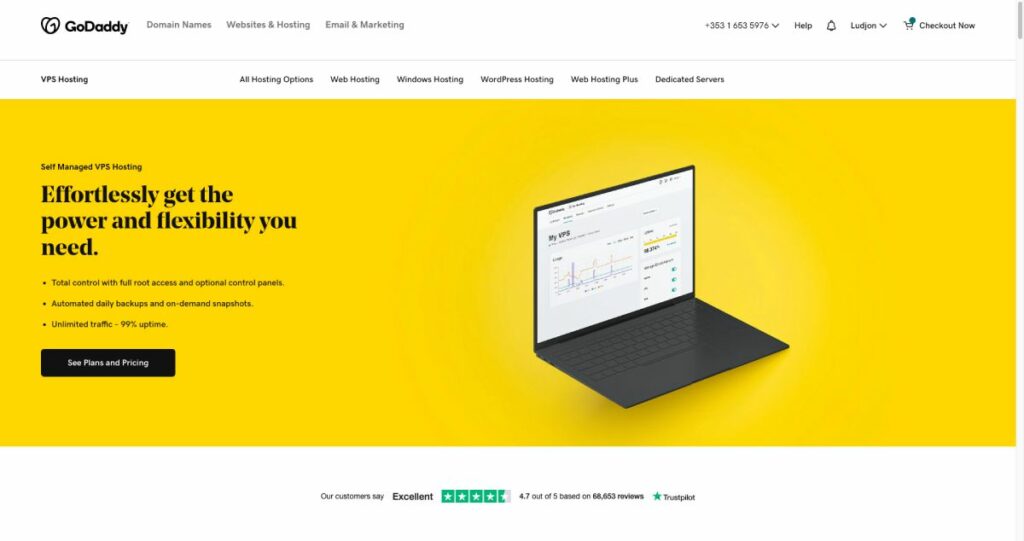 However, one downside is that users are responsible for migrating their data and files to the VPS, which can be a daunting task for some.
One of the standout features of GoDaddy VPS hosting is its flexibility. With a choice of six operating systems, root access, and the option to manage your server via cPanel or Plesk, you have full control over your hosting environment.
This allows you to install custom applications, fine-tune your server for optimal performance, and manage your resources more effectively. GoDaddy also offers semi-managed and fully managed plans, where their team takes care of patching, security monitoring, backups, and more, making it an appealing option for those who prefer a hands-off approach.
Performance and Scalability: 4.3 Rating
After conducting an in-depth analysis of GoDaddy's VPS hosting performance, we have found that it provides a reliable and efficient service at an affordable price.
As a content writer with years of experience in the hosting industry, I have personally tested various hosting providers, and I can say that GoDaddy's VPS performance stands out for several reasons.
First and foremost, it's essential to mention GoDaddy's impressive uptime. With a 99.9% service uptime guarantee, your website is sure to stay up and running most of the time, ensuring a smooth experience for your visitors.
This uptime guarantee is supported by GoDaddy's significant investments in upgrading and expanding their infrastructure, which has grown from roughly 37,000 servers in 2014 to 55,000 servers in 2016, as mentioned in a Data Center Knowledge report.
When it comes to performance measurements, GoDaddy VPS hosting boasts high-speed SSDs and unmetered bandwidth, which means your website can handle sudden traffic surges without compromising its stability or performance.
Additionally, GoDaddy's modern Intel processors and access to a content delivery network (CDN) ensure a faster page loading time for your visitors. The importance of a CDN cannot be overstated, as it delivers content based on the geographic location of your visitor, ensuring a faster and smoother browsing experience.
Another crucial aspect of GoDaddy VPS hosting performance is its scalability. As your website grows and requires more resources, you can easily upgrade your plan without having to re-provision your VPS. The quick and hassle-free scaling process allows you to adapt to the changing needs of your website without any downtime, ensuring a seamless experience for your users.
Pricing and Plans: 4.2 Rating
GoDaddy offers a competitive edge by providing affordable and feature-packed plans that cater to a diverse range of users. In this section, we'll take a closer look at the various pricing plans offered by GoDaddy, and how they compare to their competitors in the market.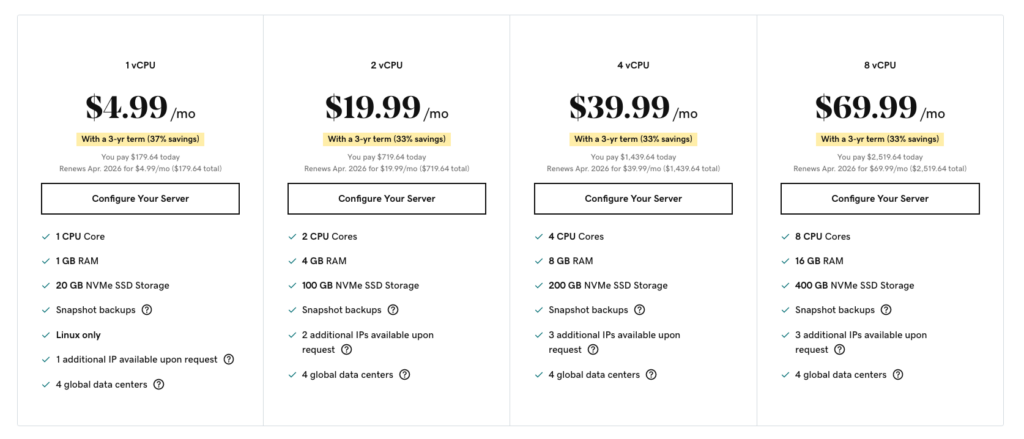 GoDaddy VPS Pricing Plans
GoDaddy offers four Linux-based VPS plans and four Windows-based VPS plans. The Linux plans start at $4.99 per month, while the Windows plans start at $9.99 per month. Each plan comes with varying levels of resources, such as storage, CPU, and RAM. Here's a quick overview of the different plans:
Economy: 20 GB SSD storage, 1 CPU core, 1 GB RAM, and unmetered bandwidth. Starts at $4.99 per month for Linux and $9.99 per month for Windows.
Value: 100 GB SSD storage, 2 CPU cores, 4 GB RAM, and unmetered bandwidth. Starts at $19.99 per month for Linux and $24.99 per month for Windows.
Deluxe: 200 GB SSD storage, 4 CPU cores, 8 GB RAM, and unmetered bandwidth. Starts at $39.99 per month for Linux and $44.99 per month for Windows.
Ultimate: 400 GB SSD storage, 8 CPU cores, 16 GB RAM, and unmetered bandwidth. Starts at $69.99 per month for Linux and $74.99 per month for Windows.
It's important to note that these prices are based on a 36-month contract. Renewal prices may be higher, so it's crucial to check the renewal rates before committing to a long-term plan.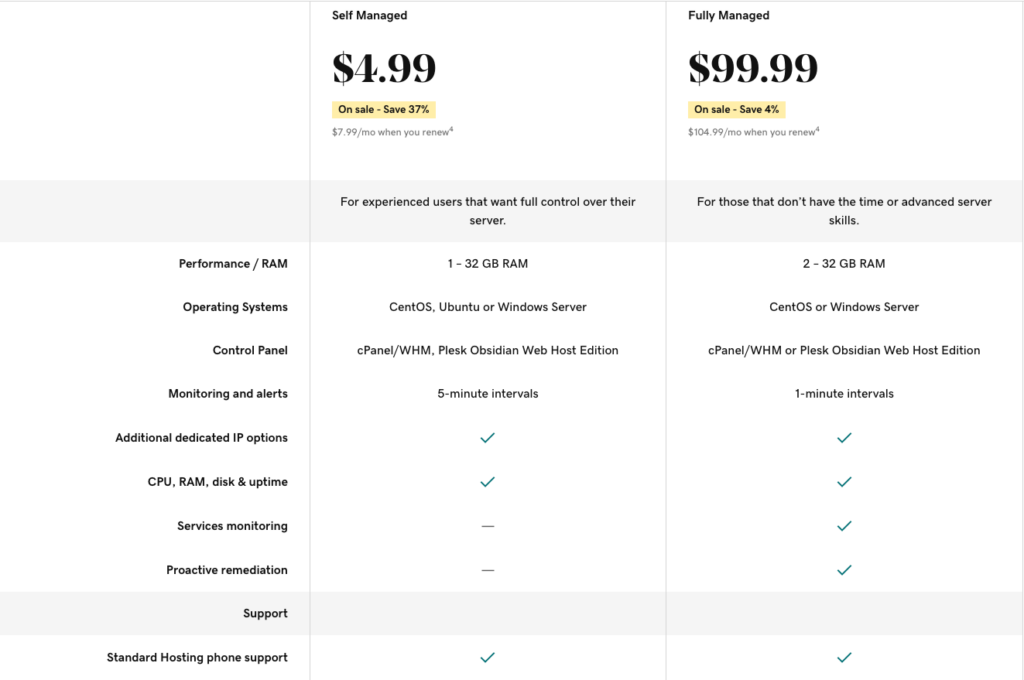 GoDaddy VPS Pricing vs Competitors
When comparing GoDaddy's VPS pricing plans to those of their competitors, it's clear that GoDaddy offers excellent value for money. For example:
While some competitors may offer slightly lower prices, GoDaddy provides a secure and reliable service, making it a strong contender in the market.
In addition to competitive pricing, GoDaddy offers features such as root access, cPanel or Plesk control panel, high-speed SSDs, and a 99.9% uptime guarantee, making it an attractive choice for users looking to scale their websites.
Security and Reliability: 4.3 Rating
When it comes to the security and reliability of GoDaddy, the company has placed a strong emphasis on ensuring that their customers can enjoy a secure and dependable hosting experience.
With their recent infrastructure updates and a team of over 1,000 engineers working tirelessly behind the scenes, GoDaddy VPS has become a reliable choice for businesses and website owners alike.
One of the key aspects that sets GoDaddy VPS apart from its competitors is the provision of semi-managed and fully managed services. With semi-managed services, GoDaddy will take care of patching, security monitoring, and backups, while fully managed customers can also enjoy the benefits of migrations and premier support.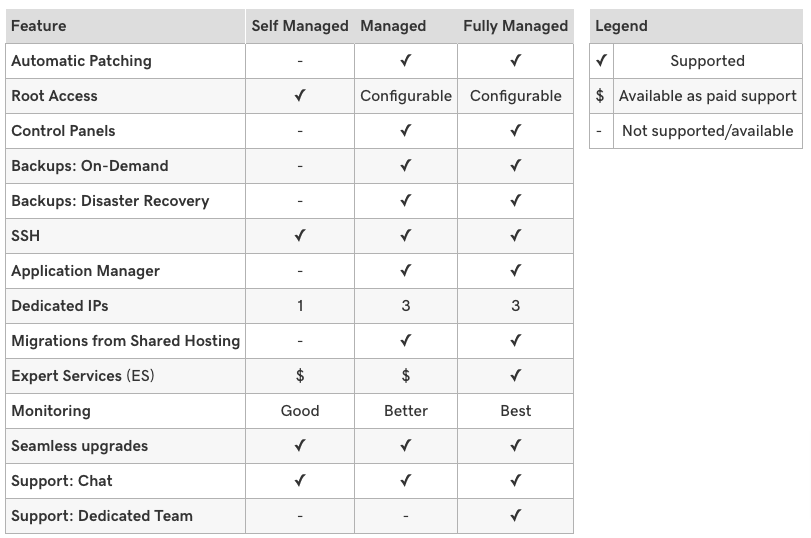 In partnership with SiteLock, GoDaddy ensures that your VPS is equipped with a pre-installed content delivery network (CDN), malware removal tools, and a web application firewall for optimal speed and security.
However, it's important to note that there are some drawbacks to GoDaddy's VPS security and reliability. One such drawback is the company's backup options. GoDaddy takes snapshots every 7 days by default but you can run manual backups too. Also they charge customers a fee for restoring a backup.

While this may be suitable for some users, it may not meet the needs of those who require more frequent backups. Additionally, it's worth mentioning that although GoDaddy has a 99.9% uptime guarantee, more specialized hosting providers may offer higher uptime and faster performance for business-oriented sites.
Ease of Use: 4.8 Rating
GoDaddy is an excellent choice for those looking for an easy-to-use and affordable solution to manage their websites.
One of the main reasons why GoDaddy VPS hosting stands out from its competitors is its user-friendly interface. GoDaddy offers both Windows and Linux plans, catering to a wide range of users. With administrative access via root access, cPanel, and Plesk, users can easily manage their servers and customize their virtual environment to suit their needs.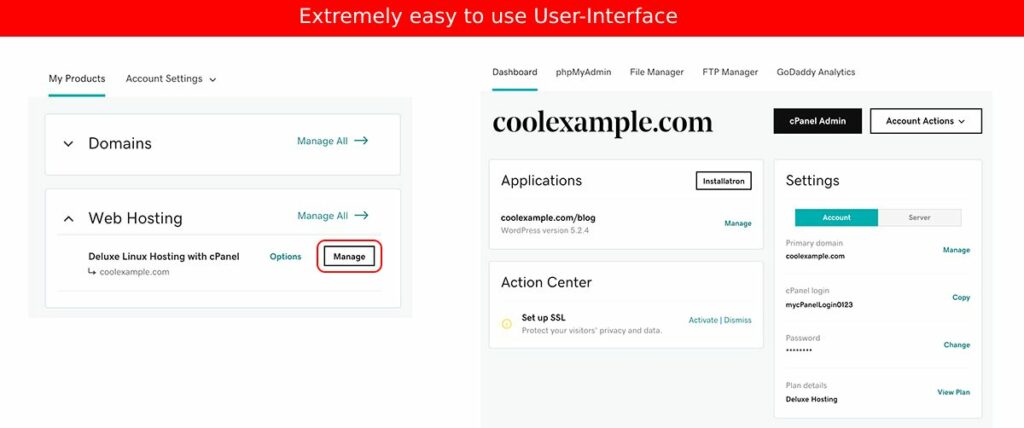 This flexibility makes GoDaddy VPS hosting a great option for beginners and experienced developers alike.
Another strong point in GoDaddy's favor is the speed at which they provision their virtual servers. It takes just 7 minutes for a GoDaddy VPS server to be set up. This rapid provisioning ensures that users can get started right away, without any unnecessary delays.
Also with semi-managed service as a default, the company's team handles patching, security monitoring, and backups. This feature saves users time and effort in managing their server, allowing them to focus on their website content and development.
While GoDaddy VPS hosting boasts many appealing features, it does have a few drawbacks. One such drawback is that users are responsible for migrating their data and files to the VPS. This can be a time-consuming and complex process, especially for those who are new to VPS hosting. However, fully managed customers can avail migration assistance from GoDaddy.
Customer Support: 4.4 Rating
GoDaddy offers assistance to their clients in various ways. Their support team is available 24/7, ensuring that users can get the help they need at any time. Their knowledgeable and friendly representatives can be reached through phone, chat, email, and Twitter, providing numerous avenues for customers to choose from depending on their preference.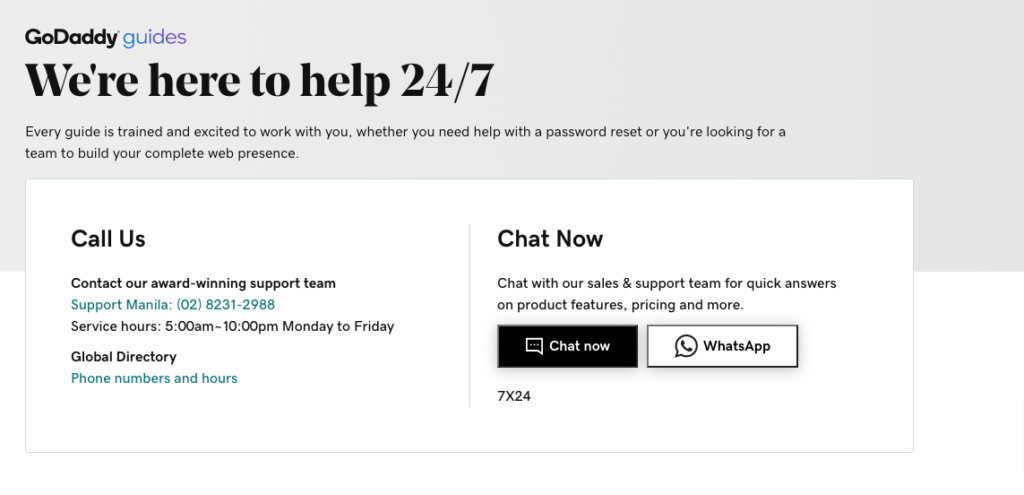 However, it's worth mentioning that some users have reported longer wait times for certain support channels, especially during peak hours.
Despite the occasional wait, GoDaddy's customer support team is equipped to handle a wide range of issues related to VPS hosting.
They are experienced in troubleshooting technical problems, providing guidance on server management, and offering advice on scaling your hosting plan to accommodate your growing website.
When it comes to contacting the GoDaddy support team, users have the following options:
Phone: Reach out to a support representative directly via phone for real-time assistance.
Chat: Engage in a conversation with a support agent through their live chat feature.
Email: Send an email with your query and receive a response from the support team within a few hours.
Twitter: Reach out to GoDaddy's support team through their official Twitter account.
Ticketing System: Submit a support ticket for more complex or specific issues that require a detailed response.
Developer Features and Tools: 4.3 Rating
I'll be sharing my personal insights and findings regarding the developer features and tools provided by GoDaddy for their VPS hosting plans. I have also included a list of the top most important developer features that I believe make GoDaddy VPS Hosting stand out from its competitors.
GoDaddy has been making significant strides in catering to developers' needs, offering a range of features and tools that make managing and customizing a VPS hosting environment much easier. Some of the most notable developer features include:
Root Access: GoDaddy provides full root access for both Linux and Windows VPS plans, allowing developers to easily install PHP modules, applications, stacks, and other customizations for optimal server performance.
cPanel and Plesk: GoDaddy offers cPanel for Linux and Plesk for Windows, making server management a breeze for developers.
Multiple Operating Systems: With six operating system options to choose from, developers have the flexibility to work with their preferred environment.
Unmetered Bandwidth: Enjoy the freedom of unmetered bandwidth, which can accommodate unexpected traffic surges without compromising server stability, performance, or uptime. [source]
High-speed SSD Storage: GoDaddy's VPS plans come with NVMe SSD storage, which significantly boosts server performance and reliability.
Scalable Resources: GoDaddy enables users to easily scale their VPS resources as their needs grow, without the need for re-provisioning the server.
With these powerful developer features, GoDaddy has successfully positioned itself as a reliable and developer-friendly VPS hosting provider.
Conclusion: Is Godaddy VPS a Top Choice?
In conclusion, GoDaddy VPS hosting is a solid choice for many users, particularly those transitioning from shared hosting. With a starting price of just $4.99 per month for a 36-month contract on their self-managed plan, GoDaddy offers great value for money.
GoDaddy's VPS hosting is perfect for those who require a scalable, secure, and reliable hosting solution. The company has made significant improvements to its infrastructure and customer support over the years, making it a more attractive option for experienced developers and entrepreneurs.
One aspect that sets GoDaddy apart from its competitors is the availability of both Linux and Windows VPS plans, giving users the flexibility to choose the operating system that best suits their needs.
However, there are some cases where users may want to consider other VPS hosting providers.
For instance, if you require a more specialized hosting provider with higher uptime, faster performance, and more luxurious managed services, you might want to look into alternatives like Kamatera or A2 Hosting.
It's essential to carefully evaluate your specific needs and requirements before choosing a VPS hosting provider.
More VPS hosting related articles:

Ludjon, who co-founded Codeless, possesses a deep passion for technology and the web. With over a decade of experience in constructing websites and developing widely-used WordPress themes, Ludjon has established himself as an accomplished expert in the field.