Are you interested to buy an NFT?
When you look at the craze around blockchain and cryptocurrencies, you can easily be overwhelmed and might even feel disheartened. But the truth is that it is still the very early days for blockchain, cryptocurrencies, and related technologies.
However, those who can understand it, get in early, and nurture the technology will be well-placed for the future. In that spirit, this blog will explore what a non-fungible token (NFT) is, how it differs from a standard token, and look at some ways to buy one.
The first NFT was minted in 2014 and now in 2022 more than ever, it is still growing as a market.
In that spirit, this article will explore what a non-fungible token (NFT) is, how it differs from a standard token, and look at some ways to buy an NFT.
Choosing a suitable exchange can be difficult because there are so many options. But don't worry – we've got you covered. In this guide, we'll walk you through the process of buying NFT. It doesn't matter if you're a newbie or an experienced trader, read on and learn how to buy NFT safely and securely.
NFTs or Non-Fungible Tokens are revolutionizing the gaming and entertainment industry. Many people expect them to change how we interact with multiple sectors. Although they are revolutionary, people, who aren't aware of what they are, still seem confused about them.
Also, we have listed and reviewed the best NFT projects and NFT games right now.
If you are familiar with the blockchain and crypto wallet, you are probably aware of NFT or Non-Fungible Token. The concept of the NFT marketplace is still new to people who are not familiar with blockchain. Want to buy NFT but don't know where to start?
To buy NFT, you need to know how it works. Whether you're looking for your first NFT or want to add more to your collection, we'll provide you with a step-by-step guide to buying NFT in four easy steps and where to find them.
What is a Non-Fungible Token (NFT)?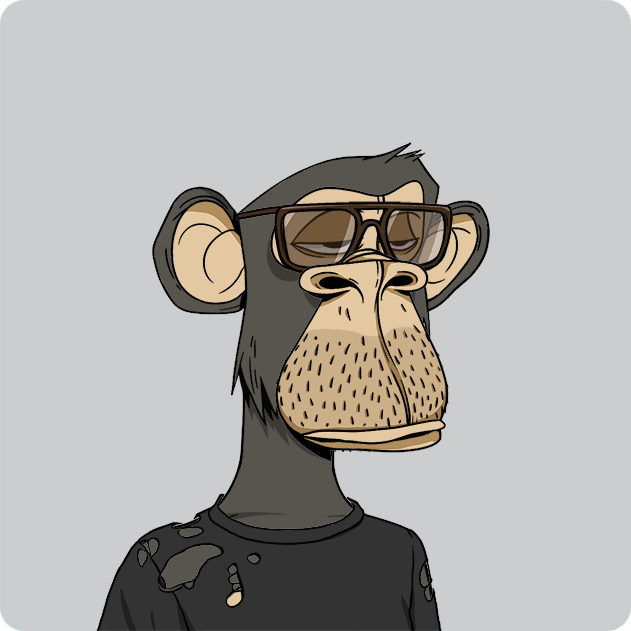 NFT is a non-fungible token that runs on top of the Ethereum or Solana blockchain. With NFTs, each token is unique, and the ownership of this token is transferable to someone else. Despite being unique, the tokens are not rare. Just like a ticket to a movie or a football game can be used by different people, and NFTs are available for other people (so long as they have the right to do so).
The tokens are not divisible, so you cannot buy a fraction of a token. As of now, NFTs have two purposes. First, you can use them for collectibles. Second, you can use them to own digital goods, such as online games or songs.
An NFT is also one of the unique digital wallets traded on the blockchain. Remember that NFTs do not grant you access to a product or service; they're not equity or tokens.
NFTs are the most trending topic in the crypto space. But what are NFTs? Why should you invest in NFTs? In which NFTs should you invest?
Most of the time, they serve as collectibles or game tokens. Each NFT corresponds to a specific, unique token managed on the blockchain. The value of all digital content, including artwork, sports cards, memes, videos, and audio, can be converted into tokens, which can be bought, sold, and even given to others. However, NFTs can't coordinate with each other. Metadata for these documents does not contain a so-called "token" for use with additional tokens.
Should You Invest in NFTs?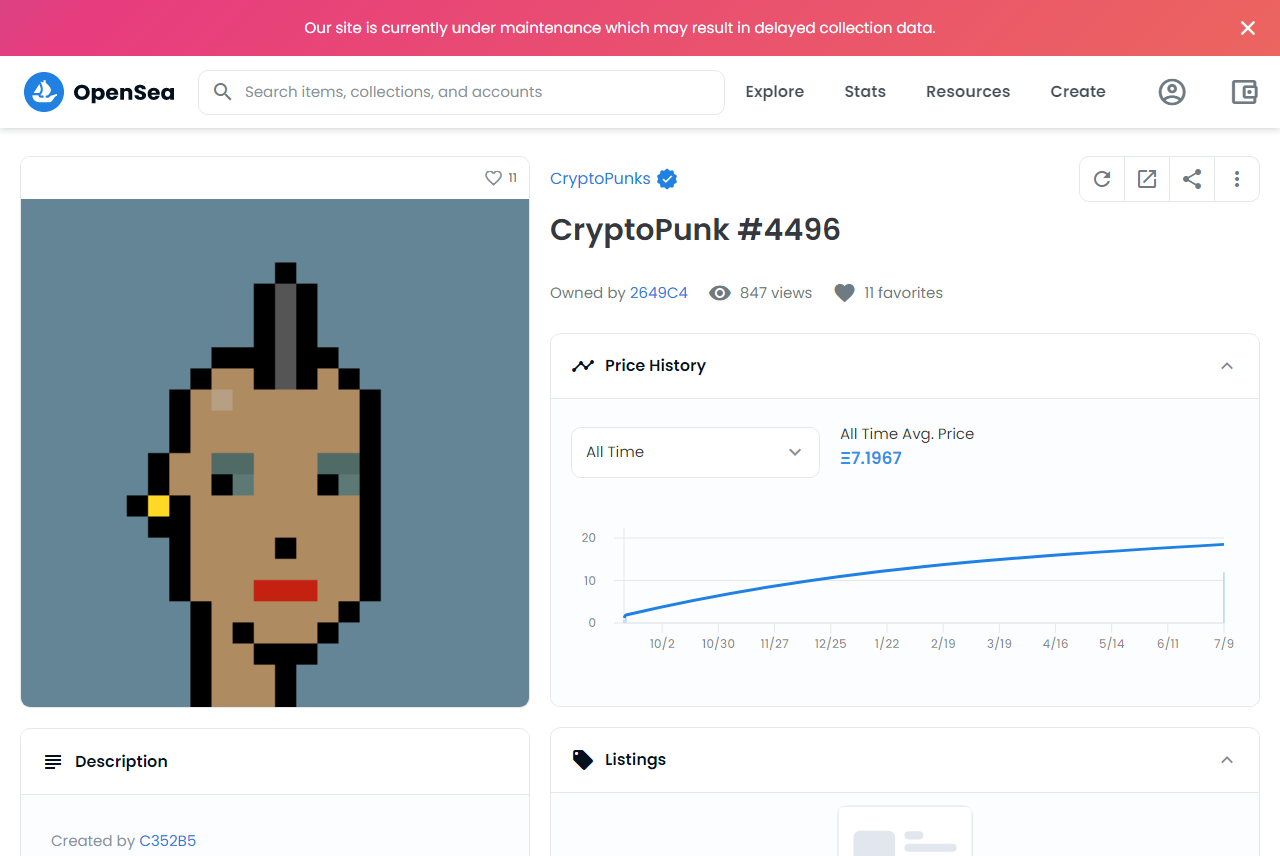 I'm sure you've seen the term "NFT" (Non-Fungible Token) and wondered what it is and why you should buy it. If you're part of the cryptocurrency space, you probably already understand the benefits of tokens. Non-fungible digital assets are valuable in almost every situation.
NFTs are unique because they are not interchangeable, and each has unique attributes. NFTs can be considered the equivalent of collectibles or unique art pieces, like a painting. There are two main types of NFTs: NFTs used as a medium of exchange and NFTs used to represent physical items. A famous example of NFTs used as a medium of exchange is CryptoKitties.
Third parties use these tokens to represent digital assets. NFTs can also describe physical items, like a painting. In the case of art, the art itself is non-fungible, but it is tradeable on the blockchain.
In the blockchain, 'gas fees' refer to the transactional fees users must pay when they mint smart contracts and NFTs. When purchasing a new NFT you should consider the actual gas fee. Sometimes, the gas fees can be very high.
NFT Pros and Cons
There are still risks in the NFT market, despite its growth. Following is a list of non-fungible token advantages, limitations, and drawbacks:
NFT PROS
By using blockchain, NFT ensures the authenticity of an artwork.
An Ethereum asset can represent unique artwork.
It is possible to support artists financially.
Artists feel empowered and free with it.
NFT CONS
Additional fees are charged for the creation and sale of these tokens.
Some tokens are too expensive, making them unprofitable over the long run.
NFTs are energy-intensive due to Ethereum's carbon footprint.
What Type of NFT to Buy?
Despite the common belief that NFTs have no other use outside the gaming/virtual goods industries, many NFTs are interesting. NFTs can be made from almost any collectible, limiting possibilities. Among the tradable NFTs available are:
1. A real-world item
A non-fungible token should not be compared with any other token and should be unique. You can prove ownership of any real-world item that meets this criterion as an NFT. Documents, real estate deeds, tickets, celebrity autographs, and other real-world items are some examples of NFTs. Furthermore, you can also list online items such as tweets to Twitter, Snapchat stories to Snapchat, Facebook statuses to Facebook, blog posts to blogs.
2. Music
NFTs include records, music, and audio. Since music doesn't degrade over time, it is easy to resell. Before the internet, information was sent by CDs and cassette tapes. A blockchain can be used to digitize and store music and sounds using non-fungible tokens (NFTs). It also allows musicians to sell music and audio clips on their platforms as NFTs.
Streaming platforms and record labels no longer have to pay commissions to them. Renowned artists now use a platform like Grimes and King of Leons. Elon Musk decided to create a song about NFTs as NFTs.
3. In-game Items
In-game items are the most common type of NFT. You can earn, buy, trade, or find in-game items within a game. The in-game shops and loot boxes provide players with access to items such as skins, characters, and sprays.
4. Digital Art
NFTs are usually in the form of digital art. As we hear the word "art," we picture Leonardo Da Vinci's Mona Lisa or Michelangelo's David. NFTs (non-fungible tokens), increasing in popularity with blockchain projects and collectors, are a new type of art emerging. Even though it may not happen to everyone, some digital artists make millions by selling their artwork as NFTs.
The four artworks by CryptoPunk, for instance, are among the ten most expensive NFTs. All digital art forms, including videos, images, and gifs, can be considered art. They are among the most costly NFTs in the world. Punks are available for 72.99 ETH (USD 318,914.48).
How to Buy NFT in 3 Simple Steps
As more exchange platforms allow traders to trade non-fungible tokens on the open market, investing in these unique tokens is becoming easier. In order to purchase non-fungible tokens, you must follow these steps.
Step #1: Getting Ethereum to Purchase NFTs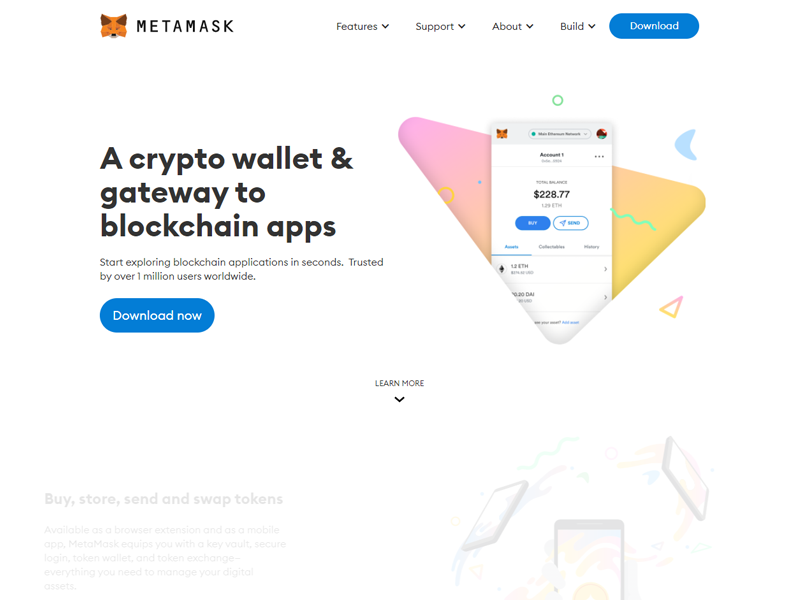 In order to purchase NFT, you must own Ethereum, as it is an ERC-721 standard token. Almost all NFT exchanges accept Ethereum only. Stock up on Ethereum first. You can purchase Ethereum on any Ethereum cryptocurrency exchange, such as Coinbase and Binance.
Your next step is to transfer Ethereum to your MetaMask wallet, a cryptocurrency wallet that interfaces with Ethereum's blockchain.
Step #2: Access NFT markets via MetaMask or a similar digital wallet.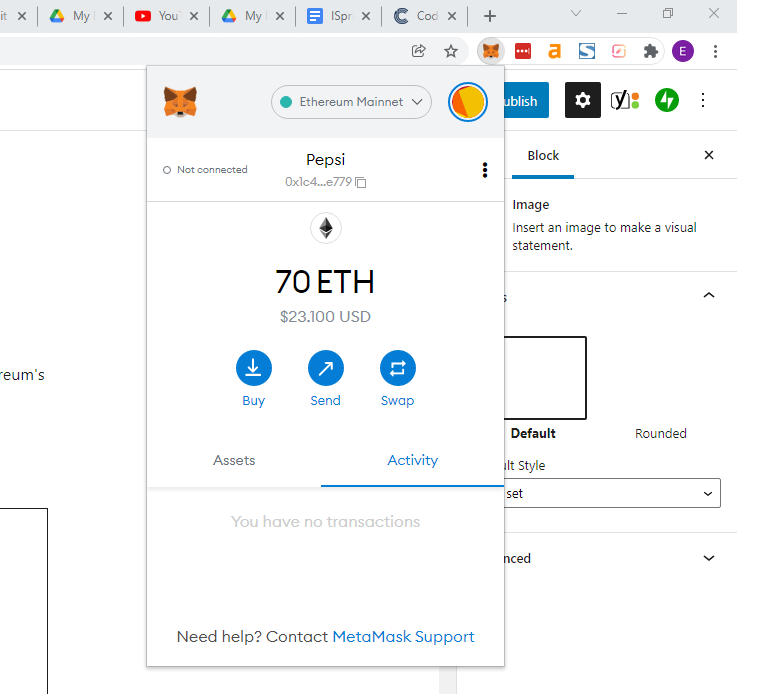 Become a member of an NFT marketplace first. There are several popular NFT marketplaces, including:
OpenSea
Binance NFT
Nifty Gateway
NBA Top Shot Marketplace
Axie Infinity
Connect your MetaMask account with an NFT market to invest in your favorite NFTs. Depending on your market, you'll have access to different NFTs. As well as supporting digital assets, OpenSea supports NFTs for art, music, domains, Cryptopunks, virtual worlds, trading cards, and collectibles.
Step #3: Buy your preferred digital collectables
There are typically two ways to invest in NFTs. The option to buy a fixed-price NFT or to bid on your favorite NFT is available. OpenSea is one of the most popular and largest marketplaces for NFTs. You can find the "Buy Now" and "Make Offer" options on the item page.
If you click "Buy Now," you can buy the token immediately, while clicking "Place bid" will let you place a bid.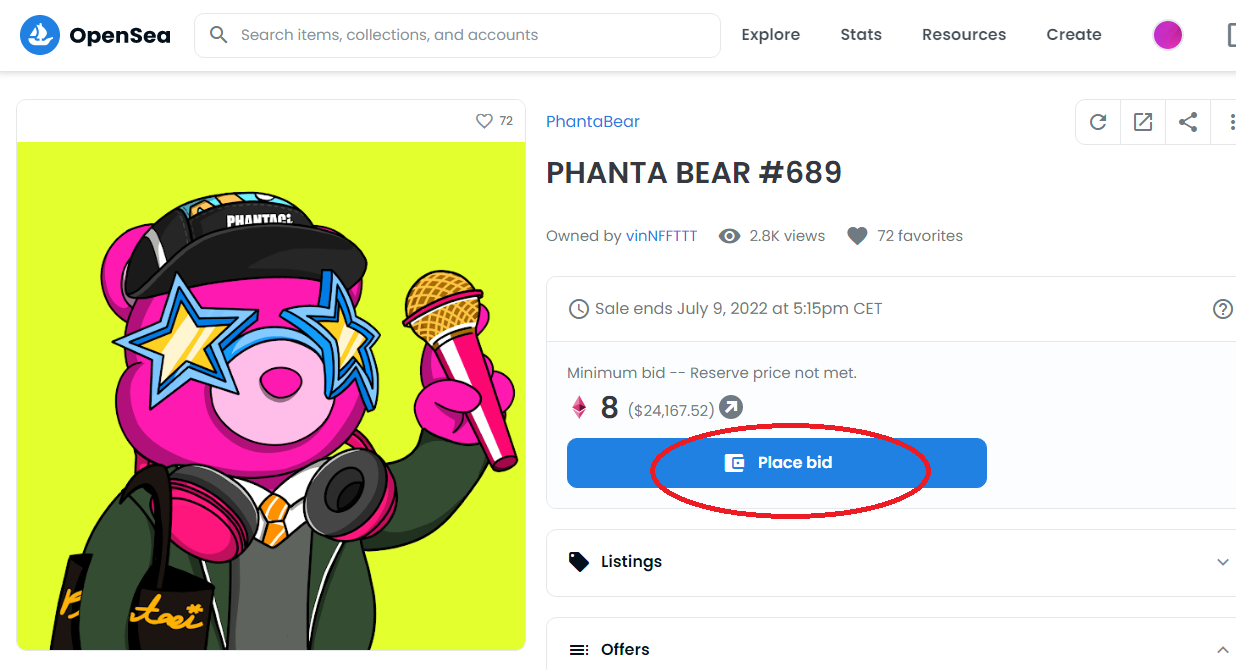 Generally, "Place bid" appears only on some item pages, which means the NFT isn't available for purchase, so you must bid to get it. Here you can see information about the token's properties, including its price history. The marketplace will take you to the review collection details if your item belongs to the "unsafelisted" collection. Please check your collection. Choosing your bid currency is the next step. Among the options available to you on OpenSea are:
WETH (Wrapped Ethereum)
DAI
USDC
In order to use it for your bid, you have only one option: ETH coin. Ethereum's blockchain hosts the base-wrapping token WETH (WETH). Wallets and exchanges can now perform ERC-20 transactions with WETH. Transaction processing with ERC-20 tokens can take a long time, and gas fees can be high. A solution to this problem is wrapped ETH, which allows transactions to be quick and easy.
You can fulfill pre-authorized bids later using WETH without getting the bidder's approval. WETH and ETH are the same value, so converting them is easy. Using this guide, you can convert ETH to WETH on OpenSea. You'll also have to pay a one-time network transaction fee if you're using WETH for the first time.
You can create free offers after enabling this feature. Also, you must raise your offer by at least 5%. Bidding during the last ten minutes of the auction could extend it by ten minutes. They qualify only if they outperform their competitors. If you win, you become the owner.
Where to Buy NFTs?
To purchase non-fungible tokens online can seem quite daunting at first. Newcomers to crypto may mainly find this to be the case. Collecting NFTs can be difficult for even experienced collectors. As a growing industry, NFTs can be purchased in multiple ways. This guide will explain the best marketplaces for buying, selling, and trading NFTs.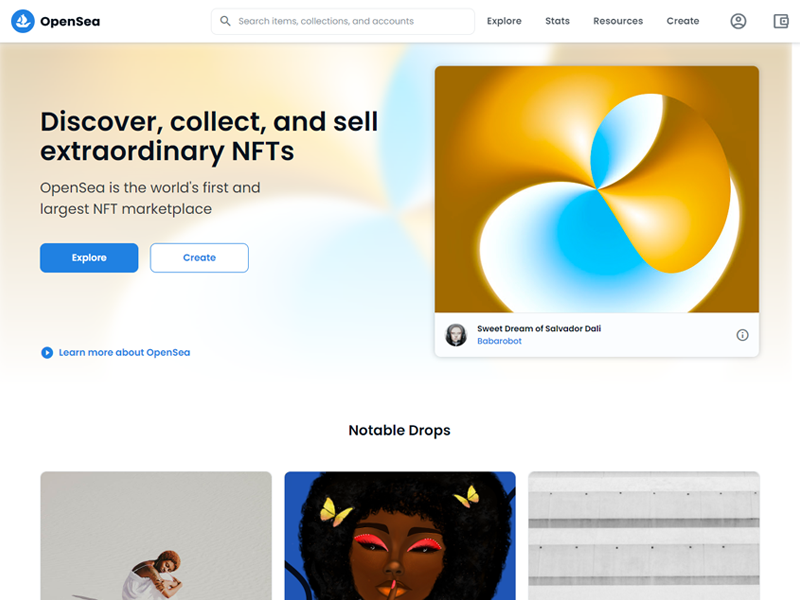 OpenSea is a free-to-use, open-source and decentralized exchange for buying and selling crypto collectibles (NFTs). It is a marketplace, a platform, and a toolkit for creating a digital marketplace across any category or industry.
OpenSea is where developers and businesses can build digital goods marketplaces on the blockchain. As a fully decentralized platform, it is easily scalable.
OpenSea publishes an interface to buy ETH or ERC-20 tokens. You can deposit the required ETH or ERC-20 on a smart contract and buy now NFTs from OpenSea using ETH or ERC-20. OpenSea allows you to use Metamask, Ledger Wallet, or Keystore for ETH purchases.
OpenSea supports all of the most popular blockchain games and applications. Examples include CryptoKitties, Spells of Genesis, Etheremon, and many more. OpenSea offers a variety of payment options for NFTs: ETH, ERC-20 compatible tokens (BAT, OMG, DGX, and ZRX), USD via PayPal, or Credit/Debit Card.
Fee: OpenSea takes 2.5% of every transaction. Token creation is free for artists. A royalty of up to 10% is possible.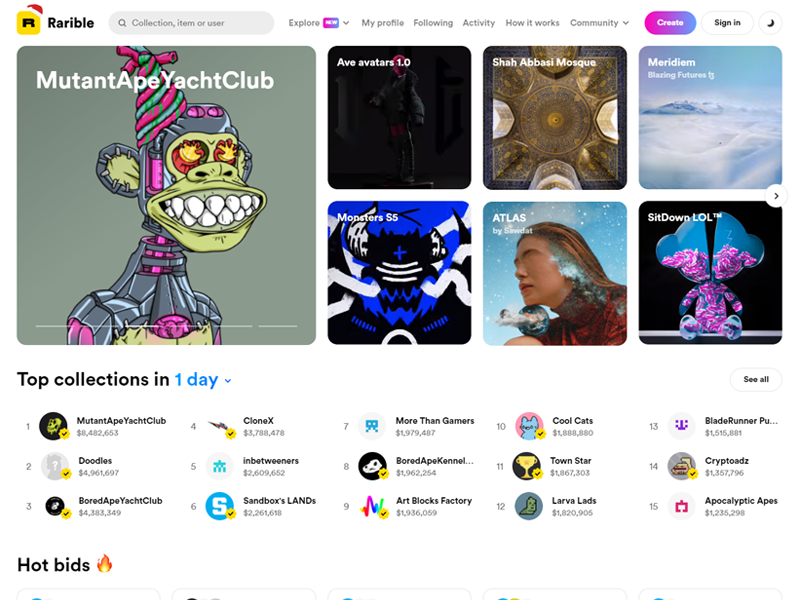 Rarible, a new blockchain-based NFT sale marketplace, and store for unique digital goods, has just released its platform. Rarible allows users to purchase content from the Ethereum network using their credit card or Ether (ETH). A marketplace's interface shows what is available on it and how much it costs in cryptocurrency.
Categories such as photography allow you to filter through items according to top sellers and collections/galleries, giving buyers options, so they don't become overwhelmed. With fixed-price listings available only during preorders, users must set time aside before delivery day arrives!–or auction-style promotions where bidding starts low at $0 then goes up every 10 seconds until someone tops. Rariblex offers a variety of payment options for NFTs: ETH, BTC, XRA.
Additionally, suppose you are a creative person with intellectual property (IP) or physical goods to sell but do not wish to deal directly in cryptocurrency. In that case, there's an easier way. Rarible allows anyone to mint their own NFTs and store them for free until they decide to sell them at market price or hold them in-house using IPFS or Ethereum.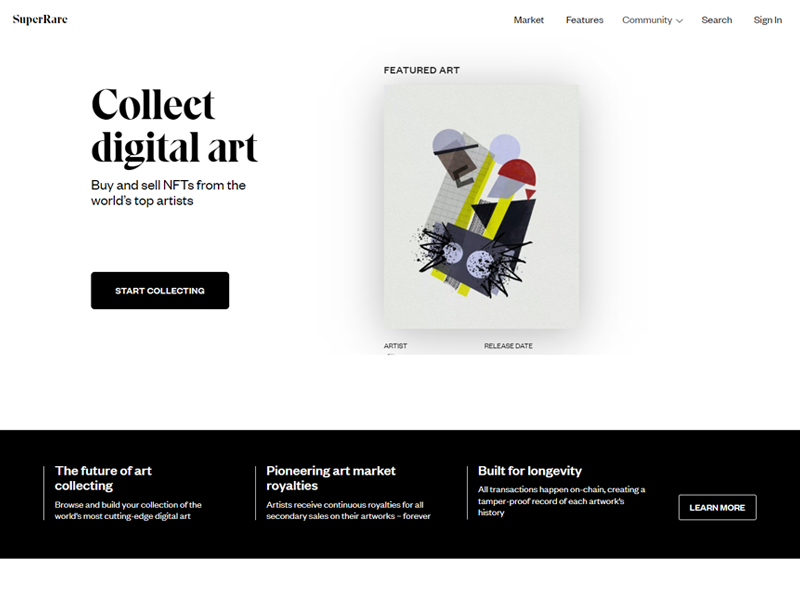 The idea of crypto-collectibles has been around for a while now. But what makes SuperRare stand out? They're using blockchain's power to create rare digital artwork and the metaverse. This kind cannot be made again from scratch without government permission or expensive equipment!
Their social network unites artists and collectors with their type of ecosystem. You can buy, sell, or trade digital art online using smart contracts, ensuring that the creators return royalties as long as someone else wants one.
A platform for digital artists to connect and collect, SuperRare calls it "social collecting." In their own words, the idea behind SuperRare is "the belief that collecting should be social, so collectors and artists are able easily to interact around shared passions." By using the site, users will view who the top buyers or creators are and how many pieces they've purchased. You can also view which type of piece each buyer has acquired and where/when each item was initially sold (and even view historical information on these items). There are also some famous works you can check out.
Fees: Buyer's premium of 3% and 15% for original sales.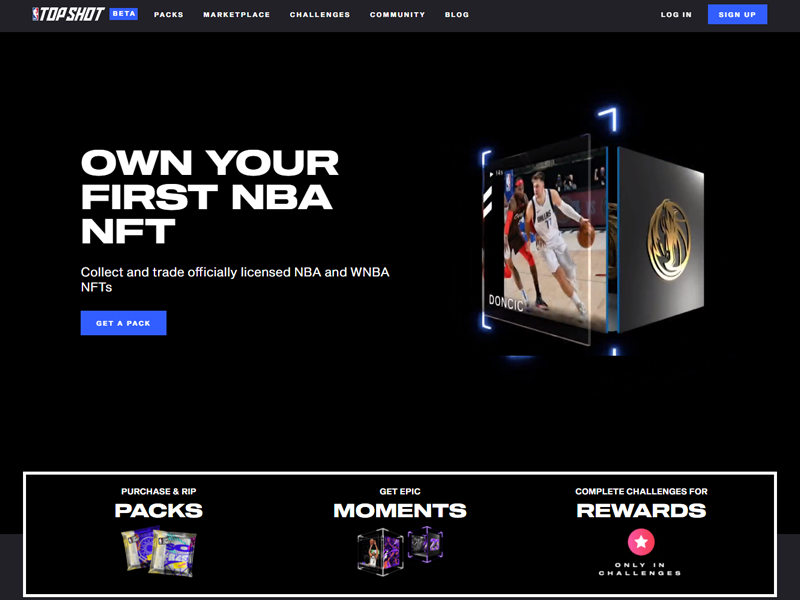 NFT's NBA Top Shot platform collects NBA highlights and video clips from the world's top leagues. You can search by player, team, or set.
Purchases and sales can be made with credit cards, debit cards, and multiple crypto wallets. You can sign up in seconds. Afterward, you can go directly to their marketplace to purchase. You can either do this through your Google account or your email address. A few dollars will get you collectible moments.
Fee: The buyer fee for credit card transactions is 5.2632% of the total purchase price and a flat transaction fee of $0.30. Each sale carries a 5% fee.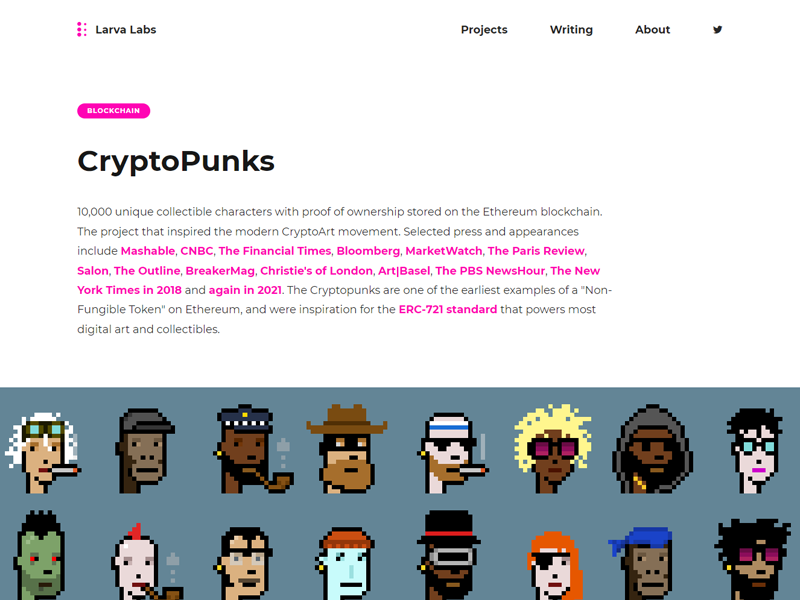 CryptoPunks is Larva Labs' crypto art project in the NFT sector. A fun, authentic, and unique collection of non-fungible coins based on crypto-memes. The artist has created a fantastic collection of 10,000 characters for each crypto punk.
The coins were initially offered free of charge to anyone with an Ethereum wallet. Today, they are available on multiple marketplaces. Their portfolio of digital art projects includes Meebits, Road Trip, Boo, AppChat, Autoglyphs, and more. Some of their clients include Google and Microsoft.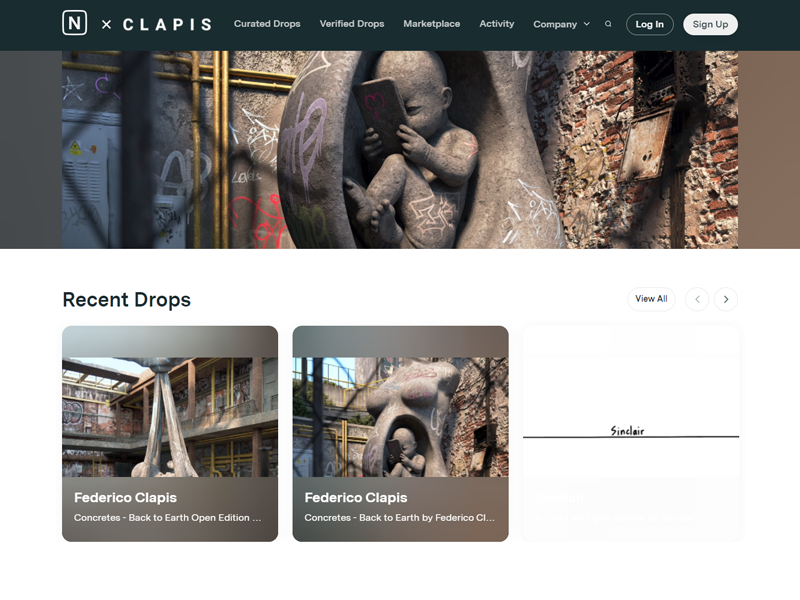 Nifty Gateway is an excellent platform for buying, selling, storing, and displaying your digital artwork. NFTs on this platform are curated and verified. Drops are also released approximately every other week.
Nifty Gateway is unique because of its custody status. NFTs are stored using the most advanced custody technology in a Gemini wallet. Collectors can now buy, sell, and gift without the hassle and cost of gas. You can still retrieve your collectibles if you lose access to your account or forget your password.
Fee: Almost all art items on the platform are subject to a 15% fee, of which 10% goes to the artist and the rest to the platform. Additional sales are charged at 5% + 30 cents.
NFT Buying Tips
There is no question that collectibles have been used as currency for quite some time now, and they are also in high demand. NFTs, or Non-Fungible Tokens, allow you to go one step further and create your unique trading card. You can even trade them virtually via blockchain technology. Although there are many similarities, it is impressive enough to produce its trends. So you don't buy worthless investments, here are a few things you should keep in mind when purchasing NFTs:
1. Buying NFTs? Be aware of the transaction fees
Newer, more effective exchange systems come and go as often as times change. A non-fungible token (NFT) is the key to entering the digital economy! The costs associated with purchasing NFTs on the market are no different from any other physical money exchange for goods or services. You need to understand the fees associated with purchasing them to understand the new economy fully. When the costs do not become apparent in advance, one will likely spend more than planned, just like other countries have different fee structures based on purchasing a product.
OpenSea, for instance, charges 2.5% per transaction, while Nifty Gateway charges a staggering 15%. You can easily purchase your token using OpenSea since it is available on both platforms. If you do your due diligence before purchasing from any NFT marketplace, you will save a lot of money. You will benefit from this because the tokens you buy will hold more value than they would otherwise.
2. Choose a reputable and dependable marketplace
You'll need to decide whether to trade on a market or a centralized exchange if you want to buy NFT. Before making a decision, we recommend talking with an experienced trader. After that, we recommend securing your funds before purchasing any tokens.
When you choose a marketplace, you choose a company that will keep and process your tokens. In addition to assessing the company's restrictions, you should check if it has any agreements with banks that build user trust since these may be precisely what you need.
3. Become a member of the Discord servers
A new investor may not be familiar with the risks associated with investing in an NFT. Before making a final decision, we recommend becoming familiar with a project's Discord channel. In most cases, the channel contains information and directions. Venture capitalists can ensure their clients have all the facts before investing by providing access to real-time information on project members' availability and responsibility.
Read More: 15 Best Discord Bots for 2022 (Reviewed and Ranked)
4. Gas fee on Ethereum
The Ethereum network charges a gas fee for each transaction or contract that runs on the web. Although buying during a low period won't help you avoid the fee, you can still purchase during that period. If you want to conduct Ethereum transactions, you'll probably need some ETH.
There are rarely transaction fees of less than $30 on the Ethereum network at any time. Users are usually charged around $150 for an average order – though there have been cases where the fee has exceeded $40,000.
With Ethereum Gas Station, ETH holders can optimize their gas price per transaction to help lower their total fee. It is generally cheaper between 2 am, and 7 am EST. You can also calculate your optimal fee using Ethereum Gas Station. Naturally, you cannot avoid paying a fee due to the current market conditions. Still, you can generally save yourself more money by making sure you pay a lower fee!
5. Keep an eye out for scams
Several projects have created discord servers, forums, and other social media platforms due to the growing interest in Non-Fungible Tokens (NFTs). Joining random chat rooms should be avoided, especially when the discourse becomes inflammatory. When you want a place to discuss NFTs with other like-minded individuals in a controlled and constructive way, join a group focused on the same goal. Many scammers will create fake communities to entice you to share your personal information or rummage your digital wallet!
Additionally, avoiding big giveaways is advisable. The offers may involve rewards in ETH or other assets, or they may even apply a "referral program" requiring participants to provide personal details to qualify. Ensure you fully understand everything before taking any action, as the official could just be giving you incorrect information based on a one-page report. Yet, the essential details lay under piles of text deep within.
6. Before you buy digital assets, verify them
Don't trust strangers on the internet, especially if they promise you free stuff. It would be best if you always did your research when buying new digital assets so you can be sure they are real and not fake. Send cryptocurrencies over the internet (such as Bitcoin). You will not be able to recover your money if someone steals it. Whenever a website asks for more than $1 to access something within the website that should raise a RED FLAG & you need to take caution!
There are different types of tokens. You can verify the authenticity of your token's origins in addition to Ethereumscan.io, which is the best source for verifying ERC-721s. See when you first joined any of the significant cryptocurrency exchanges (rather than starting your conversation), and look at the website of one of the exchanges you are familiar with. In the future, regardless of where tokens originate from today, both you and your customers will be able to be transparent about the origin of tokens.
FAQs
Can anyone make an NFT?
To make an NFT, you'll need to select an NFT market platform to promote your product and create and sell it. You'll also need a payment wallet, which you'll use to pay fees and to receive a payment if you sell your NFT. You can make and sell NFTs online through a variety of platforms.
Both OpenSea and Rarible let you create NFTs on Ethereum without paying anything, thanks to what they call "lazy minting" systems. Lazy minting enables you to create an NFT and put it up for sale without being written to the blockchain, thus avoiding fees.
What are the benefits of having an NFT?
The benefits of owning non-fungible tokens (NFT) are numerous. There is a wide variety of NFT, from digital works to pieces of art, real estate, and it is becoming more and more popular to purchase and trade them. The reason for their popularity is that NFT is non-divisible. The uniqueness of your token is what makes it valuable and hard to replicate. Tokens that are not fungible are unique to each individual.
This means that they could be digital artwork, a smart contract, or a deed to a car. Fungible tokens are divisible, while non-fungible tokens are not. For example, you can split a dollar bill into smaller denominations like 10 cents, 5 cents, and so on. Non-fungible tokens, however, cannot be separated.
Can I Make Money with NFTs?
The answer to the question is NFTs can be pretty profitable. If you are a collector, you can make money by buying, selling, and trading cards NFTs. A famous digital asset that you create can earn you money. If you develop a game, you can charge for in-game purchases such as new characters. You can use NFTs for many things, such as clothing, decorations, jewelry, and even food. NFTs are unique, and you can find items on chrome that fit your style. NFTs are fun because you can buy them now from the comfort of your home, and you can spend them on the things you need or want.
Read More: How to Make Money with Cryptocurrency 2022 (Ultimate Guide)
Conclusion
Many crypto exchanges offer the opportunity to buy NFTs. Still, not all of them provide their customers with a safe and secure user experience. As you navigate this guide, we hope it will help you find which exchange is suitable for your needs, whether a beginner or an experienced trader.
We've also summarized key features below so you can compare what each platform offers before deciding where to trade. So take some time now to read through our entire post. After reading about the differences between these four popular options, there's no question as to which one would work best for you!