IONOS, a leading web hosting provider, offers a range of services, including managed WordPress hosting, which is the focus of this review. Our aim is to provide a comprehensive assessment of IONOS Managed WordPress Hosting, covering key points such as performance, scalability, security, and support.
So, let's dive in and explore what makes IONOS stand out as a reliable hosting solution for WordPress users.
Overview of IONOS Managed WordPress Hosting

Easy WordPress Integration
Free Domain
Scalable Hosting Plans
IONOS is an excellent solution for those who want a hassle-free, high-performance hosting platform for their WordPress websites. With a range of features and benefits, as well as competitive pricing tiers, it caters to a wide audience, offering tailored solutions for small to large-scale projects.
Pros of IONOS Managed WP Hosting:
Value for Money: IONOS offers scalable pricing, making it a cost-effective option for small to large-scale projects. The starting price is just $1.00 per month for the Essential plan, which includes 25GB SSD storage, 10 email accounts, and one website.
Best Performance: IONOS boasts an impressive performance, as well as a server response time of 455ms, which is significantly faster than Bluehost's response time. This makes IONOS the fastest web host we've tested.
Reliable Uptime: IONOS has a guaranteed uptime of 99.9% in our testing. This ensures your website remains live and accessible to visitors with minimal downtime.
Free Features: All IONOS WordPress plans come with a free domain, automatic software updates, free SSL security, and free backups, providing excellent value for users.
Security: IONOS offers robust security options, including SiteLock malware protection and RailGun content delivery network on the Pro plan, ensuring both security and performance.
Cons of IONOS Managed WP Hosting:
Limited Help and Support: IONOS does not offer live chat or email support, which may be a drawback for users who require instant assistance. Some users have also reported negative experiences with customer service on Trustpilot.
Features Don't Match Top Competitors: Although IONOS offers good value for money, its features don't quite match those of top competitors like Bluehost.
Renewal Fees: While the initial $1 per month pricing is attractive, be aware that renewal fees will increase after the first year. The Essential plan renews at $9, the Business plan at $11, and the Pro plan at $15 per month.
Features and Benefits of IONOS WordPress Hosting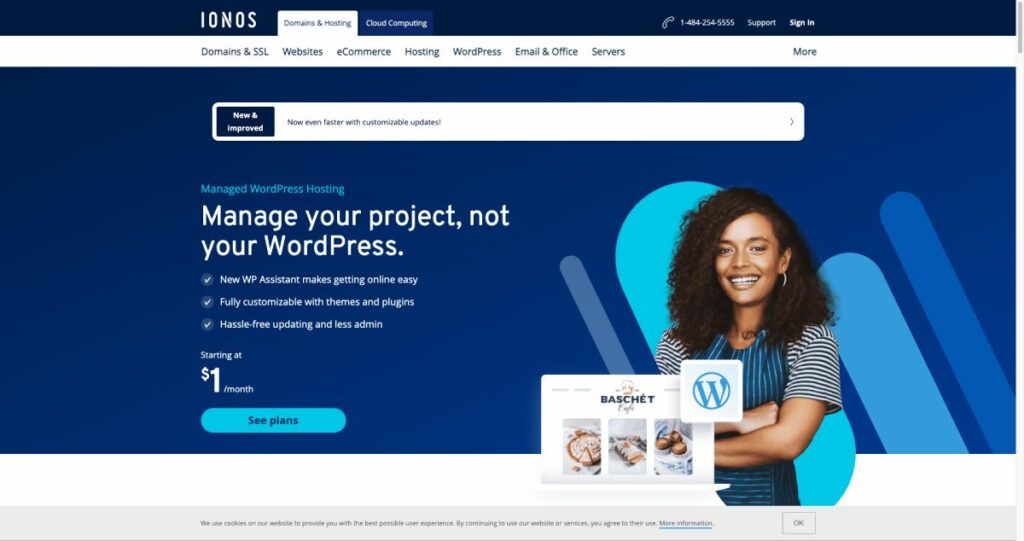 IONOS managed WordPress hosting plans comes with various features designed to enhance the overall performance, security, and ease of use for WordPress website owners. Some of the key features include:
Automatic updates: IONOS takes care of updating the WordPress software and installing security patches, allowing site owners to focus on their businesses and bottom lines.
SSD storage and guaranteed RAM: Enjoy faster site speeds and improved performance with SSD storage and guaranteed RAM.
Installation assistant: The installation assistant guides users through the setup process, with suggested themes and plugins to optimize their websites.
Free SSL certificate and domain registration: Keep your website secure and professional with a free SSL certificate and domain registration for one year.
DDoS protection and data recovery: IONOS provides protection against DDoS attacks and data recovery services, ensuring your website remains secure and accessible.
Target Audience: Who Is This Hosting Plan Best Suited For?
1&1 IONOS managed WordPress is ideal for a wide range of users, from small businesses to larger enterprises seeking a reliable and high-performance hosting solution for their WordPress websites. Its target audience includes:
Small to medium-sized businesses: With scalable pricing and resources, 1and1 IONOS can accommodate the needs of growing businesses.
Bloggers and content creators: The ease of use, automatic updates, and performance enhancements make IONOS hosting a great choice for those focused on content creation.
eCommerce websites: The security features, including free SSL certificates and DDoS protection, make IONOS a solid choice for online stores.
IONOS Managed WordPress Pricing Tiers: 4.8 Rating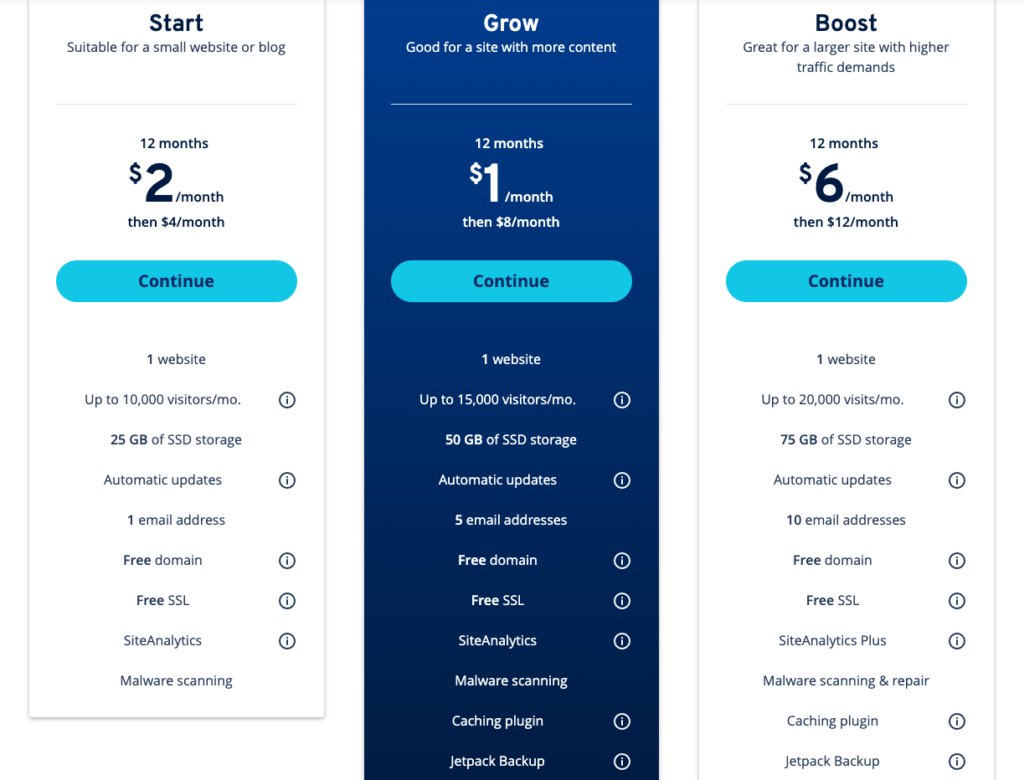 IONOS offers three pricing tiers to cater to different user needs:
Essential Plan – Starting at $1.00 per month for the first year, this plan includes 25 GB SSD storage, 10 email accounts, and one website. Renewal price is $9 per month.
Business Plan – Also starting at $1.00 per month for the first year, this plan offers 100 GB SSD storage, 100 email accounts, and two websites. Renewal price is $11 per month.
Pro Plan – Initially priced at $1.00 per month for the first year, this plan provides 200 GB SSD storage, 500 email accounts, five websites, SiteLock malware protection, and access to the RailGun content delivery network. Renewal price is $15 per month.
It's important to note that while the promotional prices are attractive, renewal fees can be significantly higher. Be sure to factor this into your decision-making process.
Ease of Use: 4.5 Rating
IONOS is known for its ease of use, making it an appealing choice for beginners and experienced users alike. Let's dive into the specifics of its user-friendliness.
Sign-up process and account setup: IONOS offers a straightforward sign-up process that takes only a few minutes to complete. It guides users through the essential steps, such as domain registration and selecting a hosting plan.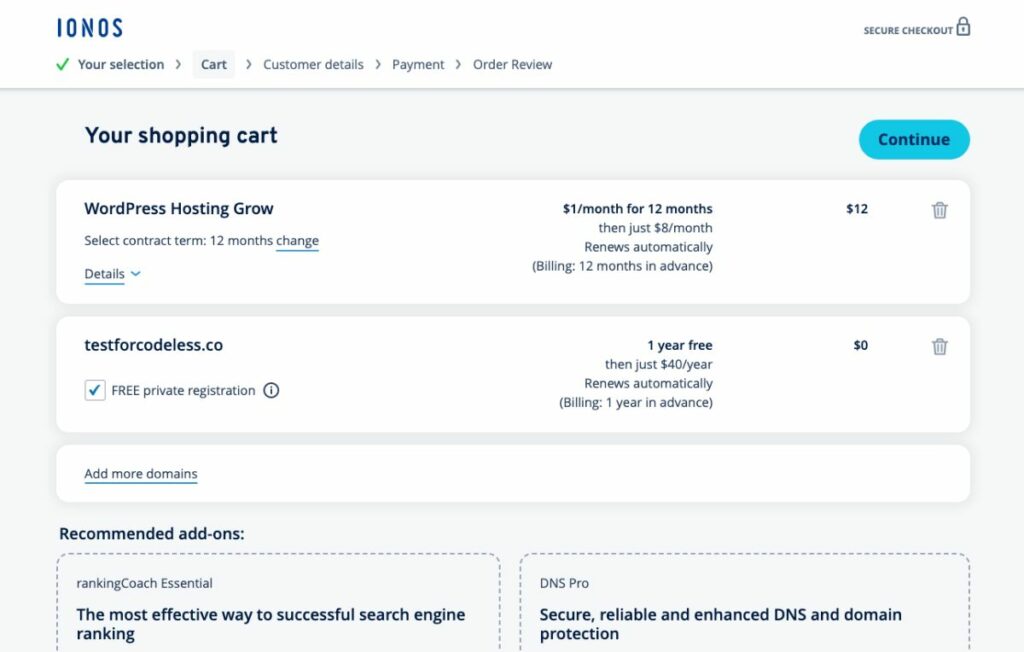 User-friendly dashboard and control panel: After signing up, users are welcomed with an intuitive dashboard that provides all the necessary tools and features for managing their website. The control panel allows for easy management of domains, SSL certificates, and email accounts.
Integrations with popular tools and plugins: IONOS hosting provider seamlessly integrates with popular tools and plugins, making it easy to enhance your website's functionality. IONOS offers automatic software updates, free SSL security, and free backups. This ensures that your website stays secure and up-to-date.
Performance and Speed: 4.7 Rating
IONOS is known for its great performance and uptime, making it a reliable choice for users. However, let's dive deeper into the specifics to get a better understanding of what sets it apart from competitors.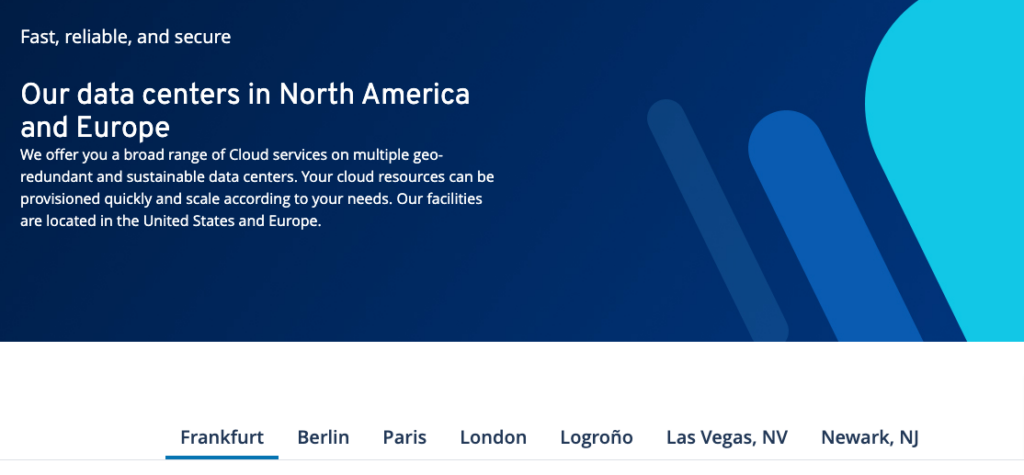 Server locations and infrastructure: IONOS has 10 data centers across five countries, providing users with a geographically distributed infrastructure. This ensures faster load times and better site performance as users are typically assigned the data center closest to their location. The data centers are equipped with advanced features like multiple redundancies, backups, and strong firewall protection.
Load times and speed tests: IONOS excels in its load times, scoring an impressive 4.7 out of 5 for performance. This makes it one of the fastest web host among those tested from our team. In terms of server response time, IONOS boasts an impressive 455ms, significantly faster than competitors like Bluehost, which has a higher response time of 814.55ms.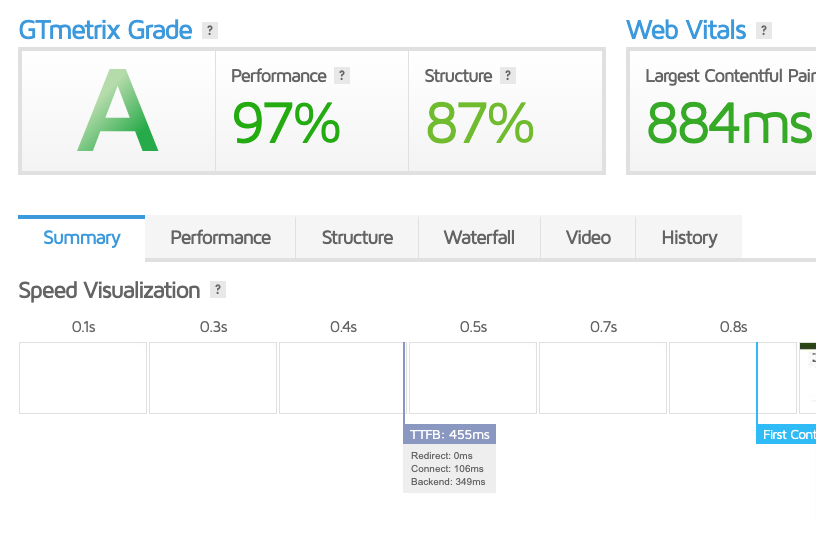 Uptime guarantees and actual performance data: IONOS claims a guaranteed uptime of 99.9% on its website. When tested, it scored an impressive 5 out of 5 for uptime, making it a highly reliable choice. Furthermore, users have reported high satisfaction levels with IONOS's uptime and performance, as seen in Trustpilot reviews.
Content Delivery Network (CDN) integration: IONOS offers integration with the RailGun content delivery network, particularly on its Pro plan. This feature boosts site performance and security, ensuring faster loading times and a better user experience.
While IONOS offers excellent performance and uptime, it is essential to note that it may lack some features compared to top competitors like Bluehost. However, with its strong infrastructure, server locations, and high-performance scores, IONOS stands out as a reliable choice for users seeking fast load times and impressive uptime.
Security and Backups: 4.2 Rating
IONOS offers a comprehensive security suite that ensures the safety of your website.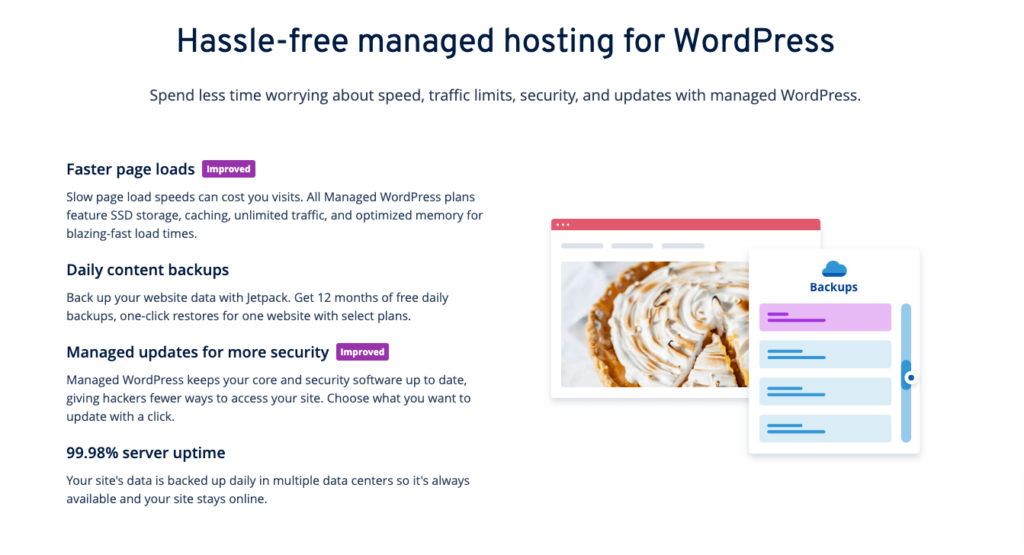 SSL certificates: IONOS provides free SSL certificates with all their managed WordPress hosting plans, ensuring that your website's data is encrypted and secure. SSL certificates not only protect sensitive information, but they also improve your site's search engine rankings and instill trust in your visitors.
However, it is important to note that the free SSL certificates offered are basic, and for more advanced security needs, you may need to purchase premium SSL certificates.
Malware Scanning and Protection: With IONOS, your website is safeguarded against malware and other cyber threats. Their Pro plan includes SiteLock malware protection, which scans your website regularly for vulnerabilities and removes any malicious code it detects. This feature ensures that your website remains secure and free from harmful elements.
However, this feature is available only on the Pro plan and not on the lower-tier plans.
Regular Backups and Easy Restoration: IONOS offers daily backups for your website, ensuring that your data is safe even in case of accidental deletion or a cyber-attack. The Jetpack Backup feature provides free daily backups for a year, making it easy for you to restore your website to a previous version if needed.
It is worth mentioning that only one year of free backups is provided, after which you may need to purchase additional backup services.

Additional Security Features and Options: IONOS also includes other security features such as DDoS protection, automatic software updates, and multiple data centers with firewall protection. These features contribute to the overall security and reliability of the platform, ensuring that your website remains stable and accessible.
WordPress-specific Features: 4.0 Rating
IONOS offers a range of features tailored to make your experience with the platform as seamless and efficient as possible. These include:

a. Automatic WordPress installation and updates
One of the most significant advantages of using IONOS managed WordPress is the automatic installation and updates feature. This means that users don't have to worry about manually installing WordPress or updating their website's software.
IONOS takes care of everything, ensuring that your site stays up-to-date and secure. Automatic updates also contribute to the host's impressive uptime of 99.9% and server response time, mentioned above.
b. Staging environment for testing and development
IONOS provides a staging environment that allows you to test and develop your website before going live. This feature is crucial for ensuring that the changes you make to your site don't affect its live version until you're ready to publish them.
With this staging environment, you can confidently make updates and adjustments without worrying about breaking your site or affecting user experience.
c. WordPress-specific support and expertise
When it comes to customer support, IONOS offers a team of experts with extensive knowledge of the WordPress platform. This team can provide guidance and assistance for any WordPress-related queries or issues you may encounter.
As a user, having access to such expertise can be invaluable when troubleshooting problems or seeking advice on the best ways to optimize your WordPress site.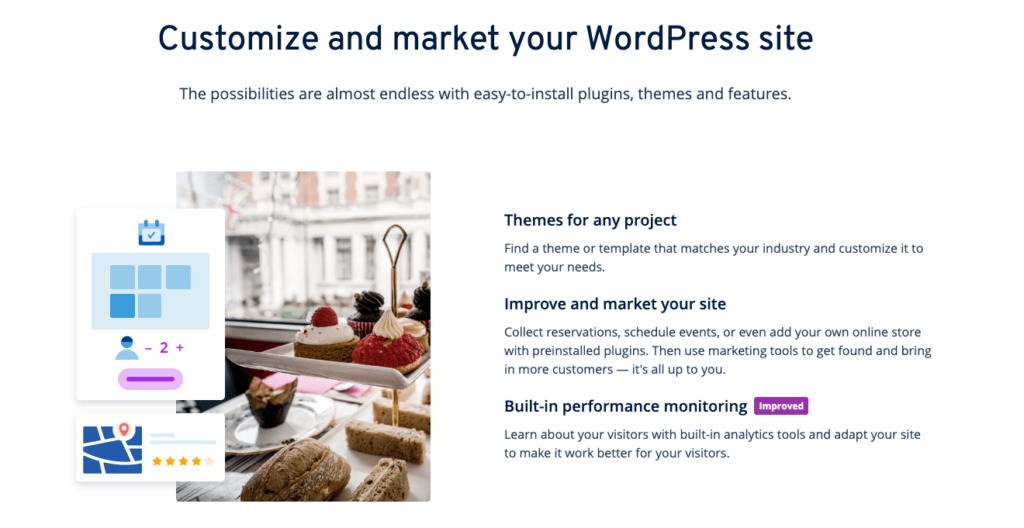 d. Compatibility with popular themes and plugins
It is designed to be compatible with the most popular themes and plugins available, making it easy for you to customize your website and add functionality. This compatibility ensures that you can create a unique and feature-rich site without having to worry about technical issues or conflicts between your theme and plugins.
Additionally, the host's installation assistant offers suggested themes and plugins to get you started, further streamlining the process of setting up your site.
Customer Support: 3.9 Rating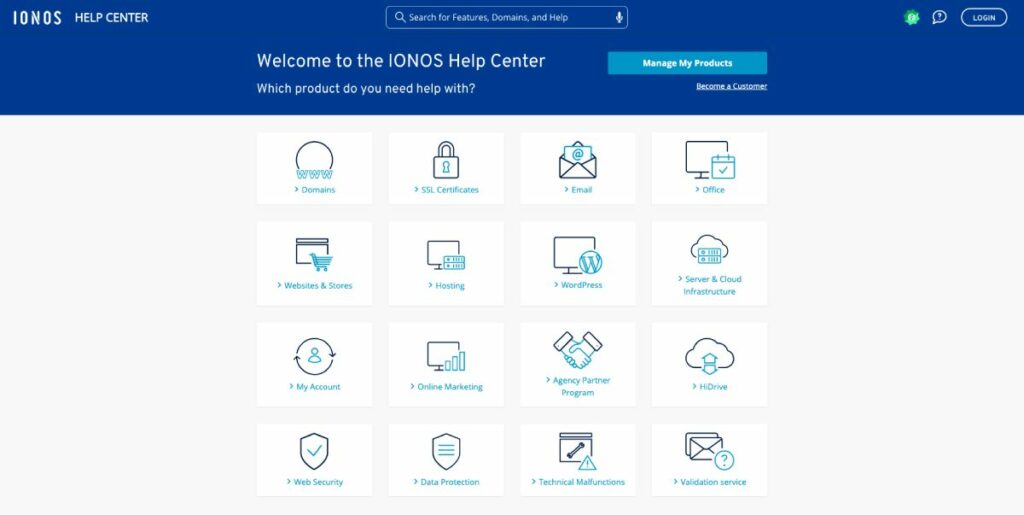 IONOS provider offers various customer support channels to ensure that users have a seamless experience with their hosting plans. Users can reach out to the support team through email and phone. This variety of contact options ensures that IONOS meets the diverse communication preferences of its customers.
It's important to mention the lack of Live chat support.
When it comes to response times, IONOS is known for its prompt assistance. In most cases, the support team responds within minutes, ensuring that users can resolve their issues quickly.
The quality of assistance provided is also commendable, as the team consists of knowledgeable professionals who can address a wide range of hosting-related concerns.
IONOS also boasts a comprehensive knowledge base and self-help resources, which can be found on their official website. The knowledge base covers a variety of topics, from basic hosting setup to advanced troubleshooting tips. This wealth of information allows users to find solutions to common issues without having to contact customer support.
User reviews and experiences with IONOS customer support have been mixed. While some users have praised the assistance they received when facing technical issues, others have reported less satisfactory experiences. Nonetheless, IONOS continuously strives to improve its customer support, ensuring that users receive the best possible assistance during their hosting journey.
IONOS Managed WordPress vs Competitors
Here's a quick comparison, highlighting the core features and pricing of IONOS, WP Engine, Kinsta, and SiteGround:
IONOS offers a competitive edge in performance, as evidenced by its 4.8 out of 5 performance rating, which is higher or equal to WP Engine, Kinsta, and SiteGround.
Another advantage of IONOS is its affordability, with the Essential plan starting at just $1 per month, offering 25 GB SSD storage, 10 email accounts, and one website.
This pricing is considerably lower than that of WP Engine, Kinsta, and SiteGround, though it's important to note that renewal fees apply after the first year.
Summing Up 1&1 IONOS Managed WordPress
In conclusion, IONOS managed WordPress hosting is an excellent choice for those seeking a high-performing, affordable, and secure hosting solution. With its impressive performance ratings, competitive pricing, and robust security features, IONOS stands out among its competitors and offers exceptional value for WordPress site owners.
In our comprehensive review of IONOS, we've highlighted some key benefits such as hassle-free updates, great performance, and strong security features.
However, it's worth noting that some users have reported mixed experiences with IONOS's customer support. While some have praised the technical support they received, others have encountered issues with the platform and unhelpful customer service.
It's essential to weigh these factors when choosing a managed WordPress hosting provider. Overall, IONOS is a strong choice for those seeking performance and affordability.
We encourage you to try it for yourself and share your thoughts and experiences in the comments section below. Your feedback is invaluable in helping others make informed decisions about their hosting needs.

Ludjon, who co-founded Codeless, possesses a deep passion for technology and the web. With over a decade of experience in constructing websites and developing widely-used WordPress themes, Ludjon has established himself as an accomplished expert in the field.