The hunt for the best dedicated server hosting in the UK can be a challenging task, with an array of options to choose from. This article looks into the top choices, each offering unparalleled service, support, and features.
Our goal is to provide you with a comprehensive comparison, allowing you to make an informed decision for your online venture. We've considered factors such as performance, security, and customer support, ensuring that each provider lives up to their reputation.
You can also read our main post here: 10 Best Dedicated Server Web Hosting Providers
Let's explore these exceptional UK-based dedicated server hosts and find the perfect match for your requirements.
Here is a short list of the best-dedicated server hosting the UK
Inmotion – Cheapest Dedicated server Hosting for UK
A2 Hosting – Fastest Dedicated Server UK
Godaddy – Secure Dedicated Server
The Top 7 Best Dedicated Server Hosting UK

Fast & Reliable
Free SSL & Domain
WordPress Optimized
Starting from $89.99/month
See Pros & Cons
Pros
High-performance servers
Free SSL certificate and domain
WordPress optimized
User-friendly control panel
Excellent customer support
Cons
Slightly higher pricing
Some plans have limited storage
No monthly billing option
InMotion Hosting is the best dedicated server hosting in the UK. As one of the most reputable and trusted providers, they offer an array of features that cater to businesses seeking high-performance and excellent customer support.
In this review, we'll delve into the key aspects that make InMotion Hosting stand out as the most affordable and high-quality provider in the UK.
Ease of Use: InMotion Hosting offers an intuitive and user-friendly platform, with a range of hosting services that include shared hosting, reseller hosting, WordPress hosting, VPS hosting, and dedicated server hosting. Their Intel Xeon-based servers boast impressive performance, and customers can choose from multiple data center locations to maximize global reach. Furthermore, the company guarantees a 99.99% network uptime and DDoS protection, ensuring seamless enterprise operations.
Key Features: InMotion Hosting provides dedicated servers with free SSD drives, 99.999% net uptime, cPanel/WHM management, reboot-less upgrades, CentOS expertise, multi-layer defense, and up to $300 in savings on personal SysAdmin time. They offer both managed and unmanaged dedicated servers for self-management, with hardware customizations available. However, it's advised to add customizations at the initial purchase to avoid potential downtime.
Global Infrastructure: InMotion Hosting has two primary data center locations in the US – Los Angeles and Virginia Beach, ensuring excellent performance and reliability for UK-based users. They also assist customers in setting up a CDN account for faster load times and caching in multiple UK cities.
Pricing Model: InMotion offers a wide range of dedicated server plans, starting from £108 per month. Their affordable plans include features such as Intel Xeon E3-1246 v3 processors, 16GB DDR3 RAM, and 1TB SSD storage. Moreover, premium packages provide additional benefits, such as support for up to 50TB of storage, the option of 16 CPUs, and a 90-day money-back guarantee.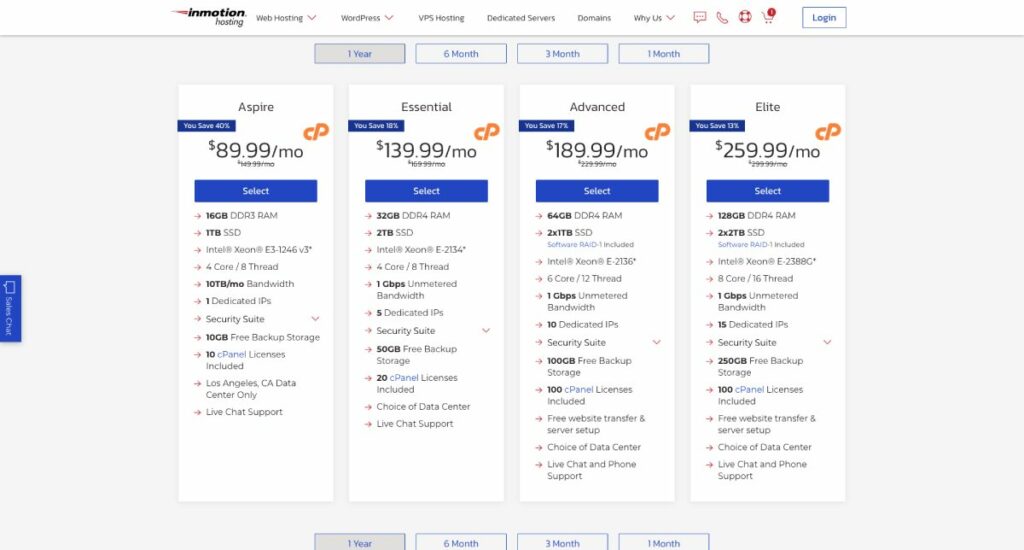 Customer Support: InMotion Hosting offers 24/7/365 support from technical experts who can assist customers with any issues. Additionally, the company provides Certified Pre-Owned Dedicated Servers, inspected and certified by Server Experts, starting at $79.99.
Who Should Use InMotion Hosting: InMotion Hosting caters to businesses seeking high-performance dedicated servers with affordable prices.
Why Choose InMotion Hosting: InMotion Hosting's commitment to improving its services, combined with its powerful server performance, user-friendly platform, and accessible pricing, makes them the top choice for businesses in search of a dedicated server in the UK.

High Performance
WordPress Optimized
24/7 Support
Starting from $155.99/month
See Pros & Cons
Pros
Fast and reliable servers
Free SSL certificate
Easy and functional control panel
Unlimited SSD storage
Anytime money-back guarantee
Cons
Higher renewal rates
Backups are not automated
Phone support can be slow
A2 Hosting has made a name for itself by offering ultra-fast, reliable dedicated server services. With a multitude of features and plans, they cater to various business needs, ensuring optimum performance and customer satisfaction.
Ease of Use: A2 Hosting offers a user-friendly experience, making it easy for customers to navigate and manage their hosting services. However, it's worth noting that cPanel isn't included in their price plans, which could be a drawback for some users who are accustomed to this standard feature.
Key Features: A2 Hosting boasts impressive server specifications, including 8GB RAM, 10TB bandwidth, and 2x 500GB storage, ensuring that your website operates smoothly. They also provide free SSL certificates and performance upgrades as you move to higher plans. The inclusion of Intel Xeon CPUs and up to 512GB RAM in their dedicated server plans showcases their commitment to delivering top-notch performance.
Global Infrastructure: A2 Hosting operates four data centers across the globe, with two in the United States, one in Singapore, and one in Europe. Although they do not have a data center in the UK, their partnership with Cloudflare ensures pages load up to 200% faster, compensating for any potential latency from their European data center.
Pricing Model and Plans: Starting at a reasonable $155 per month for an unmanaged dedicated server hosting plan, A2 Hosting offers competitive pricing with powerful features. The basic plan includes an Intel Core i3 processor clocked at 3.1+ GHz, 8GB RAM, two 500GB hard drives, and 10TB data transfer.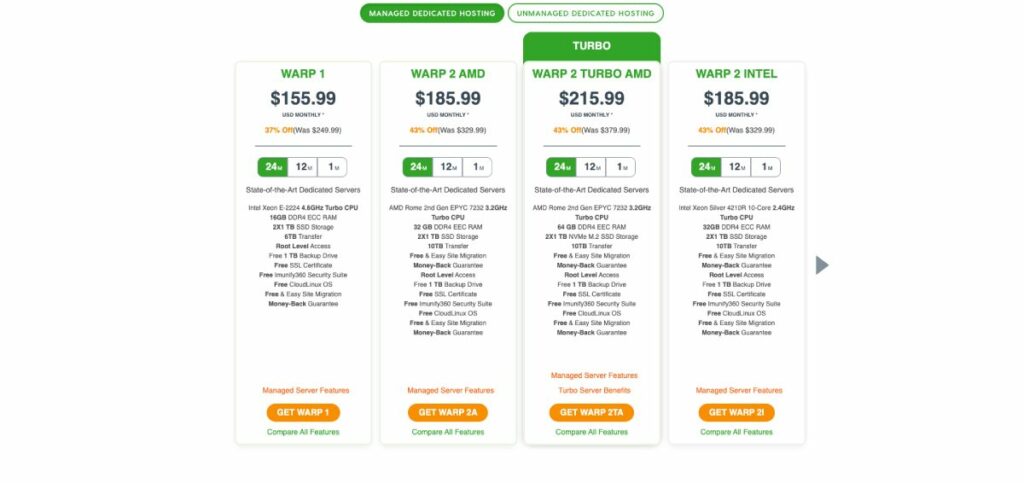 Customer Support: A2 Hosting's proactive customer support has received praise for their helpfulness, security measures, and swift response times. However, some customers have reported long hold times and issues related to email services or VPS migration. A2 Hosting acknowledges these concerns and is actively working to improve customer support by expanding its staff and addressing technical issues.
Who Should Use A2 Hosting: Businesses looking for a dedicated web hosting provider that offers exceptional speed, excellent uptime, and top-notch customer service should consider A2 Hosting. Their competitive pricing and customizable plans make them an ideal choice for eCommerce businesses and developers.
Why Choose A2 Hosting: A2 Hosting has been in operation since 2001, powering over 500,000 websites with a remarkable uptime of 99.93% in the last 12 months, and even reaching 100% in the last six months. Additionally, their response time averages an astounding 234ms, making them a reliable choice for businesses that prioritize speed and performance.
Read More: Full A2 Hosting Review

Wide Range of Services
Managed WordPress Hosting
User-Friendly Interface
Starting from $139.99/month
See Pros & Cons
Pros
One-stop-shop for web services
Easy-to-use website builder
24/7 customer support
Fast and reliable servers
Free SSL certificate
Cons
Higher renewal prices
Upselling of products and services
Limited advanced features
GoDaddy is a renowned domain registrar and hosting provider, standing tall with over 18 million clients and 78 million domain names under its belt. With their dedicated server in the UK, GoDaddy aims to offer top-notch performance, flexibility, and security for businesses and individuals alike. Here, we will explore key features, infrastructure, pricing, and customer support to help you decide if GoDaddy is the right fit for your dedicated server needs in the UK.
Ease of Use: GoDaddy prides itself on offering straightforward setup and management for their dedicated servers. The intuitive control panel and user-friendly interface make it simple for even the most novice user to get started. Additionally, their servers come pre-configured with the operating system of your choice for ultimate convenience.
Key Features: GoDaddy dedicated servers are packed with features to cater to the needs of for UK customers. Customers can benefit from unmetered bandwidth, robust processing power, and root access for complete server control. Moreover, features like DDoS protection and free SSL certificates ensure your website remains secure and protected.
Global Infrastructure and UK Data Centers: GoDaddy boasts a strong network of data centers across the globe, with a presence in the UK to enhance performance and latency for UK customers. This ensures faster load times and an improved user experience for your audience.
Pricing and Plans: GoDaddy offers various pricing plans to cater to different needs, starting from $139.99/Month. While some users consider their pricing to be on the higher end, the features they provide justify the expense. However, it's essential to be wary of potential hidden costs that some customers have reported in their reviews.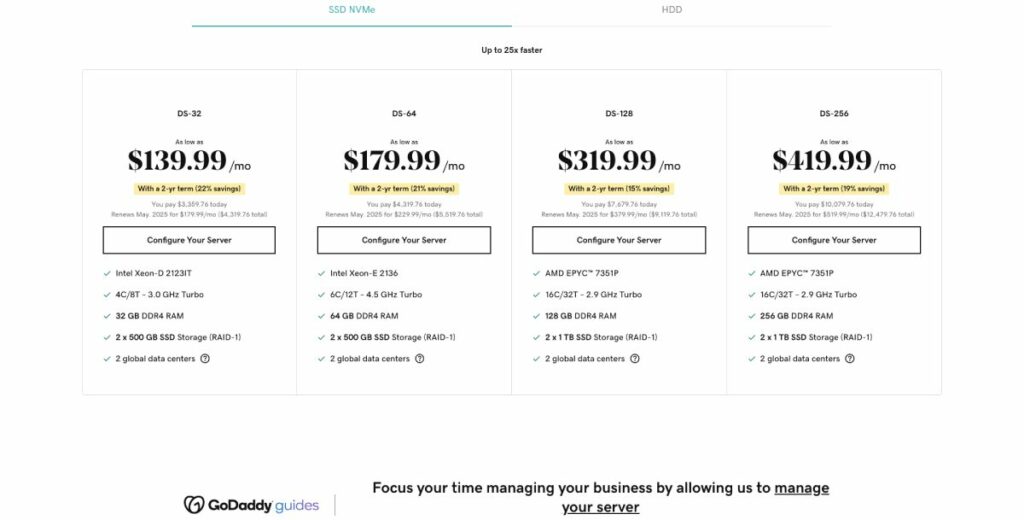 Customer Support: GoDaddy offers 24/7 customer support, with many users praising their prompt and efficient problem-solving. However, some users have criticized their email and chat support responsiveness, with the occasional issues left unresolved. Nonetheless, the availability of live phone support has been appreciated.
Who Should Use It: GoDaddy's dedicated servers are ideal for businesses and individuals seeking a secure and feature-rich solution for their UK hosting needs.
Why Choose GoDaddy: In summary, GoDaddy stands as a powerful contender in the UK market due to robust customer support. While their pricing may be a concern for some, their performance and security features make them a solid choice for those seeking an all-inclusive hosting solution.

Reliable Hosting Provider
Free Domain
WordPress Optimized
See Pros & Cons
Pros
Competitive pricing
Free SSL certificate
Free domain
24/7 customer support
99.9% uptime
Cons
Limited features on basic plans
Additional costs for some services
No monthly billing on basic plans
Ionos, formerly known as 1&1, stands out in the server hosting market in the UK, thanks to its robust hardware infrastructure, range of features, and consistently reliable performance. With over 90,000 servers and 15 data centers, Ionos has earned a reputation for delivering excellent service to over 12 million customers worldwide.
Ease of Use: Ionos offers customers a seamless experience for managing their hosting, domains, cloud computing, and data center services through their user-friendly interface. From setting up virtual data centers to managing personal information and contracts, Ionos' platform is built for simplicity and convenience, even for those with limited technical expertise.
Key Features: Ionos' dedicated servers are highly customizable with options for Intel or AMD processors, including the latest Intel Xeon, Ryzen Pro, and Epyc processors. Additionally, Ionos provides users with up to 48 TB of RAID storage and shared storage, API and cloud integration, and unlimited traffic. Virtualization through a hypervisor or virtual machine monitor (VMM) is also available for all dedicated server plans.
Global Infrastructure: With a strong presence across the globe, Ionos' dedicated server hosting services are backed by an impressive infrastructure that includes 15 data centers and server locations in the UK. This ensures fast, responsive performance for users seeking server hosting in the UK.
Pricing Model: Ionos offers flexible, on-demand pricing with no commitment period. The basic plan starts at just £0.075 per hour (£54 per month), providing users with an Intel Xeon E3-1230 v6 processor, 16GB DDR4, and 1000GB data storage capacity. Additionally, all plans include a free SSL Wildcard certification.
Customer Support: Ionos provides award-winning customer support through phone, chat, and email. Users also have access to a personal consultant for technical assistance, ensuring top-notch service when it's needed most. Ionos' impressive track record for customer satisfaction is evident in the abundance of positive user reviews praising their knowledgeable, attentive, and patient support staff.
Who Should Use: Ionos is perfect for those who are searching for servers providing high-end hardware infrastructure.
Why Choose Ionos: With its powerful hardware, customizable features, competitive pricing, and excellent customer support.

Scalable Infrastructure
Global Data Centers
Advanced Security
Starting from £47.54/month
See Pros & Cons
Pros
Flexible and scalable solutions
Wide range of hosting options
Strong focus on data security
Competitive pricing
High uptime guarantee
Cons
Complex interface for beginners
Customer support could be better
Additional costs for advanced features
OVHcloud is a frontrunner in the UK's dedicated server hosting market, with a reputation for providing powerful, scalable, and versatile server solutions. With a broad range of dedicated server options, OVHcloud has something for everyone, from affordable bare-metal servers to top-of-the-line optimized servers for critical workloads.
Key Features: One of the main reasons OVHcloud stands out is its unlimited traffic offering. All their dedicated server plans come with high bandwidth and anti-DDoS protection as standard, ensuring reliable performance and security. Customers also benefit from OVHcloud's extensive global infrastructure, with data center locations throughout the UK and around the world.
Pricing and Plans: OVHcloud offers four distinct dedicated server ranges to cater to a wide array of requirements. These options provide an excellent balance of affordability and versatility, enabling businesses to find the perfect solution for their needs. As an added bonus, OVHcloud offers a partner ecosystem to support reseller partners, integrators, administrators, and consultants, making it an attractive choice for businesses looking to expand their service offerings.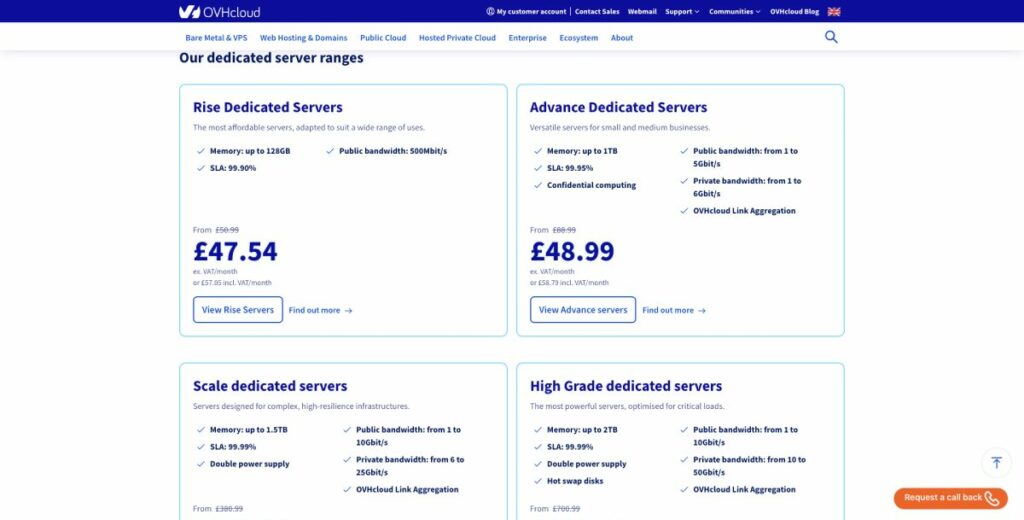 Ease of Use: OVHcloud's user-friendly interface makes it easy for users to manage their dedicated servers and access a wealth of additional services such as virtual private servers, web hosting, public cloud solutions, and more. The platform also caters to those with more advanced requirements, including AI and machine learning, multiple storage solutions, managed databases, and containers and orchestration tools.
Customer Support: Users consistently praise OVHcloud's exceptional customer support. The dedicated team at OVHcloud, including Bob Y., Adel Y., Kara Banks, Tim Cody, Kelsey Segerson, and Mahmudul H, have been applauded for their prompt and polite service, helping customers navigate the process of choosing the right server, migrating from old data centers, and quickly upgrading existing servers. The support team's technical expertise and willingness to go above and beyond are impressive, making OVHcloud a top choice for those seeking reliable and customer-oriented server hosting providers.
Who Should Use OVHcloud?
OVHcloud is an ideal choice for businesses of all sizes, from startups to established enterprises. On OVHcloud can accommodate businesses with varying requirements and budgets.
Why Choose OVHcloud?
In summary, OVHcloud offers top dedicated servers in the UK due to its unlimited traffic, powerful and scalable server options, exceptional customer support, and competitive pricing.

Feature-rich Hosting
Free SSL & Domain
Excellent Customer Support
See Pros & Cons
Pros
Wide range of hosting options
Free SSL certificate & domain
24/7 customer support
99.9% uptime guarantee
Easy-to-use control panel
Cons
Limited resources on shared hosting plans
Some plans may be pricier
No free website migration
AccuWeb Hosting is a well-regarded provider in the dedicated server hosting UK market, boasting an extensive range of hosting services such as Windows hosting, application hosting, and WordPress hosting, among others. With a presence in multiple data center locations, including London, AccuWeb Hosting caters to businesses of all sizes while offering a 99.9% uptime guarantee and robust customer support.
Ease of Use: Customers have praised AccuWeb Hosting for being user-friendly, offering various tools and utilities to manage and secure their sites effectively. AccuWeb's free hosting service, in particular, has garnered commendations for its reliability and speed. However, some users have reported limited support for free accounts.
Key Features: AccuWeb Hosting provides numerous features such as SSD, SATA, and enterprise disks ranging from 240 GB to 4 TB. Additionally, the data center in London offers dual processor servers, SoftRaid, and 24/7 hardware replacement.
Global Infrastructure: AccuWeb Hosting's data centers span across various locations including the US, UK, Canada, Africa, and more, ensuring reliable and low latency access for clients worldwide. The UK data center, located in London, is equipped with power generators, fire detection and suppression systems, and round-the-clock security.
Pricing and Plans: Catering to various business sizes, AccuWeb Hosting offers server plans with different prices, RAM, processors, and bandwidths. This flexibility allows businesses to choose a plan that best suits their needs and budget. Additionally, AccuWeb provides a money-back guarantee and emphasizes 100% customer satisfaction.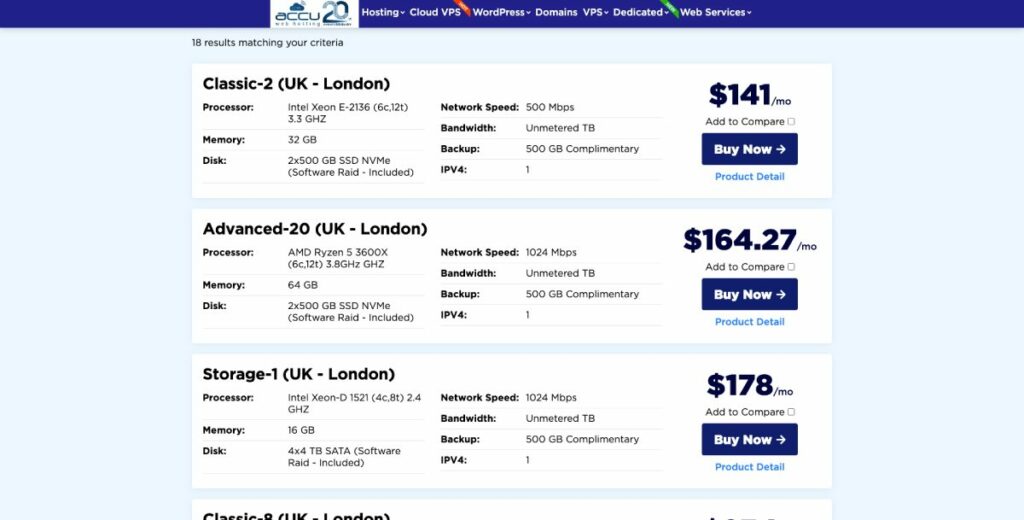 Customer Support: Although some users have experienced delays in receiving support, many satisfied customers commend AccuWeb Hosting's responsive and efficient customer service. This underscores the company's commitment to addressing customer concerns and ensuring their success.
Who Should Use It: AccuWeb Hosting is ideal for businesses seeking for low latency servers based in London.
Why Choose AccuWeb Hosting: Despite facing some criticism regarding support response times, the positive aspects of AccuWeb Hosting, such as its user-friendly tools and versatile plans, outweigh the negatives.

Fast Performance
Free SSL Certificate
24/7 Customer Support
See Pros & Cons
Pros
Easy WordPress integration
Free SSL certificate
Website builder included
1-click app installation
99.99% uptime
Cons
Limited storage on cheapest plans
WordPress optimized only
No free domain
FastHosts is a versatile dedicated hosting with servers in the UK. As a company with a strong presence in the UK market, FastHosts is equipped with features that make it the ideal choice for businesses of all sizes.
Ease of Use: One of the key features of FastHosts is its user-friendly setup process and modern interface. Users appreciate the simplicity and efficiency of the platform, which allows them to launch their hosting services quickly and without any hassle. However, some users have reported issues with account access and difficulty in canceling services.
Performance: FastHosts boasts high-performance dedicated servers that cater to the needs of businesses with demanding requirements. The company's global infrastructure and data center locations in the UK ensure that users benefit from fast, reliable, and secure hosting services. Despite the occasional complaint about poor customer support, many users have praised the quality of service provided by FastHosts.
Pricing and Plans: FastHosts offers a variety of dedicated server hosting plans to suit the needs of different businesses. The pricing model is competitive, making it an attractive option for those seeking an affordable yet high-quality hosting solution. However, some users have expressed their dissatisfaction with being blocked from their control panel until they paid for expensive add-ons.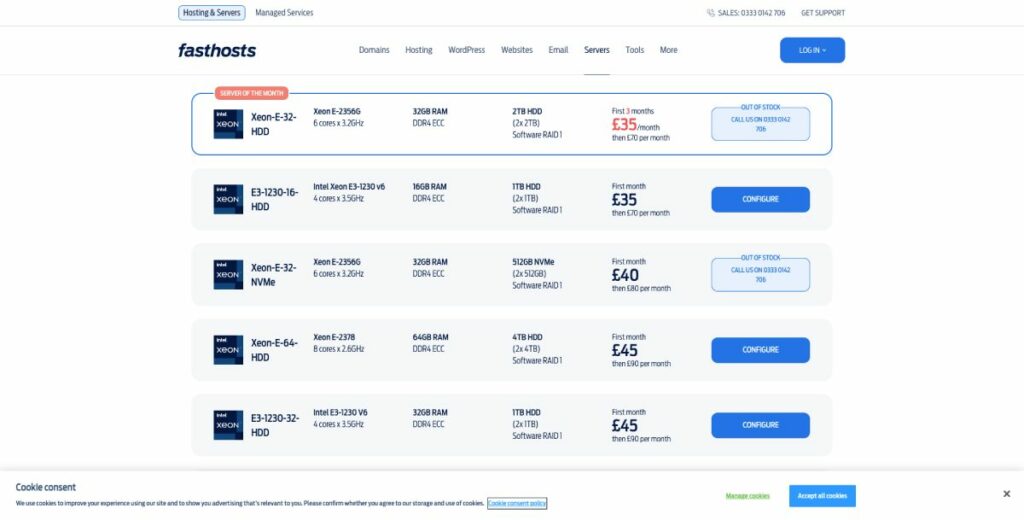 Customer Support: FastHosts provides helpful customer support, with representatives like Glen Contawe, Matthew Cavanagh, and Regine receiving recognition for their exceptional service. Although there have been negative reviews highlighting poor customer support, FastHosts responds to all reviews, apologizing for any inconvenience caused and offering to investigate issues further.
Who Should Use It
The affordable plans and user-friendly interface make it an excellent choice for those who value simplicity and efficiency.
Why Choose
Users can expect a user-friendly platform with excellent performance and a range of features tailored to their needs. Although some negative feedback has been noted, the overall experience offered by FastHosts makes it a top choice for UK-based businesses.
Conclusion
In conclusion, We've examined the best-dedicated server hosting in the UK options, each boasting its unique strengths and specialties. By considering factors like performance, security, and customer support, we've presented a clear-cut comparison that makes your decision-making process much simpler.
Remember, the choice ultimately depends on your specific needs and goals. We hope this article has shed light on the top contenders, enabling you to select the ideal UK-based dedicated server host to ensure your online venture flourishes.

As one of the co-founders of Codeless, I bring to the table expertise in developing WordPress and web applications, as well as a track record of effectively managing hosting and servers. My passion for acquiring knowledge and my enthusiasm for constructing and testing novel technologies drive me to constantly innovate and improve.
Expertise:
Web Development,
Web Design,
Linux System Administration,
SEO
Experience:
15 years of experience in Web Development by developing and designing some of the most popular WordPress Themes like Specular, Tower, and Folie.
Education:
I have a degree in Engineering Physics and MSC in Material Science and Opto Electronics.