Choosing the right host for your WordPress website is really important. The health of your website will be based on the WordPress Hosting Service provider you use. But how do you know which is the best managed WordPress host?
You have to keep in mind the 3 most important things of WordPress hosting when it comes to making a choice:
Speed ​​(load time)
Uptime: must be at least 99.94%
Customer support
WordPress provides the quickest and easiest managing ways to start your website or a blog. You can easily select the required template and then directly create interactive content for your website.
The web hosting providers have not yet reduced the utility of WordPress. This is because of the fact that despite you can get a lot of facilities with your hosts but WordPress offers specific hosting and managing services for your website. The best vendors out there offer managed WordPress hosting.
Managed WordPress hosting is a great way to overcome the trouble of hosting and reduce your time in managing all the chores of your website. These providers take the responsibility of maintaining all the features.
You cannot negate or neglect the management of your online property. For small businesses, especially, there is a lot to be managed other than social marketing, content, admin and SEO. So, here we have gathered the best-managed WordPress hosts from the internet to help you choose the most suitable for you.
What is Managed WordPress Hosting?
Managed WordPress hosting is a site that provides you with the deluxe-type experience of WordPress. Several WordPress providers offer specialized and managed WordPress hosting. Consider it a concierge service of a deluxe hotel that offers all the technical aspects being taken care of by the host.
Or, as the customers describe it, "a Five-star hotel for WordPress."
This premium support provided by the hosts includes everything from backups and updates, speed, and security to 99.9% uptime. Which means you have a pretty smooth way to move along.
These dependable hosting services of WordPress allow you to focus entirely on your business and leave the worries of management onto your hosts.
The concept of managed WordPress hosting revolves around a hassle-free experience for the clients to do what they can for their business.
The premium support is indeed the best part of the managed WordPress hosting. It is supported by the real experts of WordPress that have experience in hosting instead of anyone who works according to an instructional manual.
Top 9 Best Managed WordPress Hosting in 2022
Let's check our top selection for the best managed WordPress hosting providers.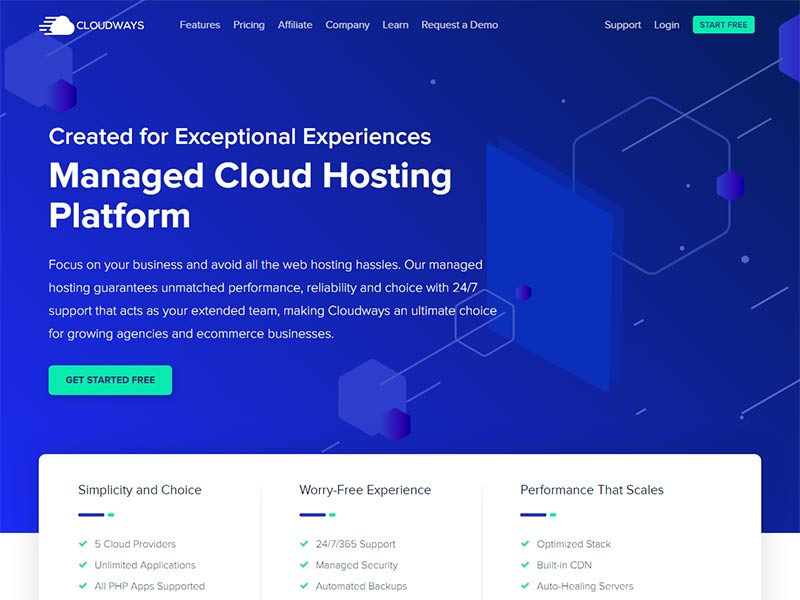 Managing a WordPress-based website on a cloud server might be complex, but not anymore with extraordinary CloudWays managed hosting services. These services guarantee a responsive website through the efficient content delivery network and advanced inbuilt cache management.
CloudWays also guarantee a robust and scalable web hosting experience and is highly trusted by more than 250K small-scaled businesses, agencies, and solo entrepreneurs. It is compatible with several cloud providers like Digitalocean, AWS, Linode, Google cloud, and Vultr to achieve supreme performance, elevated digital security, and 24/7 functionality of the server-based website.
Furthermore, characteristics like breeze plugin, CloudWays CDN, optimized slack, dedicated firewalls, database security, vertical scaling, single-click options, GIT integration, team collaboration, user roles, etc., enhance the previously mentioned functionalities to the highest limits.
Uptime: 99.99%
Load Time: 400ms
Support: 4.6/5
Features
Unlimited websites
Free SSL certificate
Fast speed
High performance
Free trial
Flexible and transparent pricing plans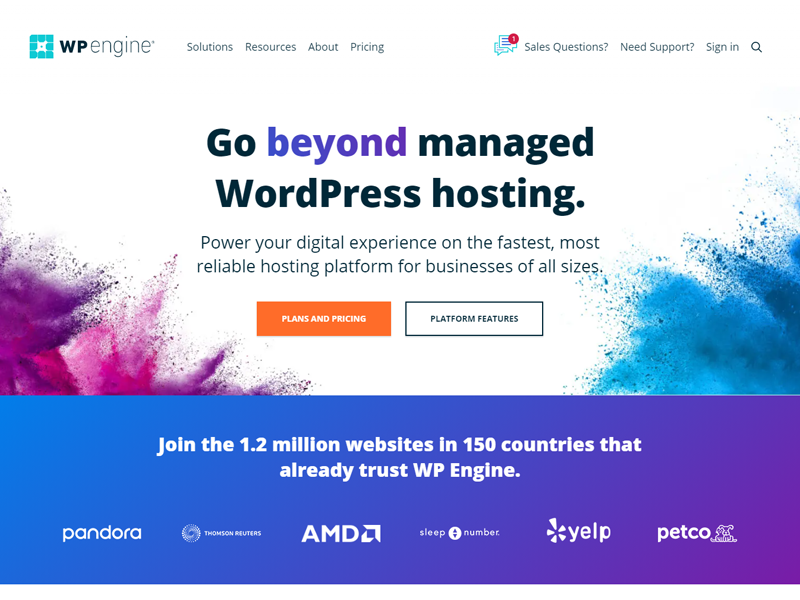 WPEngine is a managed WordPress hosting provider that offers robust and fast servers to handle all about your website. With WPEngine, you can have a hacker-proof website practically. Also, they make you feel superior with their outstanding and always available customer support.
Another remarkable feature that WPEngine offers is the Google Cloud Platform and Amazon Web Services. These features serve as the backbone of your website that further enable them for their tight security and scalability.
You may not need to go for enterprise-class hosting in the case of a small business website. Instead, the Linux-based A2 provides enough WordPress tiers for hosting merely at the cost of $7.99 each month.
The top-notch services include one-click staging, top-tier security, automatic caching, restoring points, daily backups, automatic updates, and whatnot. Many renowned brands like Balsamiq, SoundCloud, FourSquare, and HTC use WPEngine for their website hosting.
WPEngine is the ultimate solution if you want to be free of running the technicalities of your blogging website.
One of the oldest web hosts started in 1996, Bluehost has become the largest brand for WordPress hosting. Bluehost is an official hosting provider recommended by WordPress. Even when there is a lot of traffic With Bluehost, you never have to worry about your website being slow. Their expert support 24 hours a day, 7 days a week, is always ready to help you when you need it by phone, e-mail or live chat. They are rated first in web hosting for small businesses.
Uptime: >99.99%
Load Time: 419ms
Support: 5/5
Website: www.Bluehost.com
Today they're hosting more than 2 million websites. They belong to EIG and also own HostGator and some other website hosting known names.
Their average availability time of the last 12 months is> 99.99% and the loading time is 406 ms. This means that they are the most reliable web hosting with only 1 hour of inactivity per year. Definitely a great first guest.
BlueHost offers 24-hour customer service, 7 days a week, for any questions regarding the setting of the website. They are not cheap, though. Prices start at $ 2.95 a month, but they also include a free domain name (for 1 year) plus site migration for new accounts.
PROS: recommended by WordPress.org, free site transfer, strong uptime and loading time, free domain name.
CONS: no option to pay monthly.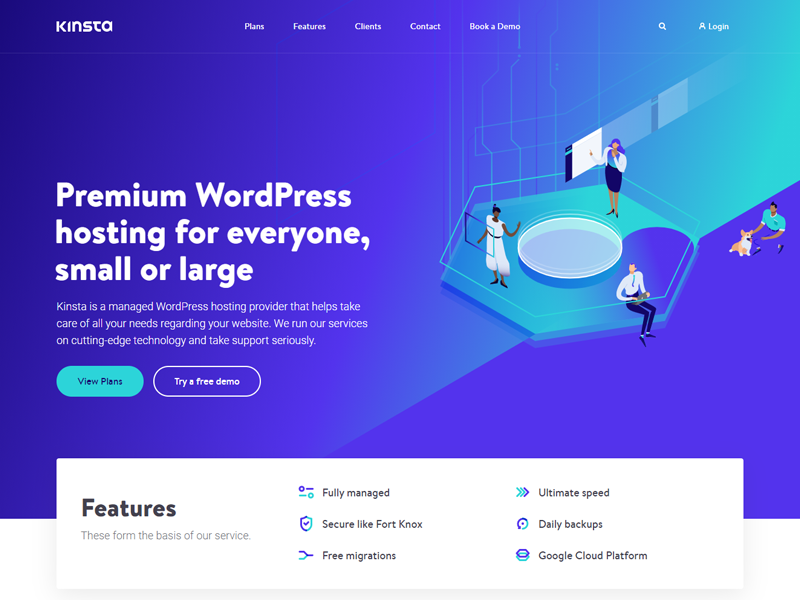 Kinsta is a bit different from the rest of the host providers for small businesses. Kinsta focuses mainly on a wholly managed site of WordPress with security features of high quality. Moreover, they provide daily backups.
Its plans use Google Cloud Platform, which costs the maximum cost of $1500 starting from $30 per month. They induce over a million visits per month for a website. The starter plan offers 50 GB free CDN, 10 GB SSD storage, and 20K visits per month. Moreover, it offers a 30-days guarantee of total money return with essential unlimited migration for free.
The starter plan on Kinsta offers automatic backups daily at 24 different global locations. All these options are available for as low as $60 per month. Also, there will be twice several monthly visits and multisite support. Kinsta is the best option if you take your website services seriously.
Kinsta is a bit costly as compared to other hosts on this list. But this price brings you immediate support with security measures and an attractive dashboard. The plans pose specific limits of about 3 million monthly visits and 250 GB SSD storage.
None of the plans offers unlimited options of features. Moreover, there is no option of buying email accounts with Kinsta. But, it provides strictly user-friendly and unified dashboard management.
You can also consult our detailed review of Kinsta.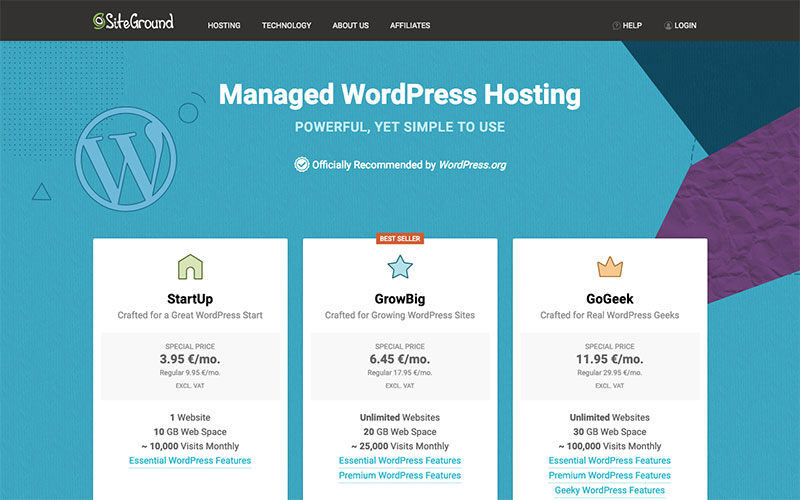 Support: 5/5
Load Time: 714ms
Uptime: 99.99%
SiteGround is one of the most popular and top-rated hosting providers in the WordPress community. They provide internal WordPress security and security solutions to make your site as fast and secure as possible. They are known for the best 24/7 customer support.SiteGround features include automatic updates,one-click staging and GIT version control, integrated WP caching, CDN. They are also one of the few companies offering location specific hosting with 3 data centers in the US, Europe and Asia. In addition to this, they have a special 70% discount for WPBeginner readers.
We also tested customer support by connecting to their live chat and asked several questions to evaluate their support team. They were friendly and helpful, answering questions quickly.
Furthermore, SiteGround offers free transfers to the existing website and is officially recommended by WordPress.
PROS: officially recommended by WordPress, good uptime, best WordPress support, stable speed, free site transfer.
CONS: Their GoGeek plan is expensive.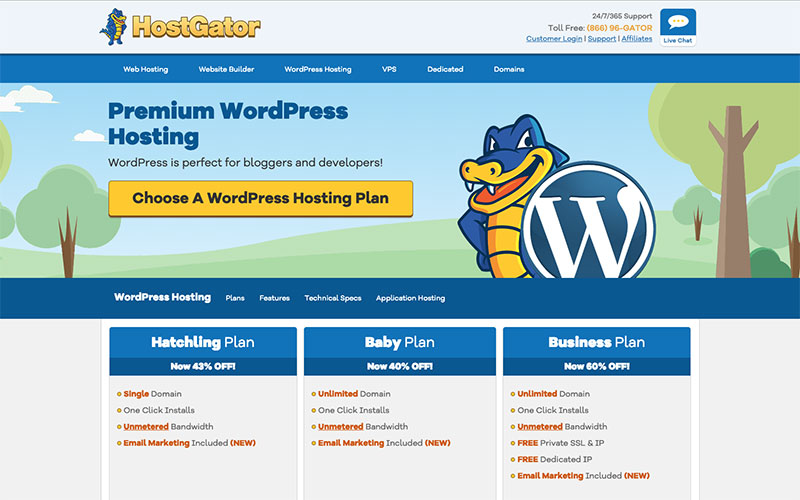 This extremely popular WordPress web hosting falls in the middle of my top 5 because it has some important points and some not-so-good points.
You can visit HostGator for more information about the web hosting section because currently has some discounts. Plans start at $2.65 per month (after a 20% discount) for the hatchling plan. Bandwidth and disk space are unlimited. The control panel is extremely easy to use and full of utilities. Most web hosting services usually offer a 30-day money-back guarantee, but HostGator offers a 45-day money-back guarantee.
All the general functions are offered by HostGator and the e-mail functions are particularly exceptional. A powerful and free spam protection program is provided by all packages, this is the favorite of many users. The service is easy to use, once you start using it regularly and work around the problem. The problem is the lack of intuitive usability and slow response times from the support. It is ideal for people who do not know WordPress web hosting.
Load Time: 421ms
Uptime: 99.97%
Website: www.HostGator.com
Support: 5/5
Keep in mind that this is not a normal HostGator shared hosting option. It's the new and improved cloud hosting. They come with an expensive cost – $ 13.99 / month but are currently discounted at $ 2.65 / month if you decide to buy 1 month or 6-month plan. After that, it is renewed at the normal price. Get a special discount for Codeless blog readers.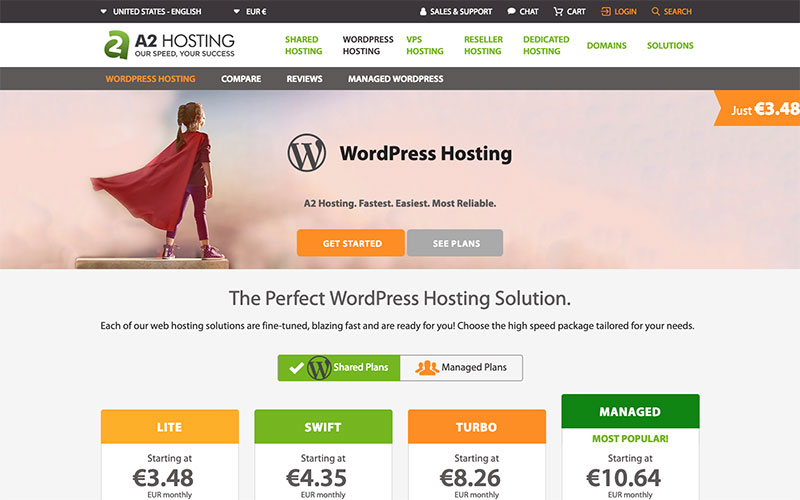 Plans start at $ 3.92 for a site. The unlimited site plan starts at $ 4.90. The "up to 20 times faster" plan starts at $ 9.31. They offer free migration of accounts from other hosts.
Started in 2001 in Michigan and offers everything from shared hosting plans to dedicated server solutions. They own all their web servers. Focus on WordPress together with other CMS solutions. Collaboration with Carbonfund to offset their CO2 emissions. You can cancel any time and get a refund for unused services.
Uptime: 99.91%
Load Time: 392ms
Support: 4/5
Website: www.A2Hosting.com
Unfortunately, their operating period has slipped in the last few months to an average of 99.91% (currently 8 hours of detention over a period of 12 months).
A2 offers customer support 24 hours a day, 7 days a week, via chat, e-mail, telephone and ticketing systems. I checked it by contacting their live support and they responded immediately with easy-to-understand answers.
Read More: Kinsta vs A2 Hosting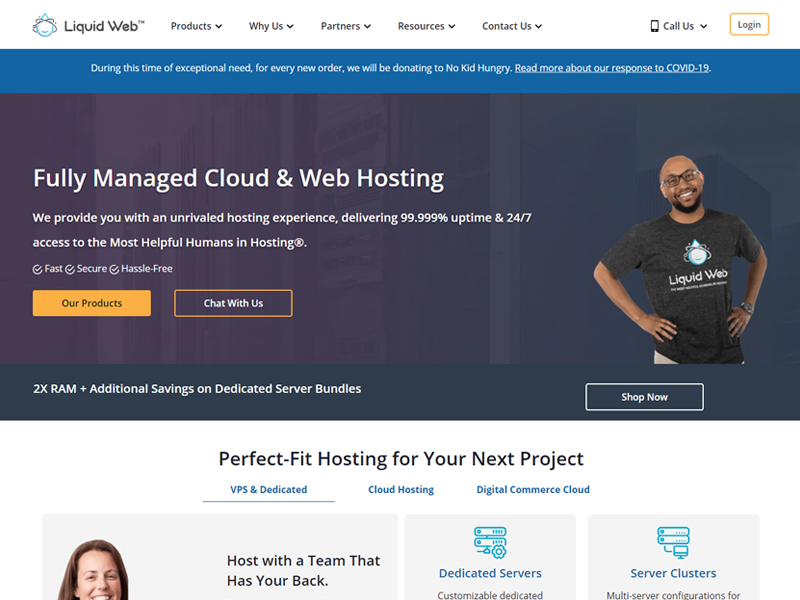 LiquidWeb is pro in server hosting, cloud hosting, and managed VPS hosting. They provide their heroic support, which is not only high in quality but is super fast too.
The site hosting for WordPress does not include traffic limit or page view. However, they do offer automatic SSL, a staging site, and automatic backups daily. The professional developers can get benefited by accessing SSH, WP-CLI, and Git.
The servers offered by LiquidWeb are high in their security, performance, and speed. Therefore, you can get an entirely smooth hosting platform.
The WordPress hosting options offered by LiquidWeb are an intuitive dashboard, automatic updates, and staging sites that manage everything related to your website.
Several prominent and renowned brands have opted for LiquidWeb. These brands include FedEx, Audi, ESPN, Red Bull, and Motorolla.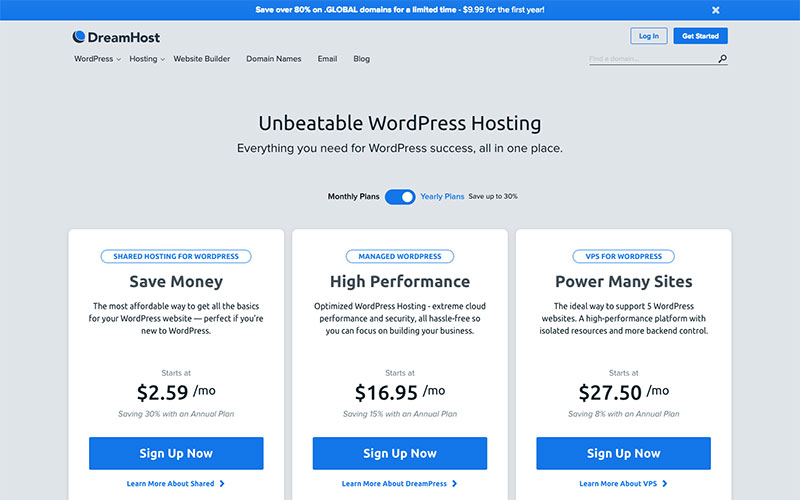 Dreamhost was at the top of the charts but in recent years he has seen it fall. The cost is $ 7.95 per month and 50 GB of free backup space is also provided. Bandwidth and storage space is unlimited.DreamHost is optimized for WordPress and many people prefer to use it.
This service is number 8 on the list thanks to the extremely impersonal and slow customer service. Downtime is also a big problem for users all over the world. There is no telephone line to solve customer problems and when you are in a restricted position, live chat and technical support are generally not sufficient.
Load Time: 724ms
Support: 4/5
Uptime: 99.94%
Since they got the DDOS attack, their uptime is obviously very low – 99.90%. DreamHost also offers some other small add-ons.
First, get unlimited bandwidth. They will credit your account every hour that there has been a problem with uptime. When I contacted customer support to ask a couple of questions, I got a fairly quick answer.
One of the big drawbacks of DreamHost is their price. Their lowest plan is still almost double what other hosting sites offer: $ 7.95 a month. The positive side: get the longest reimbursement guarantee from DreamHost (97 days) to test their service before being locked into a long contract.
PROS: Strong security features. Complete domain management tools. Excellent cloud hosting offers. Unlimited data transfers per month Generous reimbursement guarantee.
CONS: No Windows-based servers. No true reseller hosting plans. No telephone support.
Pros and Cons of Managed WordPress Hosting
Pros
No backend issues—the managed WordPress hosting does not give you the headache of backend coding or cluttering as the experts take care of everything for you.
User experience—the interfaces and dashboards are user-friendly. Also, the control panels are designed ideally for several websites.
End of downtime—your website will not slow down irrespective of the traffic it has.
Automatic updates—your updates are already done before you even realizing to do them.
Backups—the daily backups are kept sound and safe as soon as you create your content.
Cloud technology—most WordPress hosts are based on cloud technology that offers unparalleled flexibility and availability that handle all types of spikes in the traffic on your website.
Constant support—managed WordPress hosting provides you the experts to manage your entire WordPress account who deal with everything and anything about your WordPress account.
Total security—it offers the ultimate protection that keeps your website from hackers and malware scans.
Super speed—WordPress configuration with the servers of manager WordPress hosting allows it to run with lightning speed for all WordPress websites.
Cons
More expensive—managed WordPress hosting is more costly than shared hosting. Its cost starts from $15 per month, twice or thrice the price of shared hosting.
No email—the expensive WordPress managed hosting setup does not handle your email stuff.
The limited number of websites—the managed WordPress hosting for the entry-level plan only offers you support with one website only.
Difficult exit—if you ever want to leave the managed WordPress host, you may face serious challenges.
Banned essential plugins—managed WordPress hosts do not understand the need to run all types of plugins as shared hosting platforms do.
Limited storage—the managed hosts limit the disk space as you browse the options. So, if you are using large files on your websites, you may face particular challenges in keeping them.
Importance of a Managed WordPress Hosting
WordPress, the most popular content management system on the Web (CMS), is much more than the simple blogging platform that many people know. If you are thinking of building a website, you should consider hosting WordPress.
Most web hosts offer some form of WordPress-specific service, be it an optimized or managed environment. Both types boast platforms designed specifically for WordPress.
In each, the CMS comes preinstalled, so you don't need to download and configure a WordPress installation like you would when using a traditional Web hosting environment.
Depending on the web host, you can take advantage of a wide range of site management features, including automatic data backups, page caching and automatic CMS updates. Keep in mind that some web hosts limit a short list of plug-ins that can duplicate features already integrated into the optimized or managed setup or negatively affect your site's performance.
Managed WordPress is based on a WordPress hosting optimized in some key areas. Your website will be assigned a customer support team that is not only super-informed about everything that is WordPress, but also guarantees that you never have to worry about entering the back-end of your site to do something other than creating content.
Managed WordPress hosts typically offer site staging for posts and pages so you can test them before they are published, automatic malware detection and removal, and advanced protection.
The demarcation line between optimized WordPress and managed WordPress can be quite limited and that each site may have its definitions different for the two terms and this is important to understand. You need to contact a web host's customer support team to learn the specifics of your WordPress hosting.
Uptime Importance
The best WordPress hosts offer almost 100% uptime guarantees to all their customers. This is due to the fact that whenever your site experiences downtime because your host's server or other hardware crashes, visitors to your site cannot access your website.
If you have an online store, this can affect your earnings.
We've added uptime monitoring to our review process, and the results show that most web hosts do a great job of keeping sites up and running. Web hosts with uptime problems cannot be included among the best services in the field, regardless of how solid their offers are.
Do you need specific WordPress hosting?
If you are a beginner who is starting a blog, you do NOT need hosting managed by WordPress. … We recommend Bluehost which is also one of the official WordPress hosting providers. Now, if you are a small company or have a high traffic website, then it makes sense for you to manage managed WordPress hosting.
You have to consider how long WordPress web hosting is needed. If it is a short-term project, for example, less than a month or two, you will generally receive a refund if you cancel the hosting within 60 days. Some companies offer 30-day repayment guarantees, while others offer 90-day repayment guarantees. Once again, it is useful to do homework.
We have reviewed many WordPress hosting services aimed at individuals and small businesses and we have included our favorites in this guide.This post will help you to see and find traditional web hosts offering WordPress hosting services and dedicated WordPress services, offers a quick overview of the features that can be found with each service. If you want to take a closer look at those WordPress hosting services, read the full reviews, linked below.
Managed WordPress Hosting FAQ
Is it possible to transfer managed WordPress hosting after some time?
Yes, it is possible to change or transfer the managed hosting company. Some companies offer migration services which you can use. Also, they provide minimum downtime.
What is the procedure of migrating a WordPress website to a managed WordPress hosting?
Most managed WordPress hosting companies also offer free migration of your WordPress websites. They only let you know about their transfer options if you ask them. Some other companies also ask for an additional amount for migration. You can even transfer a whole website to a new host with limited or no downtime.
Is there any managed WordPress hosting company that offers backup of my website content?
Yes, most of the companies do offer backup of the website content. Here, you may not find a single company that ensures safe backup. However, we recommend you keep your backups through WordPress plugins for backup.
Is there a need for an additional add-on with managed WordPress hosting?
Sometimes while signing up, some companies may offer you their add-on services. If you don't want to buy them, uncheck them, as they will only add them to your final hosting bill.
If you feel like taking any add-on services, add them to your plan from your hosting account dashboard.
Is it necessary to buy managed WordPress hosting and domain from the same company?
No, it is not. You are free to buy a domain from one company and managed WordPress hosting from another. Yet, it will require you to change the DNS settings in this case. Also, if you have both the same company's services, it is easier for you to manage your hosting and domain from the same dashboard.
Here's a tip: some companies also offer a free domain if you buy hosting from them.
Can I use my managed WordPress hosting with the domain that I have already bought?
Yes, you can. You can use your current domain with any other hosting company. All you need to do is change its DNS and domain settings to managed WordPress hosting. All the companies offer a guide to do so.
What is the cost of building a website with managed WordPress hosting?
The total cost depends on the SSL certificate, domain name, and hosting costs. The maintenance cost of the website will keep on increasing with the growth of your website. There are ways that you can use to control your costs.
Does managed WordPress hosting supports WooCommerce?
Yes, it does. WooCommerce lets you run your online store on your website. Your managed WordPress hosting integrates it just like a standard installation.
Does managed WordPress hosting support plugins that I manually add?
Yes, it does. It is somewhat more accessible with the managed WordPress hosting to keep your plugins automatically updated. It is quickly done via the dashboard. Yet, some companies also block specific plugins that hinder the compatibility of the hosting environment.
Is it necessary to have managed WordPress hosting for a new website?
No, it is not. However, Managed WordPress Hosting provides you with a specialized hosting environment to work with WordPress. It includes premium services such as performance optimization, automatic updates, and WordPress support. However, it costs you more than shared hosting, but you get entirely managed and supervised WordPress hosting in return.
You can even look for a company that offers you reasonable pricing for their managed WordPress hosting services, such as Bluehost costs only $2.75 per month and provides free domain. If you do not have managed WordPress hosting at the start of your website launch, you can get it later.