When it comes to hosting a Joomla website, finding the right provider can make all the difference in ensuring a smooth and seamless user experience. With so many hosting providers available, it can be challenging to find the one that best suits your needs.
In this article, we will shed light on five of the best Joomla hosting providers with cheap plans in 2023. We have ranked and compared these providers based on their loading speed, performance, and customer support, making it easier for you to make an informed decision.
The Top 7 Best & Cheapest Joomla Hosting Providers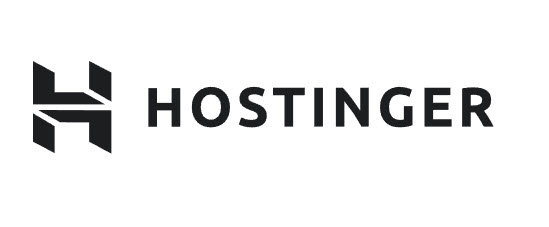 Highly Affordable
Optimized for Joomla
Free Domain & SSL
Starting from $1.99/month
See Pros & Cons
Pros
Fast servers and 99.9% uptime
1-click Joomla installation
24/7 Support
30-day money-back guarantee
Free website builder
Cons
No phone support
Basic plan offers limited resources
Up-sells during checkout
Hostinger is a cheap Joomla hosting provider that offers an exceptional combination of affordability and excellent features tailored to create a successful Joomla website. With a dedicated team of experts specialized in Joomla, lightning-fast load times, and top-notch performance, Hostinger is the go-to choice for the best Joomla hosting experience.
Joomla Compatibility and Features: Hostinger provides a one-click Joomla installation, making it extremely easy to set up your website. With a massive library of free themes and plugins, as well as support from a large Joomla community, you'll have everything you need to build a stunning, feature-rich website.
Performance: Hostinger's server infrastructure is optimized for maximum efficiency, ensuring outstanding performance. The company offers a 99.9% uptime guarantee and uses the latest PHP and MySQL versions. Here are some performance data from Hostinger:
Uptime: 99.9%
Speed: 511ms (faster than the industry average of 600ms)
Security: Security is a top priority for Hostinger. They provide enhanced security features, including a lifetime SSL certificate for all annual Joomla hosting plans, automated backups, DDoS protection, and access manager.
Pricing: Hostinger offers three Joomla hosting plans:
Single Web Hosting: $1.99/mo
Business Web Hosting: $3.99/mo
Premium Web Hosting: $2.99/mo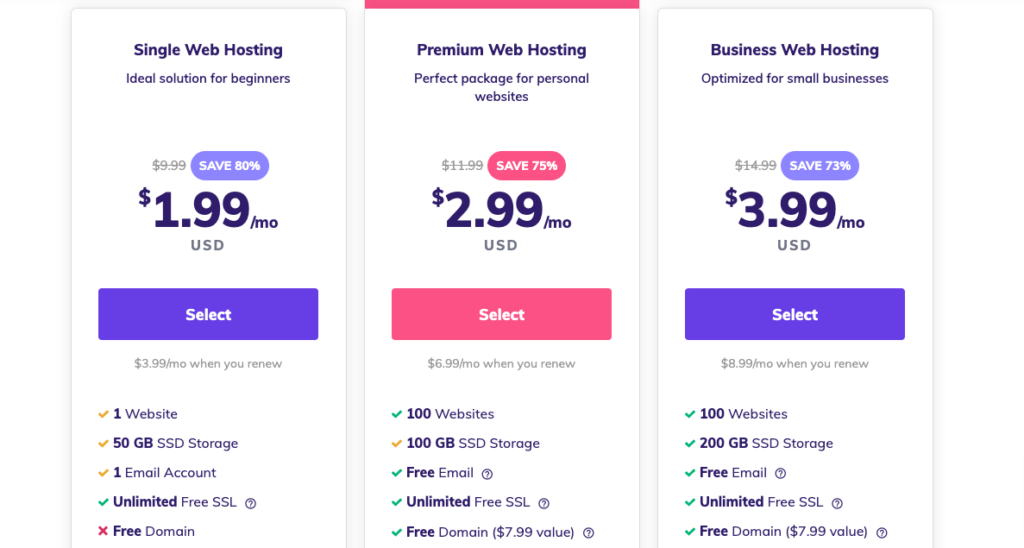 All plans include a free domain for the first year and a 30-day money-back guarantee.
Hostinger has received rave reviews from users, praising its easy navigation, affordable pricing, and the wide variety of installations, including Joomla and WordPress. Customers have also reported no issues with downtime, data loss, or other problems. The user-friendly GUI and management page make it accessible for those unfamiliar with web development.
One customer, Mike Masters, shared that Hostinger was the perfect choice for someone just starting in the IT world, offering premium features for less than $100 for a 4-year subscription. The support team is responsive and provides assistance until the issue is resolved. In addition, Hostinger offers daily backups of important files for just $1 a month.
In conclusion, Hostinger is a reliable and affordable hosting service that provides excellent features for Joomla. Their commitment to customer success and satisfaction sets them apart, making Hostinger the ideal choice for your Joomla website. Visit Hostinger now to get started and take advantage of their 75% off deal!

Fast Performance
Free SSL & CDN
Starting from $2.99/month
See Pros & Cons
Pros
High-speed performance
Free SSL and CDN
Friendly customer support
Unlimited storage and bandwidth
Anytime money-back guarantee
Cons
Expensive renewal rates
Migration fees for changing data centers
No free domain
A2 Hosting is a top choice for Joomla users, providing high-performance and developer-friendly hosting solutions. Known as one of the best VPS Joomla hosting provider, A2 Hosting boasts features such as A2 optimized, perpetual security, and a SwiftServer platform that delivers up to 20X faster page loads compared to other Joomla hosts.
When searching for the best Joomla hosting, there are several key factors to consider, such as Joomla compatibility and features, performance, security, and pricing. A2 Hosting excels in all these areas, making it an excellent choice for Joomla-based websites.
Joomla Compatibility and Features: A2 Hosting is well-known for its Joomla compatibility, offering various extensions to enhance Joomla sites, including VirtueMart, EasyBlog, JCE, JD Builder, and Astroid. Their user-friendly control panel and one-click installation of popular software make it an easy choice for users seeking a hassle-free Joomla hosting experience.
Performance: A2 Hosting's SwiftServer platform ensures top-notch performance, with significantly faster page loads than competing Joomla hosts.
Additionally, they offer Turbo Servers for even quicker load times. Based on user reviews, customers have praised the speed of both the WordPress backend and live site performance. However, some users have reported issues with email and domain forwarding.
Security: With perpetual security features, A2 Hosting is a dependable choice for Joomla hosting. Their dedication to providing safe and secure web hosting is evident in their commitment to addressing any customer concerns regarding security issues.
Pricing: A2 Hosting offers various web hosting solutions, such as Shared, VPS, Dedicated, Reseller, Email, cPanel, and Turbo Hosting. They also provide products like domains, SSL certificates, site builder, and free website migration. The pricing plans include:
Startup – $2.99
Drive – $5.99
Turbo Boost – $6.99
Turbo Max – $14.99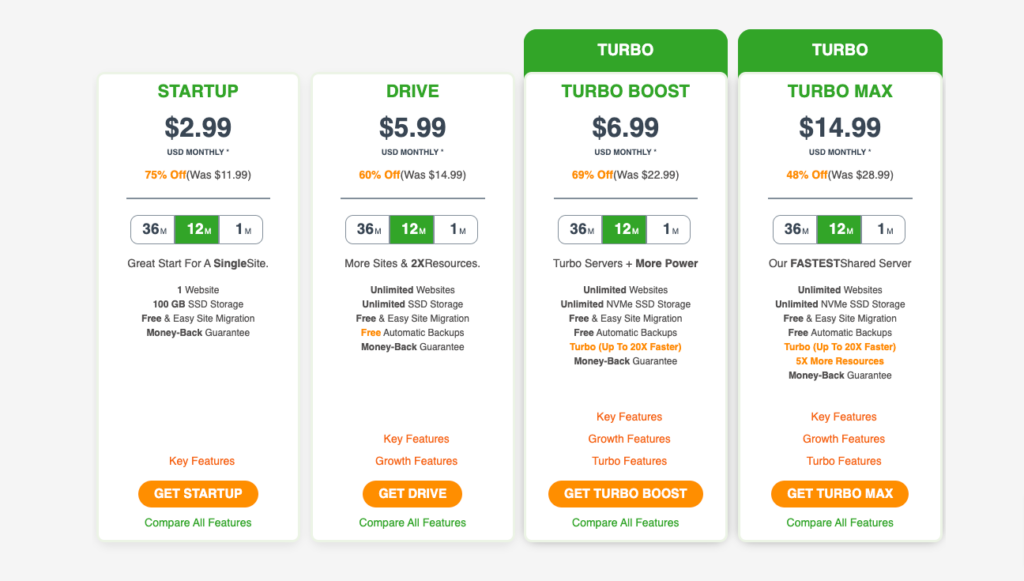 Despite the numerous positive aspects of A2 Hosting, it is crucial to consider the negative reviews from some customers regarding slow response times, unresolved issues, and long waiting times for live chat support. However, A2 Hosting has demonstrated their commitment to providing high-quality service by addressing these concerns.
In conclusion, A2 Hosting is a reliable and high-performance Joomla hosting provider. Their user-friendly control panel, Joomla compatibility, and exceptional performance make them a top choice for those seeking the best Joomla hosting solution.

Managed Cloud Hosting
Optimized for Joomla
Pay-as-you-go Pricing
See Pros & Cons
Pros
Managed cloud hosting
Multiple cloud providers
Free SSL certificate
24/7 customer support
Cons
No free domain
Requires some technical knowledge
Pay-as-you-go pricing may be expensive for some users
Cloudways is a managed cloud Joomla hosting, offering a fast and secure platform with an easy-to-use interface. With essential features like SSD hosting, built-in cache mechanism, and an optimized stack, it's an excellent option for Joomla webmasters looking for a reliable hosting solution. In addition to Joomla, Cloudways also provides WordPress hosting, free SSL certificates, and one-click cloning.
Joomla compatibility and features: With support for multiple IaaS providers like DigitalOcean, Amazon, Google, Linode, and Vultr, users have the freedom to choose their preferred infrastructure. Cloudways also makes it easy to deploy applications like Joomla and WordPress through single-click installation. User reviews highlight the platform's ease of use and helpful support, although some users find the company's request for personal identification documents and social media information invasive.
Performance: Cloudways delivers exceptional results. With 60+ global data centers, businesses of all sizes can benefit from fast loading speeds and minimal latency. The platform's built-in cache mechanism and SSD hosting further enhance performance, ensuring top-tier performance for Joomla sites.
Security: Cloudways excels in this aspect. With enterprise-grade security features, users can expect a safe environment for their Joomla websites. The platform also offers easy SSL certificate installation and site cloning options to ensure your site remains secure throughout its lifecycle.
Pricing: Cloudways offers competitive pricing plans tailored to various business sizes and needs. Their pay-as-you-go pricing structure includes:
Standard – start from $10/mo
Premium – start from $12/mo
and you can choose between:
Digitalocean
Vultr
Linode
AWS
Google Cloud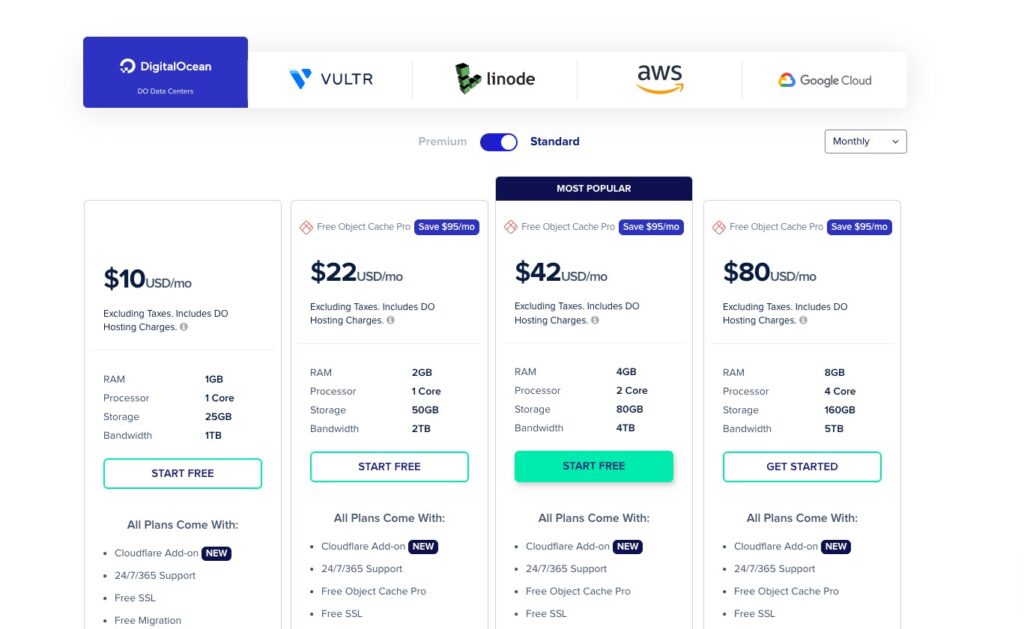 Furthermore, users have the option to choose between standard, advanced, or premium support add-ons, ensuring they get the assistance they need when they need it.
In conclusion, Cloudways is an exceptional choice for managed Joomla hosting. With its compatibility, performance, security, and pricing, it caters to the needs of various businesses and individuals. The platform's user reviews highlight its ease of use, trouble-free hosting, and helpful support.
While some users may be concerned about the request for personal identification documents, Cloudways' overall offerings make it a strong contender in the Joomla hosting market. If you're looking for a reliable, fast, and secure hosting solution for your Joomla website, Cloudways is worth considering.

High Performance
Joomla Optimized
Top-notch Support
Starting from $3.99/month
See Pros & Cons
Pros
Free SSL certificate

Free CDN integration
Fast loading times
Excellent customer support
Cons
Higher price compared to competitors
Setup fee for monthly billing
Storage limits on lower plans
Siteground is well-known for its Joomlaa and WordPress hosting capabilities, offering a perfect combination of performance, security, and customer support. It has become the go-to choice for many Joomla users because of its compatibility, features, and a strong focus on providing Joomla hosting.
Siteground is an official hosting partner of the Joomla project. They offer free Joomla site transfer or setup with 1-click install, making it extremely convenient for users. Additionally, Siteground provides auto-updates to the Joomla Core and plugins, ensuring that your website stays up-to-date and secure.
Performance: Siteground's hosting platform is built on top of Google Cloud infrastructure, with multiple custom speed optimizations. This guarantees a 99.9% uptime, as well as fast loading speeds for your Joomla website. Many users have praised the speed and stability of the hosting services in their reviews.
Security: Security should never be overlooked, and Siteground does not disappoint in this aspect. They offer robust security features, including 24/7 monitoring of your site to prevent downtime, free SSL, daily backups, and a complementary staging area for your Joomla site. These security measures ensure that your Joomla website is protected from potential threats.
Let's talk about pricing: Siteground offers three plans to cater to different needs:
StartUp – 1 website, 10GB web space, and 10,000 monthly visits. Priced at $3.99 per month with an 84% discount.
GrowBig – Unlimited websites, 20GB web space, and 100,000 monthly visits. Priced at $6.69 per month.
GoGeek – Unlimited websites, 40GB web space, and 400,000 monthly visits. Priced at $10.69 per month.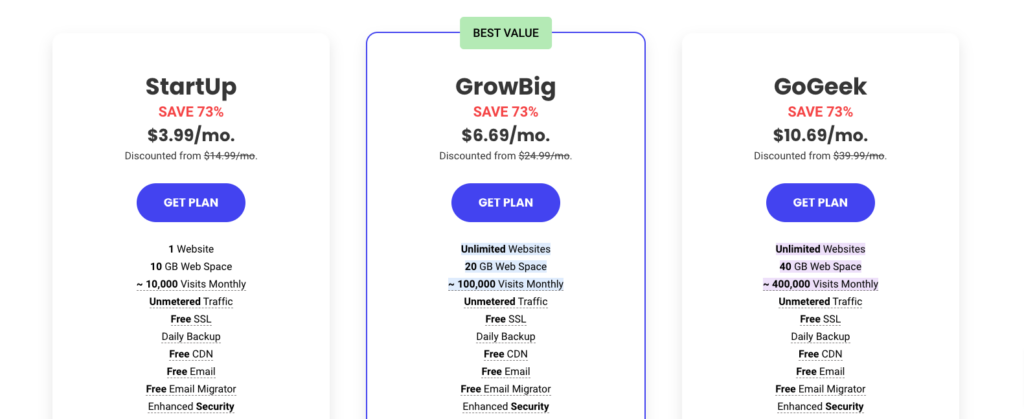 Based on user reviews, most customers have had positive experiences with Siteground's Joomla hosting. They commend the helpful and knowledgeable customer support team that has assisted them in solving various Joomla-related issues.
However, some customers have reported a decline in the quality of support in recent years, and a few have switched to other hosting providers due to lower prices or superior support. It's important to weigh these pros and cons when making a decision.
In conclusion, Siteground stands out as one of the top choices for the best Joomla hosting, thanks to its compatibility, performance, security features, and competitive pricing.

Most Affordable
Free Domain
Joomla Optimized
Starting from $2.95/month
See Pros & Cons
Pros
Joomla staging
Free SSL certificate
Free domain
Easy and functional control panel
99.99 % uptime
Cons
Shared hosting is not focused on performance
No free website migration
Bluehost is offering a comprehensive set of features specifically designed for Joomla users. With its simplicity, affordability, and robust performance, Bluehost guarantees a seamless experience for entrepreneurs and small online startups alike.
Bluehost ensures Joomla compatibility and features that cater to the needs of this platform's users. With simplified Joomla installation and configuration, users can quickly set up their Joomla site with a free domain and one-click installation.
Bluehost also offers 24/7 US-based support with Joomla expertise, giving users peace of mind knowing that they have expert assistance available whenever they need it.
Performance: Bluehost certainly delivers in this area. The platform boasts a 99% uptime guarantee, ensuring that your Joomla site remains accessible and reliable. Furthermore, Bluehost offers up to $200 in search engine ad credits to help your site gain visibility and attract more traffic.
Security: Bluehost includes free anti-spam solutions, integrated Cloudflare support, and digital security features to protect your site from potential threats. However, it is essential to note that Bluehost does not offer automatic daily backups, so users should consider implementing their own backup strategy.
When it comes to pricing, Bluehost offers competitive rates and a variety of plans to cater to different needs. Some pricing highlights include:
Lowest price: $2.95 per month
Unlimited disk space and bandwidth on many plans
30-day money-back guarantee
Free SSL certificate and domain registration

Despite the many advantages, users should be aware of certain drawbacks when considering Bluehost as their Joomla hosting option.
Some customers have reported issues with the hosting itself, as well as feeling like they were bothering Bluehost every time they asked for help. Additionally, there is a fee for migrating from another host and no Windows hosting available.
In conclusion, Bluehost offers a strong package for Joomla hosting. Although there are a few drawbacks, the overall experience of using Bluehost for Joomla hosting is positive, and the platform is certainly worth considering for your hosting needs.

Managed Cloud VPS
Free SSL & Domain
Starting from $2.95/month
See Pros & Cons
Pros
Managed VPS hosting
Free SSL and domain
Easy-to-use control panel (SPanel)
Joomla Optimized
99.99% uptime
Cons
Higher starting price
No shared hosting plans
Limited data centers
ScalaHosting is a managed VPS hosting for Joomla, offering a wide range of features, high performance, and excellent support. Among the features that make ScalaHosting stand out as the best Joomla hosting are its Joomla Manager tool, free website migration services, and its sponsorship of the Joomla organization and community.
Joomla Compatibility and Features: ScalaHosting is highly compatible with Joomla and offers a unique Joomla Manager tool to help users launch and manage their Joomla websites easily.
Their hosting plans include free SSL certificates, unlimited email accounts and databases, and daily offsite backups. According to users' reviews, ScalaHosting excels in providing excellent Joomla hosting and support services, with knowledgeable staff members who are well-versed in Joomla CMS.
Performance: ScalaHosting's hosting services boast a 100% uptime, well above the industry standard of 99.9%. The average response time of 443ms is also faster than the market average of 600ms. This means that ScalaHosting provides reliable and fast hosting for Joomla websites, ensuring optimal performance and user experience.
Users have praised ScalaHosting for its fast support services and the impressive speed and performance of their Joomla sites.
Security: Security features offered by ScalaHosting include automatic daily backups, dedicated firewalls, DDoS protection, and SShield security protection. These features ensure that user's Joomla websites are protected against common threats and vulnerabilities.
In addition, ScalaHosting's SPanel hosting platform includes the SShield security system, which blocks 99.998% of attacks, providing further peace of mind to its clients.
Pricing
Joomla Mini: $2.95 per month
Joomla Start: $5.95 per month
Joomla Advanced: $9.95 per month
Entry Joomla Cloud: $14.95 per month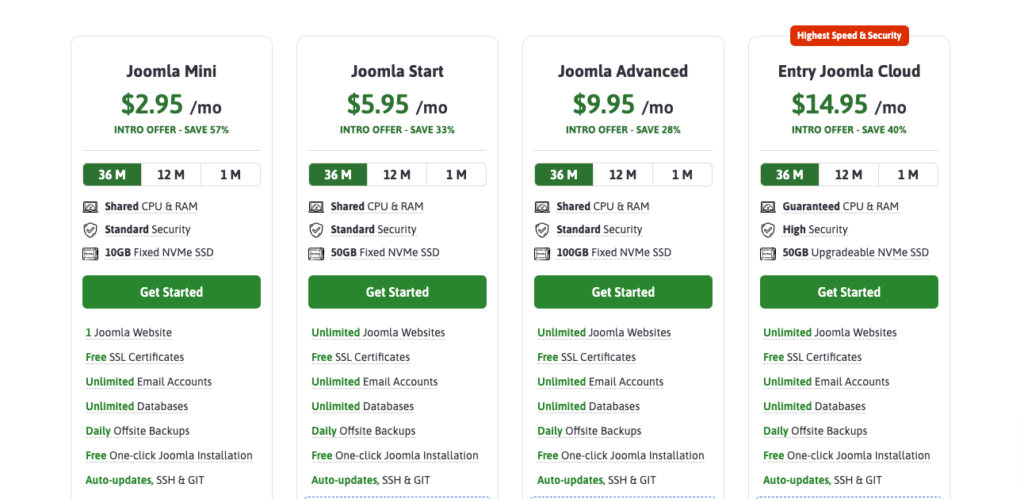 ScalaHosting offers four different plans for Joomla hosting, each with varying levels of resources, security features, and support. The entry plan provides the best value for money, costing $14.95 per month for 3 years, totaling $1078.20. This includes 1 CPU core, 20 GB storage, and 2 GB RAM, providing ample resources to start any Joomla site.
In conclusion, ScalaHosting is the ideal choice for users seeking VPS for Joomla websites. With its high compatibility, excellent performance, robust security features, and competitive pricing, ScalaHosting has earned its reputation as a top Joomla hosting provider.

Reliable Uptime
Wide Range of Hosting Options
User-friendly Interface
Starting from $4.99/month
See Pros & Cons
Pros
Wide variety of hosting plans
Easy-to-use website builder
24/7 customer support
One-click WordPress installation
Free SSL certificate with some plans
Cons
Higher renewal prices
No free domain with basic plan
Charges for essential features like backups
As a leading Joomla hosting provider, GoDaddy offers a wide range of features tailored to meet the unique needs of Joomla users, including PHP 8.0, one-click domain name setup, and access to over 150 free apps.
Joomla Compatibility and Features: GoDaddy's hosting is optimized to support Joomla sites, offering multiple PHP versions, including the latest 8.0 version. Their cPanel dashboard enables users to quickly and easily install Joomla with just a single click.
Additionally, GoDaddy's hosting plans come with a free domain, unlimited bandwidth, and access to a vast library of apps that can be installed with ease, enhancing the functionality of your Joomla site.
Performance: GoDaddy's hosting services boast an impressive 99.98% uptime, ensuring your Joomla site remains online without any hiccups. The company utilizes non-volatile memory express (NVMe) solid-state drives, PHP OPCache, and substantial input/output (I/O) resources to provide faster server response times, resulting in a speedy average response time of 341ms.
Security: Security is of utmost importance for any website, and GoDaddy delivers on this front by offering 24/7 network security and daily backups. While the two cheapest plans do not include a free SSL certificate, the Ultimate plan provides a free SSL certificate for one year, ensuring robust security and protection for your Joomla site.
Pricing: GoDaddy's Joomla hosting plans are competitively priced, with three options to choose from:
Economy ($2.99/mo) – Offers 1 website, 100GB storage, and 10 databases
Deluxe ($9.99/mo) – Includes unlimited websites, unlimited storage, and 25 databases
Ultimate ($14.99/mo) – Provides unlimited databases, a free DNS, and a free SSL certificate for 1 year, along with Deluxe offerings

All plans come with a free domain, unmetered bandwidth, and a free 1-year subscription to Microsoft 365 email.
GoDaddy has received mixed reviews from customers. Positive feedback includes praise for the ease of setting up Joomla and WordPress sites, as well as the helpful customer support. However, some users mentioned having to wait on hold for extended periods and experiencing billing issues. Despite these minor drawbacks, GoDaddy's responsive support team aims to resolve issues promptly and efficiently.
In conclusion, GoDaddy's Joomla hosting services cater to the needs of both beginners and advanced users alike, offering a perfect blend of performance, security, and affordability.
How to Choose the Best Joomla Hosting Provider
To choose the best Joomla hosting provider, you need to consider several factors, including performance and speed, customer support, and pricing. Each of these factors plays a crucial role in ensuring your Joomla site runs efficiently and effectively.
Performance and Speed
The performance and speed of your Joomla hosting provider are critical when it comes to user experience. A fast-loading website will keep visitors engaged and more likely to explore further, while a slow-loading site can lead to high bounce rates and diminished search engine rankings. When evaluating hosting providers, look for those with solid-state drives (SSDs), which offer faster loading times compared to traditional hard disk drives (HDDs). Additionally, consider providers with data centers located near your target audience, as this can reduce latency and improve overall site speed.
Customer Support
Another essential factor to consider when choosing a Joomla hosting provider is the level of customer support they offer. Should you encounter any technical issues, it's vital to have a knowledgeable and responsive support team available to assist you promptly. Look for providers with 24/7 customer support through multiple channels, such as live chat, phone, and email. It's also helpful to read user reviews to gauge the quality of the provider's support.
Pricing
Finally, when selecting a Joomla hosting provider, it's essential to consider the pricing of their plans. While it's crucial not to compromise on features and performance, you should also ensure that you're getting the best value for your money.
Compare the pricing of different providers and take note of any promotional offers or discounts. Additionally, be mindful of any hidden fees or charges that may arise, such as domain registration fees, SSL certificates, or site migration fees.
By considering performance and speed, customer support, and pricing, you can make an informed decision and choose the best Joomla hosting provider for your website. Keep these factors in mind, and you'll be one step closer to a successful and thriving Joomla site.
What is Joomla?
Joomla is a well-known content management system (CMS) that are free for both business and personal users. The program is made highly approachable as compared to other CMS platforms. It is made possible with the help of an intuitive management interface. With this interface, users can easily take control of all the functions that CSM offers.
Moreover, the Joomla users have also suggested tons of extensions with which it is easy to improve the functionality as well as customization of Joomla. Thus, it will be easier to meet the specific needs of users.
Joomla is reviewed by a great number of users who are willing to respond to any query that a newcomer may come across. They answer all the questions to make using the CMS platform easy.
The eCommerce sites are easily managed in Joomla. If you are looking for a theme to create an eCommerce website or trying to build a catalog of your products and services. Then, Joomla is the best option. It can take care of all these things with ease.
Joomla is a convenient platform for CMS that include corporate sites, to blog and personal website. Joomla handles everything quite easily.
What are Joomla's Advantages?
Joomla is a superior CMS which means that the platform runs a great program under the hood. The platform comprises five levels under the hood:
Extensions of language in Joomla take care of general language at site and translations with the information in different fonts. Particularly, international sites require language extensions to make a website multi-language.
The appearance of the site is controlled by extension just like it does in other CMS and WordPress. The templates are highly responsive since Joomla 3. Thus, designing a website for beginners is easier because of these templates.
Plugins are also regarded as extensions. With these plugins, people can control the required content on a page. As a result, it simply connotes the basic purpose of a plugin. However, it mainly focuses on individual elements instead of the entire website. Such as, you can compress a page before making it available on a browser.
With modules, you can display additional content that is added to the hidden elements, sidebars, footers, menus and headers. The administrative panel also helps to control all the modules on a website. Therefore, all the users can make necessary changes after seeking permission such as adding or replacing an image or a banner on a webpage.
Components help to showcase the content that you create for your website. It defines the body of a website which is usually present at or below the informative footer and the navigation menu. They are also known as site architecture tools.
Where did Joomla originate?
Joomla was developed and launched in 2005 as a Mambo CMS. It schedules its release every six months.
The software is freely distributed and open-source under General Public License. It also relies on developers' support who continuously innovate the software. Joomla is recorded to be downloaded over 50 million times until now.
It can be advantageous to have an open-source software application both for the users and businesses.
| | | | |
| --- | --- | --- | --- |
| | Business benefits | User benefits | The overall quality of the industry |
| Support | Directly interacts with users | IT professionals are available for instant support instead of agents | Above average |
| Audibility | The development team works as a collective teamwork | You can rely on the professional developers | High |
| Quality | More errors because of more developers | Fewer issues in usability and features | High |
| Freedom | Vendor guidelines or no strict corporate to follow | Considering user visions and advice to the board | High |
| Security | Problems in security are identified and dealt with quickly | Possible security concerns are dealt with faster | Competent |
WordPress vs. Joomla, What's better for you?
Comparing Joomla to WordPress is insane, although selecting the right CMS is a difficult matter because of the available choices. Nevertheless, if the platforms are similar there may be certain differences that influence your decision.
You should surely go for WordPress if you are a beginner. However, if you want to create an eCommerce or social networking website while being a more tech-savvy creator, then the Joomla site is a good choice for you.
If you want to create a social networking website or open an eCommerce store in a simpler way than WordPress, then Joomla is a perfect fit for you. Also, Joomla requires medium technicality than WordPress.
WordPress, on the other hand, is an easy-to-install setup. It is almost fully customizable. It also offers free plugins for customization that enable you to create a professional website on zero budget. Moreover, WordPress can help you set up a customized website in minutes with a support community.
The above description can help you choose the right one for your website. But first, you need to determine the kind of site you want with the features that you want to offer on your website.
Final thoughts!
In this Joomla discussion, you came to know how you install the platform and get your customized website along with all the extensions. There is a lot more to learn about this. Yet, here is the final verdict about Joomla. It is an excellent tool that helps you in building your website. The CMS is free of charge, widely extendable, flexible and powerful.
In this discussion, you learn to install, find your backup, site design and add content to the Joomla website.
If you already have experience using Joomla hosting, share with us to add more thoughts to our discussion.

As one of the co-founders of Codeless, I bring to the table expertise in developing WordPress and web applications, as well as a track record of effectively managing hosting and servers. My passion for acquiring knowledge and my enthusiasm for constructing and testing novel technologies drive me to constantly innovate and improve.
Expertise:
Web Development,
Web Design,
Linux System Administration,
SEO
Experience:
15 years of experience in Web Development by developing and designing some of the most popular WordPress Themes like Specular, Tower, and Folie.
Education:
I have a degree in Engineering Physics and MSC in Material Science and Opto Electronics.