Like other web hosting, Joomla hosting needs the same research to ensure that you are selecting the right one for your website. Although, all the companies claim to be the best if they offer unlimited bandwidth, email and disk space. However, you need to choose the best and the right one for your website.
In addition to the bandwidth and disk space, certain other features such as support and uptime have to be considered. These features are very important to consider before choosing a Joomla hosting provider. Therefore, we provide a detailed overview of the best Joomla hosting service in this post.
We have described and listed the most important components that you should look for while selecting a suitable Joomla Hosting provider for your company website.
Easy Joomla hosting
Most of the shared hosts do not let you cache solutions, especially on the shared services. Joomla usually offers an A2 optimized caching setup on the Turbo Servers.
It comprises the simplest steps. Your account comes with the Joomla installation. It is a built-in feature in Joomla. Ultimately, you don't have to be worried about the setup files or downloads. All you need to do is finding your content and template.
Joomla is easy to set up in one click using the Softaculous tool present in the cPanel. There are options for you to choose the Joomla setup which is pre-installed or with a one-click Joomla setup. Also, you will get a notification of the new version. In this way, you can use Softaculous to update Joomla in one click with the newest version. It then offers you high performing and secure website.
5 Best Joomla Hosting
Any good host can be used with the Joomla website. But we picked the 5 best among the rest.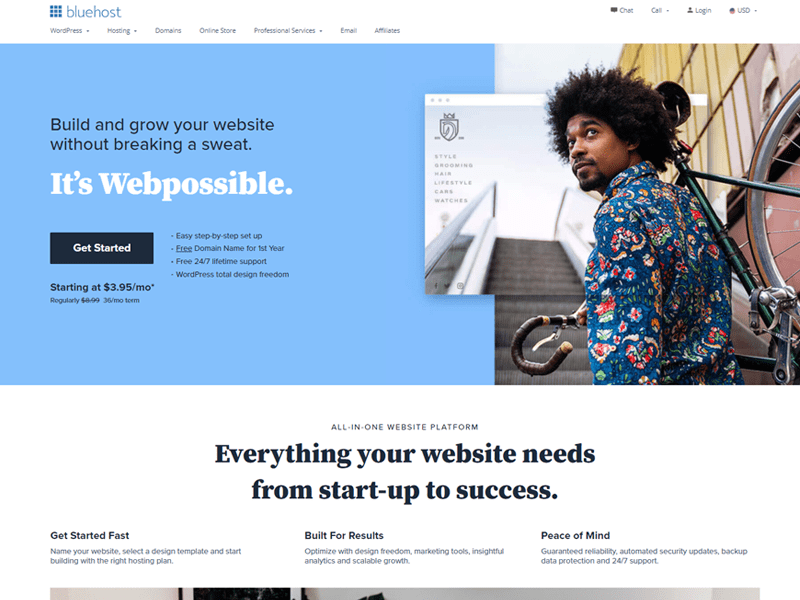 Bluehost is a Joomla hosting company. It is one of the most recommended services of web hosting by Joomla users. The one-click installation is its most important feature which is available with all plans they offer.
There are several plans that the user can choose according to his requirements. All these accounts have unlimited bandwidth. The interesting offer is $200 in bonus as part of their marketing.
The cPanels make it easy for the website creators to configure and control the sites. Also, Bluehost offers security features for the websites that are a primary source of attraction.
The company offers three hosting plans for Joomla; Joomla hosting, Shared Hosting, and VPS hosting, cloud sites and dedicated hosting. For more you can read: Siteground vs Bluehost: Which is Better for WordPress (2021)
Features:
Cloudflare
SSH access
Password protected directories
Pros
Numerous database
Free domain name
Excellent customer services
Easy refund policy
Cons
Expensive plans for Joomla
Customer service reviews are mixed
Maximum performance is only possible with all the plugins installed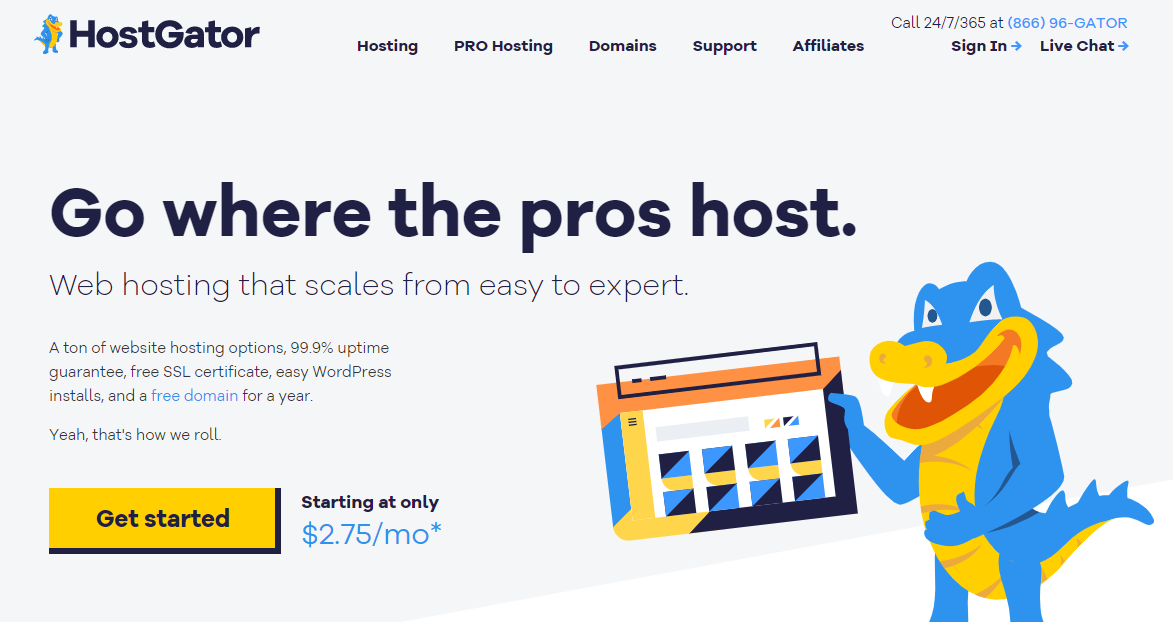 Another popular hosting service is Hostgator which over 8 million websites are already using. It offers Joomla hosting and lets you optimize all the features to fulfill your needs of an eCommerce website. Hostgator offers Joomla with an automatic installer and therefore, it is easy to install in a few clicks.
Moreover, Hostgator offers you dedicated, VPS, cloud, and shared hosting. It means the service is ideal for all sorts of niches and all levels of traffic towards the shopping carts. Hostgator provides a business plan for Joomla hosting. There is a toll-free number that helps you 24/7 with all your issues. In addition, it also gives you a free private SSL certificate and IP address.
The web hosting plan offers 45-day money back guarantee. The uptime you get with Hostgator is 99.9 percent. The online reviews prove that the uptime is provided by the service is the same as promised.
There's more!
Hostgator offers unrestricted storage and bandwidth so you can accommodate your large websites easily. The cPanel is also flexible with a user-friendly interface. There are also unlimited email accounts and sub-domains in Hostgator hosting. Every time, you will get 99.9 % uptime.
Key Features:
Google adwords cost $100
52 free scripts for the accounts
Free website transfer in Joomla
4500 free templates
Free website builder
Pricing for Joomla
The cheapest plan, hatchling costs $2.75 per month only.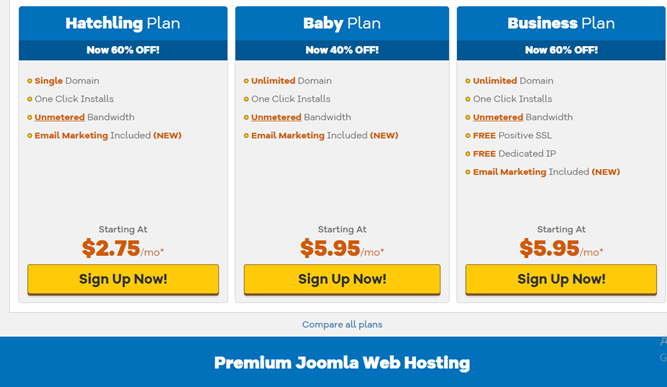 There is a simple control panel where you can easily use all the features such as raw log manager, Awstats, error logs, referrer, Webalizer, and statistics. The panel also offers you to personalize form mail, blog portals, counters, forums, and shopping carts. The inventories are all protected by passwords and give you full control of scheduling jobs, creating extensions, database resources, and programming.
Support
You can get premium support round the clock. There is also an option of off-site data backup every week. The server is kept under monitoring to provide you the best services and running all the services in time.
There is an online support portal. Also, HostGator company has provided over 500 videos and 700 guiding articles to help beginners make a quick and smooth start. It means that you will still get good help even in the absence or shortage of a support team.
Pros
Easy to use modern cPanel
Personalised shopping cart for Joomla websites
Free transfer
Unlimited bandwidth and disk space for Joomla
Cons
Plans are expensive than other hosts in the market
In a cliché,
Hostgator is recommended as a Joomla hosting provider as it offers a free toll number for your Joomla website, a free private SSL certificate, and a dedicated IP address.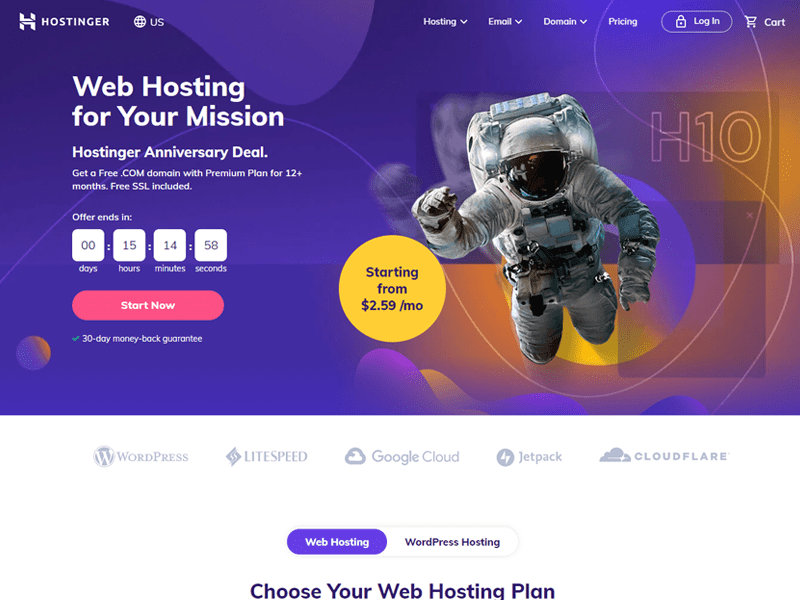 Hostinger is the best known and reliable provider. It offers extremely low prices with good features to overcome all the issues you may come across with other providers in the market to use Joomla.
What's unique about Hostinger?
The cloud plans in Hostinger are optimized. They are offering managed hosting plans and take care of all the base software and server stack just like shared hosting. In this way, you can easily run your own server and get benefitted from the beginner-friendly service.
It runs its plans on CloudLinux OS. It helps to boost security and reliability while decreasing resource spending. Moreover, the custom-configured caching is equipped with LiteSpeed web increases the speed of the platform.
Hostinger adds a custom chain mechanism that works splendidly. Such that makes the Hostinger the fastest of all the Joomla service providers.
In terms of the features, the cPanel seems to be much similar to the control panel, the only best part is that it is free. Security and speed optimization tools such as Cloudflare are also integrated. In addition, you get daily backups.
You also get free domain name with Joomla 2 hosting. Private servers may cost you some buck but it's a fair deal.
Support
The support in Hostinger is pretty buggy. The cost is probably reduced by cutting down the phone call service from the packages. It is, however annoying.
Meanwhile, the support team is very decent in serving and hearing your issue. Although the frontline agents are rarely professionals.
They are yet, fairly knowledgeable but there is little information on Joomla hosting.
Pricing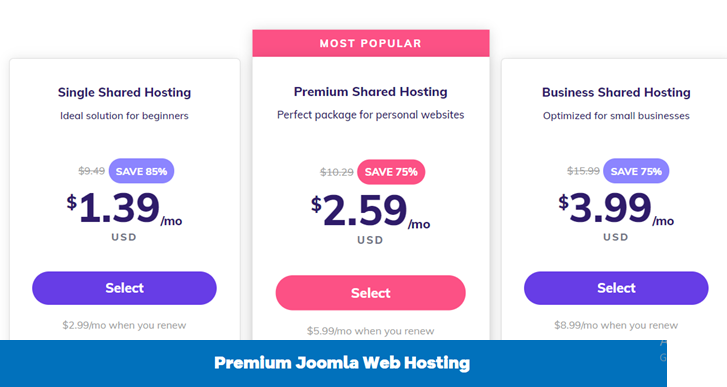 The best element here is that these prices are surprisingly less in terms of the resources it offers and the discounts it gives. Thus, it is the most affordable of all the Joomla hosts.
Hostinger also helps in running a well-optimized and robust Joomla 2 cloud setup. It is one of the top Magento hosting providers because of the affordable rates, many resources, and managed support.
In a cliché,
Hostinger is the most affordable Joomla host with a fast loading speed and high uptime. The features it offers in return are also great and generous for the price.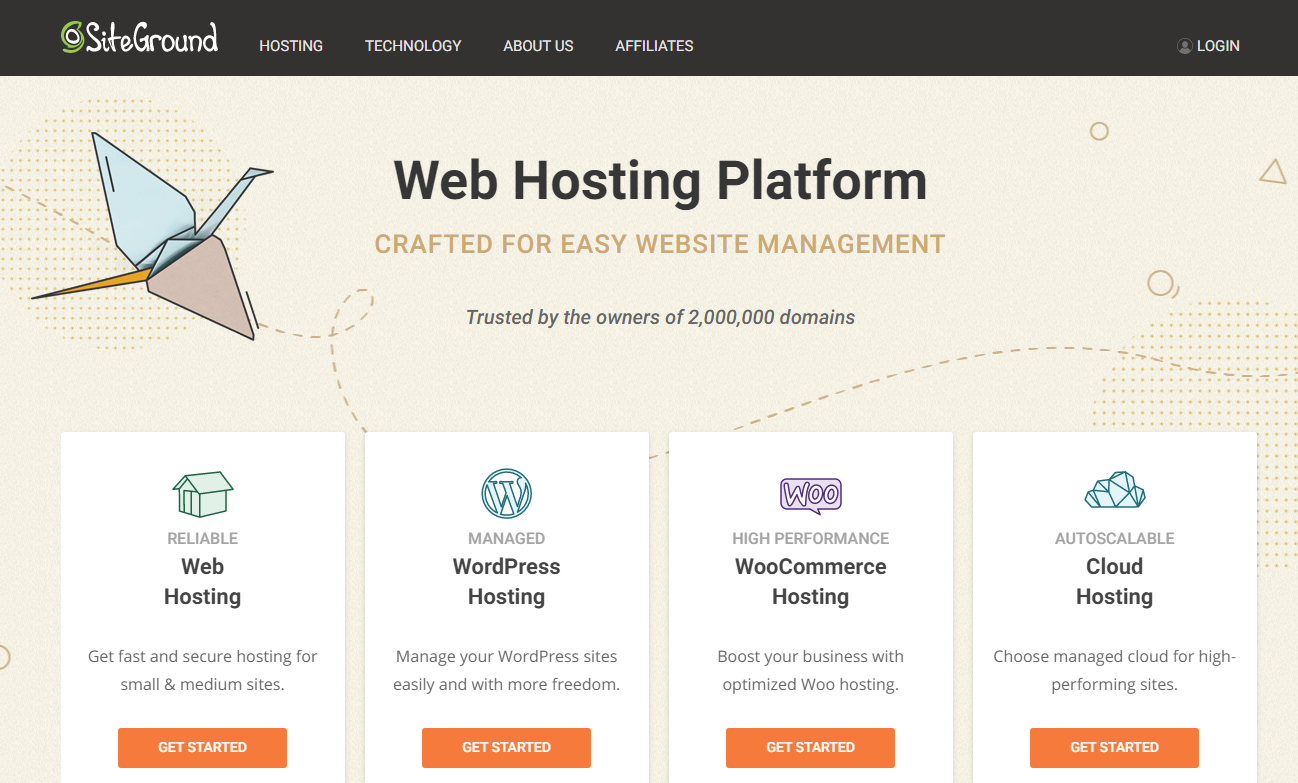 Site ground is one of the most recommended services for hosting. They have over 800000 domains whose data centers are spread across Asia, the United States, and Europe. SuperCacher is one of the best services they offer to boost a website.
They offer several plans for their clients according to their needs. Their customer support actively and regularly assesses the overall performance, uptime, and speed of each site. They also offer security add-ons that are added by the website holders to boost performance. It also makes them more secure.
GrowBig and GoGeek plans of SiteGround are the most recommended plans. These plans offer benefits such as PCI compliance, pre-installed Gita, WP-CLI, and Joomla staging. Besides, it also offers freebies such as priority customer support, restores and free backup, and 1-year wildcard SSL.
Key features:
Freebies
Multiple plans
SuperCacher add-on
Pros
716 ms load time
Money-back guarantee
Simple installation of eCommerce
High-performance plans of hosting
Expert and professional support
High uptime
Cons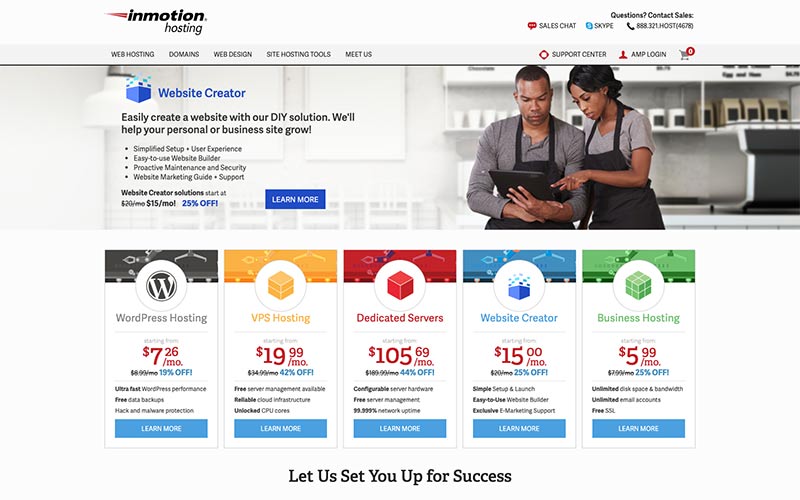 Inmotion has over 300.000 public domains. It is providing an excellent service to its users since 2001. InMotion hosting offers its service both in UNIX and Linux servers.
They offer several affordable plans with email options and unlimited storage. They also offer flexible coding and unlimited monthly data. In addition to this, they offer excellent service in the industry, support, and transfers.
The customers show utter satisfaction in using the hosting service by InMotion because of maximum time and other positive sides.
Key Features:
Perform server backups
Bandwidth allocation
Python
Perl module installer
Setup cron Jobs
Server statistics
Pros
Fast web hosting with free SSD
Free domain and affordable pricing options
Customer support
Fast servers
Average uptime of 99.93%
Cons
Plan limitations
Delayed process of authentication
Low pricing for marketing i.e. only for 24-month subscription
Some important news about Joomla
Joomla Hosting offers a wide range of solutions to fulfill your needs. Such as dedicated support, VPS, Reseller, and shared as compared to Managed WordPress Hosting. Moreover, it covers your SSL certificate and domain name as well.
Joomla aims to offer the best Web hosting solutions that are not only fast but also ultra-reliable. It provides over 20x faster turbo which means higher conversion, lower bounce rates and SEO rankings.
Here are some of the few benefits of Joomla Hosting that you will get. It provides friendly crew support which is also knowledgeable and is available 24/7/365.
Joomla offers free account migration. It means the team can move the site to A2 hosting free. Also, giving it a try is a risk-free business because it offers a 100% money-back guarantee.
Above all, you get a 99.9% commitment for uptime. It is made possible with their ultra-reliable servers.
Delay of a mere 1-second affects the conversion rate, SEO rankings and bounce rate and as a result, the bottom line is affected. You don't have to be worried about the speed of the platform. This is because the site is hosted with the speed optimized servers with the LiteSpeed, free SSD and server location that together lead a website to better performance. In short, we state that,
3x faster write and read speed
Can handle up to 9 x more traffic
2x faster to the first byte
40% faster performance CPU
Security is the top priority. Perpetual Security help in the prevention of hacking. In this way, your account gets free HackScan protection that blocks the hacks and any potential damage to your website.
About Joomla
Joomla is a well-known content management system (CMS) that are free for both business and personal users. The program is made highly approachable as compared to other CMS platforms. It is made possible with the help of an intuitive management interface. With this interface, users can easily take control of all the functions that CSM offers.
Moreover, the Joomla users have also suggested tons of extensions with which it is easy to improve the functionality as well as customization of Joomla. Thus, it will be easier to meet the specific needs of users.
Joomla is reviewed by a great number of users who are willing to respond to any query that a newcomer may come across. They answer all the questions to make using the CMS platform easy.
The eCommerce sites are easily managed in Joomla. If you are looking for a theme to create an eCommerce website or trying to build a catalog of your products and services. Then, Joomla is the best option. It can take care of all these things with ease.
Joomla is a convenient platform for CMS that include corporate sites, to blog and personal website. Joomla handles everything quite easily.
Why is Joomla superior?
Joomla is a superior CMS which means that the platform runs a great program under the hood. The platform comprises five levels under the hood:
Extensions of language in Joomla take care of general language at site and translations with the information in different fonts. Particularly, international sites require language extensions to make a website multi-language.
The appearance of the site is controlled by extension just like it does in other CMS and WordPress. The templates are highly responsive since Joomla 3. Thus, designing a website for beginners is easier because of these templates.
Plugins are also regarded as extensions. With these plugins, people can control the required content on a page. As a result, it simply connotes the basic purpose of a plugin. However, it mainly focuses on individual elements instead of the entire website. Such as, you can compress a page before making it available on a browser.
With modules, you can display additional content that is added to the hidden elements, sidebars, footers, menus and headers. The administrative panel also helps to control all the modules on a website. Therefore, all the users can make necessary changes after seeking permission such as adding or replacing an image or a banner on a webpage.
Components help to showcase the content that you create for your website. It defines the body of a website which is usually present at or below the informative footer and the navigation menu. They are also known as site architecture tools.
Why do you need to use Joomla CMS?
Anything that you learned as a plugin in WordPress, is an extension for Joomla users. Joomla offers hundreds of extensions that help in the full customization of a Joomla website.
Moreover, all the default templates are designed to be unique and appealing. However, there are two basic templates that you can choose; Beez3 and Protostar. Both of these templates use a white and blue colour scheme to keep it simplest. But, if you don't want to use either of the templates, you can easily change the entire look using extensions. Besides, you can also download a free template from the free library of thousands of templates.
Joomla is suitable for almost all types of companies where there is no IT department. It is known for its functionality and its ease of use for a less tech-savvy person or a non-developer. Therefore, it is very easy for Joomla to create a new website with the latest features.
Accessibility is also available for mobile users because of out-of-the-box support. On the contrary, most of the other programs use MySQL for all their functionalities. Joomla offers special support for the users who choose to use PostgreSQL.
Joomla offers special support for over 10,000 extensions and 68 languages. This is a very impressive feature for users.
Where did Joomla originate?
Joomla was developed and launched in 2005 as a Mambo CMS. It schedules its release every six months.
The software is freely distributed and open-source under General Public License. It also relies on developers' support who continuously innovate the software. Joomla is recorded to be downloaded over 50 million times until now.
It can be advantageous to have an open-source software application both for the users and businesses.
| | | | |
| --- | --- | --- | --- |
| | Business benefits | User benefits | The overall quality of the industry |
| Support | Directly interacts with users | IT professionals are available for instant support instead of agents | Above average |
| Audibility | The development team works as a collective teamwork | You can rely on the professional developers | High |
| Quality | More errors because of more developers | Fewer issues in usability and features | High |
| Freedom | Vendor guidelines or no strict corporate to follow | Considering user visions and advice to the board | High |
| Security | Problems in security are identified and dealt with quickly | Possible security concerns are dealt with faster | Competent |
WordPress vs. Joomla, What's better for you?
Comparing Joomla to WordPress is insane, although selecting the right CMS is a difficult matter because of the available choices. Nevertheless, if the platforms are similar there may be certain differences that influence your decision.
You should surely go for WordPress if you are a beginner. However, if you want to create an eCommerce or social networking website while being a more tech-savvy creator, then the Joomla site is a good choice for you.
If you want to create a social networking website or open an eCommerce store in a simpler way than WordPress, then Joomla is a perfect fit for you. Also, Joomla requires medium technicality than WordPress.
WordPress, on the other hand, is an easy-to-install set-up. It is almost fully customizable. It also offers free plugins for customization that enable you to create a professional website on zero budget. Moreover, WordPress can help you set up a customized website in minutes with a support community.
The above description can help you choose the right one for your website. But first, you need to determine the kind of site you want with the features that you want to offer on your website.
Getting ready with Joomla
Joomla makes maintaining and creating websites easy both for beginners and developers. It is also easy to set up the first professionally managing installation enterprise easy by using Joomla.
Run Joomla yourself!
After you install Joomla latest version, you will be ready to run it in no time. There is a complete guide on how to run the page with a tutorial on how to install Joomla.
Launch.joomla.org
Launch.jooma.org gives a good start to enjoy free Joomla websites and to be fully functional with the Joomla website. You are just a click away from your head start while you open up a multilingual, fully responsive website with endless possibilities.
It also includes PHPMyAdmin and sFTP with the installable extensions. These extensions stay on your dashboard until you click "renew" in 30-days. There are a few limitations to this such as your imagination in getting the benefits from its tools, subdomain usage and limited disk space (200MB).
Find Help and Documentation
Joomla has localised documentation available. These are available at docs.joomla.org as Joomla Documentation Wiki. You can find an appropriate resource by selecting a user time on Wiki. "The Absolute Beginners Guide to Joomla" at the wiki page provides a lot of links, pieces of advice and information for the startup users. Joomla Forums can help find more answers to your queries.
Joomla Installation
It is very easy to get started with Joomla web. It depends on hosting services that offer one-click installation. However, the hands-on solutions give you more control over the host. Thus, you can get all that you want from the Web Server with MySQL and PHP. These features are already involved as the basic service package by many commercial hosts.
Now you can download a copy of Joomla. Finally, visit the install documentation section to find the adventure of installation
For designers and developers
Developer.joomla.org provides you with the best solution to start with if you are a beginner and want to start Joomla development. Here, you will get a lot of information regarding APIs and Joomla etc. Its documentation is also available.
If you are a professional developer and want to learn about developing Joomla Templates, then it shows the right way to do so with the Template management section in Joomla.
Recommended Server:
Linux is the recommended server but it can also be installed in Widow Servers.
There are the following recommended specs for Joomla installation;
Apache 2.x or IIS 7
MySQL 5.1+
PHP 5.4 + recommended / 5.3.10 needed.
Joomla offers two ways to get started for free. There is a quick trial and a hosted trial account that you can create.
Joomla Hosted Trial
If you intend to use Joomla for a longer time, the hosted version offers 90 days of trial for free. This time is plenty to try and compare maximum tools to its alternatives.
Also, if you want to retain the data, you can sign up with your desired hosting account. There is an official demo on the Joomla website. Handy video content is also available to help you easily get through the installation.
Joomla Quick Trial
Before starting a Joomla website, you can get a chance to take a test of the entire software. This is like a test drive with an anonymous demo that does not want to retain any of your personal information.
It gives you complete control over the control panel which you can access with a single click. It is easy for evaluating the software.
Joomla web hosting account
Most of the VPS and shared hosting plans come with the control panel. Joomla hosting is only rarely advertised by hosting services, yet Joomla is easily installable with any hosting service out there.
Here's why Joomla is worth installing software:
Scalability
Powerful extensions
Dedicated community
Support across platforms
Easy and simple installation
Open-source framework
Scalability
Joomla is easily optimizable with some technical knowledge. Therefore, it can be useful for beginners as other software.
Softaculous serves as the best script installer with Joomla with which hosts can optimize cPanels for their users.
Powerful Extensions
Joomla caters to multiple user-friendly support options. Joomla has several different extension categories which are specific for different departments.
Dedicated community
The open-source community makes Joomla a dedicated community for the users. They show a general interest in addition to helping each other in making a better CMS.
Support across platforms
Linux services prove to be the best for Joomla services. Besides, it is cross platforms supported which makes it a flexible application.
Easy and simple installation
Joomla is confusing at first yet it is simple to install. Using Softaculous makes it easy with one-click installation.
Open-source framework
Joomla is developed primarily using the programming language, PHP. It has made it simple to take traction of the open-source community.
Final thoughts!
In this Joomla discussion, you came to know how you install the platform and get your customized website along with all the extensions. There is a lot more to learn about this. Yet, here is the final verdict about Joomla. It is an excellent tool that helps you in building your website. The CMS is free of charge, widely extendable, flexible and powerful.
In this discussion you learn to install, find your backup, site design and adding content to the Joomla website.
If you already have experience using Joomla hosting, share with us to add more thoughts to our discussion.