A2 Hosting started operations in 2001, making it one of the oldest hosting service providers in the industry. The 20+ years of experience gives A2 Hosting an edge over its competitors by continuously improving its offerings. For example, the company claims to provide 20X faster web hosting services. This A2 Hosting review looks at these claims and more, giving you enough information to make up your mind about the hosting company.
A2 Hosting is one of the most fastest and affordable choice on the market
Hosting Overview

Starting Price
$2.99 per month
Free SSL
Yes
Basic Plan features
100 GB storage
Free site migration
Unlimited email accounts
Hosting Types
Shared,
VPS,
Cloud,
Dedicated,
WordPress,
Reseller
Money Back Guarantee
Yes, anytime money back guarantee
Uptime Guarantee
Yes, 99.9%
Support
24/7 Email, Live Chat, Ticeting, Phone
Apps
WordPress, Drupal, Joomla, Magento, and WooCommerce
Free domain
No
The Company
A2 Hosting was started as a hobby project in 2001 by the founder, Bryan Muthig the company has grown to be one of the giants in the web hosting industry. The company currently has multiple data centers across the world and employs hundreds of experts. The company offers a range of hosting services that include shared hosting, VPS, WordPress, Reseller, and Dedicated hosting.
A2 Hosting's company name is inspired by the location of its headquarters, which is Ann Arbor, Michigan. The data center locations include the United States, Singapore, and the Netherlands. US data center locations include Michigan and Arizona.
While many hosting companies have been acquired by larger organizations, A2 remains to be an independent company with Muthig at the helm as the CEO.
Summary of Key Features
Free SSL
24/7 customer support
99.9% uptime guarantee
Green hosting
Free site migration
Supports ecommerce tools
Turbo servers — 20X faster
Speed-optimized WordPress
Free CloudFlare CDN
Anytime money back guarantee
Pros and Cons
Pros
Fast Page Loading Speeds
A2 Hosting recorded 249 ms response time in August 2023. This makes it one of the fastest shared web hosting service providers in the industry. The company has exclusive web servers, making it possible to have speeds that are 20X faster than the competition. In addition, the company provides free CloudFlare CDN for added speeds and load times.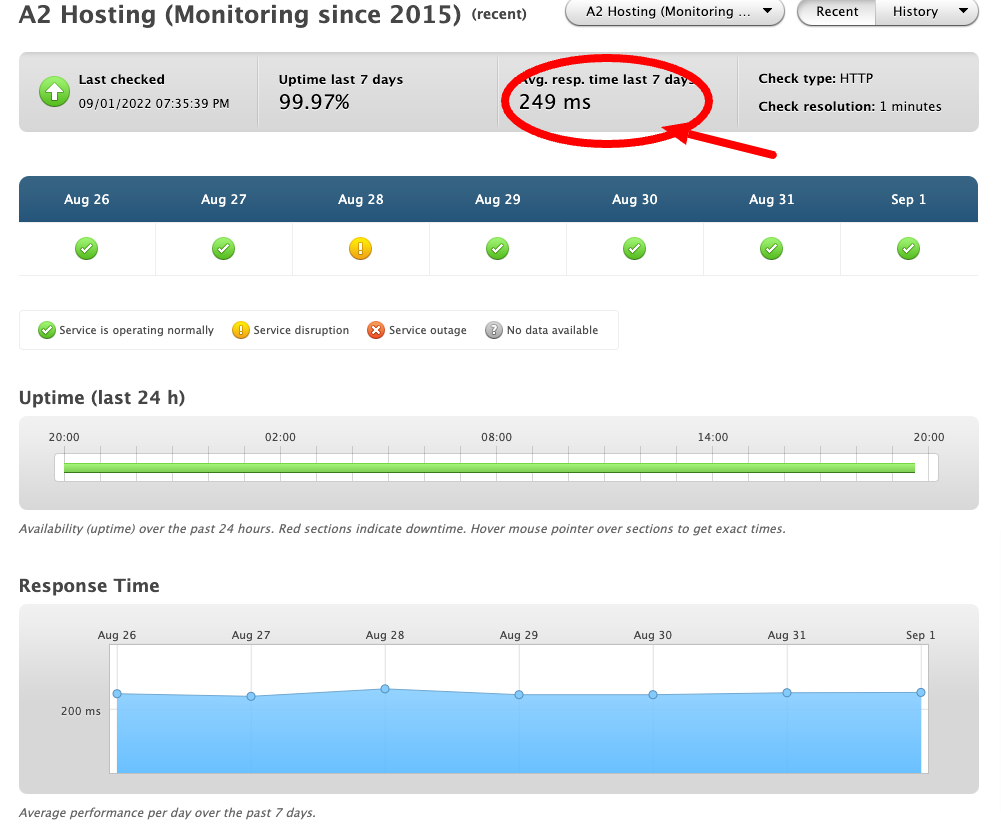 24/7 Server Monitoring and Malware Scanning
The security of your website at A2 Hosting is guaranteed through their 24/7 server monitoring and malware scanning, making it possible to prevent attacks before they happen. The servers are protected by 'Imunity360'. Immunity 360 is a 24/7 monitoring service that scans for malware and other forms of attacks. An additional layer of security is provided by the free SSL certificate offered by A2 Hosting.
Content Management Systems
This provider works seamlessly with popular content management systems. Some of the CMSs or apps you can use on the platform include WordPress, WooCommerce, Joomla, Magento, and Drupal. These apps enable you to set up your website with a few clicks.
Reliable Uptime

The company provides an uptime guarantee of 99.99%. With the industry standard being 99.93%, A2 Hosting score is way above expectations. It is not unusual for the company to record uptimes of 100% in most months of the year.
Free Site Migration
They take care of your site migration needs without charging you any fees for the service. Depending on the plan you chose, you get 1 to 25 free site migrations. For example, you only get 1 free transfer with the shared plan, while the managed VPS hosting, reseller, and dedicated hosting plans give you 25 free site migrations.
Scalability
The company has various hosting types and plans to cater to different needs. Whether you have a small website or a big one with large traffic, A2 Hosting can handle it.
Green Web Hosting
A2 Hosting has partnered with Carbonfun.org to support reforestation and renewable energy. For more similar providers: 10 Best Green Web Hosting Providers 2023 (Carbon-Neutral)
Anytime Money Back Guarantee
A2 Hosting beats its competitors in its guarantee offer, which you can claim anytime. Most companies have a limited period when you can cancel your subscription if you're not satisfied with the services.
A2 Hosting gives you a full refund if you cancel your subscription within a 30-day window. It goes beyond to refund you a prorated amount anytime you cancel your subscription. You get refunded for the remaining time you've prepaid.
Cons
No Windows Server Options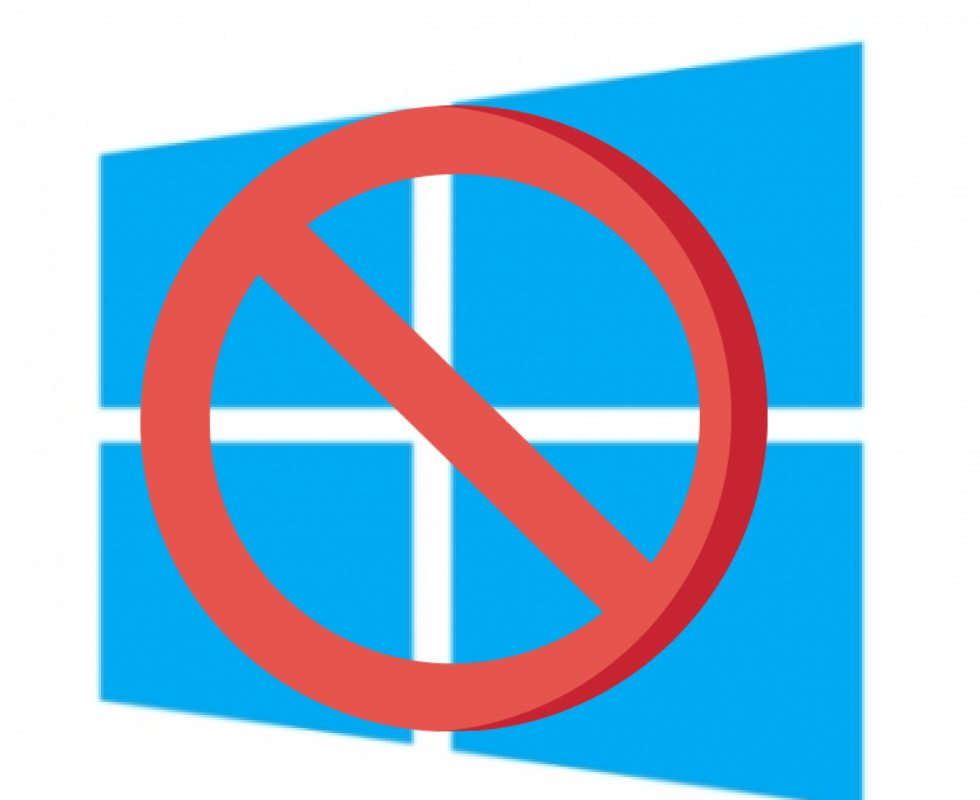 A2 Hosting only offers Linux-based server hosting and does not support windows hosting.
High Renewal Rates
The initial fees for most hosting plans might seem affordable, but you will pay almost three times the fee when renewing your subscription. You can take advantage of their cheap pricing with long term commitments when starting, but be prepared to pay more when renewing.
No Free Domain
You won't get a free domain with A2 Hosting's shared web hosting plans. This could be a major deal breaker for some users, considering many web hosting providers offer free domain registration, at least for one year.
Main Features
Uptime and Speed
Uptime is one of the most important features on any web hosting platform. You do not want your website to go down frequently. When your website is down, it means your clients or new visitors cannot access it. A2 Hosting provides you with an uptime guarantee of 99.9%. This means that your website will not experience frequent downtimes.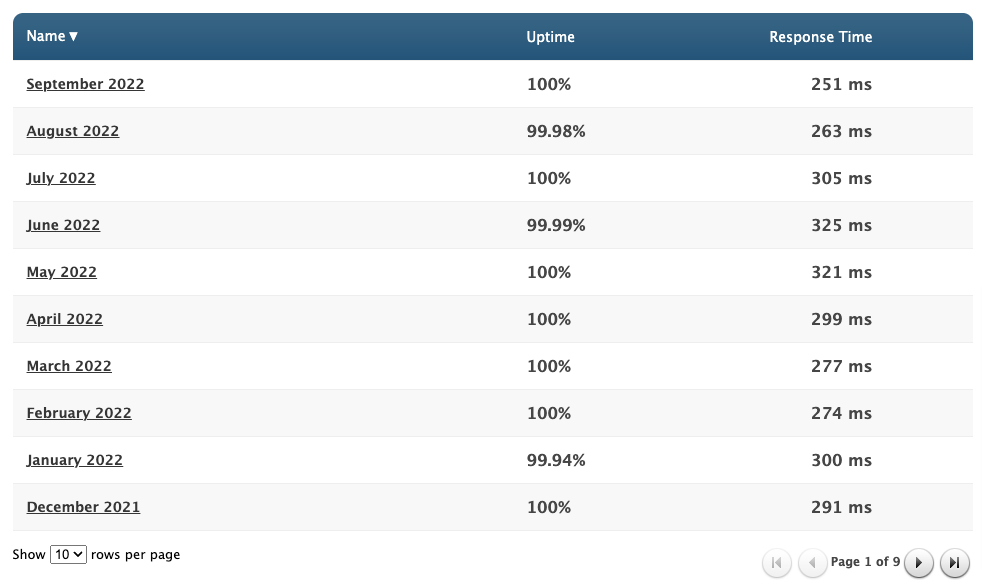 The company offers great speeds too. Fast loading speeds are essential in enhancing user experience on your websites. People are not patient enough to wait for sites that take long to load. Based on tests performed in August 2023, A2 Hosting recorded 263 ms response time. The SSD storage also plays a major role in enabling the fast page loading speeds. This is because SSDs are 30% faster than regular hard disks.
A2 Hosting provides free Cloudflare CDN, which you can put into use to boost your site's loading speeds. The CDN makes it possible for you to cache your website on a global network of servers. This makes it possible for your site visitor's browser to download site files from the nearest server.
Security
All plans at A2 Hosting come with free SSL certificates. This is an important security feature for any website. SSL certificates help in the transmission of encrypted data to users' web browsers. The SSL certificate also boosts your site's SEO. Other security features available at A2 include DDoS protection, virus scanning, hackscan protection, daily kernel updates, and defense against brute force attacks.
Customer Support
A2 Hosting provides 24/7 customer support via email, phone, ticketing, and live chat. Their knowledge base is also vast enough to cover most topics and issues that users encounter while using hosting services.
The popular Guru Crew at A2 Hosting are known to be a team of experienced support staff that strive to give users the most helpful solutions to their queries. To get support, choose 'support' on the website's navigation menu. This will take you to their knowledge base. Below the Knowledgebase is the FAQ section with several how-to guides. The knowledge base is also searchable through the search box.
To get in touch with the support team, you can reach out by email, phone, ticketing system, or live chat.
The company has a presence in popular social media platforms like Facebook, Twitter, Youtube, and LinkedIn. Their YouTube account offers helpful how-tos.
Regular Backups
A2 creates automatic backups for websites hosted on its platform. Backup options on the platform include automatic, manual, MySQL database backups, and cPanel backups. It is also possible to automatically backup your data to Amazon S3 cloud storage or Google Drive.
Turbo Servers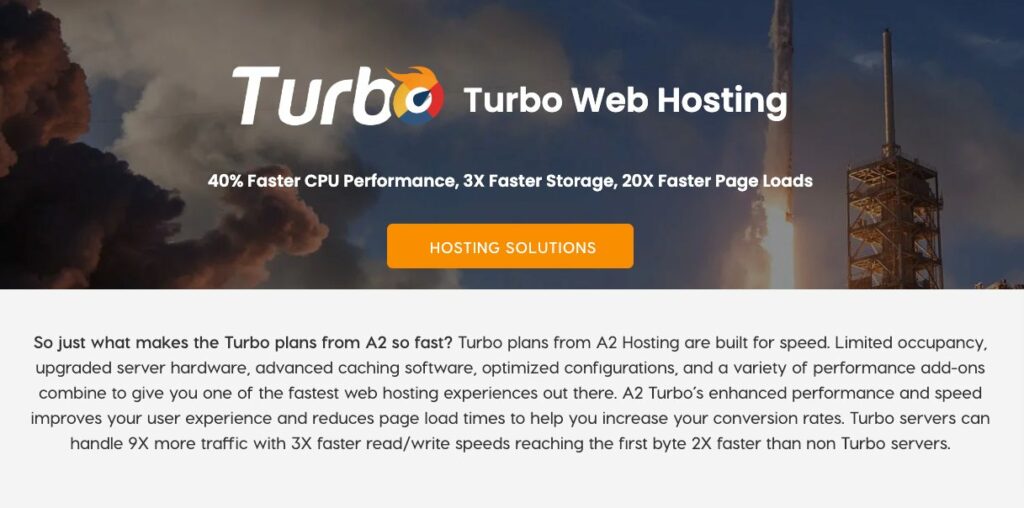 The turbo servers are among the main factors why A2 records impressive speeds. The turbo servers make it possible for the site pages to load 20X faster compared to regular sites hosted on other platforms. These Turbo servers, however, are only available to users on the upgraded plans.
Ease of Use
A2 Hosting is a feature-rich hosting platform. Therefore, you should expect to find loads of features in all its plans. It is easy to pick your preferred hosting type and plans on the platform. The plans have lists of all features available, making it easy for you to pick your preferred hosting based on the features offered.
Once you pick your preferred plan, you'll be prompted to take action on the domain name – transfer or register a new one. The alternative is to use your old domain name as it is and only update the nameservers.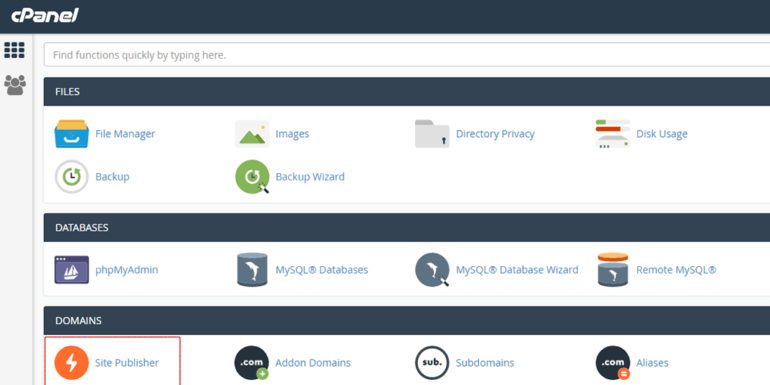 The configuration page is where you get to decide on Add-ons you want to use, such as auto install apps, A2 website builder, a dedicated IP, and RapidSSL. The site builder is free if you only want to build a one-page website. You also get to choose your preferred data center – Michigan, Amsterdam, Arizona, and Singapore.
The auto install Add-on will be automatically installed if you choose it. More than 30 apps are available, and they include Joomla, WordPress, Drupal, OpenChart, and Magento.
Complete the account creation process at A2 Hosting by filling your personal and payment information. You will also be required to create a solid password. You'll be taken to the dashboard once you complete making your payment. The company uses the familiar and popular industry-standard cPanel, making it easy for you to manage your emails, domains, software, and databases. We have also featured A2 hosting to the best cPanel Hosting Providers.
eCommerce Functionality
A2 offers several eCommerce tools that you can choose from to run your online store. These platforms include OpenCart, PrestaShop, Magento, and WooCommerce. Although some of these tools do not come pre-built with A2 Hosting, the company provides a platform that is compatible with these eCommerce tools, making it possible to host with A2 Hosting.
Optimized Software
A2's software is pre-tuned for the best performance you can possibly get. This optimization feature can be applied on WordPress, Joomla, Drupal, and PrestaShop, enabling you to get even faster page loading speeds. An optimized WordPress site at A2 Hosting runs 6 times faster than non-optimised websites.
Website Builder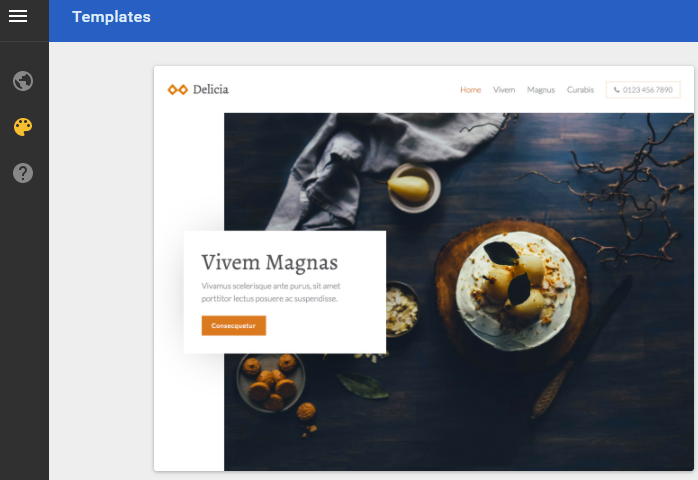 Use the drag-and-drop site builder available at A2 to quickly build your website. Some important features of this builder include an easy-to-use text editor, template selector and optimizer, customized images, contact forms, sign-up forms, picture gallery, and blogs.
Free Site Migration
The Guru Crew support team conducts all your site migration needs for free. To get the process started, you'll have to fill out the migration request form. Upon finishing and submitting the form, a migration specialist will complete the migration process within 48 hours.
Unlimited Email Addresses
Get professional emails for free by hosting your website with A2 Hosting. You get free unlimited email addresses in all plans at A2
Unlimited Features
Unlimited email addresses is not the only unlimited feature at A2 Hosting.
Other unlimited features provided by A2 include:
Unlimited transfers
Unlimited subdomains, Addon domains, and Parked domains
Unlimited websites
Unlimited Raid 10 storage
Unlimited Total databases
You also get several features for free, which include site migration, SSD speed boost, DNS management, Railgun optimizer, and patchman enhanced security tool.
Read More: 9 Best Unlimited Hosting Plans
Hosting Types
A2 Hosting offers four main hosting types:
Shared hosting
VPS hosting
WordPress hosting
Reseller hosting
Dedicated hosting
The payment methods you can use to subscribe to any of the plans under the hosting types include PayPal, Credit card, UnionPay, Check or Money Order, Skrill, PayU Latam, and Bank Transfer. Please note that if you don't want the renewal rates to apply, you have to cancel the subscription 15 days before the renewal period.
Shared Web Hosting
Shared web hosting plans are popular among developers, business owners, and bloggers seeking cheap hosting services. This is because you get to share servers with other users. This means you use less server resources and therefore incur less costs for hosting.
Although cheap, shared hosting is not the most powerful offer at A2 Hosting. Sites or platforms that need more power and resources will have to host with other hosting types like VPS and dedicated hosting.
Key features that are available even on the shared Startup plan include unlimited transfer, unlimited email accounts, free SSL, free website builder, website staging, 99.9% uptime commitment, 24/7/365 support, and choice of data center location.
A2 Hosting provides four shared hosting plans, with the Startup and cheapest plan costing $2.99 per month. The other plans include Drive, Turbo Boost, and Turbo Max.
Pricing
Startup at $2.29 per month
Drive at $5.99 per month
Turbo Boost at $6.99 per month
Turbo Max at $12.99 per month
Cloud VPS Hosting
A2 Hosting offers multiple Linux-based virtual private server – VPS – plans. There are similarities and differences between shared and VPS hosting. For example, in both cases, several websites share a single server. However, VPS provides more resources per website compared to what shared hosting offers.
You can choose from the two main VPS hosting options at A2 Hosting, managed and unmanaged VPS hosting. The unmanaged VPS hosting option is cheaper and designed for experienced developers or website admins.
Managed VPS hosting is for the inexperienced or individuals who do not have enough time to manage the platform. Compared to the unmanaged VPS plans which start at $4.99 per month for the cheapest plan, managed VPS hosting starts from $39.99 per month. The managed VPS plans come with HostGuard Management service. A2 Hosting takes care of all your server issues and management.
Managed VPS Hosting
Unique features specific to this hosting solution include:
100% worry-free hosting solution
Security patches
Daily , automatic, and rebootless updates
Smart system notification system
The cheapest managed VPS package, Lift 4, gives you 4 GB RAM, 2 Cores, 150 GB SSD storage, and 2 TB transfer.
Pricing
Lift 4 at $39.99 per month
Lift 8 at $54.99 per month
Lift 16 at $67.99 per month
Mach 8 at $59.99 per month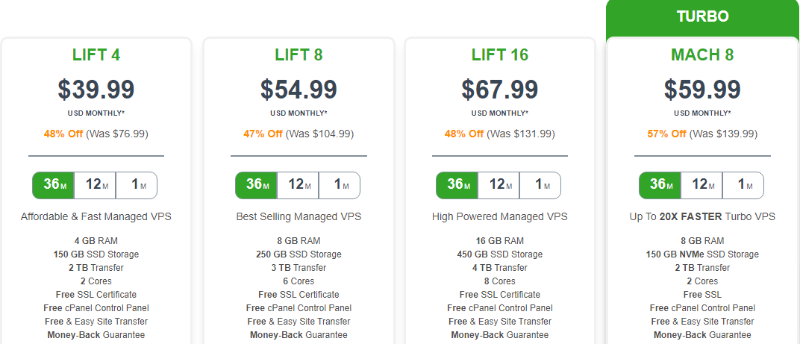 Unmanaged VPS Hosting
You can choose your preferred operating system and get administrative-level root access.
Pricing
Runway 1 at $4.99 per month
Runway 2 at $7.99 per month
Runway 4 at $9.99 per month
Supersonic 8 at $34.99 per month

Dedicated Web Hosting
The dedicated hosting options are the most powerful plans on any hosting provider. This is because your website does not share server resources with any other site. This makes dedicated hosting the best option for websites that need lots of server resources. For example, if you expect large amounts of traffic on your website, you should host with A2 Hosting's dedicated hosting plans.
Like VPS Hosting, A2 Hosting gives you managed and unmanaged dedicated hosting. You can choose from the two options based on your level of experience managing and solving server issues.
Unmanaged Dedicated Hosting
The cheapest unmanaged dedicated hosting gives you:
6 TB transfer
Intel Xeon E-2224 4.6GHz Turbo CPU
Root access
16 GB DDR4 ECC RAM
Pricing
Hyper 1 at $105.99 per month
Hyper 2 AMD at $135.99 per month
Hyper 2 Turbo AMD at $165.99 per month
Hyper 2 Intel at $135.99 per month
Managed Dedicated Hosting
Key features of the managed dedicated hosting package include 100% worry free hosting, managed installs and upgrades of core software, security patches, and smart system notification system.
Pricing
Warp 1 at $155.99 per month
Warp 2 AMD at $185.99 per month
Warp 2 Turbo AMD at $215.99 per month
Warp 2 Intel at $185.99 per month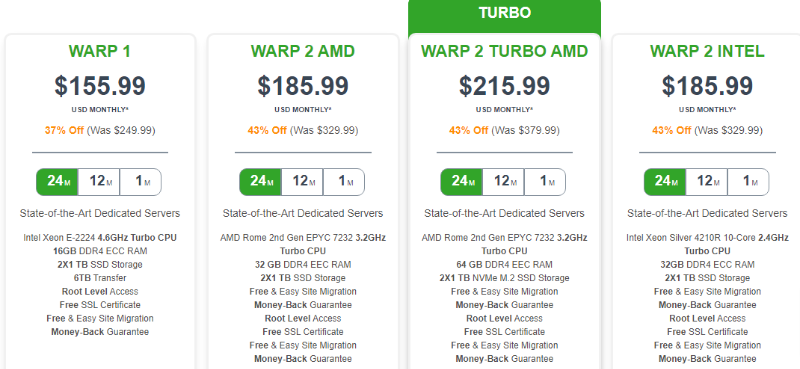 Managed dedicated hosting is the perfect choice for people looking for a website or platform that needs the best that A2 has to offer. However, this is also their most expensive offering, with the cheapest plan costing $155.99 per month.
WordPress Web Hosting
Nearly 37% percent of websites on the Internet are powered by WordPress. This is because WordPress is easy to use and allows non-developers to quickly build websites without writing code. A2 Hosting provides affordable WordPress hosting and WordPress-specific features to boost site performance.
There are four managed WordPress hosting plans on the platform – Run, Jump, Fly, and Sell. These plans are identical to what you'll get on the shared hosting plans.
Some key features on the WordPress hosting plans include:
Pre-configured security
SEO tools
WP-CLI
Pre-optimised performance
Free expert site migration
These are the features you get with the optimized package. The company's Deluxe WordPress features include security rollback, plugin/theme set management, mass hardening, smart updates, easy site cloning, 1-click site hardening, and mass updates.
Managed WordPress Hosting Pricing
Run at $11.99 per month
Jump at $18.99 per month
Fly at $28.99 per month
Sell at $41.99 per month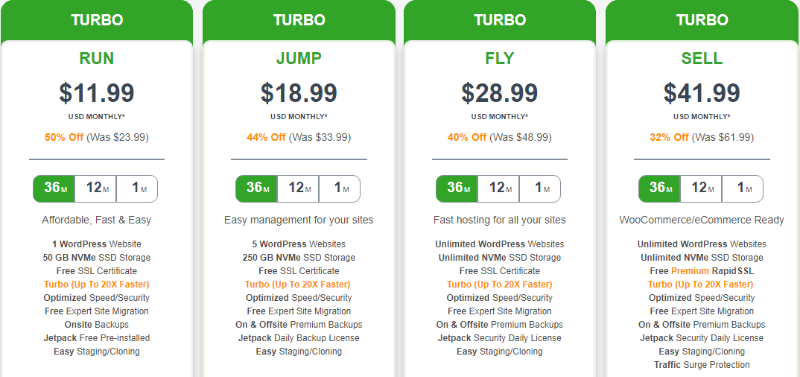 Reseller Web Hosting
A2 Hosting gives you an opportunity to enter the web hosting business through its reseller hosting packages. Through the reseller plans, you can sell web hosting services without taking care of the infrastructure. These reseller plans start at $18.99 per month and scale up to $44.99 per month. The Turbo reseller option starts from $24.99 per month and scales to $52.99 per month.
A2 Hosting allows you to apply your brand on the servers you rent. In addition, A2 provides 24/7 tech support.
The cheapest reseller plan gives you:
600 GB transfer
60 GB SSD storage
cPanel/WHM (White-labeled)
Free Blesta
20X faster Turbo option
Fast 24/7/365 Guru Crew support
Reseller Hosting Pricing – 36 months commitment
Kickstart at $18.99 per month
Launch at $24.99 per month
Grow at $34.99 per month
Scale at $44.99 per month
The cheapest Turbo reseller plan gives you:
600 GB transfer
60 GB NVMe SSD storage
cPanel/WHM (White-labeled)
20X faster Turbo option
Fast 24/7/365 Guru Crew support
Free Blesta
Turbo Reseller Hosting Pricing – 36 months commitment
Turbo Kickstart at $24.99 per month
Turbo Launch at $32.99 per month
Turbo Grow at $42.99 per month
Turbo Scale at $52.99 per month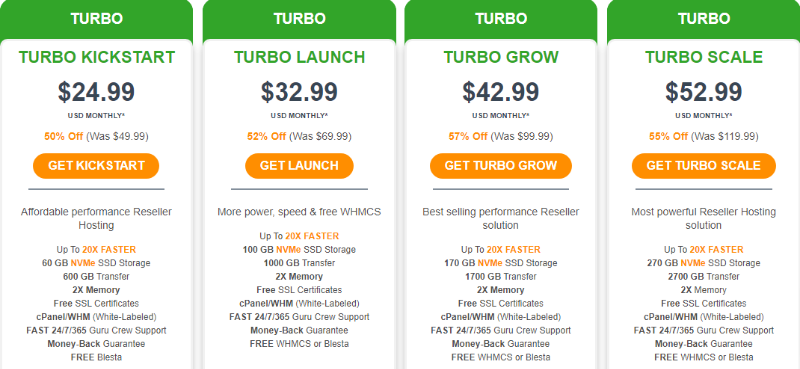 Additional Services
You do not just get web hosting services from A2. The company has additional multiple offerings that complement their web hosting services. Some of these are stand-alone services that you can purchase without having a running website with A2 Hosting.
Domain Registration
A2 Hosting does not provide free domain registration. You'll have to pay to register a new domain. You can also transfer an existing domain to A2 Hosting.
Their popular extensions and pricing are as follows:
.biz at $17.99 per year
.com at $16.99 per year
.io at $49.99 per year
.net at $17.99 per year
.org at 16.99 per year
Other extensions are .ca at $16.99 per year, .cc at $19.99 per year, .co at $29.99 per year, .in at $11.99 per year, .us at $16.00 per year, and many more. Features that come with these domain extensions include free DNS management, custom nameservers, 24/7/365 Guru crew support, ID protection option, and domain theft protection.
Email Hosting
Get customized email hosting services from A2 Hosting. Key features that come with this service include shareable contacts, multi-account access, webmail & mobile app, undo & fix emails, and email migration tools. You can choose from two email hosting plans, Professional and Pro Plus.
The Professional plan costs $1.59 per month if you commit for 36 months – 3 years. The plan gives you email backups, contacts and calendar, 10GB per account, advanced spam and virus protection, and IMAP/POP3/SSL support. The Pro Plus plan costs $2.59 per month for 36-months commitment. The Pro Plus plan gives you 30 GB per account, email templates, follow-up reminders, and read receipts, in addition to all features available in the Professional plan.
Please note that if you host your website with A2 Hosting, you get free unlimited email addresses, regardless of the plan. You only pay for email hosting services if you're not hosting with the company.
When to Use A2 Hosting
A2 Hosting is a great choice if uptime and speed are among your priorities when shopping for a web hosting service. This makes the provider a good choice for any website designed to drive sales and conversions, grow traffic, and blogs. The good speeds make it the best choice if you want to capture new leads and boost your SEO performance. Websites with good speeds will also have a good reputation which can boost your brand.
A2 is an all-round provider that can be used by bloggers, startups, ecommerce stores, and large businesses. Their reliable WordPress hosting plans also make it a suitable host for businesses and individuals who want to run their websites on WordPress. This hosting service, however, would not be ideal if you're looking for something cheap in the long term. The renewal rates at A2 Hosting are high.
A2 Hosting's Competitors
A2 Hosting is not the only company that pops up when searching for a reliable hosting service online. There are many other providers that are giving A2 a run for their money, either by offering equally fast speeds at affordable rates, or striving to provide features that are not available at A2. Some of the big names that come up when comparing A2 with other providers include Bluehost, SiteGround, Hostwinds, and HostGator.
HostGator gives you similar service and features you'll find at A2 Hosting at attractive prices. Like BlueHost, another major competitor, HostGator gives you a free domain – A2 Hosting does not. However, to enjoy the free domain at HostGator, you have to commit for at least one year. You also get a free drag-and-drop website builder with all plans at HostGator.
SIteGround is also a big web hosting provider that edges A2 on various fronts. SiteGround gives you great speeds, reliable uptime, and goodd site performance.
Hostwinds is another web hosting service provider that comes with loads of free features. The company gives users unlimited disk spaces in all its plans. However, Hostwinds has only three data centers, one in Europe and two in the United States. A2 Hosting beats this competitor by having an additional server in Singapore that serves users in Asia.
Read more: Kinsta vs A2 Hosting: High WordPress Performance Meets Affordability
FAQ
Is A2 Hosting legit?
Yes, A2 Hosting is a legit web hosting company with headquarters in Michigan, USA.
Does A2 Hosting allow adult content?
No, A2 Hosting does not allow adult content.
Is A2 Hosting good for WordPress?
Yes, A2 Hosting offers WordPress hosting services. The managed WordPress hosting plans enable you to get managed hosting services and WordPress support from experts in the company.
Who owns A2 Hosting?
A2 Hosting is owned by Bryan Muthig, who is the founder and CEO.
What is A2 website builder?
This is a drag-and-drop tool that is used to build websites.
How do I access cPanel a2hosting?
There are two methods you can use to access A2 Hosting cPanel.
The first method is through the customer portal. Login in to the customer portal, click 'services' on the menu bar, and locate your hosting package under 'My Products & Services'. Click 'Manage', then click on 'Login to cPanel'.
The second method is accessing cPanel directly. You can do this by typing the cPanel address on your web browser. The address is either https://www.example.com:2083 or http://www.example.com:2082 where example.com is your domain name. The cPanel page will appear and you should fill in your username and password to access the panel.
Conclusion
A2 Hosting scores highly on the core features that one would prioritize on when looking for a reliable hosting provider. The company gives you great speeds, 99.9% uptime, solid security features, and several hosting types to choose from. You can also reach out to their customer support team any time of the day to help you with hosting issues.
A2 hosting is definitely worth a try if you are looking for a solid web hosting service. However, beware of the high renewal rates. Otherwise, you can also consider their close competitors like HostGator and Bluehost. Choosing the perfect host for your website depends on the specific server resources and features that you're looking for, as well as what you're willing to pay to get your preferred services.

As one of the co-founders of Codeless, I bring to the table expertise in developing WordPress and web applications, as well as a track record of effectively managing hosting and servers. My passion for acquiring knowledge and my enthusiasm for constructing and testing novel technologies drive me to constantly innovate and improve.
Expertise:
Web Development,
Web Design,
Linux System Administration,
SEO
Experience:
15 years of experience in Web Development by developing and designing some of the most popular WordPress Themes like Specular, Tower, and Folie.
Education:
I have a degree in Engineering Physics and MSC in Material Science and Opto Electronics.