A SaaS business demands high-quality SaaS WordPress themes. For that, you need to conduct in-depth research on WordPress themes to ensure the creation of an effective website.
Since there are literally thousands of themes out there in the SaaS category, it has gotten increasingly difficult to select the best one among them, which is why I'm here for you.
I've been surfing the internet for several different WordPress SaaS themes, and I found the best ones for you.
Today, we're going to go through some of the best SaaS themes, their features and specs, their layouts and elements, and their effectiveness.
I'm also going to tell you about the powerful page builder tools that these WordPress themes have that will enable you to build your website quickly and efficiently.
The Top 15 Best Saas WordPress Themes of 2022
In a nutshell, here's a collection of the best WordPress SaaS themes designs that you should totally check out. So, without any further ado – let's start.
1. Divi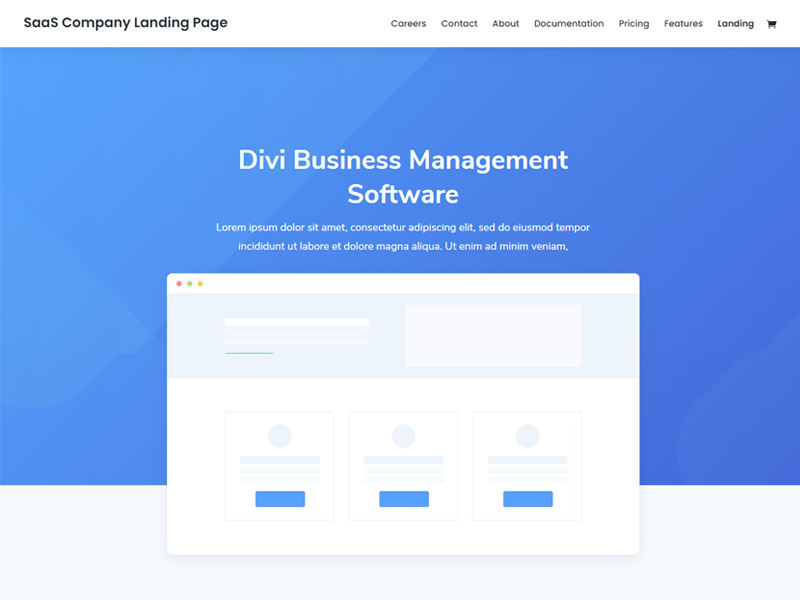 Divi templates are as convenient as they come. Divi SaaS WordPress theme can be used to create an incredible SaaS website. With the advanced visual builder technology integrated within the theme – you can build a website specifically tailored to your requirements.
Since we're discussing the SaaS industry, your website needs to be more than just beautifully designed to feature-rich – it needs to reflect your business's core values and build credibility in the market.
With the Divi theme, you get all the essential tools to build a trustworthy presence in the digital realm. The visual editor lets you set your website according to your business.
There are several pre-built templates, pages, contact us pages, blog pages, and much more that allow you to seamlessly create amazing websites for your business.
Other Features:
Easy customization of elements.
No coding experience enables fast development.
Result-oriented designs and intuitive visual controls.
Divi's visual design can be combined with the developer's own custom CSS.
2. Amos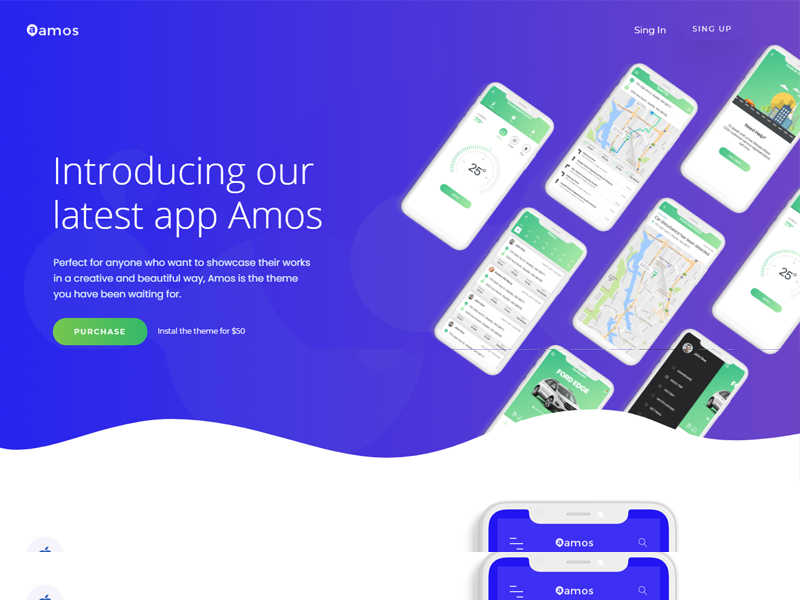 With dozens of customizable pages and elements, the Amos SaaS WordPress theme leaves no stone unturned in ensuring a perfect SaaS website for your business.
From heading styles to custom post type to testimonial designs and several other designing elements, the Amos WordPress theme has literally got it all.
Moreover, the theme is super-responsive; it lets you edit several aspects of your website and gives it more than just a professional look on your PC, iMac, Mac Books, iPhones, Android Phones, and several other mobile devices.
Because nowadays, mobile accessibility is the most important feature of a website. The Amos theme helps you deliver an omnichannel SaaS experience to your customers.
Other Features:
Result- Responsive
Multilingual
Extended theme options
Woo online store
Automatics Updates
Dedicated Support
3. Apzo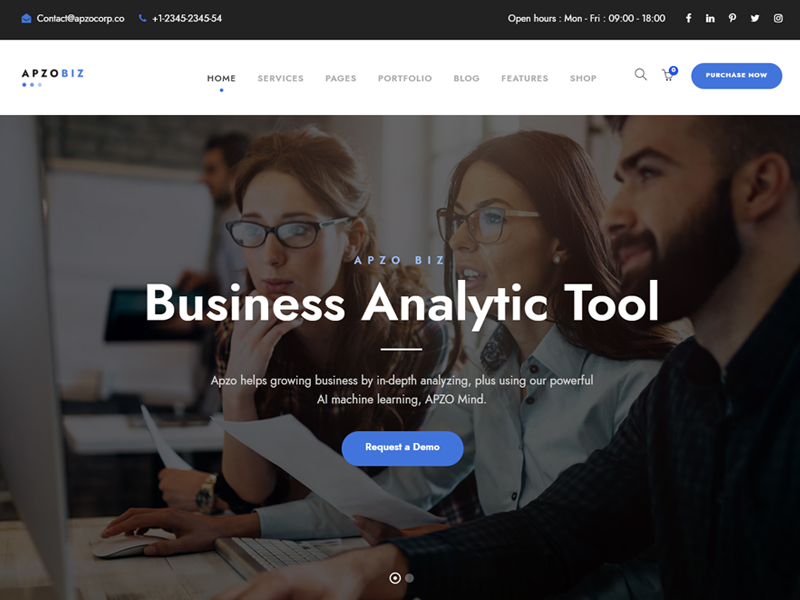 A premium WordPress SaaS theme that is designed for the corporate world. As a SaaS brand, you might need a website that is not only responsive but has a clean and minimal representation.
Creating such a specific website can be a daunting task. Here's where Apzo provides maximum developing ease with its amazing set of features.
Apzo comes with a Good-Layers page builder that allows the user to make the website quality-oriented, powerful, and intuitive. This also gives your website a competitive edge in the highly competitive market.
The developers of Apzo were always concerned about the feedback they got from their customers, which is why they hardwired every feature and specification into the theme's core framework.
Apzo also has a seamless drag and drop page builder that gives developers the flexibility to create custom background wallpapers, skin colors, and much more.
In a nutshell, Apzo is a one size fit all solution that you can leverage for your SaaS business and instantly develop a website that is all set to reflect the very essence of your business.
Other Features:
Powerful Drag & Drop Page Builder
Unlimited Color
SEO Optimization
WPML Fully Supported
WooCommerce Fully Supported
100% Fluid Layout
4. SaaSmax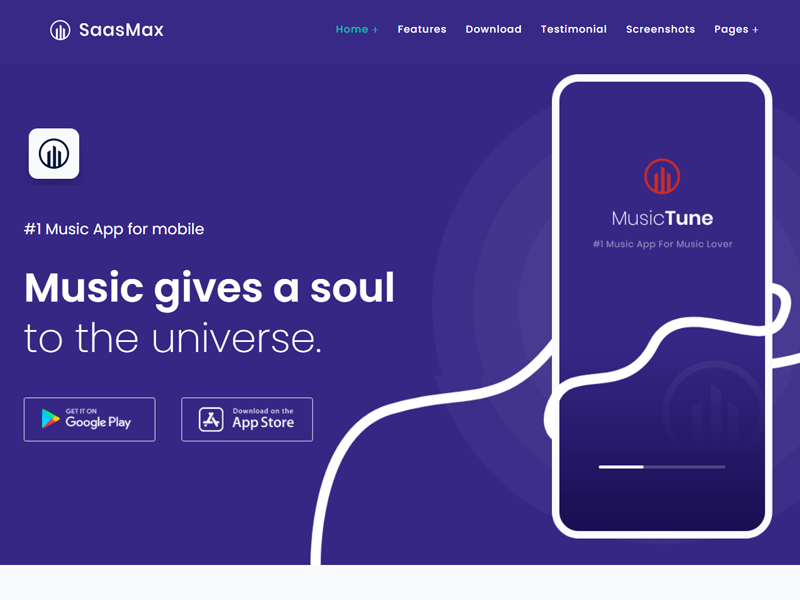 Technology SaaSmax is a top-notch and multi-purpose WordPress theme that is responsive, easy to navigate, compatible with every cellular and desktop device, and packed with pre-built templates and pages.
SaaSmax offers a simple, sleek, and minimal design that takes control of your audience's attention and redirects it to your business's product. This theme is the perfect one if you're thinking of marketing your business.
SaaSmax also comes with transitions and effects that give your website a gorgeous and professional look. Moreover, the theme is perfect if you're selling software, marketing services, and even if you're an individual.
Thinking of developing an MVP rather than a full-fledged website? SaaSmax has got you covered here too. You can leverage SaaSmax for creating a landing page combined with gradient colors and amazing design elements.
Other Features:
Fully Responsive Bootstrap Based
100% Valid Code
Elementor Page Builder
Unlimited customization
Powerful Options Panel
Well Documented
5. Folie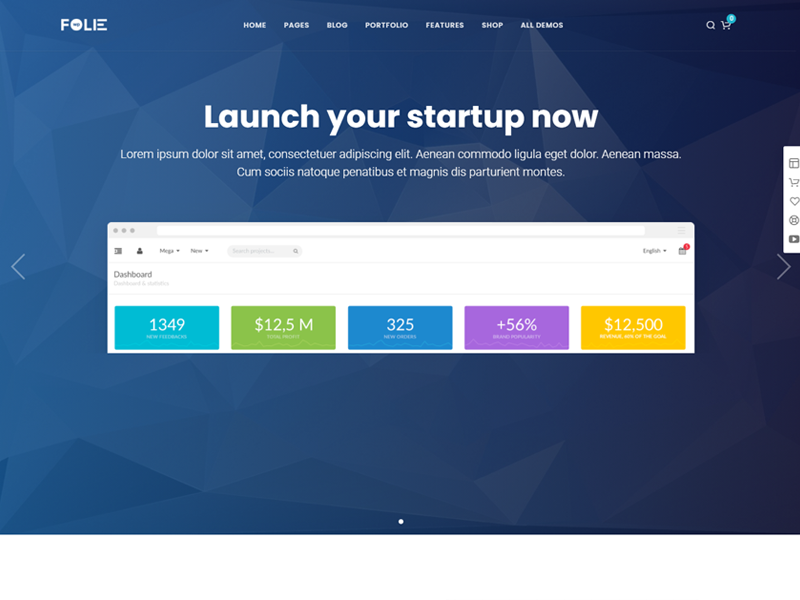 To put it simply, Folie is immeasurably creative. I say this because you can literally translate Folie into any website you want to create regardless of the business.
Folie can be used to build a marketing agency, photography, SaaS business, and even an individual's portfolio. The customization options and the codeless building experience just makes the theme more valuable.
Even the non-technical folks can build a stunning website using Folie because it has a codeless builder (visual page builder). Secondly, it comes with several pre-defined elements and builds in pages.
All of the features mentioned above help you as a SaaS brand to create a website quickly and efficiently. Moreover, the theme is also SEO-friendly, has WPML support, 30+ elements, content blocks, and much more.
In the end, when you choose Folie, you ensure a seamless website development and designing experience, let alone ensuring quality and top-notch features.
Other Features:
Codeless Builder – Visual Page Builder
Drag & Drop Front-end Builder
New Innovative Design
Creative Portfolio
SEO Optimized Theme
WPML Support
Clean Code and Documented
6. Viva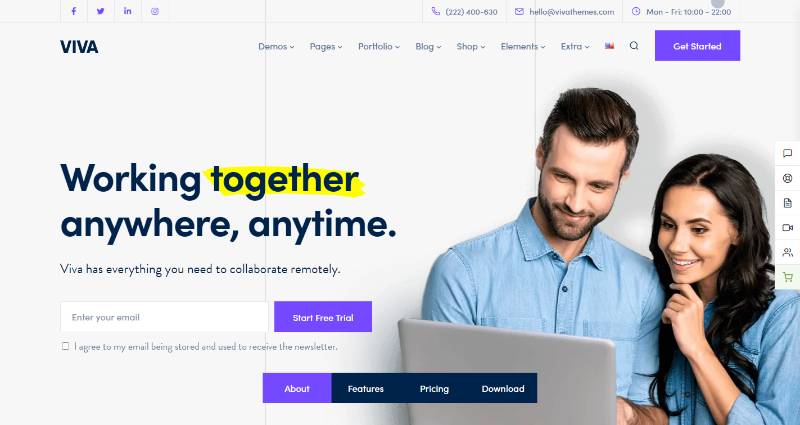 The Viva SaaS theme gives you the flexibility to customize your website to your liking. This is made possible by the over 350 pre-designed templates and the WPBakery page builder. You can also get all demo data with one-click import.
The demo data comes with pre-designed sections suitable for a SaaS company. For example, the home page includes a pricing table, and all you have to do is fill it up with your rates for different packages of your SaaS product.
More features of interest include:
Responsive layout
Translation ready
Cross-browser compatibility
Well documented
Reliable customer support
Lifetime free updates
This theme also comes with free premium plugins. These are themes that you would otherwise pay for if you use other themes. 
7. Xsapp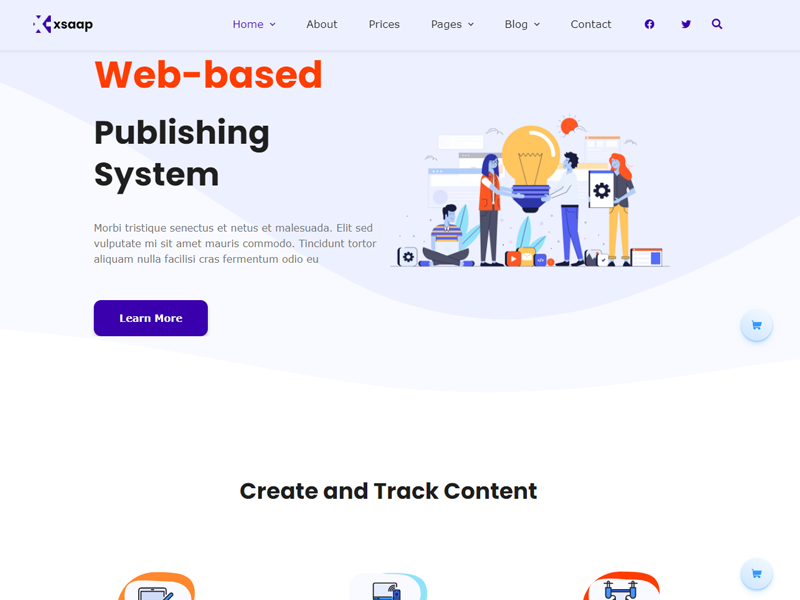 Xsapp is a revolutionary WordPress template for your SaaS startup business. This theme is basically a template and a multi-purpose one. You can easily leverage this theme for your business by customizing it to match your brand.
You can also use this theme to create your own intuitive and delighting personal profile over the internet. Moreover, Xsapp leaves no stone unturned to ensure a feature-filled experience when it comes to the features.
Xsapp provides you with customizable CTAs, forms, portfolio pages, content blocks, elements, animation styles, and the list goes on.
With these aspects, you can quickly create a stunning website for your SaaS brand while keeping it quality-wise perfect. There's also the Elementor template, which is packed with powerful customization features.
In the fewest possible words, Xsapp was carefully crafted to meet even the most sophisticated requirements, and this property of Xsapp lets you bring innovation to the market through a beautifully designed website.
Other Features:
Global Theme Styles included
50 Elementor Templates
Pixel Perfect Design
100% Fluid Responsive
Clean and Simple Style
Tested in Color Blindness Simulator
100% SEO Friendly
Perfect for Elementor Pro
Quick, Dedicated and Professional Support
8. Stratus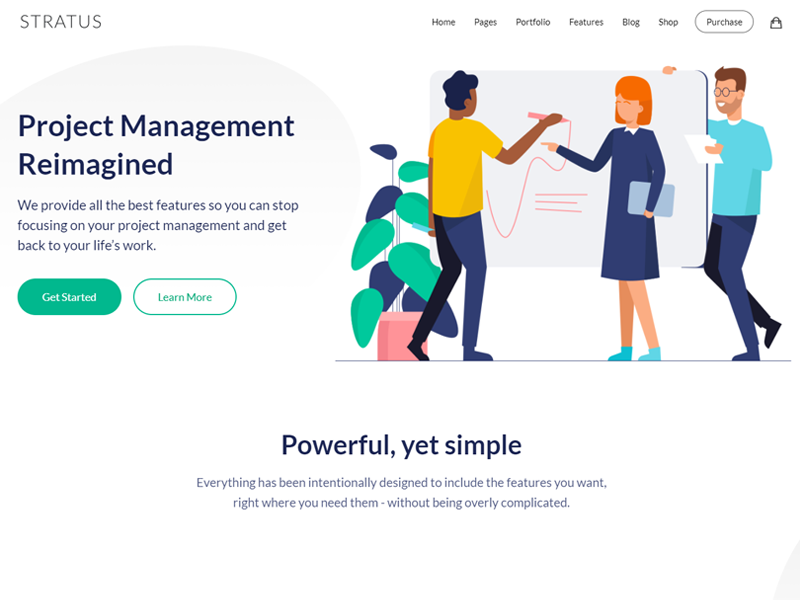 Stratus is yet another premium WordPress SaaS theme. It is designed to serve professional companies, startups, marketing agencies, and above all, a SaaS company.
Whether your website goals are lead generation, engagement, traffic, or literally anything – Stratus has got your back with its amazingly intuitive set of features and accessibilities.
When you choose the Stratus theme, you get a live drag and drop page builder that minimizes the need for sophisticated coding and allows you to instantly tailor your website.
There are more than 40 widgets, 30 modular templates, and unlimited designs integrated into the theme so that you don't have to go anywhere else to find something.
Additionally, the one-click setup and simple page, template, or style installations adds more value to the user's overall experience by making the development of a customized website super-convenient.
Other Features:
1 click action steps
Takes about 3 minutes
Unlimited design options
Easy to use, just point and click
Instant updates with live preview
9. Softwerk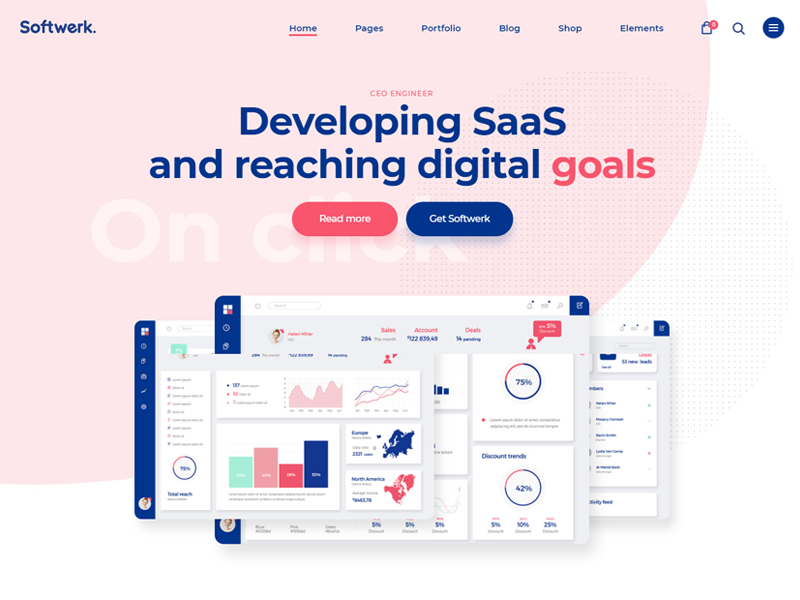 So, you're looking for a theme for your SaaS business? Meet the theme that reminds you of your product, "Softwerk," a multi-purpose and super-convenient WordPress SaaS theme designed for your SaaS business.
Astonishingly, this theme is made with a massive collection of some of the most outstanding layouts, elements, designs, and visuals out there. The integrated components reflect a brand's true nature and help it standout.
The theme can also become an effective landing page that allows marketers to capture more leads and conversions.
Moreover, Softwerk also offers one-click install feasibility and allows you to import everything seamlessly. However, when it comes to a detailed discussion of the features of Softwerk, the list seriously never ends.
Softwerk comes with a powerful interface, customization, codeless experience, retina ready, responsiveness, a huge collection of pre-built pages, WPBakery page builder, Slider revolution, and much more.
So, the next time you want to create a website for your SaaS brand, consider choosing this theme for size.
Other Features:
One-Click Demo Content Import
Retina Ready
Fully Responsive
Large collection of predesigned home and inner pages
10. SaaSLand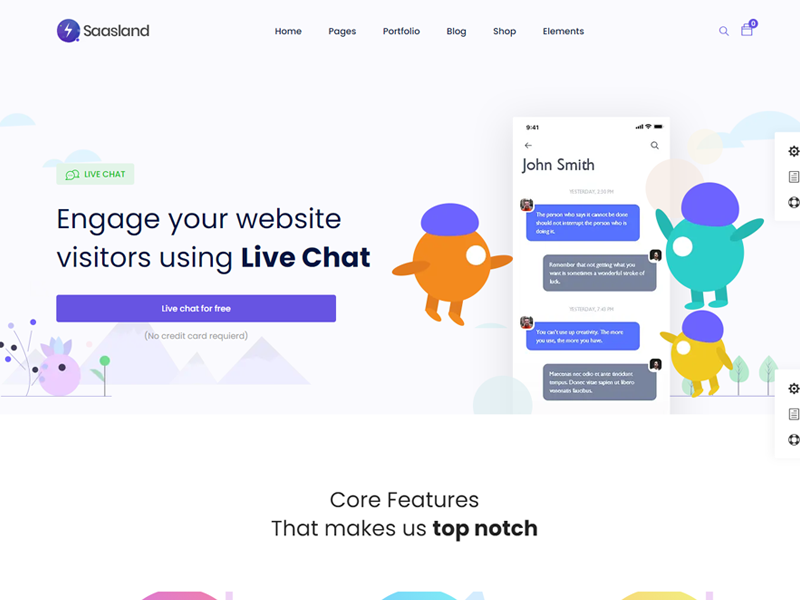 SaaSLand is a top-creative WordPress SaaS theme that perfectly suits your mobile app agency, digital agency, SaaS services, and other product or services.
The SaaSland is designed to give the developers 100% flexibility in designing, editing, adding, and deleting the WordPress theme-based website. Also, SaaSLand is responsive.
It is recommended to customize your website to look different and ensure a dynamic presence. This is precisely why SaaSLand has got all the customization options ready for you.
SaaSLand comes loaded with tons of features such as Gutenberg and WooCommerce compatibility, RTL support, One-page demo, 95+ PSDs, and WPML support.
Hence, this theme promises to create an inspirational website that ensures a clean, sleek, modern, and gorgeous UX and UI. Also, this is the perfect theme if you're about to start a new SaaS website.
Other Features:
Fully Gutenberg compatible.
Fully WooCommerce compatible.
WPML – full multilingual support.
Full RTL support.
One page demo included.
95+ PSDs included with images, graphics.
11. Pearl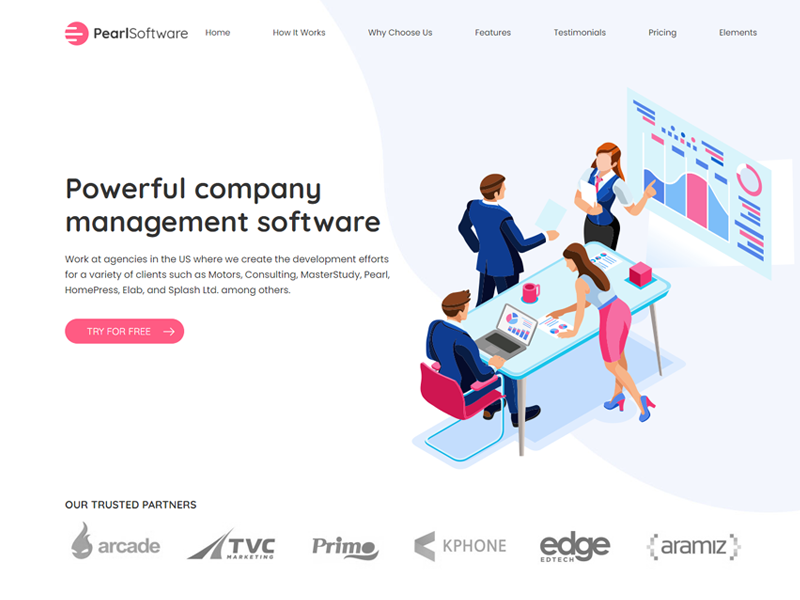 Pearl is, as the name says, "a pearl for the developers and marketers." This super-easy to customize theme allows developers and marketers to create a website for any business and every business.
The theme comes with tutorials, guides, and demos that allow fast and informed creation of the website minimizing the risk of faults or errors. Plus, the theme can be customized to match the nature of literally every brand.
Pearl is integrated with all the essential features and specs required to design and develop a feature-rich and amazing website. In short, you can create a masterpiece with Pearl.
Moreover, while creating a professional and sophisticated website, you may require coding, right? Well, you don't have to write a single line of code with Pearl.
The flexible and user-friendly options allow you to add, edit, remove stunning elements to your website without the need for coding knowledge.
Also, there are more than 200 custom modules/templates that you can use to create a website instantly.
Other Features:
100% Responsive and retina ready (can be disabled)
Full control over
Automatic Theme Updater directly in WP Admin
AMP ready WordPress Theme
12. Bridge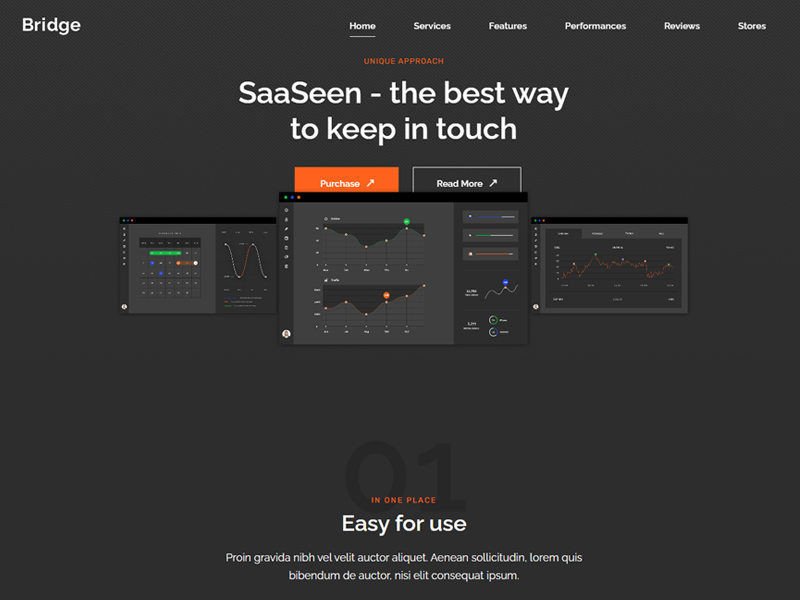 Bridge SaaS WordPress theme is everything you need to get your SaaS WordPress website up and running. This multi-purpose theme offers much more than just intuitive designs.
It is designed to serve the corporate business world. Whether you're a doctor, lawyer, a software firm, or an individual looking to create a blogging website – Bridge has always got your back with its optimum features.
You get the WPBakery and Elementor to customize your website instantly. The theme has also got you covered when it comes to a landing page or an MVP.
Moreover, some of the most outstanding Bridge features are the easy-to-use interface, Qode Slider, End-Login functionality, 24 layouts concepts, and 500+ unique demos.
The features mentioned above alone are enough to get your website developed and rocking.
Other Features:
Easy-To-Use Powerful Admin Interface
Auto Update
Bonus Parallax Pages
Fully Responsive
One-Click Demo Import
Perfect Code
Child Theme Ready
13. Uncode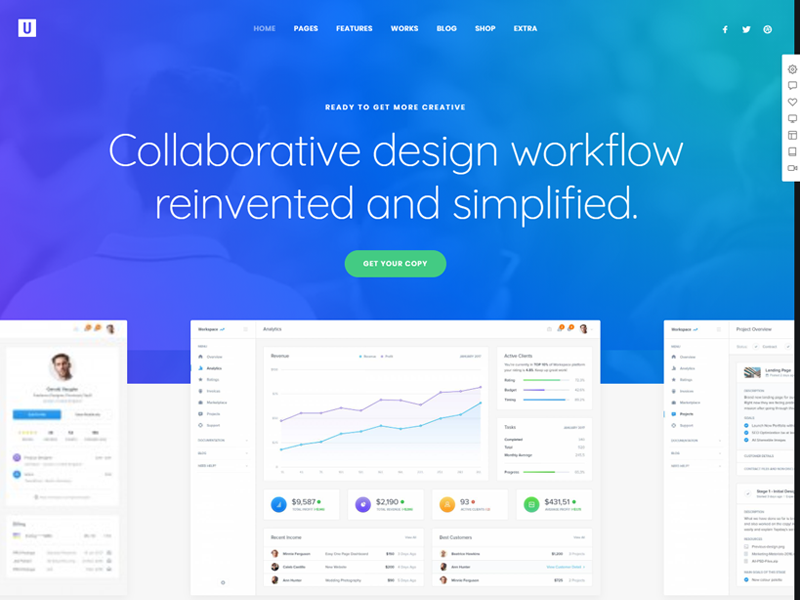 Unicode is a theme based on an enhanced and upgraded version of the popular WPBakery Page Builder. The theme is pixel perfect when it comes to designing a website for businesses.
It is clean, modern, minimal, and sleek and the best option for freelancers, designers, developers, SaaS brands, startups, and even eCommerce store.
Uncode gives its users the feature of importing and modifying 70+ professional designs to create a well-suited design. Moreover, the Uncode Wireframing Plugin allows you to import 400+ template sections instantly.
In a nutshell, you can literally create anything with Bridge without writing a single line of code.
Other Features:
1 Click Import
Easy Automatic Updates
Child Theme support
100% Responsive
14. CleverSoft
CleverSoft is an essential and smart solution for all SaaS brands looking to instantly create their digital presence.
This particular theme is integrated with some of the best customization tools and comes equipped with several pre-built templates and elements that you can use to create a website quickly.
Moreover, the theme is designed especially for the SaaS and Tech industry. It hosts a technological representation that attracts and coverts your B2B buyers.
The Elementor page builder allows you to customize your site easily. With a few drags and drops, your website is completely ready to go.
Other Features:
Responsive Design
Retina Ready
Easy-to-Use Powerful Admin Interface
One-click import of demo site
15. BeTheme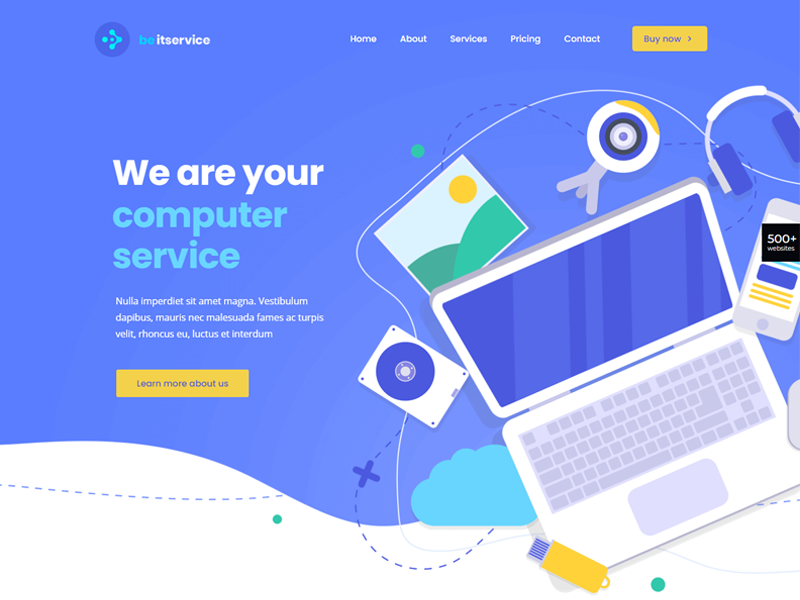 BeTheme is a theme that cannot be described in mere words; you have to check it out to harness the theme's full potential.
The developers of BeTheme claim that this is the best product-based theme they ever did. Considering the advanced features, it has, BeTheme is actually one of the best if not the best theme out there.
The theme comes with an options panel and a Muffin Builder tool that give users amazing customization possibilities. The theme also has several pre-built website pages that can be imported with just a single click.
There are tons of other features and specifications of this theme, like customized footer and header feature, layout options, content blocks, dedicated editing tool, and much more.
All of the features mentioned above allow developers to create a perfect website for not just a SaaS business but also for several other businesses.
Other Features:
Fast & Easy to use
100% Responsive Design (turn it on/off by one click)
Outstanding support for customers
SEO ready
Built-in translator
16. SaaSpot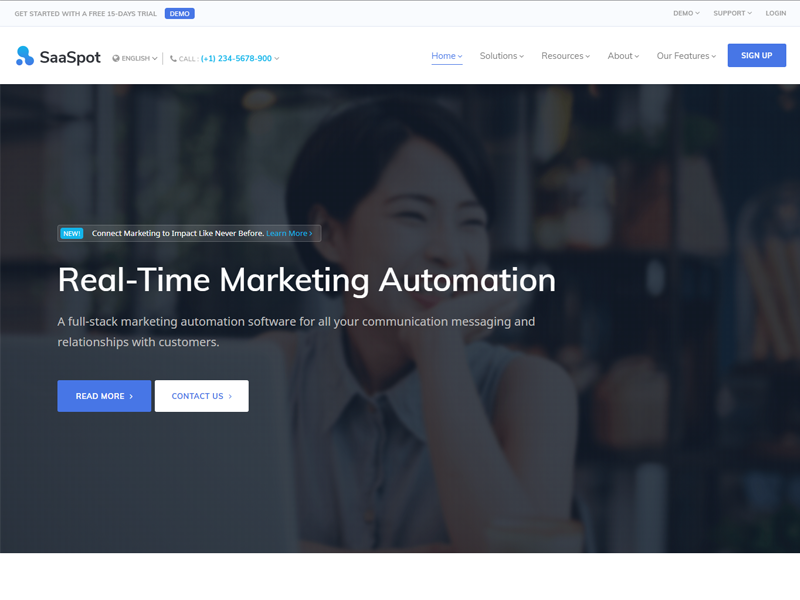 Technically, SaaSpot is not just a WordPress SaaS template; it is much more than just that. It is a marketing automation WordPress theme that allows efficient business automation WordPress theme.
The entire theme is specially crafted to help marketers and businesses achieve their website goals. The theme is super easy to operate, customize, and time-saving.
The tools integrated into SaaSpot make it possible for the users to visualize the website to life and enhance productivity while reducing working time.
With advanced features like Elementor, a leading WordPress Page builder, you can control literally every aspect of your web design. You can also add animations and transform and control visual elements of the theme.
Plus, you can customize your theme without any limitations or the hassle of writing sophisticated codes.
Other Features:
Lifetime Updates
Child Theme
Advanced Typography
Seo Optimized
Responsive & Retina Ready
GDPR Complaint
Request a Demo
Conclusion
That's all, folks!
So, here is a pretty detailed list of all the best and top-notch SaaS themes that we find extremely engaging, appealing, and feature-rich.
You can leverage these themes to create a stunning website for your SaaS business. These themes are specially designed to match the requirements of a SaaS or Tech related brand.
Also, considering that SaaS WordPress themes offer more possibilities than just creating a website, my recommendation would be to use them to their fullest potential.
Moreover, I would say that you go through each of the themes mentioned in this article thoroughly. Visit their website and learn more about the theme.
This approach would help you to select the perfect theme for your business while minimizing the risk of an uninformed choice.