Netfolie
Their services make the most of your online presence and brand. Netfolie provides a full range of design and development services, including custom programming, art direction, video, photography, illustration, web content, marketing and more. Whether the project is simple or more complex, they develop a process structure that delivers results according to your needs and requirements. And they don't just leave you in the dust after your website is done. They follow up on our work to make sure you are reaching your online goals and expectations.
8p-design
8P Design is a web agency that has been developing major digital projects since 1998 in Montreal. They create websites, customized management tools, functional designs and teach their clients to use their tools.
Their skills in strategy, web development, and Web marketing enable them to proceed to a global overview of your needs to define your objectives and get the expected results.
My little big web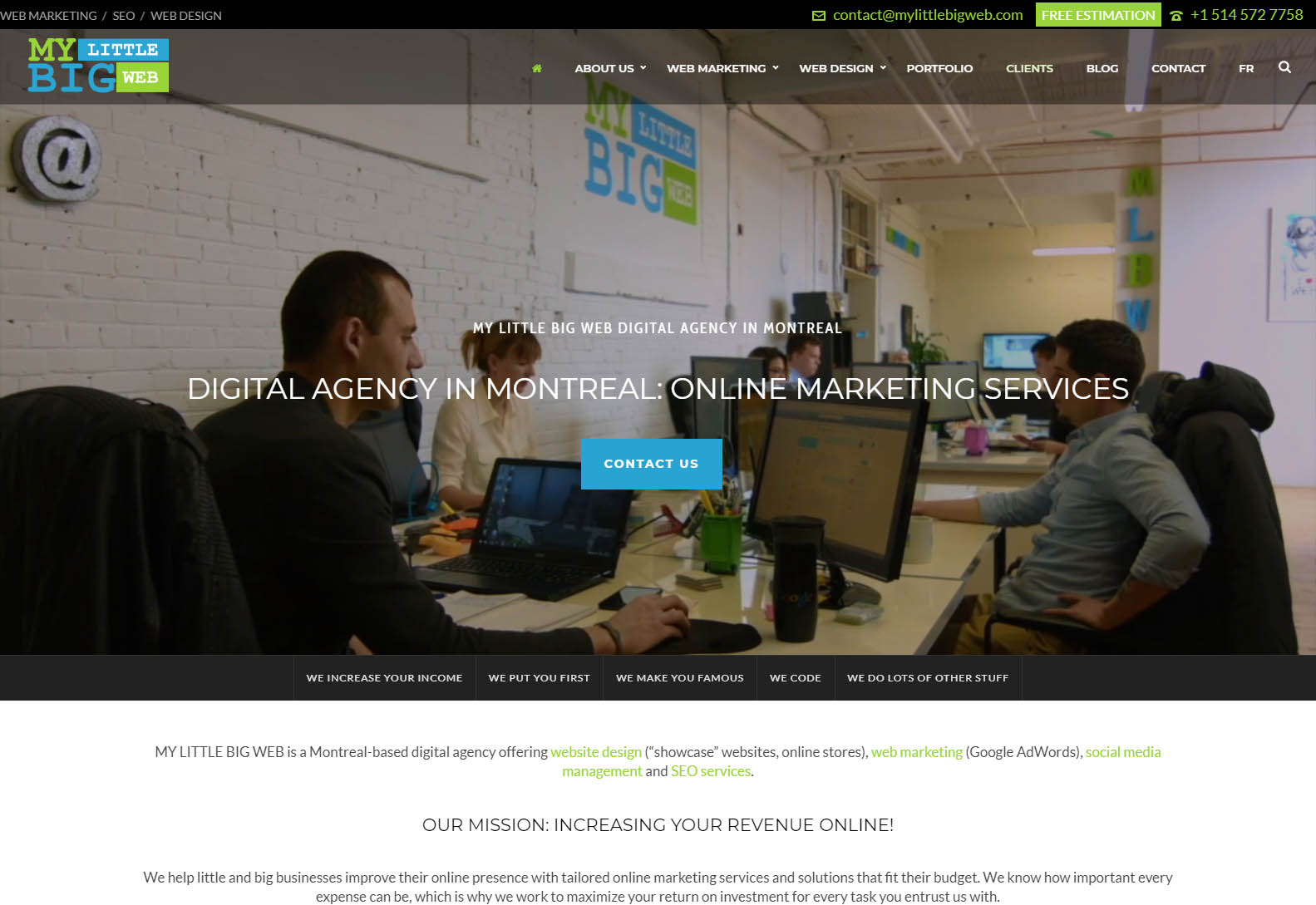 The founders of MLBW specialize in online advertising, search engine optimization (SEO), user experience optimization, and web development/design. The two founders previously worked for Microsoft and a third has developed many major projects, including the city of Westmount's website, software bought by a big name in the industry (not mentioned for confidentiality reasons), as well as more than 500 websites.
The principle behind My Little Big Web is that every business, regardless of size, should benefit from a customized support. Whether "Little" or "Big" they offer a customized service for any business.
They know that "the web is expensive", but quality is what costs us the least! They also know that companies want to measure each expense to assess their return on investment. So, they build their services by taking into account all your requirements.
Pearl white media
A web and graphic design company specializing in WordPress, WooCommerce and Magento websites. Based in Montreal, they have a sales office in Toronto and have been helping businesses get online for more than a decade. With a deep background in graphic, web design & marketing, they have developed over 500 websites from various niches like fashion, real estate, hospitality and much more.
They help businesses establish their presence on the web by creating their online personas. This includes designing a search engine optimized (SEO) website, designing a logo, branding, graphic design and internet marketing. Whether you are a startup or an established business, they handle everything from designing your logo to creating advertising material both in print and online. From corporate websites to e-commerce stores, Pearl White Media always creates high quality and innovative websites aimed at helping your business reach your full potential.
Symetris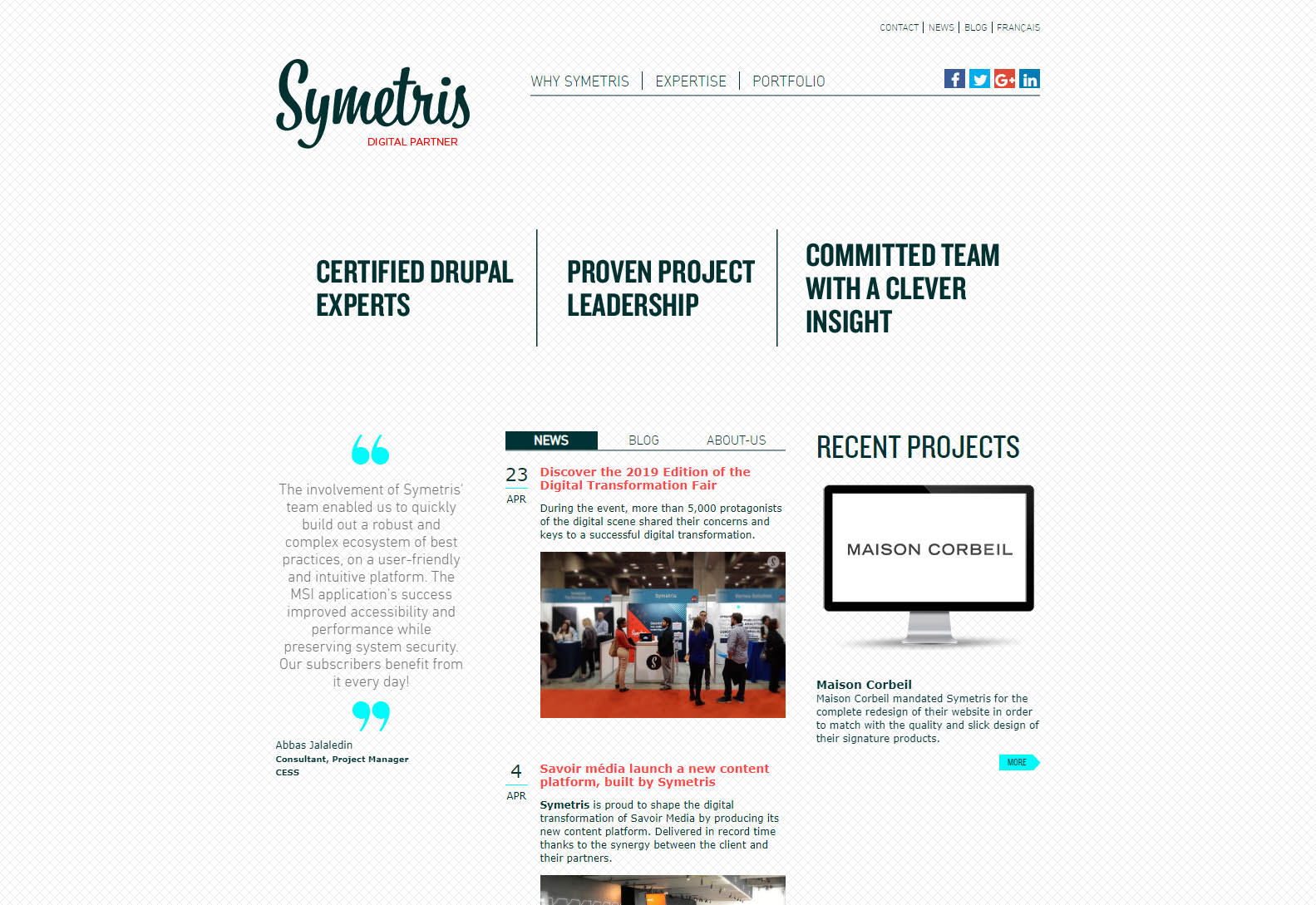 Since 2004, wthey have guaranteed the success of their clients' projects by basing their approach on the 3 pillars of our promise:
Certified Drupal Expertise
Certified by Acquia, their developers build your projects according to international best practices. Symetris guarantees the quality of your application's code by making sure at least one Drupal certified developer is assigned to your project throughout its entire duration.
Proven Project Leadership
Keep control on your project's evolution in real-time. The cornerstone of the documentation that is produced and maintained is the progress report you will receive every week, from the start of your project until its launch.
Committed Team with a Clever Insight
They are dedicated to your project's success and our team shares the same passion as their own. They consider their clients as long-term partners, and by helping you reach your goals, they all benefit. Their team strives for a client recommendation rate of over 90%.
Kryzalid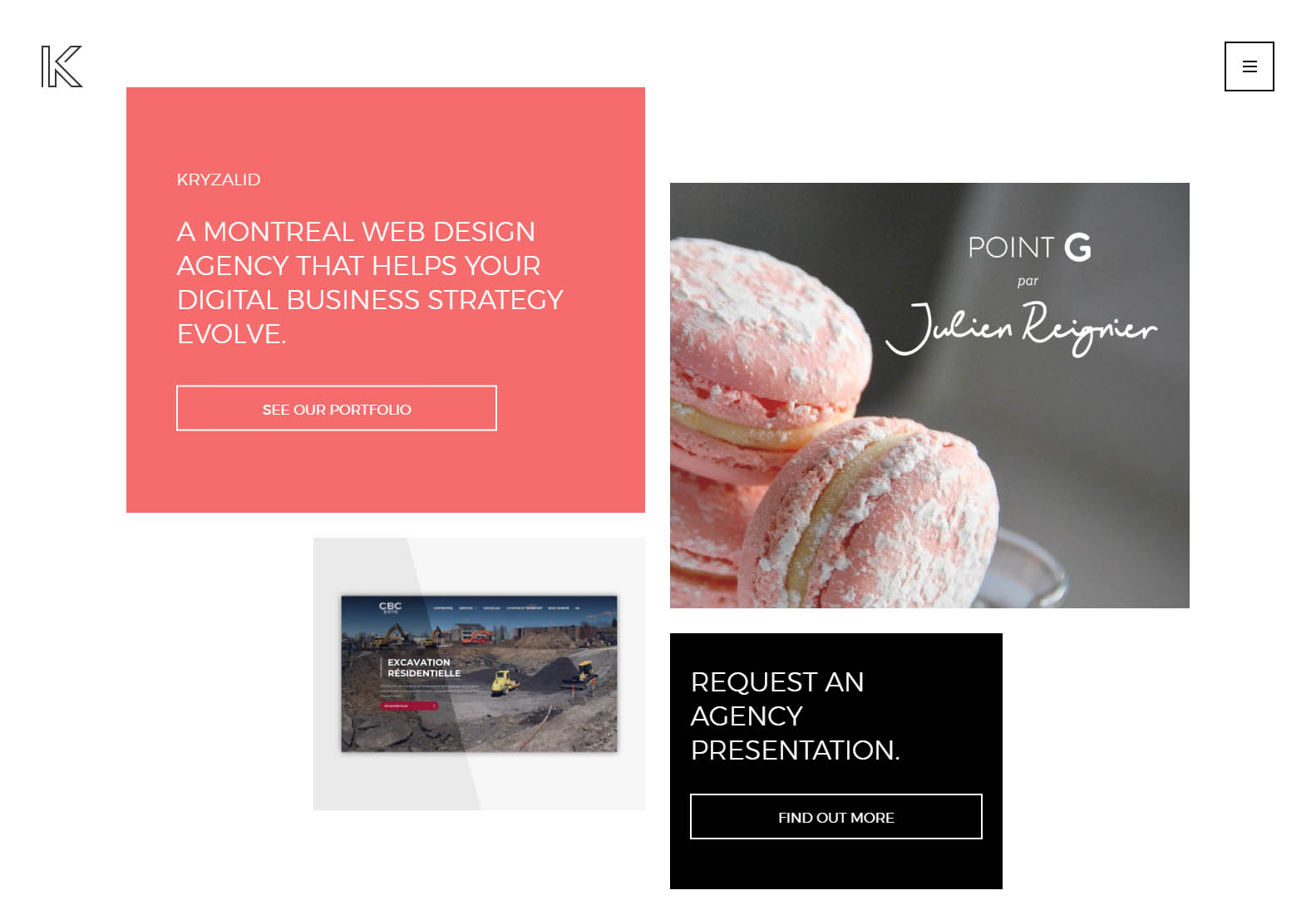 They are a Montreal web agency that, since 2001, supports its customers through the evolution of their digital business strategy. Their team approaches each project with curiosity and enthusiasm to offer real added value and dynamism to your brand.
Their partners and directors are creative, experienced, well-rounded leaders and continually seeking new challenges. Having the desire to stand out, to seduce and to exceed the set objectives, they are able to see beyond the obvious limits and are a force to be reckoned with in the elaboration of your future projects.
Their project managers and coordinators are highly professional and will do everything to challenge and stimulate their team around your project. They are able to make the best choices by taking into account all the imperatives of the projects.
Their human-sized team is composed of complementary talents in various fields: UX designers, web and graphic designers, front and back-end developers, SEO experts, copywriters and social media managers. Our team combines expertise with experience, intuition with analysis, know-how with creativity and is recognized to successfully achieve the most ambitious goals!
Kaliop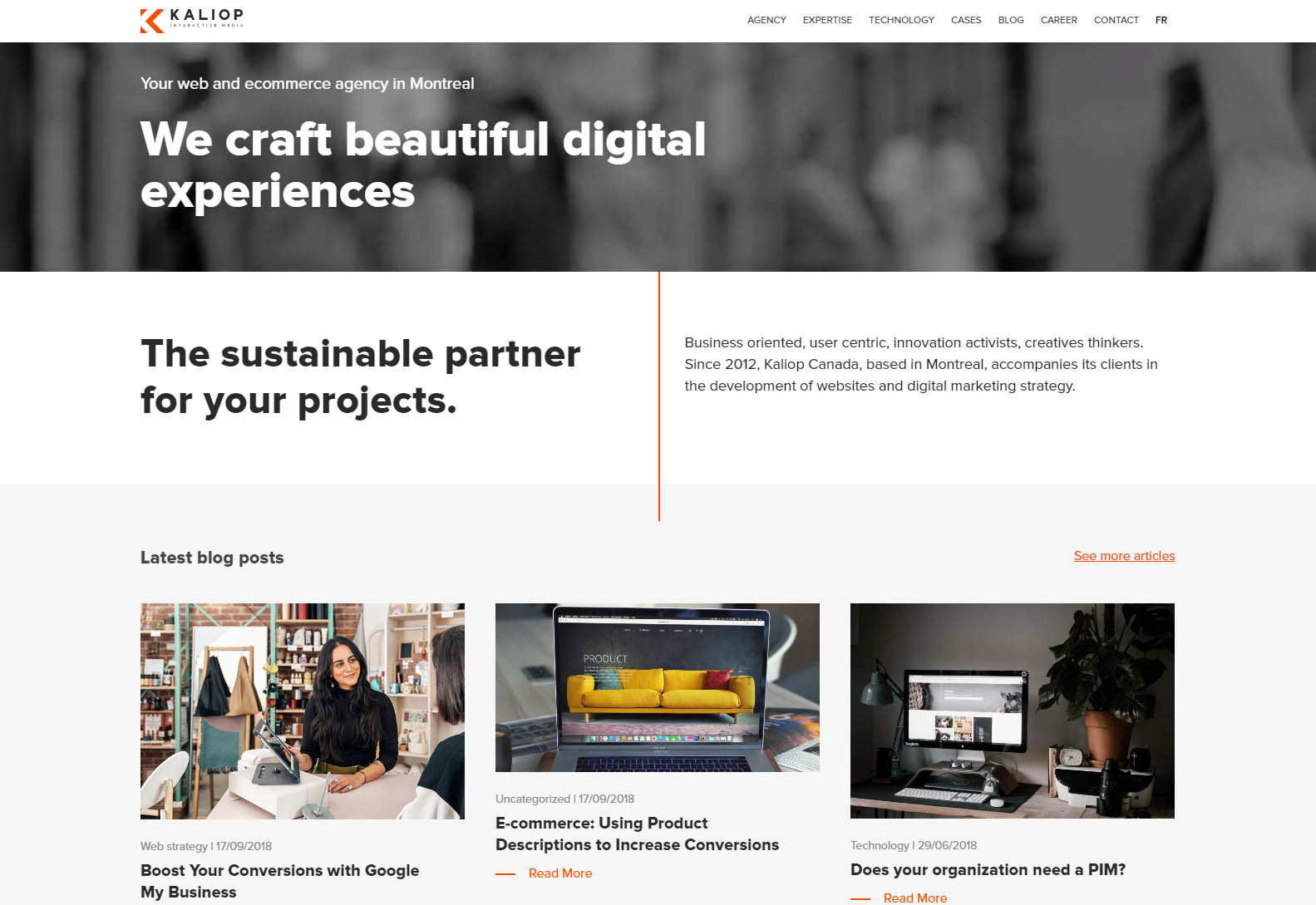 Founded in 2012, Kaliop Canada positions itself at the crossroads of technology, communication and interactive Marketing. From strategic planning to maintenance, from design to content management and development of effective e-commerce platforms, Kaliop Canada supports its customers over the long term with the methodology of an IT company and creativity of a Marketing agency. Its North American customers can now benefit from a large variety of digital expertise as well as the group's production capacity in full.
Rablab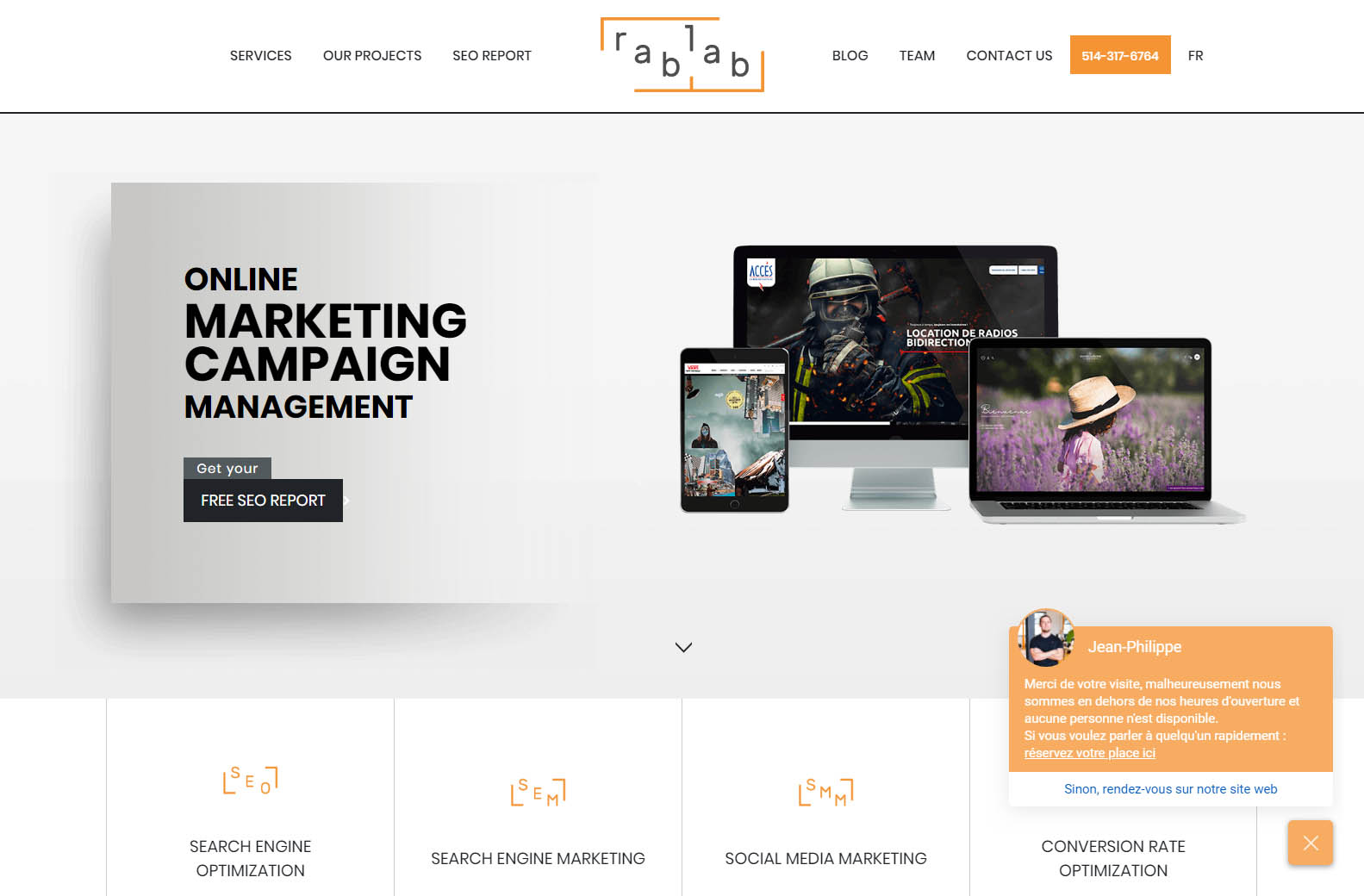 A web marketing agency specializing in organic reach (SEO), paid search (SEM) and social media marketing (SMM) strategies.
At Rablab, transparency, collaboration and expertise are at the heart of the client-agency relationship. They sincerely believe in empowering businesses to understand and maximize their digital channels by working with dedicated experts.
Rablab will be your digital marketing pole both in terms of strategy and application, to enable you to achieve the performance objectives set.
Rank media agency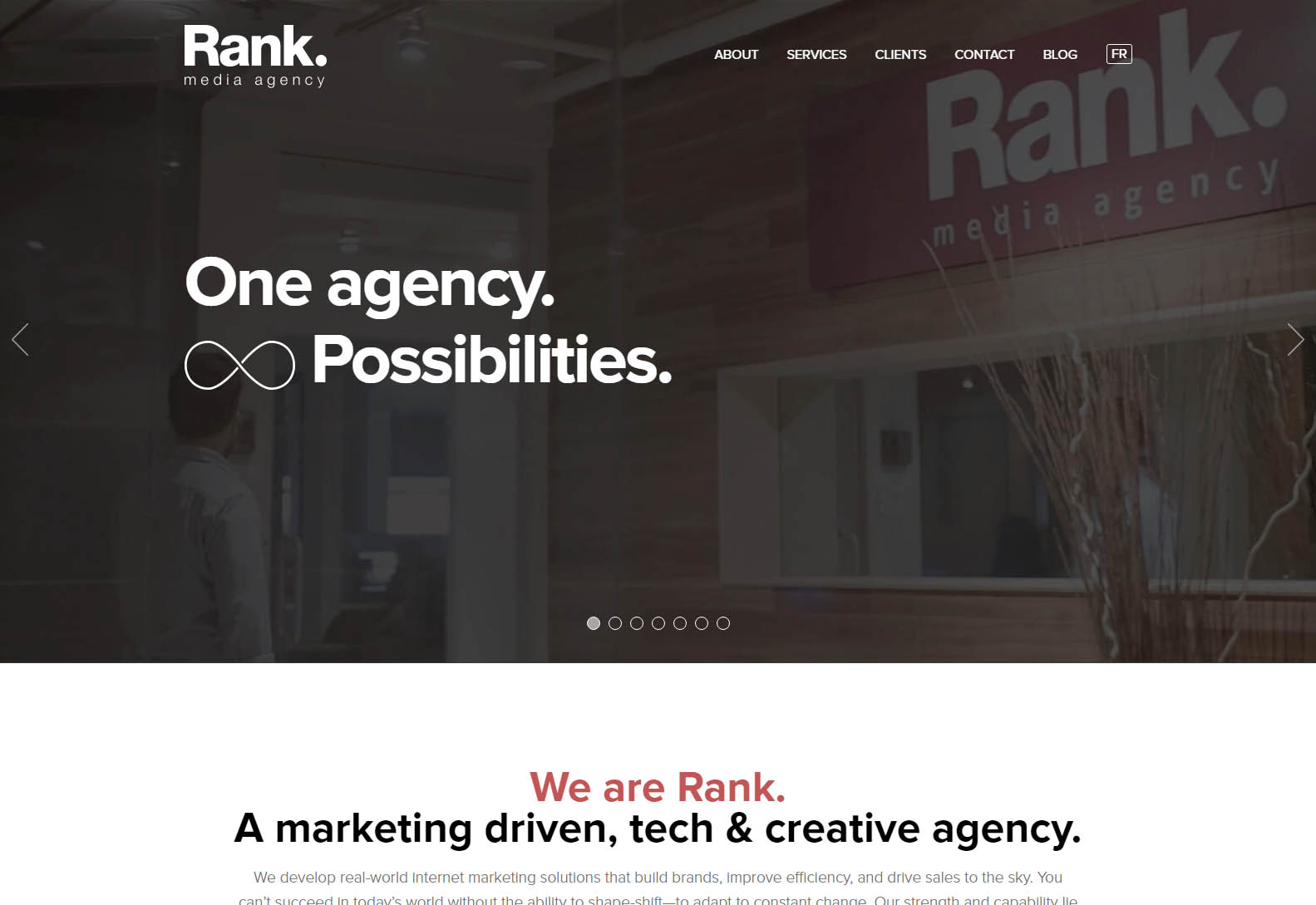 At the core, they are a digital agency that combines creative design, marketing strategies and custom development to fuel your business's growth.
Their integrated approach allows us to use tech and creative marketing to build up your brand, generate leads and dominate the ecommerce space within your vertical.
Digital Strategy
We develop cohesive marketing campaigns that reach target audiences and motivate action.
Amazon SEO Services & Marketing
App Store Optimization
Email Marketing
Influencer Marketing
Online PR Services
Pay-Per-Click Advertising
Search Engine Optimization
Social Media Marketing
Custom Development
Increase business efficiency and streamline operational costs by integrating multiple pieces of software into one simplified solution.
Ecommerce
Custom Software
Mobile Apps
Website Development
Creative + Branding
We create brand experiences that generate leads and engage the next generation of consumers.
Branding / Identity
Print Design
Video & Photography
Plank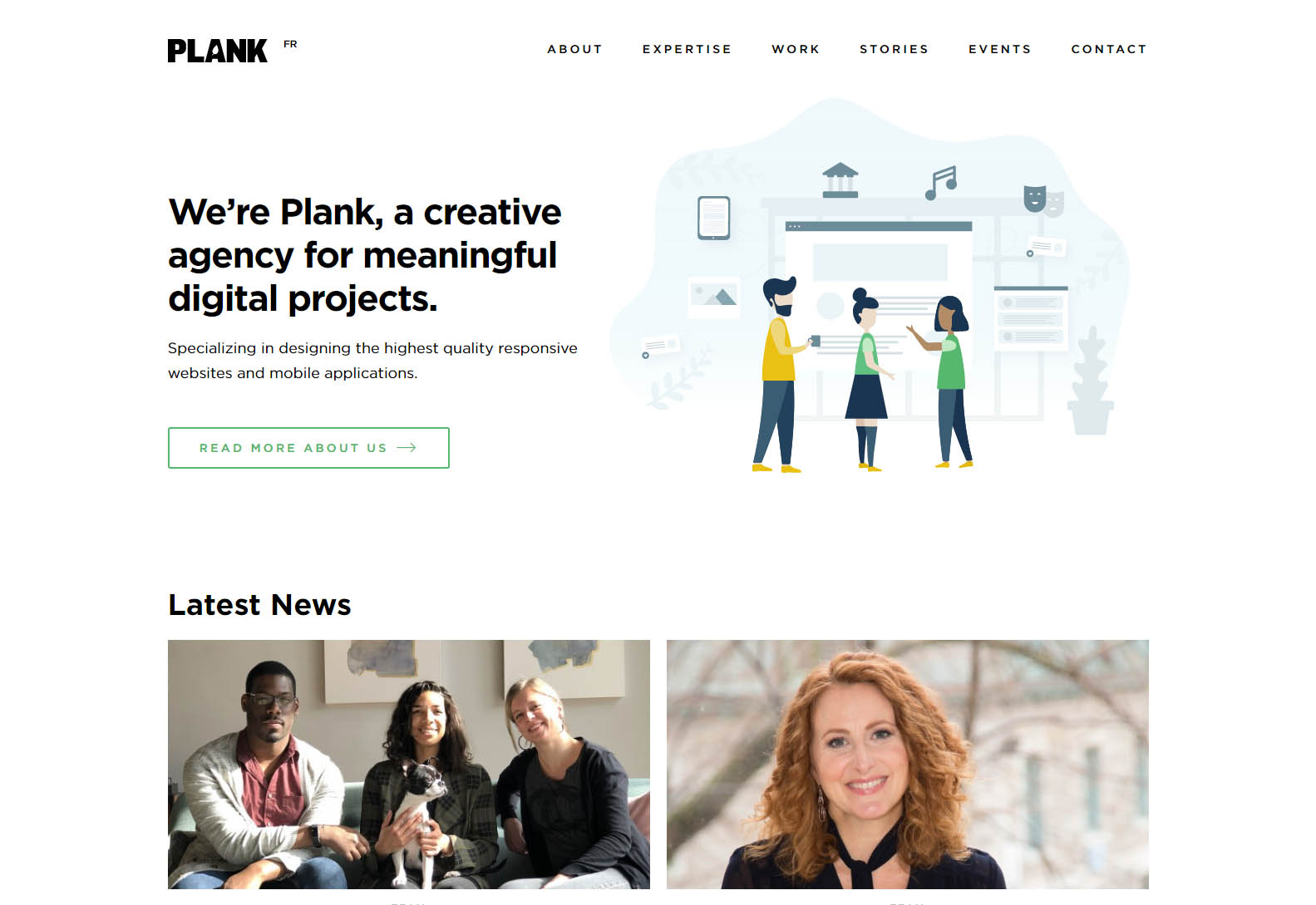 They build exceptional digital experiences.
Plank is an award-winning digital design studio in downtown Montreal.
They connect artists and audiences, citizens and communities, information and the inquisitive. They're passionate about using digital to improve our world by bringing people together, online and off.
They work on projects that matter with people who want to make a positive impact.
They believe in building partnerships that last.