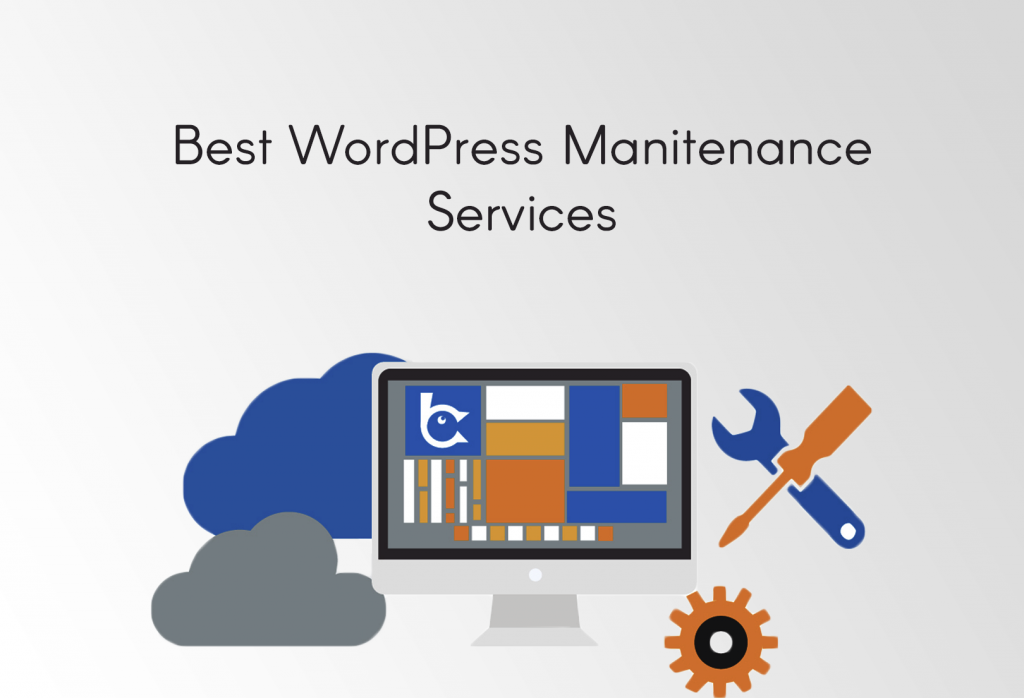 At present, every business, either small or big, has an online presence. Business owners who need to manage their real-time business services find it a bit challenging to run & maintain their websites.
On the other hand, some do have not enough technical knowledge to maintain the WordPress website to run at its best. In this scenario, WordPress maintenance service companies can assist you well.
Here is a short list of the best website maintenance and support services for WordPress:
To attract visitors via websites, you need to make it performance-oriented, fast & efficient. In addition to suffering from the slow loading times, if your website maintenance is ignored, it may have a high risk of being hacked too. That's why we have listed some of the best WordPress maintenance services out there.
The Top 17 Best WordPress Maintenance Services
Let's check & review the best website maintenance services for WordPress right now: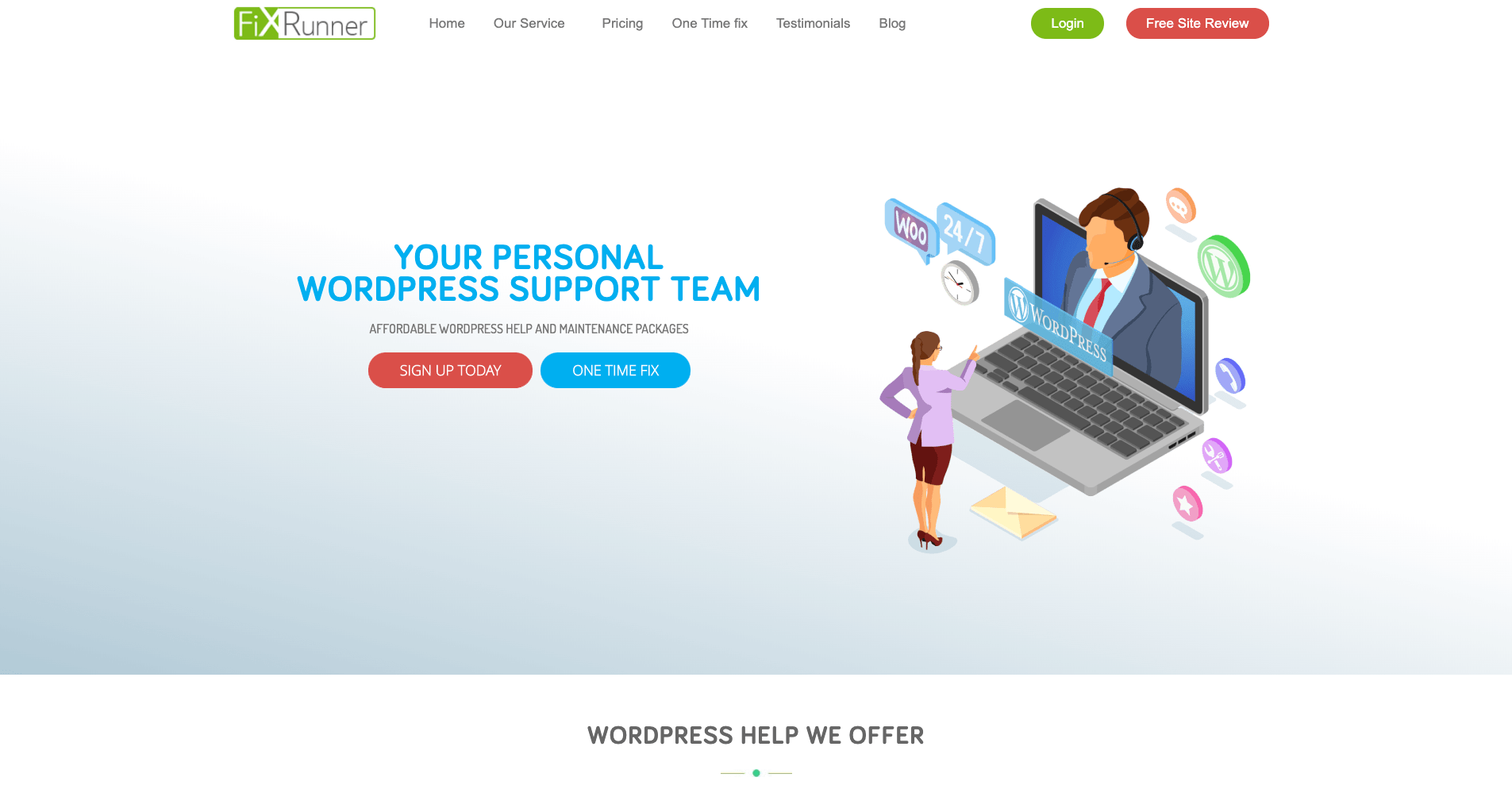 FixRunner is one of the most reliable WordPress & WooCommerce maintenance service/support companies you will find, they provide 24/ 7 support with an amazing response time of one hour.
FixRunner provides both ongoing WordPress care plans and one-time service requests, so you can easily test the level of service with their one-time support service, but you can free to join one of their plans and test it because they offer 30 days money-back guarantee, a quick search in google for " FixRunner reviews" will show you that you are dealing with true professionals.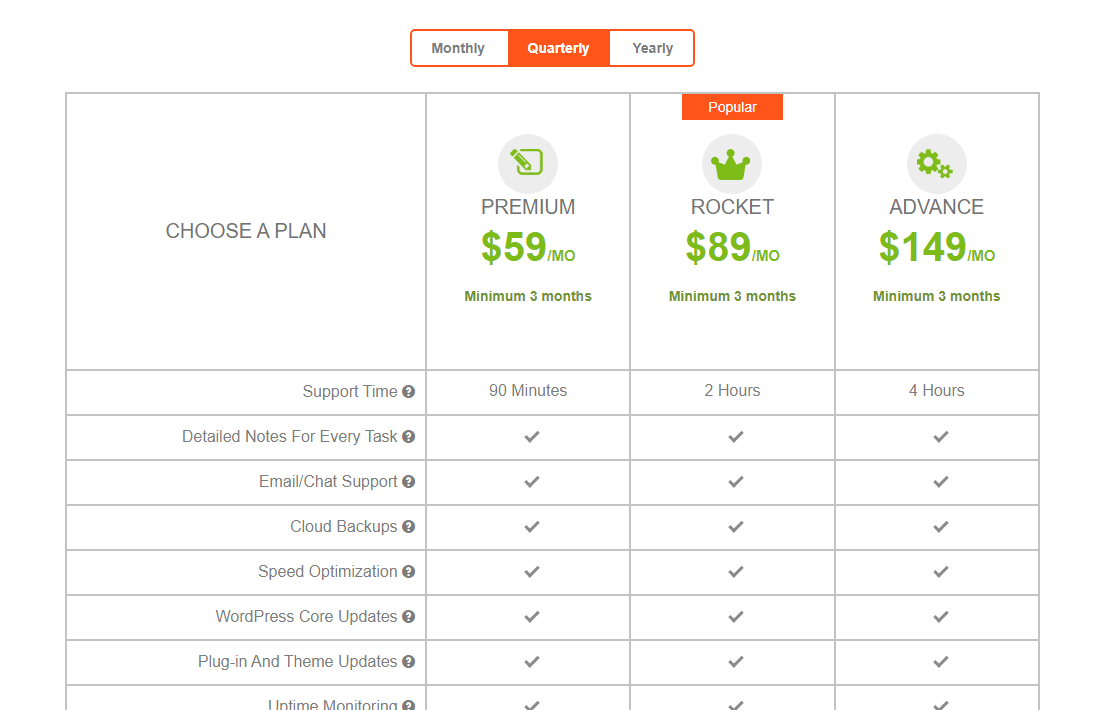 Fix Runner team will provide you with any WordPress help you need, the service includes daily backups, edits, emergency support, uptime monitoring, regular malware scan, on-page SEO, speed optimization, regular updates and more, when you join the care plans they will do a complete review of your website and they will fix all issues and improve your website performance.
Price: $59/month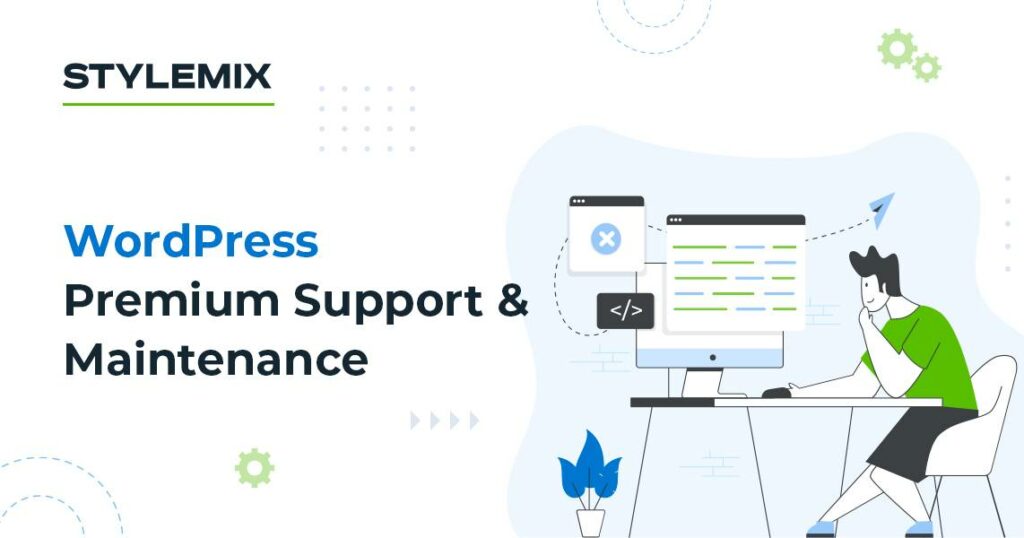 Stylemix is a high-standard WordPress expert, which takes the whole WordPress maintenance and your website support on their service.

Styemix starts a complete check of your WordPress website and fixes all WordPress errors. They provide you with safe and reliable updates of the entire WordPress along with all themes and plugin updates.

Stylemix can guarantee, that you will forget what is site slowdown, crucial and annoying WordPress errors, and hardly impacting security holes – be sure, you can rely on their reputation and rich experience in this area.

Additionally, you can migrate or deploy your website on our dedicated
WP premium hosting, which will be riveted specifically for your business.

So overall, you will get superb full-packed website support and optimization:
4-12 developer hours are included for any tasks;
Up to 18% off on any website customization;
20 extra premium services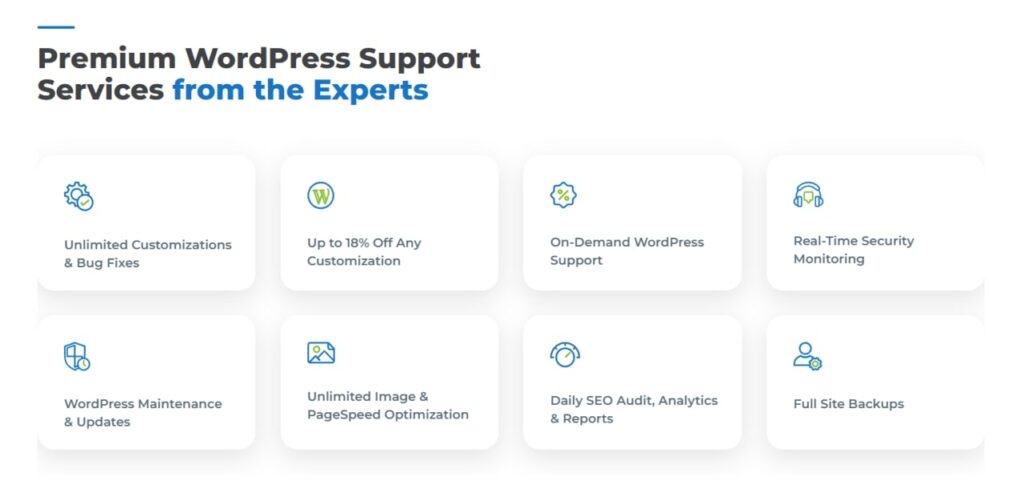 You can select and subscribe to one of their pricing plans for 24/7 full-site care.

Stylemix comes not only with maintenance plans. If you need an urgent workaround on your website, or you want to see something unique, which fits your business great, there is a one-time service.

Thus you will get a fast, reliable, and, what's more important, ready integration or modification on your website.

Pricing: Starting at $69/month for Little fix plan, $99/month for Need help plan, and $159/month for Full care plan.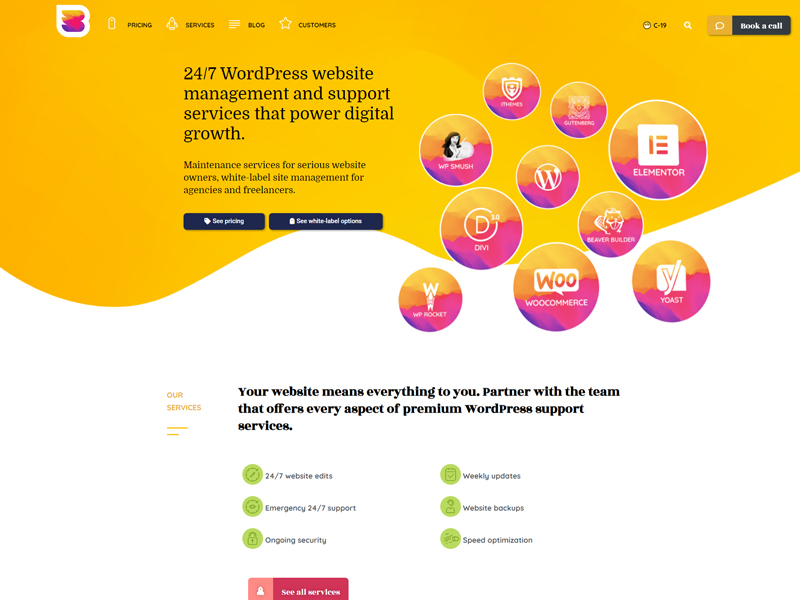 WP Buffs is another company that is very popular for individual or business websites offering WordPress support & maintenance services. It offers performance enhancements, daily health maintenance, and regular security troubleshooting so you don't have to. This way, you can make bold decisions when it comes to your website without hesitating.
WPBuffs is a 24/7 website and WordPress management service which empowers your digital growth for WooCommerce too. Unlike WPShrug, WPBuffs offers 24/7 site monitoring, a white-label program, website edits, and emergency support. It also provides weekly updates, backups, speed optimization, and ongoing security.
Thus, on the basis of this level of support, even the small businesses and entrepreneurs can take bold decisions because of technical restraints. Ongoing support is actually the most scalable model for any business.
Thus, you can dive in for complete support without any hesitation. WPBuffs is the biggest problem solver, committed, friendly, and reliable way to fix the issues with your website while staying within your WordPress space.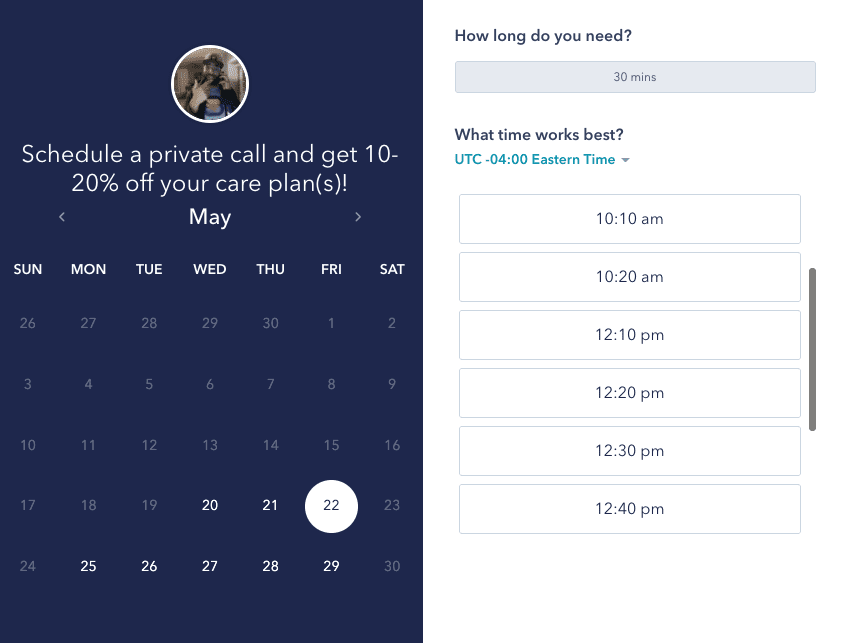 WpBuffs offer monthly WordPress site maintenance services so you can choose which fits better for you.
You can read more about WP Buffs in our full review article: WP Buffs Review
Price : Starting at $40/month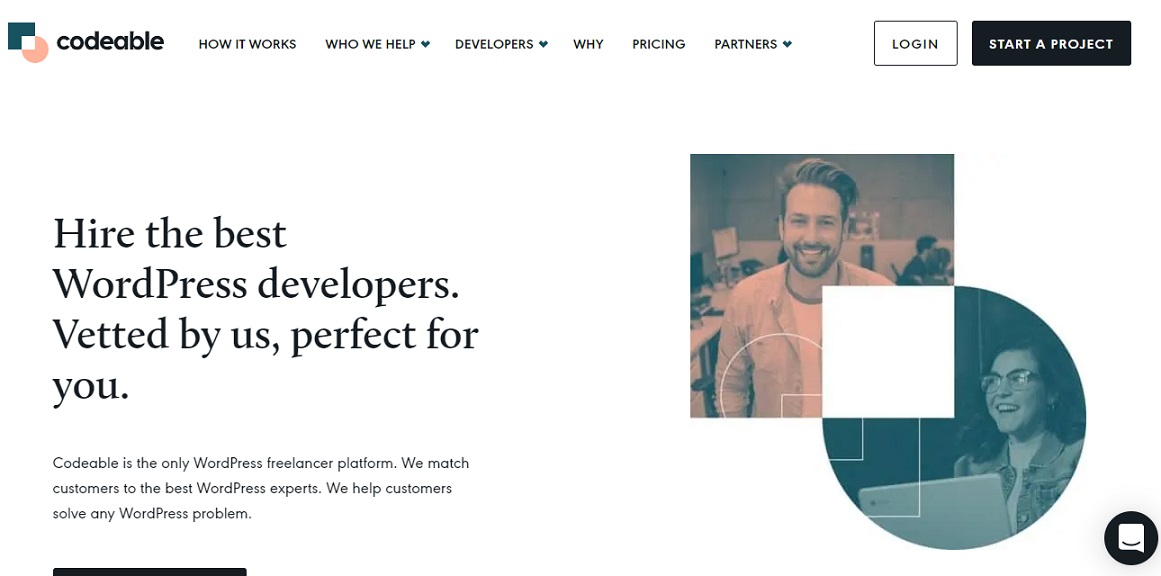 Codeable is basically built to help you find freelancers. Every time you hire a freelancer from Codeable, you get exceptional quality work. It focuses on WordPress only and solves all your problems related to WordPress. The WordPress experts on Codeable know site builders, multiple ranges of themes and plugins too in addition to WordPress.
The experts on Codeable are highly professional, skilled and vetted developers. They have a specific specialization in the world of WordPress. So, be confident to find a solution of any type of problem about the WordPress ecosystem on Codeable.
A rigorous process of screening in Codeable helps you find the best and most qualified freelancer in a very short time. These qualified experts are 100 % sure about the delivery and scope of your project. Unlike other freelancer platforms, this platform offers the most valued one for you. So you do not have to screen on the basis of overpricing or undercutting.
In addition, they also guarantee you satisfaction and quality for all the work done.
Codeable Pricing Guide:
Custom Plugin Development: from $ 960
Custom Theme Development from $ 980
Speed and Security Optimization: from $ 420
Website Design and Development: from $ 2500
E-commerce Site Design/Development: from $ 3200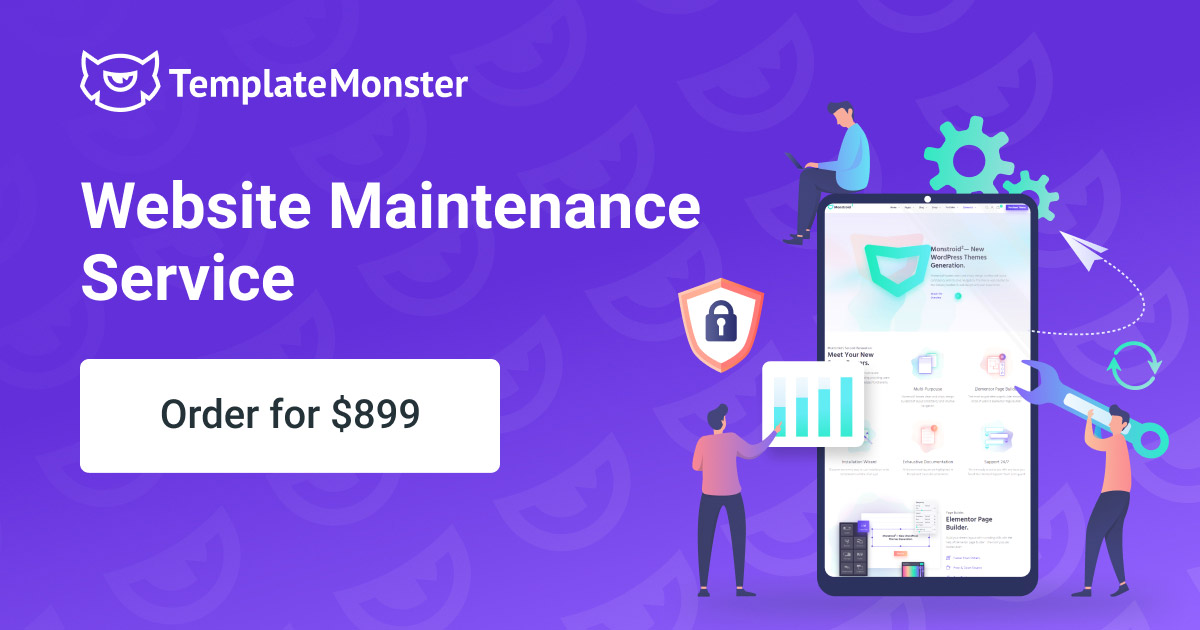 How much effort do people put into keeping their sites contemporary, relevant, and secure? Are you certain it does not have any technical flaws that might affect SEO and UX? Unfortunately, most website owners are more focused on business development. In addition to this, they might lack the time and expertise to handle everything. For this reason, it will be a clever decision to turn to website maintenance services.
You can try to trust the specialists at TemplateMonster for high-quality maintenance. The team will keep an eye on your website's uptime and do frequent health checks.
In general, website maintenances services include the following tasks:
up-time monitoring;
website health check;
weekly website backups;
dev team assistance (five hours per month);
improvement suggestions;
weekly updates;
monthly reports.
There are also some basic features that are worth mentioning:
It supports such popular platforms as WordPress, WooCommerce, Shopify, OpenCart, and PrestaShop.
Your manager will contact you as soon as you purchase the plan. To perform website maintenance, experts will gather the essential information about your site. This also includes its admin access. They will examine all of your requirements and company preferences. The crew starts website maintenance operations as soon as they obtain access to your hosting and the site's admin panel.
Within the developer's hours, the team takes care of the most requested and popular activities. As an example, these include editing CSS files, basic HTML modifications, and adding or modifying site content. In addition to this, they install and configure important plugins and modules that can improve the speed of your website. Furthermore, the team can install the template on your server, alter the template's color scheme, and add your logo. What is more, professionals are ready to integrate basic plugins and assist with template localization. You need to send a message straight to your manager to assign the duties.
The service is considered to be a subscription. However, it requires not a one-time payment as it entails continuous maintenance.
You can select a yearly membership and pay a stable sum every 12 months. It will be $899.
You can save money on website maintenance by using our promo code "codeless"!
It is ready to provide you with 5% OFF on this package.
Price:$899/year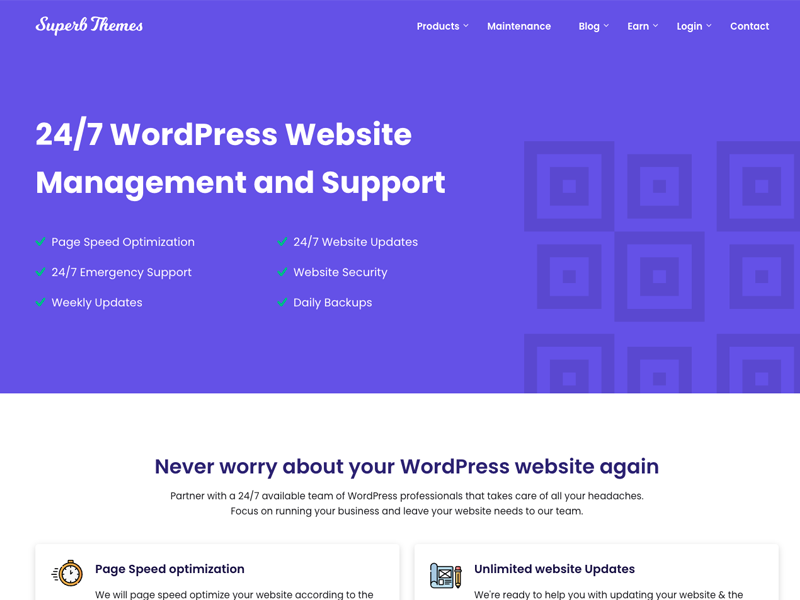 SuperbThemes have been around since 2015; they started as a small theme and plugin development company. They were one of the first companies offering lightweight and search engine optimized WordPress themes for affiliate websites and blogs.They have grown a lot since then.
They now offer popular 24/7 WordPress website maintenance and support services. They offer high-end maintenance for serious website owners who are in it for the long run.
They take care of everything for you, such as content changes, website updates, and 24/7 support.
It's easy to find cheaper website maintenance than SuperbThemes, but many companies and people choose quality over low prices.SuperbThemes maintenance plans are all monthly; they range from $99 – $249.
Price: $99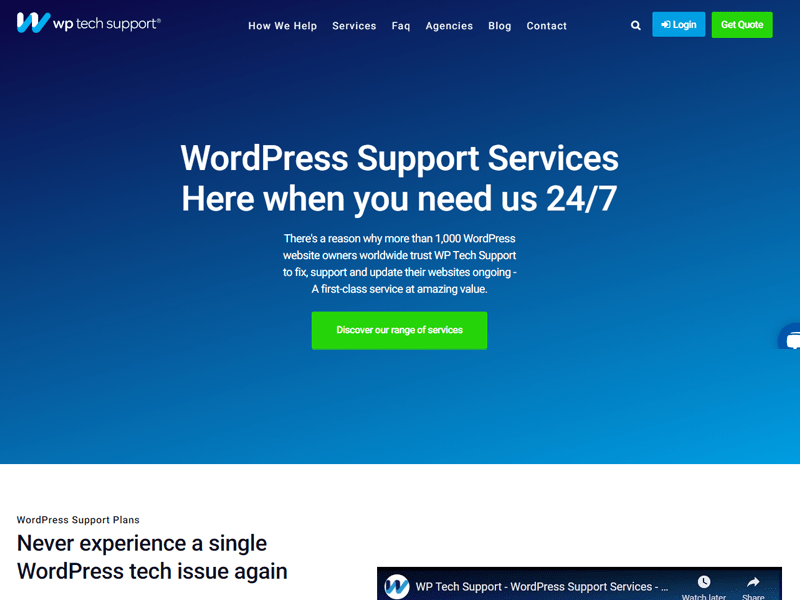 Although WordPress is a powerful platform to create an online presence for any business, it needs regular maintenance. It ensures that your website is secure from hackers and any malware issue.
WP TechSupport jumps in the scene when you want to get support and maintenance for your website along with the emergency fixes while you focus on the growth of your business.
WP Tech Support is an IT Services provider which is specialized in web development, IT services and Search Engine Optimization. The main categories that it is specialized in are IT-related services, client facilitation, and industry focus.
In client facilitation, it offers its services for large, medium and small businesses. In industry related services it offers exclusive services for business and marketing. Moreover, it offers its services for WordPress websites in addition to site optimization and removing malware from any plan of your WordPress website.
It offers a user-friendly interface with easy to use services. The price is also fair enough with ranked as great pricing by the users.
You can find almost everything in the basic plan. Moreover, it offers the security of your website. Also, there are options for emergency fixes and speed optimization.
The drawbacks of the WP TechSupport are the invariably cheap prices and no support on phone calls. Also, the number of plans is overwhelming for a beginner to start with.
Prices: $45 per month for a standard plan and $145 per month for the advanced plan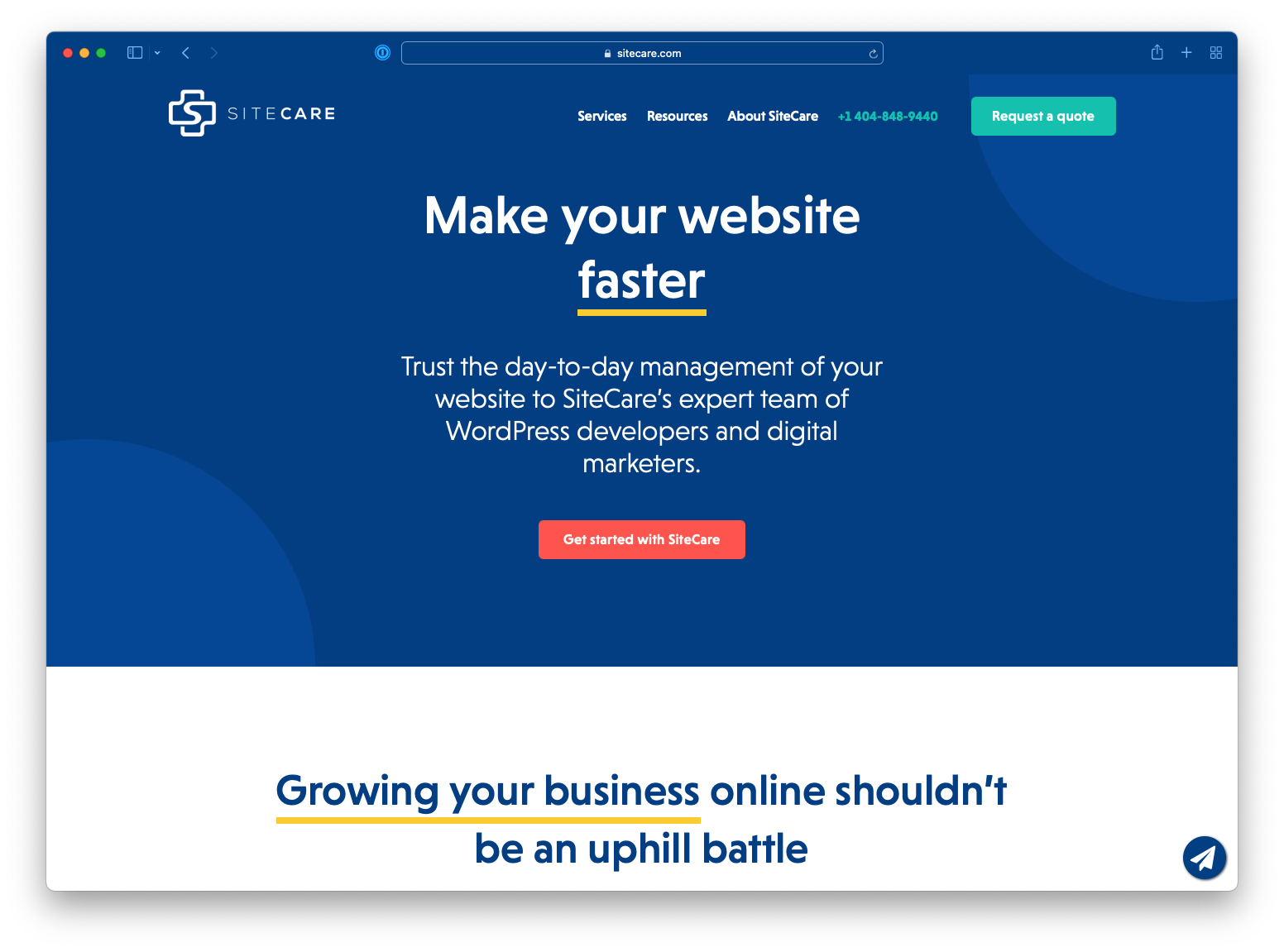 SiteCare was launched in 2012 and has managed to earn a name in the industry by providing reliable WordPress services to its customers for years. It is without any doubt one of the leading companies for maintenance & support of WordPress to hire.
Their primary concern is to make their customer's life hassle-free thus offering you various plans depending on your business and website needs. From independent publisher that needs their WordPress website updated regularly, to enterprise clients needing the highest level of security and monthly WordPress development, SiteCare has you covered.
For just $82.50 per month (billed annually) SiteCare handles all of your WordPress updates, daily website backups, security issues and assigns you a dedicated account manager who you can call or email for support.
SiteCare has 4 different subscription offerings.
Standard is perfect for most standard WordPress websites, which costs $99 per month.
Plus is designed for eCommerce businesses, high-traffic blogs and large websites. Plus costs $299 per month.
For businesses that also need additional WordPress development, their SiteCare Pro plan is the best value for money. It includes 2 hours a month of development. The Pro plan costs $499 per month.
Lastly, for businesses that are looking for a partner not only to manage their WordPress website but are looking to grow their website and need a team of experts to consult with on a monthly basis, then it would be best to consider their SiteCare Premium plan, which costs $1,200 per month.
SiteCare is also one of the few WordPress Maintenance & Support services that offer phone support, which is useful for when you need help immediately and can't wait for your email to be answered.
Price: Starting at $82.50 per month (billed annually)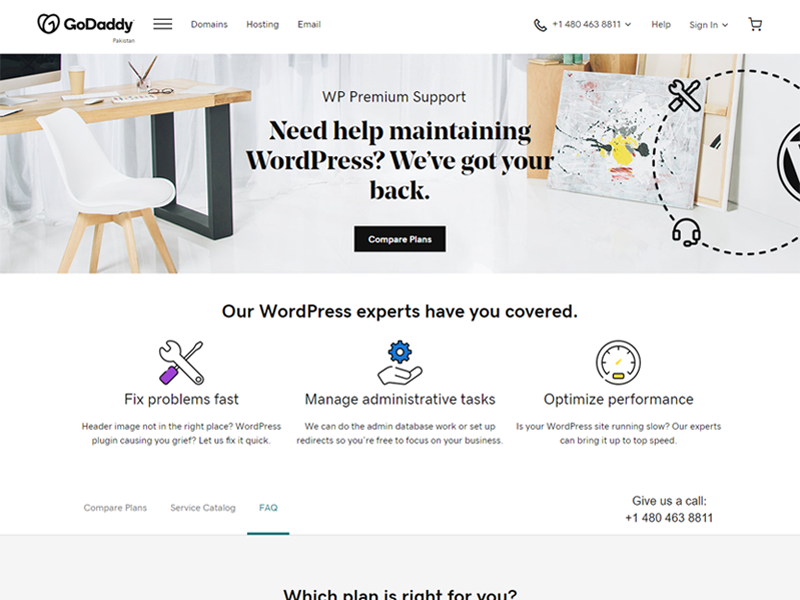 A few years ago WP Curve was acquired by GoDaddy. WP Premium Support – GoDaddy has proven to be the fastest-growing company because it offers its customers 24/7 customer support services to resolve their WordPress headaches.
The best thing about the company is that if you choose their monthly plan, they will resolve unlimited small jobs of your WordPress website. Which might include maintenance, security, plugin/theme quick fixes, conversion optimization & speed optimization.
Their turnaround time is 8 hours maximum & you can always get in touch with them via live chat. They also offer you a monthly subscription of a professional level that includes proactive core, plugin updates, offsite backups, security scans (monthly), and much more in just $99 per month.
Price: $99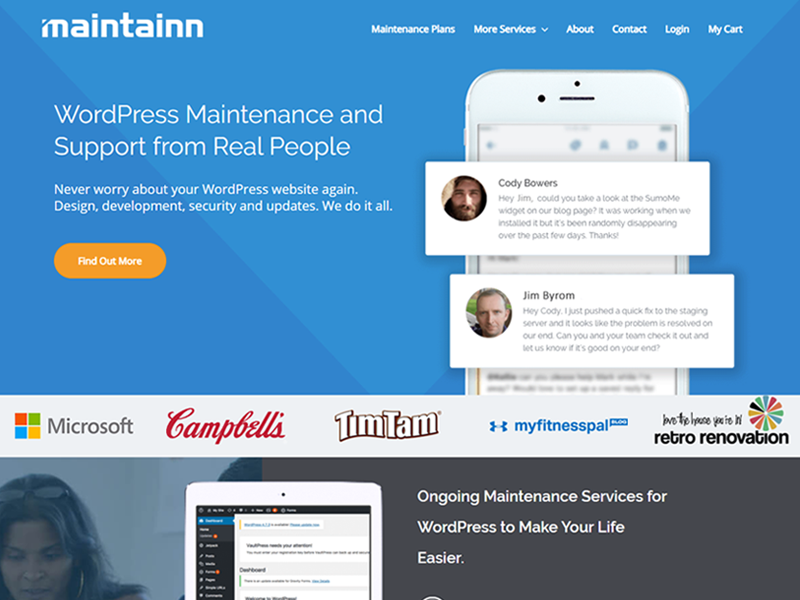 Maintainn has been proffering its customers reliable WordPress support services around the globe and thus has earned a high reputation & a reliable name in the industry.
They have an experienced & expert team that can proficiently handle websites of all sizes. So, you can always get in touch with them for supreme services regarding ad hoc development, site updates & security, etc.
Require changing your hosting ? There is no other website that can do a better job than Maintainn. Other than this, you will get a dedicated developer throughout your subscription so you will have a peace of mind.
Premium support subscription, starting from $49 per month, which covers security monitoring, all WordPress updates & offsite backups. You can also upgrade your plan to Premium Plus in $99 per month so you can also get assistance with migrations, video tutorial access & an hour fixed for developer support.
Price: $49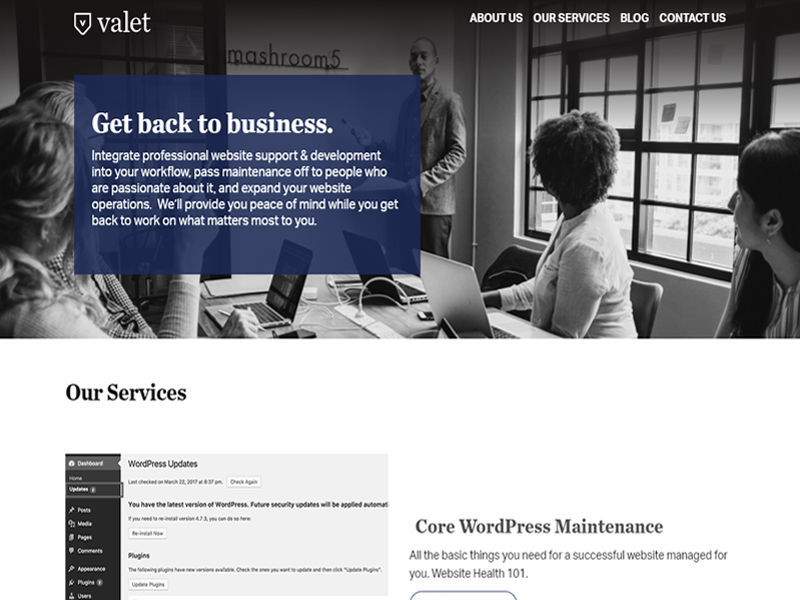 With a combined experience of more than 50 years, Valet has proved it the best service provider, when it comes to WordPress maintenance and support services. Due to having extensive experience behind them, the expert professionals of the company can handle all your WordPress updates, onsite security, uptime monitoring & backups, etc.
If you are unsure about which plan to buy, their expert team leader will guide you throughout & will give you the best business advice regarding Plugin or theme selection, issues regarding development & the best SEO practices, etc.
The company has a transparent pricing strategy but is a bit expensive as compared to others. This is because they can assist you at the point where others fail. The company's personal plan starts at $250 per month & their business plan start at $ 1750 per month.
If you are unable to find the perfect plan for your needs, The WP Butler has a solution for you. It doesn't only offer its customers the predefined subscription plans for a monthly fee rather it offers you to make a custom plan, keeping in mind your exact requirements. This amazing facility also keeps your overall cost down for the reason that you only need to pay for what you want.
The company offers you a variety of services that includes uptime monitoring, malware scans, backups & WordPress updates, etc. The company also offers you the facility to hire it for website check overs at the predefined intervals.
Unable to make your custom plans? No worries as the company have best plans which include small business plan, business plan, enterprise plan or blogger plans, etc which starts at just $30 per month, making it the best company to hire.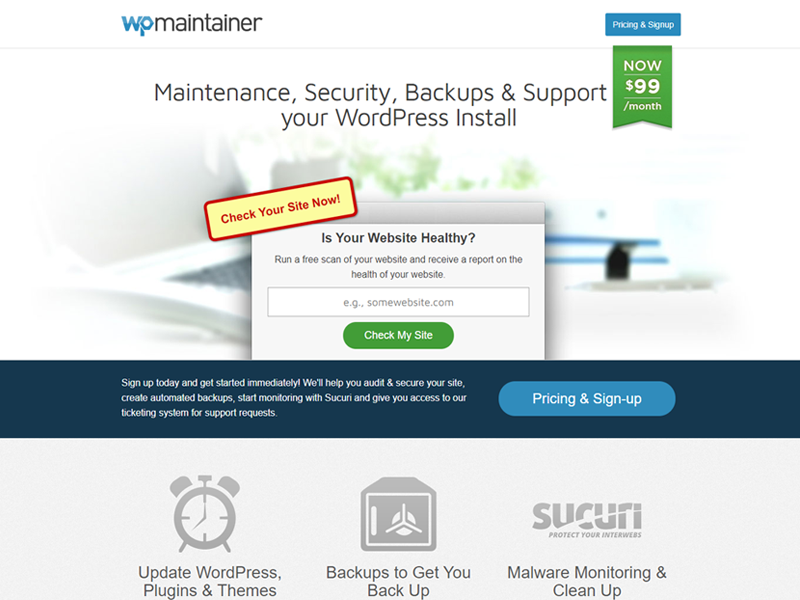 WP Maintainer, which offers a one-size-fits-all pricing policy. The company is run by highly professional, expert & experienced team members, which offers you the expert services at competitive rates.
They are offering their services for $99 per month. In this package, you will get website migration, just for free, along with a full security audit for your website. Other than this, they promise to handle all WordPress updates, provide every month one hour of compatibility support and offsite backups regularly.
Subscription also includes Securi malware monitoring & cleanup, which is to make sure that your business website is free of malware.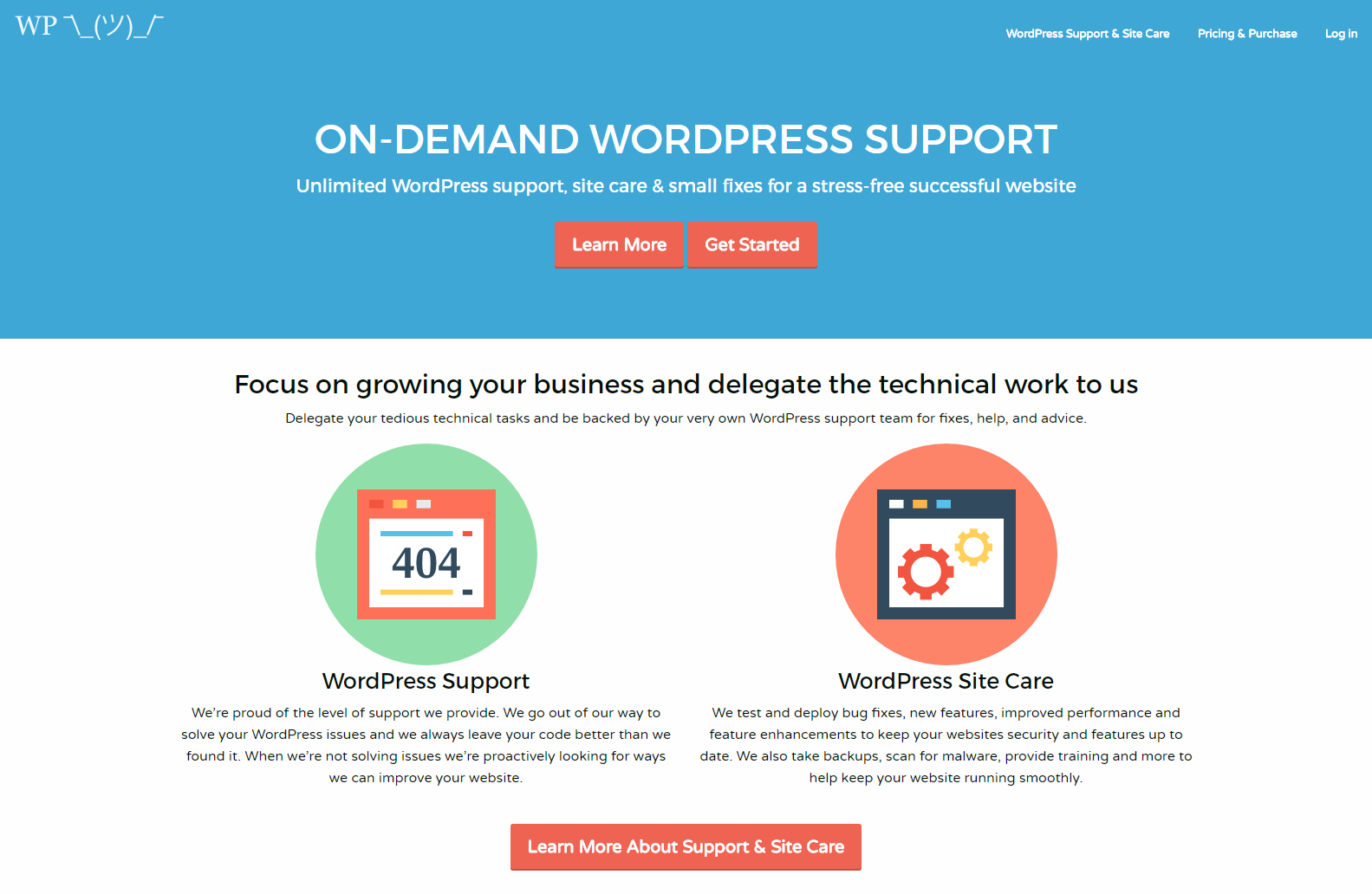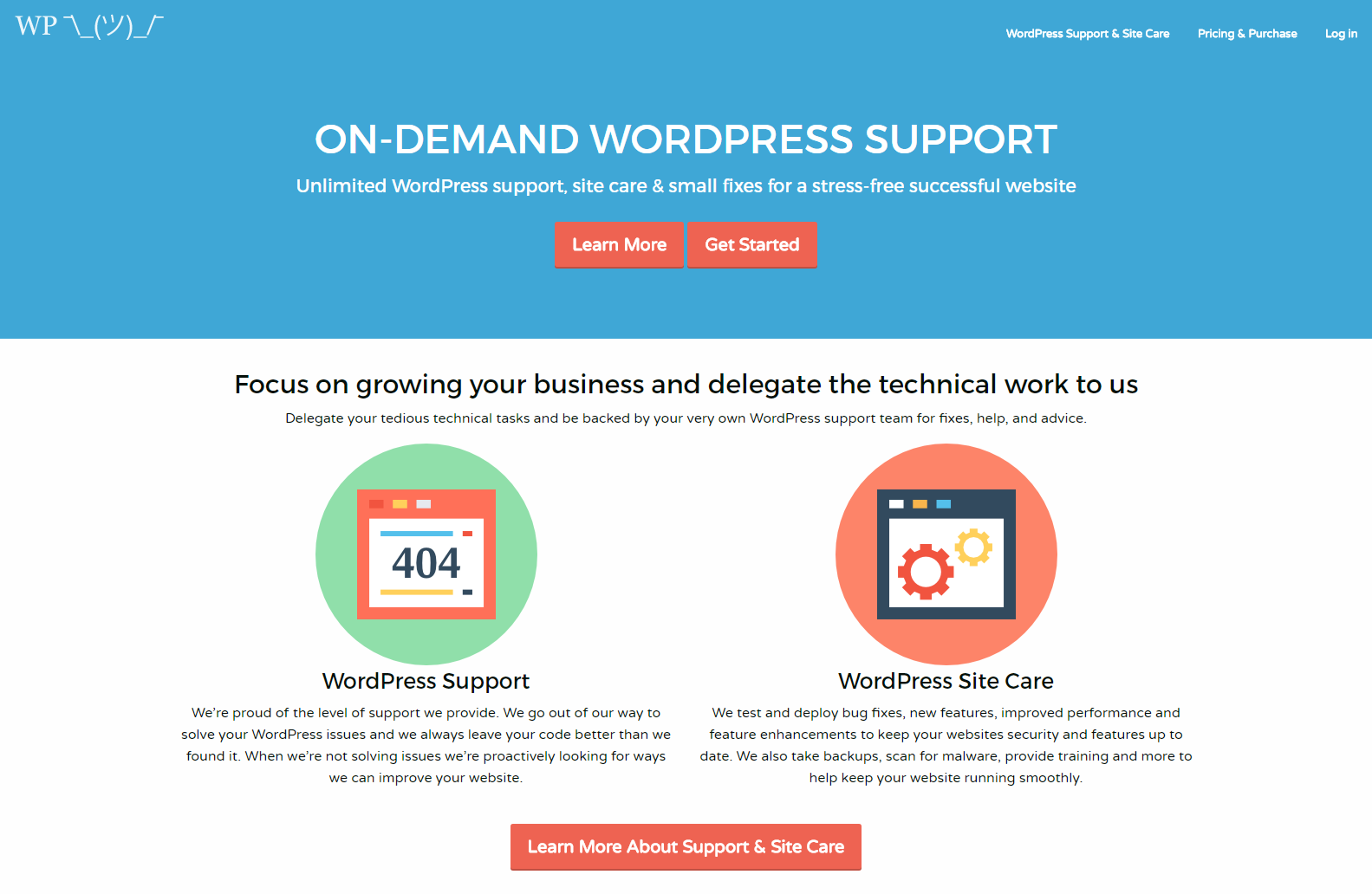 WP Shrug offers one of the best website support and care service. The professionals behind it test effective bug fixes for your website and offer enhanced performance features. When they enter into the coding structure of a WordPress website, they guarantee to leave out giving a much better code than expectations.
Mainly, there are three plans for support, platinum, gold, and silver. You will have to choose an appropriate plan for the maintenance of your website.
WPShrug provides WordPress support and maintenance services in technical advancement, WooCommerce and Yoast WordPress video tutorials, security monitoring, WordPress backups, updates, clean-ups of hacked websites and WordPress full support services. It also manages the SSL certificates, uptime monitoring, security monitoring, and domain name.
WP developers have taken the responsibility of all your site fixes so you can spend less time on maintenance and more on your work. No matter you're a designer or manager, a freelancer or an agency owner, different kind of support is available for you according to your needs.
Price : Starting at £59/month.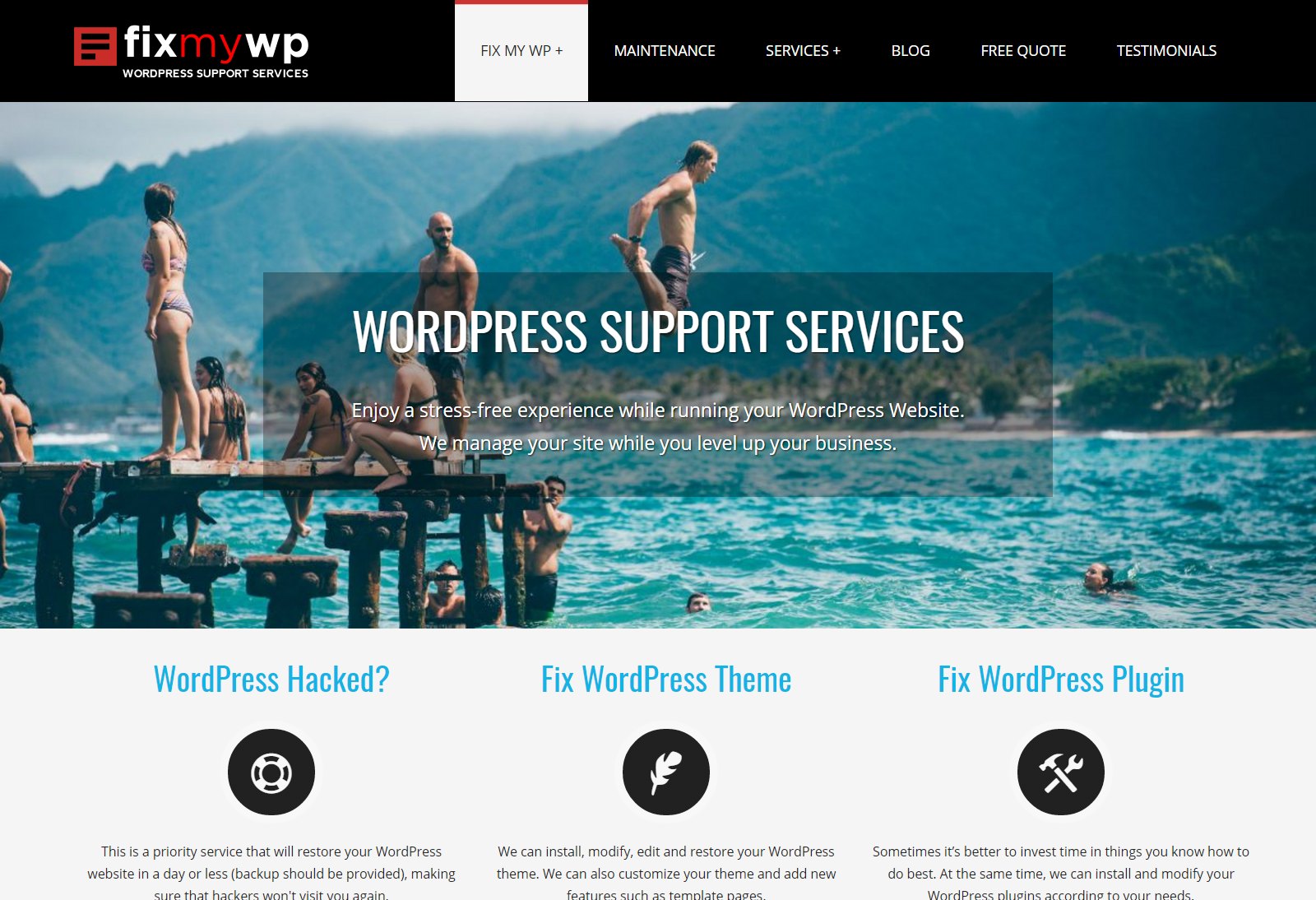 This is a Greek WordPress maintenance company. They can install, modify, edit, and restore your WordPress theme. FixMyWP can also customize your theme and add new features such as template pages. Enjoy a stress-free experience while running your WordPress Website!
Price : Starting at $50/month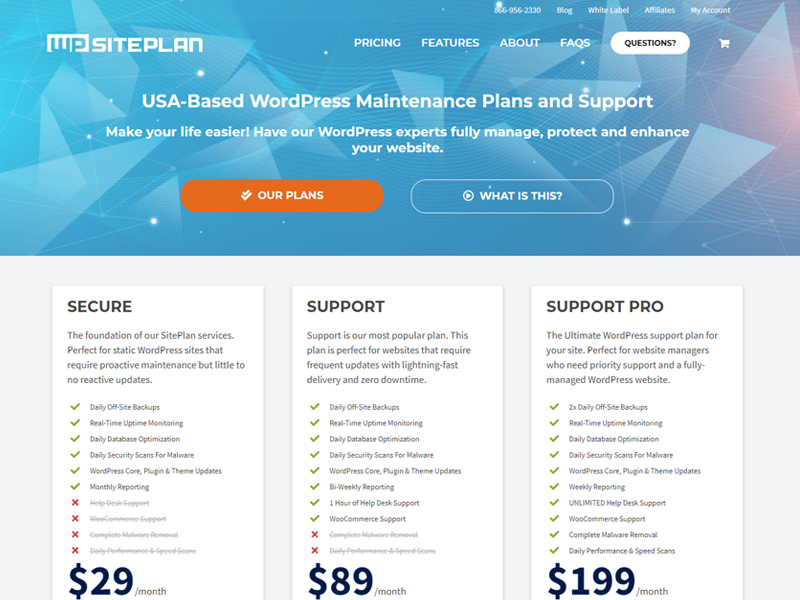 WPSitePlan is a great service available for maintaining your newly build WordPress website's health. The WPSitePlan is actually comprised of WordPress experts to further provide you with full services like manage, speed up, or even protect your website.
WP SitePlan is here to simply protect your website from all issues such as spam, hackers, and as well as other threats. Your site will be protected from all threats through WPSitePlan, as their experts can actively monitor your entire site.
And of course, your site will always be stayed up-to-date and get the latest WordPress security developments.
You have 3 plan options to choose from and you will be able to cancel the plan anytime you want.
Secure starting from ($29/month)
Support starting from ($89/month)
Support Pro starting from ($199/month)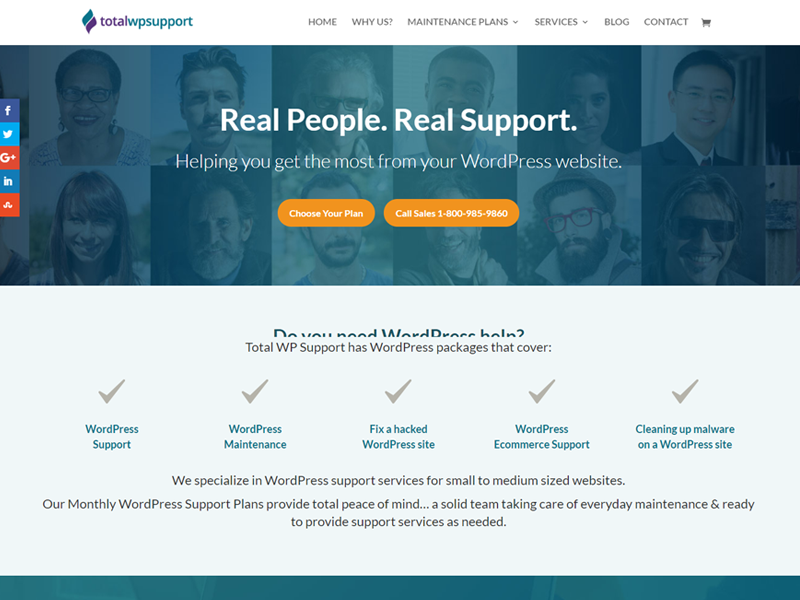 There are some basic needs that every WordPress website wants to have. That's why, to keep a close eye on your website's health, you need to get the help of the TotalWPSupport plan.
They have grouped all of those website's needs within a pack of six essential services and all these services are included in all their plans.
With the help of their proactive approach to providing your site with the absolute security that actually combines Firewall, setting & fixing the unconditional potential threats so that your site stays protected all the time.
TotalWPSupport simply allows your website to run smoothly and also, looking majestic. And as we all know that keeping the software up to date will make your site super powerful and protected.
Essential Plan starting from ($49/month)
Premium Plan starting from ($99/month)
Professional Plan starting from ($299/month)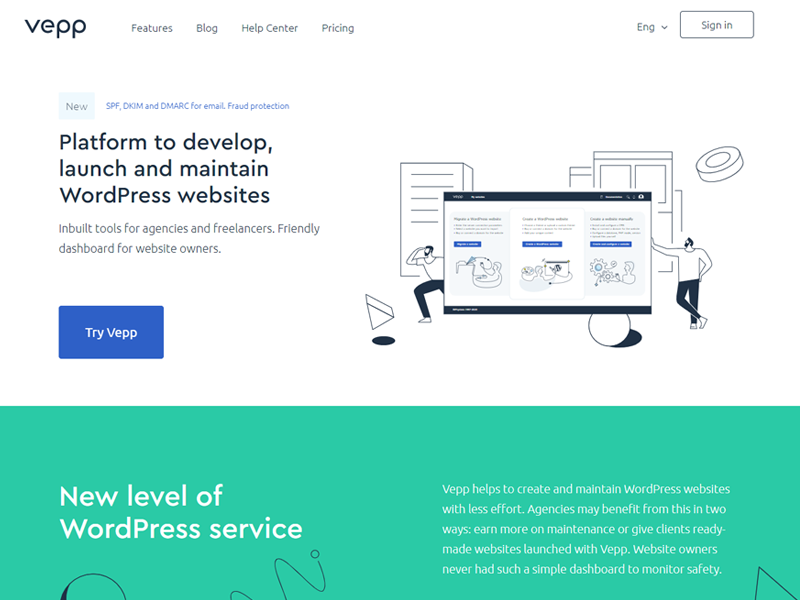 Vepp is a very helpful service. They made a good relationship with their clients to let them manage to host and maintain their websites at the same time. By this service, you can start or move a website very easily and then it ensures you that it has a quick and reliable performance.
Affordable price and amazing features make Vepp the first choice of anyone. Now, it is very easy to make website settings with just a few buttons which were very complicated previously. To install WordPress, there is no need to have an expert administrator.
Instead, all you have to do is assign a free SSL certificate, connect domain, and make domain emails. That is quite faster than doing it by yourself by using WordPress manually.
You can restore each and everything whenever you need by having our automatic backups feature that are saved to your computer or Google Drive.
Vepp Features:
Malware scans
Regular backups
Friendly interface
Easy website launch
24/7 support
Vepp's pricing plans:
Vepp + Your Server: €7.5 for first month & €10 from second month
Vepp + Digital Ocean: €15 for first month & €20 from second month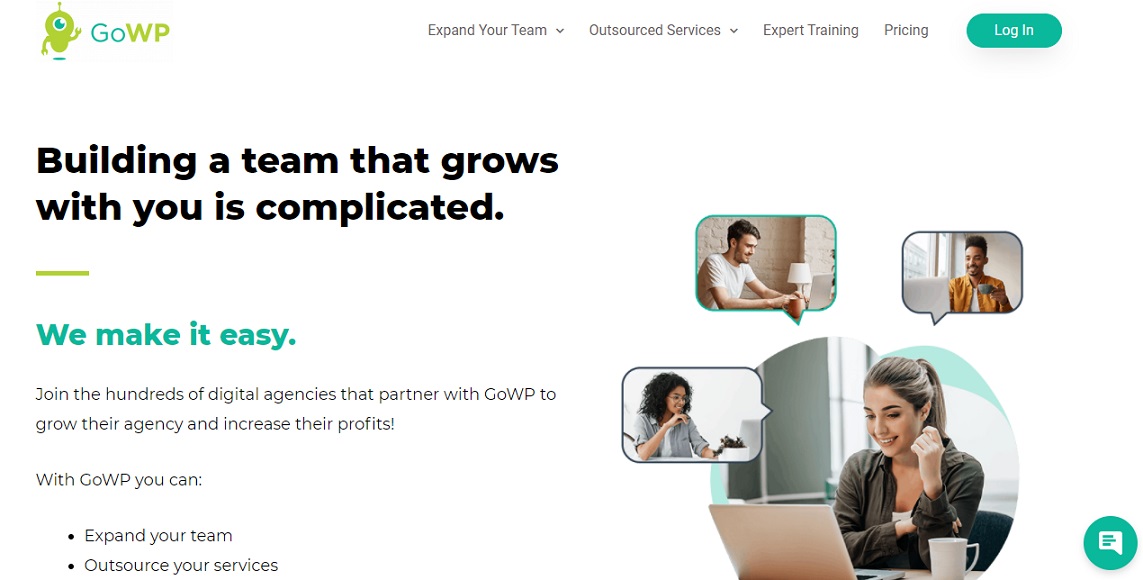 GoWP offers WordPress and copywriting Services. In WordPress services, it provides 24/7 content edits, WordPress maintenance and landing page builds. It helps you join the platform for expert training as well.
Agencies have actually increased their profits with GoWP. You can use GoWP either you want to sell your services or focus on your growth only. If you are looking for reliable developers for delivering your work in time and in a limited budget, GoWP is there to help you out. They offer multiple services so you can increase your sales and profits collectively. In addition, they provide training for the growth of your agency.
GoWP provides you an expert developer for landing page building. They will help you turn your designs to perfectly working websites. Not only this, if your agency starts to grow, you can hire more developers and grow your team.
GoWP also claims of taking care of all the maintenance work with your website. They ensure to handle all the backups, security and updates. GoWP uses Visual Validator for plugin updates. These aspects further ensure that there is no negative affect of updates on your websites.
Moreover, they protect your websites with an arsenal and daily scans of proactive measures using Malware clean-up. Thus, security is regularly monitored. They get you covered in case of unthinkable situations as well. GoWP keeps off-site backups to keep the website running and up before your regular visitors even notice that.
The plugin from the maintenance dashboard also gives visibility of the maintenance activities they perform. The site's dashboard also helps you keep a check on the smoothness of the working of the dashboard plugin.
The plus GoWP gives for the web professionals is the white label option. You can brand your maintenance dashboard with your company's name. Therefore, all your clients will be able to see all the updates about the maintenance.
GoWP Pricing Plan:
Maintenance: $29 Monthly per site
Content Edits: $79 Monthly per site
Landing Page Builds: $1299 Monthly per site
Dedicated Developer: $2299 Monthly per site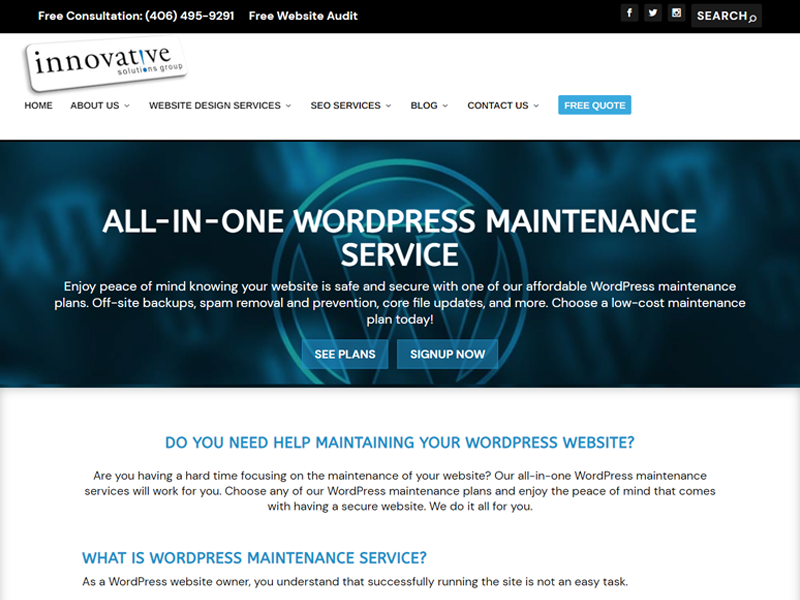 Innovative solutions offer WordPress support to make sure smooth site running. This support service is well suited for you whether you have an eCommerce store, a large organization, or a simple blog.
The website maintenance service provided by Innovative solutions is covered within affordable pricing plans. Moreover, you can get a customized maintenance service for your WordPress website. You can check the plans from the price calculator on the website and select the one that suits you best.
This maintenance service covers you for core file updates, theme updates, and plugin updates. They ensure the solutions to any vulnerability. The regular updates improve the smoothness of website running and functionality. To constantly work for better features and getting all the issues resolved, theme updates are necessary.
Likewise, plugin vulnerabilities also require fixes. The developers look and ensure the safety of all the plugins installed at your site.
Besides updates, you also get to have a backup of your website. This feature allows you to incorporate anything else that you might need to boost your website, such as graphics work, content updates or SEO, etc.
Inovativhosting Pricing Plan:
BRONZE: $ 29.99 Monthly
SILVER: $ 59.99 Monthly
GOLD: $ 79.99 Monthly
PLATINUM: $ 99.99 Monthly
PLATINUM PLUS: $ 199.99 Monthly
WordPress Maintenance Companies Comparison
| Service | Plan Cheaper | Moderate | Advanced |
| --- | --- | --- | --- |
| WP Buffs | Maintain ($50/Month) | Perform ($100/Month) | Perform Pro ($150/Month) |
| WP SitePlan | Maintain ($50/Month) | Perform ($100/Month) | Perform Pro ($150/Month) |
| Stylemix | Little fix plan ($69/month) | Need Help ($99/month) | Full Care ($159/month) |
| FixRunner | Premium ($59/Month) | Rocket ($89/Month) | Advance ($149/Month) |
| SuperbThemes | Personal ($99/month) | Business ($189/month) | Premiun ($249/month) |
| Vepp | Digital Ocean – €15 for first month | Digital Ocean – €20 for second month | Your Server – €7.5O |
| Site Care | Protect ($82.50/month) | Professional ($99/month) | Partner Plan ($299/Month) |
| Wp Shrug | £59 per month | £165 per month | £195 per month |
| WP Curve | Basic ($79.99/Month) | Deluxe (99.99/Month) | Ultimate ($149.99/Month) |
| TotalWPSupport | Essential Services ($49/Month) | Essential Plan Plus ($99/Month) | Premium Plan Plus ($299/Month) |
| FixMyWP | WordPress Junior ($50/Month) | WordPress Ninja ($100/Month) | |
| Valet | Personal ($250/Month) | Professional | Business |
| Maintainn | Premium ($49/Month) | Premium+ ($99/Month) | Enterprise Support ($149/Month) |
| WP Maintainer | One plan that costs $99 a month | | |
| WP Butler | Individuals and Bloggers ($41/Month) | Small Business ($92/Month) | Enterprise ($205/Month) |
| Fix my site | Quick fix: $29 Malware removal: $79 | Customization & Dev: $39 Speed optimization: $69 | Migration : $49 Installation: $59 |
Reasons to invest in WordPress maintenance services
Investment in hiring a reliable WordPress maintenance company can proffer the benefits beyond you can imagine.
The first thing to mention here is that the business owners usually have a lack of knowledge about technical website aspects and this is where these companies can aid you throughout the process.
They can design, redesign & maintain your website to make it run the effectively and to beat your competitors. So, you can just focus on your core business to increase revenues with a well-maintained website without having to worry about learning the technical stuff regarding your website.
The most important thing to mention here is that the time your website takes to load affects your conversion rates. With so many businesses running today, no one has time to wait for your slow website to load because there are alternates available.
To make sure that your website loading times remain competitive, only a website maintenance company can help you to be on top of WordPress core, theme updates & plugin, etc.
Hiring such companies is also necessary to ensure your website security. If you face any technical issue, those professionals can fix that in the least possible time to offer nonstop services to your customers.
All of your competitors invest in the best WordPress maintenance service to make sure that the online business stays available & active all the time so why not you?
Do all WordPress websites require maintenance & support plans?
Website maintenance and support services are very critical for every website. So, investing a few dollars in hiring one of the best website maintenance services for your website is worth it.
A few start-ups or small business owners believe that WordPress website maintenance plan is a sort of expense they can avoid, especially when they are on a budget.
However, it is highly recommended for every website owner to opt for these services, if they need to pursue their short-term as well as long-term business goals. Proper & professional maintenance service for your website can aid you to get the results it was built for.
The sort of WordPress website maintenance services highly depends on your website's complexity, nature & purpose. If you are running a small website, most probably a portfolio page or something else like this, you can go well with lesser but still, regular attendance is required to make sure that it is optimally serving its purpose.
On the other hand, if your website has heaps of data or huge monthly traffic, it requires more attention or maintenance to handle that load the right way. Also, it is necessary to guarantee the proper & high security of assets on your website & the data of your customers.
Wrapping up
Hiring a WordPress support & maintenance services company is always a great choice because it let website owners focus on their core business activities & on the other hand, professionals can manage all of your website's technical aspects, making your worry-free & proving you with a lot of benefits in return.
So, it was a precise list of the top 17 website maintenance services companies but there are many more service providers out there. If you have a better suggestion, you can always let us know by commenting below.

Ludjon, who co-founded Codeless, possesses a deep passion for technology and the web. With over a decade of experience in constructing websites and developing widely-used WordPress themes, Ludjon has established himself as an accomplished expert in the field.