Reseller hosting may be immensely rewarding. It can either be an add-on or a side hustle of a standalone company offering hosting services. The developers and web designers use reseller hosting services to generate their regular revenue. Getting cheap reseller hosting is now a new way for the programmers to create value adds for the business and customers to increase the ways of cash flows.
Short in time? Check out a shortlist of the best reseller hosting with the cheapest plans:
Signing a reseller hosting plan provides you with the best bandwidth and disk space to aspiring your online business with a premium setup. The more disk space, the more money you can generate.
Most small businesses aim at keeping the overhead prices low so they can enjoy the profit margins. It is the same for those who look for reseller hosting. Therefore, the best way to ensure the maximization of returns is to find a cheap reseller hosting plan with low monthly payments and high performance.
Moreover, it is also important to note that value is kept at the top priority. Despite several cheap reseller hosts in the market, it is imperious to select the one which gives you the best bandwidth and highest disk space. Additionally, it should also feature billing, backups and SSDs.
In this post, we have listed down the cheap reseller hosts. We have penned down the details of their features as well so you can pick the best one for your business.
The Top 9 Best Cheap Reseller Hosting Plans
| Provider | Price | Renewal | No.Websites | Panel | Bandwidth | Storage |
| --- | --- | --- | --- | --- | --- | --- |
| Verpex | $18 | $18 | 15 | cPanel/WHM | Unmetered | 50GB |
| Hostgator | $19.95 | $34.95 | Unlimited | cPanel/WHM | 600 GB | 60 GB |
| GreenGeeks | $19.95 | $32.99 | 25 | cPanel/WHM | 600 GB | 60 GB |
| Bluehost Reseller | $14.59 | $23.99 | 5 | cPanel/WHM | 800 GB | 40 GB |
| InMotion | $21.39 | $29.99 | 25 | cPanel/WHM | 800 GB | 80 GB |
| Siteground | $6.99 | $24.99 | Unlimited | Custom | Unmetered | 20 GB |
| Godaddy | $39.99 | $39.99 | Unlimited | cPanel/WHM | Unmetered | 90 GB |
| Liquid Web | $99 | $99 | Unlimited | cPanel/WHM | Unmetered | 480 GB |
| NameCheap | $19.88 | $19.88 | 25 | Cpanel/WHM | Unmetered | 30 GB |
Have a look at our top picks for reseller hosting companies. Having an in-depth review will help you select the right one for your business.
Cheapest Reseller Hosting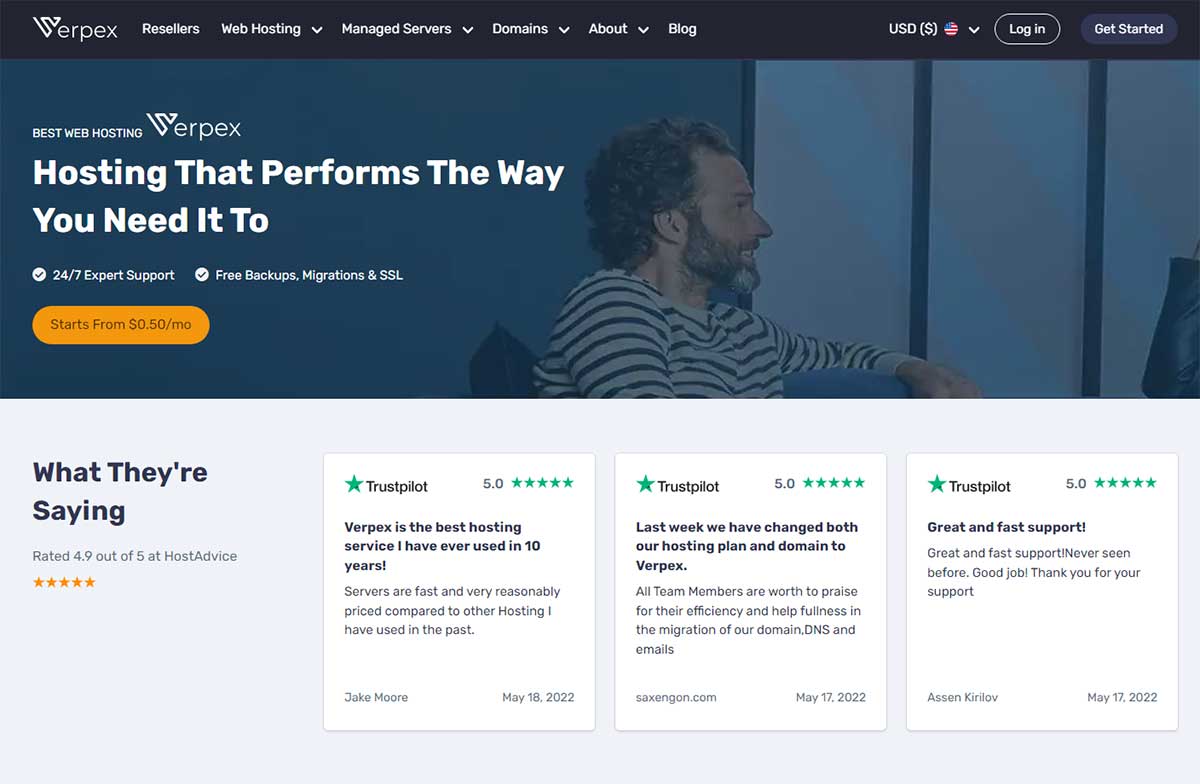 Verpex is one of the affordable web hostings for reselling with white-label options. Their servers offer Linux hosting based on cPanel with Unlimited bandwidth and includes also a free domain.
Their servers are hosted on public cloud providers like Google so this will provide you with a real White label solution.
Verpex offer 24/7 support which is perfect for this kind of business where problems don't always happen during regular office hours.
Also, usage of SSD drives servers brings fast performance plus high security due to daily backups and Imunify360 firewall protection.
Start-up Reseller Plan costs $1.80 for the first month or is practically free to try and $18/month for the next months. This plan offer 50GB SSD, 15 cPanel accounts, 2GB Ram for each panel, 2 CPU cores and unlimited bandwidth.
Pro Reseller Plan costs $2.99 for the first month and renews at $29.99/month. Pro plan let you create 50 cPanel which will split 250GB SSD. Each cPanel is provided with 2GB Ram, 2 CPU cores, and unlimited bandwidth.
Ultimate Reseller cost $59.99/month and is provided with 50 cPanels, Unlimited SSD, 4GB Ram and unlimited bandwidth.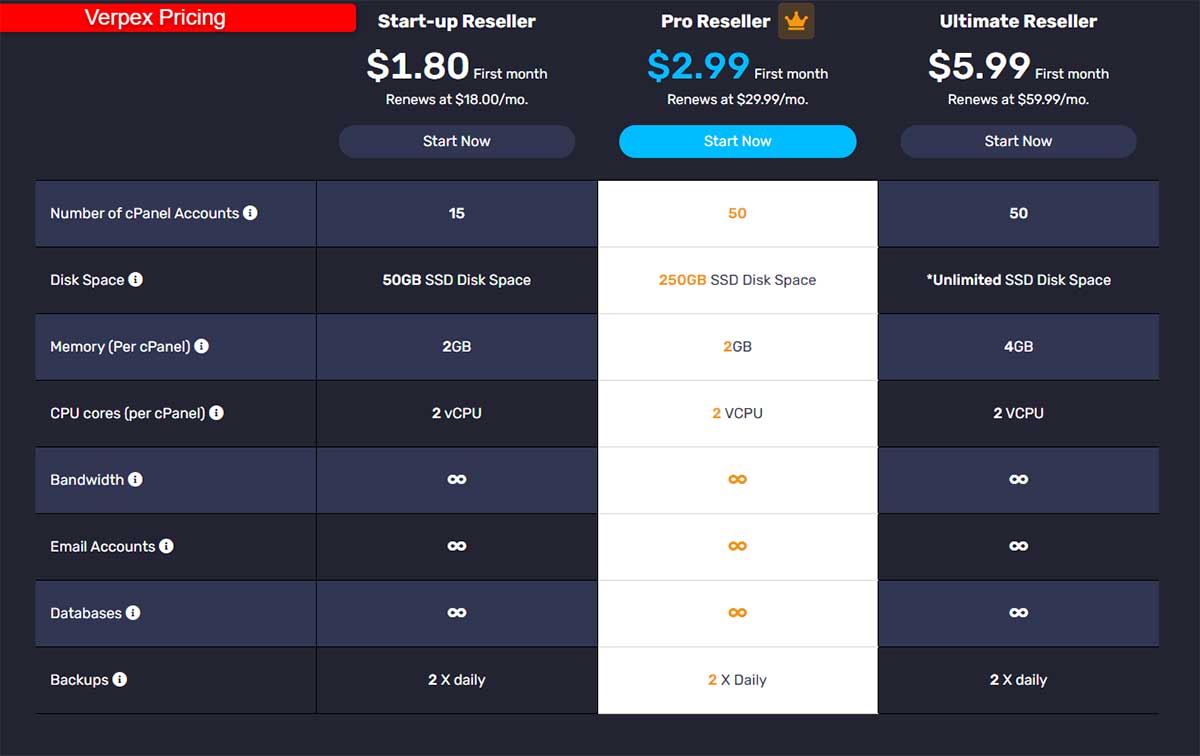 Other Features
cPanel/WHM
Different Locations
Unlimited Migrations
Imunify360 Protection Firewall
Free Setup
Free Domain
Reseller Hosting with Unlimited Domains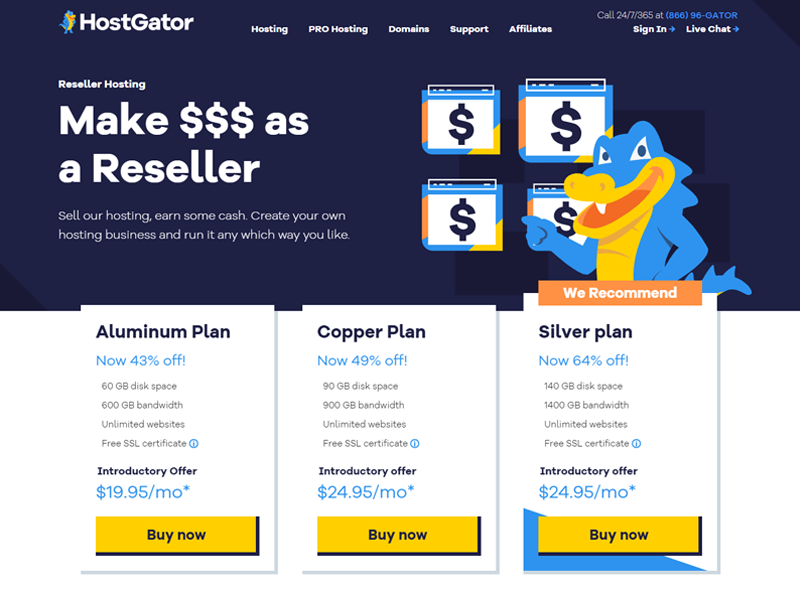 HostGator is a great choice for resellers of small businesses and other companies with simple websites. It is easy to provide hosting to these websites to take full advantage of the competitive pricing of HostGator.
The reason for recommending HostGator for smaller websites is that it maxes out the server resources quickly. A large website is only suitable with a dedicated server or a VPS. HostGator offers these services for big sites but they are not suitable for resellers. Also, HostGator does not give full control of your server in reseller hosting.
HostGator controls almost all your IT work and provides you with an easy interface to fulfill your requirements in a few clicks. With this assistance you can manage all your users in WHM, customize the branding of cPanel and monitor your sites. It seems like a fair deal to get less control in return for less work as HostGator handles your regular maintenance too.
Other features:
Spam protection
Private server names
Weekly backups
Free WHMCS
Free SSL certificate
Merchant gateways
Domain reselling
The lowest cost Aluminum plan offers 600 GB bandwidth and 60 GB disk space at the cost of $19.95 per month. This price is valid only if you purchase it for 36months. Moreover, it also offers 45-day money-back guarantee.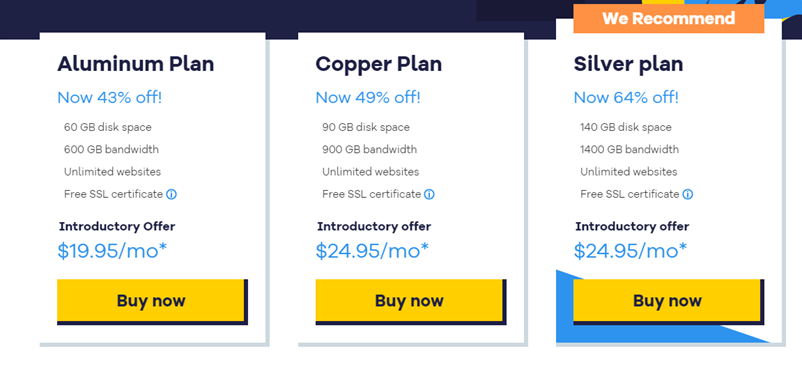 Reseller Hosting with Unlimited Databases & Email Accounts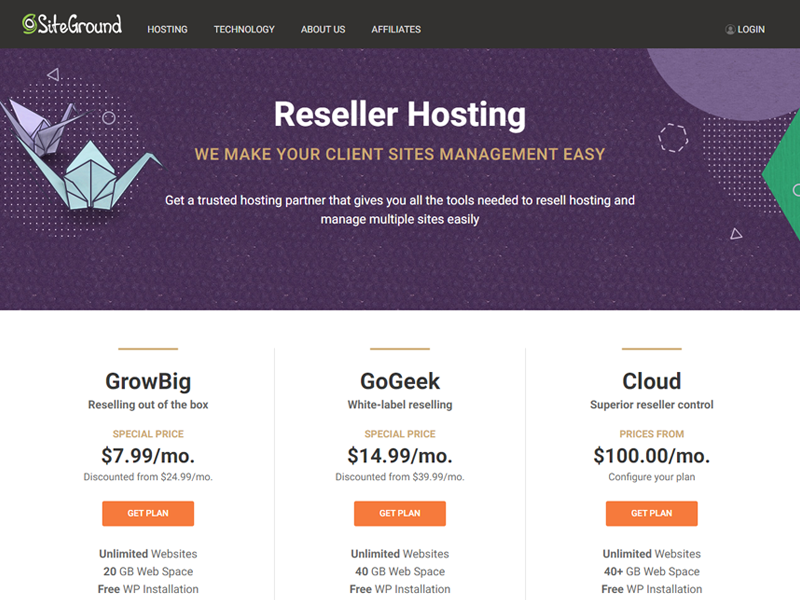 SiteGround provides a reseller hosting service with unlimited email accounts and databases. It is the best option if you are looking for a provider for your WordPress hosting.
It is best known for customer support services. Therefore, you can rely on their assistance if you feel any difficulty working with SiteGround.
In addition, SiteGround offers an extremely user-friendly dashboard. Also, you get developer tools that help in business management. Nevertheless, applying customer branding and resource allocation is only possible if you buy the most expensive plan.
However, it is still worthy to purchase due to several unique features it offers. All the plans that it offers are suitable for different workflows. A single dashboard lets you manage all your sites in one place. The client area provides you delete and suspend options by quickly accessing the Site Tools in each site.
The search function makes it easy to jump to the required site. Also, adding new sites is always easy with a few clicks. If you want more hosting resources, then upgrading your plan works fine to add more space and higher plan, RAM or CPU to your cloud.
Other features:
Easy staging
Speed boosting coaching
Email
Free CDN
Free SSL certificate
Daily backups
Site migration
Automatic WordPress updates
Unlimited websites
The lowest price starts from $7.99 per month in the GrowBig plan. It includes free WordPress installation and 20 GB of storage. It does not provide any billing software which has to be purchased separately.

Best Green Reseller Hosting Provider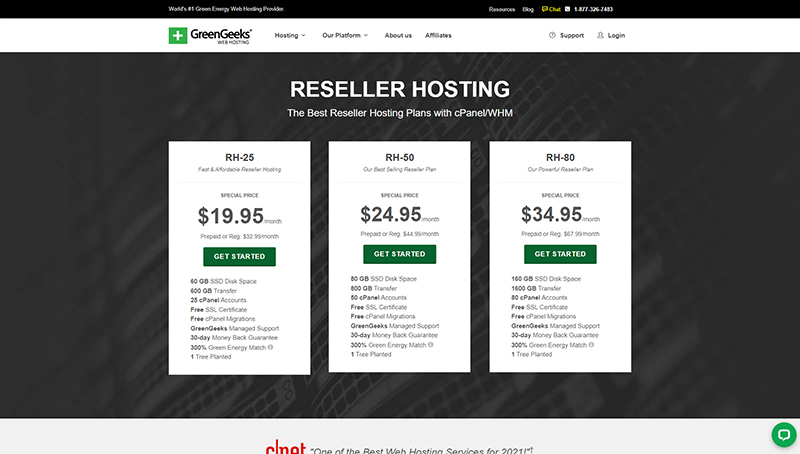 GreenGeeks comes with 3 main packages for reseller hosting which are equipped with cPanel and WHM to manage all hosting business from a very friendly panel.
They offer brandable cPanel hosting for your clients and also the possibility to create different packages for different needs. Your customer can easily register or transfer 1000+ TLDs directly from the account manager.
What makes GreenGeek different from other providers are the usage of 300% Offset with Renewable Energy and also the usage of Optimized LiteSpeed and Maria DB with LSCache support that make their server have an amazing performance.
The basic plan starts from $19.95/month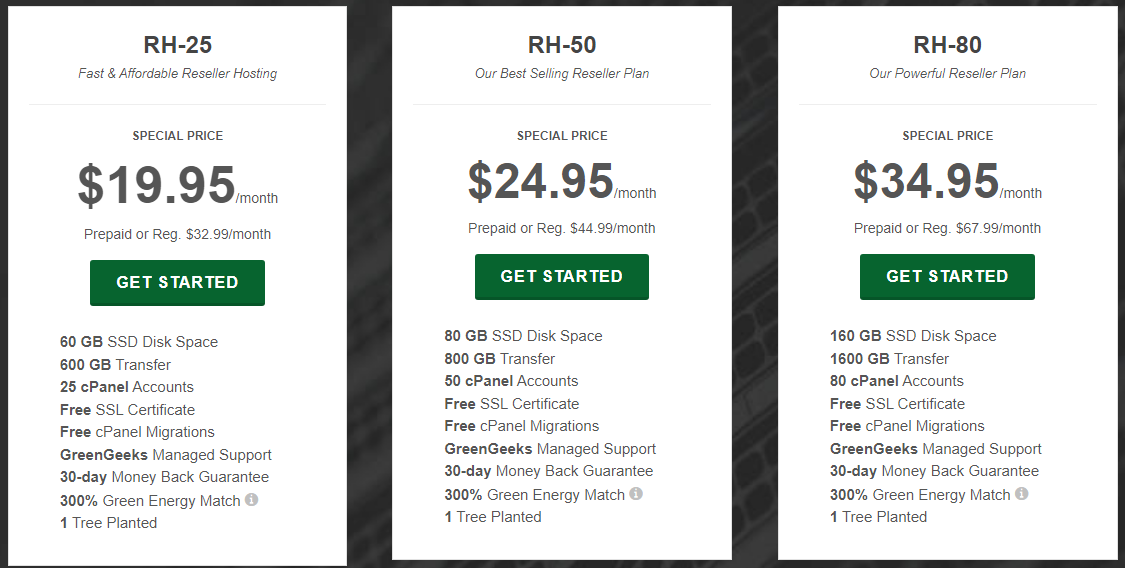 Features:
SSD Hard Disk
Free SSL
Managed Support
300% Green Energy Match
Free cPanel Migration
Reseller Hosting with Unlimited White-Label cPanel Accounts
BlueHost is the best choice offered as Reseller Club of Windows plans and Linux. There are more than 800 products for you to resale. These products also include unlimited cPanel accounts with white-label.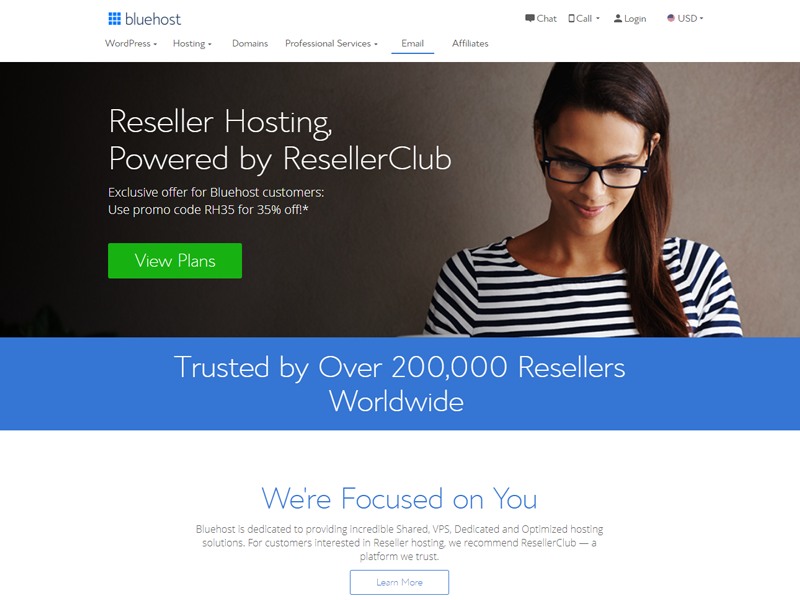 The reseller plans of BlueHost also offer Web Host Manager Complete Solution (WHMCS) for easy billing of clients. Nevertheless, you will also have to buy the software individually if want to choose the cheapest plan.
The package includes 24/7 reseller support, website migration, free content delivery network (CDN), free SSL certificate and email. BlueHost is a dedicated hosting solution that offers optimized, dedicated, VPS and shared hosting solutions. The customers interested in reseller hosting, suggest ResellerClub.
In addition, Bluehost is one of the largest wholesale domain resellers that offer 350 extensions for the domain. You also get proven Automated Billing and support management panels. The support is effectively available through multiple channels such as social media, calls, tickets, chats and emails.
The mobile app of ResellerClub helps you easily get track funds, renew orders, and domain purchases with one click on your iOS and Android. It provides you with an ultimate all-New WebPro Panel. It is an easy-to-use and intuitive panel to manage customers, orders, and products. Invoicing and billing features also allow you to run your business as you want.
The pricing of BlueHost for the reseller hosting plan, R1 reselling package starts at $17.99 per month.
Other features:
800 GB data transfer
40 GB disk space
unlimited websites
free Reseller accounts
seamless upgrades
Free WHM and 5 cPanel
Softaculous installer included
The Cheapest Reseller Hosting Plan
Inmotion provides the cheapest reseller hosting plan. It offers great prices with the most reasonable hosting packages to fulfil all the requirements of your website. You do not spend any extra cost on your client. The best thing about Inmotion is that even if you choose the cheapest plan from their offerings, you will get 25 cPanel accounts, WHM and WHMCS.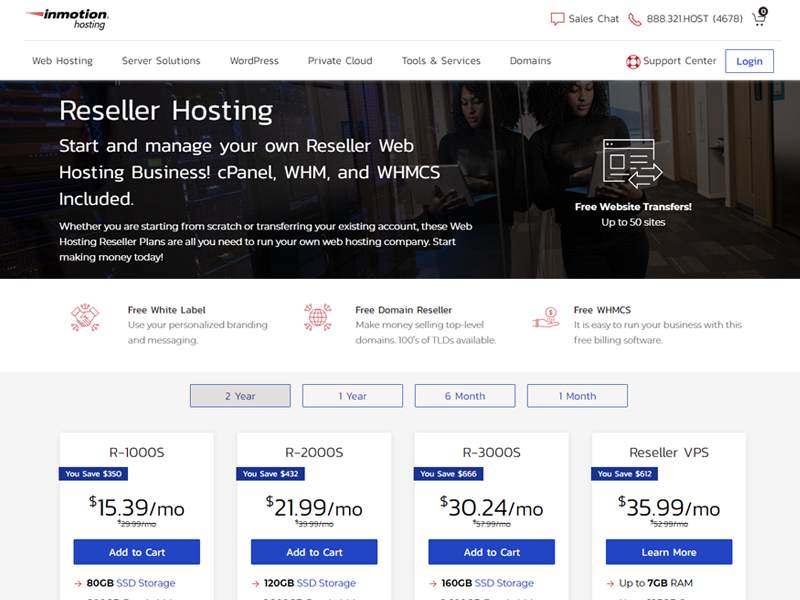 The first thought in mind with the cheap pricing is that it may offer limited or stingy resources. But for Inmotion, this is not true.
The starting plan costs only $15.39 per month with 800 GB of bandwidth and 80 GB storage, one dedicated IP and unlimited email accounts. This is a great offer in comparison to other providers giving the same at this price.
InMotion provides shared hosting, it, therefore, takes care of all the backend maintenance and essential security services. All you need to take care of is the clients' responsibility. The reseller platform of managing InMotion is easy for less tech-savvy people. On the same hand, experienced resellers appreciate the way this platform streamlines everything.
There is a pre-configured hosting package that you can use that lets you start selling immediately.
Pricing for the R-1000S plan starts from $15.39. It provides you with 25 cPanel accounts, 8—GB bandwidth, and 80 GB storage. The reseller plan at VPS starts from $46.64 per month.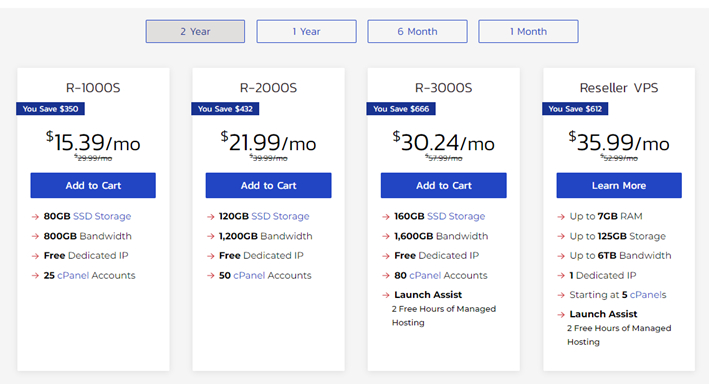 Other features:
Custom name servers
Free domain reseller account
24/7 support
Free white labelling
Hack and malware protection
Free SSL certificate
Unlimited email
Reseller Hosting with Excellent Uptime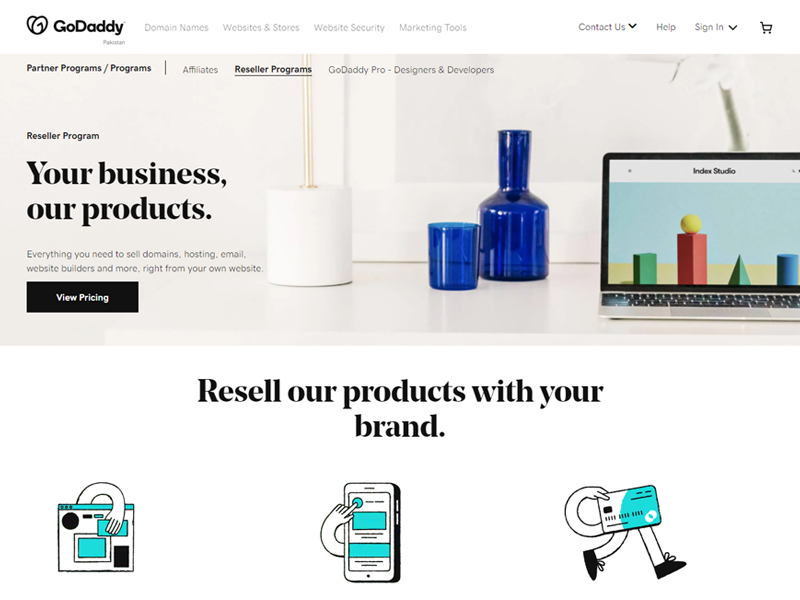 GoDaddy provides the best hosting with excellent hosting service. It is an internet giant that offers the best of features among all its competitors. GoDaddy offers reliable servers such that you experience super fast speed and excellent uptime for your customers.
You also get WHMCS and cPanel in your services. It is very easy to set up a storefront with the resell domains, margin setup and company name for extra profit. It provides over-the-top services by giving extras. For example integration of Microsoft Office 365.
There is a true white label that your client sees as your brand front from purchase to technical support. It also avoids any process payments for you to make it easy to get commissions and track sales.
In addition to these, GoDaddy also offers you automated voicing, place services and reminders for non-payment. Moreover, you can accept payments on all processors in different currencies. Not only this, you can customize fully configurable resources for your customers by getting custom hosting.
Other features:
24/7 reseller support
Unmetered bandwidth
Unlimited database and websites
Up to 250 accounts and all-white labelled
Free SSL certificate
The lowest price plan is Enhance plan that costs $39.99. It includes 90GB storage, 4 GB RAM and 2 CPU.

High-Quality Managed Reseller Hosting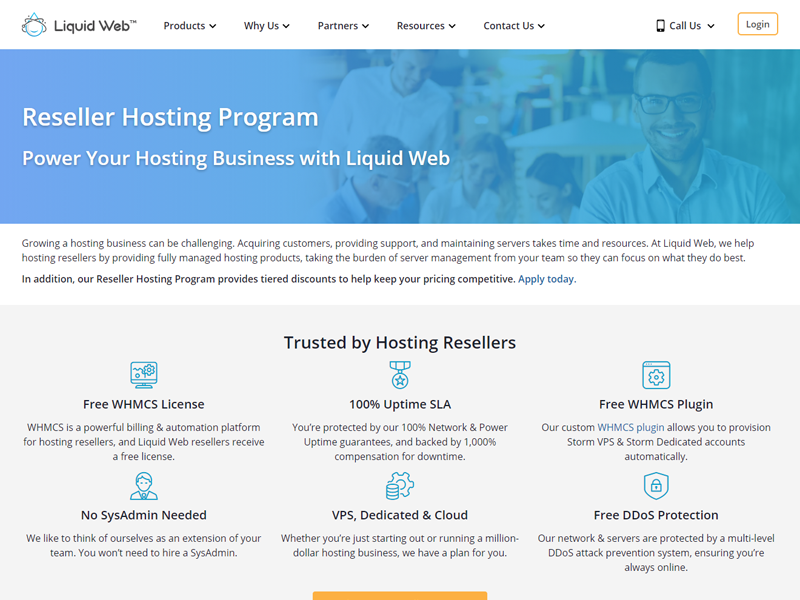 Liquid Web supports hundreds of clients and sites that have large neds of resources. Such as membership and eCommerce sites that have large traffic. It controls almost everything that requires lots of hosting resources at the server level.
If you have clients with high traffic websites, you cannot afford to mess around. Liquid Web will provide you with services that ensure you never get in trouble. The more you resell, the more price break you can experience with Liquid Web. You get at least a 5% discount and you will get more than 20% discount if you sell more than $15,000 on wholesale rate for hosting.
You cannot have shared hosting with Liquid Web that's why they are only suitable with high-traffic sites that too not suitable for shared servers. You have options to share from dedicated hosting, cloud, and VPS.
Liquid Web hosting offers managed hosting solutions and takes control of performance optimization, security and server monitoring. It means you can have control of premium hosting and server power options without worrying.
Other features:
Cloud sites hosting
Private VPS parent hosting
Fully automated
Customizable instance sizes
WHMCS server
Free migration of cPanel
SSD storage
Free SSL certificate
The dedicated Bronze plan costs $99 per month. This plan provides you 250 GB backups, two drives with 240 GB storage, and 8 GB SDRAM.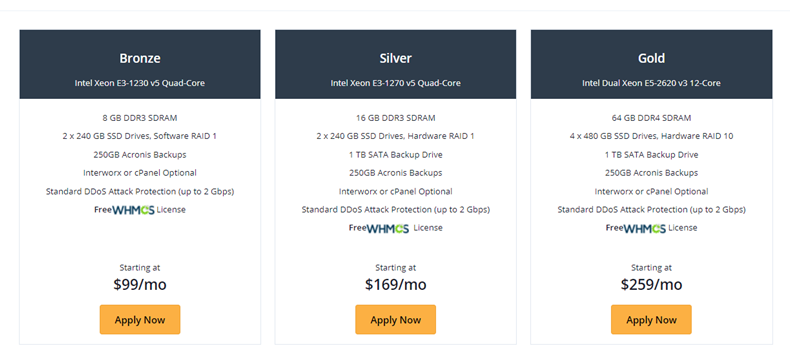 Reseller Hosting with Unlimited Bandwidth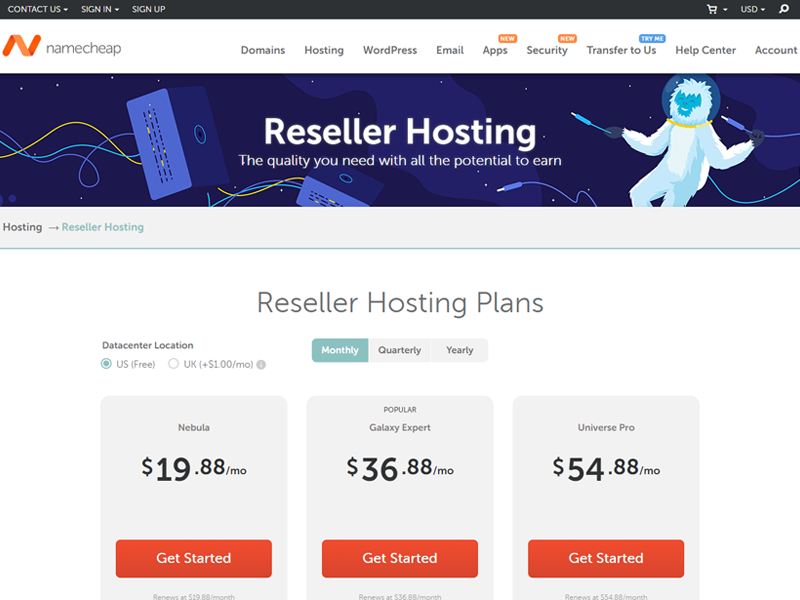 NameCheap primarily offers its services as a domain name registrar. But it also provides services of reseller hosting. These services include WHMCS, WHM and cPanel. The billing software will cost you more if you go with a cheap plan.
Company branding is further usable across different tools and nameservers. This plan does not offer a free SSL certificate. But some options let you join SSL reseller programs.
Moreover, other plans offer all the essentials with which you can manage everything on a single dashboard. Softaculous script installer helps you quickly set up content management systems such as Magento, Joomla, and WordPress.
The account management tools help you determine whether you want to customize your brand cPanel or the client invoice. The full suite tool helps in making your business.
Other features:
US-based data centres and Pure SSD
Security scans
Unlimited domains
Unmetered bandwidth
The Nebula plan starts at $26.40 per month. This plan provides 25 cPanel accounts and 30 GB storage.

What is a Reseller Hosting?
A web hosting option in which one company (the provider) rents bandwidth and space in the hard drive to another company (small or medium-size business) who further agreements third parties (small businesses or enterprises) for this space is called reseller hosting
Specifically, reseller hosting is the provision of hosting to the clients as a hosting provider. If you want to monetize your hosting business, then the reseller plans provide an inexpensive and fast way to fulfill your needs. One control plan is enough to control the backend and setting up a website. Your experience depends on the reseller hosting provider you use. If you look for a managed hosting service that assists your reseller business, then it will be more expensive.
Instead of building a website and get a one-time payment, you can get paid every month while your providers take care of your clients. Renting servers from providers at wholesale rate and reselling them forward to your clients generate you considerable ROI. Moreover, white labeling enables you to sell services with your brand name.
Reseller hosting proves to be the best option for enterprises that work on multiple cPanels. Besides, it is easier and cost-effective as well for the management as compared to purchasing numerous hosting accounts like old-fashioned hosts.
How to Launch your Reseller Hosting Business?
Determine the target audience
You already know the niche of your business. This is the time to determine the target audience. Find out who you want to listen to you. Do you want to target bloggers, online entrepreneurs, designers or developers etc? You can select the best Reseller Hosting plan to satisfy them.
Next, define the business goals to help you define your business goals and customer base. Based on this, you will decide the package of Reseller Hosting from the parent host.
Select a parent hosting company
Choosing a parent hosting company is critical to fulfilling your business goals. Your host company's features must align with your business goals and your customers' needs. Order management, customer support, software applications and pricing are some other features that should be taken into account while selecting the host.
Another way to make sure that you choose the right host is by researching the best one. One way to start with is to review resources, comparing pricing models, social media channels and looking for customer support and reading reviews.
Set a budget
Having a big budget does not ensure that your business is a complete success. You need to invest wisely. After selecting the parent hosting company, now check the reseller hosting plans and choose the one that is suitable according to your budget.
Your parent host should cater for everything regardless of your budget. Their starter or pro plans should all fulfil your business requirements.
Set pricing
Pricing is another important factor. If your products are well priced in comparison to your competitors or you set your prices too low, you will face loss. In this way, you will either lose your customers or incur losses. Therefore, it is important to ensure the prices in a range that is profitable both for your customers and your business. You can later increase the prices after you establish your business in the industry.
Market your business
Promote your business. Business marketing is the most critical and essential step in finding customers. After you complete your website, add information about the business so that search engines can discover it. You can use SEO-based keywords to increase indexing and rankings by search engines.
Conclusion
Becoming a reseller of hosting services is a good way to get your foot into the doors of the industry. It is important because it proves to be a cash cow for business-minded and tech-savvy entrepreneurs. At least, you are going to get web hosting for your website. For this, create a larger plan and let your customers bear your supplementary costs.
Final Recommendation: Best Reseller Hosting
The hosts in our list offer the best packages in the industry to get your reseller business rooted in the industry. To learn the feature-rich programs about them, have an in-depth view of these hosts' services.
Cheap Reseller Hosting FAQs
Is it worth working with reseller hosting sites?
There are pros and cons to working with reseller hosting sites. On the plus side, reseller hosting sites can be a great way to get started in the hosting business with relatively little investment. They can also be a good option for experienced hosting providers who want to expand their customer base without incurring the costs of setting up their own infrastructure.

On the downside, reseller hosting sites can be less reliable than working with a traditional hosting provider, and you may not have as much control over your customers' experience.
What is managed reseller hosting?
Managed reseller hosting is a type of web hosting in which the web host manages the server and provides support to the reseller, who then provides support to their own customers. The reseller pays a monthly fee to the web host, and in return, the web host takes care of all the technical aspects of the server, including security, updates, and maintenance.

The main advantage of managed reseller hosting is that it takes the burden of server management off of the reseller, allowing them to focus on their customers. In addition, managed reseller hosting is often more affordable than traditional web hosting, since the reseller does not have to pay for the server itself. The downside of managed reseller hosting is that the reseller is reliant on the web host for server management, and if the web host is not reliable, the reseller's business can suffer.
What is the best cPanel reseller hosting?
There are a number of cPanel reseller hosting providers available, and it can be difficult to determine which one is the best. However, there are a few factors to consider that can help you make a decision. First, consider the features that are important to you. For example, some cPanel resellers offer unlimited email accounts like Hostgator, while others have limits. Some also offer unlimited MySQL databases, while others have limits. Make sure to check what features are included in each package before making a decision.

Second, take a look at the price. cPanel reseller hosting can vary in price, so it's important to find a package that fits your budget. Taking all of these factors into consideration should help you determine which cPanel reseller hosting provider is the best for you.
Which is better a dedicated server or reseller hosting?
There is no one-size-fits-all answer to this question, as the best option for you will depend on your specific needs and budget. If you have a large website with high traffic volume, a dedicated server will likely be a better option for you, as you will have more control over your server resources and will not have to share them with other users. However, dedicated servers are also more expensive than reseller hosting, so if you have a small website or are on a tight budget, reseller hosting may be a better option for you.

As one of the co-founders of Codeless, I bring to the table expertise in developing WordPress and web applications, as well as a track record of effectively managing hosting and servers. My passion for acquiring knowledge and my enthusiasm for constructing and testing novel technologies drive me to constantly innovate and improve.
Expertise:
Web Development,
Web Design,
Linux System Administration,
SEO
Experience:
15 years of experience in Web Development by developing and designing some of the most popular WordPress Themes like Specular, Tower, and Folie.
Education:
I have a degree in Engineering Physics and MSC in Material Science and Opto Electronics.