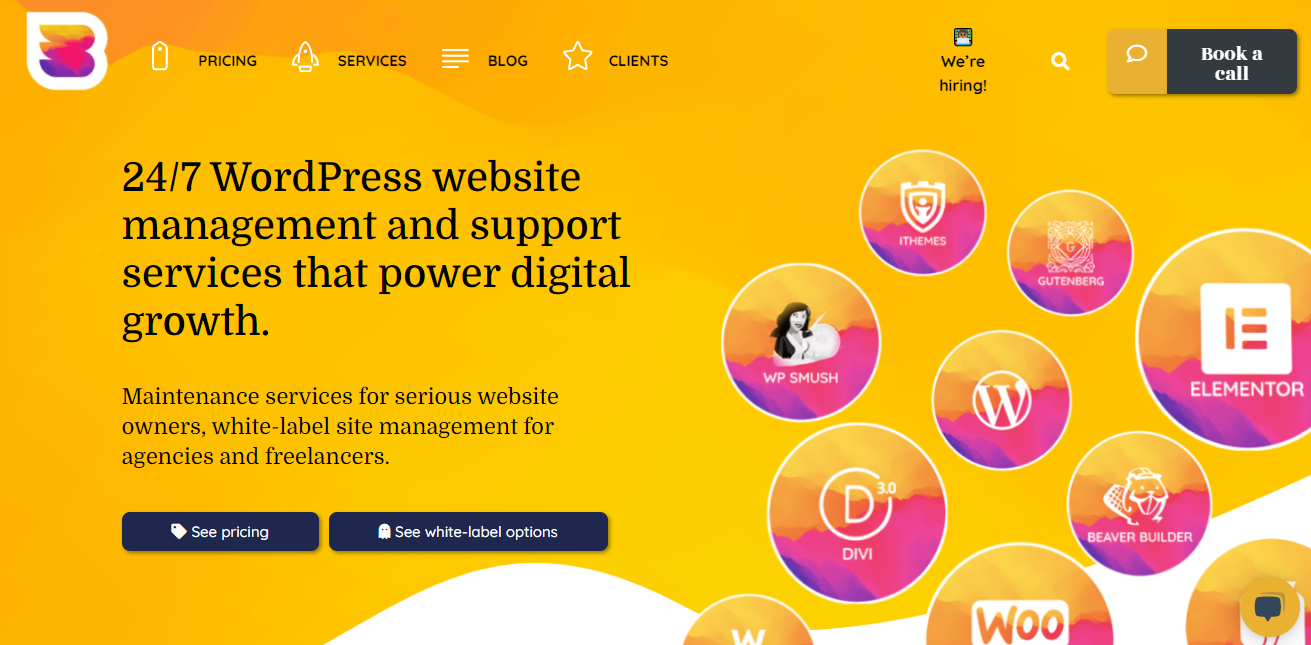 WP Buffs Review is our new article that will discover this WordPress maintenance service.
WordPress is a highly feasible and easy to use CMS; however, some non-technical users face performance, speed, or maintenance-related issues.
Users can also feel overwhelmed by the features and specifications that WordPress CMS gives to them, let alone configuring a plugin or adjusting it.
However, WP Buffs reviews deliver a positive vibe, and many are starting to consider this as their site's permanent solution.
Even if you know how to customize or maintain your site, WordPress management isn't that easy. It can be time-consuming to get exactly what you want.
If you don't maintain your site properly, your site will deliver a poor user experience. Considering the tough competition brands are facing today in the market, this would be a big drawback.
Your audience would immediately skip your site and hop on to your competitor's site to purchase.
So, how does one deal with these problems?
Well, WP Buffs is the solution here for all your maintenance needs.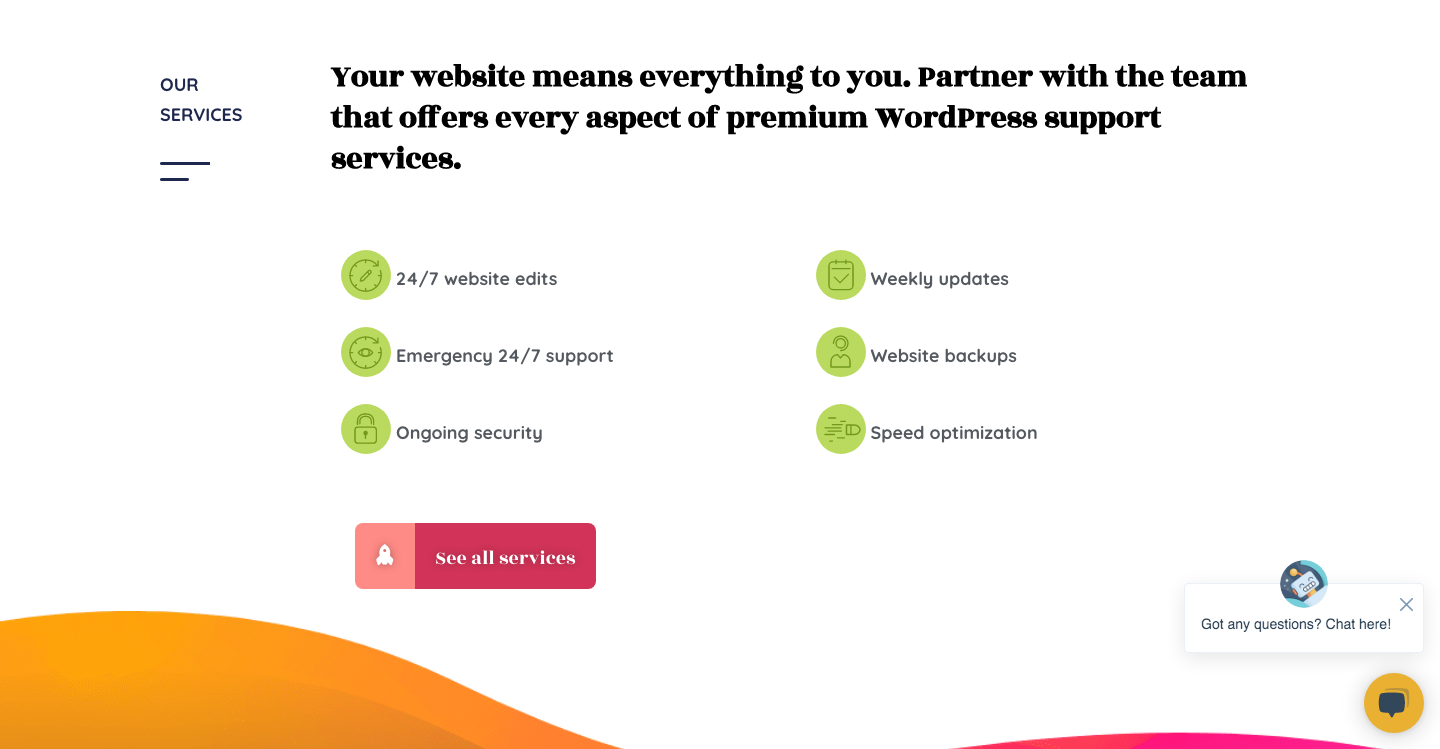 With highly skilled professionals working behind your brand's brand, you can be carefree of your WordPress site. WP Buffs has a pool of talent that offers WordPress maintenance services.
They are hyper-focused on making your business prosper in the digital world by making your site flawless by all means.
From coding to security checking to support performance, WP Buffs gets the job done for you. They also offer traffic generation in case you need it sometime.
So today, in this blog post – we're going to explore the different aspects of WP Buffs.
We're going to go through their services, WP Buffs reviews, pricing, and much more to give you a perfect idea regarding the platform and their unique selling propositions.
What Is WP Buffs
WP Buffs is a WordPress maintenance site that offers 24/7 services to its clients. The maintenance services are highly scalable and effective.
According to WP Buffs, their experience and expertise enable them to handle from 1 site to 1,000.
The agency also has flexible pricing plans for you to choose from. So, whether you're a freelancer, a small business, or an enterprise – WP Buff has always got a solution for you.
The Services Offered By WP Buffs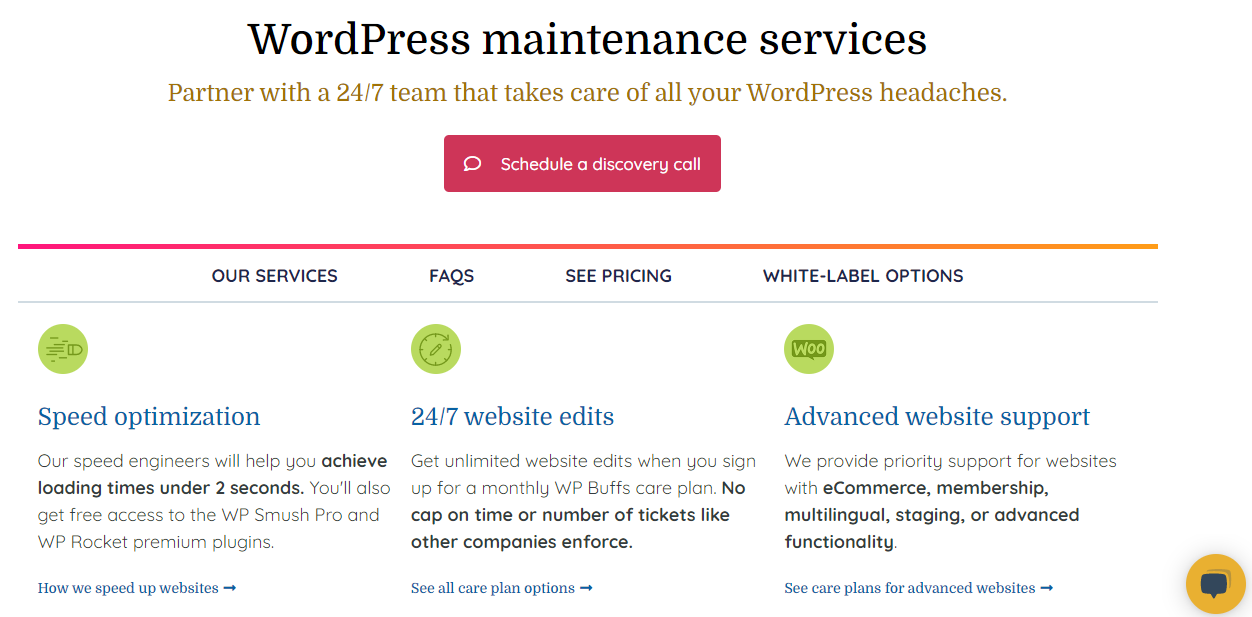 Speed optimization
WP Buffs skilled team can help you achieve loading under 2 seconds, which is remarkable if you ask me.
By getting their speed optimization service, you also get WP Smush Pro and WP Rocket, which are some premium plugins.
Security Fully Managed
WP Buffs experts ensure the safety of your site. Their team gives you free access to iTheme Security Pro, a premium plugin used for added protection.
Plugin, Theme & Core File Updates
Let it be your plugins, themes, or core file updates – WP Buffs professionals have got you covered and ensure your site's smooth running.
You can also check out our article on how to update themes and plugins
Round The Clock Website Edits
When you sign up for the monthly WordPress care plan, WP Buff offers you unlimited edits.
Core File & Database Backups
WP Buffs realized the importance of core files and data, which is why they offer real-time backup of your entire website on their Amazon S3 servers.
They also have access to the one-click restore feature in case you ever need it.
Round The Clock Emergency and Monitoring Support
According to WP Buffs, they monitor your site's performance by checking it 1,440 times a day, and they take swift action if they find anything fishy.
Advanced Website Support
Their advanced website support consists of specialized services that ensure support for websites with eCommerce, staging, or membership.
Premium Plugins
The plans that WP Buff offers have several SEO and security premium plugins that users can leverage. Some of these premium plugins are WP Smush Pro, WP Rocket, and the iThemes Security Pro.
Mobile & Browser Optimization
Today, most of the users access your website on mobile. Your site mobile and browser optimized is no longer an option. Hence, WP Buffs optimizes your site to deliver an amazing experience on both browsers and mobiles.
WP Buffs Pricing And Plans

Maintain – this package consists of Weekly reports, updates, 24,7 uptime monitoring, google analytics integration, and cloud backups (1 per day). This plan is available for $67/month or $56/billed-year.
Protect – This plan keeps your site protected from external attacks. This package includes security optimization, cloud backups (2 per day), iTheme security pro plugin installation, and 24/7 site edits. You can get this plan for $147/month or for $123/billed-year.
Perform – This package is aimed at increasing your site's performance. It is best for sites with eCommerce, LearnDash platforms, staging, and membership. WP Buffs gives you speed optimization, WP Rocket and WP Smush Pro plugins, cloud backups (4 per day), mobile and tablet optimization, and even malware removal. You can get this package for $197/month or for $163/billed-yearly.
Custom – WP Buffs also offers customized plans to its users that comes with customized themes and plugins. This package includes 24/7 code monitoring, plugins and files update, and functionality tests, all custom. This package is available for $347/monthly or for $290/billed-yearly.
Custom Pro – From git management to 24/7 monitoring, the Custom Pro plan has got it all. This package is specially designed for websites with advanced functionalities like eCommerce or membership. You can get this package for $447/month or for $373/billed-yearly.
Enterprise – This package is designed for massive establishments and offer up to 25+ website maintenance at the same time. The enterprise solution is something that you may want to discuss with WP Buffs so, you're given the option to schedule a call through their website. Moreover, this package has a starting price tag of $750/month.
The White Label Services By WP Buffs
Full White-Label
WP Buffs will provide WordPress maintenance on your behalf. They will use your email that will have your signature at the bottom to deal with your clients.
White-Label Dashboard
You'll get up close and personal with WP Buffs and see how they handle your clients, generate tickets, perform teamwork, and much more.
White-Label Reporting
WP Buffs send weekly reports to the user and the clients. These reports have detailed insights as to what has been done.
20% Discount For White-Label Clients
The white-label users of WP Buff get discounts on the care plans; this also enables you to sell the packages and ensure a bigger profit.
Premium Plugins
When your clients sign up for your white label plan, they can get access to a variety of free premium plugins.
Value For Efforts
The performance plan by WP Buff costs users $157.60 per month. If any user can sell 5 same packages for $250, he/she gets an extra $5,544 every year.
The WP Buffs Alternatives
Here is a list of some of the best WP Buffs alternatives. These sites offer the same services as WP Buffs; however, the quality or pricing may differ.

Ludjon, who co-founded Codeless, possesses a deep passion for technology and the web. With over a decade of experience in constructing websites and developing widely-used WordPress themes, Ludjon has established himself as an accomplished expert in the field.