Your IP address can be blocked for various reasons. When your IP is blocked, it means you cannot successfully access the website you're trying to visit. The message "Your IP has been temporarily blocked" means the blockage is temporary and will last for maybe around 24 hours. This article shows you 10 ways how to unblock IP addresses.
What is IP Blocking?
Your IP address is blocked when a particular network configuration provider blocks your IP address from accessing the website or service. All devices that are connected to the Internet have unique IP addresses attached to them. These IP addresses allow them to communicate with one another. The IP address makes it possible to pinpoint the exact location a client or user is connecting from.
An IP address is blocked to prevent the particular device or user from accessing a website. Signs that your IP is blocked include slow page loading speeds or getting the IP blocked message. You can confirm by trying to visit the website from another device or network. If you are successful from another device with a different IP, it means your IP address is blocked.
Major Reasons Why Your IP Address Might Get blocked
There are many reasons why your IP address may be blocked. Some of the major reasons include:
Rule Violation: If you violate a website's policies or rules, your IP may get blocked. The system or firewall will block your IP for security or other reasons.
Country Ban: You are connecting from a country that has been banned by the service or website. There are many reasons why services may ban a particular country, including national reasons.
Suspicious Operations: Your IP address can also be blocked if the system or website suspects suspicious activities from your side.
Problems with Cookies: Your browser cookies could be having problems that cause the IP address to be blocked. For example, If the cookies are not active, the browser will not recognize your account on the servers.
Repeated Error Response Codes: Getting a series of error codes, such as the 403 or 5XX error codes, may also get your IP address blocked.
Multiple Login Requests: Most services or sites that require login information will have a maximum number of trials you can make when signing in. If you enter the wrong combination of username and password and try to exceed the limit, your IP address may get blocked. This action is taken to prevent hackers from guessing the right passwords — protection from brute force attacks.
Port Scanning: Port scanning of servers is often considered a suspicious activity and will also get your IP address banned. This is because hackers use port scanning to find possible vulnerabilities.
Unblocking Your Temporarily Blocked IP Address
A temporary block means that it's something you can wait to resolve by itself and try later. But what if you want to use the service immediately or want instant access? Or what if your IP is blocked for an indefinite period?
There are several solutions you can try to gain access to restricted services and websites.
1. Identify Reasons Behind the Blocking
You must first identify the reason why your IP has been blocked before finding the right solution. This is because different reasons for the blockage will require different solutions. For example, a block because of a country ban will have a different solution from a block caused by repeated multiple error codes.
It is also crucial that you establish if you violated the website's policy. Most websites will have their policies in the footer section of the websites.
2. Find Out if Your IP is Blacklisted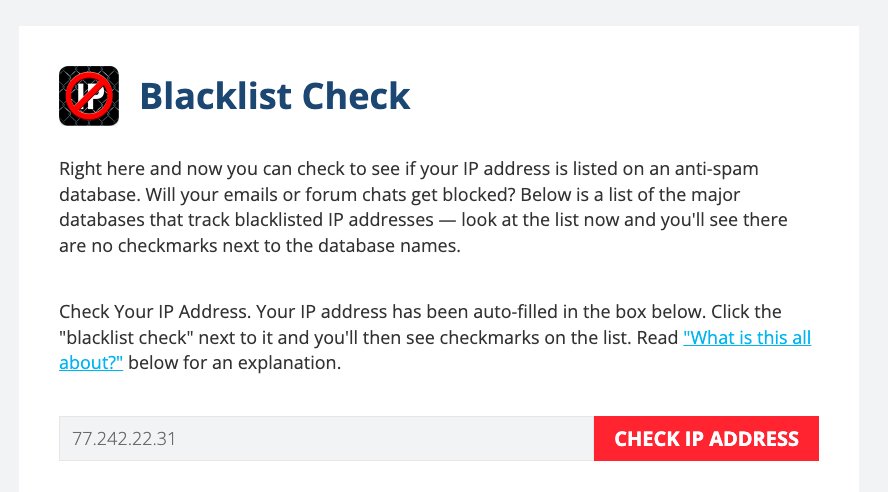 Site owners use public IP blacklists to prevent abuse of their services. You should find out if your IP address is in the list by visiting the relevant blacklist checker. You will find that your IP address has already been autofilled in a box beside the 'Check MY IP Address' button. Click the 'Check My IP Address' button to check if your IP address has been blocked.
3. Check for Viruses and Malware
Viruses and malware can be used to hack your computer. Hackers would then proceed to use your machine for DoS attacks, resulting in your IP address being blocked by a service or website. You should regularly scan your computer for malware and viruses.
To run a scan on your Windows computer, first, go to your settings, then select Update & Security. Choose Windows Security to run the scan.
Mac users should restart their computer in safe mode. Locate the malicious application and drag it to trash. Right-click and empty the trash can.
4. Ensure Your Network and Mail Server are Configured Properly
Your network and mail server should be properly configured. Letters or numbers that are out of place can cause blockage of your IP address. Contact the blacklist for instructions on how to get out of the list.
5. Check your Computer for Updates
Computer manufacturers and operating systems use updates to improve usability and enhance the security of your computer. In addition to scanning for malware and viruses, checking your updates ensures that your computer has all the resources required for optimum usage, including new additions for improving your security. This is because the updates often correct security vulnerabilities in your computer.
To check for updates on Windows 10, first, go to settings and select Update & Security. Click on Windows Update.
On Mac, go to the System Preferences then select the App Store. Click on Show Updates.
6. Use a VPN Service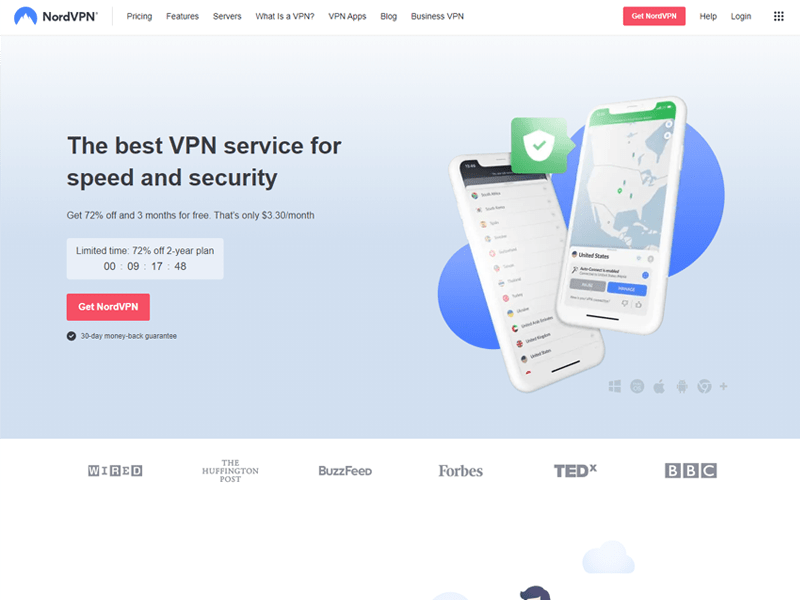 IP addresses can be blocked because of a country or regional ban. In such scenarios, you can use a VPN service to mask your IP address. Although there are free options, paid services will give you a guarantee of hidden IP addresses. Once you subscribe to a VPN, you can use the platform to access the Internet and the websites or services that restrict your IP address.
In a hurry? NordVPN is one of the best VPN services to hide your IP address. The cost is affordable and they provide a high-speed VPN with an ultimate security package.
7. Use Free Proxy Server
The alternative to a VPN is to use a free proxy server. You can search the Internet for free proxy servers. However, many services and websites block IP addresses of public proxy servers. In addition, you should never enter any personal information when browsing with public proxy servers.
8. Change Your IP Address
The other option is to change your IP address. You can get a new IP address through your computer's network connection settings.
To change your IP address on Windows, look for your control panel first. On the control panel, select Network and Internet. Click on Network Connections. You will see a list of network adapters. Click on the adapter that you want to change its IP address, then select properties from the menu.
The process is a bit different on Mac. Open System Preferences then select Network. Now click the Advanced button then select the TCP/IP tab. To add a new TCP/IP configuration, click the + sign. Choose 'Manual' from the dropdown manual. Enter your desired IP settings.
To change the IP address on your Android phone, you'll need to download a VPN app. The VPN will give you location options that you can select. These locations have different IP addresses. You can use the same approach to change IP addresses on your iPhone.
9. Connect to a Different Wi-Fi Network
You should also try a different network connection. A different network connection will give you a different IP address, which might be all you need to connect to the service or website.
10. Contact the Entity that Blocked your IP Address
You can contact the service or owners of the website that is blocking your IP address. If you are sure that you have not violated any of their policies, you can find out if there are any reasons why their website is restricting your access. The owners are in a position to tell you what you should do from your end to gain access to their service or website.
Conclusion
Website owners reserve the right to decide who can and cannot access their services or sites. For example, they can block specific countries or regions from accessing their services. However, an IP address can also be blocked because of activities from your side, and there are steps you can take to fix the problem.
The solutions we have provided above should help you gain access to restricted sites. You can also contact the website owners for more information on why your IP address has been blocked.

Ludjon, who co-founded Codeless, possesses a deep passion for technology and the web. With over a decade of experience in constructing websites and developing widely-used WordPress themes, Ludjon has established himself as an accomplished expert in the field.