In this article, we are going to review 3CX Live Chat WordPress Plugin. Businesses finally understood that customer support is an integral part of customer experience, which is why the mediums through which customer support was offered drastically changed for the better.
Several entrepreneurs today believe that customer support is perhaps the most important component of a business because the idea of helping the customers when they need it most feels super-rewarding and viable in the future.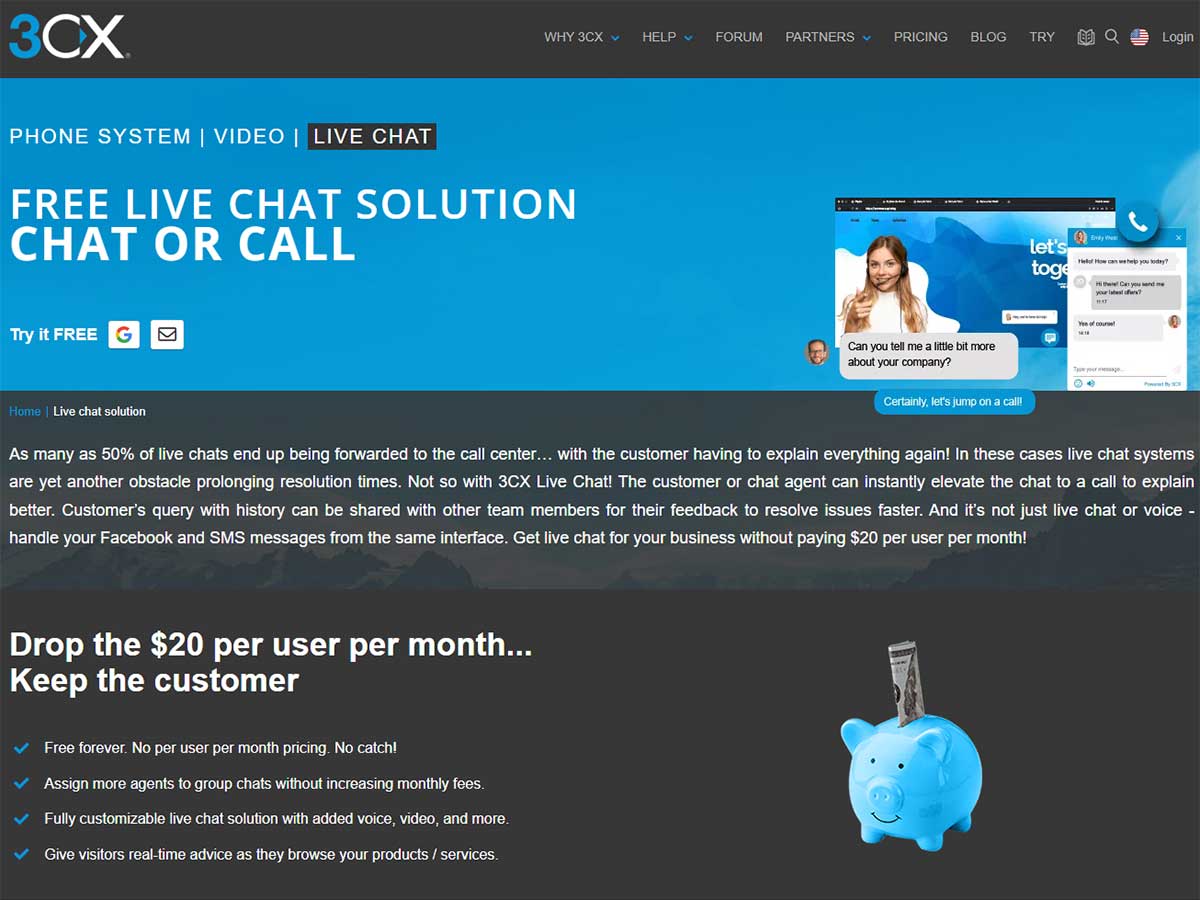 Therefore, after constant thinking, ideation, and iteration, innovation came in the form of a live chat option that enabled several businesses to entertain their audience in real-time.
Slowly and gradually, the new method of assisting customers became the new norm, and today there are millions of websites leveraging live chat WordPress plugins to enable the live chat option on their WordPress websites.
Furthermore, once the audience experienced and got used to the idea of chatting to the business over the internet on their website, they started giving more preference to live chat than to other conventional methods of getting their message across to the business, i.e., email, social media or phone support.
Why did this happen, you may ask? Well, live chat is super-convenient, fast, efficient, and can be done in real-time while keeping a record of the conversation to help with the query after the chat session has ended.
This is just one benefit; the viability and importance of the live chat functionality stretch far beyond giving your customers a simple, fast, and efficient way of communication.
With the inception of the revolutionary 3CX Live Chat, everything changes, and now entrepreneurs can get much more advantages from the live chatting functionality than just the feats mentioned above.
So, without any further ado – let's explore the different benefits of the 3CX live chat plugin for WordPress and more. But before we get started, let's understand what live chat for WordPress actually is.
What Is Live Chat For WordPress
If you're a digital business and you're hellbent on giving your customers a more convenient and efficient way of getting connected. Then using 3CX Live Chat is a brainer.

The plugin simply integrates with your WordPress website, which I'll explain in the article below, and lets you seamlessly chat with your audience to assist them with their queries in real-time.
In general, live chat software is perfect for all businesses because it enables them to get up close and personal with their audience, see what problems they're facing, and solve them to boost brand loyalty and credibility while multiplying satisfaction scores.
Although there are thousands of plugins out there that you can select – I just thought of giving you a recommendation of the best one (3CX) so that you can get started right away. Some of the most amazing features of this plugin are mentioned below:
By integrating the plugin with 3CX StartUP, you can get your audience from chat to a call (or video call) at the touch of a button – for when live chat is not enough to solve an issue, or when you want to close a sale.
You can also answer live chats from 3CX's mobile phone apps (iOS or Android)
Leverage the feature of assigning chats to a particular agent or have groups of agents answering chats.
Integrate Business Facebook messages and answer both live chat and FB messages from the same interface.
Additionally, 3CX has more than 12 million daily users worldwide, and you can get the complete communications software and all features of 3CX for free forever, for up to 10 agents. Click here to get 3CX and get the WordPress plugin here.
Now that you've got a great live chat plugin for WordPress by your side let's come back to the topic.
The Importance Of A Live Chat Plugin
Live chat functionality is super-important in the modern world, and considering the fact that today every brand is trying to take the lead in delivering the best customer experience to their audience, you need to have the live chat feature by your side to stand tall.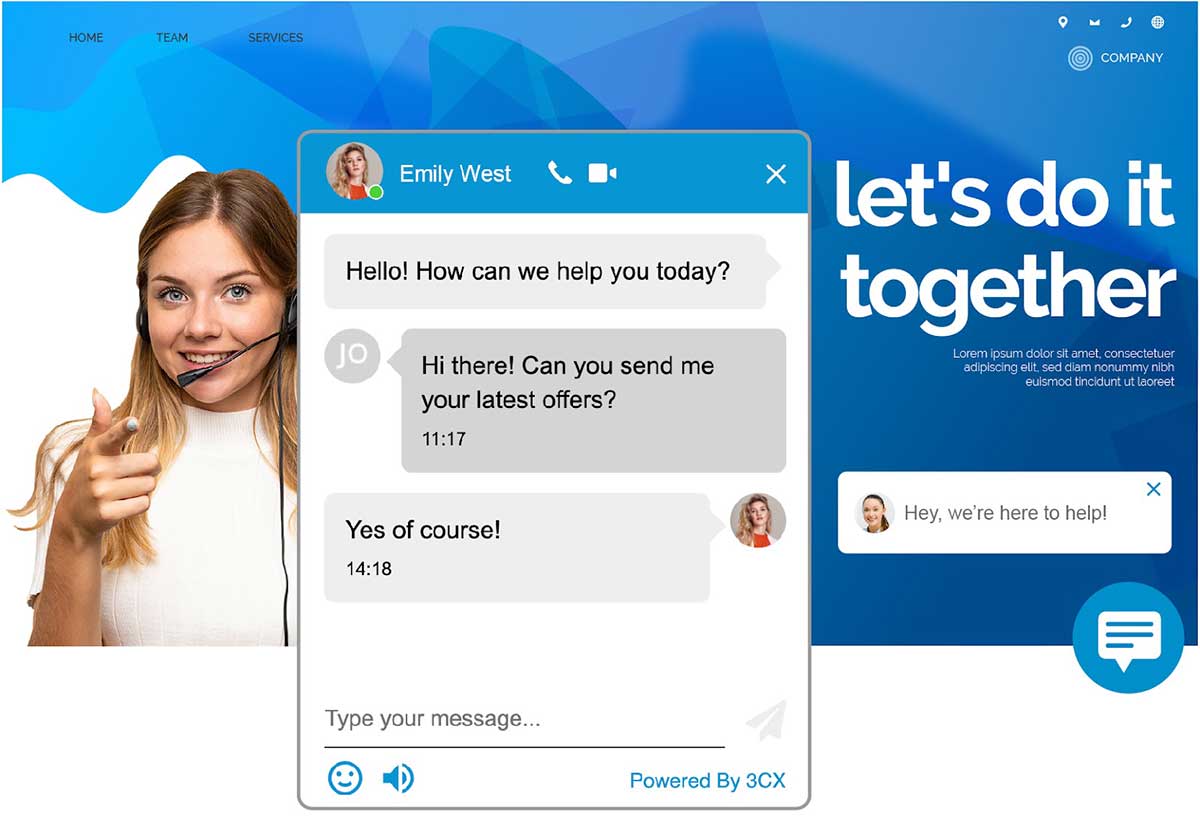 Source: WordPress.org
Aside from just being a cool feature, there are some in-depth and essential benefits of live chat that businesses can really leverage. For example, live chat fosters a culture of interactions, and engagement and helps a brand stand out.
This feature strongly relates to improving your brand's customer experience. However, beyond that, live chat helps you in the following ways:
Increases customer engagement (read more about other WordPress Conversion Plugins)
Improves the support experience for customers
Helps with customer acquisition and onboarding
Let's your agents build rapport with customers
Reduces repetition for your customers
Boosts your customer service team's productivity
Let's you provide 24/7 support
Give you an edge over your competition
Considering the advantages mentioned above, I know that most of the entrepreneurial audience is super-excited to get their hands on this plugin so, here's all they need to know to get this plugin for their businesses.
What Is 3CX All About?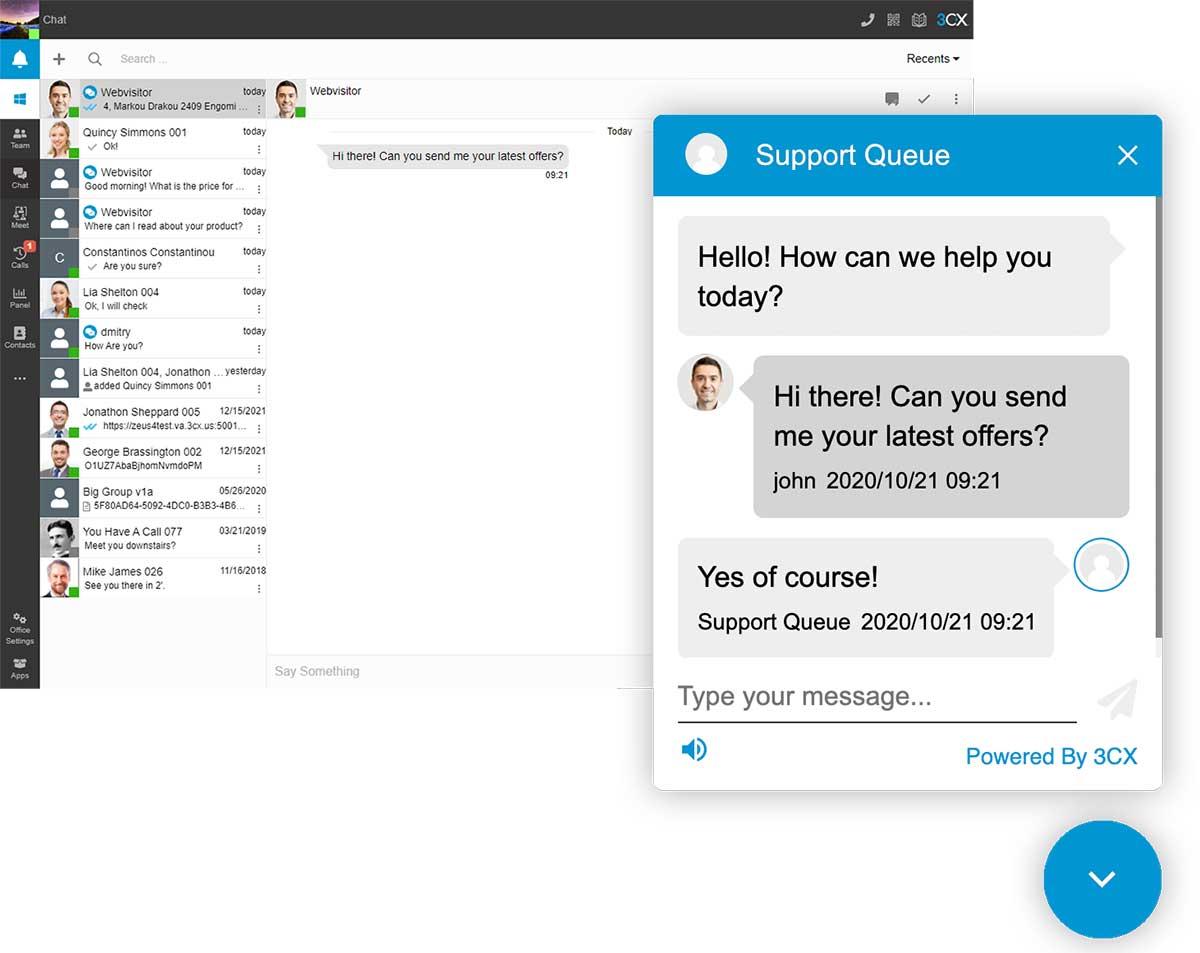 Source: WordPress.org
3CX is all about making customer communication seamless, increasing your lead count, engaging your customers, simple integration, and bridging the gap between the audience and the brand easily and conveniently.
Let's say there's a customer who needs to connect immediately to your brand to get assistance for the product or service that he bought from you. The plugin will play an essential role in connecting this person to your sales agent, CSR guy, or anyone else who is responsible for handling such concerns.
Furthermore, if the internal staff is unable to solve a customer's query via chat, the plugin offers efficient support for getting the customer on an audio or video call to help him/her with his/her concern more profoundly.
Additionally, the setup and installation of this great plugin take the integration process to a whole new level. Here's how you can install this great plugin and give your business a one-stop complete communication suite:
How To Install The 3CX Plugin In Your WordPress?
In this section, we're going to tell you how you can install the 3CX plugin all by yourself. Let's start, shall we!
You can install the plugin from your WordPress admin; you can simply follow the steps below:
Search for '3CX' to install the plugin
Install the plugin
Activate it
Run through the steps to sign up to 3CX StartUP and paste the unique URL into the plugin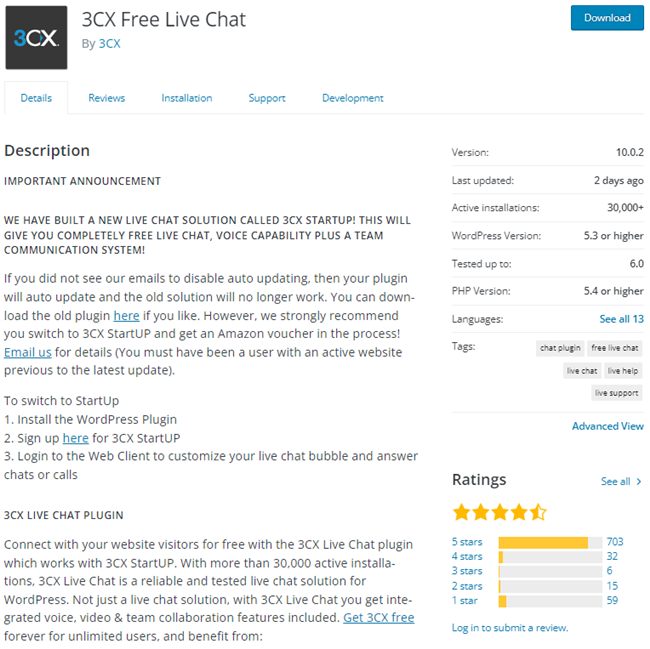 More Features Of The 3CX Plugin
Fostering More Conversions & Sales
The plugin keeps the user's engaged by enabling them to chat with the business through a single click.
Triggers automatically to attract the attention of the user.
Typing indicator and preview enables both parties to stay updated on what the other person is doing.
It Is Free & Tailored To Meet Your Brand's Requirements
There's no hidden cost, and the plugin is free.
The customizable nature of the plugin enables you to tailor it to your brand.
The plugin increases efficiency and predefined responses.
Quality Oriented Service
You can view chat history, transcripts, and more.
Giving the customer the power to select their preferred department related to their concern.
The plugin gives you lightning-fast speed in terms of chatting.
The Most Intriguing Aspects Of 3CX
Elevate a live chat to a live voice or video call in a single click.
One platform for all customer conversations – voice, chat, SMS.
Integrate with your CRM to know who you are chatting with.
Answer chats remotely with 3CX mobile apps for iOS and Android.
Conclusion
By the end of the blog, I just want to say that getting a live chat plugin is necessary for all businesses but getting the 3CX plugin for your brand is revolutionary and innovative by all means.
I mean, nowadays, the digital world is evolving at a rapid pace, and keeping up with the pace is super-important to thrive; otherwise, the striving phase arrives in which a business always stays on the brink of losing everything.
Hence, to stay on par, ensure a robust customer experience, and maximize engagement, you need to leverage an ingenious solution and that specific solution in Today's case (live chat) is 3CX.

Ludjon, who co-founded Codeless, possesses a deep passion for technology and the web. With over a decade of experience in constructing websites and developing widely-used WordPress themes, Ludjon has established himself as an accomplished expert in the field.