According to a recent study, 90% of people find it easier to express themselves on video than in any other way. Therefore, websites that want to retain and engage users include chat conferencing features, which brings us to our detailed Atomchat review.
Atomchat is a web app that provides an opportunity for online businesses and forums to add real-time text chat and video call features directly to their websites.
In this blog post, we delve into Atomchat's major features for collaboration and conferencing. We also discuss the pricing, pros, and cons. Sit back. Let's get started.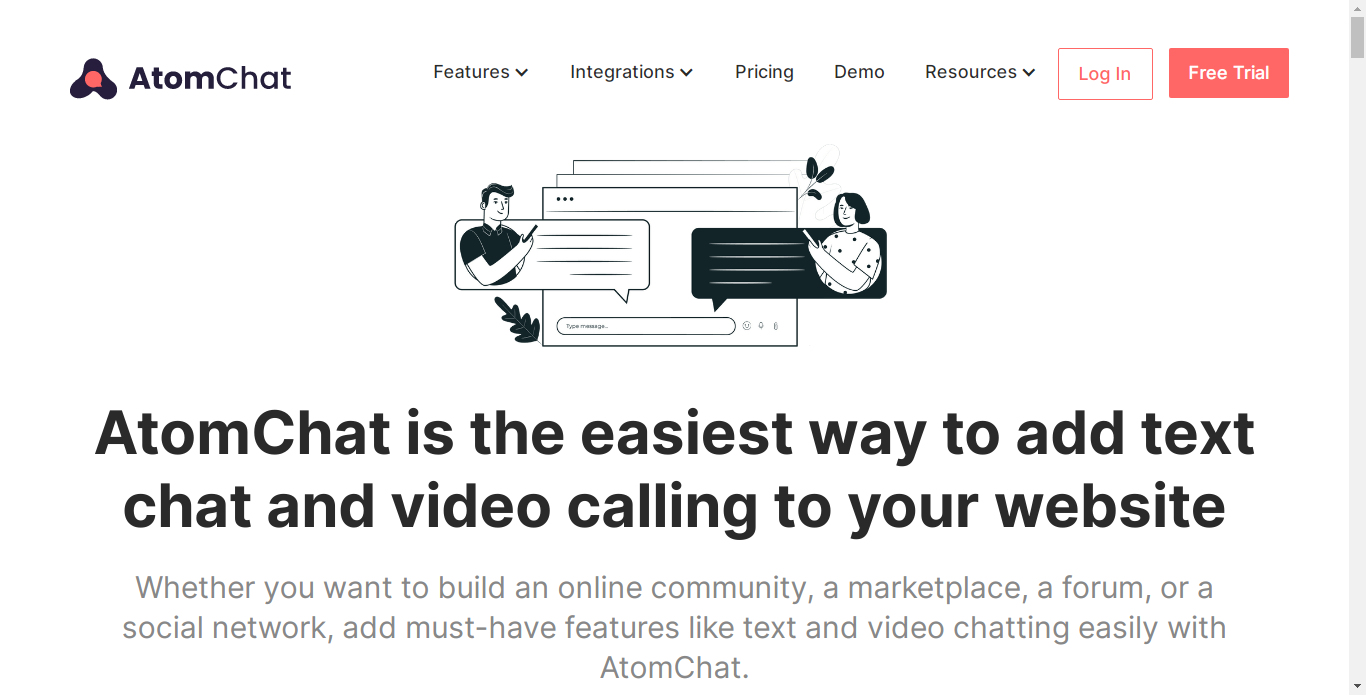 AtomChat Features Overview
AtomChat has thousands of active clients currently using their product. These features are the reason why:
Audio and Video Conferencing
During our review, we found that Atomchat has an audio and video conferencing feature that can be plugged directly into a site or social app. The voice video calling feature allows business owners to create online communities where customers feel comfortable expressing themselves.
The AtomChat conferencing plugin is used for one-on-one chats and group chats of up to 6 participants. Users can even broadcast videos to up to 50 viewers.
The awesome thing about the AtomChat video calling feature is that it's fast to deploy. For WordPress sites, you just have to install an AtomChat plugin. The app also plugs into Shopify, Joomla, and Teachable. Some websites may require you to embed a JavaScript code.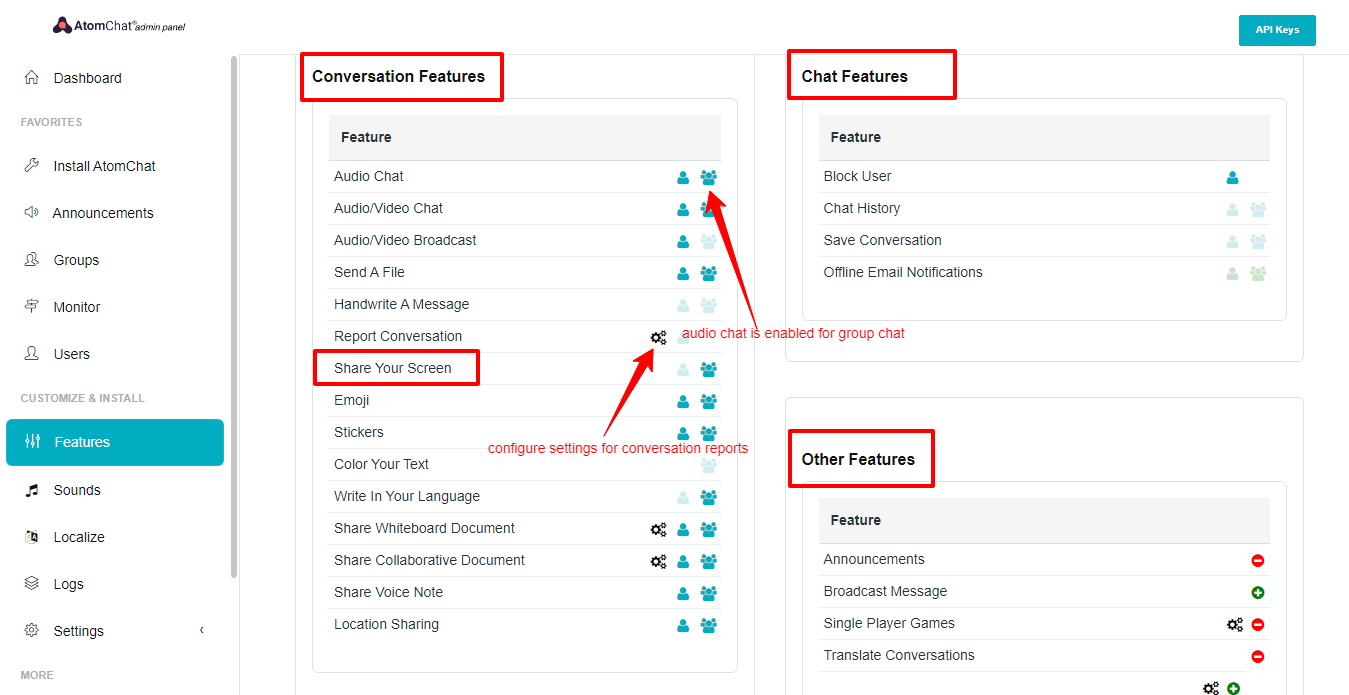 Group Text Chat
AtomChat has a group chat feature that allows users to create groups on your website, invite other users, and simply chat with each other. People can create unlimited groups and add an unlimited number of participants. These groups can be public, password-protected, or invite-only. AtomChat provides a lot of extra functionalities that support likes, tags, replies, message deletes, file sharing, and emojis.
From the AtomChat backend, you create role-based community and chat content moderators and set their roles. To add the chat feature, you only have to paste an embed link on your site. Also from the admin dashboard, you can enable real-time translation between multiple languages.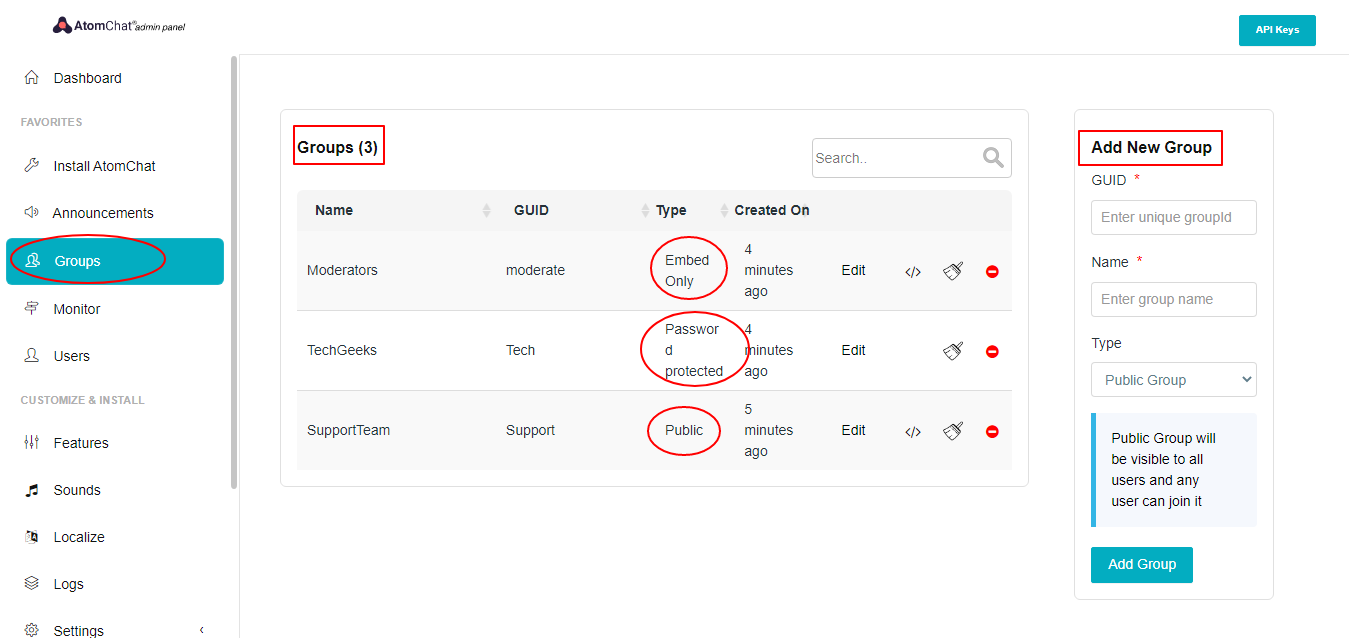 Collaborative Screen-Share
Remember how Zoom allows meeting participants to share their screens? AtomChat does that too. In a group video conference, one user can share their screen as long as they're on the desktop. However, both smartphones and desktops view shared screens.
Screen sharing boosts user engagement, especially for online tutorials and forum websites.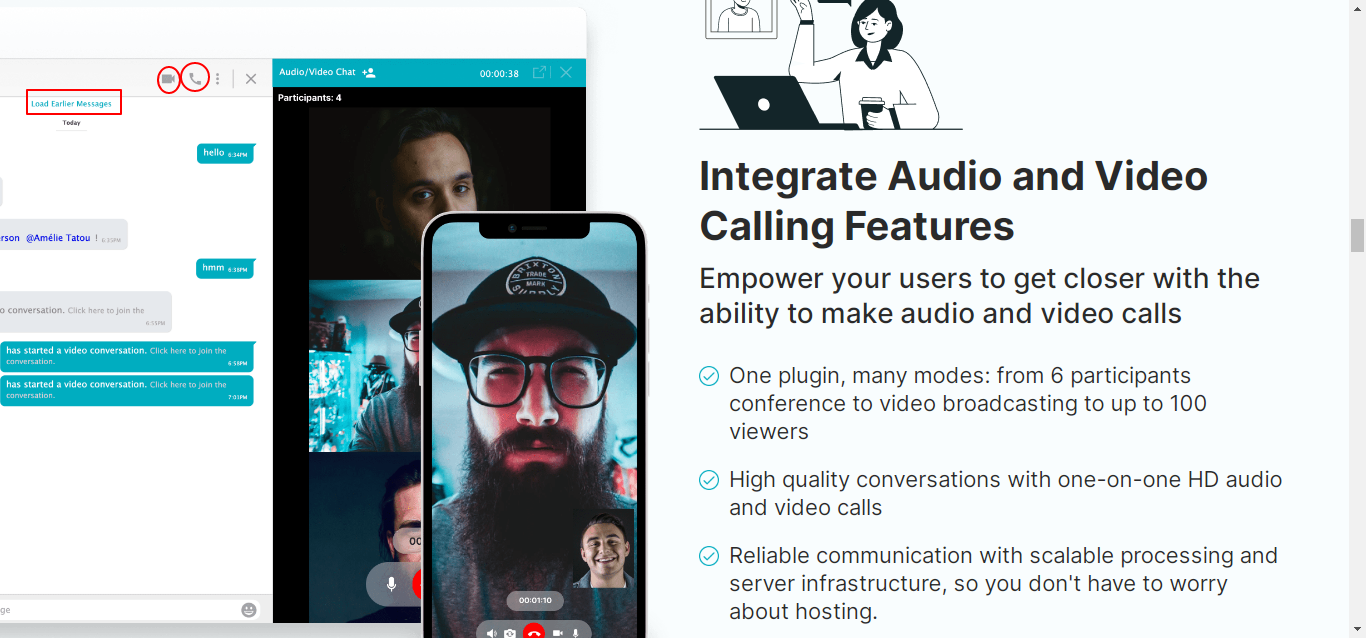 Collaborative Whiteboard
AtomChat has a built-in whiteboard feature that promotes better team collaboration. The plugin's virtual whiteboards simulate a physical board. They can be written on and erased.
For online schools and forums, this feature is particularly helpful for better tutorials.
White Labeled Apps
What if you want to take AtomChat beyond your website? Say build a social app for your customers? Well, AtomChat offers Whitelabel licenses for both desktop and mobile devices.
Once you request, you'll get the licenses to integrate AtomChat into your chat application to match your brand.
You'll be able to completely brand chat applications for both mobile and desktops and control logos, brand images, themes, fonts, and font sizes.
Intuitive Admin Panel
The AtomChat admin panel has an intuitive UI that helps to ease navigation and data analysis. From the dashboard, you easily see the level of user engagement your website has had. You can then navigate to other parts of the AtomChat application from the left-hand side.
Atomchat Pricing
AtomChat's pricing plans are four:
Lite
AtomChat's Lite tier supports access for up to 10,000 active users, group text chat, a 1MB limit per file sharing, user reports, and 500MB storage. It costs $49 monthly and $192 when paid annually. This plan is best for small businesses looking to build chat forums for a still-growing user base.
Startup
Startup pricing offers you everything in the Lite plan plus audio and video conferencing with support for audio-only calls, the ability to set roles and moderators, and no AtomChat branding. You can access 1GB of storage and a 7MB limit per file. It also supports up to 25,000 active users. It costs $99 monthly and $384 when charged annually.
Growth
Growth supports 50,000 active users. It features advanced AtomChat features like real-time translation, voice notes, location sharing, and even integration with a payment processor. In this plan, you get 5GB of chat storage and a 20MB limit per file share. Growth costs $199 monthly or $792 annually.
Mega
Mega is AtomChat's largest pricing plan. It allows up to 75,000 active users, collaborative screen sharing, and the ability to request Whitelabel desktop and mobile apps. This plan costs $229 per month and $912 when paid annually. You get access to 10GB storage and a 20MB limit per file share.
AtomChat Integration
Integrations are a necessary part of SaaS apps that are looking to ease data transfer and serve their clients better. In today's world, most clients now choose plugins that enable easy and one-click integrations with other applications.
AtomChat has built 30+ integrations to make it easy for website owners to add the plugin to their chat websites. Some AtomChat integrations are WordPress, Joomla, Ning, Drupal, Shopify, BuddyPress, Bubble, and Teachable.
AtomChat Pros
Easy for WordPress users
30% of the internet today is powered by WordPress. AtomChat makes it super easy for WordPress users to integrate the plugin with their sites using an AtomChat WordPress plugin that immediately enables video conferencing and team collaborations.
Collaborative Features
Teams use AtomChat to easily collaborate online. The group chat allows any user to create an unlimited number of groups and invite an unlimited number of other users to join them. These chats support the sharing of files that are held in AtomChat's database for several months. Other AtomChat collaboration features are screen sharing, whiteboards, and conferencing.
Integrations
AtomChat integrates with more than 30 websites to bring real-time text chatting and user conferencing to them. This web application supports integration with popular sites like WordPress, Joomla, Shopify, and Drupal, to niche sites like Teachable and MooSocial.
Audio and Voice Video Calling Features
Most users today prefer audio notes and videos to text chat, and so any website that does not incorporate them loses lots of customers. AtomChat offers modern audio and video features that allow one-to-one, group, and broadcasting conferencing.
White Labelled Apps
AtomChat offers white-labeled apps for online entrepreneurs who are looking to create an online community or launch a new course. The licenses for both desktop and mobile allow you to completely customize the AtomChat plugin to match your brand.
AtomChat Cons
No Built-In Customer Support Feature
AtomChat does not support customer service software. You can only use the software for online chats and tutorials. This forces website owners to install extra plugins for live chat support.
Limited Reporting Capabilities
We found in our AtomChat review that the reporting feature is very limited. You cannot generate advanced user analytics or even export data without contacting the AtomChat support team.
Conclusion
AtomChat allows small to medium-sized businesses to create courses and social communities where customers and team members collaborate and share information.
We recommend AtomChat for unlimited user collaborations to boost engagement. Try AtomChat for free.
If you are using WordPress for your website, you can check our detailed article about WordPress plugins that give the possibility to add a live chat:

As one of the co-founders of Codeless, I bring to the table expertise in developing WordPress and web applications, as well as a track record of effectively managing hosting and servers. My passion for acquiring knowledge and my enthusiasm for constructing and testing novel technologies drive me to constantly innovate and improve.
Expertise:
Web Development,
Web Design,
Linux System Administration,
SEO
Experience:
15 years of experience in Web Development by developing and designing some of the most popular WordPress Themes like Specular, Tower, and Folie.
Education:
I have a degree in Engineering Physics and MSC in Material Science and Opto Electronics.