Are you doing affiliate marketing consistently? Affiliate tracking software is a need of the hour to gain better results in affiliate marketing. This software is important for improving the progress of your marketing campaigns.
In a hurry? Here is a summary of the best affiliate tracking software:
World-class affiliate marketers are using trackers to gain better results. Most affiliate tools incorporate AI to facilitate the work and minimize losses or maximize earnings for each affiliate program.
Many reliable features can help you have a detailed insight into your business. You will also get many customization options along with reporting and payout automation.
To help you with this process, the following are some of the most reliable affiliate tracking software that you can rely on to get the best results. You can choose the one that suits your budget after going through their features and pricing plan. Let's get started and have a look.
What is Affiliate Tracking Software?
An affiliate tracking software is a service that improves and tracks the referrals made by your running affiliate marketing campaigns. This software is mostly used to check insights and analytics about conversions and which landing page or ad is converting best.
These tools are used by expert affiliate marketers who want to manage all their affiliate marketing programs from one place.
The Top 12 Best Affiliate Tracking Software of 2023
These are the top affiliate tracking tools to help you gain better results.
*Pricing – the cheapest package, monthly price
*Events – Number of clicks/conversions/visits per month in the cheapest plan
Voluum is an affiliate marketing tracking software that helps track, optimize, and automate your affiliate links and campaigns. You can also rely on it to integrate the traffic sources with it. The best thing about this tool is that you can easily control your advertising efforts on a single platform.
Currently, Voluum is collaborating with more than 100 affiliate marketing companies to excel in their growth and performance. With the help of this tool, you can also utilize the reliable server to server postbacks. The benefit of using this tool has a superfast reporting system.
Features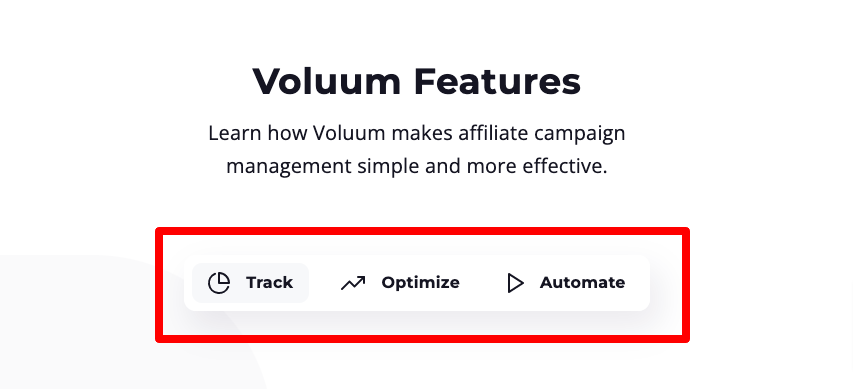 It allows you to keep ad tracking for both mobile and desktop versions.
Because of its super-fast reporting, you will not be missing any conversion.
You can monitor the campaign metrics, including costs and profits, clicks, and visits.
Voluum provides API access and other features to make it automated.
Run A/B tests to find out which ads or campaigns convert better.
Pricing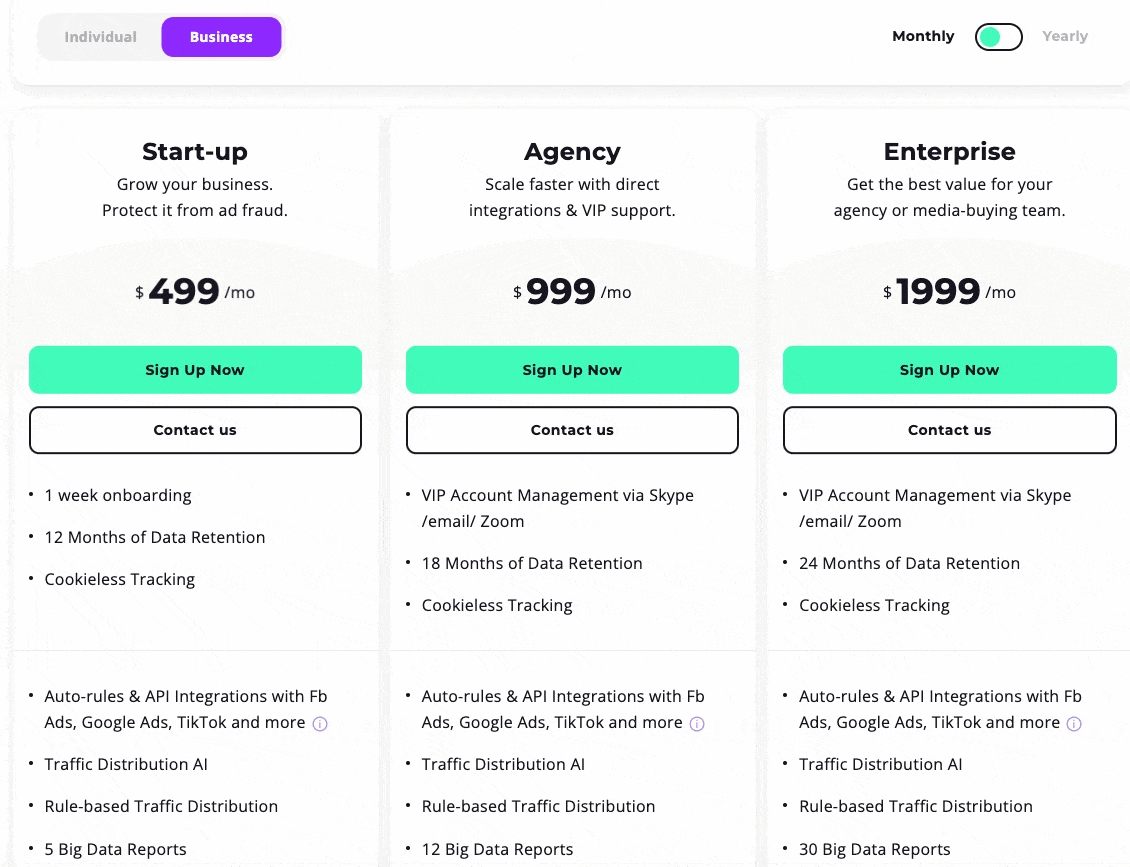 There are two types of pricing plans available for this service, including the individual and business plan. You will have three categories for a business plan, including the startup plan, agency plan, and Enterprise plan. These plans are available for $499, $999, and $1999 per month. You can choose from a discovery plan, profit plan, and scale plan for individual plans. The prices of these plans start from $89, $149, and $299 per month.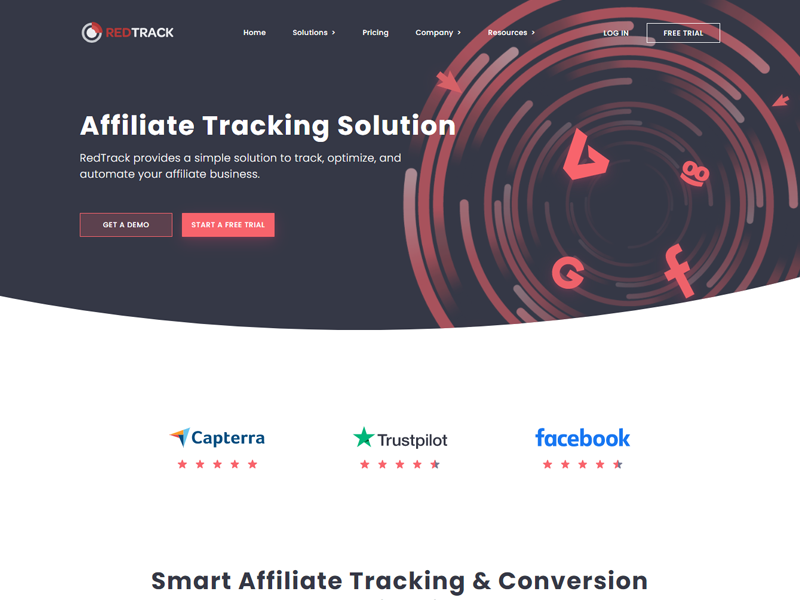 RedTrack is an all-in-one cookieless affiliate conversion tracking solution that provides simple tracking and optimization for media buyers. Experts highly recommend the affiliate features of this tool.
You can also use it for auto-optimization, e-commerce, and publishing. The pricing plan of RedTrack is also affordable, and if you want to generate better revenue, you should use it. It also has great integration with many social media platforms. It helps in attributing all the conversion events. Moreover, you can also analyze and optimize in real-time when using this tool.
Features
You can monitor everything in one place. It comes with very easy ad tracking.
It gives you a higher ROI by optimizing the ads. It uses variance reports and multi-level breakdowns.
Many A/B tests, filters, and rotations are available to maximize the conversions.
Smart alerts are also available to increase the performance of the business.
Pricing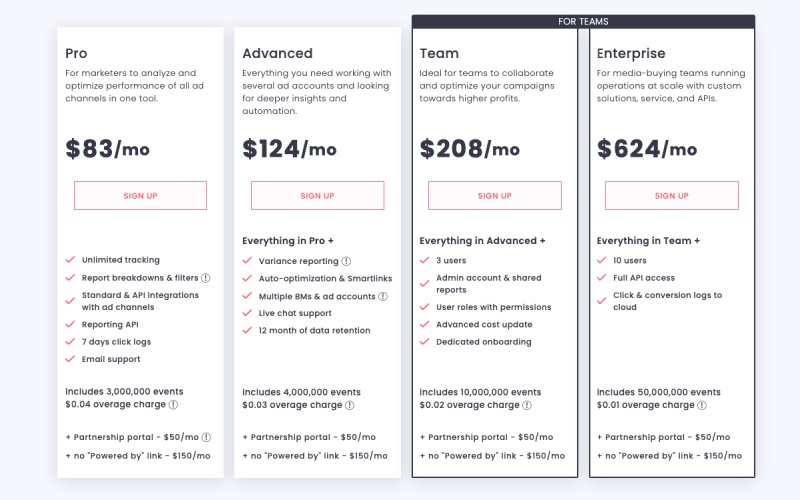 There are four pricing plans for this tool. You can choose from the pro, advanced team, and Enterprise pricing plans. You will have to pay $83, $124, $208, and $624 per month. For advanced plans, you will have more users.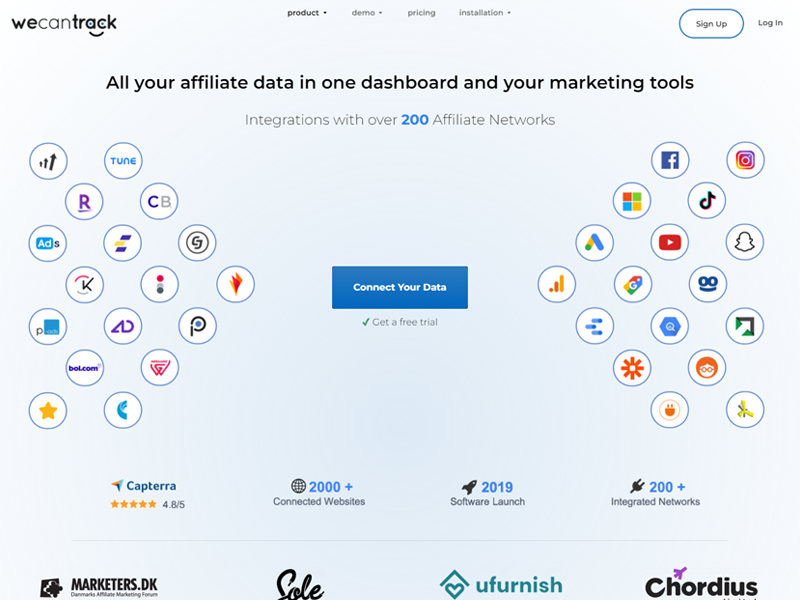 Wecantrack is a free affiliate tracking tool will help you collect your affiliate programs in one dashboard. This tool has many benefits because of its integration with more than 200 affiliate networks. It also shares the reports of direct partnerships and you can gain a full view and insights into your conversions.
Wecantrack is also helpful for other processing of data and reporting and attribution of necessary data sources. Companies looking for a tool that will help them place their data in one place and manage their traffic can rely on this tool.
Features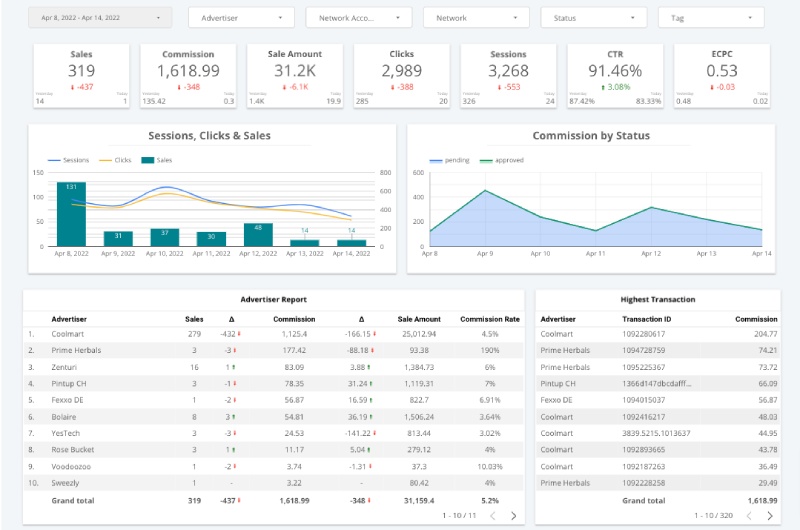 This tool has a feature for tracking the affiliate conversions data and E-Commerce conversions.
Google analytics help in delivering the details and transparency on the performance.
Another amazing feature that this tool holds is the feature of website automation.
It also has the feature of funneling your campaigns and optimizing them accordingly.
Pricing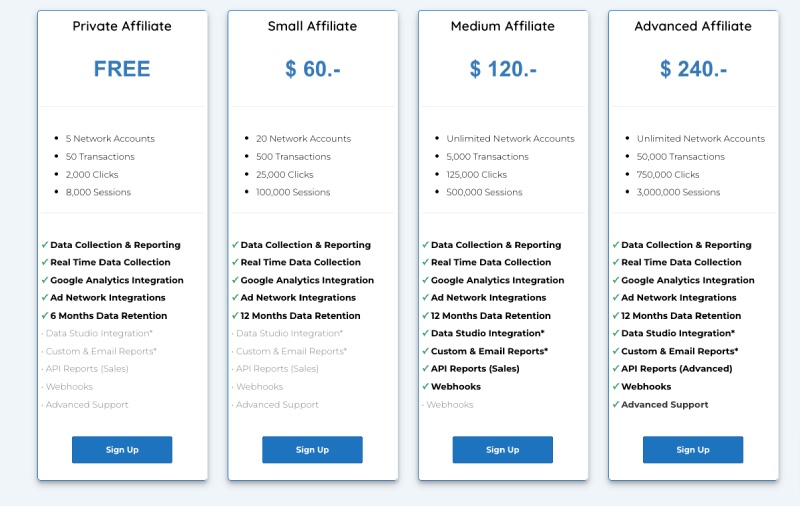 There are three pricing plans available for using this tool. It is important to know that the private affiliate program is for free and you can use 5 network accounts and make 50 transactions. To get access to small affiliate, medium affiliate, and advanced affiliate programs, you will have to pay $60, $120, and $240.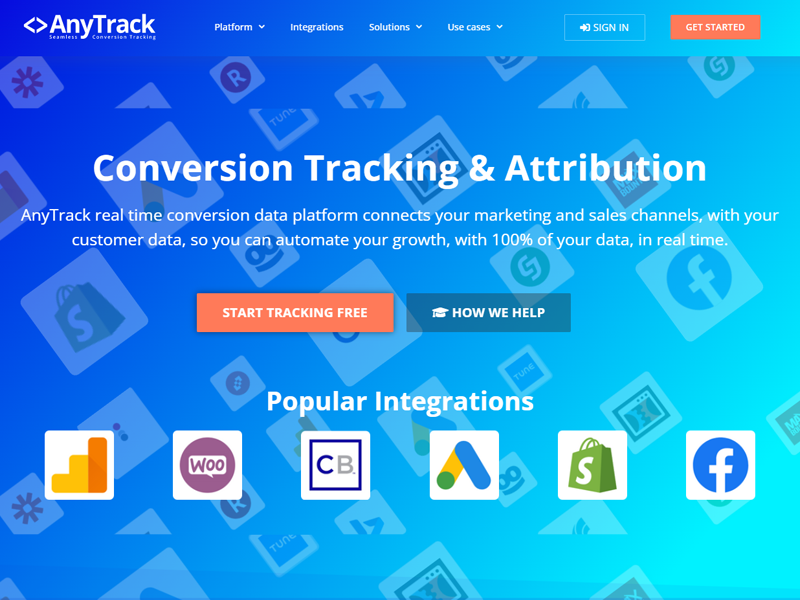 AnyTrack is a cheap affiliate conversion tracking and attribution software that connects your marketing with customer data to automate and scale the growth. You can use this tool to lead funnels for your data and optimize your affiliate campaigns.
Many different e-Commerce funnels are present in this tool to track your customer's journey. You will also have access to authority blogs and information related to target customers. Experts love using this tool because it helps tell details about offline conversions and integrates with popular tools.
Features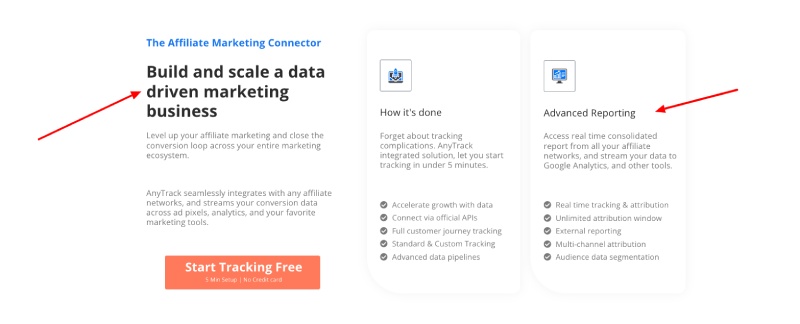 With the help of this software, you can easily track and attribute conversions.
The setup for this software is instant and you can get real-time validation.
It will also allow you to have an eye on the auto-tracking of the events.
You can also auto-detect offer links and forms.
The feature for audience data segmentation is also available using this tool.
Pricing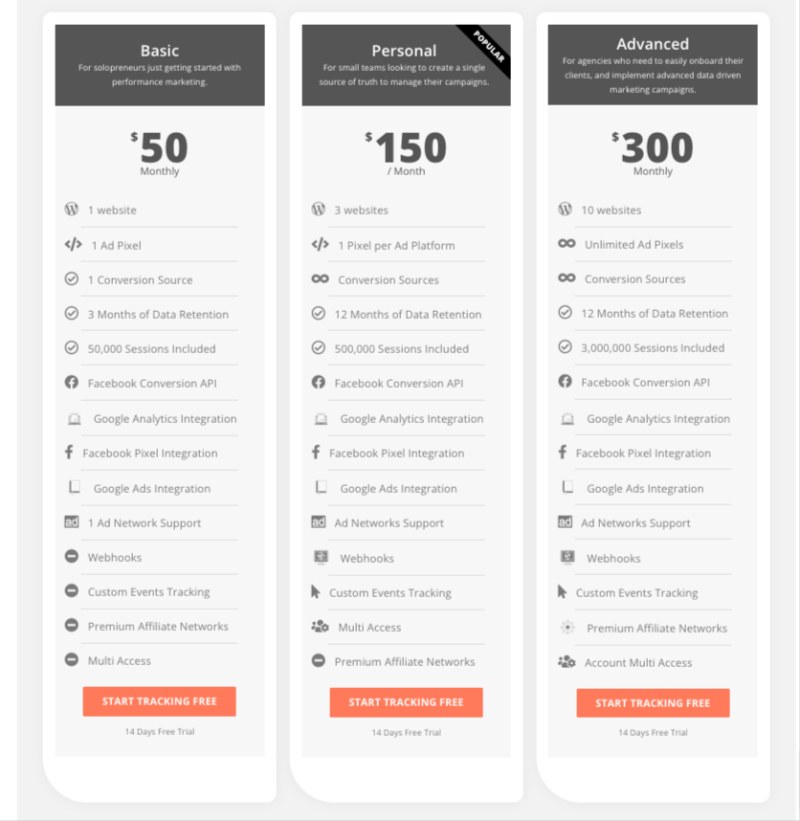 There are 3 pricing plans available for this tool. You can choose from basic, personal, and advanced plans. You will have to pay $50, $150, and $300 per month for these plans, respectively.
BeMob is considered one of the best tracking software for media buyers and marketers dealing with affiliate programs.
It is one of the best ways to solve all your problems and advertising challenges. This tool is the most reliable tool for tracking, managing, and analyzing data reports. You can also use this tool to optimize the performance of your company. It is also easy to collaborate with other teams.
Features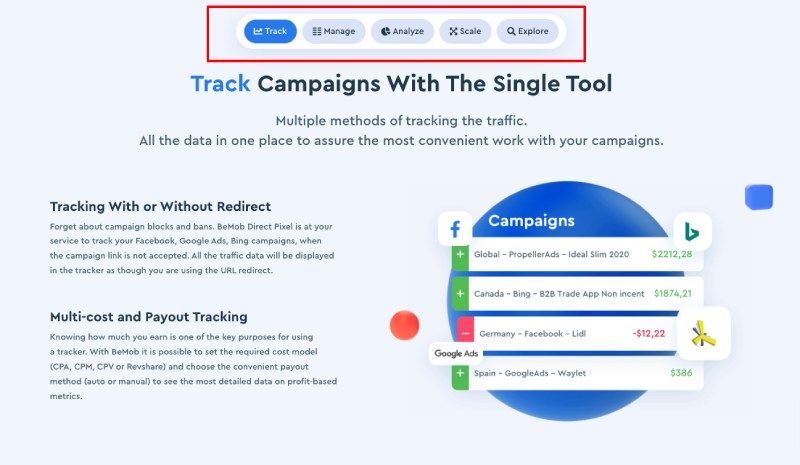 This tool helps track the campaigns of your business with redirects or without.
With the help of the redirect, you can also track the record of the traffic data on the dashboard.
The pricing methods and plans are simple and there is also an option for payout tracking.
Multi-offers and landing tracking are also available to enhance the performance of the business.
Pricing

There are 4 pricing plans available for this software. You can easily choose from the 4 plans, including basic, professional, business, and enterprise. The basic plan is available for free and has data retention for 3 months. You will be paying $49, $249, and $499 per month for other plans.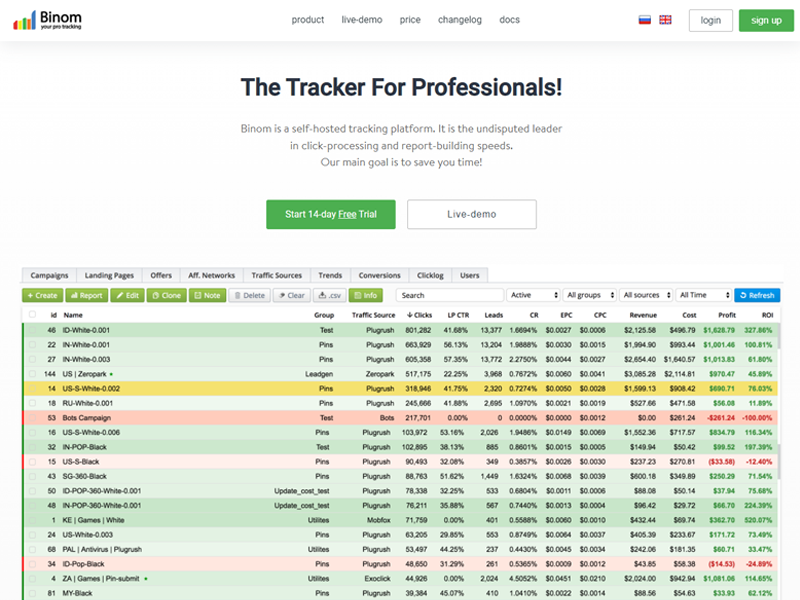 Binom is a self-hosted tracking platform that excels in speed. It is a leader in click-processing and report-building speeds. With the help of this tool, you will have access to Instant click processing, where you can track your data.
Many quick report options are also available and you will have all the analytics of your campaigns in a few clicks. Professionals recommend this tool if you are looking for something that saves your time and increases the efficiency of your business. Moreover, you can also create hundreds of reports and get the results.
Features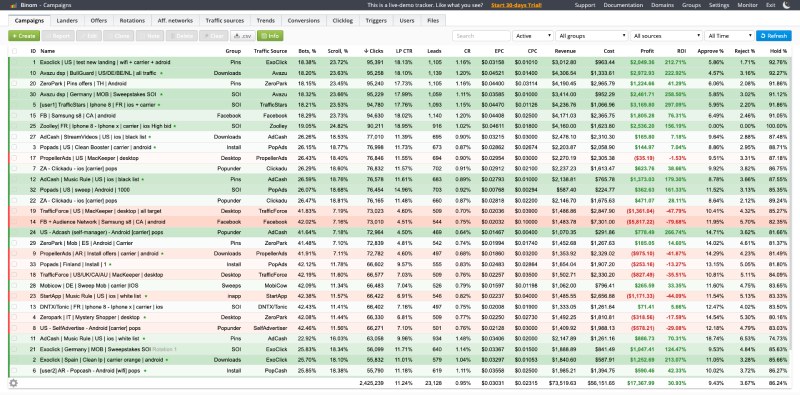 The best feature of this tool is that you will have a 30 click parameter along with the bot identification and proxy traffic for your business.
The software also helps in running the traffic without worrying about the redirects.
You can also import the cost of clicking from the traffic sources easily.
It also has a feature of updating the costs by just putting on the tokens and updating the batch for all campaigns.
There are unlimited additional domains present in the software.
You will also have the ability to transfer the status of your conversions.
Pricing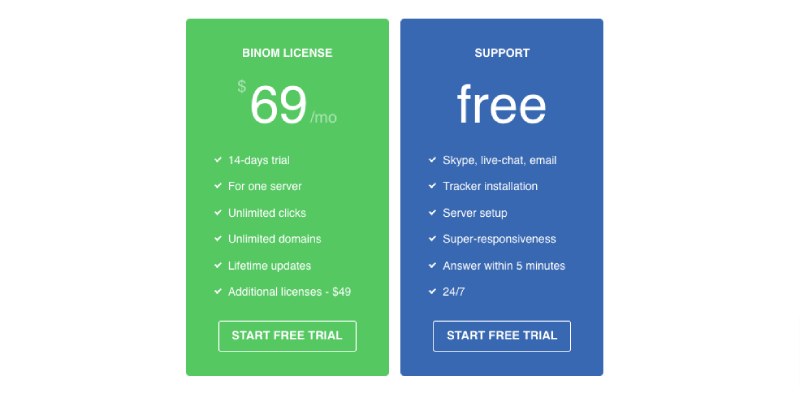 The pricing of this software is reasonable and you can get the license for this software for $69 per month. You will also have the support of the team available for free.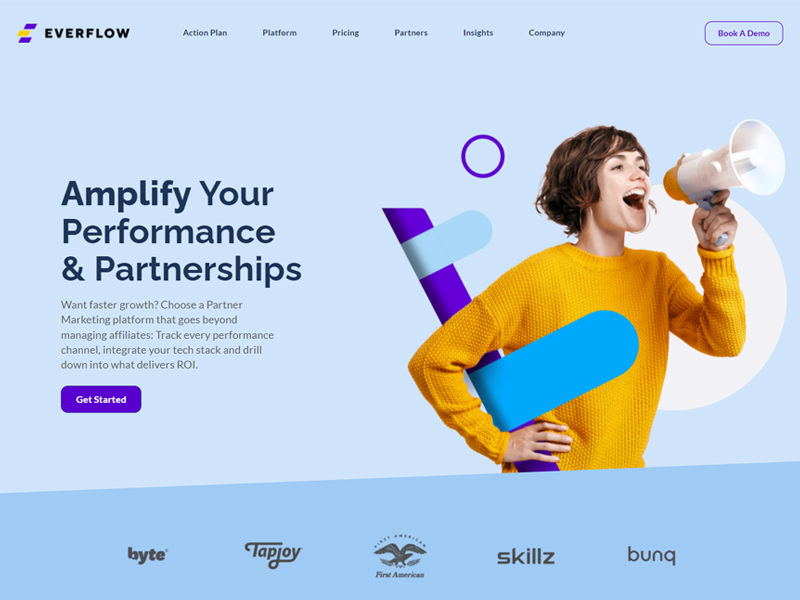 Everflow is perfect for employing the performance and partnership of your affiliate marketing program. It is more suitable for big brands and agencies. With the help of this tool, you can easily track every performance channel.
It is also easy to drill down into your ROI by using this platform. You can easily manage more than one partner and your affiliate dealing with them. It also provides you Agencies options where you can grow your relationships with the clients. If you're looking for an affiliate tracking software that helps you with automatic blocking, this is the best option.
Features
it has an amazing feature of writing everything along with giving you an insight into the emails, customer journey reports and referrals.
It also makes it easier for you to understand the software deeper.
It simplifies tasks for you because of the pre-built integrations.
There is also an option of direct linking where you can track the journey of the user when they reach any of your websites.
There are also multiple coupon codes and rewards available.
Pricing
The pricing plan of this platform is pretty simple and you just need to pay $750 dollars per month to get access to its features.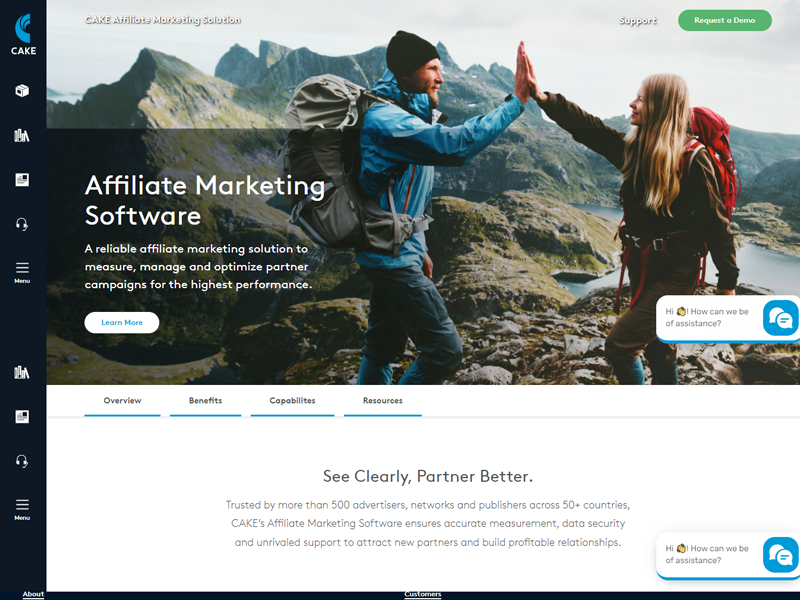 Getcake is affiliate marketing tracker that helps manage, measure, and optimize your affiliate business's performance. It has a powerful capacity to accelerate the strength of your marketing strategies and campaigns. It also improves intelligent marketing decisions by giving you insights regarding customers' activities.
It has the most amazing services for affiliate marketing, lead generation, and multichannel marketing. If you are looking for something that will easily manage the efficiency of your partner's marketing program, you need to get your hands on this software as soon as possible.
Features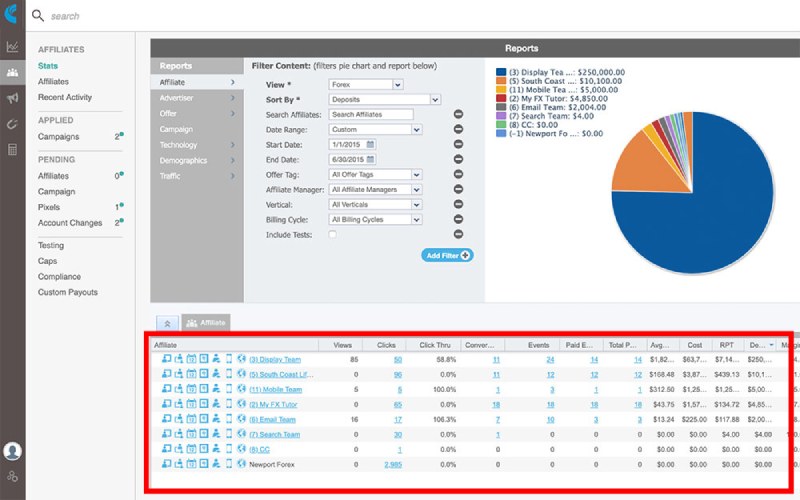 This will help you and elevate your performance because of the presence of the smart insight feature.
It is easy to maximize your traffic and control the number of visits by using this tool.
This tool also helps monetize the traffic and ensure accurate click conversion payout.
There are also features for safeguarding your business with enterprise reliability and an uptime of 99.99 percent.
Pricing
It has a free trial, but you need to get in touch with the company to know the pricing plans.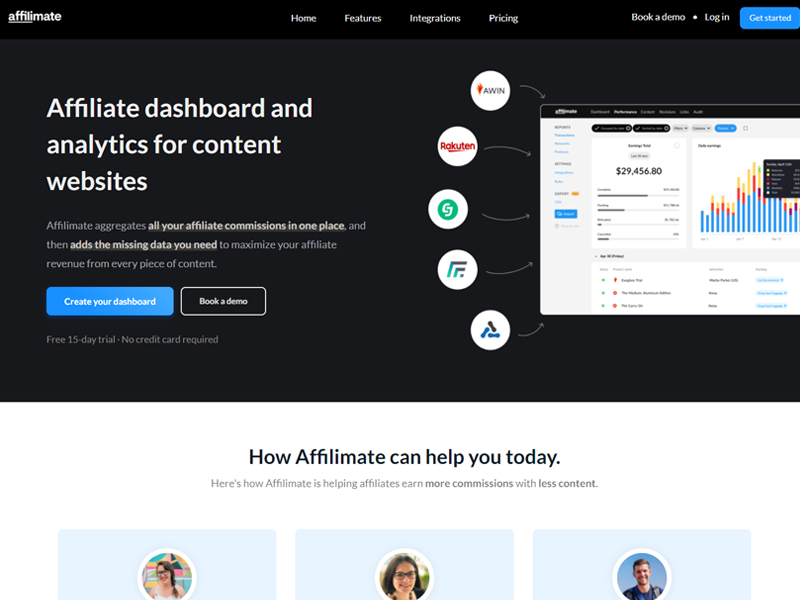 Affilimate is considered one of the most powerful affiliates marketing and tracking tools for content websites and blogs. It will help you in providing the best combination of reporting from platforms. You can also use this platform for aggregating marketing campaigns.
It is automatically integrated into your content website by identifying affiliate links and aggregating all commissions into one dashboard. Also, with Affilimate you can track which of your website pages/posts is generating the largest amount of commissions.
Features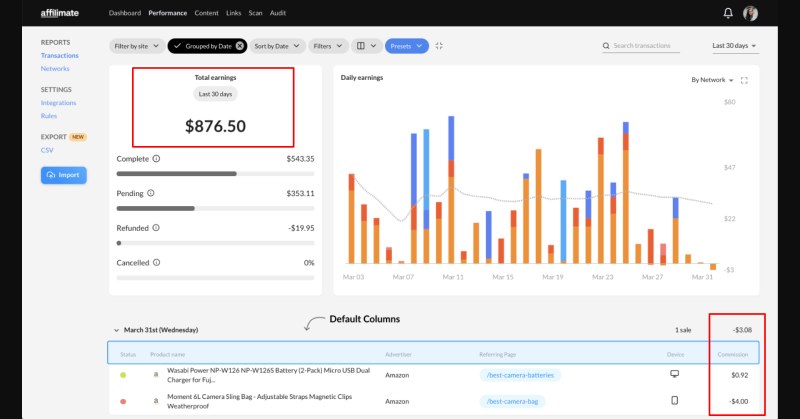 This software will provide you with the option of integration with dozens of affiliate networks and programs.
You will have insights into the revenues from all the websites in one place.
Increase conversion rate for each content page by providing automated reports.
Pricing

The pricing plan of this software can be customized according to your requirements. You can pay $99 per month for up to 500K links.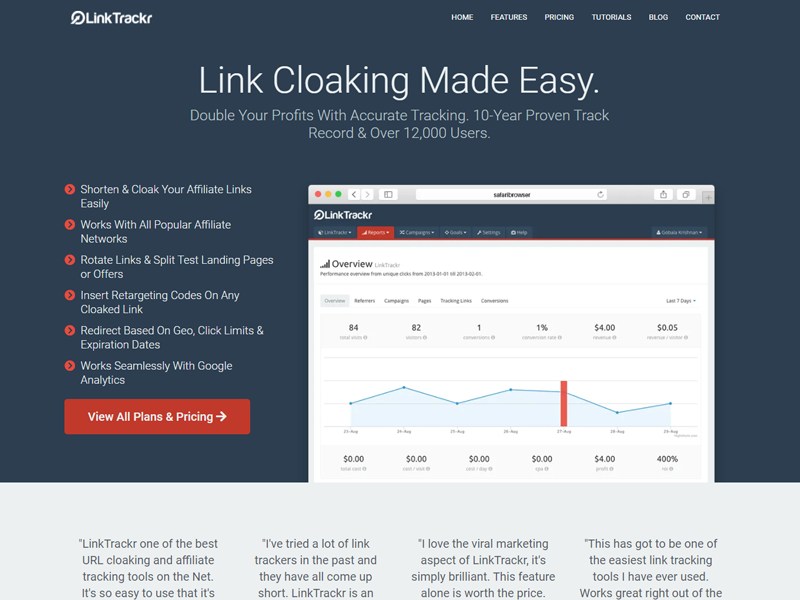 Linktrackr is an ad and link tracking platform that provides URL cloaking. With the help of this software, you can easily show returns and make your affiliate links visible. Another option is to rotate these links and split the test planning pages without struggle.
Linktrackr is easy to use and provides simple and great tools for tracking affiliate links. It is also integrated with Google Analytics.
Features
With the help of this tool, you can easily do the link cloaking for your affiliate links and improve viral marketing.
Conversion tracking is also because of the excellent and efficient iframe in the JavaScript interface.
You will also have access to the URL rotator, which will help split your traffic across multiple landing pages.
With the help of split testing, you can also improve the conversion rate.
Pricing
There is a 30-day risk-free guarantee available for this software. There are 4 pricing plans available for this tool. You can choose a basic plan, pro plan, hyper plan, and extreme plan. You will only need to pay $7, $17, $27, and $47 for these plans.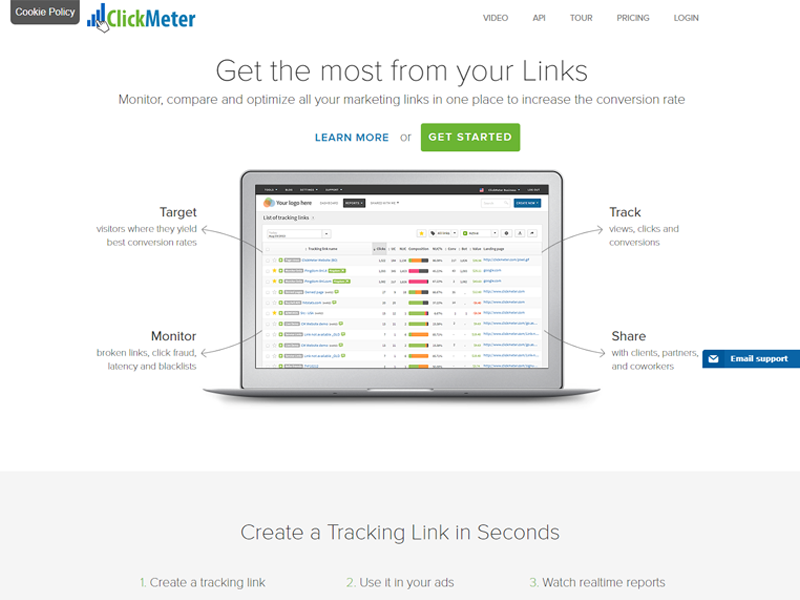 If you want to get your hands on the best link for marketing and optimizing your affiliate program, then this is your favorite option. You can easily rely on this feature to increase conversion rates. This will also help you in keeping a close check on the dashboard.
Features
This tool assists you in targeting visitors.
You can also monitor broken links, blacklists, click frauds, and latency.
It is easy to share the parameters of your affiliate program with your clients, patterns, and coworkers.
Pricing
This tool comes with a 30-day money-back guarantee. Many plans are available for this platform, including medium, large and x-large programs. You will be paying $29, $99, and $349 per month.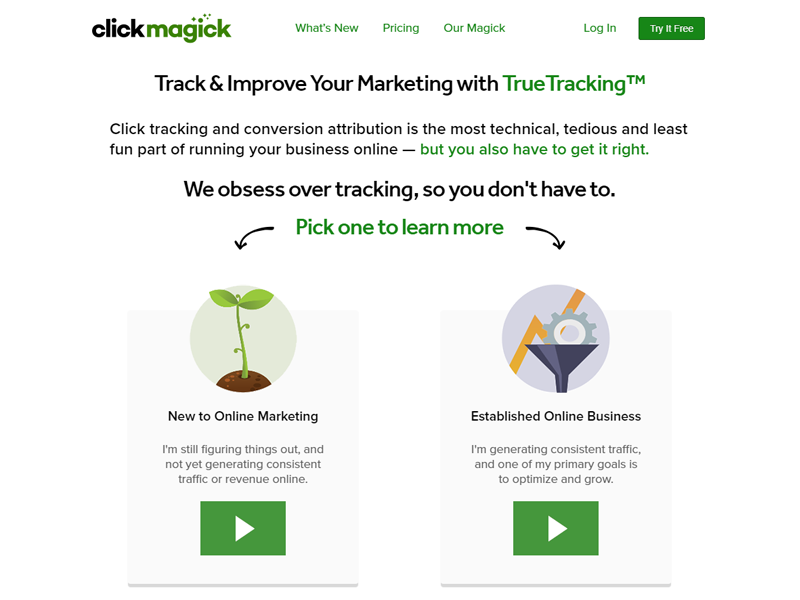 ClickMagick is a marketing tool that helps you with click tracking and conversion attributions. It is a good choice for beginners and large online businesses. To keep a check on the performance of your business, this tool will also give you a clear insight into the conversion rates. Along with the presence and availability of affiliate networks, it also gives you the options for auto-responding and CRM.
Features
The most beneficial feature of this tool is that it provides you with an overview of your marketing metrics and results.
With the advanced feature of the link trackers, you can easily optimize your entire sales funnel.
Another important advantage of using this tool is bulletproof cross-device tracking.
You will also have access to Facebook conversions along with API integration.
Pricing
This tool is available for a 14-day free trial and it can easily be set up in minutes. Three types of plans are available for this tool, including the startup plan, standard plan, and pro plan. You will be paying $37, $77, and $197 per month.
FAQs of Affiliate Tracking Software
How do I track my affiliate link?
Affiliate link tracking has two scenarios:
Link and partnership tracking – track all your business affiliate links and referral partnerships with third-party individuals and companies with tools like PartnerStack and Impact. These solutions are suitable to create your own affiliate program.
Affiliate marketing campaign tracking – track all your investments and affiliate earnings/conversions into one dashboard like Voluum. It is more suitable for affiliate marketers with various campaigns or online businesses.
You can also track affiliate links on your WordPress website using free plugins like PrettyLinks, but it is not possible to track conversions and earnings with this tool. You can track only clicks.
Is there any Free Affiliate Tracking Software?
Yes, there is multiple free affiliate tracking software available online. But there is a question on reliability and functioning. If you want to get the best results and high functionality of the affiliates, you must choose the best ones.
Is there any Open-Source affiliate tracking software?
PeerClick is an open-source affiliate tracking software that offers a totally free version downloadable from Github. They also provide premium versions that are more suitable for businesses. You can start with the free version to get a try of the key features.
What is an affiliate tracking code?
The affiliate tracking code is a code that specifies the affiliate program's postback URLs/pixels. The URL is then called by an affiliate network every time a conversion occurs. When calling the Postback URL, the affiliate network passes contextual data such as the conversion value, the product name, etc, back to the tracking software you are using.
How to choose affiliate tracking software?
When choosing an affiliate tracking tool, you should look at these specifications and ask these questions:
Pricing – has it an affordable price for your business?
Affiliate programs/networks integrations – does it integrate with affiliate programs I use?
Reporting & Automation – Does it provide advanced reporting of conversions and various automation?
Number of Events allowed/month – Does it support my campaign traffic?
Conclusion
The above-mentioned software are the best affiliate tracking software for 2023. Using these trackers will help you get a better insight into your business and the traffic of the visitors.
All of these tools have different prices and you can choose them according to your requirements. The features will also help you to choose based on integrations with ad/affiliate networks, postback functionality and more.

Ludjon, who co-founded Codeless, possesses a deep passion for technology and the web. With over a decade of experience in constructing websites and developing widely-used WordPress themes, Ludjon has established himself as an accomplished expert in the field.