Building a sales funnel is perhaps one of the most important parts of your digital journey. You have to create a way so convincing that your audience can't resist but convert. Plus, having a great digital marketing strategy also means that you're one step ahead of your competitors. Today we will talk about the best sales funnel software.
So, how can you do that? What is the one thing that can help you excel in the digital world in terms of getting more sales and conversions? The answer is a sales funnel.
Sales funnels are a part of inbound marketing, and the idea of creating a journey for the users through which they can convert easily by following a series of steps looks perfect.
Additionally, considering the fact that there's a lot of competition out there and if you're an innovative buff that this means that you'll be able to make your business stand out from the crowd.
So, today in this article, we'll be covering what sales funnels are, examples of sales funnels, when to use sales funnels, and the best sales funnels out there that you can leverage for your brand.
So, without any further ado – let's start!
What is a Sales Funnel?
Before diving directly into the details, let's first uncover what exactly sales funnels are by definition. So, if you're someone who belongs to the sales or marketing world, you may already know that there's something called buyers journey that the users follow to the point where they convert.
Depending on the type of product or service, it can take comparatively more time to convert the potential visitor into a paying customer. And this is exactly where sales funnels come to change the game.
Sales funnels are used to streamline the process of converting the lead, and they provide the user with optimal experience during the journey, which makes the overall lead conversion process even better and results in a loyal customer.
A sale funnel typically consists of many marketing-related stages, for example, social media campaigns, landing pages, and email. So, what's the role of sales funnel software in the equation?
Well, sales funnel software provides you a holistic view of your sales and marketing efforts.
Through dedicated sales funnel monitoring software, you can easily monitor the performance of your campaigns and instantly fix if something is looking a bit bland, ensuring an optimal experience for the customers.
When Should You opt For A Sales Funnel Builder?
If your someone who is new to the sales funnels building thing that I recommend that you go for sales funnels software. A sales funnel software will enable you to keep your upfront cost to a minimal level by eliminating the cost of a web developer or paid tools.
However, to determine the best sales funnel software, you need to analyze what they're offering to you. For example, a specific requirement would be that you're offering webinars – for this, there is a specific sales funnel software that offers similar functionality that caters to your needs.
Moreover, if you have already signed up for a number of tools, you may also be having access to their costs and what services these specific tools are providing at that relevant cost.
So, here's a list of the tools that I believe are the best for building a sales funnel. If you're already someone who belongs to the modern marketing world, chances are that you may have already heard of them before. Therefore, without any further ado – let's get started.
Best Sales Funnel Software 2021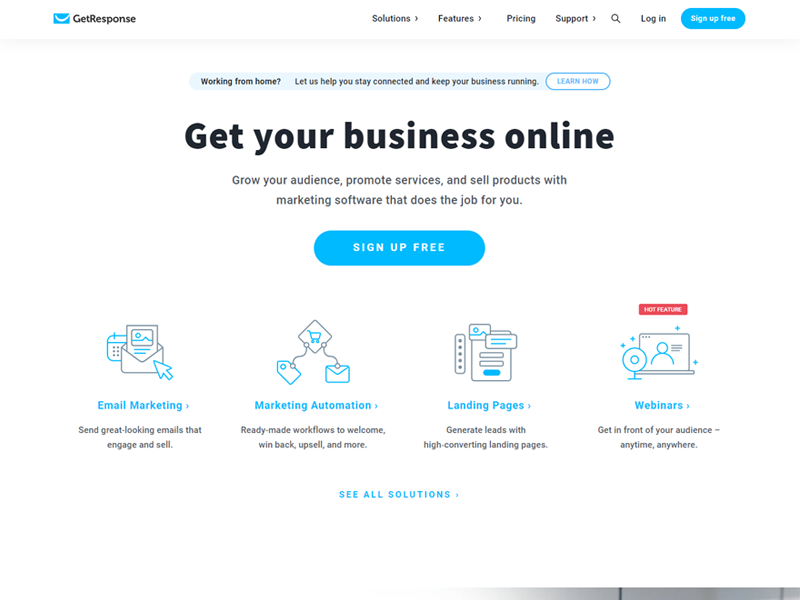 GetResponse is the only complete solution on this list. The developers of GetResponse just recently introduced sales funnel building feature to their marketing software enabling the users to set up various sales funnels.
From social media marketing to landing pages to webinars to email campaigns, this all-in-one tool lets you implement various types of marketing practices.
Furthermore, you get the opportunity to integrate your account to your eCommerce store so that you can sell products through GetResponse.
From a sales funnel software perspective, Conversion funnels are easier to set up in GetResponse. You can even see how your lead moves through the funnel. Additionally, you also get a good collection of newsletter templates for emails and templates for landing pages.
We have also featured it as one of the best email marketing services tools.
Pricing
The plus plan of GetResponse gives you 1,000 users for $49 per month and 10,000 users for $95 per month. Additional features of this package include the following:
3 users
Email marketing
Landing pages
Webinar
Leads and sales funnels
Forms & surveys
Automation
Ecommerce tools
Social media ads
Templates & images
Tracking & reporting
Built-in CRM
The second plan is the professional plan, in which you get 1,000 users for $99 and 10,000 users for $165. This plan has all the features that are included in the plus version and some other features that only come with the pro plan.
5 users
unlimited paid webinars
contact scoring & tagging
automation builder
segmentation
Pros & Cons
+ All in one service.
+ Allows you to see the stages of your funnel and the conversion.
– GetResponse can be pricey because you'll be paying according to the contract size.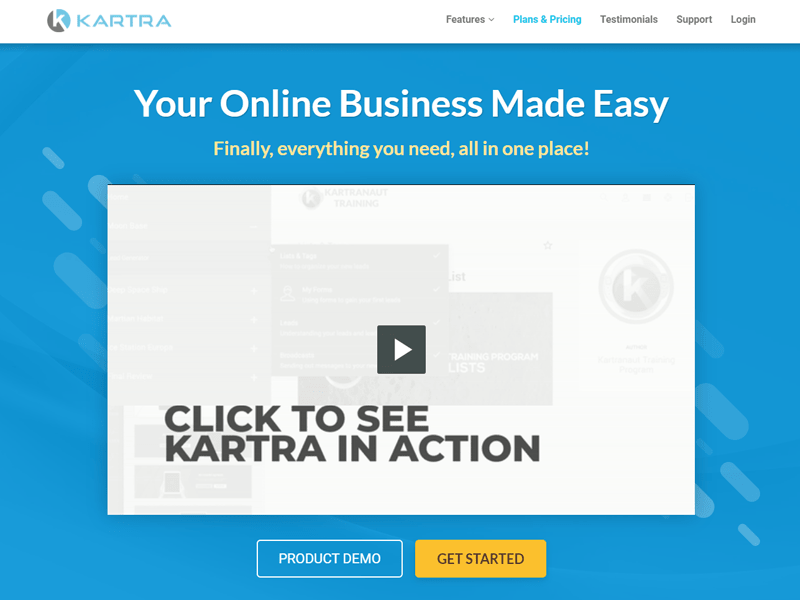 Kartra is yet another great software that provides you nearly every feature to get started with your sales funnel. From a modern website to a page builder to lead database, email marketing automation, and much more, Kartra has a lot of things in the arsenal for you.
That standout aspect of Kartra is that it is super easy to use it. And this is due to their checklist that can be found within their dashboard.
The platform is built to guide the users along the journey of creating a sales funnel while ensuring that you understand each and everything clearly so that you can operate the software like a pro. Kartra can be used also as a membership site platform
Furthermore, you can save a lot of money by investing in Kartra just because what they're offering is comprehensive. However, the cost is related to your contact list, and if it increases, so will your cost.
Additionally, depending on the type of your business, videos may be a part of your sales funnel, and they should be considering the fact that they can be super-engaging.
Kartra supports the hosting and optimization of videos on their platform along with adding opt-in forms and CTA buttons. The best part? Well, after uploading videos, you'll be able to see which videos are being watched by your leads and prospects.
You can learn more about Kartra in our article: Kartra vs Kajabi
Pricing
Kartra basically offers three plans. The first one is the starter plan that you can get for $79 per month, or you can pay $99 for a year. In this plan, you'll get the following features.
Up to 2,500 leads
15,000 emails per month
50GB bandwidth per month
Host 100 pages
Sell 20 products
2 membership sites
1 custom domain.
The second is the silver plan: $149 per month billed annually / $199 billed monthly. Plus, you get the following features with this plan.
Up to 12,500 leads
125,000 emails per month
125GB bandwidth per month
host unlimited pages
sell unlimited products
unlimited membership sites
3 custom domains.
The final one is the Gold plan: $249 per month billed annually / $299 billed monthly. This plan includes the following:
Up to 25,000 leads
250,000 emails per month
200GB bandwidth per month
host unlimited pages
sell unlimited products
unlimited membership sites
5 custom domains.
Pros & Cons
+ The all-in-one nature of Kartra is remarkable.
+ The checklist feature makes it easy to set up multiple steps without being super complex.
+ Training portal for newbies or beginners.
– Limited list of integrations.
– Without the necessary tools, the platform can feel more like a burden.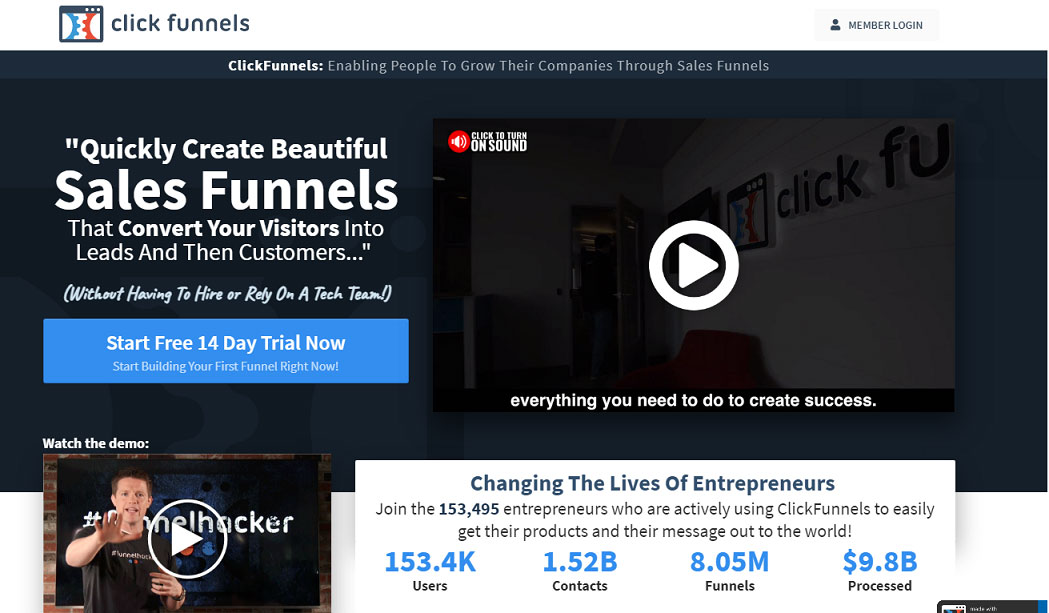 ClickFunnel is yet another great sales funnel-building tool specially designed for SMEs and entrepreneurs. From a seamless coding experience to systemizing online marketing and sales funnel, the tool is equipped with some of the most useful tools that enable you to create well-planned funnels.
Frankly speaking, overly saturated designs, a salesy pitch, or flashy marketing is not considered viable anymore. Therefore, ClickFunnel allows you to create minimal yet effective sales funnels.
As the tool proclaim, ClickFunnel has their own landing page editor that can be used to create sales funnels plus, the entire building experience of sales funnel in ClickFunnel is super easy to understand for beginners.
Additionally, the tool also offers a pop-up editor that enables you to edit your landing pages, making it easier for you to comprehend the looks of your landing page before it is published.
There's only one drawback of ClickFunnel, and that is that I found their templates to be outdated and, quite frankly, lame. The templates give off a feeling of being overly flashy as compared to the templates that other software on this list are providing.
Furthermore, you can also use the help button within the builder that comes with ClickFunnel in case you get stuck anywhere. You can learn more about ClickFunnel by reading our review: ClickFunnels Review
Pricing
ClickFunnel has only two plans for its users. The first one is the starter plan: $97 per month. The starter plan has the following features for the users:
20 funnels
100 pages
20,000 visitors
Unlimited contacts
3 custom domains
A/b split testing
Opt-in funnels
All advanced funnels (sales, webinar, membership)
Order pages and up and down-sell pages.
However, in ClickFunnel, you'll be needing to integrate an email service provider because the email marketing functionality is not included in the starter plan. Moving forward, the second plan that ClickFunnel has to offer is the Etison Suite that you can buy for $297 per month.
Includes every feature that comes with the standard plan
Everything is unlimited
Access to in-built email marketing services
Lead scoring
Advanced segmentation and affiliate management software.
Pros & Cons
+ The funnel builder is extremely easy to use.
+ The 'Cookbook' section is helpful to those who're new to sales funnel building.
– You don't have to pay for the built-in email marketing tool because the standard plan gives you the option of integration.
– The landing page templates are outdated and look pretty salesy.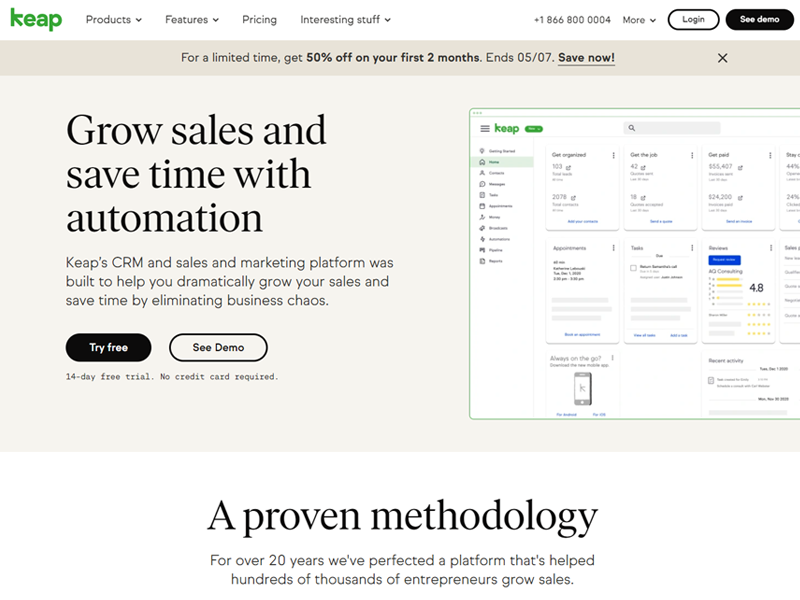 Keap or Infusionsoft is another all-in-one solution that you can leverage to build complete sales funnels. Basically, designed for SMEs, small businesses can use Keap as their CRM, marketing automation, landing page builder, and more.
Moreover, the simple and quick integration of Keap with some of the most well-known eCommerce giants such as Shopify, Magento, and WordPress provides much more added functionality and monitoring from within the software.
Pricing
All the plans in keep are based on 500 contacts and 1 user. You can example the contacts and users by paying more. Generally, there are three plans that Keap comes with, and the first one is the lite plan.
Users can avail of the lite plan for $79 per month. This plan has the following features for the users:
Includes CRM
Segmentation
Appointments
Contact segmentation
Business phone line and text messaging
Invoices and payments quotes
The second plan that Keap offers is the Pro plan that users can subscribe to for only $149 per month. This plan offers the following features to the users:
Advanced automation
Recurring payments
Landing page builder
Sales pipeline automation and reports
And last but not least, The Max plan that users can get for $199 per month. Here are the highlights of this plan:
Includes all the features of the above two plans
Pro features plus analytics
lead scoring
checkout pages and subscription management
Pros & Cons
+ The visual sales funnel is simple and easy to use.
+ There are plenty of options concerning a sales funnel.
– Considering the fact that the software is designed for SMEs, the pricing is a bit high.
– You have to pay a one-time payment of $499 for coaching.
– 500 contacts are not enough as compared to the price tag.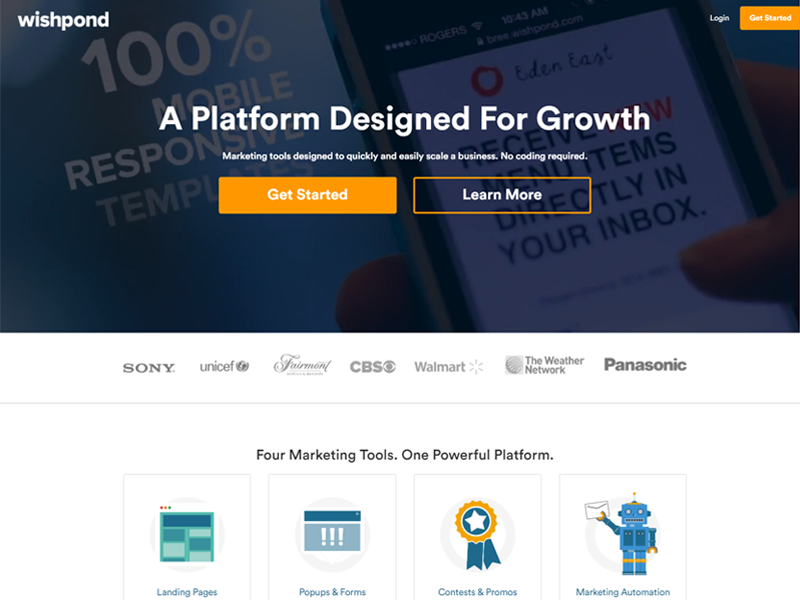 Wishpond is a robust software that again makes it easier for the users to target their audience by enabling them to build more amazing and effective sales funnels.
The tool's standout aspect is that it is super-easy to use, and the features that it offers are advanced, giving the users a strategic advantage in terms of creating and deploying sales funnels.
From allowing you to create effective landing pages to appealing pop-ups to social media contests to email marketing and automation, Wishpond is equipped with some of the most attractive features that make it a remarkable choice when it comes to sales funnel building.
Furthermore, the software is designed to give you everything you need. Hence, it offers eye-catching templates that are customizable and easy to set up.
I believe that the developers of Wishpond didn't have an old-school mentality considering the fact that the tool is equipped with all the modern features that a marketer would require today.
Additionally, marketing automation is super-convenient too. You can also leverage the A/B testing method to check your newsletter emails to determine which one of them is performing better.
Also, the seamless integration of Wishpond with MailChimp and Active-Campaign makes the overall deal even more appealing.
Pricing
The pricing of Wishpond is pretty budget-friendly. For starters, the initial package of Wishpond starts with $75 per month or $49 per month if you're willing to pay for a year. This package comes with the following features:
Unlimited landing pages
social media contests and pop-ups
email drip campaigns
marketing automation
unlimited user accounts
maximum 1,000 leads.
The second package's name represents what the package is all about, and the name is "Everything You Need." This package can be availed by paying either $149 per month or $99 per month for the yearly plan. Here's the feature stack that this plan includes:
Everything in the starter package.
A/B testing
custom CSS and JavaScript
API access
a limit of 2,500 leads.
The third final plan is named after what organizations experience after subscribing to the plan – meet the "Rapid Growth" plan. The pricing starts at $299 per month and $199 per month when billed yearly.
Moreover, the package includes everything from the above two packages plus the following:
First in line customer support
free implementation support
10,000 leads
Pros & Cons
+ Super-user friendly.
+ Attractive templates and advanced automation features.
+ Highly cost-effective option as compared to other software on this list.
+ The limit of 1,000 contacts is enough to get you started.
– No visual sales funnel builder.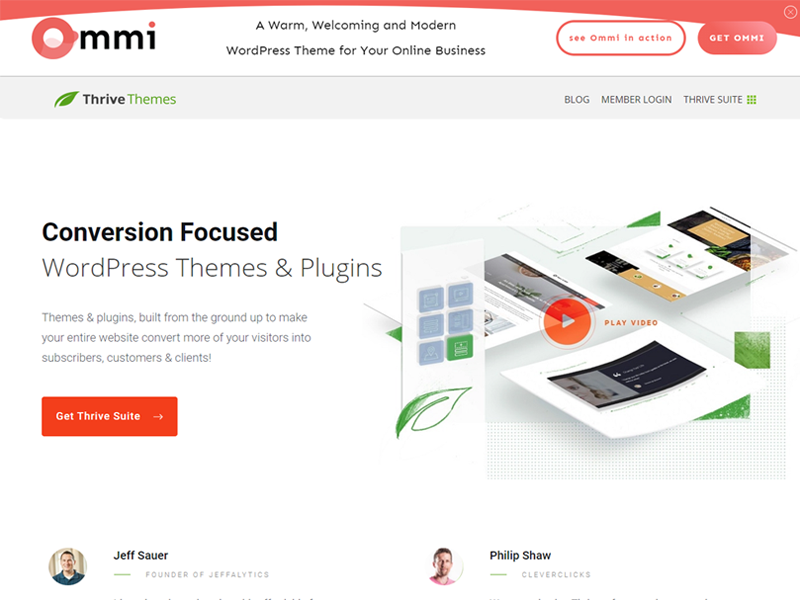 Nearly all of the software mentioned on this list are providing a complete solution; however, it is the offering of features that are making the difference. Thrive Suite is yet another great software that offers a complete sales funnel building solution to its users.
The best part about this software is that it is extremely cost-effective because for just $30 per month or $19 per month if you're going for the annual option, you can get all the standout features of sales to funnel software.
Here are the features that Thrive Suite offers to its users:
Opt-in forms and landing pages with A/B testing
visual drag and drop website builder
widgets
headline optimizer
scarcity campaign builder
testimonials plugin
quiz builder and online course builder
25 sites
Plugins and themes
Considering the features mentioned above, you can pretty much guess that the pricing is very reasonable as compared to other software.
Pricing
There's only a single plan that Thrive Suite offers, and it will cost you $30 if you're going for the monthly option or $19 if you want to pay annually.
Pros & Cons
+ Thrive Suite is super-affordable.
+ The best choice for startups and SMEs.
+ Best option if you're selling courses online.
– The email marketing and automation option is missing.
– The software doesn't have a free trial.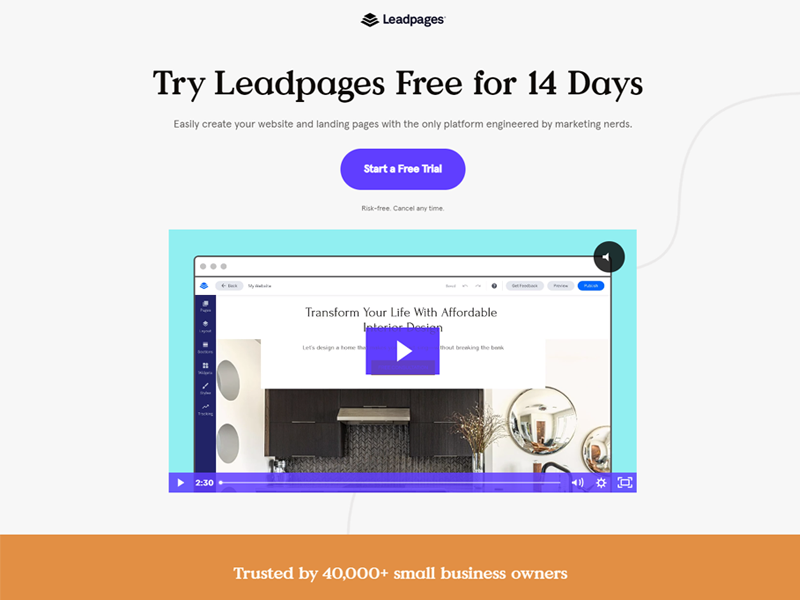 Leadpages is specifically designed for new entrepreneurs because the software itself is super easy to use plus, it allows you to build an entire mobile responsive website from scratch.
The drag and drop editor of Leadpages allows you to seamlessly create a website without the hassle of coding and programming.
Furthermore, the software can also be used to build landing pages, pop-ups, and alert bars. The only disadvantage of this tool is that it doesn't offer an email marketing solution which explains the reason for the software being cheaper.
The best part? While there's a built-in email marketing functionality missing, the tool allows you to integrate email marketing tools. Moreover, you can collect unlimited leads, and you're not charged for those leads in all the plans.
Pricing
Leadpages offer three different options to the users. The Standard, Pro, and Advanced plan. The initial or the starter plan can be bought for $37 per month or $25 per month when billed annually. The following are the features of the Standard plan:
1 website, unlimited landing pages
Pop-ups
Alert bars
Free custom domain (when you're billed annually
Free hosting
Facebook & Instagram ad builder
Weekly group coaching.
The second plan is the Pro plan that starts at $79 per month and $48 per month when billed annually and here are the features:
Everything in the Standard plan
online sales and payments
unlimited A/B split testing on landing pages
10 opt-in SMS campaign
The final plan is the Advanced plan that you can buy for $321 per month and for $199 per month if you're selecting the annual payment method. The features of this plan are written below:
Everything in the pro plan
Advanced integrations
5 pro-sub-accounts
50 extra opt-in SMS campaigns
One-to-one set up assistance
Leadpages virtual workshops
Pros & Cons
+ The software providers charge you the same amount regardless of how many leads you're getting.
+ The template sections are much more modernized and effective.
+ The software allows you to set up your own website.
– No email marketing or automation feature.
– The features are a bit limited as compared to other tools.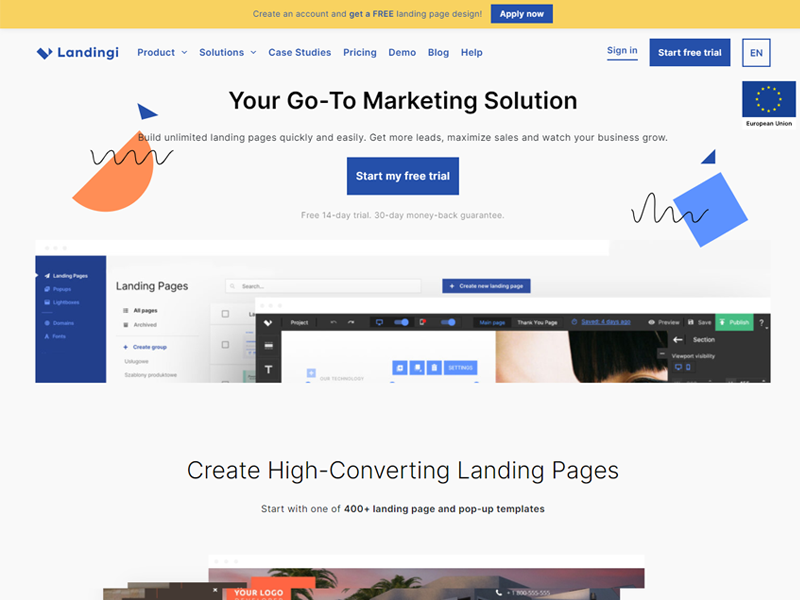 As the name matches the term "Landing," the software's main focus is on helping the users to create amazing landing pages for their audience.
However, this certainly doesn't mean that you can't build sales funnels through their software – you can, but you'll be depending on other service providers to do so.
The integration of a landing page software along with an email marketing provider will enable you to add leads to automation. Landingi does let you sent auto-respond in a very simple way, but I would recommend that you integrate MailChimp or Active-Campaigns for this task.
One thing that makes me want to recommend this tool is the fact that it offers seamless integration with numerous tools, and because you'll be needing other tools for your sales funnel, I believe that Landingi is a perfect choice.
Moreover, the software offers mobile responsive landing page templates that are customizable, and if you're stuck somewhere, you can opt for the live chat option from your dashboard to get your problem solved instantly.
Furthermore, a pro-tip for leveraging this tool would be to be attentive when integrating your landing page form to your CRM or email marketing software because the whole process and aftermath of the integration can get cluttered, leading to disruptive outcomes.
Pricing
Just like any other sales funnel software, Landingi too offers three plans to its user. The Core plan, create a plan, and the Automate plan. All of the plans have their own respective features. Let's start debunking the features of the Core plan first.
The Core plan starts at $39 per month and $29 per month if you're billing annually. Here are the features that this plan comes with:
Unlimited landing pages
Leads
Traffic
custom domains and account users
Drag & drop creator
cloud web hosting
lead inbox
email, chat, and analytics integrations
150 landing page templates
The second plan is the Create plan that you can get for $59 per month or $45 when billed annually. This great plan has the following features:
All the features of the core plan
50 premium landing page templates
Custom fonts
5000 free images library
600 free icons library
Background videos & images and lightboxes
Last but not least, the Automate plan. This plan is available for $79 per month or $59 per month when billed annually. Here's the feature stack of this plan:
All the features of the create plan
Zapier integrations
CRM integration
A/B split testing
Autoresponder and campaign scheduler
Pros & Cons
+ Modern selection of templates.
+ conversion-oriented orientation.
+ Includes a landing page builder.
+ The plans are cost-effective.
– Built-in autoresponders are very basic.
– The integrations and sections are difficult to find.
– Limited sales funnel building capabilities.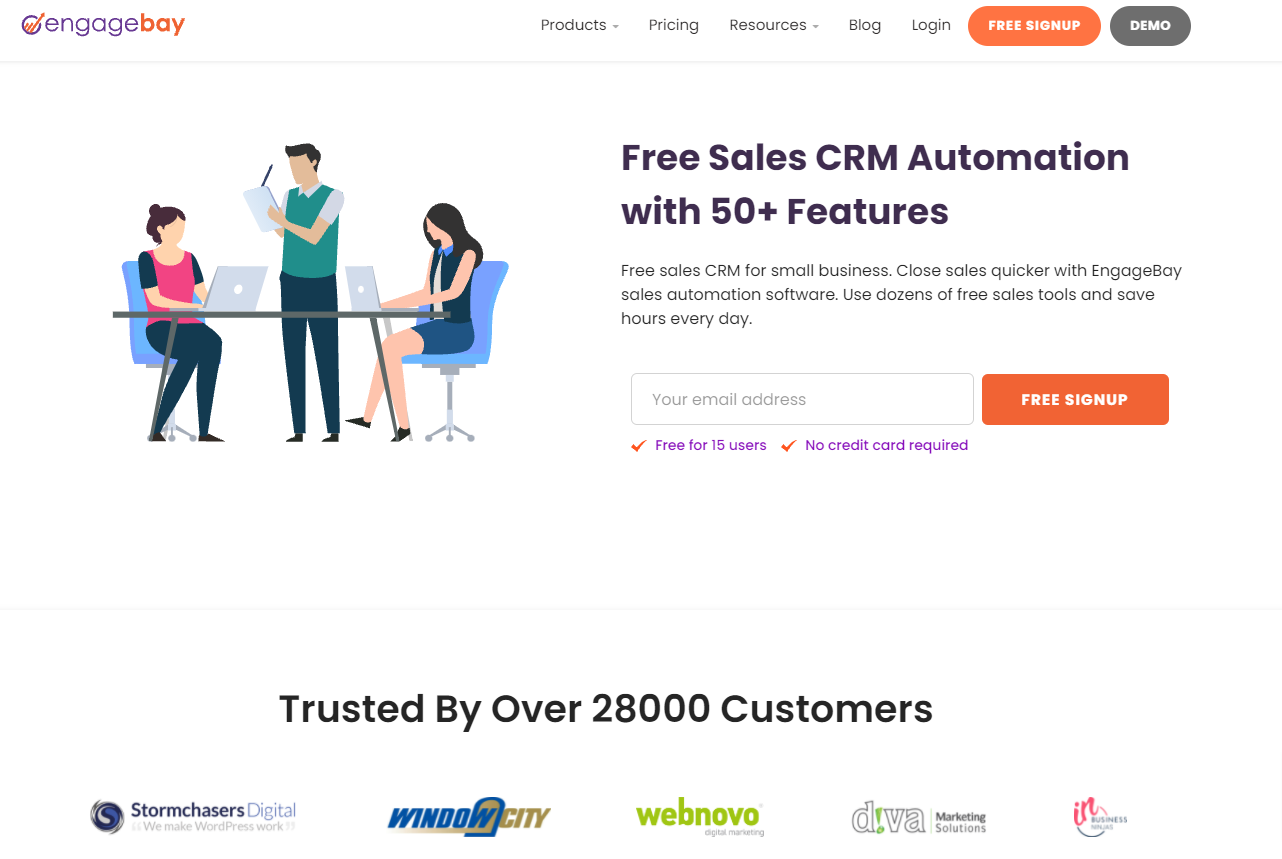 EngageBay is one of the best funnel software for SMBs, startups, and solopreneurs as it offers advanced sales tools at a highly affordable price. Though a newer entrant to the SaaS space, it is loved by over 30,000 businesses around the globe.
It offers everything you need to capture leads, move them down the sales funnel, and close deals. With a centralized CRM, you can collect your customer data and make it easily available for all teams.
With EngageBay, you can have a 360-degree view of your contacts, thus offering deeper insights about your customers and ultimately helping you close deals faster. Deals and task management tools let you manage your deal pipelines, assign prospect-wise follow-up tasks to sales reps, and much more.
With predictive lead scoring, you can see which prospects are receptive to your products or services.
EngageBay also offers appointment scheduling, email tracking, up to 30,000 contacts and emails, deal milestones and tracks, and in-CRM telephony. You can also record calls and get call scripts. There's proposal analytics and reporting to help you gauge your sales performance against plenty of metrics, and users can add their own custom metrics too.
For advanced users, EngageBay offers the ability to code your own landing pages, and build your own custom nodes for automation workflows.
Pricing
EngageBay's CRM & Sales Bay has four plans: Free, Basic, Growth, and Pro.
The Free plan offers:
500 contacts
1,000 branded emails
360-degree contact view
Tag management
Appointment scheduling
Email tracking
Predictive lead scoring
The Basic plan costs $12.99 a month and offers:
1,000 contacts
2,500 emails
Custom deal milestones
Calling minutes
All free plan features
The Growth plan costs $24.99 a month and offers:
Custom deal tracks
Leaderboards
Call reports
Proposals
All Basic plan features
The Pro plan costs $49.99 a month and offers:
Call recording
Account-based marketing
Goals
Conversational inbox
Call scripts
All Growth plan features
Pros & Cons
+ EngageBay offers an all-in-one marketing, sales, and customer support solution
+ One of the most affordable in the market
+ Leaderboards and gamification
– Limited number of integrations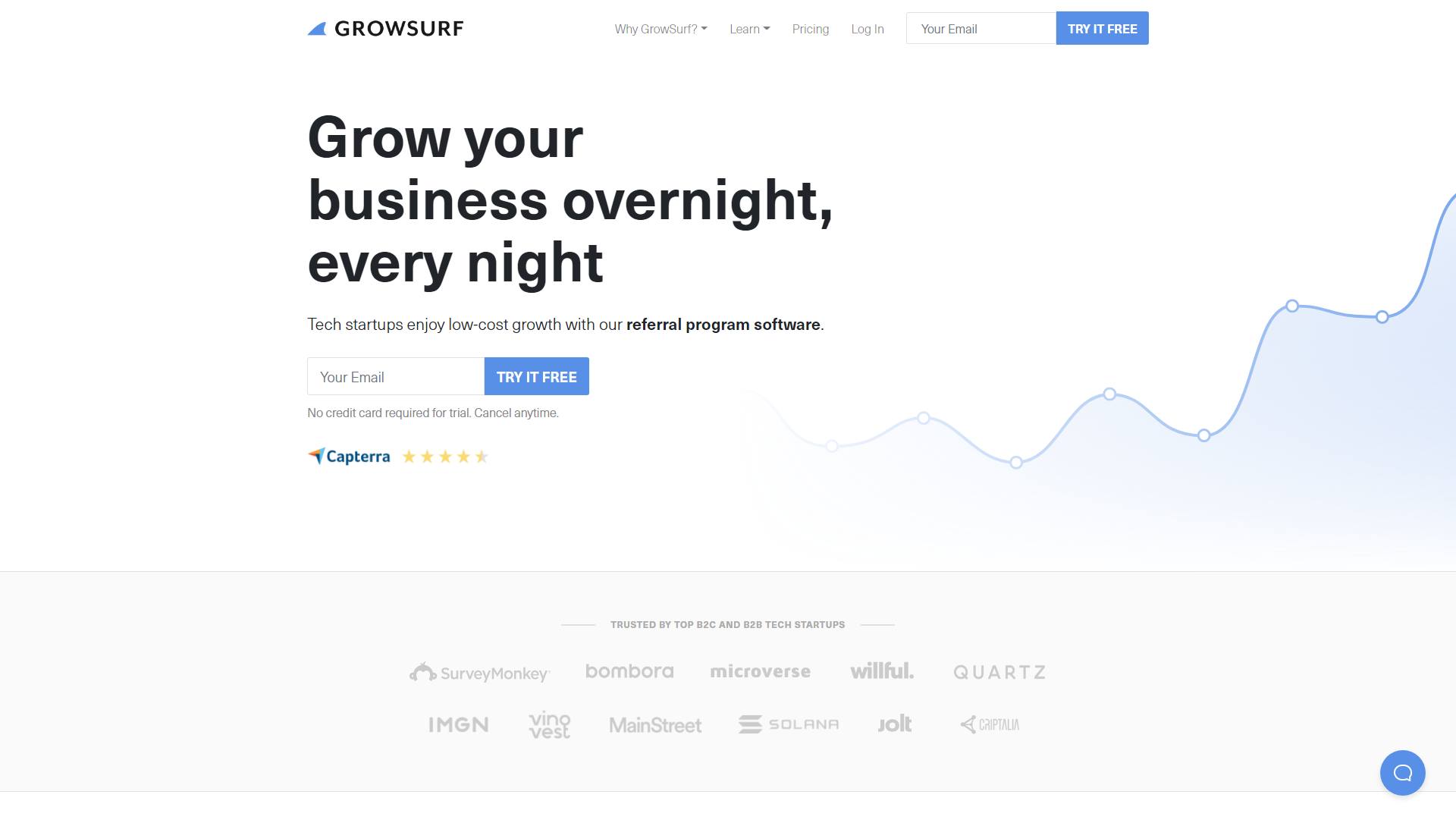 This is a great tool to help your business grow at a low cost and to distribute your product through your personal referral program software.
The platform gives you the possibility to motivate subscribers with milestone rewards. The tool can be integrated with other tools easily.
Main features like automatic link generators, automated emails, landing pages makes it one of the most innovative tools to increase your business.
The landing page builder and the possibility of creating a customized look to match your brand will help you convert more.
Growsurf will help you grow like a big SASS without spending a lot of money and resources.
Conclusion
Phew, that was hard!
If you're still here, then you probably know everything there is about the tools mentioned above. You've seen the prices, functionalities, features, and much more of the tools on this list, and I'm sure that you're now capable of making the best choice for your business.
However, it is critical to know the demands of your business. For example, if you're looking for something that is budget-friendly and complete, I would recommend GetResponse.
Putting your business in situations such as the one mentioned above will enable you to learn a lot more about which type of software would be best for your specific requirements.
Ending up with a costly tool that is offering much more features than you currently need will cost you a lot of money. Therefore, it is better to gradually build your way up to the more advanced sales funnel software.