As an online business owner, you may work with affiliate marketers and try to expand your business through partnerships. The problem lies in keeping a tab on all your affiliate partners while generating data and marketing insights to optimize ad campaigns.
Everflow solves this problem. It allows you to track all your marketing partnerships from one dashboard, provides you with enterprise-level analytics and reporting, and integrates with tools like Salesforce and Shopify. 
We took the time to review and rate Everflow properly. After our tests, we found that Everflow is among the best options available for marketing partner management. In fact, it is the only one of its kind available.
This Everflow review thoroughly discusses the features of this tool and why you should invest in Everflow for your business.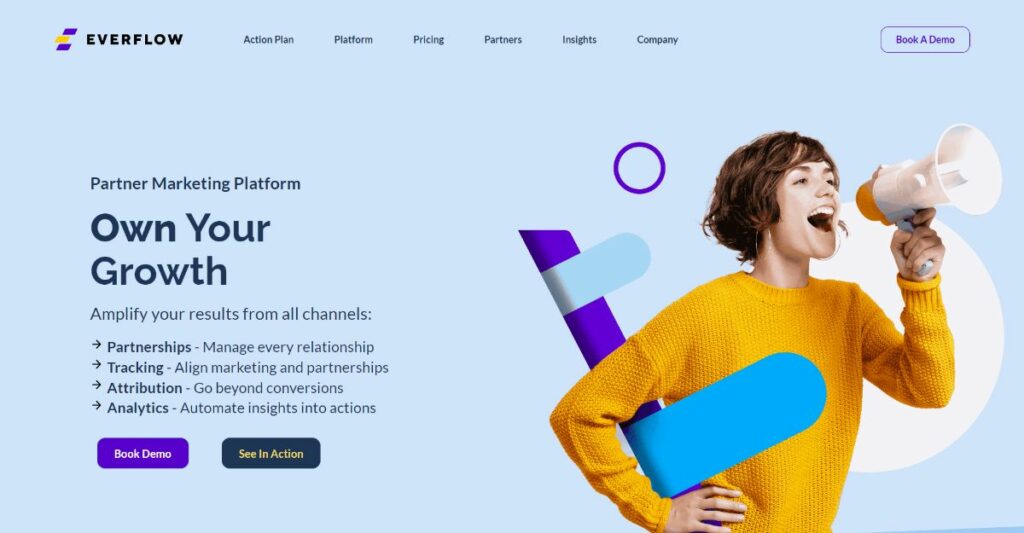 Everflow Review: Overview Table
Features Rating
Direct Links: 4.8/5
Event tracking: 4.8/5
Analytics: 4.8/5
Ease of Use: 4.7/5
Anti-Fraud: 4.8/5
Customer Service:  4.9/5
Pros
– Everflow uses direct links
– It provides enterprise-level data analytics and reporting
– There is an anti-coupon code poaching feature
– Everflow has several techniques to fight fraud
– It can track other metrics aside from sales
– There is onboarding and training of new users
– There is impressive customer service
– You can set clear rules on how to advertise your product
Pricing
Core: $750/month
Plus: $1995/month
Custom: Customized
Cons
– Everflow has a high price tag
– The tool has a high learning curve
– Everflow does not automatically detect broken links
Who is Everflow for?
Everflow is for
eCommerce businesses
B2B companies
AdNetworks
eCommerce businesses use Everflow to track the performance of affiliate networks from one dashboard. They can minimize coupon code poaching and use direct links to visualize customer journeys. Placement IDs allow them to analyze the quality of traffic that affiliates attract.
Apart from sales, B2B companies can use Everflow to track metrics like subscription renewals, referrals, and newsletter signups. They can also track clickless events.
Ad networks with several clients use Everflow to group the affiliates and marketers they work with to generate the performance data for each group.
Everflow Features: Detailed Reviews and Ratings
1. Centralized Dashboard for Partner Marketing Performance Tracking
With Everflow, you are not just tracking the performance of your affiliates; you also track the performance of marketing partners, media buyers, and even influencers. 
You get an overview of how your ad campaigns have performed over time, how much revenue you've generated, conversion rates, and recorded events from the dashboard. You get the data on the revenue generated and how much payout to affiliate partners you have to make.
You can explore which affiliates make you the most money and which influencers generate the highest revenue. You get all performance data from partners and media buying channels like Facebook ads, Google ads, etc. You can see what's working and what's not at a glance.
Everflow allows you to dig into the generated data to monitor the performance of particular offers and partners over some time.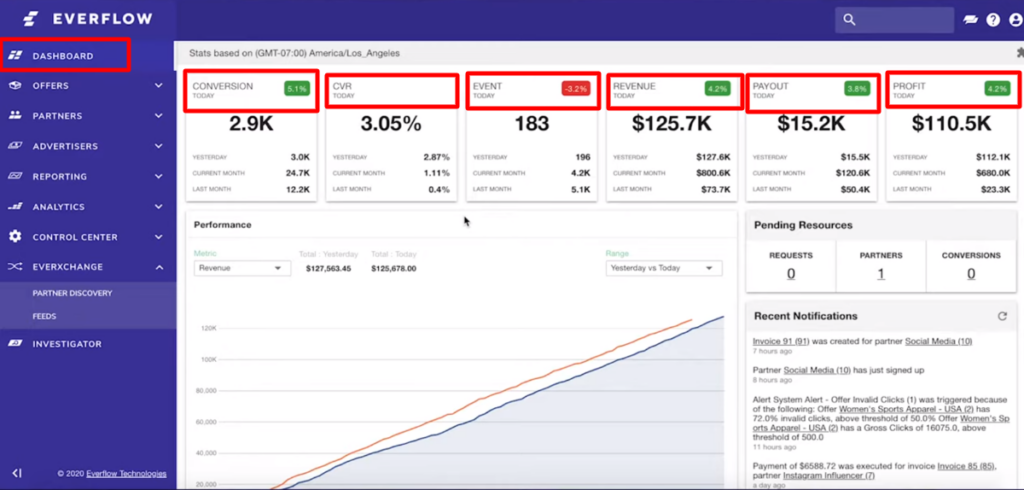 2. Direct Linking
Another standout feature of Everflow is direct linking. This is when a user lands on your website and is tracked until conversion to attribute the affiliate source of conversion correctly.
Let me explain. Every affiliate marketer has tracking ids assigned to them. So, as a business owner, you create tracking links for all the affiliate partners you work with.
Let's say influencer A promotes your product on Instagram, and a user follows their link to their website. You can immediately see where the traffic source came from.
But what if the person does not make a purchase immediately? Someone follows a link to visit your site, but they make a purchase several days later, maybe even a month later. How do you trace back the source of conversion to that influencer who attracted them to your site in the first place? The answer is direct linking.
When a user lands on your website, and they don't convert immediately, Everflow can track that user until they make a purchase. Then, you can correctly determine which marketing partner or partners contributed to the conversion.
Everflow's direct linking feature is impressive for several reasons:
It creates pretty links
The direct links still bear SEO value
They track other metrics apart from sales
They Are easily created by integration or by manually placing tags on your site
Are allowed on Google and Facebook—two ad companies that don't allow third-party links
Can track impression rates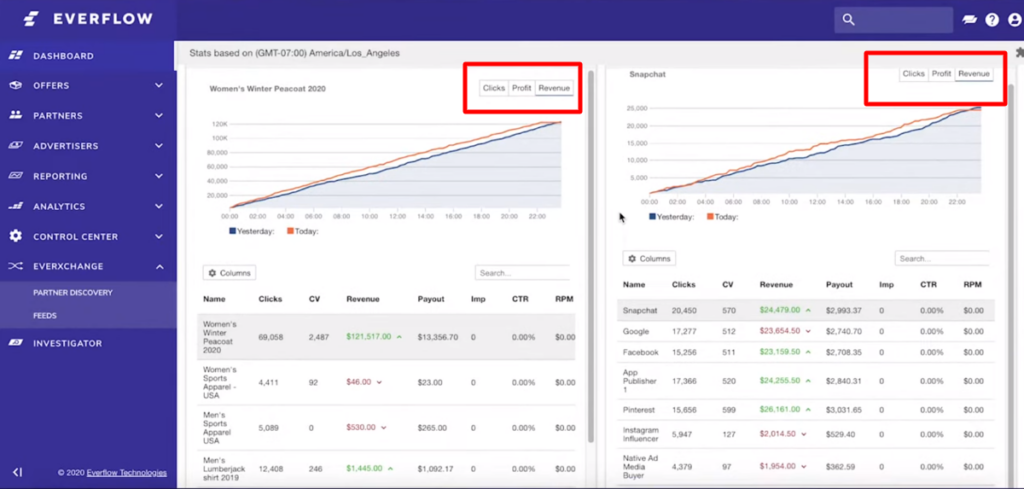 3. Event and Conversion Tracking URLs
For many online businesses, number of sales is the most important metric that determines if a campaign is successful or not. But, to properly optimize your ad campaigns and reproduce success, you should target different intents and track metrics other than sales. 
Everflow allows you to incorporate tracking URLs that also track events—events like newsletter signups, subscription purchases, upsells, and web page visits. You can easily see which funnel stages to optimize and be able to pay your partners for renewals, upsells, and even leads.
Sometimes, you will want to target a different KPI apart from sales. Maybe the whole goal of an ad campaign is to drive brand awareness. Everflow allows you to define conversion based on the target of a campaign and to track important events of a customer's journey.
These tracking URLs also allow you to use placement IDs to discover the quality and fraudulent ad placements. You can easily see which partners drive the most quality traffic to your website.
4. Detailed Analytics and Reporting
Everflow provides its users with in-depth enterprise-level analytics data—all the insights you need to optimize ad campaigns.
With Everflow, you can get the following types of analytics and reports:
Dimensional
Flex
Cohort
Redirect
Variance
The dimensional analytics tab allows you to track metrics for specific funnel stages in particular channels for a while. For instance, you can follow the clicks and conversions that Affiliate Marketer A has brought in over the past few months. You can see how many subscriptions they attracted and what their ad placements and traffic sources are.
The multiple graphs that accompany these analytics give a straightforward visual of what's going on and all the things you need to optimize.
If you noticed, Everflow has other types of analytics. You have to be a knowledgeable marketer to understand what all of those types of analytics are and how they apply to optimize ad campaigns. 
So, Everflow does have a slightly high learning curve, especially for small to mid-sized business owners. However, once you get past that, you'll see that Everflow offers everything you need to optimize your sales funnels properly.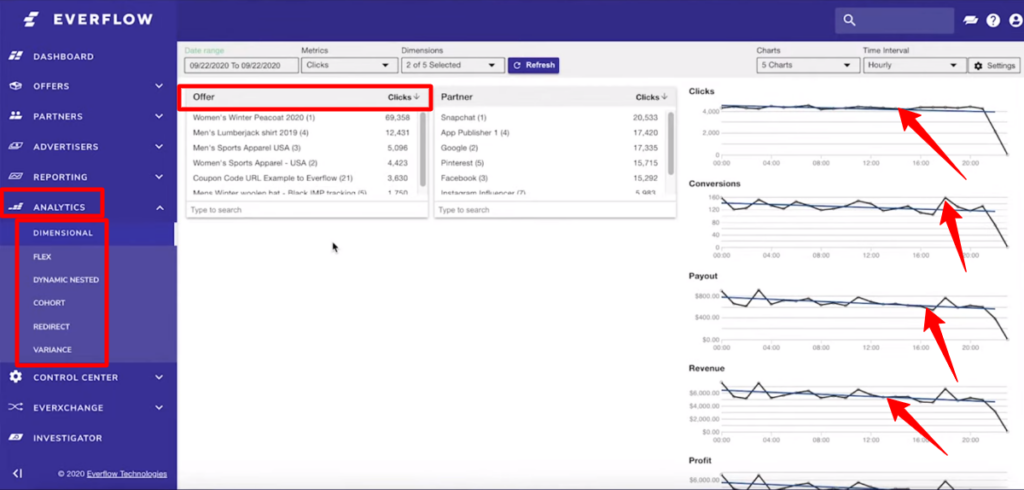 5. Optimized Ad Campaigns Through SmartSwitch/Smart Links
Everflow's Smart Links allow you to personalize the offers that users get when they land on a web page.
The Smart Links feature is used to show users offers tailored to where they are coming from on the web. For instance, you may give users from a specific location a higher discount than others, show them products that can only be shipped to their country, and include an email sign-up buttons if you are interested in tracking that metric.
Smart Links allows you to have control over ad placements while improving customer experiences because you offer them options that are tailored to solving their particular needs in the best way possible. 
Smart Links can also be used to protect against fraud and low-quality links. You can easily filter out which affiliates are bringing quality traffic to your website and which affiliates have high-quality ad placements. 
6. Anti Coupon Code Poaching
Imagine Influencer A moves someone to visit your website. That person then adds some items to the cart. When they get to the checkout page, they notice a box that says, "Enter coupon."
To save a few extra bucks, they leave your site and go online to find a coupon code. When they do, they enter that coupon code into the box and complete the purchase. Because they used the coupon from that website, it is that website that gets the sales attribution instead of Influencer A.
Everflow solves this problem with a method called anti-coupon code poaching. Everflow calculates the click-to-conversion time, and if it is unnaturally short, the partner does not get the attribution. For instance, in the case described above, Everflow notices that the time between clicking the coupon code website and the time to conversion is 15 seconds. This time is unnaturally short for a person to complete a customer journey and make a purchase; therefore that site does not get attribution. 
Another way to combat coupon code poaching is coupon code tracking URLs. Everflow allows you to create tracking URLs that have coupons embedded in them. Therefore, when people are ready to check out, a coupon is automatically filled out in the box.
7. Live Chat Customer Support
Everflow offers impressive customer support to ensure that you always get the best results with the tool. If you run into any problems, you can open the live chat with one click inside your dashboard.
Everflow guarantees that a human agent will respond to your message in 5 minutes. You can immediately send a chat within your dashboard and communicate with a receptionist within minutes.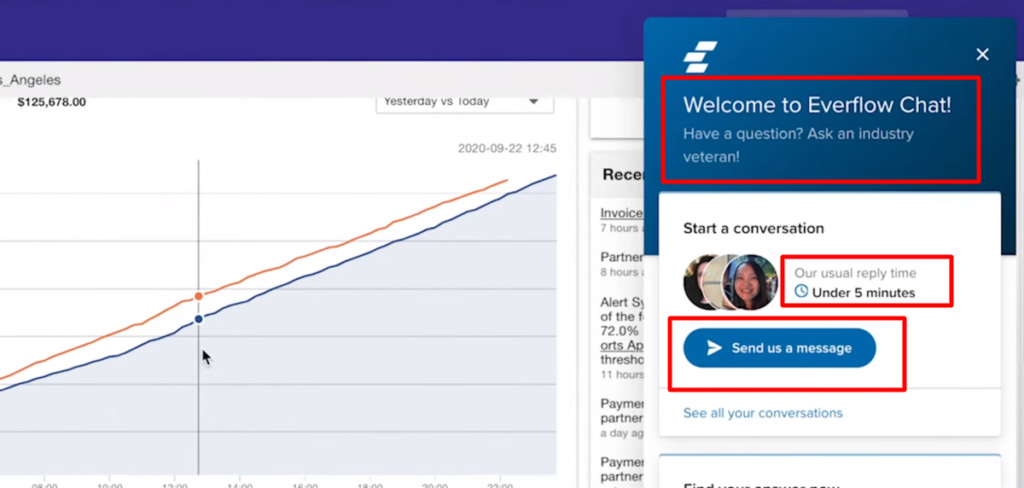 8. Anti-Fraud Protection and Alerts
Everflow has implemented strategies to tackle fraud and protect your ad campaigns from malicious data. Some of those strategies are:
Anti-coupon code poaching
Placement IDs
Fraud alerts
Rule setting
The coupon code poaching, as we described above, helps to correctly attribute the right partner with the right sales. It's also used to monitor conversion time to understand when it is unnaturally short.
Placement IDs help business owners gather data on the different ad placements of their partners. They can easily see which partners have the best placements that drive the most quality traffic. With placement ids, you can filter out partners not following your rules and remove poorly-performing marketers.
Everflow sends you fraud alerts when suspicious activities take place. You can easily remove the source of the problem to protect the integrity of your ad campaigns. Some fraud activities that can happen are spamming and click flooding.
With Everflow, you can create rules that marketing partners must follow to receive any payout from you. You can specify which countries to target the most, what sites are banned from ad placements, and so on.
9. Full Onboarding Training
Like I said earlier, Everflow has a learning curve that users must overcome to use the tool to its fullest potential. Some business owners may find the tool difficult with too many features to navigate.
The Everflow team solves this problem by offering full onboarding training. Once you have signed up, you go through this training to understand how to use Everflow to get the insights you need while managing your marketing partners.
10. Mobile Apps for Android and iOS
Everflow has developed mobile apps for both Android and iOS. From your phone, you get a breakdown of analytics and reporting, plus fraud alerts if anything comes up. The Everflow dashboard is accessible from any device.
11. Integrations
Everflow has a wide range of integrations. Right now, the tool directly integrates with 30+ web applications.
These include: 
Shopify
HubSpot
BigCommerce
WooCommerce
Stripe
Optizmo
Tipalti
ClickFunnels
Salesforce
When you connect your Everflow account with online store platforms like Shopify, you can quickly generate tracking URLs and set up conversion events.
12. EverXchange – Everflow's Partner Marketplace
One other stand-out feature of Everflow is EverXchange, a partner discovery marketplace. From the marketplace dashboard, Everflow users can find affiliate networks working with thousands of marketers and media buyers who are experts in placing ads. 
All the partners listed in the marketplace work on a performance basis. You have to click the button "Invite," to bring them on board to work with you.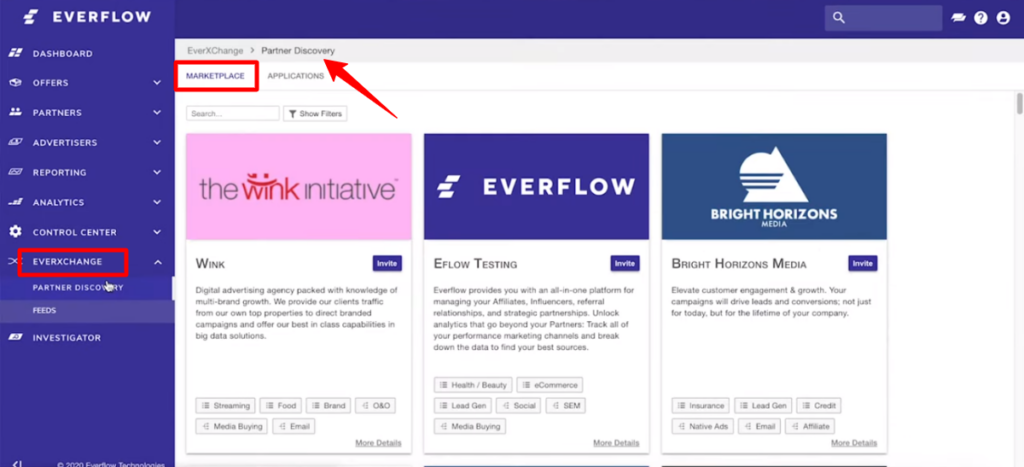 Everflow Pricing
Right now, Everflow has only two pricing tiers:
Core costs $750 per month, while Custom is tailored to the particular needs of your business.
You can also get a special plan called Everflow Plus, which costs about $1995 per month.
The Core tier offers access to Everflow, including tracking URLs, analytics, dedicated onboarding, and support. Basically, everything we discussed in the feature review section. So what does the Custom tier have to offer?
When you sign up for the customized payment tier, you gain access to benefits like:
Direct introductions with marketing partners that have a proven track record
Paying your affiliate partners becomes an automated process. You will not have to think about payment methods and how to collect taxes.
You gain access to a dedicated Slack channel where you can immediately reach support agents whenever you need help
An account manager is assigned to you to help you set up, test, and track your progress
Complete and managed migration of your data from other affiliate management platforms
Everflow requires that you pay for at least six months upfront so that they can help you get the best results.
Pros and Cons
Everflow Pros
Use direct links
Everflow's direct links help you correctly attribute sales to the correct influencer. You can also view a customer's journey to understand better how to optimize ad campaigns.
It provides enterprise-level data analytics and reporting
Everflow's reporting and analytics are among the best available. From dimensional data and flex reporting to cohort analytics, Everflow gives you with all the information you need to get optimal results.
There is an anti-coupon code poaching feature
Anti-coupon code poaching allows you to actively fight coupon code websites poaching attribution from the affiliate marketers who have done all the work to attract customers to your site. Platform uses click-to-conversion time to determine which affiliate to attribute.
Several techniques to fight fraud
Everflow also has other techniques to fight fraud and spam. These include smart links and placement IDs.
It can track other metrics aside from sales
Everflow can track other events apart from sales. These include metrics like newsletter signups, referrals, upsells, and subscription renewals. You can also track clickless events like page views or how long a user spends on a web page.
There is onboarding and training of new users
Once you sign up for an Everflow account, a dedicated team puts you through in-depth onboarding and training. This helps you get used to Everflow faster and overcome the learning curve.
There is impressive customer service
Everflow is known for its stellar customer service. Every user can reach an agent on live chat from inside the dashboard. Custom payment accounts can immediately contact an agent via Slack.
You can set clear rules on how to advertise your product
Everflow allows you to set rules on how advertisers should market your brand. You can tell them which websites are banned from ad placements and which locations to focus on.
Everflow Cons
Everflow has a high price tag
The biggest Everflow con is the price. It starts from $750 per month. There is no free plan, and it is unclear whether there is a trial period. Plus, you have to pay for at least six months upfront. 
The tool has a high learning curve
Many users need time to get used to Everflow. All the tracking options, analytics, and different dashboards can be confusing.
Everflow does not automatically detect broken links
Errors occur in affiliate marketing. If any of your ad offers has broken links, Everflow will not be able to detect it automatically. You may have to test to make sure every link is working manually.
Conclusion – Final Everflow Verdict
Everflow remains the best option for tracking affiliate partners from one dashboard. The tool provides a ton of data and insights.
You can easily see which affiliate partners are the best for your business. You can track them via placement IDs and fight coupon code poaching. As a cherry on the cake, Everflow has a marketplace where you directly connect with new partners for your business.
Everflow remains the best option for managing performance marketing partners if you can get past the high price.
Everflow FAQs
Who is Everflow for?
Everflow is for business owners looking to manage their relationships with marketing partners better. It is also for B2B organizations and marketing agencies. Everflow offers an integrated management system for managing marketing partners, affiliate marketers, media buyers, or influencers.

Ludjon, who co-founded Codeless, possesses a deep passion for technology and the web. With over a decade of experience in constructing websites and developing widely-used WordPress themes, Ludjon has established himself as an accomplished expert in the field.