In the ever-growing world of online businesses and digital presence, having a reliable and cost-effective web hosting service is crucial. Many small businesses and individuals prefer flexibility in their hosting plans, and month-to-month web hosting is a perfect solution.
With no long-term commitment, it allows users to test the web hosting service, easily switch providers, or upgrade/downgrade plans as needed.
In this article, we will shed light on the nine best cheap month-to-month web hosting providers for 2023 to help you make an informed decision.
To make your decision-making process smoother, we have compared and reviewed the best month-to-month web hosting providers based on their pricing, features, and performance.
Our analysis will enable you to find a web hosting plan that suits your specific needs without straining your budget.So, let's dive into the world of affordable month-to-month web hosting providers and explore which one is the best fit for you.
Top 9 Best Month-to-Month Web Hosting with Cheap Plans
All these top hosting plans are from top rates or leading companies. So everyone offers the best features at comparable rates. Now you need to decide your requirements to choose your suitable plan.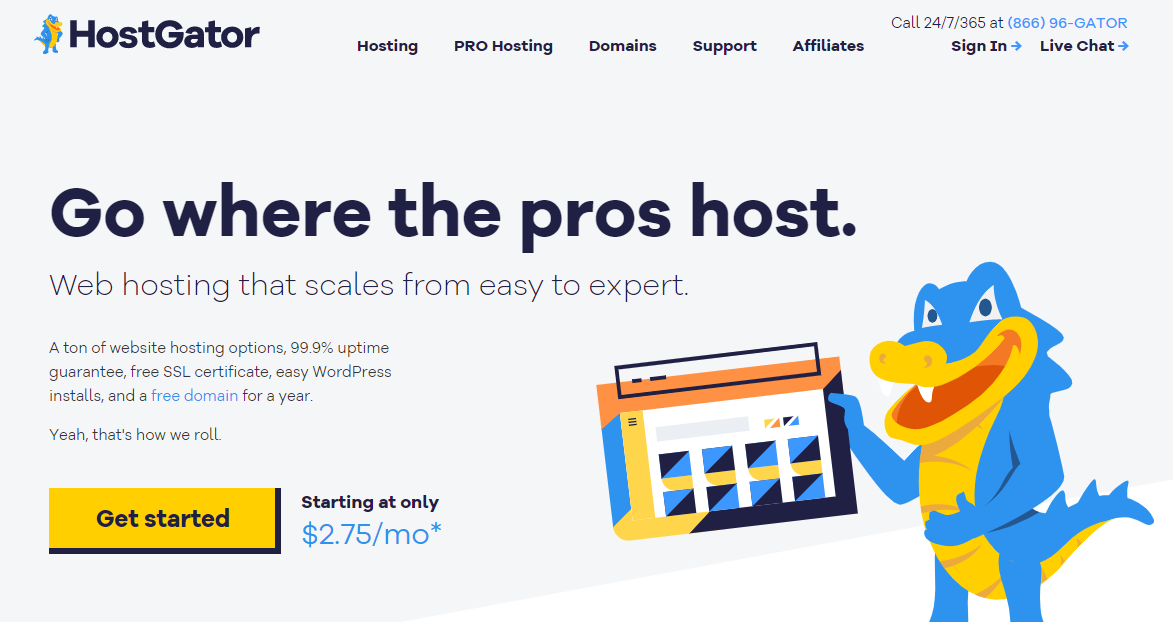 HostGator is the cheapest month-to-month web hosting. It is at the top of the list due to high-quality technical support for the month-to-month plans.
By having the HostGator monthly plan, you can start your technical website without facing any hassle. Moreover, you have 24/7 customer support from technical teams. You can contact the experts through live chat or email to get help. It is one of the great features you get even after having the month-to-month plan.
HostGator monthly plan features are incredible that you can avail:
One-click WordPress installment
Technical customer support through live channels
Get AdWords credit by the worth of $100
Unlimited storage space and bandwidth
So by having a Hostgator month-to-month plan, you will get incredible technical support. Moreover, you can host the WordPress website with a quick one-click installment. You can also check the additional add-on when checking out to ensure that you can avail yourself of your monthly plan.
Many experts advise the new blogger to uncheck all the add-ons and install free WordPress plugins that will help more. The price of monthly HostGator plans varies according to your demand for features. But having the monthly HostGator plan, you are in good hands to make the technical support.
Check the Hostgator monthly plan options so you can get the best suitable plan for your requirements.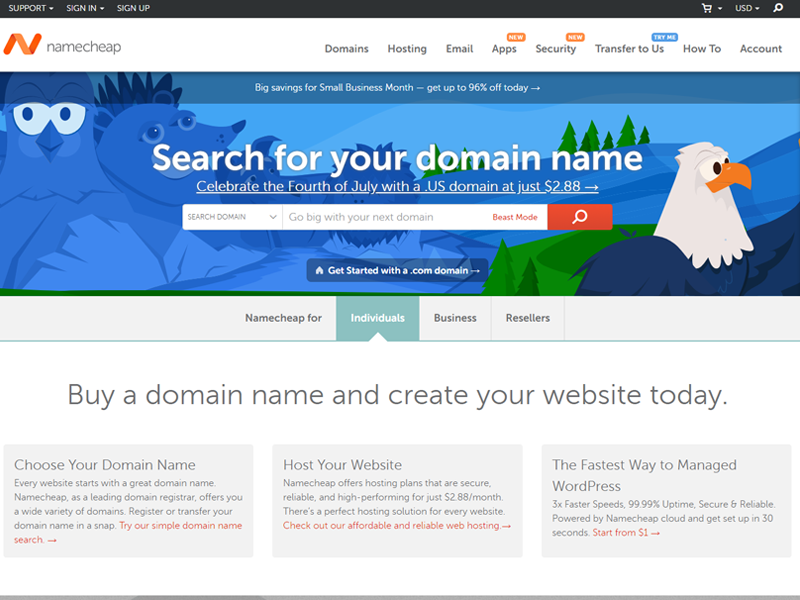 Namecheap is one popular web hosting service that also offers the domain name registry to its customers. It brings many new waves to the web hosting arena. Moreover, by having Namecheap the hosting service, you will have a range of shared, VPS, managed WordPress, and dedicated hosting plans.
Namecheap offers one of the affordable hosting plans in the "month to month" criteria. It brings impressive features to their users that include:
Free SSL certificate
Free site migration
One-click WordPress installation
24/7 customer support
Manual and automatic backups
Host up to 3 websites
30 days money-back guarantee
You have many options with Namecheap to get the month-to-month plan. The basic program starts from $2.88 per month if we talk about its cost. If you want some additional features, then this cost goes higher. But it is worth it to spend this amount on monthly plans to set up your system.
Ensure that you set the monthly pricing option at checkout, as the default view will show the yearly prices. Your final price drops down to your selected plan when choosing the monthly plan.
In addition, you will get fantastic features in monthly plans with favorable prices. Namecheap is one of the trending web hosting services to enjoy and build your website.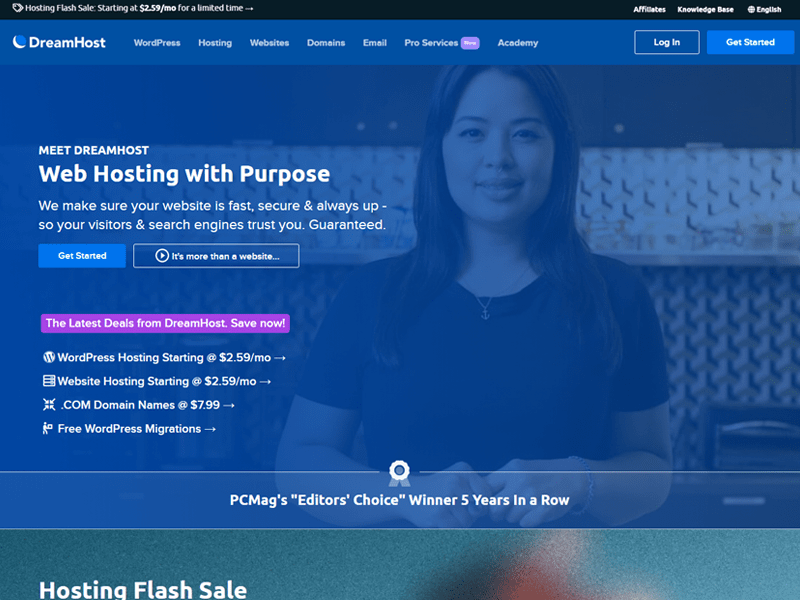 Dreamhost is one of the leading monthly hosting plans that you can choose in shared plans or individual plans according to your requirement. It is the best option if you want to make a long-running website.
It offers dozens of website hosting plans that you can choose according to your choices. It offers plenty of features like pre-installed WordPress, fastest loading speed, free SSL certificate, and many more. In Dreamhost monthly plan, you will get the long-run website hosting with monthly installments.
Here are the few unique features from Dreamhost that you can avail yourself of in month-to-month plans.
Free WordPress installment
Get domain registry at discounted price
Unlimited traffic
Free SSL, unlimited storage
Faster loading times
100% uptime guarantee
Money back guarantee
So the one great advantage is that you can cancel the hosting after working for one or two months on your website. You have three months to check the hoisting plan services, and then you can cancel it if it is not suitable for your requirements.
If we talk about its combined bandwidth and quality services, Dreamhost provides super-worthy offers to potential clients. Many new bloggers can take advantage of their services and get professional help from the expert team of Dreamhost.
Moreover, after checking the services of DreamHost, if you want to select their annual plans, you will also have discounts. So it is one of the affordable and price-worthy options that offer benefits in the long run.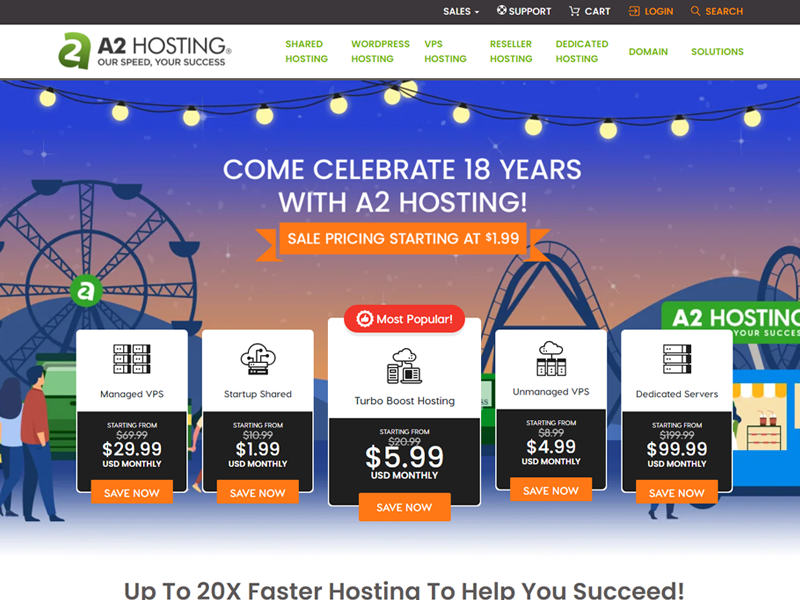 A2Host is one of the cheapest WordPress hosting providers. It also has high offers that you can avail of if you want to get the additional features. If we compare its services with top-rated hosting plans like Dreamhost or HostGator, you will not find any specific difference.
It offers incredible features at the lowest monthly plan rates that you can avail of and make your website robust.
Here are some of the features you will get in any monthly plan.
Unlimited file storage
Suitable for one website hosting
Free SSL certificate
Free website migration service
24 hours technical support
Website security and regular monitoring
Money back guarantee
A2Host offers the best hosting checkout, even for the lite website hosting. It also provides monthly hosting and annual plans, so don't get confused during checkout. Their most extended plan is three years, so be careful and ensure the final payment before checking out.
Moreover, you can add additional services according to your choice and requirements. The add-ons will boost your price quickly, so you only need to improve your website. Many experts advise that you uncheck all the additional add-ons and then only upgrade that you require after comparing them with your monthly plan. It will reduce your monthly plan installment.
Besides all these, A2Host is one of best web hosting plan.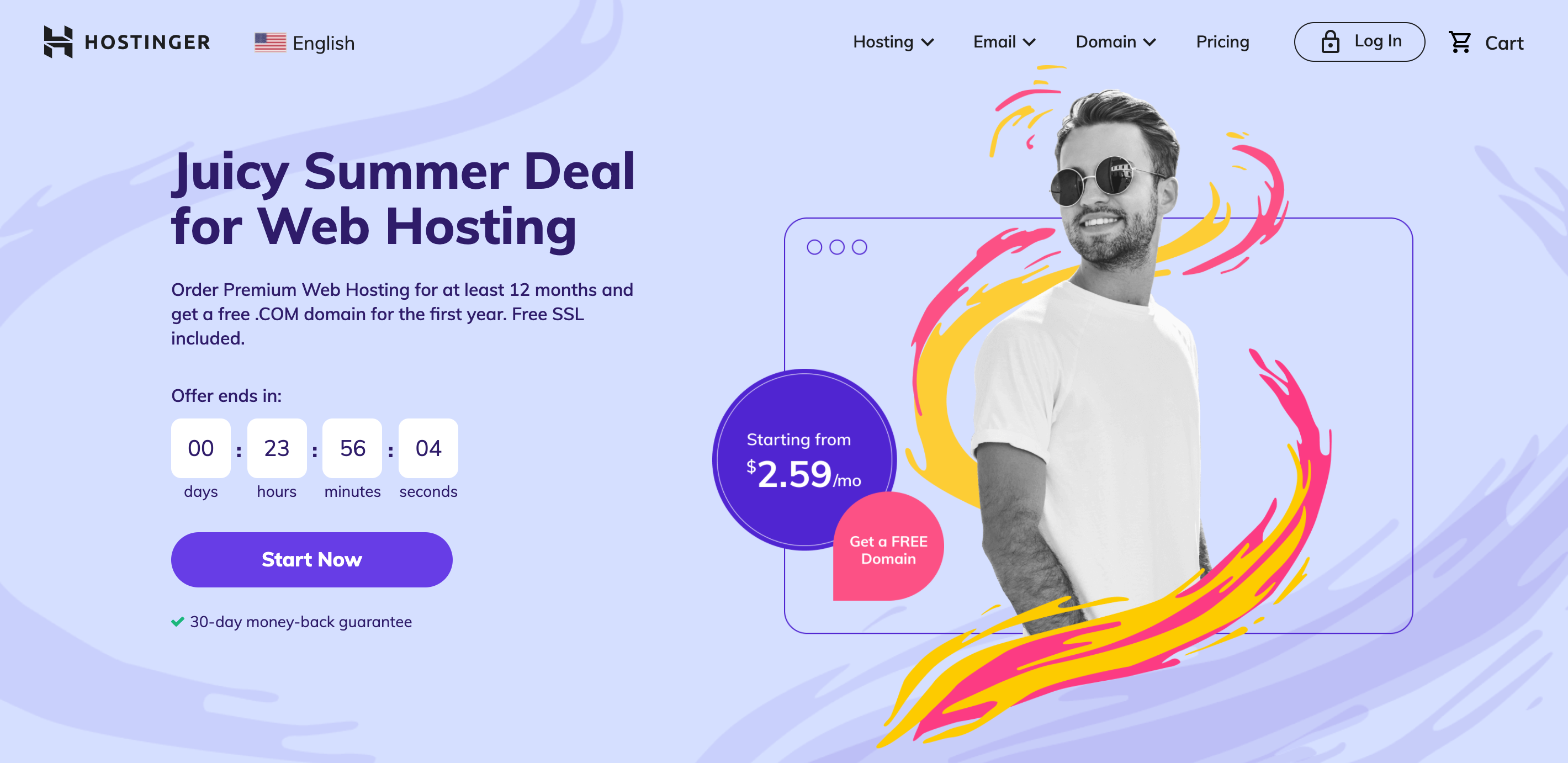 Hostinger is one of the famous web hosting services that offer more than 29 million customers. They have many service plans in their individual, shared, and VPS hosting plans. If you want to build something different or something extraordinary on your website, then Hostinger is the best option.
Here are some fantastic features of Hostinger that you can get in your monthly web hosting plan.
Unmetered bandwidth
Easy website builder
Manual and automatic backups
Free SSL certificate
One-click WordPress installation
99.9% uptime
Money back guarantee
These features help the experts and beginners build a compelling website that works amazing for your potential visitors. Moreover, Hostinger also offers discount prices on their month-to-month plan but mostly these discounts are for the annual plan.
Hostinger features and their incredible customer support are the best features. You can avail of their expert support if you face difficulties building their websites. Moreover, it is easy to get hosting customer support through live chat, email support, etc.
So if you want to get a robust plan for a month-to-month hosting service, this is the best choice. We know that it may cost higher than other hosting plans, but spending on Hostinger plans is worth it.
Read More: Best Unlimited Hosting Plans.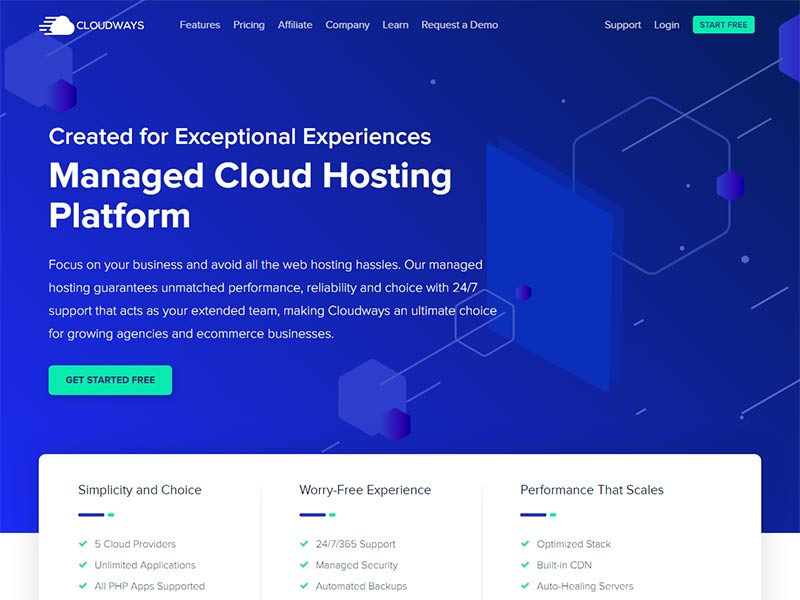 Cloudways is the best cloud hosting provider with free managed WordPress hosting. If you are a blogger and want to make a WordPress hosting, it is best to choose Cloudways.
Cloudways hosting helps the bloggers to focus more on their content and don't worry about website backend workings. The technicians of Cloudways enable them to manage the website servers.
Now many new bloggers are striving to arrange their website hosting. But Cloudways also offer monthly plans that are low in price with high features.
Cloudways integrates content management systems directly like WordPress, WooCommerce, and many more. So in simple, you can start your website with high performance at Cloudways quickly by focusing on content creation.
Here are some of the incredible features from Cloudways that you can get with every monthly plan hosting service.
Free SSL installation
UI website management
Testing environment
Free website migration
24/7 customer support through live chat
Server and app cloning
Money back guarantee
The customer support service of Cloudways is quick and gives practical solutions that help to tackle problems during website development. Moreover, there are no hidden charges in cloudways service or monthly plans.
7. FlyWheel ($25.00/month)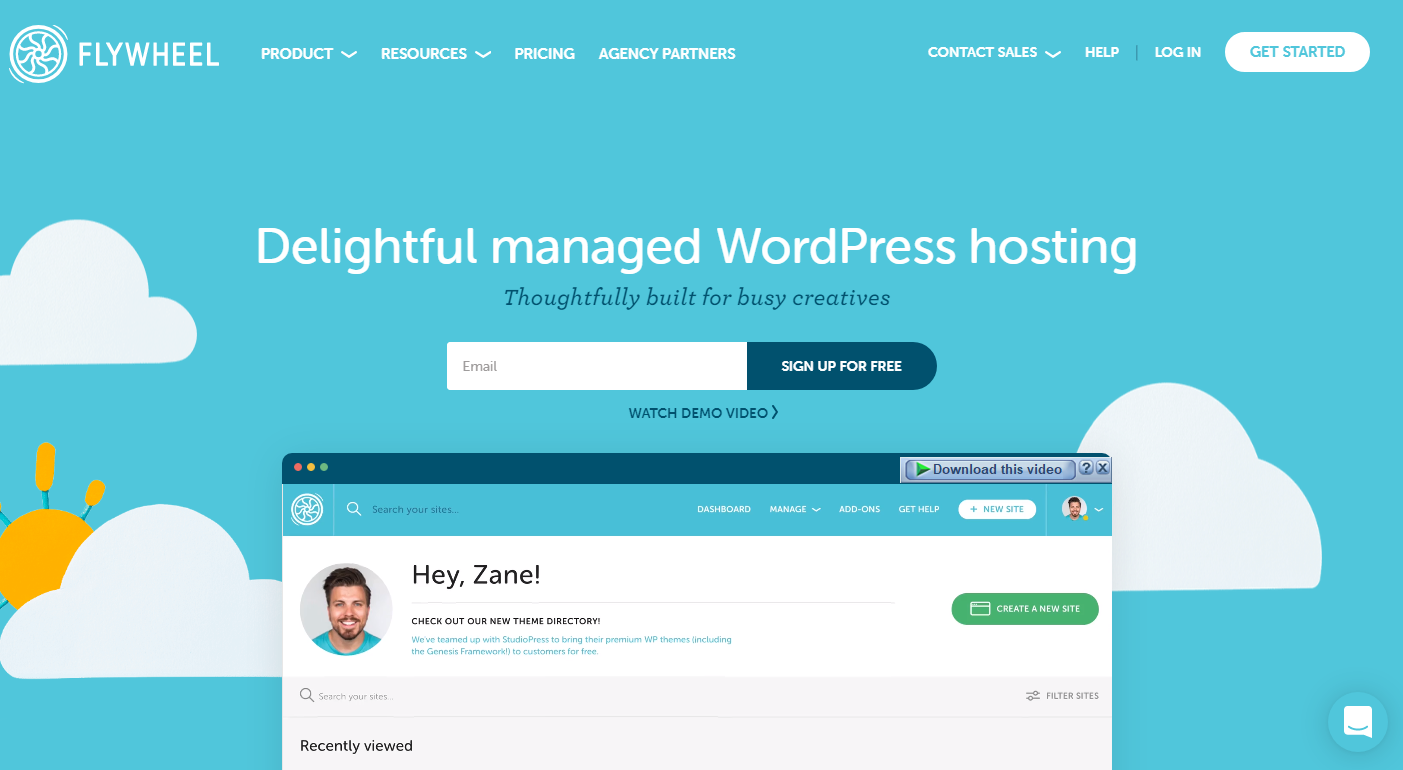 FlyWheel is new but offers incredible service to establish its brand. They offer their services for managed WordPress hosting. So it is the best space for showing your creativity. Many new and experienced bloggers use the flywheel for their website hosting. It offers indie-focused monthly hosting plans so you can get a high level of customer support.
Flywheel also offers demo services free of cost if you want to test your skills and ideas. You can use it for 14 days and try your website without paying any fee. So you have an easy test drive for choosing your monthly plan and hosting the website.
Now the incredible features of flywheel month to month web hosting plans include:
25K monthly visit limit
One free WordPress website installation
5 GB storage space
Fastly built website
50 GB bandwidth
Staging environment
24/7 live customer support
Free website migration
So flywheels is one of the different free website hosting plans among all others on the list. But it also offers incredible services to its potential users. Their free demo is one of the attractive features that come to the notice of every client and give a boost to their services.
Moreover, it is essential to toggle with the checkout buttons and select monthly. So you will have the correct billing; otherwise, you will receive the annual pricing by default settings.
8. WPEngine ($24.00/month)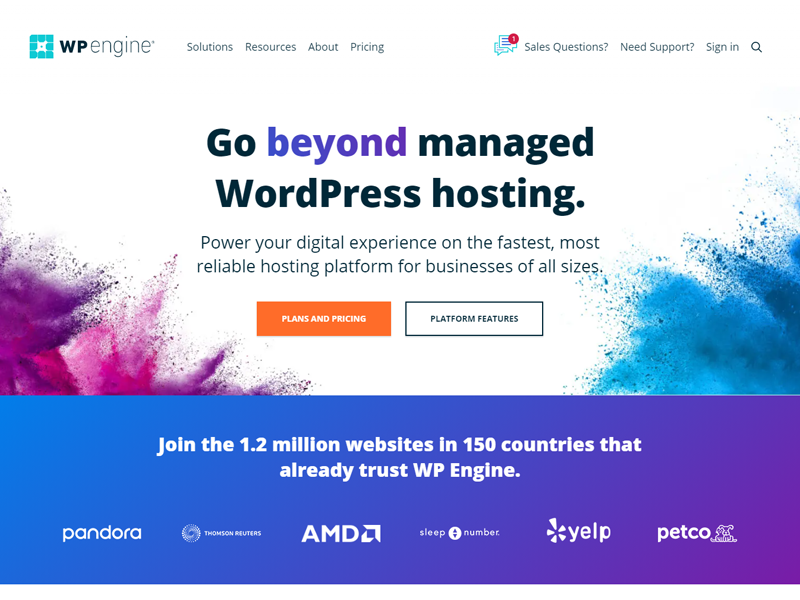 WPEngine may look expensive in monthly packs to you. But their price is worthy according to plan features. It is the best option to build a heavy-loaded blog or website. You can get the customized features plan according to your requirements and enjoy the website building experience.
If you ever experience any other hosting plan and compare it with the WPEngine, you will feel an incredible difference. WPEngine offers excellent features to build your website. You can get fantastic customer support to host a professional website.
WPEngine has more than 120,000 customers who manage their WordPress websites. So you will also be part of those customers and run your robust website to earn passive income.
Here are some features of WPEngine that you can avail of with a month-to-month hosting plan.
25,000 traffic visits per month with no mo limit
One free managed WordPress website hosting installment
10GB storage space
50GB of bandwidth
24/7 customers support through live chat and emails
Free SSL certificate
More than 35 premium themes installment
60 days money-back guarantee for the monthly plans
Fast loading website or pages
Here is one of the exciting features: you will get discounts on your monthly WPEngine plans. These discount processes also help to get good pre-planned annual services. Remember that your three-month plan converts into a one-year first yearly plan.
Here is the most practical advice: when you reach the checkout process, you can toggle with the payment plan. Ensure that you choose the monthly payments instead of the yearly or annual set by default.
Their monthly plans have high costs, but you will also notice the fantastic reviews from the vast community that will help make the quick decision.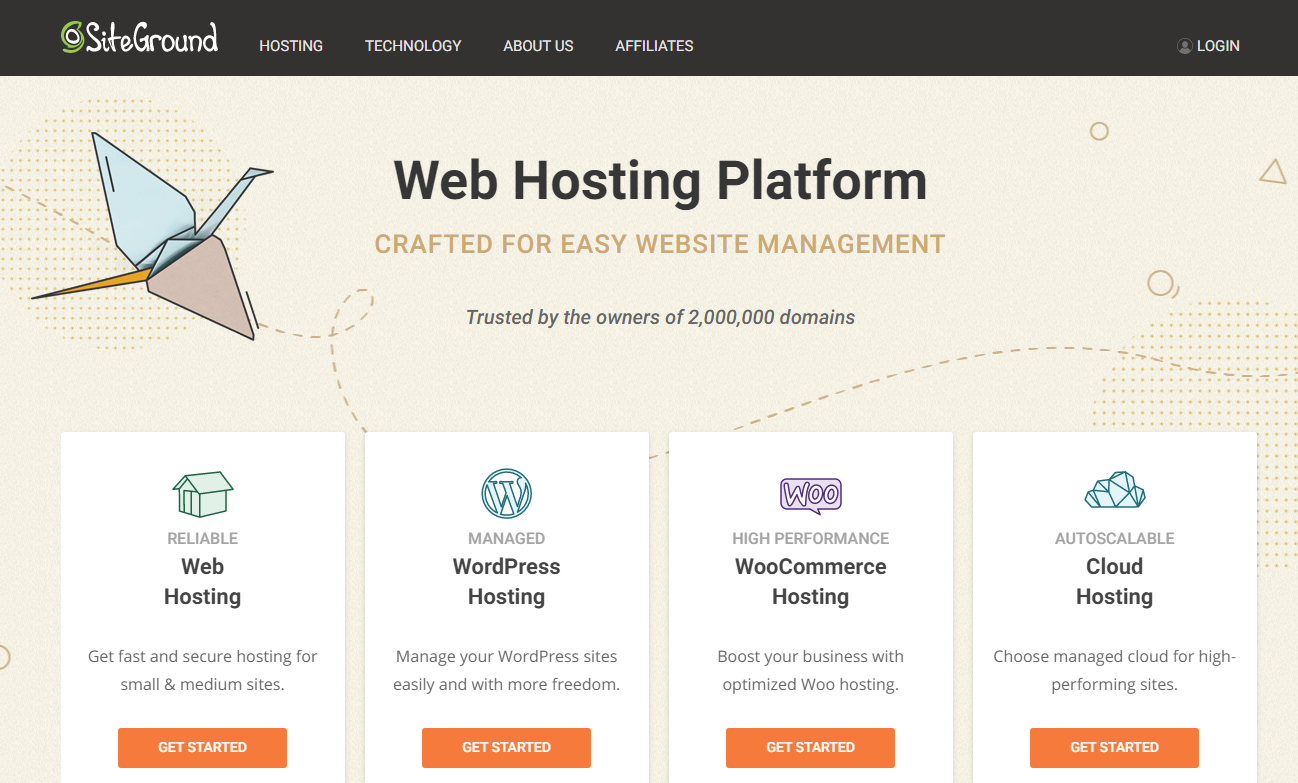 Siteground is the last option for hosting plans at our post that offer incredible services like all others on our list. It provides a fantastic array of hosting types, tools, features, and plans. Usually, it offers excellent annual plans, but now you will also have month-to-month website hosting payment plans.
We have also listed the Siteground in the top of best uk webhosting hosting plans post on our blog.
The monthly hosting plan is only for the shared packages. However, there are the features that you will get with the monthly plans. it includes:
Free WordPress installation
Free daily manual and automatic backups
WordPress auto-updates
Advanced security for the WordPress
Free Encrypt SSL certificate
Unlimited SSD storage
Special cache for WordPress
Siteground has different plan levels that you can choose according to your website demand. But the entry-level plan is best to host a single website. However, the entry-level plan is good, but if you want more space on your server, you can also upgrade the plan. The planned upgrade helps to host the unlimited site.
Now you have the list of the tremendous month-to-month web hosting plans that come at incredibly cheap rates. Choose it according to your suitability and host the website.
Pros and Cons of Monthly Web Hosting Plans
Let's take a look at the pros and cons of monthly web hosting plans, so you can make an informed decision when choosing the best option for your website.
Pros of Monthly Web Hosting Plans:
1. Flexibility: One of the most significant advantages of a month-to-month web hosting plan is the flexibility it offers. You can easily change or cancel your plan without being locked into a long-term contract, providing you with the freedom to adapt your hosting needs as your business or website evolves.
2. No Long-term Commitments: With a monthly hosting plan, you don't have to commit to a long-term contract, making it an ideal option for those who are unsure about their hosting needs, testing a new project, or simply want to avoid being tied down by a lengthy contract.
3. Easy to Upgrade or Downgrade: Monthly web hosting plans allow you to upgrade or downgrade your plan as per your requirements. If your website grows and demands more resources, you can easily upgrade to a higher plan. Similarly, if you find that you're paying for resources you don't need, you can downgrade without any hassle.
Cons of Monthly Web Hosting Plans:
1. Higher Costs: One of the biggest drawbacks of opting for a monthly web hosting plan is the cost. Compared to annual or longer-term contracts, month-to-month plans are typically more expensive because they don't offer the same discounts.
2. Limited Features: Some web hosting providers may offer a limited set of features with their monthly plans. This means you might not have access to all the tools and resources you need to run your website optimally. [1]
3. Less Stability: Since you're not locked into a long-term contract, there's a higher chance that the hosting provider could change their pricing or discontinue certain services. This may require you to switch providers or adjust your hosting plan, causing potential instability for your website.
In conclusion, monthly web hosting plans have their pros and cons. The flexibility and ease of upgrading or downgrading make them an attractive option for many users. However, the higher costs and potential for limited features and stability should be considered when deciding whether a month-to-month hosting plan is the right choice for your website.
Is a Month-to-Month Hosting Plan More Expensive?
One of the most asked questions is: Are month-to-month hosting plans more expensive than annual? So no mostly month-to-month web hosting plans are not expensive at all. But if we sum up the monthly installments and then compare the result with the annual price, you may find it expensive.
However, the month-to-month hosting plan offers incredible benefits without booking the considerable upfront cost. Usually, the annual fee of a hosting plan is around $100, which is too much for beginners to bond and work on other aspects. So in a financial sense, the short-term monthly plans are worth more than the long contracts.
You can choose the month-to-month plan from any platform and start hosting your website with a short investment. If we look at the monthly installment cost, it is not expensive. You will even have unique features at cheap rates.
Conclusion
By summing up the above discussion, you have the best month-to-month web hosting plans, and you also have reasons to select them. So it is wise to choose one monthly plan and start your business to earn passive income with less investment. There is no need to pay plenty of money for annual plans and avail the same features.
You can choose the cheap or premium plans according to your requirements like Namecheap or WPEngine. These web hosting services provide incredible support to their customers for developing unique websites and earning passive income.

As one of the co-founders of Codeless, I bring to the table expertise in developing WordPress and web applications, as well as a track record of effectively managing hosting and servers. My passion for acquiring knowledge and my enthusiasm for constructing and testing novel technologies drive me to constantly innovate and improve.
Expertise:
Web Development,
Web Design,
Linux System Administration,
SEO
Experience:
15 years of experience in Web Development by developing and designing some of the most popular WordPress Themes like Specular, Tower, and Folie.
Education:
I have a degree in Engineering Physics and MSC in Material Science and Opto Electronics.