It is important to find the best OpenCart hosting platform for your business. OpenCart hosting is an open-source platform for e-commerce businesses. If you are looking for cost-effective solutions to get your small or medium business promoted in digital spaces, these hosting will help you.
They provide the users with an opportunity to run their business smoothly online by providing an exceptionally secure online management system. It is just like an online store management platform that helps in boosting over 13000 themes and modules. These modules and themes are the best sources for promoting your business online among hundreds of businesses.
These days many entrepreneurs who are working online prefer this management system for their business because of its advantages. These hostings make sure that your website works effectively and all the components are organized.
The systemic destinations are placed in the right way for the online users to provide them a better on-site experience. The speed of the hosting is fast, and it does not interfere with the quality and performance of the websites.
OpenCart has an amazing PHP open-source used by many websites. Statistics show that almost 1 percent of all websites is using this management system. This compromises 0.6 percent of all the sites that are using open-source platforms.
There is a fast-acting ongoing competition among digital businesses to provide their users with an amazing shopping experience. This web hosting is an important part of the efficient running of the online shopping business in 2023.
In this article, we will go through the list of tested hosting. Their pros and cons will be discussed to let you know what type of hosting is suitable for your business. Read the article below to know the top ten OpenCart hosting for 2023 and excellent hosting solutions for your e-commerce business.
The Top 10 Best OpenCart Hosting
We tested some of the best Opencart hostings for you and came up with a list of the top 10. These hosting are famous because of their user-friendly and easy-to-access methods.
Read about them in detail and choose the one that suits you the most.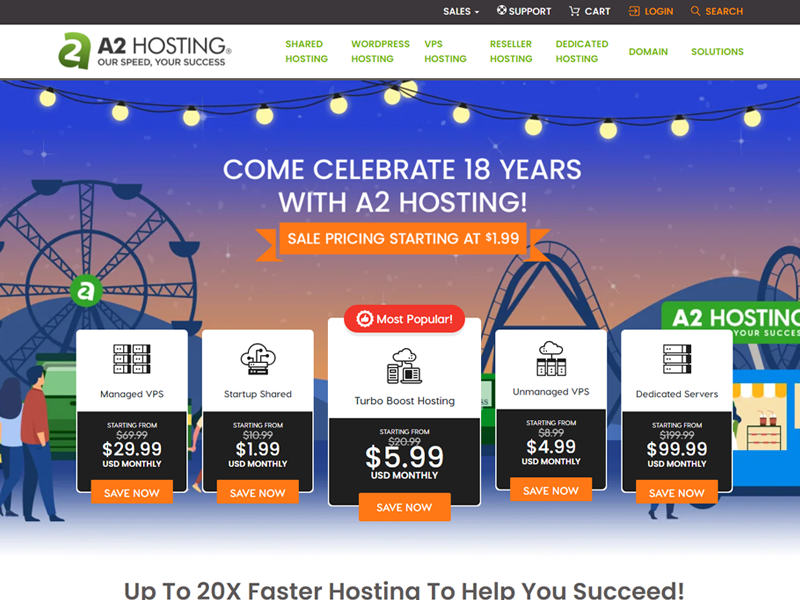 A2 Hosting is an amazing and fast OpenCart hosting for businesses moving to online platforms. It is fast-acting and will let your business run within 2 minutes. The ease of access and functionality makes it an amazing choice.
It is blazing fast and tuned finely for you to use it right away. You can even choose a cost-effective plan for you when looking for cost-effective solutions.
It is a uniquely comprehensive source providing you with amazing solutions for your data storage problems. It has amazing around-the-clock support and will help in every step.
Pricing
The start-up plan for this hosting is $2.99 which includes one website along with easy and free site migration. The drive plan will cost you $4.99 with unlimited websites and SSD storage.
The turbo boost plan which is recommended by the experts is for $9.99 and free excess to automatic backups. Turbo max is another option for you if you want to get your websites working fast and it costs $14.99.
Pros
It will provide you with unlimited accounts.
Data transfer and migration is easier
There will be a 24/7/365 phone and the live chat and email support system is provided.
This hosting will also provide website staging.
There are free SSL certificates and website builders.
The Data Centre location will be your own choice.
It comes with a money-back guarantee.
Cons
There is a little problem with their open VZ visualization.
The kernel of the hosting is ancient and there are no updates for it.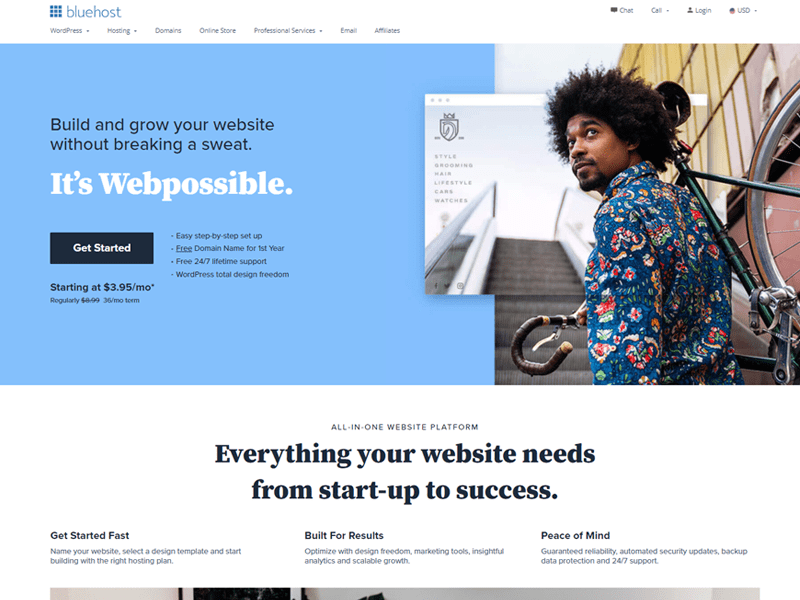 It is one of the best web hosting services in 2023. It provides uptime performance and reliability along with the important features you need for your company. It is currently hosting around 2 million websites with an uptime of 99.99 percent.
They offer a complete range of hosting services with many online marketing options for your small businesses. Bluehost provides local businesses a chance to thrive for the start-ups that require growing.
Pricing
The price for the basic plan for the hosting is $2.75 which includes one website in it and unlimited traffic. For a plus and pro plan, pay $5.45 to $13.95 respectively. Both come with unlimited websites, traffic, and free SSL certificates.
Pros
This hosting has amazing customer support and services. They have a quick turnaround time and provide complete guidance throughout the setup.
It has 100 percent compatibility with all the websites and has an incredible server time.
The loading speed of this host is quick and it will not let you wait around for a long time.
Automated bundled backups are present for this hosting. Your site can be restored to its original version because of these versions.
It is very user-friendly for people who are using any kind of hosting for the first time in life
Cons
The prices are not cost-effective for this hosting and you have to pay more for the new services as compared to the introductory rates.
It is unlimited but for large storage and a high proportion of data usage, you need to upgrade your account.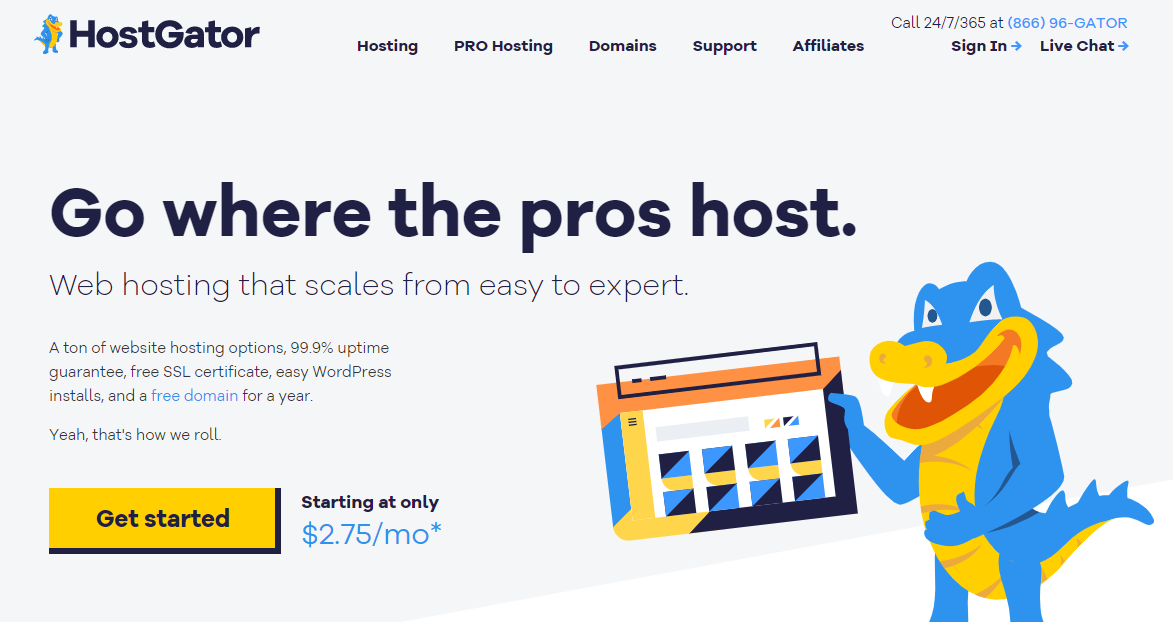 Hostgator is an affordable web hosting for Opencart. Their prices are cost-effective and you don't have to worry about the payments as the plans run monthly.
It is an ideal space for bloggers, entrepreneurs, and personal websites along with a variety of web hosting plans.
Pricing
The price for the basic cloud plan ranges from $4.95 to $9.95. The prices of WordPress hosting start from $5.95 to $9.95. Dedicated hosting is expensive and they cost $89. 98 to $139.99. There are also additional charges for buying domains. For new users, these plans will be given at discounted prices for different hosting.
Pros
It provides its customers with unlimited disk space.
The bandwidth of the hosting is unlimited so that users don't face any problem with the data storage.
The best thing about this hosting is that it can host as many domains as it can be.
MySQL databases present in this hosting have a wide range
It comes with a 45-day money-back guarantee.
Cons
The turnaround time for the customers is very slow.
The performance of the site is not consistent and it can affect the website.
If you want to restore your backup files, then you have to pay additional charges.
It is not an economical option for business hosting.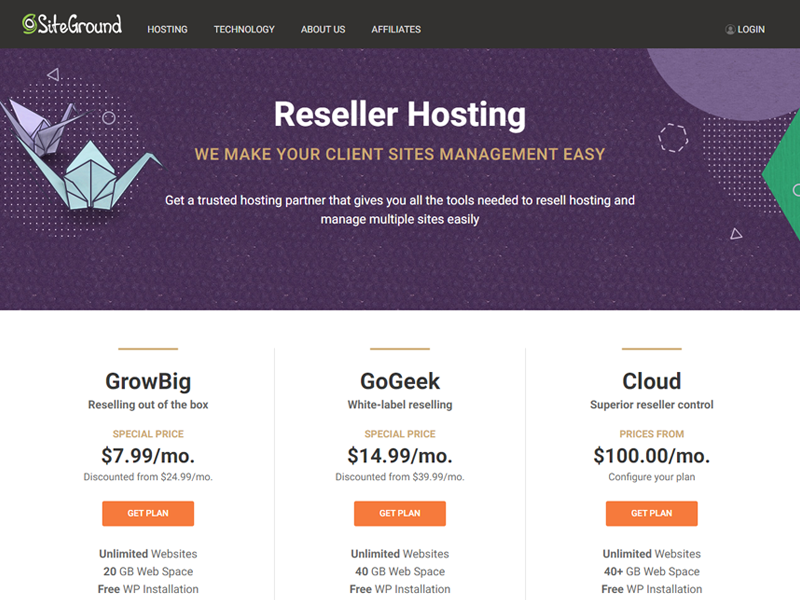 Siteground is another hosting that we tested for websites and the results are amazing. The working on this hosting looks like it is specifically designed for your e-commerce business.
There are different free CDN, server options, and unique options for catching. It offers websites, web spaces, and huge traffic. It is user-friendly and has 100 percent renewable energy options. Money-back guarantee gains the trust of the users and helps them in managing their online stores.
Pricing
This hosting has many cost-effective plans for its users. The start-up prices are only $4.99 per month with unlimited databases. The special plan includes a payment of $7.99 with 25,000 monthly visits.
It provides its users the opportunity of unlimited data plan and free CDN and free email services. Another price for the other plan is $14.99 including 100,000 visitors monthly.
Pros
It has an ultra-fast PHP framework
Your data will have on-demand backup copies.
The traffic of this hosting is unmetered and you can have as many visits as you want to.
The catching system is out of the box and transfers files and data
This hosting provides you with a money-back guarantee of 30 days.
Cons
The disadvantage that you have for using these hosting is that they have limited data storage.
Resource over-usage is another drawback of using this hosting.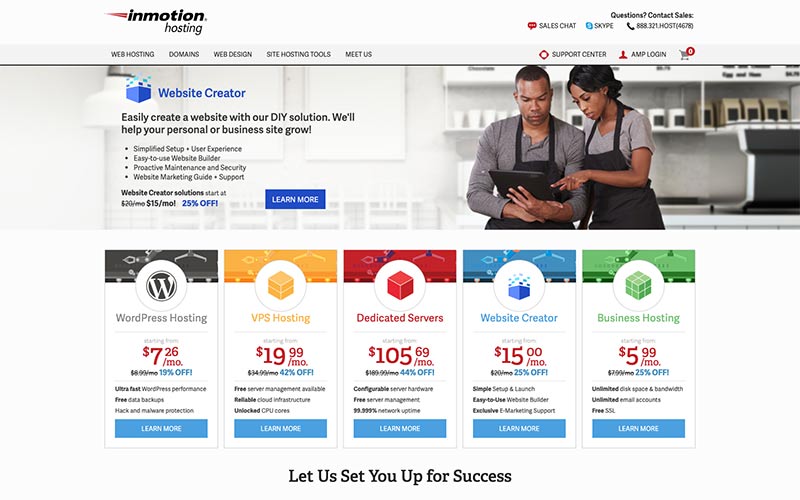 It is one of the best web hosts we tasted because of the enhanced speed features. It is one of the most underrated hostings for small businesses. Their customer support services are on point and their overall functionality is user-friendly.
The content loading time is fast, and it has ultra-fast SSD storage. It has an uptime guarantee of 99.9 percent. The UI of this hosting is dreamy, and it is an initiative as well. People who don't have any knowledge of coding and are hesitant to use hosting can easily use them.
Pricing
There are two types of plans for the hosting including launch and pro plans. In the launch plan, you will have access to ten email accounts but with the pro plan, you will have unlimited email accounts. The price of the pro plan is $5.99 and the price of a pro plan is $14.99.
Pros
The hosting has a fast speed and is easy to access.
It has many free domains and the list of its features is never-ending.
This hosting comes with hack protection and automatic backup.
Restoring data is important for websites and it is one click away if you are using this host.
Cons
The checkout process for this hosting can be severe pain.
There are no Asian data centers and the restoration of them can be a problem
NGINX is a set-up for servers and it allows shared hosting but it is not available in this hosting.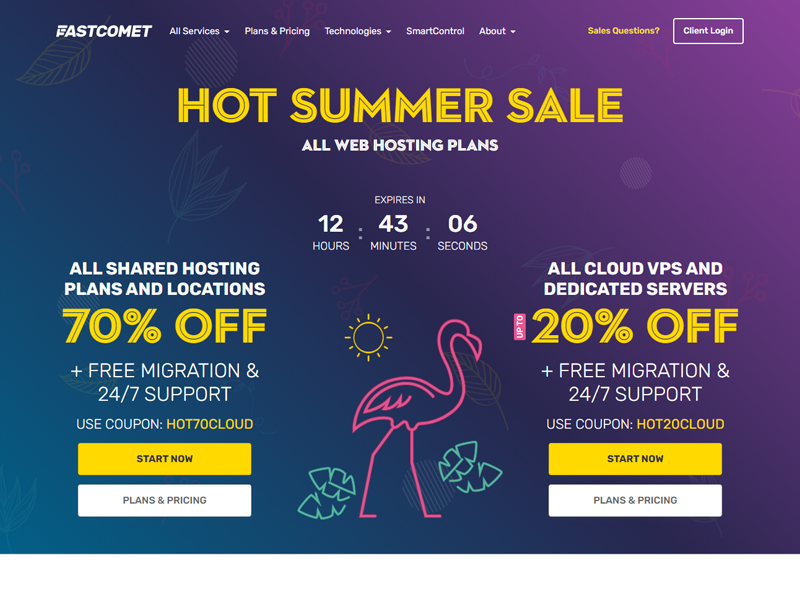 Fast comet is famous for providing exceptionally fast speed for your website. This hosting is popular for the free transfer of files it provides. The transfer of the domain is also free for almost one year.
This hosting provides over 300 percent faster access to your files and databases compared to other providers that are non-SSD providers. It enables you to distribute your content for your visitors to increase the traffic to your small business.
The control panel for this web hosting is the most powerful and fast hosting. It is an easy-to-click managing system. Even Google added this hosting on its search engines as well.
Pricing
The prices for this hosting are affordable and there are three plans. You can get this hosting for $2.95 per month with complete account isolation.
This is another plan worth $4.45 with advanced data usage for the migration of the domain.
$5.95 is the price for extensive services with power and flexibility on a budget. It helps in driving the growth of your website within minimum prices.
Pros
The main advantage of this hosting is that it offers one-click installation.
A tutorial to help the users use it for the first time and make the tasks easy for them.
Providing virus scans, free extensions, upgrades, and malware detection and backups for the safety of data.
Excellent compatibility with all kinds of websites and increasing the hosting experience.
Cons
As compared to other hosting it does not have unlimited data storage and it might not be a good option for uploading heavy images.
Bandwidth is also less in this hosting and it can affect the traffic of your website.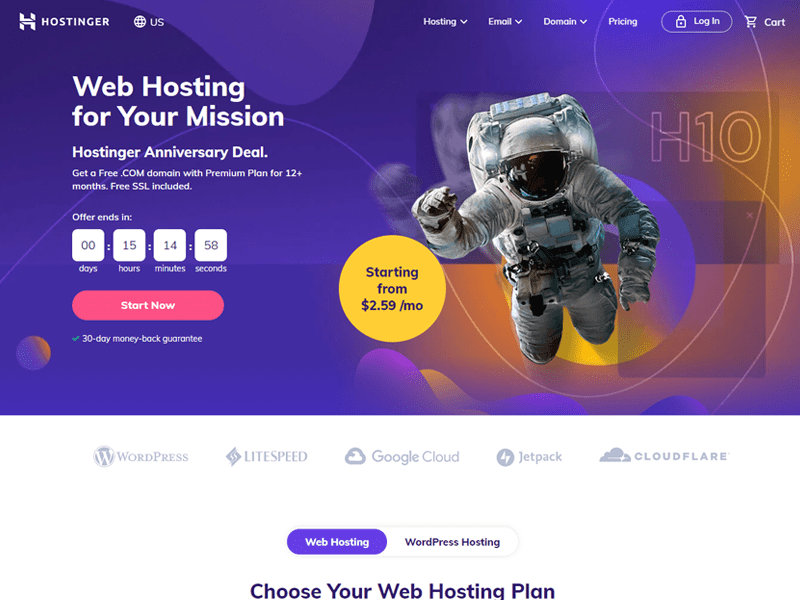 Hostinger is an amazing web hosting because of its exceptional quality features. The speed and performance of these services are considered to be the most beneficial part of services. It has a popular plugin for websites that enhances the performance and speed of the site. Your blog will be optimized and it will run your small business in a short period. The customer service of this hosting is the ultimate strength of this hosting. There are multiple ways to contact your concerned department.
Pricing
There are three infrastructures for getting this hosting for your websites. Single, premium and business plans are the most common ones used by entrepreneurs and bloggers. The single plan will cost you only $0.99 with 1 website, 10GB SSD storage, one email account, and 10,000 monthly visits. The premium shared hosting will give you the option of 100 websites and a free email quota for $2.59 per month. The business shared hosting will cost you $3.99 for your business.
Pros
This web hosting has the fastest speed as compared to the others.
It is easy to set up and you don't need a degree to handle it.
It has amazing support from customer service and WordPress.
The control panel of this web hosting is user-friendly.
It comes with a money-back guarantee and your money will be saved when you are investing in it.
Cons
The performance of the site lacks consistency and the fast speed can be slowed down
Customer support can only be reached via emails or live chats. You cannot talk to them over the phone.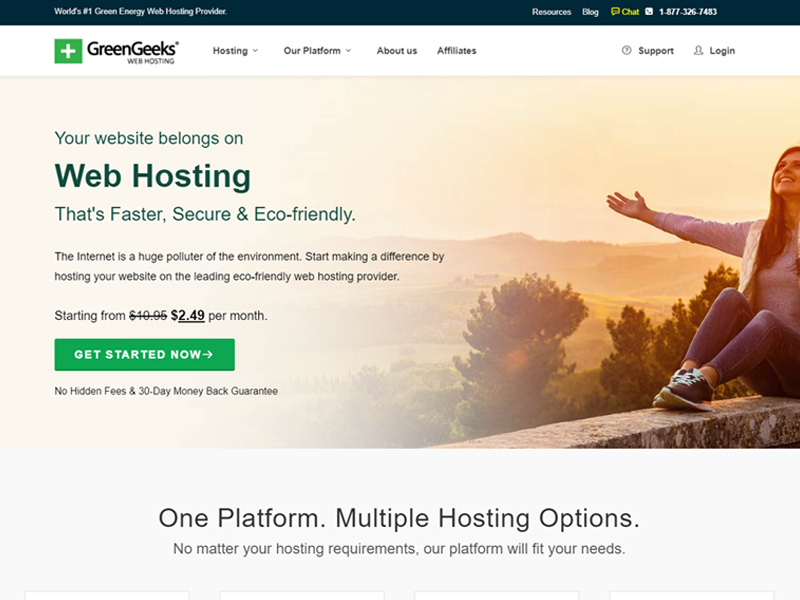 Greengeeks has multiple things that are excellent for small businesses and start-ups. The pricing, speed, and features of this hosting are the best and make it a perfect fit for most online businesses.
This web hosting does not compromise the quality of the services. No matter which plans you are going for, you will get environment-friendly services.
Pricing
Three plans are available for this hosting including eco site lite, eco site pro, and eco site premium. These plans start from $10.95, $15.95, and $25.95 respectively.
The disk space is restricted with eco-site lite, but it is unlimited for the remaining two. Therefore people prefer to use the eco site premium and pro options.
Pros
It comes with a money-back guarantee for 30 days.
The name of the domain for your web hosting will be free.
The disk space offered by this service is unlimited and the data transfer process is free as well.
Automatic backups are also available.
The servers used in this web hosting are fast and have excellent performance.
Cons
The prices of the hosting can mislead and it can create problems.
The refund will not work on the setup or registration fees.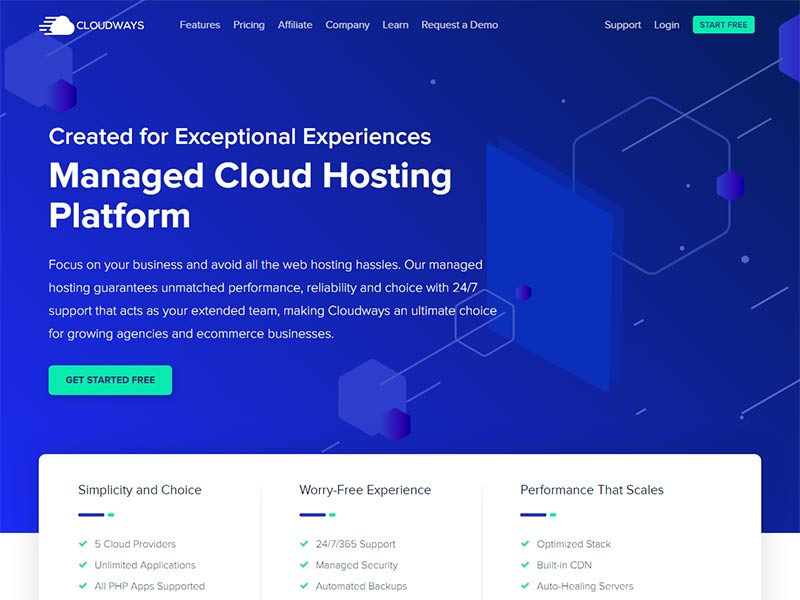 Cloudways is a cloud and managed web hosting provider that offers Opencart solutions too. If you don't want to use shared hosting and you feel tired because of being unfamiliar with system administration you can avail of its services of it. Cloudways has over 60 data center options and enterprise-ready choices. You can easily run your OpenCart system with this hosting.
Pricing
There are 5 infrastructures for this hosting including digital Ocean, Linode, Vultr, Amazon web services, and Google computing engine. These plans range from $10-$18, $12-$90, $11 to $84, $85.17 to $272.73 and $73 to $226, respectively.
The difference lies in the storage of the data beginning from 25GB to 16GB for RAM. You can even try them freely for 3 days and decide which plans you want to go for. You will also have these plans that come with 24/7 support and many applications.
Pros
It offers its users simplicity and choice option.
It has an unlimited variety of applications on it with exceptional support from PHP.
The control panel for this hosting is innovative and will not create issues while being live.
It manages security for you and provides automated backups.
The hosting provides 24/7 monitoring to protect the data
It has its CDN and multiple auto-healing servers.
Cons
The hosting doesn't provide the registration for the names of the domain.
C panel or Plesk dashboards are not available for these hosting because of the dedicated console.
It also does not come with email hosting like many other hostings with reputation have this option.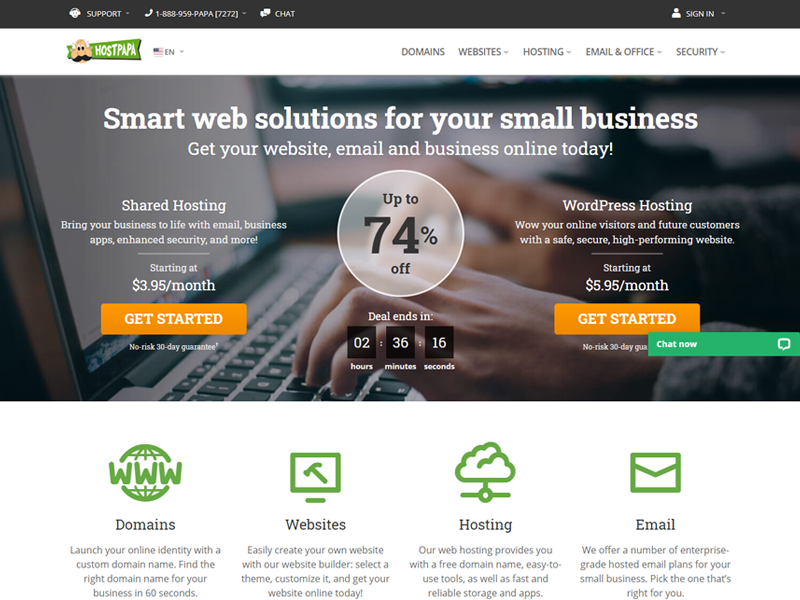 When we were testing web hosting HostPapa was considered being the most cost-effective solution for all the businesses. It is an amazingly independent provider that offers multiple attractive and effective services.
The affordability of this hosting makes it attractive in the eyes of the startups. The compatibility of the servers of this hosting is also exceptional. The disk space is comparatively larger than the others.
Pricing
There are three plans available to use this hosting including a starter plan, a business pro plan, and a business one. These plans cost $7.99, $19.99, and $12.99 respectively per month.
The starter plan will give you access to 2 websites and disk storage of 100GB. The business plan will give you access to customer support 24/7. You can go superior by choosing the business pro plan which will allow you unlimited bandwidth, data storage, and free domain registration.
Pros
The basic plan for this hosting will let you have two websites instead of one.
The domain of this hosting is free and there will be no other charges.
Cons
The checkout process from this hosting is difficult because of the high prices.
The backups for this hosting are not automatically done and they have charges for backups.
What is OpenCart?
OpenCart is famous for being an open-source cart for shopping and an online shopping system. PHP and MySQL are used in its framework.
It provides support and information in different currencies and languages to your online business.
It gives you access to source code and you can easily change the outlook of your online setup. You can also do the customization of your store to increase the conversion rate.
It has an admin dashboard that categorizes all the services for you and allows you to have a look at the sales and customer analytics. It also allows the features of discounts, coupons, and vouchers to increase the number of customers on your website.
It has an unlimited range of applications and products, along with search engine optimization qualities. Users have abundant extension options available for their products. It is a reliable and safe way to manage your store online.
Conclusion
We reviewed the best OpenCart hostings 2021 for small businesses. All of them are cost-effective and reliable along with exceptional features for data storage and migration of files.
They also have a money-back guarantee and follow an amazing customer support service. It depends upon you and your budget which hosting you prefer to increase the visibility of your business.

Ludjon, who co-founded Codeless, possesses a deep passion for technology and the web. With over a decade of experience in constructing websites and developing widely-used WordPress themes, Ludjon has established himself as an accomplished expert in the field.