Unlike the regular web hosting plans, if you're looking for hosting with Microsoft Exchange email, you might have to search a bit harder and a little further than usual.
While there are quite a few options on the market, they're not all credible, and the last thing anyone wants is to throw money at yet another dysfunctional tool.
Besides the potential lack of credibility, Microsoft Exchange requires peculiar configurations that surpass regular hosting service providers' basic capabilities.
To save you that trouble, we took the time to research eight of the best email hosting services with Microsoft Exchange. And for convenience purposes, we grouped them into different categories, and we'll answer a few critical questions to aid your purchase decision. That said, let's dive right in!
Best Microsoft Services That Host Email Exchanges
A hosted email exchange offers server space to customers for their Microsoft mailbox, among other functionalities. "[email protected]" looks more professional for business owners who need company-wide email and productivity solutions and solo entrepreneurs who need a bit more professional than the regular "[email protected]."
Usually, the best email hosting service provider manages its users' data entirely. But the specifics can vary depending on the company. The ones we've listed below have some of the services on the market.
Compiling a list of the best email and productivity solutions is only possible with mentioning Microsoft's very own Microsoft 365. It offers users access to calendars, tasks, contacts, and, of course, email.
Without a Microsoft 365 subscription, you can access Exchange Online's three primary plans. The first is pegged at $4/month for every user you bring into the system. The second is $8/user per month. The third is $12.50/user per month.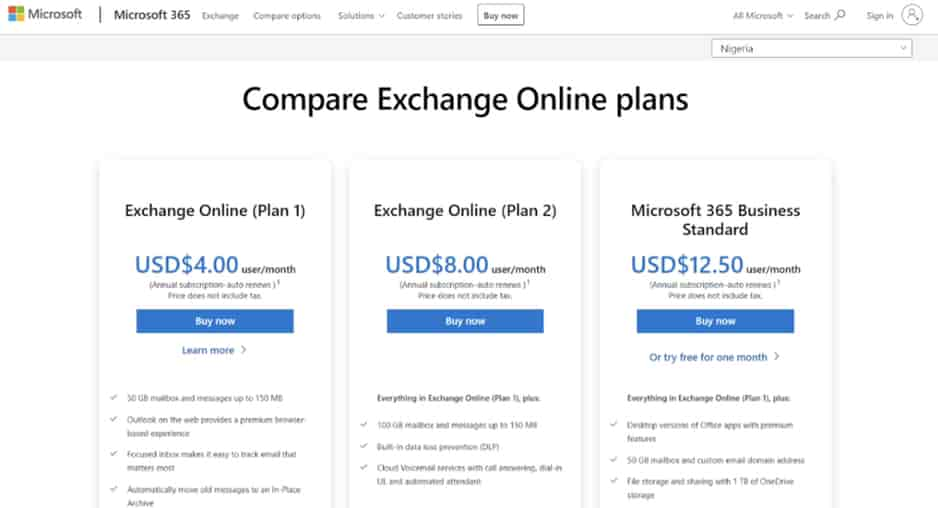 If you're a small business owner, you hardly need to worry about the higher-end plans as they're likely to offer far more than you need. With the entry-level price, you can get 50GB of space in your hosted email account. You can also get messages of up to 150MB.
If you decide to go with Microsoft 365 instead of picking up Exchange Online as a standalone, you'll get 1TB of storage on OneDrive, among other things.
One we simply must recognize is the focused email feature. It allows you to filter out unnecessary messages and focus only on what's truly important. To cap it all, you can also get organized with the In-Place Archive.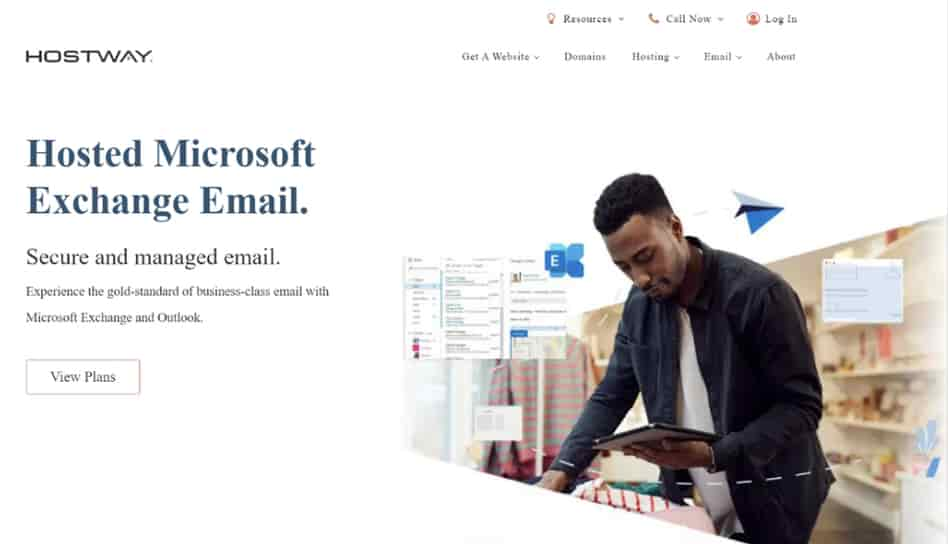 Hostway has been in business for over 23 years and has gathered over half a million customers. If nothing else, their longevity and credibility among users is a fair indication of their quality of service.
The company offers several web-based solutions for small businesses, including web design, web hosting, business emails, and Microsoft Exchange email hosting.
Their Microsoft Exchange hosting comes in two distinct packages. The first allows you to access unlimited storage and practically everything else you might need for a business email. The price is pegged at $9.99/month per license. Alongside the unlimited storage, they also guarantee 99.99% uptime, 24/7 customer service, and various benefits.
The second plan is priced at $19.99/month per license. It offers everything you can find in the first plan, plus email encryption, strict privacy protocols, and enterprise-level security.
Finally, if you're currently hosted on another platform, Hostway offers valuable advice and help to assist you with your onboarding process.
Best Hosting Through Microsoft Exchange
When choosing any of the hosting services for Microsoft Exchange, or any other digital product or service, you easily get sucked into a not-so-rewarding deal. Many brands overprice their products without offering proportional value for your money.
Before selecting OVHCloud and WebHosting.net, despite their relative unpopularity, we strongly considered their pricing, years of experience, and quality of service. Neither has less than 20 years of experience, and their entry prices don't exceed $4. It's not entirely difficult to see why they remain a favorite among several of their users.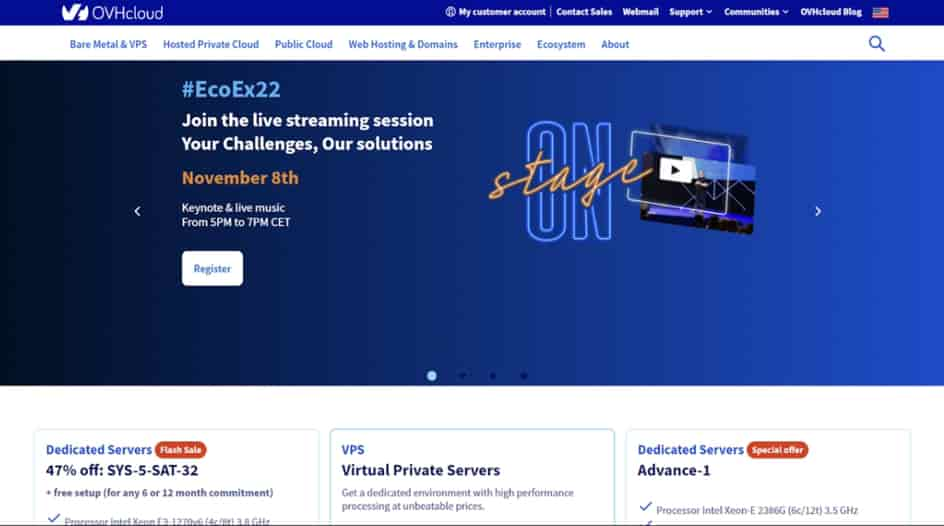 Established in 1999, OVHcloud offers a decent amount of experience in its repertoire, much like Hostway. Its hosting services are excellently suited to individuals and businesses looking to host their data in Europe.
The company's services start at $3.99 per account per month. You can have your Microsoft Exchange email account hosted in France with up to 50GB of storage at that price. You could also get up to 300GB of storage per account if you upgrade to a higher tier of their services.
Regardless, you can expect a custom business email on their exchange server. You can also rely on their security infrastructure to protect you from viruses and spam in ways that regular spam filters might not be able to.
If you often find yourself accessing your accounts from multiple devices, OVHcloud has a nifty little feature that helps you to sync all your actions. To cap it all, OVHcloud's hosting allows you to collaborate via calendar, tasks, contacts, etc.
WebHosting.net offers one of the most affordable plans of all the options listed here so far. With as low as $3.95/month, you can access the Reflexion email security service, active sync of your actions and messages, Skype for Business, etc.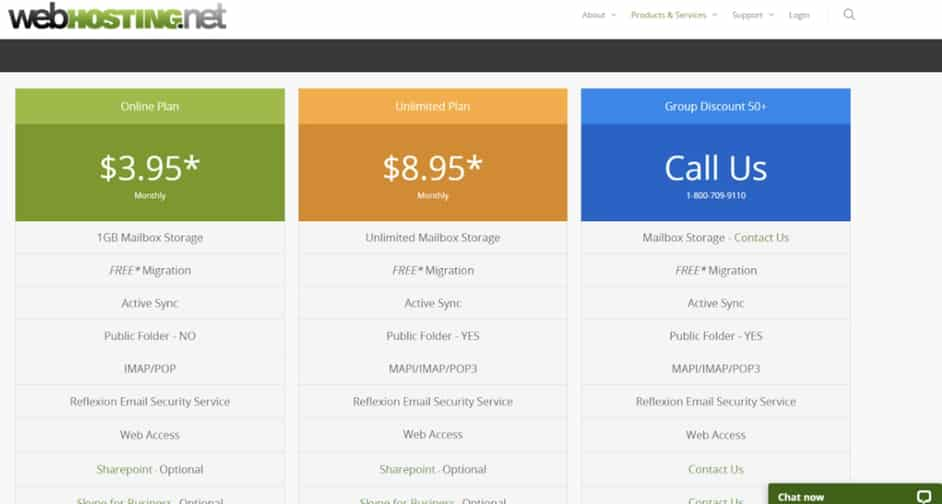 It is important to mention that you only get 1GB of storage on the company's lowest hosting plan for your Exchange mailbox. This is incredibly limiting, especially compared to other brands we've gone through in this list.
With a $5 addition to your monthly subscription, however, you can raise the bar significantly to unlimited storage for your mailbox. You can also access a public folder and IMAP/POP3/MAPI.
For particularly large companies, you can go for a custom plan that requires you to contact the company and work out the specifics of your requirements.
Regardless, you can rest assured that you'll get free migration and a money-back guarantee that lasts 30 days, just in case you're not too thrilled by your purchase.
Best Hosting With Microsoft Exchange Email
Many web hosting providers offer a professional email hosting plan alongside their service packages. Usually, this email ties directly into your domain or a variation of your domain name that you'd earlier purchased.
But, that email is often limited to the size of your hosting plan. For example, suppose you're a relatively small or midsize business owner with a web hosting plan that offers 15GB of storage. In that case, your free add-on email hosting draws directly from that storage and potentially reduces your available space.
Microsoft Exchange hosting often offers a lot of space dedicated to your email address. The next recommendations offer up to 100GB of storage space and 100% uptime.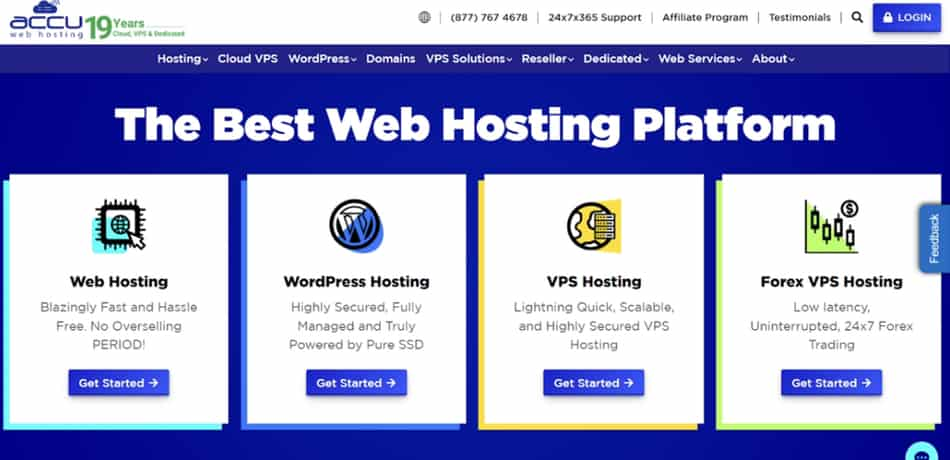 AccuWebHosting is one of the market's most prominent and reputable web hosting services. It has more than 19 years of experience and more than a million websites that it currently manages.
One of its most impressive product offerings is its Microsoft Exchange hosting. For transparency, some have complained of having difficulty adding Exchange to the platform's hosting environment. But, on a general note, it isn't impossible.
You can choose between four plans. The first two — Standard and Standard Plus — are excellent for small business owners, as you can probably imagine. Going even lower than WebHosting.net, you can purchase the lowest plan at $2.5/month.
You might want to access the Enterprise and Enterprise Plus plans if you're a larger company. The larger of these two is priced at $7.45 per month.
No matter what option you go for, you can expect to enjoy 100% uptime, free backups, and a money-back guarantee, among several other benefits.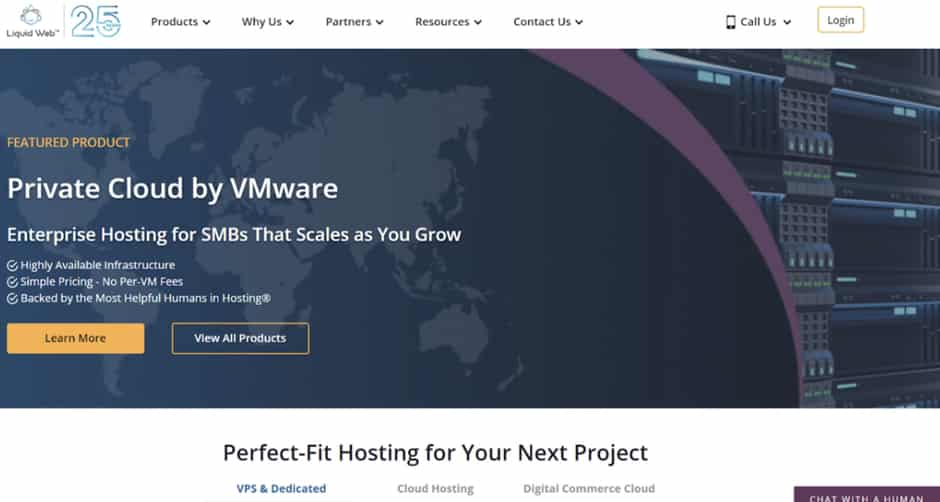 Considering its affordable prices, Liquid Web is ideally suited to the needs of growing businesses. You can enjoy email hosting plans as extra additions to its dedicated and cloud servers at a minimum of $1 and up to $10 per month for every mailbox you intend to create or use.
The Exchange services on Liquid Web offer you anti-spam and anti-virus benefits. You can also get up to 100GB of storage for your Exchange mailbox and ActiveSync to help you keep things organized and sane across your devices.
Interestingly, Liquid Web users prefer it because its servers are impressively fast. Plus, they offer Linux and Windows hosting options and a 100% uptime guarantee.
Best Hosting With Microsoft Office 365
Office 365 is essentially Microsoft's upgrade from on-site services to cloud solutions. Instead of needing physical installations and pricey licenses, companies can access essential productivity tools via the cloud.
This cuts operating costs and many hosting companies have noticed the increased interest from potential users. The final two recommendations on our list offer Office 365 hosting for customers alongside its email solutions.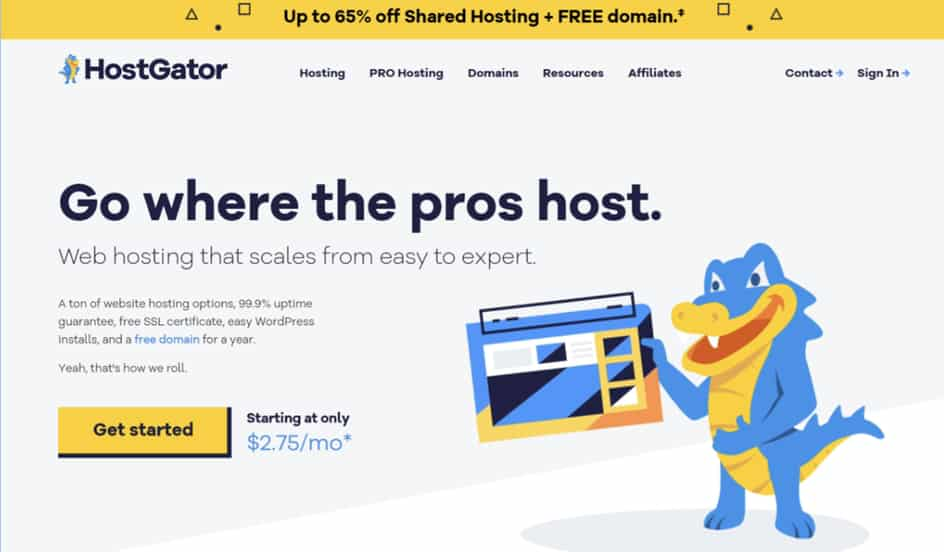 HostGator is easily one of the most famous names in the web hosting industry across the globe. One of its most unique qualities is that it allows customers to use Exchange servers or Office 365, depending on which one meets their immediate needs.
The Office 365 plans cost a minimum of $2.99 per month and up to $9.99 per month. Note that these prices depend on your subscription to the annual plan and might differ if you choose to renew every month.
Alongside its email and productivity solutions, HostGator boasts an excellent drag-and-drop website builder. This works perfectly for small business owners needing more financial strength to hire a sophisticated web developer.
It also features ad credits, unlimited bandwidth, and an all-too-useful 45-day money-back guarantee.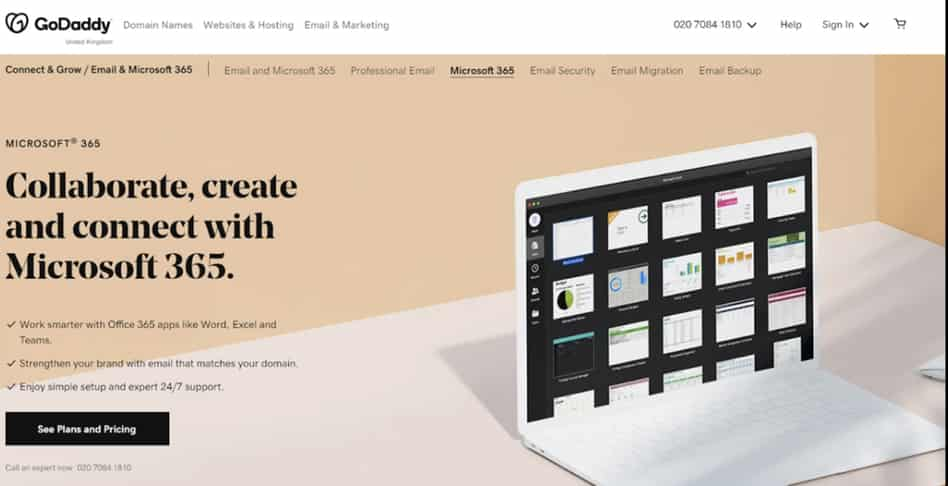 GoDaddy, the final entry on our list, is quite similar to HostGator's popularity. With over 21 million entrepreneurs finding a use for their services in one way or another, they certainly don't qualify as a small company.
But, their services include small and midsize businesses. For context, they offer Office 365 packages that can go as low as $6.99 per month.
If you need a bit more, you can raise your monthly payment to $17.99. But, whatever you choose, you'll get value for your money with responsive customer service, 99.9% uptime, and top-of-the-line security, among other things.
Now, it's only fair to mention that GoDaddy has slightly higher-than-average renewal prices. While the entry prices are low, you might have to renew for as much as $26 per month. This is something that some customers have complained about. But, regarding their quality of service, you're likely to have little trouble with them.
Conclusion: Why Hosting with these Microsoft Exchange Email Services Help
The entries on this list made it there for several reasons. One is their friendliness to small businesses. You enjoy services for as low as $2.5/month. With others, you get up to 100GB of storage and several megabytes of data in each message you send/receive.
Apart from pocket-friendliness, these brands are excellent for their quality of service. The least of them has 99.99% uptime. Some are also incredibly well-known in the industry, with excellent customer service and everything else.
For these reasons, these are the best Microsoft Exchange email hosting providers.
Frequently Asked Questions
Does Microsoft host email exchanges?
Technically, yes, Microsoft can host email exchanges. It's the reason we included it as our number one recommendation on this list. But, many customers often find themselves going for third-party hosting providers. This offers a decent amount of flexibility and helps cut off services they might not necessarily need if they subscribe to the entire Microsoft 365 plan.
How much does Microsoft Hosted Exchange email cost? 
This depends on the company that you're looking to work with for your email hosting. Some offer services for under $5 per month for every user you bring into the system. Others can go as high as $17.99 per month per user. 
How do I host business email with Microsoft Office 365 exchange? 
The first step is creating an Office account. Choose between business and home versions. Choose whichever best applies to you. Once done, fill in your preferred user ID alongside all other prompts. Log in to your account after completing the sign-up process.
You have to configure your business email from this stage by clicking "Go setup." Once there, navigate to the mail setup. You could use the default address Microsoft provides or a custom domain.
After inputting it, you can confirm by going to the homepage, navigating to set up, and then to domains. You should find your domain name there. Otherwise, go ahead and add it.
Does Office 365 have email hosting?
Office 365 isn't known for its email hosting capabilities. While they might be confused with each other, Microsoft 365 and Office 365 are slightly different. The former is the one that has email hosting.
Is Microsoft Exchange an email host?
Microsoft Exchange helps you manage your emails, calendars, tasks, etc., from a single database. Email addresses under Microsoft Exchange run under the Microsoft Exchange Server or with Microsoft 365.
What protocol does Office 365 use for email?
Office 365 often uses Simple Mail Transfer Protocol (SMTP) and/or Internet Messaging Access Protocol (IMAP) for its emails.
Who has the best email hosting service?
The answer to this depends mainly on what your needs are. We're particularly inclined towards GoDaddy because of the brand's reputation, quality of service, and uptime, among other things. But, the renewal costs might be a bit excessive for some. If you must choose one of the eight we've listed, consider the pricing and quality of service relative to what you need.
How much should email hosting cost?
Email hosting should typically cost between $2 to $30 per month based on the options we've seen in our reviews. Different things influence the exact pricing. Companies that have been around for a while and maintain 24/7 customer service and 99.99% uptime might need to charge more to keep their standard up. Others offering lower storage spaces might charge lower prices to balance their value proposition and pricing.
How is Exchange and Office 365 different?
In the simplest terms possible, Office 365 is a collection of different programs designed to help you manage your email, presentations, documents, etc. On the other hand, Exchange is one software that lets you manage your calendars, emails, tasks, etc.
Godwin has spent more than 5 years crafting engaging web articles for martech companies. He has contributed to Benzinga, Entrepreneur, Hackernoon, Blocktelegraph, and some other top martech brands that prioritise solutions to challenges online businesses face.