Unlimited hosting plans are the demand of every web developer. You may also look for it, but it's a fact that all hosting solutions are not the same. So it's a challenging task to choose unlimited hosting for your business. Right?
If you are running your business and want to shift it online, you need robust hosting plans. So it is advisable to choose more than the standard plans. It helps you get an extraordinary experience in making your website easy to use for customers. However, don't worry if you are new in the field and looking for the best hosting plans. We are here to hold you back.
Here we will share the 9 best unlimited hosting providers that we shortlist after checking many hosting plans. So you can check that and choose your suitable options.
Always remember that website is your business, so it needs to be professional and extraordinary. If your website gets down for some time, then you will face a loss. So compare the hosting features, plans, and everything before choosing to make it UpToDate for all the times.
The Top 9 Best Unlimited Hosting Providers
| Name | Price | Storage | Bandwidth | Ram |
| --- | --- | --- | --- | --- |
| Hostinger | $2.99 | 100GB – Unlimited | Unlimited | 2GB – 64GB |
| Bluehost | $2.95 – 209.99 | 50GB – Unlimited | 1TB – 15TB | 2GB – 16GB |
| Hostgator | $2.75 – 289 | Unlimited | 1TB – unmetered | 2GB – 30GB |
| Dreamhost | $2.75 | 100GB | Unmetered | 16GB |
| WPEngine | $25 | Unlimited | 50GB to 200GB | 40GB |
| A2Hosting | $7.99 – 349.99 | Unlimited | 2TB – 20TB | 4GB – 16GB |
| InMotion Hosting | $7.99 – 589.99 | Unlimited | 4TB – 15TB | 4GB – 64GB |
| Siteground | $11.95 – 729 | 10GB – 960GB | 10TB | 16GB – 64GB |
| Hostpapa | $4.99 | 1GB – unlimited | Unmetered | 15GB |
Best Overall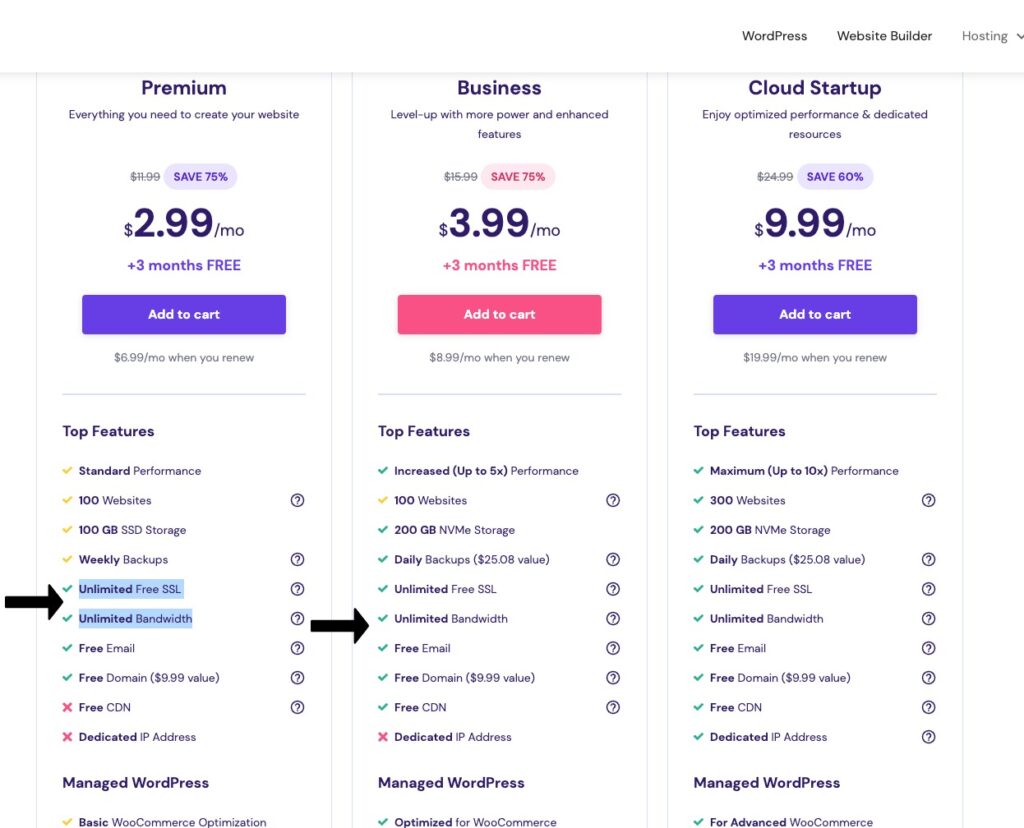 Hostinger is one of the famous hosts providing services that give website hosting at reasonable rates. In addition, however, it offers incredible features to its users and new members.
You can choose the hosting plan according to your requirement. Every plan has the additional support of cloud, VPS, and shared hosting. Now you may get confused by its incredible features at such low rates. But hosting indeed has impressive features at reasonable low rates.
It also provides shared hosting plans that contain Unlimited bandwidth, Unlimited SSL certificates, and 100 GB SSD storage space. Moreover, the unlimited plans are also great with rich terms and additional options.
Features
24/7 support in multiple languages
Affordable pricing
Easy to install with one click
99% uptime
Effective wordpress plans
Free SSL certificates
Package Prices
Hostinger always has discounted prices that make it more affordable than any other option. In addition, it has plenty of unlimited plans that you can choose from and enjoy at low rates.
The basic plan starts from $2.99 per month + 3 free months and you can get an extra discount by using our exclusive coupon code: "CODELESS" (here)
1. Bluehost – $2.95/month
Best for Unlimited Websites Domains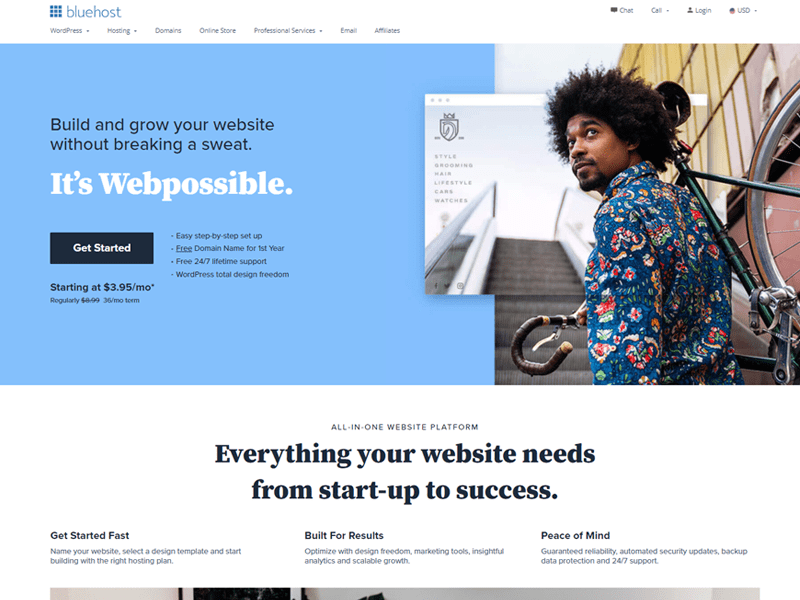 Bluehost is one popular hosting service that has a wide range of offers for its potential clients. It is the hosting providing service by the international endurance group with more than two million websites worldwide.
You can find plenty of hosting plans on their platform and choose according to your suitability. Of course, if you are running a business website, it's essential to take efficient hosting plans. But many beginners are short of budget to choose WordPress or WooCommerce for their online stores.
Bluehost hosting services allow users to start selling within a few minutes because it's easy to install and use. Moreover, you will also get many additional benefits with Bluehost, like the free domain, free SSL certificate, and many more.
By calculating all its features and benefits, Bluehost is one of the most powerful choices for cheap WordPress hosting plans. All their plans are at reasonable rates with fast service and reliable products.
The features and benefits that you will get are according to your chosen plan. So the features and benefits that you will get are according to the plan you will select, and if you choose the cheap one, you lose your hands on many incredible features.
However, Bluehost has more than two million users all over the world.
Features
Here are some incredible features of the Bluehost hosting service.
Unmetered storage and bandwidth
Unlimited website and domains
Free domain name only for one year
Unlimited subdomains
Free SSL certificate
24/7 customer support
30 days money-back guarantee for every user
One-click WordPress installment
Package Prices
Every Bluehost plan has different prices. Usually, it costs $3.88 per month. You will also get discount prices according to your plan selection and its duration. However, every Bluehost plan has an upfront payment with no initial contracts.
Best for Unlimited Disk Space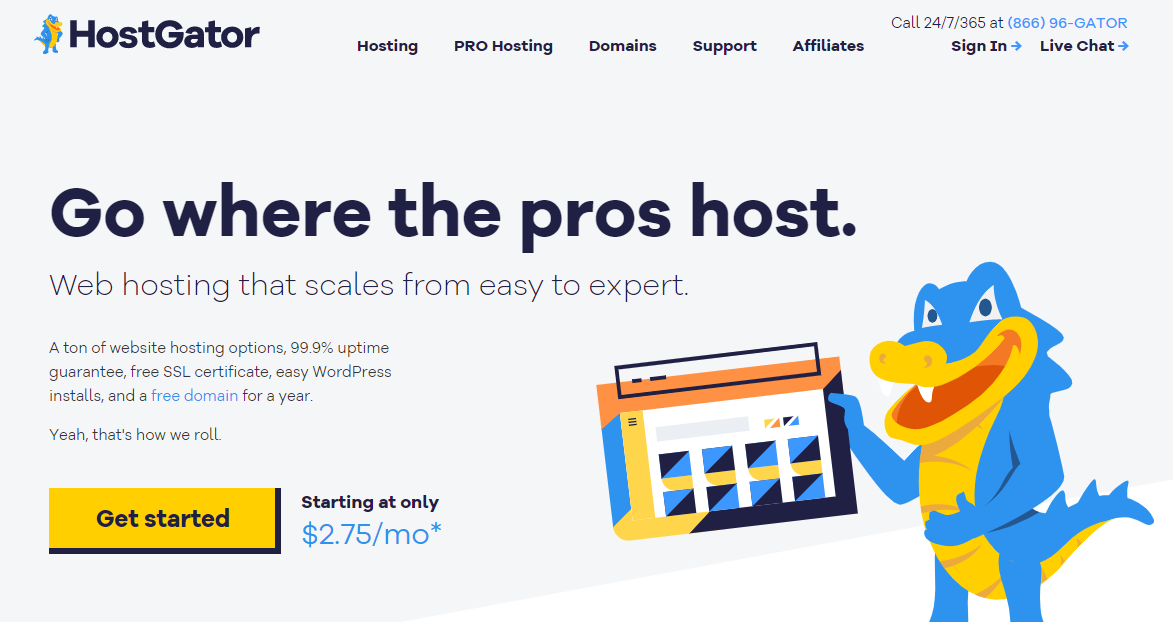 Hostgator is another popular hosting service that provides nonstop Hosting and plenty of domain names. By choosing HostGator, you will have the combination of domain privacy, extension tools, and many more.
Moreover, it is easy to use and quickly set up your online business. It has a well-documented management area that is effective for beginners to take help and manage their website. Moreover, the hosting and domain name at Hostgator is a plus that comes with additional features.
It has the drag-and-drop option to build the website and make it effective. However, HostGator also has different plans that vary according to their features and great website-building help.
The plus point of choosing Hostgator is their free migration services that come with every hosting plan. So if you want to transfer your HostGator server to WordPress, it doesn't cost any price. Moreover, every package comes with a free domain name and automatic backup updates up to 1 GB. It is an incredible feature because it provides a high cost.
So if you are a beginner and want to get a great reseller hosting plan, then Hostgator is the perfect option at reasonable prices. Choose its plans according to your website requirements and then build an entire website.
Features
Here are the powerful features of Hostgator that every user will enjoy according to their selected hosting plans.
Unlimited domain names and Hosting
Unlimited bandwidth and storage disk space
Incredible, dedicated service and share options
24/7 customer support
45 days money-back guarantee
Package Prices
If you are a beginner at Hostgator and doing your registry for the first time, it costs $2.75 per month. It is the discount price, but the actual price is $13.99 per month. So if we talk about the package's worth, then it varies according to every plan.
Choose the plan according to your budget and website requirements.
Best for Unlimited Bandwidth Traffic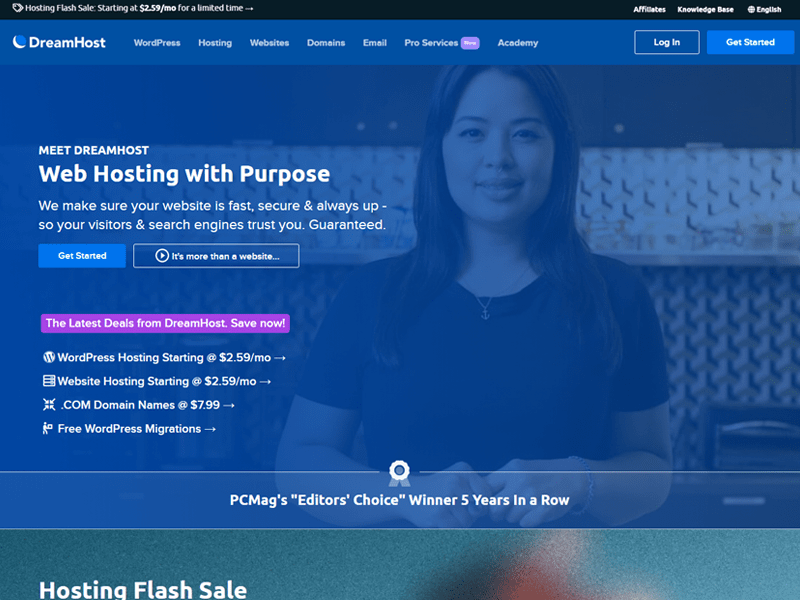 Dreamhost is another excellent web hosting provider service that suits best big websites. They have plenty of plans with cheaper rates and incredible features. Moreover, its more affordable plans also help to make a robust website for small businesses. So it's the best option for beginners and experts to create small or significant websites.
Every plan of Dreamhost has excellent storage space. So you can share a significant amount of content at the low price package and start your business effectively.
If you already have the pre-installed Dreamhost, you will get many free updates and a protected privacy policy with many advanced features.
Dreamhost also offers several hosting services to their users like cloud hosting, WordPress, share Hosting, dedicated, and VPS. Every package has impressive features with easy-to-install options and quick migrations.
Remember that the migration doesn't cost any additional cost.
The standard hosting plan comes with free SSL, backups, and unlimited bandwidths if we talk about the standard hosting plan. So when you choose your specified plan, then it has all the incredible features. However, DreamHost offers five hosting plans that come with unique features at various costs.
They also have cloud packages that charge on an hourly basis.
Features
Free domain names for one year term
Pre-installed WordPress services
Free SSL certificate
Unlimited emails at your domain name
Custom control panel
Automatic backups
100%uptime guarantee
Amazing WordPress Builder
97 days money-back guarantee
Package Prices
The monthly plan of Dreamhost is $2.95 per month. But, of course, every great thing has some drawbacks. Similarly, Bluehost doesn't offer a shared unlimited plan. So, in that case, you can ask for your money-back guarantee.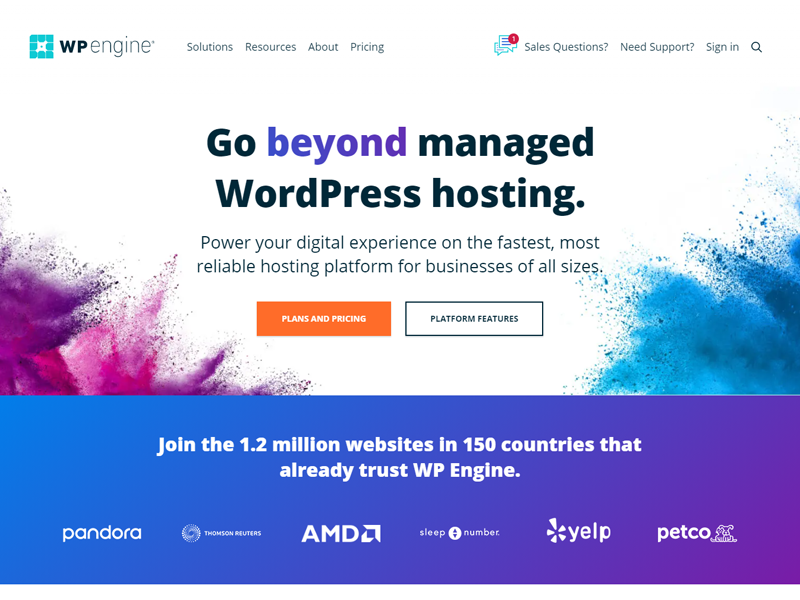 WPEngine is a high-quality hosting service that helps to increase website uptime and security. It has incredible features that help increase WordPress security, daily backups, a flexible cloud platform, real-time threat detection, and many more.
WPEngine is the best if you want to manage your WordPress plans with the enterprise class. It helps to enhance your website speed and increase its pace. However, with all these features, it doesn't offer free domain name and email services.
You can manage your WordPress business with it as the powerful hosting. It has incredible hosting plans with outstanding features. One of the great features is the increasing power in loading time.
Wpengine provides the google cloud platform and amazon web services. So the users can grow more and more effectively. All these features of WPengine are the backbone of developing a powerful website. Moreover, it helps to build high security and scalability.
Moreover, it helps to automate the backups and plugin updates and provides a free SSL certificate.
Features
Daily backup updates
24/7 customer support
Amazing uptime
Protected security with threats detection
Effective staging
Package Prices
The basic plan of the WPengine costs $25 per month. You can upgrade the plan according to your requirements. However, when you increase the specifications and features, you will also pay a higher price. All the plans have outstanding features that help in increasing the loading time.
If you choose enterprise hosting for your small website, then it costs $60 per month.
Best for Unlimited Databases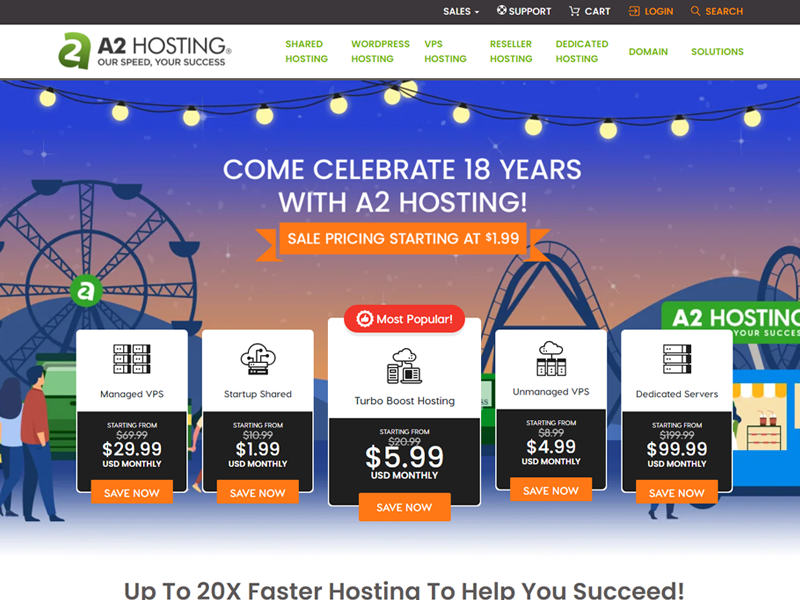 A2hosting is an excellent platform for beginners who don't have coding knowledge and web designing. Commonly A2 Hosting is best for eCommerce websites that can install it with a few clicks, and it is also easy to set up.
You can also get a free A2hosting account, but it only has limited features. Moreover, if you have a small business, it doesn't have a specific plan. So you can choose your standard package with a combination of other features for making your eCommerce sites.
Every plan of A2hosting service is different and provides variable features according to their plan. But no matter which plans you choose, you will get free storage and an unlimited database. In addition, you will get a free SSL certificate with every plan through the Letsencrypt service. The certificates help to increase the security of your personal information and protect the privacy of your customers.
Now, if we talk about the response time of your website, then A2hosting is the best according to their service capacities. If you face any issues, then you can contact your service specialist in a few minutes. So by taking the help of a service specialty, you can tackle your problem.
A2hosting provides convenient security features with the same price tags. Moreover, it has fantastic features to contact the cPanel directly. So you have the opportunity to regain the control to use your site and have easy and quick access.
It provides outstanding performance support at low prices. You can get good security features and perform an excellent website business. So you can choose the plan according to your choice. They have robust plans that help you to plan your small and large companies.
You can choose the plan to set your security features according to your required terms and plans.
Features
Custom support
Support from the expert team for 24/7
Free account migrations
99.9% uptime commitment
Provide the faster servers
Long-term money-back guarantee
Package Prices
It has different package prices that depend on your selection. However, the starting package price is $10.99 per month, and some have $20 per month. These plans provide the best hosting services.
Best for Unlimited Email Addresses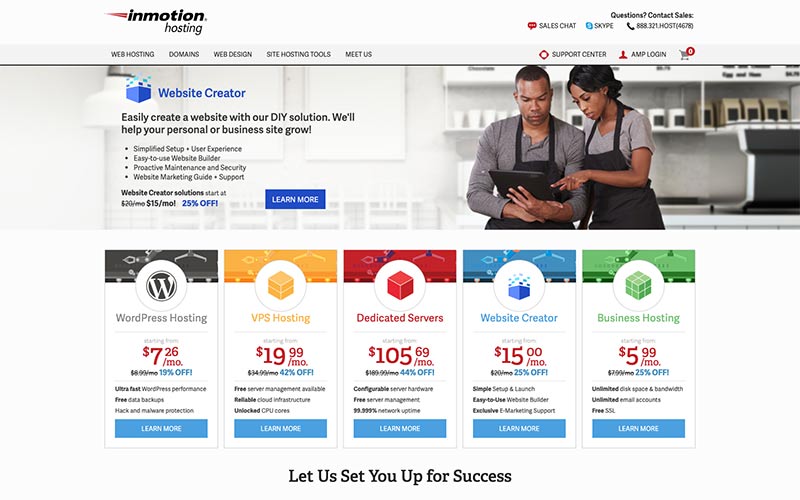 InMotion hosting is the best as cheap eCommerce hosting. It provides a variety of exciting plans that help to make an effective website. But, of course, the choice of your plan depends on the software that you use to build your eCommerce website.
Commonly eCommerce developers prefer to choose WooCommerce. So by having the InMotion unlimited hosting plan, you can download it quickly. However, if you are a beginner, you can take help from the detailed tutorials to use it and enhance its performance with reliable settings.
InMotion offers a wide range of hosting plans for almost all you need to develop your eCommerce or other websites. Choose the plan according to your requirements and budget. Moreover, according to the previous users, its low-cost shared hosting plan is not recommendable to anyone.
InMotion hosting services are compatible with the dedicated IPs, SSL, and PCL servers. The VPS hosting of InMotion helps to build medium to large eCommerce sites.
You can get dedicated IPs with multiple domains, backups, and powerful machines to run the site. It also has excellent storage capacity for the new websites.
One of the great strengths of InMotion hosting is its SSD hardware technology. It increases the spinning units by 15 times. As a result, you can store and work on your content with improved speed and happier customers.
Features
Unlimited space and SSL for all the plans
Unlimited Email Addresses
Highly trained supporting staff
24/7 live support
Easy to install
Web application firewall
NGINX server technology
Free web migration
99.97% uptime ratings
90 days money-back guarantee
Package Prices
It has a variety of packages, but the starting plan costs $7.99 per month. You can enhance the worth of starting a plan by adding a combination of other features.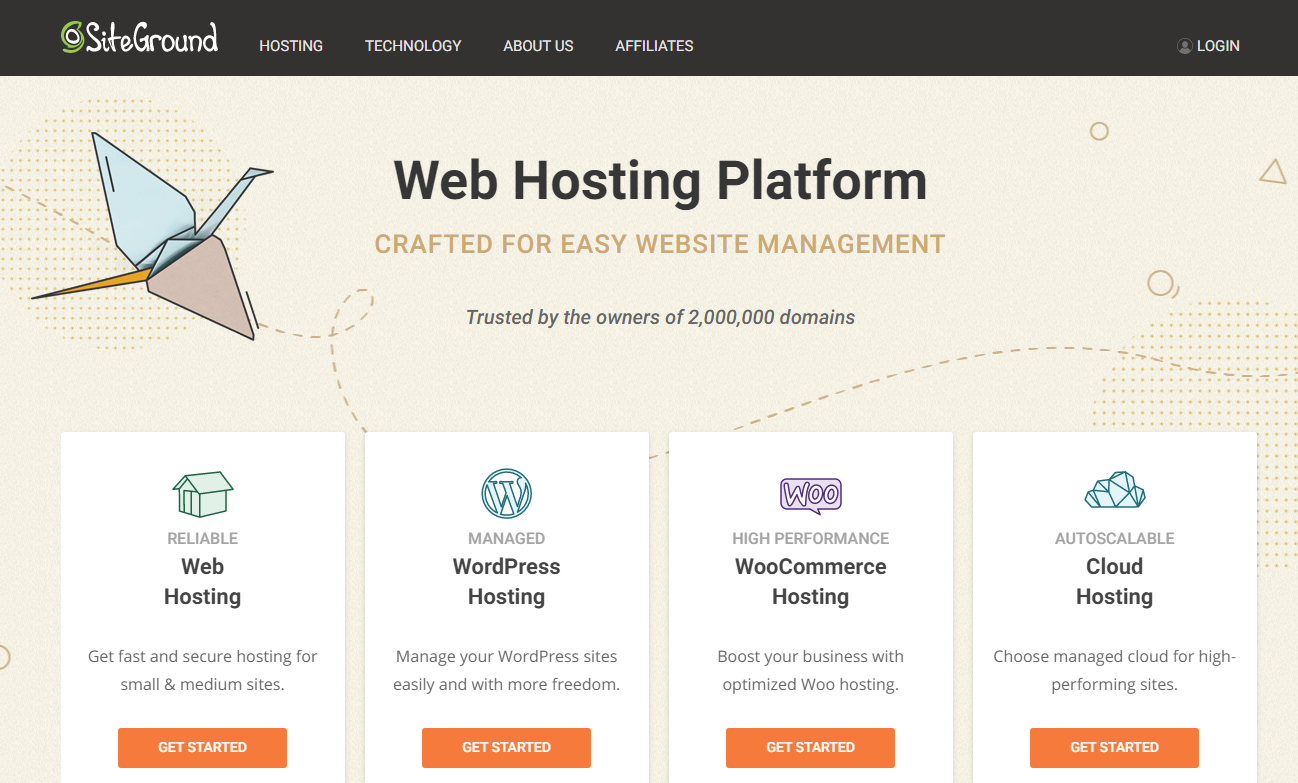 Siteground is a compelling hosting service for small businesses. If you have a small eCommerce business, then this platform is ideal for selecting hosting plans. It will provide excellent hosting solutions to your needs.
You can install to Siteground plenty of eCommerce platforms like open cart, Magento, Prestashop, and many more. These hosting providing services also depend on the location server, advancing caching options, and free CDNs that you need to make the eCommerce website robust and easy to use for potential clients.
Siteground also ensures its users that you have a safe and secure business website with a supported privacy policy. You will get additional security at the site ground platform for protecting your website's safety.
Moreover, you can get customized hosting services for your eCommerce website. It also provides the test service to assess their performance and get assistance from expert personnel. All the experts at Siteground are highly competent and ready to respond to your queries through live chat.
All their premium and basic plans have reasonable prices that depend on your service plan and their combinations.
Features
Free WordPress eCommerce installation
Site transfer assistance
Free domain name registration
Free CDN service
Free daily updates
Multiple server locations are available
Live chat support for 24/7
Package Prices
The Siteground has the cheapest hosting plans that start from $4.95 per month. It is the worth of basic plan that also provides incredible support to website developers. However, the cost of extended plans also increases with their features.
Is unlimited bandwidth unlimited?
Many of us know about unlimited bandwidth but don't know about its actual meaning. Commonly the terms "unlimited" bandwidth and "unlimited" transfer. However, both are different terms with variable purposes. So ensure that you don't intermix both and choose the website hosting services.
First, let's clarify the meaning of bandwidth. It refers to the data you can transfer from one place to another but after a specific period. This time of sharing information is measured in units per second. Moreover, you can say that hosting takes time to transfer data from one place to another.
If a standard business connection provides 1.5 megabytes of speed per second, then the Bluehost hosting service will boost it to unlimited bandwidth. So your service providers ensure higher rates for their users and make it more than the pipe size.
So if you also want to take advantage of speed more than the natural speed built, choose the unlimited bandwidth hosting plan. However, it is common for other service providers to provide you with unlimited bandwidth for a period of time, like a month or two.
We hope now these terms are clear to you. Right?
If not, then here is another example that you can consider clearing it.
Your car has a fixed maximum speed that is around 100 miles. So you can't drive it for more than 100 miles per hour. But the unlimited bandwidth of your car allows you to take unlimited passengers without you. So it doesn't affect the mechanical limits of your vehicle, and all the passengers reach their destination at the same time.
What do unlimited websites mean in Bluehost?
Every website has a particular name that is referred to as the domain name. It is the permanent address of your site that you choose after the hosting through hosting provider services. For example, Bluehost is a popular hosting service that offers unlimited websites to its users.
But many beginners don't understand the value of unlimited websites by Bluehost.
The unlimited websites in Bluehost mean that you can host your unlimited domains at their single account. If you have unlimited website access at the Bluehost hosting plan, you can manage multiple websites through a single charge.
It provides a comprehensive domain manager in your control panel. You can quickly register your new domain or website through this opportunity and manage it from the same place. So it provides incredible help and assistance to web developers to build and manage their multiple websites from one place.
Bluehost offers unlimited domains or websites with their plans. You can also get it at the discounted plans to enjoy their multiple features. Bluehost is just amazing because it allows users to host as many domains as they want with a single account.
Moreover, you can also transfer or migrate your website details from one to another without any hassle. You can host all your primary domains, add-on domains, parked domains, and subdomains through a single account and make it more manageable.
So choose the Bluehost hosting service according to your requirements and run your different domains without the hassle and unmanageable environment.
Is Bluehost unlimited storage?
Bluehost has different hosting plans that allow you to host your website according to the required criteria. Many users face storage issues when they grow their businesses. So they want to upgrade their hosting service. Commonly the hosting plans have limited storage capacities. Bluehost is one of the most famous hosting platforms. So users want to know that their Hosting provides unlimited storage.
So yes, the Bluehost hosting plan provides unlimited storage. So by having the Bluehost hosting plan, you can store unlimited website data on your service.
It is the decisive factor that many eCommerce or website developers need to make their big website. With Bluehost unlimited storage, you can also store photography data, eCommerce store material, and many more media files according to requirements.
However, every hosting service mentioned above is famous for its complete services, especially bandwidth and storage. But also remember that certain limitations only support these.
So it is advisable to follow the terms and conditions of the hosting services to use their incredible features. When you choose the hosting plan, every service shows the privacy policy along with terms and conditions. So read these terms carefully before making the payment. It helps you access the hosting plan according to your requirements.
You can use their unlimited offer only if you don't violate their terms and conditions.
Shared Hosting also has the same popularity among web or eCommerce developers. Many users want to know more about it, especially beginners. The most common query is whether shared hosting is unlimited or not.
So yes, the Shared Hosting is also unlimited. You can store an unlimited amount of data as it has excellent disc space. So you can store all your site data without having any hassle.
You can use shared hosting unlimited for your website without having any fear. So, if your site becomes viral soon, you don't stress about updating hosting to make it convenient.
When websites become bigger and receive 30.000+ monthly visits shared hosting can be slower and will create problems with your website performance.
Conclusion
So by summing up the above guide, you have the list of unlimited hosting services and their plans that you can use in 2023. All of these mentioned plans are available at reasonable prices and have incredible features. So set your website requirements and choose the hosting plan according to your needs.
We hope this article will help you in choosing effective website hosting and growing more.

As one of the co-founders of Codeless, I bring to the table expertise in developing WordPress and web applications, as well as a track record of effectively managing hosting and servers. My passion for acquiring knowledge and my enthusiasm for constructing and testing novel technologies drive me to constantly innovate and improve.
Expertise:
Web Development,
Web Design,
Linux System Administration,
SEO
Experience:
15 years of experience in Web Development by developing and designing some of the most popular WordPress Themes like Specular, Tower, and Folie.
Education:
I have a degree in Engineering Physics and MSC in Material Science and Opto Electronics.