Let's start talking about the most useful no-code tools for any specific requirements.
Robotics and technology are transforming the world. The world is following an alternative path. It is a track of mechanics and modernization. Humankind has altered the way of living by converting their virtual thoughts into reality.
The thriving of digital media is the critical reason for the victory of millions of people. People are more towards online jobs and businesses. In online work, build a website for your client, and these websites are for their comfort and your success.
Giving digital opportunities to your business clients is becoming very common nowadays. People look for tools that offer them a facility for developing an online site by using graphic tools.
People who do not know coding can create a website by using different tools available online. No code solutions can bring about a 90% reduction in development time.
In these tools, there is built-in coding, but apparently, use graphical user interface tools (GUI).
What Are No Code Tools?
Before no-code tools, people depended on developers for websites and applications, which was considered a tricky challenge. However, now no code tools empower the world to create websites without involving coding directly. It is impossible to solve all the technical problems cannot from no code devices, and we can do many jobs faster with the help of these tools.
These tools allow a person to develop application software or a website by using GUI. It does not any use the old programming of computers. You can call these tools visual builders. It is because they help assemble and manage things in the best possible way without using coding. Coding is an inspirational and ever-demanding job.
However, it is difficult at all but requires a lot of effort. These low-code software are doing a fantastic job, and they offer humans an opportunity that is vital in present times.
In no-code platforms, the fundamental element behind its working is coding. Developers of this no-code software have used coding behind its every function. In building an application or website from these tools, scroll, click, drag, or drop. Behind every click, the process that takes place is coding. To make this task easy and handy for the users, they have managed it in a super-brilliant way.
Best No-Code Tools 2022
We have organized and listed them based on different types of no-code tools, as below:
No Code Tools for Websites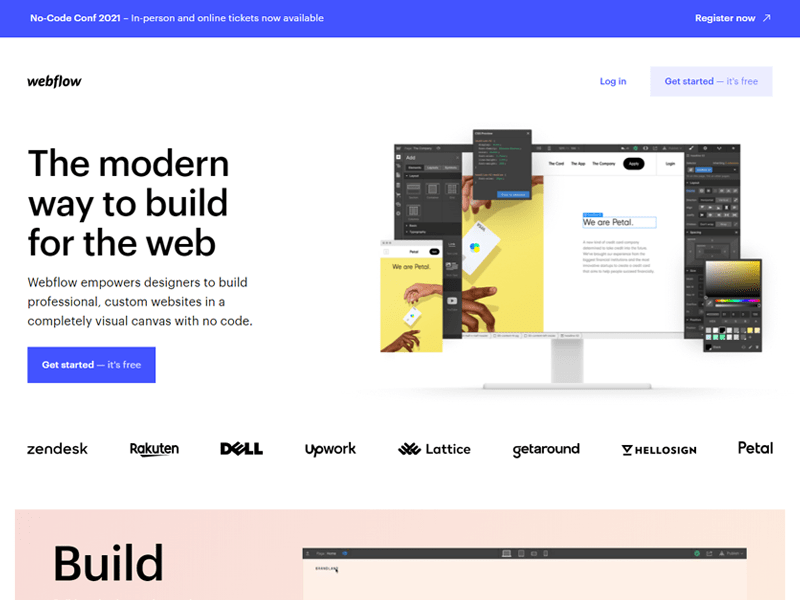 Webflow is a well-known tool for building websites and applications. All the features are extraordinary and let you the best services to launch your designs for different websites. Webflow allows its clients to design their sites and develop what they desire. You can also check the differences between Webflow and WordPress.
Features
Easy customization: Webflow allows its customers to customize their website by quickly dragging and dropping features.
Fully responsive: You can develop a responsive website by using Webflow without coding.
Hosting and SaaS Platform: Webflow provides a fantastic platform known as SaaS and also offers hosting for the ease of their customers.
CMS: Webflow provides CMS to arrange the content on the website. By using this, you can style the fonts and structure of the content.
Price
Webflow has different categories of plans and deals. They start their basic plan for $12 per month, and you can subscribe to their pro plan by paying $35 for a month.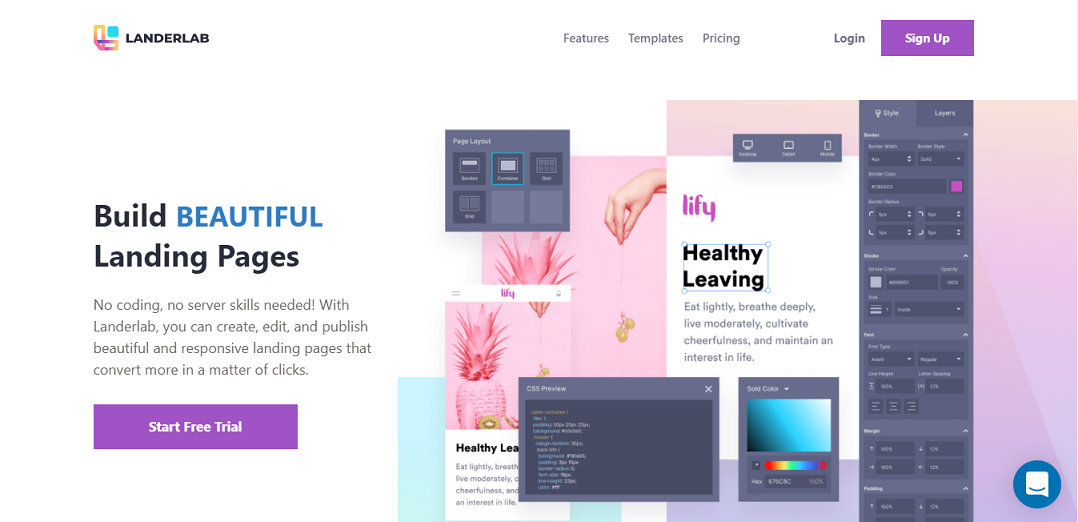 If you invest in Landerlab, you will undoubtedly obtain a significant ROI, but only if your firm succeeds after paying $49 per month for Landerlab. This may not be the ideal webpage construction tool for novices, but it is far less expensive than other landing page builders.
Features
SSL Certificate: Landerlab has an excellent and simple-to-install SSL certificate that you can use to protect your lead-capturing landing page.
Unique Domain Names: Landerlab provides domain administration tools, allowing you to simply manage all of your domains and subdomains.
Tracker Platform – Landing Page: Landerlab provides an easy landing page to tracking platform link that you can use to track all of your high-quality landing page's purchases, clicks, visits, and everything in between.
Price
Landerlab offers a 7-day free trial, which is ideal for learning about the website's many aspects, integrations, possibilities, and everything in between. Landerlab has monthly and yearly price options. The monthly fee is $49, while the yearly fee is $499, representing a 15% savings.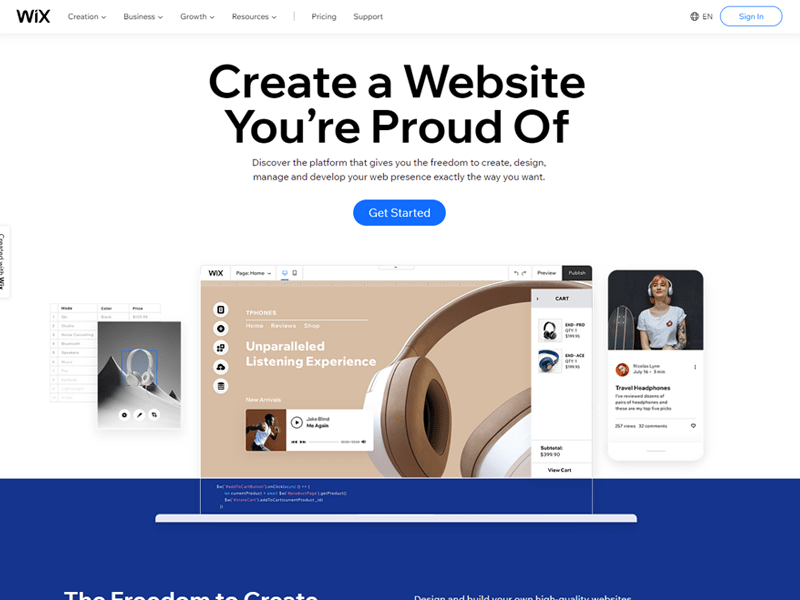 Wix is a tool that allows cloud-based website development services at their best. Their features mesmerize that they captivate millions of people toward it. You can create HTML5 websites and mobile sites by using tools like drag and drop. In addition, they offer a lot of comfort to their customers and try their best to satisfy them.
Features
Drag and drop website editor: Wix has the fascinating feature of a drag and drop editor. They allow their clients to create any website efficiently.
Free and reliable hosting: To provide their clients with more services, they have launched the feature of reliable hosting.
Customizable designs: You can develop your website how you desire. It also provides 100s of customizable designs to its customers.
Price
If you want to get their services for your website development, you can try their free plan. Their combo plan is $19 per month, and for a business plan, they pay $30 per month.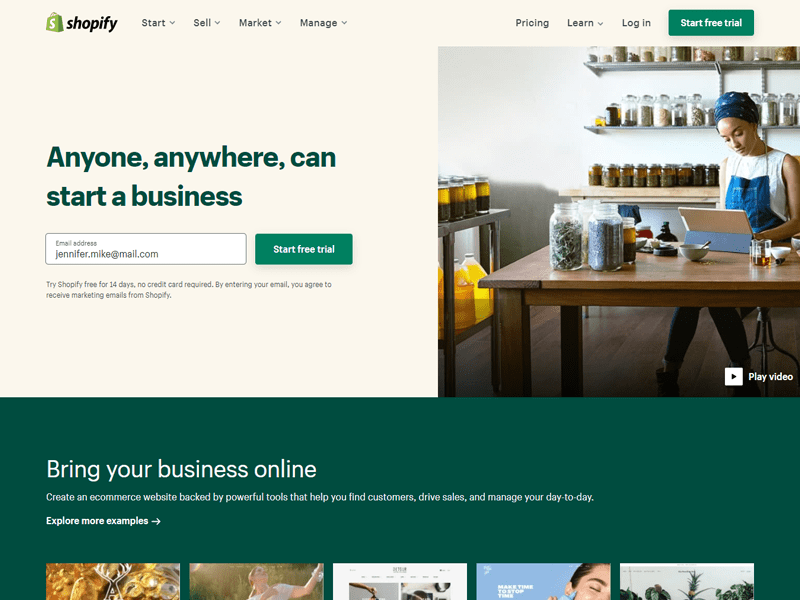 Another ultimate no code tool that has attracted many people towards it is Shopify. People recommend this tool for any website development because of its features and attributes, and Shopify supports thousands of businesses by promoting and selling its products. Shopify offers unlimited features that make it the king of eCommerce platforms
Features
Oberlo feature: People interested in dropshipping can add the feature of Oberlo to their Shopify accounts. The benefit of this feature is that it enhances your ease. They allow their customers to drop the product from their warehouse directly to the customer.
Easy to use: Developing a website by Shopify is a simple task to do, and their template website assists customers in the entire process.
Shopify app store: Shopify app store helps customers thrive in their business, and they improve their sales in different ways.
Price
Shopify does not have any free tiers for the customers. However, they allow their users to check their features for 14 days for free. Otherwise, they have the basic plan for $24 per month.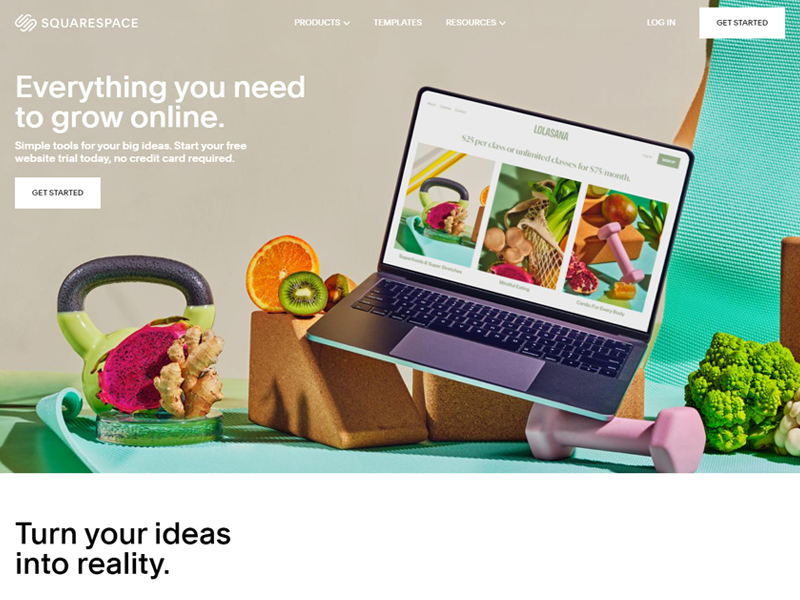 One of the most demanding and famous tools to create websites online is Squarespace. They have all those specs and features that can inspire anyone. They are providing hosting services along with templates to develop a website of your choice. They satisfy their customers with their services and recommend others to try them.
Features
Drop and drag element: They offer to drop and drag elements as one of their best features. This feature allows the customers to modify their website according to their demands and choice.
Customization and hosting: They facilitate their clients by letting them customize their website Squarespace templates. They also allow them courses related to hosting the website.
Easy to use: You can follow some simple steps to customize your website. They have created every feature in a way that is very convenient to use.
Price
Personal – $12 per month
Business – $18 per month
Basic commerce – $26 per month
Advanced Business – $40 per month
Read More: Squarespace vs Webflow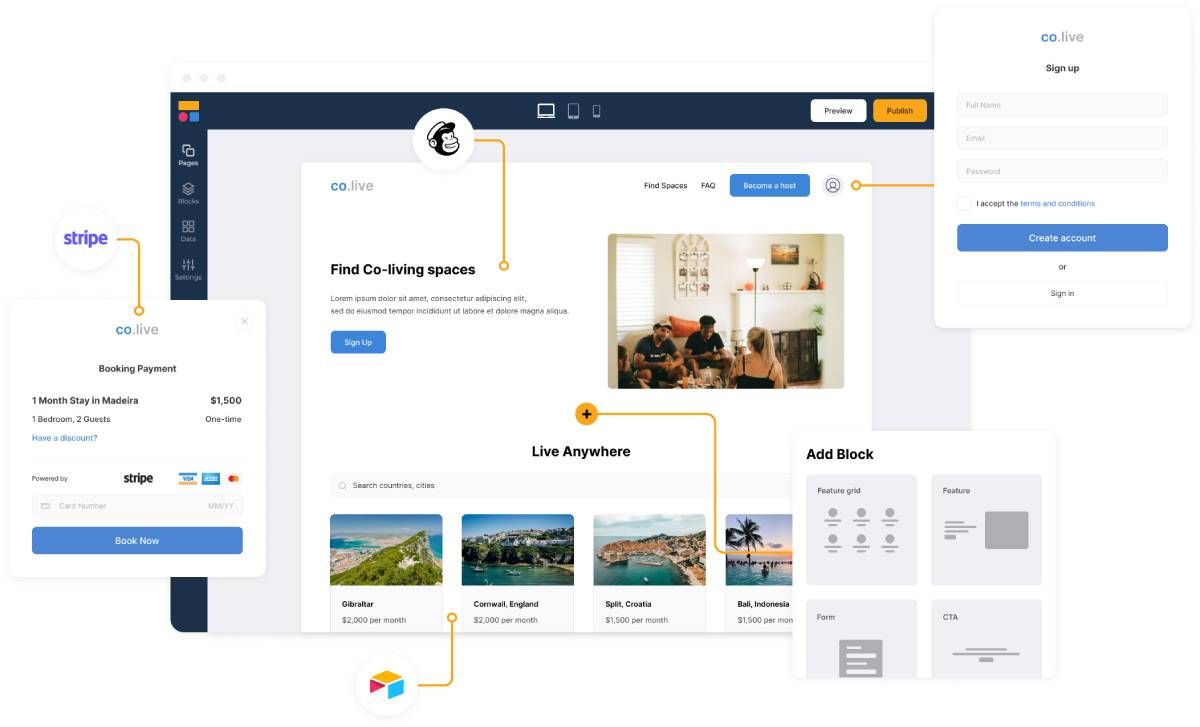 Softr is mainly specialized in no-code web app/website building. You can build client portals, internal tools, marketplaces, online communities, resource directories, and websites with the platform.
Softr develops web apps on Airtable, and for your better start, it offers ready-made templates and over 100+ pre-built blocks. Further, you have unlimited opportunities to edit any detail in your created web platforms.
Features
Simple, yet powerful – build full-stack apps from Airtable, in one single place.
Memberships – easy user account, member-only content, and secure data
Payments – accept payments in minutes, custom pricing models, and native Stripe integration
Responsive by default – don't worry about the mobile-friendliness of your apps: every page built with Softr will look great on any device.
Price
Free
Starter – $24/mo
Professional – $65/mo
Business – $165/mo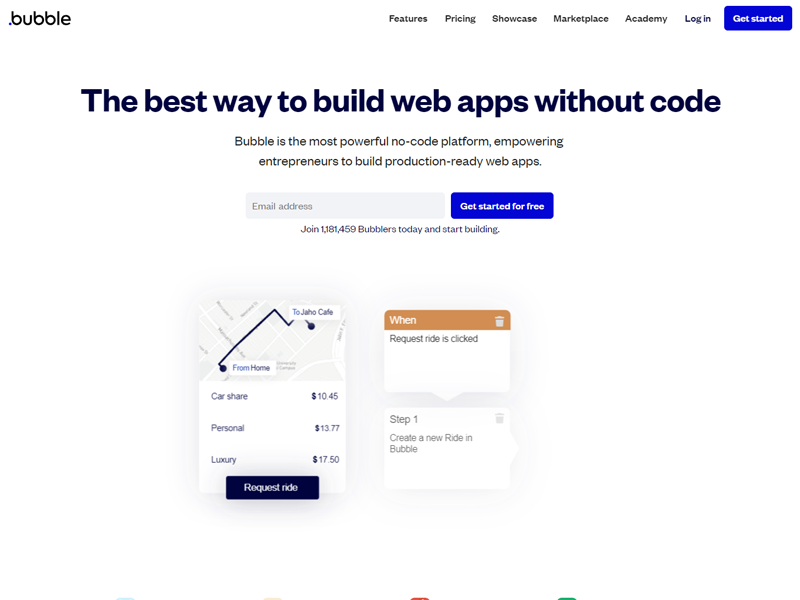 Bubble.io provides you an opportunity to develop an interactive website with every desired feature and its launching in hours. They can evaluate your growth efficiently, and the Bubble has a robust set of tools to build an app for desktop or mobile layout.
Features
Deployment process: Bubble lets you manage your code and develop a deployment process to a web server. They can handle your deployment and provide you with the services of hosting.
Responsive and hybrid apps: It lets you create a responsive web and hybrid mobile app.
Mobile-friendly layouts: You can develop websites that have a mobile-friendly layout and present your content in the best way.
Price
The bubble has a free tier for their new users, and they have also categorized their deals into three more tiers.
Personal- $29 per month
Professional- $129 per month
Production- $529 per month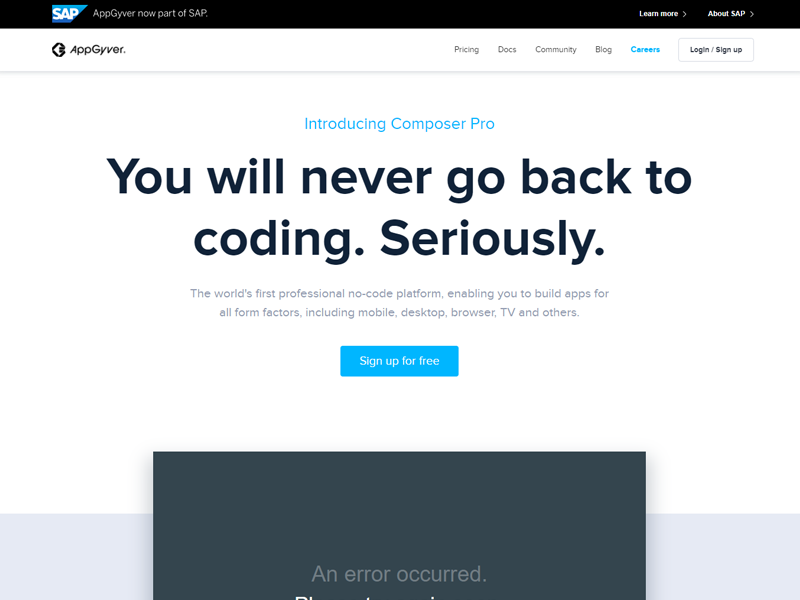 AppGyver is an ultra-special tool that offers all those specs that any customer yearns to have. They do their best to satisfy their clients with their brilliant services. AppGyver has a powerful theme engine and over 500 components. It also has a pixel-perfect design and provides fantastic performance to the website. It has a mesmerizing animation system and custom fonts.
Features
Drag and drop feature: They cater to their customer in the best possible way by their super-incredible drag-and-drop builder.
Logic visually: It has a powerful programming language that plays an essential role in satisfying its clients. Sensors, file operation, data function, animations, and user input are their primary logic operations.
Formula functions: They have over 400 formula functions. These functions further ease the process of website development.
Price
They offer free plans to small firms and organizations.
No Code Mobile App Development Tools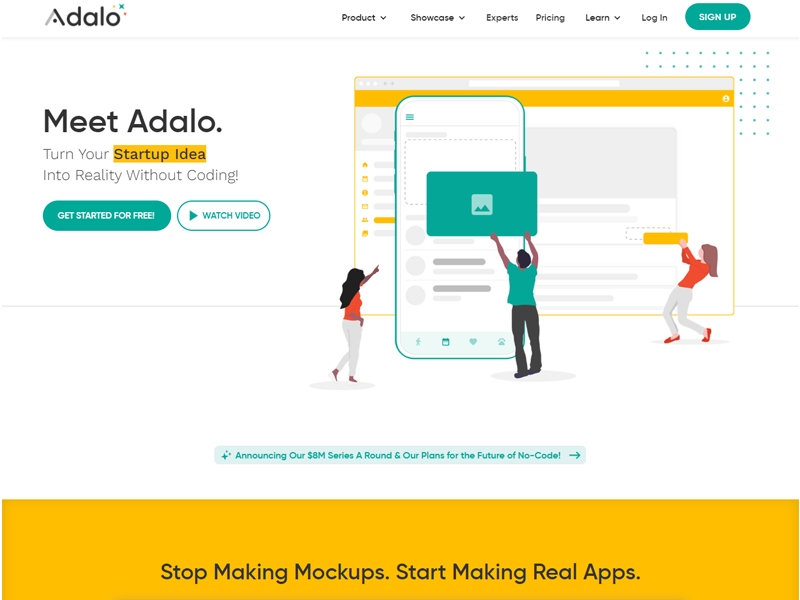 Adalo is a tool that you can use for the development of super-brilliant mobile-friendly websites. It is an ever-demanding tool for creating a website with all the great specs and styles. In addition, they have free templates for their clients. Their customer service is one of the best that boosts up its demand among the public. Most clients recommend this tool to everyone.
Features
Visually stunning: The expertly designed feature of drag and drop made it famous. You can completely control the designs of the websites.
Interactions and configuration: They add interactions and database configuration with no coding.
Inexpensive: You can adjust and design your website in significantly less amount.
Price
Explore plan- free
Pro plan- $50 per month
Business plan- $200 per month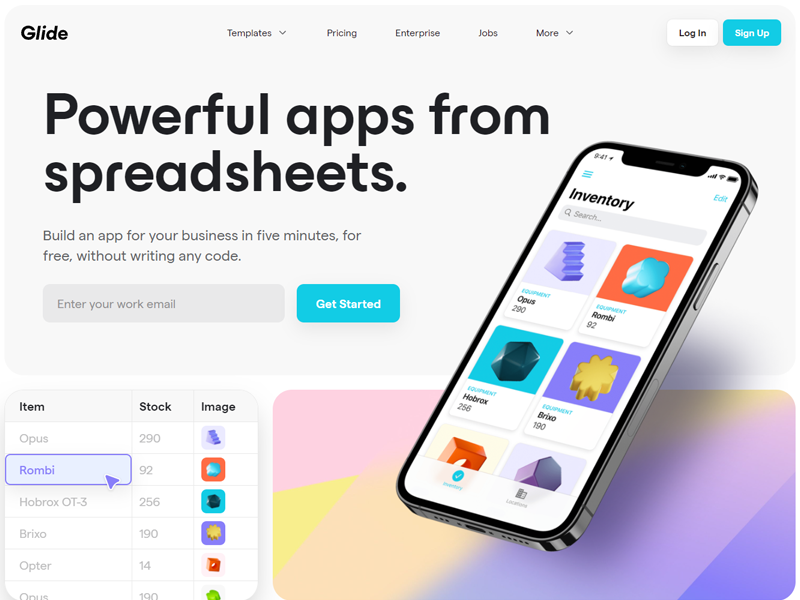 It is a powerful app from spreadsheets. Over 250,000 people and companies rely on GlideApp to develop a customized app. Glide is software that follows simple, easy, and fun steps to create a website online, facing no inconvenience. Easily you can create small sales management software without writing any code.
GlideApp has modernized the workflow and allows the customers to develop any applications in a few hours without basic coding knowledge.
Features
Drag and drop components: You can use this component to make your apps attractive, interactive, and visually rich.
Instant updates: It makes updates and the editing process very handy and easy. Most people enthrall this feature and go for it.
Layouts: They give the best layout to your apps and are a go-for tool.
Price
Personal app- free up to 500 data rows
Pro app- $32 per month
Private app- $40 per month
Enterprise app- contact them for this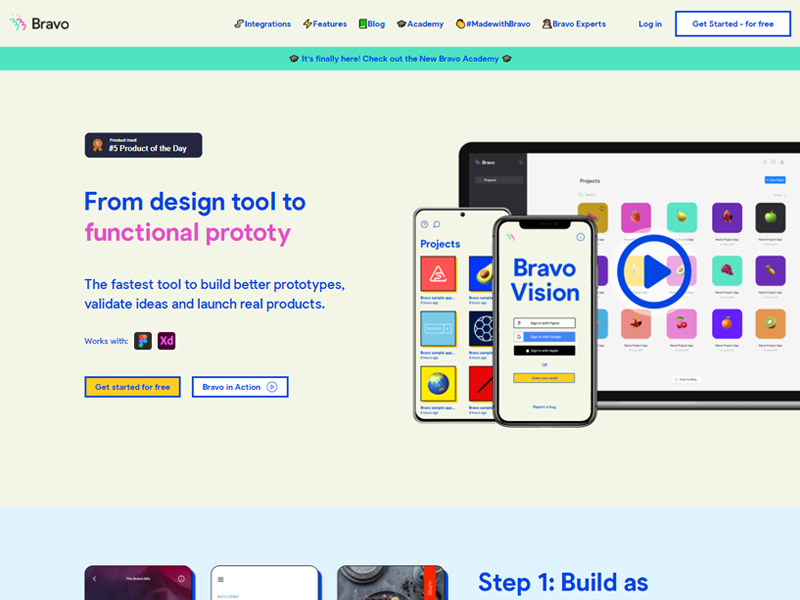 The fastest tool to develop apps with creative ideas and better prototypes is Bravo Studio. To create an online prototype, follow some brilliant and easy steps. These steps are full of fun and captivate a lot of users towards it. Thus, their clients recommend this tool to everyone because of their specs.
Features
Stripe integration: You can get payment from the Bravo App without any problem.
Versioning: To make some edits, you can allow some steps on your published application or website.
Multiple requests: Add more than one API to show the website content on the page.
OneSignal Integration: You can follow the feature of One signal integration to update yourself from additional parts and notifications.
Price
This plan is free for beginners.
You can subscribe to their pro plan by paying€19 per month in Ole.
You can subscribe to their pro plan by paying €49 per month in Bravissimo.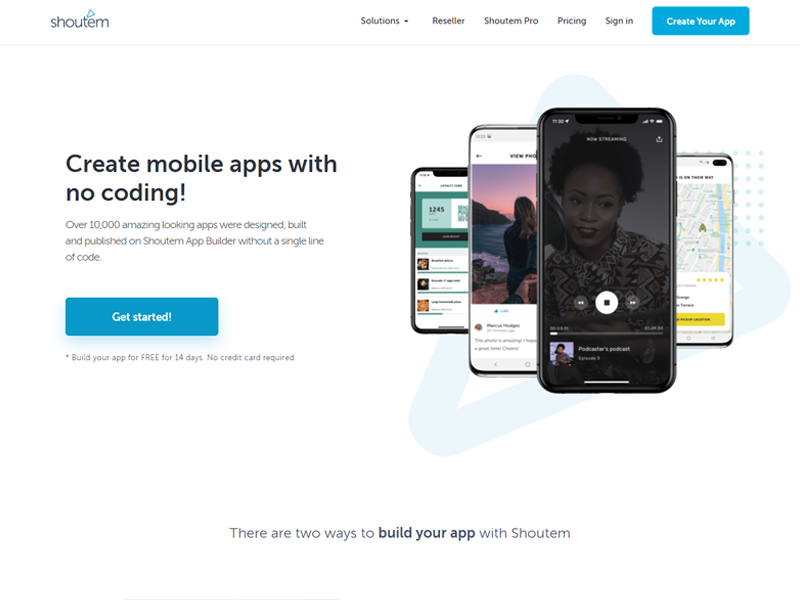 Shoutem is a fantastic tool used to develop an ideal application with every exceptional attribute of Shoutem. You can use existing templates to kick-start your app development. There are two ways by which you can create any app. They offer you a service of making your app with their turnkey platform that requires zero skills for coding. Shoutem pro app development can fully design and maintain your app efficiently.
Features
Existing templates: Their existing templates follow the theme that you are willing to create. It can be religious, business-related, and many more.
High-quality apps: They require brief specifications that you want in your app and assist you in building the app. It results in the formation of a high-quality app.
Premium support: They offer 24/7 premium support to their customers.
Price
They have different categories of plans and deals that differentiate based on features and specs.
Android – $59 per month
Standard – $99 per month
Professional – $189 per month
Essential package -$1199
Premium package – $1,999
No Code Online Course Creation Tools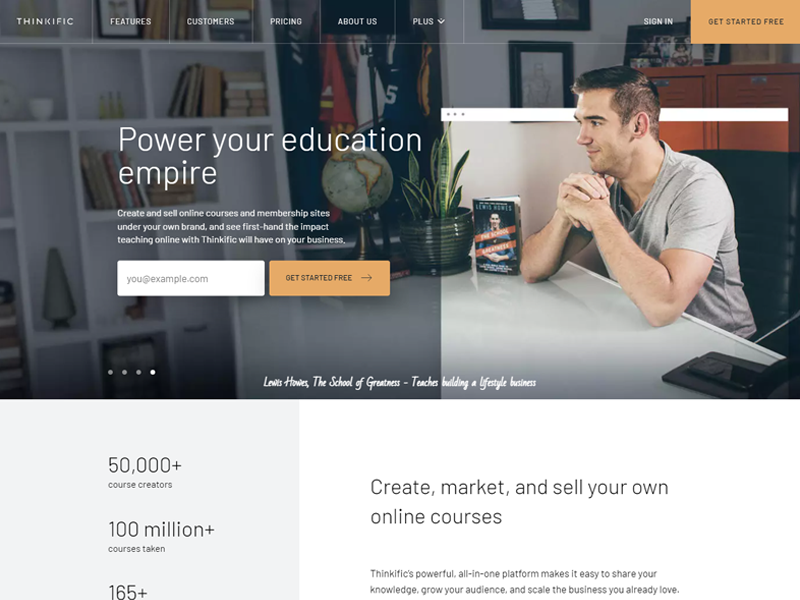 Thinkific is an all-in-one platform that can help grow your audience and develop online courses with all the super-incredible specs. Its feature is the critical thing that makes it popular among the people, and its audience always gets satisfied with the services they offer to the world. In addition, thousands of people are using this tool for the development of online courses. They facilitate you to launch the course under your name.
Features
Easiest to use: The developer of Thinkific has customized this for creating a comfortable situation for users. They are offering impactful teaching and development of online courses.
Learning experience: They offer an exceptional learning experience to all the clients. They provide live sessions, courses, and videos to make their customers learn about the working of Thinkific. Thinkific has launched more than 100 million courses.
Progressing track: They create an automatic progressing track of the user to notify them about their actions.
Price
For test driving free – $0
Basic–$39 per month
Pro–$79 per month
Primer – $399 per month
If you want to learn more about Thinkific, check out this Thinkific review.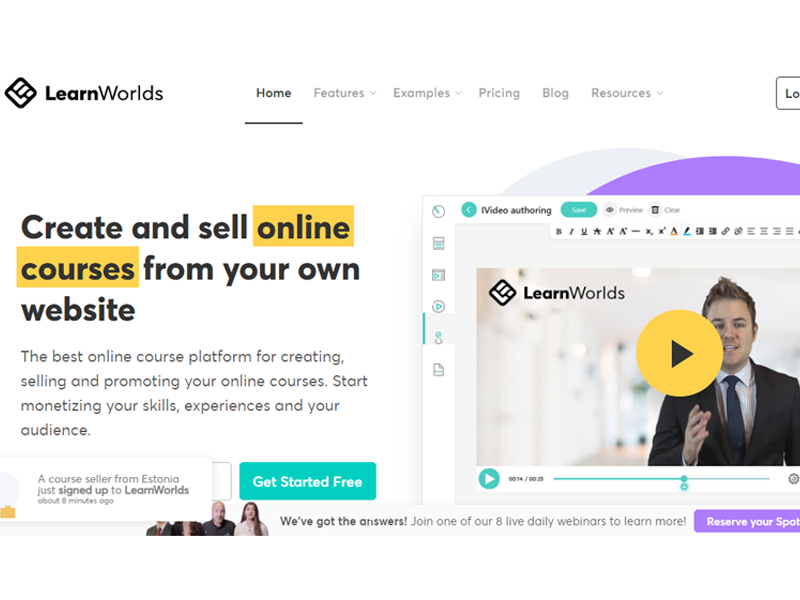 Another online course platform and launching tool you can choose is LearnWorlds. They offer the best services to all their clients, and they upload videos and plan learning sessions for their customers. They have over 400 templates for the ease of their customers, and you can choose any of them as your course template.
Features
Font customization: From LearnWorlds, you can get your fonts customized, and it can help you reflect on your mobile application.
Branding and theme editor: They allow you to do anything for the promotion of your online course. You can edit the themes that they offer as a template on their course launching platform.
Multilingual: LearnWorlds facilitate you in launching the course in more than one language for the ease of the students. The user of the online course can choose any language that is easy for them to speak.
Price
Starter – $24 per month
Pro trainer – $79 per month
Learning center – $249 per month
High volume and cooperation – contact them for this service.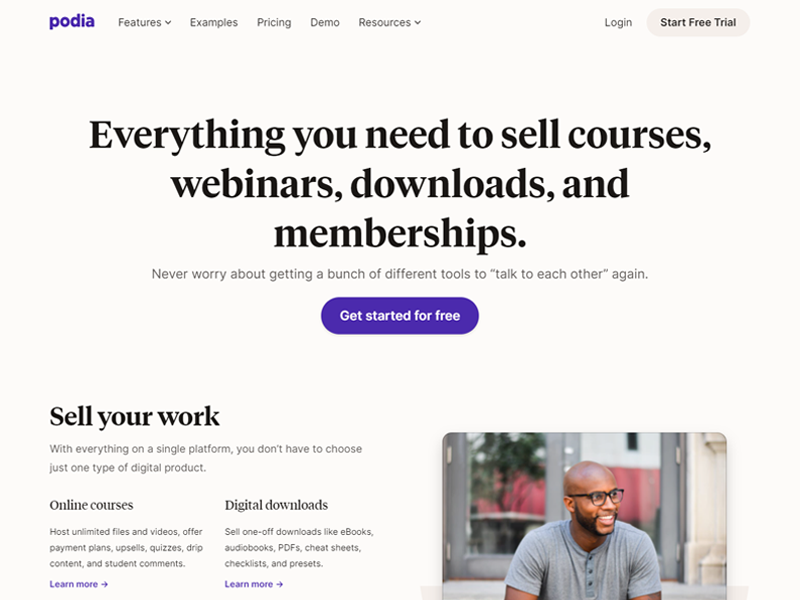 To spread impactful knowledge, you can use Podia as your online course development. It is because it allows you to form a course with your dream design. It can aid you in spreading your words through different courses without the requirement of coding. Every feature of Podia attracts millions of people, and the specs of Podia are more than brilliant.
Features
Online courses: You can customize your course according to your choice and demands. Every spec of Podia makes it unique and captivating. They host unlimited files, videos, quizzes, drip content, and more.
Live chat widget: You can also have a live chat with the mobile app staff for the sake of your convenience.
Customer support: They offer 24/7 customer support to their customers for their convenience. They observe every action of their customers to avoid any problematic situation. They offer the best assistance to their new clients.
Price
Mover – $39 per month
Shaker – $79 per month
Earthquake – $179 per month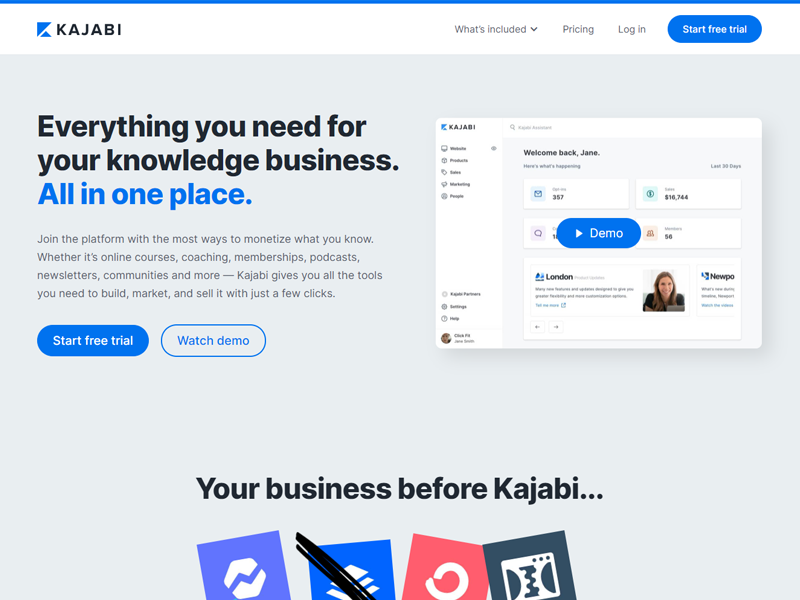 Join the best membership creation platform for the development of online courses, coaching memberships, podcasts, newsletters, communities. It is known as Kajabi. They have all those specs and characteristics that need to be part of any unique course development tool. Kajabi is a go-to tool for those who want to have an online course perfect in all aspects.
Features
Best tools: Kajabi offers all the vital tools to develop, launch, sell, and run an online course.
Connected to everything: It is the best part about Kajabi that it has connected everything. Your content, marketing, and products are all linked to each other.
Payment methods: They offer different ways to get the payment and to make transactions.
Tracking of your leads: Kajabi lets you track all the leaders in the period of your business growth.
Price
Basic: $119 per month
Growth: $159 per month
Pro: $319 per month
No Code Project Management Tools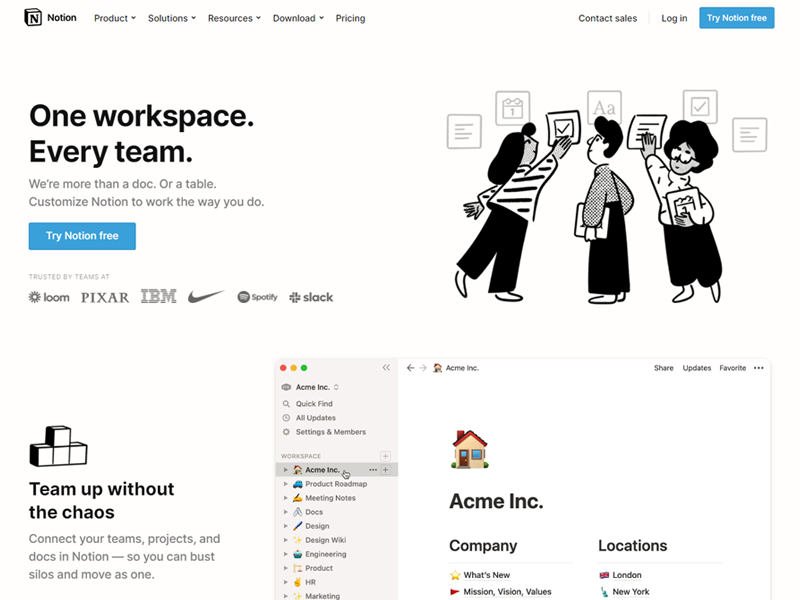 In the journey of mesmerizing website creation, a cooperative team of website management is essential. The notion is the platform that offers all the best and impressive specs to their clients. They are known for being supportive of their clients. They manage different websites as per their choice and demands.
Features
Management of website: They have numerous tools that assist in the efficient management of the website.
Modification of template: There are thousands of already existing templates on their websites. You can build it according to your demands and choice by making as many modifications and editing.
Customer support: Every member of their team is so cooperative that people attract to it and recommend it to others. They consider the demands of their customers in managing the website.
Price
Personal: free
Personal pro: $4 per month
Team: $8 per month
Enterprise: contact their friendly and cooperative team to get this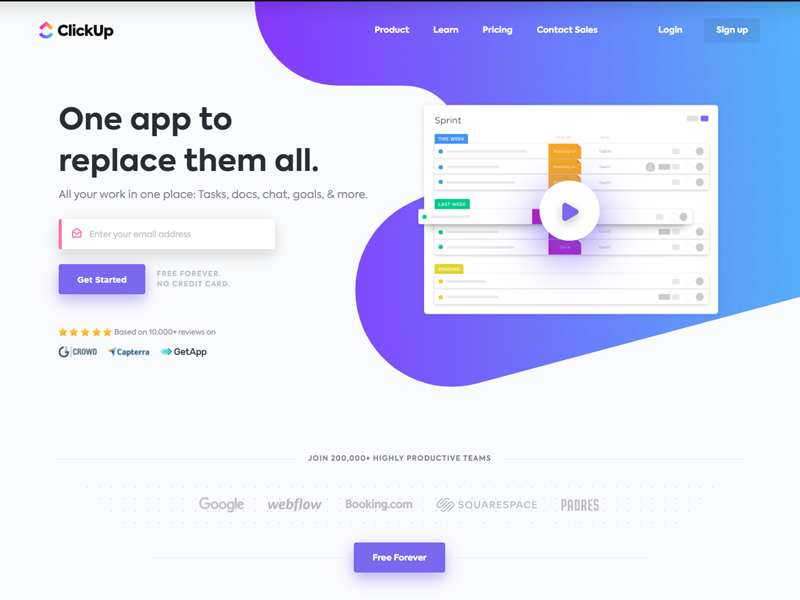 ClickUp is a platform for managing projects that follow easy and fun steps for the best result. Every feature that ClickUp offers for the best task management platform to the customers is super-brilliant. As a result, they enhance the growth of the business by increasing the rate of customers.
Features
Integrations: They offer more than 1000 integrations for the ease of their customers.
Website for every device: They have set the layout of the website in a way that is excellent for every device.
Price
ClickUp offers two categories of plans. There is a free plan for all users, but this plan has limited features. On the other hand, they offer a plan that demands $5 per month with unlimited features.
Read More: Visual Project Management Project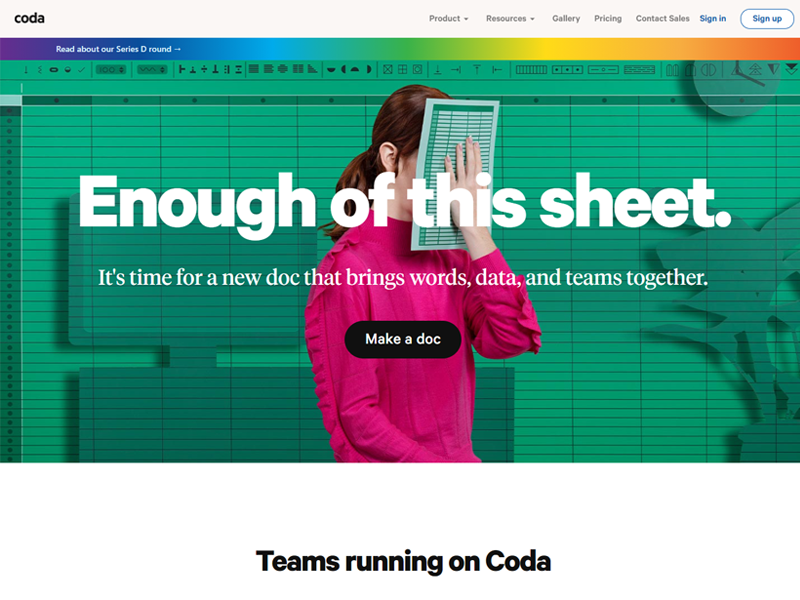 Another website management tool that offers all the services that anyone can need is Coda. It is one of the ideal platforms for website management. Their services for their clients make it demanding in the market.
Features
Easy to use: Their features are specs are mesmerizing that manage any website in the best possible way.
Customer care: The staff of this organization assists every customer without any discrimination.
Efficient Management: They have every feature that can make it work to manage the website for the ease of their clients.
Price
They have plans that are the best for any website creator. Every plan of this tool is affordable.
Pro: $10 per month
Team: $30per month
No Code Automation Tools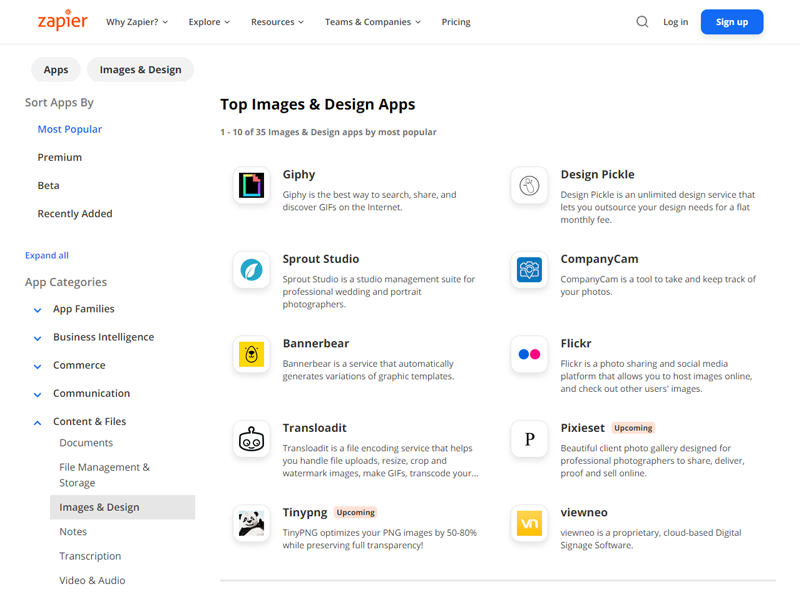 Another innovative automation platform that offers ease to its customers is Zapier. They have unique features and specs that make their clients satisfied. It can move data between different platforms and assist in business growth. More audience to the website results in the flourishing of business.
Features
Integration: They can link your data by integration and develop a situation of ease for their clients.
Reliable and responsive website: You can rely on Zaiper to create automation for the clients of your business.
Information passage: They facilitate their customers bypassing information between their apps in the form of Zaps.
Price
Starter: $19 per month
Professional: $49 per month
Team: $299 per month
Company: $599 per month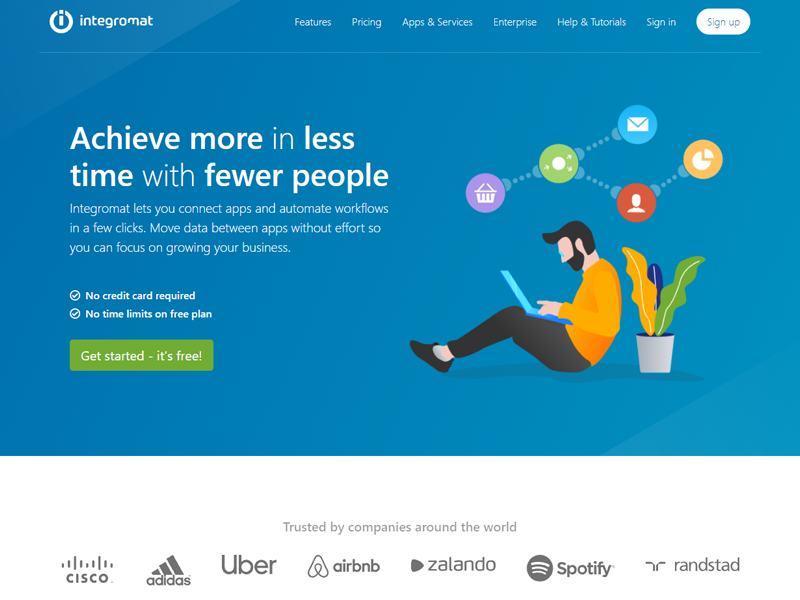 Integromat is an exclusive website automation tool that has built-in coding under its features and specs. These specs and features of Integromet are the best from every aspect. It results in the automation of a website that enhances the audience and business growth.
Features
Automation of workflow: You can. Drag and drop any apps that you want to connect. The integration among them can be simple or complex as per your choice.
Linkage of apps: Choose any of the apps and connect them with any API. They support the relationship of many apps.
Ways of automation: They have more than 1000 templates that break the basic demands for automation.
Price
Basic: $9 per month
Standard: $29 per month
Business: $99 per month
Platinum: $299 per month
You can also get a customized plan from Integromat.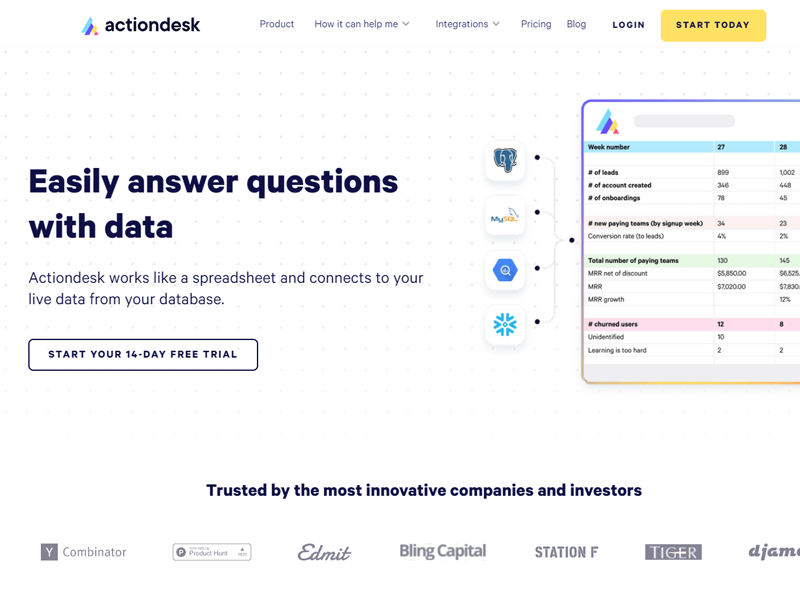 Action desk is a software organization that allows the automation of the ideal website. People who want to choose a tool for automation that can help them thrive in their business can select this option. This option is easy to use as well as inexpensive for its excellent tools.
Features
SQL Editor: It shows that they use 100% no coding features. To get help regarding this, you can explore your queries.
Connector: It helps you make micro changes to the website, and you don't need to worry about such microchanges.
Admin panel: They help you establish a fantastic website. All you need to do is the development of high-quality products.
Price
They offer free trials for 14 days, and after that, you have to subscribe to any one of their plans.
Premium: $169 per month
Business: $499 per month
Enterprise: contact them for this plan
No-Code Marketing Tools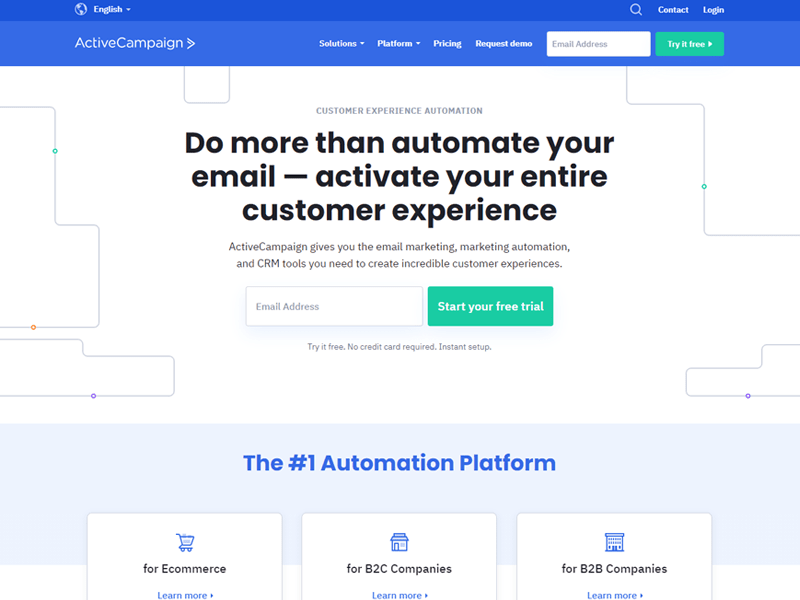 A highly-rated tool for affiliate marketing is ActiveCampaign. More than 150,000 people have joined this platform to develop and market their websites with the most creative and artistic ideas. Their attributes and functionality are super-brilliant. They allow efficient development and publicizing of the products and services.
Features
Reach and engage: ActiveCampaign helps its clients to develop the audience. In this way, they increase the level of their engagement with the public.
Support and grow: They have a friendly staff that supports every customer in reaching the level of victory.
Free online training: They offer free training to all the clients to make them work in the best ways.
Price
Lite: $9 per month
Plus: $49 per month
Professional: $149 per month
Enterprise: $229 per month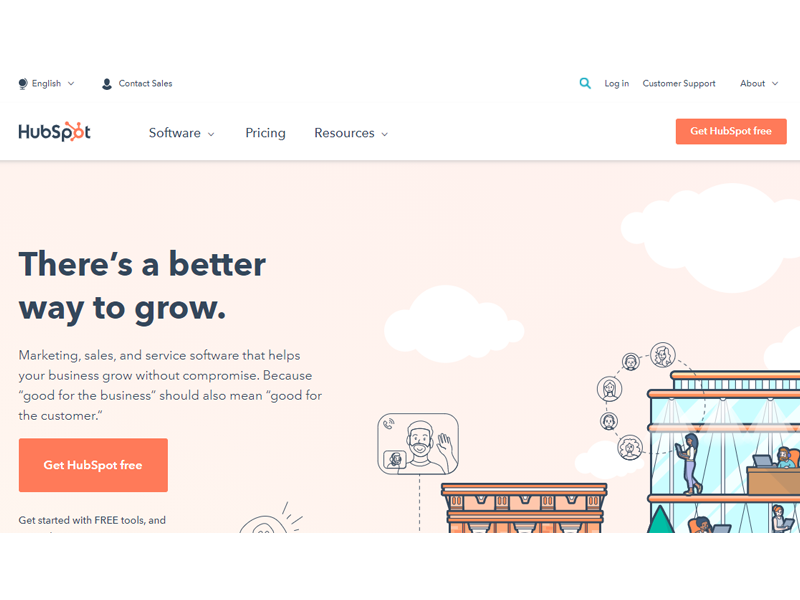 For inbound marketing, sales, and customer services, you can select HubSpot as an option for website promotion. You can get the free demo to get an understanding of their services and features. You can follow this platform if you want to promote and publicize any website, and it is a go-to tool for sure.
Features
Marketing hub: Lead generations, marketing analytics, and automation are their main features in the marketing hub.
CMS hub: CMS hub provides the attributes of drag and drops editor, SEO recommendations, and website themes.
Operation hub: Data sync, programmable automation, and data quality automation fall in this category.
Price
Starter: $45 per month
Professional: $800 per month
Enterprise: $32,000 per month
Read More: Best Hubspot Alternatives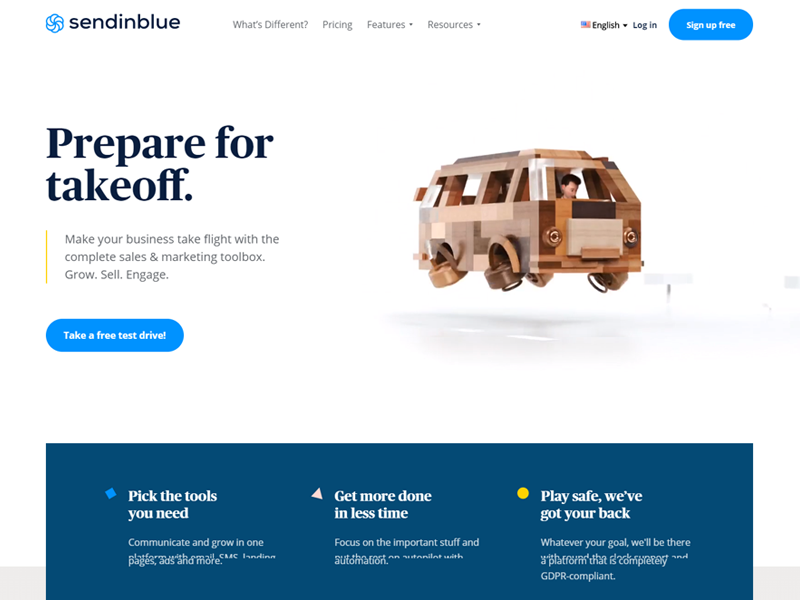 The Smartest and the most intuitive email service platform to promote the services of your business is SendInBlue. They have an organized platform that has all the specs and attributes. They provide the best customer services to create convenience for their customers. They consider the ideas of the clients in the marketing of their products.
Features
Inbox and Chat: They have a live chat box to solve the problems of their clients urgently. You can get an instant response from the team.
SMS marketing: SMS marketing helps the customers and creates ease for them.
Segmentation: To increase your audience, you can send specific emails to people.
Price
Lite: $25 per month
Premium: $65 per month
Enterprise: contact their team for its information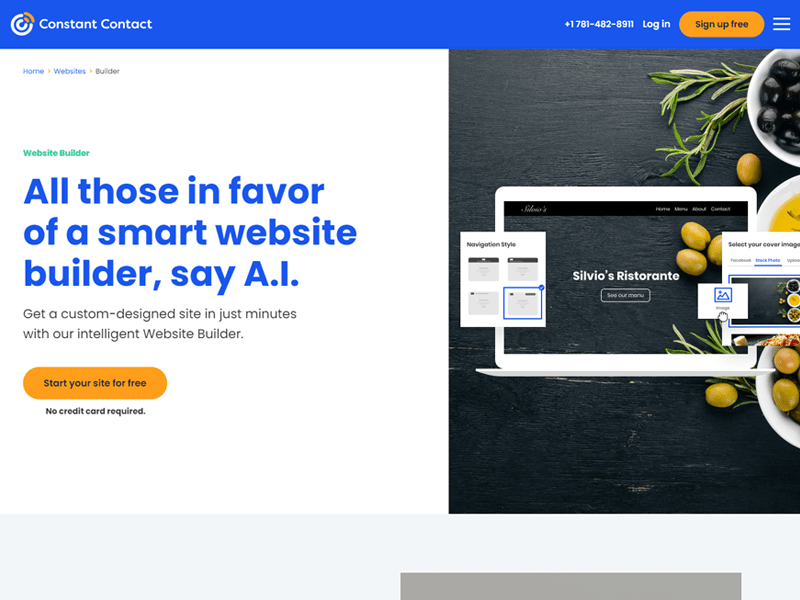 All the great things to any business happen by selecting ConstantContact as your website promoter. They can help you market any website in minutes and let you succeed in the world by its promotion. They offer fantastic tools and guidance for the marketing of any business website. Constant Contact is one of the best landing page builders tools on the market
Features
Email marketing: You can grow your brand by reaching the audience by sending some emails.
Social marketing: Marketing your website by Facebook and Instagram can increase the chances of your business success.
Price
You can get 60 days of free trials. You can subscribe to their starter plan by paying $20 for a month.
What is No-Code Movement?
In recent years, the number of people talking about no-code development platforms has exploded. But why? Because businesses can keep up with transforming technology landscapes without programming by embracing the no-code movement.
You don't have to wait in line with IT, and it is possible to document and approve requirements quickly, then implement them in a matter of days. A majority of mobile app development companies are looking to position themselves in the no-code space.
Small and large businesses can benefit from no-code development, which supports digital transformation. As a result, IT teams can be more productive since they will no longer rush to deliver basic applications. Because of the industry's ability to self-serve, the IT team can focus on more complicated tasks instead.
By accelerating the application development process, your team maintains more control and can deliver apps more quickly. Because of the speed of no-code development, it is easier to automate business processes and deliver digital innovation in a short amount of time.
Conclusion
This website development, marketing, and automation tools have every feature and spec that anyone can desire. The world has changed the dimensions of technology. These tools assist you in developing and publicizing your business through the website. They look for those ways that can act as a booster for the promotion and elevation of the level of their success in this field.
These no-code tools are an energetic shot for people looking for ways that can aid them in touching the peak of success in their life. Go for these tools whose features and attribute fall right on your wishlist. These tools will help you till the end of your journey of success.