Marketing automation is a game-changer for small businesses looking to streamline their marketing efforts and drive results. As a vital component for growing companies, marketing automation tools offer numerous benefits:
Increased efficiency
Improved lead nurturing
Enhanced customer engagement
In this article, we have listed and reviewed the best marketing automation tools for small businesses to scale their marketing capacity to a new level.
By leveraging these powerful tools, small businesses can automate repetitive tasks, freeing up valuable time and resources for more strategic work.
Furthermore, marketing automation allows for better targeting and personalization, which ultimately leads to higher conversion rates and greater customer satisfaction.
Let's start!
Best Marketing Automation Software for Small Business
We have organized them in 5 different sub-categories as below:
Email Marketing Automation Tools
Discover the power of email marketing automation tools designed specifically for small businesses. These tools enable seamless email campaign management, allowing you to target the right audience and deliver personalized messages.
Elevate your email marketing game with these top-rated solutions, designed to save you time and generate impressive results.
Sendinblue is the most powerful email marketing automation software for small businesses, offering an impressive suite of features tailored to boost your marketing efforts.
Designed with a user-friendly interface, this platform integrates seamlessly with email marketing, SMS campaigns, and sales CRM, making it an all-in-one solution for establishing strong customer relationships.
Automation features are a key highlight, with pre-made workflows and A/B testing, allowing you to deliver personalized content for user journeys.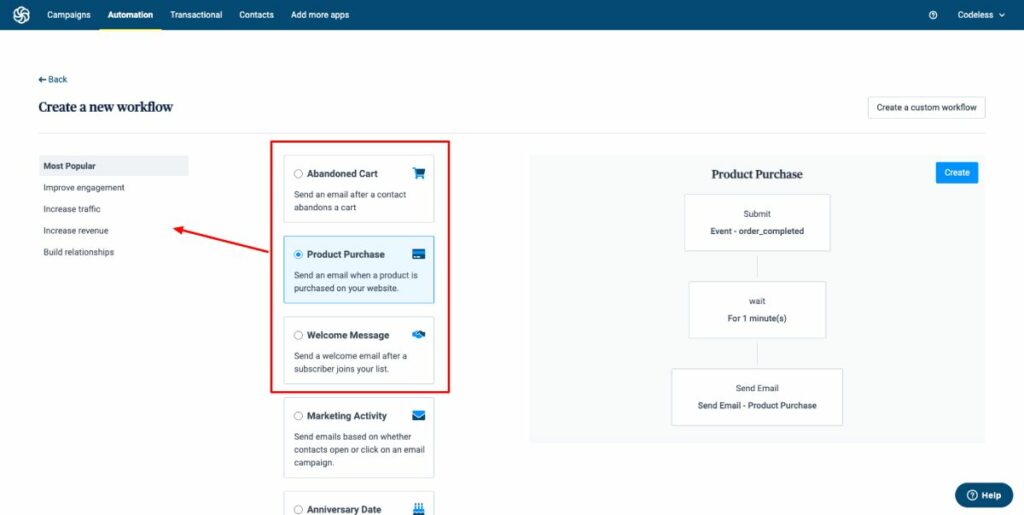 Users have praised Sendinblue for its easy-to-use drag-and-drop email designer and the platform's ability to create individualized experiences at scale. On the downside, some customers have mentioned occasional issues with emails not being sent, though it appears they did.
Pricing: Sendinblue's pricing structure is affordable and appealing to small businesses. The free plan accommodates up to 2,000 contacts and 300 emails per day, while unlimited automation starts at just $65 a month.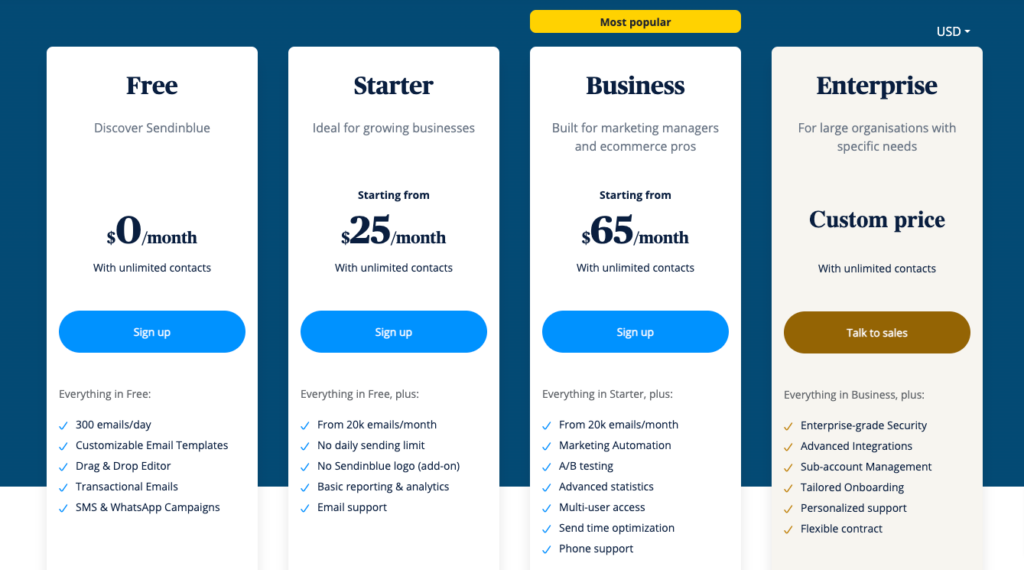 Sendinblue provides an intuitive drag-and-drop workflow editor, customizable templates, and multichannel workflows for both SMS and email, making it a versatile choice for your marketing needs. Advanced analytics and reliable email deliverability further solidify Sendinblue as a top contender in the marketing automation software realm.
Mailchimp stands out as a popular email marketing automation tool, offering a range of features that simplify email campaigns and maximize audience engagement. Notably, the platform provides pre-built journeys, seamless data integration, and powerful design tools that cater to a wide variety of needs.
However, Mailchimp isn't without its drawbacks, such as hidden charges and limited automation options, as reported by some users on Trustpilot.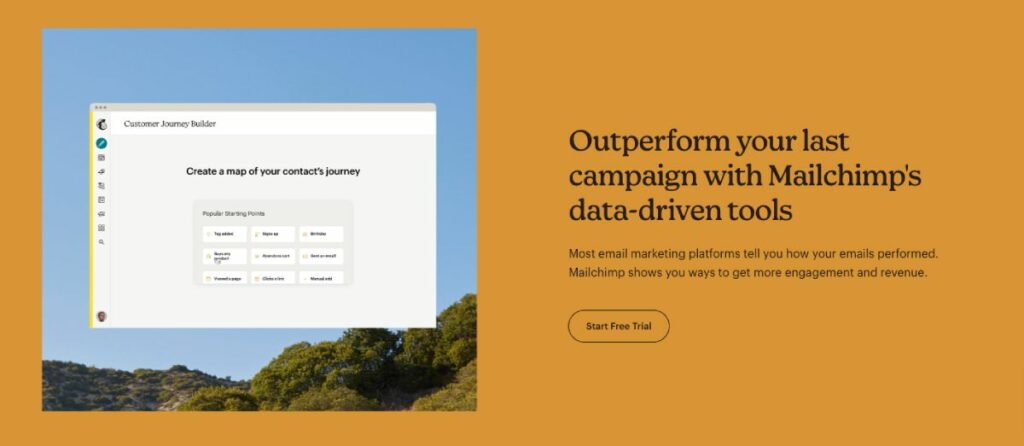 Mailchimp's automation feature allows you to create targeted emails, triggered by specific events or activities. This advanced functionality, coupled with scheduling and segmenting tools, helps you effortlessly inform and reward your contacts—even when you're offline.
Unfortunately, some users claim that Mailchimp emails often land in spam folders, which may undermine your campaigns' effectiveness.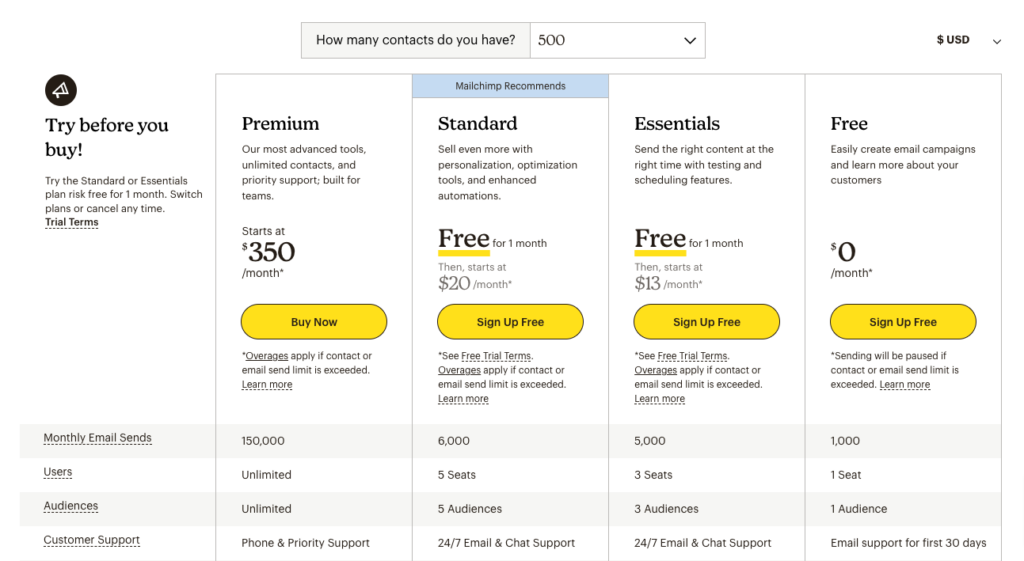 Pricing: Mailchimp offers a free plan with limited features, while its Essential plan starts at $13/month for 500 contacts. While the platform is a solid choice for businesses seeking quick and easy email solutions, users seeking more complex needs or high standards of customer support may wish to explore other options.
Constant Contact emerges as a strong contender in the world of marketing automation software, with a suite of powerful features that cater to their specific needs. Designed to help streamline digital marketing efforts, this platform offers tools that facilitate email marketing, lead generation, CRM, and more, all aimed at driving results for small businesses.
One noteworthy aspect of Constant Contact is its email automation, which lets users send targeted welcome emails, nurture leads, segment contacts, and resend emails to non-openers.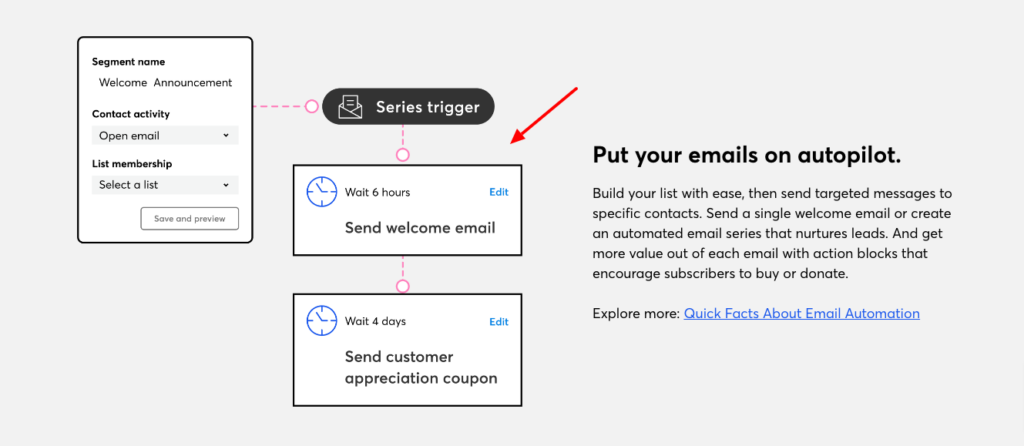 This feature has received positive feedback from users, who appreciates the platform's continuous improvements and the ease of developing relationships with new contacts. However, some users have expressed concerns about the additional fees for certain features, indicating a potential drawback.
In terms of automation features, Constant Contact excels with its dynamic content personalization, automated communications (e.g., resend to non-openers), and in-depth reporting, including conversion and sales data. This makes it a reliable choice for small businesses looking for comprehensive marketing automation software.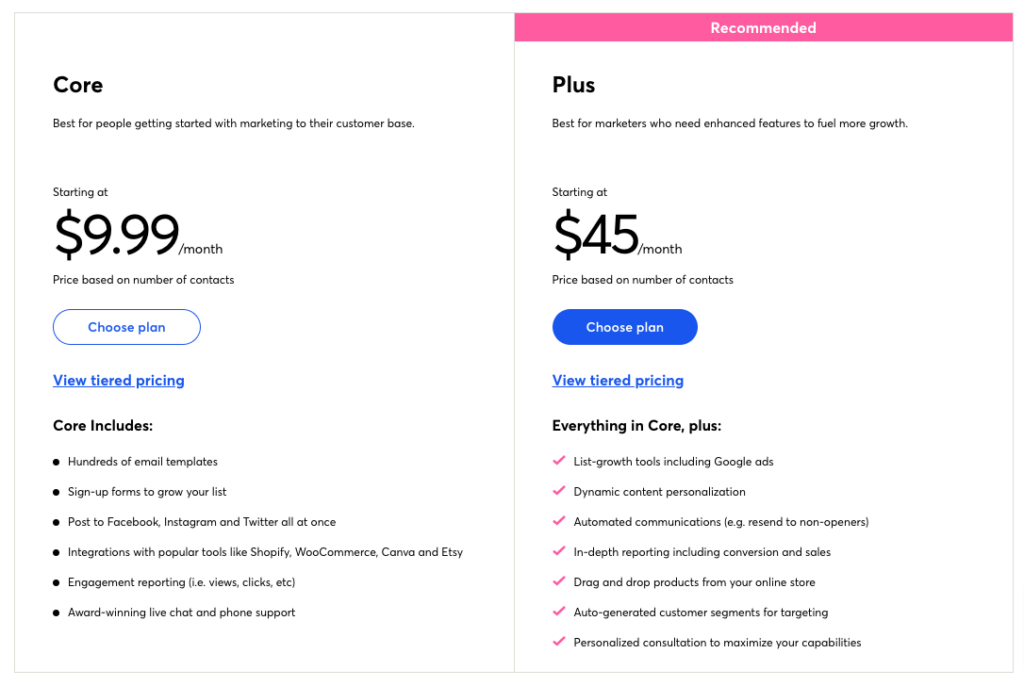 Pricing: Constant Contact offers plans starting at $9.99/month for email and digital marketing tools, and $449/month for lead generation and CRM solutions.
Omnisend is designed to streamline your email marketing and enhance customer engagement. Touted as an all-in-one solution, Omnisend offers a range of features such as email marketing, SMS messaging, web push notifications, and audience segmentation, making it a valuable tool for ecommerce businesses.
The platform's omni-channel workflows ensure a consistent and personalized customer experience across various messaging channels.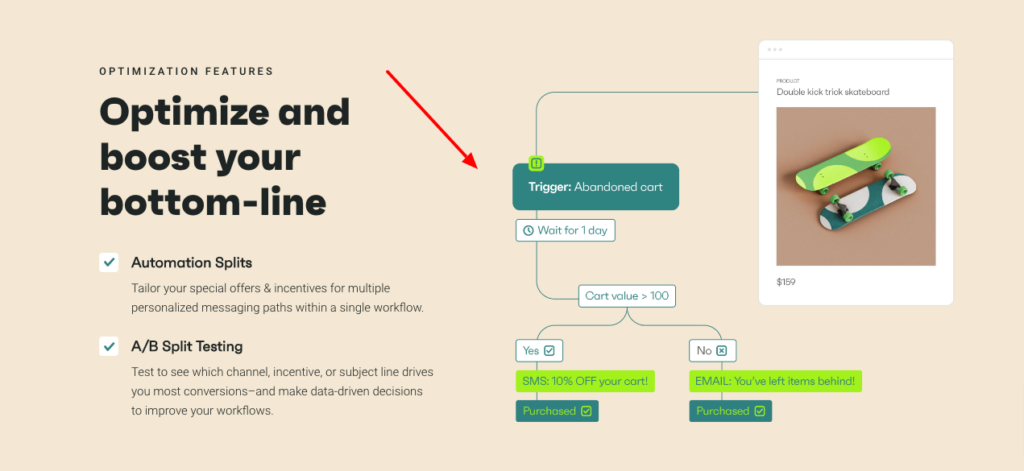 With pre-built workflows, subject lines, and settings, Omnisend makes it easy for small businesses to get started. Users can optimize their marketing campaigns using automation splits, A/B split testing, and reporting tools that track sales and engagement data.
Integration with over 130 third-party apps allows users to leverage data from loyalty programs, help desks, and review services to expand the scope of personalized messaging. Omnisend's hyper-personalization features, such as conditional content blocks and personalized recommendations, further enhance the customer experience.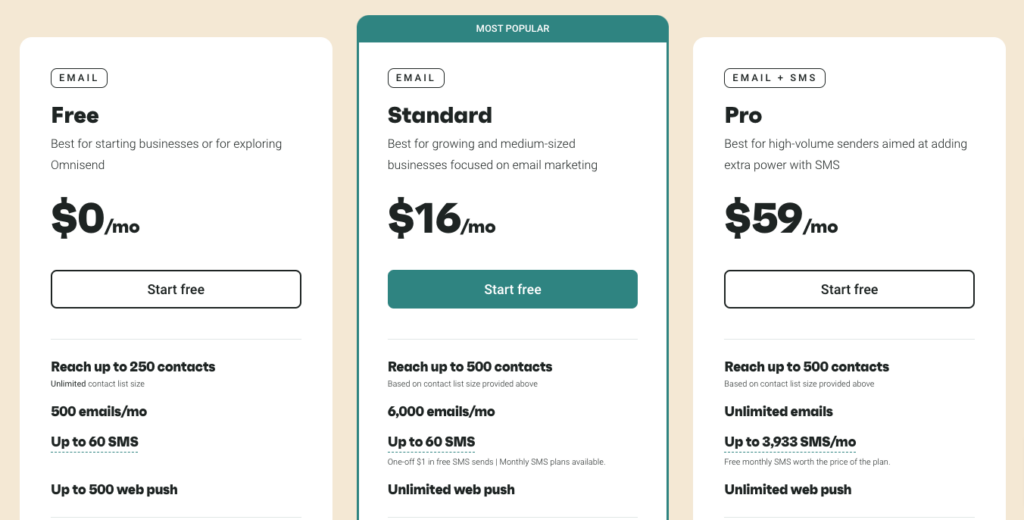 Pricing: With pricing plans based on the number of subscribers, Omnisend offers flexibility for businesses to upgrade, downgrade, or cancel their plans as needed. The starting plan is $16/month.
Users have reported significant improvements in click-through rates and conversions, with one customer experiencing a 50% increase in click-through rates using Omnisend's built-in booster feature.
Stay ahead of the curve with social media automation tools that streamline your small business's social media presence. Save time, increase engagement, and simplify content scheduling with these innovative solutions. Maximize the impact of your social media efforts and watch your business reach new heights in 2023.
Buffer is a versatile social media marketing automation tool that streamlines content planning, collaboration, and publication. With the Buffer AI Assistant, you can effectively manage various channels like Instagram, Facebook, LinkedIn, Twitter, and Pinterest, making it an ideal solution for growing your audience organically and saving precious time.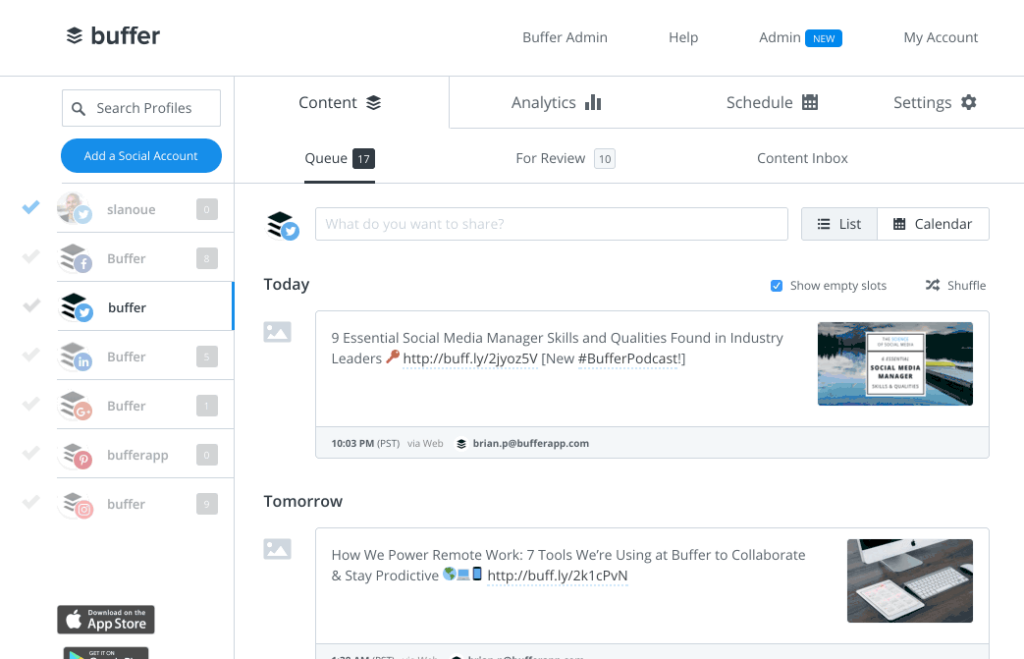 The automation features of Buffer are impressive, as it allows you to generate ideas, repurpose posts, and rewrite copy in just one click. It also supports collaboration with various team members, thanks to its permission levels and approval flows.
This makes it an excellent fit for roles such as digital marketers, content managers, and social media content managers.
Buffer has an extensive user base, with over 140,000 users and 1.2 million+ social followers. Their customer support is highly reliable, offering 24/7 assistance via email and social media. Plus, they have a comprehensive help center for users who prefer to find help on their own.
However, some users have reported that Buffer's data may not always match with the social media platforms' data, and the scheduling feature can be unreliable at times.
Despite these drawbacks, Buffer's benefits far outweigh the negatives, making it a popular choice for small businesses seeking marketing automation software.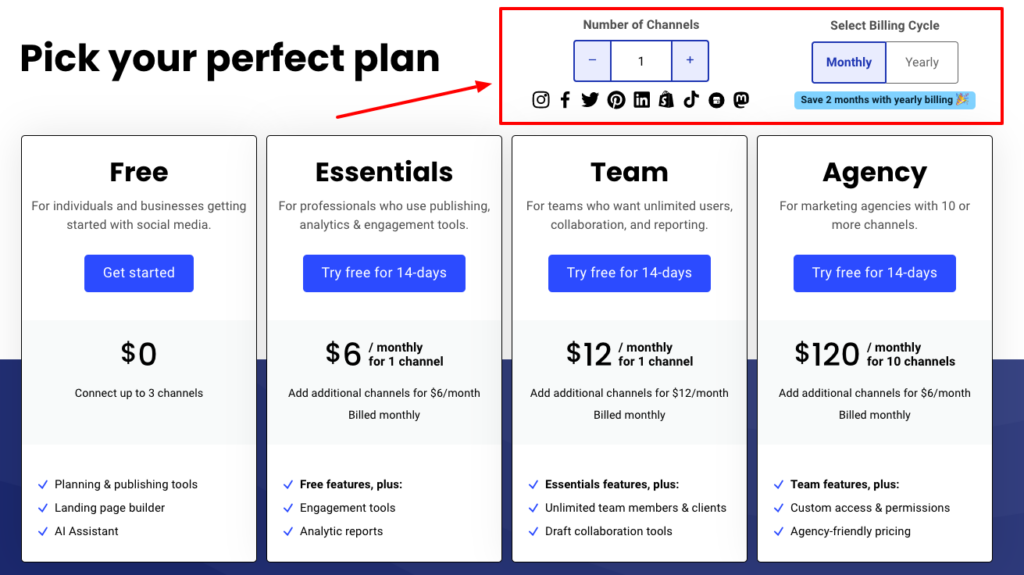 Pricing: Buffer offers a free plan with limited capabilities, such as 3 social accounts and 10 scheduled posts at a time. More advanced options begin at $12/month (billed annually), with a 14-day free trial available. The Essentials plan catering to professionals starts at $5/month per channel, with an additional $5/month for extra channels.
Hootsuite, a leading social media marketing automation software, consolidates social media management tasks into a single platform, simplifying the process for busy entrepreneurs.
Offering AI-powered hashtag generator, Canva templates, and content ideas, Hootsuite empowers users to create engaging posts that resonate with their target audience. Despite some criticisms, such as limited customer support and expensive non-essential features, Hootsuite remains a popular choice among small businesses.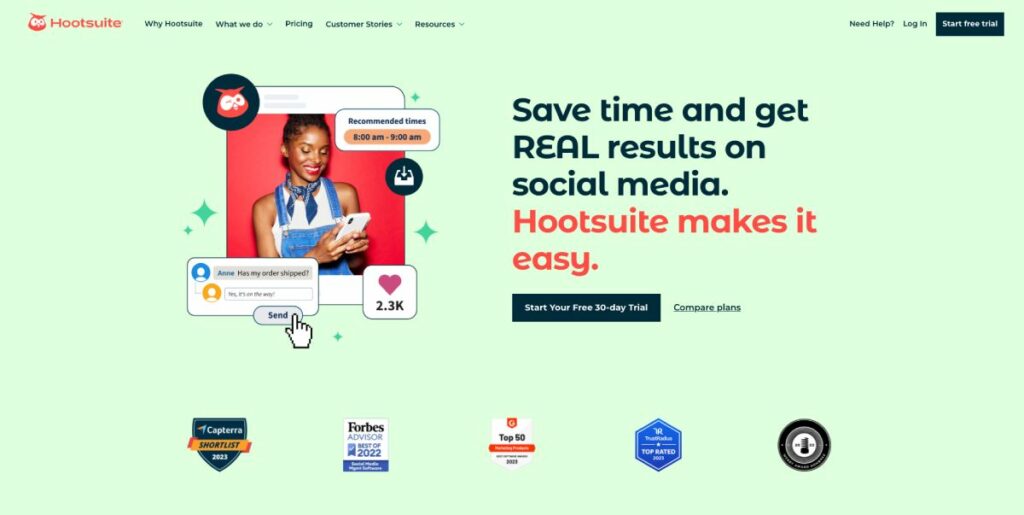 The automation features in Hootsuite include effortless scheduling of posts on platforms like Facebook, Instagram, and Twitter. Additionally, it streamlines the approval process for team collaboration, ensuring high-quality content.
Hootsuite Planner, praised as the best social media scheduler out there, further enhances the automation capabilities of this software.
However, not all aspects of Hootsuite are met with applause. Hootsuite's customer support is deemed lackluster by some users, with infrequent communication and unhelpful resolutions.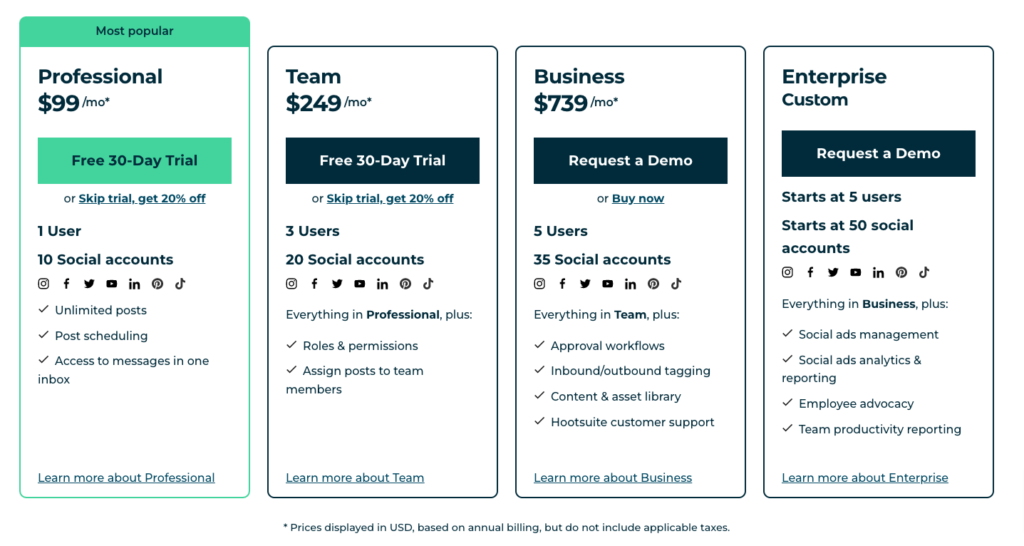 Pricing: The limited free plan covers 3 social profiles and 1 user, while paid plans start at $99/month with a 30-day free trial. It's worth mentioning that the professional plan costs $99/mo, but a 20% discount is available for those skipping the trial.
Comparatively, competitors like Buffer may provide more cost-effective solutions for small businesses seeking marketing automation software.
As a go-to small business marketing automation platform, Sprout Social offers a comprehensive range of features that streamline and optimize social media management. With tools like unified social inbox, publishing and scheduling, analytics, listening, and employee advocacy, it comes as no surprise that Sprout Social is a favorite among small businesses seeking to expand their online presence.
A notable strength of Sprout Social is its social media automation tools, which empower businesses to scale engagement and optimize interactions effortlessly.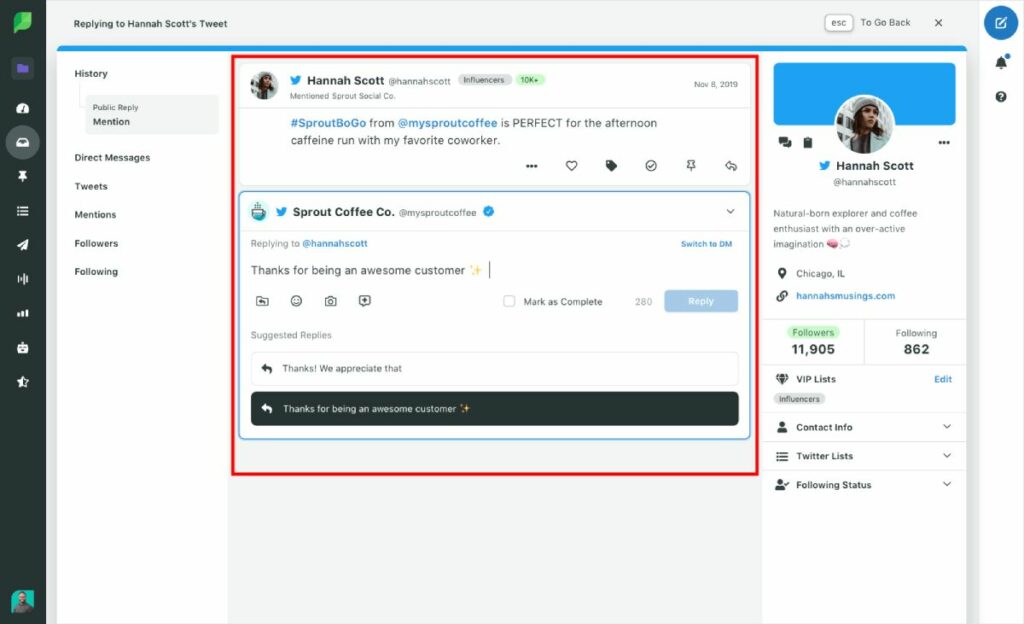 Users can create chatbots with the Bot Builder, schedule posts using Sprout Queue and ViralPost™, prioritize messages via Automated Inbox Rules, and benefit from Suggested Replies for Twitter conversations. These automation capabilities save time and resources for small businesses, enabling them to focus on more critical aspects of their marketing strategy.
However, Sprout Social may not be the best fit for everyone. Some users might find the pricing on the higher side, especially when compared to other marketing automation software for small business.
Pricing: Despite that potential drawback, Sprout Social delivers a 30-day free trial of its Advanced and Enterprise plans and provides a demo to help businesses evaluate the platform's suitability. The first plan start at $99/month.
CRM and Sales Automation Tools
Transform your sales process with top CRM and sales automation tools perfect for small businesses. These powerful platforms combine customer relationship management, lead nurturing, and sales automation into one powerful suite. Enhance your customer interactions, close deals faster, and boost revenue with these game-changing solutions.
HubSpot offers an all-inclusive marketing automation software for small businesses, covering CRM, sales, customer service, and content management tools. With features such as email drip campaigns, lead scoring, and follow-ups, HubSpot helps free up your marketing team to focus on results. Users can build and send stunning emails without coding experience and set up personalized triggers and actions.
HubSpot's advanced features are available in the Starter, Professional, and Enterprise editions of Marketing Hub. The free version includes an online form and landing page builder, email marketing tools, and project management software.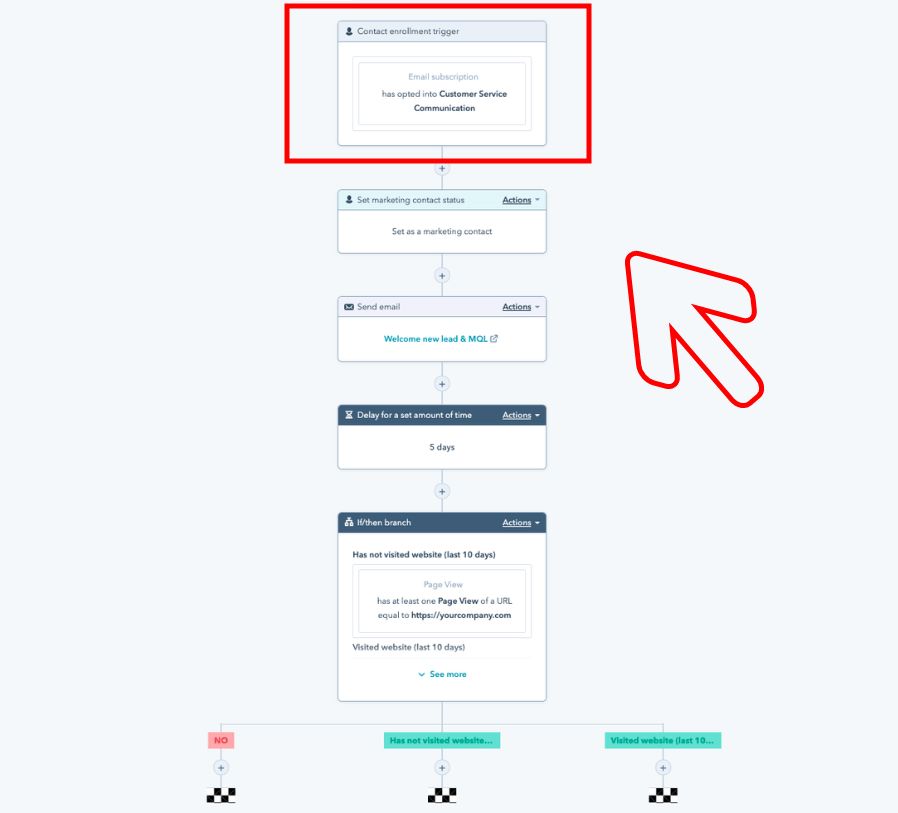 Automation features in HubSpot include workflows, chatbots, and email triggers for targeted audience messaging. Users appreciate the integration of the meeting scheduler and seamless transfer of ad audiences to LinkedIn.
One downside noted by some users is the overwhelming number of features, which may be difficult for new users to navigate.
Pricing: HubSpot offers a free basic CRM, but paid plans start at $33.60/month (billed annually). Startups may be eligible for the 'HubSpot for Startups' program, which provides up to 90% off. Despite some limitations, HubSpot remains a popular choice for businesses seeking a comprehensive marketing and sales solution.
Salesforce is a game changer when it comes to managing leads, tracking progress, and automating sales processes. Salesforce's Sales Cloud is an all-in-one sales and CRM tool, offering opportunity management, sales automation, forecast management, and sales engagement features.
With built-in artificial intelligence, Sales Cloud provides accurate sales forecasting and actionable insights to help teams succeed.
As a marketing automation software for small businesses, Salesforce delivers a comprehensive and user-friendly platform.
The mobile app allows for on-the-go access to customer data, while the centralized dashboard tracks team performance seamlessly. However, with so many features, some users might find the platform overwhelming at first.
Pricing: Salesforce offers a variety of options to suit different budgets, with plans ranging from $25 to $300 per user per month billed annually. The Sales Productivity Bundle is an excellent deal for businesses looking to make the most of Salesforce's capabilities.
User reviews for Salesforce speak to its effectiveness, as it has been trusted by companies like Inspirato, IBM, and Armstrong Steel since 1999. Moreover, Salesforce has been recognized as a Leader in the 2022 Gartner Magic Quadrant for Sales Force Automation Platforms for the 16th consecutive year. Such accolades provide confidence in the platform's ability to deliver powerful results for small businesses.
Zoho CRM excels in offering crucial features tailored to the needs of its target audience. It streamlines processes, enhances productivity, and ultimately contributes to higher conversion rates and annualized growth of 53% and 23.1%, respectively.
Automation is at the heart of Zoho CRM, with tools designed to help users automate routine tasks and focus on closing deals. One standout feature is the ability to set up to 10 conditions for a single workflow rule, increasing the power of each workflow tenfold.
Coupled with Workflow insights and Zia, an AI-powered sales assistant, users can analyze the performance of their workflows and make informed decisions.
Assignment rules are another useful aspect of Zoho CRM, allowing users to assign leads to the appropriate sales team members based on specific conditions. Additionally, Macros enable the execution of routine tasks with a single click and can be shared across teams, ensuring seamless collaboration.
While Zoho CRM has received praise for its integration and customization options, some users have experienced limitations in CRM capabilities and email automation. A few users have reported difficulties with the email automation feature and found Zoho's support to be unresponsive in these cases.
However, Zoho representatives have been known to reach out and offer assistance when such issues arise.
Pricing: Zoho CRM is an affordable option for small businesses, offering various plans to suit different budgets. While the exact pricing may vary (starting from $14/mo), the overall consensus is that Zoho CRM provides excellent value for the features it offers, making it an attractive choice for businesses seeking a marketing automation software.
Pipedrive offers a web-based sales CRM that streamlines tasks and enhances team productivity. With features like sales automation, lead management, and email marketing, Pipedrive caters to the unique requirements of smaller companies.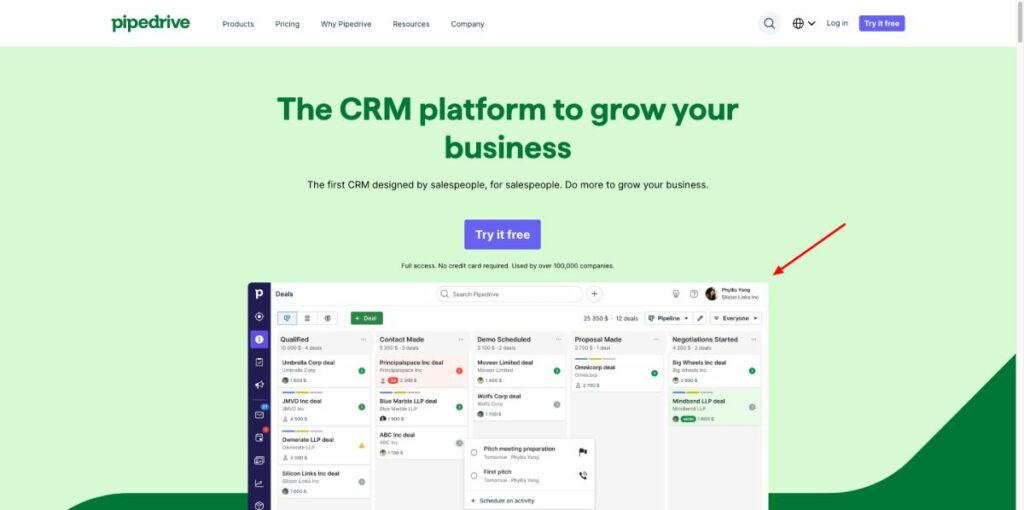 The automation features in Pipedrive are highly praised for reducing manual work and providing time-saving solutions, such as drip campaigns automation, chatbots, and lead scoring automation.
Users can also schedule personalized emails and receive real-time Slack notifications. These features have garnered positive feedback from customers, who appreciate the ability to tailor the software to their specific business needs.
However, Pipedrive also has a few limitations, like the absence of a tagging feature and limited flexibility in integration and automation. Despite these shortcomings, Pipedrive's customer support team is known for being responsive and receptive to feedback.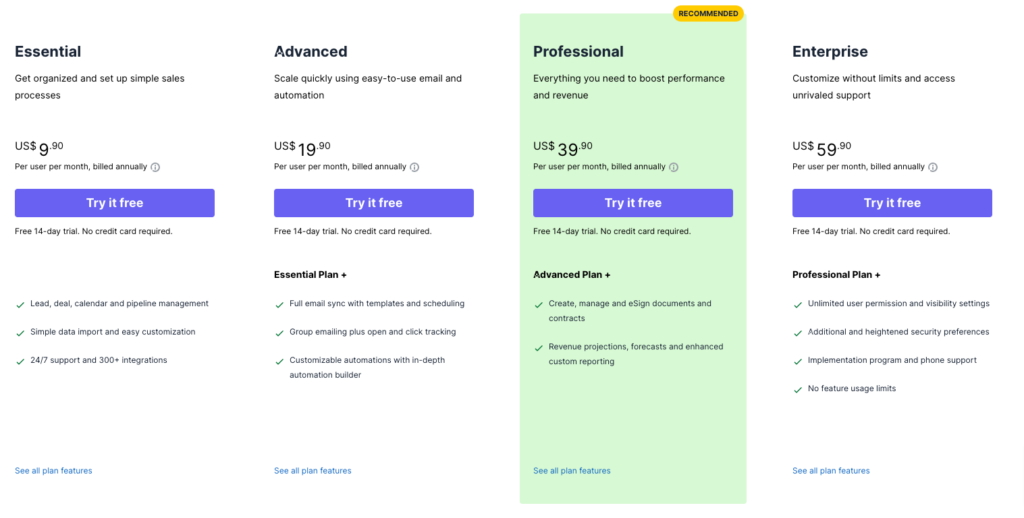 Pricing: Pipedrive is considered to offer great value compared to competitors. The Essential plan starts at $9.90 per user per month, billed annually, making it an affordable choice for small businesses. A 14-day free trial is also available for those who want to test the software before committing to a paid plan.
All-in-One Marketing Automation Platforms
Experience the convenience of all-in-one marketing automation platforms. These comprehensive solutions combine email marketing, social media automation, CRM, and more in one easy-to-use platform. Simplify your marketing strategy, save time, and drive better results with these all-encompassing systems.
ActiveCampaign is the best all-in-one marketing automation software, offering a robust suite of features to streamline your marketing efforts. With its easy-to-use interface and extensive options, ActiveCampaign allows you to save thousands of hours while effectively increasing your marketing output.
One of the key features of ActiveCampaign is its advanced audience segmentation. This enables you to target specific customer groups based on their behavior, preferences, and other criteria. However, some users have reported slow navigation and limited customer support for European clients.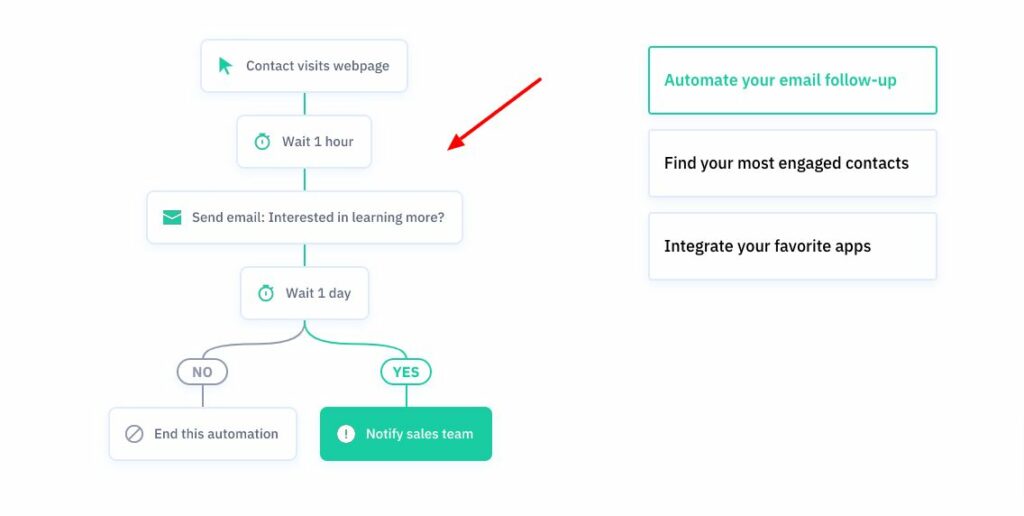 When it comes to automation features, ActiveCampaign stands out with its responsive landing pages, powerful reporting, and various plugins for videos, PDFs, SMS, and more. While the platform's API v3 has some limitations, the availability of API v1 ensures seamless integration and automation.
Pricing: As your business expands, the pricing plans grow with you, providing flexibility and scalability. The first basic plan starts at $9/month.

In comparison to popular alternatives like Mailchimp, ActiveCampaign offers better user experience, customer support, and integration options.
User reviews highlight the exceptional customer support offered by ActiveCampaign, including 1:1 video chat assistance. This level of support ensures that even small businesses without a dedicated marketing team can benefit from this powerful marketing automation software.
Keap (formerly Infusionsoft)
Designed to streamline everyday tasks and boost overall productivity, Keap, comes with an array of features that cater to different business needs, ensuring a seamless experience for users.
Diving into its diverse features, Keap's sales and marketing automation tools include CRM, sales pipeline, email marketing, and advanced automations for personalized follow-up.
Additionally, it offers e-commerce and payment options, lead capture and management, analytics, and more. However, some users have mentioned that email and social messaging integrations could be improved.
Keap goes beyond simply providing tools, offering valuable resources such as blogs, podcasts, webinars, and the Keap Academy for learning. This comprehensive support system ensures that small businesses can thrive and save time with their marketing automation efforts.
Pricing: Keap offers a 14-day free trial, allowing potential users to explore its features without any upfront costs. Annual plans with up to 20% savings are also available (starting at $79/mo), making it a budget-friendly choice for small businesses seeking marketing automation software.
Based on user reviews, Keap's customer support team is quick to resolve issues, and the software's automation features receive high praise for their user-friendliness.
Content and Inbound Marketing Automation Tools
Unlock the potential of content and inbound marketing automation tools. These revolutionary platforms streamline the creation, distribution, and analysis of content across multiple channels. Increase your brand visibility, attract high-quality leads, and establish your company as an industry expert with these cutting-edge tools.
SEMrush stands out as a top choice for small businesses seeking a content marketing automation software solution. With its breadth of features and tools tailored to content strategy, SEO, PPC, and social media, you'll be equipped to elevate your digital marketing game.
Let's dive into the key aspects of SEMrush that make it a valuable asset for small businesses.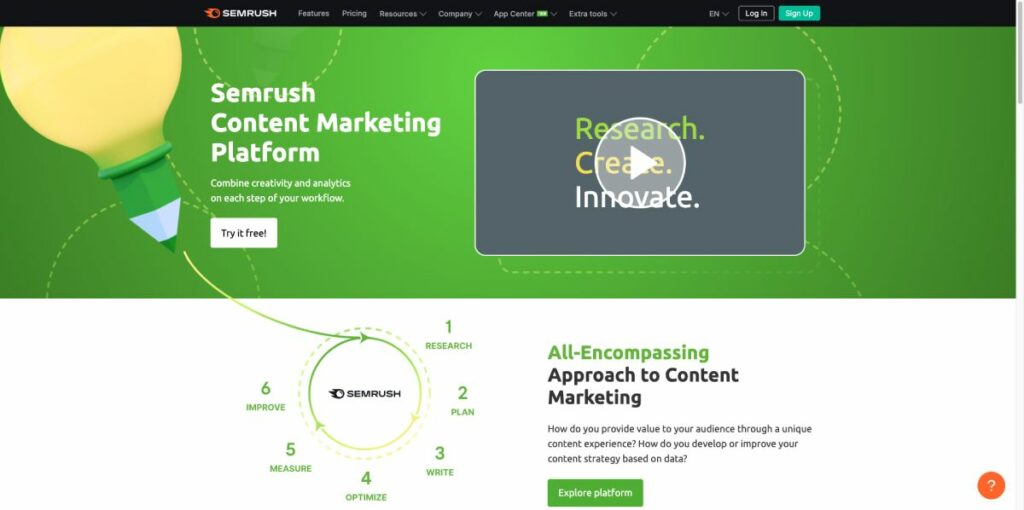 An essential component for any marketing automation software is the ability to streamline processes and deliver results. SEMrush excels in this area with its Topic Research, Marketing Calendar, SEO Content Template, and SEO Writing Assistant tools.
These tools work together seamlessly, enabling you to create and optimize data-informed content strategies that cater to your target audience's needs. However, be prepared for a learning curve as you explore the variety of tools at your disposal.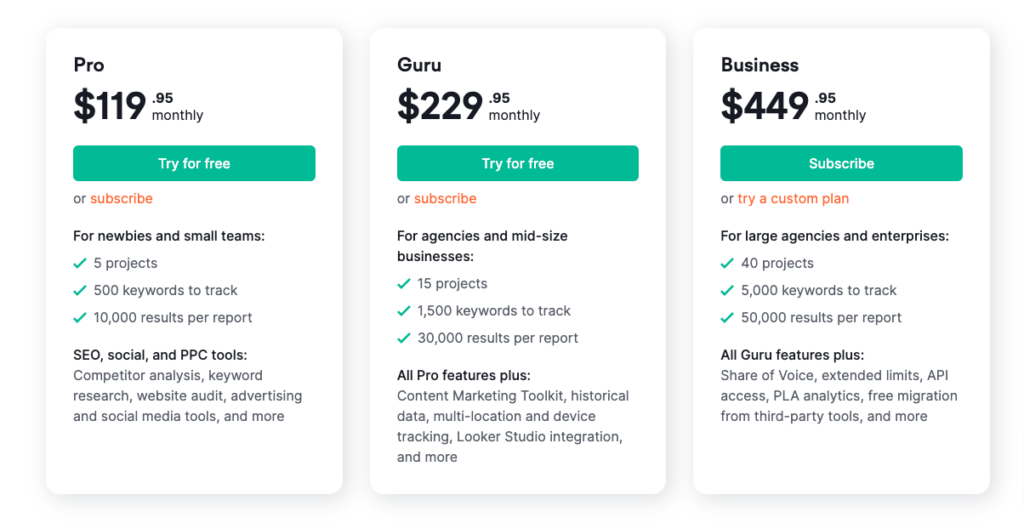 Pricing: The pricing for SEMrush is competitive, offering several plans to choose from. Starting with $119.95/mo.
Their Help Center, Academy, and user community will provide you with resources, SEO training, and networking opportunities to help you succeed. Additionally, SEMrush's GoodContent Hub and Local SEO Hub offer free tools and research materials for improving your content marketing and local search optimization.
Intercom's Resolution Bot is redefining small business marketing automation with its machine learning capabilities to provide swift and efficient customer support.
Designed for handling repetitive queries, this chatbot allows your support team to focus on tackling complex issues, while offering instant resolutions for 33% of common questions.
Resolution Bot's ability to recognize similar questions from past interactions and provide knowledge-based answers in 38 languages makes it a game-changer in providing 24/7 global support. With this level of automated assistance, Intercom claims that response times can be reduced by up to 44%.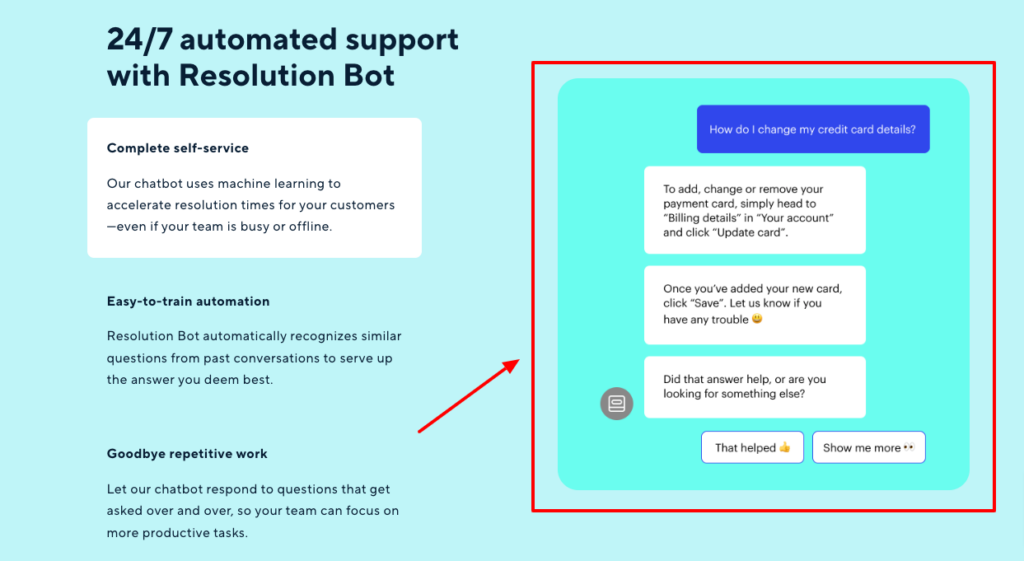 When it comes to automation features, the Resolution Bot sets itself apart with its customizable approach, catering to specific customers and routing qualified leads. It also efficiently collects customer information, streamlining your marketing efforts.
Intercom's platform further supplements the chatbot by offering live chat, account-based marketing, and mobile app support.
Pricing: Intercom's pricing starts at $39/month with optional add-ons available for advanced lead generation, customer engagement, and product tours.
However, as your subscriber base grows, the cost can easily rise to thousands per month, making it a considerable investment for businesses. The Starter plan, aimed at very small businesses, is available from $74/month when billed annually, with customization options through add-on features.
Zapier, an innovative no-code marketing automation software, seamlessly connects over 5,000 apps, saving valuable time and resources. Its flexible workflows, app integrations, and conditional logic empower users to automate their entire sales funnel, from lead generation to customer emails, without any technical knowledge.
Automation features in Zapier include multi-step workflows of up to 100 steps and customized if/then logic, ensuring workflows operate as intended.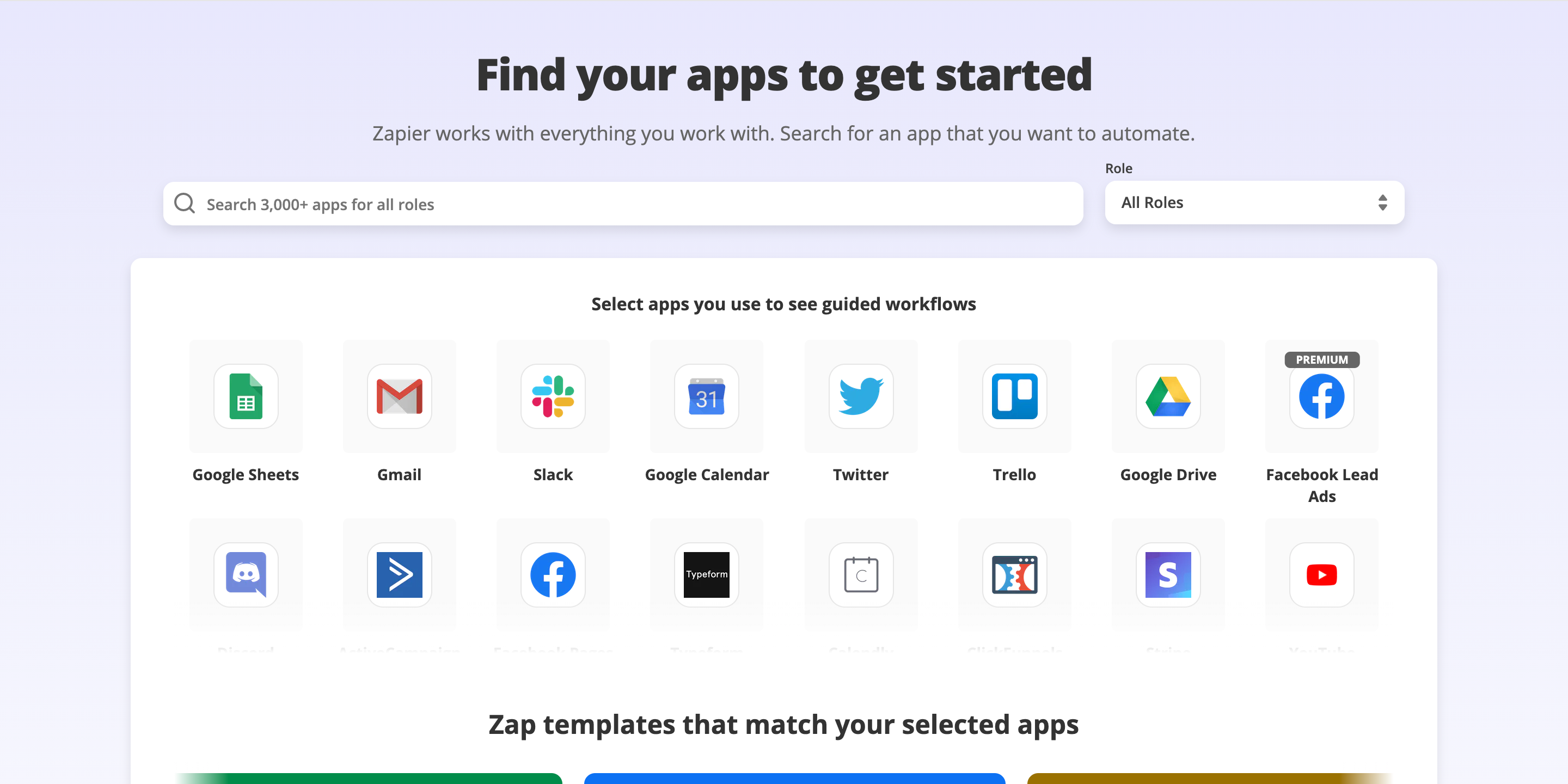 With data formatting options, users can easily transform information from one app into the right format for another app. Zapier has been trusted by more than 2 million businesses, streamlining operations and driving revenue growth.
Although some users found it difficult to set up Zaps and experienced issues with integrations like Shopify, others praised Zapier for its user-friendliness, extensive app integration options, and time-saving capacity.
Pricing: Zapier offers a free plan with basic features, while the professional plan unlocks more powerful tools. The Starter plan, priced at $19.99/month (billed annually), includes 750 tasks monthly, catering to individuals with simple, multi-step automation needs.
Businesses can also opt for enterprise plans to automate across their entire organization, gaining access to a community, help center, and certified Zapier experts.
Learn more about no-code: Best No-Code Tools
What is Marketing Automation?
Marketing automation is the process of using software and technology to automate repetitive marketing tasks, streamline workflows, and improve efficiency. This allows businesses to deliver personalized content and experiences to prospects and customers at scale.
Tasks that can be automated include email marketing, social media posting, lead nurturing, and tracking customer behavior. Marketing automation tools also provide analytics and reporting, allowing businesses to measure the performance of their campaigns and make data-driven decisions.
Why is Automation Important for Small Business?
Automation is crucial for small businesses because it:
Saves time and resources: Automating repetitive tasks frees up time for employees to focus on more strategic activities.
Enhances personalization: Automation tools help deliver tailored content based on customer behavior and preferences.
Boosts productivity: By streamlining workflows, small businesses can accomplish more in less time.
Improves customer engagement: Timely and relevant communication increases customer satisfaction and loyalty.
Provides valuable insights: Analyzing customer data leads to informed decision-making and better targeting.
FAQs