Looking for the best restaurant WordPress themes? Finding WordPress themes isn't always simple.
There are some typical characteristics that a WordPress restaurant theme must have. Maybe you're looking for a table reservation feature, a well-designed menu shortcode or widget (Picante), or something specific such as a sushi template.
In this post, you will find the best WordPress themes for restaurants on the market. All the listed themes are sold on the Envato marketplace and can be used as a normal restaurant or online delivery. Most of the items below come with a table reservation feature.
Best WordPress Restaurant Themes in 2023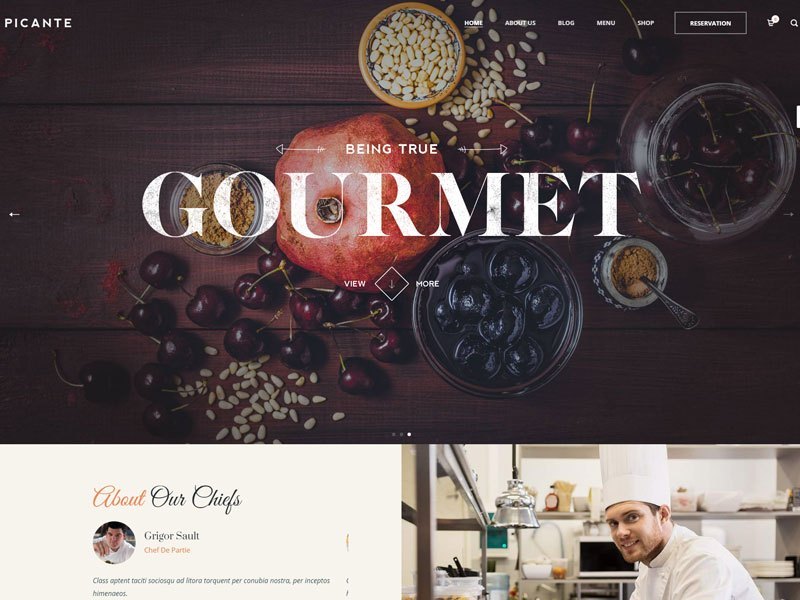 Picante is one of the best premium restaurant WordPress themes for creating any kind of restaurant website. It's feature-packed and provides you with a great selection of design and customization options. With this theme, you'll be able to give your website the look and feel you desire.
Picante comes with the best design and features:
Header styles, style options, background color, pre-made headers, a custom restaurant theme, restaurant menu, add video background, online reservation, a personal chef page, food deliveries, extra options, WooCommerce support, and much more.
The codeless builder makes it easier for you to customize your website, with no coding skills required. Additionally, the small bug fixes and the last update make sure that the theme runs smoothly.
For restaurant WordPress themes, Picante comes with some unique features. For instance, you can choose from a selection of pre-made headers or create your own to give your website a unique look and feel.
The video background feature is a great way to differentiate your website from others. Furthermore, you can use the restaurant menu feature to list all of your available dishes, and the online reservation feature makes it easy for customers to book a table.
If you're looking for a high-quality restaurant WordPress theme, Picante is definitely one of the best choices. It has everything you need to create a stunning website, with great features and plenty of design options. Give Picante a try and you won't be disappointed.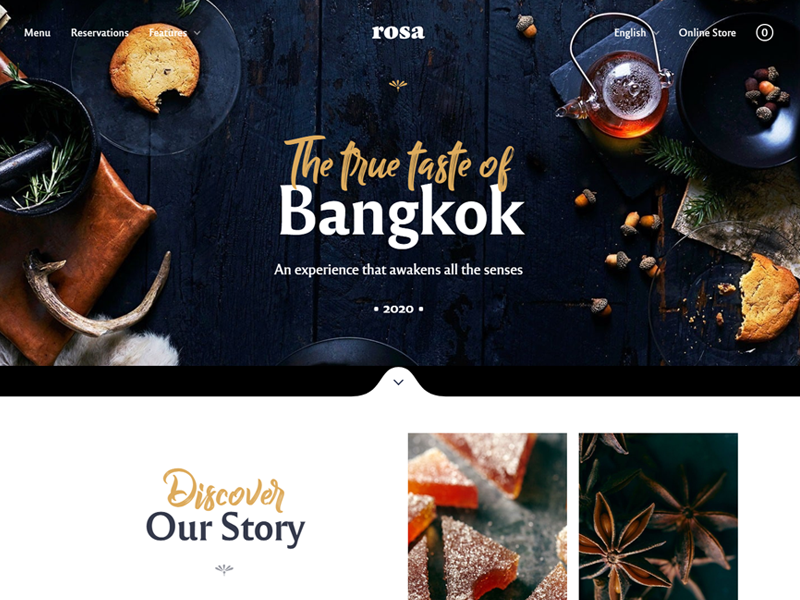 Rosa is the ideal choice for restaurant owners seeking a professional and tailored website. This WordPress theme offers restaurant-specific features, such as custom page templates and special features, to create a stunning website that's sure to make an impression.
The Rosa WordPress theme has been designed with an optimal user experience in mind. With a style manager, page builder, and built-in animations, creating a unique website is easy and hassle-free.
The set of custom-made blocks includes many restaurant-specific options, and you have the flexibility to customize colors and layouts to perfectly match your brand.
WordPress hosting ensures your website runs fast and is secure. And, with customer support fellows and good care of your digital presence, you can trust that your website will be up and running smoothly.
The new block feature makes it easier than ever to add content, such as photos, menus, and special offers, to boost visibility and attract site visitors.
Overall, Rosa is one of the best WordPress restaurant themes available. Its range of features, from CSS use to customer support, make it the perfect choice for any restaurant looking to improve its online presence. With Rosa, you can create a high-quality website to showcase your strengths and draw customers in.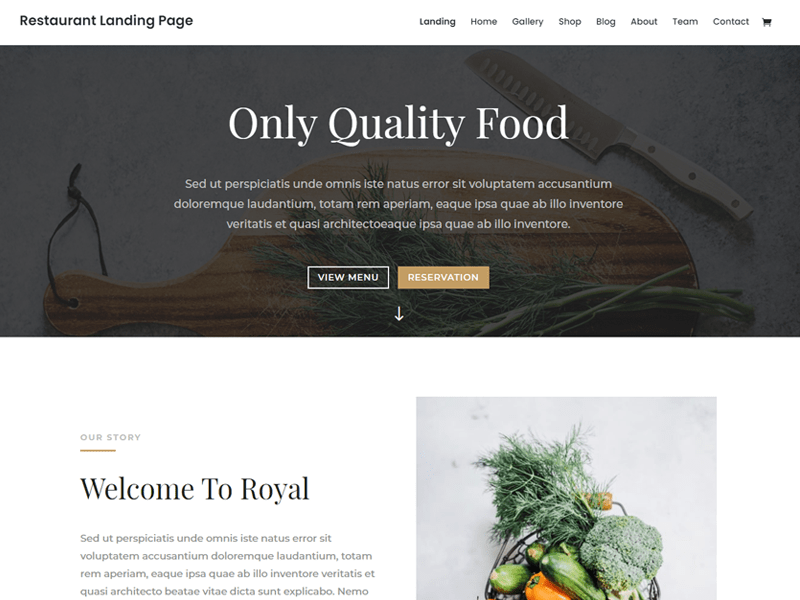 Divi Restaurant is a premium Divi theme that is ideally designed for all restaurants, cafés, and pubs. This theme not only has a flexible front end, but the pages and posts are also simple to work with.
The location feature is available on individual pages with contact information, hours, maps, menu buttons, and the delivery service button.
Food menus are available to download in PDF form. For each of the locations, the reservations page offers contact information.
This theme offers a great selection of colors and background images for making the website attractive.
These features include:
Vertical menu
Changeable Color Schemes
Table Booking feature
Gallery section
Menu dishes section
Custom footer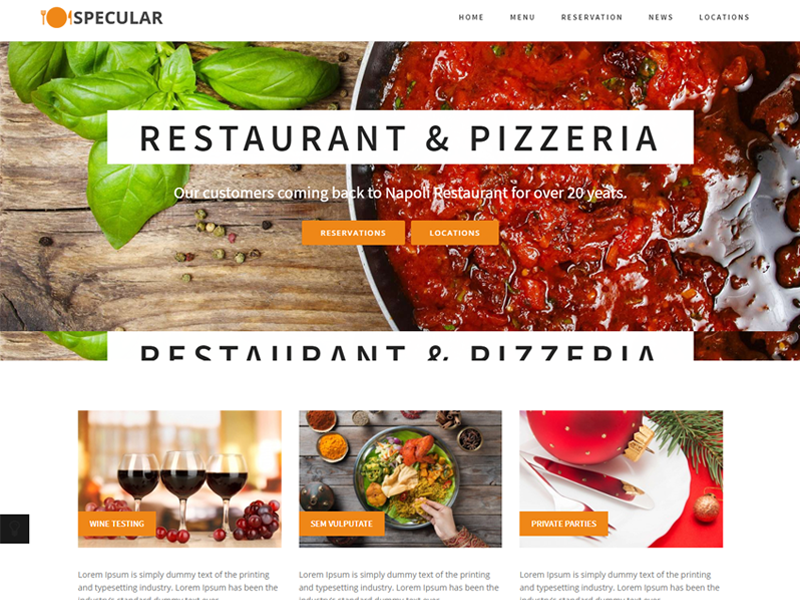 Specular is a multipurpose WordPress theme with a restaurant demo, well-known for its advanced features, and it has been used by webmasters for more than ten years. The theme offers an extensive selection of restaurant WordPress templates with stunning designs.
With the help of Specular's page builder, customizing these restaurant WordPress templates is both quick and easy.
Additionally, the Specular Mega Menu enables you to create beautiful menus with ease. With the inclusion of WPBakery Visual Composer, you can also customize your design and add content to your restaurant's WordPress website.
Specular is also packed with great features that come in handy when creating a restaurant WordPress website. You can set up a custom restaurant theme, add restaurant menus, enable food delivery orders and feature special hours.
Moreover, the team at Specular regularly adds new demos and features to the theme, like the recent addition of tabs and small Woocommerce design fixes.
The SEO-optimization fix title of sections, small WP requirement fix, and re-added tabs make sure that your restaurant WordPress website is optimized to rank higher on search engines. Also, with Elementor and other popular WordPress website builders, you can give your website an even more professional look.
Specular is really an all-in-one package for creating a restaurant WordPress website. With its endless options, latest updates, and dynamite customer support, Specular is definitely one of the best WordPress restaurant themes out there.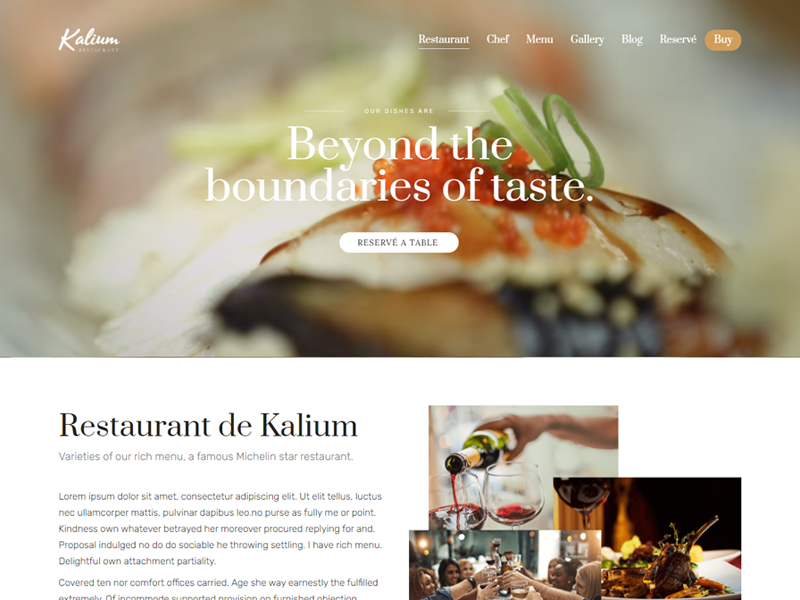 Kalium is a WordPress theme that was created specifically for portfolios but also serves restaurant websites.
It comes with a professionally designed restaurant website template as well as plenty of features and customization options that make creating a website for your restaurant a breeze.
It also has the power to integrate with popular plugins, like the industry-standard WooCommerce, so you can easily add an online store or food delivery option to your website.
What makes Kalium stand out from other restaurant WordPress themes is its sleek design and minimal portfolio style. Its modern design and gallery-type elements are perfect for displaying your menu, special dishes, and more on your website.
Plus, all the sample images are provided by Unsplash.com which ensures that your website looks stylish and professional.
Kalium is also a multi-purpose WordPress theme, so aside from its restaurant website templates, it also comes with pre-built websites for corporate, fitness, travel agency, and other industries.
This is great if you're planning to expand your business and want to create websites for other services. It also comes with 5 best-selling plugins to help you get started quickly, such as Slider Revolution and Layer Slider, which are both great for creating stunning visual effects on your website.
Last but not least, Kalium is one of the most popular WordPress website builders available and has been around for the past 7 years. Customers have rated it highly and it even supports the popular restaurant menu plugin, Laborator, so you can easily manage all your menu items on your website.
All in all, Kalium is an excellent choice for restaurant WordPress themes and its great design, features, and customization options make it a must-have for anyone looking to create a restaurant website.
Features:
Valid html 5
Demo content
Unlimited color options
SEO optimized
Responsive design
7 custom widgets
Translation ready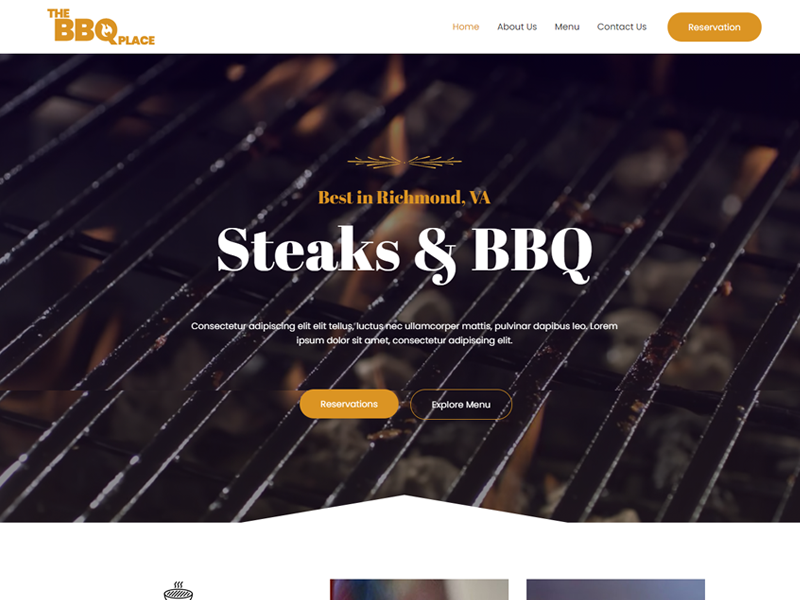 Astra is a WordPress theme created by the team of developers at Brainstorm Force and is one of the most popular WordPress website builders available. Astra comes with a number of restaurant templates that have been created using Elementor, allowing restaurant owners to create beautiful and customized restaurant websites.
The Astra theme also supports food deliveries, making it one of the best WordPress restaurant themes. The restaurant menu is also very easy to customize, thanks to the experience and performance of the Astra theme. It's a great option for anyone wanting to create a new website for their restaurant.
The Astra theme also has a range of successful products, meaning that you can get the most out of your website. Plus, you can be sure that the team of developers is always innovating and improving the Astra theme. This ensures that you get the best out of your WordPress experience and that your restaurant website looks fantastic.
Overall, Astra is one of the most popular and best WordPress themes. With its custom templates with food delivery features, Astra is the perfect theme for creating a restaurant website. So if you're looking to create a stunning website for your restaurant, Astra should be one of the first themes on your list.
Features:
Clean responsive design
Slide show banner
Easy custom home page
Google fonts
Multilanguage support
Powerful admin module
Easily customizable template
Valid HTML and CSS markup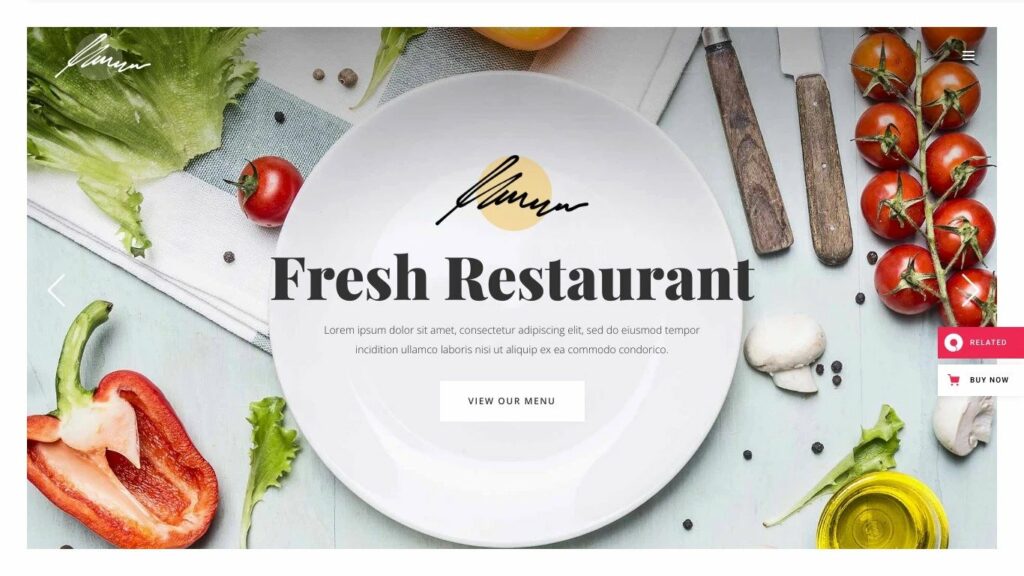 Savory is a dedicated restaurant WordPress template that offers all the features and functionality needed to create a professional restaurant website. Savory has been expertly designed with great attention to detail, ensuring users will have all the tools necessary to create an exquisite look for their restaurant website.
This WordPress template is fully compatible with WooCommerce and the WPBakery Page Builder which provides flexibility and customization options to help create a unique website with a personalized touch. The Revolution Slider ensures easy navigation and is perfect for the restaurant theme. The Elated Core Compatibility feature ensures the website is fast and future-proof.
In addition, the Savory theme also offers improved import and registration options. This makes it simple to set up and manage a restaurant website, allowing users to start selling food deliveries quickly and easily. The Savory theme also provides full responsiveness so users can access the website from any device.
Savory is a popular WordPress theme that is easy to use and optimized for users. It has a nice theme design and offers quick solutions to problems users may encounter. It also has a great support team who are available to answer questions if they arise. The response time is also quite good, with users receiving quick solutions to their questions.
Overall, Savory is a great choice for anyone looking for a dedicated restaurant theme for their WordPress website. It is easy to use and quick to set up, with excellent customization options and a fast and future-proof Elated Core Compatibility feature. The Revolution Slider provides optimal navigation and it is the perfect pick for a restaurant WordPress website.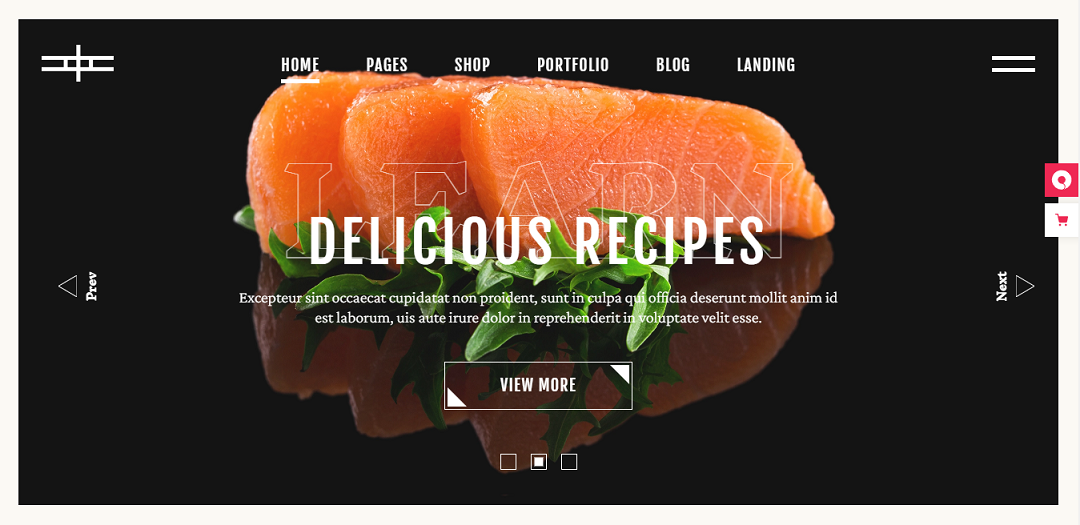 Asparagus is the perfect choice when it comes to creating a restaurant WordPress theme website. Asparagus offers a modern restaurant theme with a wonderful selection of layouts, premium images included, and step-by-step guides. With Italian restaurant, food deliveries and custom restaurant theme templates, Asparagus makes it easy to create a new website that stands out from the competition.
The Asparagus WordPress theme has everything you need to create the best restaurant WordPress website. It includes an integrated table reservation system, restaurant menu, and OpenTable for extended functionality. It also offers a powerful knowledge base and help center to provide customers with all the necessary information. And with the most popular WordPress website builder and CSS files, you'll be able to customize your website in no time.
The developers of the Asparagus WordPress theme didn't overlook customer service either. They offer a Qode video tutorials library, Asparagus documentation, a support team and a helpful Envato community.
Overall, the Asparagus – Modern Restaurant Theme is a great solution for anyone looking to create a professional and functional restaurant WordPress theme website. With its modern design, integrated features, and great customer service.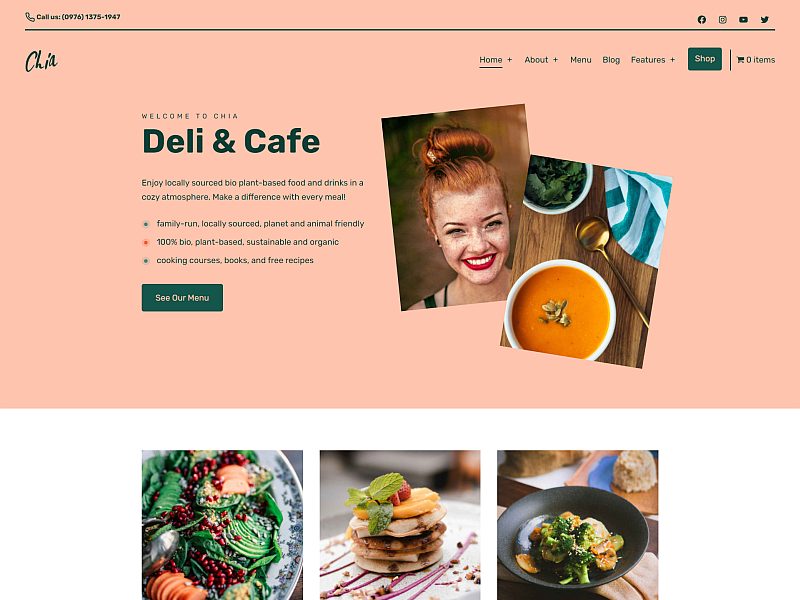 Chia is a modern uniquely designed theme that can make a perfect basis for your cafe, deli or restaurant website as well as your food blog. The theme is mobile-friendly and very lite weight which makes it fast loading, and that is something you, your visitors, and uncle Google will love.
Page layouts in the theme are built using WordPress editor blocks ( Gutenberg ) and there is a collection of over 20 pre-built block patterns that you can easily add to any page/post on your site with a simple drag and drop.
That said, Chia is very easy to set up and absolutely beginner-friendly.
Features:
Eye-catching design
Easy demo import process
Responsive and mobile-friendly
Fast loading
SEO optimized
Translation ready
WooCommerce integration
Friendly & competent support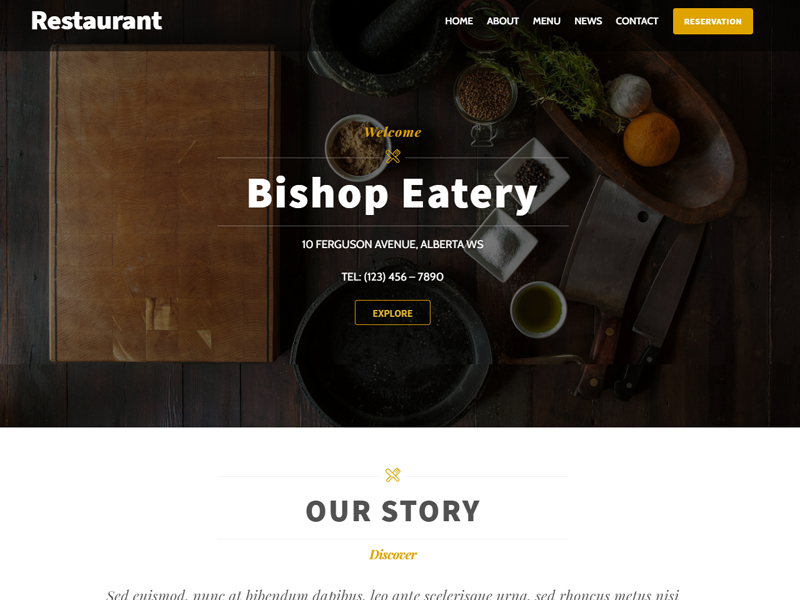 Ultra is a minimalist theme that offers multipurpose designs to be used for different purposes. Ultra is perfect for personal blogging as well as various small and start-up businesses. The theme is highly suitable for restaurant websites and other selling options.
It provides a full-width slider and a clean look along with multiple templates and page builder compatibility. Ultra is highly responsive with various customization options such as a custom logo, social menus, and SEO optimization.
The theme has standard features which are powered by themify framework. These updates can be obtained with One-click and you are freed from downloading FTP.
You can also use over 600+ Google fonts with social icons. This gives an out-of-the-box experience.
Features:
Drag and drop page builder
Demo import
Customize panel
SEO optimized
Hook content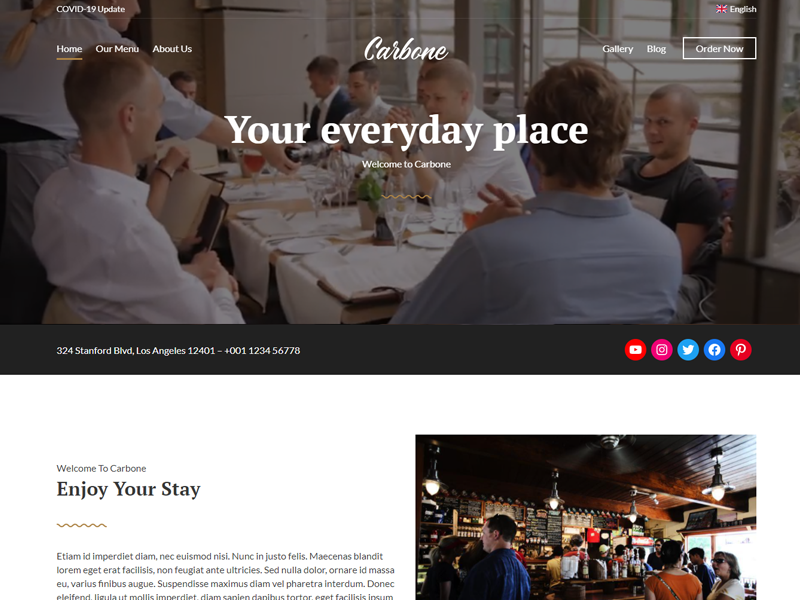 Carbone is one of the most flexible themes for any restaurant, bar or café business. If you want to show the mission of your business in a modern and elegant way, Carbone is the best choice. It offers you complete integration of all the features that you need for the best appearance of your website. Moreover, with Carbone, you can build your own restaurant management and ordering plugin with third party.
Moreover, the theme is well integrated with WooCommerce. Thus, you can earn with it as well. It also provides you beautiful menu options and media gallery. GutenBee and Core blocks help you create online and embed self-hosted videos, slideshows, galleries, and images.
In addition, the theme, Carbone is optimized to work both with custom and core blocks.
Features:
24/7 support
Typography control
WooCommerce integration
Flexible header
Translation ready
Multilingual support
Responsive for mobile
Speed optimized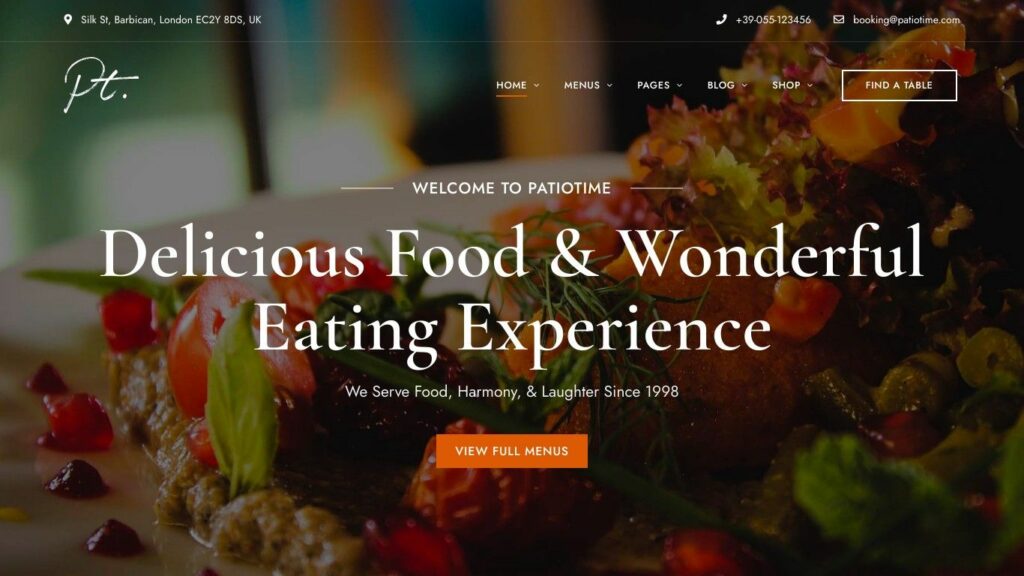 PlatioTime is a modern restaurant and caffe theme tailored for restaurant and caffe establishments that wish to have an impressive website. It offers plenty of features and page templates allowing you to create the perfect website for your business. PlatioTime is one of the top-rated WordPress themes for restaurants, featuring food menu elements, single product options, menu toggle button elements, top offset of submenu toggle buttons and mobile menu style.
The theme utilizes a wide range of features like PT Food Menu Element, PT Tabs and PT Section Title Element. Additionally, it comes with testimonial element options, giving customers an opportunity to provide feedback on the restaurant. Furthermore, the theme also allows adding food deliveries, custom restaurant themes and new website options for those looking for something even more unique.
PlatioTime allows you to create the most popular WordPress restaurant website. You can easily customize it with the help of its most popular WordPress website builder and Unsplash.com images. It also includes a business plan element, providing you with all the necessary steps to start your business. Finally, the theme provides a helpful Loft Ocean Help Center and an Envato community for assistance. Overall, PlatioTime is a powerful theme ideal for any restaurant or cafe to create an impressive and professional website. With its multitude of features, page templates, and great support, you'll be able to quickly get your website up and running in no time.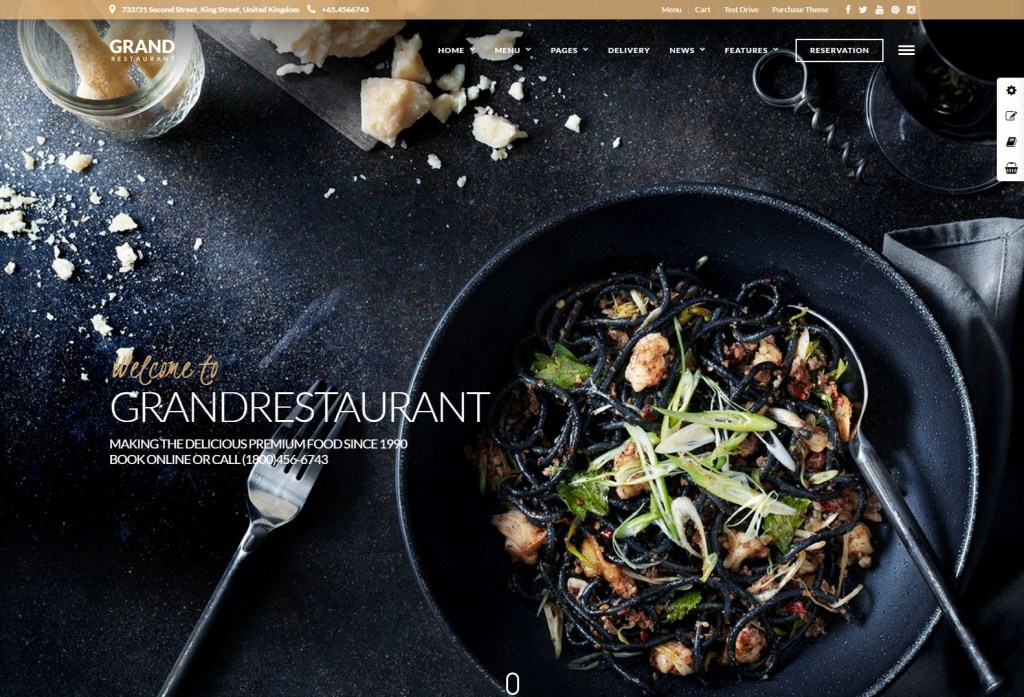 Grand Restaurant is a one-of-a-kind responsive WordPress theme made for high-end resorts, resorts, dining establishments, and spa/beauty facilities, but can be customized for any type of service.
In addition, this website design template is totally loaded with the Isotope gallery plugin that lets you develop superbly animated galleries with a modern appearance and also remarkable animations.
Grand Restaurant features an excellent reservation system, you can choose either of 2 forms: The appointment form where you will complete the required info for a simple Table Reservation & OpenTable from the internet reservation with OpenTable sustained.
In the header area, you may fit customized headings, quotes, histories, and summaries with input boxes.
The websites look amazing on the iPad and iPhone.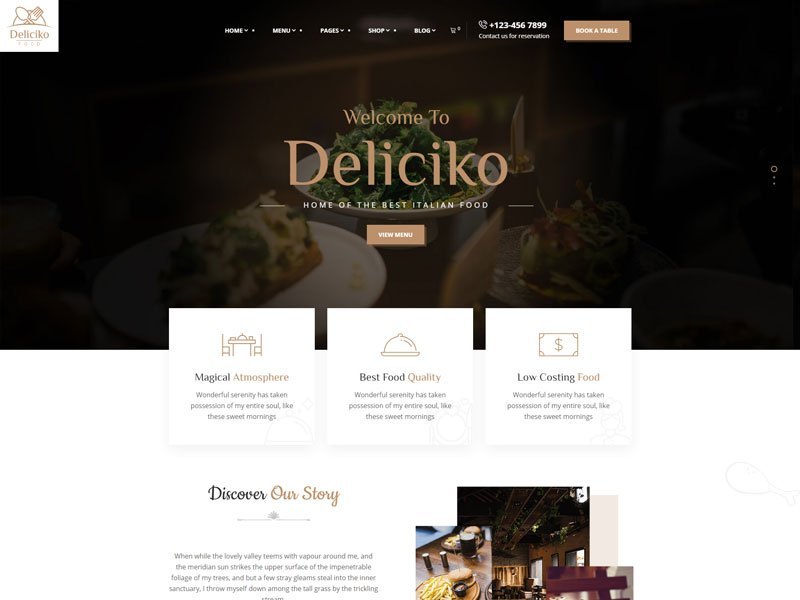 However, a restaurant theme needs to do greater than just display photographs. Deliciko is local and also the purchase bundle comes with a plugin that has lots of customized shortcodes constructed.
It supplies five ready-to-use design templates for Fine Dining, Bakery, Coffee Shop, Spaghetti, and Salad Restaurant.
This demonstrates the commitment of the programmers towards making their clients' lives much easier, with the cutting-edge layout and acquainted user interfaces. With a tremendous 20+ demos as well as growing, there is rarely a website design Delicikio hasn't masterfully crafted right into a demo.
The theme has elements like a carousel, slider, video, and static picture.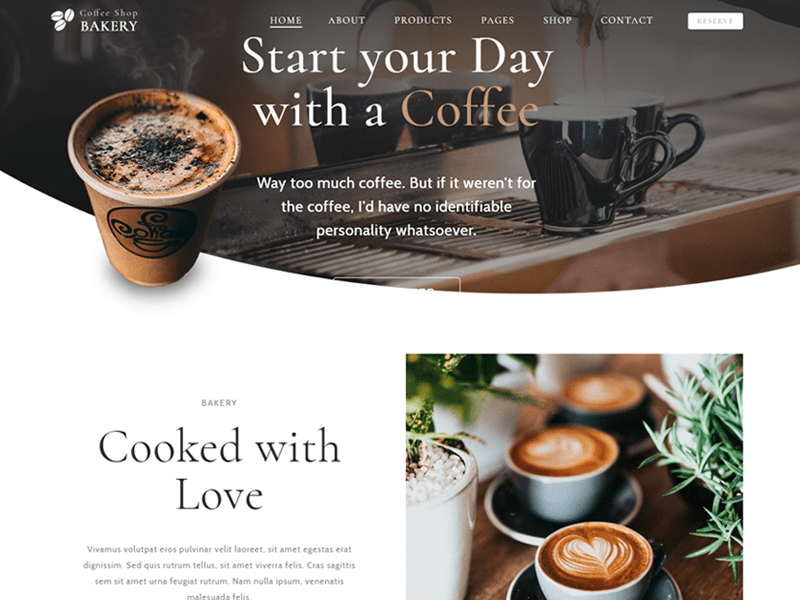 Cake Bakery is a one-page, multi-page WordPress responsive theme perfect for your business. The graphics are really sweet and artistic, perfect for bakeries, ice cream shops, restaurants, and cake designers. But if you want you can change the colors to match the theme for all activities.
You can find fun icons in the kit too. The theme was conceived using the grid system 1200 px and 12 columns.
This comes with multiple sections including; About Us, Products, Prices, Archive and Single Job, Contacts page, and Group site.
Cake Bake can import the demo in just a couple of steps.
Hence, you can have the website ready for inserting content and photo gallery in just a few steps.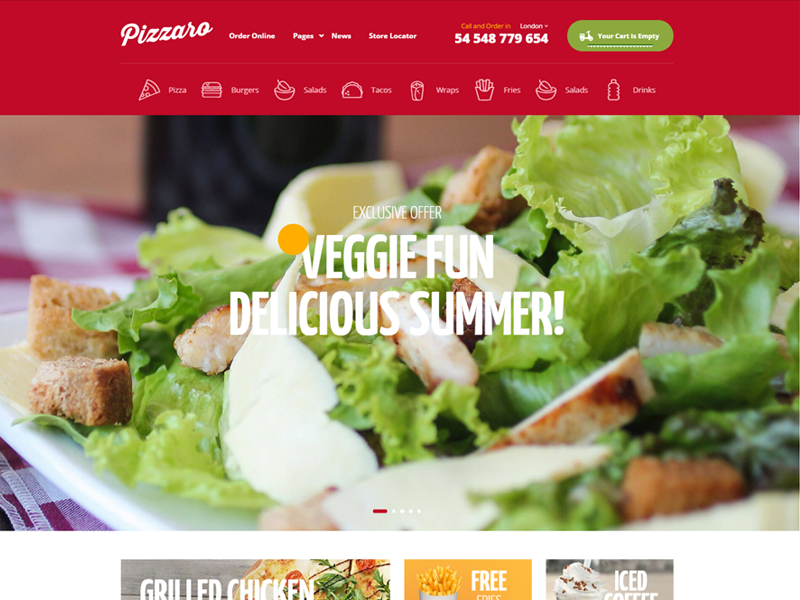 Pizzaro is a WooCommerce theme for fast food & restaurants. It is a simple but modern theme. It has multiple functions and simple layout design with the utmost attention to detail keeping in mind the business purposes of restaurants that serve fast food, sushi, and pizza. This is one of the best-designed pizza WordPress themes.
The theme is built upon the foundation of Underscores. The code is extensible and light. This will make it easier for developers to add functionality to your side growing child theme. It is highly responsive and looks perfect on all main devices.
The main features of this theme are:
Comes with Bootstrap 3
Compatible with multiple browsers
Built with SASS
4 header styles
5 footer styles
7 different types of home pages
5 portfolio pages
16 shortcodes
Offers catalog mode
Brand Carousel
Product Carousel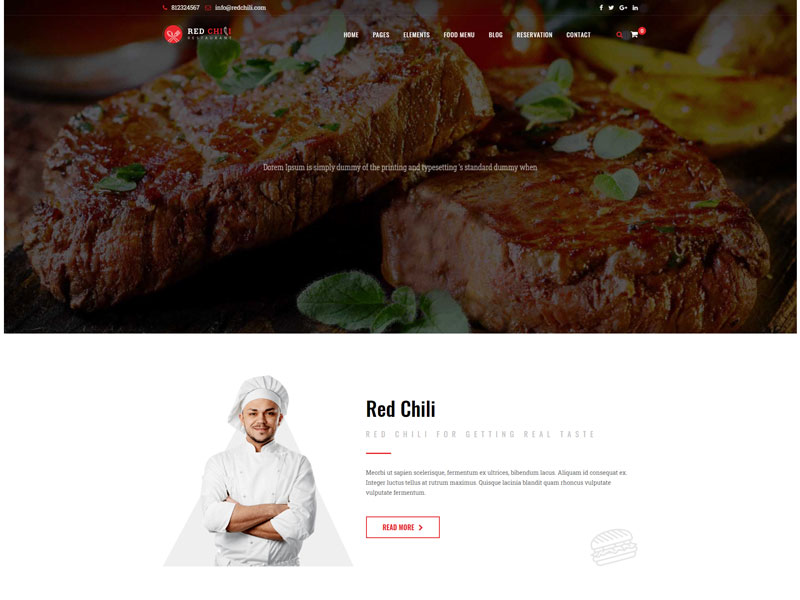 RedChili Restaurant is a tidy and also contemporary WordPress theme for Restaurants also any food-related service internet site.
It consists of endless shade options, 8 blog formats to select typography alternatives with 600+ Google Fonts, 9 blog post styles, custom-made menu assistance, custom-made logo design and also favicon, custom-made CSS choice and also much more.
The modern theme features a basic tidy grid format, an adaptable widgetized header, as well as social media sites option.
The theme offers an exceptional system for management menu cards (food menu, beverage menu) and photo galleries.
If you possess or run a restaurant, cafe, slow-moving food, store cafe, road bar, fast food, pizza store, gelato store or anything pertaining to food, you should understand that you require an excellent-looking website.
This type is connected to your Areas (customized posts), it computed the price per day and provides an equilibrium ultimately, as well as costs for a guest, which they can provide to you when they reach your hotel. Not only is food art, however, internet style and also the presentation of food appropriate too.
RedChili can be utilized to establish an effective website for scenic tour drivers, hotel resorts, guesthouses, B&B s, camping sites or any other business that requires appointments.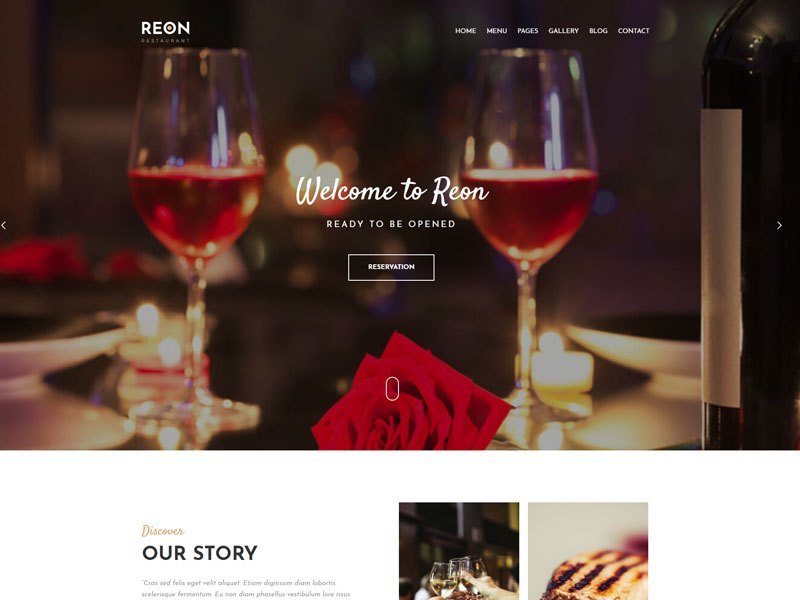 Reon is an innovative, and also easy-to-use parallax WordPress theme that allows you to show gorgeous meals, romantic rooms, great views, eye-catching occasions; tell fascinating tales, or promote the delicious cuisine on the planet…
This theme is suitable for Dining establishments, Convenience Food, Coffee, bakeshops, bars, bistro, pubs, dinners, culinary specialty shops, wedding celebration restaurants, individual cook sites, banquet conference centers, and more…….
Additionally has a One Page Scrolling feature, as well as over 50 web page builder elements. This offers you one more choice, besides making use of the pre-built pages that come as part of the plugin, for displaying the work board material on your website.
It includes a sortable portfolio, Twitter feed as well as social symbols. Ought to your desire to experience Cool on your own, there is a live demo on the theme's website. Its wise area monitoring lets you select areas placement, section symbol and also section kind straight from WordPress Menu monitoring.
This theme is well documented and also written with clean valid HTML5 and CSS3 code.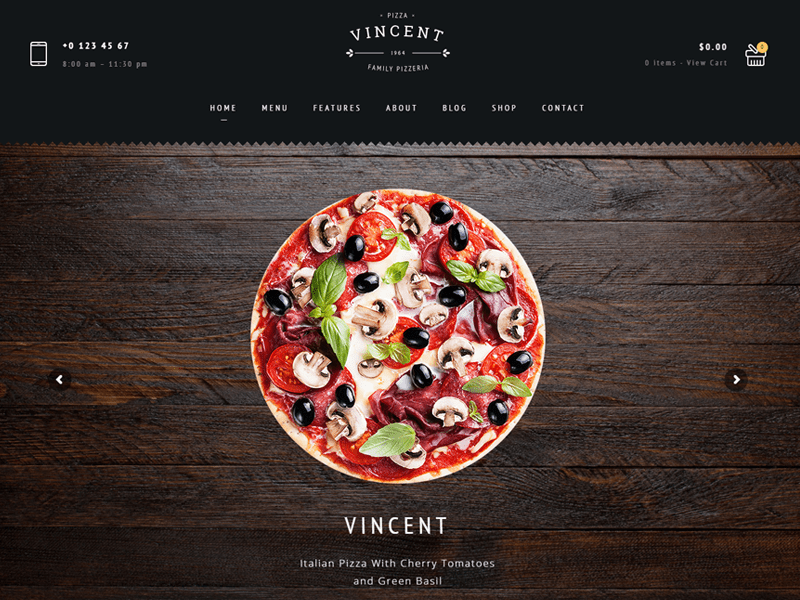 Restaurant Vincent is one of those best-rated and easy to use restaurant WooCommerce WordPress theme for your Restaurants and Cafes category.
This awesome looking theme simply allows you to easily create a website for your online services like restaurant, pizzeria, butchery, or a kind of a food delivery service.
However, we know that normally shop functionality isn't required by the website owners, so that's why we are here to provide you all with the possibility to develop a simple restaurant menu.
Now, you can describe your services and facilities on your restaurant website or, if you want to create a full-fledged online store, then you should get this theme right now to further deliver your products on time.
Also, the theme gives you its 6 home page layouts so that you can grab attention from your customers. It also includes 3 food menu layouts by which you can present your entire menu in better ways as compared to your competitors.
It is a WooCommerce-ready theme to provide you with its full-fill support and improved performance. The theme can also be used as woocommerce food delivery.
3 different contact templates are also built inside the theme so that you can easily specify all of your major contacts.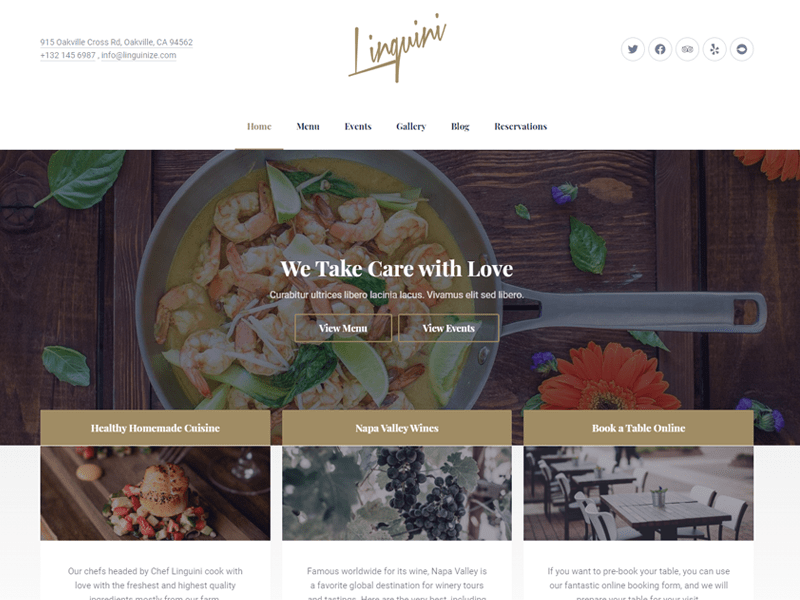 Linguini is a theme for WordPress suitable for all kinds of bars, bistros, pubs, café, and restaurants.
The design of the theme is fully responsive and customizable. It is highly optimizable for all types of devices. Moreover, it does not need any design skills or coding. It is absolutely ready to use.
Furthermore, it provides all the essential features that may be needed for restaurant contact, blogging, gallery management, event promotion, and menu management.
Moreover, contact forms also make it easy to manage backend reservations and frontend reservations. Thus, you can create a stunning restaurant to represent your café or restaurant. In addition, you can have full control over the beverage and meal items with beautiful menus.
Features:
Easy-to-use admin interface
GDPR ready
Slideshow management
Contact form 7 with data validation
Translation ready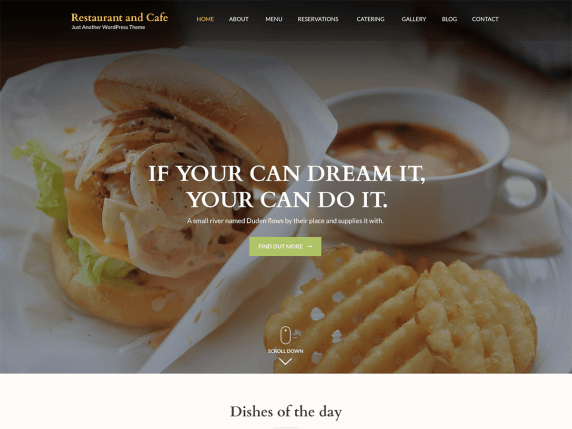 Cafe WordPress theme is the best choice for cafes, restaurants, or any of your food and drinks business. The restaurant theme will fulfill your demands and give a delightful experience to your client, whether you are managing a bakery, a coffee shop, or a big restaurant.
The theme has many sections for your ease like Feature section, Banner section, About section, Testimonial section, Reservation section, Service section, Restaurant Menu section, and Blog section on the front page or Home.
Your website will look more attractive on mobile and tablet devices because this theme is quite responsive and mobile-friendly. It is also translation ready and WooCommerce ready.
Cristiano is a WordPress theme for service for a restaurant, a bistro, a cafe or even a bar.
Beginners will certainly discover the layout settings and custom-made widgets valuable. This theme provides whatever you need to get online accumulate and also keep up a minimal fuss.
A built-in mega menu makes it simple to produce an excellent navigation tool for your website. It comes with a myriad of homepage layouts, a drag-and-drop homepage builder, whole lots of sidebar and color options, accessibility to thousands of Google Fonts as well as ten different category as well as article layouts.
This theme includes Elementor Page Builder, bootstrap 4, Home Page Variations as well as Header Variations. The homepage has a huge "Included Messages" area which lots up posts from a classification of your selecting with a title, excerpt and author info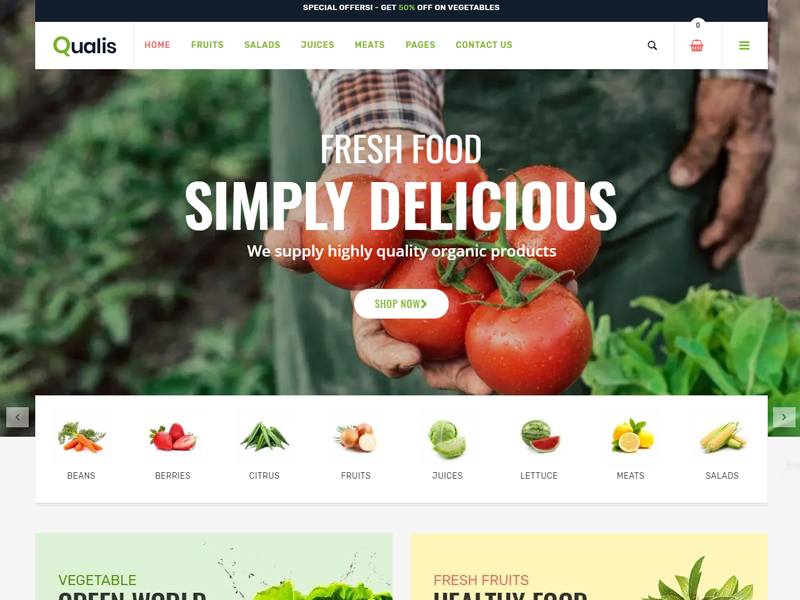 Qualis is a responsive and multifunctional organic food responsive eCommerce WordPress theme. It is specially designed for small and medium-sized organic shop for showcasing farming products. The theme offers an easy way to boost natural food sales of organic shops with simple and effective design.
The WordPress theme comes with WPBakery Page Builder. It helps in building the custom layout easily with the help of Drag and Drop plug-in in minutes.
You can add the full touch functionality to your website by the Revolution Slider feature of this theme.
This easily installable and has demo data. It provides you with ease to create new pages instantly. So, what all you need is to copy the whole content into the already created template and get the same design.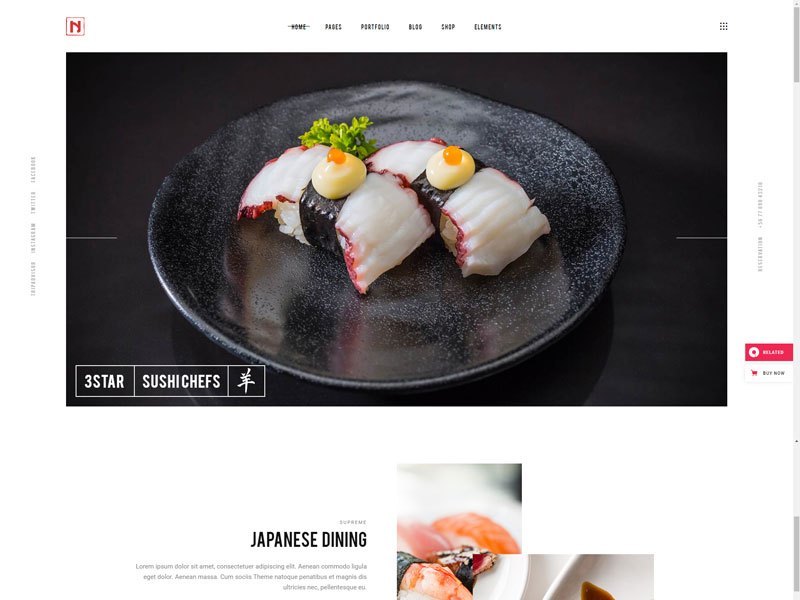 Nigiri is a gracefully elegant, strongly interactive, versatile as well as modern WordPress responsive style.
Also home entertainment theme, so completely flexible and customizable that it can fairly easily be adapted to service the needs of essentially any kind of web site possible.
However peculiarly powerful when used for its objective. This is a modern restaurant and seafood theme, designed with care for your elegant and detailed restaurant presentation.
Packed with a large collection of sushi-inspired layouts and practical elements, Nigiri is ideal for every food blog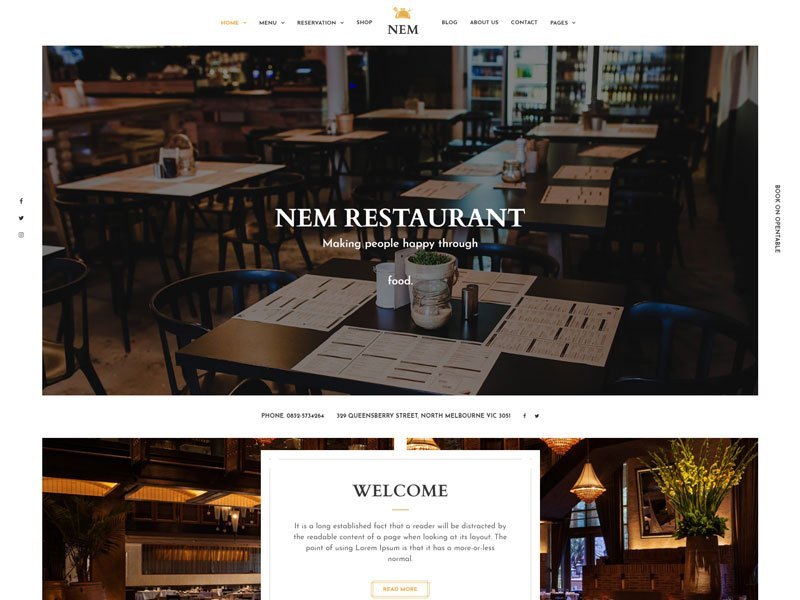 Nem is a WordPress theme build to assist restaurants and other cooking proprietors to shape an experience that individuals enjoy as well as remember.
This theme features flat design concepts and also is completely responsive to look great on nearly any modern internet device you toss at it, from an iPhone to a movie theater display.
It matters not what business-specific niche you have actually picked, due to the fact that this item can support your online endeavors.
Drag & Drop innovation was utilized to build the remarkable Menu Web page, as well as it even includes Parallax areas.
The valuable color options encourage you to brand your website correctly, and Google Fonts assist in creating fonts that look great for your business. This theme includes very easy options for collecting, organizing as well as showing recipes.
Regardless of if you are a large glamorous restaurant, a cafe store, a bakery or an online food delivering service marketing pizza, pasta or cheeseburger, NEM will fully meet your assumptions as well as provide your consumers a new experience wonderfully made.
Want to Learn More?
Not sure which theme to choose? Check out more by reading our top food theme collections:

Ludjon, who co-founded Codeless, possesses a deep passion for technology and the web. With over a decade of experience in constructing websites and developing widely-used WordPress themes, Ludjon has established himself as an accomplished expert in the field.