In this article, I have compared the best website builders for restaurants and analyzed their pros and cons to give you the best solution possible.
Most people order their food over the Internet. They look up a restaurant's menu on a website, find new ones over the web, and browse reviews before deciding to purchase. 60% of U.S. consumers order food delivery at least once a week.
If your restaurant doesn't have a website, you miss out on many new customers. Do you doubt it? 60% of restaurants say that going online has increased their sales. 32% of food buyers make table reservations online through a restaurant's website.
Here is a short list of the best restaurant website builders:
You need a website to gain online visibility. A wider audience means more sales.
So, we tested and compared dozens of restaurant website builders to select the best ones available. The website builders on this list have several customizable features that fit any online restaurant.
You can also read our full guide: How to Create a WordPress Restaurant Website (with Food Ordering)
Best Restaurant Website Builders with Food Delivery
Let's jump in. These are the top 10 website builders for restaurants.
Best overall website builder for restaurants

High-Quality Designed Templates
User Friendly
Dedicated Tool for Restaurants
See Pros & Cons
Pros
110+ beautiful, customizable templates
Supports integrations with third-party apps
Content Management System with a mobile app version
Supports drag-and-drop feature
Cons
It is not 100% customizable
There is no undo button.
Every change is immediately visible.
Squarespace is the best restaurant website builder with high-quality website templates and dedicated features for restaurants.
If you want to build a stunning restaurant website without hiring a designer, Squarespace is the way to go.
With its user-friendly interface and a lot of customizable templates, Squarespace allows restaurant owners to create visually stunning websites that effectively showcase their brand and offerings.
The platform's responsive design ensures that restaurant websites look and perform beautifully on any device, providing an excellent user experience for potential customers.
With built-in features such as menus, reservation systems, and event calendars, Squarespace enables restaurants to seamlessly manage their operations online.
Additionally, Squarespace's e-commerce capabilities make it simple to sell gift cards, and merchandise, or even offer online ordering and takeout services.
By choosing Squarespace as their website builder, restaurants can effortlessly create an enticing digital hub that drives customer engagement and boosts business growth.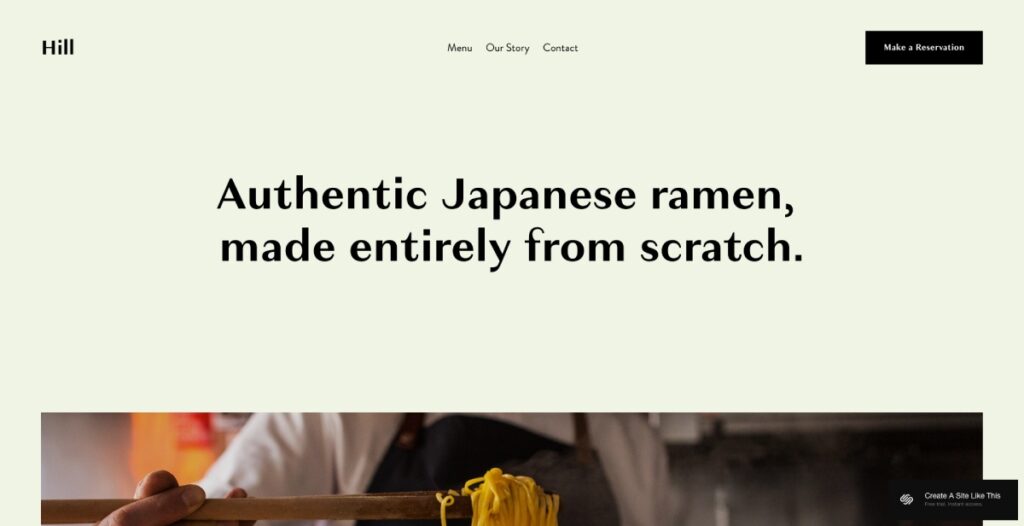 Restaurant Features
The Squarespace team has created also a dedicated Restaurant software called Tock.
Tock is a tool built by Squarespace to help restaurants to manage reservations and experiences while keeping costs low. With flat pricing, no per-cover fees, reduced no-shows, and easy implementation.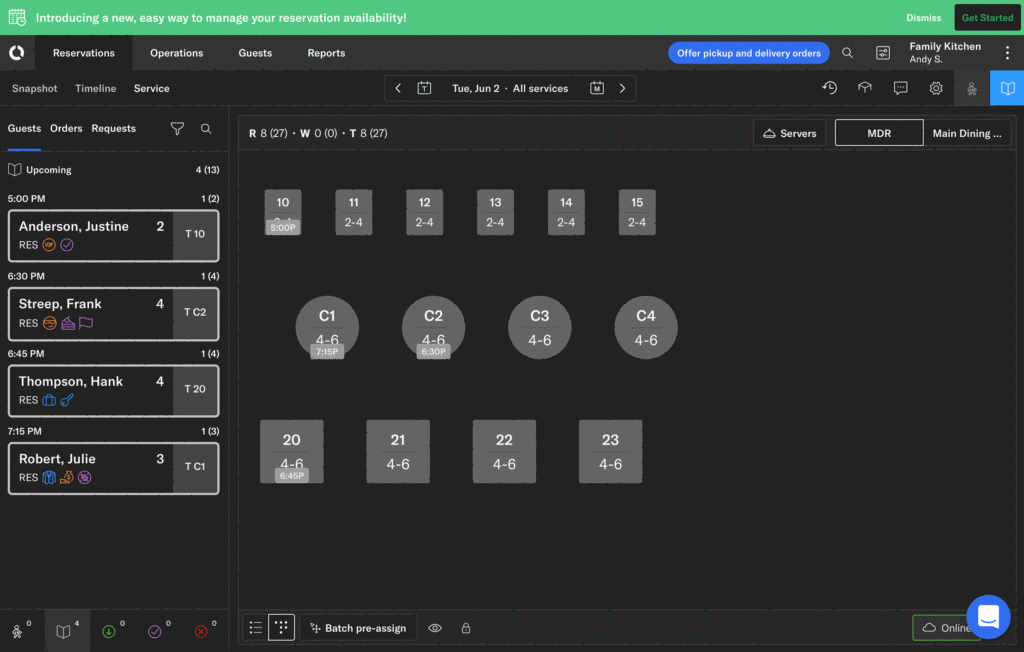 Tock provides a comprehensive solution for table management, guest marketing, and customized experiences.
Squarespace also integrates with apps like Jotform for filling forms, Stripe, and PayPal for collecting payments. You can integrate a notification app to get alerts when customers place an order.
The site builder has a social posting app that you can link with your restaurant's social accounts to schedule posts on Instagram and Facebook.
Squarespace is best if you want unique branding and ease of use. You will have to put up with the fact that there is no preview option. Every change you make is immediately visible online unless you lock down your site with a password.
Also, you are limited to dragging and dropping features into place and a few other options. On the upside, Squarespace sites rarely get bugs.
Squarespace Pricing
Squarespace pricing is divided into:
Personal – $16/month
Business – $23/month
Basic Commerce – $27/month
Advanced Commerce – $49/month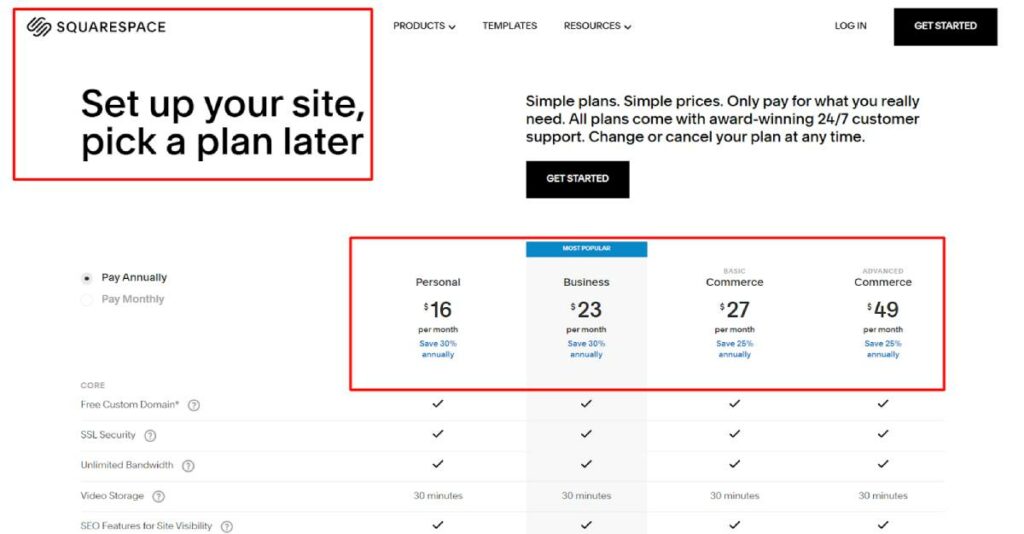 For your restaurant site, I recommend selecting Basic Commerce or Advanced Commerce. If you are not planning on receiving orders via your site, choose the Business option. The reason is that Squarespace collects a 3% transaction fee for every order. If you are on a commerce plan, transaction fees are free.
All Squarespace plans have free SSL certificates, a custom domain free for one year, SEO optimization features, mobile-optimized websites, and unlimited storage bandwidth.
Cheapest Restaurant Website Builder

User Friendly
Unlimited Storage
Unlimited Bandwidth
Starting from $2.99/month
See Pros & Cons
Pros
It is affordable

All templates are automatically mobile-responsive
eCommerce features
There are zero transaction fees.
30-day money-back guarantee
Cons
You are stuck with one template
There is no free version
Hostinger Builder (Zyro) is the restaurant website builder to choose if you want an affordable solution. Even though it's a generic site builder for all types of niches, you get 130+ templates to select from. You also launch your website for as low as $2.99 per month when you buy a two-year plan.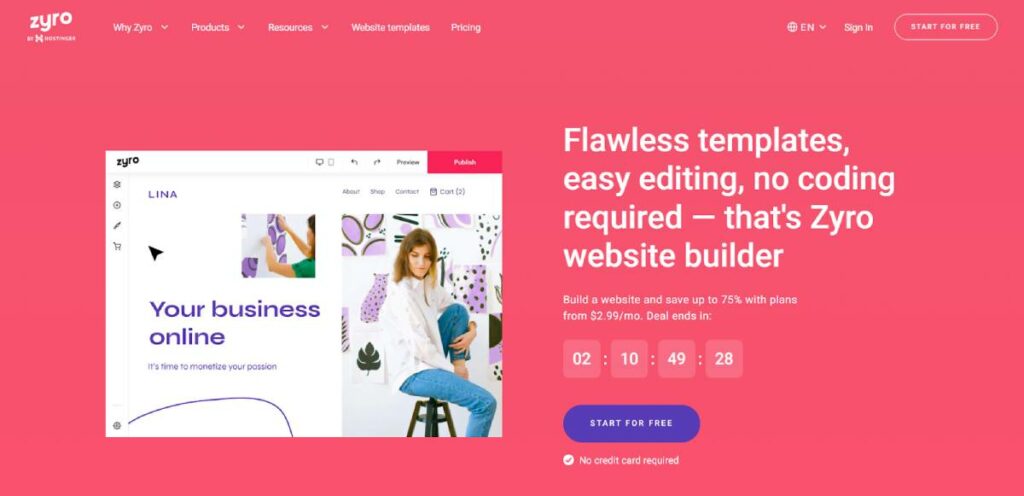 The process of setting up a Hostinger Builder restaurant website is super easy. You simply choose a template and input your email address to get started. When you pay for a plan, you get a custom domain free for the first year, free SSL certificates, and unlimited storage bandwidth.
Hostinger Builder (Zyro) templates are highly customizable. From moving elements and adding page sections to font size, font type, and embed options. The extra customization means that you may spend more time getting your site ready.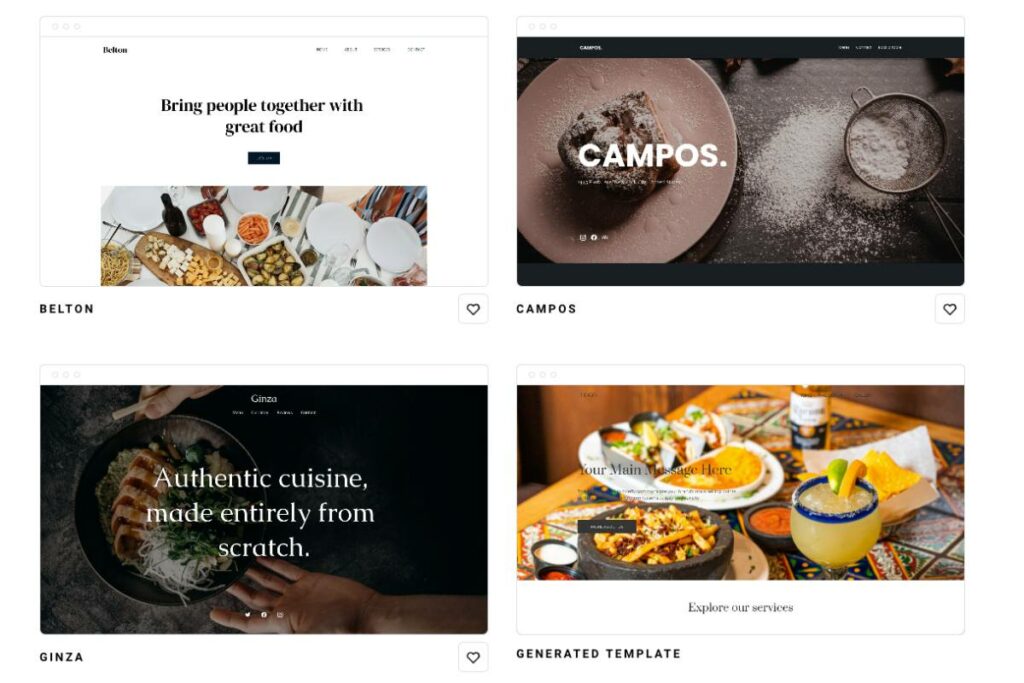 They also have SEO-optimization features in place. The restaurant website builder has a payment processor that lets you accept payments on your website via credit card, debit card, PayPal, and Stripe.
Hostinger owns Zyro, which means your site has a 99.9% uptime guarantee. Yet, Hostinger Builder (Zyro) has some downsides. One, you cannot suddenly change templates after publishing your website.
The only way is to delete the site and start all over. Second, there is a high price jump if you select a monthly plan instead of a yearly one.
Restaurant Features
Online ordering is a crucial element for modern restaurants, and Hostinger Builder (Zyro) excels in providing an easy-to-use system for accepting orders.
The platform allows for a clear display of your online menu, ensuring that customers can effortlessly browse and choose their desired dishes.
Moreover, Zyro's built-in reservation system simplifies the process of booking tables, making it a one-stop solution for all your restaurant's online needs.
Hostinger Builder (Zyro) Pricing
Zyro pricing plans are divided into two:
Website Plan – $3.39/month
Business – $4.99/month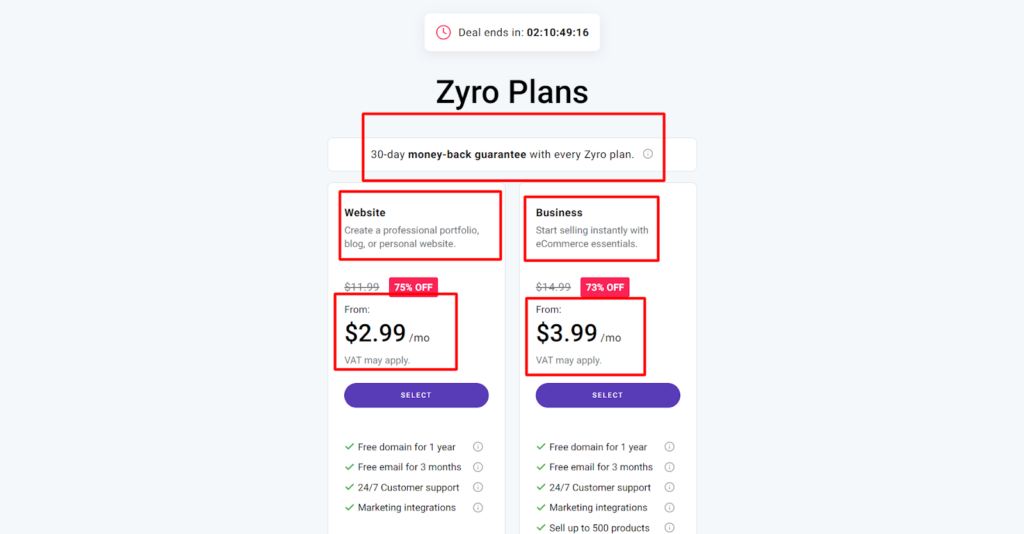 Both plans afford you a free custom domain and unlimited bandwidth. You also get to integrate with third-party apps, get free email hosting for 3 months, and blogging tools.
To accept food orders on your restaurant site, you have to buy the Business plan, which offers you integration with payment processors and beautifully designed product pages.
Best for Website Builder for designers

Customizable Templates
1000+ Templates
Great for Designer
See Pros & Cons
Pros
Advanced page builder

It offers a step-by-step setup tutorial

It supports working as a team
Has in-depth documentation and Webflow University
Cons
Most templates are paid for
The interface may be intimidating for some users
The number one complaint people have about website builders is that they are too simplistic. You do get lovely templates to work with, but in the end, you settle. You settle for a nice-looking site that is still not your dream.
Webflow stands out because it allows you the 100% customization option plus a more accessible starting point, like a template.
The site builder has 1000+ templates available, 45 of which are free. At first glance, this seems a disadvantage because Squarespace and Zyro have 100+ free templates.
However, paid templates are beneficial because developers are incentivized to come up with great ideas. Even though you may pay for a template on Webflow, you get top quality.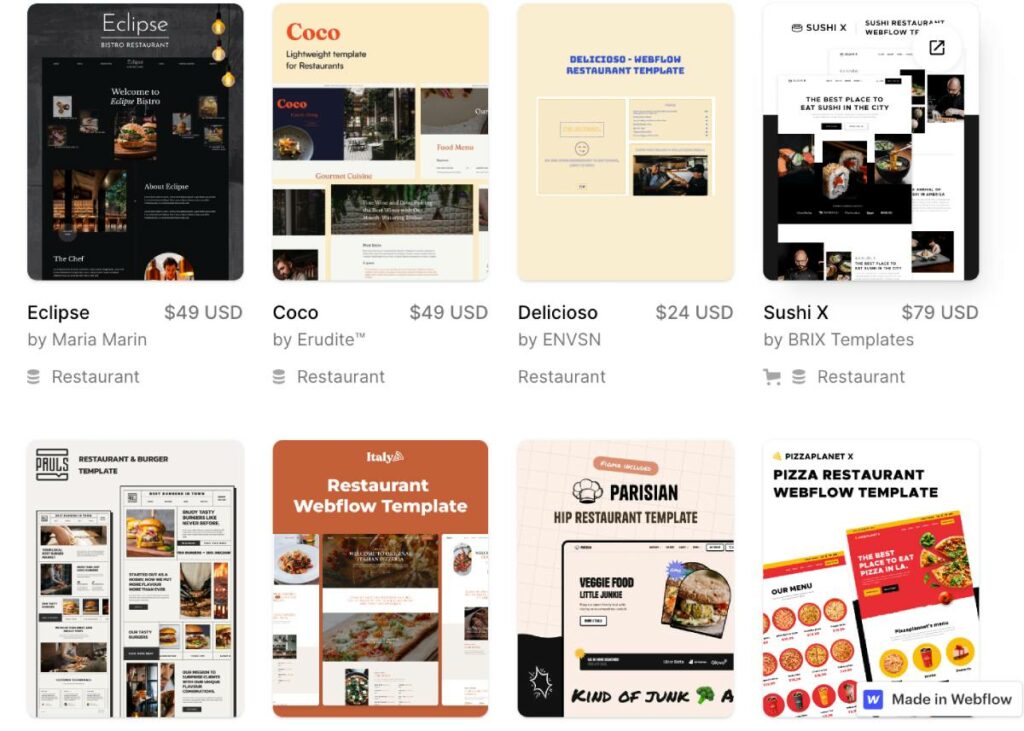 Webflow is also a website builder that works for all niches. However, you will find it easy to add restaurant website features like online ordering, reviews, contact forms, and restaurant updates. All you have to do is drag and drop an element and customize the heck out of it. You can even add your code. Webflow supports advanced CSS animations and micro-interactions.
The only downside is that a beginner is easily overwhelmed by the wide range of options. But, there are tons of documentation and hundreds of tutorial videos on Webflow University to guide you.
One feature that cannot be overlooked is how Webflow supports team collaboration. They have features for web developers, designers, and marketers. Your designer lays out the site, your developer fine-tunes the design, and your marketer writes the words that attract customers.
Restaurant Features
Each Webflow template comes with Online Table reservation and Menu pages to make the building of your restaurant website easier.
A detailed review of Webflow can be found: Webflow Review 2023: Features, Pros and Cons
Webflow Pricing
Webflow pricing is divided into two – site and workspace plans.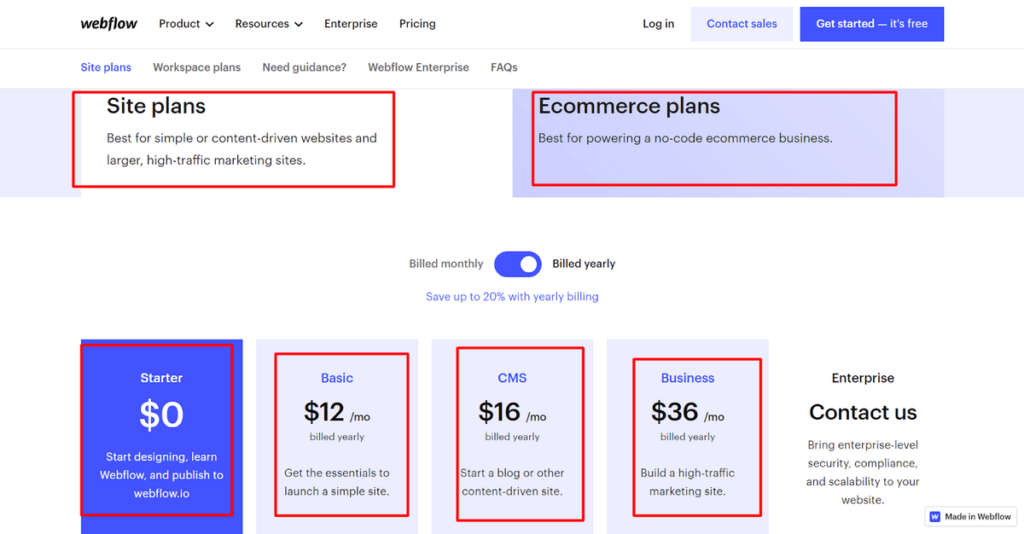 Site Plans
Starter – $0
Basic – $12
CMS – $16
Business – $36
Workspace Plans
Site plans are for individual site owners who don't have a team working on the site. They just build a site, buy a plan and launch their website.
All site plans allow for at least 1GB of storage bandwidth. Starter is free, but you don't get to add your custom domain.
Workspace plans are for teams. They are also better for eCommerce functionality. Only workspace plans allow your custom code.
Best Customizable Restaurant Website Builder

High Customizable
~ 60.000 Plugins
Easy Scale
See Pros & Cons
Pros
Restaurant plugins
6000+ templates and themes are available
A free version is available
It has a great CMS
Cons
There are too many complaints about spam
You may need to update plugins manually
WordPress powers 43% of the websites on the internet. Sounds crazy, right? People have found that WordPress makes it super easy to build and release a site. You just have to pay for a plan, select a theme, customize it, and, with the click of a button, publish your site online.
The site builder has 6000+ themes and templates to select from. Not surprising since some people do WordPress development as a full-time job. WordPress templates are stunning, regularly updated, and highly customizable. You can switch from template to template even after releasing your site.
WordPress is also very affordable. The cheapest plan costs $4 per month annually. Unlike Zyro, there are no price jumps for renewals. It remains $4 per month.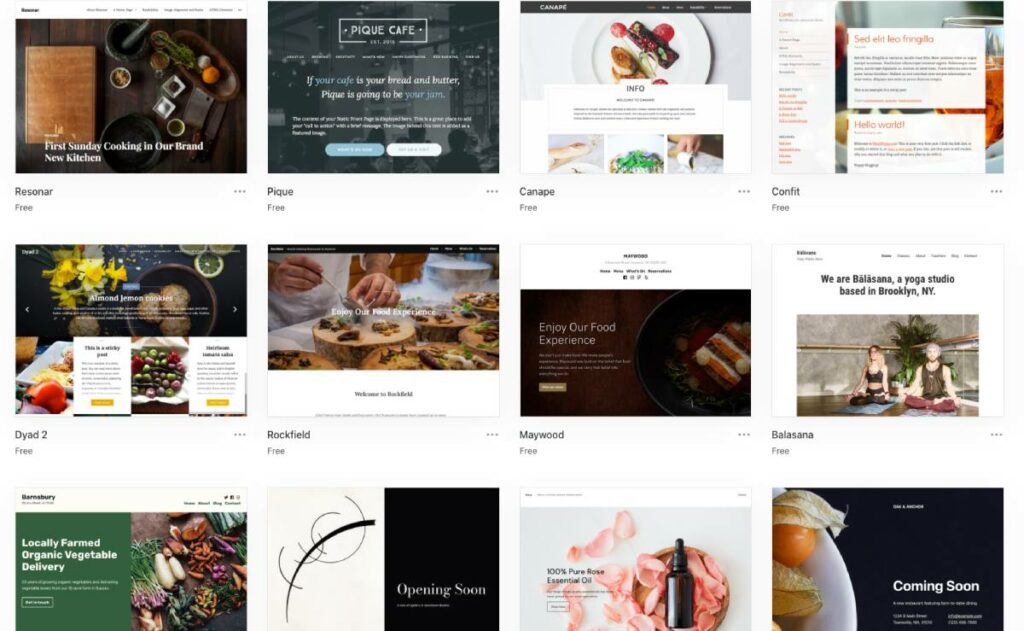 The downside is that WordPress can be too generic for a restaurant. Unless you pick a theme specifically designed for restaurants, you have a ton of work to fit a template to your brand. The lucky thing is that there are many restaurant templates on WordPress to select from.
The biggest con is that WordPress is best suited for blogs. You may work with many plugins to make your restaurant site work. The good news? There are tons of WordPress plugins available.
Restaurant Features
There are a lot of restaurant dedicated plugins that help you with booking tables, menus, online ordering, etc.. WordPress.com is one of the most complete website builders on the web for building custom websites not only for restaurants.
WordPress Pricing
WordPress pricing is divided into:
Free – $0/month
Personal – $4/month
Premium – $8/month
Business – $25/month
eCommerce – $45/month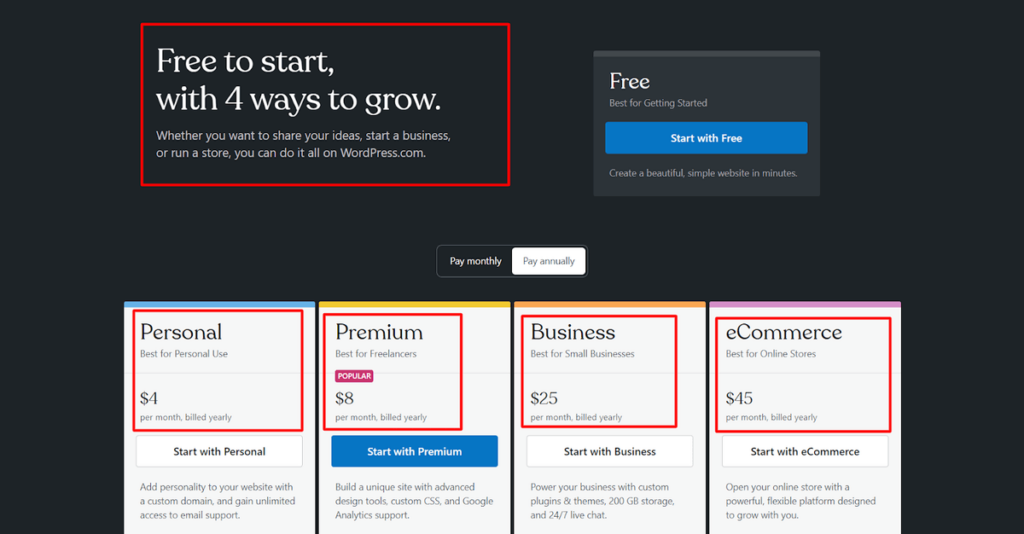 The free version costs zero dollars. The limitations are that you get no custom domain; you have to use the WordPress subdomain. However, you get to select from any theme of your choice.
All paid plans allow for custom domains, free for the first year, unlimited free SSL certificates, jetpack security bundles, and customer support. For Premium and Business, you get access to live chat support.
You can continue to read our comparison article between Webflow and WordPress
Best Website builder dedicated to restaurants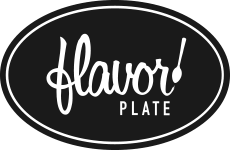 Dedicated for Restaurants
Online Ordering
Gift Card Shopping Cart
See Pros & Cons
Pros
Flavor Plate is straightforward to use
Has an in-house web admin software
All features are tailored toward restaurants
Has a multi-location restaurant feature
It has an in-built online ordering feature
It has a 60-day money-back guarantee and a free 14-day trial
Cons
10 templates are available
It does not offer many extensions and plugins
If you are interested in a builder made just for restaurants, check out Flavor Plate.
Flavor Plate offers 10 free ADA-compliant and mobile-responsive restaurant website templates. All you have to do is sign up for an account, choose a template, and begin to customize it. There is the drag and drop feature that lets you drop elements unto any part of the page.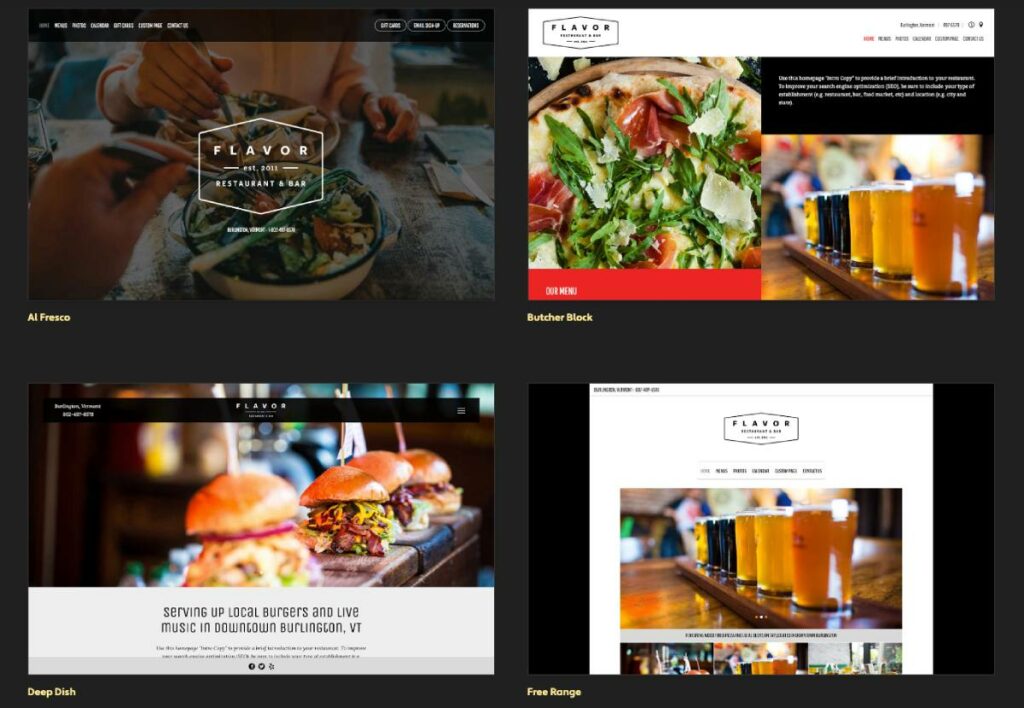 Flavor Plate's CMS works best for organizing and maintaining the kinds of content that restaurants usually have. Some of this content includes special announcements, photo galleries, discounts, event calendars, and menu managers. Also, there is an SEO feature to help you produce content that ranks for the right keywords.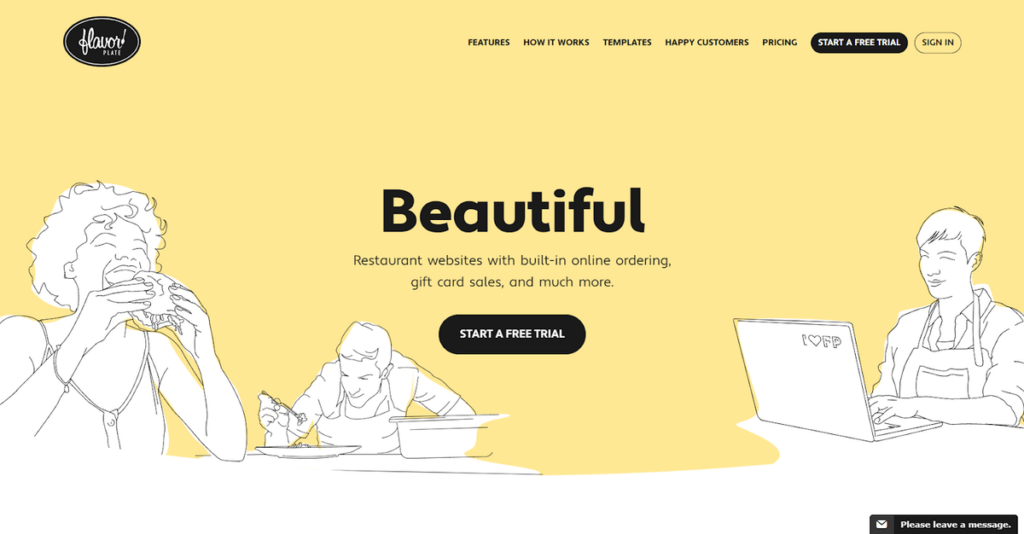 Restaurant Features
The site builder has online ordering, gift card shopping, and contact forms built into the site—no need to add them yourself.
Anyone can use Flavor Plate because of how easy it is. And even if you find it difficult, you can contact Flavor Plate's design team directly and have them design and build your website. Your site will be live within 5 days.
The only downsides to Flavor Plate are that it does not offer many integrations and that there's a limit to template customization.
Flavor Plate Pricing
The pricing is divided into two types:
Monthly fee – $39/month
Optional one-time setup fee – $500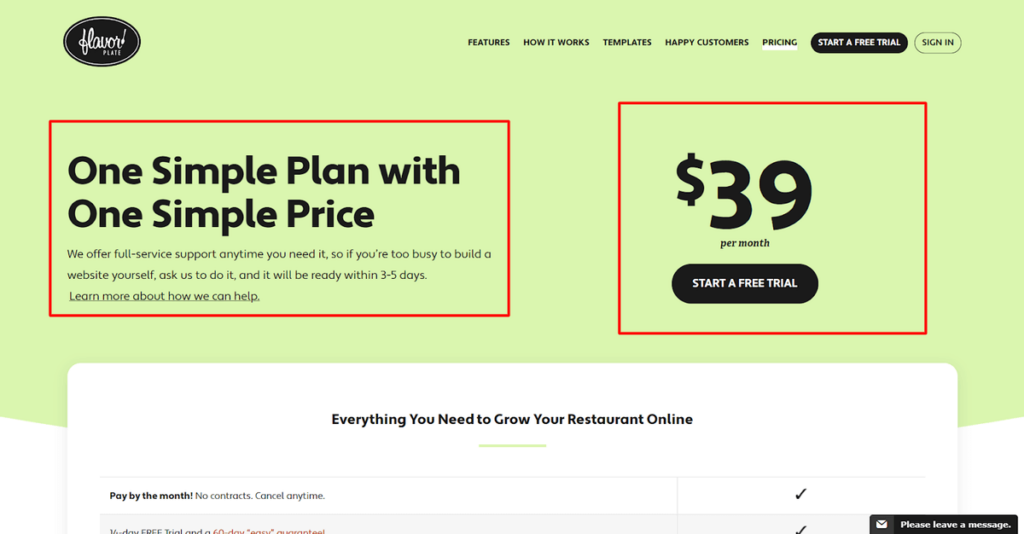 For the monthly fee, you get all the templates free, 24/7 customer care, unlimited content storage bandwidth for your website, and unlimited SSL certificates. You will access cool features like social sharing, online ordering, event calendars, and multiple locations.
If you want to hire Flavor Plate's team, you have to pay a one-time fee of $500. Your site will be launched within 5 days.
Best for Small Businesses and Freelancers

Restaurants Dedicated templates
SEO Tool
Mobile Design Options
See Pros & Cons
Pros
Integrates with popular apps like Google Analytics
It has an in-built SEO tool called Flint
It has several templates for restaurants
It has 24/7 customer support
Cons
Domain prices are higher
There are limitations to template customization
RocketSpark is like Flavor Plate – you either pick a template and build a site, or you contact their team.

The difference is that while Flavor Plate is only for restaurants, RocketSpark caters to multiple businesses, including restaurants, butcheries, bakeries, eCommerce startups, and consulting firms. Therefore, it has more templates than Flavor Plate. All the designs are customizable for any industry and are mobile-responsive.
RocketSpark supports more integrations than Flavor Plate. While plugins are not supported, the builder integrates with essential apps like MailChimp for email marketing, Google Analytics, Xero, AfterPay for installment payments, Zippay, LayBuy, and Stripe.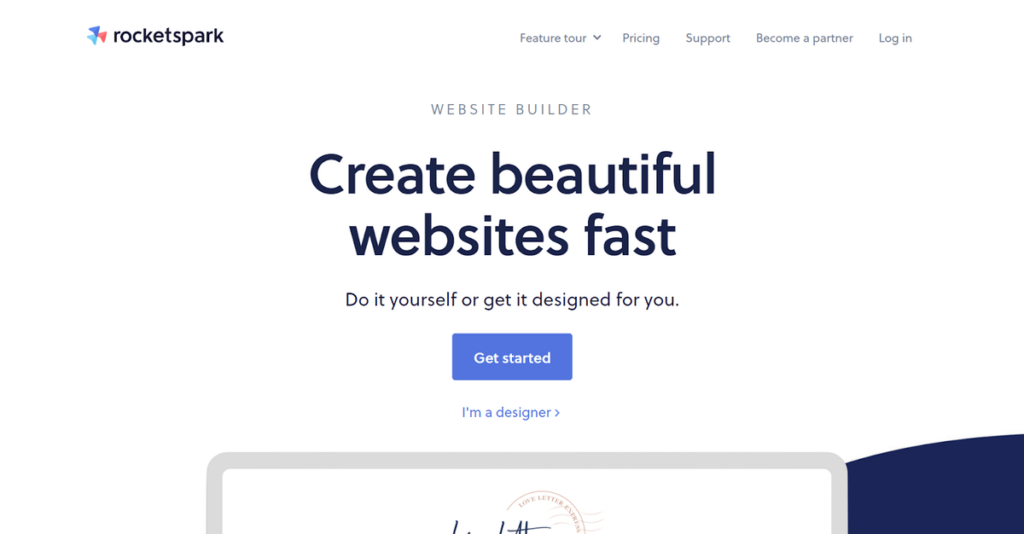 To start, you must enter your email address to sign up. Then, select a template to customize. If you already have a domain name, connect it with RocketSpark. And if you don't have any, you can just register a new one.
To customize a template, simply click on an element to drag and drop them in place. When you are ready to publish, it takes only one button to push your website live. Rocketspark has an inbuilt SEO tool called Flint, which helps you increase online visibility.
Restaurant Features
The main features of your restaurant are flexible delivery and pickup options, custom forms for bookings and inquiries, and a responsive design that looks great on any device. Also, there are a lot of dedicated templates for restaurants.
RocketSpark Pricing
Rocketspark's pricing is divided into four main tiers:
Website Builder – $39/month
eCommerce Grow – $59/month
eCommerce Pro – $99/month
Design Partner – free for agencies
For a restaurant website, I recommend you go with the eCommerce plans. They are the plans that allow you to integrate with MailChimp and offer subscription payment models.
All RocketSpark plans allow you a free domain for one year. The design partner tier is for designers and developers working with multiple clients. It costs nothing.
Best User-Friendly Website Builder

See Pros & Cons
Pros
There are restaurant-specific web pages
Preview is available
800+ mobile-responsive templates are available
The builder is intuitive
You get free website building until you are ready to publish
Cons
The editor may be overwhelming
Wix guides you step-by-step to build the website of your dreams. Even though it is not a builder meant just for restaurants, Wix has all the features that a restaurant website will need.
The site builder has 800+ templates that are almost 100% customizable. Still, you must be careful when selecting one because you cannot change a template once you publish your site. You may have to delete it to start over.
Wix comes with dedicated restaurant templates which look very modern and ready to use.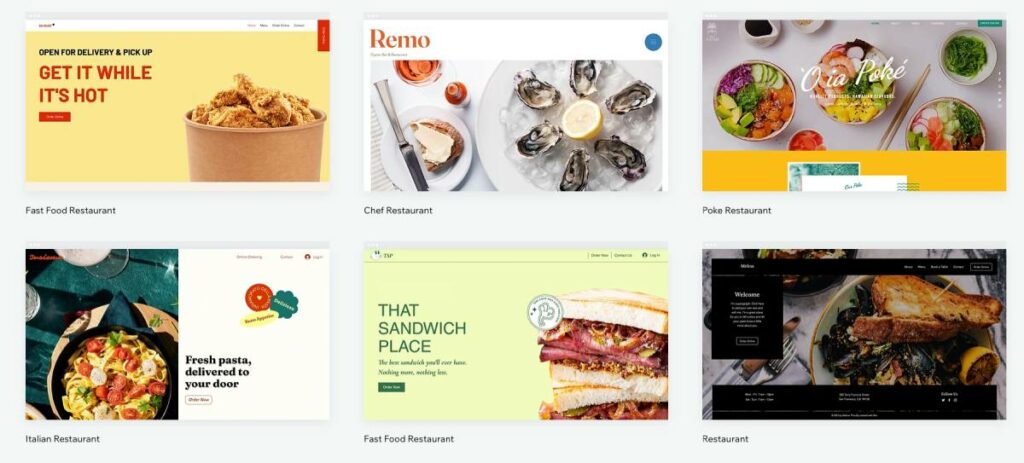 To sign up, Wix asks you to provide an email address. From there, you are taken to a dashboard, where you start to lay out your site.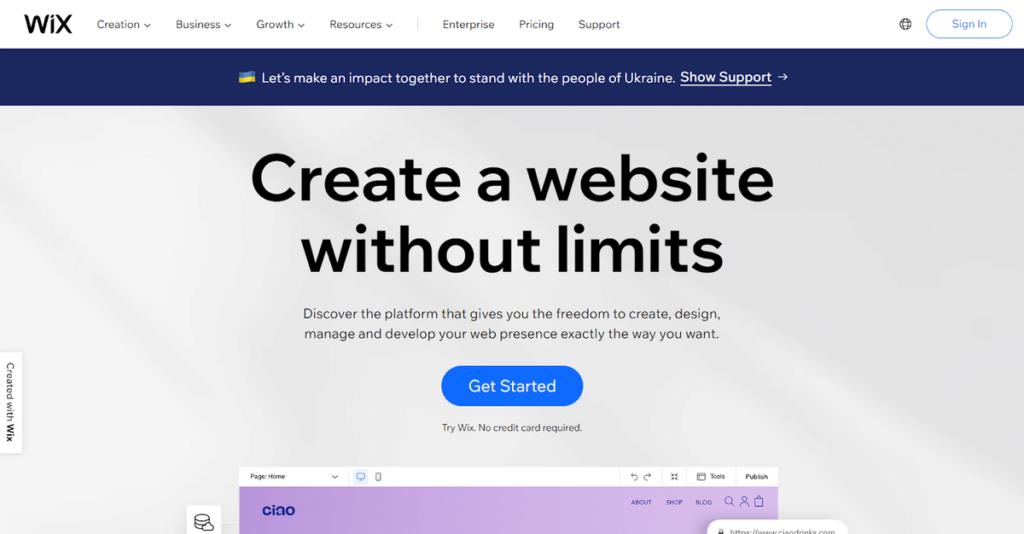 First, Wix asks you to select the kind of site you are trying to build – a blog, portfolio, or online store. When you choose "online store" you will find dozens of options. "Restaurant supplies" is one of them.
Then, you are asked to enter the name of your website and choose what to do next. You either go the route of selecting a template by yourself and editing it, or you let Wix generate one automatically.
When trying out this builder, I allowed Wix to generate the template automatically. It asked me other questions like what themes I preferred and what pages I wanted on my site. I had the option to select About Us, Online Ordering, Restaurant Menu Page, Event and Appointment Booking, and a Contact Form.
The editor is intuitive and easy to use. Features include editing headings, adding sections, uploading images, and dropping elements. However, all the customization options can be overwhelming for less tech-savvy restaurant owners.
As for plugins, Wix is something of worthy opponent of WordPress. There is a Wix marketplace where there are hundreds of apps that extend the functionality of your site.
Restaurants Features:
The main features that make it perfect for a restaurant website include easy menu creation and management. Also, with Wix Restaurants' reservation system, customers can effortlessly book tables, and restaurant owners can manage bookings with ease even from a mobile app.
In case you are not sure read our full review: Wix Review.
Wix Pricing
Wix pricing is divided into two main tiers:
Website Plan
Connect Domain – $4.50
Combo – $8.50
Unlimited – $12.50
VIP – $24.50
Business and eCommerce Plan
Basic – $17
Unlimited – $25
VIP – $35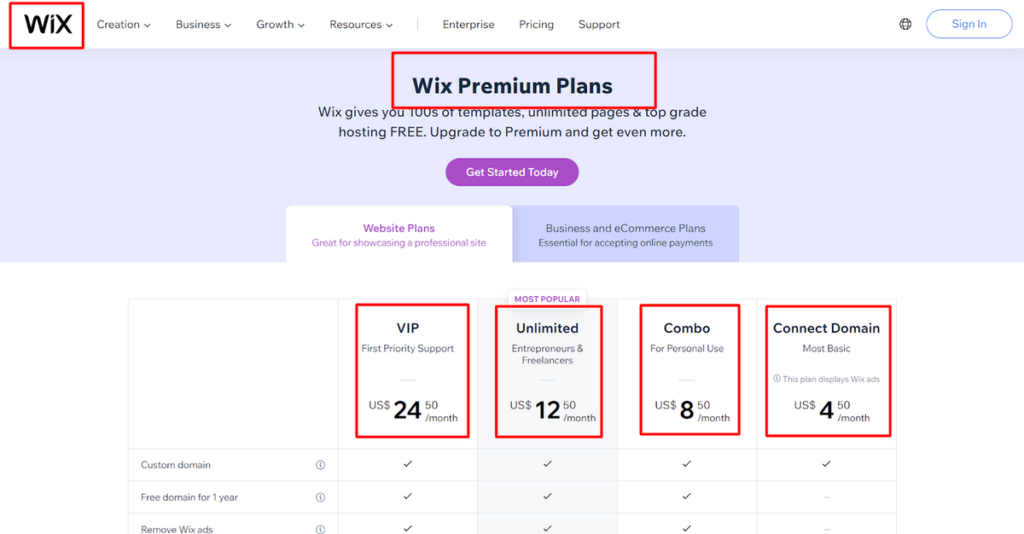 All plans let you connect a custom domain. The least paid offers 1GB storage, 500MB video storage space, and 24/7 customer care. The business plans allow you to collect payments via your website and have unlimited storage bandwidth.
Best free restaurant website builder

Dedicated restaurants templates
SEO Friendly
Mobile Friendly
See Pros & Cons
Pros
Site123 has an easy-to-use and intuitive dashboard
It has 21 restaurant-specific templates
It has a marketplace for apps and extensions
It is easy to preview webpage appearance for different devices
Cons
Restaurant templates are not many
Customization options are limited
Site123 is a well-laid-out website builder and editor. It's super easy to create an account and pick a template. Even though site123 is a relatively new builder, it is already a popular option in the industry because it offers a lot of what the established players provide at a reasonable price.
To begin, Site123 has 100+ templates to select from, all in different categories. When you choose the restaurant group, you have 6 different templates to select from. You can view the demo of a template before going with it, which is essential because you are stuck with whatever template you choose from the beginning.

Then, you enter an email address and are redirected to the editor where you make the customizations you want to make.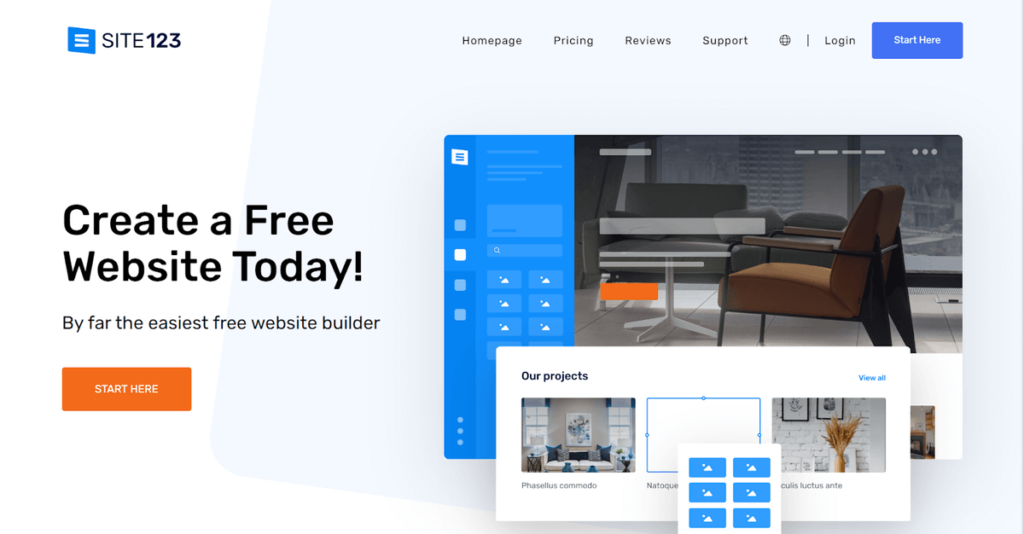 From picking a template to customization, you are required to pay zero dollars. However, to connect a custom domain, you must select a plan.
The reason why site 123 stands out is that the editor is super intuitive. Even someone who knows little about IT can look at the editor and easily edit page designs.
Restaurant Features:
Site123 as a website builder offers all the features needed for a restaurant website like reservation form, online ordering, and the menu element.
Site123 Pricing
Site123 has a free and paid version, simple.
Free – $0/month
Paid – $5.80/month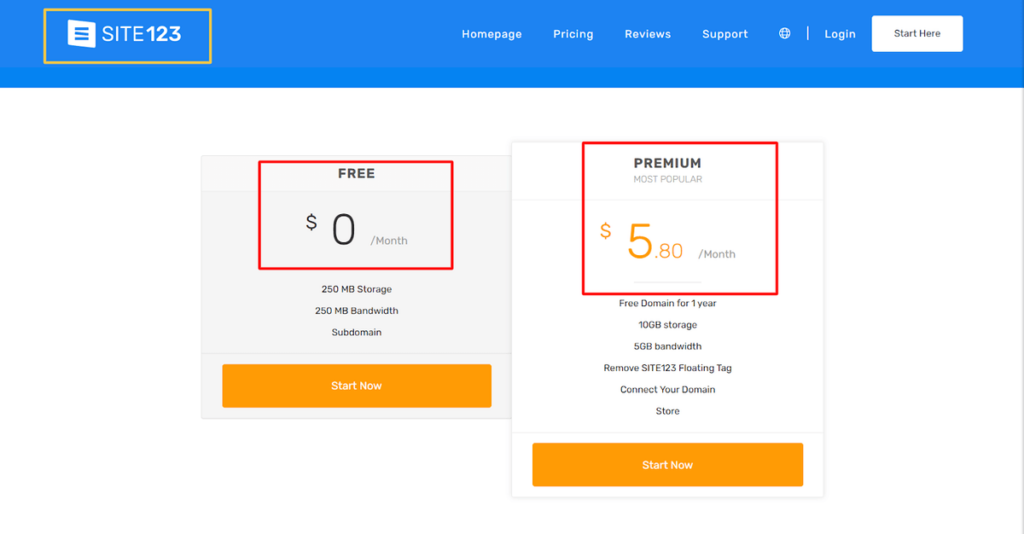 The free version has a storage of 250MB, and only a subdomain is allowed. To connect a custom domain, remove site123 ads, and have up to 10GB of storage, you must get the paid version.
Best for Features

Food Ordering Management
Generate Website automatically
See Pros & Cons
Pros
Automated food ordering system
Easy to collect payments from customers
It has a Facebook food-ordering system
SEO tool for optimizing website content
Cons
There are not many templates and designs to select from
The generated website may be too simple for your brand
Gloria Food is the best restaurant website builder if your business is focused on online ordering. This site builder is mainly a food-ordering web application developer.
Already existing restaurant websites can install Gloria Food to make food ordering super simple for customers. The builder does this by placing a widget to order food or reserve a table on your site. Once a customer places an order, you receive a notification.
If you don't have a website yet, Gloria Food offers to generate one for you automatically. I tried this option. To be honest, the details to fill out were a lot. Apart from location, opening and closing hours, food ordering options, and policies, I had to fill out details about how to accept payments, what types of payment methods I use, and the dishes available. But once I got through the process, the website was generated pretty fast.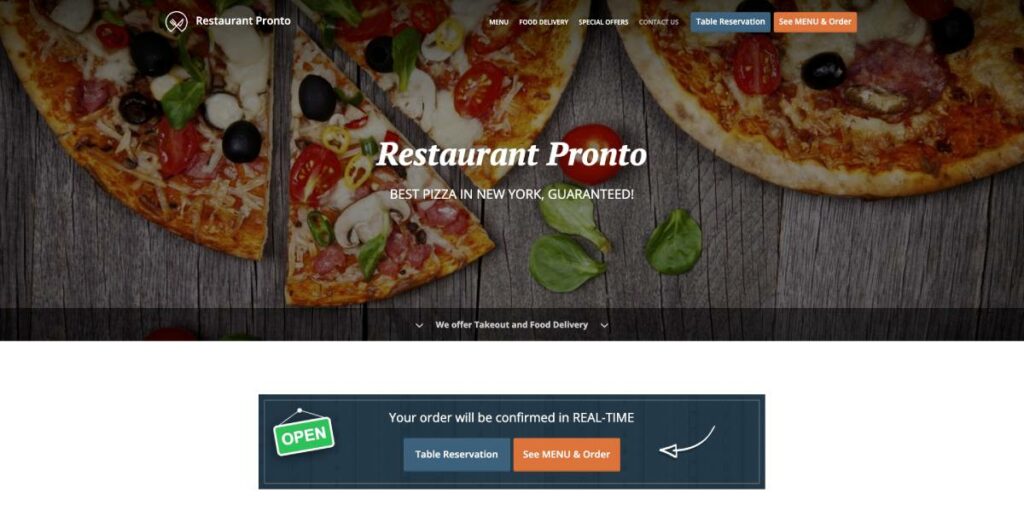 Besides placing a food order button on your restaurant site, Gloria Food also has a food ordering system for Facebook. You can add a link to your Facebook page with one click. That way, your customers easily place an order or reserve a table via Facebook, and you will get a notification immediately. This notification comes in via a mobile app available for Android and iOS.
Restaurant Features
The platform offers a robust online ordering system, enabling customers to conveniently place orders for delivery or pickup, while the integrated table reservation feature ensures a seamless dining experience. GloriaFood also supports various payment options, streamlining the checkout process for customers and facilitating efficient transactions.
Gloria Food Pricing
Free – $0/month
Online payment service – $29/month
Branded mobile app – $59/month
Sales optimized website – $9/month
Advanced promo marketing – $19/month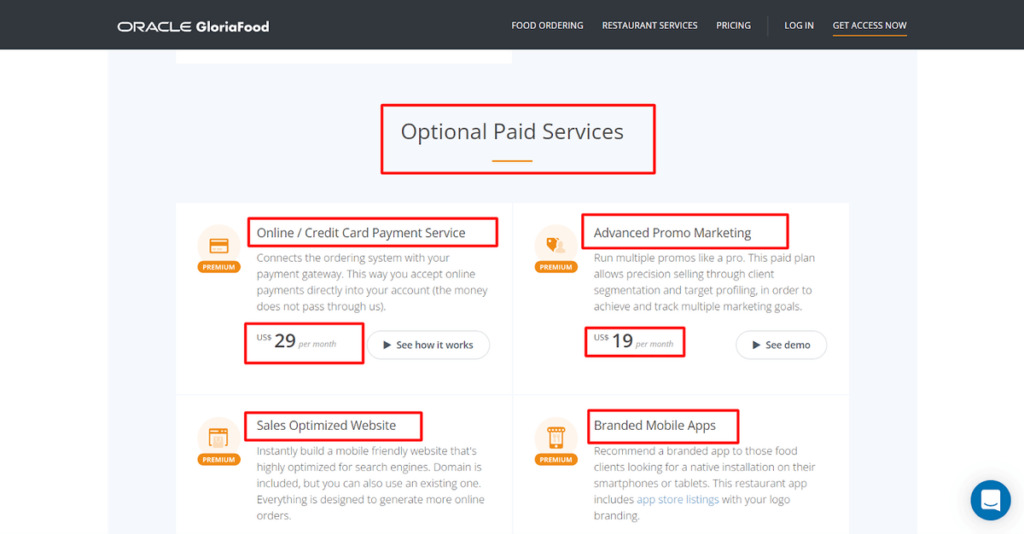 You pay nothing for the food ordering widget, scheduled ordering, operation hours, vacations, detailed reports, promos, and even the Facebook food ordering feature. Specialized features are paid for.
Best for online ordering restaurants

Integrated Marketing Tools
Online store with Square
See Pros & Cons
Pros
There are several templates to customize
Weebly has an in-house email marketing tool
The builder is partnered with Square
Weebly is very affordable
Cons
There are no specific restaurant features like table reservations
Weebly is another generic website builder that creates sites for several niches. It has dozens of mobile responsive templates to customize. Pretty much what the others have already. However, it stands out for one reason.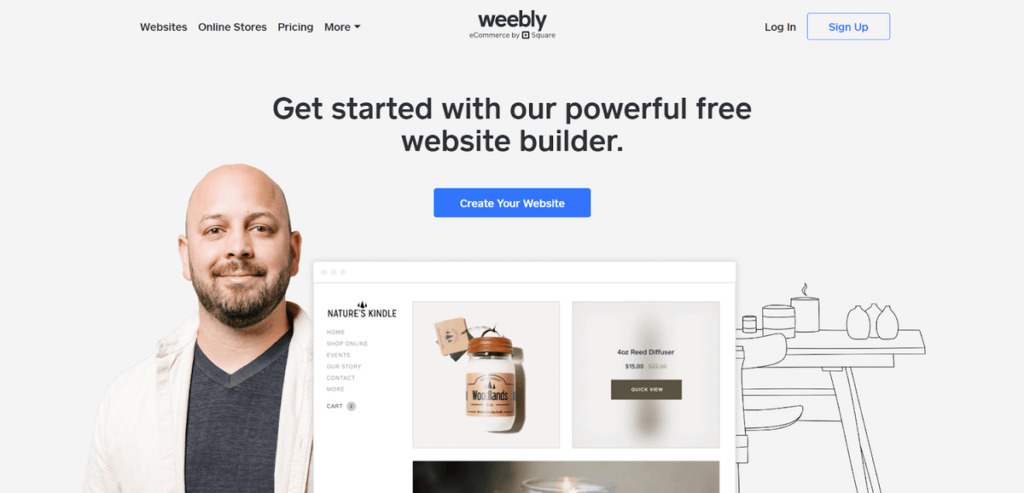 Weebly is the only builder that is partnered with Square. If you don't know already, Square is a point-of-payment platform that lets you collect payments directly to your bank account, including in-store and online payments. This means you can use Square to sync all payment collections in your restaurant.
To start, you must pick a restaurant template, customize it, and publish it. That's it. If you don't have the money to connect a custom domain, Weebly lets you host a site through a Weebly subdomain.
Weebly has about 3 restaurant templates that you can choose to build your website.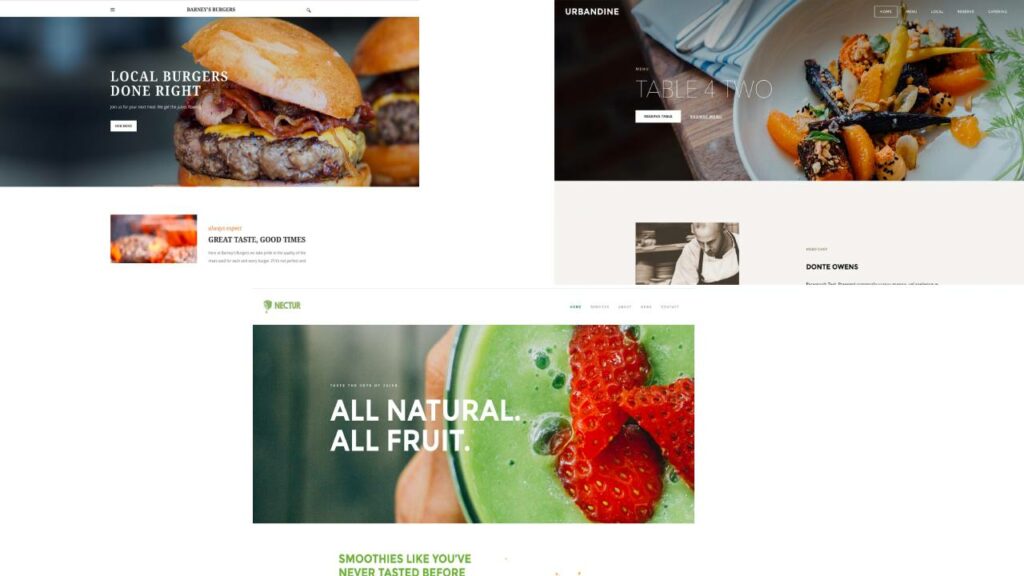 Restaurant Features
Weebly offers an array of features tailored for restaurant businesses, allowing them to create a dynamic online presence. With its user-friendly interface and customizable templates, restaurant owners can design an attractive website that showcases their unique brand identity.
Key features include menu management, allowing for easy updates and display of menu items, as well as an integrated online ordering system, providing a convenient option for customers to place orders for pickup or delivery.
Additionally, Weebly supports reservation capabilities and booking for diners.
The platform also incorporates various payment options, facilitating smooth transactions, and offers built-in SEO tools to help increase visibility in search engine results.
With Weebly, restaurant owners can efficiently establish and manage their online presence, ultimately enhancing their business's success.
Weebly Pricing
Free – $0/month
Connect – $5/month
Pro – $12/month
Business – $25/month
Business Plus – $38/month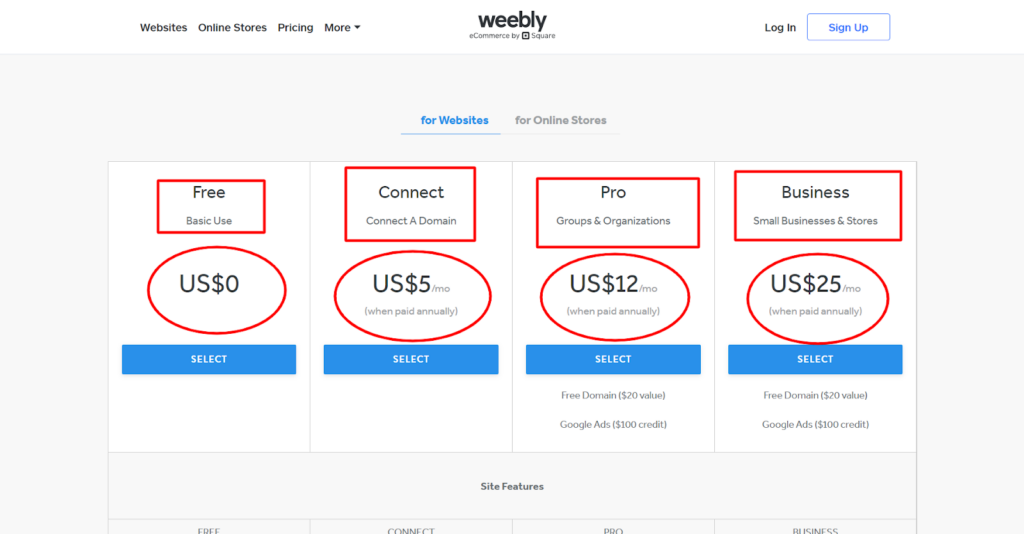 The free tier lets you host a site on Weebly's subdomain. All the paid options offer free SSL, unlimited storage and bandwidth. For the top three plans, you also get a $100 Google Ads credit. The top two tiers allow you to add payment gateway plugins.
How To Choose the Right Restaurant Website Builder for Your Brand
Every brand is different. You cannot copy your competitor's website and see much success. You must be able to connect with customers and persuade them to buy.
To choose the best website builder for your restaurant, here are the main factors to consider:
Your Ideal Customer
This is the first factor to consider before building your restaurant site because you will know how best to present your offers.
If your audience or customers are mostly in-store shoppers, you don't need to make a delivery button prominent on the page. If they are into affordable food, you'll stand out by offering many discounts and promos. Simply speak to what your ideal customer is searching for.
Make an effort to provide stellar service. If you are a buyer's initial order, there's a high chance the customer will return.
Your Services
The next thing you should focus on is the range of services you offer and how each website builder can fulfill those.
For instance, if your main selling point is fast online food delivery, Gloria Food may be your best option. If you offer a wide range of services like reserving tables, putting up promos, and collecting email addresses, you should be looking for a website builder with a wide range of options like Squarespace or Zyro.
How easy it is for your customers to place orders
One way to attract more customers is to make it easy to place orders or reserve a table.
Have as many payment options as possible on your site. Let customers be able to check out on your website and not have to jump through hoops to some strange website where they will be asked to pay. Be sure you have a way of receiving order alerts so that you can attend to them ASAP.
Look for a builder that makes it easy to place your primary service front and center on the website. Also, look for a builder that makes payments easy.
FAQs
How much does a restaurant website cost?
A restaurant website can cost as low as zero dollars. If you are looking to connect your domain, you can spend as little as $2.99 per month on hosting. Remember not to compromise too much for a low price because it may cost you more.
What is a Wix restaurant?
A Wix restaurant is a site built with Wix. This builder is one of the most popular ones because it provides you with a step-by-step guide on how to set up your site, has a marketplace for apps that extend the functionality of your site, and it offers specific pages like online ordering web pages.
Do I need a website for my restaurant?
Yes, you do. In this day and age, people are ordering food more often than ever. A customer is more likely to check out your site before placing a phone call. Set up a website and stop losing out on attracting new customers.
Can I create a website for free by myself?
Yes, you can. If you are a full-stack engineer, you can build an entirely functional website by yourself and even deploy it for next to nothing on a cloud server. But if you're not, then you probably cannot do this. It is better to start with a more accessible tool like a no code website builder.
What are the best tools for online reservations?
It depends. We recommend Gloria Food because it can add the system as a widget to an already existing site, and it builds out restaurant websites quickly. An alternative is Zyro which has several restaurant website templates. You can always customize a design to turn it into online reservation software.
How do I create a restaurant menu for my website?
You create a restaurant menu by dragging and dropping a menu section onto the page. Some builders, like Wix, already have pages like that set up for you.
Which type of website is best for restaurants?
A dynamic site is best for restaurants. The site will render pages based on how a user interacts with the pages. Most importantly, the best websites for restaurants are the ones that have features that users are most interested in.
Conclusion
There are tons of restaurant website builders available today. You will have to choose only one. Make a list of features that matter to your business and customers in order of importance. Then, pick a site builder that fills most of those needs.
We recommend Squarespace as the best website builder for restaurants.
All the best.

As one of the co-founders of Codeless, I bring to the table expertise in developing WordPress and web applications, as well as a track record of effectively managing hosting and servers. My passion for acquiring knowledge and my enthusiasm for constructing and testing novel technologies drive me to constantly innovate and improve.
Expertise:
Web Development,
Web Design,
Linux System Administration,
SEO
Experience:
15 years of experience in Web Development by developing and designing some of the most popular WordPress Themes like Specular, Tower, and Folie.
Education:
I have a degree in Engineering Physics and MSC in Material Science and Opto Electronics.