If you are a startup and you want to check the ranking of your website or business on Google, you will need a SERP tracking tool. They are otherwise known as Search Engine Result Page (SERP) trackers and they make your job easy.
Without these trackers, you will have to type the keywords and count the total number of results to find out your ranking. This can be a difficult thing to do and the results achieved might not be valid as well.
These trackers are here to save your day. All you need to do is to add your keyword to the best SERP tracking software tracker and it will look it up for you. This article will help you understand the importance of a search engine result pages tracker.
Search engine optimization professionals and marketers use this tool to track the progress for getting the highest rankings. This tool helps in achieving the goal by speeding up the tracking process.
There are different trackers used for their characteristics and functions. They have many similar features, but buying them according to your requirements makes a difference.
We will give you a detailed overview of the top 9 SERP tracking software and tools for 2022 for checking your positions.
Their pros, cons, and pricing plans will also be mentioned in the article in detail. These trackers will help you in getting a better grip on understanding the rankings of your business on Google.
What is a SERP Tracking Tool?
A SERP tracking tool is important for letting professionals know about their websites or pages. This tool usually works by adding a keyword regarding a website or a topic in it and then it monitors it for you.
You can also have a deep analysis and insight into your competitors' websites. This tool enables you to increase your rankings and get ahead of the game. It is important for the growth of the business that when customers search your name, they find related results. If this is not happening, then it means that you have to work harder on your rankings if you want to improve your target audience.
The presence of search engine result pages trackers will help you in knowing your weakness and strengths. It will pinpoint the mistakes and the areas you have to work on increasing your rankings.
Many SERP tools are available in the market at cost-effective solutions. It is your choice to decide if you want to buy only one tracking tool or you want to go for an all-in-one ranking tool. You can decide according to your budget as well.
The Top 10 Best SERP Tracking Tools of 2022
We reviewed the top 9 best SERP Tracking software for 2022 to make it easy for you to decide which one you want to go for. Their advantages, disadvantages, and prices are also listed below. Read this article till the end to know what SERP tool is the best one for your business.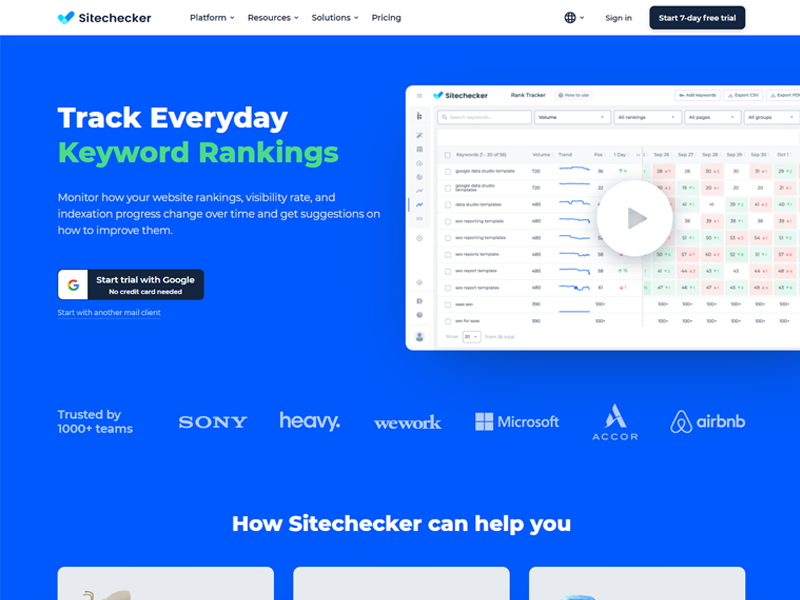 Sitechecker is the best modern rank tracking tool to use in 2022. Professionals highly recommended it because of its international and local level business. Additionally, Sitechecker will provide SEO reports regularly to keep you updated about your website's workings.
Sitechecker provides services ranging from 3 to 10 websites depending on the plan you will avail for yourself. We strongly recommend you try a 7-day trial period before choosing a plan to make the best decision.
Pros:
Easy to use.
Fast and accurate.
Seven days free trial.
Variety of SEO tools.
Email alerts to solve backlink problems.
No need for coding.
Cons:
The premium package will get you access to all good SEO tools.
Templates are not 100% unique.
Drag and drop site marker is not worth the good use.
Pricing:
Apart from the 7-day free trial, Sitechecker is offering three plans for its users:
Basic:It will cost you around 23$ a month.
Startup:It will cost you around 39$ a month.
Growing:It will cost you around 79$ a month.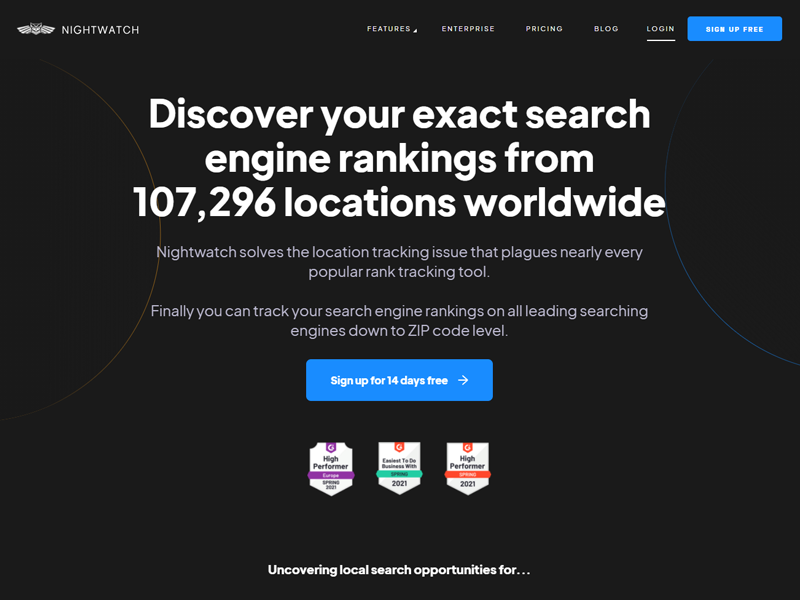 Nightwatch is one of the most amazing SERP tracking tools for 2022 because of the multiple advantages it offers. Professionals recommend it for the best reporting and ranking. It gives you the rankings by utilizing its rank tracker feature. The main dashboard of this tool is user-friendly and has many options for the customization of columns. Along with the tracking, it provides services for backlink monitoring and site auditing as well.
Pros:
It shows the overall performance of the website by giving you the proper information about visibility and metrics.
It provides white label reporting for the websites as well.
It provides rankings for Google, DuckDuckGo, YouTube, and Bing.
Overlay traffic data is automatically consoled by this tracker because of its connectivity with Google analytics.
You can also create graphs with customization by using this tool.
It has excellent and accurate results for tracking, including the listings of GMB maps.
Cons:
This tracker cannot help you in the tracking of rankings for Baidu, Yandex, Amazon, and Yahoo.
If you are looking for on-demand ranking updates, this tool will not be a great help.
The UI is not friendly for beginners.
Pricing:
This tracker offers a free trial for 7 days and there are three plans for the ranking. For the tracking of 500 keywords, you will have to go with the starter plan and it will cost you $39 monthly and $24 annually. For 1000 keywords, you can get the tracking services for $99 per month and $59 per year.
The agency plan will provide the tracking for 5000 keywords and it will cost you $369 per month and $221 per year. You can start with the basic plan and see how that works for you. If you want your website to grow at a faster speed, you should consider getting the agency plan.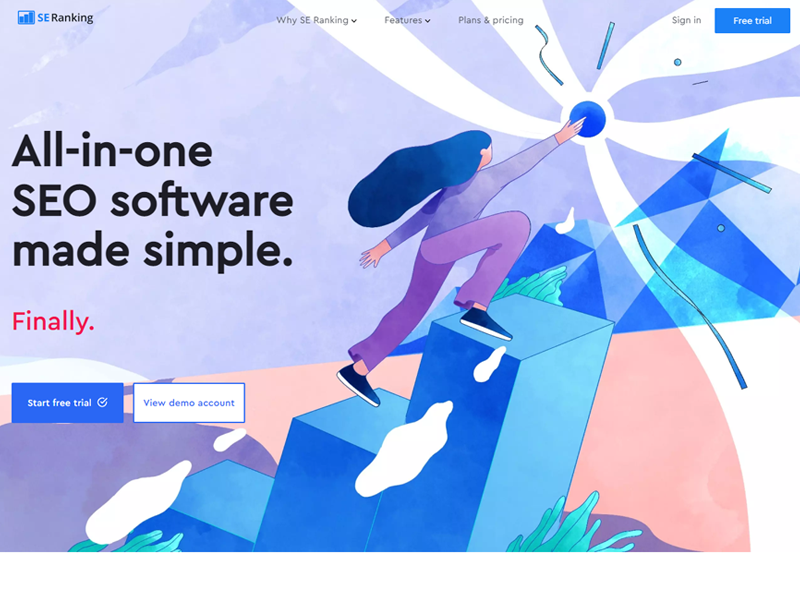 The most amazing thing about this tool is that it does not only the tracking but provides a marketing plan for your website as well. It enables you to have a website host for your auditing, monitoring of the backlinks along with ranking for the business. It is one of the best SERP tools and around 300000 customers are using it.
Pros:
The screens of this tool have an amazing layout. Your rankings will be visible clearly in a historical view.
The pricing plans for this tracker are quite affordable than others.
There is the option for tracking your ranks on mobile devices as well.
The functionality of the tool is premium and you will love using it
Tags and folders are available for organizing the keywords.
The support response is on time and guidelines are provided at every point.
Cons:
There are a lot of repeated bugs in the system that need to be fixed
Reporting requires a lot of clicking, which can be annoying for the users.
Pricing:
There are three pricing plans to avail of the services of this tool. The essential plan will allow you to track at least 250 keywords with daily updates for $39. For weekly updates, pay $23.40. You can track 500 keywords daily by paying $54 and $32.40 for weekly updates.
A business plan will allow you to stretch more and you can pay $89 for daily updates on 1000 keywords and weekly updates for $53.40. For monthly and annual plans, you can also get discounts up to 20 percent off. It depends on your needs, which plan you want to go for. For freelancing purposes, you can start with the basic plan, but for official use, you should go for the essential one.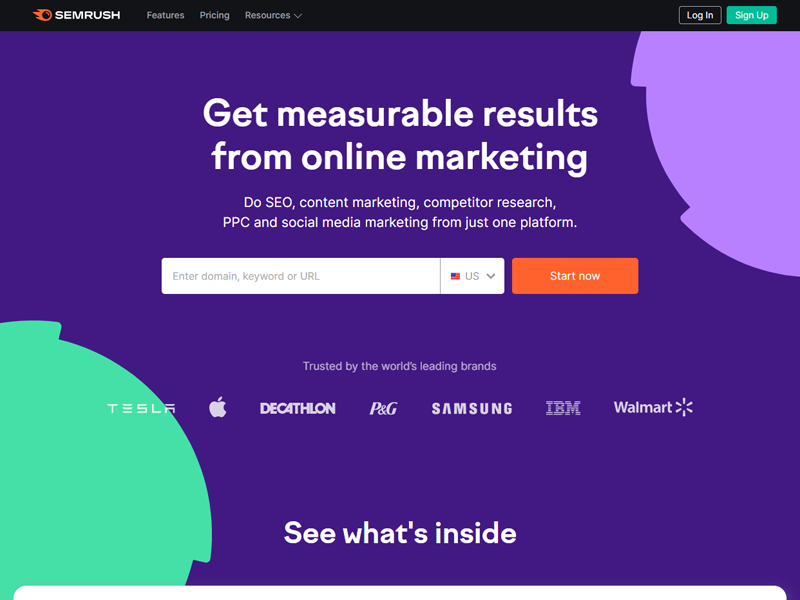 It is one of the most famous trackers because of its always updating features. It is now available for tracking and monitoring the visibility of your business. If you want to get your hands on an all-in-one tool, it is your go-to tool. It will help you in researching the keyword, auditing the sites, and ranking and tracking your website for you.
Pros:
It has the most efficient visibility index, and it provides the ranking performance within minutes.
You can have the details about the rankings at any level. It can provide city, state, and country-level tracking.
The rankings are available for Google and Baidu.
You can also have the service of customizable reporting.
Cons:
The cost for the white labeling is a lot and you have to pay extra for availing of this service.
It updates daily, but there are no ranking updates on demand.
It is only restricted to Google and Baidu and it doesn't track the rankings for Amazon, Yahoo, and YouTube.
Pricing:
This tool offers a seven-day free trial for its users to see if they can get familiar. For accessing other services, you have to subscribe to the pro, guru, or business plans. The pro plan is the basic plan, and it starts with the tracking of 500 keywords. The monthly payment for these words will be $120 and the annual cost will be $100.
When availing of the guru plan, you will have access to the tracking of 1500 words for $230 per month and $192 per year. For a business plan, you will pay $450 per month and $375 per year. The automated report scheduling is present for the pro plan. To avail of the integration of reporting with the Google Data Studio, you have to subscribe to the guru plan.
Get a Special Offer for Codeless users
SEO PowerSuite's Rank Tracker is rank checking tool offering unlimited data. This software lets you track all the keywords you already rank for, as well as perform comprehensive keyword research to get new traffic-bringing keyword ideas.
Rank Tracker lets you track positions in 597 global and local search engines. Create workspaces you need, filter keywords with an advanced parameter filter system, and track how your positions change over time. Task automation settings included.
Pros:
20+ keyword research tools in one: from Google Keyword Planner to TF-IDF Explorer.
Vast competitive intelligence functionality.
Detailed SERP analysis for any keyword: SERP features, top competitors, etc.
Position difference tracking.
Search engine specification down to a certain street.
Customizable SEO reports.
Google Search Console and Analytics integration are available.
Affordable pricing
Cons:
The learning curve may seem difficult for new users.
A free version's competitive research is limited to one competitor.
A free version of the tool doesn't allow to save ranking history and export reports.
Pricing:
Rank Tracker's pricing starts at $149/year for the Professional edition. This version lets you store 5 projects in SEO PowerSuite Cloud, add 5 competitors to track, and print your SEO reports.
An Enterprise license will cost $349/year with 100 project cloud storage available, 40 competitors to monitor, and the possibility to save, email, export, and publish your SEO reports on the web.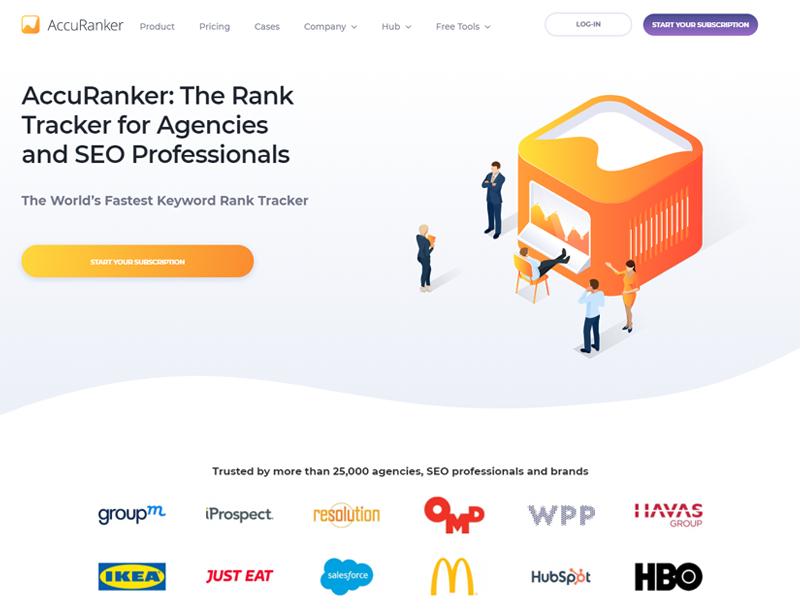 Accuranker claims to be one of the fastest trackers for rankings in the world. This tool allows you to refresh your data whenever you want to. There are no bugs or waiting time to get to know the results.
It works perfectly for all the platforms and you can also use the filter and segmentation feature of the tool. Automatic reportings are available for your keywords along with your logo when you are using this tool.
Pros:
The design of the tool is amazing and looks great for users
It shows you the ranking for your website and adds all the site links as well
It helps you in starring your tags and keywords.
It helps in the refreshing of the data update for the rankings at any time.
It works well with Amazon, Yahoo, Google, and YouTube.
It is quick and doesn't waste any of your time.
The menu and interfaces of this search engine result pages tracker are simple and there are no glitches.
Cons:
The ranking evolution is not available in the main menu.
Their basic plan starts with over 1000 keywords. You can not avail of the services of the keyword count below that.
The prices for this tool are a bit higher than compared to other trackers.
Pricing:
Their prices start with 1000 keywords and you have to pay $99 daily. For 2000 and 3000 keywords, you have to pay $189 and $279. The updates for the keywords happen daily. You can save 10 percent of the given amount by subscribing to the monthly or yearly plans.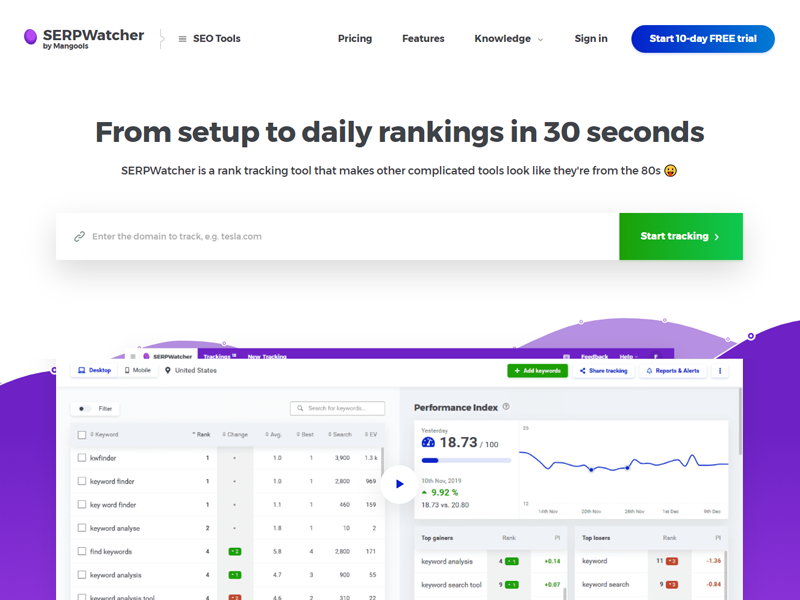 If you are a start-up and you are worried about your rankings, you should try this tracker. It is specifically designed to help people with less budget to spend on the tracking tools. It is the best tool if you are looking for an all-in-one system. It offers rank tracking at cost-effective prices. It is a simple tool for making tracking easier for you.
Pros:
It is cost-effective as compared to the other tools.
It has nice and simple designs for its users.
High discounts are offered if you avail of the monthly or yearly plans.
It tracks the ranking most efficiently. It will not let you hanging
There are no bugs present in this tool and your progress will be saved smoothly in the system.
The support services of the tool are helpful and responsive.
Cons:
It only tracks the rankings and does not have any other auditing features.
There are no featured snippets present in this tool.
Google search engine result pages do not show in this tool.
There is no option for the free trial.
Pricing:
You have to pay $49 for 200 keywords. For tracking 700 keywords the pricing will jump to $69. If you want to track 1500 keywords you have to pay $129. These charges are paid monthly. The updates for the keywords will be daily. You can get a discount of 40 percent for yearly plans.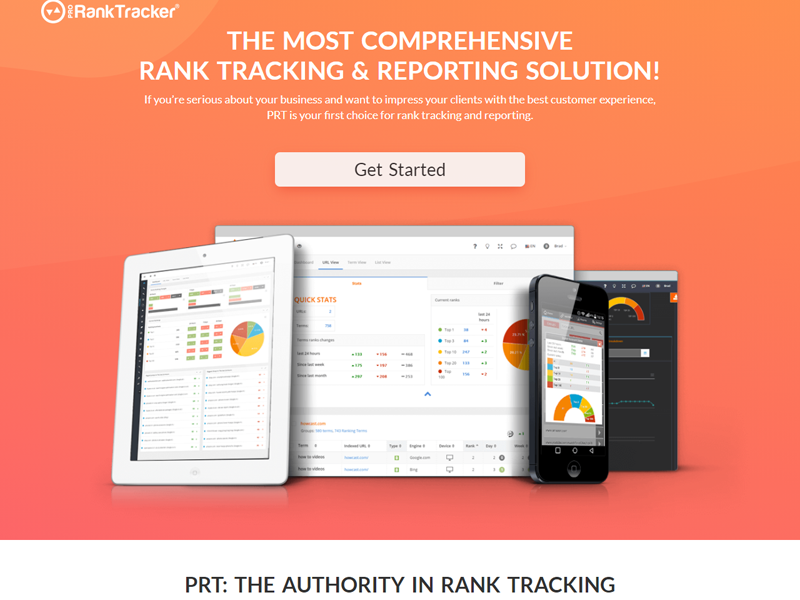 It is an amazing source for the rank tracking, reporting, and analysis of your websites. It is a popular tracker software, and it works well for professionals. It will give you a complete picture of your search engine optimization.
Pros:
You can manually request the changes in the ranking updates.
The evolution of keywords is accessible on the dashboard.
It is a suitable choice for Amazon and related websites.
Cons:
The navigation options on the dashboard are annoying.
The team view option for this tool is not well designed.
There are no features for Google.
Knowledge panels and snippets are absent when it comes to functionality.
Pricing:
They have a free trial for seven days. Their monthly plans depend upon the keywords you want to track. For 200 keywords you have to pay $25 and for $49 you can check the tracking for 500 keywords. To check 1000 keywords you have to pay $89 and for 2000 keywords the price is $129. They also offer a discount on their yearly plans and it is usually up to 10 percent.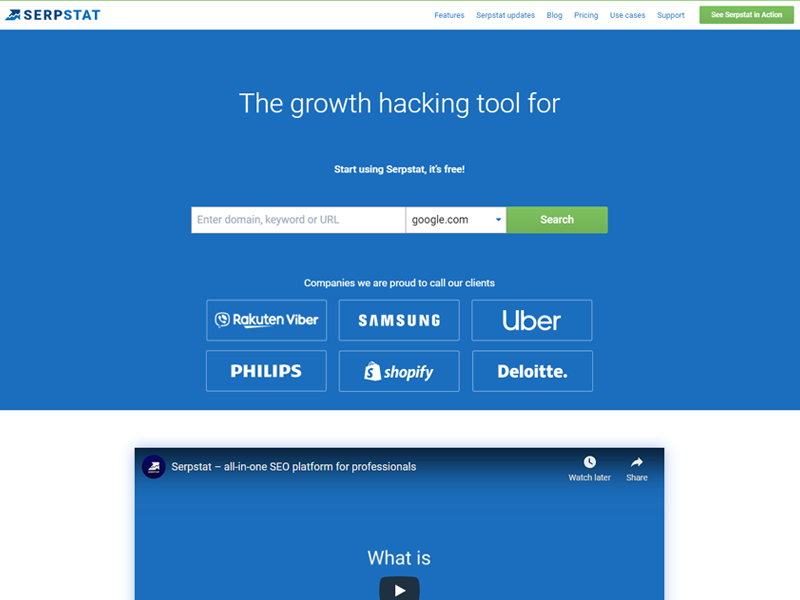 Almost 100,000 users are utilizing this platform for tracking their ranks. It is not confined to only providing tracking for your rankings, but it also helps in backlinks and the auditing of the sites. Using this tool will also give you the benefit of having an analysis of search engine optimization.
Pros:
It provides the best visualization of the rankings of your business
Colors and graphs are present in this tool to let you have a clear picture of your current ranking status.
Google features are shown in this tool along with the snippet features.
The web analytics and histories are available in this tool.
It provides insights for traffic distribution as well.
It also helps you in keeping an eye on the marketing fluctuations to raise your standards.
It also allows you to have a look at the insights of your competitors.
Cons:
The only con this tool has is the expense.
Pricing:
The prices for this tool are a bit more as compared to other tools. You will be paying $69 for 500 words and $149 for 2000 keywords per month. The updates are available in this package for the keywords daily. You can get this tool at an affordable price if you subscribe to a yearly plan. You will be getting a discount of 20 percent for annual subscriptions.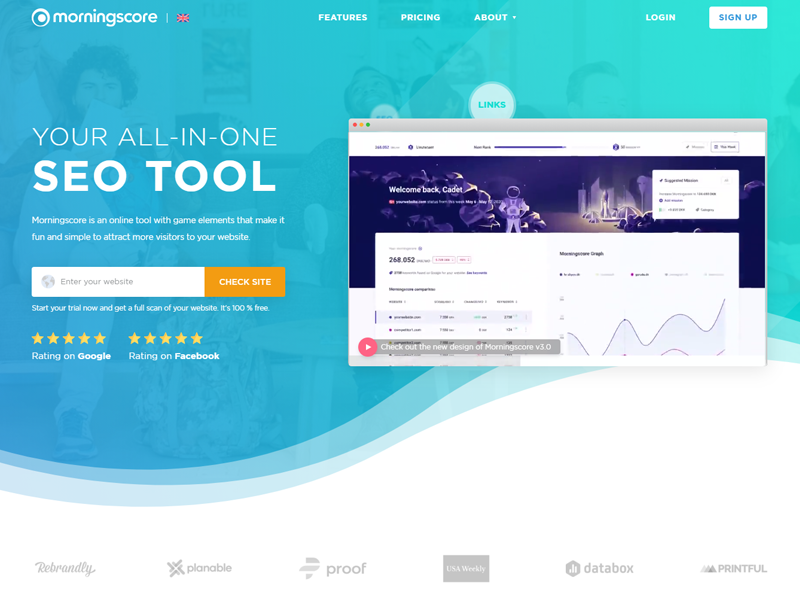 It is also a popular search engine result pages tracker in the market. It was mainly made for tracking the ranks but it now has many properties of being an all-in-one search engine optimization tool. It is advised by the experts to use this site for your startups.
Pros:
The reporting of this tool is amazing.
It has a complete hold on the missing links, tags, and report checks.
It tracks the rankings for Google desktop.
It has initiative and a user-friendly interface.
There are game elements present in this tool and it helps in focusing on the rankings.
You can keep your keywords in specific folders to come back later for updates.
Cons:
The ranking tracker does not have enough features
Google snippets features are absent in this tool
The tracking of the keywords are absent
Pricing:
There is a free trial available for four days for this tool. For 100 keywords the tracking will cost you $56. For 500 words users have to pay $95. 2000 keywords can be tracked for $174. The updates for keywords are available daily. You can avail the discount of 20 percent if you subscribe to the yearly plan.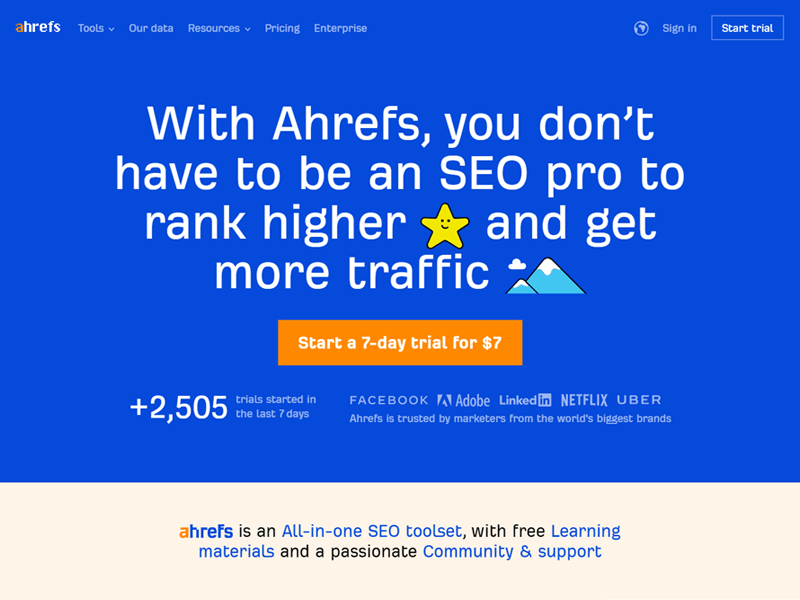 Ahrefs is one of the best tools for search engine optimization. Professionals recommend this tool for most of the functions when it comes to the tracking of the keywords. The quality of the backlink tracking is exceptional. You can easily beat your competitors by using this tool. It is excellent for auditing the site and analyzing the growth of your business.
Pros:
This tool provides amazing keyword research.
Rank tracking and backlink tracking are efficient and take no time.
It gives you a clear view of the growth of your business and the traffic
It also provides you the insight into the progress of your competitors.
It analyzes the website's link profiles and has an amazing report checking for search engine optimization.
Cons:
This tool unfortunately does not provide any update on the keywords daily.
Not a good option for keywords because of the absence of historical storage.
There are bugs present in this tool and make it less efficient.
Pricing:
The price for the tracking of 1500 words is $179. The no update feature for the keyword research makes it a bit expensive. It has no discount offers on the yearly plans as well.
Table Comparison: Which is The Best SERP Tracking Software
Following table will help you take a quick look at the comparison between the prices and the ratings of the software tracking tools. You can easily decide from the rating and the prices to get the one that is better for you. The rating is done on the basis of the reviews of the professionals. These tools are rated out of 5. The tools with a rating above 4 highly recommended
| | | |
| --- | --- | --- |
| Tracking Tool | Pricing | Rating |
| Nightwatch | $39 | 4.9 |
| SERanking | $23.40 | 4.5 |
| Semrush | $120 | 4.3 |
| Rank Tracker | $149** | 4.5 |
| AccuRanker | $99 | 4.5 |
| SERPWatcher | $49 | 3 |
| ProRankTracker | $25 | 2.5 |
| SerpStat | $69 | 4 |
| MorningScore | $56 | 3 |
| Ahrefs | $179 | 2 |
**Yearly payment
How to Choose a SERP Tracking Tool
If you are confused about choosing a SERP Tracking Tool, we are here to help. You can take a look at the above-mentioned table and decide what you want for your business. You can choose the rank tracking feature only or you can go for the all-in-one search engine optimization feature.
Ratings of the tools also help in deciding which tool will be perfect for your website. One important thing to remember is to choose the tool that helps your budget as well. You should consider these three questions before buying a tracking tool.
What features are you looking for?
What is your budget?
What are the ratings for this tool?
Conclusion
Above mentioned tools are the best top 9 search engine result page tracking software for your website. They help you in accessing the details about your rankings on Google. They come with their features and pros. There are different plans for the pricing available for them. You should always go for the one that suits your business and budget.