Time tracking software for lawyers are popular for several reasons.
One, they show how much time attorneys spend on non-billable and administrative tasks. Especially for attorneys in small or medium-sized law firms, more than 40% of their day goes to non-billable work.
Here are the best time tracking software for lawyers:
Two, lawyers use time trackers to issue more accurate invoices. Many trackers automatically generate branded invoices and integrate with credit card and online payment systems. 85% of electronic payments to lawyers get paid within the week.
This article will break down the 10 best time tracking software for lawyers, their ratings, pros, and cons. Settle in.
Top 10 Best Time Tracking Software for Lawyers
Here's an overview of the top 10 time trackers for attorneys.
| | | | | | |
| --- | --- | --- | --- | --- | --- |
| Provider | Price | Free Version | G2 Rating | Trustpilot | TrustRadius |
| clockify.me | $$ | yes | 4.5/5 | 3.5/5 | 8.8/10 |
| Toggl Track | $$ | yes | 4.6/5 | 4.5/5 | 9.1/10 |
| Desktime | $$$ | yes | 4.5/5 | 4.0/5 | 9.4/10 |
| TimeCamp | $$ | yes | 4.6/5 | 3.2/5 | 8.7/10 |
| Time Doctor | $$$ | no | 4.4/5 | 2.9/5 | 7.9/10 |
| LawBillity | $$$ | no | – | – | – |
| Clio | $$$ | no | 4.5/5 | 2.3/5 | 9.0/10 |
| MyCase | $$ | no | 4.4/5 | 3.4/5 | 7.7/10 |
| PracticePanther | $$$ | no | 4.2/5 | 1.8/5 | 9.1/10 |
| RescueTime | $$ | yes | 4.2/5 | 3.8/5 | 9.1/10 |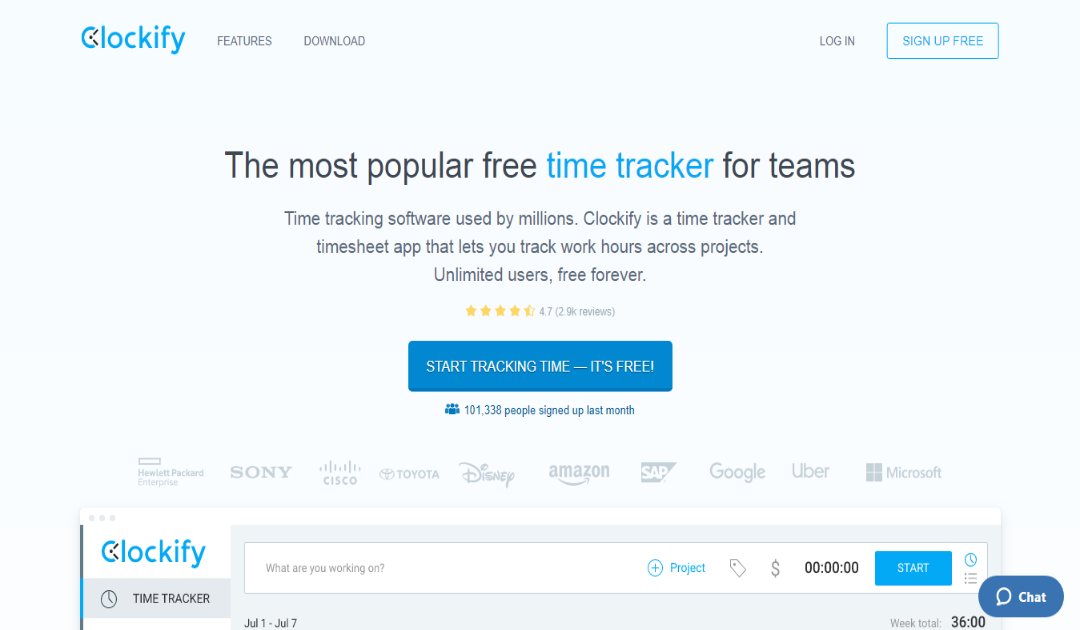 Clockify is a time tracker suitable for legal teams of all sizes ranging from solo attorneys to enterprise law firms.
Law firms use Clockify to create separate projects for clients and assign tasks to their lawyers. Attorneys can easily track time and edit timesheets to show all their activities at work. They can also view idle hours and invite other team members to projects.
Legal teams can track billable and non-billable hours, and therefore minimize how much time goes to non-billable tasks. The admin can set employees' billable rates.
There's no learning curve to using Clockify and no confusing buttons. You just start the timer or add an entry manually. It is that simple.
Clockify also allows users to generate detailed reports.
Main Features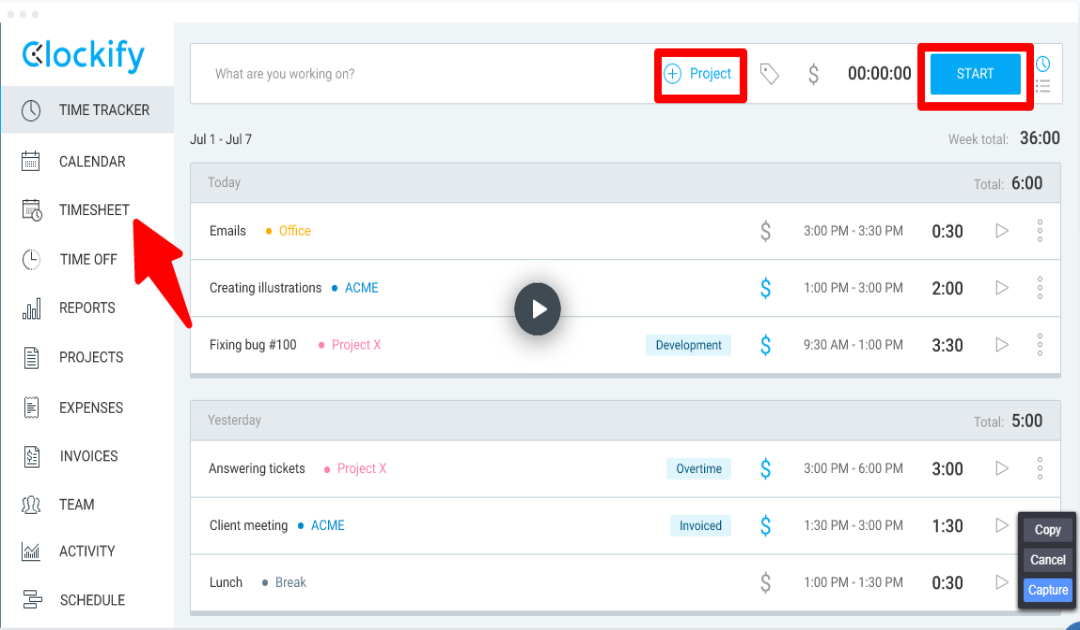 Dashboard is intuitive
Has a timesheet that can be updated anytime
Has a robust daily and weekly reporting feature that shows time entries in charts and graphs.
Clockify's Chrome extension can track time inside other apps
Tracks billable vs non-billable hours.
Pros
Intuitive and simple UI
Has a robust free version
Allows customized hourly rates
Very detailed in generating reports
Cons
The mobile device app has limited functionality
Does not automatically generate invoices
Platforms
Cloud-based
Windows
Android
iOS
Price
Clockify has a free version that offers unlimited users, time tracking, unlimited projects, and summaries.
Basic – $4 per month per user
Standard – $5.5
Pro – $8
Enterprise version – custom price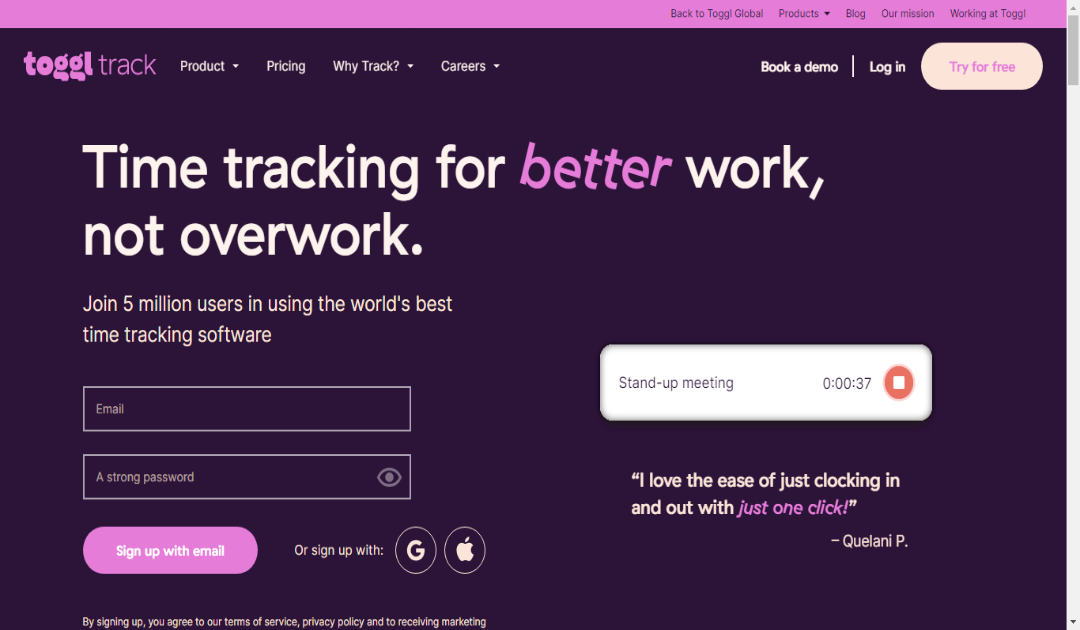 Toggl Track is a simple yet powerful timekeeping software for lawyers. It features an intuitive UI that's easy to navigate.
Toggl Track has three different ways of tracking time. One-click starts the auto timer. The background timer automatically starts tracking time when you use software for more than 10 seconds. The calendar timer integrates scheduled events and court sessions.
Toggl Track's project dashboard lets you add projects, set billable rates, and create project estimates and expected profits. You can increase the billing transparency of your law firm by sending your clients a link to tracked time.
With Toggl Track, it's easy to bring your lawyers and paralegals into your firm's workspace and set rates for your employees and projects. You can also see how much work each team member has, how active they are, and who may need more work.
Lawyers can request customized daily and weekly reports which can be exported as CSV or PDF files.
Read More: Best Lawyer WordPress Themes
Main Features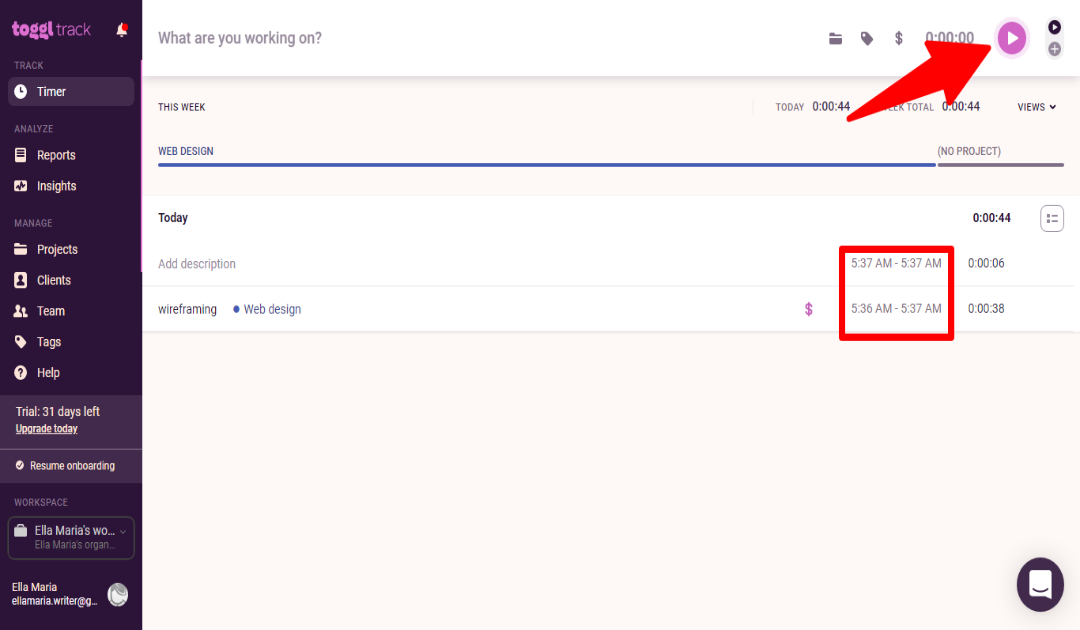 Different methods of tracking time – manual, auto, and calendar track
Project estimates and billable rates
Time rounding
Email tracking reminders
Time audits to find entries that may not be accurate
Platforms
Cloud-based
Windows
Android
iOS
Browser extensions for Chrome and Firefox
Pros
Background track and calendar track
Team dashboard
Easy to use
Cons
The free version does not track billable hours
Price
Toggl Track has a free version that allows for unlimited projects and tasks. You have access to auto-track and calendar tracking.
Starter – $9 per user per month. Allows access to project estimates, billable rates, and other features.
Premium – $18 per user monthly. Comes with time audits and team dashboards.
Enterprise – Custom price. Access to all features.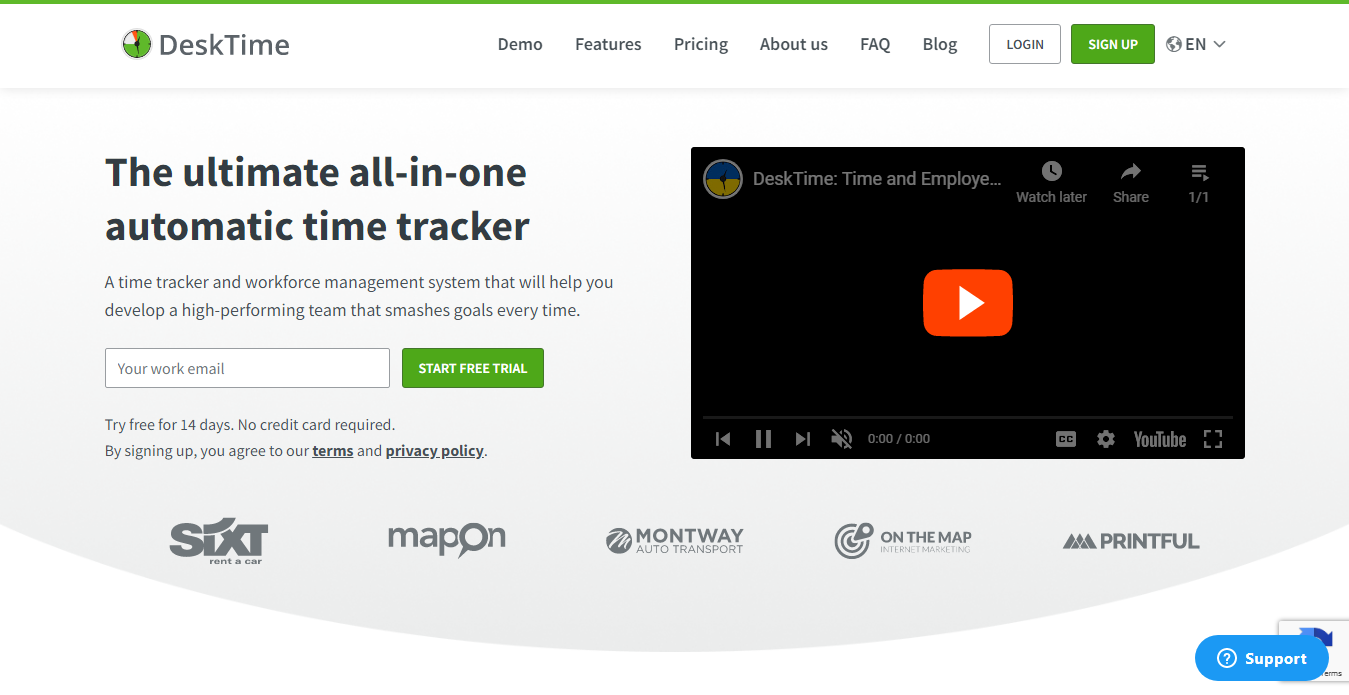 Desktime is not just a time tracker. It's also a legal practice management software.
Desktime features an automatic timer that starts measuring time once the computer is booted and doesn't stop until shut down. You can see what your legal team is working on at all times including URLs visited, document titles, and even regular screenshots, except when private mode is switched on.
A law firm can set billable rates, schedule shifts, and even attorney absences from inside the app. This tracker also generates invoices for clients.
You can set project timelines, estimates, and projected profits. With Desktime, you can receive customized reports in your email or export them to PDF.
Desktime integrates with visual project management apps like Trello and Asana. It also integrates with Google Calendar, Jira, and Outlook.
Main Features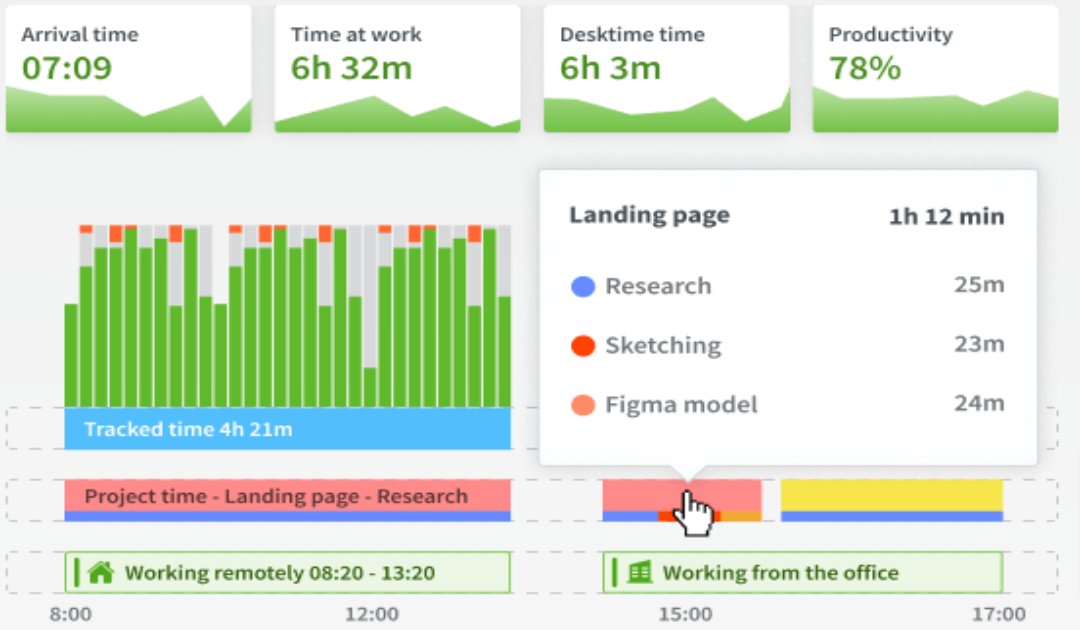 100% automatic time tracker
Private mode
Auto screenshots, for instance, every quarter-hour
Employee scheduling and absences
Automatic invoice generation
Platforms
Web-based
Windows
Android
iOS
Browser extensions for Chrome, Firefox, Internet Explorer, Safari, Opera, and Microsoft Edge
Pros
Automatic time tracker
Integrates with project management apps like Trello
URL and document title tracking
Cons
Unlimited projects and tasks is only for the enterprise-level plan
The free version is only for one user
Price
Desktime's free version is for only one user and has basic features- an automatic time tracking app, URL tracking, and web apps.
Pro – $7 per user per month. Allows idle time tracking, productivity calculation, and project time tracking.
Premium – $10. Allows auto screenshots, automatic invoicing, shifts, and absences.
Enterprise – $20. Allows unlimited projects and tasks and customized API functions.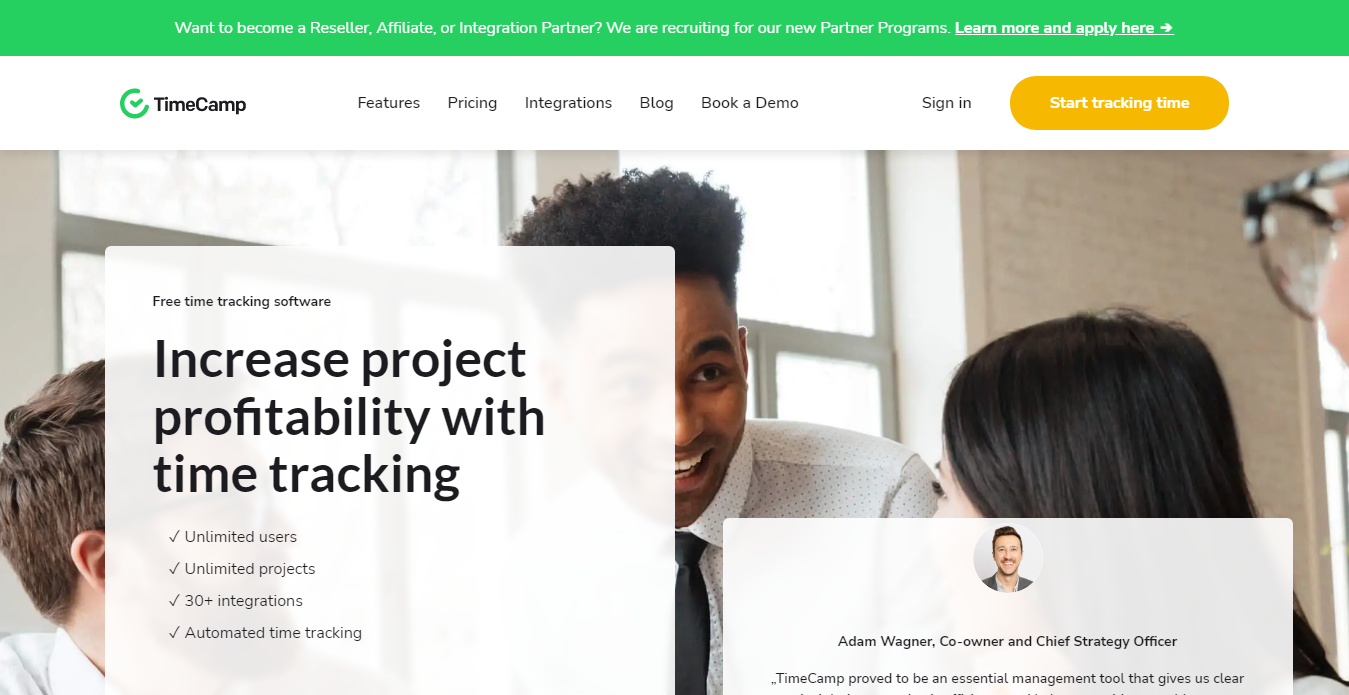 TimeCamp stands out because of the minimalistic and clean UI that it has. It's pretty easy to start time or manually add time entries. The app also tracks websites visited.
Legal teams can invite members and set billing rates for each lawyer. They can also create projects with timelines and estimates. Report generation is per project or attorney.
TimeCamp integrates with over a hundred apps. Popular integrations are with Trello, Asana, and Google Calendar.
A lawyer can import data or make comments about projects. Legal practice teams have access to customizable templates for accounting, invoicing, or reporting.
Main Features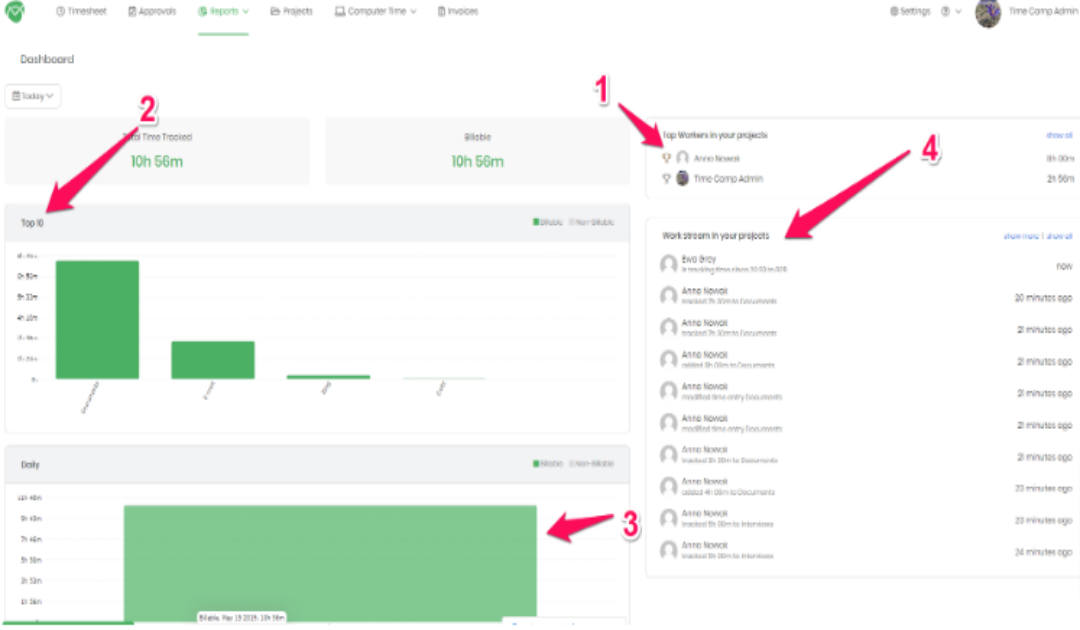 Customizable Templates
Project timelines and estimates
Payroll management
Leaves and absences tracking
Project time tracking app
Platforms
Windows
iOS
Android
Web-based
Chrome extension
Pros
Has a clean UI and is easy to use
Detailed analytics and reporting
Automatic invoice creation
Cons
The desktop app is lacking several features
Price
The free version of TimeCamp only allows unlimited users and projects.
Basic – $6.3 per user per month. Access to management roles, time rounding, billable time, and custom reports.
Pro – $9 per user per month. Team managers can set user roles, implement SSO login, and approve timesheets.
Enterprise – Custom price. Allows customized features and a dedicated server per law firm.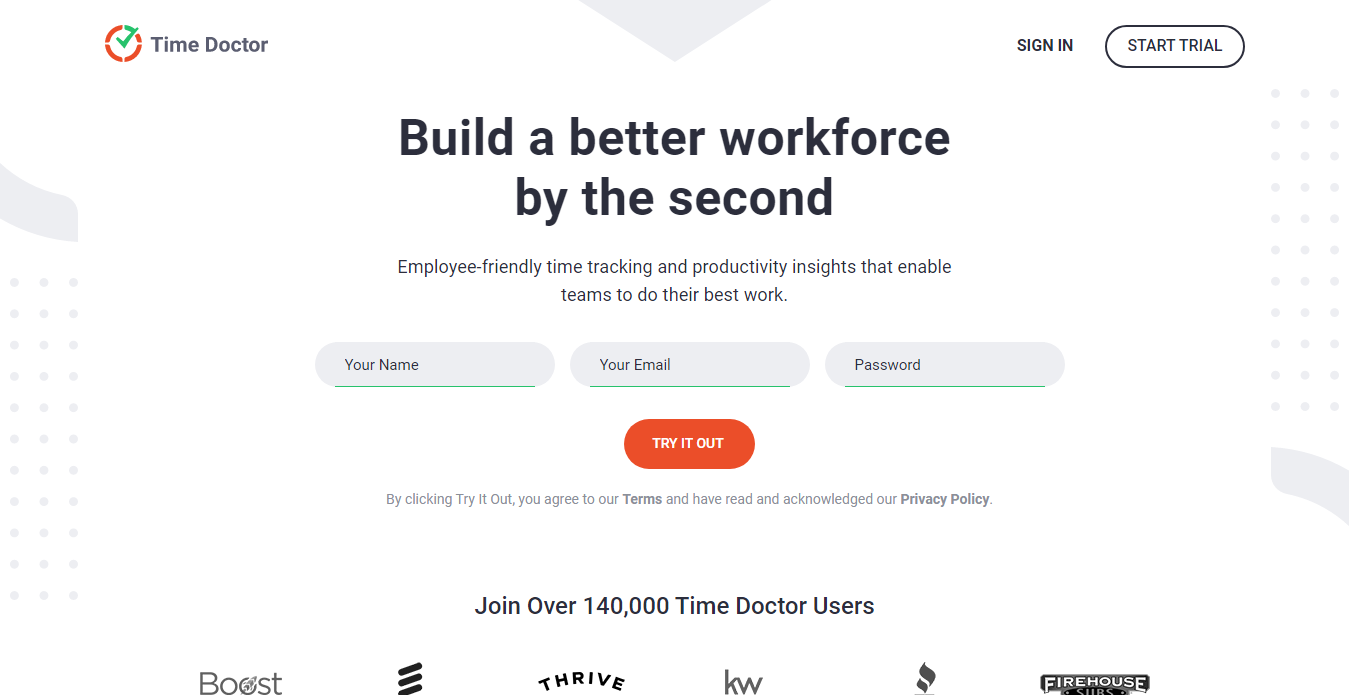 Time Doctor silently tracks employee activity during work hours. The app starts time recording once your legal staff turns it on. It also records websites and apps visited.
The app integrates with more than 60 software including Asana, Jira, and Calendar. That lets your team managers carry out other duties like payroll management and invoicing right from inside Time Doctor.
Legal team leaders can invite team members, set custom roles for them, and get an overview of how productive each is. They can also schedule employee shifts, absences, and leaves.
Time Doctor's tracker is special because it only measures the time when it needs to. It stops tracking when an attorney goes on a break. It detects that when there's no keyboard or mouse activity.
You can generate detailed reports with Time Doctor and share them with your clients via a link or PDF file.
Main Features
Automatic time tracker
Customized invoice generation
Monitors employee's productivity level
Billable hours tracking
Platforms
Windows
iOS
Android
Cloud-based
Browser extension
Pros
Integrates with 60+ apps
Real-time updates and screenshots
Allows managers to set custom roles for employees
Cons
A tad more costly than other options
No free version
Price
Time Doctor has no free version, but there's a 14-day free trial.
Basic – $7 per user per month at the Basic tier. Unlimited projects, tasks, and time tracking.
Standard – $10 per user per month. Website and app usage tracking, integrations, payroll management, and email notifications.
Premium – $20 per user per month. Access to all the features.
Enterprise – Custom price.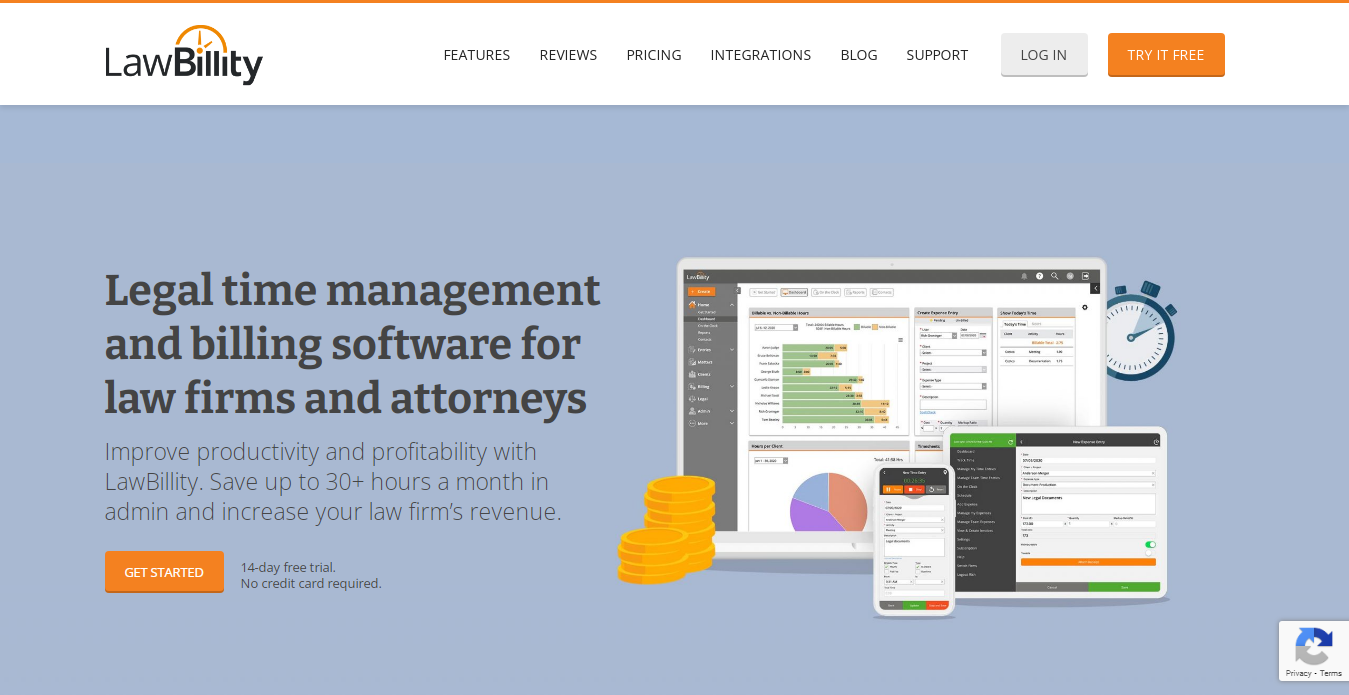 LawBillity is a time tracker and legal billing software solution built especially for attorneys and law firms.
The app affords attorneys several benefits. One is turning billable hours into customized and elegant invoices that can be exported in the LSS and LEDES formats. Another is integrating with LawPay, which makes it easy for your clients to view invoices and pay you online. LawBillity also helps with managing the payroll of a law firm.
LawBillity's reporting features allow you to compare billable and non-billable hours, so you'll maximize time spent on the right tasks.
Read More: 9 Best Business Automation Tools
Main Features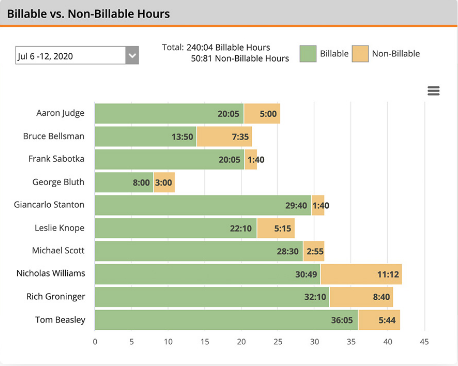 Automatic invoice creation, which can be exported to LEDES and LSS firms. Invoices can be tracked.
Allows you to pay your firm from trust accounts
Tracks billable vs non-billable hours
Platforms
Windows
iOS
Android
Web-based
Pros
Every feature is tailored for attorneys
Generates detailed reports of time tracked
Exports invoices in legal formats
Features client portals for onboarding your clients and phone calls
Cons
Not suitable for enterprise law firms
Price
LawBillity costs $24 per user per month. There's a 14-day free trial.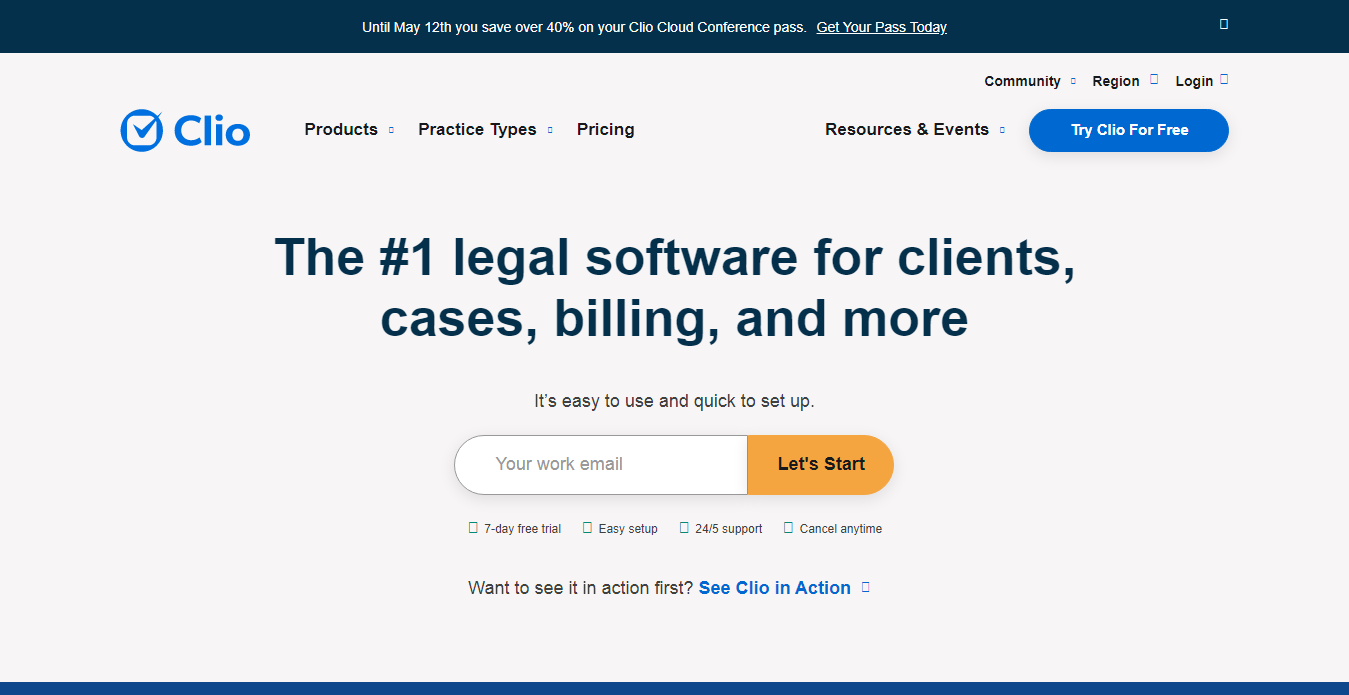 Clio is not just a time tracker. It's a law practice management software that helps you effectively run your law firm and maximize profits.
You can track billable vs non-billable hours, create unlimited projects for clients, assign attorneys to work on cases, and set deadlines. Legal professionals can also generate reports on time spent per project.
With Clio, the whole process of representing a client becomes easier. Client intake is automated with forms you can share via email. There is a database for storing client data and so prevent any conflict of interest. You can schedule appointments, share files with clients, and collect e-signatures.
Clio integrates with apps like QuickBooks, Slack, Xero, and Gmail.
Main Features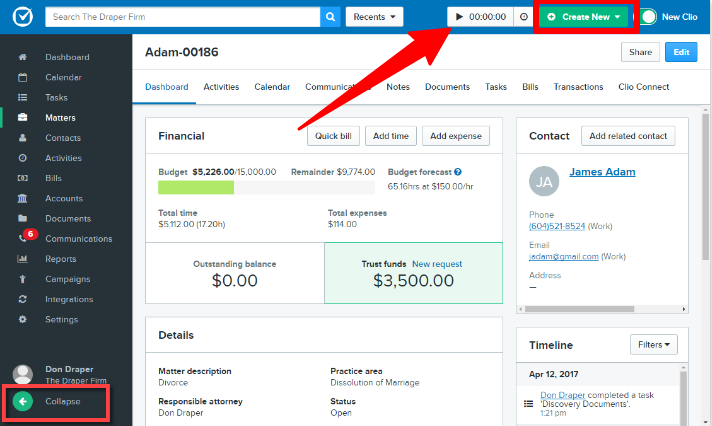 Auto and manual time tracker
Time tracking per project
Client management
Detailed reporting and analytics
Task management
Platforms
Cloud-based
Windows
iOS
Android
Pros
Automates client intake and management
Has a feature for creating weekly timesheets
Generates detailed reports
Can create and share invoices
Cons
Some users find it difficult to learn all the features
Price
There's no free version. Pricing starts at $39 per user per month and goes up to $129 per user per month. There's a 7-day trial.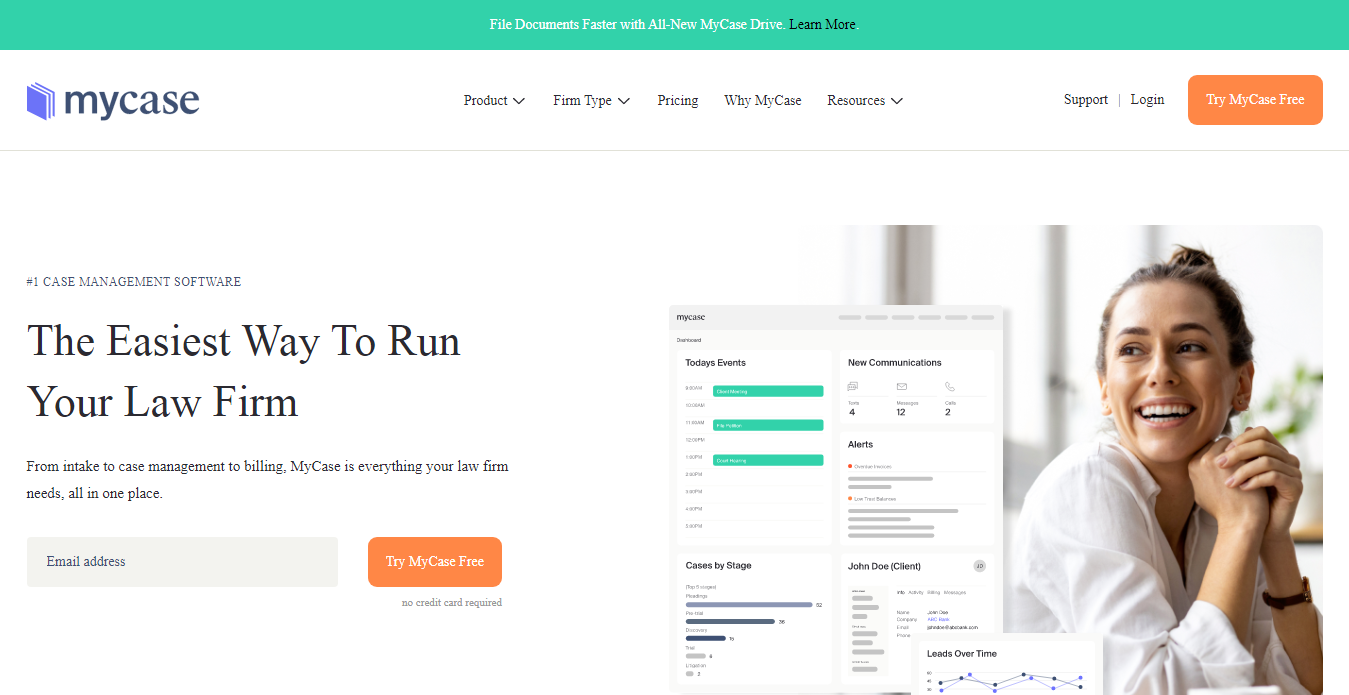 MyCase is another time tracking and client management app built for lawyers. It is easy to track time, generate invoices, and collect payment from your clients.
The app has a client portal through which you take in new clients, manage their cases, and maintain automated communication with them.
MyCase automates many parts of client management, from client intake all through case management. In fact, MyCase helps you analyze your prospective client pipeline, from the first contact to signing them as a client. You can then see what steps of your sales process to improve.
Main Features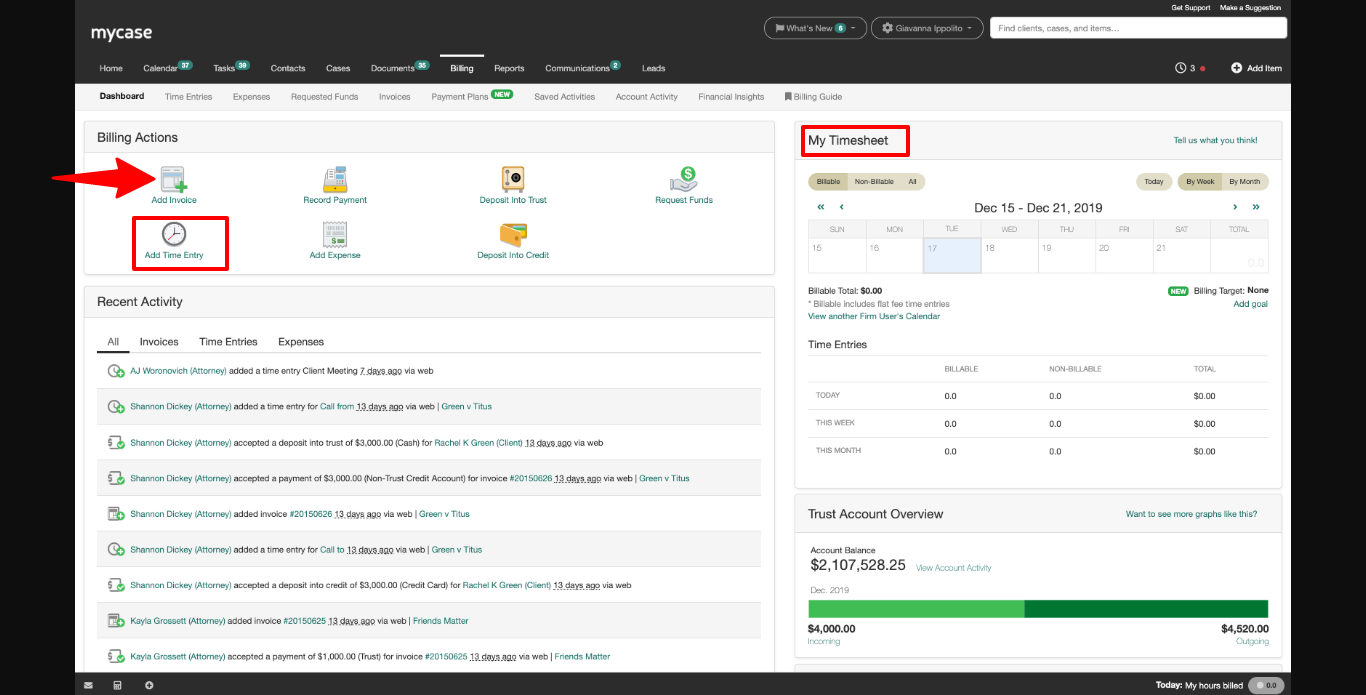 Automated client intake and case management
Prospective client pipeline management
Detailed financial analysis reports
Project timelines and estimates
Invoice generation and sharing
Platforms
Web-based
Android
iOS
Windows
Pros
Analyzes prospective client pipelines
Automates client management
Automated SMS and email reminders to clients
Cons
Limited app integrations since it doesn't connect with Zapier
Price
MyCase has no free version, but there's a free trial period.
Basic – $39 per user per month. Allows customer intake, time tracking, invoicing, and billing.
Pro – $59. Offers client portals and app integrations.
Advanced – $79. Lets you store files offline on your desktop, plus all other features.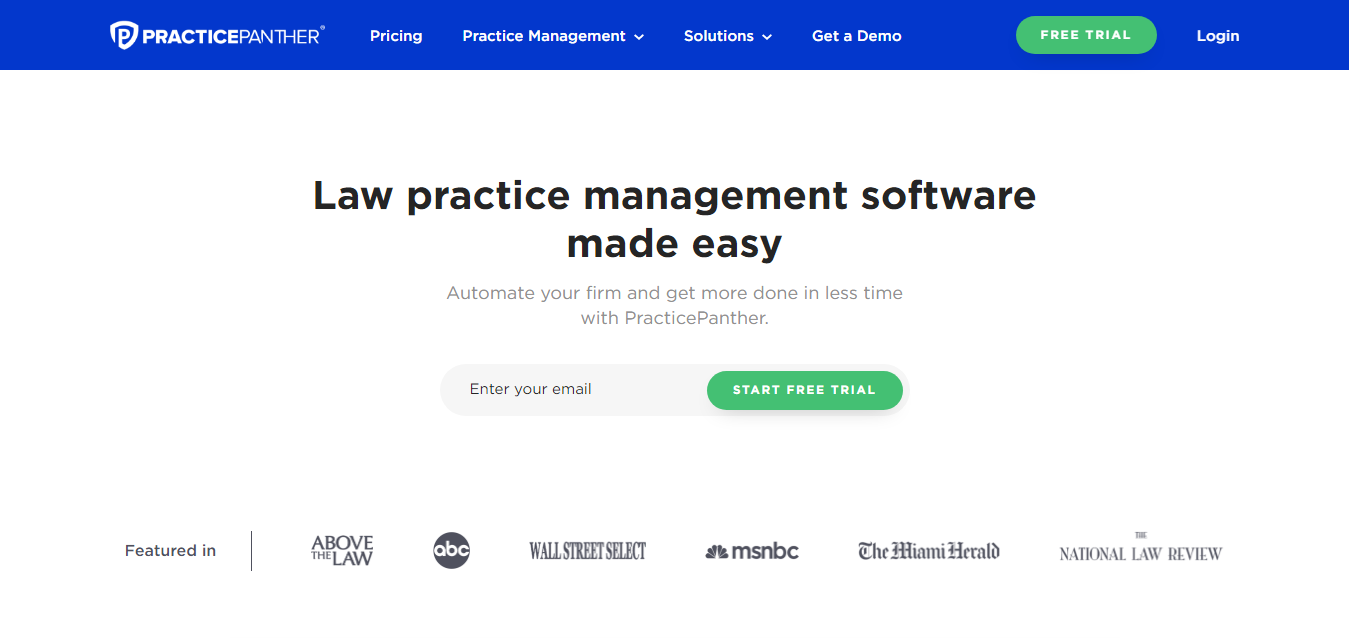 PracticePanther is a time tracking tool for law firms that builds its brand on being easy to use.
The app automates steps from client intake through management. It's easy to streamline workflows, add team members, view billable hours, and send invoices. It features an attorney-client portal that allows for two-way texting, meaning that you don't just send notifications and reminders. Your clients can get back to you.
PracticePanther's analysis feature helps legal teams to maximize their billable hours, invoice clients, and track trust accounts. The app also integrates with other apps like Calendars, Outlook, Gmail, QuickBooks, and Trello.
With PracticePanther, you can create and edit legal documents in bulk and accept e-signatures.
Main Features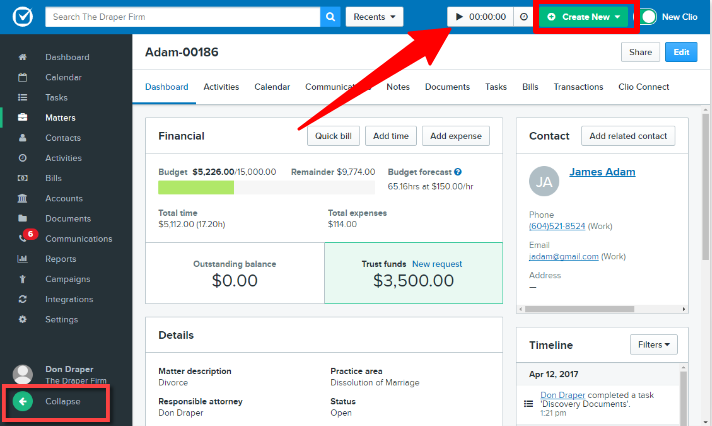 Client and Case management
Automatic invoice generation
Detailed reporting and analysis
Document cloud storage and security
Platforms
Cloud-based
Android
iOS
Windows
Pros
Document management
Creation of branded invoices
Invoice tracking and reminders
Easy client intake and management
Cons
Customer support is not so good
Price
PracticePanther has a free trial, but no free version is available.
Solo – $39 per user per month. Allows tracking time, internal team chats, tasks, and event templates.
Essential – $59. Allows two-way texting, and native e-signatures.
Business – $79. Gives access to all features.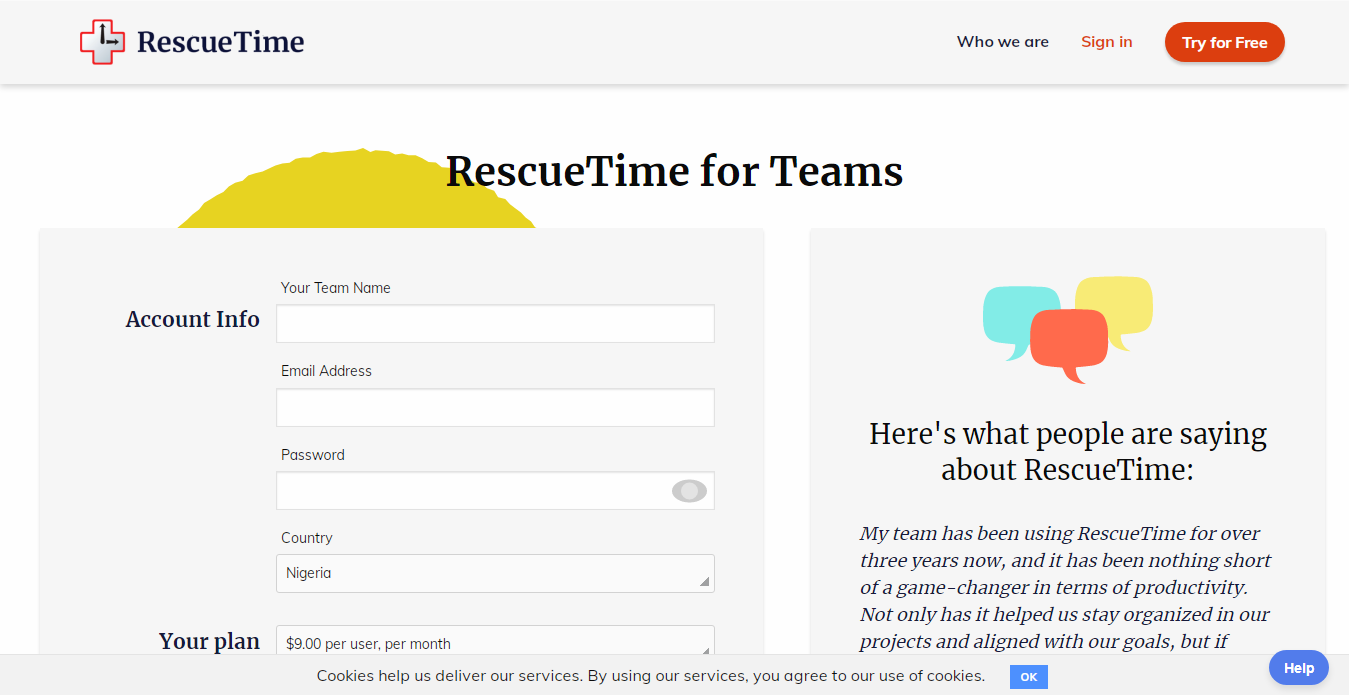 RescueTime is best suited for solo attorneys or small law firms looking for a time tracker to help them to focus on the most important tasks.
RescueTime helps you complete a goal that you set, usually time for work or tasks to complete.
RescueTime automatically tracks how you spend time on websites and applications. It nudges you when you're distracted and reminds you when you've been on a break for too long.
You can activate a focus session that blocks out distracting apps and websites, allowing you to spend time on the most important tasks. RescueTime also generates detailed reports.
Main Features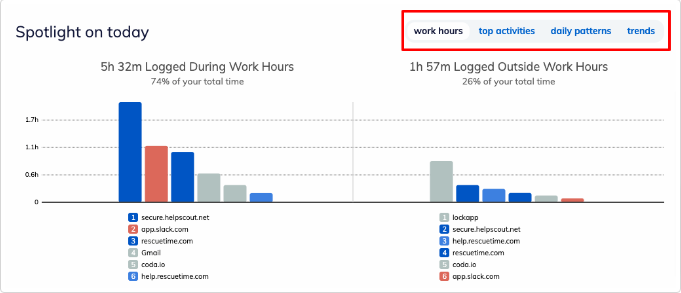 Daily goals and focus sessions
Website and mobile app usage analysis
Platforms
Web-based
Windows
iOS
Android
Pros
Customized for your needs
Simple and intuitive UI
Has a free version
Cons
Lacks features for a billing system
Not suitable for large legal teams
Price
There's a free (Lite) version and a free trial. The premium version costs $9 per user per month.
FAQs
How do lawyers and legal assistants keep track of their time?
Lawyers and legal assistants keep track of their time most easily by using time tracking software. An app automates the process of tracking time and frees attorneys up to focus on client work. Some lawyer time tracking apps include Timesolv and Clio.
How do you keep track of billable time?
You keep track of billable time by using a time tracker software solution. You can then easily generate reports of hours spent on billable vs non-billable client work.
How do you make a timesheet for a lawyer?
You make a timesheet for a lawyer by either manually filling an Excel sheet or using an app. With time tracker software like Clockify or Timesolv, you can automatically fill out online timesheets and export them as PDFs.
Does Google have a time tracker?
Google does not have a time tracker, but several times tracking software like Timesolv connects with Google Workspace via Chrome extensions. Some of these apps are Clockify and Time Doctor.
Conclusion
Law firms that use track billable hours with software have reported increases in revenue and better time management. Choose any time tracking software for lawyers we've reviewed and get your law practice the help it needs. Good luck.

As one of the co-founders of Codeless, I bring to the table expertise in developing WordPress and web applications, as well as a track record of effectively managing hosting and servers. My passion for acquiring knowledge and my enthusiasm for constructing and testing novel technologies drive me to constantly innovate and improve.
Expertise:
Web Development,
Web Design,
Linux System Administration,
SEO
Experience:
15 years of experience in Web Development by developing and designing some of the most popular WordPress Themes like Specular, Tower, and Folie.
Education:
I have a degree in Engineering Physics and MSC in Material Science and Opto Electronics.