If you're searching for AI SEO tools on the web, you've found the right article. Utilizing Artificial Intelligence to optimize Search Engine Optimization is one of the best use cases I have ever seen.
So, let's check out the best options.
The Top 10 Best AI SEO Tools 2023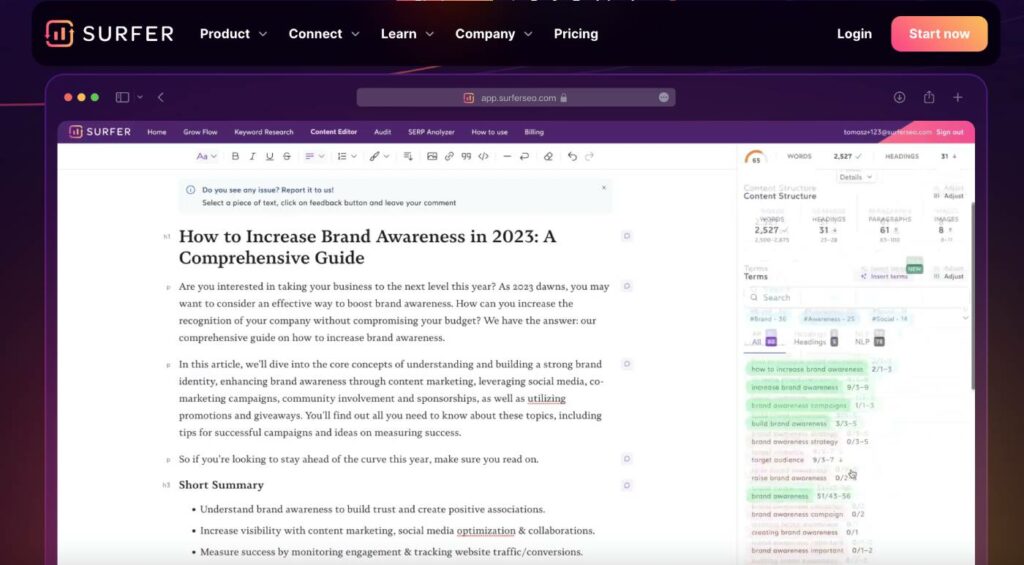 Surfer AI SEO tool designed to optimize your on-page SEO by utilizing a natural language processing (NLP) model. It provides insights into how to enhance your content based on competitor analysis and offers seamless integration with various CMS platforms, including WordPress.
Features
Blog Content Generator: Automatically generates blog content.
SEO Content Editor: Assists in optimizing content as you write it.
Plagiarism Checker: Ensures the uniqueness of the content.
AI Outline Generator: Creates content outlines using AI.
Integration: Works well with WordPress, Jasper, and other platforms.
Grow Flow: Provides weekly tips on how to improve your site's SEO.
Pricing
Surfer SEO is priced at $49 per month.
Pros
User-Friendly: Offers a straightforward and user-friendly interface.
Content Optimization: Provides valuable suggestions for keywords and headings.
Integration: Easily integrates with various platforms
Content Ideas: The Grow Flow feature provides actionable insights and content ideas to boost SEO.
Cons
Over-Optimization Risk: Does not alert users about potential over-optimization of content, which might lead to employing black hat SEO techniques inadvertently.
Pricing: May not be budget-friendly for small businesses or individual bloggers.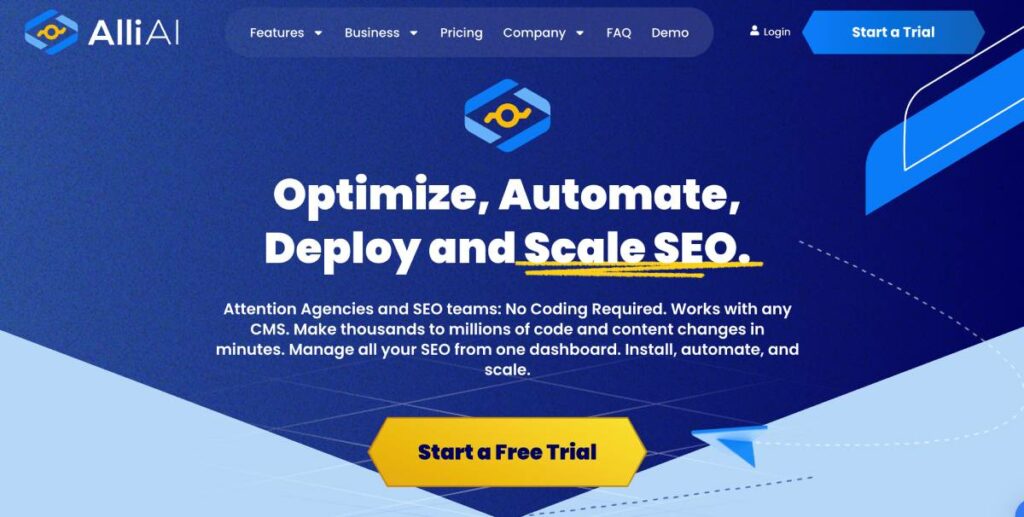 Alli AI is a comprehensive SEO tool that leverages artificial intelligence to optimize websites for search engine results pages (SERPs). It aims to simplify SEO management by automating various tasks like on-page SEO, content generation, and more.
Features
Bulk Onpage Optimization: Enables mass optimization of page titles, meta descriptions, and other content.
Live Editor: Provides real-time SEO suggestions while creating content.
Backlink Boost: Identifies and helps acquire valuable backlinks.
AI Strategy: Develop an AI-driven SEO strategy tailored to your website.
Pricing
Alli AI offers its services starting at $249 per month.
Pros
Automation: Automates numerous SEO tasks, saving time and effort.
User-Friendly: Intuitive interface that is easy to navigate and use.
Comprehensive SEO: Offers a wide array of features covering various aspects of SEO.
Cons
Price Point: The starting price might be steep for small businesses or individual users.
Complexity for Beginners: Some features might be complex for SEO beginners to utilize effectively.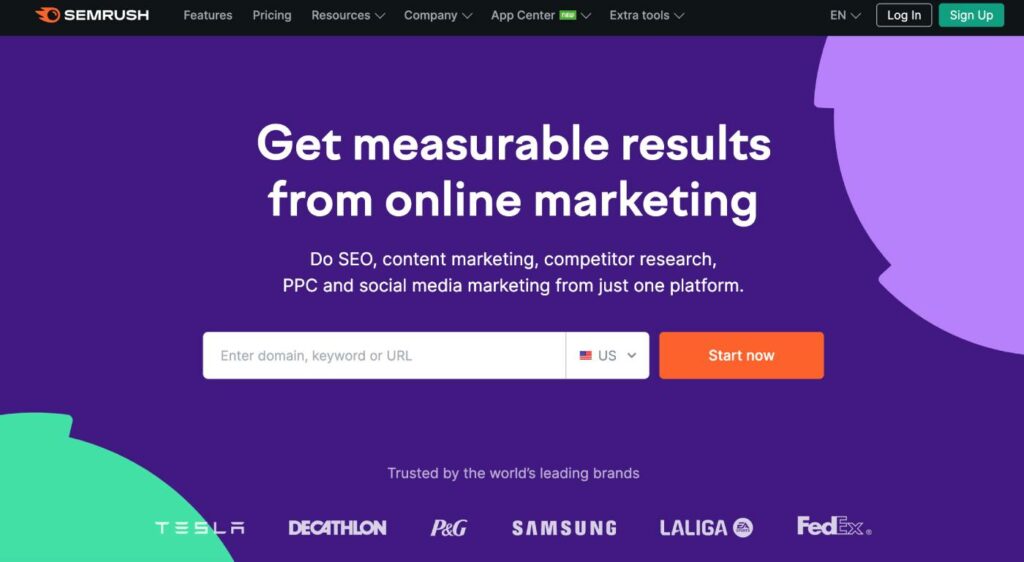 Semrush is a widely recognized SEO tool that provides a suite of over 76 AI-driven SEO tools. It assists in optimizing content across various platforms and offers a range of features for both writing and rephrasing content to enhance SEO.
Features
SEO Writing Assistant: Provides guidance to optimize content while writing.
Keyword Magic Tool: Helps in identifying and integrating effective keywords.
Site Audit: Analyzes your website to identify and fix SEO issues.
Competitive Research: Offers insights into competitors' SEO strategies.
Pricing
Semrush offers a free plan and premium plans starting at $119.95 per month.
Pros
Versatility: Offers a wide range of tools catering to various SEO needs.
Reputation: Well-established and trusted in the SEO community.
Comprehensive Data: Provides extensive data and analytics for informed decision-making.
Cons
Learning Curve: The plethora of features might be overwhelming for new users.
Pricing: Premium features come at a relatively high cost.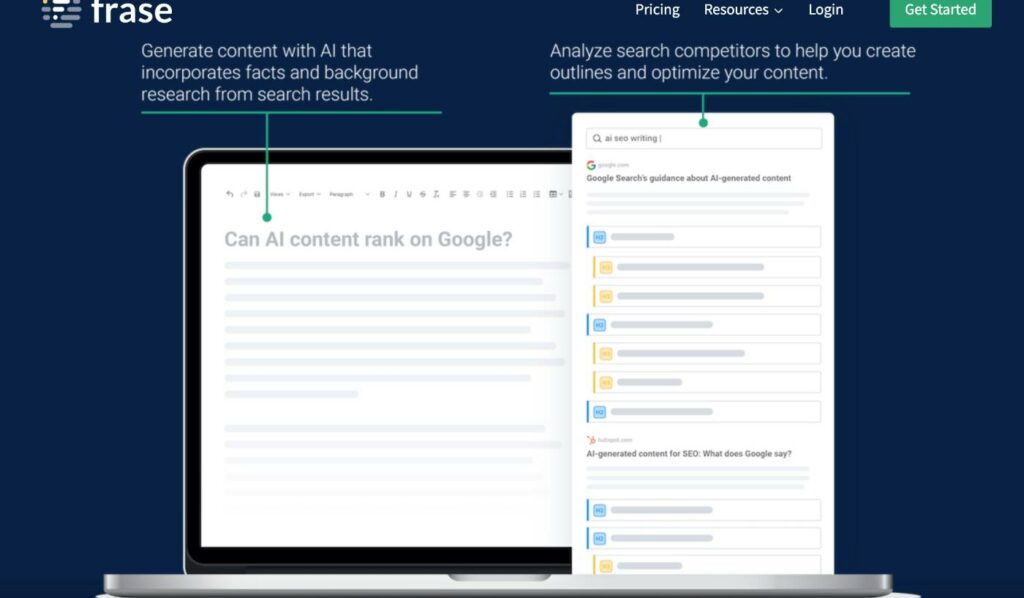 Frase is an AI-powered content creation tool that assists in identifying keywords, optimizing content, and analyzing how your website stacks up against competitors in terms of SEO. It aims to streamline content creation while ensuring SEO effectiveness.
Features
Content Optimization: Provides suggestions for content enhancement.
Keyword Identification: Helps pinpoint effective keywords for content.
Competitor Analysis: Analyzes and provides insights into competitor content and SEO strategies.
Pricing
Frase offers plans starting at $14.99 per month.
Pros
Affordable: Offers a range of features at a relatively low cost.
Ease of Use: User-friendly interface and straightforward functionality.
Effective Content Analysis: Provides valuable insights into content and competitor strategies.
Cons
Limited Advanced Features: May lack some advanced features offered by other SEO tools.
Customer Support: Some users might find customer support to be less responsive.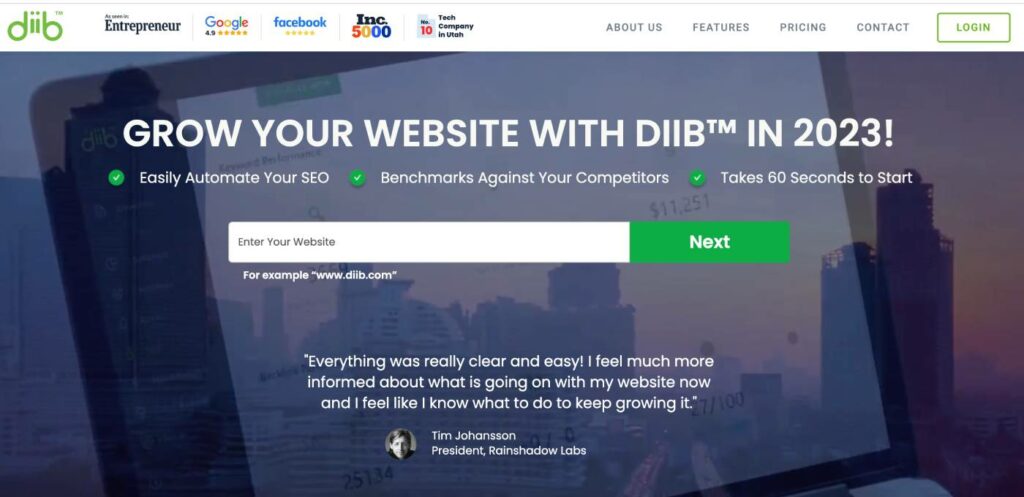 Diib is an SEO tool that provides insightful analytics and a personalized growth plan to enhance your website's SEO and traffic. It monitors SEO keywords and offers actionable insights to foster business growth.
Features
SEO Monitoring: Keeps track of SEO keywords and their performance.
Personalized Growth Plan: Offers a tailored plan to enhance website growth.
Traffic Insights: Provides detailed insights into website traffic and user engagement.
Pricing
Diib starts at $7.99 per month, with a renewal rate of $44.99 per month.
Pros
User-Friendly: Offers an intuitive interface and easy-to-understand insights.
Affordable Initial Pricing: Provides a lower starting price for users to explore the tool.
Personalized Insights: Delivers tailored plans and insights for specific website needs.
Cons
Renewal Pricing: The renewal rate is significantly higher than the initial pricing.
Limited Advanced Features: May lack some of the advanced features provided by competitors.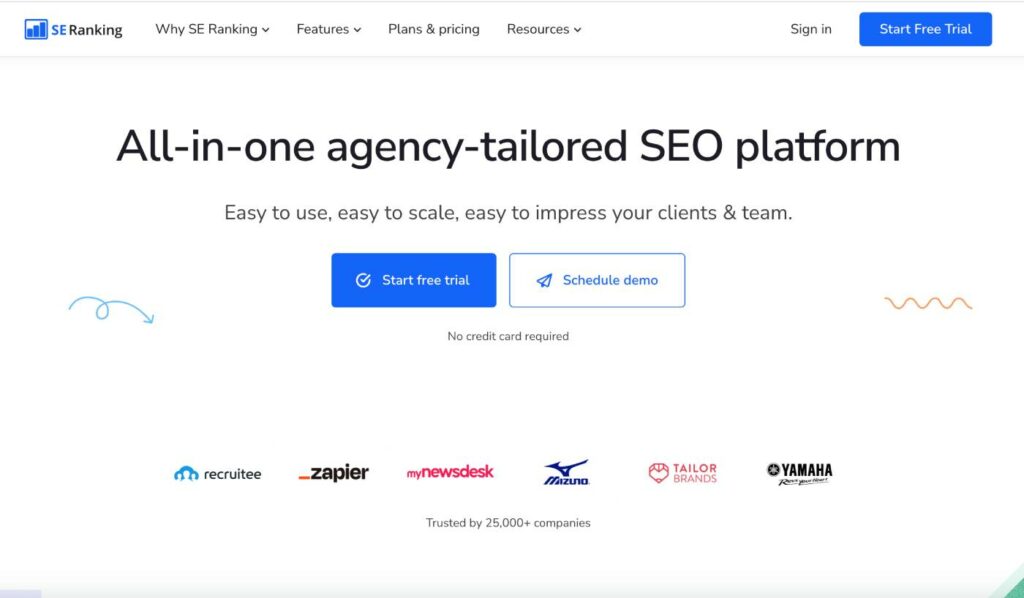 SE Ranking is a versatile SEO tool that provides a range of features, including a keyword tracker, on-page SEO checker, and custom white-label reporting. It aims to offer a comprehensive SEO solution for businesses of all sizes.
Features
Keyword Tracker: Monitors and reports on keyword rankings.
On-Page SEO Checker: Analyzes and provides suggestions for on-page SEO.
White-Label Reporting: Allows for custom reporting with your branding.
Pricing
SE Ranking is available for $49 per month.
Pros
Comprehensive SEO Suite: Offers a wide array of tools for various SEO aspects.
White-Label Reporting: Provides the ability to create custom, branded reports.
Competitive Pricing: Offers a range of features at a competitive price point.
Cons
User Interface: Some users might find the interface less intuitive compared to other tools.
Complexity: The wide range of features might be overwhelming for beginners.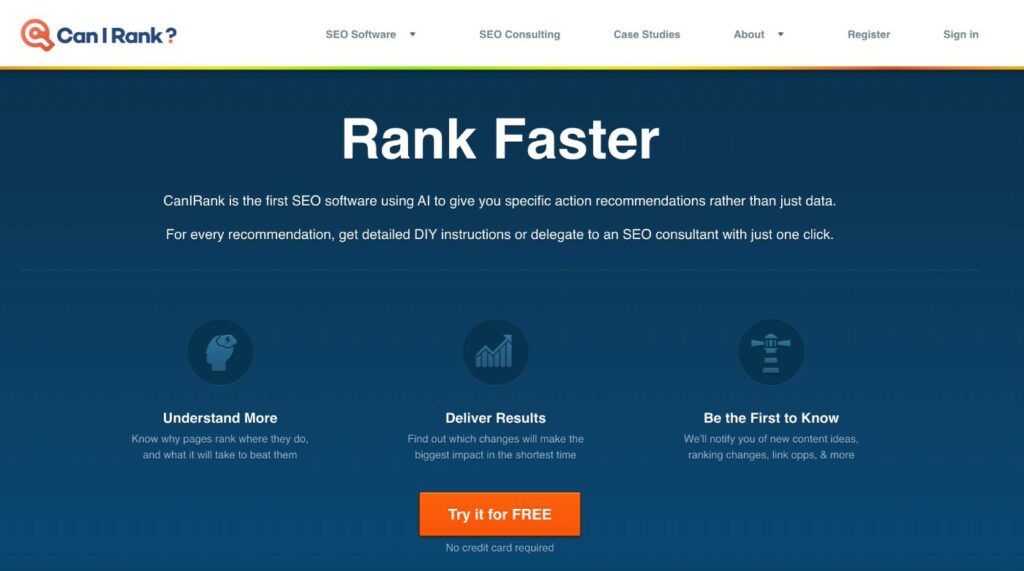 "Can I Rank?" is an SEO tool that amalgamates information from various SEO services, providing valuable insights, opportunities, and recommendations to enhance your website's SEO. It aims to offer actionable SEO advice based on aggregated data.
Features
SEO Recommendations: Provides actionable advice to enhance SEO.
Opportunity Identification: Identifies SEO opportunities based on aggregated data.
Competitor Analysis: Offers insights into competitor SEO strategies.
Pricing
"Can I Rank?" offers both free and pro plans, with the pro plan starting at $49 per month.
Pros
Data-Driven Insights: Provides recommendations based on comprehensive data analysis.
Competitor Insights: Offers valuable insights into competitor strategies and performance.
Free Plan Available: Allows users to explore basic features at no cost.
Cons
Limited Free Features: The free plan offers limited functionality compared to the pro plan.
Data Overload: Some users might find the amount of data and insights overwhelming.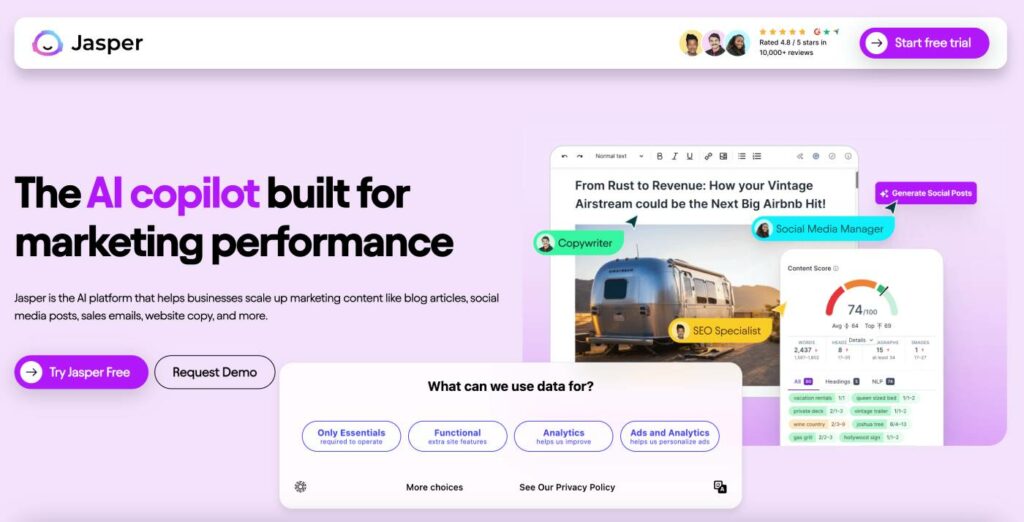 Jasper is an AI writing assistant that specializes in creating SEO-optimized content. It assists writers in generating content that is not only engaging but also ranks well on search engine results pages (SERPs).
Jasper is also featured as one of the best AI writing tools on the market in our dedicated article.
Features
SEO-Optimized Content Creation: Generates content that adheres to SEO best practices.
Various Content Types: Creates various types of content, including blog posts, ads, and emails.
Multilingual: Supports content creation in multiple languages.
Pricing
Pricing information might be available on the official website.
Pros
Ease of Use: Provides a user-friendly interface and straightforward content creation.
Quality Content: Generates high-quality, readable, and engaging content.
Versatility: Capable of creating various types of content across different domains.
Cons
Limited SEO Features: Primarily focused on content creation and may lack advanced SEO analysis features.
Pricing Transparency: Pricing information may not be readily available.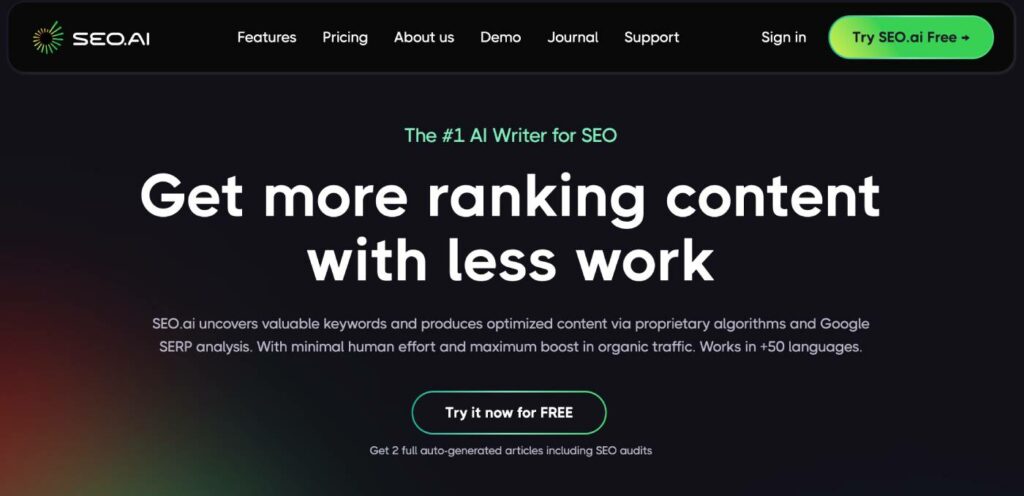 SEO.ai offers artificial intelligence to expedite content creation and optimization. It provides tools for keyword research and optimization, aiming to streamline the SEO process and enhance content visibility on SERPs.
Features
Keyword Research: Identifies optimal keywords for content.
Content Optimization: Provides guidance for creating SEO-friendly content.
AI-Powered: Utilizes artificial intelligence to enhance SEO strategies.
Pricing
Pricing details might be available on the official website.
Pros
AI-Driven: Leverages artificial intelligence for enhanced SEO strategies.
Keyword Optimization: Provides robust keyword research and optimization features.
Content Enhancement: Aids in optimizing content for better SERP rankings.
Cons
Pricing Information: May require visiting the official website for pricing details.
Limited Details: More in-depth information about features might be needed for a comprehensive understanding.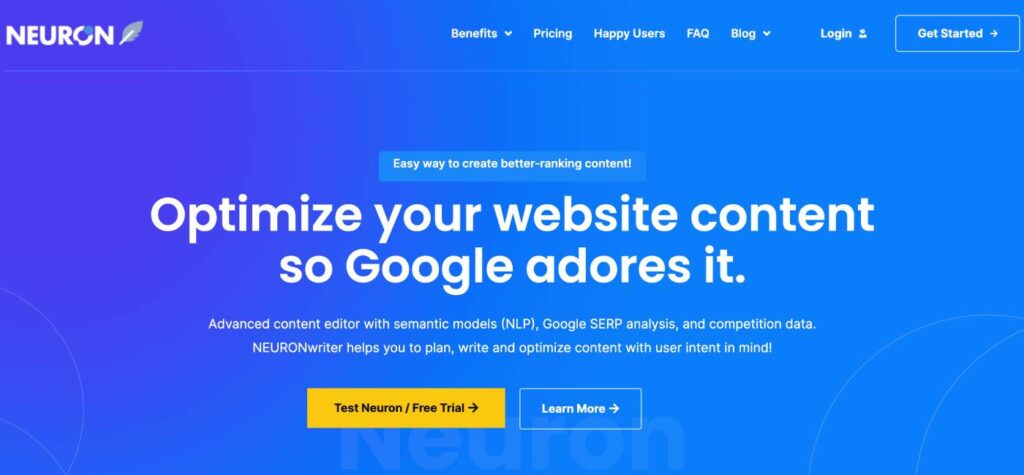 NeuronWriter utilizes natural learning processing (NLP) and insights from competition to assist in creating high-ranking, SEO-optimized articles and social media posts. It aims to enhance content creation with a focus on SEO and competitive edge.
Features
NLP-Driven Content: Utilizes natural language processing for content creation.
Competitor Insights: Leverages competitor data to enhance content strategy.
SEO Optimization: Focuses on creating content that is optimized for search engines.
Pricing
Detailed pricing might be available on the official website.
Pros
Competitive Edge: Utilizes competitor insights for an enhanced content strategy.
SEO Focus: Prioritizes SEO in content creation and optimization.
NLP Utilization: Leverages natural language processing for improved content creation.
Cons
Pricing Clarity: Detailed pricing information might require website visitation.
Feature Depth: Additional details about features might be beneficial for users.
You might also interested in reading: AI Website Builders
FAQs
What are AI SEO Tools?
AI SEO tools utilize Artificial Intelligence to enhance Search Engine Optimization strategies. These tools leverage machine learning, natural language processing, and data analytics to optimize websites, improve content, and enhance the overall visibility on search engines.
How do AI SEO Tools Improve Website Ranking?
AI SEO tools analyze website data, user behavior, and search engine algorithms to identify patterns and insights. They automatically suggest and implement optimization strategies, such as keyword insertion, content enhancement, and backlink strategies, to improve website ranking on search engine results pages (SERPs).
Are AI SEO Tools Suitable for All Types of Websites?
Yes, AI SEO tools are versatile and can be used for various types of websites, including e-commerce, blogs, corporate websites, and more. They adapt to different niches and industries by analyzing relevant data and applying suitable optimization strategies.
How Do AI SEO Tools Handle Keyword Research?
AI SEO tools utilize advanced algorithms to analyze search queries, understand user intent, and identify high-ranking keywords. They consider factors like search volume, competition, and relevancy to suggest keywords that can enhance content and improve website visibility.
Can AI SEO Tools Create Content?
Some AI SEO tools have the capability to create content. They use natural language generation (NLG) to produce readable and SEO-friendly content based on the input data and keywords. However, while AI can generate content, human oversight is often recommended to ensure quality and relevance.
Are AI SEO Tools Cost-Effective?
AI SEO tools can be cost-effective by automating various SEO tasks, such as keyword research, content optimization, and data analysis, which can save time and resources. However, the cost-effectiveness can depend on the specific tool, its features, and how it is utilized within an SEO strategy.
How to Choose the Right AI SEO Tool?
When choosing an AI SEO tool, consider factors like ease of use, integration capabilities, features offered, and pricing. Ensure that the tool aligns with your SEO goals, offers reliable customer support, and has positive reviews and case studies to showcase its effectiveness.
Is Technical Expertise Required to Use AI SEO Tools?
While some AI SEO tools are designed to be user-friendly and require minimal technical expertise, others might require a basic understanding of SEO and digital marketing. Many tools offer tutorials, documentation, and customer support to assist users in navigating and utilizing the platform effectively.
How Secure are AI SEO Tools?
Security can vary between different AI SEO tools. It's crucial to choose a tool that adheres to data protection regulations and employs robust security measures to safeguard user data and privacy.
Can AI SEO Tools Guarantee Higher Search Engine Rankings?
While AI SEO tools can significantly assist in optimizing a website and improving SEO strategies, no tool can guarantee higher search engine rankings due to the dynamic and competitive nature of search engines. Consistent optimization, quality content, and adherence to SEO best practices are vital for achieving and maintaining high rankings.
Conclusion
In this article, there are several tools that are excellent for SEO optimization. My recommendation is to try SurferSEO or Frase. I hope I've helped you in your search for these software solutions.
Just as AI SEO tools like SurferSEO, Alli AI, and Semrush are setting new standards in optimizing website content and strategies, AI email marketing tools are also redefining the way we approach email campaigns in terms of content creation and optimization.

As one of the co-founders of Codeless, I bring to the table expertise in developing WordPress and web applications, as well as a track record of effectively managing hosting and servers. My passion for acquiring knowledge and my enthusiasm for constructing and testing novel technologies drive me to constantly innovate and improve.
Expertise:
Web Development,
Web Design,
Linux System Administration,
SEO
Experience:
15 years of experience in Web Development by developing and designing some of the most popular WordPress Themes like Specular, Tower, and Folie.
Education:
I have a degree in Engineering Physics and MSC in Material Science and Opto Electronics.