Are you looking for the best SEO tools to optimize your small business website keyword rankings? We've compiled them into this list.
Although SEO is one of the most vital digital marketing abilities, it is also challenging to learn. According to the Search Engine Journal, 49% of marketers report that organic search has the best ROI of any marketing channel. That's why almost every SAAS is focusing on SEO nowadays.
When developing any content online, it is often necessary to have an SEO plan in addition to the content strategy for the most outstanding outcomes. SEO software makes it easier, guaranteeing that our websites' performance is optimized.
They also assist in monitoring and managing a website's search engine rankings. However, with so many tools on the market, it would be beneficial to choose the better ones.
I have more than five years of experience in the SEO industry (Codeless and other websites), and I can help you decide what tools to use for search engine ranking optimization.
Table Comparison for Faster Decision
In the table below, we have compared and listed the best SEO tools for each subcategory, including the tools we use every day.
The Best SEO Tools for Small Businesses
I listed and reviewed below the best SEO tools, such as Ahrefs, SEMrush, and Moz, so that you may improve your SEO game in 2022.
Best for Backlink Analysis Report and Keyword Research.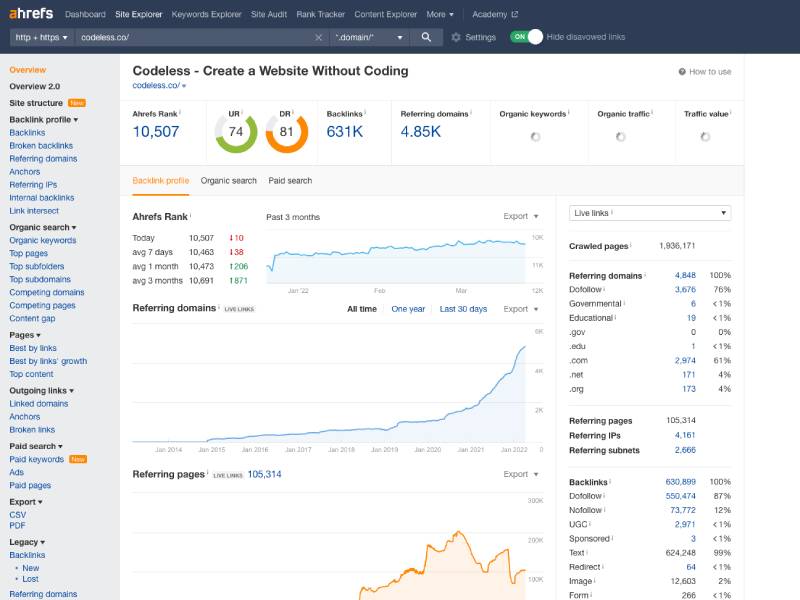 Ahrefs is my favorite keyword research and backlink analysis SEO tool. It is the quickest web crawler (second only to Google) and has the most excellent user interface of all the tools on our list.
You'll also obtain all relevant data, such as keyword difficulty (KD) and monthly traffic, so you'll know which keywords to target to rank better in Google search results.
You may use organic search data from Ahrefs to examine the traffic of your rivals' websites. Common uses are backlink audits, competitive analysis, URL rankings, keyword research, and more. Let's go through a few of their essential features so you can decide whether or not this tool is perfect for you.
In the latest update of Ahrefs, you can find the new Site Structure feature that helps you figure out how your website is structured and suggestions on how to improve it. It is only included in the Standard plan.
Key Features:
Backlink Analysis – Check the backlinks of your website or competitor websites with ease.
Ranking History – Any term used on your website page may have its ranking history seen.
Content Explorer – The Ahrefs database, which comprises over 1 billion web pages, allows you to do a content search.
Outgoing Links Report – Ahrefs displays an outgoing links report in the site explorer. Reporting allows you to keep track of the links from your website.
PROS
Excellent keyword research tool
Extremely user-friendly interface
Outstanding client service (they also run an active Facebook group)
CONS
If you manage an agency, there is a lack of automatic client-facing reporting.
Used For:
I use Ahrefs for almost everything SEO-related.
I run site audits at least one-time each month.
Regularly doing keyword research to find new opportunities with low keyword difficulty.
Find new domain prospects for outreach and backlink analysis of competitors.
Pricing:
You can try out the product for $7 by signing up for a 7-day trial. Then you may subscribe to one of the subscription plans, which start at $99 and go up to $999.
Best for DA/PA checker and site auditing.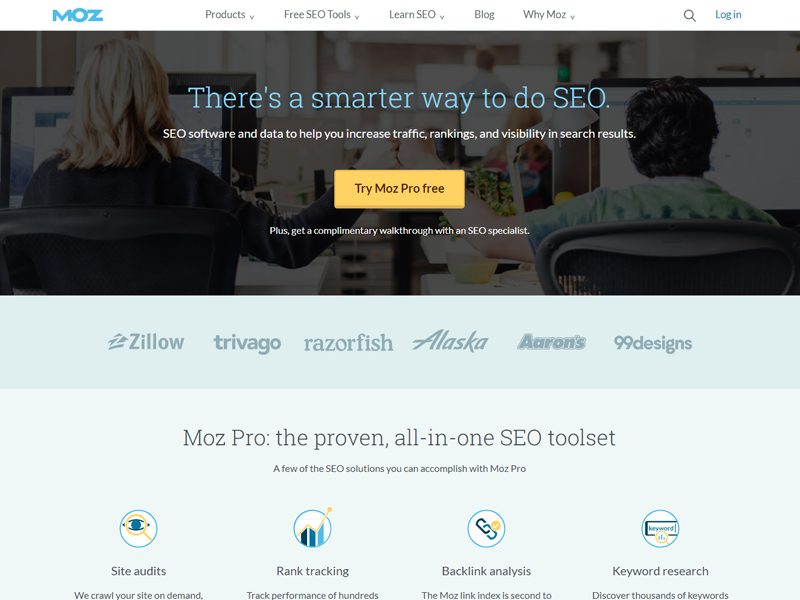 There's not much Moz can't perform, from site audits to rank tracking, backlink analysis, and keyword research. Without question, Moz is one of the most outstanding SEO software available. It gives you industry-standard stats as well as numerous page optimization recommendations.
You may also get MozPro for more sophisticated tools and the MozBar browser plugin, which allows you to analyze SEO and see Moz scores right in your browser.
However, studies have shown that the DA produced by MOZ is the strongest predictor of higher-ranking outcomes. If your website has a higher DA score, you have a far better chance of getting a higher ranking.
Key Features:
Keyword Analysis – Uses competition research and SERP analysis to help you uncover new keywords.
Rank Tracking – Monitors the organic rank and performance of tens of thousands of traffic-generating keywords.
Site Audits – Scans all of your web pages for problems or faults.
Backlink Analysis – Provides indicators such as Domain Authority and aids in developing extra backlinks.
PROS
Predictor of website rank (Domain Authority)
Evaluation of many metrics
A brief review of many websites
CONS
Only the US database and stats are provided.
There aren't many keywords explored.
Due to the sophisticated interface, it is not suitable for novices.
Used For:
I use Moz primarily for their Domain Authority tracking system.
On-page SEO and keyword research
Analyze the link profile
Pricing:
Moz provides a free 30-day trial. The paid plans range from $99 per month to $599 per month.
Best for Intuitive and Easy-to-Use SEO Tool.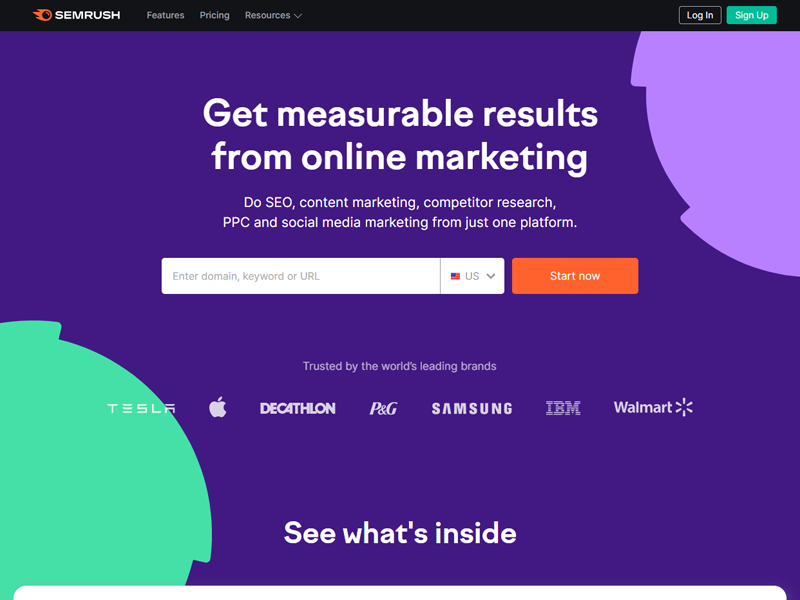 SEMrush is a popular competitor SEO analysis tool that allows users to assess their content and their competitors. It offers detailed analytics and helps customers find the best-performing pages, content, and keywords.
As a result, it is one of the most widely used SEO software among small and medium-sized businesses, especially last year. It contains several advanced features that are useful. You may use this tool to examine every component in the SEO area.
Key Features:
Advertising Research – Analyzing the ad spending of rivals might help you execute stronger ad campaigns. You can also localize your ad campaigns.
Organic Research – This tool allows customers to check their rivals' keywords and compare domain changes.
Product Listing Ads and Product Feeds – SEMrush customers may see their rivals' Product Listing Ads and product feeds.
SEMrush provides precise information on a website's online performance and traffic. It also aids in comprehending potential clients' behavior and media consumption. You can also use it as a market research tool.
PROS
Accurate rank tracking
Your content's semantic analysis
Show historical ranking fluctuations
CONS
More complex capabilities come with a heavy price tag.
It could be a little confusing for newcomers.
Inaccurate information about adverts and backlinks has been discovered on several occasions.
Used For:
Examining the rivals' strategies
Developing tactics for guest blogging
Keeping track of a website's previous and current rankings
Identifying good CPC advertising opportunities
Conducting technical SEO audits and assessing user satisfaction
To improve your content's ranking, conduct extensive keyword research.
Pricing:
SEMrush has three premium options to choose from. The Pro plan costs $99.95, the Guru plan costs $199.95 and the Business plan costs $399.95.
There's also a quote-based Enterprise package that you may tailor to your business's exact requirements.
Best for Website Checker to conduct site audits.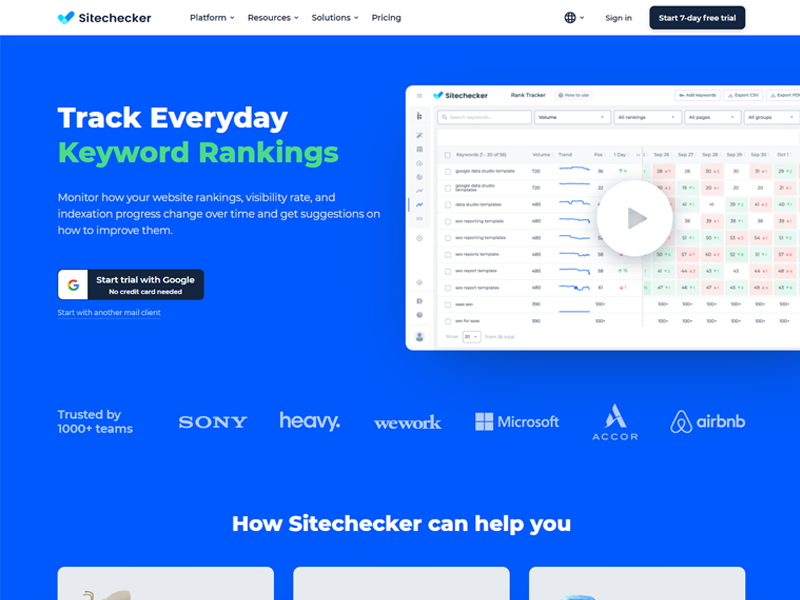 Sitechecker is a fantastic tool for monitoring and improving the SEO performance of your company's website or blog. This SEO resource's best feature includes a free SEO analyzer that will show you any SEO mistakes, warnings, or notices that you need to fix.
It has an analyzer, a free backlink checker and a free chrome plugin for checking on-page SEO. The Sitechecker pro allows you to operate as an SEO expert with the aid of its other products, which include a website health checker, Rank checker, traffic checker, and rank & backlink tracker.
Key Features:
Website Traffic Check – You have unrestricted access to competition site traffic.
On-Page SEO Audits – Sitechecker examines your web pages and identifies issues that you should fix.
Daily Backlink Tracking – Get informed anytime any new links point to your site (or any that go away) so you can respond.
PROS
Excellent at identifying and correcting SEO issues through in-depth study.
Backlink tracking in real-time to identify missing and non-indexed connections
It shows how your site performs on various devices.
CONS
The free plan comes with a relatively restricted set of features.
Some of the incorrect assessments are irrelevant.
Used For:
Competitor analysis.
People who require a website checker to conduct site audits.
Track new and lost backlinks.
Track and monitor keyword positions.
Pricing:
Sitechecker has three main pricing plans starting at $29 per month. Their $29/month Startup Plan allows you to use their website checker on five websites, 5,000 URLs, 500 keywords, and 5,000 backlinks.
Pricing plans scale up with the number of websites, URLs, keywords, and backlinks you want to track.
Best for Rank Tracking and Internal SEOs.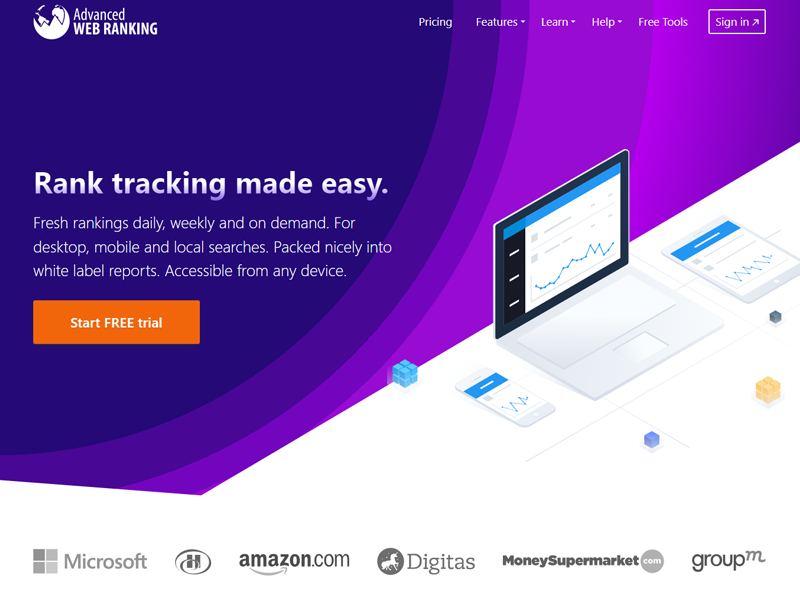 Advanced Web Ranking is a fantastic tool for teams who need to keep track of many keywords. It supports 3,000 search engines and more than 170 countries, including Google, Baidu, Yandex, Amazon, YouTube, etc.
Advanced Web Ranking also does a thorough competition study that includes market share, expected visits, and the identification of new competitors. Reports are simple to generate and send in a variety of formats, including permalinks, PDFs, CSVs, Google Data Studio, and Google Docs.
Key Features:
You may white-label reports, export them as PDF or CSV files, establish permalinks, and interface with Data Studio, among other things.
It provides hyper-specific local SEO results (country, city-level, or GPS coordinates).
It can handle many keywords (which is great for agencies and large in-house teams).
PROS
AWR is quick and efficient, delivering results in seconds.
AWR is simple to use and has a user-friendly UI.
AWR is extremely precise and delivers the most reliable data available.
CONS
The rankings are collected in real-time. Updates may take a long time if you're following a large number of keywords.
You cannot schedule rankings and reports to appear on specified days in the future.
There isn't a module for creating links.
Used For:
Keeping track of a vast number of keywords.
Conducted keyword research.
Understanding SERP characteristics and competitor insights
At the local level, it determines actual keyword ranks.
Pricing:
Advanced Web Ranking offers four premium programs with a 30-day trial period. Plans get more expensive as you add additional "units," which give you access to a more significant number of keywords to track.
Monthly fee of $99 for the pro version.
$49 per month for the basic plan.
Enterprise plans start at $499 per month.
$199 per month for an agency.
Best for comparing mobile rankings to desktop results.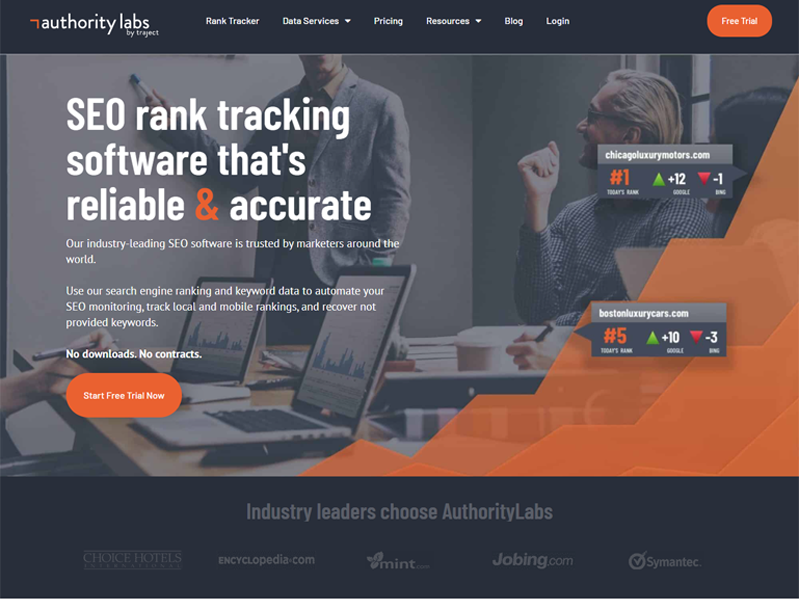 You can automate your SEO monitoring, check local and mobile ranks, and recover not given keywords using its search engine ranking and keyword data. Authority Labs does regular data checks so you always know where you are and can react to changes as they occur.
And by tracking search results by state, city, and even postal code, you can dive into the most exact and comprehensive data possible. Their device-specific data makes it simple to track your mobile ranking and tells you what keywords people search for on their phones.
Key Features:
Keyword Targeting – Using keyword research tools, you may effectively target keywords.
Daily Reporting – Get detailed reports with daily rank checks to help you understand where you are.
Free Trial – Authority Labs also provides a free 30-day trial period.
PROS
Keeping track of competing domains
A comparison between mobile and desktop rankings
Monitoring product rankings across a variety of websites
CONS:
There are no diagnostics or suggestions for improvement.
It doesn't do much more than keep track of ranks and make keyword suggestions.
Used For:
Keeping track of a product's position on numerous websites
Keeping track of competing domains
It provides in-depth analysis reports. the incorporation of automated reports into the reporting process
When comparing mobile rankings to desktop results, there are a few things to consider.
Pricing:
Authority Labs has four distinct price levels to choose from. The Plus and Pro plans are both $49 and $99. Pro Plus, at $225, and Enterprise, at $450, are two more sophisticated options.
It includes a 30-day free trial; no credit card is necessary.
Best for Long-tail keyword generation.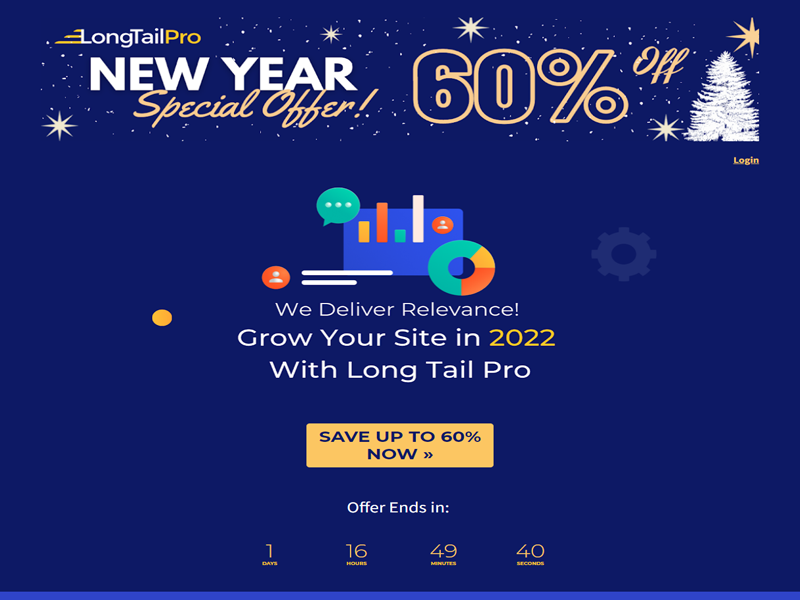 As the name implies, Longtail Pro is an excellent SEO tool for finding less competitive, long-tail keywords for your website, which can help it rank higher on Google. All it takes with Long Tail Pro is a single seed keyword to generate up to 400 long-tail keywords in seconds.
Longtail Pro makes it simple to locate less competitive keywords that will bring you a lot of high-converting web traffic, no matter what your subject is. Long-tail keywords are low-hanging fruit with a high search volume but a low economic worth.
Key Features:
Load and Export – Quickly export the best keywords to Excel and import them into the Long-Tail Pro dashboard.
Separate projects – Create many projects to keep all your campaigns for different sites in order.
PROS:
An effective keyword research methodology
Look for long-tail keywords that are still profitable.
A quick learning curve
CONS:
Seed keywords are limited.
Manual keywords are limited.
It doesn't assist with backlink analysis.
Used For:
Long-tail keyword generation
Finding keywords that are competitive
Pricing:
Long Tail Pro has three different price levels to choose from and a 10-day money-back guarantee. The Agency plan is $98 per month, the Pro plan is $45 per month, and the Starter plan is $25 per month.
Best for Identifying your competitors advertising methods and budgets.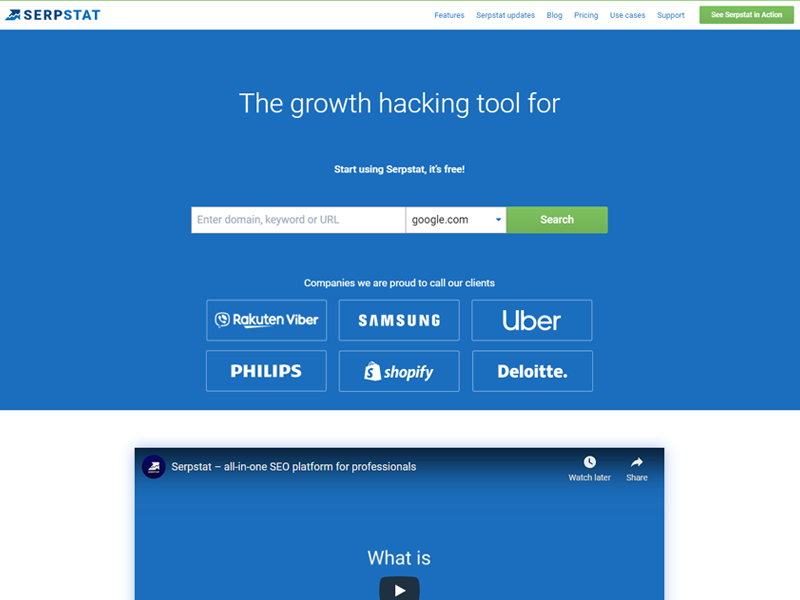 Serpstat is a fantastic SEO, PPC, and content marketing growth hacking tool. More than 350,000 experts actively use this SEO analyzer, used by firms like Shopify and Lenovo. Serpstat can be an excellent alternative for anyone, whether you're a digital marketing firm, an in-house SEO team, or a small business.
Serpstat allows you to learn from your rivals' experience collecting leads through organic and paid search, follow your top competitors, and enhance your content, SEO, and PPC efforts. Serpstat is an all-in-one SEO tool because of these essential features and functions.
Key Features:
Backlink Analysis – Gathers complete backlink data for the previous two years while keeping track of your rivals' backlink methods.
Site Audit – Cleans up your website, HTML, and page performance, ensuring that no potential errors are missed.
Cluster research, search suggestions, search volume, content marketing, and SERP analysis are all examples of keyword research.
PROS
Excellent keyword research capabilities
The user interface is tidy and well-organized. Even inexperienced SEOs will be able to navigate the app with ease.
Serpstat contains several tools, making it simple to undertake in-depth research on a domain without transferring to another program.
CONS
Occasionally displays incorrect keywords.
For large websites, site auditing takes a long time.
The monthly data allotments in the price plans might be limited, especially when it comes to keyword position tracking.
Used For:
Examining the usefulness of several websites
Searching for keyword variants and gathering data from across the world
Identifying your competitors' advertising methods and budgets
Tracking the results of a global search
Pricing:
Serpstat has four price options, including monthly and annual subscriptions. The Lite plan is $69 per month, $149 for the Standard plan, $299 for the Advanced plan, and $499 for the Enterprise plan.
It includes a 30-day free trial.
Best for Crawling and auditing websites.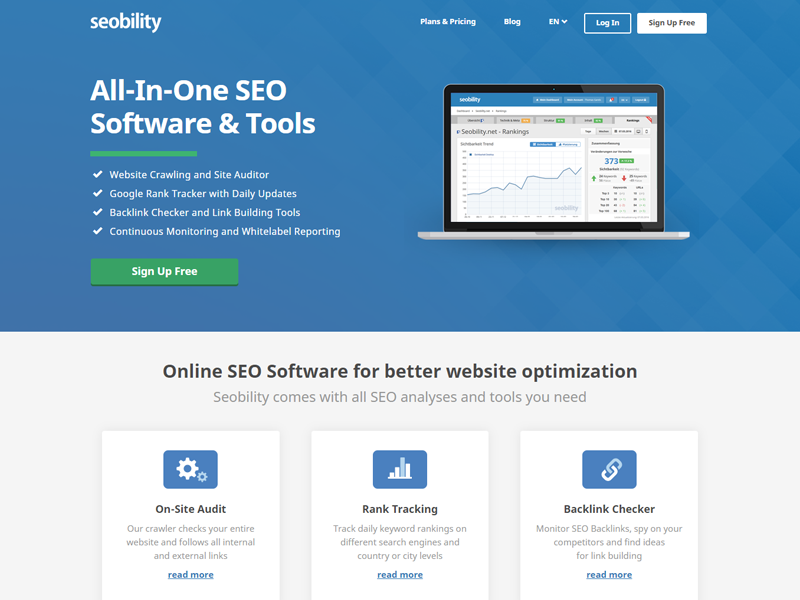 The goal of Seobility is to make SEO as simple as possible. The company began as a free SEO tool for everyone in 2013. Over time, they've added more tools, and the current Seobility SEO suite includes tools like a ranking tracker, site audit, keyword checker, competency analyst, and backlink checker.
Seobility is one of the most user-friendly tools available. It also has a lot of features. However, the results may not always be as striking. Seobility is a cost-effective, easy-to-use SEO solution for small businesses. It is not, in my opinion, primarily intended for skilled SEO practitioners. However, if you're starting or operating a small-medium firm, it may be enough to meet your needs.
Key Features:
Local Search Results – Users may also assess and track local search results to improve their ranking for a specific target group.
On-page crawling and keyword monitoring – Do on-page crawling and keyword monitoring provide users with appropriate improvement suggestions?
Comparison of Competitors – Explores and compares the content of your competitors' websites quickly so you can improve your method.
PROS
It's simple to use. User Experience (UX) and User Interface (UI)
Semantic analysis using the TF-IDF tool.
When compared to other tools, the cost is clear and affordable.
CONS
For the most part, most reports lack filters.
For newbies, the lack of a step-by-step onboarding process might be intimidating.
Used For:
Checking the Google rank tracker daily
Crawling and auditing websites
Regular monitoring and white-label reporting
Checking backlinks and establishing links
Checks the metadata and the on-page content.
Monitors the time it takes for a page to load.
Check for blacklists and secure browsing.
You may export in-depth reports in CSV and PDF formats.
Pricing:
The Basic plan, which is created for beginners, is entirely free. The Premier plan is meant for professional websites, comes with a 30-day free trial. Following the free trial, the plan costs $50 per month.
The Agency plan, which costs $200, is ideal for large websites and organizations.
Best for White-label SEO audit.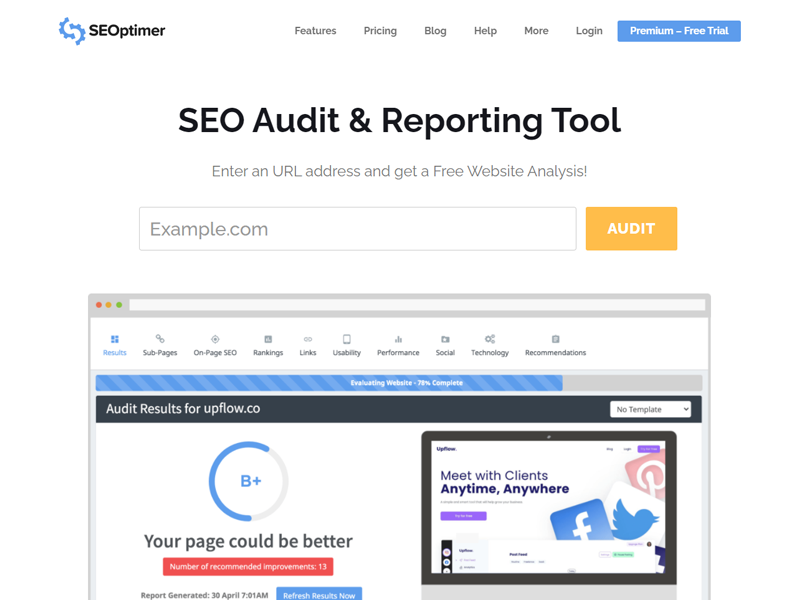 SEOptimer examines the aspects that contribute to a website's good ranking to identify issues that may be hindering your site's performance. It also gives you simple, practical and prioritized suggestions for how to improve your website.
In less than 20 seconds, this professional SEO audit application can create PDF SEO audits for any website. A Meta Tag Generator, Keyword Generator, XML Sitemap Generator, Robots.txt Generator, and .htaccess File Generator are also included in SEOptimer.
Key Features:
Embeddable Audit – Assists you in increasing website leads and sales.
White Label SEO Audit – Provides websites with their own branded reports based on various parameters.
By scanning every page of the website, SEO Crawler aids in detecting technical SEO issues.
PROS
SEOptimer is a program that assists web users in ensuring that the proper keywords and meta tags are used to search for their websites.
SEOptimer is a tool that assists web users in ensuring that the correct keywords and meta tags are utilized while searching for their websites.
It saves time compared to other internet tools that take too long to do website audits that might easily be automated.
CONS:
SEOptimer has a lot of functions, therefore, users need to know a lot about them to get the most out of it.
SEO alone isn't enough to improve your ranking and reputation. Other tools will continue to be required.
It is relatively limited because it does not include many crucial tools for search engine optimization.
Used For:
On-Page Optimization entails enhancing several aspects of the website itself.
Marketing with content
Off-Page Optimization, which includes the creation of high-quality connections
Improve your social presence through social media campaigns.
Management of ad campaigns for speedy traffic
Pricing:
White Label and Embedding plans are the most costly. However, they come with a 14-day free trial.
The site's DIY SEO package costs $19 per month, while the digital marketing programs cost $29 and $59 per month.
Best for Real-time comparison of URLs and domains.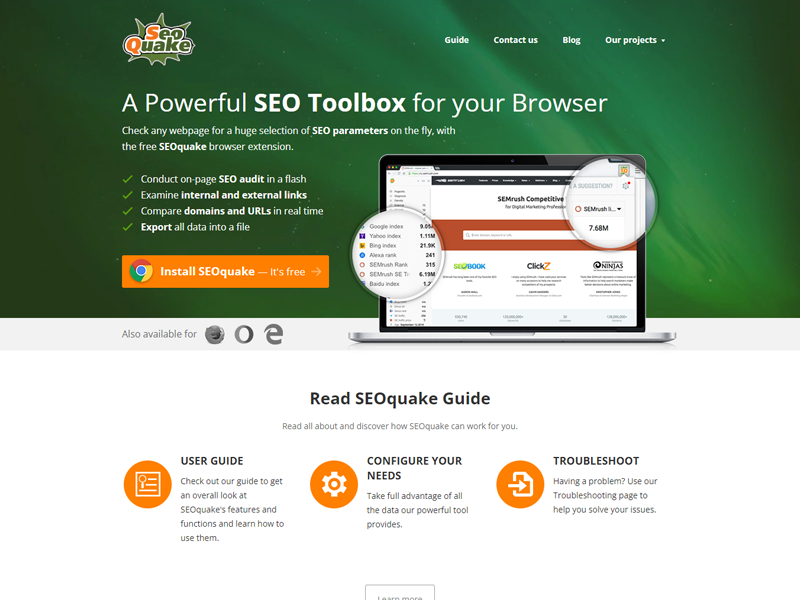 When you need to compare your website to your competition in seconds, SEOquake is the perfect tool. It differs from other tools because it provides an analysis report that includes traffic source and percentage. However, it will do a link analysis to show you what you need to do to improve your ranking.
It will compare your statistics to your rivals and tell you how to meet those standards. Instead of examining, it will display any SEO concerns that it has discovered and their solutions on your screen. You'll be able to spy on others while also improving your SEO using the same tool.
Key Features:
SERP Overlay – allows you to see the whole SERP analysis, and you may save the results in CSV format.
SEO Bar – All you have to do with SEO Bar is explore the websites and it will supply you with rapid information.
Keyword Analysis – Correctly analyzing provides complete and organized information on keywords.
PROS
Examine the websites of your competition.
SEO analysis and recommendations
Sources of traffic and their percentages
You may find backlinks for any website.
CONS
SEO research that isn't exhaustive
For new users, high-level parameters might be rather perplexing.
Live, spam, and broken links are not displayed separately.
Used For:
Internal and external relationships are being examined.
Conducting an on-page SEO audit is a good idea.
Data is exported as a CSV file.
Real-time comparison of URLs and domains
Pricing:
It's completely free.
Best for Examining your competitor's website's backlinks.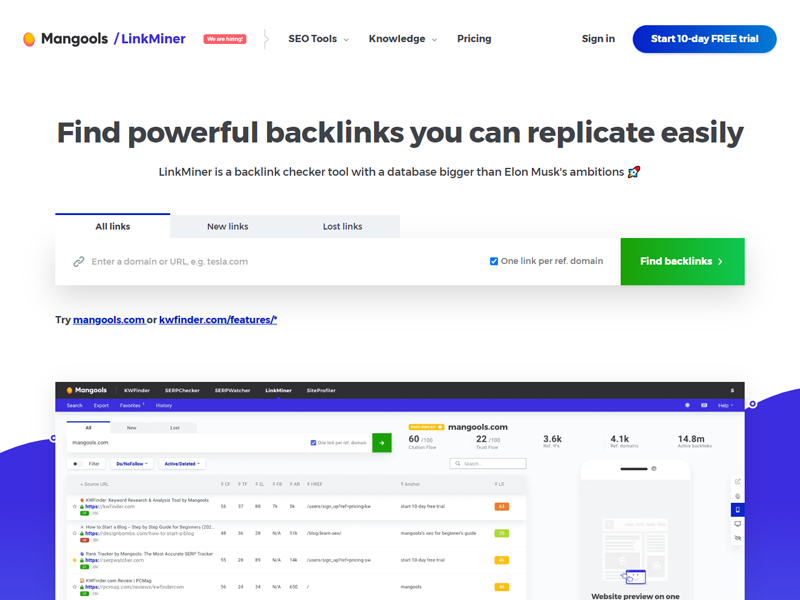 One of the most recent backlinks checking tools is LinkMiner. This SEO tool focuses on techniques that are simple to duplicate. It also includes data like DA, Facebook likes, and backlinks from Ahrefs, Moz, and other sources.
The application is meant to evaluate backlink data using various metrics, integrated link previews, and filtering and saving features for the most intriguing links. Backlink checker with a database of over 8 trillion backlinks.
Key Features:
Link Strength – Based on Citation Flow, Trust Flow, and Alexa Rank, this metric determines the strength of backlinks.
Advanced Backlink Analysis – Finds fresh backlinks, allowing for link development chances.
PROS
Aids in the evaluation of connection strength
Advanced backlink analysis options
Provides real-time backlink previews
CONS
There is no referring domain chart by authority score, which is difficult to locate unless you scroll down and verify each individually.
It is not always feasible to determine the strength of backlinks with precision.
Unless you utilize the filter to target the anchor, there is no way to see the total number of backlinks by anchor text.
Used For:
Identifying specific backlink types
Examining your competitor's website's backlinks
Determining the link's strength
Pricing:
You receive a 10-day free trial at first. The premium plans begin at $29 per month and go up to $79 per month.
Best for Free Data Analysis and SEO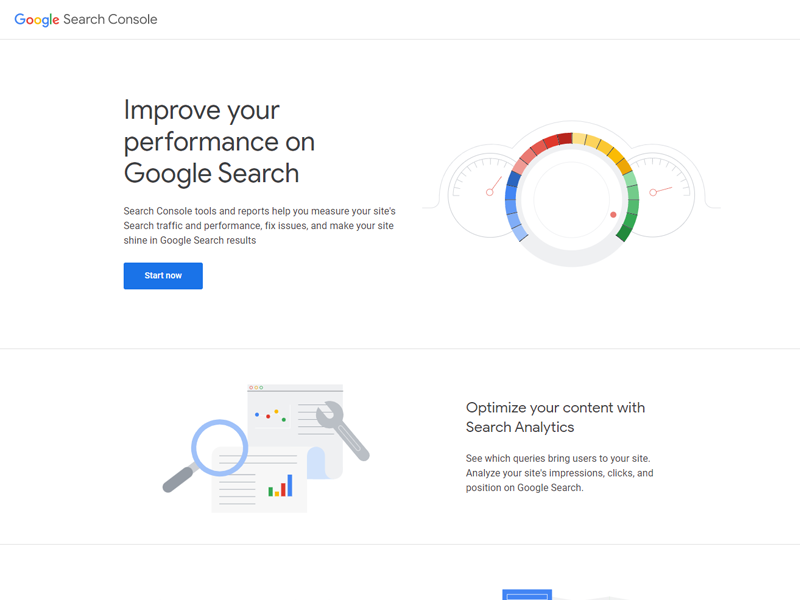 With Google Search Console, you can obtain a complete picture of your website. It includes performance in search results, the queries and keywords it ranks for, and the number of clicks it receives. Also, Google Search Console shows data from which countries, device information, and the pages of your website receive the most hits.
The URL inspection tool allows you to examine a URL to check if Google has indexed it. You may also learn more about indexing by using the coverage, sitemaps, and deletions features. Google Search Console also offers suggestions for improving your website's performance, mobile usability, and AMP analysis.
Key Features:
Control Center – allows users to keep track of their XML sitemaps, which may be used to review and correct issues.
Communication Route – Serves as a channel for transmitting information regarding website issues.
Data Source – This allows users to extract data in Google Analytics or other analytical software.
PROS
Reliable and accurate data
Simple user interface
Use Fetch as Google to see how Google scans your website.
CONS
It doesn't provide you with any information about your rivals
Occasionally, warnings and suggestions are accompanied by an incorrect explanation.
Some essential SEO features are missing in the updated version.
Used For:
Organic performance monitoring and audience targeting
Data analysis and search engine optimization
Testing metadata and keeping an eye on security
Pricing:
It's completely free.
Best for outreach bloggers or influencers.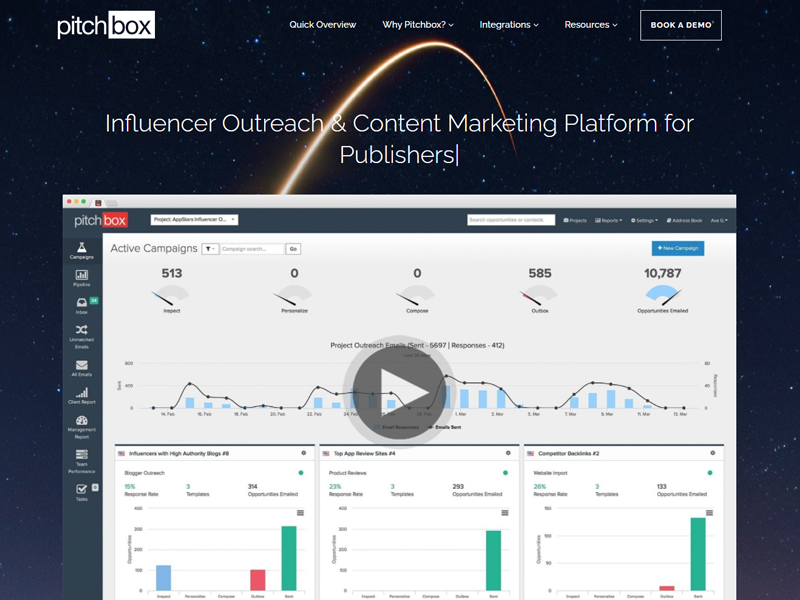 Pitchbox is a content and influencer marketing tool. Digital marketing, online marketing, and Internet marketing are all phrases that apply to internet-based marketing tactics. It offers all of the capabilities a digital marketer needs to locate lead prospects, collect their contact information, communicate with them, and track the progress of your campaign.
Digital marketing companies, SEO professionals, outreach managers, and publishers utilize the tool. It makes it simple for customers to connect and cooperate with bloggers and influencers and uncover link-building possibilities and analyze outreach efforts using its website metrics.
Key Features:
Outreach – Easily bulk outreach and automation.
Prospecting – Advanced Prospecting tools.
Email Templates

– Provides pre-made email templates to engage potential leads.
PROS
You may seek outreach candidates from the tool with their contact information.
You may create email templates for a variety of projects and campaigns. You may use the same template for your first and follow-up emails.
With Pitchbox's enhanced mailing tools, you can easily send and receive emails, as expected from an outreach tool.
CONS
As you use the tool, you'll realize that it has some challenging navigation that you'll have to get used to.
Pitchbox is not a cost-effective instrument.
If you are not a technical person or have a basic grasp of digital marketing, it will take some time to become acclimated to the tool.
Used For:
Customizing outreach emails with follow-up emails that are sent automatically
Identifying bloggers, influencers, and publications
Making data-driven decisions to achieve the best possible outcomes
Pricing:
When it comes to price, Pitchbox takes a completely customizable approach. After scheduling a demo, their staff will present you with a bespoke monthly fee. Based on our experience, it has a high price, around $6000/year.
Best for finding new keywords and SEO tutorials.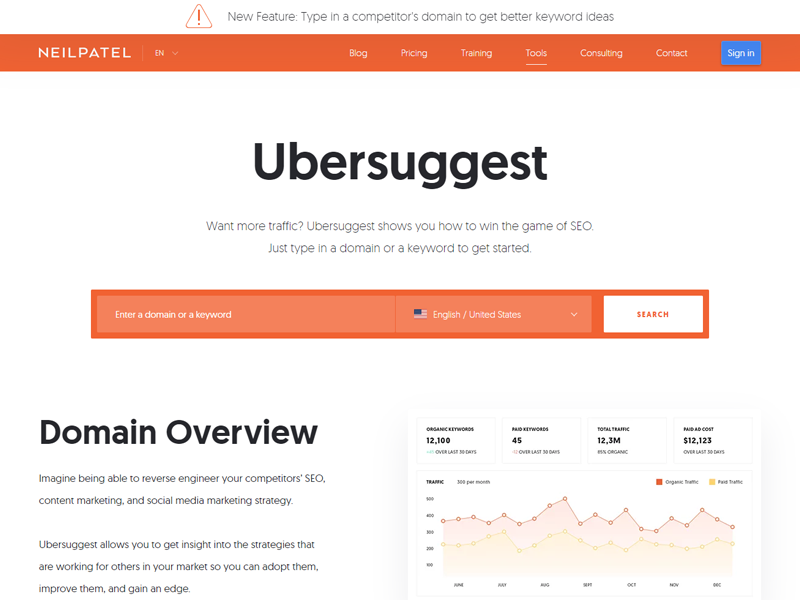 You can't afford to disregard keyword research and competitive analysis for SEO. These are the considerations that will aid you in determining the sort of content you require for your website. It is typical to search the internet for various tools to complete these duties. Many consumers choose to pay for programs that help locate keywords and get a comprehensive analysis report.
Without a doubt, you cannot utilize the Ubersuggest website with complete command, but it can rapidly provide you with basic information about your website. Ubersuggest provides a keyword finder tool that you may use to write to your target audience and engage them.
Key Features:
Content Optimization – provides niche keywords to help you optimize content for blogs or websites.
Keyword Research & Suggestions – find out what keywords your target audience uses.
Competition analysis – allows you to see what your website's rivals are doing and which keywords are assisting them in ranking higher.
PROS
Examine the performance of your website
Complete SEO audit
Easy-to-use keyword research tool
You can do a lot with the free plan
Neil Patel's Youtube guides
CONS
A typical user's toolset is limited
Unsuitable for free users
Nothing unique that distinct from others
Used For:
Details about the competitive analysis
Finding keywords that help you improve your search engine ranking
Pricing:
It's completely free.
Best for Duplicate content detection.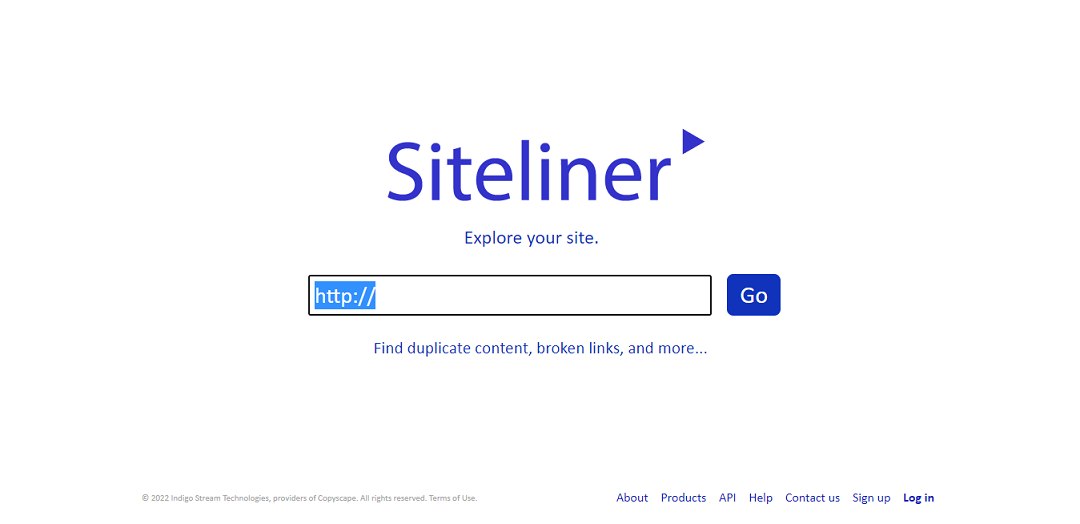 Siteliner is a sophisticated search engine optimization tool that allows website owners to conduct a comprehensive site audit. It aids in detecting problems such as broken links, duplicate content, and other concerns. Siteliner, unlike the other tools on our list, does not provide any extra features.
Whether you're testing a landing page, a blog post, or any other form of content, this tool will make switching between versions a breeze. This aids in the improvement of the quality of their website(s), which in turn improves their search engine rankings.
Key Features:
Duplicate Content – Siteliner checks the website for duplicate content. Rather than scanning each page individually, it scans 500 pages at once.
Broken Links – It checks the website regularly to find new broken links.
Page Power – is a tool that evaluates the strength of pages based on the number of backlinks they have.
PROS
Identifying broken connections
Searching for duplicate content
Increasing the effectiveness of your website (s)
CONS
Scanners tend to skip some pages. On the other hand, the final report notices it and notifies it.
The Free option allows you to examine up to 250 pages of a website, and you may only check one site every 30 days.
Only CSV format is provided for the "Current Table" report.
Used For:
Detecting broken hyperlinks
Duplicate content detection
Increasing the effectiveness of your website(s)
Pricing:
Siteliner has two distinct price options to choose from. The "Siteliner Free" is completely free and may analyze up to 250 pages every month.
The Siteliner Premium, which costs 1c per page and can scan up to 25,000 pages each month, is the premium version.
Best for Advanced SEO Audit Tool and Crawling.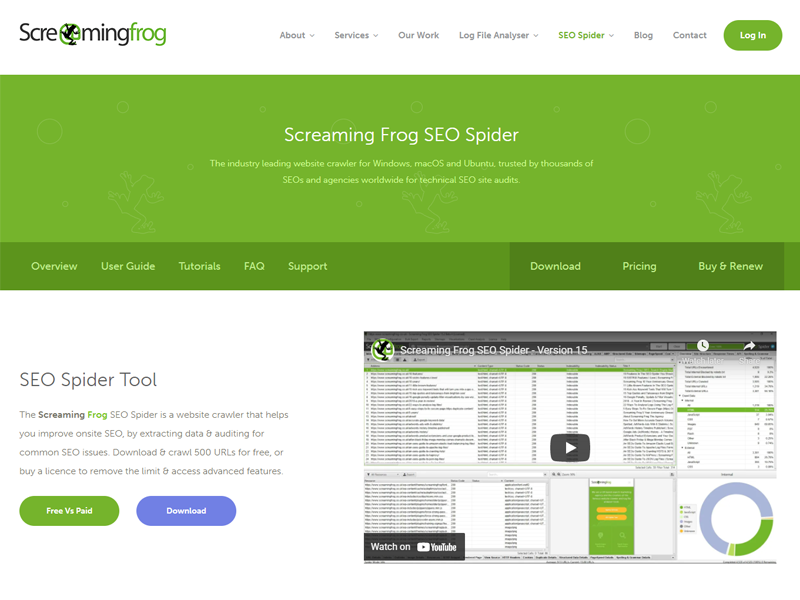 SEO Spider is a Search Engine Optimization (SEO) tool created by Screaming Frog, an internet search business located in the United Kingdom. This program stands out since it is able to show sophisticated SEO data in a straightforward manner. Input your website's URL, and it will begin crawling for broken links, missing tags, duplicate content, and other issues.
Screaming Frog is one of the greatest SEO tools for performing lightning-quick website audits. Screaming Frog doesn't let any mistake go undetected. Thanks to advanced features like form-based authentication, you'll get your money's worth with this handy little tool from Screaming Frog.
Key Features:
Duplicate Content – Looks for duplicate content, URLs, and other duplicate elements.
Redirect Audit – Aids in detecting both temporary and permanent redirect chains.
Analyze Information – Examine your metadata and page titles to ensure they are the right length.
XML Sitemaps – Create XML sitemaps quickly by doing advanced URL settings.
PROS
Its free version performs admirably.
The customer service center is fantastic.
A good crawling tool with excellent API access to some of the most commonly used SEO SASS.
CONS:
The free edition has a limited set of features.
It doesn't have an API.
Used For:
Crawling JavaScript webpages
XPath data extraction
Duplicate content detection
Pricing:
Screaming Frog is free to use, but only if you wish to crawl up to 500 URLs at a time. Otherwise, you may pay £149 per year to upgrade to the premium version.
Best for Localization and link management.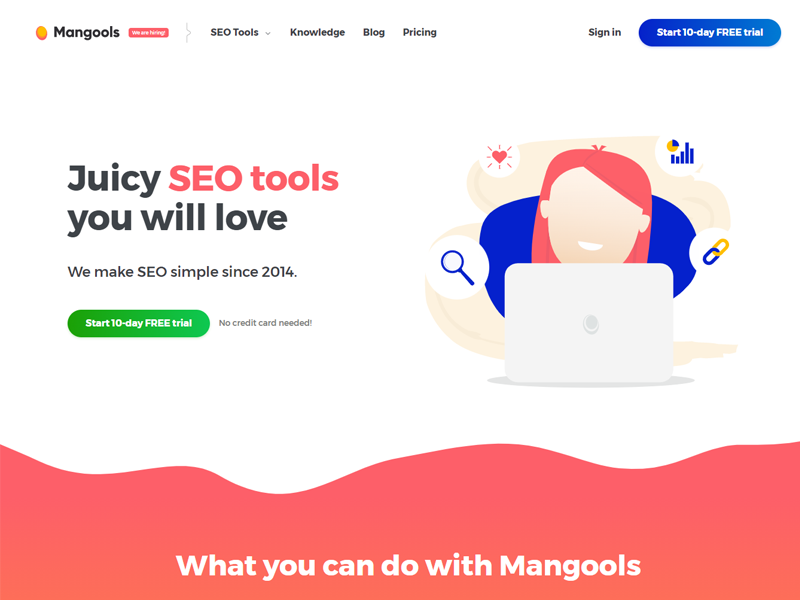 Mangools is an all-in-one platform for keyword research, SERP analysis, rank tracking, and link tracking. Mangools, unlike most SEO apps, does not include unnecessary capabilities that you will almost certainly never use.
It includes a set of five different search engine optimization tools to assist you in finding the best keywords for your website. The amount of functions included in the basic plans of the most expensive tools are limited. Their basic plans are more akin to a tool tryout.
Key Features:
SERPChecker – This tool allows users to see which websites perform well for specific keywords in different parts of the world. Users may also lookup a keyword's mobile rating.
SiteProfiler – Provides users with a comprehensive picture of their rivals' websites, allowing them to assess their own processes thoroughly.
KWFinder – is a keyword research tool that helps website owners discover the best keywords for their content.
PROS
SiteProfiler provides you with a comprehensive profile of your rivals' websites.
Compared to other SEO tools like Ahrefs and SEMRush, the pricing is really reasonable.
Provides a rank tracker to automatically track all of your website's goal keywords.
CONS
The database isn't as large as those of other popular tools.
Clients do not have access to a dashboard.
Used For:
Localization and link management
Competitor research and keyword monitoring
Tracking rankings based on keywords that are relevant
Pricing:
Mangools has three distinct price options for different types of enterprises. A 48-hour money-back guarantee and a 10-day free trial are also available.
The monthly cost of the Basic plan is $29.90, the Premium plan is $39.90, and the Agency plan is $79.90.
Best for getting keyword suggestions from real-world internet users.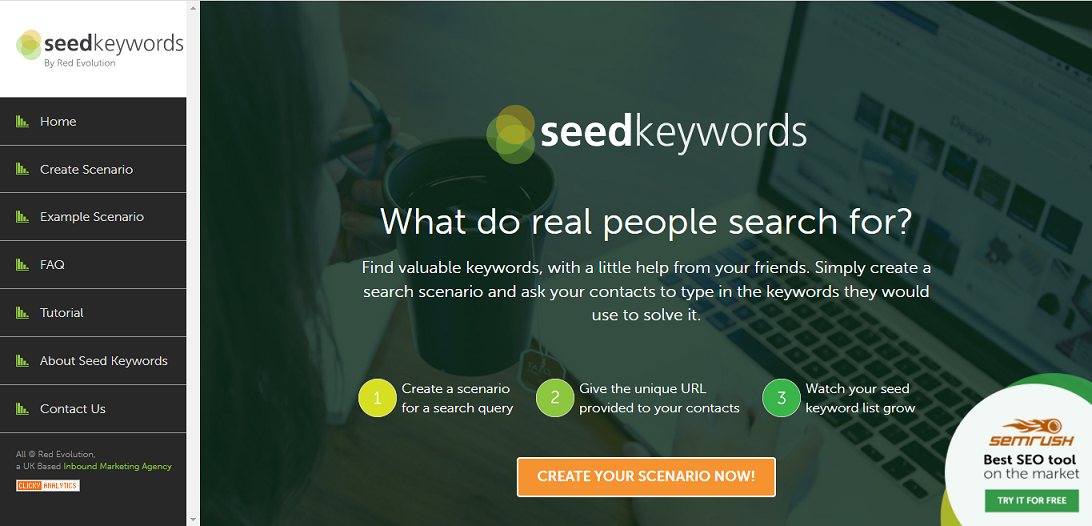 Seed Keywords is a tool that assists website owners, bloggers, and influencers identify the most important keywords for improving search engine rankings. Users may use a search scenario, which is nothing more than a query, to identify the ideal keywords for their websites.
Seed Keywords was created by Red Evolution, a UK-based inbound marketing service, to assist businesses in generating more business from their websites. Seed Keywords will give you a one-of-a-kind URL that you must distribute to as many individuals in your industry as possible.
Key Features:
Seed Keywords -Provides consumers with a variety of free seed keywords.
Create a Scenario – Assists in the generation of unique URLs by allowing you to create a scenario specific to your website's needs.
PROS
With a little assistance from your buddies, find important keywords.
You may use the tool to enter a seed keyword and then obtain a list of closely related phrases.
Make a search scenario and have your contacts enter the terms they'd use to solve it.
CONS
Customer assistance is offered through a different domain.
For you, data collecting, including compilation, might take a long time.
You'll also want to organize the information and calculate the statistics on your own.
Used For:
Getting keyword suggestions from real-world internet users
Creating scenarios to collect data
Pricing:
You are not required to pay anything. There are no hidden fees.
Best for understanding your competitors' top organic keywords.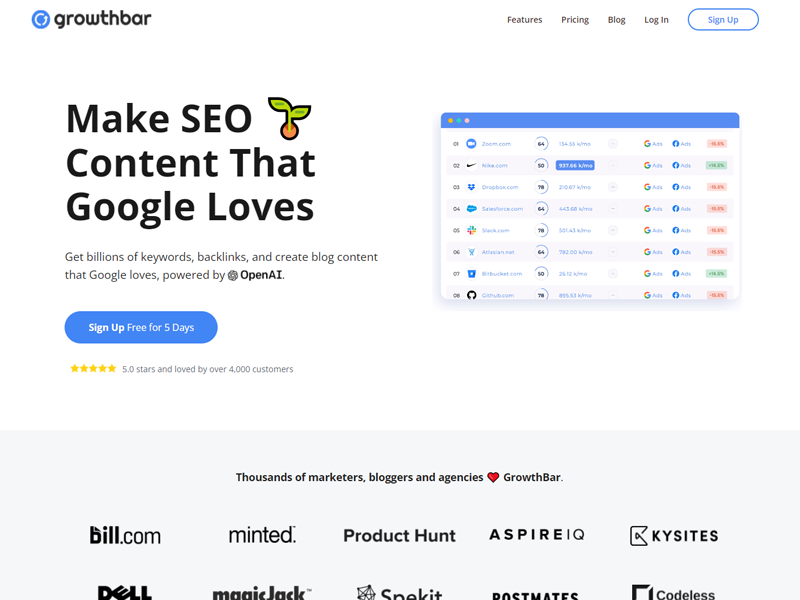 GrowthBar is a tool that allows you to perform almost everything you can think of. Users may access millions of search results, backlinks from competitors, Google Ads statistics, and produce blog material with only one click.
This tool may be used anywhere: at home, at work, or even on the move if you download one of their smartphone apps. There'll never be a cause for you to run out of creative ideas this way! Larger firms such as Minted, MagicJack, Square, Spekit, and Teepublic are also users of GrowthBar.
Key Features:
Competitiveness Data – View your rivals' top organic keywords and backlinks, as well as export any of the metrics to an Excel-friendly CSV file.
Organic Research – View millions of keyword recommendations, each with a competitiveness score.
Blog Outlines – Generate blog article outlines with suitable keywords, headlines, word count, links, tone, and more with a single click of a button.
PROS
It provides you with all of the necessary information to run a simple yet efficient SEO strategy.
It's quite simple to use. Its entry-level package is really affordable.
Unlike its rivals, there are no restrictions on keyword research or domain inquiries.
CONS
There is no historical tracking data available.
There are no technical SEO stats.
There is no SEO audit feature.
Used For:
Understand your competitors' top organic keywords, Google Ads keywords, backlinks, and Facebook Ads through competitive research.
Bloggers need to create content.
To help you develop your content strategy, get word counts, difficulty scores, keyword ideas, backlinks, and more.
Pricing:
Before upgrading to a premium subscription, you may try GrowthBar for free for five days. GrowthBar is an all-in-one, super-powerful SEO tool that costs $29 a month, which is significantly less than most other high-quality solutions.
FAQ
What Are SEO Tools?
Search engine optimization tools help website owners boost their presence on Google by providing data, alerts, and automation about the website's overall health. Having a few different SEO tools in your arsenal with Google's ever-changing algorithm is essential since they are utilized for different purposes.

Use Ahrefs for keyword research, SurferSEO for semantic keywords and on-page SEO, and SEMrush for technical SEO analysis.
Which are the best free SEO tools?
Although numerous free SEO tools are available, they do not offer as many useful features as premium options. You may use one of these tools to track your SEO and do keyword research for free:
Google Keyword Planner, Moz Link Explorer, or Google Analytics are good options.
Are the SEO tools worth it?
Many SEO tools will point out faults or difficulties with your website. This information is critical to your website's rating and must be corrected as soon as possible. As a result, an SEO tool can assist you in resolving difficulties with your website to maintain it running smoothly and efficiently and advise changes.
What are the best SEO tools for keyword research?
There are many options when it comes to keyword research. If you are a beginner and don't want to invest, you can try Google Keyword Planner. For more advanced users, I recommend Ahrefs.

It's genuinely the best keyword research SEO tool. Ahrefs includes interesting parameters for each keyword like difficulty, volume and potential traffic.
Which are the best SEO tools for a beginner?
If you are a newbie, you should continue to study SEO. The greatest tools are available directly from Google and are completely free.

1. Google Search Console – This tool shows you which keywords and pages are ranking on Google and any crawling and indexing errors.
2. Google Keyword Planner – This tool aids in the discovery of high-volume, low-competition keywords.
3. Google Analytics – You may gather information about traffic and traffic sources with Google Analytics.
4. Similarweb – Another standard tool for determining the number of visits to a website is Similarweb.
5. Moz Bar – Moz Bar is a free add-on that displays a website's Domain Authority and Page Authority.
6. Ubbersuggest – Another popular tool for finding keywords, backlinks, and other information is Ubbersuggest.
7. Yoast SEO – is a popular SEO WordPress plugin that provides you with practically all of the information you need to write a blog article.
Conclusion
Overall, these tools are intended to assist someone in laying the groundwork for their strategy. We have made things easy for you by providing you with a thorough list of the best SEO software that will help you. While SEO is the most important aspect of the content creation process, it works best with other marketing methods such as social media marketing and content creation.
Adopting the best SEO tools and website health monitoring software will only help you improve your optimizations. Today, try one or two of the following tools and see how they affect the performance of your website.