Server virtualization software is the requirement of the modern era of internet services. You will have difficulty finding a company not using any server virtualization software. Virtual servers introduce your hardware to a versatile range of opportunities because they run multiple operating systems on a single device.
This software improves the way of dealing with the massive workload, increases the scale of any company's infrastructure, and provides many other benefits related to virtualization products. A typical example of the usage of this technology is shared web hosting or cloud hosting providers.
Server virtualization existed long ago; hence, it has excellent and improved facilities to offer now. Compatibility, ease of usage, and pricing are the most important factors to consider before selecting any server virtualization software.
It is not easy to declare any virtual software as a leading one in the virtualization market. So, we have carefully researched and have made a list of the best server virtualization software to help you find the platform which makes sense for you. Let's dig in together in the article below.
The Top 10 Best Server Virtualization Software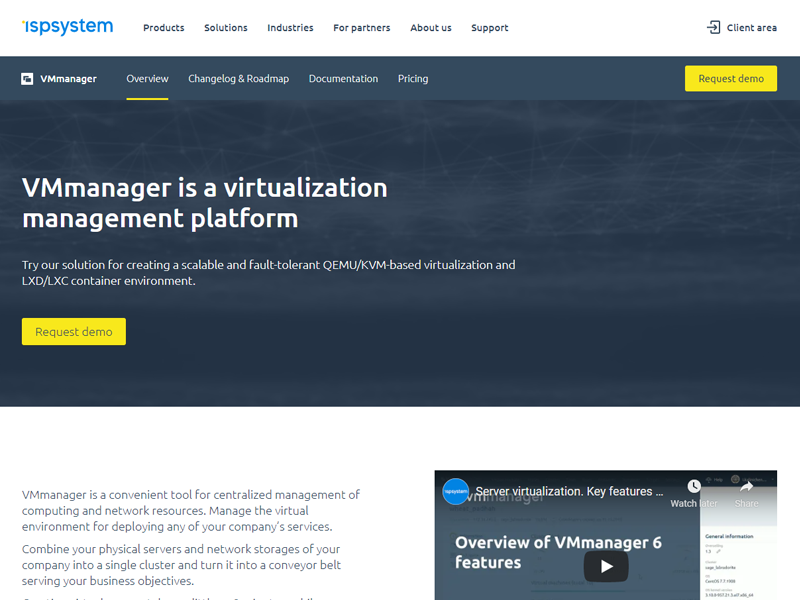 VMmanager is a perfect solution for all who want to kick start their project using different operating systems. Since VMmanager allows all its users to install Linux and Windows on virtual machines to provide the best services, it is a reliable option.
This server virtualization software is best at creating, changing, and deleting the virtual machine to manage virtualization at its best.
For all the computing and networking, we suggest you use VMmanager because it is a convenient tool for centralized management. VMmanager server virtualization software encourages you to join all your company's physical servers and network storages into a single group and eventually turn it into a conveyor belt serving your business objectives at its best.
VMmanager offers excellent pricing for its users depending upon their company's needs and objectives. However, creating virtual serves takes less than 2 minutes, allowing you to live migration with a few clicks.
Features:
All the operations related to the life cycle of virtual machines are automated.
VMmanager server virtualization software has the best professionals to provide 24/7 support for its customers.
This virtualization software remains up-to-date and copes up with ever-changing market trends. VMmanager updates its system every two weeks.
It has the best users interface and is easy to use by anyone related to any virtual platform.
Ceph storage is compatible with tolerating high faults, thus distributing storage wisely.
Compatible to manage all the virtual machines from one central point.
VMmanager has complete control over the virtual infrastructure as it uses a collection of metrics.
Pricing:
VMmanager pricing is very flexible and depends on your infrastructure volume.
Warren.io is a comprehensive self-service platform for cloud and hosting providers but is proven also effective for private or on-premise use cases.
The platform is delivered as a managed service, which means that the Warren engineers handle the monitoring, maintenance, second-level support, and updates of the platform. New releases are deployed usually twice every month, which ensures that you are always running on the latest version of Warren with no downtime or disruption of service.
The IaaS platform allows users to CRUD data center resources on a shared pool of clusters. Virtualized resources are isolated from each other and can run different operating systems, applications.
Warren is a powerful virtualization platform that offers a wide range of features:
Self-service provisioning and management of virtualized workloads
Users can easily create and manage VMs and other data center infrastructure resources via an easy to use web-based interface.

Best part being the full visibility of the resource usage (metered hourly) and complete control of your end users and their resources.

High availability, reliability and security
Warren is built on open source components that are known for their reliability and security with Warren being ISO27001 and PCI-DSS ready.

Designed to be highly available, users can be confident that their services and assets will be available even if there are problems with the underlying physical infrastructure.

Scalability of the multi-cluster architecture
Warren can be deployed across multiple data centers, being seamlessly interconnected clusters – this type of cloud architecture has proven to scale out to thousands of physical servers with no hard limit on the horizon.
In addition to the conventional virtualization technologies i.e KVM, Warren also provides a Managed Kubernetes Service, which is a hyperscaler grade Managed Kubernetes that allows users to deploy and manage containerized workloads on Warren clusters with ease.
In addition to the Docker, Warren.io's Managed Kubernetes also supports other containerization technologies i.e. Unikraft composed unikernel processes. Unikernels are a type of virtual machines that perform even better than Linux Containers (startup time, while delivering VM layer isolation, designed to be more secure and efficient than traditional Docker containers.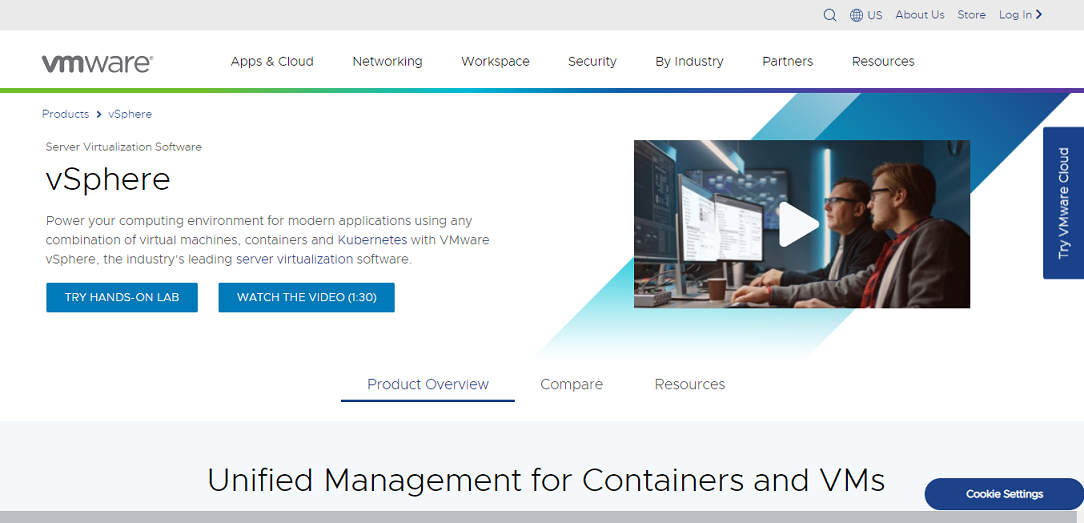 VMware vSphere is an ideal option for large companies having heterogenic environments as it is designed to take a lot of workloads. Since it's an incredible blend of security, visibility, and migration as it consists of a hybrid cloud, you will never find a server virtualization software with secure applications in a typical operating environment.
VMware vSphere is a great platform covering all the small accounting applications to much bigger artificial intelligence. However, it is efficient at providing several good stuff, including Graphics Processing Unit (GPU) acceleration, Remote Direct Memory Access (RDMA) over Converged Ethernet v2 (RoCE) support, and vSphere High Availability.
VMware vSpherecan protects the hybrid cloud infrastructure following its built-in intrinsic security. With VMware vSphere, your operating system is always welcome to stop malware and ransomware in its track effectively.
Features:
Using ESXi hosts and configurations, VMware vSphere keeps regular health checkups of your virtual machines to avoid any issue.
All your hybrid cloud computing infrastructure is entirely secure due to its built-in intrinsic security system.
It is the best server virtualization software for all companies having heterogenic operating environments.
Compatible to boost the company's scale infrastructure up to 50% without any compromise.
VMware vSphere can manage up to 15 serves at a time with only one central point, which makes it the best decision for a more comprehensive yet complex operating environment.
VMware vSphere is commonly known as a market leader because it covers all the geographical areas making it the best option worldwide.
Pricing:
VMware vSphere is offering four pricing plans for its users depending upon their company's requirements:
VMware vSphere Essential: $576.98.
VMware vSphere Standard: $1268.
VMware vSphere Enterprise: $4350.
VMware vSphere Essentials: $5596.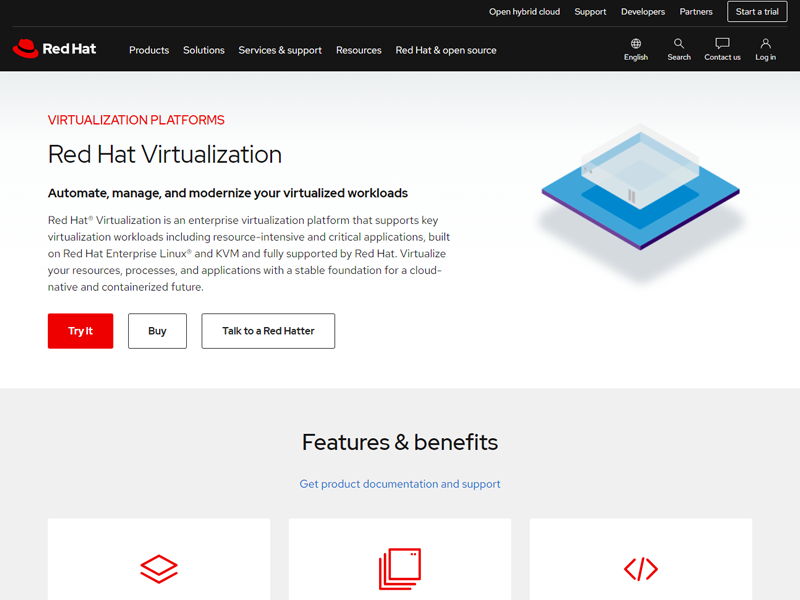 Red Hat Virtualization is for you if you look for server virtualization solution software that could be best at fixing workload in the Linux and Microsoft environments. An easy and friendly users interface will make you manage your work efficiently in a short time. However, it requires significant server density and is a compatible tool for large deployments.
Red Hat virtualization is capable of processes, applications, and virtualized resources due to its Red Hat Enterprise Linux and the (KVM) Kernel-based Virtual Machine. This virtual server will help your company's infrastructure, networking resources, regulate the storage, and improve its efficiency according to the workload optimization.
Additionally, there is no doubt that Red Hat Virtualization Manager can scales up to 400 hosts and tackle the maximum tested workload of around 1VM per GB. Since Red Hat Virtualization is cost-friendly and helps prevent any very troublesome desktop issues, it deserves a shot.
Features:
Red Hat Virtualization knows well how to adopt new techniques following the changing market trends and keep its system updated every six weeks.
This virtual server showssupports storage back-end maintenance, and live storage migration is available.
(sVirt) Secure Virtualization and (SELinux) Security-Enhanced Linux shield against any host or virtual machines attack.
Red Hat Virtualization is stable to scale up to 400 hosts at ease.
A user-friendly interface requires no proper skill set to use it.
All groups, hosts, and virtual machines are managed via the API. Any users can change the language according to their choice for automated tasks.
Pricing:
Red Hat Virtualization has the vision to provide quality services to its consumer. To avail of Red Hat Virtualization services for your company, it is better to tell your needs. In return, they will offer you the best suitable plan for your business.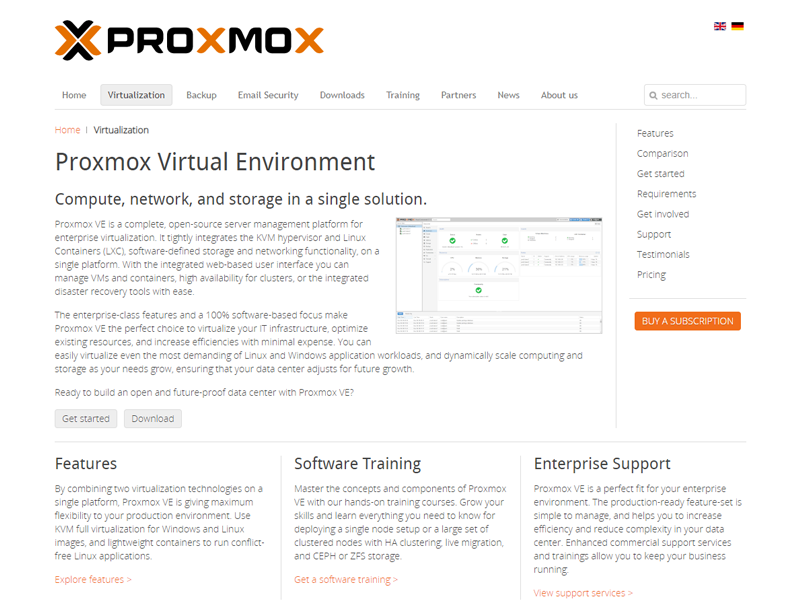 Proxmox VE consists of an intelligent combination of two virtualization technologies, including KVM (Kernel-based Virtual Machine) and LXC for virtual machines and containers. Moreover, users are encouraged to virtualize Linux and Windows server application workloads by using Proxmox VE. It is best known for large deployment, and no doubt it has the most stable centralized web-based management, which is user-friendly.
This powerful platform of virtual servers has several things to offer like high availability, managing software-defined storage and networking and clusters due to its centralized, built-in web interface. However, you can also enjoy other out-of-the-box tools, including backup, restore, live migration, storage replication, and the most critical built-in Proxmox firewall to protect the system.
Proxmox VE is the most used worldwide server virtualization management software having around 2.3 million installations. It can be translated into over 20 languages to provide a better end users communication experience worldwide.
Features:
It consists of a blend of Kernel-based Virtual Machine and LXC technologies, the market's leading technologies.
Proxmox VE is quick and easy to set up and requires no lengthy process.
Nothing beats Proxmox VE when it comes to providing large deployments.
Users can quickly build their hyper-converged infrastructure along with the Ceph storage cluster.
Proxmox VE supports strong intra-cluster communications which are not only authentic but are also encrypted.
Live migration is not a problem when using Proxmox VE because it requires only a click.
Pricing:
Proxmox VE costs around $85.48 per CPU.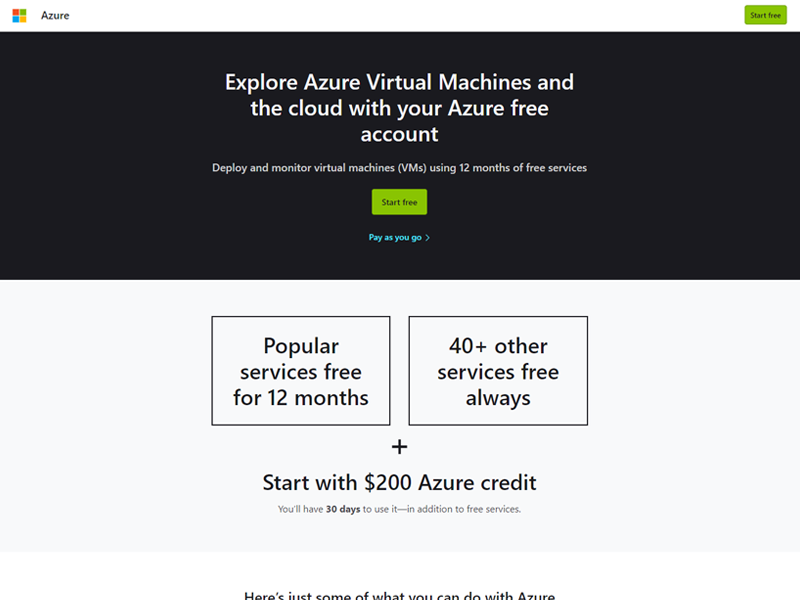 Microsoft Hyper-V is the best server virtualization software that works effectively in an open-source environment and the Microsoft ecosystem. Moreover, it can support multiple hardware at once and offers many advanced features to its users without any additional license fee, which eventually makes it cost-effective among the others.
Compared to other virtual servers, Azure Hyper-V includes various virtualization tools to enhance the connectivity and management of the operating system. These consist of the Virtual Machine Connection, the Hyper-V Manager, the Windows PowerShell Direct, and the Hyper-V module for WindowsPowerShell.
There is no problem expanding private clouds because Microsoft Hyper-V provides easy setups. Improve disaster recovery or run a virtual desktop infrastructure (VDI) with Hyper-V. However, it also supports emulated and Hyper-V-specific devices having FreeBSD VMs and Linux. There is no need for any additional emulated devices while using Microsoft Hyper-V.
Features:
Using the live migration tool of Hyper-V permits the admins to move running VMs to other hosts quickly, efficiently, and with no downtime.
Microsoft Hyper-V uses secure boot, BitLocker encryption, Virtual Trusted Platform Module (vTPM), and The Host Guardian Service to provide the best security services.
This server virtualization software is excellent at supporting 240 virtual processors per VM. Since 512 virtual processors per host and 12 TB memory per VM is its main feature.
Microsoft Hyper-V has built-in integration services for multiple guest operating systems (OSs) to whom it gives support.
Provides easy setups and is compatible with reducing the hardware power, eventually decreasing the power consumption.
Pricing plans:
Microsoft Hyper-V offers four plans, and they are very cost-effective.
Developer: $24.95
Bronze: $49
Silver: $89
Gold: $135
Platinum: $199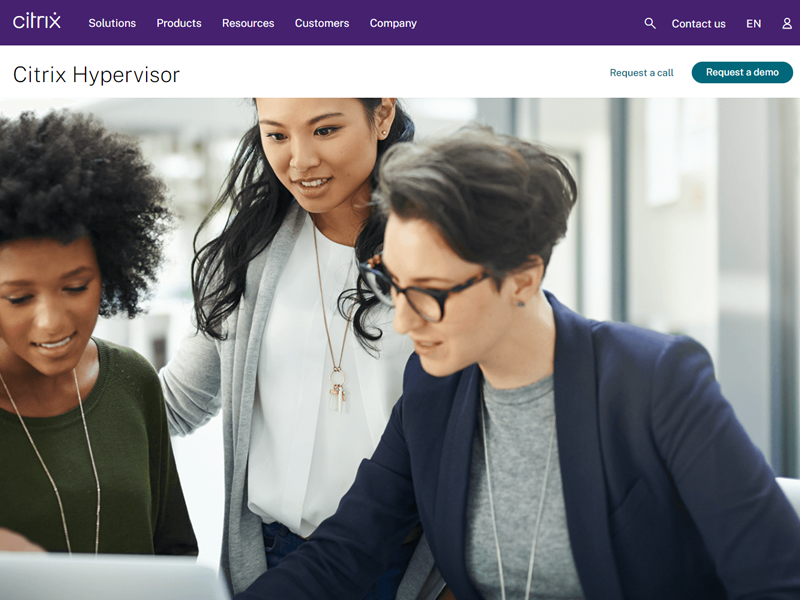 Citrix Hypervisor is an enterprise-level server virtualization software. Citrix Hypervisor is best known for its incredible 3D graphical support. However, you can run both Windows and Linux workloads on the Citrix Hypervisor. This virtual server is specially designed for server and desktop virtualization infrastructure and optimized for the application. Now you can handle different workload types, mixed operating systems, and storage or networking configurations easily with Citrix Hypervisor.
Now improve the scalability and performance of your business under an incredible workload. If you are looking for large deployments, then do consider Citrix Hypervisor. Moreover, its centralized management simplifies the operational management and ensures the high definition user experience.
Additionally, it shows excellent compatibility with Microsoft, Google, and AWS. Xen Hypervisor has the best security to provide. It gives the opportunity of live migration with ease, and good storage makes it a fantastic option for your company.
Features:
High-performance 3G graphical support is the industry-leading trait of Citrix Hypervisor.
To provide a better user experience and manage the company's data side by side, you need to have a more straightforward management system. So, Citrix Hypervisor is at your rescue.
All the data is centralized in the cloud and not on the device; Citrix Virtual Apps offers robust policy controls depending upon the user's location to avoid any issue. Hence providing tight security.
Citrix Hypervisor can provide cost-effective IT solutions for your company, making it a win-win decision.
A hybrid deployment is not a piece of cake for every other server virtualization platform, but Citrix Hypervisor has mastered this art. It gives hybrid deployment services at ease.
It has a scalability of 64 VMs per host. However,Citrix has a substantial development roadmap in cloud infrastructure to improve its performance by many folds.
Pricing Plans:
Apart from offering a free trial for a month, Citrix Hypervisor has three pricing plans for its users:
Starter: $77
Enterprise: $220
Premium: $550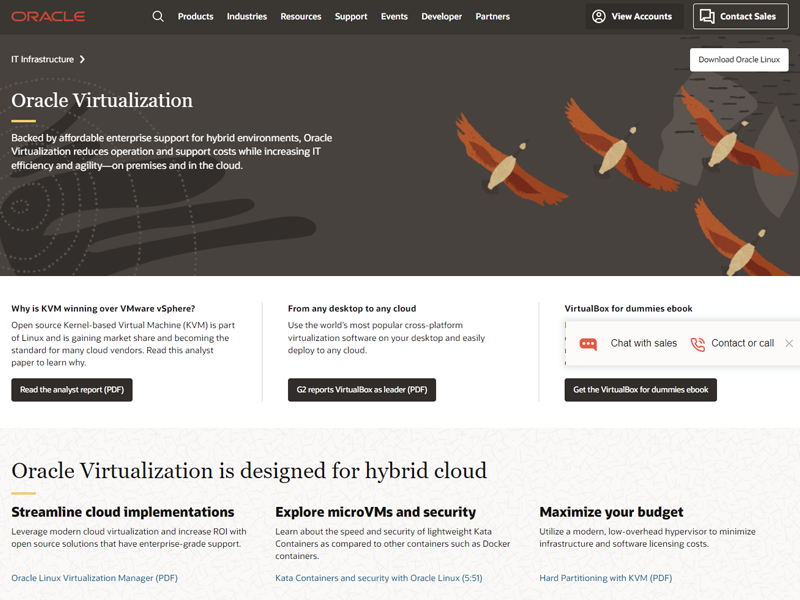 Oracle VM Server is a small box consisting of numerous good stuff. It is a popular choice since it is an open-source virtualization software platform and can create emulated machines on Windows, Linux, Mac OS X, and Oracle Solaris systems. For all the tech-savvy users, its high customizability is all you need to have for your work.
Oracle VM Server has an easy users interface. This virtual server keeps itself updated about the changing market trends and frequently improves its features to provide better quality to its users. However, it is open-source but also has extension packs that are easily downloaded to extend the functionality of your selected base package.
The security requirements Oracle VM server has Remote Desktop Protocol (RDP) authentication and an SDK for boosting the security through authentication requirements.
Features:
It is the only professional virtual server platform that provides the GNU General Public License (GPL) version 2, which is difficult to find in the market as a paid feature.
Oracle VM server provides all the quality professional features to its users for free, whether educational or personal use.
RDP and SDK authentications secure the servers like never before.
Keep on updating features whenever there is a new feature in the market.
It is a dynamic tool due to its flexibility. Moreover, it is best for testing, developing, demonstrating, and deploying solutions across multiple platforms from one machine when used by the IT team.
SSL links are used for live migration in the Oracle VM server to avoid interruptions.
Pricing Plans:
Oracle VM server is entirely accessible for its users, consisting of professional tools and all extension packs.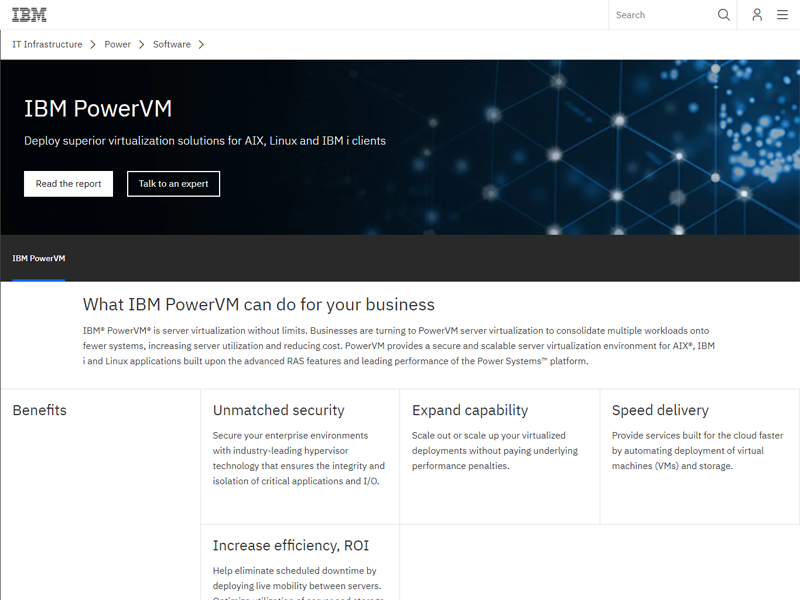 IBM PowerVM is the perfect choice for all the AIX, IBM Linux, and IBM clients due to its open-source working environment. If your IBM's solution proves over-engineered, don't be afraid because IBM PowerVM got you all the necessary tools. This virtual server is a suitable option for enterprises with cost-effective plans. If you own a small business, you need a little help dealing with complex solutions.
It uses hypervisors which are quite flexible. Hence, it helps provide cloud services with faster provisioning by automating the deployment of VMs and storage. Additionally, it shortens the downtime via mobility between servers. IBM PowerVM brilliantly combines all the workloads onto fewer systems which eventually promotes the more utilization of resources and reduces costs.
Please remember that IBM PowerVM efficiently shares resources with all the applications working in the operating system to improve the performance of multi-cloud infrastructure.
Features:
IBM PowerVM uses live Partition Mobility to migrate either active or inactive AIX, Linux, or IBM logical partition from one system to the other.
Since IBM PowerVM has a cloud storage infrastructure, it uses a robust security system to secure all the data.
IBM PowerVM uses power Virtualization Performance to tell its users about their servers' working and how resources are used to analyze the performance at its best.
All the junky pages and duplicate pages are removed automatically from memory due to the Active Memory Duplication of IBM PowerVM.
IBM PowerVM uses shared storage pools to logically distributes the storage among all the partitions in a cluster.
PowerVM NovaLink regulates high scalability, virtualized cloud management, and deployment in the IBM PowerVM.
Pricing Plans:
IBM PowerVM plans start with $590 per core, and it differs according to their client's needs and requirements.
Virtuozzo is best known for its open-source Kernel-based Virtual Machine (KVM) platform services. It has added multiple enhancements to KVM, thus making it the popular setup to provide commercial support. Virtuozzo is compatible with all the public cloud infrastructure, management, storage, and Virtualization.
Virtuozzo is a win-win option for all small-scale businesses. Moreover, it shows supports in virtualizing Linux servers and SMBs. However, it is a perfect combination of software-defined storage, containers, and Virtualization in one place since it is compatible with improving the scalability of around 50 virtualization instances per server.
To enhance the hardware upgrades and load balancing between multiple hosts, this virtual server helps migrate containers and virtual machines between the physical servers through a command-line interface.
Features:
Now build fault-tolerant, scalable, and high-performance storage groups using existing on-premises or off-the-shelf hardware through the software-defined storage feature of Virtuozzo.
Virtuozzo uses encryption to provide tight security to its users.
24/7 customer support through a team of professionals is a part of Virtuozzo services.
Shows best working environment for Kernel-based Virtual Machine and offers flexible commercial support.
Virtuozzo Hypervisor comes with an installed backup solution. There is no need for a third party to secure the data.
Works best with Windows and Linux. However, command-line tools (i.e., CLI) or web management panels are used for deployment.
Pricing Plans:
Apart from the free trial, Virtuozzo charges $990 per business for a month.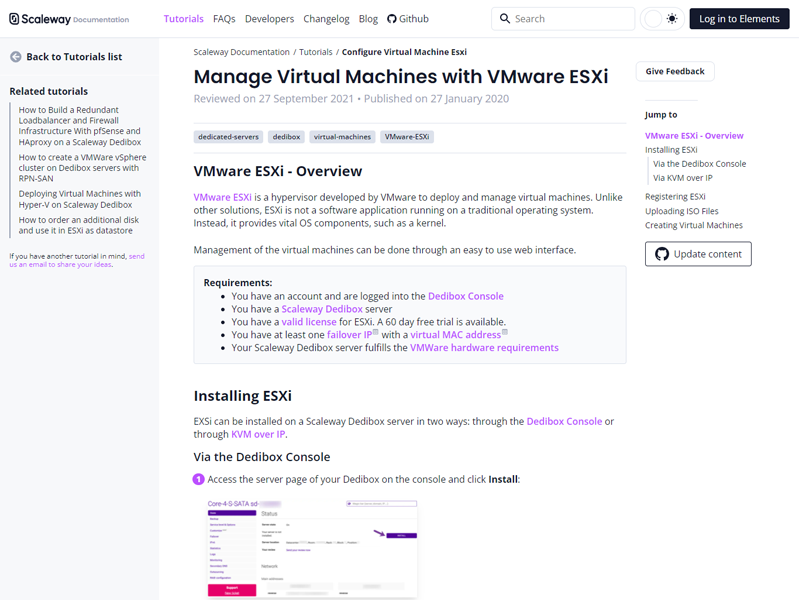 ScaleWay is a cloud-based server that makes the best sense to your business. It has a variety of quality features. There is a wide range of pricing plans offered by ScaleWay for its users to facilitate them at their best. Please keep in mind that ScaleWay virtual server charges only for the used services hourly, making it a fair deal.
No setup fee makes the setup process quick and easy. The cloud server with ARM processors have around 32 and 64 bits; with Intel, they have 64 bits and with capacities from 1 core to 64 cores for ARMv8 and 12 cores for Xeon D. ScaleWay shows excellent compatibility with Linux and have servers supported with SSDs, which eventually increase the steps around 50GB.
ScaleWay updates its system regularly according to the changing market trends. Moreover, it supports IPv6 on all cloud servers and has backup options for users' quality experience.
Features:
Users friendly interface requires no deep expertise for using ScaleWay server virtualization software.
ScaleWay uses API for management and also allows robust automated control.
This virtual server has a wide range of pricing plans for its users and charges for only used services, hourly.
Regular updates on the platform bring more innovative features by the changing market trends.
ScaleWay is compatible with deploying most common apps and OSes in a few moments and using cloud-init to customize the apps in the meantime.
This virtual server uses cloud instances for workloads from 1 to 48 vCPUs with an x86 architecture.
Pricing Plans:
Apart from free trials, ScaleWay also offers multiple plans according to your business needs. For example, instances are currently available from approximately 0.002925 of a cent per hour for Stardust, which comes with one virtual central processing unit (vCPU) and 1 GB of RAM. Please visit the official site to choose the right plan.
FAQ
What is server virtualization software?
Server virtualization is a process that divides a physical server into multiple yet unique and isolated virtual servers. And for this purpose, they use a related software typically known as server virtualization software.
Each virtual server is compatible to run on its operating system independently. Server virtualization software is used by almost every company in the modern days. It is entirely safe and easy to use.
They have several key benefits to offer, including:
Provides higher server ability.
Quickly deploy workload.
Best at eliminating server complexity.
Improves application performance.
Cheap operating cost.
What is the best server virtualization software?
In my opinion, from our list, as mentioned earlier, of best server virtualization software, VM vSphere is the best virtualization software. It is excellent at dealing with heterogenic working environments, making it a virtual server that can afford a heavy workload. Moreover, it compromises the performance and increases the scalability up to 50%. At last, it has in-built intrinsic security hence protecting the hybrid cloud infrastructure at its best.
What is server virtualization with an example?
Typical computer systems are designed to give support to single applications. We use server virtualization technology to support multiple applications at once with one hardware. Server virtualization is a technology that divides one operating system into numerous yet independent user spaces, which are eventually called virtual environments to improve work efficiency.
Most common server virtualization includes:
FreeVPS.
OpenVZ.
Linux Vserver.
What are the three types of Virtualization?
Full Virtualization: Full Virtualization typically uses a hypervisor. Hypervisors are softwarelinked directly with the physical server's disk space and CPU. The best thing about hypervisor is that it keeps checking on the physical server's resources and keeps each virtual server unaware of other servers, making them independent.
Para-Virtualization: Para-virtualization believes in teamwork, and it works with the whole network much like a cohesive unit. In Para-virtualization, every single server is well aware of one another, unlike full Virtualization. So, there is always less to no need to use the hypervisor to help manage the operating systems.
OS-Level Virtualization: OS-level Virtualization uses no hypervisor. Instead, it uses virtualization capability. Virtualization capability is a part of the physical server operating system. It is compatible with performing all the tasks performed by the hypervisor. But remember, all the virtual servers must run that same operating system in OS-level Virtualization.
What are the different components of server virtualization?
Components of server virtualization include the following:
Host machine: It is the physical server hardware, and the Virtualization is to take place here.
Virtual machines (VMs): These are also known as guest machines. VMs have assets that are abstracted from a server environment.
Hypervisor: Hypervisor acts like an emulator which creates and runs the virtual machine.
Hypercalls: Hypercalls are those messages usually sent and received between the operating system and para-virtualized hypervisors regarding shared resources.
Containers: The user's environments created in the virtualized operating environment are often deployed inside hypervisors.
Why is server virtualization important?
Many things make server virtualization necessary. One of them is that it is cost-effective service providers like web hosting. Moreover, it utilizes all the pre-existing resources to improve the IT infrastructure of a company.
Additionally, all servers only utilize a tiny part of their processing power without server virtualization, resulting in servers sitting still without doing any work. Because all the workload is distributed to only a portion of the network's servers, this situation makes the data center consolidation crowded with new servers, which leads to the wastage of resources and power.
Another reason for having server virtualization is that it divides each physical server into different yet unique virtual servers, which act more like a physical device. Each virtual server is independent and runs on its applications and operating system. In this way, more resources are used and efficiently increase each physical machine's capacity.

As one of the co-founders of Codeless, I bring to the table expertise in developing WordPress and web applications, as well as a track record of effectively managing hosting and servers. My passion for acquiring knowledge and my enthusiasm for constructing and testing novel technologies drive me to constantly innovate and improve.
Expertise:
Web Development,
Web Design,
Linux System Administration,
SEO
Experience:
15 years of experience in Web Development by developing and designing some of the most popular WordPress Themes like Specular, Tower, and Folie.
Education:
I have a degree in Engineering Physics and MSC in Material Science and Opto Electronics.