Signing up with a shared web hosting service is an essential step in starting your first website for your company or yourself. Even if you know what to search for, selecting a web hosting provider can still be difficult.
There are plenty of options present, each with comparable tools and programs, and choosing just one might be tricky, particularly if you aren't exactly sure what you require. That's why we're here to assist you!
When looking for a web hosting service, keep your budget and your site's purpose in mind. Know the distinctions among shared, VPS, cloud, and dedicated hosting we have listed in this article, and familiarize yourself with the various hosting options so you can get an idea about your preferences.
This is critical since selecting the unsuitable provider or package can waste your money, time, and efficiency. Consider if you need scalability in the situation if your site expands in the future, as well as the type of customer service you want.
We reviewed every web hosting provider's detailed summaries and emphasized their strengths, critical elements, performance, storage, bandwidth restrictions, price, and why each specific web host may be a perfect choice for you.
If you don't have much time and want to quickly know which are the best web hosting providers, the top 10 services are listed below; if you've got a little extra time, go down to learn more on why we picked them. Continue reading to discover the best web host for your website!
1. Bluehost
2. Dreamhost
3. HostGator
4. Hostinger
5. A2 Hosting
6. SiteGround
7. GoDaddy
9. InMotion
10. GreenGeeks
---
A shared web hosting is a service where many websites share the same web server. So practically your website is hosted on the same server with the same IP with other websites. This is one of the cheapest web hosting plans.
To implement Web hosting operations, a provider offers storage, software, hardware, network, and integrated technologies to its users.
A shared web hosting provider is also known as a shared hosting service provider.
1. Bluehost ($2.95/month)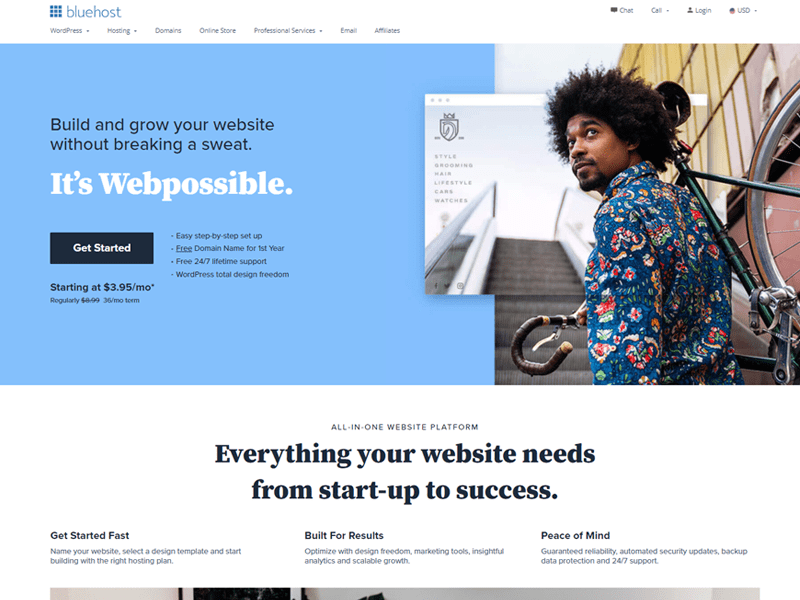 Bluehost is at the absolute peak of the web hosting service rankings. Bluehost is probably among the most prominent and the world's biggest website hosting providers. Running over 2 million websites worldwide.
This is because they provide excellent shared web hosting services at significantly low rates. They're also ideal for people who are inexperienced in website development.
Another benefit of Bluehost is that its facilities are very scalable. You can any time begin with the standard package and comfortably upgrade as needed. They are also ranked as one of the best WordPress hosting sites on the market.
Therefore, if your website is newly made and you don't intend to emphasize traffic for at least a few years, you can easily purchase with the Basic package for some time and upgrade to any plan whenever you want.
If you are confused or have an issue, they provide 24/7 call or live chat assistance. They provide their customer helpline number and live chat services straight on their website, so you can seek assistance with only a couple of taps.
Bluehost also provides excellent stats and SEO tools that can assist you in maximizing your website's effectiveness and getting higher traffic.
Their SEO tool rates and monitors how effectively your site ranks for different keywords. This will provide you with a solid understanding of how you can structure your website for the top Google rankings.
Bluehost now offers its very own custom site builder with drag and drop editing, real-time editing, phone editing, and a stock photo library. It also comes with up to 300 templates, complete WordPress functionality, and customizable CSS.
Key features:
Feature-rich plans
Extensive stock photo library
Impressive SEO tools
24-hour customer support
Incredible performance
Pricing:
Its WordPress packages start at $2.95 per month that contain one website and 50GB of SSD capacity (however this is a discounted introductory price).
Shared hosting begins at $8.99 a month, although there are substantial reductions available if you are a new subscriber. You can join in with their basic shared hosting plan (with a three-year agreement) for as low as $2.95 per month for a single site, which contains the following:
Unlimited Bandwidth
50 GB of storage capacity
Free one-year domain registration
Over 25 subdomains
At $5.45 per month, you can have unlimited sites, storage, and domains with the Choice Plus program. You'll also get unlimited bandwidth, spam protection, and website backups.
They also provide services that will facilitate your business's progress in whichever path it pursues. If your site keeps expanding and now you want to switch to managed WordPress hosting to accelerate things up and increase protection, they provide that as well.
Bluehost, in general, delivers all of the services you might probably want from a provider. It provides excellent customer service, a robust site builder, and a free website migrating tool. This is why they are best suited for inexperienced website designers.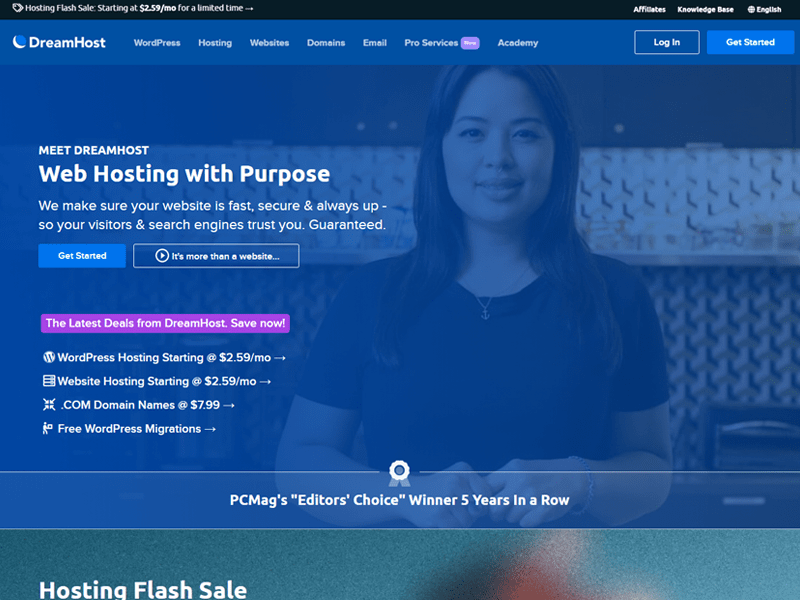 Dreamhost is another hosting service recommended by WordPress that provides low-cost hosting without making compromises on functionality.
As 30 days tend to be the market norm nowadays, DreamHost goes way beyond that by tripling that duration. It simplifies things a lot by offering just two shared plans and a strong 97-day money-back guarantee.
Among the main noticeable aspects of DreamHost's shared hosting is that it provides reasonable monthly charging on all plans, whereas various competing shared hosting providers want you to pay for at least a year in advance.
DreamHost also offers a 100% uptime guarantee. If they fail to keep that commitment, you will be compensated for each hour of downtime, which can be equivalent to 10% of your subsequent pre-paid renewing cost.
Aside from shared hosting, they have a bunch of other plans. For instance, if you eventually feel there is a need to upgrade your website, they provide managed WordPress, cloud hosting, dedicated hosting, VPS hosting, and other related services. It all relies on what you prefer.
You can obtain a reasonably good rate for shared hosting without having to sign a contract, and the option to handle increased traffic without getting charged for more bandwidth.
So, if one of your articles goes viral and a surge of traffic streams into your website, you will never be penalized on your next billing.
Key features:
Unlimited bandwidth
Reliable performance
Decent customer support
100% uptime guarantee
Good loading speed
Pricing:
For only $2.59 per month, the Shared-Starter-plan includes the following features:
Free one-year domain registration
Unmetered Bandwidth
1 website hosting
50 GB of storage capacity
Free SSL certification
5 subdomains
The Shared Unlimited plan provides unlimited sites, domains, and storage capacity, and incorporates email as well. Beginning from $4.95 per month, it's an amazing deal.
If you already own a WordPress website, DreamHost's experts will move the website to your new account for a $99 price.
Overall, I will suggest the Shared Unlimited plan as it includes many useful features, such as email accounts attached to your domain, unlimited SDD storage capacity, subdomains, and more.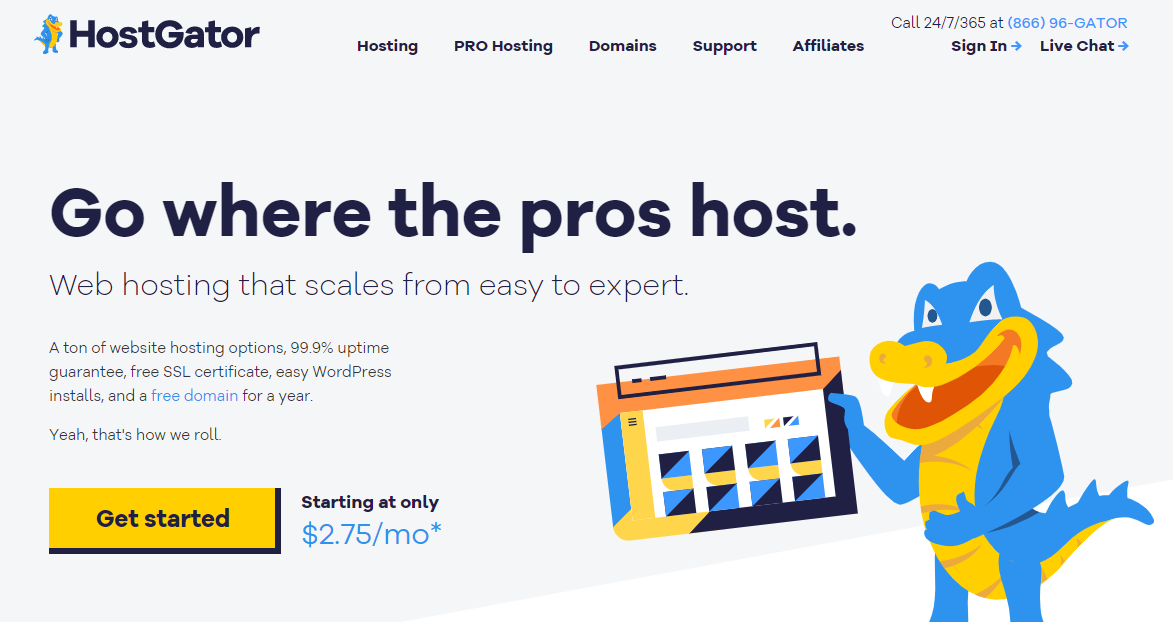 HostGator is an affordably priced service that always provides fantastic customer support. We put its capabilities to the test and were very pleased by the quick response.
HostGator delivers you with all of the things you require to set up an online business and begin retailing products. Plus, their online website builder is very simple and easy to use. It is also listed as one of the best unlimited hosting plans.
They provide their users with cPanel accessibility for more customization, which isn't generally offered from other shared hosting services. So, you can personalize your online business as much as you like by downloading plugins and adjusting configurations.
Key features:
Unlimited storage and bandwidth
$100 worth of ad credits
Highly customizable
Free cPanel site migration
Up to 1,200 tutorial videos and articles
Pricing:
The new user prices are clearly on the lower part of the scale, but the renewal pricing isn't too costly. The introductory price can be locked in for three years.
The shared plans of this service for one website start at $2.75 per month. All plans have a $100 credit for Google AdWords and Bing Ads, which is a fantastic benefit for new businesses.
The basic Hatchling plan covers the following features:
Free one-year domain registration
Free SSL certification
Unmetered bandwidth
Unlimited storage capacity
Free cPanel site migration
Free WordPress
Free e-mail account
Priced at $5.95 per month, the Business plan offers extra features including a free unique IP address, unlimited domains, and more search engine optimization (SEO) tools.
It's not usually that I recommend the highest price package as the best option for everybody. However, I consider that HostGator offers the maximum value for money with this package. The Business Plan's add-ons are justified for the added expense. Even after renewal, it's still less than $15 every month.
With continuous server management, live chat, and call assistance, they also offer up to 500 tutorial videos and almost 700 help articles if you wish to understand how to handle tasks by yourself. Plus, HostGator provides efficient cloud hosting services as well.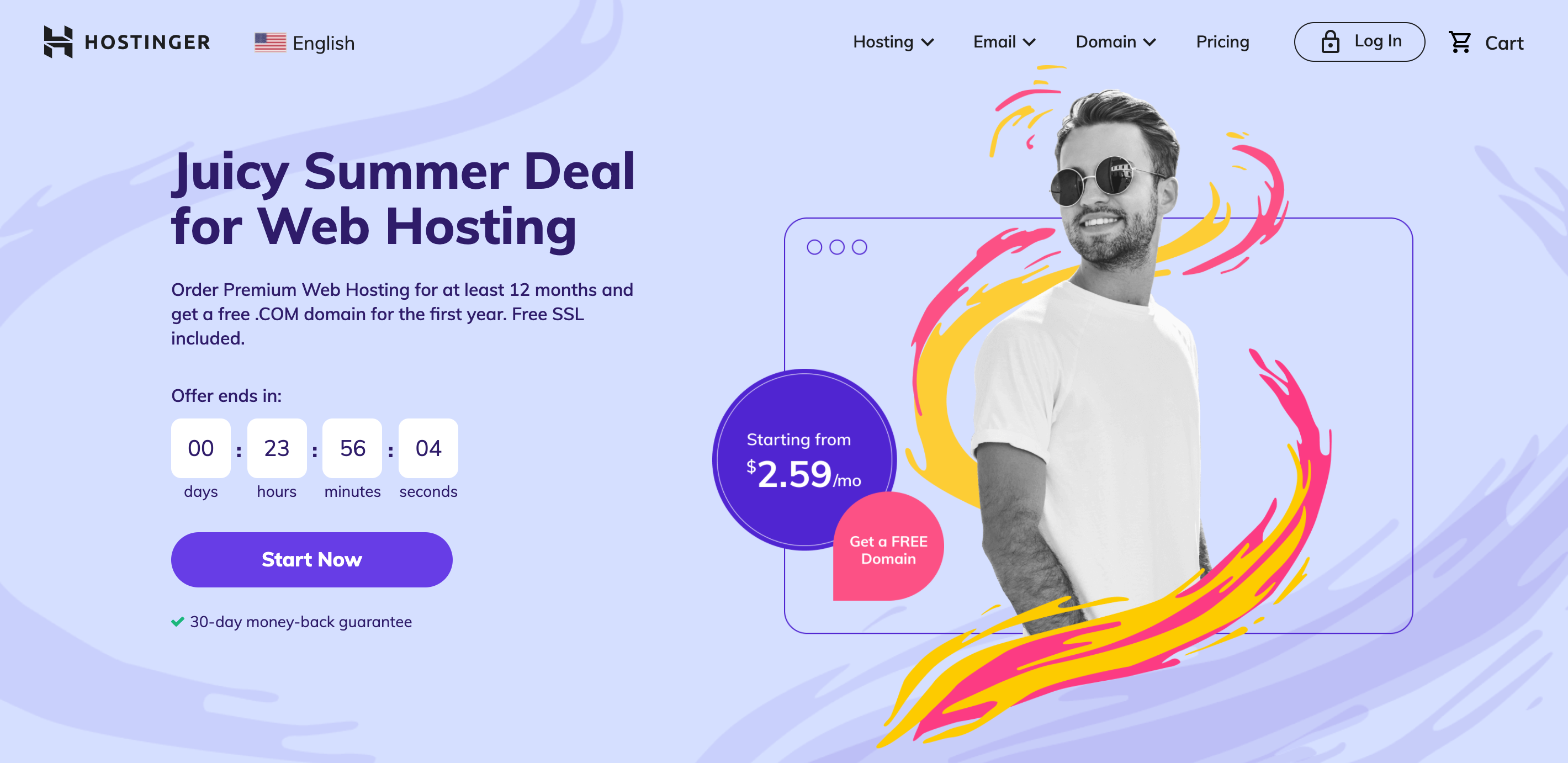 Hostinger is perhaps the most cost-effective option on our list. Despite finding a few performance problems with this provider, it's still a satisfactory option for sites with low traffic.
It provides its customers with the option of using either cPanel or hPanel (Hostinger's custom control panel). A more user-friendly hPanel enables for more detailed and convenient handling of configurations and performance.
In terms of site security, Hostinger utilizes the server security software BitNinja to protect all of its servers from cyber attacks. Furthermore, the provider claims to use integrated unique security technology that is consistently upgraded.
Hostinger offers three packs for its cloud service: Cloud Startup, Cloud Professional, and Cloud Enterprise, each of which provides your account with up to 300 sites and unmetered bandwidth.
Key features:
High speed
Auto-installer for web applications
Solid performance
Huge knowledge base
Intuitive custom hPanel
Pricing:
When you sign up for its Single Shared Hosting plan, which is priced at $1.39 a month, you get the following:
1 email account under your domain
100 GB of bandwidth
Free SSL certification
2 subdomains
WordPress plugin
Remember that you will need to upgrade to the Premium Shared Hosting package if you want to have a free domain for your website.
It's still reasonably priced, with monthly payments having started at only $2.89. It also includes up to 100 subdomains as well as unlimited websites, emails, and bandwidth.
Pricing is determined by the length of time you subscribe to the program. All packages include a free SSL certification, a free domain, daily backups, the ability to support up to 300 websites, and also a Google Ads credit.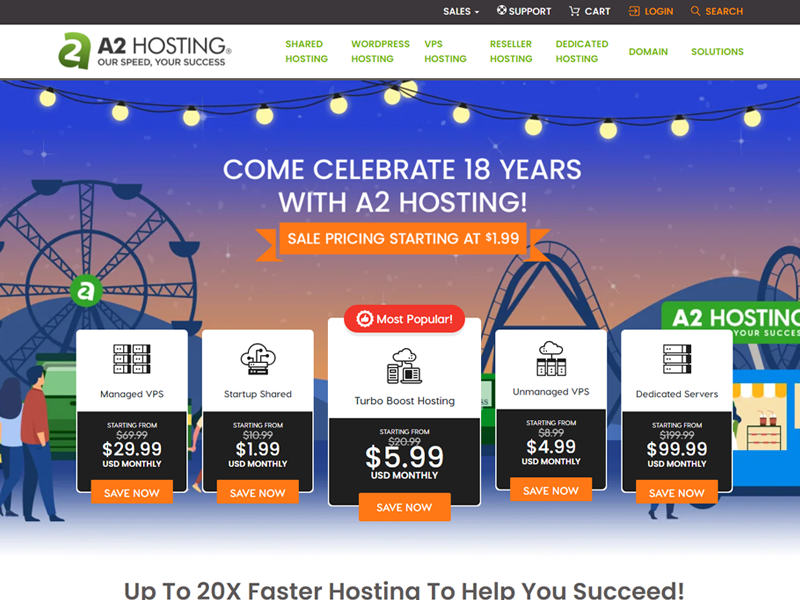 A2 Hosting is also one of the trusted shared hosting service providers that deliver among the fastest WordPress hosting services in the business. We put this firm to the test and were captivated by the responsiveness and speed of its servers.
It's all because of their outstanding servers, which provide the fastest loading speeds and highest uptime levels. This is the best hosting service for your business if you want to provide material to your audience quickly.
Key features:
Incredibly high speed
top-quality performance
Responsive customer service
Free website migration
Decent hosting facilities
Pricing:
This provider's shared hosting package for one website starts from $2.99 per month. The basic Startup plan features the following:
100 GB of SSD storage capacity
Over 5 databases
1 website
Unmetered bandwidth
Free website migration
The Turbo Boost pack is strongly suggested if you wish to take the advantage of A2 Hosting's super-fast capabilities.
It's certainly the fastest shared hosting package provided by any service provider and features unlimited sites, storage, and databases, offering you a nearly top-grade performance at only $9.99 per month.
It's still less expensive than many of the other top-tier packages we've checked into. Regarding the competition, A2 Hosting is positioned in the midrange.
A2 Hosting also provides free website migrations on each of their shared plans whereas other hosting services impose an extra cost for this option.
A2 Hosting offer also cPanel hosting a panel with their packages.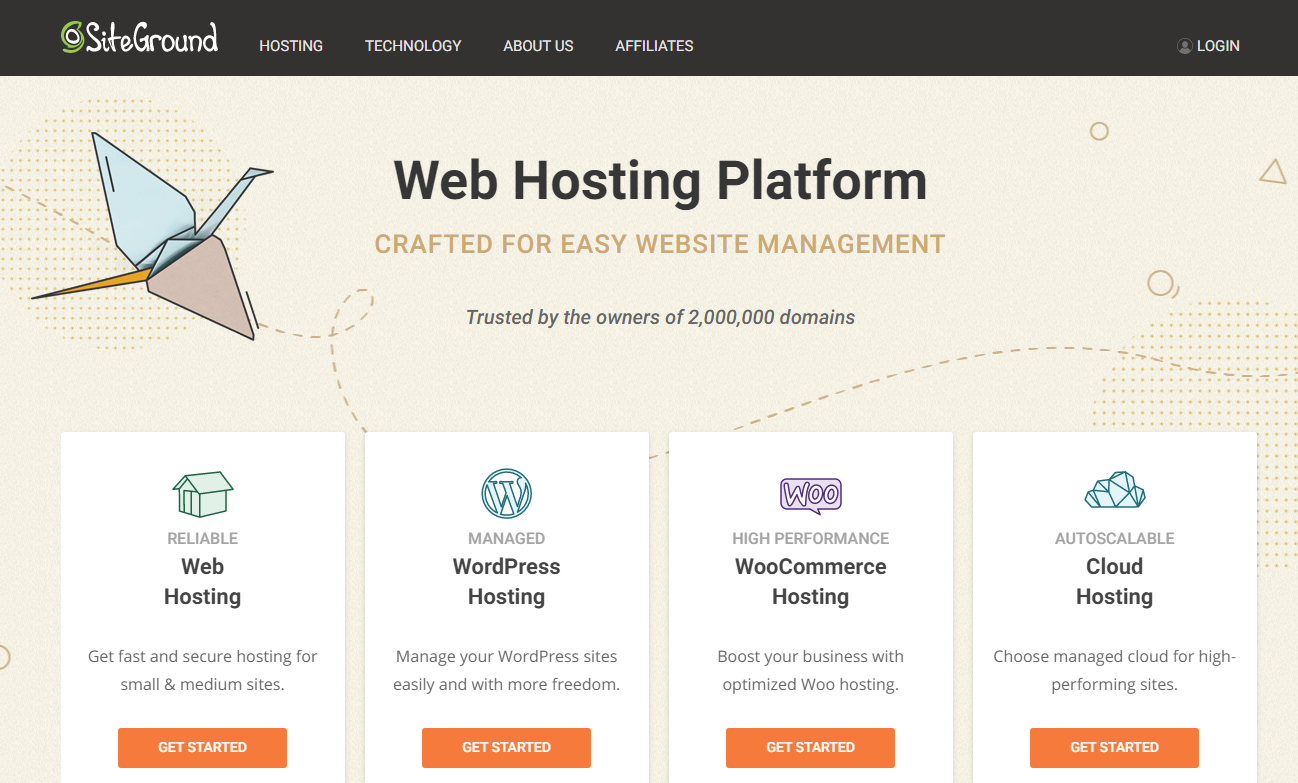 SiteGround is an excellent option for rising sites as every plan offers unique choices based on your visitor load per month. In regards to speed, reliability, and assistance, the platform performs favorably. Plus, WordPress.org actively recommends it as well.
Even if you go with the least expensive plan, SiteGround outperforms. On their most basic hosting package, you receive unlimited traffic and 10 GB of storage capacity. So you don't need to be concerned regarding the size of your viewers.
They also offer a variety of handy services for free, such as a CDN, SSL certification, email, and daily backups, as well as free site migration and one-click WordPress installation.
Furthermore, SiteGround makes it simple to upgrade to a larger and improved service if your website's newfound huge viewership becomes the new standard.
We have also featured it in our seo web hosting article.
Key features:
One-click WordPress installation
Jam-packed hosting features
Unlimited traffic
Recommended by WordPress.org
Let you select server locations
Pricing:
The StartUp plan is ideal for websites having over 10,000 visitors a month and includes plenty of other advanced services beginning at only $3.99 a month:
10 GB of storage capacity
Backups on demand
Unlimited bandwidth
Free CDN through Cloudflare
Managed WordPress
Free email address
Unlimited databases
This plan is intended for basic, straightforward websites that receive a high volume of site traffic. I know that most of you don't fit in this group, but even if your requirements are quite minimal, SiteGround still has a solid service.
If you're thinking to take it to the next level, the GrowBig program can handle over 25,000 visits. At $9.99 per month, you will get access to unlimited sites, 20 GB of storage capacity, speed-boosting caching, and backups on demand.
If you wish to get the best rate for a plan, you'll need to purchase a year of subscription in advance, just like with most of the other service providers. The price will rise after that year. Customer support is always available by live chat and phone call.
SiteGround's shared hosting has a plan for everybody, so get started with them now to be prepared for when your website explodes in prominence.
7. GoDaddy ($2.99/month)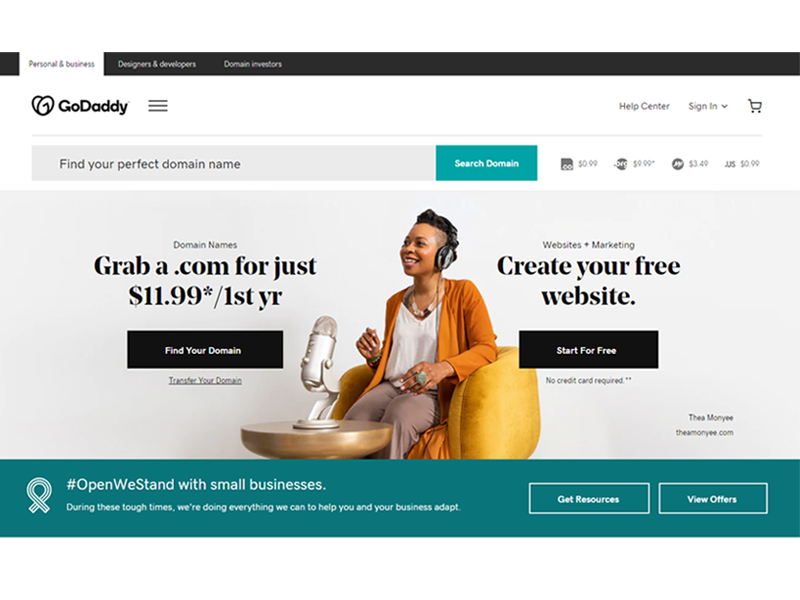 GoDaddy is one of the reputed and famous hosting service providers that boast quick loading time at reasonable pricing. They're a wonderful pick if you want to pack a solid email service and domain.
If you're already using Microsoft as your email provider, GoDaddy's email service is highly beneficial. Though its basic plan doesn't offer a free SSL certification, it does give you free Office 365 email and one-click installation for its registered domains in the first year.
Key features:
Fast loading speed
Highly responsive
Free one-year Microsoft Office 365 email
One-click WordPress installation
Pricing:
The Basic plan begins at $2.99 per month for a single site. This entry-level pack includes the following:
Unlimited bandwidth
100 GB of storage capacity
50 FTP users
10 MySQL databases (1 GB each)
1 MSQL database (200 MB)
Free one-year domain registration
This list of features has enough for everybody and is very straightforward. You can easily opt for the Basic plan if you're creating a simple website from scratch.
If you require extra services, you can upgrade whenever you want. GoDaddy will even send you a notice if you are on the verge of surpassing certain limits, such as memory or CPU. You'll be able to remain on top of the situation in that way.
Those of you who own a simple business and anticipate considerable site traffic on your webpage can benefit from the Ultimate-plan. With this plan, you will get unlimited sites, storage capacity, and databases, free SSL certification, and premium DNS at only $12.99 a month.
By choosing GoDaddy, you can get hosting, a domain, and email hosting service all in one place. They will provide your website with the operating capabilities it requires to flourish.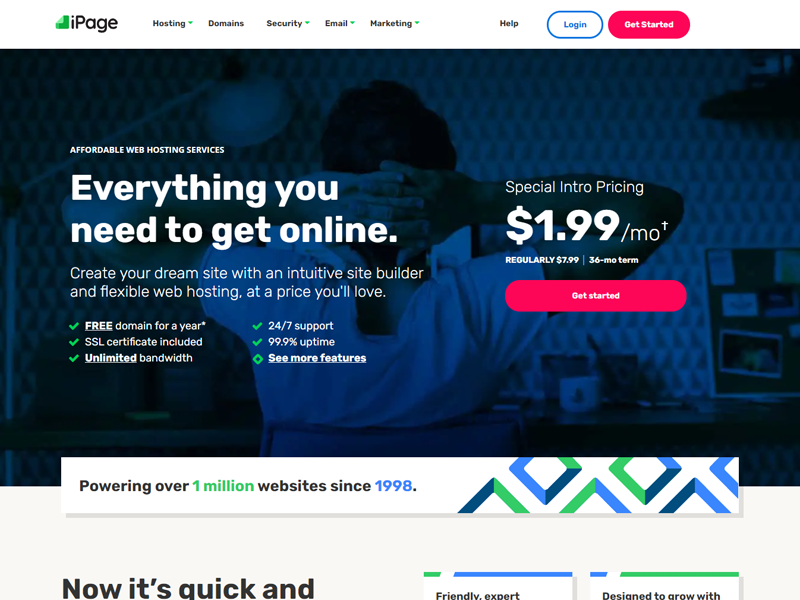 If you're looking for a low-cost web hosting solution, iPage Hosting is the one you were looking for. It is very easy, affordable, and provides incredible value for money, especially with an introductory discount for the first year.
iPage has a simple and inexpensive plan structure, with only one pack for shared web hosting.
It offers noteworthy features including an extremely easy digital store builder and $200 ad credits in Bing or Google. That's even more than what HostGator and InMotion provides its users.
They also give a lot of unlimited services such as domains, bandwidth, and storage capacity. When it comes to starting a business online, it's without a doubt the best offer.
Key features:
Unlimited storage and bandwidth
$200 worth of ad credits
Only one clear-cut plan
Very inexpensive
Decent performance
Pricing:
When you sign up, their plan is priced at $1.99 per month and $7.99 per month when you renew it. Generally, they are definitely in the competition for the most inexpensive shared hosting provider.
Despite their low costs, iPage Hosting boasts excellent features such as:
Unlimited storage capacity
Bandwidth scalability
Unlimited domains
Free SSL certification
Free e-commerce incorporation
Free one-year domain registration
To summarize this, iPage is an excellent hosting service provider for anyone looking to build a new online store or manage a small to medium-sized firm without breaking your bank
But be careful as they do charge fees for services like website migrations, which is understandable from such an inexpensive shared hosting provider
9. InMotion ($2.99/month)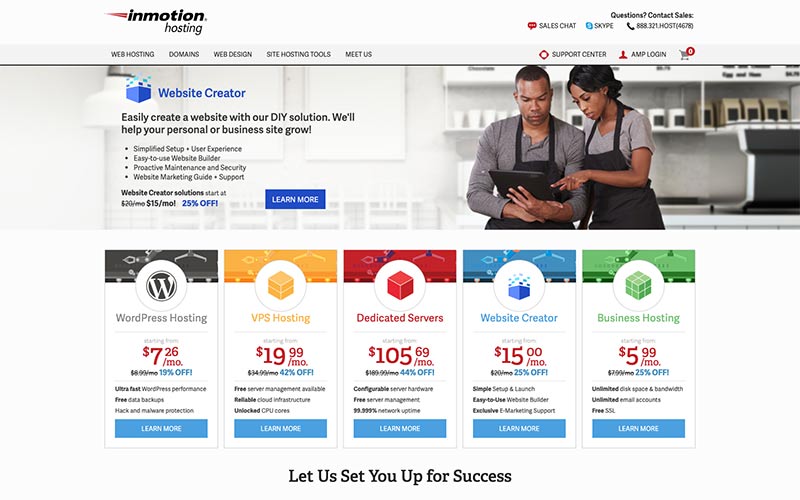 If you desire high-end service and performance, InMotion might be the best option for you. Although its plans are a little more expensive than the other competing providers in this article, it could be worth the money if it fulfills all of your other requirements.
InMotion has an extraordinarily proactive customer care service that's always accessible. You can contact them by live chat, phone call, email, and more.
It's an excellent pick for those who value or think they'll depend extensively on top-notch customer service. They can actively assist you if your website ever malfunctions or suffers from problems such as cyberattacks. In addition, they'll also support you in migrating your website if required.
InMotion's Launch Plan — and all subsequent plans — include $150 in free marketing credits, which can be incredibly beneficial for your new business. It's an excellent approach to get visibility by using prominent search engines.
Key features:
Base plan supports multiple sites
Reliable tech support
$150 worth of marketing credits
Solid hardware configuration
Credible customer support
Pricing:
Its shared hosting package begins at $2.99 a month. You'll get the following features with the basic Launch plan:
2 websites
50 GB of storage capacity
Unlimited bandwidth
10 email accounts
Free SSL certification
The most expensive Pro plan gives you access to over 100 databases, 200 GB of storage capacity, and unlimited email addresses. It costs $12.99 monthly and has a 90-day money-back guarantee.
Its entry-level package, unlike others we've seen, includes hosting for more than one website, unlimited storage space, and unlimited email. This is an excellent deal for this rate.
For starters, the Launch plan seems to be the ideal pick. The Power plan is suited for small company sites, whereas the Pro plan is designed for professionals and expanding corporations.
However, as I've previously mentioned, InMotion truly shines in terms of its customer service when compared to other shared hosting service providers in our ranking. If you're a new site owner, this is surely essential to bear in mind.
10. GreenGeeks ($2.49/month)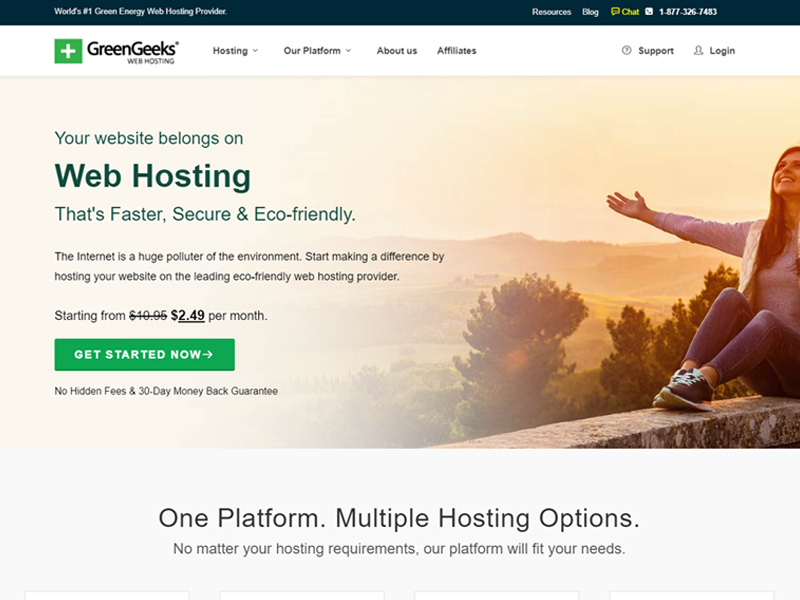 GreenGeeks, which was founded in California in 2008, boldly states to be the No. 1 green energy web hosting company in the world which is not unexpected considering that it is fully committed to environmental protection.
GreenGeeks is a one-of-a-kind hosting company that is dedicated to providing eco-friendly services. Even though its efficiency was unstable sometimes, it is still a credible choice with exceptional speed and good security.
There are the standard bundle of plans – shared services, application hosting, VPS hosting, and dedicated hosting – but there's not much variation, and what you receive is largely subpar
However, there are also some benefits to GreenGeeks' robust shared hosting package. It includes a shared SSL certification, Cloudflare CDN, a domain, a site builder, and also support reliable customer service in addition to unlimited sites, emails, databases, storage capacity, and bandwidth.
Its system has been developed for the best possible energy conservation, and it assures that for each amp drawn from the network, it will spend three times the value in renewable energy through the Bonneville Environmental Foundation.
Key features:
Solid security
Eco-friendly renewable energy plan
Unlimited bandwidth and storage
One-click application installer
Pricing:
The shared plans offered by this host for a single site cost $2.49 per month. For an entry-level service, the Lite plan has some wonderful features, including:
Unlimited storage capacity
Unlimited databases
Unmetered bandwidth
Free CDN
LightSpeed Cache
Free SSL certification
Free one-year domain registration
Unlimited email addresses
If you wish to increase your plan's level of performance, it's better to choose the Pro plan, which costs $5.95 per month.
You can obtain access to everything if you pay in advance for three years, plus a 30-day money-back assurance which gives a risk-free chance to try out the program.
It's a brilliant offer that highlights that green shared hosting isn't only about delivering eco-friendly gestures: you can also find some competent services as well.
| | | | |
| --- | --- | --- | --- |
| | Shared Web Hosting Providers | Price | Key features |
| 1. | Bluehost | $2.95 | • Feature-rich plans • Unlimited bandwidth and storage capacity • 24-hour customer support • Incredible performance |
| 2. | DreamHost | $2.59 | • Unlimited bandwidth • Efficient customer support • Notable performance |
| 3. | HostGator | $2.75 | • $100 worth of ad credits • Free cPanel site migration • Unlimited storage space • Unlimited bandwidth |
| 4. | Hostinger | $1.39 | • Initiative auto-installer for web apps • Solid performance • Huge knowledge base |
| 5. | A2 Hosting | $2.99 | • Incredible speed • 100 GB of SSD storage space • Unlimited bandwidth • Free website migration |
| 6. | SiteGround | $3.99 | • Unlimited bandwidth • Jam-packed shared hosting features • Lets you select server locations |
| 7. | GoDaddy | $2.99 | • Unlimited bandwidth • 100 GB of storage space • Easy one-click WordPress installation |
| 8. | iPage Hosting | $1.99 | • $200 worth of ad credits • Only one clear-cut plan • Unlimited storage space • Very inexpensive |
| 9. | InMotion | $2.99 | • Supports multiple websites on the base plan • Reliable tech support • Solid hardware configuration |
| 10. | GreenGeeks | $2.49 | • Eco-friendly renewable energy plan • Unlimited bandwidth and storage • Fair value for money |
When looking for the top web hosting service providers, you need to consider several essential aspects. If you dive in too soon, you can end up doing something that isn't right for your company.
But don't allow any doubt to get into your head. Rather, calm down as we go through all of the things you should be mindful of before finalizing a provider.
The three most defining aspects in any kind of hosting service are always will be:
Fast Loading Speeds:
Whenever it comes to Search Engine Optimization, your site loading speed is important. Because visitors will leave your site if your webpages take too long to load, as a result, your website's ranking will decline.
It makes no difference whether you choose VPS hosting, shared hosting, or dedicated hosting. Your website must have stable uptime and consistent speed.
You should pick a credible host provider who can ensure powerful website services. The problem is that you won't be able to know the actual loading speed or uptime unless you use the hosting service.
Reliable Uptime Rates:
This is the rate at which your site keeps operating and doesn't go down due to unexpected issues. It's crucial because if your site is inaccessible, you won't be able to generate any revenue or engage with visitors.
However, this is not a major issue as most of the hosting service providers guarantee a 99.99 % website uptime. That ensures your site would just go down in very rare circumstances.
Even if it does, you can approach your hosting provider and get recompense mostly in the form of hosting credits.
Reliable Customer Service:
If anything went wrong, quality customer service can be helpful. Specifically, if you're inexperienced in website building, which might result in your website being down for an extended period.
Even if you end up making a massive mistake from which you would never be able to recover. Most customer support teams keep full backups of your site to restore it to a functional state.
So, we'll look at the following aspects we feel are very important when it comes to shared web hosting.
1. Hassle-free Web Hosting
If this is your first time making a site, it's understandable to be nervous and confused by the method.
That's why we highly appreciate providers like Bluehost. They make it extremely simple for newbies to build a site, specifically with features such as one-click WordPress install. They also is a great month-to-month hosting plan which is ideal for newbies
Another simple to use hosting plan that we strongly suggest is InMotion's Launch plan. They'll help you with its complete procedure and you'll feel like a professional with your very first personal site.
If you need to work more closely with your host, look for one that provides a simple and handy environment. Bluehost excels in this regard as well.
2. Traffic Capacity of Your Hosting
Each of the shared hosting services in this list can handle a fair volume of traffic, but some providers do it better than others.
Shared hosts such as HostGator and Bluehost for instance, provide unmetered bandwidth. So that, you will not be punished (in the form of a bad user experience or excess fees) if you get a large volume of visitors coming to your website at the same time.
This is also a place where you will need to check every web host's uptime guarantees. Almost all service providers will offer you an uptime of around 100%.
As everybody wants their site to be up and running 24/7, it's nice seeing a hosting provider put effort and money to ensure that your website will remain fully functional all the time, and if they can't, they'll repay you nicely.
3. Plans for Upgrading Your Website
Shared hosting is frequently considered as the entry base for many sites. It's a simple method to have a site up and running, even if you've never built a website or used a web hosting service before.
If you potentially reach such a level where your website is attracting hundreds of thousands of visitors every month, you should think about obtaining a dedicated host.
Bluehost, for example, provides both dedicated and VPS hosting for whenever you want to take your site to the next level.
DreamHost is also a fair choice to consider as it provides favorable managed WordPress and cloud hosting services.
All of these providers have a customer support staff that will assist you in quickly upgrading your hosting service plan, eliminating the need for a tedious migration procedure as it's still from the same provider.
4. Understand the Kind of Website You Want to Establish
All of the hosts on this list can effortlessly manage only one site for a portfolio or details regarding your company.
However, if you're thinking of starting an online brand, we strongly suggest you utilize a host like iPage. They provide you with a free web store, PayPal incorporation, and plenty of other useful e-commerce resources.
Alongside domain and hosting packages, GoDaddy gives an online store builder as well. Only with a couple of clicks, you'll be able to conveniently build a fabulous online store on their platform.
If you want to start blogging, Bluehost and DreamHost are fantastic service providers. They give solid WordPress implementations to facilitate getting your site operating and enticing a large number of new visitors.
Understanding all of these points will give you an idea of what every service provider is offering and what you want to achieve with your site.
Conclusion
You will quite certainly have a long-term association with the shared hosting service provider you select. So attentively explore all of the choices that have sparked your interest now and pick the one that matches your requirements the most
The top shared hosting plans often provide excellent value for new sites. But make sure you pick the service that could handle your traffic. You'll quite possibly have to upgrade your hosting services in the future, so if you select the appropriate starter plan now, you can hold this back for some time.
Not all shared web hosting service providers are made the same. Some service providers give stronger packages than others. When evaluating plans, take into account performance, strength, speed, reliability, and scalability.
All of these are reliable service providers with a proven track record of delivering high-quality shared hosting. Whether you go with one of our preferred choices or come up with your pick, utilize the guidelines and recommended practices we discussed to ensure a sensible selection.