In the quest for the best Debian VPS, we find ourselves in a maze of options. What sets Debian apart is its unmatched stability and speed, coupled with a top-notch packaging system. However, with numerous VPS providers to choose from, selecting the right one can be a conundrum.
That's where we come in. This article aims to dispel the confusion, presenting you with a concise comparison of the top Debian virtual private server services.
You'll get an inside look at their offerings, pricing, and advantages, all with an easy-to-understand approach. So let's jump into this exploration, simplifying your search for the perfect Debian VPS.
The Top 5 Best Debian VPS Hosting
| Provider | Plan Name | Price per Month | vCPU | RAM | Storage | Bandwidth | Special Features |
| --- | --- | --- | --- | --- | --- | --- | --- |
| Hostinger | KVM 1-8 | $5.99-$21.99 | 1-8 | 4-32GB | 50-400GB | 1-8TB | Debian OS, 100 Mb/s Network, IPV4 & IPV6 Support |
| A2 Hosting | Runway 1-4 | $2.99-$9.99 | 1-4 | 1-4GB | 20-150GB SSD | 0.5-3TB | NVMe SSD AMD EPYC Server, Free Dedicated IPs |
| DigitalOcean | Basic Droplets | $4.00-$96.00 | 1-8 | 0.5-16GB | 10-320GB | 500-6000GiB | CPU Options: Regular, Premium Intel, Premium AMD |
| Kamatera | Customized | $4-$12 | 1-2 | 1-2GB | 20-30GB SSD | 5TB | vCPU Type A, Debian GNU/Linux 8 & 9 |
| InterServer | Debian VPS | $6-$96 | 1-16 | 2-32GB | 30-480GB | 2-32TB | Supports cPanel and Direct Admin, KVM and Virtuozzo virtualization |

VPS with Debian OS
NVMe Storage up to 400 GB
Full Root Access and Dedicated IP
Support for multiple Debian Server Versions
VPS Plans start at $5.99/month
7% OFF with CODELESS coupon
See Pros & Cons
Pros
Wide range of Debian versions available
Generous RAM and Storage options
Stable, fast, and secure Debian VPS
Excellent 24/7 customer support
Cons
Renewal prices can be high
Weekly backups only, no daily backup option
Hostinger offers high-performance Debian VPS hosting services. Leveraging the stability and speed of Debian, they provide a robust platform that's suitable for a variety of applications. Hostinger's VPS hosting plans offer significant speed benefits, easy upgrades, bug-tracking systems, and support for multiple architectures.
One of the standout features of Hostinger's VPS is the wide variety of Debian versions it supports. This includes Debian 9 64bit with VestaCP control panel, Debian 9 64bit minimal, Debian 9 64bit with Webmin, Debian 9 64bit with Webmin/Virtualmin/LAMP, Debian 10 64bit, Debian 10 64bit with Hostinger Game Panel, Debian 11 64bit, and Debian 11 64bit with HestiaCP.
Their VPS plans offer generous RAM and storage options, with NVMe storage of up to 400GB and RAM up to 32GB, catering to various hosting needs. These plans also come with a dedicated IP, full root access, and weekly backups, providing users with a flexible, secure, and reliable hosting environment.
With plans starting at just $5.99 per month, Hostinger makes it affordable to leverage the power of VPS hosting. Their excellent 24/7 customer support further enhances the user experience, providing assistance whenever needed.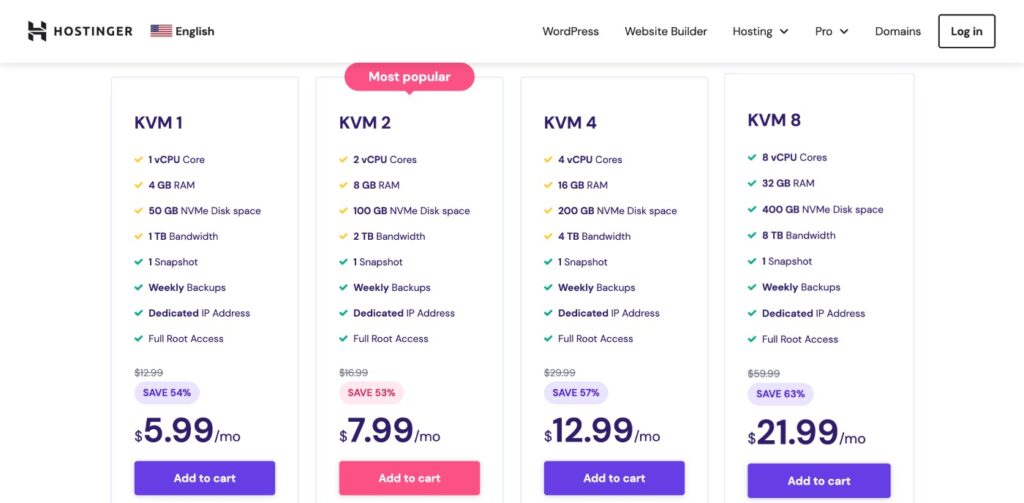 If you use our coupon code "CODELESS" after click on our link you will get an extra 7% discount.
Hostinger's commitment to delivering a reliable, fast, and secure VPS with Debian OS makes it an excellent choice for those seeking a hosting solution that can comfortably handle their growing hosting needs.
Read More: 7 Best VPS Ubuntu Hosting 2023 (Compared)

Unmanaged VPS hosting for technical users
High-speed SwiftServer with AMD EPYC Servers
Multiple resources for varying needs
Hassle-free Money-Back Guarantee
VPS Plans start at $2.99/month
See Pros & Cons
Pros
Fast, stable, and reliable hosting platform
Reinforced DDoS protection
Great for SEO rankings and conversion rate
Excellent customer reviews
Cons
Unmanaged VPS may require technical knowledge
Extra costs for cPanel license
When it comes to VPS hosting, A2 Hosting stands out with its unmanaged hosting plans tailored for users who prefer more technical control. Their services feature high-speed SwiftServer platforms and AMD EPYC servers, leading to blazing-fast read/write speeds and elevated CPU performance.
The VPS plans at A2 Hosting start at just $2.99/month and are designed with the user in mind, offering a variety of options to cater to different needs. Whether you're looking for more storage or higher transfer capacity, you can find a plan that suits your requirements.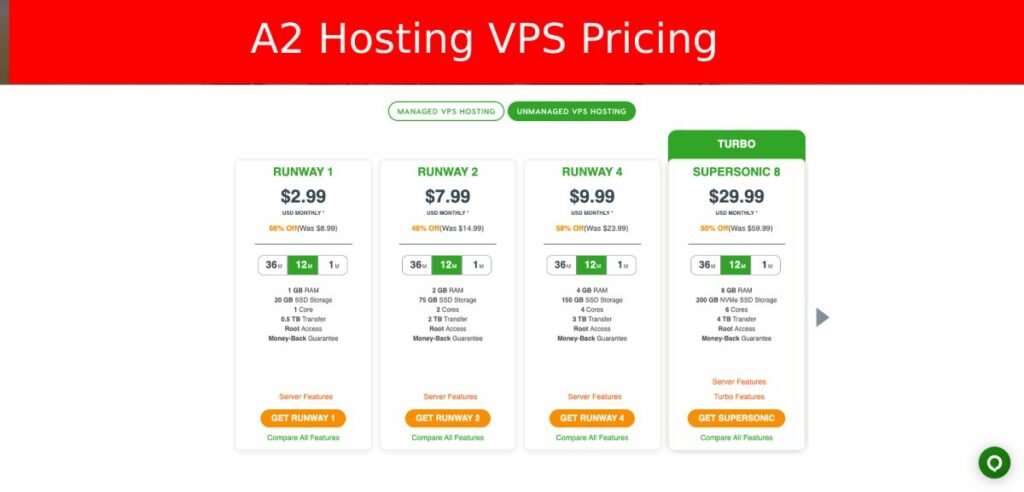 A2 Hosting's unmanaged VPS plans are feature-packed, from root access for full control, Webuzo 1-Click software installer for easy application installation, to free dedicated IPs for improved website accessibility. Furthermore, you can change and reload your OS on demand, granting you the flexibility to manage your hosting environment effectively.
Beyond the robust features, A2 Hosting is committed to providing reliable hosting services. It maintains a 99.9% uptime commitment and reinforced DDoS protection, ensuring your website is always accessible and protected from malicious attacks.
A2 Hosting has been accredited by the BBB with an A+ rating and has over 75,000 5-star reviews. The company offers a hassle-free money-back guarantee, affirming their commitment to customer satisfaction. For those with a keen eye on environmental issues, A2 Hosting's FutureServe green hosting initiative is a significant plus.
Overall, A2 Hosting presents a reliable and feature-rich VPS hosting solution, with its unmanaged plans allowing tech-savvy users to take full control of their hosting environment.

Efficient CPU usage with Basic Droplets
Flexible plans for different workloads
Intel and AMD CPU options
Great for bursty applications that can handle variable CPU levels
See Pros & Cons
Pros
Efficient CPU usage
Flexible and scalable
Cost-effective for lower resource usage
Supports variable levels of CPU
Cons
May require technical knowledge for setup and management
Not the best choice for applications requiring dedicated CPU threads
DigitalOcean's Basic Droplets are tailored to make the most of CPU usage at a lower cost, particularly useful for workloads that underuse dedicated threads. This efficiency makes them ideal for applications that can handle variable levels of CPU, like bursty applications.
Offering a selection of CPU options, DigitalOcean caters to varying performance needs. Users can choose from Regular, Premium Intel, or Premium AMD CPUs based on their specific requirements.
The pricing structure for DigitalOcean is flexible, with plans starting as low as $4 per month. These plans come with a specified amount of memory, vCPUs, transfer limit, and SSD storage, offering a great balance between cost and performance.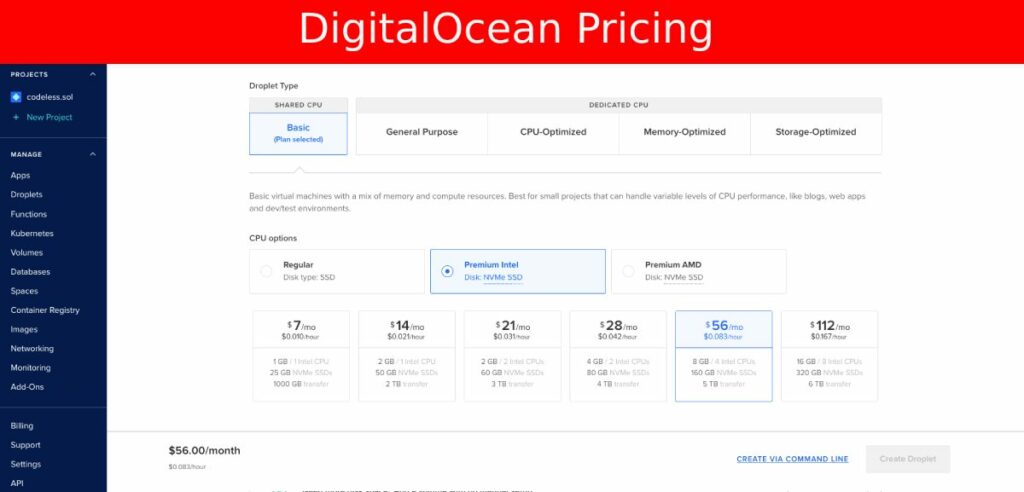 Whether you need a basic plan with a single vCPU and 512 MiB of memory or a more substantial option with 8 vCPUs and 16 GiB of memory, DigitalOcean has you covered. The option to scale resources according to needs makes DigitalOcean an excellent choice for businesses of all sizes.
In summary, DigitalOcean provides a cost-effective and flexible VPS hosting solution with its Basic Droplets, designed to offer efficient CPU usage. Its scalable plans and various CPU options cater to a broad range of hosting needs, offering a practical solution for applications that can handle fluctuating CPU levels.

Flexible plans with customizability
High-speed vCPUs
Generous SSD storage
Offers 5 TB Internet Traffic on all plans
Plans start from $6/month
See Pros & Cons
Pros
Customizable plans
High-performance CPUs
Generous bandwidth and storage
Cons
Debian GNU/Linux 8 may not be suitable for everyone
Higher-tier plans can be pricey
Kamatera provides customizable VPS hosting plans to suit diverse user needs. Their plans are feature-packed, offering high-speed vCPUs, ample SSD storage, and a generous 5 TB of internet traffic. These features are designed to offer a reliable and robust performance for your server needs.
Starting from just $4 per month, Kamatera offers a plan with 1 vCPU, 1024 MB of RAM, and 20 GB of SSD storage. This basic plan is suited to lightweight applications and small-scale businesses. It includes Debian GNU/Linux 8 32-bit, an OS known for its stability and robustness.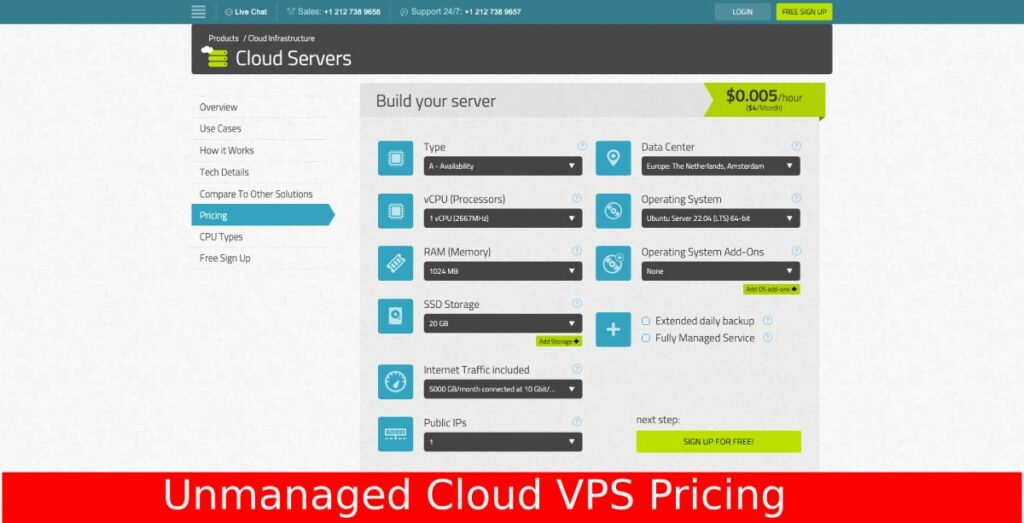 For those requiring more power, Kamatera has a $6 per month plan. This upgraded plan comes with an additional 1024 MB of RAM and Debian GNU/Linux 8 Desktop (XFCE GUI) 64-bit. This OS includes a user-friendly interface and is excellent for users who prefer a graphical user interface (GUI) over a command-line interface.
At $12 per month, Kamatera offers a plan with double the vCPU power and increased storage. This plan includes 2 vCPU (Type A, 5333MHz), 2048 MB of RAM, and 30 GB of SSD storage. It comes with Debian GNU/Linux 9 32-bit, providing the latest features and enhancements of the Debian OS.
Overall, Kamatera offers a great balance of pricing, performance, and features. Its flexible plans and customizable options make it a sound choice for businesses of all sizes. Whether you need a basic server or a more robust solution, Kamatera has you covered with its reliable and cost-effective VPS hosting plans.

Debian based VPS
Supports Cpanel and Direct Admin
Remote backup service
Top-notch security
Fast loading speed
Plans start from $6/month
See Pros & Cons
Pros
Reliable and stable Debian operating system
Supports popular coding languages
Offers robust security features
Fast loading speed
Cons
Managed support only available for 4+ slices
InterServer is a renowned provider offering Debian-based VPS hosting solutions. Debian is a popular open-source operating system known for its reliability and stability. With InterServer's Debian VPS, you can enjoy the advantage of this robust Linux operating system along with a suite of features to streamline web hosting automation.
Starting from a budget-friendly price of $6 per month, InterServer offers a plan with 1 CPU Core, 2GB of memory, 30GB of storage, and 2TB of data transfer. This plan is suitable for small-scale applications and startups. At the upper end, for $96 per month, you get a robust plan with 16 CPU Cores, 32GB of memory, 480GB of storage, and a whopping 32TB of data transfer, suitable for large-scale operations.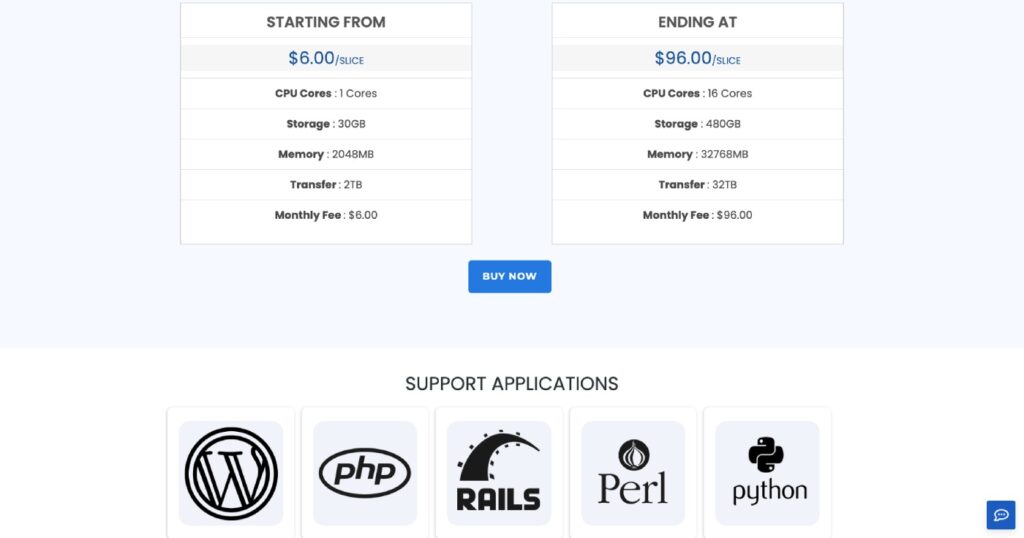 InterServer's Debian VPS supports popular control panels like cPanel and Direct Admin, making it an ideal choice for developers. Resellers can also benefit from these options by offering easy backend management to their clients.
Read More: 7 Best VPS Reseller Hosting Providers 2023 (Compared)
InterServer places a strong emphasis on security. It employs KVM and Virtuozzo virtualization platforms, both of which are highly regarded for their security practices. This ensures that your workload is secured in a jail environment, inaccessible by other virtual servers on the same node.
In addition to the robust security, InterServer also offers a remote backup service. This feature secures your data and prevents any loss of information. The service is straightforward with no hidden fees and includes free incoming and outgoing transfers.
One key feature of InterServer is its lightning-fast loading speed. This ensures that your potential customers aren't lost to slow loading times, offering an edge over your competitors. InterServer also offers managed support for purchases of 4 slices or more, helping you with security patches, diagnosing failed services, and control panel issues.
Overall, InterServer stands out with its affordable Debian VPS hosting solutions. With its emphasis on security, support for popular control panels, and fast loading times, it is an excellent choice for a range of web hosting needs.
FAQs
What is Debian?
Debian is a free and open-source operating system based on the Linux kernel. It's well-regarded for its stability, security, and abundance of software packages.
Why should I choose a Debian VPS?
Debian VPS offers an exceptional blend of stability, speed, and software availability. Its robust packaging system, bug tracking system, and support for multiple architectures make it a convenient choice for many server applications.
Who typically uses a VPS with Debian OS?
Debian VPS is used by a wide range of users, from developers to system administrators, due to its powerful functionality and stability. If you need a reliable, secure system with a broad selection of software packages, a Debian VPS could be a good fit.
How is Debian VPS different from other VPS solutions?
The major difference lies in the operating system. Debian is known for its stable and secure environment, along with a large library of pre-compiled software. This makes it a popular choice for many users who value these attributes in a server environment.
Can I upgrade or downgrade my Debian VPS?
Yes, most hosting providers allow flexibility in changing your plan. You can upgrade or downgrade your Debian VPS plan depending on your needs. Remember to confirm this with your specific provider.
What type of applications can I run on a VPS with Debian OS?
Debian's large repository of software packages means you can run a wide variety of applications, from web servers (like Apache or Nginx), databases (like MySQL or PostgreSQL), and programming languages (like Python, PHP, or Ruby).
How secure is a Debian Virtual Private Server?
Debian is renowned for its robust security. The Debian Security Team actively works on monitoring vulnerabilities and releasing security updates. However, the security of your VPS also heavily depends on your practices, like keeping all software up to date, using strong passwords, and configuring services correctly.
Does Debian VPS support control panels like cPanel or Plesk?
Yes, Debian VPS supports various control panels, including cPanel and Plesk. These panels simplify the process of managing your server and website. Note that usage of these panels might require a separate license.
Conclusion
In wrapping up, finding the right virtual private server with Debian as your chosen operating system depends largely on your specific needs. Our goal was to shed light on some top providers, each offering unique benefits. Whether you prioritize cost, performance, support, or flexibility, one of these services is likely to meet your needs. Ultimately, the perfect solution will align seamlessly with your unique requirements. Happy hosting!

As one of the co-founders of Codeless, I bring to the table expertise in developing WordPress and web applications, as well as a track record of effectively managing hosting and servers. My passion for acquiring knowledge and my enthusiasm for constructing and testing novel technologies drive me to constantly innovate and improve.
Expertise:
Web Development,
Web Design,
Linux System Administration,
SEO
Experience:
15 years of experience in Web Development by developing and designing some of the most popular WordPress Themes like Specular, Tower, and Folie.
Education:
I have a degree in Engineering Physics and MSC in Material Science and Opto Electronics.