When we're looking to purchase a Virtual Private Server (VPS), the pre-installed operating system is of paramount importance, especially in the case of an unmanaged server. In this article, we will list and compare various Ubuntu VPS providers. Ubuntu is an excellent choice for many because it's user-friendly and one of the most well-known Linux distributions.
Ubuntu's popularity is in large part due to its accessibility. Even for individuals new to Linux, Ubuntu's intuitive interface and vast user community make it easier to learn and navigate. As such, finding a VPS provider that offers Ubuntu as a pre-installed operating system can save users significant time and effort in server management.
Furthermore, Ubuntu is well known for its robustness and security. With regular updates and patches, Ubuntu ensures that the server remains secure from various threats.
So, whether you're a seasoned developer or a newbie venturing into the world of VPS hosting, this guide will give you a comprehensive view of the best Ubuntu VPS providers in the market.
The Top 7 Best VPS Ubuntu Hosting Providers

Ubuntu compatibility on VPS plans
Intuitive hPanel for easy management
99.9% uptime guarantee
Zyro website builder included
VPS hosting starts at $3.99/month
See Pros & Cons
Pros
Excellent value for money
Ubuntu support for VPS hosting
Fast and reliable performance
Feature-rich VPS plans
Cons
Limited resources on basic plans
No Ubuntu support on shared hosting
Hostinger is a great choice for those looking for a VPS hosting provider that supports Ubuntu. Their VPS hosting plans are affordable yet robust, with the cheapest plan starting at $3.99 per month.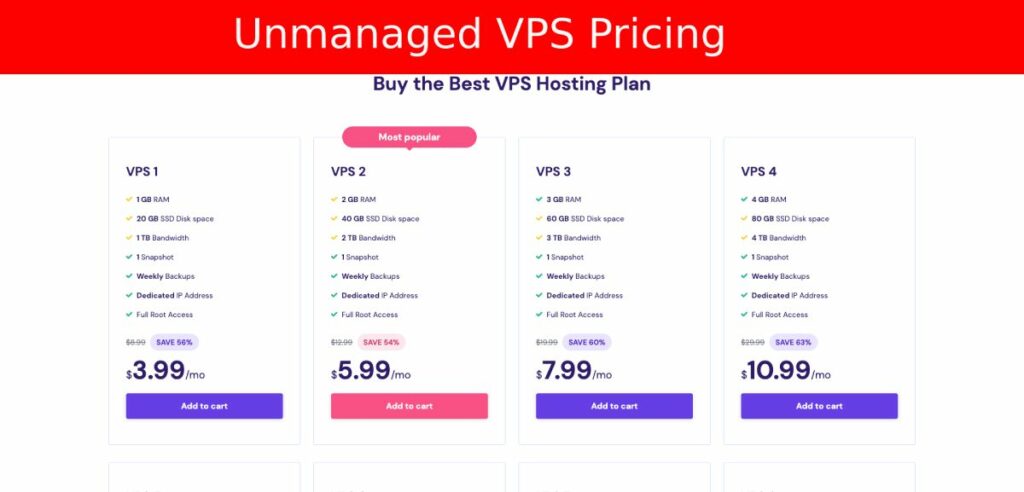 Each of their VPS plans comes with full root access, which allows you to install an operating system of your choice, including Ubuntu. The plans also offer a dedicated IP, SSD storage, and a 100 Mb/s Network.
Their control panel, hPanel, provides an easy-to-use interface that makes managing your hosting account a breeze, whether you're an Ubuntu beginner or an expert.
With its blend of affordability, features, and Ubuntu support, Hostinger's VPS hosting is a strong contender for those looking to host their website on an Ubuntu server.

Ubuntu compatibility on VPS and Dedicated Server plans
cPanel and WHM for easy management
Flexible and scalable resources
Free website and domain transfers
VPS hosting starts at $23.95/month
See Pros & Cons
Pros
Robust performance
Ubuntu support on VPS and Dedicated plans
Excellent customer service
Flexible and scalable plans
Cons
No Ubuntu support on shared hosting
Relatively higher prices
HostGator offers Ubuntu compatibility on both its VPS and dedicated server hosting plans, making it a versatile option for those favoring this operating system.
Their VPS hosting plans are flexible and scalable, allowing you to choose the amount of memory, CPU cores, and disk space that best suits your needs. The basic VPS plan starts at $19.95 per month and comes with 2 GB of RAM, 2 cores CPU, and 120 GB of disk space.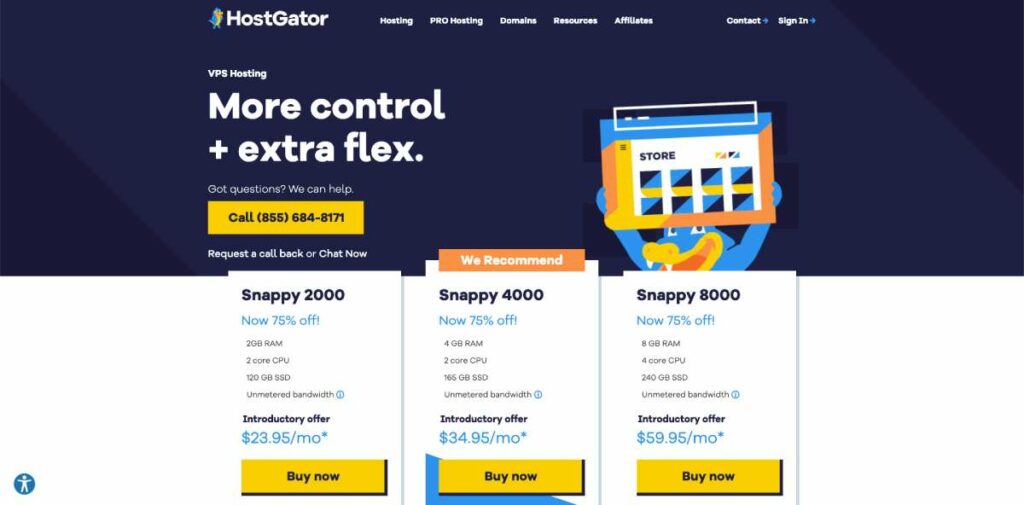 All VPS and dedicated server plans feature full root access, enabling you to install Ubuntu and manage it using the included cPanel and WHM.
With its broad range of hosting options, excellent customer support, and flexibility, HostGator stands as a robust choice for Ubuntu-based hosting.

Full Ubuntu support
SSD-only cloud with flexible API
Offers Droplets, Spaces, and Kubernetes
Transparent and predictable pricing
Droplets starting at $5/month
See Pros & Cons
Pros
Full Ubuntu compatibility
Scalable resources
A diverse range of cloud services
Impressive community and documentation
Cons
Higher learning curve for beginners
Customer support could be improved
DigitalOcean is a developer-friendly cloud hosting provider that supports Ubuntu across its range of services. Whether you're deploying a simple application or a complex web infrastructure, DigitalOcean's scalable cloud servers, known as Droplets, have you covered.
DigitalOcean is also a great choice if you want to run a VPS on the Nginx server.
Their services are built on an SSD-only cloud and a flexible API, providing quick and efficient deployment of your Ubuntu server. Droplets start at $5 per month, providing 1 GB of RAM, 1 vCPU, and 25 GB of SSD storage, making it a cost-effective solution.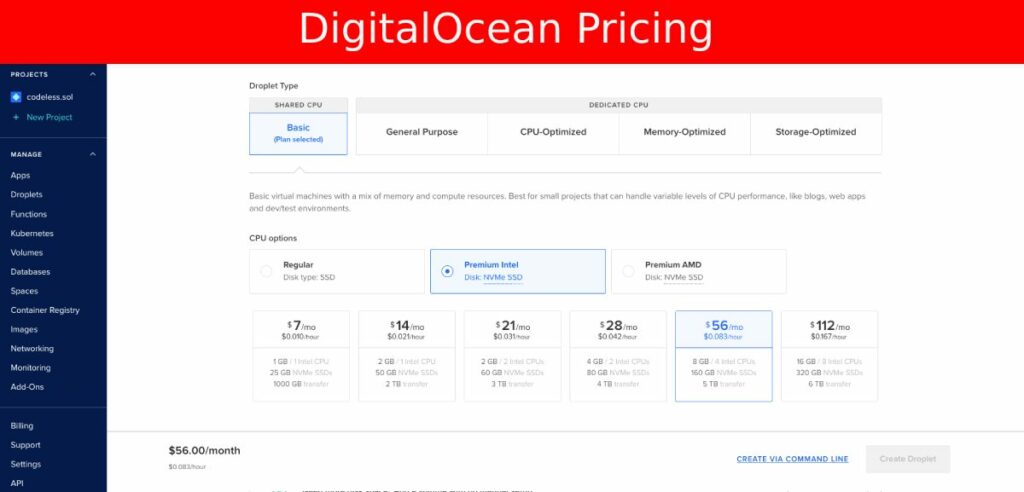 Aside from Droplets, DigitalOcean offers additional services like Spaces for object storage and Kubernetes for container orchestration, each with full Ubuntu support. This wide range of options, coupled with an active community and rich documentation, make DigitalOcean a favored option among developers.
While there may be a higher learning curve for beginners and customer support could be improved, DigitalOcean's comprehensive features, Ubuntu compatibility, and scalable resources position it as a strong contender in the hosting market.

Ubuntu compatibility on VPS Plans
Optimized for speed with SSD storage
Developer-friendly tools and features
24/7/365 Guru Crew support
VPS hosting starts at $2.99/month
See Pros & Cons
Pros
Ubuntu support on VPS and Dedicated plans
Exceptional speed and reliability
Feature-rich hosting packages
Highly responsive customer support
Cons
No Ubuntu support on shared hosting
Can be slightly overwhelming for beginners
A2 Hosting supports Ubuntu on its VPS and Dedicated Server hosting plans, giving you the flexibility to build your web projects on a robust and reliable hosting environment.
Their VPS plans are optimized for speed with SSD storage and offer a great balance between price and performance, starting at just $4.99 per month. These plans provide root access, enabling you to install Ubuntu and customize your server to fit your needs.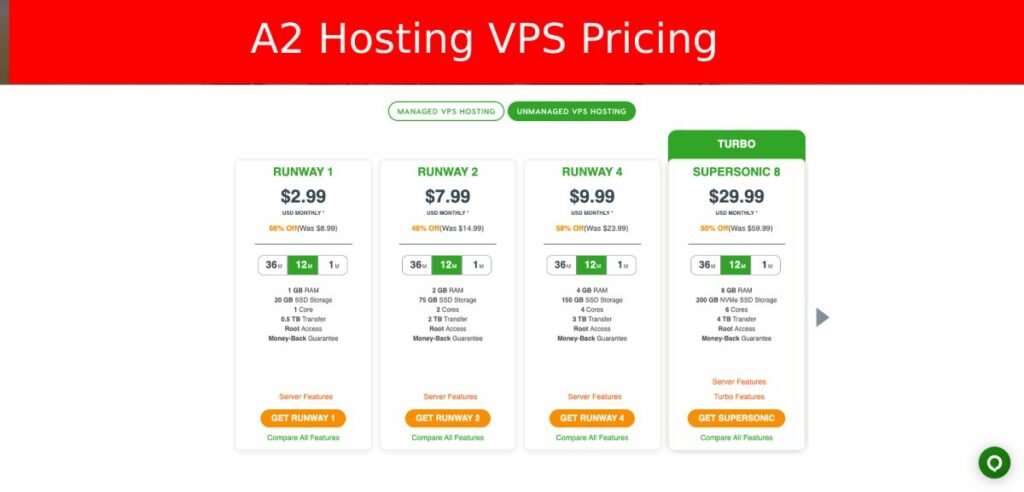 A2 Hosting's developer-friendly tools and features, along with its 24/7/365 Guru Crew Support, make managing your Ubuntu server a streamlined experience, whether you're a novice or a seasoned developer.
Although A2 Hosting does not offer Ubuntu support on its shared hosting plans and could be slightly overwhelming for beginners due to its wide array of features, it's nonetheless a reliable choice for Ubuntu hosting due to its speed, support, and feature-rich packages.

Ubuntu support with custom PHP stack
Cloud-based infrastructure with 5 IaaS partners
Optimized stack with built-in caching
24/7 support and server management
See Pros & Cons
Pros
Full Ubuntu support
Flexible and scalable cloud hosting
Managed services for less technical burden
5 IaaS partners for better reliability
Cons
Slightly more expensive than competitors
No traditional cPanel
CloudWays is a managed cloud hosting platform that offers Ubuntu as one of the standard operating systems for its servers. This makes it a great choice for those wanting the power and flexibility of Ubuntu combined with the convenience of a managed hosting solution.
The company uses a cloud-based infrastructure with five IaaS partners, including DigitalOcean, AWS, and Google Cloud, giving you plenty of options to choose the best fit for your needs.
CloudWays' platform is built on an optimized stack with built-in caching technologies, and it features a custom PHP stack compatible with Ubuntu for improved performance.
While CloudWays is slightly more expensive than some competitors, starting at $12/month, its managed services, 24/7 support, and server management capabilities offset the cost by reducing the technical burden on users.
The lack of a traditional cPanel may seem like a disadvantage to some, but their custom panel is intuitive and packed with features, making it a reliable option for Ubuntu hosting.

Ubuntu support on Cloud VPS
Scalable and customizable plans
High-performance SSD servers
24/7 Tech Support
See Pros & Cons
Pros
Full Ubuntu support
Flexible and scalable cloud hosting
Great performance with SSD servers
Competitive pricing
Cons
User interface could be more intuitive
Extra cost for managed services
Kamatera is a global cloud services platform providing Ubuntu support on its Cloud VPS hosting solutions. The company's high-performance SSD servers and scalable plans offer an excellent environment for running Ubuntu-based applications and services.
Kamatera's cloud servers are fully customizable, letting you choose your preferred Ubuntu version, server location, CPU, RAM, and storage to meet your specific needs. These servers are also equipped with a highly available architecture, offering excellent uptime and reliability.
While the pricing is competitive, starting at $4 per month, managed services come at an additional cost. The user interface could also be more intuitive, particularly for beginners. However, Kamatera offers 24/7 technical support, ensuring that help is readily available when needed.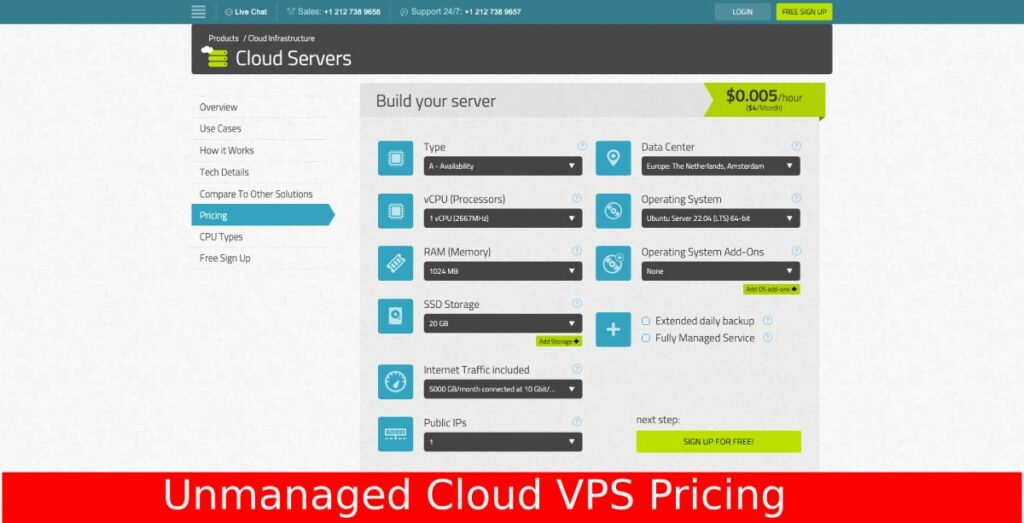 With full Ubuntu support, flexible hosting solutions, and high performance, Kamatera is a solid choice for anyone looking for Ubuntu-friendly hosting.

Ubuntu support on VPS plans
Fully managed hosting solutions
High-performance servers with SSD storage
Exceptional customer service
VPS hosting starting at $15/month
See Pros & Cons
Pros
Ubuntu support on VPS and Dedicated plans
Managed services for ease of use
Reliable and high-performing servers
Highly rated customer support
Cons
Slightly higher price point
No shared hosting option
LiquidWeb offers Ubuntu support on its VPS and Dedicated Server hosting plans, allowing you to utilize the stability and flexibility of this popular Linux distribution.
Recognized for their fully managed hosting solutions, LiquidWeb takes care of server management, allowing you to focus on your projects. Their high-performance servers come equipped with SSD storage, promising fast loading times and smooth performance for your Ubuntu-powered applications.
While the cost of LiquidWeb's hosting solutions is higher than some competitors, with VPS hosting starting at $15 per month, the company justifies the cost with its superior services. Their customer service, is widely recognized for its excellent support and rapid response times.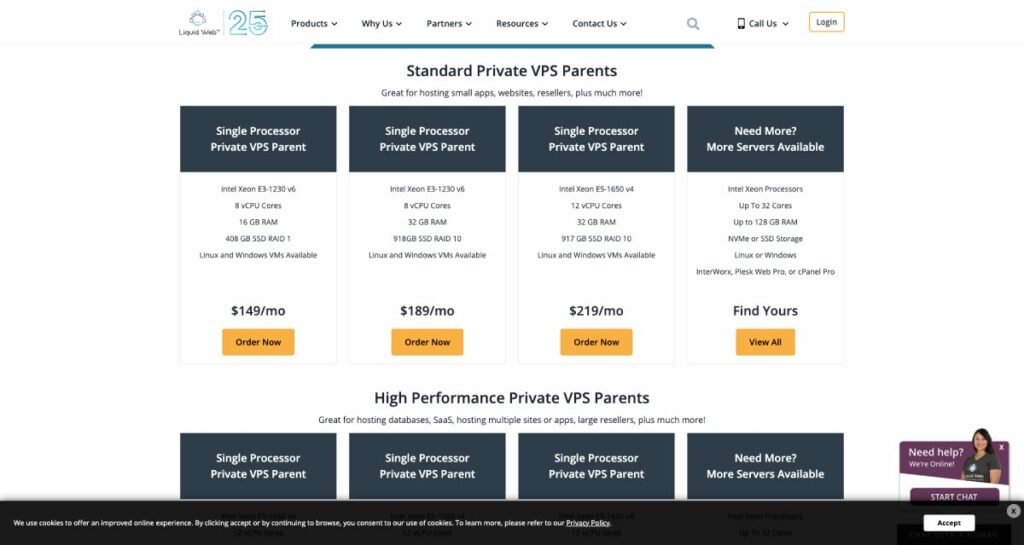 Though LiquidWeb doesn't offer shared hosting and may be slightly more expensive, their Ubuntu-compatible VPS and Dedicated Server plans, combined with their managed services and excellent customer support, make them a strong choice for Ubuntu hosting.
FAQs
What is Ubuntu VPS?
Ubuntu VPS is a Virtual Private Server running on the Ubuntu operating system. Ubuntu is a popular choice for VPS due to its user-friendly interface, robust security features, and large user community.
Why should I choose Ubuntu for my VPS?
Ubuntu is known for its stability, regular updates, and strong community support. It also comes with many pre-installed applications, making it easier to deploy servers.
Can I upgrade my Ubuntu VPS later if my site grows?
Yes, most hosting providers allow you to upgrade your VPS package as your need for resources increases. This often includes increasing RAM, storage, and bandwidth.
Is Ubuntu VPS secure?
Ubuntu is considered very secure. It benefits from regular security patches and updates from its active community. However, the overall security also heavily depends on how well the server is set up and maintained.
Do I need technical skills to manage Ubuntu VPS?
Yes, managing a VPS requires a certain level of technical knowledge, especially if it's unmanaged. You would need to know how to install software, manage files, and handle security on a server.
What if I need help managing my VPS with Ubuntu?
If you're not comfortable managing your own server, consider choosing a managed VPS plan. In a managed plan, the hosting provider takes care of server maintenance, updates, and security, letting you focus on your website.
Which VPS hosting provider should I choose for Ubuntu?
The choice of a hosting provider depends on your specific needs. Consider factors such as pricing, server speed, storage, RAM, and whether the provider offers managed or unmanaged services. Some popular providers include Bluehost, Hostinger, HostGator, DigitalOcean, and A2 Hosting.
What can I do with a VPS with Ubuntu Installed?
You can use an Ubuntu VPS for web and application hosting, data storage, as a mail server, for gaming, and for many other purposes. Essentially, you can do anything you could do on a physical server, but with the flexibility and scalability that a VPS provides.
Conclusion
In this article, we have compared and listed some of the best and most affordable hosting providers offering VPS with Ubuntu Linux. You can choose based on your specific needs. For instance, some might be looking for a Virtual Private Server that offers more RAM, while others might prioritize a larger disk storage.
Furthermore, cost and speed are other crucial factors to consider. If you are in the market for an affordable yet fast server, I recommend checking out Hostinger and A2 Hosting, as they meet these criteria.
Hostinger is a great option if you're seeking value for money. Despite its low pricing, it doesn't compromise on essential features, delivering commendable server performance and speed. Their basic plan offers 1GB RAM and 20GB storage space, which should suffice for smaller websites or personal projects.
A2 Hosting, on the other hand, excels in speed and performance. Their lowest-tier plan offers 1GB RAM and a generous 150GB storage, making it suitable for websites requiring more disk space. They also have a reputation for excellent customer support.
Choosing a VPS provider comes down to your individual needs and budget. Assess your requirements – such as storage, RAM, speed, and cost – and use this guide to make an informed decision about which Ubuntu VPS hosting provider will be the best fit for you.

As one of the co-founders of Codeless, I bring to the table expertise in developing WordPress and web applications, as well as a track record of effectively managing hosting and servers. My passion for acquiring knowledge and my enthusiasm for constructing and testing novel technologies drive me to constantly innovate and improve.
Expertise:
Web Development,
Web Design,
Linux System Administration,
SEO
Experience:
15 years of experience in Web Development by developing and designing some of the most popular WordPress Themes like Specular, Tower, and Folie.
Education:
I have a degree in Engineering Physics and MSC in Material Science and Opto Electronics.