DIY website builders are an excellent solution for anyone looking to create a simple personal or business website. Utilizing these "Do It Yourself" platforms can serve as a great starting point for anyone aspiring to delve into web design as a profession.
Many of the website builders that will be listed offer highly intuitive tools, ranging up to those with AI support, making the process of creating a website accessible to anyone.
The versatility and ease of use of these builders allow individuals to design and develop their web presence without the need for extensive technical knowledge or background, making them a popular choice for beginners and experts alike.
The Top 7 Best DIY Website Builders

Easy drag-and-drop interface
Over 500 designer-made templates
Advanced SEO tools
Integrated online store
See Pros & Cons
Pros
Beginner-friendly
Rich feature set
Highly customizable
Includes free hosting
Cons
Not suitable for complex websites
Pricier than competitors
Wix is the best DIY website builder on the internet. Known for its simplicity and intuitiveness, Wix offers a drag-and-drop interface which lets you build a professional-looking website in no time.
Wix offers more than 500 designer-made templates, allowing you to select the perfect design for your business or personal website. With its rich feature set including advanced SEO tools (WIX SEO Wiz), an integrated online store, and free hosting, Wix offers a comprehensive solution for building and managing your online presence.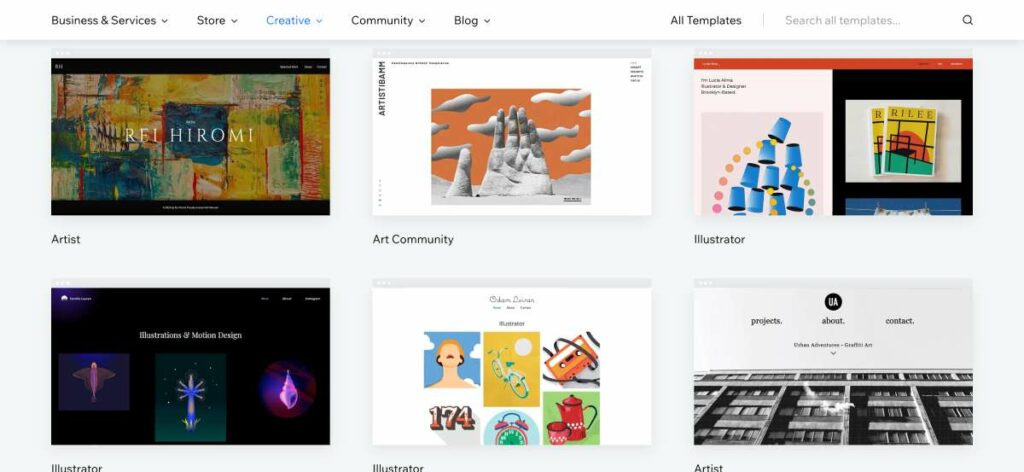 However, Wix is not ideal for larger or more complex websites due to limitations in its content management capabilities. And while it provides extensive features, it is pricier than some competitors. The basic plan starts at $14 per month, providing unlimited bandwidth, 3GB storage, and the ability to connect your domain.
In conclusion, Wix is an excellent choice for beginners and small businesses looking for an easy-to-use, feature-rich website builder. However, for larger, more complex sites, users might want to consider other options.

Visual CSS grid
Interactions and animations
Advanced typography controls
E-commerce capabilities
See Pros & Cons
Pros
Highly customizable
Professional design features
Integration with CMS
E-commerce integration
Cons
Steep learning curve
Plans can get expensive
Webflow presents itself as a robust DIY website builder that combines professional design with intuitive visuals. It offers a powerful visual CSS grid that lets users create complex, responsive layouts without writing a single line of code.
One of Webflow's standout DIY features is its interactions and animations toolset. With this, you can bring your website to life with scroll effects, hover interactions, and more, all customizable directly from the Webflow interface. Webflow's advanced typography controls also allow you to fine-tune your site's text appearance for a unique and professional look.
When it comes to e-commerce, Webflow does not disappoint. You can design and launch an online store with customizable product grids, shopping cart, and checkout process. This makes it an excellent choice for businesses that want to control every aspect of their online shop's design and functionality.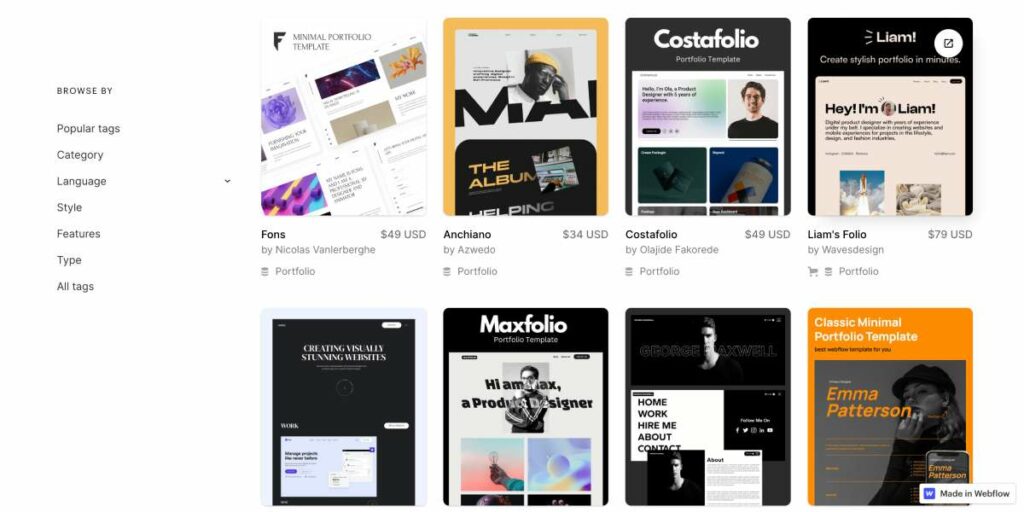 However, Webflow has a steeper learning curve compared to other DIY website builders. While its advanced features give users more control over their site's design and functionality, beginners might find the interface overwhelming at first. Also, its plans can become expensive for users who require more advanced features.
Despite these cons, if you are looking for a website builder that offers high levels of customization and e-commerce capabilities, Webflow could be a great fit for you.
Read More: Webflow Templates

AI-driven design assistant
Drag-and-drop builder
E-commerce integration
SEO and marketing tools
See Pros & Cons
Pros
Easy to use for beginners
Cost-effective
Integrated with hosting service
AI-driven design
Cons
Less customization options
Limited features for larger websites
Hostinger, through its website builder Zyro, offers an accessible and affordable option for those interested in building their own websites. It features an AI-driven design assistant, simplifying the process of creating a polished, professional site.
Zyro's drag-and-drop builder makes the creation process a breeze, even for those with little to no technical experience. This intuitive tool allows you to easily place and arrange elements on your site, creating a personalized look and feel.
The platform also provides robust e-commerce integration, enabling you to easily set up an online store. This, coupled with the included SEO and marketing tools, ensures your site is optimized for visibility and ready to attract customers.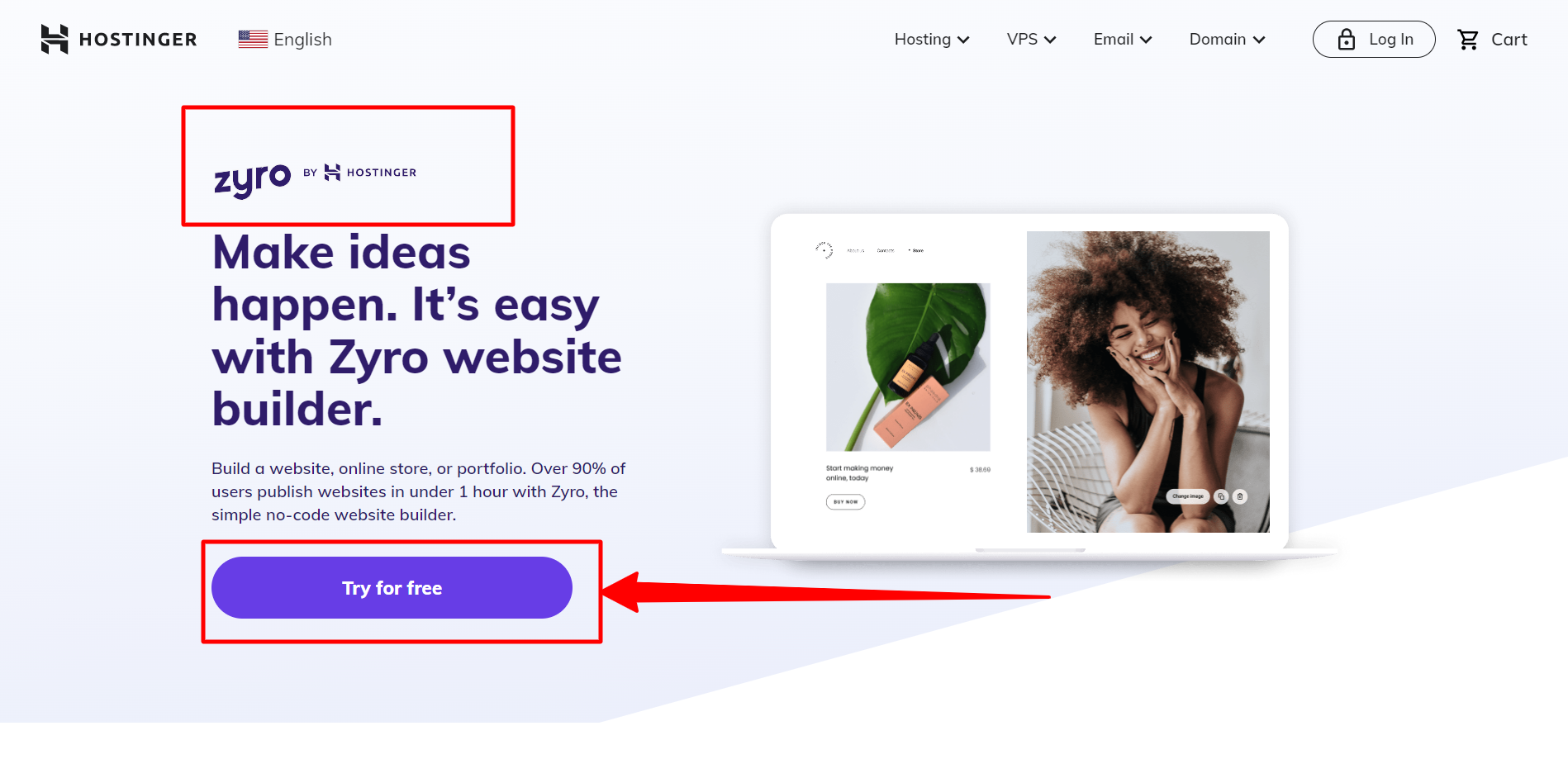 While Hostinger's website builder offers many conveniences, it's worth noting that it may not be suitable for larger or more complex websites. The customization options are not as extensive as some other website builders, and the features offered might not meet the needs of larger websites.
Despite these considerations, for novices looking for an easy and budget-friendly way to establish their online presence, Hostinger's Zyro is an excellent choice.

Beautiful, designer templates
Integrated E-commerce capabilities
Mobile optimization
Blogging tools
See Pros & Cons
Pros
Stunning design templates
Easy-to-use builder
Feature-rich
Responsive customer support
Cons
Less flexibility compared to competitors
No free plan available
Squarespace is a website builder that excels in providing its users with visually stunning and designer-quality templates. This makes it a go-to choice for those interested in creating beautiful, professional-looking websites without needing to understand code.
The platform boasts an easy-to-navigate builder, which lets you design your website by simply dragging and dropping elements onto your pages. Squarespace also comes with built-in mobile optimization, ensuring your site looks great on all devices.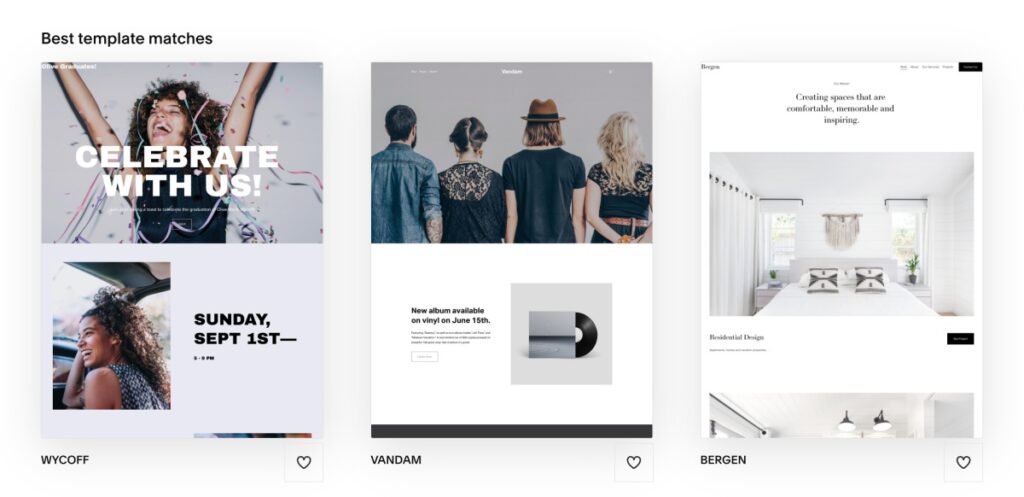 For those interested in starting a blog or an online store, Squarespace offers robust blogging tools and integrated e-commerce capabilities. This makes it a versatile choice for a range of website needs.
While Squarespace provides a variety of high-quality features, it doesn't offer as much flexibility as some competitors when it comes to customization. Additionally, there is no free plan available, which may not be ideal for those on a tight budget. Nevertheless, Squarespace's ease of use, coupled with its beautiful design templates, makes it a solid choice for those looking to build a website with minimal hassle.

Highly customizable
Thousands of plugins
SEO friendly
Strong community support
See Pros & Cons
Pros
Exceptional flexibility
Massive theme and plugin library
Great for blogging and e-commerce
Active community and abundant resources
Cons
Can be complex for beginners
Requires separate hosting
WordPress.org offers an open-source platform that stands out for its incredible customizability and flexibility. This platform empowers you to build virtually any type of website, whether it's a blog, business site, online store, or portfolio.
The platform is renowned for its vast library of plugins and themes, giving users virtually limitless options to customize their sites. It's also known for its strong SEO capabilities, which can help enhance the visibility of your site on search engines.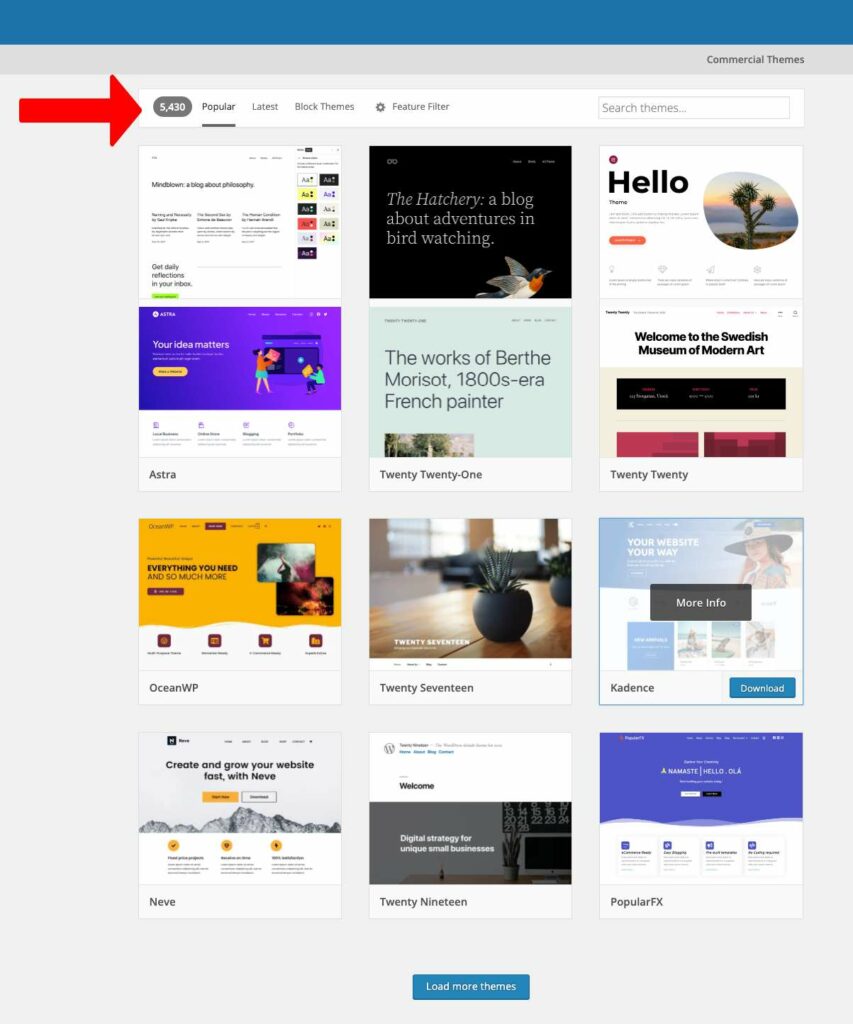 Another strength of WordPress.org is the active community surrounding it. This community provides a wealth of resources, including tutorials, forums, and guides, making it easier for you to navigate the platform and resolve any issues you may encounter.
WordPress.org may have a steeper learning curve for beginners compared to other website builders. Also, unlike many other platforms, it requires you to arrange separate web hosting. However, its versatility, power, and the freedom it offers make it a top pick for many web developers and site owners.
We ourself at Codeless Theme produce a lot of themes for any kind of website that is easy to use you can check them out here: Codeless Themes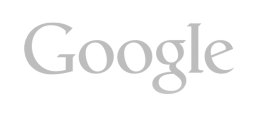 Integrates with Google Workspace
Drag-and-drop editor
Mobile-responsive designs
Free to use
See Pros & Cons
Pros
Simple and intuitive to use
Perfect for basic websites
Seamless integration with Google apps
Free to use
Cons
Very limited customization
No advanced features or plugins
Google Sites offers a straightforward and intuitive website builder that integrates seamlessly with the Google Workspace. This makes it a solid choice for anyone looking for an uncomplicated, self-guided website building experience.
With its drag-and-drop editor, Google Sites allows you to construct your website in a visual and user-friendly way. Additionally, the platform offers mobile-responsive designs, ensuring your site is accessible and looks good across different devices.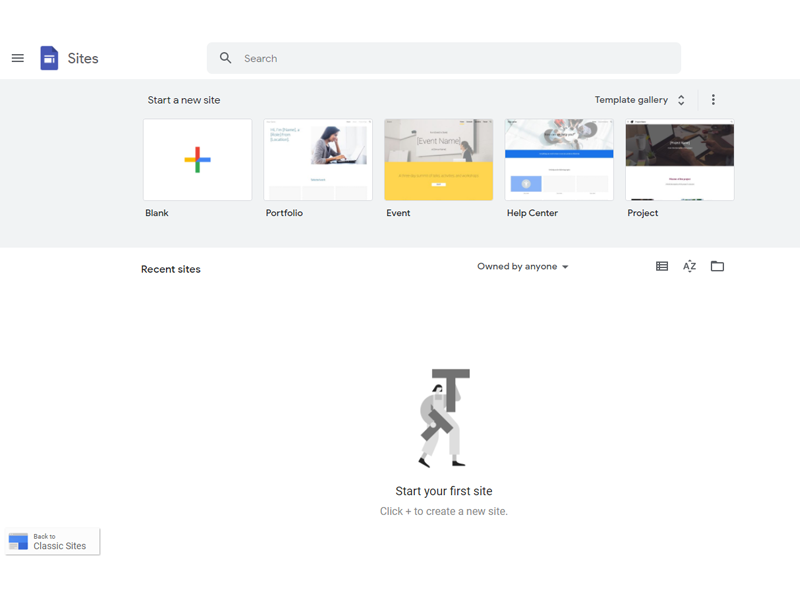 One of the most compelling features of Google Sites is that it is entirely free to use. This makes it an excellent choice for individuals or small businesses on a budget who need a basic, functional website.
However, it's important to note that Google Sites does not offer the same level of customization or advanced features as other website builders. It doesn't support a range of themes or plugins, and customization options are relatively limited. Nonetheless, for those seeking simplicity and ease of use, Google Sites is a viable option.

Easy drag-and-drop editor
Mobile-friendly designs
Integrated SEO tools
E-commerce capabilities
See Pros & Cons
Pros
User-friendly interface
Good range of templates
Excellent customer support
In-built marketing tools
Cons
Limited creative freedom
Some features require higher-tier plans
GoDaddy Website Builder is a user-friendly platform that allows you to construct professional websites without needing any technical expertise. The easy-to-use drag-and-drop editor enables you to create a site quickly and efficiently, making it a great choice for those keen on a do-it-yourself approach.
One of the standout features of GoDaddy is its selection of templates. There's a good variety to choose from, and they're all designed to be mobile-friendly. This means your site will look great and perform well on any device.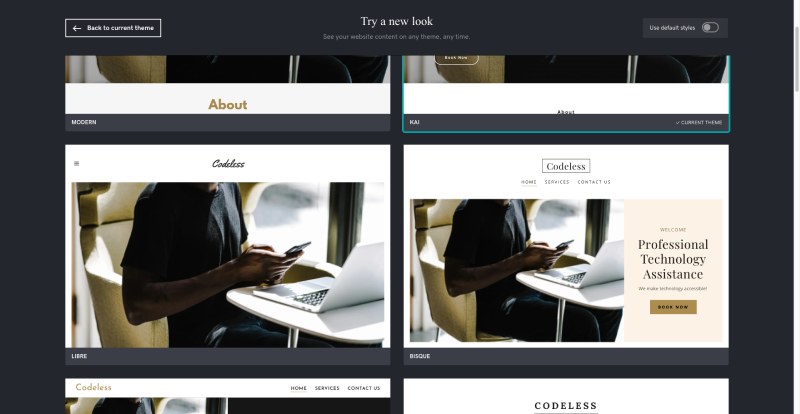 Additionally, GoDaddy includes integrated SEO tools to help improve your site's visibility on search engines, and it provides e-commerce capabilities for businesses wanting to sell products or services online.
While GoDaddy Website Builder offers a good range of features, it may not provide as much creative freedom compared to other platforms. Also, some features, like advanced SEO tools or premium templates, require a subscription to higher-tier plans. Despite this, GoDaddy's ease of use and robust functionality make it a strong contender in the website builder market.
FAQs
What is a DIY website builder?
A DIY website builder is a platform or tool that allows users to create and manage a website without needing to write code. They typically use drag-and-drop functionality and provide pre-made templates to make the process easier.
Who should use a DIY website builder?
DIY website builders are excellent for small businesses, bloggers, artists, and anyone looking to establish an online presence without significant web design experience or a substantial budget for hiring professionals.
Are DIY website builders expensive?
The cost varies depending on the specific builder and the plan you choose. Some offer free versions, but these usually come with limitations. Paid plans often come with additional features and range from very affordable to more premium price points.
Can I customize my site with a DIY website builder?
Yes, most DIY website builders offer a wide array of customization options, including color schemes, font choices, page layouts, and more. Some also allow for custom code for even more flexibility.
Can I use my domain name with a DIY website builder?
Most DIY website builders allow you to connect a custom domain name, although this is usually a feature of paid plans. Some also offer free subdomains.
Are websites created with DIY website builders SEO-friendly?
Many DIY website builders include SEO tools, or are structured in a way that's SEO-friendly. However, achieving good SEO results also depends on your content and practices.
Can I create an online store with a DIY website builder?
Yes, many DIY website builders offer e-commerce features, allowing you to create an online store. This includes product pages, shopping carts, and secure payment gateways.
Can I edit my website after I've published it?
Yes, DIY website builders typically allow you to make changes to your website after it's published. You can update your site as often as you like.
Conclusion
Now you should have a clear idea of where to start with creating a website and which Website Builder to choose to make this process as easy and fast as possible.
All the tools listed above offer the best that the market currently has to provide and also the opportunity to create a complete website individually without spending on a developer or a web agency.
They empower you to take the reins of your online presence, crafting a site that truly reflects your personal or business identity.

As one of the co-founders of Codeless, I bring to the table expertise in developing WordPress and web applications, as well as a track record of effectively managing hosting and servers. My passion for acquiring knowledge and my enthusiasm for constructing and testing novel technologies drive me to constantly innovate and improve.
Expertise:
Web Development,
Web Design,
Linux System Administration,
SEO
Experience:
15 years of experience in Web Development by developing and designing some of the most popular WordPress Themes like Specular, Tower, and Folie.
Education:
I have a degree in Engineering Physics and MSC in Material Science and Opto Electronics.