The "best website builders for interior designers" offer the perfect platform to create an online portfolio that reflects the aesthetic sensibilities and professional skills that are at the heart of your trade.
Interior design is all about the subtle balance of form and function, of aesthetics and practicality – your website should reflect this. It should be a minimalist yet powerful canvas where your work can truly shine.
Aesthetics plays a significant role in the world of interior design, and your website is no exception. It should not only demonstrate your portfolio but also be an exemplar of your design philosophy.
It should be visually appealing while providing a seamless user experience. Below, we will explore the top website builders that meet these criteria, allowing you to showcase your interior design portfolio in the most engaging and efficient way possible.
These website builders provide the necessary tools to create a professional website that can truly represent the quality of your work and the uniqueness of your design style.
The Top 5 Best Website Builders for Interior Designers
Best for Professional Designs

Stunning design-focused templates
Easy drag and drop builder
Integrated eCommerce features
Starting price from $12/month (billed annually) $16/month (billed monthly)
See Pros & Cons
Pros
Intuitive interface for non-tech savvy users
SEO-friendly design
24/7 customer support
Advanced blogging features
Cons
Less customization compared to some competitors
No free plan available
Squarespace is a popular website builder known for its design aesthetics, making it a great choice for interior designers. It offers an impressive array of professional, design-focused templates, which are all responsive and work seamlessly on mobile devices.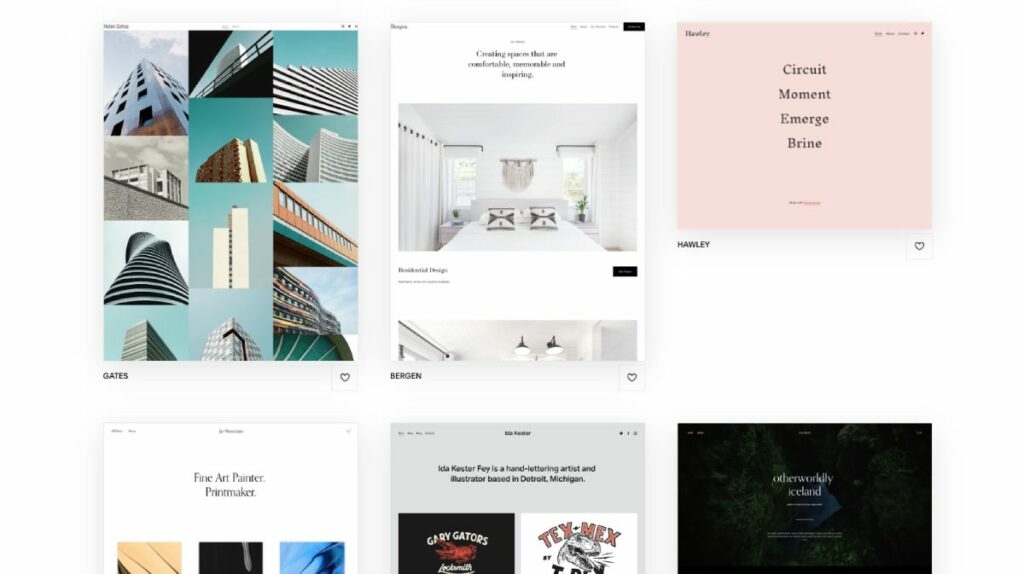 Featuring an intuitive drag and drop interface, Squarespace provides an easy-to-use platform for creating visually stunning websites. It also supports advanced blogging features, letting you showcase your interior design portfolio and share your expertise in a dynamic, engaging manner.
Squarespace also offers a suite of integrated e-commerce features, making it easy to set up an online store to sell products or services. This includes secure checkout, inventory management, and a range of payment options.
When it comes to SEO, Squarespace has built-in features to help improve your website's visibility in search engines. It also integrates with Google Analytics, allowing you to track your website's performance and make data-driven decisions.
Support is available 24/7, ensuring you have assistance when you need it. Whether you're building a website for the first time or looking to upgrade your current one, Squarespace offers a range of features tailored to the needs of creative professionals like interior designers.
Pricing
Squarespace offers four main pricing plans: Personal, Business, Basic Commerce, and Advanced Commerce. The Personal plan starts at $12/month when billed annually, or $16/month if you opt for monthly billing. Each plan offers increasing levels of features to support your growing business needs.
Read More: Webflow Review
Best for Easy-to-use

Impressive customization options
Huge library of templates
Easy-to-use drag and drop interface
Starting price from $14/month
See Pros & Cons
Pros
Free plan available
Integrated SEO tools
Extensive app marketplace
24/7 customer support
Cons
Can't switch templates after your site goes live
E-commerce features available only on higher-priced plans
Wix is known for its outstanding customization options and easy-to-use interface. It provides a wide range of design tools, making it suitable for interior designers wanting to create a unique, stylish website.
Wix offers a vast library of templates, tailored for various industries, including a series of elegant options perfect for showcasing interior design projects. Its drag and drop editor lets you customize these templates to fit your personal style and brand identity. The Wix Editor also includes design features like animations, video backgrounds, and scroll effects.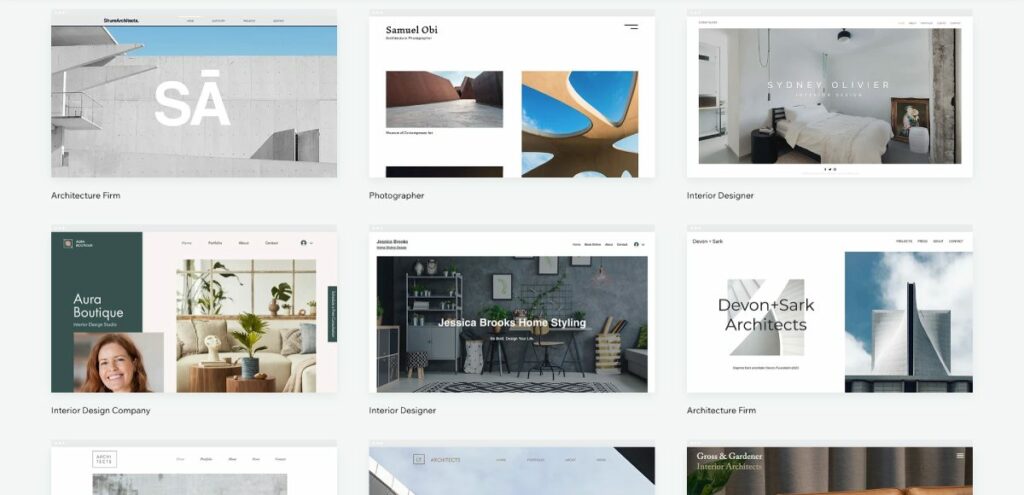 In addition to its impressive design capabilities, Wix comes with powerful features to support your online presence. This includes integrated SEO tools to help improve your search engine rankings, an extensive app marketplace for adding additional functionality to your site, and 24/7 customer support.
If you want to sell products or services online, Wix offers robust e-commerce capabilities, but be aware that these are only available on higher-priced plans.
Pricing
Wix offers a range of pricing options to fit different needs and budgets. It starts with a free plan, which comes with Wix ads. Paid plans begin at $14 per month and offer increased storage, the ability to connect your domain, and remove Wix ads. The Business and eCommerce plans start at $23/month and offer additional features like accepting online payments and selling products directly from your site.
Best for Professional Designers

Highly customizable
Professional-grade templates
Advanced design features
Starting price from $12/month
See Pros & Cons
Pros
Powerful design capabilities
Excellent for professional designers
Integration with popular marketing tools
Cons
Requires a learning curve for beginners
Can be expensive for larger sites
Webflow is an excellent website builder for those with a good grasp of design principles and experience in software like Photoshop. It offers a wealth of customizability options, making it ideal for interior designers and architects who want to build a unique and sophisticated website.
Webflow offers a vast range of professional-grade templates, many tailored specifically to interior design and architecture. These templates can be customized down to the smallest detail, giving you complete control over the look and feel of your site.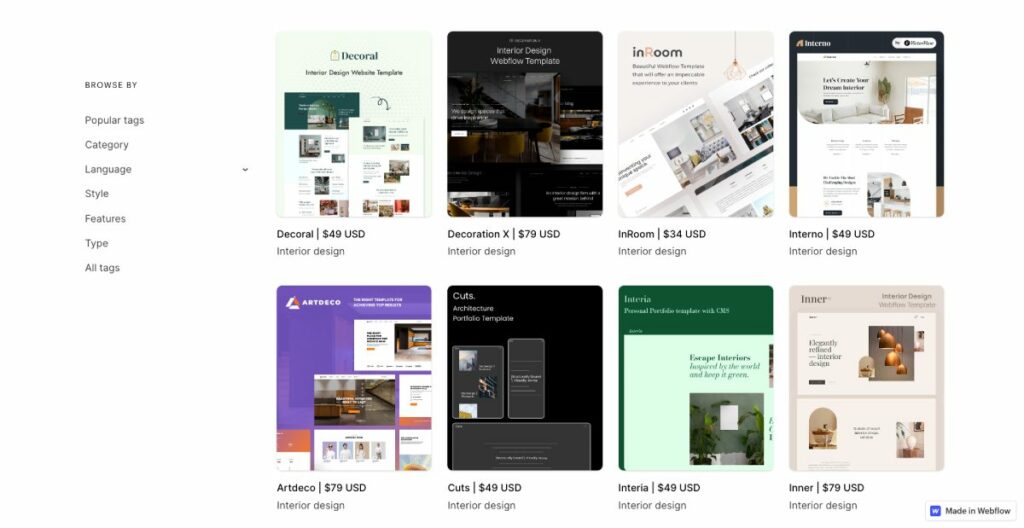 Though Webflow is more complex than other website builders, it compensates with its powerful design capabilities and integration with popular marketing tools. However, beginners may face a steeper learning curve when using Webflow.
Webflow also provides responsive design capabilities, meaning your website will look and perform great on any device, which is essential in the modern digital landscape. We have also featured it is one of the best website builders for designers.
Pricing
Webflow's pricing starts at $12 per month for the basic plan. Higher-tier plans are available for larger sites and offer more features and resources. It's important to note that while Webflow offers immense value, it can be more expensive compared to other options, especially for larger websites.
Read More: Webflow Vs Squarespace
Best for Modern Design

High-quality templates
Modern and stylish design
Easy-to-use page builder
Starting price from $12/month
See Pros & Cons
Pros
Innovative drag and drop builder
Excellent for creating modern websites
Interactive design elements
Cons
May require a learning curve
Relatively new in the market
Framer, while relatively new in the market, is an excellent alternative to Webflow. It comes with a high-quality, intuitive page builder and an impressive selection of modern templates that are perfect for those who enjoy creating stylish websites.
Framer's strength lies in its focus on interactive design elements and its innovative drag-and-drop builder. This allows anyone, regardless of their technical skills, to create professional-looking websites. Framer also offers a wide range of high-quality templates suitable for various industries, including interior design and architecture.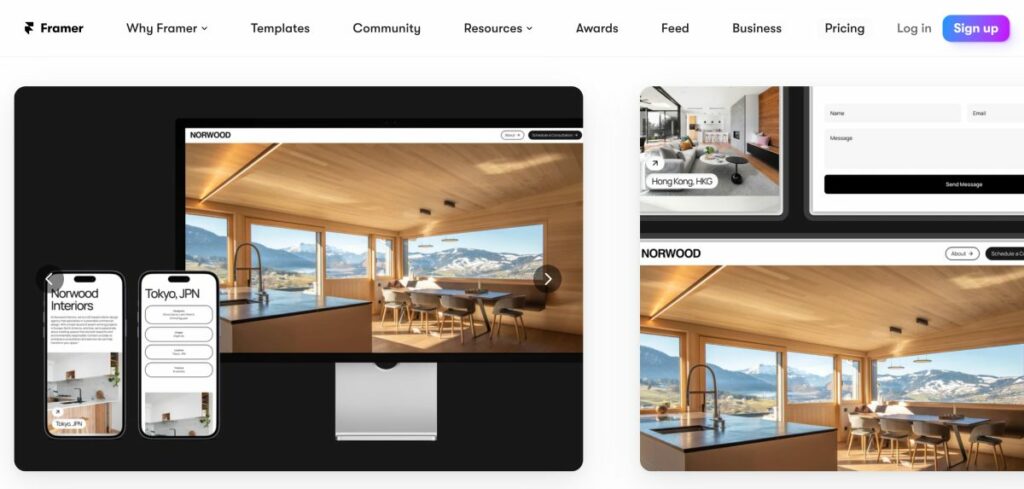 Like Webflow, Framer may require a bit of a learning curve, especially for beginners. However, once you get the hang of it, you'll appreciate the flexibility and potential of this powerful website builder.
Pricing
Framer's pricing is competitive, starting at $12 per month for the basic plan. As with most website builders, additional features and resources are available at higher pricing tiers.
Read More: Framer Review
Best for Flexibility and Customizability

Highly customizable
Extensive plugin ecosystem
Strong community support
Open source and free, with premium options
See Pros & Cons
Pros
Unparalleled flexibility and control
Excellent for blogging and content management
SEO-friendly
Cons
Can be complicated for beginners
Requires regular updates and maintenance
WordPress is one of the most popular website builders worldwide, known for its incredible flexibility and extensive customization options. With WordPress, you can build any website, from a simple blog to an advanced e-commerce store or portfolio site for interior designers.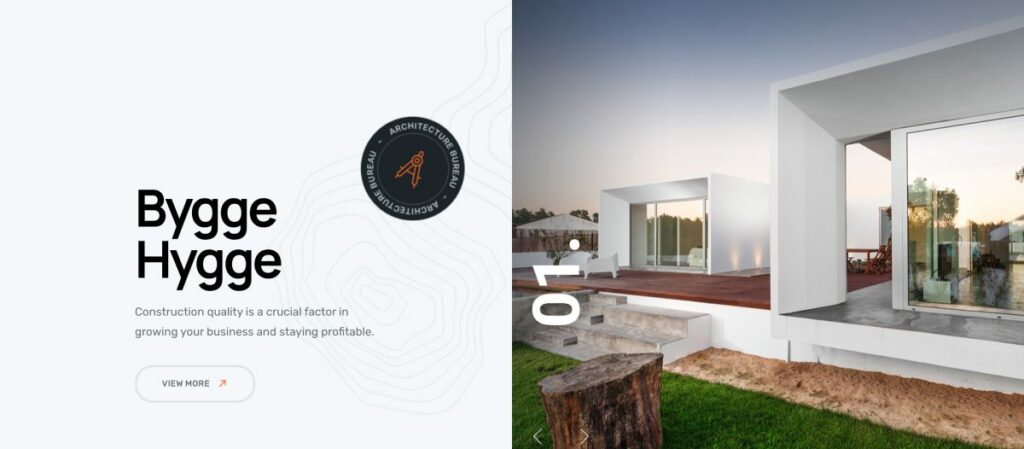 What sets WordPress apart is its comprehensive ecosystem of plugins and themes, offering virtually unlimited possibilities for your website. The platform also boasts strong community sxupport, which means that you can find answers to most questions or issues that arise.
While WordPress can have a steeper learning curve for beginners compared to some other website builders, its power and flexibility are unmatched. It's perfect for users who want total control over their site's design and functionality.
WordPress is open source and free, but you'll need to pay for web hosting and a domain name. Additionally, while many themes and plugins are free, some of the more advanced ones come at a cost.
Here you can check some of the WordPress themes dedicated to interior design.
Pricing
As an open-source platform, WordPress itself is free. However, costs can come into play when you consider hosting, premium themes, and plugins. Many hosting providers offer WordPress-specific plans, and costs can range from as low as $3 per month up to $30 per month for managed WordPress hosting.
In summary, whether you're a novice or an expert, WordPress offers the flexibility to design a website tailored to your specific needs. Its rich ecosystem of plugins and themes makes it an ideal platform for creativity and versatility, including for interior designers seeking a robust and flexible solution.
Read More: How to convert WordPress to Webflow
FAQs
Why is it important for interior designers to have a professional website?
A professional website serves as a portfolio for interior designers. It allows them to showcase their work, attract new clients, and provide information about their services and expertise.
Which website builder is best for beginners with no coding knowledge?
Wix and Squarespace are both great options for beginners, offering intuitive drag-and-drop editors and a wide range of pre-designed templates.
I'm an interior designer who knows how to code. Which website builder should I use?
If you have coding knowledge, platforms like Webflow and WordPress offer a higher level of customization and control over your website's design and functionality.
How much does it cost to build a website with these builders?
The cost varies depending on the platform from $12/month – $200/month. Some, like WordPress, require you to pay for web hosting, whereas others like Wix and Squarespace have different pricing plans that include hosting. Remember to consider additional costs like domain registration and premium themes or plugins.
Can I sell my interior design services directly on my website?
Yes, many of these website builders include eCommerce features, allowing you to sell your services directly from your website. Make sure to choose a plan that supports eCommerce if you intend to do this.
Do these website builders offer SEO tools?
Yes, most of these platforms provide SEO tools to help your website rank higher in search engine results, which is crucial for attracting more visitors to your site.
How can I make my interior design website stand out?
To make your website stand out, ensure it reflects your unique design style and showcases your best work. Additionally, make sure it's easy to navigate, has a responsive design (looks good on all devices), and includes a compelling about page and contact information.
Conclusion
The website builders we've discussed above – Squarespace, Hostinger Builder, Wix, Webflow, Framer, and WordPress – offer a diverse range of features and customization options, catering to different skill levels and design needs. Whether you're seeking out simplicity and elegance or extensive functionality and customization, these platforms can provide a powerful stage to showcase your work.
Remember, the key is to select a platform that not only displays your portfolio professionally but also reflects your unique style and ethos as an interior designer. A good website serves as a bridge between you and potential clients, so it's important that it accurately and effectively communicates your brand, your skills, and your passion for design.
We hope this article has provided you with valuable insights to help you select the best website builder for your interior design business. Ultimately, the choice depends on your specific needs, aesthetic preferences, and technical expertise. So choose wisely and happy designing!

As one of the co-founders of Codeless, I bring to the table expertise in developing WordPress and web applications, as well as a track record of effectively managing hosting and servers. My passion for acquiring knowledge and my enthusiasm for constructing and testing novel technologies drive me to constantly innovate and improve.
Expertise:
Web Development,
Web Design,
Linux System Administration,
SEO
Experience:
15 years of experience in Web Development by developing and designing some of the most popular WordPress Themes like Specular, Tower, and Folie.
Education:
I have a degree in Engineering Physics and MSC in Material Science and Opto Electronics.