Landing pages are an essential part of every online business. Leadpages represent one of the best landing page builders for lead pages. However, someone may look to alternatives. That's why we have created a list of the best Leadpages alternatives, with their key features and pricing plans.
You may find several landing page builders that help create drag-and-drop landing pages and make it essential for marketing a product or running a solid email campaign. Remember that it is one of the essential components for email marketing but only helps when the landing page has a perfect template or sign-up form for potential clients.
The landing page builders make it an online tool for the business to grow and grab more potential clients with email lists.
There are many drag-and-drop tools available for making better lead pages. The lack of customization and a slow drag-and-drop tool are some of the key points that push customers to search for Leadpages alternatives.
We have also created a deep comparison between some of the best landing page builder tools in 2023: Instapage vs Unbounce vs Leadpages vs Clickfunnels.
So let's dive into the details.
The Top 10 Best Leadpages Alternatives in 2023
Now we are sharing the top 10 best free and cheaper alternatives to Leadpages that help make pages with incredible templates. So if you are an entrepreneur and run your email marketing campaign, then keep reading and know everything about these landing page editors.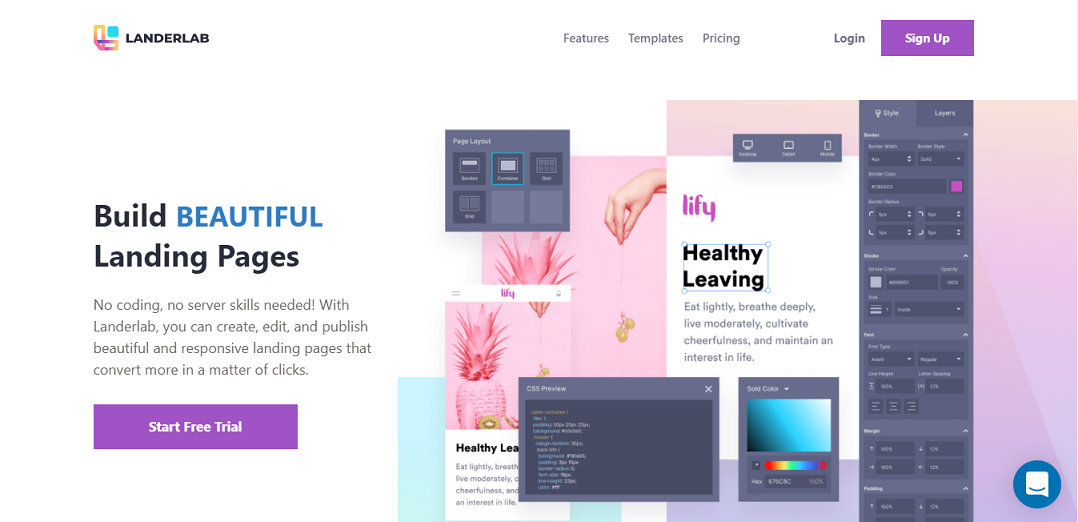 Landerlab is one of the creative website builders that help in developing responsive websites and landing pages. If you are a beginner and want to get the easy-to-use tool, then Landerlab.io is an excellent option. You will get complete control over developing the website landing pages like WordPress and tracking the email lists. The best lead page alternatives help you with drag and drop features in your email marketing.
Moreover, it is easy to use for developing powerful lead pages. You can also choose your desired template and set them according to your business requirement. So if you are a beginner, select the template and develop your WordPress website quickly. It has incredible functionality that helps users to build a comfortable interface. However, if you face any lead generation lag, you can contact customer service and get expert assistance. You can contact me through live chat and email access.
Features
The Landerlab is one of the best lead page alternatives with appealing features. You can choose the landerlab.io as it suits best to your skills. The incredible features of landerlab.io include:
Lead capturing widgets
Help in domain management
Hundreds of effective templates
Favorable cleaning and customization services
Quick integration with experts
Pricing
Here are the cheapest pricing plans of landerlab.io
Free
Starter plan is for $49 per month
Pro plan is for $69 per month
Master plan is for $109 per month
Pros
Responsive and fast loading
Suitable with no coding knowledge
Cloud hosting and lead pages solutions
24/7 customer support
Cons
No a/b testing
Bit pricey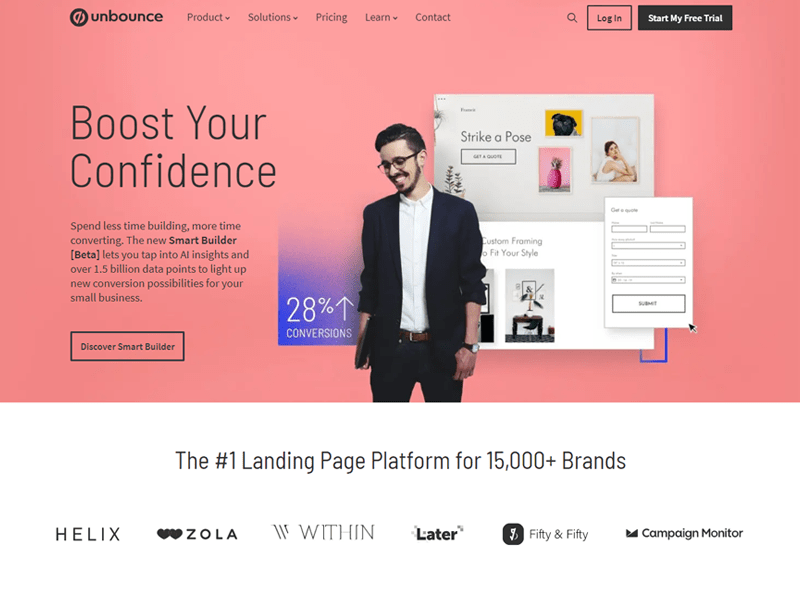 Unbounce is one of the significant drag and drops landing page builders that offer technical functionality. It is an excellent alternative with unique marketing tools that help beginners build their practical lead pages. It has AI functionality that allows users to instantly write and expand their lead pages. Moreover, you can also see the boost in lead generation with favorable email marketing tools.
It offers incredible templates with a drag and drop editor that help small businesses to grow fast and increase their conversion rates.
Features
Unbounce offers compelling features that include:
Create landing pages with more than 100 templates
Write and rewrite the copy with AI technology
Drag and drop landing page builder
Recommend relevant landing pages to increase the conversion rate
Increase lead generations by sending leads to Aweber and Activecampaign
Help in creating WordPress websites with WP plugins.
Pricing
it has different pricing plans that include:
The basic plan is $90 per month
Optimize plan is for $135 per month
accelerate is for 225 per month
Pros
Convenient and easy to use templates
Offer building unlimited pop-ups, sticky bars, landing pages, and many more
Help to integrate with many tools and plugins
Easy to use visual builder
Cons
Analytics need improvement
A bit pricey for a beginners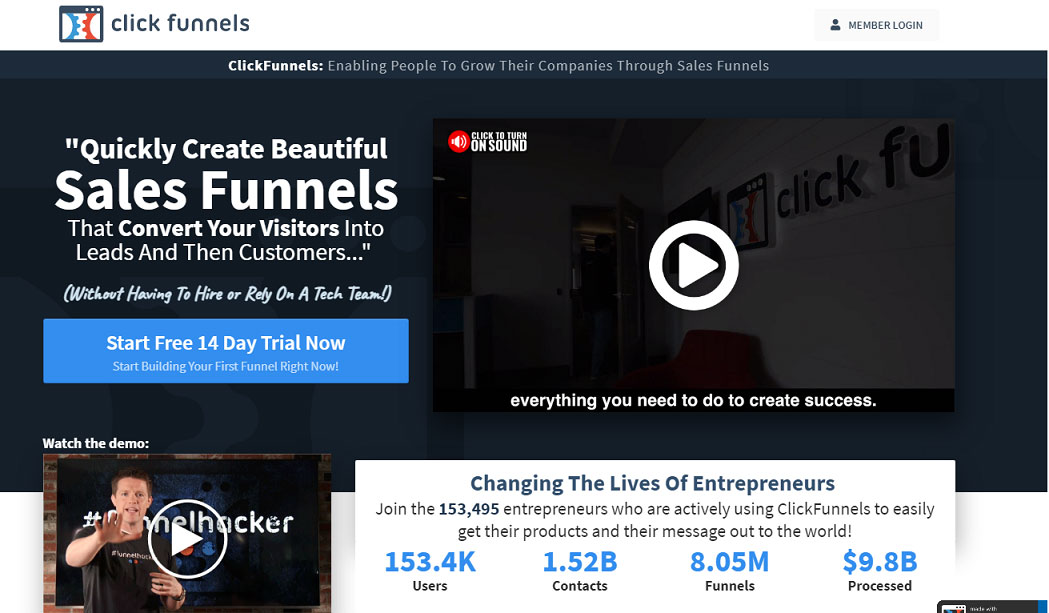 Clickfunnels are an excellent option for building the sales funnel and automating the marketing process. It is the number one platform for marketing the eCommerce business as it has all-in-one building features. So if you are looking for a highly credible landing page builder, this is the best option. It also has some drawbacks, but click funnels' features make it perfect for users.
It is a popular alternative to Leadpages due to powerful features for building the upsell funnel, sales funnel, squeeze page, and many more.
If you are interested in this tool, we have created a more in-depth review of Clickfunnels.
Features
The features of click funnels make it suitable for beginners with zero coding knowledge. A drag and drops editor helps make a remarkable landing page. So the features of click funnels include:
Help to create the affiliate marketing programs
Make the email list, marketing campaign, automatic marketing, and many more.
Help in designing the marketing, business, funnel building and copywriting
Several payment integrations
support small businesses to increase conversion rates
Pricing
The ClickFunnels has 3 pricing plans:
The basic plan of click funnels is $97 per month
Platinum plan of click funnels is for $297 per month
Two comma club X plan is for $2,497 per month
Pros
Help increasing conversion rates
Drag and drop editor
Strong A/B testing
Data tracking features
Easy to uses
Variety of templates
Useful for email marketing
Cons
Slow page loading speed
Lack of email functionality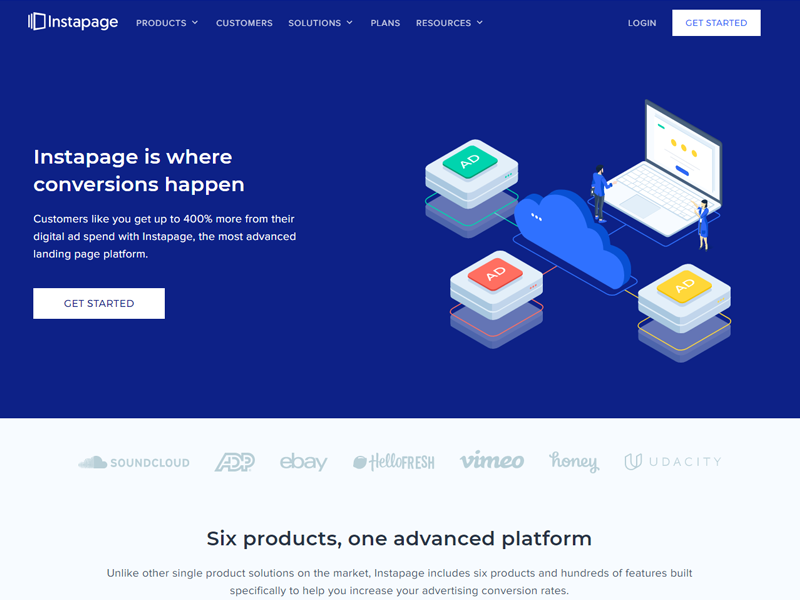 Instapage is another excellent Leadpages alternative that helps personalize the scale pages. So the customized scale pages help in increasing the conversion rates. Instapage offers excellent marketing tools with incredible landing page templates. The marketing tools of Instapage help in publishing compelling pages. You can post and build the landing pages with marketing automation tools.
You can build landing pages, sales pages, and marketing campaigns with Instapage and enjoy increased conversion rates with more lead generation.
Features
The Instapage offers excellent features that help beginners in their eCommerce website.
It has the drag-and-drop Lange page editor with more than 100 templates
Help in creating and building the pages faster
Connect your Facebook ads with relevant landing pages
Use in reusing the saved sections
Help building the mobile responsive pages
Support optimizing the heatmaps, a/b testing, and conversion analytics
Support third party integration with Mailchimp and many more
Pricing
It has two plans that include:
The basic building plan is for $299 per month
A converting plan has customized plans depending on your particular features.
Pros
No conversion rate limit
Support robust a/b testing and heatmaps
User-friendly interface
Help in building the quick lead pages
24/7 customer support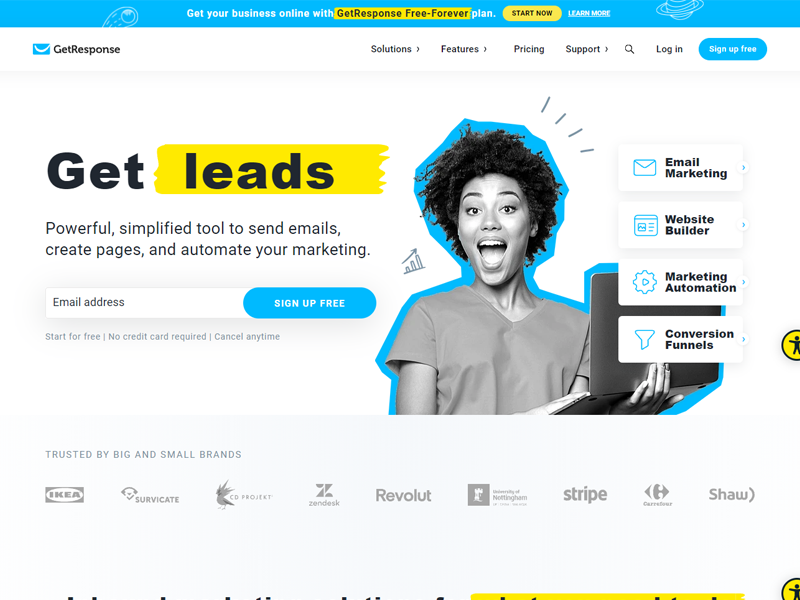 Getresponse is one of the cloud-based platforms that help users to build landing pages and get high conversion rates. It will help the users track your analytics and manage The email marketing campaigns. If you're running a small business, subscribers of Getresponse help build beautiful landing pages.
It is best to email marketing platforms with all in one email system. It allows the users to run the webinars and support the automatic marking campaigns. Small business owners can benefit from real-time marketing campaigns and get more lead generations.
Features
The Getresponse has incredible features that support building the homepage and landing pages.
It provides the drag and drops email editing tools
Support the automatic email marketing campaigns
Offer plenty of features and sticky bars
Help create lead pages for WordPress site
Provides many WordPress plugin
Help build the dynamic text, shopping cart, PPC, squeeze pages, checkout pages, and many more.
Offer split testing
Pricing
It has the best alternative pricing plans as a good landing page builder and marketing tool.
The basic plan is $15 per month
Plus plan is for $49 per month
The professional plan is $99 per month
Max plan includes custom prices
Pros
Easy to use
Plenty of templates
Best alternative
Autoresponders
24/7 custom support
Cons
Need responsive improvements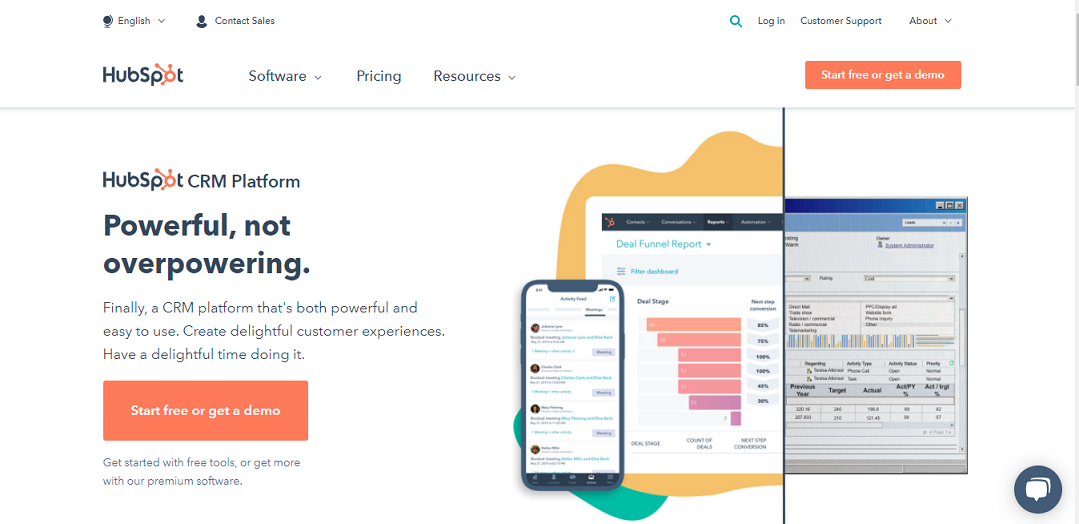 Hubspot is one of all-in-one marketing tools, including digital marketing. It has the five essential packaging tools that help small businesses grow fast. The HubSpot tools include marketing hub, sales hub, service hub, cms hub, and operations hub. You can purchase these tools separately from the CRM platform and get their benefits.
However, HubSpot is a famous Leadpages alternative due to its drag-and-drop builder abilities. It is the best option for beginners to grow and make appealing sales pages, eCommerce websites, and many more.
If you are looking for more Hubspot similar software, check out the best Hubspot alternatives, reviewed by our team.
Features
The Hubspot is a marketing automation tool that is best for creating landing pages and increasing lead generation. You can also stream your marketing campaign with Hubspot. however, the incredible features of HubSpot include:
Help to create landing pages with mobile responsive templates
Drag and drop page builder along with several pop-ups
Help to create the marketing campaigns with a/b testing and give a boost in click and open ratio
Help to make the WordPress blog with supportive plugins
Automate your digital marketing campaigns to balance the workflow
Pricing
It has three basic plans that include:
The starter plan is for $50 per month
The professional plan is for $890 per month
Enterprise plan is for $3200 per month
Pros
Provide detailed analytical reports
Every tool and feature integrate
Easy to use interface
The free plan is also supportive for beginners
Cons
No heatmaps
A bit pricey for small business owners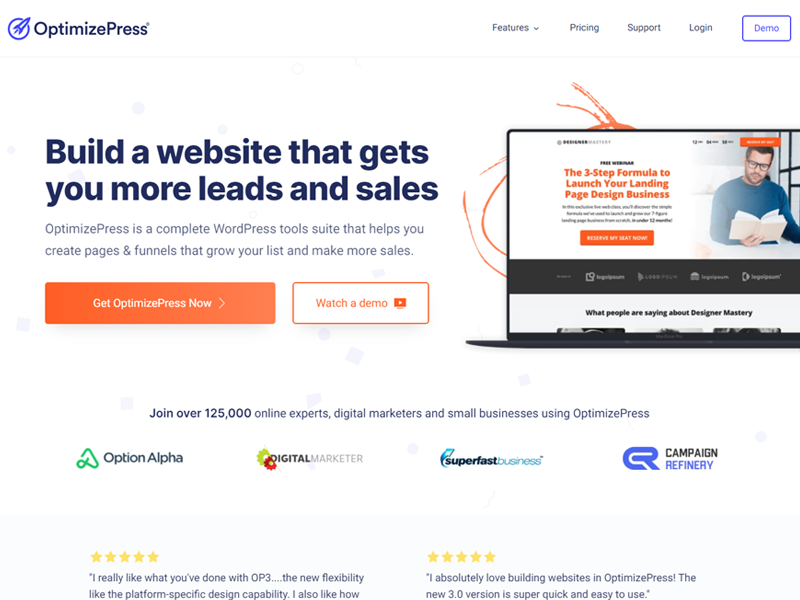 WordPress page builders have the best alternative tool in the form of Optimizepress. It helps to sell online services, products, and many more. You will get all the WordPress plugins and tools with Optimizepress to make the process easier. Moreover, if you do not know how to code, Optimizepress is the best option.
Optimizepress offers a planet of features that make it perfect for experts and beginners. It will boost the online business with high converting rates and editable templates.
Features
Help building the sales, checkout, opt-in, webinar registration, welcome, thank you and funnel pages.
Make the sales funnel, launch, and webinar funnel with drag and drop builder of optimizepress.
Build opt-in forms and connect with the email marketing tools like getresponse, Mailchimp, and many more.
Help build the membership site.
Sell your products and services through optimized checkouts at WordPress
Pricing
The essential plan is for $99 per year
The suite plan is for $199 per year
The agency standard plan is for $399 per year
Pros
User-friendly interface
Support unlimited landing page built even with the basic plan
Help to sell online
Support small business
Templates with drag and drop editor
Over 40 different templates and a user-friendly interface
Cons
No free plan and monthly payments
Don't support email marketing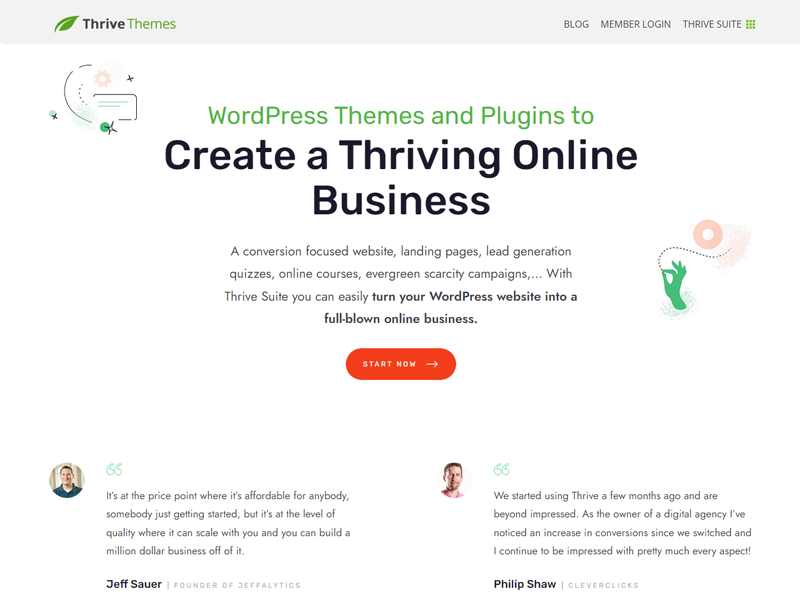 If you build a WordPress site for selling, Thriving themes are the best option. It has the complete toolbox for website building and marketing tools. So you can create the lead generation with no coding experience to make a powerful website for more lead generations.
Thrive themes is not for WordPress or eCommerce, but it supports the users in landing pages with plenty of templates and plugins.
Features
The Thrive theme builder is a great alternative tool with incredible features.
Help building blog and eCommerce site on WordPress with drag and drop editor
Offer more than 300 landing page templates for lead generation, and sales funnel
Substantial a/b test of lending or home pages
Help build an email list with several pop-ups and many more.
Connect quickly with different plugins
Thrive theme builder offers straightforward draggable content after choosing the templates
Quick email marketing integration with tools like Mailchimp, Hubspot, and many more.
Pricing
It has two pricing plans that include
The quarterly plan is for $90 billed every 3 months
Yearly is for $228 billed every 12 months
Pros
More than 300 templates
Easy to use interface for beginners
Quick integration with the third party
All in one business-building tool
Cons
Don't have flexible pricing plans
No free plans or trails
Works only for WordPress website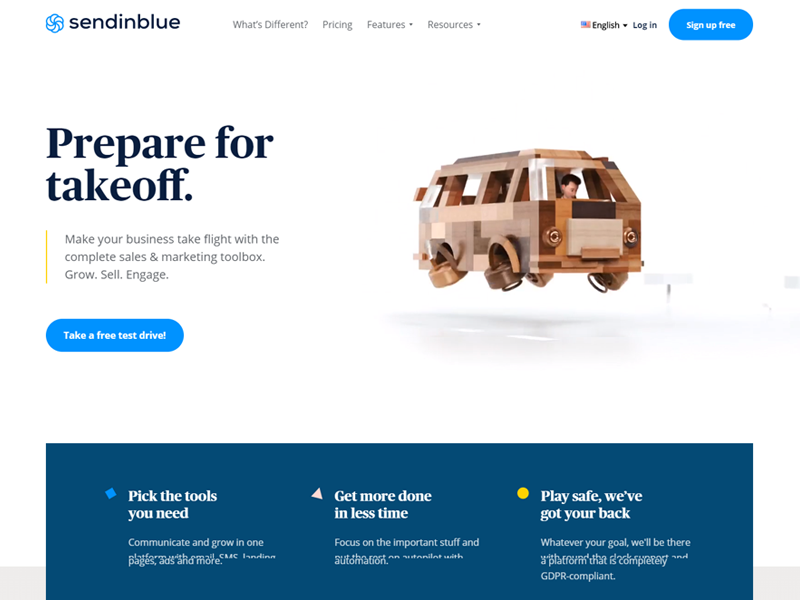 Sendinblue offers excellent support for building landing pages, mainly email marketing platforms. It helps in SMS marketing, lead generation, CRM, and many more. The features of Sendinblue are incredible for boosting the conversion rates through personalizing the marketing campaigns.
So if you also want to build the landing pages for your selling page and integrate it with email marketing, then this is the best option.
Features
Sendinblue email template library and drag-and-drop editor make creating personalized emails a simple task.
Provides segmentation to improve the user approach, especially in a/b testing
Help to deal with bulk SMS marketing campaigns
Spread Facebook ads to retarget customers
Provides marketing automation through segmentation and marketing SMS
Drag and drop landing page builder to improve the layouts
Pricing
Free plan
Lite plan is for $25 per month
The premium plan is for $65 per month
Enterprise plan has custom pricing
Pros
Offer unlimited contacts
Free plan or trial for 30 days
Easy to use interface
Professional templates with quick editor access
Detailed analytical reports
Cons
Customer service is slow
Slow integration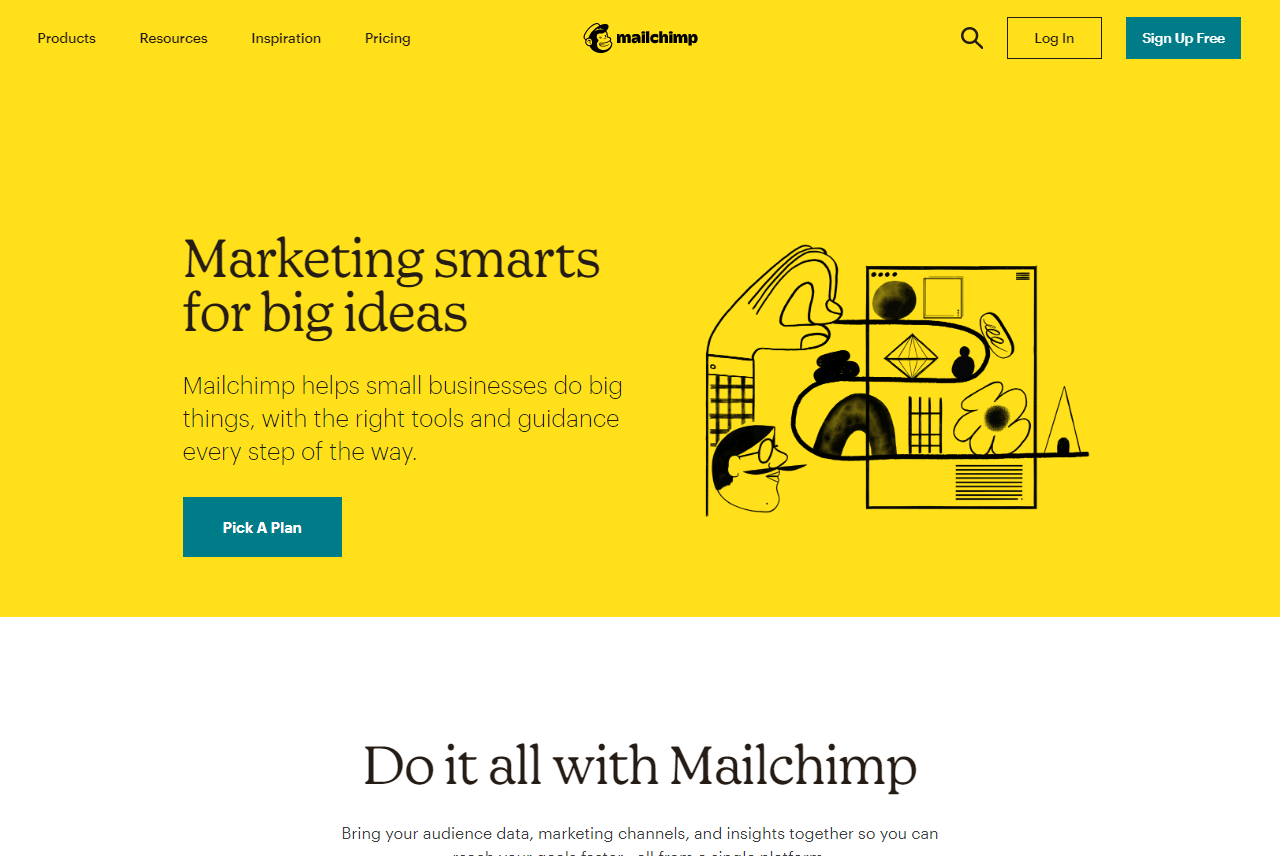 Mailchimp is the last alternative tool on our list that offers excellent features and has become the best tool for landing pages. Mailchimp is one of the latest marketing tools that help small businesses to run their digital marketing campaigns. They can work on their landing page builder, Facebook ads, social media strategies, and email marketing.
This drag-and-drop editor helps users build beautiful landing pages according to their brand to increase credibility. Mailchimp has different pricing plans, but it also offers a free trial for beginners. You can get customer service access to improve your landing page templates and more.
Now start optimizing your email marketing campaigns as Mailchimp is a quick tool that helps in every matter. You can build, launch and lead generation with Mailchimp.
Features
Help to grow an online business with supportive email marketing and landing page builder
send relevant messages to get the leads by attacking the previous clients
Automate your marketing campaigns with the right tools to get enough leads
Detailed analytical report to see the results of Mailchimp integration with other devices and marketing campaigns
Pricing
it has four basic plans that help beginners and experts in different ways
Free plan
The essential plan is $9.99 per month
The standard plan is for 14.99 per month
The premium plan is for @245.99 per month
Pros
Easy to use interface
Affordable marketing tools
Quick integration with social accounts
Help email campaign automation
Cons
No list segmentation
Less photo display range
Is there a free alternative to Leadpages?
Yes, many tools offer a free alternative for landing page builders. You can choose any free option and check their features using the trails. It will help you learn about the tool's credibility and many more.
However, the free alternative for Leadpages also has the same features as you will use in paid plans. The choice of landing page builder depends on your skill level and business requirements. If you want to get the pinpoint solution and free alternative, then Mailchimp and others are great options.
If you want to get the premium plan and unlimited access, you need to pay and get detailed access to all tools like GetResponse, Landerlab.io, and many more. However, the alternative to Leadpages depends on your requirement and skill level.
Moreover, if you are running a big business, you may need to align the big team in marketing campaigns. So it also requires a better alternative to Leadpages than choosing HubSpot's landing page builder. It doesn't have a free plan but provides a compelling choice for building landing pages.
You can start from the free by tracking some customers through Hubspot CRM. Keep in mind that you will grow when you invest in valuable tools. So forgetting the advanced access to alternative tools for Leadpages, you have to pay. The free tools are also offering incredible support to their users. But the benefits of paid tools have their position. If you have a small business and don't want to invest more, free alternatives to Leadpages are the best option.
Now trace the customers and get responses to them for knowing which free tool is better. Keep in mind that the only best tool helps in your business growth. So focus on your requirements and choose the best alternative tool.
Conclusion
Now you have the best alternatives to Leadpages that will help you choose the one best option for your business growth. All these 10 alternatives to Leadpages are great with excellent pros.
Yes, they have some cons but keep in mind that every great thing also has some downsides. Choose the best option according to your budget and the pricing plan of every alternative. However, the alternative to Leadpages will boost your digital marketing campaigns and make them automated for ease. With every available tool, you can find the adorable landing page builder that helps you in your small businesses.
Now choose the Leadpages alternatives to build perfect landing pages and launch your marketing campaign. Once you establish your landing page and a marketing campaign, you will see the transparent booth in lead generation. We hope this article helps you choose the best alternative to Leadpages, and you can grow your business quickly and successfully.

Ludjon, who co-founded Codeless, possesses a deep passion for technology and the web. With over a decade of experience in constructing websites and developing widely-used WordPress themes, Ludjon has established himself as an accomplished expert in the field.