WordPress is an impressive platform for creating your e-commerce portfolio or blogging website. It offers unique tools that let you create and monitor a professional-looking website for performance. It can best use these tools by installing the plugins and get more features.
Some of the plugins of WordPress are free of cost, whereas the premium features cost you some more money. The Plugin Directory of WordPress offers free plugins that you can easily access in your dashboard.
The third-party plugins are also installable but only if your host comes from WordPress.org. This plugin menu is absent in WordPress.com.
Meanwhile, WordPress is the most popular platform for providing a plugin ecosystem. It offers options to install thousands of plugins. However, there is no single way to identify the most critical WordPress plugin. It should be the one that helps to boost your website's online presence.
This is what we are going to provide you here. In this post, we have identified several critical and popular WordPress plugins. We listed down everything excellent about these with the reasons why they are the must-haves for your websites.
Let's take a look at the best and most useful and required plugins the WordPress community offer.
I think that you can create any website you want with these 5 plugins: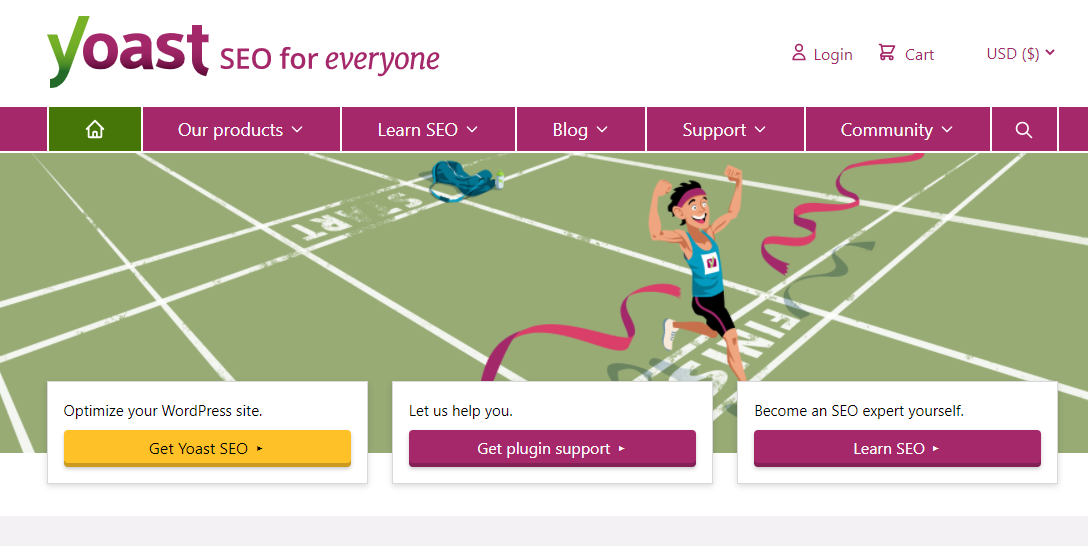 Yoast SEO is a plugin for WordPress that gives you a real-time analysis of your page. It helps you optimize your page content according to the required keywords, meta descriptions, titles, images, and content. You can also control Google indexing with Yoast SEO.
The Yoast SEO also evaluates the content's readability, the transition of subheadings and words, paragraph and sentence length, and even marks the excessive use of passive voice.
This plugin can also be used to control breadcrumbs, readable XML sitemaps, and automatically generating URLs. Thus, you are freed from Google's penalization for using duplicate content.
Its premium version offers even more advanced options. Above all, even the free version of the Yoast SEO plugin helps make a real difference to regulate the website's ranking.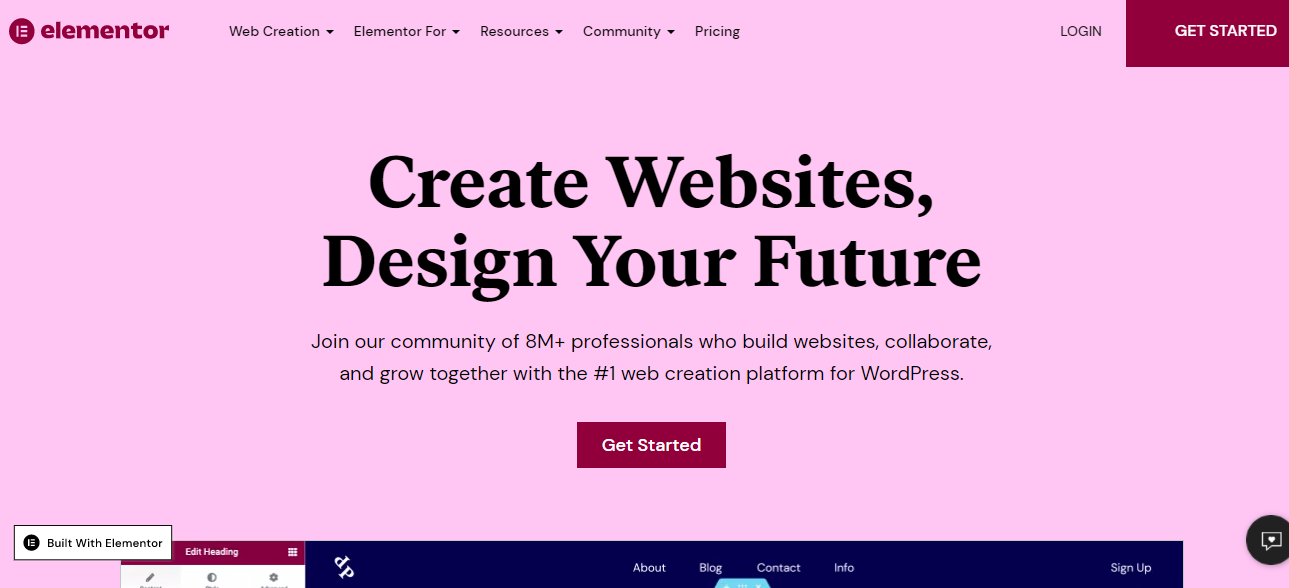 Elementor is the most popular and widely used page builder plugin of all in this list. Over 5 million websites currently use Elementor.
Elementor offers beautiful yet unique landing pages which you can use without knowing web designing or coding. Elementor works on a simple interface that uses a drag and drop tool and provides you with visual editing. Thus, you will get a good experience as a user.
, take any chunk of element and then drag it to the canvas and drop it. You can later adjust it according to your choice. Your content elements can be anything, including text, images, photographs, or even WordPress widgets.
Above all, Elementor is compatible with all the WordPress themes. There are two versions of Elementor available; pro and free version. The price of the Pro version starts from $49 annually.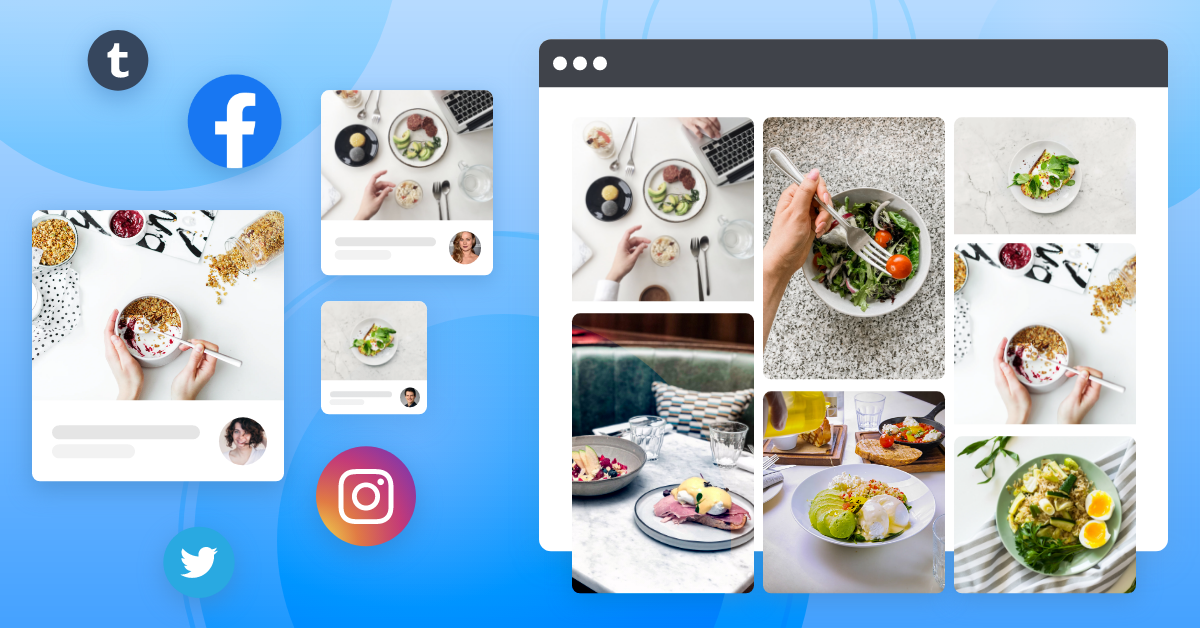 Social Media Feeds by Tagembed is an all-rounder plugin for WordPress. It helps users collect, curate, customize, and embed social media feeds from 18+ social media platforms on the WordPress website. It embeds social media feeds on WordPress in just a few simple steps and helps you to add beauty and functionality to your website.
Alongside providing an easy solution for embedding, it also offers various features that add great value to the plugin. Like it allows you to customize the social media feed widget as per your need. Here you can change the font size, font style, and more and make your feed more pleasing to the eyes. Moreover, you also have the authority to remove all unwanted and irrelevant content from the feed with moderation features.
Moreover, the plugin provides an auto-update feature that displays the content as soon as it is posted on the platform. Custom CSS, custom CTA button, analytics are some of the other main features of the plugin from many. And as it provides a Free-Forever plan, it makes the plugin budget-friendly, which eventually makes it an ideal WordPress plugin.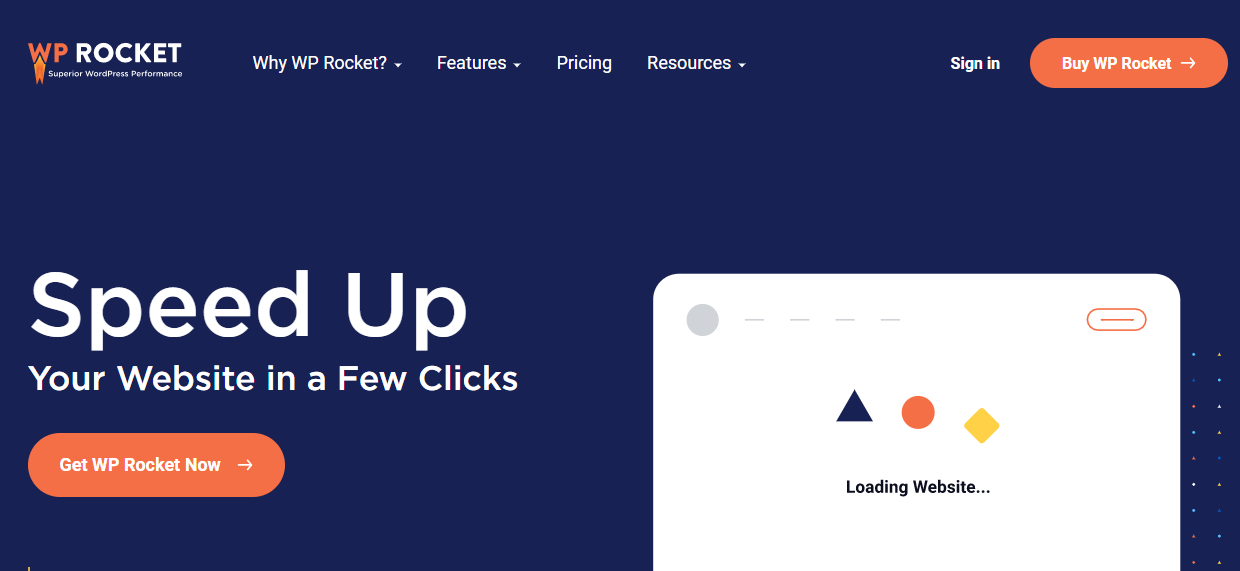 WP Rocket is a caching plugin that speeds up your website. It provides an easy start-up setup that is easily configured and installed. It only takes a few minutes. In actuality, you set it up and forget it.
Page caching is done more simply, and you will see a change in speed immediately right after the caching is done.
Ultimate the website indexing is greatly improved because of the preloading of cache. It also ensures that the images only load when a visitor scrolls down the page to the images. This is because of the minification, which reduces the load of CSS files, JavaScript, and HTML. As a result, your load time is further reduced.
In addition, the premium product leads you to have excellent support and regular updates too.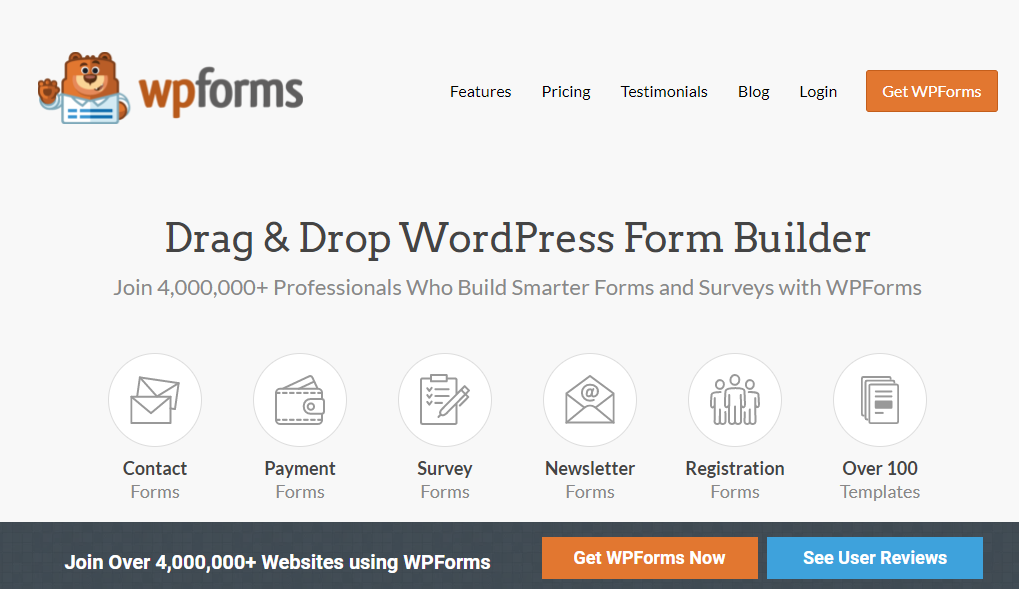 Your WordPress website needs a contact form whether you have a portfolio, blog, photography, or an eCommerce website. What else can you use to let your subscribers or followers reach you instantly via your website?
WordPress dashboard offers several contact form plugins. These plugins accurately provide the required functionality. However, WPForms gives you the most modern features for creating contact forms.
If it is a simple contact form, WPForms can help you create it with a minimal setup. Yet, if your website requires a more complex builder which can fulfill your requirement, WPForms can still help you with that.
Again, no coding is needed, and the plugin uses the drag and drop builder tool. So you do not have to hire a developer. Thus, it is a powerful and easy-to-use contact form page builder plugin. It also lets you create all types of forms, such as payment forms, subscription forms, and feedback forms.
You can create multiple types of forms, such as popup forms or opt-in type forms for emails.
WPForms also provide two versions; free and pro.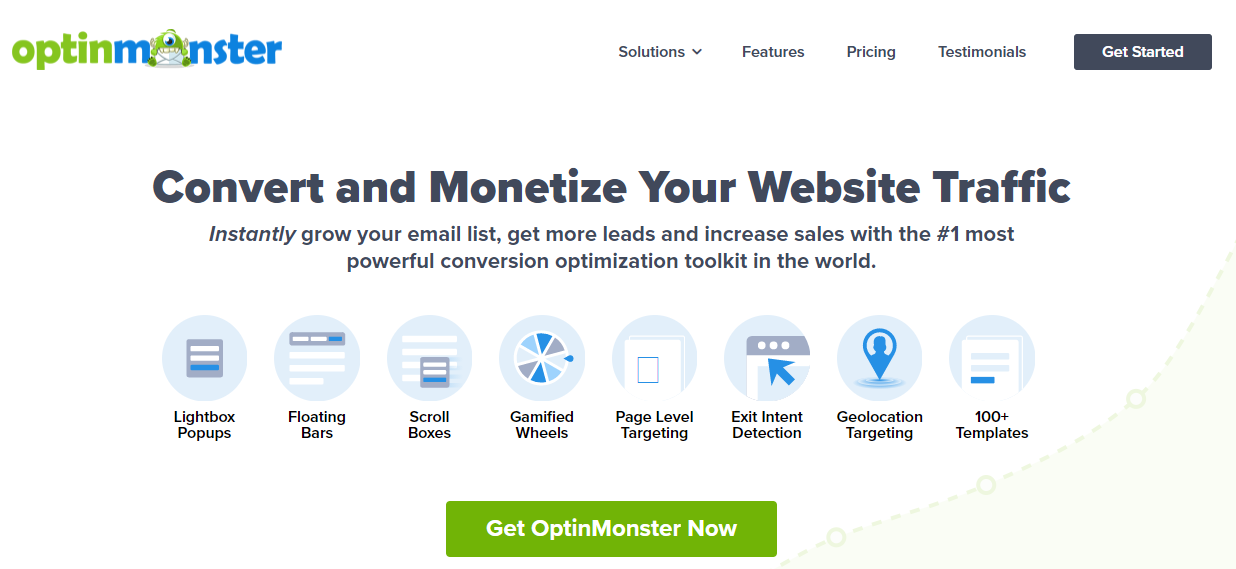 OptinMonster is a powerful lead-generating plugin for WordPress. The package includes the pre-built template that is all high-performing and is proven to have your customers and leads through visitors. There are options to choose a campaign type that grabs visitors' attention, such as welcome mat on full screen, floating bar, or lightbox popup.
The segmentation and targeting engine is powerful enough which show personalized messages for all the visitors on a website. These messages are relevant to the site section, page, referral source, and geographic location of the visitors.
Moreover, you can recover all the visitors as leads with the help of personalized campaigns by creating unique visitor's based offers and enhance interactions. Triggered campaigns also help in onsite follow-ups with visitor's interactions.
According to customer demographics such as locations, gender, and age, custom browser cookies are highly targeted to derive conversions.
OptinMonster impeccably integrates efficient marketing services with a connector plugin. In such a way, it downloads the WordPress plugin resources so that you can embed all the OptinMonster based forms on your site.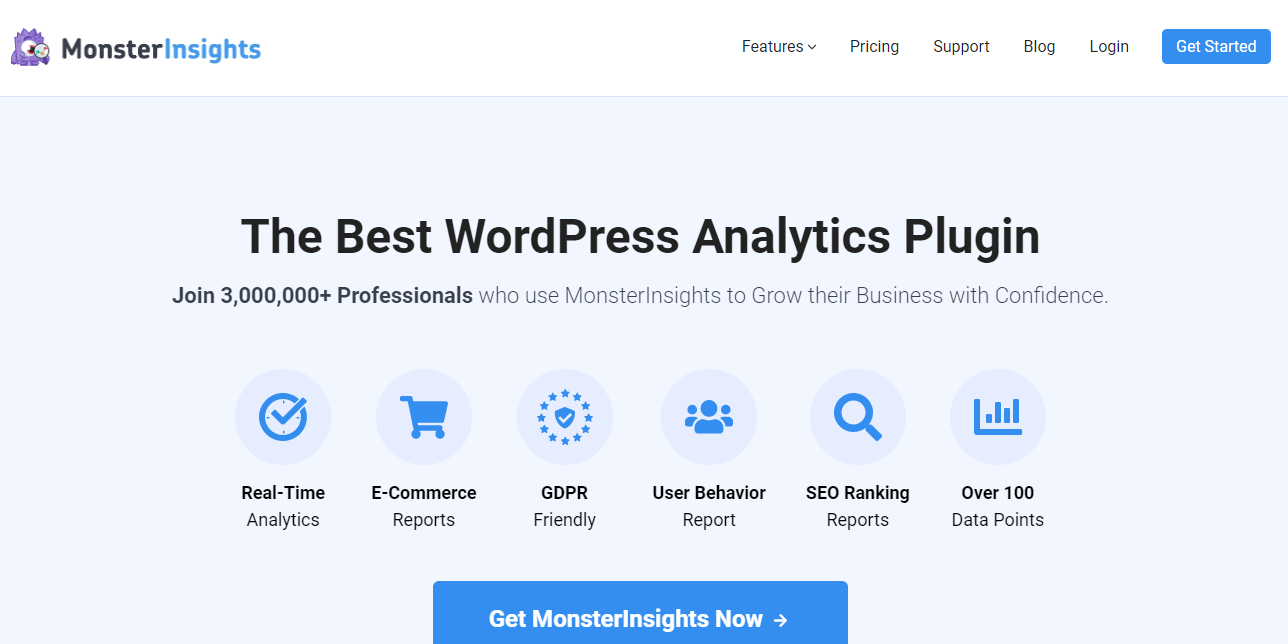 MonsterInsights is the best plugin for analytics. It is essential to know about the use and accessibility of your website for the people. Thus, MonsterInsights is the most popular and best plugin of Google Analytics for WordPress websites.
It is straightforward to connect Google Analytics and your website if you have MonsterInsights. It also offers features of comprehensive tracking. Google Analytics is meant for tracking all the interactions made with the users on a website, such as downloads tracking, eCommerce transactions and form submissions, etc.
However, it is not possible with a default setup of Analytics to meet full tracking potential. In this case, you will need to add a tracking code or set a goal on Google analytics for each submitted form. It is indeed time-consuming, mainly if you are not an analytics expert or a developer.
MonsterInsights enables you to track features with a few clicks only without knowing anything about coding. You can quickly review the site's performance from the dashboard at WordPress without logging in to your Analytics profile.
It also offers a lighter version of the plugin, which is absolutely free and readily available at the plugins repository of WordPress.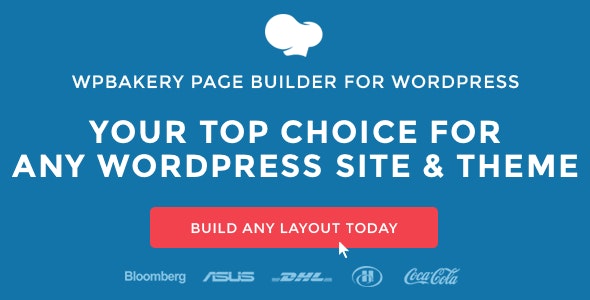 This plugin has transformed WordPress into one of the most easiest CMS to use on the market.
Visual Composer is a drag and drop frontend and backend page builder that will save you tons of time working on our site content.
You'll be able to take full control of your WordPress site, and build any layout you can imagine – no programming knowledge required!
Not only that, but with our frontend and backend editor you can now choose whether you want to work on backend or move your page building process to frontend and instantly see any changes you make.
Have you ever noticed how much time you waste fighting with [shortcodes]? No more trial and error with "shortcodes magic" – the Visual Composer plugin will take care of that for you.
Slider Revolution is an innovative, responsive WordPress Slider Plugin that displays your content in a beautiful way.
Whether it's a Slider, Carousel, Hero Scene, or even a whole Front Page, the visual, drag & drop editor will let you tell your own stories in no time!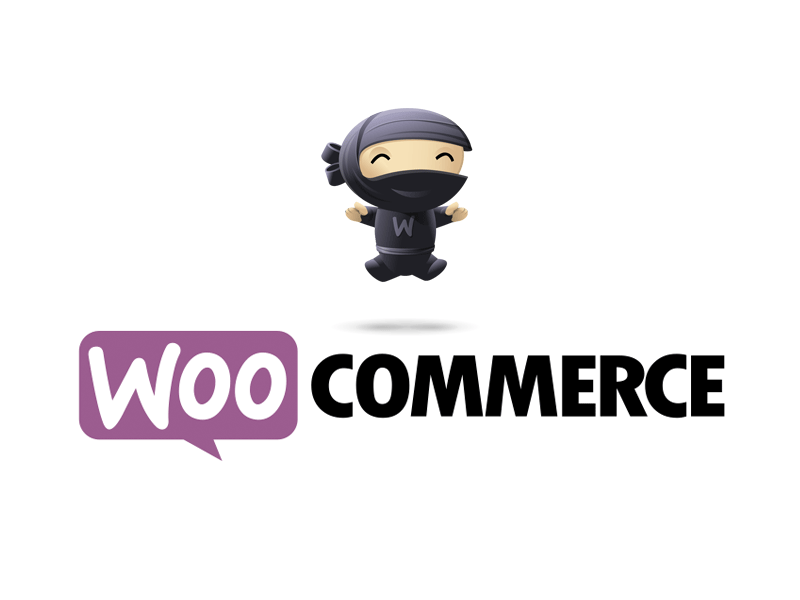 This is the best E-commerce plugin on the market. Giving you the control to sell anything.
The world's favorite eCommerce solution that gives you complete control to sell anything.With 10,051,227 downloads WooCommerce powers over 30% of all online stores.
WooCommerce is now the most popular eCommerce platform on the web (stats from Builtwith), so you can rest assured you're in good company.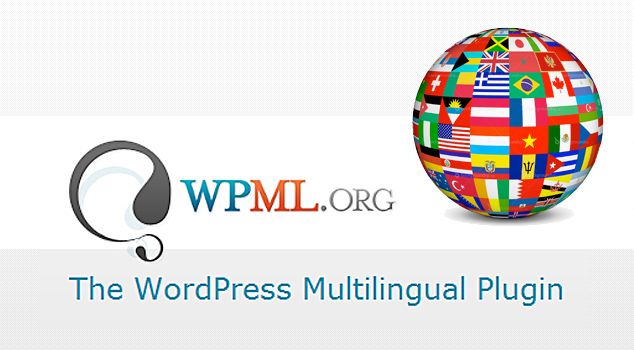 WPML makes it easy to run a multilingual website with a single WordPress installation. Choose languages for your site and start translating content.
WPML comes with over 40 languages. You can also add your own language variants (like Canadian French or Mexican Spanish) using WPML's languages editor.
You can arrange different language contents in the same domain (in language directories), in sub-domains or in completely different domains.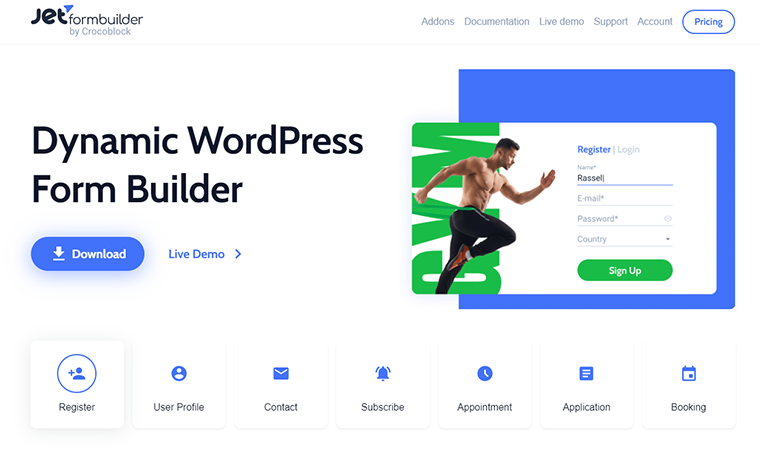 Would you like to create a registration or contact form for free? You are welcome to try JetFormBuilder free form plugin for Gutenberg. This plugin assists you with anything you may need for creating different forms. JetFormBuilder helps to enlarge Gutenberg editor functionality and build forms visually.
Besides, no coding skills are needed. Use 22+ form fields to build form structure, then style each form field with the free JetStyleManager plugin. With the help of smart form plugin features, you can personalize the form user experience, build basic and complex calculated content forms.
With JetFormBuilder, you also can create a multi-step form for user registration or booking pages. Additionally, JetFormBuilder has two versions: free and paid. The paid option comes with the Pro Addons you may need Hubspot, Mailpoet, Stripe, etc.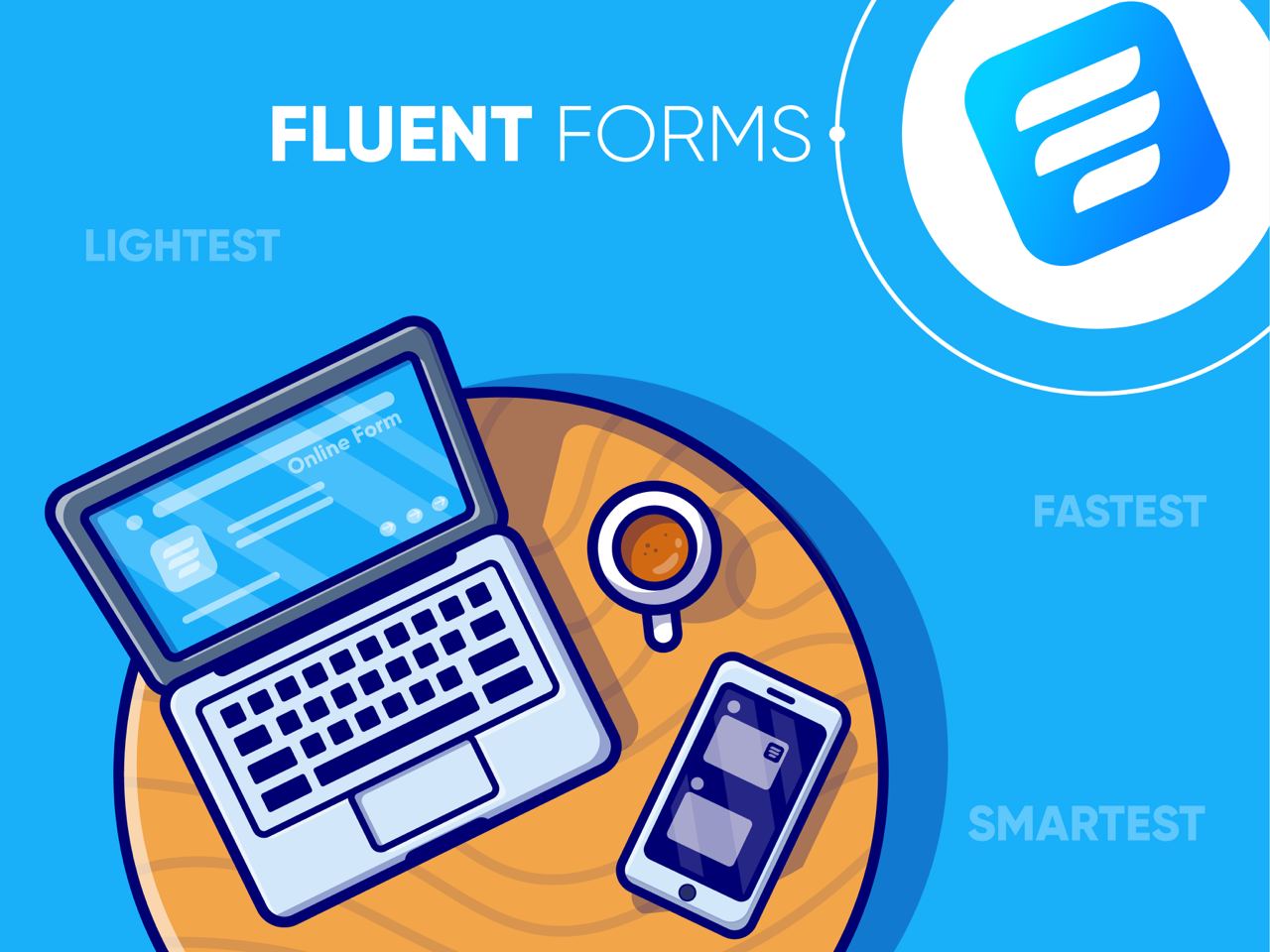 Fluent Forms is a contact form builder with tons of functionalities to boost your business. You can use this tool to create order forms with payment, set conditional logic, connect email service providers, and make advanced calculators. The advanced features of this plugin make it a must-have plugin if you run your website in WordPress space. You can even create quizzes, polls, and surveys to conduct research and engage your users.
If you use conversational forms offered by Fluent Forms, the form abandonment rate will reduce significantly.
You'll love Fluent Forms because it's so user-friendly that anyone without a coding background can create amazing forms. It comes with a drag and drop editor and dozens of ready-form templates. For advanced users, it offers custom CSS/JS and webhooks.
With multiple payment gateways, you can take any type of payment, including product selling and donations. Another vital aspect of Fluent Forms is its antispam functionality. Fluent Forms comes with Akismet, Honeypot, reCAPTCHA, and double opt-in to ensure your forms are safe from unwanted attacks.
Although Fluent Forms pro comes with better options, you can try out the free version to check out the clean interface and easy form builder. Not only that, the free Fluent Forms offers some exclusive features which are only available on other premium plugins. For instance, MailChimp and Slack integration, email notification, form restriction, and hidden field are available in the free pack.
Contact Form 7 can manage multiple contact forms, plus you can customize the form and the mail contents flexibly with simple markup. The form supports Ajax-powered submitting, CAPTCHA, Akismet spam filtering and so on.
I think that with these 5 plugin you can create every website you want. Imagine if with one theme you can find all these 5 plugins compatible and ready to use.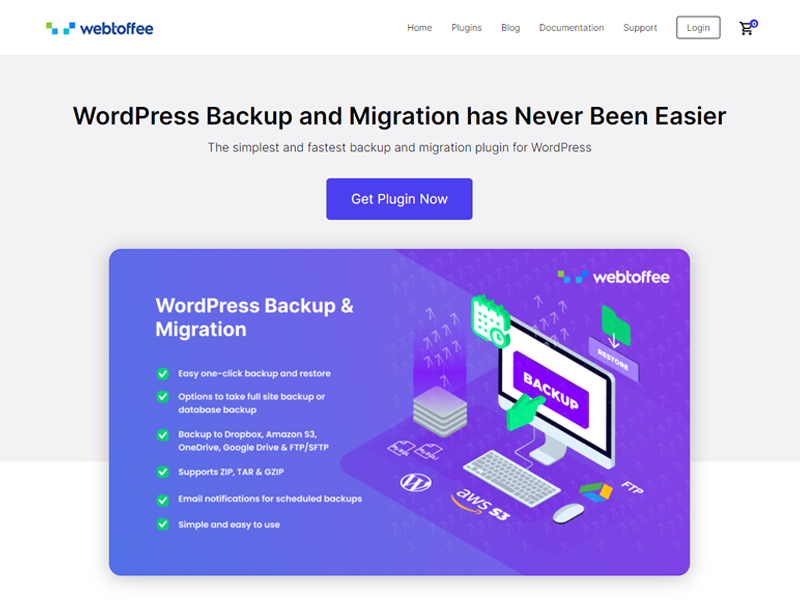 In a world full of WordPress plugins, find you WebToffee.This plugin will ultimately boost up any website's online presence. Data backups of your site data indeed reduce the risk of hacking. That is why WebToffee is compatible with providing the backup of your WordPress site with just one click.
Moreover, you can schedule the backup daily, weekly, or monthly, depending upon your convenience. However, its superfast customer services will be available every time to assist you.
WebToffee will give a kick start to your blogs and eCommerce business because it is easy to use. Compared to other WordPress plugins, WebToffee provides excellent import and export services. Feel free to import products on Google spreadsheets or WooCommerce.
Features:
Easy and straightforward to use.
Remain carefree about PDF Invoices and packing slips because we got you covered.
Enjoy import and export suite with WebToffee.
Smart coupons for WooCommerce are the supreme quality of WebToffee.
Professional customer care services are available 24/7.
Make your orders more manageable with custom sequential order numbers.