In this post, we are going to compare Webflow vs WordPress as both are content management systems. We will compare both website builders on the basis of their pros and cons and the features they provide. Finally, you will decide which one's better.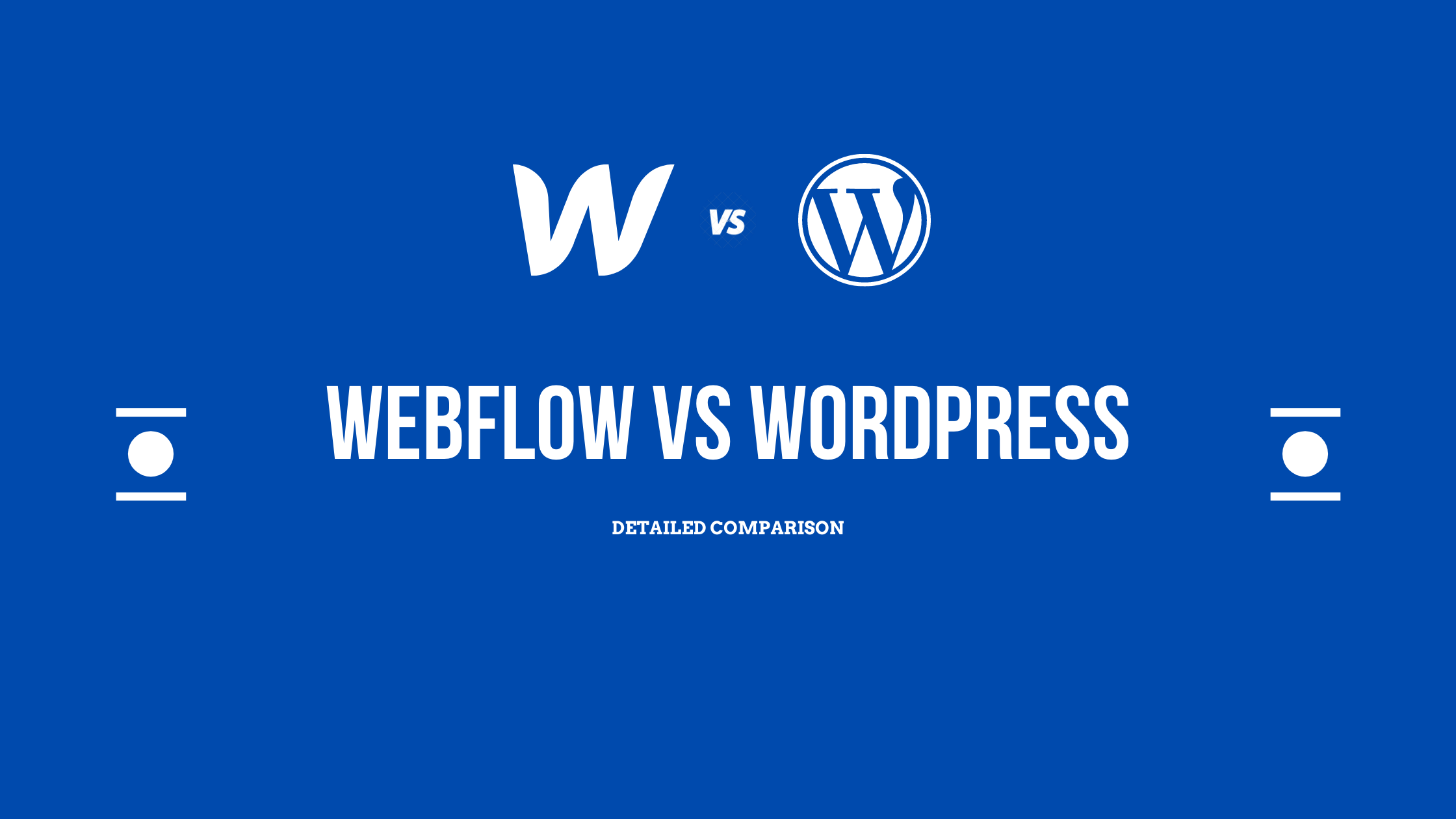 More chances for you to choose WordPress are because it is the best-known website builder. Also, it is the most popular one among both as more than 42.9% of websites on the internet are powered by WordPress.
Webflow vs. WordPress: General Overview
Before starting, we will try to get an overview of WordPress vs. Webflow of both the content management systems in brief:
Both WordPress and Webflow are website builders. WordPress is older than Webflow and is in use for the last 17 years. It is highly popular among businesses, bloggers, designers, and developers.
Webflow, on the other hand, was started in 2013 and is growing its users steadily since then. It offers a fully hosted and visual WordPress alternative to general users and designers.
What is WordPress?
WordPress is open-source and free software. It means anyone can use and download to make a personal online store, business website and or blog. This is one of the major differences between Webflow and WordPress.
Starting with WordPress requires you a web hosting and a cheap domain name. Internet is full of WordPress hosting providers which are super easy and provide 1-click installation. We recommend you these two: Bluehost and Siteground.
WordPress is an open source and free software. It means anyone can use and download to make a personal online store, business website and or blog. This is one of the major differences between Webflow and WordPress.
Key features of WordPress
Accessible and easy
High security
High performance
Mobile responsive sites
Powerful media management
Mobile apps for site management
SEO friendly
Customizable designs
Large community
More than 54,000 plugin options
What is Webflow?
Webflow is also a website builder which is easy to use. It offers a web designing tool that is visual. Webflow is a service software. They offer selling services of hosting, upgrades, and paid features to make money. After making a Webflow account you can connect it directly to a domain name or create a free Webflow subdomain as we have done. Meanwhile, you can get the website hosting from any other host after downloading the website from Webflow.
Webflow is also a website builder which is easy to use. It offers a web designing tool which is visual. Webflow is a service software.
Key features of Webflow:
Flexbox support
Responsive page designs
Ecommerce support
Intuitive editor
Drag and drop page builder
ISO 27018 and SSL
Publish straight to web
Typography customization
Integrating backups, marketing tools and form data
Zapier integrations
Code editor
Export code for download
What's The Difference Between Webflow and WordPress?
One of the great alternatives to WordPress is Webflow. Before getting into the in-depth comparison let us find out the parameter that we should look for before choosing a website platform.
Now that we have got an overview of both platforms, let's talk about their differences and actual comparison among Webflow and WordPress features:
1. Support
Occasional help is desirable to everyone. We can have a look at the support system provided by both WordPress vs Webflow
Webflow Support
Webflow includes a huge collection of tutorials and articles in Webflow University. They include step-by-step articles, how-to-guide and video tutorials. Also these elements cover a huge range of niches.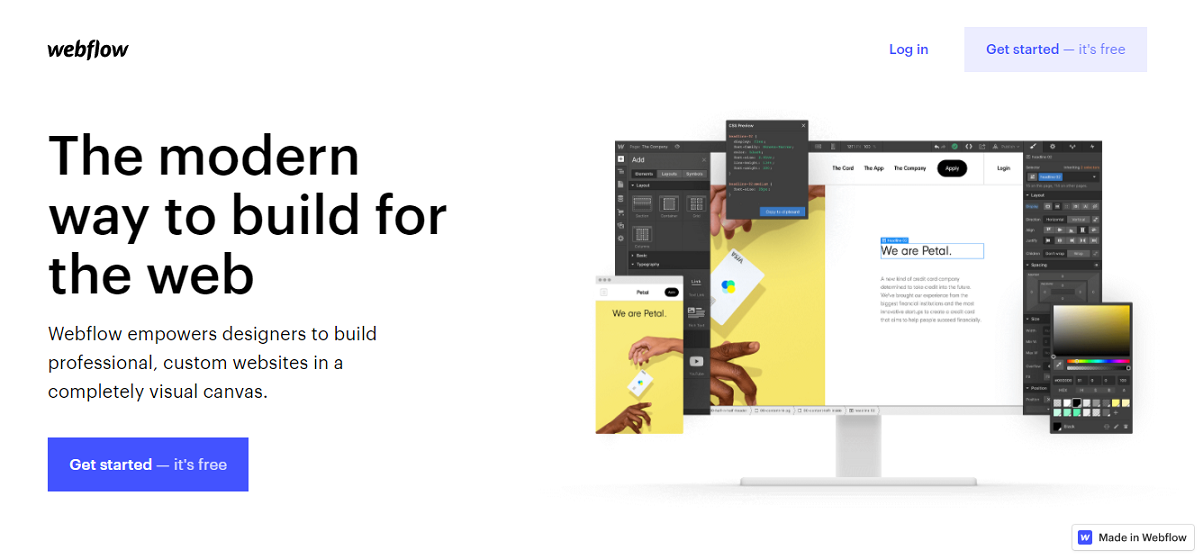 It also offers support through email with the availability from 6 am to 6 pm for Monday to Friday. It does not offer support with live chat but has an AL driven chatbot. Webflow also maintains a support forum that welcomes queries from Webflow staff, experts and users.
WordPress Support
WordPress is an open-source software driven by the community with free support to the community.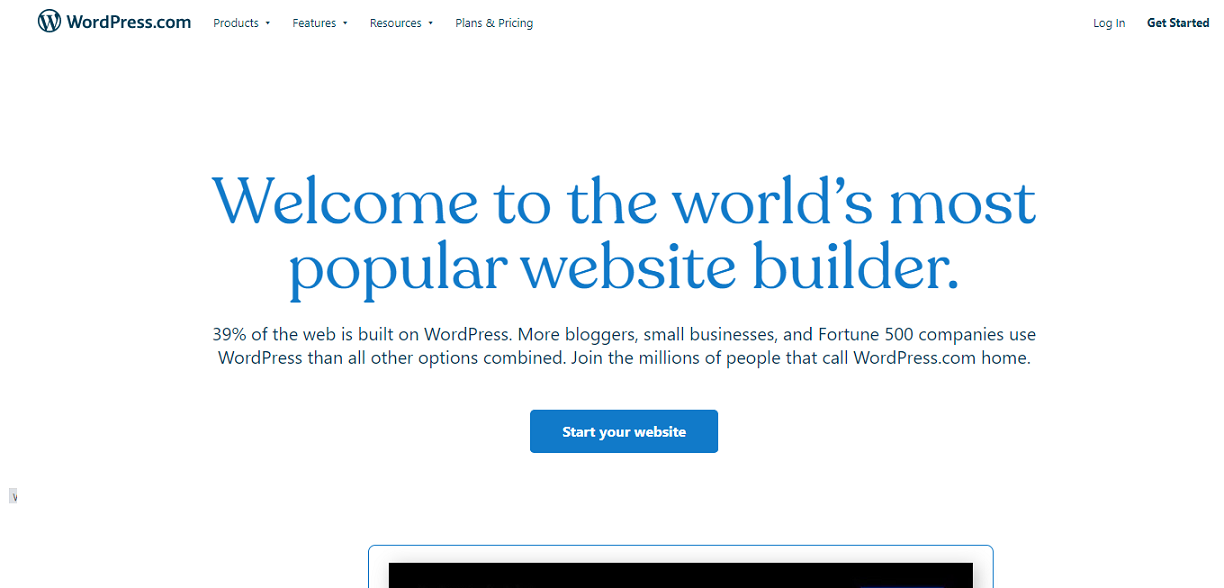 Even a simple Google search can answer you simple questions about WordPress. In case of visual help, they provide you with WordPress video tutorials. In case of more help is needed, you are provided with a developer. Small businesses can equally get help in a super-easy way in the presence of developers.
Conclusion-Support
WordPress offers more system support. It can be through a third part developer who would offer any language.
The paid plans are in premium. The support services in Webflow are limited. However, the support services are also limited to email support. Moreover, you get options to manage the only spent and beautifully managed costs.
Webflow includes very fantastic, support, integration, flexibility and CMS features. Nevertheless, it is a fantastic tool of web design
2. Ease of use
Most of the users who start are not coders or programmers. Therefore, there has to be an easy to use platform without paying attention to help. It means millions of users from the whole world are different at their level of skill.
Is Webflow Easy to Use?
The Webflow dashboard is easy to manage because of clean features. It has a visual interface where you can design layouts and add your content followed by having a live preview.
Webflow has multiple templates which you can edit for your specific project. Visual editor helps you edit them accordingly. It offers multiple features which may be overwhelming for beginners.
You can click or point to any available change options. The "add new" element button helps add new elements from the panel on the left. It is highly suitable for developers and designers. Moreover, for a content publisher, some of the options may be insufficient such as comments, discussion, and tags and categories.
WordPress ease of use with Elementor & Gutenberg
WordPress is easy to use with a slight learning curve. Beginners have to keep them familiarize on themselves with concepts such as posts vs pages, difference, plugin, and theme. Likewise, it makes the intuitive visual bar which is known as block editor.
You can customize the content in the blocks with block editor. With the help of these blocks, you can create your own pages with the customized content user. You can create a very beautiful layout without even adding any code.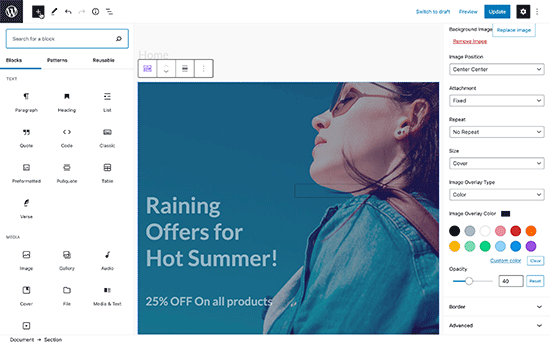 Even if you want to edit default editor. The drag and drop page builder which are available in the form of add-ons will also help in edit.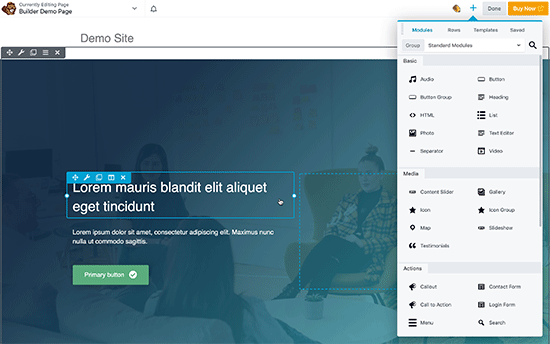 You can either start with a ready-made layout and then change it according to your requirements or you can completely personalize it from scratch.
WordPress provides you with over 57,000 plugins and hundreds of templates. These features give you the authority to do whatever you want with your website without coding.
Conclusion – Ease of use
Both Webflow and WordPress have ready to start layouts and templates.
The default editor in Webflow is easier to use but the learning curve with Webflow is similar to WordPress. WordPress, on the other hand, allows you to use page builder in place of the default editor according to your need.
WordPress has some of the greatest page builders: Divi & Elementor.
Webflow provides fewer options for categories and tags with no comment feature. If you try to add content, the design element limits you. It makes Webflow a bit difficult CMS in terms of publishing content. Thus, WordPress is better.
3. Integrations and Add-ons
Not every website builder holds all the features at a time. This is the reason it uses third-party tools to extend its services and integrations. Let's find out how Webflow vs WordPress handles integrations and add-ons.
Webflow Addons & Plugins
Webflow seamlessly offers limited integrations with the services offered by the third party. Most of the integrations require you to follow the demo tutorial in order to connect them to your project. However, other integrations may offer you out of the box experience.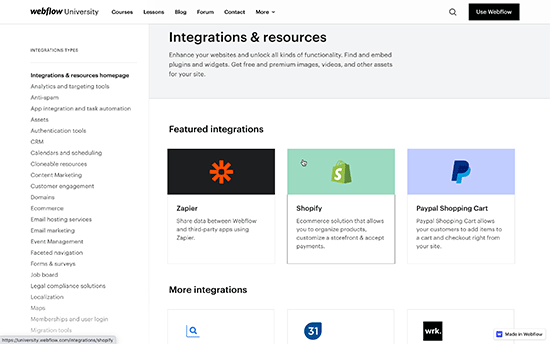 The integrations may also affect negatively if you switch hosting service. Such as, the new hosting may not support forms and you will need to find ways to fix them.
WordPress Addons & Plugins
WordPress plugins empower WordPress in real means. These act like apps for a website. Moreover, you can install them to simply extend the website features.
WordPress has over 57,000 + plugins. It may exceed on the basis of premium plugins. The features offered by these plugins include security, backups, SEO features, installing Google Analytics, and contact form etc.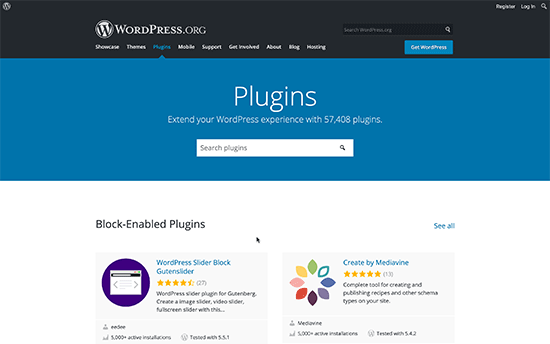 WordPress invites all the third-party tools and services which may help growing businesses. WordPress has all the popular plugins that you may need to establish and grow your website from business phone services, to help desk, live chat software, and email marketing.
Conclusion-Integrations and add-ons
WordPress is clearly better here that offers support to all types of third-party plugins services and tools.
4. Templates and design
Anyone making a website is not a designer too. You will require a design tool if you're a beginner. However, the end result will be highly different from a professionally designed website. Let's take a look at website templates provided by Webflow or WordPress
Webflow Templates (Themes)
Webflow gives you full control over JavaScript, CSS3 and HTML5 which allows you use visual page builder. Here you can create anything of your choice. Once, a perfect website is created, it is directly uploaded or downloaded with the code and passed to the developers.
There is a drag and drop interface on the Webflow. It means you have a blank canvas to start with. Simply, drag and drop the elements like images, tabs, sliders or background videos to your desired places. Navigator shows the structure of your website so you can restructure it with a few clicks.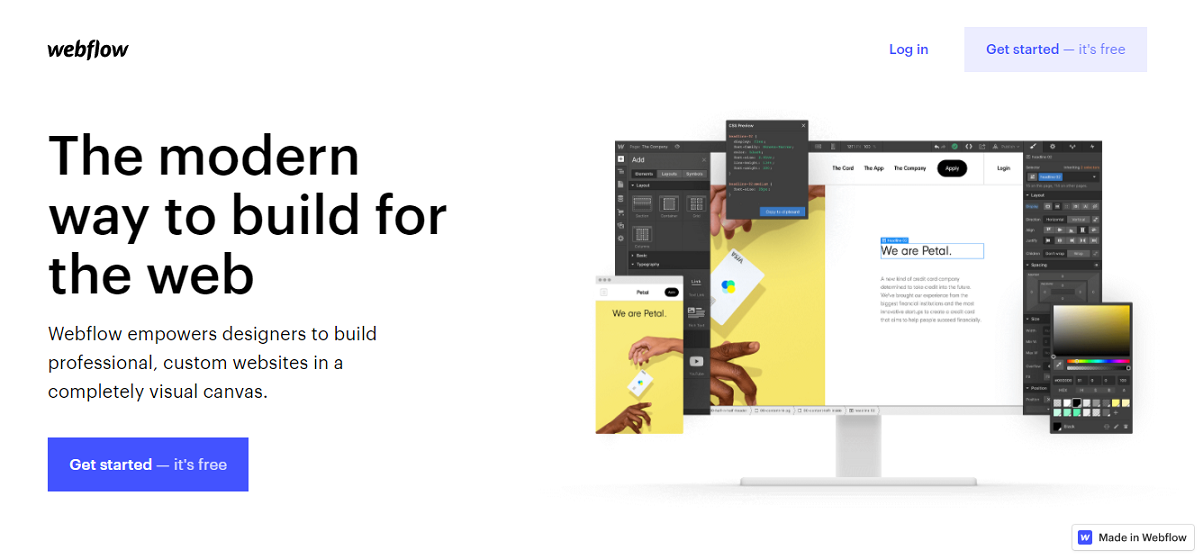 All the elements and pages are highly responsive and you can still adjust the layouts for the required devices. It ensures that your users have the best experience irrespective of the device type they use.
It further gives full control over typography. You are free to choose any font and customize everything related to it. You can also adopt color swatches that allow you to customize anything at any moment with just a single click. It provides perfect consistency on all of your pages.
Here you can find a collection of the best webflow templates, or, more specifically portfolio webflow templates.
WordPress Templates (Themes)
WordPress provides you with thousands of WordPress themes. Most of these themes are entirely free and mobile-friendly. They provide an out-of-the-box experience to the users. You can choose any of these WordPress themes to start with.
These themes can be changed later. They are highly customizable and easy to use with the live customizer in WordPress.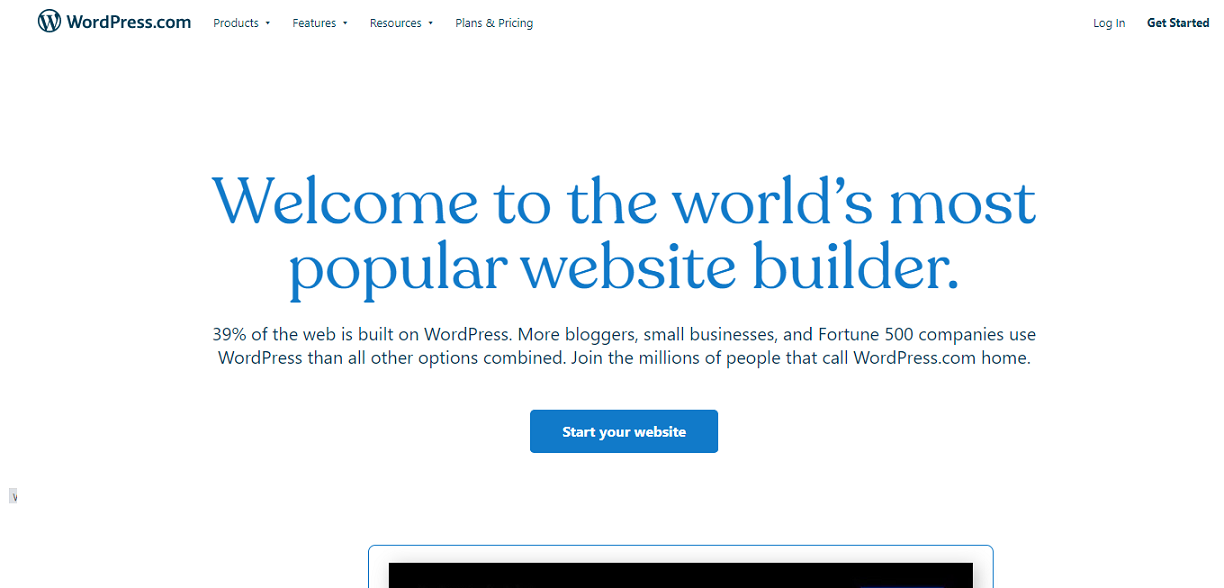 The design elements in WordPress are kept separate which keeps the design consistent. You can select a theme and then to create a landing page you can use page builder. These page builders are equipped with professionally designed templates.
Specular Theme helps you design your own theme if you cannot find a theme of your choice from the WordPress catalog. These themes are used without coding.
Conclusion – Design and templates
Disregarding the functionality and content from the design shows that WordPress is far better to offer flexible designs than Webflow. WordPress also gives a vast experience of editing tools and designs to customize the website's appearance as a whole.
5. Webflow vs. WordPress: Pricing
The cost of a website may be an important factor for website builders. To start an online business, the user prefers to keep the costs as low as possible so that more investment is made on growing business.
Webflow Pricing: How Expensive is Webflow?
Webflow provides a limited version of free which allows you to create and host a website with subdomain and branding.
There are two paid plans; account plans and site plans. Site plans are prices according to the site. It lets you use your personal domain name. It charges you according to the type of website.
The costs of plans are divided into Enterprise levels, Business, CMS and Basic. Each level adds a new feature and increases charges.
There is an additional category of Ecommerce Plans in Site plans which helps you in the online stores at multiple levels. The starting cost of Site plans is as low as $16 per month. The eCommerce plans start at $29 per month.
The account plans allow you to run multiple websites side by side. You can get the code or host them from a third party.
WordPress Pricing
WordPress is free. However, hosting and domain name charges a fee. If you intend to purchase a premium plugin or theme, then you will be charged. Any service from a third party also requires payments.
Usually, it costs only $14.99 for a domain per year. The hosting packages cost $7.99 per month. Well, yes it's not cheap for a starter.
Conclusion – Costs
All the features cost much cheaper with WordPress than with Webflow. Free plugins are also provided to add any additional feature to the website. No additional cost is charged on creating an online store with WordPress.
However, the cost of a WordPress website will increase with the increasing traffic on the website. Yet, before upgrading hosting you can hold and allow your business to grow. Later, you can purchase premium add-ons to increase traffic and the worth of your website.
Which One is Best for E-Commerce
E-commerce allows you to use your website as a web store to sell items. Most of the businesses can have vigorous businesses to run and grow with E-commerce.
Webflow as Ecommerce
Webflow makes it easy to run an online business in terms of website design, scaling businesses and selling products. It gives you complete control over your website. All the pages are equally customized whether it's the product page or checkout page.
Unlike other page builders, the checkout page can be as good as the other pages of your website. It gives the best customer experience as well. Even the transactional emails can be customized which are sent to the clients for purchase confirmations.
The payments of products from the customers uses all popular methods of payments. It includes PayPal, Google Pay, Apple Pay and Stripe. You can select the shipment place and shipment methods with shipping regions and rules.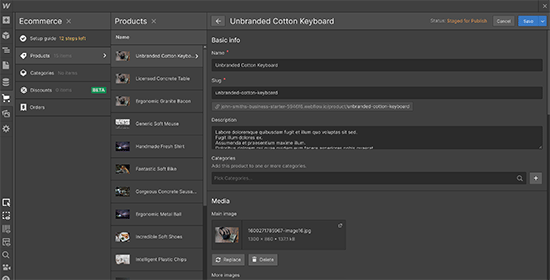 Zapier integration helps you here to easily and quickly print your labels of shipment with the order management dashboard.
WordPress as Ecommerce
WordPress makes it very easy to set up an online store. The free WooCommerce plugin is easy to install. In fact, any other free ecommerce plugin works fine with WordPress.
However, WooCommerce is the most popular one. Of all the online stores, WooCommerce powers 28% of the total. It is easy to use and reliable. Not to mention, it's FREE.
WooCommerce is fully customizable so designing is unlimited. It offers thousands of templates for store designing or you can custom design if you want.
WooCommerce also offers paid and free extensions. Thus, you can install everything of your choice ranging from shipment to payment or processing. It makes WooCommerce a very flexible platform.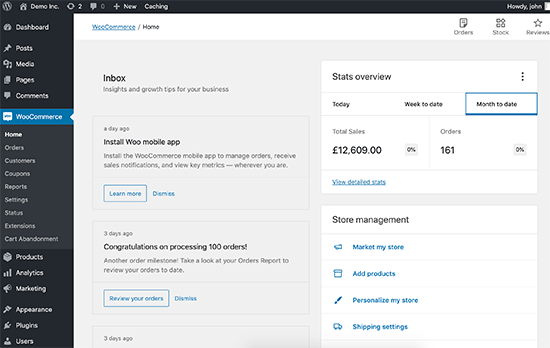 Winner Ecommerce: WordPress
Again, WordPress provides the most flexible platform so that you can sell anything of your choice. It gives no restrictions, add-ons and payment options on the number of products to add.
Any ecommerce plugin or WooCommerce can be used in the start. You are also free to switch to any other hosting without damaging anything on your website.
Webflow, on the contrary, charges transaction fees and is expensive. It also limits the listing of products with fewer integrations and features.
Which One Is the Best for SEO
SEO is perhaps the most important aspect nowadays that a platform should have. The idea of ranking organically on a specific or a set of keywords is extremely important for businesses today.
In fact, there are numerous businesses in the world that consider SEO as an integral part of their revenue model. So, both Webflow and WordPress offer SEO optimization options. Let's dive into the insights right away!
Webflow for SEO
Webflow offers several useful and modernized SEO options to users. It lets the user manually configure the main parameters that are necessary for SEO.
From SEO titles to descriptions to ALT tags for images, Webflow pretty much covers all the aspects of ensuring that your website is SEO-friendly.
Moreover, Webflow automatically generates the sitemap file and meta tags for the blog and articles. Also, the platform provides API access to developers, and you can integrate Facebook and Google services.
You can also configure the parameters of retrieving user details from the forms on your website, and you can add HTML and CSS webhooks.
WordPress for SEO
WordPress has got everything SEO-related. SEO is integrated to the core in WordPress. You can ensure search engine optimized blogs, articles, and web pages with WordPress.
Through seamless integration of SEO plugins (Yoast SEO), you can easily determine the optimization ratio of your content. The main difference between the two platforms is the pricing, features, and sophisticated integration.
The above-mentioned plugin "Yoast" is perhaps the most powerful SEO plugin designed for WordPress. You'll find this plugin in nearly every WordPress website today.
However, you can also leverage other plugins such as SEMRush, Google Keyword Planner, Google Search Console, and an All In One SEO Pack.
Winner SEO: WordPress
WordPress has taken the lead here with its revolutionary and seamless integration of several plugins. The variety of plugins enables users to determine SEO accuracy in different ways.
Hence, WordPress offers a better way to the user when it comes to search engine optimization.
Which One is the Best for Blogging
Blogs are the lifeline of a website. They're there to attract more traffic, bring in more leads and customers. Blogging is considered one of the best ways to rank your website higher in the SERPs.
Let's find out which of the two platforms offers better blogging features.
Webflow for Blogging
Webflow lets you display your blogs to your audience in a spectacular fashion. It is built for grabbing the attention of your audience and diverting it to the main focus of the website.
With stunning features like managing a functional blog and search engine optimized blog, you will start ranking higher in the SERPs with the help of SEO experts.
Moreover, the website builder hosts a variety of options, such as a collection of quality-oriented, fully customizable, and highly responsive templates. Webflow also gives your several advanced design customization tools.
This means that you can customize the entire design and layout of your blog page. Webflow also lets you set the SEO parameters for your blogs by uploading images, media, and much more.
WordPress for Blogging
WordPress had realized the importance of blogs in the digital world, which is why it marketed itself as a professional and top-notch blogging platform.
The WordPress CMS enables you to present your blog in an amazing way in front of your audience. You get customization, management, modernization, and marketing tools for your blogs.
All you need to do is to check out the admin panel of the WordPress CMS to find out what's exactly available for you. You can create a personal or business blog, integrate media, add social sharing options and optimize your blog for search engines easily.
You also get several customizations and editing features with WordPress CMS. With built-in customizable templates, you can showcase your blogs just the way you want.
Also, an extensive list of plugins that once integrated with your WordPress site gives you several blog page creation options. In a nutshell, WordPress lets you be extremely creative with your blogging efforts.
Winner Blogging: WordPress
Well, Webflow and WordPress both platforms provide the users with several blogging features. Webflow has an integrated/built-in blogging engine that lets you manage your project from within the platform.
On the other hand, WordPress ensures maximum experience and feasibility by giving you the freedom of designing, customizing, editing, adding, in-short "building" your blog page as per your requirements with a little help from plugins.
Which One is The Best for Small Business
So, you have a small business, and you're confused between Webflow and WordPress? Well, for starters, both platforms are great for your startup business.
Both platforms are rich in features; however, there are some reasons due to which they differ from each other. Let's explore the viability of these platforms for small businesses together!
Webflow for Small Business
When you're a startup brand, things are usually working out at a slower pace, but this certainly doesn't mean that while using Webflow, you'll be creating a website slowly.
Webflow offers numerous built-In templates, advanced designs, easy development, customizations, and much more. These offerings make Webflow one of the best platforms for startup businesses.
You can also use the eCommerce features, third-party integrations, and other extensions like After Effects or HTML/CSS editing.
WordPress for Small Business
When it comes to small businesses, WordPress has its own set of revolutionary and modernized features that let a small brand scale its digital growth and become a multi-national establishment in no time.
WordPress offers several built-in designs and templates. It lets you easily customize the entire experience of your website and you even have the opportunity to select the design on the web and seamlessly integrate it.
Moreover, you can also leverage the instant and convenient integration of third-party plugins within WordPress to minimize the cost of making your website beautiful.
Winner Small Business: WordPress
So, here's an overview of both the platforms and the end resolution. I think WordPress is in the lead all because of its plugins, experience, ease of use, and customization.
Conclusion – Who Wins Webflow or WordPress?
From the above Webflow vs. WordPress analysis, we can clearly state that WordPress is far better than Webflow. There are more eCommerce options, support flexibility and design options at a lower cost. Even that you can control spending when and where needed.
Webflow gives an outstanding appearance with an extraordinary design tool. Nevertheless, support, integrations, flexibility, and CMS features are very limited. As a beginner that wants to create a website fast & easily within a few clicks and without configuring hosting, I recommend Webflow. If you want a more scalable and professional website for sure you need to use WordPress.
You can read the article again if you feel any doubt about our interpretation. Choose the best content management system for your website.

As one of the co-founders of Codeless, I bring to the table expertise in developing WordPress and web applications, as well as a track record of effectively managing hosting and servers. My passion for acquiring knowledge and my enthusiasm for constructing and testing novel technologies drive me to constantly innovate and improve.
Expertise:
Web Development,
Web Design,
Linux System Administration,
SEO
Experience:
15 years of experience in Web Development by developing and designing some of the most popular WordPress Themes like Specular, Tower, and Folie.
Education:
I have a degree in Engineering Physics and MSC in Material Science and Opto Electronics.