If you're like me, you likely use a search engine to search for products and services. If you own a company, your consumers are likely to do similarly. As a result, if you want to develop a successful firm, you should have a strong internet presence. It's why you must have a solid content marketing strategy in place. This is a reason you should have content optimization software to help you.
Focus on keyword research to assist you in reaching the correct organic traffic while creating a successful content marketing strategy. With powerful content creation strategies, you can focus on the correct organic traffic by concentrating on your search engine results page (SERP) tracking.
Since the search engine algorithm is always changing, you must target the appropriate metrics with every type of content you create. What is the best way to make use of a software package that can assist you in improving your readability as well as search engine optimization? Have a look at some of the most important instances below.
What is Content Optimization?
In content marketing, content optimization refers to the process of verifying that content is created, published and techniques developed to reach the maximum possible audience. Keywords, Meta tags, hyperlinks, headers, and sub headers are all part of the procedure, and site performance, calls to action (CTAs), and the size of images.
Every effective content marketing strategy includes content optimization as a process component. When done correctly, content optimization can and should be used for all forms of content marketing, including text-based pieces (such as this one) and video content marketing strategies. If you're developing content for brand recognition or marketing service KPIs, there are several methods to optimize it. SEO, or search engine optimization, is the most critical. Keep in mind that SEO can increase the business value by 429%
The Top 11 Best Content Optimization Software of 2022
This article will outline the best 11 content optimization tools to do content research, locate relevant material, and optimize content for your weblog or web pages.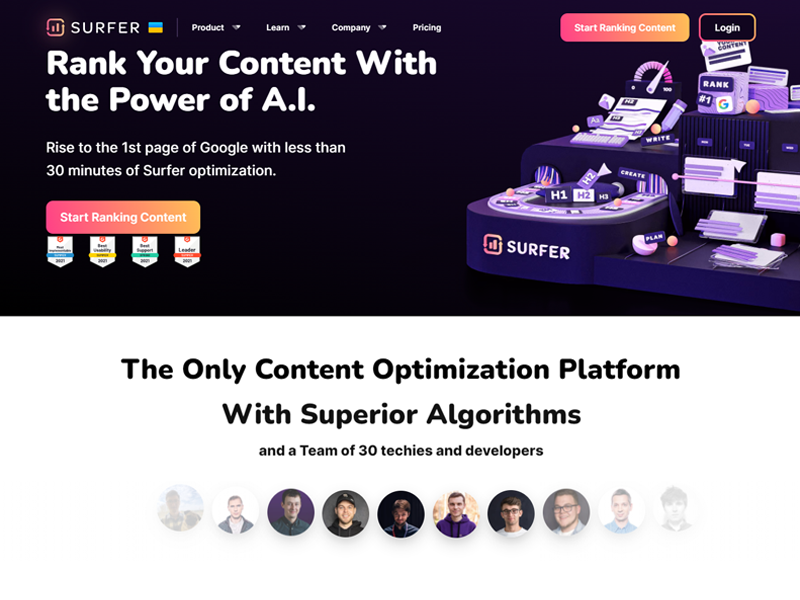 Surfer SEO is a terrific SEO content optimization tool for marketers searching for a simple collection of search engine optimization tools. Editor, SERP analyzer, keyword research tool, SEO audit tool, and free SEO extension for Google Chrome are all included in the package.
Optimizing your keyword density, benchmarking your page against your competitors, making suggestions to boost your search value, and identifying link-building possibilities are easily accomplished using the SERP analyzer. You can save effort and time by using the SERP analyzer to identify trends in the top pages. The basic, professional, and commercial levels of pricing are available.
Features:
Researching the right keywords.
Analyzing the most popular keywords.
Outline making.
Search for intent insights.
Improve the quality of the content.
Content refreshing.
SEO auditing software.
Pros:
Search LSI keywords for the website.
Using 500 ranking variables, perform an audit of your website.
With content structure assistance tools, you can also get new insights.
An easy-to-use page-optimization tool.
Cons:
Cluttered content auditing interface.
WordPress Plugins looks heavy to load
Pricing: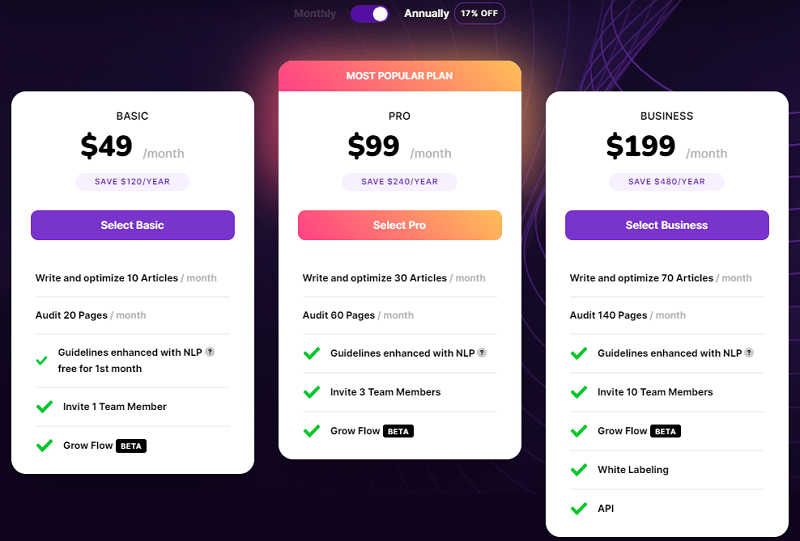 Surfer SEO's Basic Plan charges $49 per month and is ideal for you if you are a freelancer. For their most preferred Pro plan, suitable for in-house groups and agencies, the price rises to $99/monthly. The $199 per month Business package is best suited for big businesses and agencies.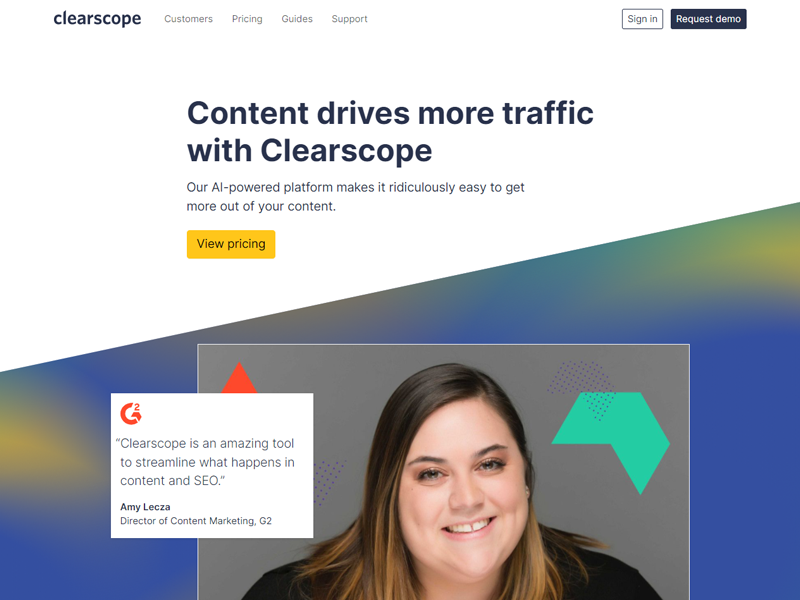 Alternatively, Clearscope can be used as an extension to Google Docs. The clear scope is regarded as the greatest SEO keyword tool for keyword research because AI powers it. In addition, consumers can optimize their material as they go along. It's specifically designed to improve the quality of content creation. Also, experts can boost their website's search engine rankings with unique content.
It's incredibly simple to get more out of the material you're currently generating, thanks to ClearScope's AI-powered platform. To assist you and your whole team in establishing a more confident range, Clearscope smoothly integrates into your editing workflow. Campaign management is made easier with this content optimization tool.
Features:
Analyzing the competition.
SEO management tool.
Keyword research tools.
Search engine optimization reports.
SEO metrics.
SEO content ranking.
Auditing SEO.
Pros:
It's simple to use and fast to set up.
It aids in the selection of relevant keywords and headings.
It can help with basic research.
Cons:
It isn't the most comprehensive research tool available.
It doesn't provide a great deal of data.
Expensive
Pricing: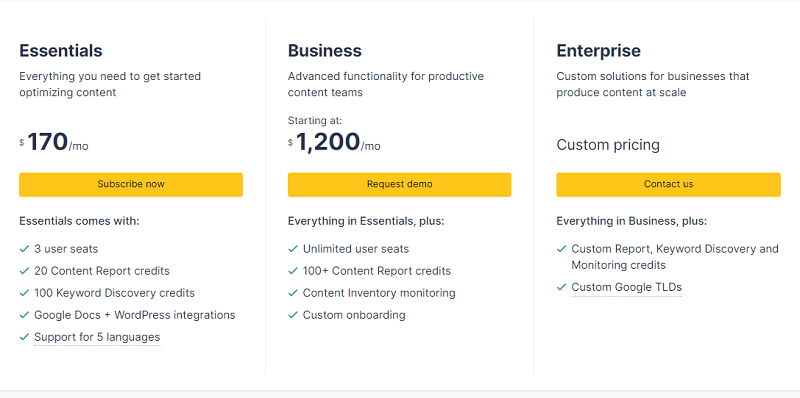 Essential: $170 for each month.
Professional: $350 for each month.
Custom pricing is available for large corporations.
This tool, MarketMuse, offers useful procedures that can be utilized throughout the whole content lifecycle, from creation to distribution. One of the amazing aspects of this software is detecting the language that your readers use.
To put it another way, you can utilize the same language and terms as your target audience while creating content. Using this data, you can better understand your customer's objectives and life cycle stages. Pricing levels range from a low-cost optimal solution to the most complex version with the most advanced features.
Features:
Search for relevant keywords.
Analyzing the most popular keywords.
Content gaps.
Monitory ranking.
Analyzing the competition.
Data visualization.
The score of the content.
Insights on what people are searching for.
Outline creation.
Page authority.
Pros:
Compared to other possibilities, it is reasonably affordable.
It includes tools for both pre-and post-production.
The outline characteristics are excellent.
Cons:
As a real-time application, MarketMuse's editor is tough to use.
The learning curve is rather steep.
Pricing: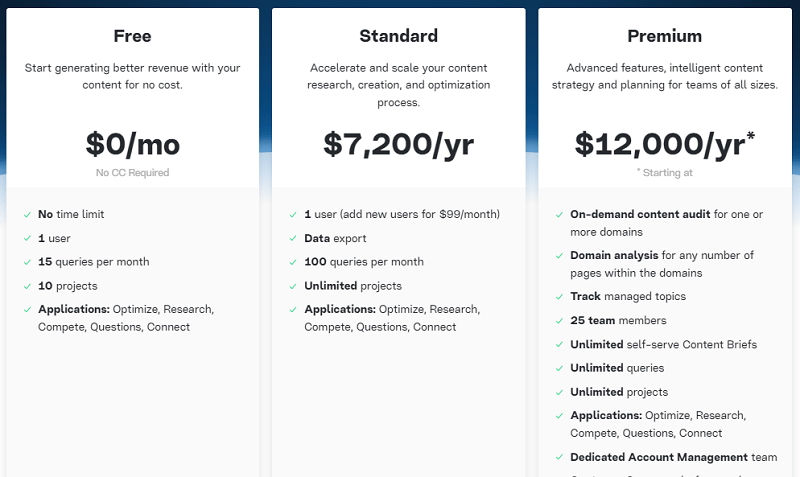 Using their free plan, you can even do 15 searches every month. Feel free to check out either of their two options if you need more.
Standard plan (Monthly Cost: $149).
Premium plan ($999 each month).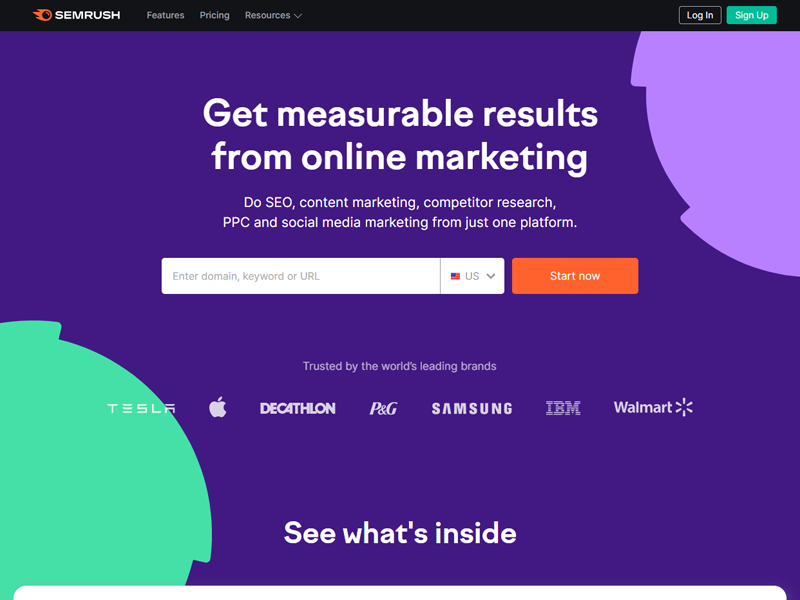 The SEMRush software includes useful tools for social media management, right keyword research, rank tracking, content marketing, local SEO, on-page SEO, competition SEO analysis, link-building, and much more. SEMRush is a valuable tool because of its ease of use in determining what keywords will connect with your readers and the ability to see how your competitors are ranking for the same keywords. There are three pricing tiers: Professional, Guru, and Business.
Features:
An all-in-one platform, Semrush provides the following features:
Keyword research.
Examining the most popular keywords.
SEO writing assistant.
Check for errors in the text.
Analyzing the competition.
Link-building.
SEO auditing software.
Rank-tracking.
Pros:
Large keyword & site ranking database comparable to Ahrefs.
It shows your rivals' history page rankings over time.
Its Content Template, as well as SEO Writing Assistant, make content optimization easy.
Cons:
Challenging for those just getting started.
Interfaces may be daunting at times.
Pricing: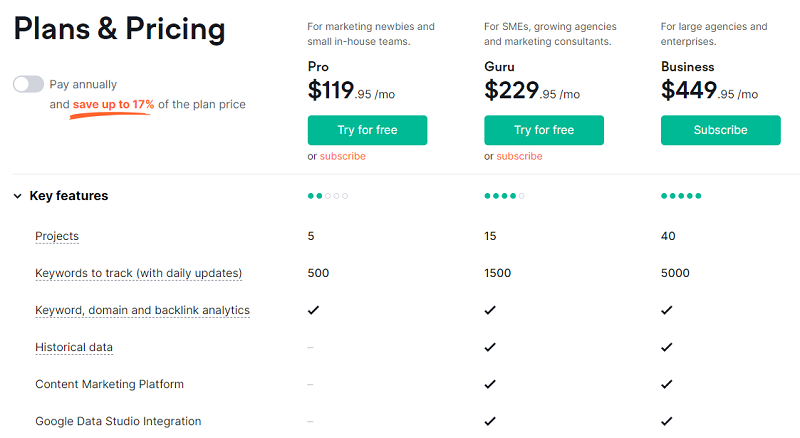 SEMrush has three distinct pricing tiers. Plans start at $119.95 for Pro but you can't use the content optimization tools. So you have to choose $299.95 for Guru, and $449.95 for Business. In addition to these, there is a quote-based Enterprise plan which can be tailored to meet the individual demands of the business owner.
Its free trial is available at $0 for 30 days.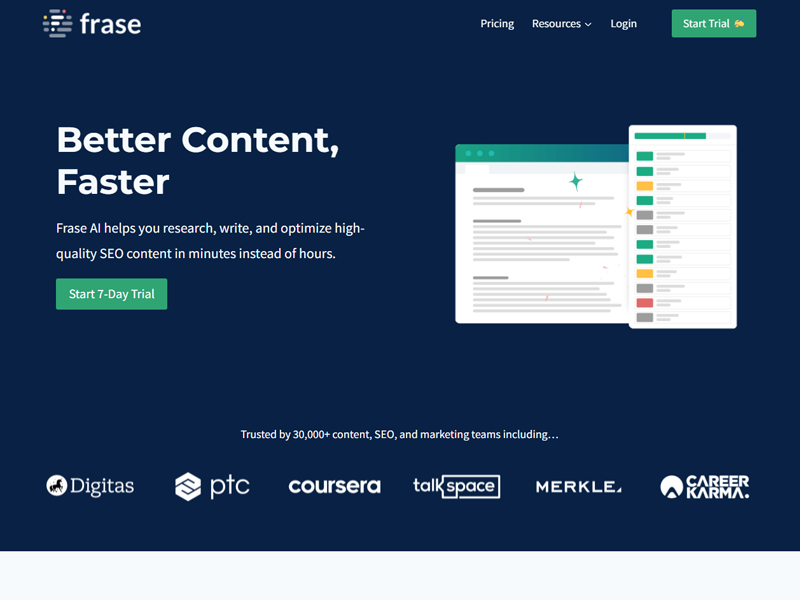 Frase is such a content optimization software that can assist you in increasing organic traffic while also improving your conversion rate. This company has two primary services: Frase Content and Frase Answers. However, since they are offered separately, we'll just be covering Frase Content in this review.
It's possible to outrank your competition using AI-powered solutions provided by Frase Content. Frase is ideally suited for large-scale content creation teams and agencies, as well as everyone else. Because of its low cost, it's an excellent choice for bloggers and small companies alike. This multi-purpose tool for content optimization does an excellent job in all areas.
Read More: 11 Best AI Writing Software with Free Options (2022)
Features:
It offers advanced blueprints for the target keywords.
Set up a system for distributing content briefs to your team.
Scalable content optimization processes.
Tag papers by stage and give authors a deadline for their work.
WordPress imports are done in a flash.
Use a live URL to bring in content.
Integrate Google Docs with Your Program.
Tracking topics in real-time.
Question Research.
Frase material has not only advantages but also disadvantages, as shown below. Consider these points when considering whether this is the ideal content optimization software for you or not.
Pros:
You can control keywords and voice search with question research.
Inexpensive pricing options.
It's simple to use.
Incorporation of Google's Search Console.
Automated content summaries.
Import, export, and distribution without restriction.
Cons:
Frase is a novel platform that might be glitchy at times.
The user interface is less straightforward.
Pricing: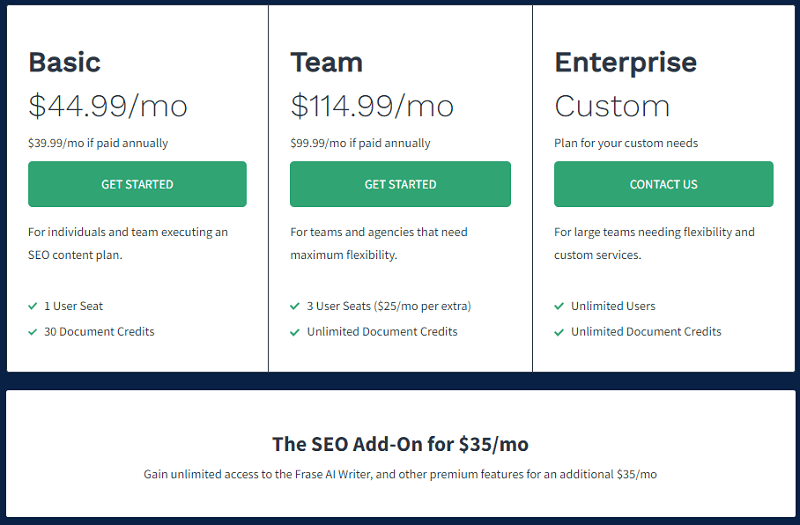 Frase offers three major options in terms of cost:
Solo plan: It costs $19.99 per month.
Basic plan: It costs $44.99 per month.
Team plan: It costs $114.99 per month.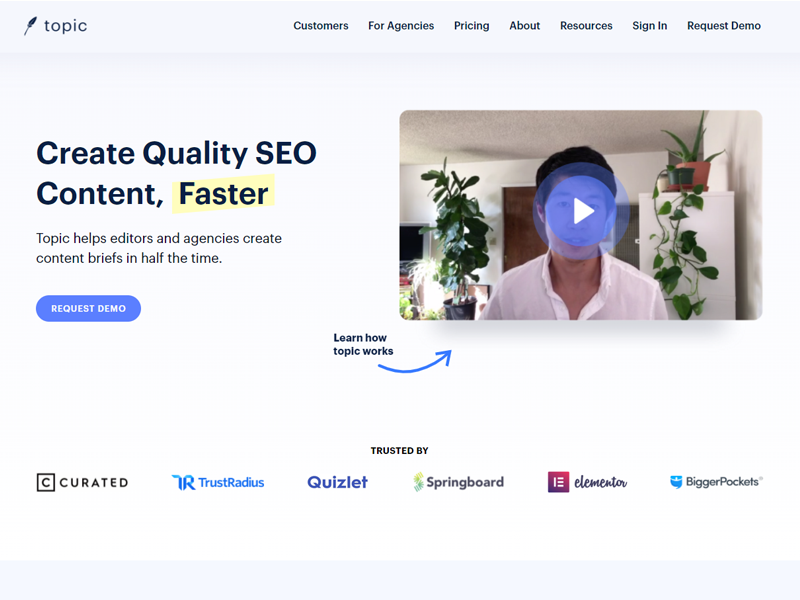 The Topic is a piece of content optimization tool that assists you in organizing your blog post plan. You can use it to expedite the research process and get useful insights that can be used to improve your content and push your career forward.
Every time a keyword is entered into the system, the Topic tells you everything you need to write about. To help you out, it provides you with a list of categories, themes, and questions. You don't even have to think about H2 and H3 headers. Monthly content briefings and optimizations are available. You can only use the service 10 times on the lowest subscription, which works up to $10 each short.
Features:
The following are some of the most important aspects of this software:
Research assistant.
H2 and H3 heading ideas are included in the outline builder.
Grading tool.
Keyword analysis.
Five languages and geo-targeting.
Plugins for WordPress and Google Docs.
A word-counting tool.
Pros:
Chat assistance.
You'll save time by not having to do manual content research.
Unrestricted exchange of data and cooperation.
For $7, you can get a seven-day trial too.
Content briefs carry over to the following month.
Cons:
The cost of this subject is really high.
Slow loading speeds might occur at times.
Pricing: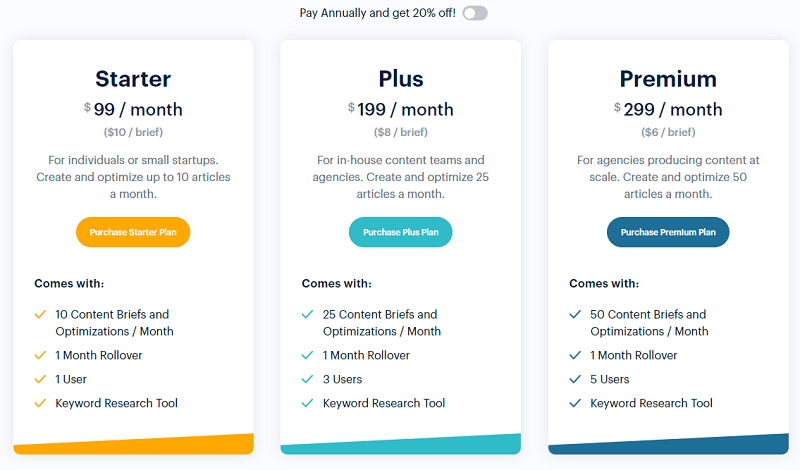 The Topic has two price tiers to choose from:
Without Topic: $100 a month.
With Topic: $1000 per month.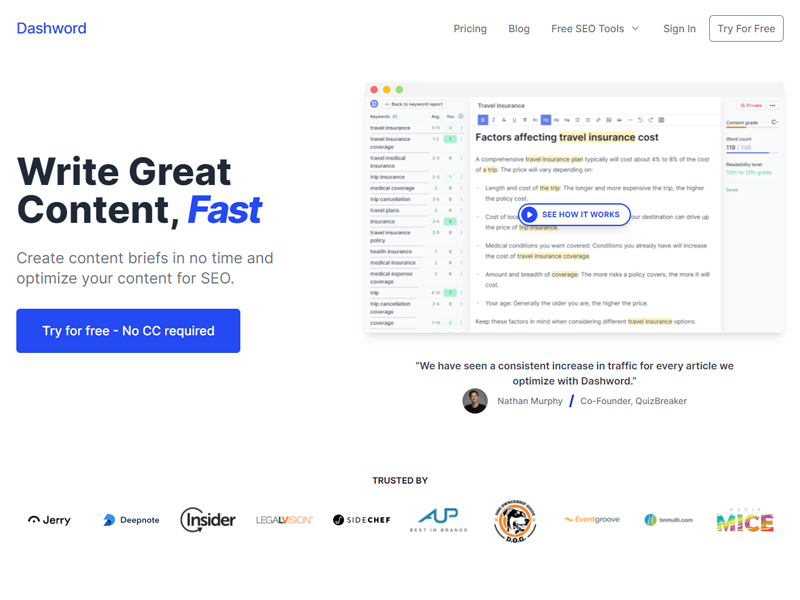 Dashword is a newcomer in the field of content management systems. SEO teams can use Dashword's strong tools to produce content with a greater ranking chance.
Thoms Petracco is the cofounder of Dashword, that's what he said, "We know that finding good content can be hard and time-consuming; that's why we came up with a plugin that lets you know what you'll be writing about."
Dashword analyses top-ranking websites using machine learning, similar to Google's algorithm. It will elevate your content and search engine rankings to another level.
Features:
Readability level and content grading.
A word counter.
Suggestions for keywords and important topics.
Analyze content scores and word counts of competitors.
Dashword provides frequently asked questions related to your content.
Pros:
It is very cheap for people who want to start.
It's simple and straightforward to use.
Using the subject and question ideas, you can quickly develop an outline.
Rather than a free trial, you will get the first report at no cost.
The Pro plan allows limitless reports.
Cons:
It may take some time to generate reports.
Pricing: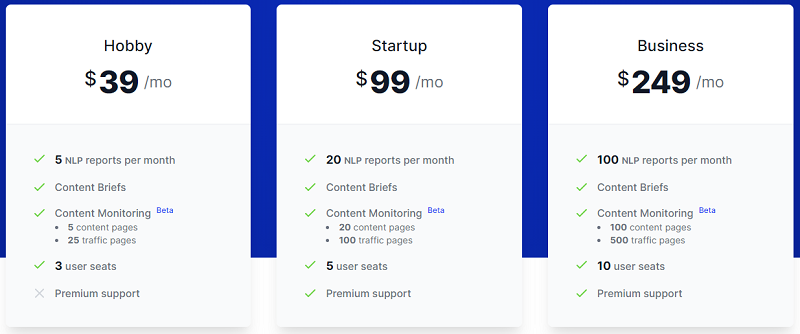 If you don't want to pay for Dashword, you can get five reports a month for free. There is a free plan for those just starting out and a more expensive one for those who want to expand their content marketing efforts.
If you want to use it all the time, you'll have to pay $99 a month. If you are going to optimize 12+ pages, it's a far better deal than Topic and Clearscope.
There is another Hobby plan which charges $39 per month.
For Business, it costs $249 per month.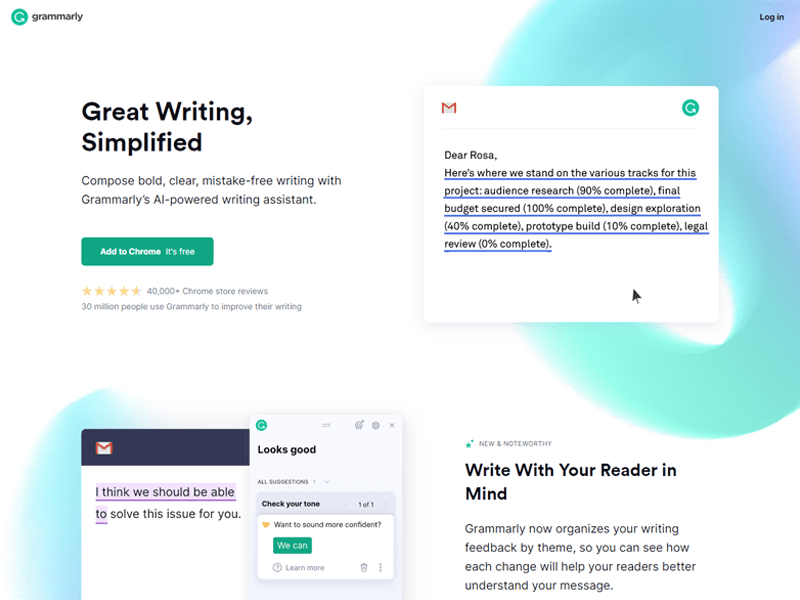 Even Grammarly isn't a content analysis and optimizer, it's still worth noting. In order to assess the readability of the content, you can employ Grammarly's user-friendly platform. The tool offers suggestions on making your writing more accurate, clear, engaging, and effective to help you create better content. In conclusion, you may get a readability score that tells you the reading ability of your target audience.
Depending on your audience, you can use this data to either simplify or enhance the text. When it comes to online reputation management, marketers use Grammarly to their advantage since badly written material immediately turns off a potential customer. It's possible to use Grammarly on any device, whether a computer, a mobile device, or an iOS or Android device. There are two versions available: a free one and a premium one.
Features:
Once the material has been uploaded or copied and pasted, the version may perform the following important checks.
Contextual spellings.
Syntax.
Punctuation.
Correct grammar mistakes.
Punctuation.
How sentences are put together.
Style.
Pros:
It is a complete grammar checker.
A plagiarism checker is included in the paid version of the plan.
It's easy to learn and doesn't need a lot of effort.
Cons:
It isn't a gadget that can do your research for you.
Grammarly free has a few limitations as an optimization tool.
Pricing: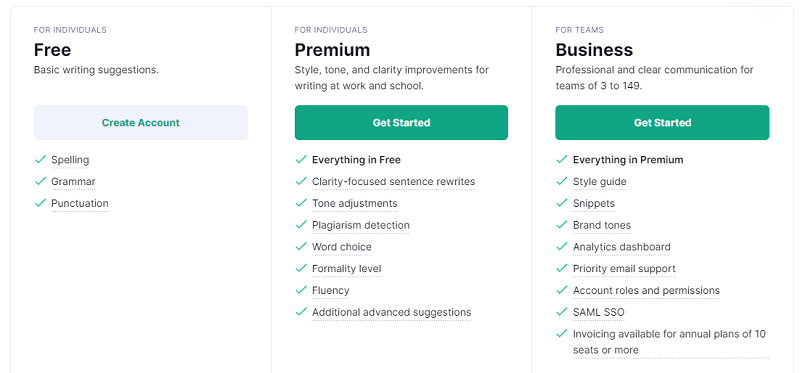 Grammarly offers both free and paid versions of its service. The free edition is great for bloggers and writers on a tight budget since it offers some basic writing recommendations.
In addition, there is a premium version, which begins at $12.66 a month and includes additional features like style, tone, as well as quality choices.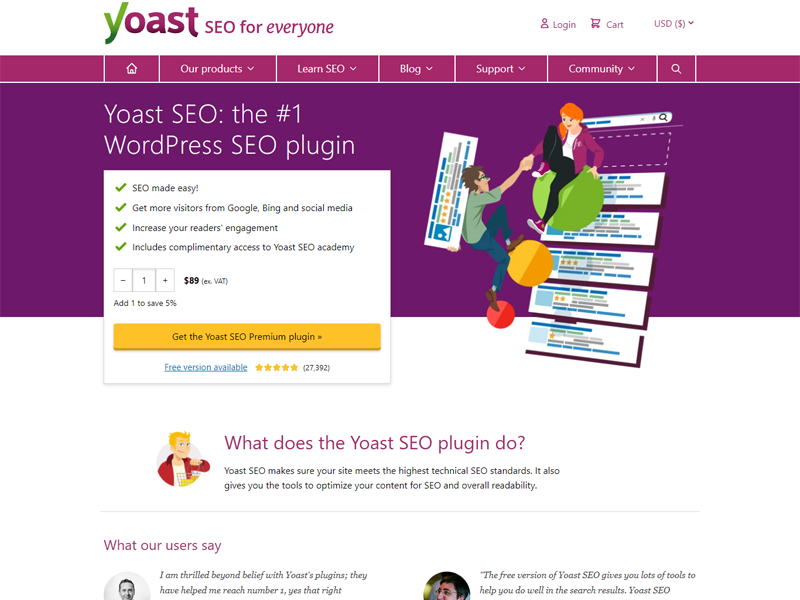 The Yoast plugin is the most well-known WordPress SEO plugin. It aids in website audits and optimizes content and keywords. Yoast offers an audit/review tool and an excellent WordPress tool, which LSEO recommends for use by everybody on WordPress. Using this plugin, you can track how well each website page is doing in search results. SEO-friendly web pages can be created more quickly and easily with this method.
You can use Yoast to optimize your website and content for search engines by entering your target keyword into the plugin's search bar. You can monitor your performance and improve your SEO approach using real-time SEO analytics. So, your WordPress website can be readily indexed by search engines.
Features:
Yoast SEO has a few notable features:
It examines your paragraph structure.
Elementor integration.
It aids in the selection of the right keyword density.
Analytical tools for both external and internal use.
Enhanced slack sharing.
Pros:
It's really an easy-to-use tool.
Its functions include SEO proofreading.
It fixes website faults.
It restricts feed from content crawlers.
Cons:
It does not always grasp the purpose.
This plugin often wastes precious time by random searches.
Pricing: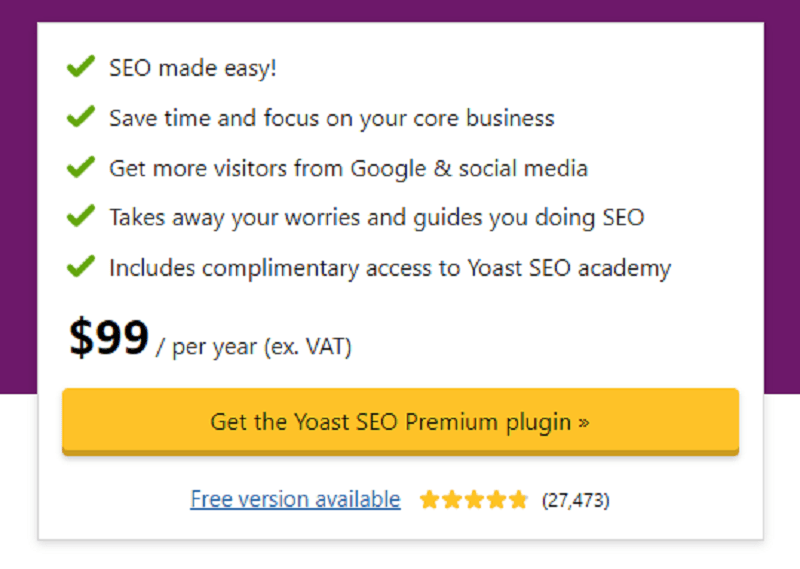 It costs $99 per year for the basic plan.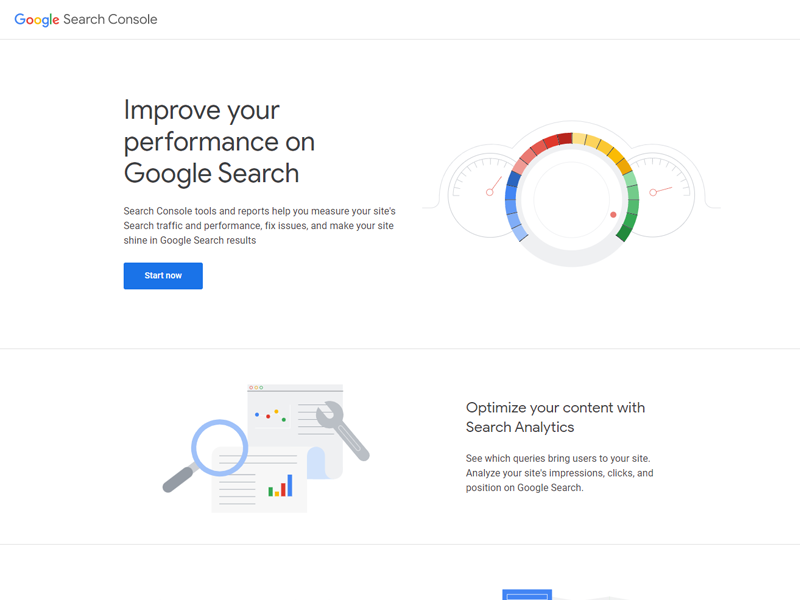 Google Search Console is probably one of the top content Search engine optimization tools. Website owners can use Google Search Console, a free tool from Google, to monitor their site's progress in Google's search engine results pages. In addition, it offers resources and suggestions for enhancing your website's visibility in search results of Google.
Using this tool, you get access to comprehensive statistics on the top-level keywords generating traffic to your website. And most of all, it enables you to monitor the top-performing content, broken links, scan issues, spam complaints, and many other things. Google Search Console is the first place to start to improve your blog or website's current content. Using it, you can uncover content-specific optimization possibilities.
Features:
A few of the GSC's features are as follows:
Analyzing keywords by using search queries.
It examines user interaction.
Page ranking in search results.
Site coverage.
Submit pages to be indexed.
Errors and pages that cannot be indexed.
Submission of a sitemap and other things.
Pros:
It has no cost.
It identifies the areas of your content that need improvement.
Real-time statistics on impressions and clicks.
It is an amazing tool for evaluating your website's and content's SERP performance.
Cons:
It excludes competitors' research.
Data specificity throughout your site might be challenging to achieve.
Missing sentences and words are not examined.
It does not reveal the whole backlink profile.
Pricing:
Free of cost
FAQ's
Which is the Best Content Optimization Tool?
Each tool has its own set of capabilities that might help you grow your audience and make more money. However, each tool has a certain set of functions that it focuses on. As a result, you should take the time to review each tool before making a decision thoroughly.
There's a solid reason why Surfur Seo is our top selection.
It handles everything from links to content to structure to keywords. Moreover, it has a simple user interface, making it ideal for newcomers. You'll know we're correct if you give it a go!
What is a Content Optimization Software?
Content optimization software delivers targeted keyword ideas and tested templates to help you develop trust and demonstrate your competence. It aids your search engine optimization efforts, as well as your attempts to develop a content strategy that can be scaled for more visibility and clicks. If you use content optimization software, you can see how your blog articles stack up against other high-ranking material on Google and devise a plan to surpass it.
With the help of these softwares, authors can focus on being creative while still addressing the needs of their target audience and include the correct keywords in their material to get a high content readability score. The content optimization tools is available in various pricing and subscription options, ranging from a free trial for new customers to a monthly subscription fee of $$ for premium subscribers.
What is the Best Free Content Optimization Tool?
Analytical services are available for free on the Google marketing portal for marketers. SEO experts use Google Analytics to do technical SEO analysis. As it includes statistics and fundamental analytical tools, it is a good choice.
All you need is a working Gmail account and a working internet connection to use the Google Analytics service because this SEO software is completely free of charge. After implementing SEO tactics, you can use these analytics to monitor the results. Hence, it is one of the most effective free SEO tools. The only place to look for keyword suggestions and broken links is Google. It tracks your goals, provides custom reports, audience feedback, and flow visualization. It is powerful, flexible and simple to use.
Conclusion
Researching, optimizing, and tracking already-existing content on the website can require a significant amount of time and money. Even if you're doing content marketing consistently, that's not the only thing you need to do to rank well in Google and connect with your target market. Many tools are available to assist you in creating high-quality content for your weblog or landing pages.
So, these are the 11 most popular SEO tools used by marketers. Use this checklist and pick the tools that appear useful to you, whether you're someone who plans to try a profession as a marketer or simply understands the software that can assist you better your complete marketing approach.
However, the best way to determine which tools are ideal for your company is to experiment with them all and see which ones work best for you. The best course of action is to try out the trial versions of these tools before purchasing.