There are literally numerous hosting solutions out there in the market, and BionicWP is one of them. BionicWP is one of those solutions that truly stand out in the WordPress managed-to-host world, and if your someone looking to get a premium solution for your website, then this review is specifically for you.
This review is specifically meant to help the solution searching audience understand what they'll get with BionicWP. There are several cases out there in which the users got scammed by the hosting solutions that have labeled their hosting as 'managed hosting.'
This review will help you avoid an unfortunate event where you buy the service thinking that it'll be a managed hosting service but in reality, what you get is a simple hosting service and nothing special in the package.
For starters, let me tell you that BionicWP is one hell of a managed WordPress solution. It offers impeccable site management and maintenance features that most of the service providers don't have on their list.
So, without any further ado – let's start exploring all the ins and outs of this great managed WordPress solution.
What is BionicWP?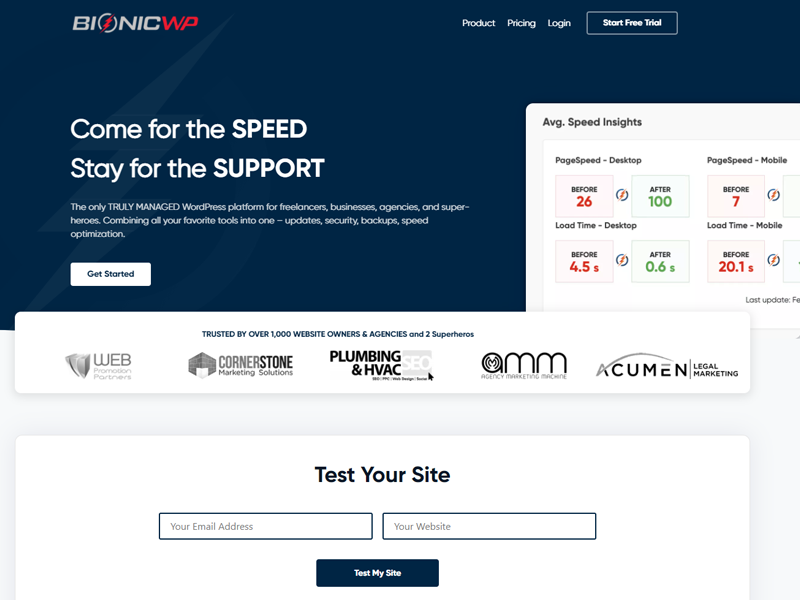 BionicWP is a hosting solution that offers premium features to entrepreneurs for their websites. The hosting solution gives you application-level support that enables you to manage your WordPress website.
At the backend, BionicWP leverages a Google Cloud Infrastructure with a super optimized stack that adds rocket boosters to your website.
The hosting service offers unlimited site edits, boosts page's performance, core site, plugin updates, and MUCH MORE!
The most amazing part of BionicWP is that the solution is designed to be WordPress friendly, and secondly, it gives you full power over managing and editing your website.
This editing and managing include content editing, site performance-boosting, ensuring quality-oriented server performance, and the facility to handle more visitors, and more.
Competitive Edge Of BionicWP
90+ page speed Insights score that allows you to analyze and increase your page's performance.
Hack-proofing with 30-days site backup.
Performance monitoring and reporting.
Scalability and high-performance CDN and SSL.
WordPress plugin updates, themes, and staging area with SSH access.
A complete hosting solution.
Unlimited site edits and improvement.
With all the aforementioned features, one may wonder – how much would BionicWP cost to host a website? And the answer is "not much!"
In fact, the most amazing part of BionicWP is that it allows you to avail of all the features it has for an extra $25 along with a hosting package. Just make sure that the unlimited edits check box is ticked while you're getting the service.
A More In-Depth Review Of The BionicWP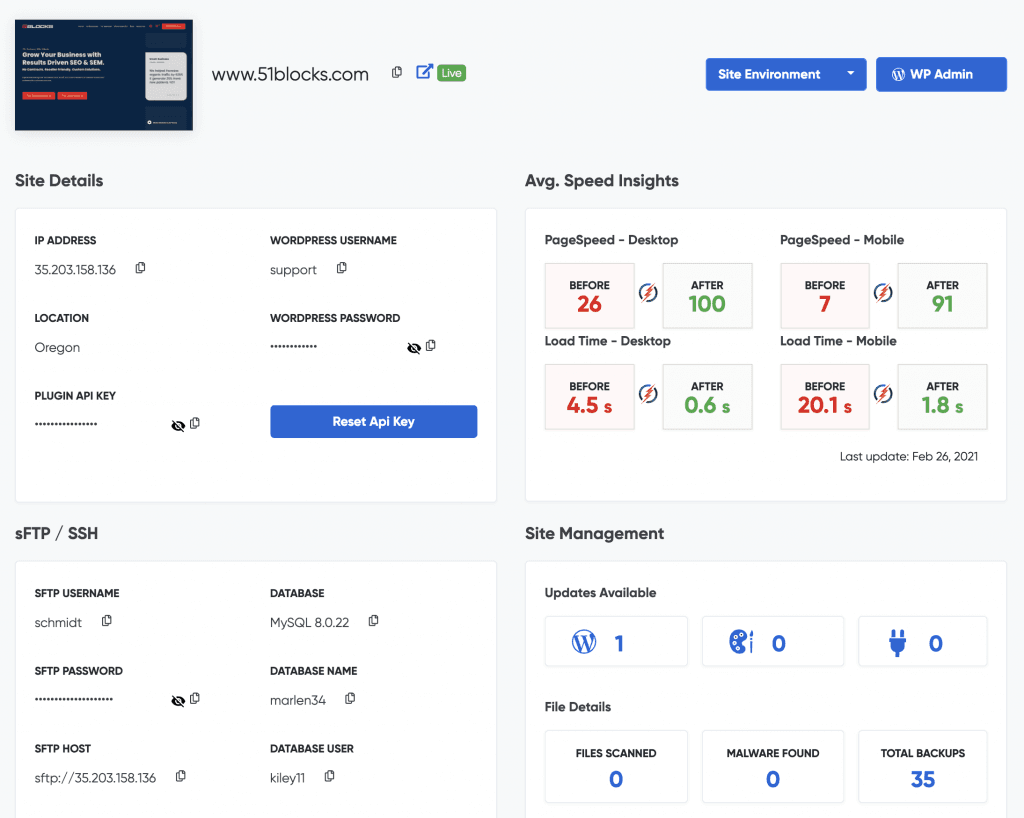 At the start of the article, I gave you all the essential details that you need to know about the managed WordPress solution "BionicWP."
Now it is time to dive deep into the details to uncover some of the most critical aspects of the platforms, features, functionalities, and more.
Also, before getting started, I just want to let you know that BionicWP offers a free trial that enables you to experience the platform for free. So, if any one of you is an experienced developer or something – now is your chance to determine the usefulness of this great managed WordPress solution provider.
Get everything on the dashboard. When you launch a website, it will appear in your Live Sites tab. You can also see the theme installed on it, the number of plugins that you use, and a lot more.
Let's begin, shall we!
Features of BionicWP in Detail
Managed WordPress Hosting
Nearly every user in the world thinks of a managed hosting solution as a server-level support solution or management; however, this is not the case.
A managed solution is both server-level support and an enterprise-level solution that offers customization to your application along with management and some other perks.
Normally finding such a distinctive solution is a daunting task, and this is exactly where BionicWP steps in and changes the game!
Bionic WP is capable of offering all three of the solutions mentioned above. In short, this marvelous hosting solution is capable of handling everything from site management to WordPress pages, edits, and much more.
Unlimited edits
Getting a VA to edit your website every day can be super-expensive, let alone time-consuming. Considering the fact that every online store nowadays has a dream of spending less to save extra cast to spend it on other important things.
The BionicWP software turns your dream into a reality and allows you to get as many website edits as you can easily and efficiently while ensuring a minimal cost.
From changing images to layout to updating plugins and much more, the BionicWP is more than capable of handling all your website queries and concerns.
A Complete White-Label Solution
The White-label solution of BionicWP enables the agencies and experts to offer BionicWP's hosting solution to their clients. They capitalized on the fact that several agencies and professionals tend to provide their clients with hosting solutions; hence, they offered the users to provide their clients with BionicWP's hosting solution.
Perfect For Enterprise-Level Organizations
The website management features of this great solution can directly affect your business's bottom line. For just $25, you can assign the menial task to BionicWP's support team and let them do what they do best.
Through this approach, you decrease the burden on your internal teams by outsourcing your web maintenance and support.
Therefore, the hours spent on managing a website and the cost of maintaining a website are removed, enabling you and your team to focus on other more critical aspects of your business.
BionicWP: From Performance Standpoint

In this heading, we'll learn about the performance of BionicWP and why I believe that their solution is superior as compared to other managed WordPress hosting providers available in the market.
90+ Page Speed
BionicWP's standout feature is that it guarantees performance in several aspects, unlike its competitors. For example, when it comes to page speed, BionicWP guarantees a 90+ Google page speed test for all the websites that are being hosted on their platform.
Increased Conversion Ratio
We all know that getting your audience to convert is super difficult nowadays, and one should capitalize on any opportunity he/she gets that ensures a higher conversion ratio than before.
The more robust the performance of your website is, the more you'll lead your get, the better user experience you'll provide, and the better conversion ratio you'll observe—all of this, with the help of BionicWP.
Premium Tier Bandwidth
The Google C2 High Compute instance servers that BionicWP leverages to offer its users amazing performance bring in the most revolutionary performance.
Integrated with a 128GB Ram and a 32 core CPU, the Google C2 High Compute easily stands as one of the most reliable and efficient cloud-based servers available in the market.
The Secret Sauce Behind BionicWP's Stunning Performance
The core components that ensure the high-performance of BionicWP are not just the features but also the technology stack behind it. In a nutshell, the BionicWP is integrated with the following technologies:
Nginx
FCGI
PHP 7.4
MariaDB/MYSQL with LXD Containers
The technology stack mentioned above combines with server and application-level support, enables BionicWP to deliver a super-fast experience.
High CDN Performance
The free CDN service that BionicWP provides to its users plays an integral role in improving their website distribution. The CDN servers are available on all six continents. Hence, higher performance is guaranteed.
BionicWP: From Security Standpoint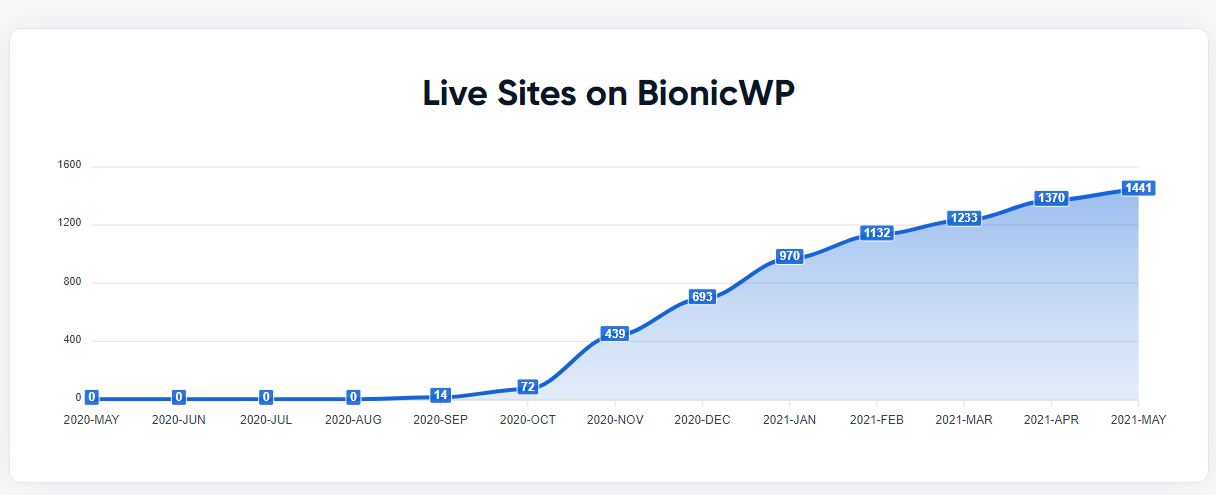 Security is perhaps another important issue that raises many questions when a brand decides to go digital, and this concern is answered beautifully by BionicWP in several ways. Let's start discussing them!
Malware Scanning
While leveraging BionicWP, you don't have to worry about taking the help of third-party software or plugin to relieve your website of hazardous viruses like Malware.
The BionicWP's managed WordPress solution comes with a malware scanner that you can deploy with one click. By the end of the scan, you'll have a clean website that is Malware free.
Website Application Firewall
This integrated security measure protects your website from third-party attacks, hackers, and other online threats. WAF ensures that your website is not only protected from hackers but also from cross-site scripting, DDoS, and SQL injection.
Hack Free
The hackers of today are getting smarter as we speak. Additionally, with the inception of the latest technologies, a website can get hacked pretty easily.
Therefore, to protect your website from getting hacked, BionicWP offers a hack-proof guarantee that if in case your website gets hacked, they'll retrieve it in a fully functional condition.
BionicWP: Site Management's Standpoint
Site management is yet another critical factor that needs to be evaluated before selecting a managed WordPress solution.
So, this is where I think BionicWP's site management stands, and trust me, the offerings are attractive enough to lure you into buying this solution. Let's start!
Core & Theme Updates
BionicWP gives you the latest updates for your website's plugins, core, theme, and much more. Through the dashboard, you can easily monitor the aspects of your website that require maintenance, and you can simply tap the "Update All" button to update all the assets of your website.
Speed Monitoring
Speed is an important factor of your website, so much so that it even plays an integral role in ranking you higher in the SERPs. Therefore, you need to monitor your website's speed constantly.
With the BionicWP, this concern of yours is minimized because the hosting service enables you to monitor your site's speed anytime and anywhere so that you can sort out any issue that occurs quickly and efficiently.
Unlimited Edits
As mentioned earlier, you get unlimited edits with the BionicWP solution for as low as $15. The site users get 30 minutes in which they can easily make unlimited edits to their site. This feat alone is enough to help you save thousands of dollars spent on editing a site, making it bulletproof.
Staging Environment
I recommend that you should never make changes to your live site. This feat can cost you, numerous potential clients, let alone drive the new customers away just because your website can run into a potential error while it is being tested or fixed. This thing can impact your user behavior, marketing, and even conversions.
Therefore, with the BionicWP, you get a staging area that you can leverage to test your website, implement new things, or do anything you want without damaging your website's online presence.
The plugin lets you easily clone your live website and make changes to it. Once you've made your changes and you're satisfied with them, you can implement them on the live site.
White Label Support
Last but not the least, the White Label Support offered by BionicWP. This support is all about giving entrepreneurs an opportunity to use BionicWP's hosting solution as a reseller for their businesses.
For example, if you're a web development firm, you can sell the hosting to the clients that have been given to you by BionicWP. You get the application and server-level support with the BionicWP; hence, your clients will be more than just happy with their site's performance.
So, you can easily sell the hosting to your clients, and they won't even know that the hosting that they're using is coming directly from BionicWP because BionicWP has given you the opportunity to pitch this solution under your brand's name.
BionicWP: From Pricing's Perspective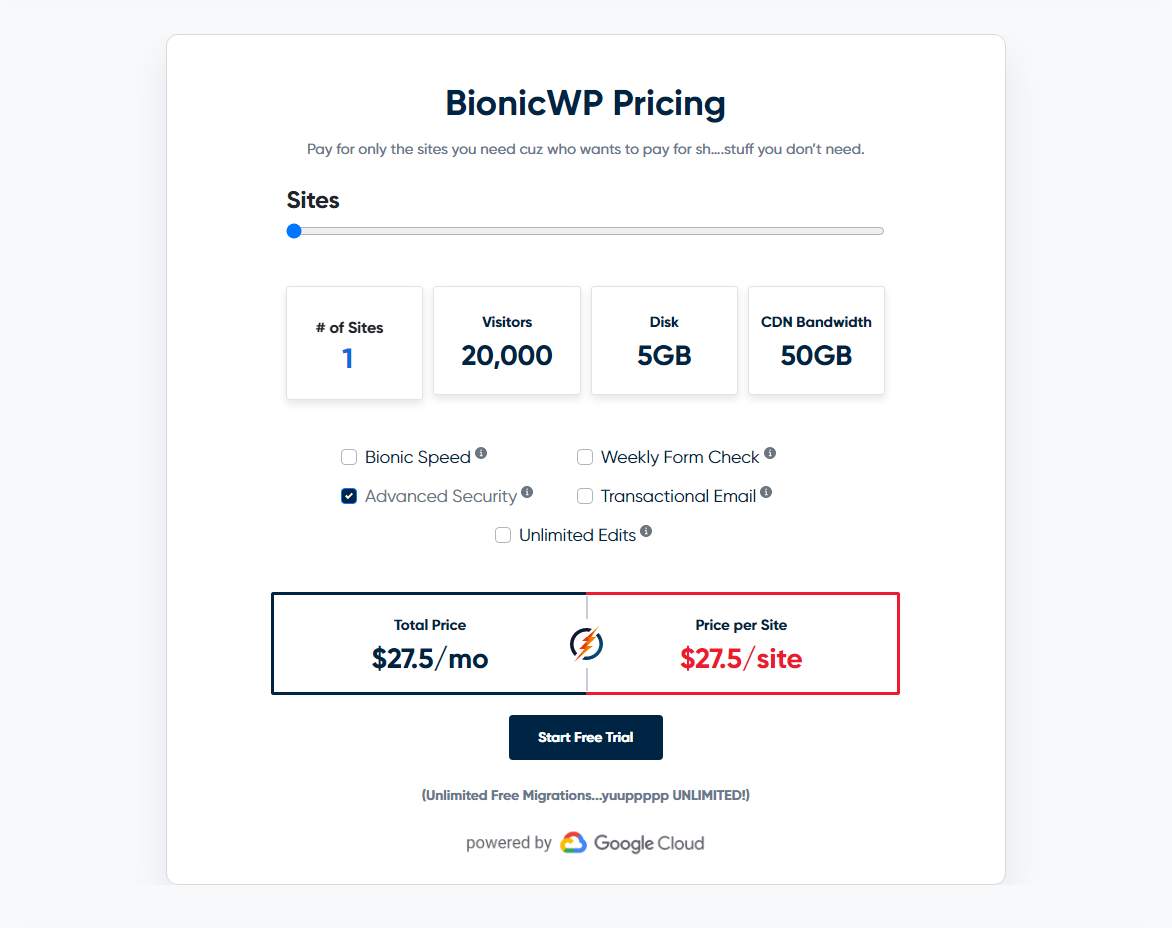 BionicWP's WordPress hosting solution is totally on another level due to the features that they're providing at such an affordable price tag. The users can avail all of the features of BionicWP mentioned above for just $27.5 starting price for one website.
Furthermore, the best part about this solution is that the price of the hosting solution decreases as you maximize the number of websites being hosted on their managed hosting solution.
For example, for 5 websites, the price is only $112, and when you divide the term, you get $22.5, which is amazing considering the deal that you're getting from the package. Also, the price can be further decreased by adding more websites to the platform.
I'm especially giving priority to this solution solely because of the fact that BionicWP's managed WordPress solution is way more affordable as compared to other solution providers in the market.
They have an innovative structure that allows them to avail of much more than just managed WordPress solutions.
Just think of the White Label opportunity that they're giving to their audience; it is remarkable if you ask me, and an entrepreneur would love this opportunity.
Because not only providing hosting under your brand's name is great, but also the features that BionicWP will offer to your clients on your behalf will surely make your clients fully satisfied.
Earning Commission With BionicWP's Affiliate Program
BionicWP also has an affiliate program that marketers can avail themselves of to earn a handsome amount. All you need to do is sign-up for the BionicWP affiliate program and get a $75 + 12.5% commission on all your referrals.
Over To You
The BionicWP takes managed WordPress hosting to a whole new level, and that you may have learned up-till now.
The revolutionary features and functionality stack of the solution, along with the technologies that it is leveraging to provide an all-in-one solution to the users, just feels modern and a better deal as compared to the other solution providers in the market.
With application and server-level support, unlimited edits, performance monitoring, white-label opportunity, this managed WordPress solution has really given it all to the users, and they're asking for a very reasonable price for all that they're offering.