Devrims is a managed cloud hosting provider that offers a scalable and reliable hosting feature. It takes care of all the hosting needs of your website. It might be a new player, but the core offerings are precisely according to the industry standards. This Devrims review will give you a detailed insight into what features Devrims offers, its pros, cons, and pricing plans.
In Devrims, you get to experience fully managed cloud servers that are efficiently backed by IaaS partners like Digital Ocean and Amazon AWS for adequate security and higher performance. Moreover, it provides you SSH/SFTP security to avoid potential security threats, free SSL certificates such as Let's Encrypt, dedicated cloud servers, SSD storage, and server-level caching technologies.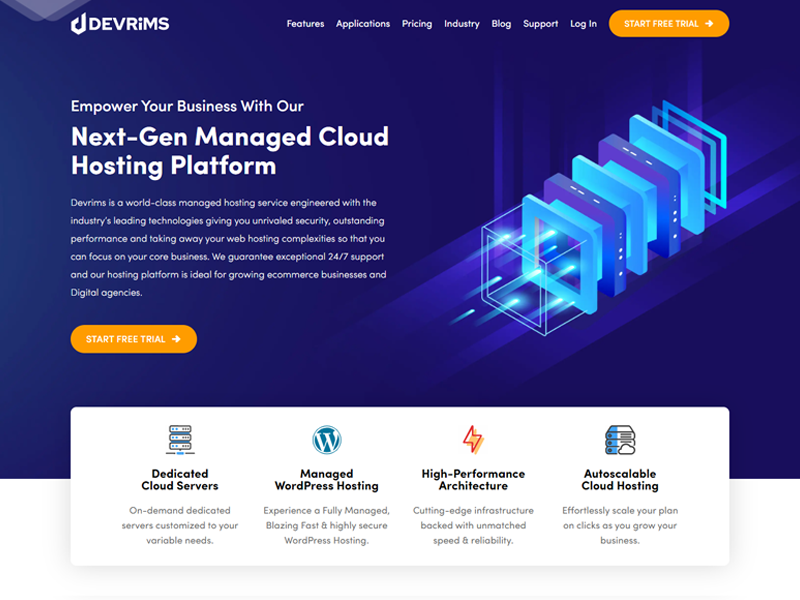 Devrims offers two pricing tiers; monthly and hourly. For monthly, the lowest hosting plan costs $10.95, and the highest one costs $1712.58 per month in the case of the servers with DigitalOcean. If you choose to get an hourly plan, the pricing will cost you as low as $0.015 to $2.346 per hour for a month. A GL plan is available for regular users. This plan costs $0.060 per hour or $43.80 per month. Here, you get four TB bandwidth, 95 GB storage, two vCPUs, and 4GB RAM.
Devrims is new in the highly competitive industry; their customer support standards and premium set of features show that they are a real business. Devrims also offers a six-day free trial period. So, we recommend you give Devrims hosting a shot.
| | |
| --- | --- |
| Pros | Cons |
| Easy to use interface | |
| 99.9% uptime guarantee | Difficult to choose servers for beginners |
| Server interchangeability | No email hosting |
| Next-Gen Server Security | Complex pricing plans |
| Reliable support | No phone support |
Devrims: Key features
Devrims is a new entrant into the online market that offers blazing fast Managed Cloud hosting services. This review will explain everything about Devrims to help you get started with it.
Devrims includes all the industry-standard features. Below is the list of only a few of them:
24/7 ticket and chat support
Selection of server-level caching service
One-click server scaling
One free website migration
One-click setup for unlimited database
Run numerous PHP versions on a single server
Freedom of using TECH stack from LEMP or LAMP
Different PHP apps hosting in one server
Next-Gen Server Security that auto-blocks any unauthorized request
Easily scalable
Super easy management
Global cloud infrastructure
Unlimited domain names and applications
Pre-configured services
Fast network and SSD storage
Managed cloud services
Ease of use
Lets' find out whether or not Devrims is easy to use.
1. Getting Started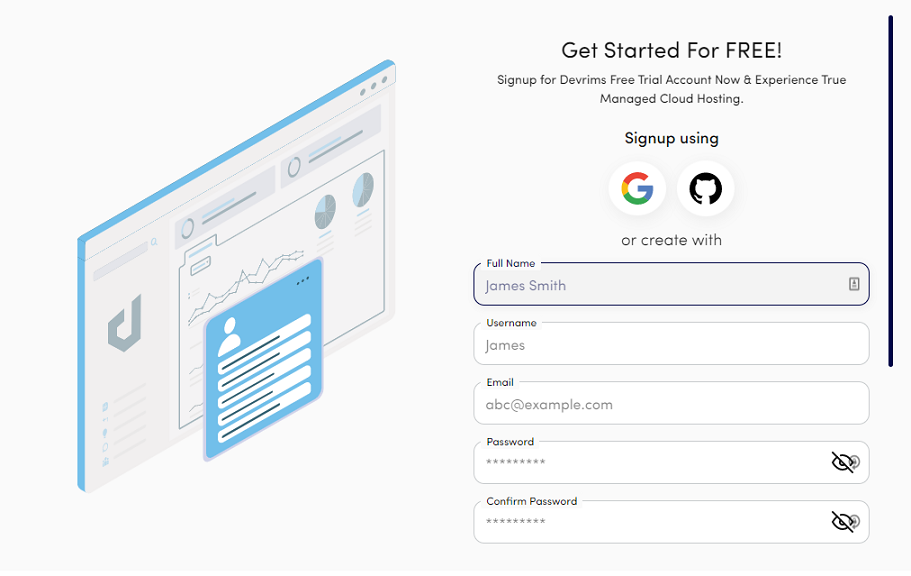 Clicking on the "start free trial" leads you to the above-shown page. It is an easy signup setup. All you need to do here is fill in up information. It does not ask for any knowledge of your credit card.
Next, you need to select your plan. Before this, they also provide you with a short survey for beginners that guides you further while choosing the program.
After selecting the plan, you are directed to your dashboard. It is a straightforward and intuitive dashboard. The left column lists all the required items to get started.
2. Setting up servers and applications
After getting into the dashboard, you first need to choose the server from the "server" tab on the left.
Here, you can add more servers and access your WordPress using the "application" tab. It also lets you install a different functional application, such as WooCommerce. Moreover, it also allows you to monitor the server and the components of the dashboard that are not commonly used.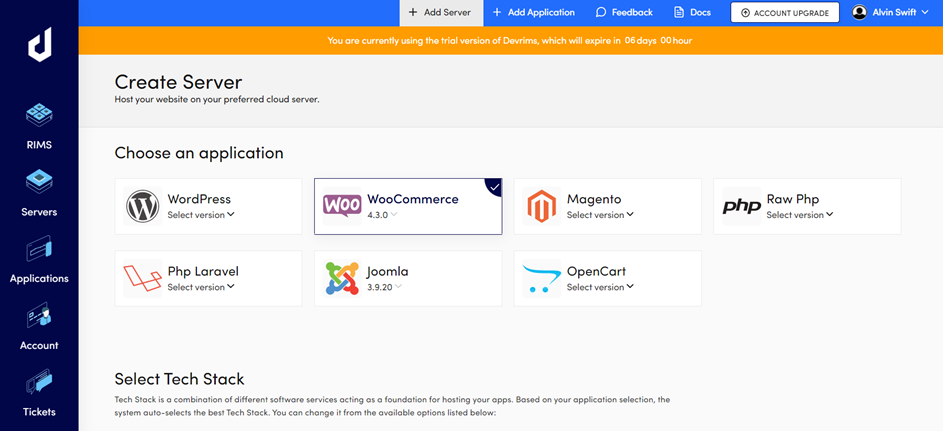 Next, you find the Application tab that is most similar to the Servers' tab in the menu, except it is a bit direct. It shows you a list of all the applications you installed. Then, it is straightforward to access and manage all the applications through this tab.
The dashboard is very straightforward as it does not include extra information that overwhelms you. Instead, it is welcoming for a beginner.
Next, there is a tax of "tickets" at the end of the list in the dashboard. It is straightforward to create a support ticket. All you need is to click on the "tickets," You will be directed to a page where you click "create a ticket," and there, you can easily create a ticker and submit your request.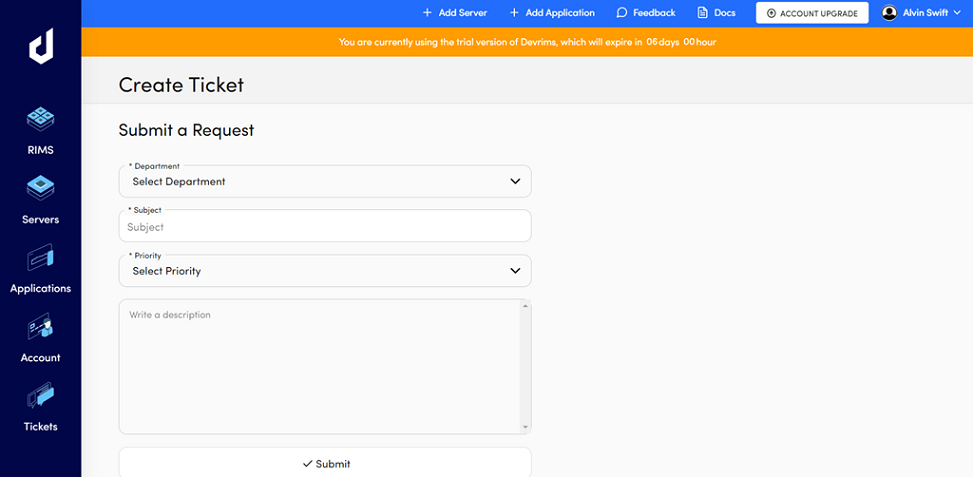 In short, Devrims is relatively easy to use. It is also easy to navigate as you go in-depth about the hosting solutions. Yet, a quick survey to guide the new users or the beginners to choose the plan that suits them best. We wonder it would reduce the market to a great extent if people are unsure about their hosting choice.
Performance
Having a website with reliable uptime performance is key to the survival of any online business. It is because of the fact that people go to Bing, Yahoo, or Google to find a company online. You are unfortunate if you choose the wrong hosting solution that would drastically affect the visitors' page experience and website availability. Moreover, these factors are the most critical ranking factors that ultimately affect the visitors or brands on your website.
Experiencing downtime means that your website is potential sales and losing business. However, Devrims offers you highly managed and reliable cloud hosting with outstanding guaranteed uptime.
It has more than 20 data centers across the globe that provide enough flexibility and wiggle room for hosting the website on preferred locations and servers.
The uptime also provides lightning-fast SSD storage, super-fast network, robust optimization, and server-level caching. When you have these incorporated in place, it helps you to have increased exposure with better SEO rankings and page views.
Devrims guarantees 99.9% uptime or even better. So, you expect your high availability on servers. It is a few steps ahead of other hosting providers such that it offers clients SLA credits. These SLA credits are added to your Devrims Wallet and can later be used for billing.
In addition, Devrims offer fully managed optimized cloud servers that give you complete control over your application performance requirements. It has created a reliable infrastructure with the Digital Ocean and Amazon AWS to be their IaaS partners. Above all, it comes with SSD cloud storage setups.
To make it easier, the Devrims interface incorporates the most popular and supported versions and software services according to the needs of your applications. It enhances your speed further and helps you boost the pace with your server-level caching solution. It is easy to select your required caching technology and implement it on your website in a few clicks.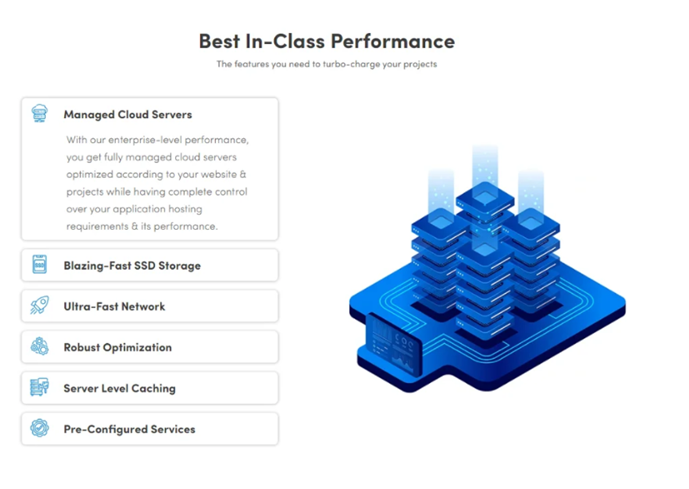 Easy-to-use Interface
Devrims provides a clean and intuitive hosting interface that allows you to fulfill your hosting requirements even if you are not tech-savvy. It provides all the standard options, and it is easy to get used to all the features even after using them a few times.
After you log in, a welcome screen leads you to the dashboard to quickly start and set up your server for the first time.
Adding a new server requires you to use the setup wizard and gives you step-wise instructions, and likewise, it takes just a few clicks to add a new application.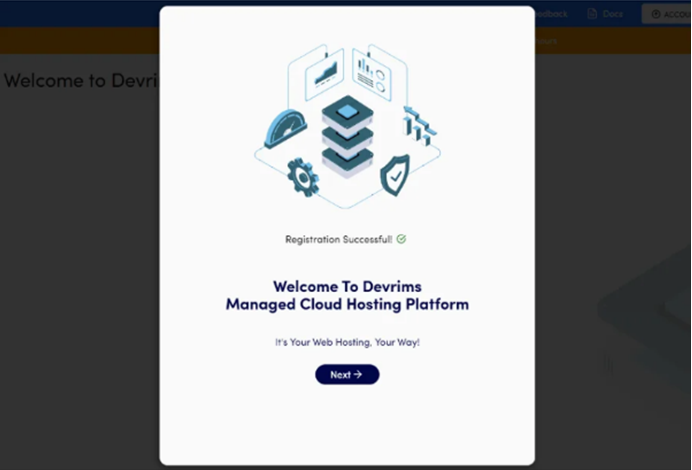 In the image below, you can see a navigation tab between servers, applications, tickets, and account details on the left in the image below. To make the required changes in the server, select the specific server and make the changes. Simple, isn't it?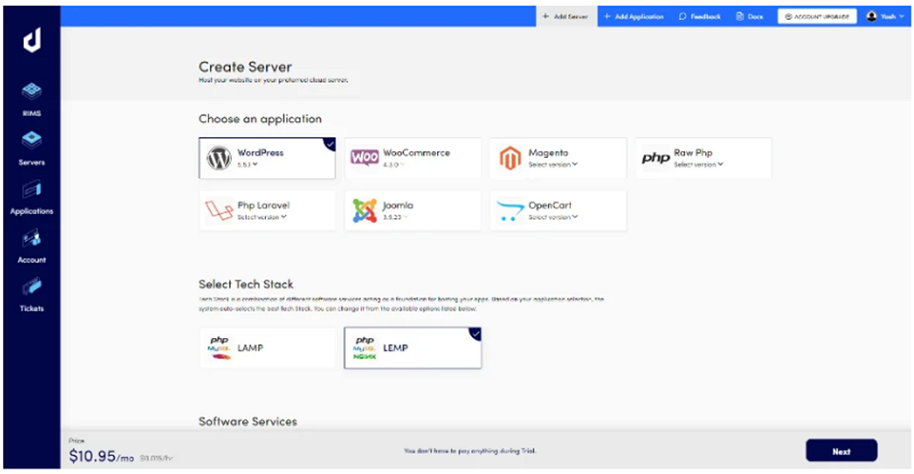 The dashboard lets you organize the servers in a single project through the RIMS feature to manage your server in different aspects easily. RIMS helps in grouping multiple servers together in a related project.
Server Interchangeability
Based on technicalities, servers are categorized as; memory-optimized, compute-optimized, and general-purpose.
You can choose the best server type to start. However, if you want to switch to another server, later on, the server-scaling option is there to help you with a single click.
If there is a need for more computing power, the compute-optimized server family provides the necessary application resources. Yet, if you are uncertain about which server family is best for you, the Devrims team will guide you through. They will even help you select the plan according to the needs of your application resources.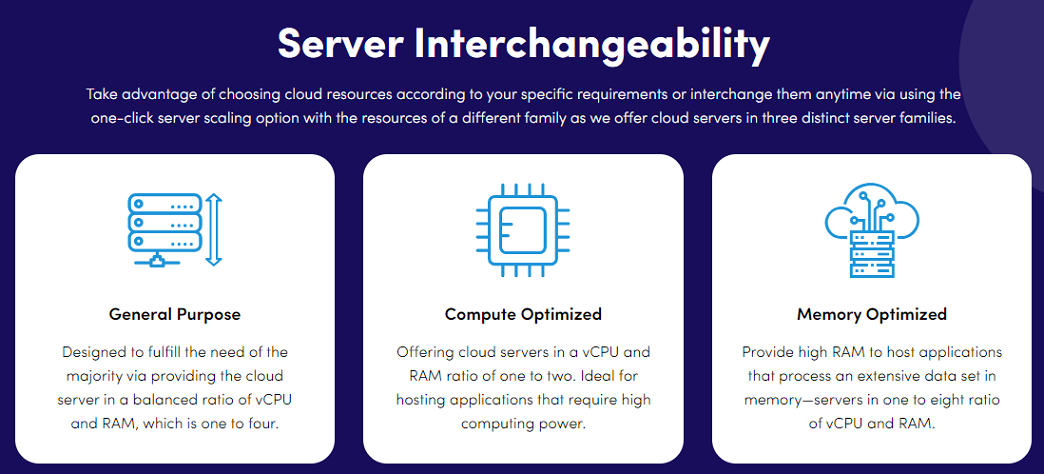 Security
It is great to have an affordable hosting service with high uptime performance and customer support. Yet, it would be best if you found the provider that frights back to protect your online data and websites.
Devrims offers excellent services and features for this as well. Following are the security features provided by Devrims for security.
Website backups
Database security
SSL certificate
Fail2Ban
IP Whitelisting
SSH/SFTP Security
Hardware Firewall
Devrims provides you with multi-layer security parameters such as IP whitelisting, control over database access, SSH/SFTP security, server security protocols, and hardware firewall to allow access to only the whitelisted IPs.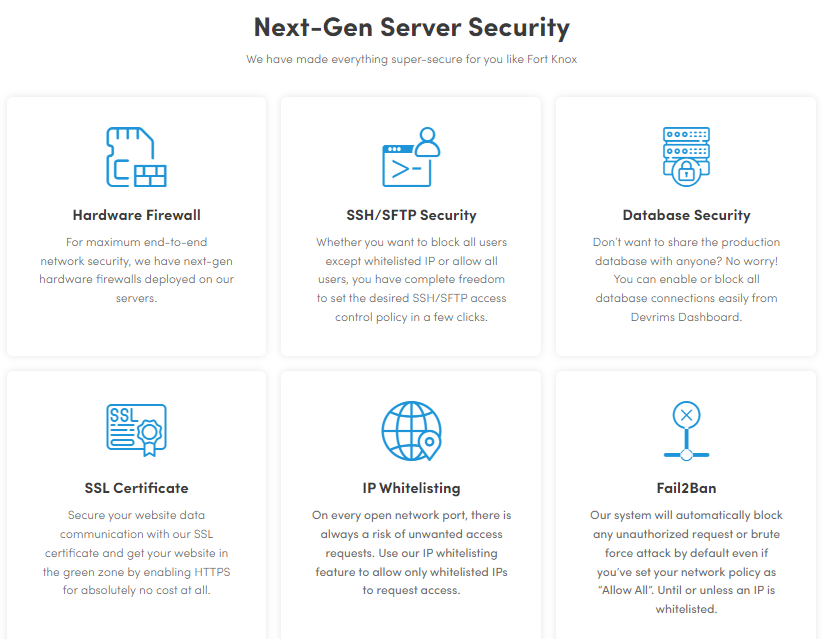 For your website security, it provides you with a free SSL certificate, including Let's Encrypt. You can even install these free certificates for multiple websites because Devrims provides unlimited website hosting.
Additionally, Devrims includes the Fail2Ban feature that hinders brute force and malware attacks even if you keep the incoming traffic open for all.
Support
On top of their server performance, security, and page-load, they also offer immediate customer support. They provide extraordinary and fast customer support. However, please note that this support is only chat-based. There are no phone numbers available for contact.
You must either contact them through chat or email.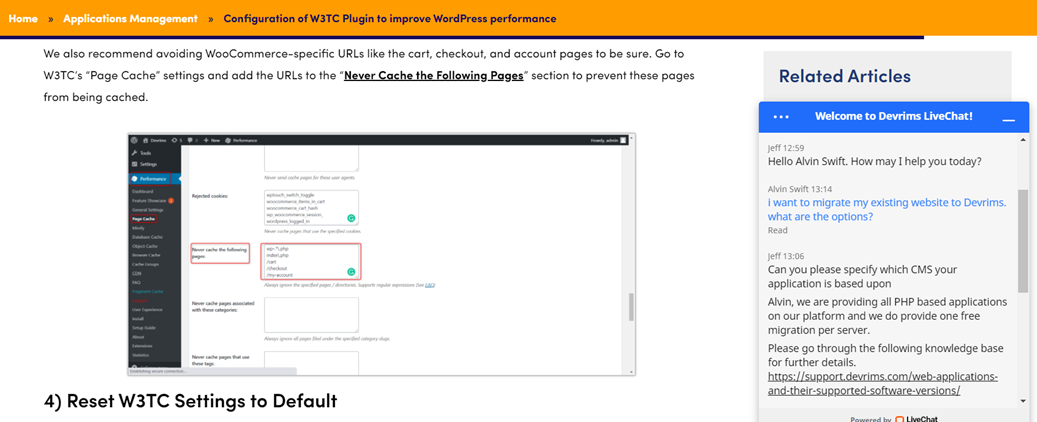 Devrims claims to offer 24/7 ticket and chat support for all users. Technical and knowledgeable experts back it. It further provides a vast knowledge base that has almost all the documentation on the technical aspect of the offered managed cloud hosting.
Devrims blog is another type of support provided by the company and user community interaction. The average time to get the first response was one minute only.
As a new entrant in the industry as a Managed Cloud hosting provider, their response time is excellent. Their representatives are always ready to respond to your queries.
Many known providers also lie in the same list, such as Cloudways, Namecheap, Dreamhost, Hostinger, BionicWP, etc. All these have excellent customer support but are only email and chat-based. Mentioning these names shows that having no phone support is not a big deal unless your email and live chart works fast and effectively.
Pricing
Usually, reliable and good WordPress hosting services range from $5 to $50 per month based on the allocated resources. Devrims offers different cloud hosting plans depending on the server type. There are options of memory-optimized, computer-optimized, and general-purpose.
The lowest costing plan is $10.95 per month. This plan offers 1TB bandwidth, 40 GB storage, one vCPU, 1 GB RAM. Further, you may choose to pay either monthly or hourly. The hourly pay for the same plan will cost you $0.015 per hour.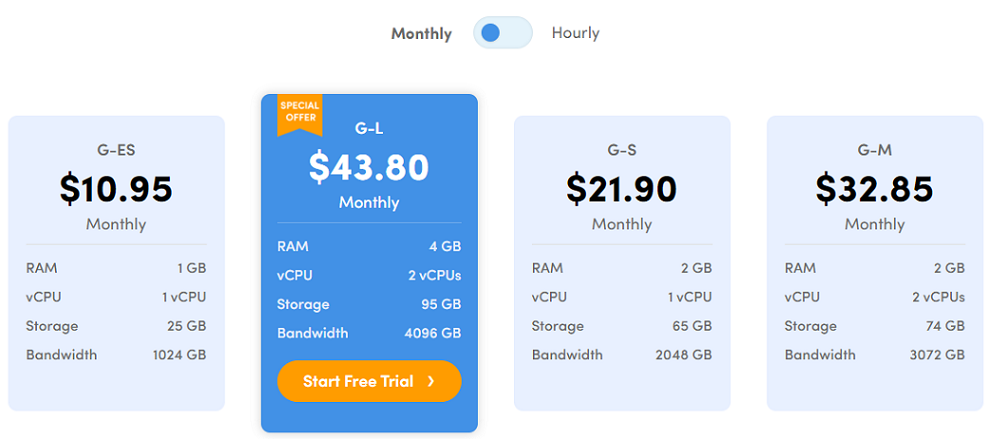 If you do not have any specific need for your website from your host, the G-L plan is the best suited for you. It costs $0.060 per hour or $43.80 per month. This plan offers 4096 GB bandwidth, 95 GB storage, two vCPUs, and 4GB RAM.
Devrims offers a 6-days Free trial with unlimited applications without any feature restrictions on specific plans only.
Verdict
There are several WordPress hosting providers today in the online market. Devrims emerges as a significant player in the industry in terms of granular control and premium features over servers.
It is easy to migrate and set up your WordPress website with the servers under Devrims. The control panels are easy-to-use and adjustable whenever required. A well-trained and reliable support team further backs all the servers.
Above all, the high subscription charges of monthly packages are not applicable because of the hourly pricing packages.

As one of the co-founders of Codeless, I bring to the table expertise in developing WordPress and web applications, as well as a track record of effectively managing hosting and servers. My passion for acquiring knowledge and my enthusiasm for constructing and testing novel technologies drive me to constantly innovate and improve.
Expertise:
Web Development,
Web Design,
Linux System Administration,
SEO
Experience:
15 years of experience in Web Development by developing and designing some of the most popular WordPress Themes like Specular, Tower, and Folie.
Education:
I have a degree in Engineering Physics and MSC in Material Science and Opto Electronics.