Do you want to sell online? Are you looking for a platform to promote and establish your online business without restrictions and no fixed monthly costs?
There is a global revolution in the field of marketing and shopping. Likewise, it is a great challenge to run an online store in a competitive market.
The best way to create your online shop is to create a manual website. But only the most knowledgeable, tech-savvy persons can do this. Meanwhile, some solutions are more time-saving and helpful.
Several online platforms provide easy online solutions to build an online store. branchbob is one of them. Yet, it may be one of the best for you. Let's delve into the detail of what branchbob offers.
branchbob – What is it?
branchbob provides an eCommerce platform to help you establish your online store without restrictions.
Businesses can quickly create an online shop with easy payment methods, multiple languages, multiple currency support, and being internationally usable.
branchbob provides a platform that is easy to use without any coding skills or IT support needed to build your online store. branchbob will offer you the turnkey that you need to create a successful eCommerce business.
Above all, there is no fixed monthly cost. What are you waiting for then? Open an online store for free and start successful selling in a few clicks only.
Not only this, branchbob provides you with live support and video tutorials. Online business people can develop their store within 5 minutes. There are multiple designs from which you can choose and customize your store. You get unique and essential features for marketing activities. These functions further include instructions to attract a large audience.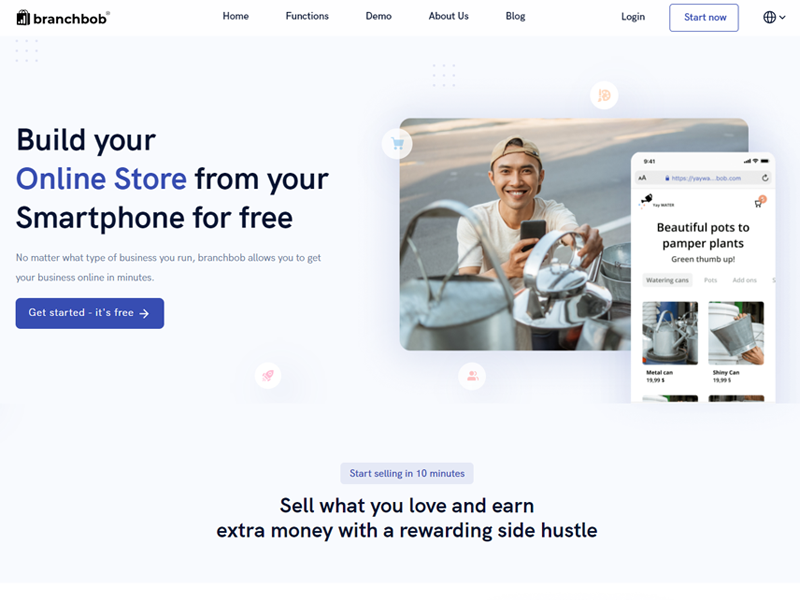 Best Online Store Features
Store enhancement features-customization
branchbob provides plenty of ways to enhance your store and customize it according to your requirements. It offers all the customization options and functionalities to scale and grow your business.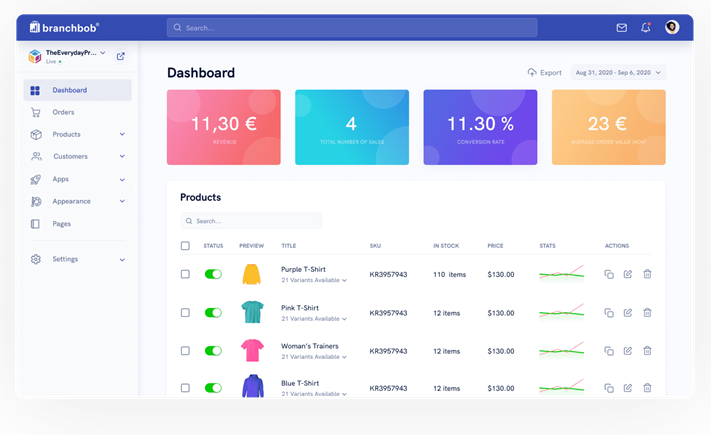 With branchbob, you get all the methods to create a professional online store. All you need to do is collect your products and list them; branchbob will help you sell them.
It takes care of all the management issues for you. For example, customer management, order management, inventory management, product management, business intelligence, payment, and shipping.
Tracking and keeping a check on the inventory products and adding payment and shipping methods in your online store is easy.
Extensions
There are app extensions such as Google analytics. branchbob has created apps that are easily downloadable from the app store. These apps include Buy Button, Staff Accounts, Google Shopping, and Pinterest.
Further, you can pick a free theme of your choice and upload your logo. You can also add your corporate design.
Optimizations
branchbob incorporates optimizations such that you get profit more than an ordinary website. It provides all the optimization functions with maximum turnover.
Since you get cloud-based hosting, scaling up the sales is easy and effective. The conversion rate is also high for the branchbob server users. This is because of the excellent reliability, fully optimized payment method, and high speed of the page.
Unique designs
You get the following design features with branchbob.
Optimized templates
It offers free design templates. You can choose the best of your choice according to your product demand.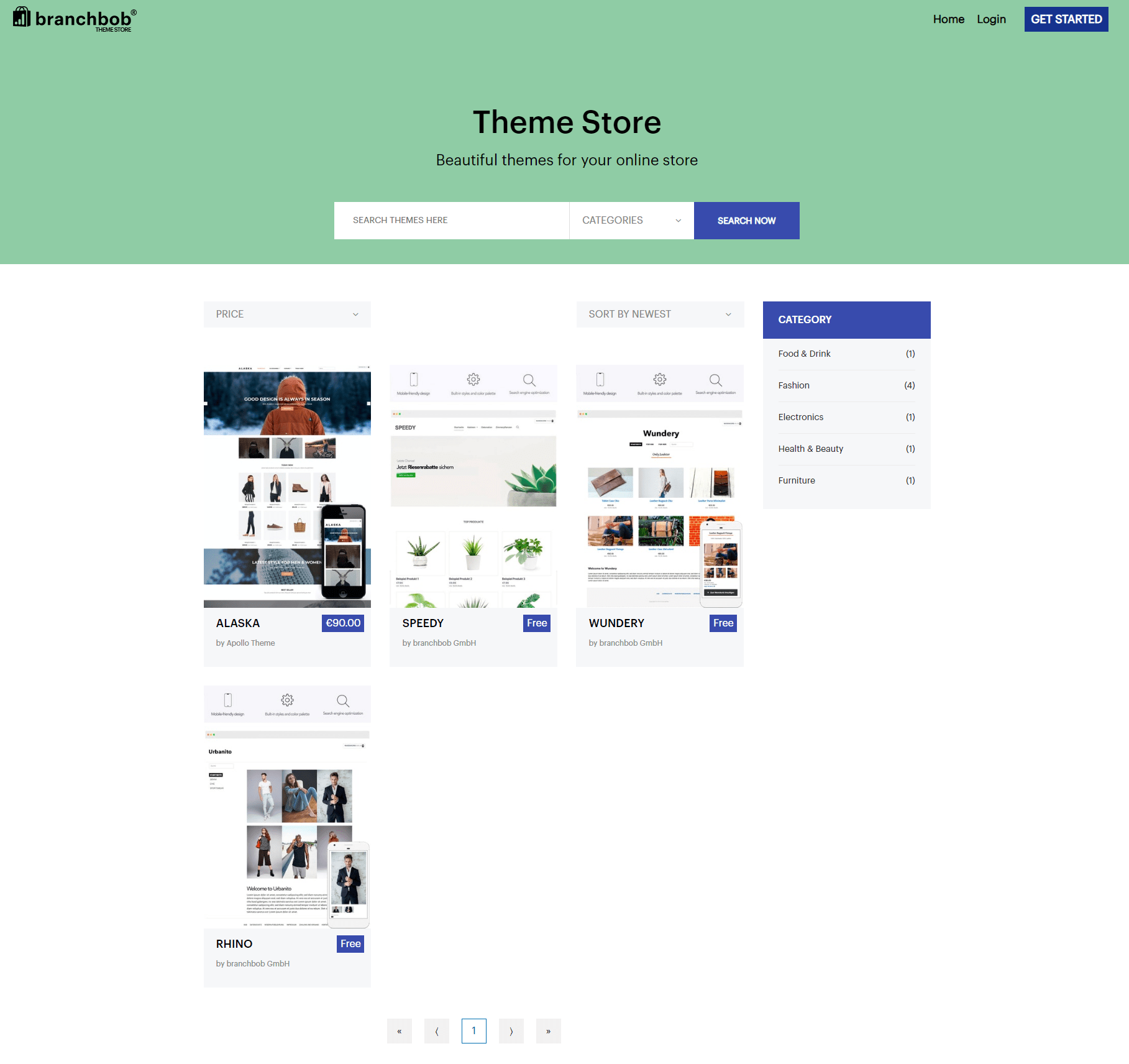 The customization options in branchbob help you customize the entire homepage. You can control everything that should appear on the page. You can upload your logo without any restrictions.
The highly customizable templates let you make color adjustments of your choice. You can even use matching tones for your brand and logo with your online shop.
Adding a slideshow to your online shop is also easy with branchbob. It adds a unique feature to your store. Moreover, you can display your products more attractively and thus, attract more customers for you.
Shop Management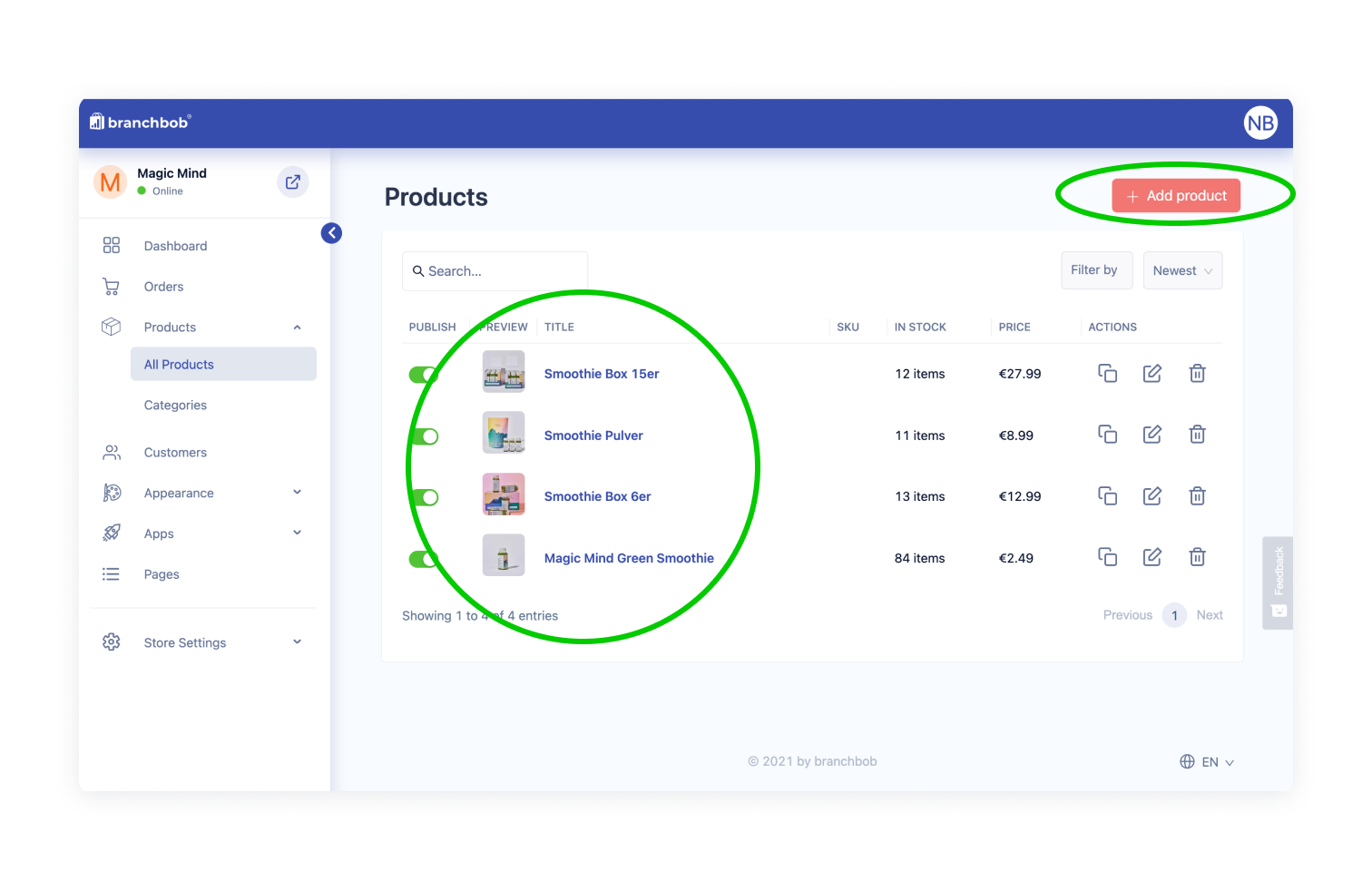 branchbob offers the following management features:
You can manage all your customers online at a single point. It helps you grow your business as well.
As the shop owner, you can create individual accounts for your staff members. It also provides you control on providing permissions to them as you want. You can keep track of the top-selling product. This information gives you a record of bestsellers on your website. With the unique features of branchbob, you can keep track of all the sales generated by your website.
It allows you to manage all the orders, whether shipped, paid, or open orders. It provides you with all the features to smoothly run your online shop. Is also possible managing the history of every order. You can find the order history and flow of your orders with the progress in shipping.
Another important feature is the fact you can set the taxes on all of your products in a few simple steps. Even small businesses can use this regulation.
You can also add videos of your products as an additional feature to assist your customers. This way, customers are more attracted and are more likely to purchase. Hence, it increases the conversion rate.
branchbob offers unique features to add variety to the products regarding material and prices. In such away, you can educate your clients about the products.
Upload images along with the products so you can keep your customers informed about the product quality and type. It automatically creates thumbnails of the pictures. You can further customize the images to suit your homepage.
Salient features
branchbob provides the following shop features:
Managing inventory
Inventory management is solely the responsibility of branchbob. It automatically tracks the inventory. However, it is an optional feature, and you need to adjust the list after each order at your shop.
Deliveries
Choosing the method of shipment is also your choice. You can select the delivery method according to the country of the customer.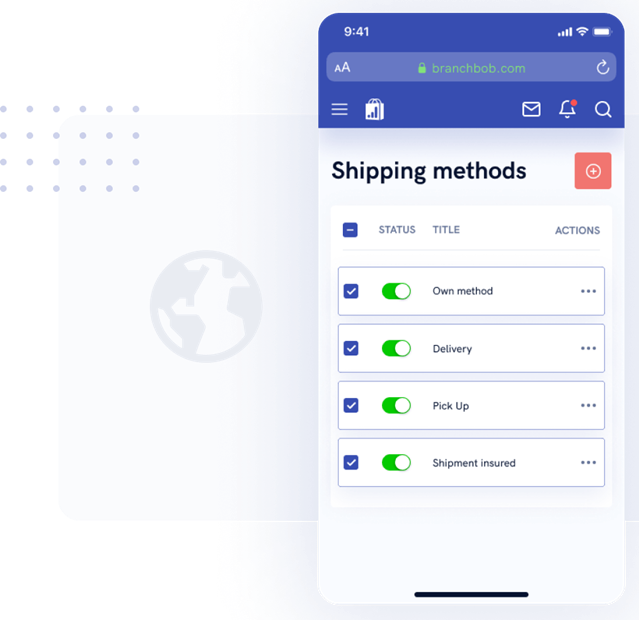 Automated emails
Another essential feature of branchbob is email automation. It generates an automated email and sends it to the customer when they place an order. It also generates and sends an email when the website confirms and dispatches an order. Moreover, you are authorized to make the email text for each email.
Integrations
Today is the world of social media marketing. Therefore, linking your online store to a social media platform is necessary to attract more targeted customers. Also, customers are more likely to be informed through social media.
Image integration
Do you know that you do not need to optimize the images of your products? Instead, the integration of branchbob with the Microservice tool automates image optimization.
Instantaneous updates
It is easy to track the real-time online data using integrated Google analytics with your branchbob account. In this way, you can keep track of your selling progress.
Ways of Payment
You can offer different payment ways and options for your clients. There is the option of payments through amazon pay, invoice, stripe, prepayment, and PayPal.
In addition, it does not restrict you to pick-up deliveries, cash-on-delivery, invoices, or credit cards.

Compatibility
branchbob is highly compatible with almost all desktop designs and mobile screens.
SEO optimization
You can optimize your web pages and products according to SEO.
Variance currency
As you spread your business across the world, branchbob lets you use over 150 currencies.
SSL certificate
The webpages based on branchbob are all encrypted with the SSL certificate with 256 bits standards. Thus your privacy is protected.
Domain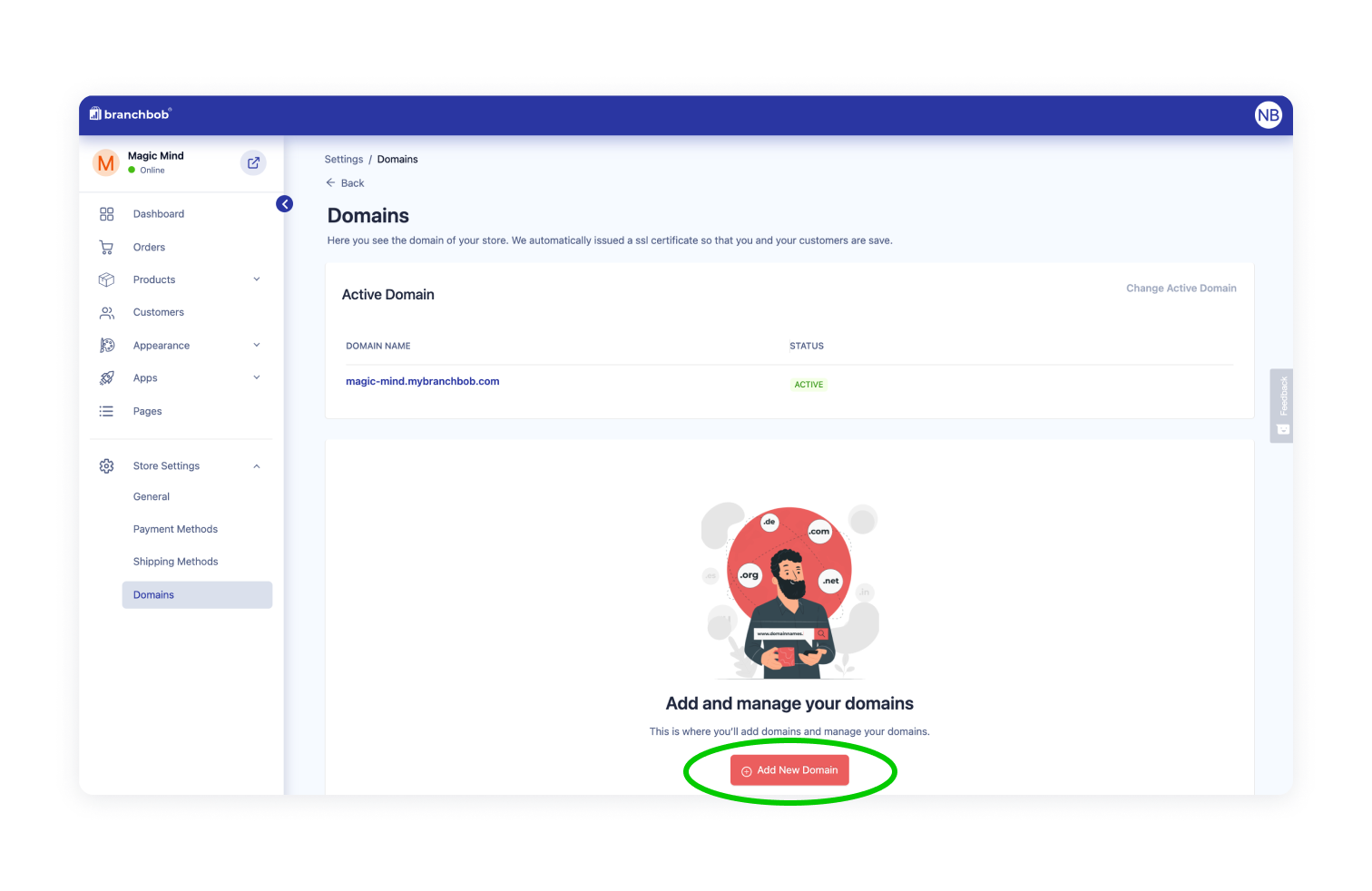 With branchbob, you are absolutely free to choose the domain name that suits your business.
Easy to start
Starting working with branchbob is very simple. It does not make you go through a complicated process. So, you do not need any technical knowledge. You can have a fully operational online shop in a few clicks.
Updates
You will regularly receive updates in branchbob. So you are also free of the worries to get the latest upcoming of the industry.
Unlimited storage space
branchbob takes care of all the data in its unlimited storage. Thus, it does not restrict you by the number of categories you can put on your web page.
Website host
branchbob even takes care of your website hosting. It offers certain features that fulfill your requirements as a hosting provider. All your online shop requires is your attention to selling. The rest of the technical details, Oh, leave that to branchbob.
The good about branchbob
Free plans
Fast
Easy to set up
Includes all necessary features of a hosting provider
Extended functionality
Helpful support
The bad about the branchbob
Does not switch off shipping details
You cannot use it for selling digital goods
It does not include theme customization options
No integration with 3rd party shipping apps
No importing data option
Should you choose branchbob?
Yes, you should at least give it a try. There are several reasons for this. The foremost reason is that it has no fees. So you won't fall in a loss. Moreover, the fantastic customization and the unique functionalities for beginners make it a fascinating choice. The customization options also give you the freedom to design your website as you want.
Take away
Due to an increased urge for online business and marketing, hundreds of platforms provide eCommerce solutions. There are several big names, such as WooCommerce, Shopify, NetSuite, etc. Therefore, finding an eCommerce platform is not difficult. But, finding the most suitable and workable eCommerce platform is.
When you start to look for an eCommerce platform, you need to find the one that provides easy customization and functionality. branchbob gives you these two necessities for free of cost. Ultimately, you will gain revenue with branchbob.
Above all, it provides optimized designs and intuitive operations, making it a matter of five minutes to set up your website.

As one of the co-founders of Codeless, I bring to the table expertise in developing WordPress and web applications, as well as a track record of effectively managing hosting and servers. My passion for acquiring knowledge and my enthusiasm for constructing and testing novel technologies drive me to constantly innovate and improve.
Expertise:
Web Development,
Web Design,
Linux System Administration,
SEO
Experience:
15 years of experience in Web Development by developing and designing some of the most popular WordPress Themes like Specular, Tower, and Folie.
Education:
I have a degree in Engineering Physics and MSC in Material Science and Opto Electronics.