Are you wondering which is the best and most affordable sales funnel software for your online business? This Systeme.io review seeks to answer that question. Trusted by over 10,000 users, systeme.io must be doing something right.
Running a successful online business requires proper management of various functions. For example, without proper marketing, customer acquisition will be a slow process, therefore stagnating the business. To efficiently run these functions, online business owners rely on software.
The problem comes with the multitude of functions that need to be properly executed to help the business grow. Building a website, email marketing, building sales funnels, name it. Many business owners have encountered the problem of dealing with numerous software for each of these functions.
The larger the business, the more tools you'll need. According to the seventh Business at Work Report, most large businesses use an average of 175 different apps per customer. Smaller enterprises may use an average of 73 apps per customer.
Managing such a high number of tools for a single business can be overwhelming and expensive. Enter Systeme.io, the all-in-one solution for these business functions.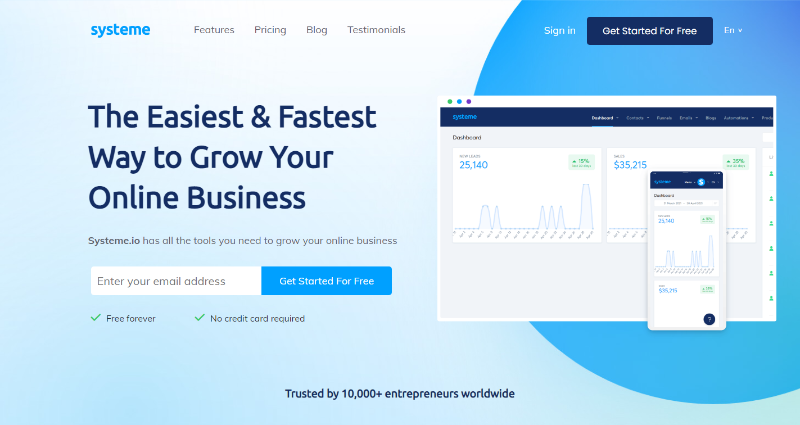 This review gives you all the information you need to decide if this all-in-one tool is what you need to effectively run your business.
This in-depth review highlights the pros and cons of the platform, key features, how to get started, their pricing plans, and customer support. We also trace the origin of the tool and compare it with alternatives in the market. We begin with the pros and cons.
Pros and Cons of Systeme.io
Pros
Business automation: Users can automate several business processes, including marketing automation.
Great for beginners: Systeme.io has a drag and drop builder and pre-designed templates. No prior experience with the tool or technical knowledge is needed to effectively use Systeme.io software.
Online courses: You can effectively teach your students through the platform.
Membership sites: You can create membership sites without coding.
All-in-one tool: Getting all your tools in one platform saves you time and money.
Great offers: Systeme.io gives you personalized domains, affiliate marketing programs, partner pages, and more
Affordable: You get multiple tools under one marketing platform, making it more economical. The free plan is also loaded with many features.
Great customer support: Systeme.io has a reliable customer support team.
Mobile-friendly: You can use Systeme.io on your smartphone and similar mobile devices.
Cons
Limited design freedom: Systeme.io has limited design flexibility, which can be discouraging for users who prefer customizing various aspects of the platform.
Few third-party integrations: Systeme.io software integrates with very few third-party tools.
Access to evergreen webinars: The evergreen webinar is only accessible through the unlimited plan.
What is Systeme.io?
Systeme.io is an all-in-one marketing and sales funnel software for enterprises and startups. The software has everything you need to run your online business — from email marketing and membership sites to landing page creation.
Systeme.io helps businesses create and launch email marketing campaigns, affiliate programs, sales funnels, websites, blogs, and online courses.
Marketers and business owners can use the platform to automatically trigger emails, capture leads, add rules, and more.
A Brief History
The founder of system.io, Aurelien Amacker, could not scale his online coaching business. One of the major barriers was the number of software he was using to run his business. So he decided to build one single platform with all the tools he needed, and that's how Systeme.io was born.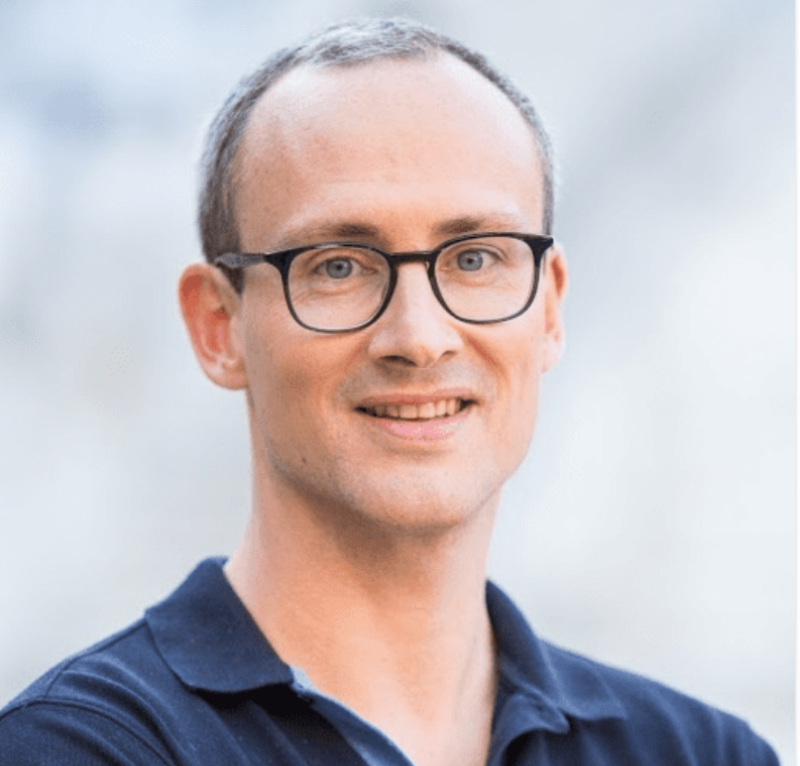 Aurelien first tested the software in his home country France. Systeme.io has expanded to the English-speaking market, gaining even more customers who find the SaaS to be an essential tool for running their business. Systeme.io currently supports eight different languages.
Languages supported:
French
English
Spanish
Portuguese
Russian
Dutch
Italian
German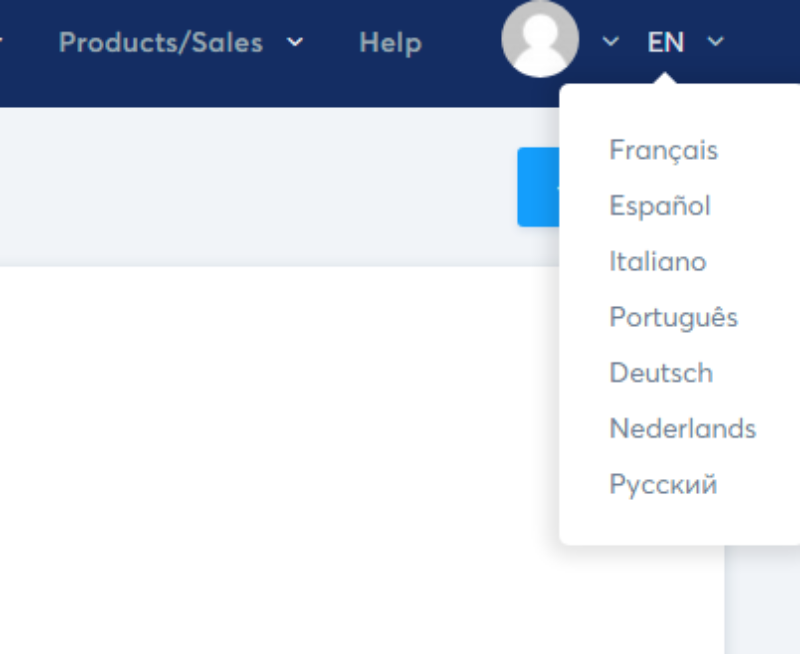 A timeline of Systeme.io to its current status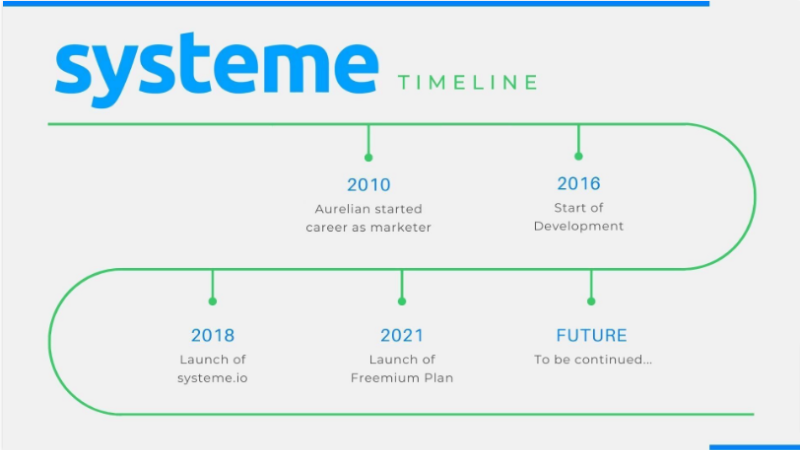 Systeme.io Product Features
This is one of the most important sections of this review. Maybe you have tried other tools and only want to see what systeme has to offer before making a decision. The next important action of the review, once you are satisfied with the features, is the pricing plan.
A good all-in-one software tool should be measured by the diversity of its tools, and how well these tools can meet the needs of users. Systeme.io is packed with features that are designed to minimize the need for additional external tools.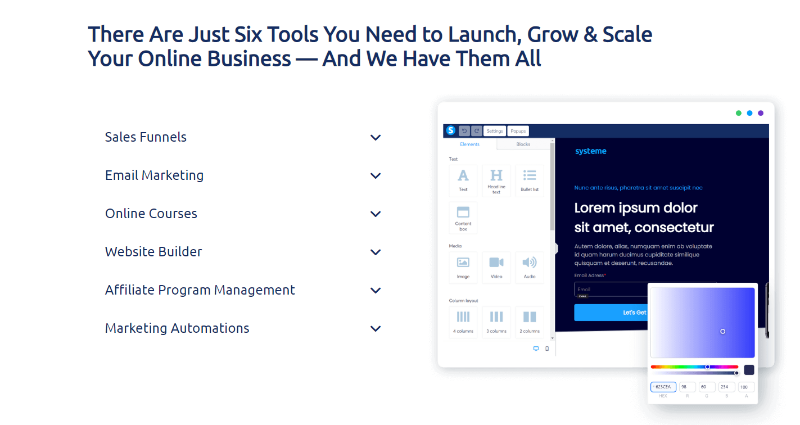 The core of this systeme.io review is a review of the main features. We are going to look at how email marketing, blogging, website builder, online courses, and other features can help you scale your business.
Email Marketing
This is probably one of the main features any online business owner would be looking for in an all-in-one marketing platform.
There are over 4 billion daily email users, and email campaigns can help your business reach your target audience. To grow your business, you need to acquire new customers on a continuous basis, and also retain existing customers.
Systeme.io email marketing platform allows you to send personalized emails and increase subscribers to your newsletters. The email editor allows you to send one-time broadcasts or library emails for your drip or automation sequences.
You can integrate your Systeme.io email list with your website and sales funnel to streamline your campaigns.
Sales Funnels
Systeme.io has a funnel builder that lets you create high-converting sales funnels. The built-in builder relieves you of the effort you would take to design beautiful pages that convert.
Have a look at an example of the template below.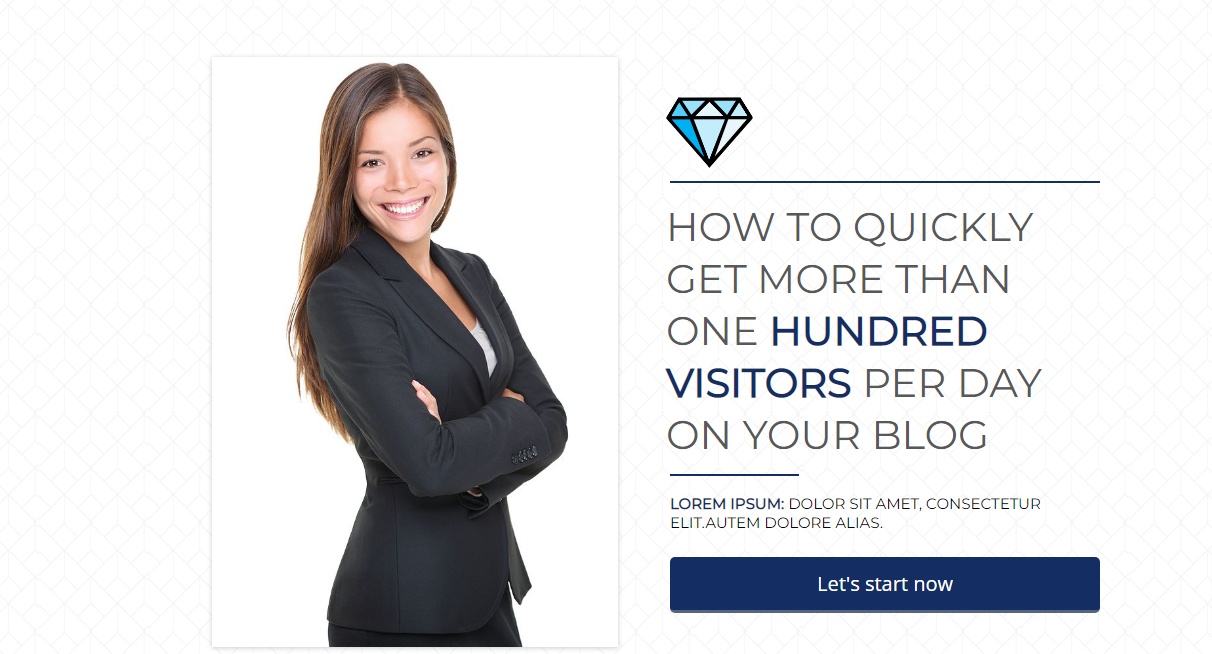 Once you have a picture of the type of funnel you want to build, choose the appropriate template and start building. The drag-and-drop editor makes it easy to make changes to your sales funnel.
It is also possible to add more processes to your sales funnels without the need for additional software.
Your sales funnels can be integrated with your membership sites, payment systems, and email list. Further optimization is possible by A/B testing and setting up automation rules.
Blogging
Systeme.io provides a blogging platform. A blog can be an excellent platform for communicating with your audience.
Whether you have a new product you want to launch or just want to provide more information about an existing product or service, you can put it in a blog. In addition, a good blog complements your marketing campaigns.
To quickly set up a blog, click on the blog tab on your menu and then choose to create a blog.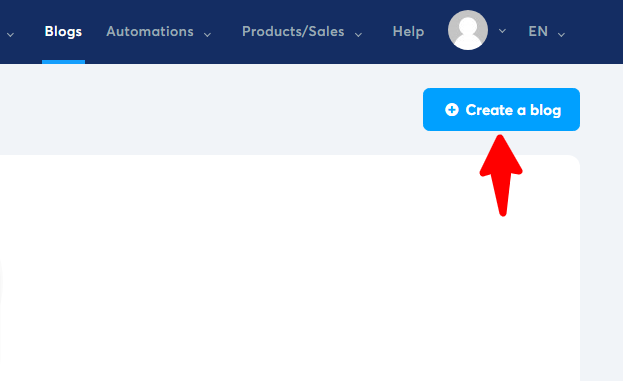 Choose your preferred template and proceed to build a beautiful blogging platform right inside systeme.io.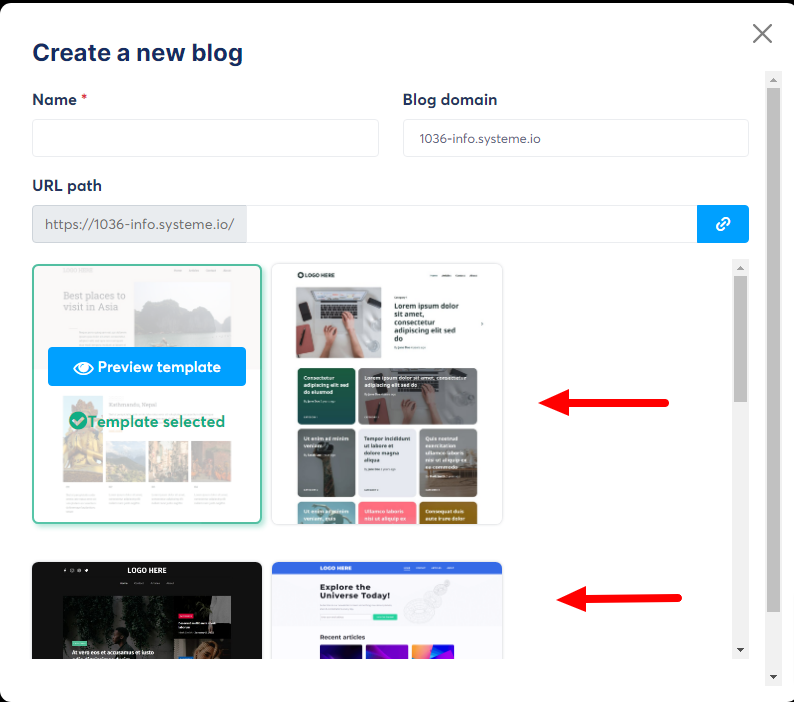 Use the drag and drop editor to customize the platform to your preference.
Although not mandatory, you can connect a custom domain to your blog. Systeme.io provides you with a domain for free.
Website Builder
The Systeme.io site builder makes it easy to create a website. It is possible to have a functional website in under 10 minutes using systeme.io's builder.
Business Automation
This is one of the essential features that make Systeme.io an efficient tool to use. You can automate a wide range of processes using this tool, saving you time.
The processes that you can automate using Systeme.io include:
Communication
Project management
Launching an online business
Collecting leads
Selling products and services
You can add automated rules to streamline your workflows in the system. Click on the Automations tab on your dashboard and choose rules to start setting up the rules.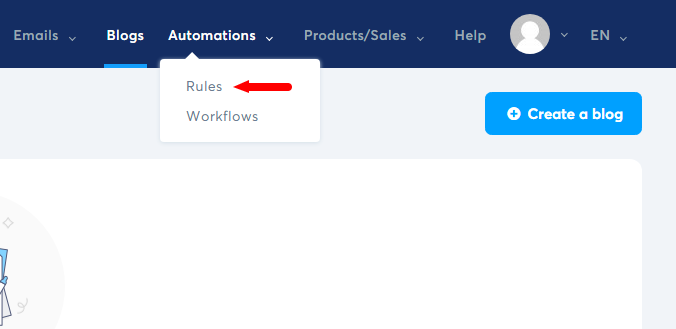 Affiliate Program Management
You do not need an external affiliate marketing tool to expand your sales because Systeme.io has a built-in tool for you.
You can create an affiliate program inside and all your subscribers automatically become affiliates.
This automation means that instead of your potential subscribers having to register with a different program, they automatically receive an affiliate ID in their email. Your subscribers can share the link and start getting commissions.
The payouts are done through PayPal or TransferWise. Payments can be automated by adjusting settings of the affiliate programs.
To launch your first affiliate program, go to the Product/Sales tab on your dashboard and then select 'My affiliate program'.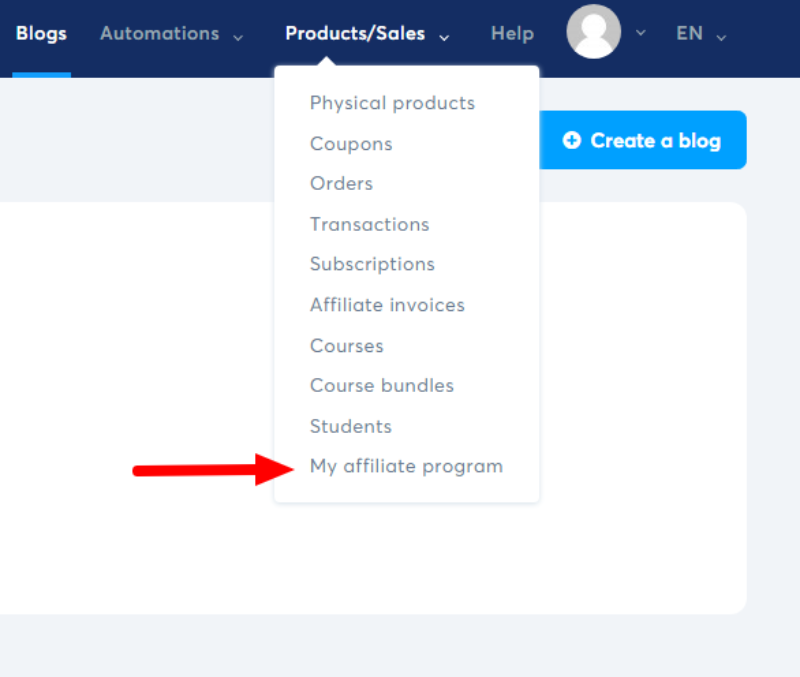 Once you select 'My affiliate program', choose Affiliate program settings to proceed. At the settings stage, you'll add details like your commission percentage, default payout delay, minimum payout amount, and connect your PayPal or TransferWise account.
Online Courses
Build and launch an online course using Systeme.io course builder. Like any other online business set up to generate revenue, Systeme.io helps you to easily set up online courses and monetize them. Take advantage of the inbuilt tools to market your online course.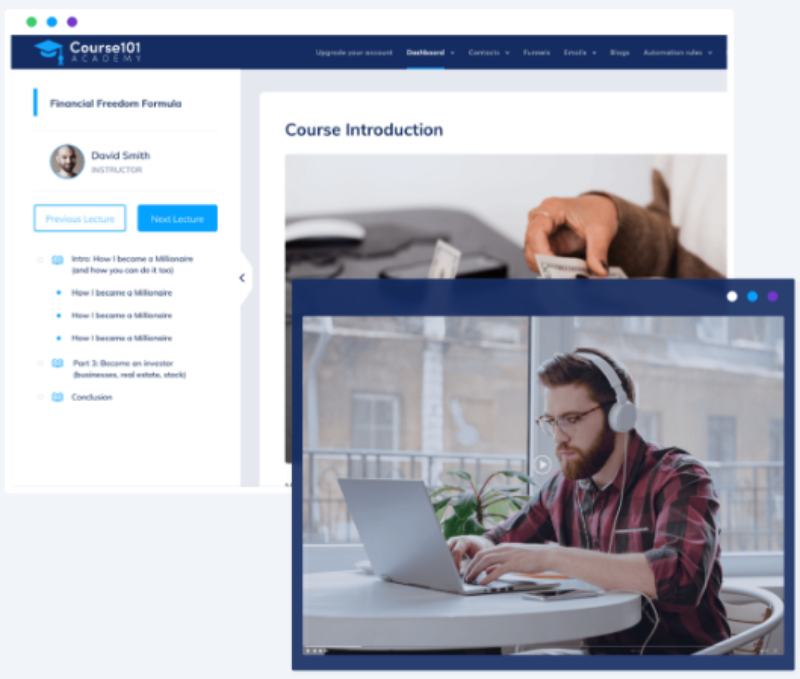 Although you can upload your videos directly on System.io, it is also possible to upload them on YouTube or Vimeo.
Schools find Systeme.io to be a useful tool for setting up online courses, course bundles, and lectures.
Evergreen Webinars
Develop evergreen webinars with the help of Systeme.io tools. These webinars can be useful marketing tools, helping you generate sales and leads continuously. It is also useful for building trust for your online business.
To create a webinar, click on the Funnels tab on the dashboard, and then choose create.

Give your Funnel a name and then choose the 'Run an Evergreen Webinar' option.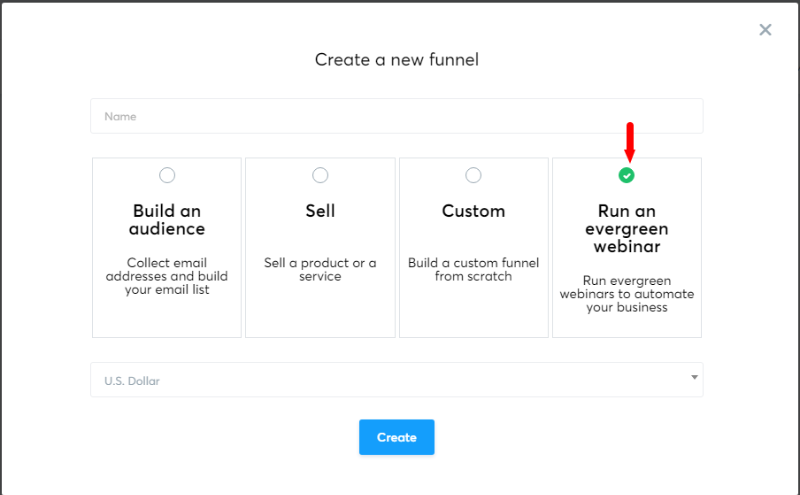 You have the liberty of choosing how your webinars should run. Registration for the webinars and delivery is handled by Systeme.io.
Sell Products
Systeme.io has all the tools you need for a dropshipping business. The eCommerce functionality means you do not have to go to a third-party eCommerce platform to sell your products online.
Contact Management
Keeping track of each of your customer's specific needs can be hectic, especially if your business deals with hundreds or thousands of clients. For example, you may want to analyze the history of their purchase to predict their next decisions.
Systeme.io helps you keep the entire records of your customers and other stakeholders in one place.
Membership Sites
Create a membership site in minutes using Systeme.io building tools. You can use pre-built templates, or use the drag and drop feature to build your membership site.
The next section of this review looks at how to get started with the platform.
Getting Started with Systeme.io
You must have an account to use Systeme.io, even for the free plan. As a new member who is yet to determine the best plan, you can take advantage of the 14-day free trial to sample all the tools available on the platform.
All features on the platform are extremely easy to use. Whether you want to quickly create a blog or sales funnels, there are useful drag and drop tools and templates to help you accomplish your goal.
Once you have created your Systeme.io account, head over to the navigation board for a quick look at features and tools.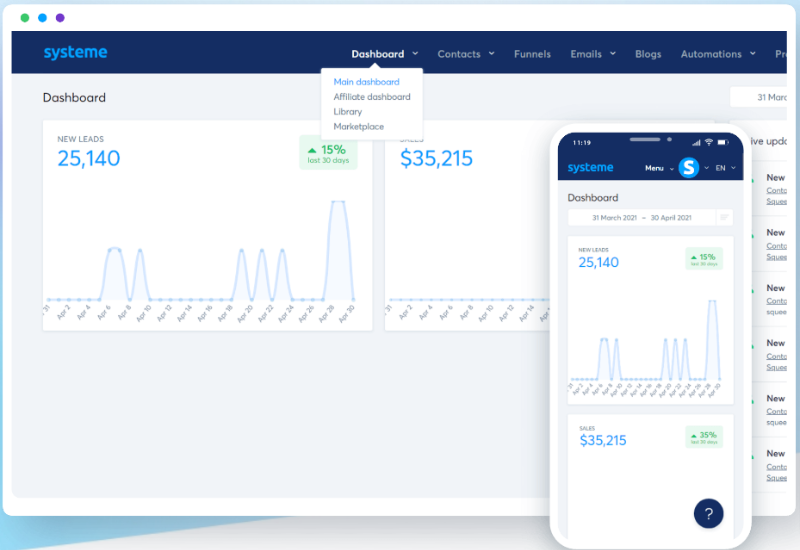 Application in Online Business
Systeme.io offers eCommerce features to help you sell your products online. Connect your account with PayPal or Stripe payment gateways to receive payments from your customers. Follow the same processes if you're using the platform to sell an online course.
Who is Systeme.io Designed for?
Anyone, from beginners to established enterprises, can use System.io to run their online business.
If you have a product or service you want to sell, systeme.io will make it easy to access your target audience and make sales. The sales funnels will help you build traffic and make more sales.
This platform is also suitable for online coaches, trainers, or tutors. There are a wide range of features for building and managing online courses.
Digital marketers will also find system.io a useful tool for online marketing. From the email marketing tool to the blog creation capabilities, marketers can target new potential customers, while engaging current customers as part of their customer retention activities.
Systeme.io Integrations
Systeme.io has limited integrations. The few integrations are mainly with payment platforms like PayPal and Stripe. For third-party tools, connection with Zapier is enabled, giving you access to multiple apps.
The seven primary integrations with Systeme.io include the following:
Zapier: For passing information between your apps.Helps in overall automation of various processes.
Shopify: An ecommerce platform with all features you need for an online store including point of sale features.
Stripe: For online payments. This is one of the trusted payment solutions for internet businesses.
Wufoo: For building online forms. Create surveys, contact forms, or invitations and collect data, payments, and registrations.
PayPal: For processing payments, shipping, online invoicing, and merchant services. 9 million merchants rely on PayPal as their payment solution.
Popkit: Gives you all the tools you need to generate leads, convert website visitors, and drive sales.
SocialProofy: This tool can help you to boost your conversations with 8000+ websites. Pick any type of widget you prefer using on your site.
Pricing Plans
Pricing for Monthly Plans
Free Plan – free for life
Startup – Starts from $27 per month
Webinar – Starts from $47 per month
Unlimited – Starts from $97 per month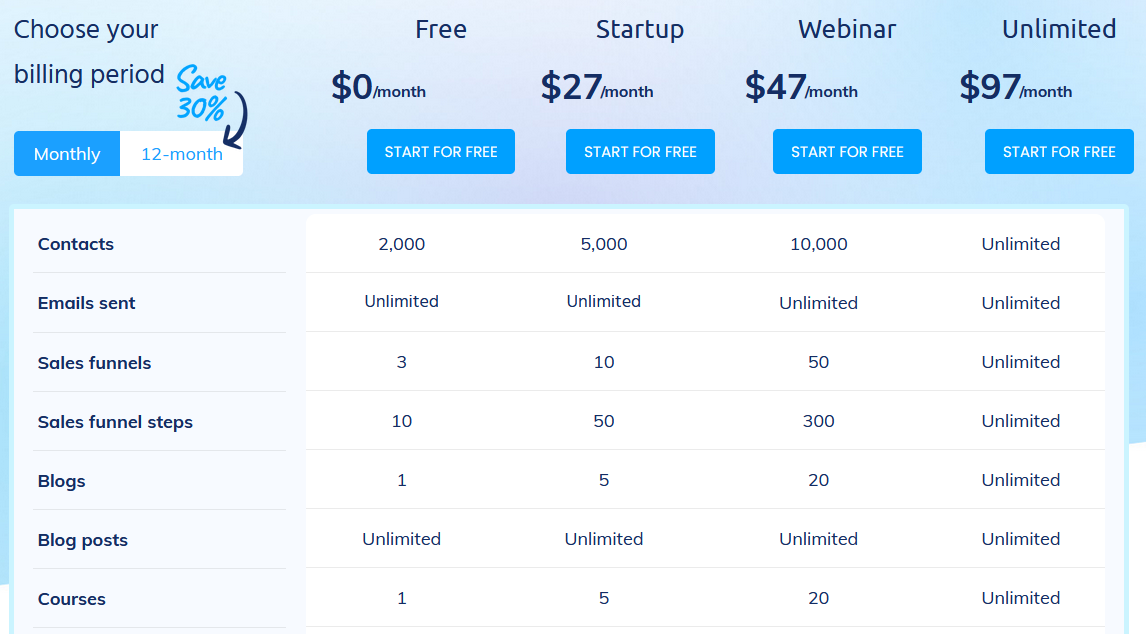 Pricing for 12-month Commitment
Free Plan – Free for life
Startup – $228 per year
Webinar – $396 per year
Unlimited – $828 per year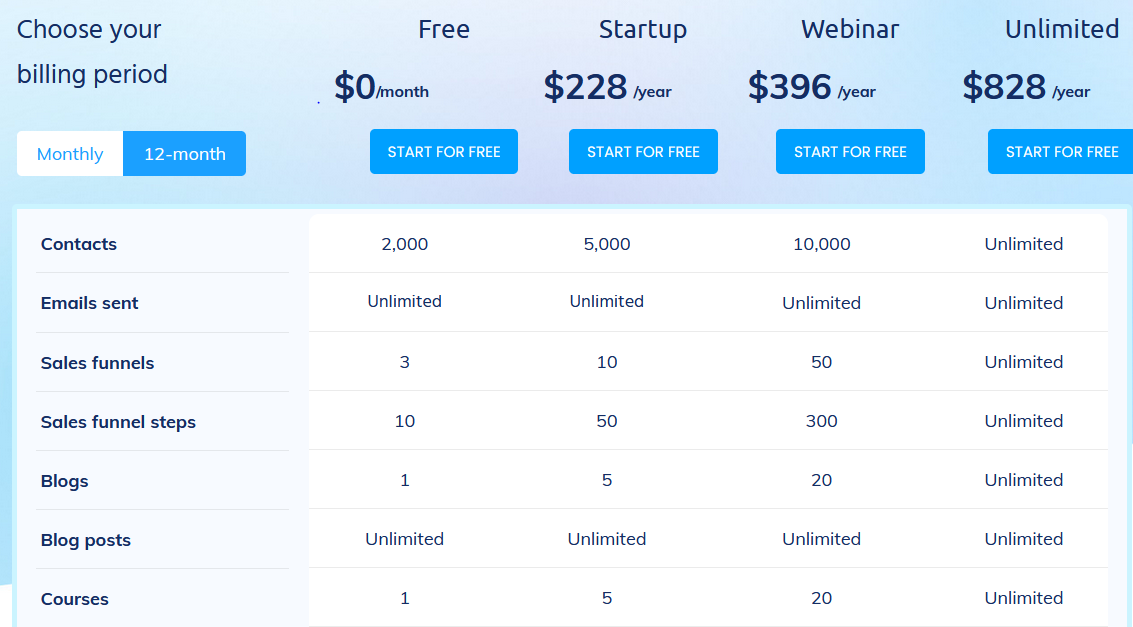 All plans include the following:
Unlimited file storage
Unlimited emailing
Online support
Affiliate programs
No transaction fees
Unlimited membership site members
Ecommerce shop tools like A/B testing and upsells
Payment platform integration with PayPal and Stripe
Blogs
Sales funnels
You can try all the features through the 14-day free trial that gives you access to all features. No credit card information is needed to subscribe to this free trial.
The free plan is ideal for small businesses and early startups. This free plan lets you build three sales funnels, build a course website, send unlimited emails to a maximum of 1000 contacts, build a blog, and much more.
The limitations of this free plan include no access to webinar, no free migration, and no 1-on1 kickstart coaching session.
You may want to upgrade to the startup plan as your business grows, allowing you to have up to 5000 contacts. In addition, the Startup plan allows you to create 10 sales funnels, 5 blogs, 5 courses, and more functional capacity than the free plan.
The enterprise plan, also called unlimited plan, is the top-tier plan at Systeme.io. There are no limitations on all features available on this plan. In addition, there are a few features that are exclusive to the unlimited plan. These exclusive features include free migration and 1-on1 kickstart coaching sessions.
Evergreen webinars are only available on the webinar and unlimited plans. The webinar plan allows you up to 10 webinars, while the unlimited plan has no limit on the number of webinars.
Customer Support
Systeme.io provides customer support services by email. The email service is available in all plans – including the free plan.
Business owners who use SaaS products know that anything can happen, and it is during these critical moments that they need the help of the customer support team.
You can also go through their knowledge base articles to get answers to your questions. You are advised to search these help pages before contacting support.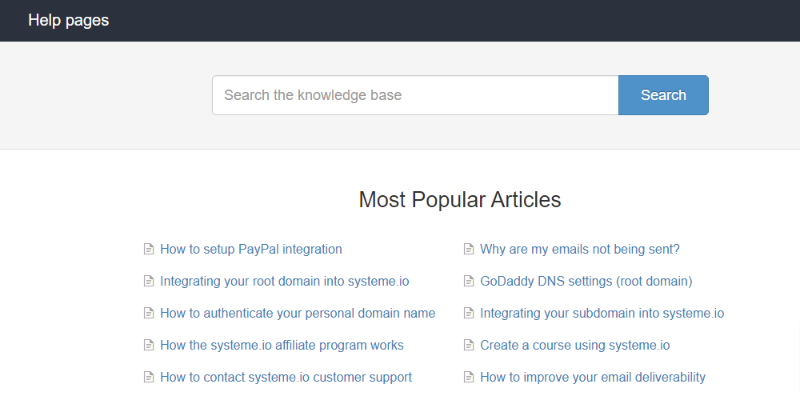 The best and quickest way to get support is by clicking the 'Help' tab on the dashboard.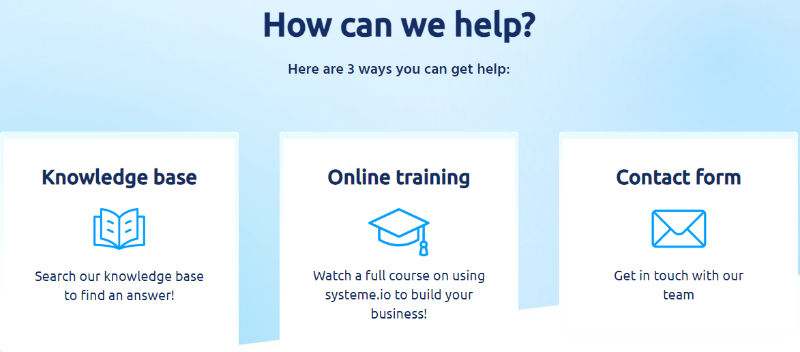 Systeme has a ton of video tutorials on YouTube that can guide you on how to use various tools or features on the platform.
Signing up with the enterprise plan gives you access to one-on-one coaching from Systeme's experts. This team of experts will work with you to ensure you get well acquainted with all features.
Potential customers who want to know more about the platform or seek marketing advice can get the information from Systeme.io Facebook group.
A Comparison of Systeme.io with Competitors
One of the questions you might be asking yourself is how Systeme stacks up against other platforms in the market. We can't compare systeme.io with all tools in the industry, but we have chosen some of the most popular tools for objective comparisons.
Systeme.io vs ClickFunnels
This review will be incomplete without comparing systeme.io with ClickFunnels, one of the biggest players in the marketing software space. Mostly known for building sales funnels, ClickFunnels has thousands of customers and fans.
ClickFunnels has a more complicated user interface compared to Systeme. It will therefore take you more time to master how everything works on the platform. Furthermore, at a minimum of $97 per month, ClickFunnels is more expensive than Systeme.io.
Systeme.io vs HubSpot Marketing Hub
HubSpot Marketing Hub comes close to Systeme in its claim of being an all-in-one marketing software. Some of the tools offered by HubSpot include SEO, blog creation, CMS, and much more.
Although it also provides multiple marketing features in a single platform like Systeme, HubSpot is more expensive. HubSpot's starting price is $50 per month, making Systeme the better marketing solution for small businesses with tight budgets.
Systeme.io vs WordPress
WordPress is a CMS that many businesses use to sell online. Through plugins and various integrations, it is possible to create a fully functional and successful online business with WordPress.
The WooCommerce plugin, combined with other integrations such as Mailchimp, is an example of how this is achievable through WordPress.
Social media marketing, digital marketing, sales funnel building, email marketing, and similar marketing initiatives can all be accomplished within WordPress. However, You will need a bunch of different tools, which are mostly plugins, to achieve your goals. With Systeme.io, you don't have to use any third party tools for your campaigns. 
Systeme.io vs. Kartra
Kartra is a pure cloud software, and all you need is an internet connection to smoothly run your online business.
Like System.io, Kartra is an all-in-one platform. So what sets these two marketing platforms apart? Price, price, price.
Kartra's cheapest plan starts at $99 per month, almost 4 times what you would pay on Syteme's Startup plan at $27 per month.
Systeme.io vs. GrooveFunnels
GrooveFunnels is an all-in-one digital marketing platform. It offers several marketing functions under one roof, just like Systeme. The main difference is in their pricing system.
Groove's Startup plan is free for one year. After the free period, you'll pay $39 per month if you make an annual commitment. Their new Premium plus plan costs $399 per month, yet has a limit on the number of contacts you can have – up to 200,000 contacts. Systeme's enterprise plan, which costs $97 per month, allows you to have unlimited contacts.
Is Systeme.io Worth it?
Compared with alternatives in the market, Systeme.io still stands high in affordability and its capability to provide multiple functionalities under one roof.
We wrap up the Systeme.io review by looking at its suitability for running online businesses.
Entrepreneurs are always looking for systems that will help them achieve their business goals while saving time and money. Tools and features such as marketing automation help smoothen the processes and save time. By offering these features, Systeme.io helps businesses efficiently run their processes at an affordable cost.
Some small businesses may only need one marketing tool, like an email marketing tool. In such cases, you should go for the specific email marketing software you prefer. Unless you are running a business that can succeed by implementing a single marketing strategy, you probably need Systeme.io to scale your operations.
Systeme.io is best for businesses that want to utilize its multiple marketing functions – affiliate programs, sales funnels, blogging, selling products, website builder, and email marketing. If you don't want to pay for dozens of different software tools, you should use Systeme.io.

Ludjon, who co-founded Codeless, possesses a deep passion for technology and the web. With over a decade of experience in constructing websites and developing widely-used WordPress themes, Ludjon has established himself as an accomplished expert in the field.