Are you seeking a better way of selling digital products than Gumroad? Now your quest is over since we have found a number of a few of the best Gumroad alternatives throughout this post for you to sell your products and services!
Gumroad is a successful store builder that is simple to use. This is a fantastic way of earning money by slashing prices. It has aided several innovators in starting and operating their web companies for several years.
In addition, many bloggers, artists, designers, and others use this network who want to sell their products and services.
As a result, when individuals consider selling online any artistic thinking, the first word that immediately comes to attention is Gumroad. Of course, many Gumroad rivals have developed a solid marketplace and have unique features throughout time, but many people want to sell on Gumroad due to its stability and reputation.
What is Gumroad?
Gumroad is a cost-effective and excellent solution for experts who want to sell online their items directly to clients worldwide, like virtual content, memberships, sell physical products, etc.
Moreover, Gumroad is among the most prominent instances of cyberworld progress since it allows sellers to trade their items directly to buyers.
Providing an all-in-one option for building their creative companies allows artists to take full authority of their professions. In addition, the method is relatively straightforward; all you have to do is create your stuff, publish it, and eventually sell your products on Gumroad utilizing the URL they provide.
The good news is they provide payment versatility; clients may pay with bank cards or PayPal. Overall, it is simple to get and secure for anyone wishing to sell products along. Furthermore, the concept is simple to comprehend, and anyone may utilize this without assistance in selling physical products or virtual.
It has a variety of capabilities, including the ability to personalize your landing page, gather insights into your traffic and purchases, accept pre-orders, sell your products, etc. Now let's look closely at some of its features.
Gumroad's disadvantages
Including the positives, there are also drawbacks. Here are some of Gumroad's disadvantages and why users are switching to Gumroad alternative solutions:
Their customer service is lacking since there's no webchat option.
The 'Upload All' option is broken. You would only use this button once in a while.
They don't have a lot of upselling options.
Once your payout, you will notice a VAT choice.
Their Cpanel is sluggish to open.
Worst of all, services do not provide a trial version option.
There is no A/B split analysis, and the time formats are inconsistent.
If you submit any video material, verify it works since many users complain about it.
Tracking and reporting are restricted.
The dealer panel is not available in the smartphone app.
This is among the disadvantages of Gumroad for now, so let's have a peek at Best Gumroad Alternatives so you can pick the best platform for the company and sell your products.
Best Gumroad Alternatives in 2023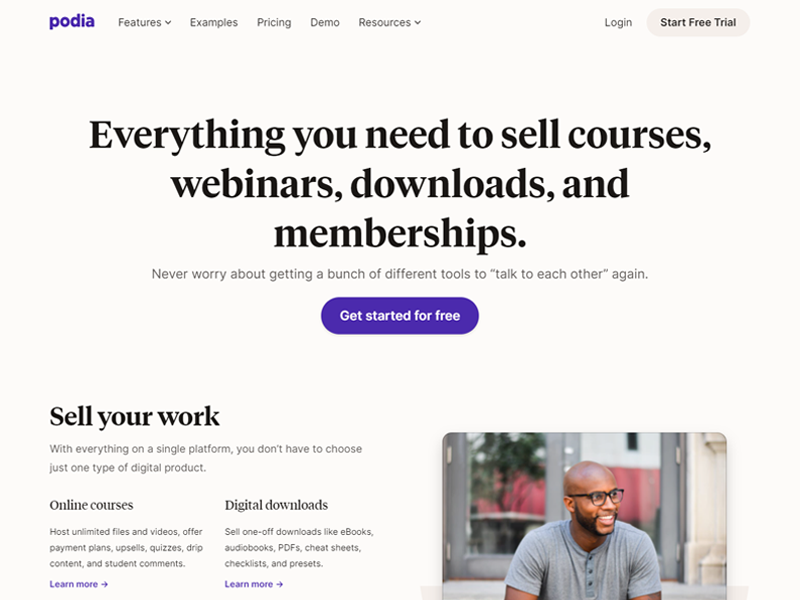 Those familiar with Gumroad may also be familiar with Podia, a significant app for selling online courses, memberships, and digital products. It is also commonly used by creators, developers, and educators to establish a site that allows customers to buy their art without learning too much about technology.
The best part about this platform is how simple it is to operate; all you have to do is create a website, select your target, and begin selling digital products on Podia. Podia is highly recommended due to its excellent performance. They are not just a platform but also a location from which you may conduct your business.
On Podia, you may integrate checked-out web pages; this has the advantage of allowing users to complete payments without exiting the page. makes it easy to sell products.
The following are among its outstanding features:
Allows you to create commodity packages and up-selling to increase your profits.
You will not have to use Vimeo and Wistia to keep your media files since you will have unlimited speed and hosting.
You may quickly make a landing page that meets your needs.
They also allow you to develop and post blogs to attain out to the intended audience.
You may use Podia's marketing automation for advertising your items via email marketing or by setting up automatic drip programs.
You may set up an online store to sell products.
The best aspect is their ad network, which encourages your viewers to advertise your items in exchange for benefits.
As a result, Podia is an effective method for selling digital products. You may also monitor your performance by integrating Podia with Web Analytics or other services. so start selling, why wait?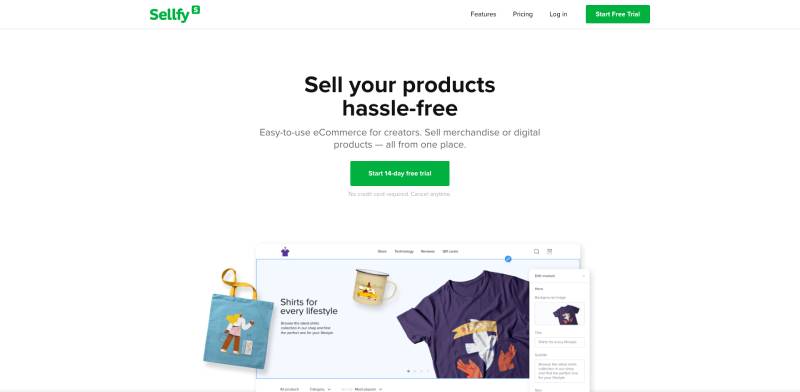 Sellfy is among the most effective options if you want to sell your products because you do not even require a website where customers buy your stuff. This e-commerce platform helps you sell physical things, memberships, and virtual goods with ease. You may construct a comprehensive retail site for marketing your property with Sellfy's support.
You get most of the resources you need to sell online, including transaction flexibility, coupon codes, or online marketing. You could either utilize the Sellfy store or integrate the Sellfy cashier to promote to sell your items if you've got a site.
The following are among its outstanding features:
With no coding experience, you may alter and customize the online store page.
Allows users to upload their logo, change the shades and designs to suit their needs, which helps to enhance conversion rates.
They feature a shopping cart to add many digital goods at once and create additional transactions.
Upsells and discounts might also help you increase your revenue.
For mobile subscribers who love to shop via their phones, this is a fantastic experience.
Payments are processed faster using PayPal & Stripe.
Multiple languages are supported.
Sellfy also has email marketing capabilities, controlling newsletter registrations and writing emails to consumers which makes it easy to sell your products.
Since its inception, Sellfy has helped around 2,70,000 producers sell their items to potential clients worldwide. It offers a fantastic company that cares about nearly everything, including hosting and money collecting. so start selling your products now!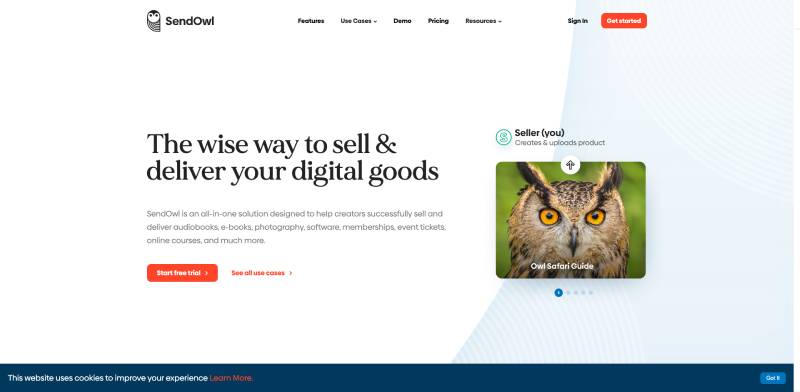 Sendowl is among the top Gurmoad alternatives since its primary goal is to improve consumer conversions while also making it simple to use. It would be best to choose this option to sell your physical products or virtual since it allows you to sell memberships, products, and subscriptions quickly. In addition, they accomplished something new by tying the worth of their goods to the sales funnel.
Sendowl's style of operation differs from those of other sites in that it does not allow you to construct a hosted store. Instead, its sole purpose is to act as an online backend for existing websites.
One-click upsells, free version choices, a purchase order, and professional selling are essential advantages. You will also find a video lesson that explains using the item in detail on the main screen.
Here are a few of its outstanding features:
Checkout is speedy and straightforward. The checkout process would be smooth and responsive regardless of your consumers' gadgets.
Upsells, bag abandonment, smooth and frictionless checkout, coupons, spend whatever you want rates, and other features are all available on this conversion-friendly web platform.
Multiple languages are supported.
It has a function that prevents customers from abandoning their carts.
They have a distinctive property named Drip Functionality, which allows you to deliver your goods in stages to maintain your clients' interests alive.
All-in-one network with complete security, quick delivery, and expert services
Sendowl may also relieve you of various additional responsibilities, such as tax administration, fraud protection, EU VAT laws and regulations, and so on.
As a result, it provides a beautiful customer journey on smartphones and tablets in addition to PCs. Another benefit would be that it offers a variety of payment methods, including credit cards, bitcoin, PayPal and Apple Pay, which you and your clients may use.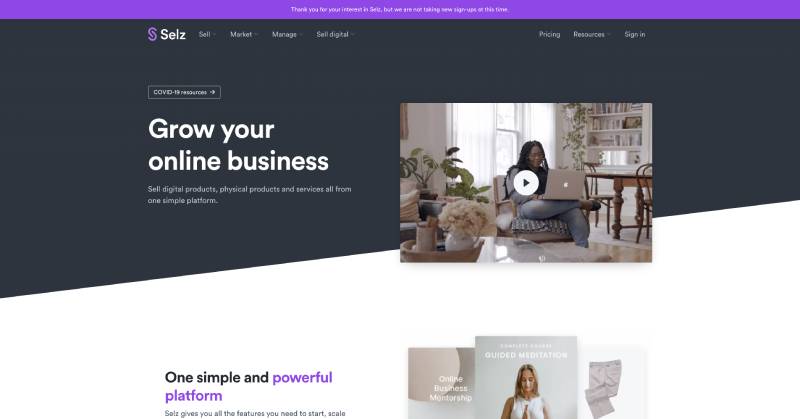 When someone decides to work, their primary goal is to expand that as much as possible; the same is true for any online store. Selz is a fantastic online sales platform with a group of professionals who make it easier for artists to start selling.
Selz's remarkable feature is that you have total power over your goods and services, which helps you significantly grow your online business. It may also be used to create freebies for consumers and share them with your mailing list.
This platform bills itself as its own "e-Commerce solution for start selling and growing your online business." Selz offers several advantages, including the ability to create an ecommerce storefront with your sites and social networks.
Some of the features are as follows:
They feature a drag-and-drop online store builder that makes the entire process relatively straightforward when building up a web store. The great news is that an SSL certificate secures each store.
You can also use Selz to build a personal website and, after that, register it.
They also provide payment processing options. Elz, for instance, takes all major credit cards and PayPal purchases.
They feature a super-smart transaction where you may purchase numerous items at once.
It is also helpful to deliver emails to customers who have items in their basket but still haven't bought them.
They offer a 'custom fields' tool that captures vital client data for future advertising.
Their customer service is outstanding. There are several manuals and articles available to assist you to comprehend the item and a support center you may call if you get lost.
It is a fantastic platform that includes tracking sales, upselling through marketing messaging, and more. so start selling now!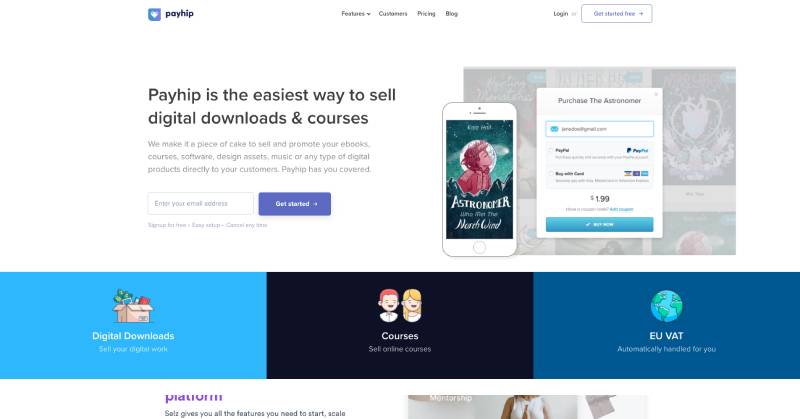 Payhip e-commerce service allows to sell your digital items to buyers instantly. The best thing is that you can also sell your digital products on PayHip. You may create an online store and begin trading right away. This service is popular among customers since it does not require any upfront payment for your item. It is also known as a "perpetual free tier." However, it does not imply that they will be offering their free trial. PayHip takes a 5% commission on each transaction.
PayHip is also not a platform with a considerable amount of customization possibilities. For example, you can neither change the design nor add extensions or applications to the store; thus, customization choices are restricted.
PayHip has some incredible features, including:
Downloads and subscriptions are relatively simple.
It is a trustworthy and secure site, with over 1,30,000 vendors utilizing it globally.
They take care of all the technicalities since you can concentrate on sales and leave the rest to PayHip.
There is no cap on rewards.
Create your online store for free.
It is among the most effective Gumroad alternatives for selling online since other sites don't have a range of features. Companies and advertisers who would like to sell their stuff, services, or subscriptions will love ThriveCart.
It outperforms Gumroad in various areas, including 1-Click bump, offers, A/B testing, 1-Click upsells, Autoresponder interfaces, Funnel Builder, Auto-follow up, Discounts, and Enhanced trial assistance. They also include several additional options that help improve conversion rates.
Some of the features are as follows:
Conversion-optimized options are available for desktop, smartphone, and tablet use.
Allows for A/B split test, which aids in increasing company ROI and identifying what feels suitable for both you and your weak places, then you can improve them.
Integration without a hitch
Flexible payment methods
They also have funnel builders available.
It has a built-in sales taxation calculator, which helps you save time.
There are several connectors available and a solid and user-friendly UI.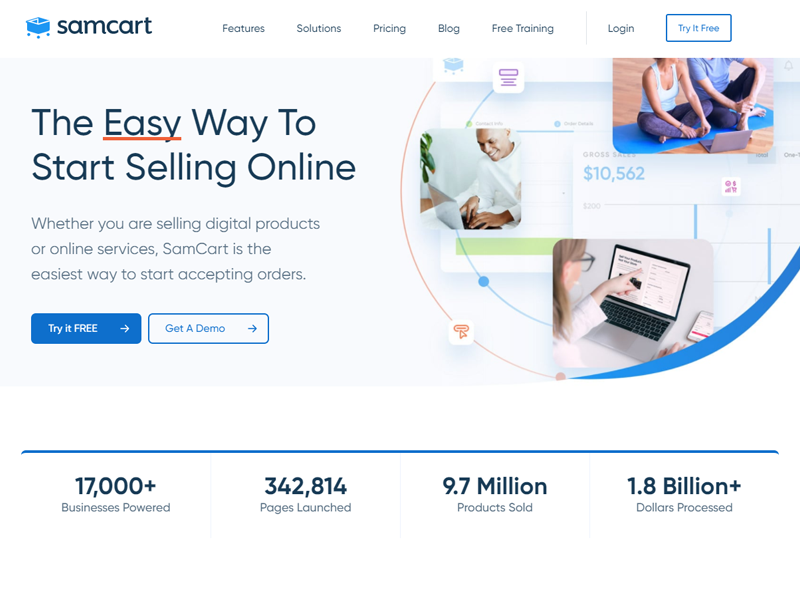 Samcart is a cloud-based e-commerce online sale platform explicitly designed for writers, course makers, influencers, etc. It is mainly for those who want to sell or showcase their things online.
It is a trustworthy site, and several people flock to that to take advantage of its fantastic services. According to statistics collected in 2023, this has aided over 17000 firms in growing and selling their goods. It also has supplied around 9.7 million items to a variety of clients.
Let's just have a peek at some of SamCart's features:
Upsells & purchase bumps with only one click
Editor with drag and drop functionality
Plans for payment
Marketing automation
Easily integrates with a variety of programmes, including WordPress, online marketing solutions, membership systems, and more.
Codes for discounts
They provide an SSL certificate for your payment gateway, making it safer.
Payment pages & popups that may be customized.
Cart abandonment, affiliate gateway, and membership saver are some of the add-ons available.
Dashboard and insights in detail
A/B testing is the process of comparing two options.
SSL for free
Saves money on contracts
All of its features are fantastic, and they are particularly good at digital marketing. For example, in adding labels and linking them to inevitable other process automation like Hubspot, Infusionsoft, and others, you can manage the sales transaction using SamCart. However, one significant disadvantage of this network is that it allows Stripe & PayPal as payment methods.
Read our full review about Samcart.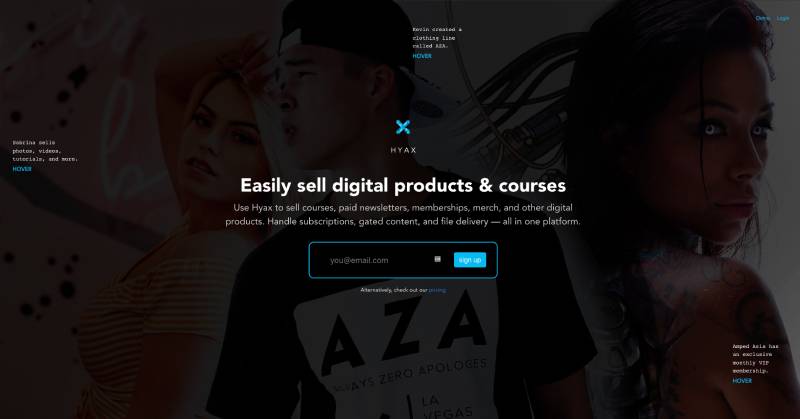 Hyax is a fantastic tool to sell products since it allows you to set up your digital e-commerce business in a matter of a few minutes. You may use Hyax for selling physical products and memberships, digital products, and more. You may also build your program without entering your credit card information.
Despite the fact that it was just released in 2020, this has got a tremendous amount of popularity and success due to its simplicity of use and privacy. Furthermore, it offers excellent capabilities that some older and larger platforms lack.
Hyrax features
From a dedicated storefront, sell digital products, physical things, courses, and memberships all in a single place.
It eliminates the need for many applications or add-ons to manage your business.
It can assist in the creation of goods bundles & offers.
It rapidly and effortlessly performs A/B testing on your retail sites.
You can efficiently sell & cross-sell items with the aid of Hyrax.
It also lets you manage and maintain your shop's affiliate programmes.
The most exemplary element is that it has the ability to put up customs duties and VAT.
It allows you to create sales processes and pages to gather leads quickly.
On Hyax's platform, you can set up your online marketplace and acquire an SSL Certificate, enabling the checkout and transactions even safer.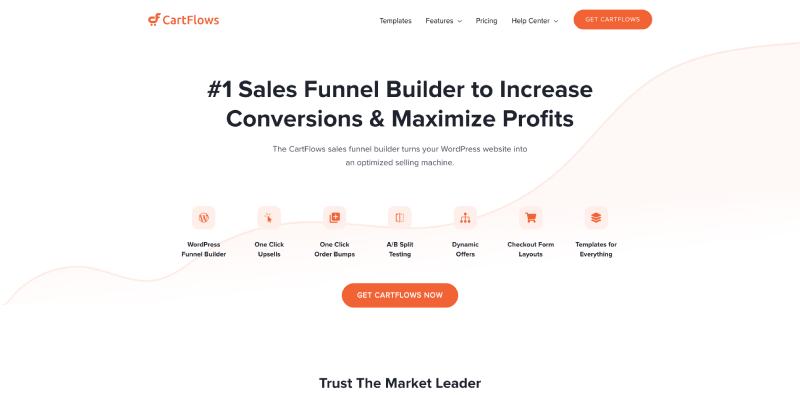 Compared to some other sites on the checklist, it is a one-of-a-kind filter. This is a WordPress sales funnel builder that may help you generate more prospects, which will enhance conversion and revenues.
To use CartFlows, you will need to have WooCommerce or WordPress loaded on your server to sell products. On the other hand, users enjoy CartFlows since it helps their job straightforward and uncomplicated by providing many templates for creating conversion-friendly channels.
Several page builders are included in the templates, including Divi Builder, Beaver Builder, Gutenberg and Thrive Architect. Furthermore, if you like, you may split assess the layouts and see which one fully matches your business requirements.
The following are among its outstanding features:
Increase your sales with fantastic bargains and limitless upsells/down sells.
Dynamic linkage and worldwide checkouts are available.
Within its interface, you may check and manage your company's growth. It aids in identifying your relative strengths and weaknesses so that you can improve them.
It accepts all types of online payments.
CartFlows is integrated with WooCommerce Memberships, which is an official WooCommerce plugin.
It makes the cart abandonment functionality available.
Checkout is quick and easy.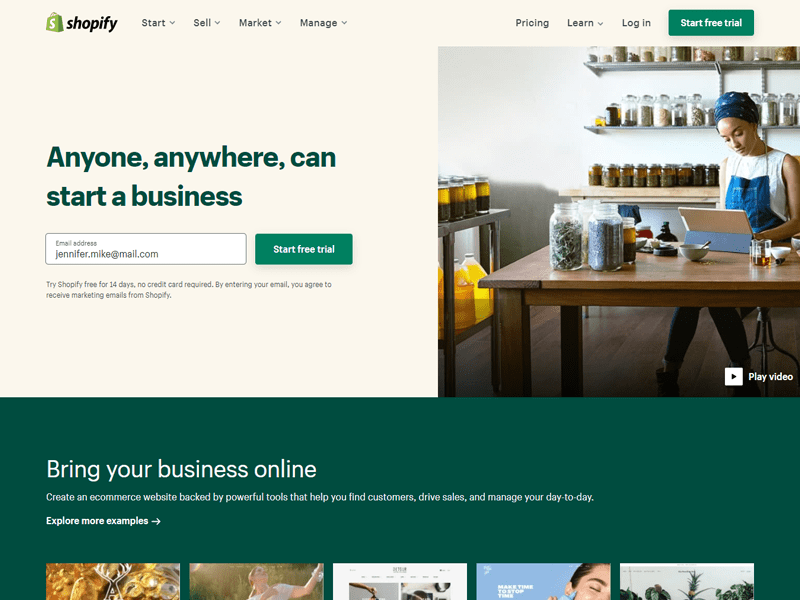 It is among the top Gumroad alternatives to selling products since it is a fully hosted e-commerce platform with a user-friendly design and a solid track record. Furthermore, its environment is relatively strong, with over 3000 applications and various styles.
You may also give an extra function to your site if you wish, but make sure the application is called in the Application store first. It includes a robust API that allows you to construct whatever custom plugin you need, but these applications are paid add-ons.
Shopify also has the following intriguing features:
Allows you to design, configure, and manage your retail site with no limits.
You may use any of Shopify's paid or free templates for your online store, so you can also tweak them.
You may sell digital products, pre-orders, memberships, subscriptions, classes, and solutions in addition to material things.
There are no limits to the number of items or clients, bandwidth utilization, or unit sales you may sell on Shopify.
It also comes with analytics and built-in fraud detection mechanisms.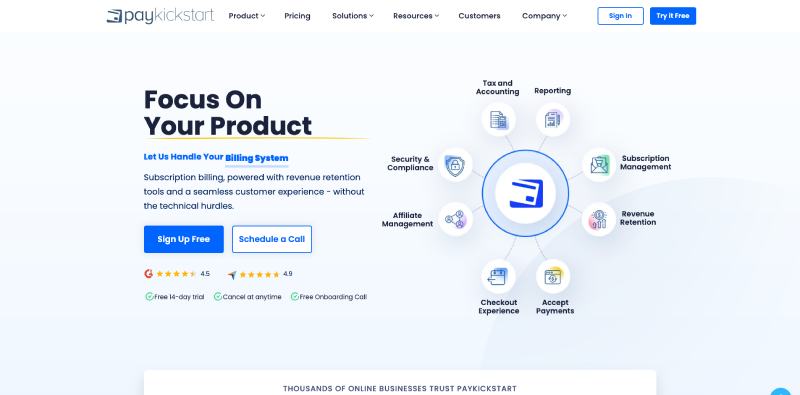 This platform's name, as well as its features, are both intriguing. This Gumroad competitor includes a robust checkout system and excellent affiliate management, making it ideal for offering your items, solutions, and memberships.
PayKickStart has a number of impressive capabilities that are worth knowing about:
Increase conversions using promotional offers, 1-click up-selling, and order spikes.
They offer a function that auto-completes the location & pre-fills the payment page to make deals quick and straightforward for clients.
You may also employ exit-intent notifications and targeting pop-up ads if you like.
PayKickStart also has the ability to integrate Web Analytics and Fb remarketing to help you convert visitors into paying customers.
Collection of W9/W8 tax forms
Dunning administration is an exceptional service; the advantage of employing this tool is how it secures payments and collects recurring payments. Also, it informs customers through email marketing or Text of new billing options, subscription renewal reminders, and trolley abandonment.
PayKickStart has a couple of extra features that you should be aware of:
Commission Payouts: Instant and Delayed
Tracking of Leads and Sales
Commissions that last a lifetime
Integrated Marketing Materials
Collection of W9/W8 tax forms
Bonus Distribution that is Automated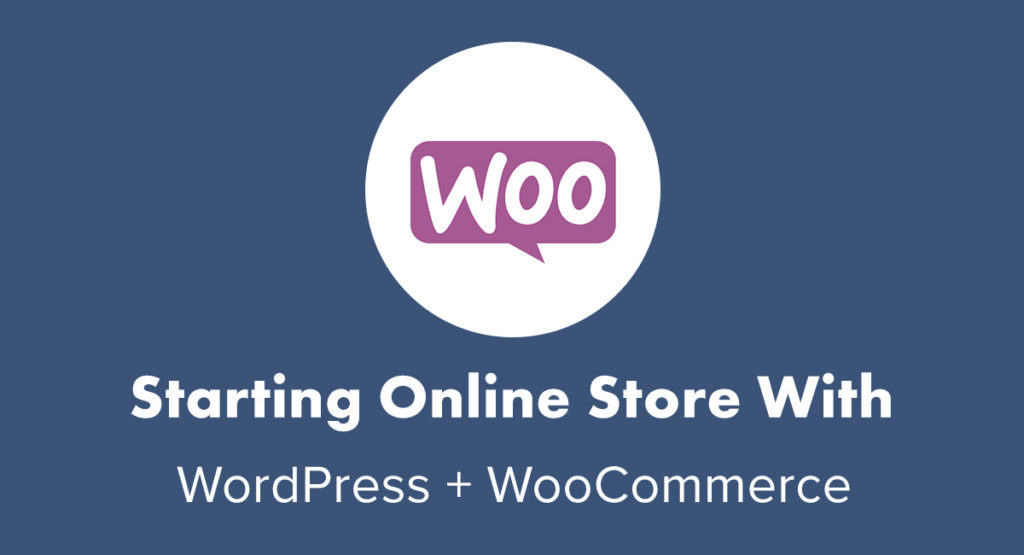 It is an e-Commerce open-source platform with the added benefit of being completely free. However, even though the main program is complimentary, you will need to purchase for the hosts as well as any additional premiums. This is a Cms Website e-commerce plugin.
WooCommerce is a plugin for turning a self-hosted Website into a web retailer. The cost of operating WooCommerce varies from one individual to the next since it is determined by the templates, extensions, and services you use.
Many individuals use free plugins and themes to operate their WooCommerce stores, but you will still have to spend on servers and a site.
This is an e-commerce platform with a lot of capabilities; tell us about its sophisticated features:
Allows you to have complete power over the online business.
It has a fantastic, large ecosystem with a variety of themes and addons.
For your business, you may choose from a variety of free templates and design your storefront.
It aids in the expansion of your shop's capabilities.
It works with almost all major e-Commerce solutions, including payment channels, email marketing systems, dropshipping platforms, and so forth.
The best feature is that you might sell something with WooCommerce, including physical goods, films, courses, memberships, digital goods, services, and so on, so you will not have to pay additional transaction fees.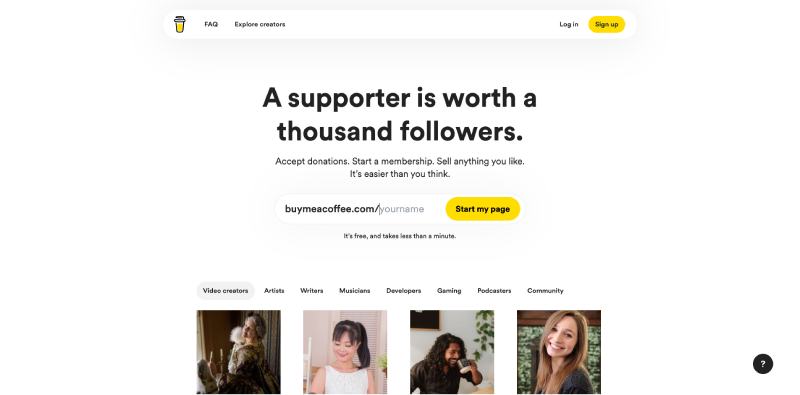 This network is slightly different from Gumroad, yet it produces excellent results and facilitates transactions. Rather than an online store, Buy Me A Coffee provides you with a short URL to publish with your customers and to follow.
When someone buys your goods utilizing your connection, Buy Me A Coffee will process the money and send it to your account after subtracting a 5percentage transaction charge.
As a result, if all you need is a clickable URL to sell digital products, Buy Me A Coffee may be the perfect alternative for you because it is free. In addition, upon each successful transaction, they only collect a 5% processing fee.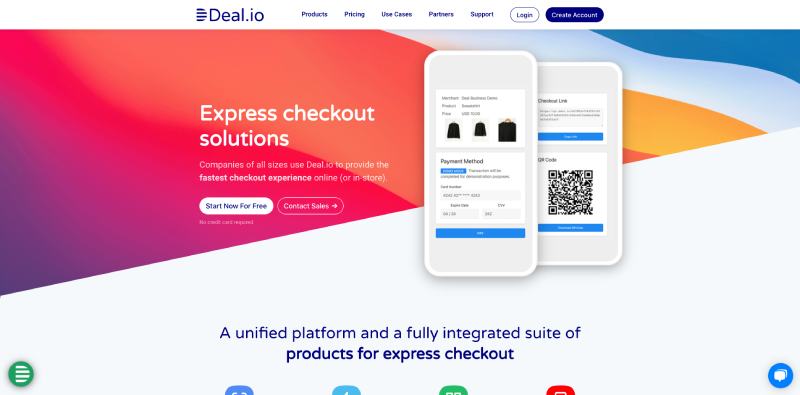 It is another of the most significant Gumroad alternatives since it is a robust platform for selling digital products online. Deal.io is a newcomer to the industry; however, it has quickly gotten tremendous traction.
The following are among its most essential features:
It helps to check all your purchases quickly.
They offer the ability to add modules to every static website, weblog, or ecommerce store.
You can also get a customized smartphone application for your ecommerce marketplace using io.
You may also post the checkout URLs with your clients if you like.
You may also use Barcode to sell or take money. This function is only available on a few systems, and its main advantage is that it simplifies the payment procedure for clients.
Conclusion
Gumroad is a fantastic e-commerce site to sell online. However, there are many more Gumroad competitors. As a result, make sure you select a platform that meets your business needs, is cost-effective and adheres to security and SSL standards.
Furthermore, your chosen method should increase web traffic and bring new clients to your company. so start selling your digital and physical products now!

Ludjon, who co-founded Codeless, possesses a deep passion for technology and the web. With over a decade of experience in constructing websites and developing widely-used WordPress themes, Ludjon has established himself as an accomplished expert in the field.