Free WordPress plugins can help you meet many of the needs that come your way when building a website.
At the time of writing this article about Free WordPress plugins in the WordPress repository there are 51,589 plugins, a number that tends to increase by the day.
Sometimes, for special needs, you can't rely solely on free resources, but surely, before investing money, it's good to look in the WordPress repository if there are free plugins that fit our purpose perfectly.
Among the free plugins you can find high quality products, which are used by millions of users with enormous satisfaction.
The purpose of this article is to give you the basics of figuring out how to evaluate a free plugin, how to determine if it is really better than a paid one that performs the same function.
Free WordPress plugins
Before you start there is a small distinction between free plugins (free) and freemium plugins.
The first ones are actually as they appear: completely free.
The latter, are partly free, but not completely.
In addition to the free version, premium versions with additional features are also offered, which are paid for.
WordPress's extraordinary success is also due to its developer community. Passionate programmers who, even not for profit, have produced these magnificent tools that allow us to realize web projects with simplicity.
It must be said, however, that a marketing strategy is to give something for free to make you try the product.
This road is frequently used when you are sure of your work, but not only.
Everything that is free attracts. The consequence is to connect with more prospects (possible users who turn into customers).
With free plugins, which also have the paid version, it is not said that to get the best need to do the buying step. It depends on the user's needs.
Take Yoast SEO, for example. The free version has everything most users want to work on the SEO of their site. If you want to go further with the features offered in the premium version, then you can switch to the paid one.
Yoast is an example of how to be useful to the community and at the same time create a successful business.
Free WordPress plugins NO vs YES
Let's go into detail by reviewing the list of the pros and cons of free plugins.
YES
They're free.
There are so many to solve most of the needs.
Fast to test (it's helpful to have a test site at your fingertips to test).
They are generally easy to set up.
NO
"A donated horse does not look in the mouth" so we cannot have any claims about the product or service.
Anyone can write a plugin and put it in the WordPress repository, resulting in "amateur" code installed on the server.
We have fewer guarantees than a product developed by global software houses.
Support, in most cases, cannot be compared with what you receive with a paid product.
Regular updates may occur without regularity or even not, causing security issues of a site in WordPress.
In most cases they are less cared for, both from an aesthetic and functional point of view.
It is for the reasons just mentioned that, before installing a free plugin, we need to follow some steps that we are now going to explain.
How to determine the quality of free plugins
There are no particular secrets to understand if a plugin is valid or not, but simple data to analyze.
Let's go to the official WordPress repository and click on the first plugin: Akismet which, most likely, you've already heard of because it's installed by default when you install WordPress.
We could choose more, but this example is perfect to see the 10 features you need to pay attention to.
1. Last updated

We talked about it just now. WordPress is a software that is constantly updated, especially to solve security-related issues.
This is one of the most useful data you can find, because it indicates how "diligent" the developer is.
If you see that the plugin has not been updated for some time, you should activate a small alarm bell.
It's also true that if your code is written well and no features are added (or no security bugs are found), there's no need to update it continuously.
To check if the project is monitored, then, the next point is crucial.
2. Latest Release Tests

Usually this entry follows the first: with each new release of the CMS, it should follow the compatibility test.
Always check the version of WordPress you installed before making a plugin operational.
3. Number of active installations

Numbers are never wrong.
It is true that there may be newer plugins (perhaps better) than older ones, but this type of data provides social proof that a product is valid.
If millions of users use a plugin, it means that they find it useful in having it installed on their site.
4. Ratings

What users think is a very important aspect, for any product or service, and not just for plugins.
In addition to the star rating, there is a handy bar diagram that shows how the ratings were divided.
Logically you have to evaluate the number of ratings and not just the average rating. Ten 5-star votes are not worth as much as a score of 4.8 with 600 ratings.
It is also useful to assess the proportion between the number of installations and the number of assessments.
5. Reviews

Not to be confused with the previous point, which is ratings. In this case we mean just what people write about the plugin.
Testimonials are one of the best clues to assess the goodness of a product.
Click See All or go to the Review tab in the plugin menu and browse through the reviews.
Look at how often they are inserted and perhaps pause on the negative ones to understand the reason for dissatisfaction.
6. Developers and Contributors

At the bottom of the page you can go to sift through all the developer profiles.
See how well they are known, how many programmers they collaborate with. Try to get an idea of their level of experience, how active they are and how many plugins they have made: find two tabs on purpose.
7. Responsive

Not all plugins need this feature, it seems obvious to me.
However, if they intervene in any way on the frontend of your pages, a test is indispensable.
You can usually trust the words of programmers and reviews, but since each website is different in configuration it is good to check your project firsthand.
8. Support

Let's be clear, there are free WordPress plugins that you'll never need support for, but it's always appreciated. In the case of similar plugins, but without support, it is always preferable to choose the first ones.
In the dedicated forum you can get an idea of the types of problems that users find and how (and how), it takes the developer to solve them.
9. Documentation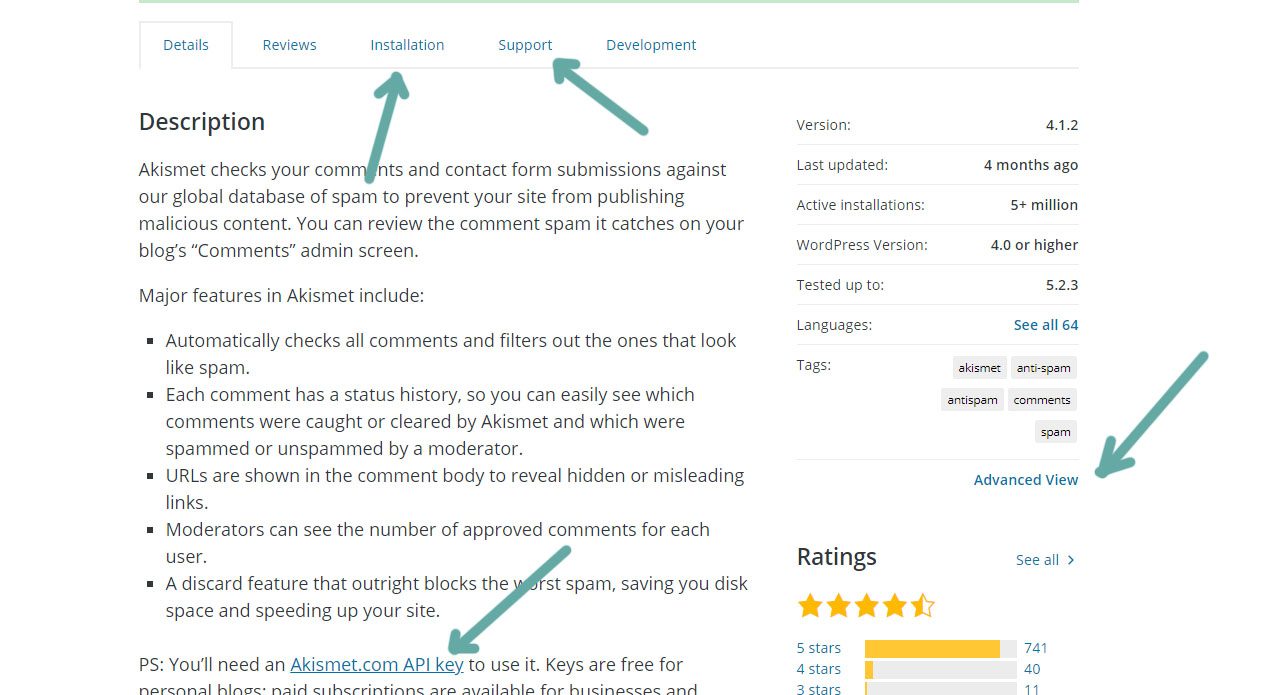 There is no documentation tab, but you can find other items to evaluate before downloading.
I'm talking about any installation instructions, preview screens, videos that explain how it works, the development tab, the advanced display of statistics, and so on.
The more comprehensive the documentation, the more the programmers are aware of the care.
Sometimes you can find more comprehensive information directly on the developer's site or in the Github repository, if any.
10. Motor Search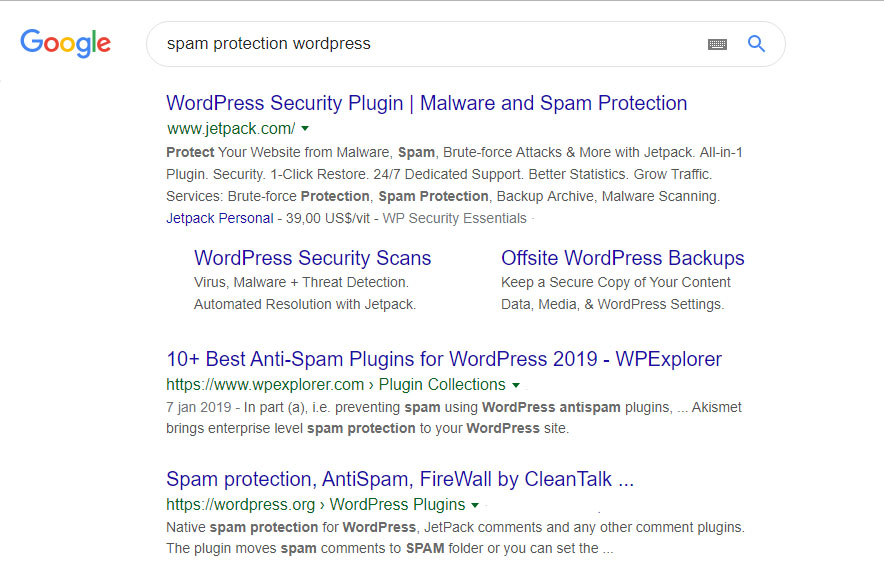 A short Google search, with the keywords inherent in your needs, does not hurt.
On the WordPress repository you'll find virtually all the information you need, but a check in search engines can be helpful in finding alternatives.
It can help you find "alternative" reviews, such as ours on Akismet when we covered the WordPress SPAM topic. A quick glance will be enough to understand how well known and appreciated a product is.
Concluding…
Now you have the list to evaluate the free WordPress plugins.
Remember the importance of testing and having a backup before installing new code on your public site.