Considering that most websites end up not being successful, we want to get it right from the start. We want to take all the right steps including selecting the right domain name extension that will creatively convey our brand and still boost SEO rankings.
The problem is that the most popular one, .com, is not always available. Many times you type in a brand name and the domain searcher says "Not available" or "Already taken." It doesn't get easier when you have 3000+ other domain extensions to select from.
In this blog post, we will analyze .com vs .net vs . org. We also explain how to select the best Top Level Domain to boost the search result rankings of your website. Let's get started.
.COM vs .NET vs .ORG: Differences Overview
.com vs .net vs .org fit different types of businesses for different reasons. Here's a quick overview:
Provider
Best For
Monthly Pricing
.com
Business and Commercial websites
For profit groups
SaaS providers
From $14 to $30
.net
Networks
Online forums
Online communities

From $10 to $15

.org
Organizations
Corporations
Business Groups

From $10 to $36
What is a Domain Name Extension?
A domain name extension is the part of a domain that comes after the main domain name. For instance, the domain extension for Shopify.com is .com
Domain extensions are also called TLDs which stand for Top Level Domains.
Domain name extensions were introduced in 1984 after the DNS system was implemented. It's a system for helping people easily find a website.
Computers connect using IP addresses. The problem was that these addresses are numbers that most people won't be able to remember. They'll have to keep a list of all the IP addresses they visit, just like you keep a list of phone numbers.
To make things easier, domain names were invented. So, instead of 54.192.0.0/16, you can just search for amazon.com
The DNS, which stores a list of all domains and their IP addresses, tells the computer what IP address matches amazon.com.
After the DNS was created, domain extensions were added to help people know the type of website they were visiting. So, if it was dot gov, then it's a website run by the government. If it was dot edu, it was run by a school, if it was dot com, it was a business website. And so on.
In the beginning, there were only a handful of domain extensions to select from. Today, there are thousands of them and the rules are no longer so rigid. These days you can get domain name extensions like .xyz, .live, .tech, .biz, and .store. Companies that can afford it purchase custom Top Level Domains.
Let's now compare the three most popular domain extensions; .com vs .net vs .org, plus their pros and cons.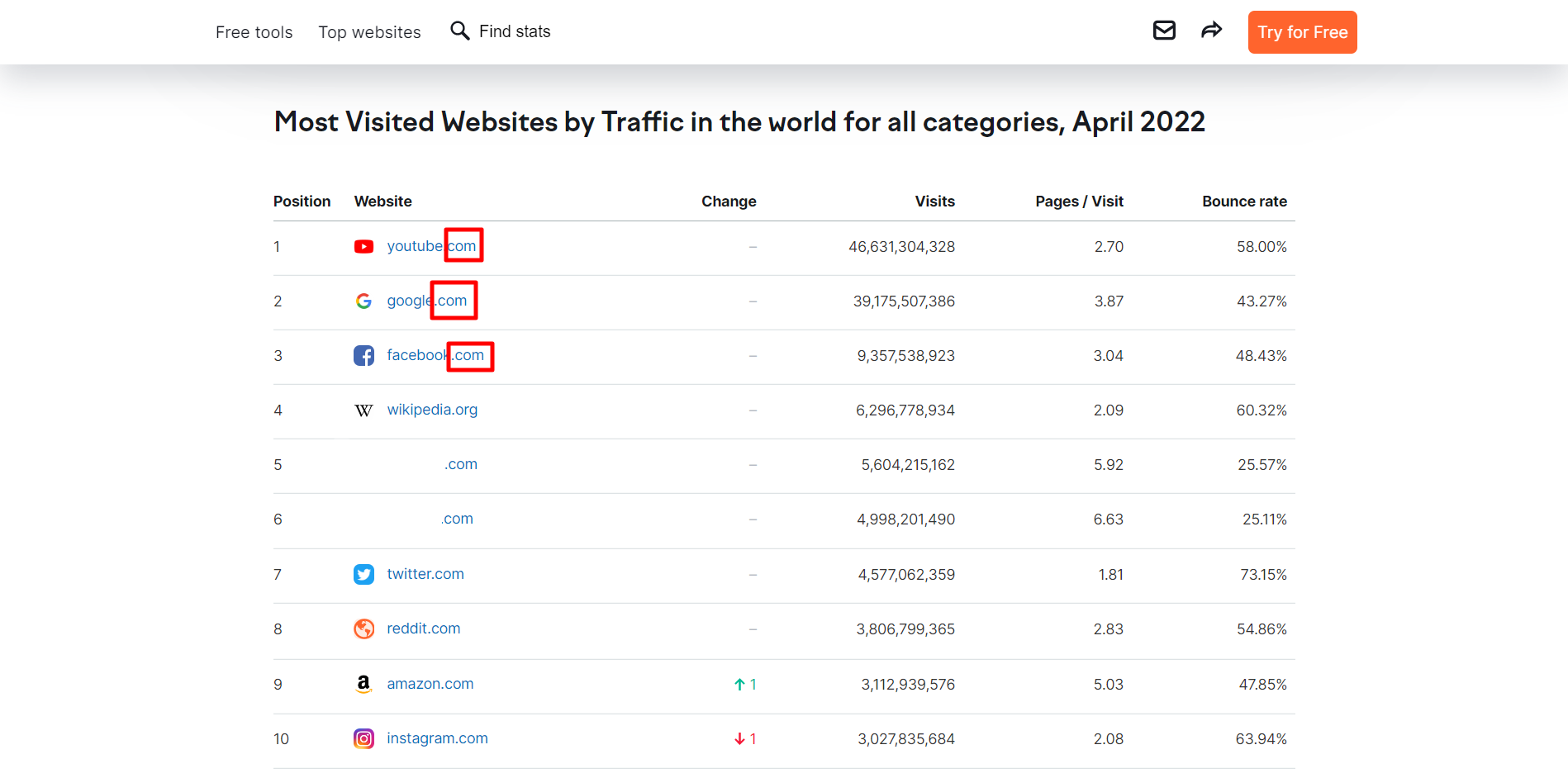 Why Choose a .COM Domain Name Extension?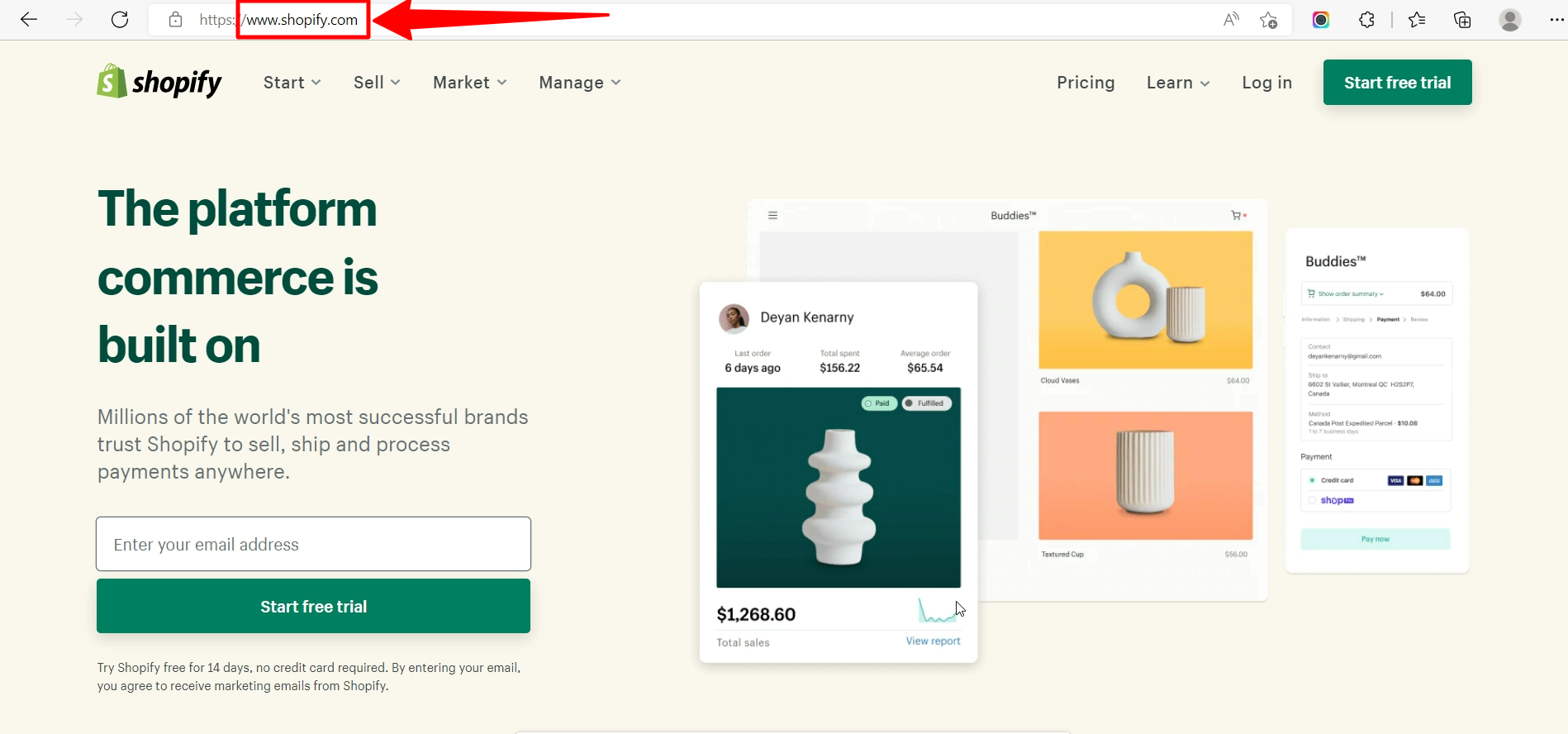 Today, a .com domain is the recommended extension to go with.
More than half of all registered domains in the world end in .com. In fact, the first choice is usually .com and most website owners only give that up if the desired domain business name is taken.
Pros
Most people expect a .com TLD. Therefore, .com domain extensions may help increase the number of visitors to your site and boost your online presence
A .com domain extension influences CTRs which directly affects SEO.
Conveys extra authority
Fits almost all types of blogs
Helps you reach a global audience the way a .us or .de site won't
Cons
It's more difficult to find an unregistered .com domain name because of its popularity
It is more expensive than other domain extensions.
Best for
For profit businesses
Content blogs
Web applications
Online stores
Affiliate marketers
Bloggers
Popular .com domains
Amazon.com
Google.com
Microsoft.com
Instagram.com
Shopify.com
Price
.com domain name extensions go for, on average, $25 per year. Some web hosts sell for as low as $4.59 for a first-time purchase before renewing at a regular price.
For instance, NameCheap sells .com for $9 for a year for a first-time buyer and renews at $14. Some hosting services renew at $56 per year.
These are the 5 main reasons to choose a .com domain extension.
Most websites use .com TLDs
In 2020, 50.9% of websites were registered with .com domain extensions. Now, 53.3% of websites use .com. The majority of WordPress sites still choose it and that number is still growing.
You might be thinking, so what? Should I choose .com simply because most people do? Fair question.
Here's another reason to choose a .com Top Level Domain.
Your customers expect you to have a .com website
Imagine a situation where a user knows that your domain name is "cooltshirts." If they were looking for your website, they're likely to search for cooltshirts.com
Studies show that people are 3.8 times more likely to assume that your domain extension is .com. To put it in perspective, if 50 people assume your website's Top Level Domain to be .tech or a .biz, 190 people will think that it's .com.
A .com TLD boosts authority
Since most people assume your site's extension is .com, .com gives your website additional authority and credibility. .com websites make you appear established and trustworthy.
For example, which one are you more likely to trust? A cooltshirts.xyz or a cooltshirts.com? To help you understand it better, are you more comfortable inputting your credit card details in a .xyz website or a .com vs .net website? Personally, I would think twice.
A .com domain extension may improve SEO rankings
One of the main factors that Google considers for ranking websites is authority. Basically, how trustworthy your site is.
While .com TLDs don't automatically mean that you hit the number one search results spot, .com domain name extensions confer some sort of extra authority on your site's content. They increase click-through rates which directly impact a website's ranking.
.com fits in with almost all types of websites
Won't it seem weird to land on a website with the following domain: cooltshirts.gov. It doesn't seem right, does it?
Well, a .com Top Level Domain will fit the CoolTShirts brand and just about any other website — businesses, companies, event pages, web applications, and so on. .com seems to fit almost all sorts of WordPress blogs.
Why Choose a .NET Domain Name Extension?
About 5% of domains are registered with a .net domain extension. It's now the most popular extension to choose from after the .com TLD. The .net stands for network.
Pros
More available than . com
Also a popular domain extension like .com
Less costly than .com
Fits networks and forums perfectly
Also an established and credible domain name
Cons
People don't easily remember it like .com
Not appropriate for-profit businesses
Best for
Networks
Professional forums
Internet or gaming service providers
Popular .net domains
Battle.net
Behance.net
Speedtest.net
PHP.net
Price
The first-time fee for .net domains is a little higher than .com. For example, the average .com domain starting price may be $5 or $6, while the average first price for a .net maybe $8 or $9
However, you save money during renewal. The .com domain renews within the range of $14 to $30 while .net renews at $10 to $15
Choose a .net domain extension if:
You run an internet service provider
If your business provides services, consider getting a .net extension. .net is perfect for web hosts, professional networks, internet service providers, and all.
Sometimes it's used as an umbrella for WordPress sites, like when the members of a corporation want to network with all the businesses affiliated with them.
Your website is for connecting people, like an online forum
If you're planning on starting an online forum or a networking group, .net can be a very good choice. Maybe it's a network of woodwork enthusiasts or an online forum for software engineers. Eg. aspforums.net for ASP developers.
The .com is not available
.com is not as available as the .net extension simply because of the number of people who make .com their first choice.
If your desired domain name is not available with .com and you're not willing to change it, the .net may be a suitable alternative.
Consider a famous business like battle.net that uses a .net site.
You want to stop other businesses from purchasing the .net version of your domain
Large businesses or corporations may not want similar sounding businesses to compete with them. So they buy up several other domain extensions, including .net to block other businesses from using it.
You want to save a few extra bucks
.net domains are slightly less costly than .com domains. Again, this can be traced to their level of availability. So, you may choose a .net domain extension to save a few dollars.
Why Choose a .ORG Domain Name Extension?
The .org domain is the next most popular to use after .net. About 4% of domains are registered with .org. It stands for organization.
Learn more: Best Web Hosting for Non-Profits
Pros
Best for a non profit or a business group
Gives fund-raising campaigns credibility and encourages trust
Open source resources use .org websites to encourage contributing knowledge
More available than .com
Cons
.org domain names are not as popular as the .com extension and so not as easily remembered
Best for
Non profits
Faith-based groups
An open source WordPress site
Free knowledge resources
Popular .org websites
Wikipedia.org
Mozilla.org
Craigslist.org
Coursera.org
Price
.org domain names are in the same price range as .net and .com. The price range for a .org website is $6 to $36. First-time rates average $6.7 per month for annual subscriptions. Renewal rates start from $10.
Here are the top reasons to register a .org domain extension
Your web address is for an organization or a non profit
The .org extension name is best for companies and nonprofits, free educational resources, and open source resources. Religious affiliations are also included.
.org domains are perfect for organizations and groups because they immediately imply that there are official groups behind the websites. In other words, it makes sense.
.org gives credibility to non-profits and charities
.org confers more credibility to nonprofits and charity groups that conduct fundraisings and volunteering activities.
People feel more comfortable donating to a .org website than any other domain extension. .com is associated with businesses and for-profit organizations.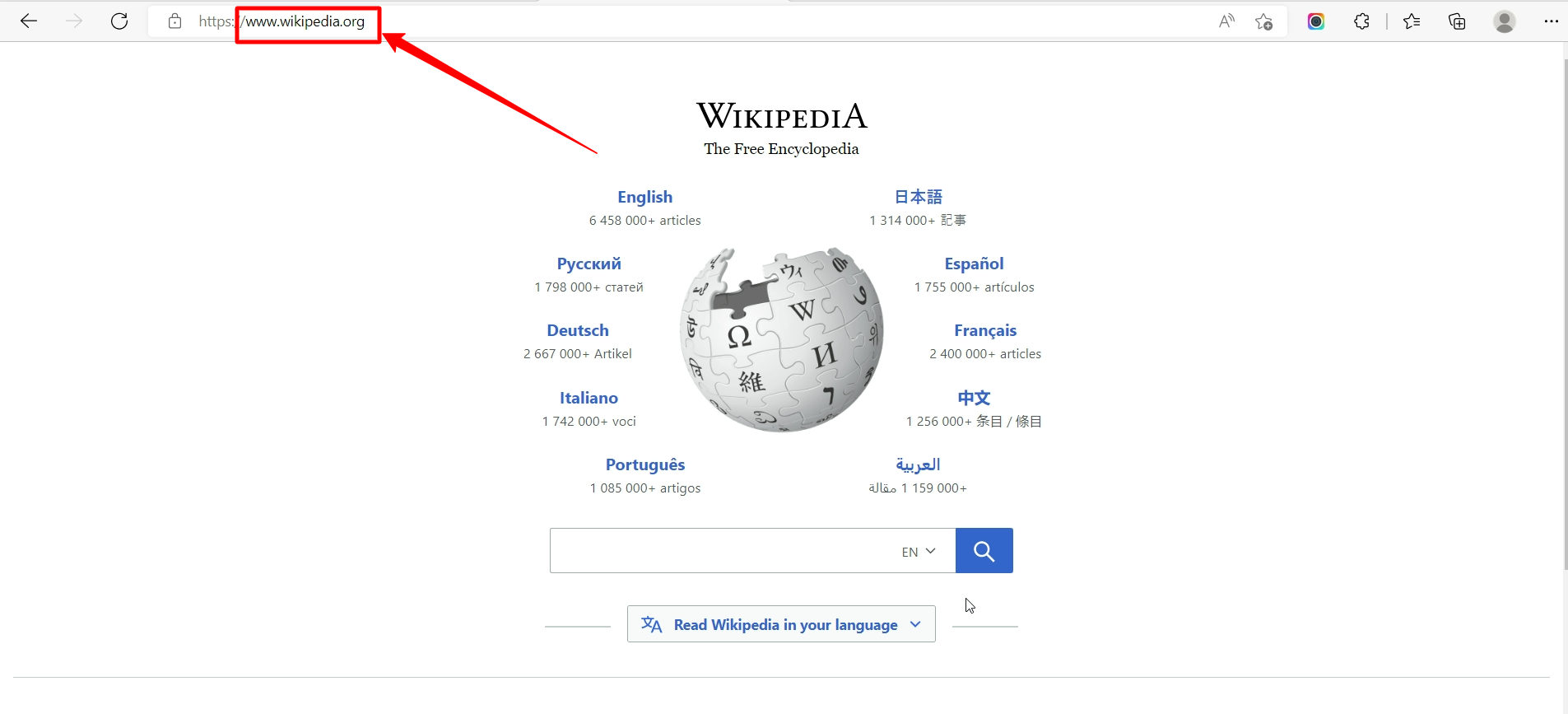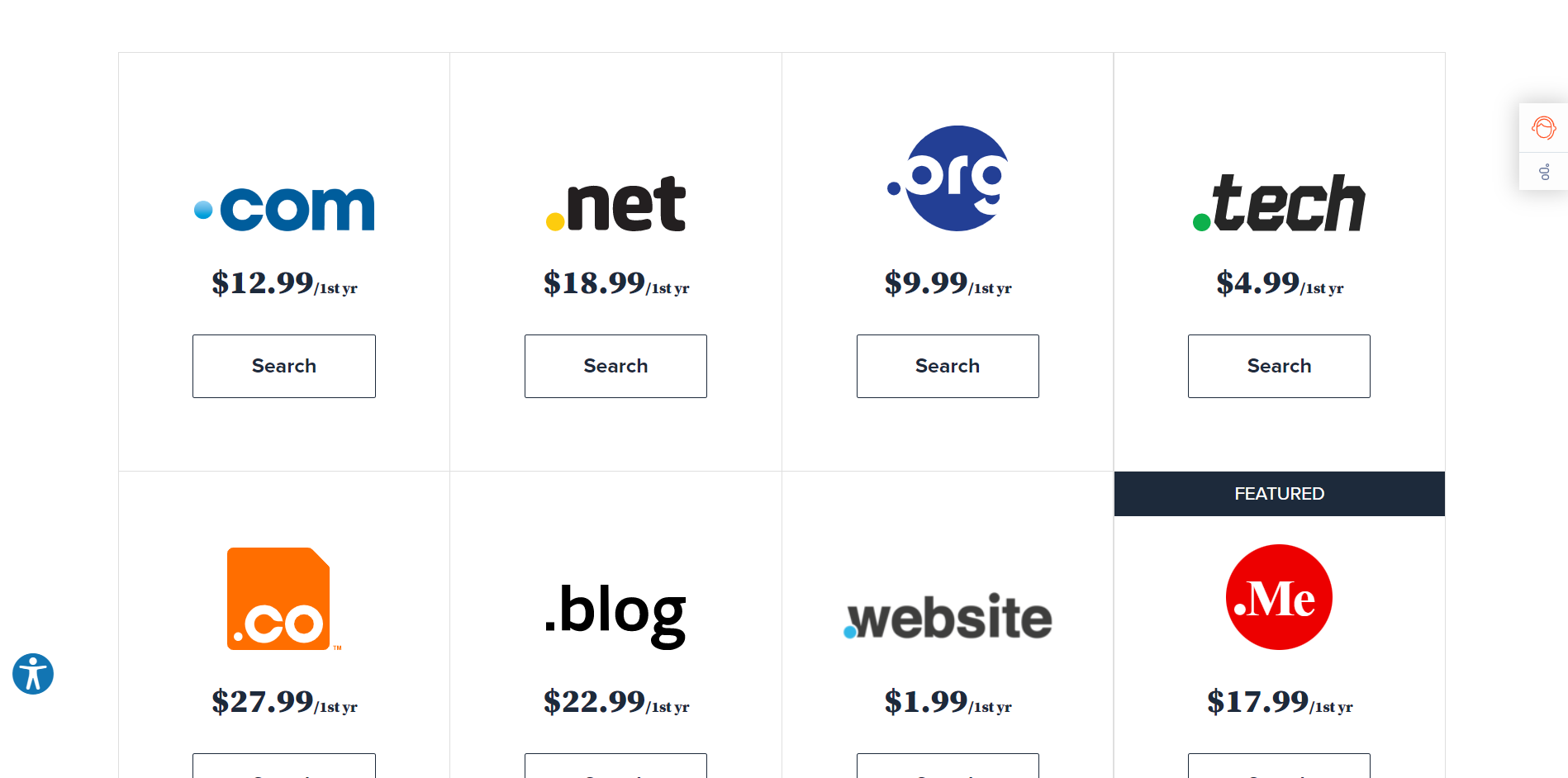 How to Select a Domain that Boosts Your Website SEO
Choosing the right domain extension and domain name for your website affects a big part of SEO organic rankings in search results.
If visibility is important to you, consider the following factors very carefully when registering domain names.
Domain Name
Domain Extension (TLD)
Domain Name
Take a domain like shopify.com. 'Shopify' is the main domain name while '.com' is the TLD. While choosing the main domain name, you should keep the following factors in mind.
Relevance
Your domain name should be related or relevant to the content of your website. For instance, the Shopify brand name tells you that it has something to do with eCommerce.
Domain relevance increases SEO rankings because your domain name is directly related to what your ideal customers are looking for on search engines.
Memorability
Your domain name should also be memorable to customers. People should easily remember it and search for it directly on Google.
Brand name memorability boosts branded traffic. Branded SEO is when searchers look for your brand name, for example, Shopify, WooCommerce, or Ahrefs. What happens is that Google pulls up sites with the brand in their domain and places them in the top spots. This applies even to new sites with no significant traffic yet.
If your brand name is on your domain, you should rank at least the top three for searches for your brand name.
Length
Your domain name should not be so long that it cannot be remembered easily. If you sell fitness watches, for instance, don't register a domain like cheapfitnesswatchesforhealth.com. That's too long. fitwatches.com is way better.
For one, shorter domain names convey a sense of professionalism and trustworthiness that improves click-through rates and therefore search result rankings.
Keyword Optimization
One way to increase SEO rankings with your domain name is by including the main keywords in your domain name.
For new sites that don't have a lot of traffic yet, keyword-optimized domain names may significantly boost their organic web traffic.
Domain Extensions
TLDs – Top Level Domains
TLDs affect search result rankings precisely because they affect click-through rates and bounce rates.
Even though Google does not directly penalize or reward TLDs, people have higher trust for certain TLDs than others. Some TLDs are considered more appropriate for some WordPress sites than others.
These preferences and choices affect the way people interact with websites which affects the way web pages are ranked on search engines.
When choosing TLDs, the first thing to do is to consider your particular niche. If you're starting an online business, of any kind, consider a generic domain extension like .com first. People associate .com with trustworthy business sites.
Of course, you may search for your desired domain name under .com and find that it's not available.
The first thing to do is to consider tweaking the domain name until you find an available one. But if you think that it's a perfect representation of what your business is about, you can look for an alternative TLD.
Be very careful when selecting alternate TLDs though, because people consider some to be completely untrustworthy and will do no business with them.
Credible alternative TLDs include .tech, .store, .io, .biz, and .co. Alternative TLDs you should avoid are .xyz, .link, .zip, and .review. Don't be scared to be creative though. Some alternate TLDs fit in more perfectly with your business than generic domain name extensions. For instance, clockify.me, catch.fish
ccTLDs – Country-Code Top Level Domains
What if you had a local business that you want to optimize for a particular geographical region? Using country code TLDs will help to boost your rankings in local searches.
If you want to keep your fitness watches business to the US, you can register a domain like fitwatches.us, or if in Germany, fitwatches.de
Sometimes, businesses combine several TLDs. For example, shopify.com.us, shopify.com.de, shopify.com.fr. This second option is the better method because you get the chance to reach a global audience while still optimizing subdomains for specific locations.
Conclusion
When it comes to ranking in top search results, a decent content marketing strategy can get you there. But, the appropriate TLD will push you ahead in instances where you have similar competitors.
Therefore, while choosing domain extensions, consider your business niche, the services you provide, and your current competitors. Consider including the main keywords and keeping the domain name short. Finally, be bold and creative.

Ludjon, who co-founded Codeless, possesses a deep passion for technology and the web. With over a decade of experience in constructing websites and developing widely-used WordPress themes, Ludjon has established himself as an accomplished expert in the field.