Do you want to shift your business online in 2022? Or do you want to start a blog? Both are excellent ideas to build the business and grow more but first, you need a domain name. In this article, we discover how to get a free domain name.
The first step to building your online website is a good domain name that will give you a unique identity. Ensure that you choose a domain name relevant to your business niche and register it.
Starting a business requires some investment. Many domain name registrars provide domain names at different rates.
You can choose any one of them and register your website domain name. It is a step-by-step process that you need to know and build your website according to it.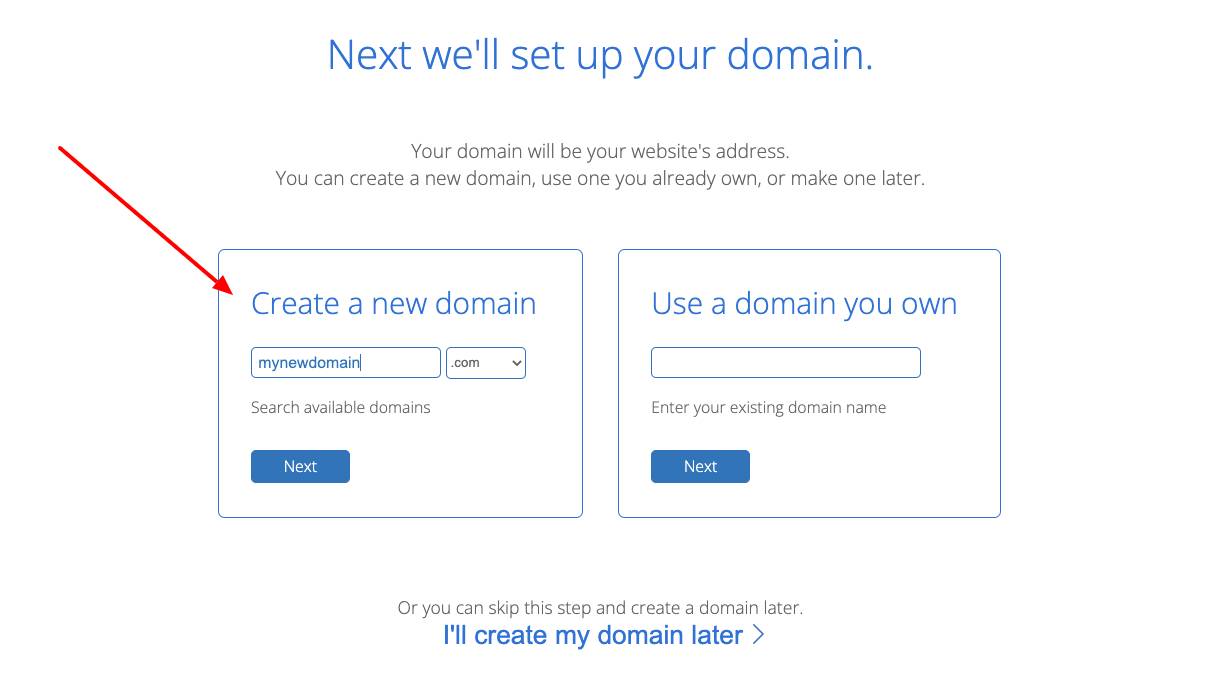 Now it's clear that starting a website requires a registered domain name. Sometimes you have to acquire a domain that was already registered in that I recommend you to check domain history, and domain rating with(SEO Tools) and before giving an offer check it with the appropriate domain services appraisal
So here we will give you a compelling guide on how you can get or register your domain name, and you can get it for free. Ensure that you will go through the process and follow every step.
Everyone has a different capital budget to invest in their website, so we also decided to share a free website domain method. However, a website without a domain registry is nothing. Many of us also understand that the domain name is important and affects businesses' online credibility.
So first, free domain names are not harmful and don't affect your credibility. You can get the free and legit domain by essentially excellent website services. Moreover, you also have many options to get paid yet affordable website domain names and register them from reputable domain registrars.
Some web hosting company has packages like Bluehost plans that include the domain name as a bonus in every plan.
So you can get the web hosting and domain name together with other unique features like bandwidth, storage, SSL certificates, and many more. It is a worth buying package with all-in-one features to run a website.
Similarly, we will share the freeways to get a domain name and build your website. But keep in mind that getting a reliable domain name is not the only thing to get potential visitors to your website. You also need to work on your quality content, search engine optimization, backlinking, and many more to generate enough leads to make a successful website.
Here we will share all the in-depth details regarding domain names and what you need to do to get domain names.
So let's dive into this step-by-step guide…
What is a Domain Name?
A domain name is a website address that people know to enter at your website. Now you may think that how can everyone remember the website domains as there are tonnes of websites on the Internet? Yes, it is a common query from beginners. So the domain name is according to your brand name, business services, and any other relevant thing that gives it a unique identity. For Example, you are making an online brand named brandezyx, so your website domain name will be brandezyx.com.
In other words, the website is your home, and the domain name is your address that others know to visit your place.
The Internet is a whole globe that consists of a giant network of computers. Every computer has a specific number referred to as the IP address. You may be familiar with IP addresses that are similar to 66.249.66.1.
How many of you remember the IP address of your computers?
We think no one will remember their IP address. It is common, but do you think you need to remember this kind of address to enter your required website? It's impossible to recognize these types of addresses rather than simple domain names.
So, in the beginning, it was a more significant issue, but then domain names were invented to resolve this issue.
Domain names consist of alphabets and numbers that help you create an innovative and brandable business name and make it your website address. It is advisable to choose the website name according to your niche, and if you are building an eCommerce website, it should be your brand name.
According to studies, in the year 2021, more than 56500+ .com domain names were registered. Moreover, more than 158.6 million .com domain names are already registered, and 366.3 million domain names are in all the TLD.
There are different TLD around the web but 3 are the most used .COM, ORG and .NET. There are differences between these 3 major domain extensions.

So this data shows website developers have already booked all the good domain names. Moreover, there are chances that your ideal domain name is also registered for some other websites. According to experts, it is advisable to register your website domain name as soon as you get the idea or want to shift your business online.
Many intelligent entrepreneurs or expert website developers already have the registry of their domain names even when planning to make a business website. So what are you waiting for when you have the business and domain idea? Register your website name immediately before any other website developer has the same opinion or brand name.
Domain names are cheap, and you can get them for the year. Some companies also offer per month domain registration, but it is expensive, especially for beginners.
Moreover, it is also advisable for beginners to look for hosting plans that contain the free domain name registry. But if you get a separate domain name, it also comes at cheap rates.
It is clear and advisable to register the domain name as soon as possible if you are serious about your website. It is one of the significant ways to protect your brand identity, future business idea, or business name, even if you are only working on your plan.
Two Ways to Get a Free Top Level Domain Name
We also understand that beginners are always short of budget, so they are looking for the free or cheapest domain names. Now everyone has different prescriptions about free domain name registration and its consequences. Some say that having a free domain name will cause the most considerable credibility effect. While others say the domain name is just the website address, it doesn't affect your credibility. The only thing that affects your online credibility is your website content or business quality.
However, according to experts, you can get the free domain name for your website and register it. So here we will share the top 2 ways to get a free top-level domain name and start your online business.
You can choose your required or suitable method as we all know everything also has some pros and cons. So go through each process and choose a convenient way to get the free domain name for your website.
1. Register a Free Domain Name Using a Web Hosting Plan
It is one of the great ways to get a free website domain name. Whenever you want to start a blog, eCommerce business, or professional website, you can choose this way to register your website domain name.
Usually, the domain names are cheap and available at reasonable rates per yearly registration. But if we compare the cost of website hosting plans and individual domain names, then separate domain registration is expensive. The average annual price of a domain name per year is $15, but the cost of hosting plans starts from $8 per month.
So if you are a beginner, it is a lot of money to invest in the beginning. Now it's preferable to look for hosting plans with free domain registration. You can find it in plenty of companies with a good market reputation and offer incredibly unique programs.
For Example, Bluehost is one of the high-level hosting services. They are also offering free domains and SSL certificates to their users. The cherry on top also provides 60% off on their web hosting plans and services. It's a great deal for beginners not to spend too many dollars and start their business.
You need to pay $2.95 per month for their basic web hosting plan and get their services, including the domain name registration. So you can start earning passive income from your high-level website with a reputable brand register without spending all your wallet money on it.
If you are an expert in the web development field or have any previous experience, you know about Bluehost. It is one of the most extensive website hosting companies globally with millions of clients, and every customer is delighted with its services.
They started their hosting service business in 2003 and now host more than 2 million websites. So it is an outstanding achievement in such a short time with their quality services.
Moreover, many new bloggers and eCommerce website developers prefer to choose WordPress. You also need to get your WordPress website's hosting service and domain name.
So keep in mind that WordPress also recommends their users to choose Bluehost for web hosting services and domain names.
How many newbies want to know how to get the Bluehost hosting plan or free domain name?
So here is the compelling method to get the Bluehost website domain name. Follow these steps and get your hosting plan from a reputable company.
Step1: Open the Bluehost website and visit their landing page. Here you will get the Get started button. Click on it.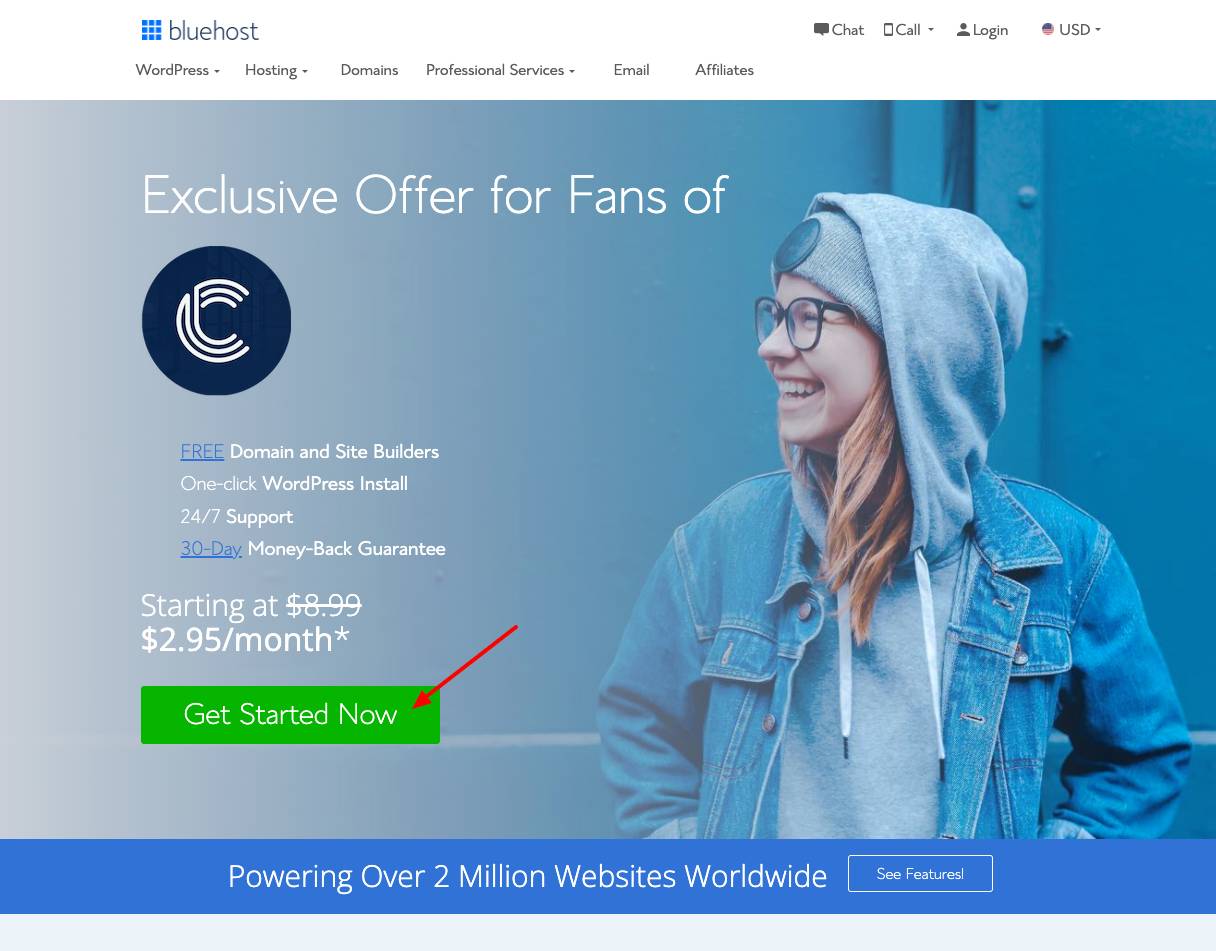 Step2: After clicking on getting started, you will land on the pricing page where you will find all the plans, including basic to plus plans.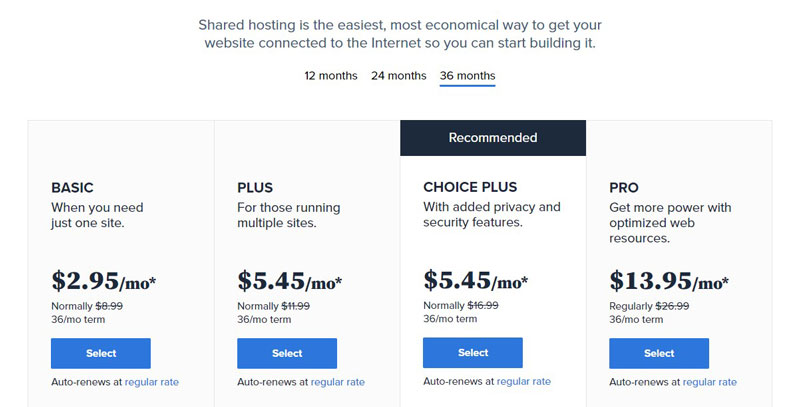 Step3: Read the description of every plan and see what they offer in variable price tags
Step4: Select your preferable Bluehost hosting plan and click on the select button below the plan features.
Step5: Ensure that you choose the plan with a free domain name.
Step6: However, you will enter the domain name on the next page. It has a new domain box to enter your selected domain name. It is an essential step to get a free domain name. Moreover, ensure that you enter the unique domain name to get it.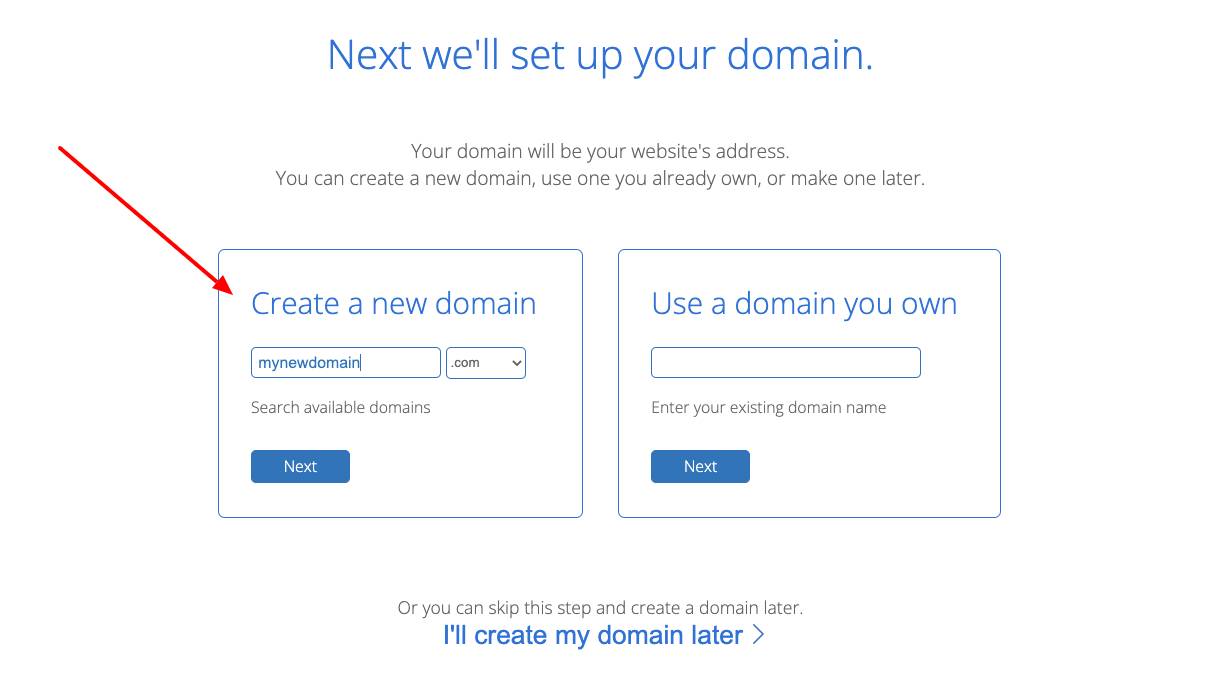 Step7: If your domain name is available for registration, you will land on the signup page.
Step8: Enter your account information, including name, address, email, or whatever they demand to leave the signup page.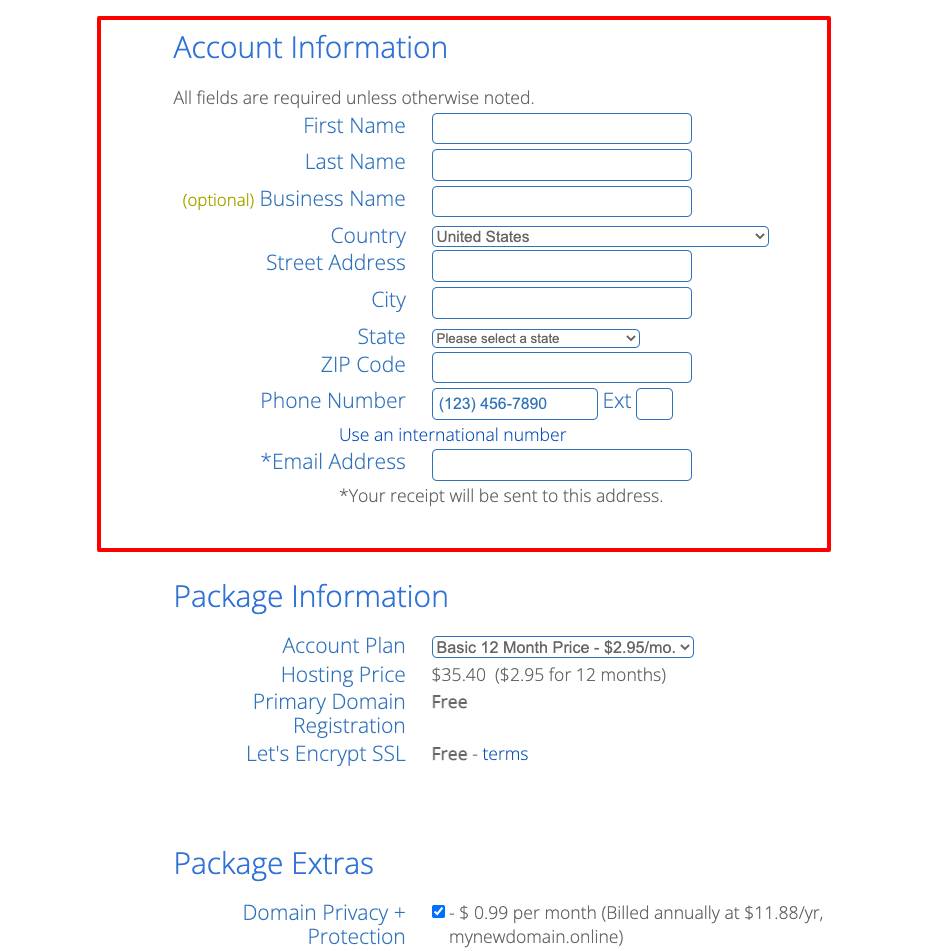 Step 9: Now, a portion of hosting extras is below the account information. We don't recommend that beginners buy the additional hosting services and spend a lot of money, especially when you are short of cash.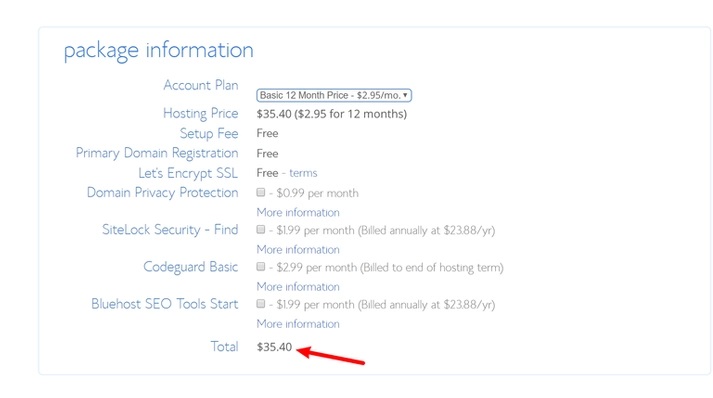 Simply uncheck all the hosting extras. However, if you ever feel that you need some extra hosting features, you can add them later according to suitability. But in the beginning, it's better to uncheck them all.
Step10: Now, move to the next page and enter your payment information before finishing the purchasing process.
Now you have a valuable hosting plan with a free website domain name.
Bluehost will register your domain name and set up the hosting account quickly. You will receive a personalized email with the link to your website hosting account or control panel. Your domain name also has registration, and you are good to go for a living.
Remember that you need both domain name and web hosting to start your website. So why don't you get it in a single plan and save your pennies? When you get the domain name with a hosting plan, it will come as a bonus with many other incredible features like a free SSL certificate.
Many of you are confused that Bluehost is the only option to get the free domain name or cheap email hosting plan?
So now there are many other hosting providing companies that offer free domain for your website. As we already clear, you can choose any website hosting company and their affordable plans and domain names.
The other hosting companies with free domain names include Hostgator, Dreamhost, InMotion hosting, GreenGreeks, and many more. All these are reputable hosting providers with domain names for free. Now it's up to you to select the best plan from any of these hosting services and start building your website.
Ensure that your selected plan offers the domain name. Some hosting services or plans are too cheap and don't offer services other than hosting. Moreover, it is essential to clear your hosting and domain name concepts.
Hosting services control the website content, storage, traffic analysis, bandwidth, themes, video or images maintenance, and many more. So the hosting accounts have entirely different purposes than the website domain name.
Pros & Cons of this method
It is a fact that every great thing also has some drawbacks. Similarly, a free website domain name with web hosting plans has pros and cons that we should consider. So here are the pros and cons of a free website domain name with web hosting plans.
Pros
Free and incredible .com domains.
You own the professional domain name.
Didn't affect the website credibility.
Best suitable for creating a professional website.
Available for free with cheap hosting plans.
Available for monthly or yearly plans.
Cons
Users must have to purchase the hosting plan.
Plans usually last for a year.
Frequent renewals of hosting plans.
Can it affect the website's credibility? It is a common query when beginners choose the free domain name. So it is a suitable way to get the free domain name from reputable sources. When you have the hosting plan from a respective company and offer the .com domain free, how can it affect your website credibility among competitors?
2. Get a Free Domain Using Website Builder Platforms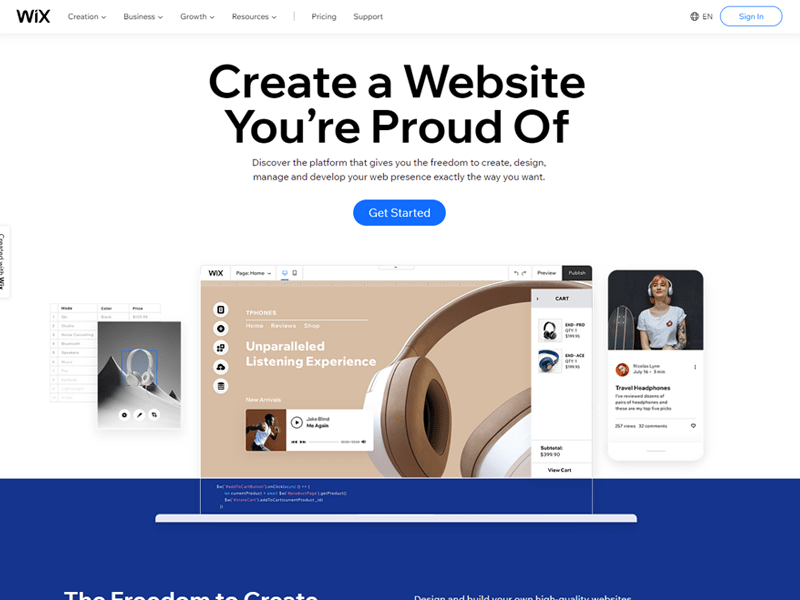 We discussed getting the free domain with hosting plans in the previous section. Here is another way to get a domain name for free with website building platform. Many websites are building platforms like Wix for blogs or eCommerce sites, Shopify and many more.
All these All-in-one website building platforms offer tremendous benefits and support to website builders during their development and management journey.
Many beginners don't know about the all-in-one web builder platforms.
So what is a website builder platform?
The all-in-one website building platform is a way to support developers who have minimal knowledge of coding. Moreover, it makes the process easy that no one needs to do the manual coding during the construction of their website.
Typically website builders fall into two primary categories. One is by the web hosting companies who offer all the proprietary tools, and the other is by the developer companies like Wix.com. The developing support from hosting services is enough for making the private sites.
But when you want to build a professional website, website builders services are preferable.
Wix.com is a cheap website builder software that offers ease to users with the combination of powerful features and continuous support.
If we talk about the domain name with website builders, you can get it with their plans. Like hosting company plans, the website developer companies also offer the basic to premium plans that include the feature of website domain name registration.
Usually, it comes with premium plans to get the free domain name. So if you already have the basic or free plan of wix.com, then move towards the premium plans that offer domain name registration.
Wix.com also offers a domain name for free but only in premium plans. So upgrade your Wix plan to premium plans. The premium plans of Wix include Combo, Pro, VIP, Business Basic and many more.
Here is the step-by-step guide to getting the free domain name with Wix.
Step1: Visit the Wix.com official website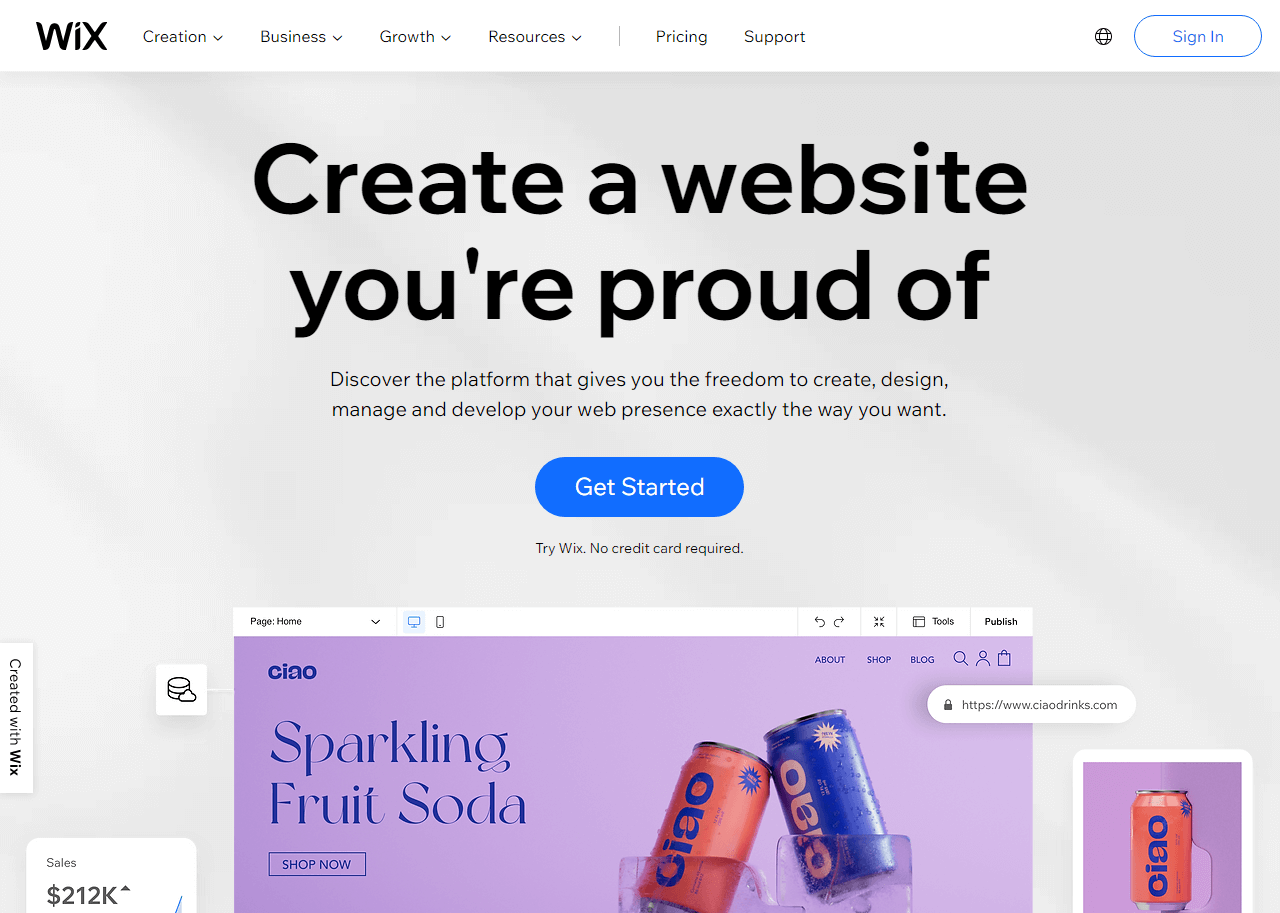 Step 2: Click on the premium plans.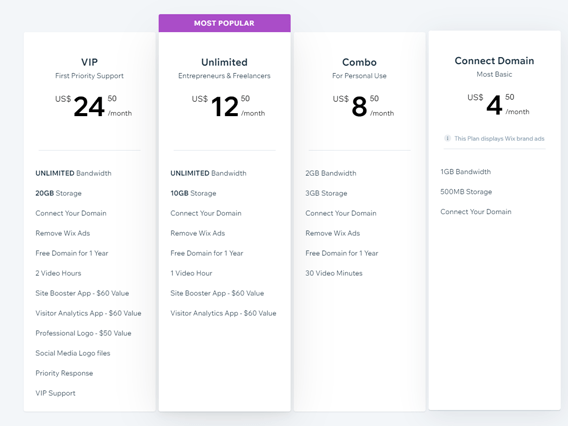 Step 3: Ensure that you choose the website builder plan according to your requirement.
Step 4: Select and move to the next page.
Enter your domain name with domain extension in the search bar. Ensure that you choose the right extension like .com, .net, or other. Click on the search button.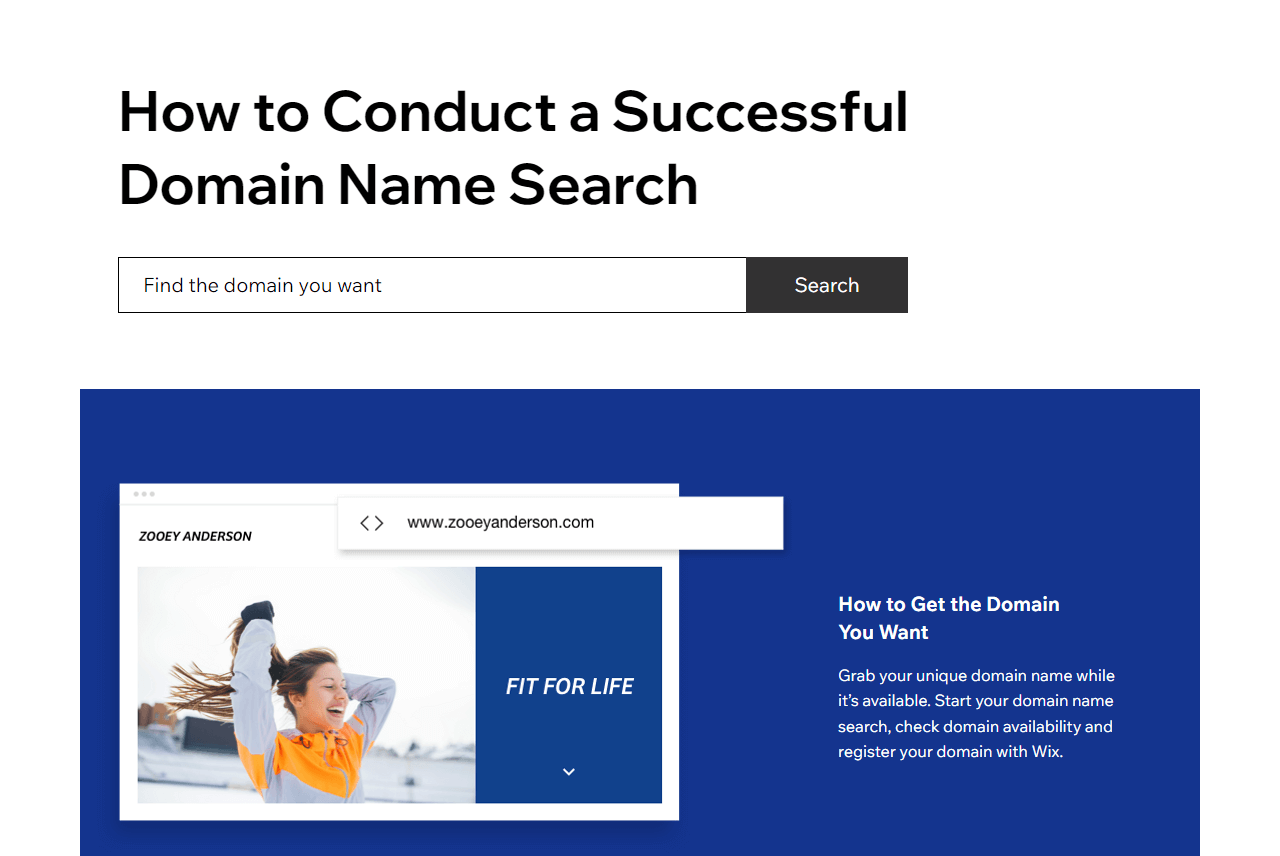 If your selected domain is available, then get it registered. But if the domain name is not available, Wix.com will give you relevant suggestions. You can also change the extension to get the same domain name.
However, select it if the domain name with the same domain extension is available.
Step 5: Choose the registration period according to your requirement and suitability of the premium plan.
Click on Continue to move to the next page.
Step 6: Enter your website contact information and ensure that it is accurate. Wix.com only asks for basic information like name, email, contact, and other details.
Step 7: Next, select the privacy protection levels carefully. It includes complete privacy protection and basic privacy protection that you can choose according to suitability and click on the continue button.
Step 8: Select the payment method and end the purchasing process.

Soon you will get the email from Wix.com with a link to your domain name control panel. So you will have the domain name with a premium plan to build the website.
Wix is not the only website builder platform. Many other options help the builders to choose, like Bluehost Builder, Hostgator, Webflow, Webs.com, and many more.
Every platform has various plans and offers to choose from and build your website. It is the best and most helpful way to make a quick website as you don't need to do manual coding, theme designing, domain registration and many other things.
Pros & Cons of this method
It is a great way to get a free domain name. But again, every great thing also has some downsides. So the free domain with all-in-one website builders also has pros and some cons.
Pros
Easy to build the website with all in one builder.
Competitive rates for both website hosting and website domains
Quickly register the website domain name.
Available for both monthly and annual plans.
Website domain name available with all the website domain extensions.
Cons
Free domain are only available with premium plans.
It will only connect the users to their custom domain names.
How to register a domain with Domain.com
Domain.com is one of the reputable platforms for getting the domain name without website hosting. We already recommend that beginners register their domain before someone can register their idea. So domain.com is a reputable platform.
If you want to register the domain name without creating your website, domain.com makes the process easy.
Many beginners don't know about domain.com, so it's essential to know about it before moving forward.
What is Domain.com?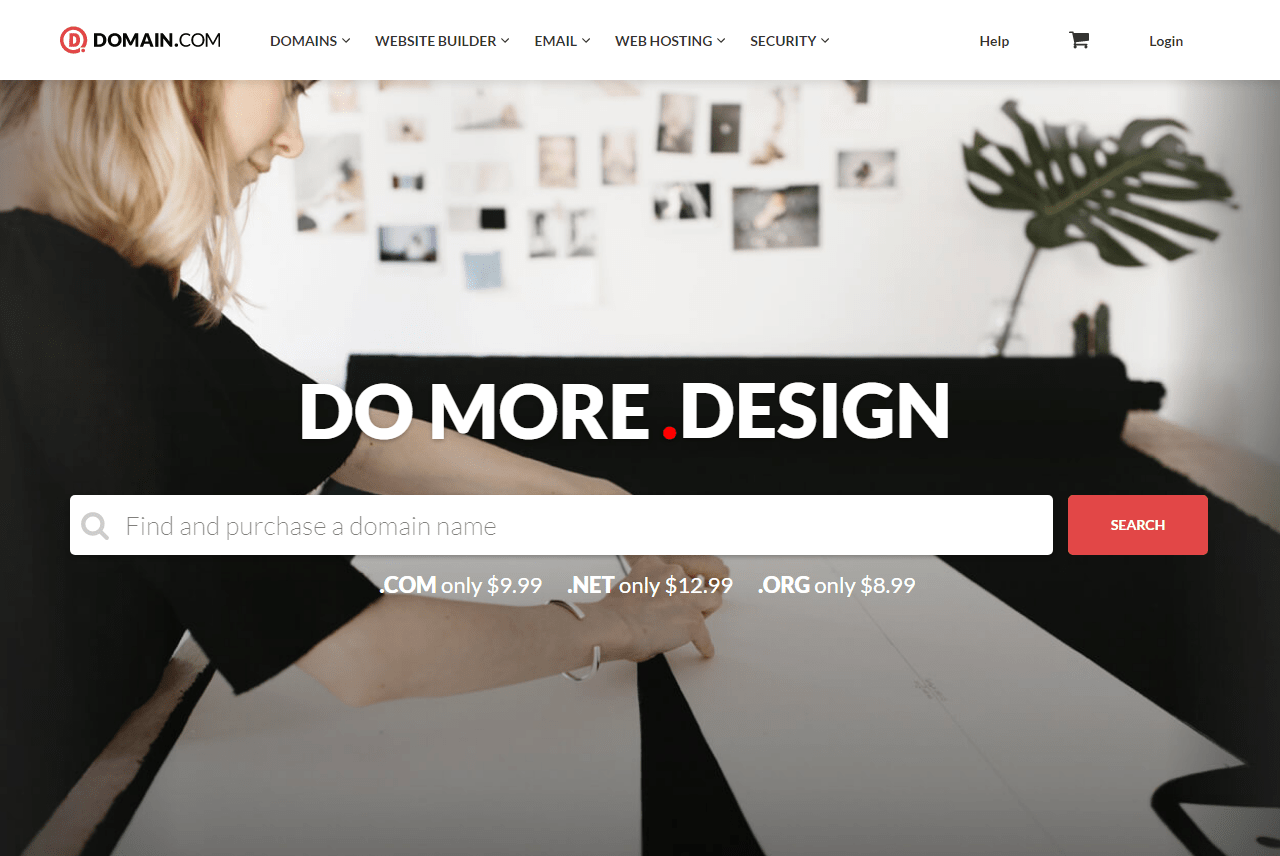 Domain names need registration from a non-profit organization ICANN. It is the internet corporation for assigned names and numbers.
The ICANN's have a specific role in making registration easy and quick. The charter of ICONS also states that they are responsible for coordinating and numerical spaces for the internet world. So the internet world has stable and secure connections for everyone. When you get the domain name, you will connect the registration company and ICANN's.
Domain.com is also a registration company to purchase and register your domain name. It has accreditation from ICANN and has worked in the domain registration field for years. It has plenty of websites under its belt that work effectively after its registration process.
You can simply purchase and renew your website domain name through domain.com services and start building your online presence. The registration with domain.com requires the minimal information you can provide even before starting building their websites.
Again, we advise you to do this registration process as soon as possible to build your business identity in the future.
Process of registration with domain.com

It is easy to register the domain name with domain.com without creating a website beforehand. Many beginners think they will make the website and then do the domain name registration. But what if someone steals your idea or has the same business identity? So you can register your domain name with domain.com even without creating a website.
When you already have the domain registration, just point it to your hosting company. Usually, WordPress website developers follow this method to register their domain name initially, create the website and then get the hosting plan in the end. It works fine to protect the brand's real identity and credibility.
Here is the step-by-step guide to getting the website domain name through domain.com.
Search and visit the domain.com website.
Go to the search bar and enter your desired domain name.
If your desired domain name is already available in their list, you can add it to your cart for purchase.
If it is unavailable or already sold out, you cannot find it.
Now adjust the registration period according to requirement. It is advisable to choose one-year registration.
If you want to reduce the domain registration cost, you can remove the privacy protection. Now it depends on your suitability to keep or remove the privacy protection of your selected domain name.
Moreover, if you have any coupon for a discount, then you can add it to get its benefit.
Now click on the check out button and land on the next page
Review your order at the checkout page and ensure it meets your requirements.
Now click on the proceed to billing button after reviewing your order.
Now you are on the payment page
Enter your account information and finish the purchasing process.
Domain.com will send you the confirmation email after registering your domain name. The email also contains the domain control panel to review it and further proceed to the website development process.
The domain name will file your given information with WHOIS. It is not an acronym but a reputable and practical system that asks relevant queries. So primarily, the WHOIS asks for "WHO IS "accountable for the IP address or website domain name, then proceeds to ICANN.
According to ICANN, millions of people register their domains every year, including individual website developers, businesses, organizations, and many more. Everyone provides their contact information, including name, email, address, phone number, technical and administrative contacts. All this information is under the supervision of WHOIS, which collects and stores the data in their database.
So it is essential to provide authentic information during the information process to appear as a responsible person during the information assessments.
Now you have another excellent but paid method of getting the domain name. It provides many benefits to its users that make it one of the reputable domain registration companies.
Many beginners also have the question: why do they get the domain name with domain.com when they have free options?
So it depends on you that you can choose the free or paid domain names according to your suitability. There are also other domain registrars which can help you like Namecheap or Goddady
Choosing a Top-Level Domain
When you open the Internet to visit any specific page or information, you enter their domain name or IP address in the search bar. Search engines check the credibility of domain names and give their position. The domain name or IP address will lead you to your destination.
So to facilitate the users, the top-level domains have categorization and grouping. It helps reduce the clusters of websites with the same names.
These are the seven top-level domain names that are different from the extensions. The extension is another term from a domain name that helps identify the website link with any specific region or area. Generally, the extension helps identify the organization and website line.
However, every top-level domain has a different registry that helps the ICANN manage the groups under each category.
First, the ICANN makes the four categories of top-level domains. These four categories include generic top-level domains, sponsored top-level domains, country top-level domains, and infrastructure.
Moreover there are seven most common and top-level domain extensions that include .com, .edu, .gov, .Int, .mil. .net, and .org.
When you choose the top-level domain name, it comes under these categories. If you are a newbie, you may not be bothered by its importance. But the top-level domain names provide additional benefits. These benefits include: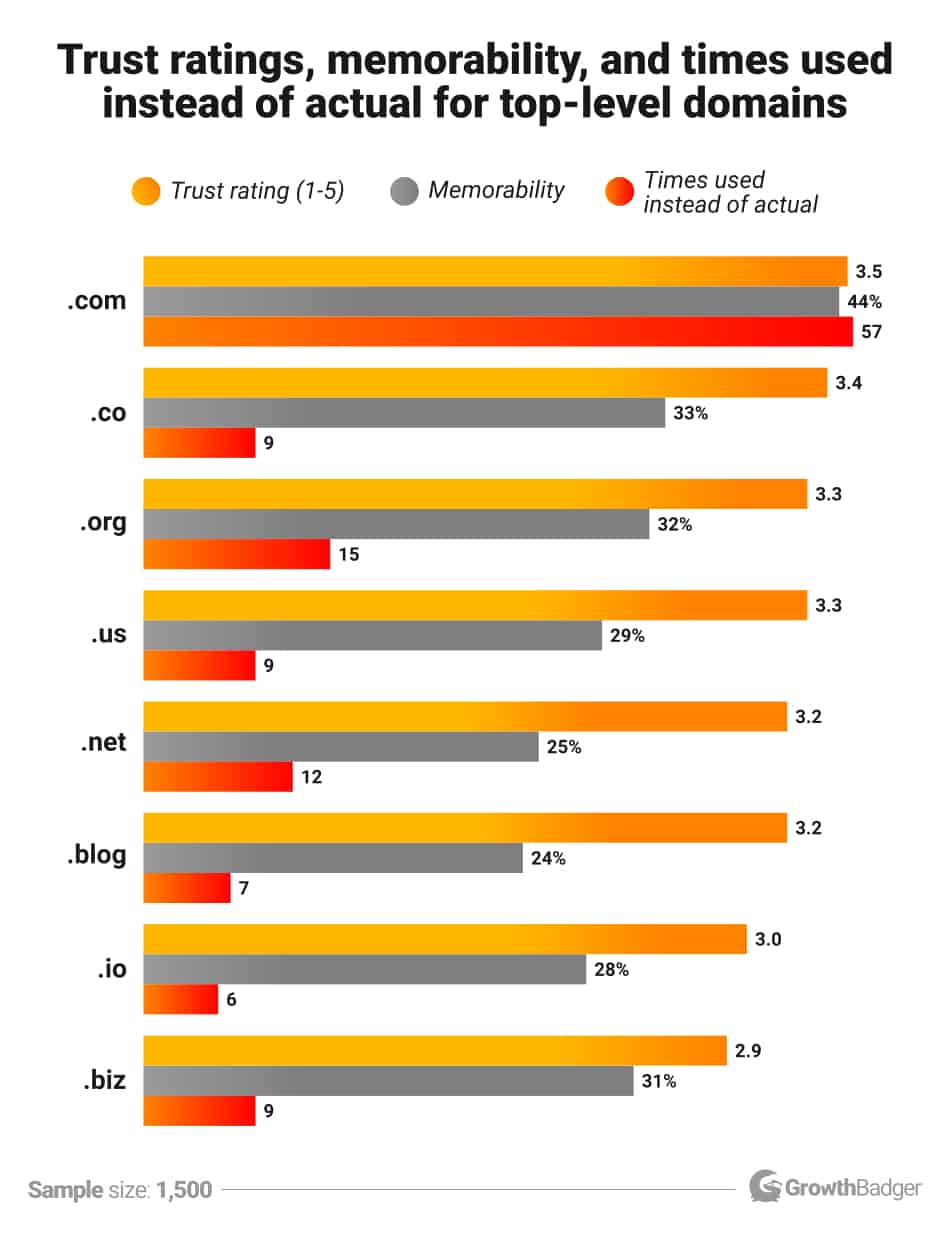 Credibility
A top-level domain name helps the business stand in position and prevent potential customers or visitors from scamming. Keep in mind that your website only gets the profit when it looks credible to visitors. There is increasing competition in every field. So, the TLD category's domain name helps protect your identity and build credibility. If you don't have the TLD domain name, you may lose your potential customers.
Changing Web Hosts
The top-level web domain names help change the physical location of your website files, also known as web hosts. So the area of your website changes, but your domain name remains with you. So if you have regular customers, then your site migration will not affect.
Sponsors and advertisers
The utilization of sponsors is a significant way to grow. The top-level domain name will allow you to use the sponsors and advertisers with website legitimacy.
Linking the name with the service
The website domain name is a way to describe your business and brand. Remember that the website domain name is intimately tied with your business, so it is easier for potential visitors to return to your website.
So prefer choosing the top-level domain name to avail all these benefits.
Domain Name Registration FAQs
Which domain extension should I buy?
Usually, you should buy the .com domain names as it is easy to remember. It is also easily detectable on mobile devices for users. Moreover, the other extensions are also available, including .com, .net, .org, and many more. Ensure that it is easy to remember your domain extension for the visitors and represent your brand well.
How can I buy a domain name permanently?
You can buy the domain name permanently for your website. The domain name registration is done every year. Moreover, you can also pre-pay for the many years for your domain registration so that you will have the guarantee that your website will work well for the next ten years or more.
No one can buy the domain name for a lifetime. You can hold the guarantee for many years and renew the plan by paying its annual price. Every domain providing services has different policies. If you get the domain name with a web hosting plan, it is according to yearly or monthly plans.
How do I get a free email using my domain name?
The hosting plans are different from various companies at variable price tags. Many hosting plans offer a free email account and a free domain with the same address.
For Example, you will get the domain name beighost.com, so your professional email address will be [email protected].
According to experts, Bluehost is one of the leading companies that offers the best deals with five accessible business email addresses, even in-priced plans. If you choose the plan under $2.95 per month, you will also get these free emails. Moreover, it also comes with many money-saving hosting extras like free SSL certificates and domain names.
Is there a way to buy an existing domain name?
Yes, you can get the existing domain name. Many brokerage sites offer the current domain names like Sedo.com, one of the potentially reliable sites for getting the domain name.
However, there is no guarantee that you will get your required domain name that suits your website's credibility. Or sometimes, the domain name is available, but the seller does not want to sell it or wants the high prices beyond your range. The premium domain names are also available at the premium broker sites like BuyDomains.
Conclusion
So by summing up the above guide, on how to get a domain name for free in 2022. It is easy to register a domain name with top-rated companies and start your website. Many beginners and experts strive to get a reputable and free domain name.
Bluehost, HostGator, and many more companies offer their hosting plans that you can avail of and register your website domain name for free. Many beginners fear that the free domain name can reduce their website credibility. So it is a myth that you can reduce your online credibility with a free domain.
Moreover, if you want to get a separate domain name, domain.com is an excellent platform. Register your domain name with domain.com at reasonable prices and launch your website with an incredible hosting plan.
If you want to start the website, don't delay the website domain name registration for the sake of protecting your business identity.