If you are looking for an affordable, faster and reliable hosting option, give a shot to HostArmada. Here's why.
HostArmada is both reliable and budget-friendly. Webhosting plays a significant role in the success of any website. It controls all aspects of your website ranging from a better user experience to speed.
It requires you to act smart while you choose an affordable web host as a beginner. HostArmada plays its part at this instant.
In this review on HostArmada, we will include all the major hosting features as well as the performance parameters. It will help you decide its suitability for your website.
Let's get started to find the details of what HostArmada offers in its hosting packages.
About HostArmada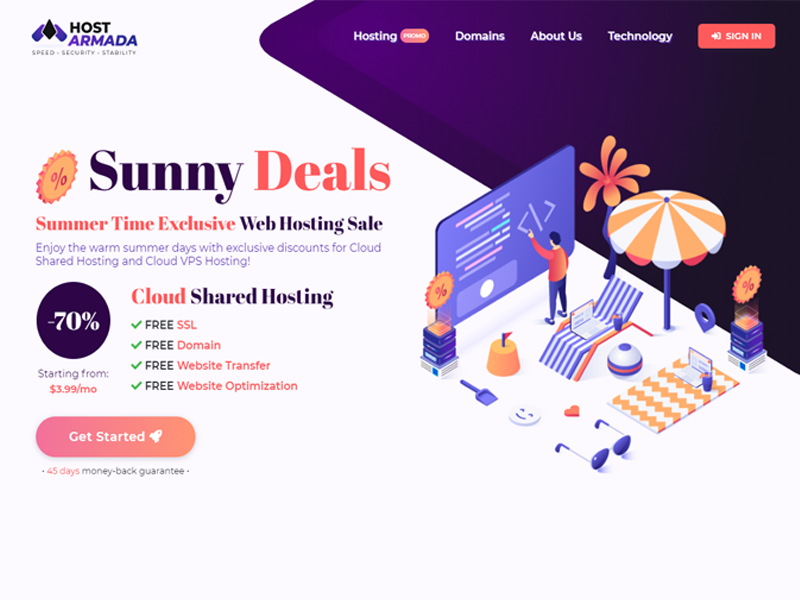 HostArmada is a cloud SSD-based platform that is super-fast and gives an uptime of 99.9%. Your experience is highly polished with 24/7/365 customer support. It is comparatively a new hosting provider in the market being launched in 2019. Yet, they are becoming increasingly popular because of their faster connectivity, pricing and great features.
Currently, it has 9 data centers throughout the world. Thus, it gives a lightning-fast website experience for your users.
Their data centers are located in Bangalore, India; Frankfurt, Germany; Dallas, Texas, USA; London, United Kingdom; Toronto, Ontario, CA; Singapore; Newark, New Jersey, USA and Fremont, California, USA.
Features: Overview
Some of the amazing features that HostArmada offers are:
24/7/365 access to customer support
Provides 99.9% uptime
45-days money-back guarantee
Web server cache
1-click WordPress install
Free website transfer
Unlimited databases and emails
Unmetered bandwidth
Provides SSD storage cloud
Daily backups
Free SSL
Of course, there are a lot more features and outstanding services that HostArmada offers. But before getting into the details of the features, let's know how it starts.
How to start blog with HostArmada?
If you are tired of your choice of web hosting or searching for a new host that has great and affordable features, HostArmada gives you an easy transfer option.
Here is a simple tutorial for you to easily start your blog with HostArmada hosting. Follow the step-by-step tutorial to start.

Select the most suitable plan from the above options and click "plans and pricing". You will find 3 shared hosting packages as follows: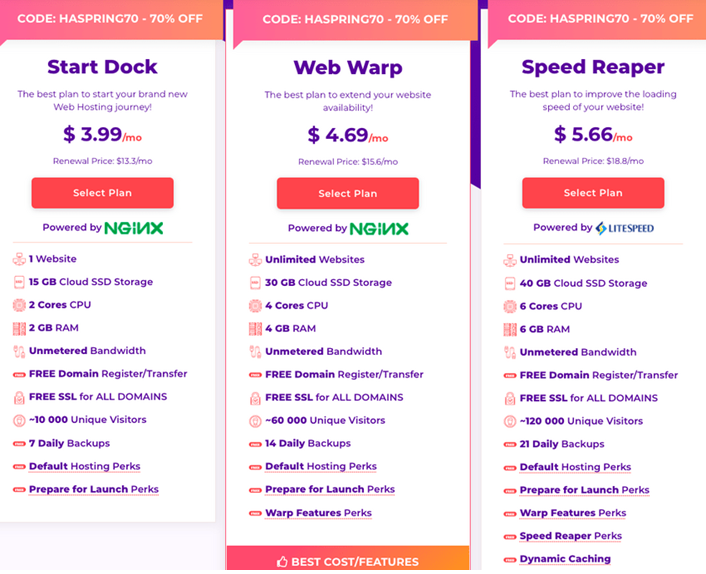 If your budget is limited and you want to host only one website, the Start Dork plan would go well for your limited budget. However, we would suggest you also try Speed Reaper and Web Warp plans as you can get unlimited sites' installation in these two plans.
After selecting your preferred plan, you will be redirected to the domain transfer and registration page: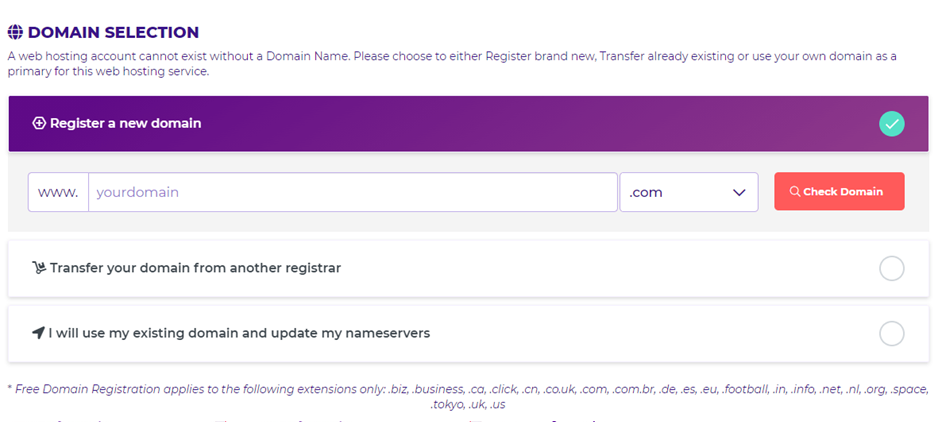 Here's a tip: HostArmada provides free domain service only to its customer. You can still use your existing domain from any other registrar and get hosting from HostArmada.
After this, you will be directed to the billing cycle. Here, you will choose your billing cycle.
It is advised to use their 36-month billing cycle. In this way, you will be charged for 3 years on a basic plan equivalent to $3.99 per month. For the 1-year plan, you will be charged more after one year because of the renewal rates which are always high.
Moreover, it is important to choose the data center that is nearer to your target audience so that you can provide them faster experience.
Next, proceed to payment. You will get an email of confirmation from the HostArmada team.
The basic plan, Start Dock gives you FREE domain below $48 and one year of hosting.
After purchase, you can contact their support staff to install WordPress, SSL certificates, etc. All these basic and important features are free.
User Interface
Here's an overview of how the user dashboard in HostArmada looks like: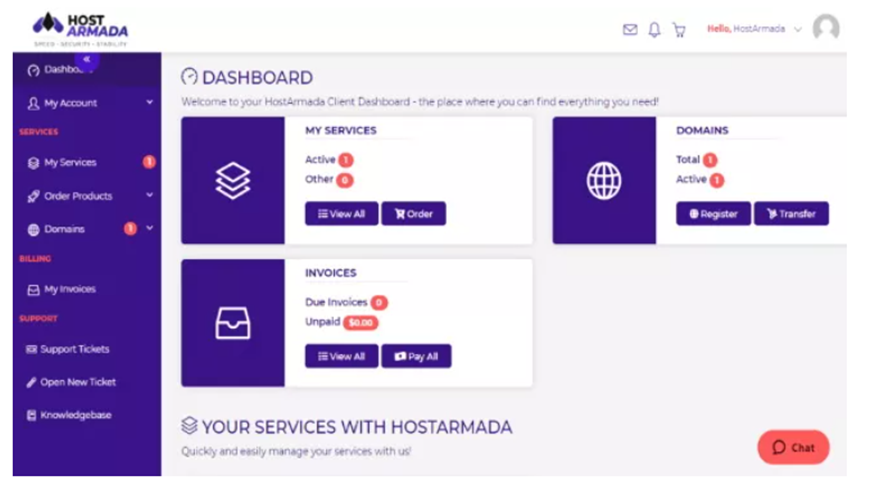 This dashboard is intuitive and helps to manage the email accounts, hosting services, account information and log into your cPanel and a domain. HostArmada offers an industry-standard control panel.
If you are a beginner, you will still find it easy to manage all the features for your new website. If you get stuck, you can simply watch their beginner-friendly tutorials.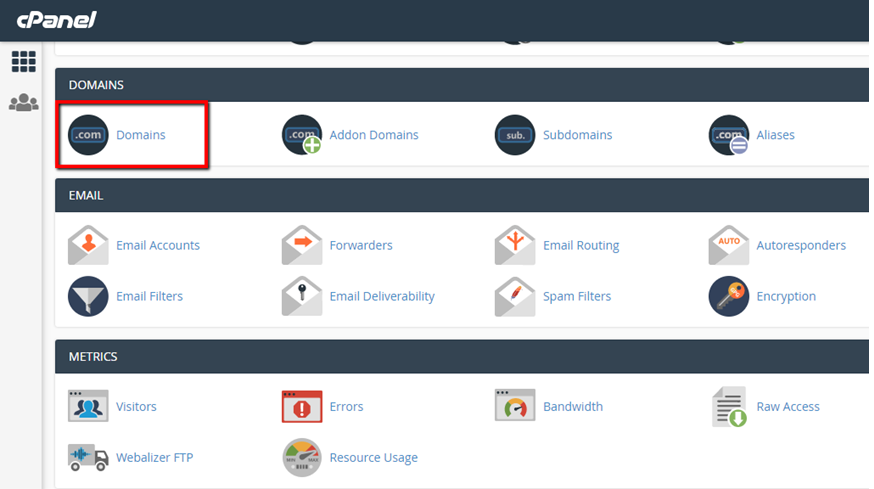 This cPanel lets you easily install WordPress in a few clicks. The one-click installer, Softaculous makes it even easier. You also get a ready-made template with HostArmada to make your website a million dollars. However, you can still use another no-code website builder.
Also, you can see from the above cPanel that it allows a quick access functionality to help you manage everything. In everything, it includes databases, add-on domains, backups, file managers and email accounts.
Performance and speed
A quick test of using a website hosted by HostArmada revealed the speed and performance status. Here we present to you the experience so you can get an idea of their hosting performance.
The report with GTMetrix shows that their hosting is extremely fast. Also, the performance shows 99% out of 100 and the score on YSlow is 92%. The loading time of the website was 3.5 seconds. It is at the borderline of the recommended limit.
HostArmada claims to provide 99.9%. You are entitled to get 10% to 100% credit if you experience downtime that exceeds the promised time. In our test run, the UptimeRobot recorded a downtime of only four minutes so the total uptime was 99.98%.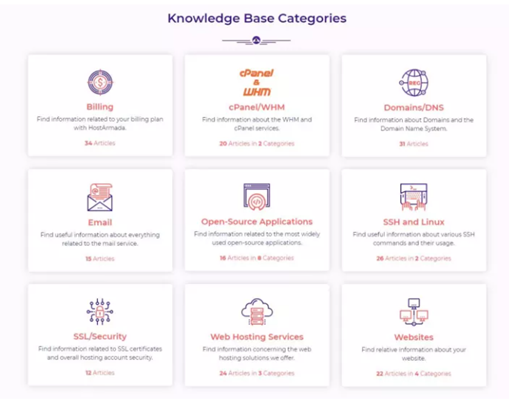 Mostly, the performance and speed of your website depend on the hosting data centre you select. Thus, it is most important to pick the data centre closest to your target audience. It will give them fast browsing and loading times.
Google Web Vitals reports the following performance parameters;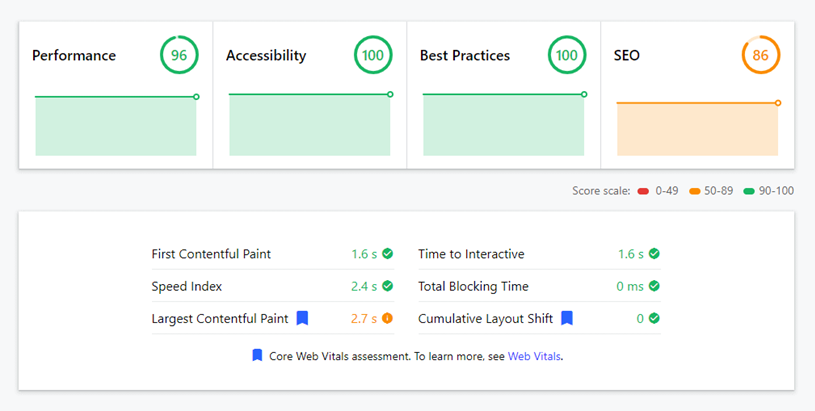 It is apparent that the overall best practices, accessibility and performance are exceptional for the hosting services of HostArmada.
You will find the loading time to be extremely faster. In short, the overall website speed, uptime and performance offered by HostArmada are outstanding.
Pricing and Plans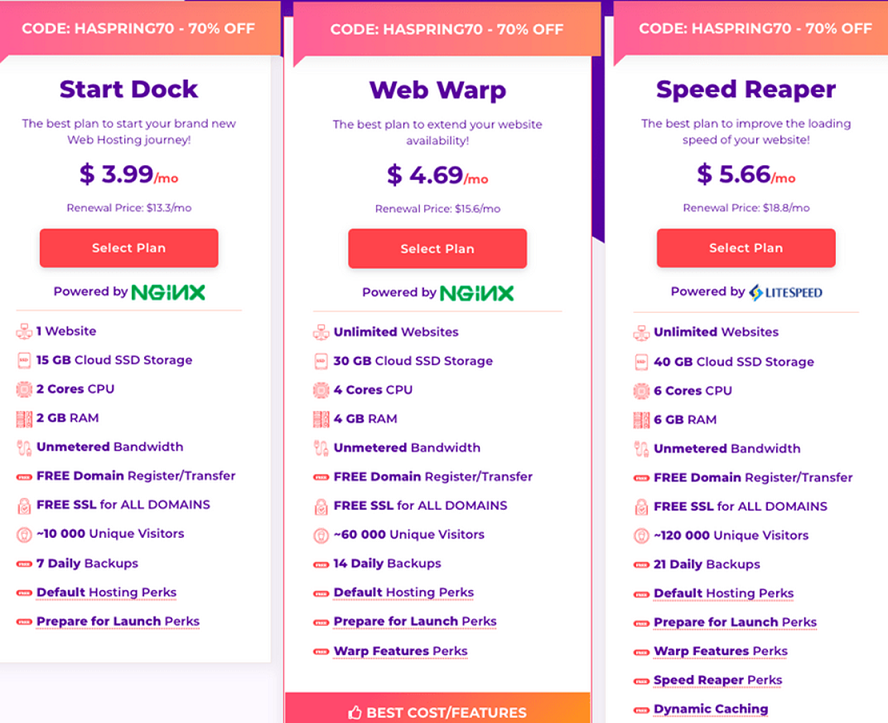 The plans offer by HostArmada for web hosting are attractively priced. It offers three pricing tiers with managed cloud SSD:
Start Dock is the cheapest and the most affordable shared plan. it costs $3.99 per month where you will find very amazing features such as:

7-daily backups
Suitable for almost 10,000 unique visitors
Free domain transfer and registration
Unmetered bandwidth
2 GB RAM
2 cores CPU
15 GB cloud SSD storage
Install 1 website
If you want unlimited domains or websites, Web Warp is for you. It costs only $4.69 per month. With this plan, you can enjoy the features such as:
Free private DNS
14-daily backups
Suitable for over 60,000 visitors
Over 3 free domain transfers
Free domain registrations
Unmetered bandwidth
4 GB RAM
4 core CPU
30 GB cloud SSD storage
Unlimited website installation
This plan is most suitable for ultimate website speeds. The plan costs $5.66 per month. In this package you will find the following features:
Dynamic LS caching for WordPress
LiteSpeed webserver
Free private DNS
21 daily backups
Suitable for sites with over 120,000 visitors
5 free domain transfers
Free domain registration
Unmetered bandwidth
6 GB RAM
6 Core CPU
40 GB cloud SSD storage
Unlimited website installations
These seem to be very attractive and reasonable. Right?
However, the pocket-friendly plans are promotional type and you will only get benefit from these in the first sign-up. The regular rates will account afterwards that will be three-four times higher than the process you find in promotional ones.
These plans may appear cheaper at first but be mindful while spending on HostArmada as the prices significantly increase on renewal as well.
Yet, you can upgrade to any of the higher plans with the growth of your site without any issue. All you need to do is to go to the "Upgrade Centre" in the Client Area of HostArmada. Pick your required plan from there.
The technical support team is 24/7 available if you still feel any issue regarding the upgrade.
Top five benefits of using HostArmada
Why would you choose HostArmada if there are hundreds of other web hosts in the market?
What difference does it offer?
Here, we are going to discuss the top 5 benefits of using HostArmada for web hosting.
1. Tons of freebies!
The biggest reason to choose HostArmada as a web host is that they offer an incredibly long list of features for free. These include:
Free private DNS
Except for the basic hosting plan, you can access their Free private DNS.
Free domain transfer and register
Mostly, the web hosting companies charge extra for registering domain names. HostArmada offers it for free. You are not required to pay for the renewal of your domain as long as you are their customer.
You can also get a free domain transfer if you have a domain from another host.
Free daily backups
It is indeed a daunting task to maintain daily backups of your websites. However, if you do not want to lose any data from your website, then you need to take care of the daily backups. You, the web host, has to provide backup options. But some hosts charge an extra in their premium packages to provide backups. HostArmada offers it for free.
The cloud SSD has an automated cPanel backup service in HostArmada. So it is easy to restore all your files if you accidentally lose any data.
Free SSL certificate
If you want to secure your site or domain from HTTP to HTTPS, you need SSL certificates. They help in establishing an encrypted connection in a secure way between server and browser.
Also, note that Google gives more weight to the domains with HTTPS in their domain names.
You get free SSL certificates with HostArmada for an unlimited number of domains. It depends on your chosen hosting plan as well. Above all, if you need help, they will install an SSL certificate for free.
2. Bulletproof security
WordPress websites are highly prone to be hacked.
Once, the website is hacked it holds the malware and on several occasions, hackers start to redirect your users to malicious sites.
It is the reason that you have to be very careful with your website security. Especially, if you run a new site.
Your web host plays a vital role in terms of your website security. Luckily, with HostArmada hosting you get an incredibly large number of security features so that you can secure all your website on their servers.
Some of the major security features that HostArmada offers are:
Preventing the DDoS (distribution Denial of Service) attacks
SQL injection and XSS attack threats are well taken care of with Web Application Firewall Solution (WAF)
DoS attacks are further reduced by "connection limit" so the number of requests per second on a single IP address is controlled.
Besides these, frequent malware scanning, proactive zero-day attach detention, intrusion detection, and live security monitoring is also performed.
3. Free migration
If you are trapped with a host you don't like and you want to migrate your site to a better one, then it is an effortless task with HostArmada. HostArmada offers free site migration.
It is easy to migrate everything from emails, databases, folders and files to their servers. This entire service is available free of cost.
It only requires you to contact their customer service to buy hosting and ask for free migration. The rest of the technical part, they will see it.
In addition to the free website migration, you can also get free services such as:
Free website transfer
Free SSL renewal on all domains and hosting services
WordPress installation
Free SSL certificate installation
The best part is that you also get a free domain name. They also take care of its renewal for free. If you have not purchased a domain name yet, then this is a great offer if you are looking for an affordable host.
4. A limited number of clients per server
Shared hosting plans are more common because of "affordability". However, there is a major concern in shared hosting. It is "shared" among many people working on the same server.
When too many people working on the same server the loading time of each website is increased too much. The major issues with shard hosting are frequent downtime and slower loading times.
New web hosting platforms such as HostArmada allow fewer people to use a single server. In return, you will get better resources such as low server load, performance, speed and CPU.
As a result, you do not have to compromise on downtime or speed. HostArmada claims to provide 99.9% uptime.
Besides, the shared hosting plans come with cloud SSD drives. This is because they perform 300% faster than HDD drives.
5. Fast loading times
The faster loading websites are very important, especially for blogging. Your website visitors are happier when the loading times are faster. It also helps in better SEO generation.
Google is a big fan of speed. So your page has a higher chance of a high ranking if the website speed is high.
Meanwhile, google hates slow loading websites as they downgrade the user experience to a significant extent.
If you are looking for the fastest website hosting to serve your website, HostArmada can be a good option. It is because their technology for loading times improves your overall website experience.
HostArmada uses the following techniques to control the loading times of websites:
Brotli compression decreases the page size and ultimately the loading time
Free Cloudflare CDN makes it possible for everyone to experience fast loading time
Memcached cache
LiteSpeed Cache that speeds up WordPress sites
Using cloud SSD drives that increase writing and reading time to 300% as compared to the conventional HDD.
The LiteSpeed Web Server outperforms both NGINX and Apache web servers. That is why HostArmada chose to use LiteSpeed Web Server.
About their customer support
HostArmada claims to provide 24/7/365 customer support assistance. They offer support through various means such as live chat, ticketing system and phone.
We love instant responses from customer support. So, we rate their customer support as 10/10. They also offer free support on phone for their customers.
The customer support team is highly knowledgeable and experienced. They provide a faster response for their users. You can get help in all aspects such as SSL installation to cPanel assistance, transfers, or domain registration or in anything that you want.
Pros and Cons of HostArmada
| | |
| --- | --- |
| Pros | Cons |
| Multiple security firewalls to protect from all vulnerabilities | Promotional plans are valid for signup only. |
| SSD storage with all plans | Regular prices are charged upon renewal |
| Free drag and drop builder with all shared plans | The renewal pricing is 3 times the introductory prices |
| Optimal speeds are made possible with 9 data centres | LiteSpeed web servers are only available with the most expensive plans |
| Superfast customer support available 24/7/365 | |
| Offer a 45-day money-back guarantee | |
| Free website migration | |
| Fully managed control panel | |
| Free daily backups | |
| Free domain for customers | |
| Shared hosting plan starts from $3.99 per month | |
| A lower number of clients per server | |
Step by step ways to register a new domain with HostArmada
Click on the domains tab as you reach the homepage.
Step 1:
There are two options to register and extend the domain through several extensions.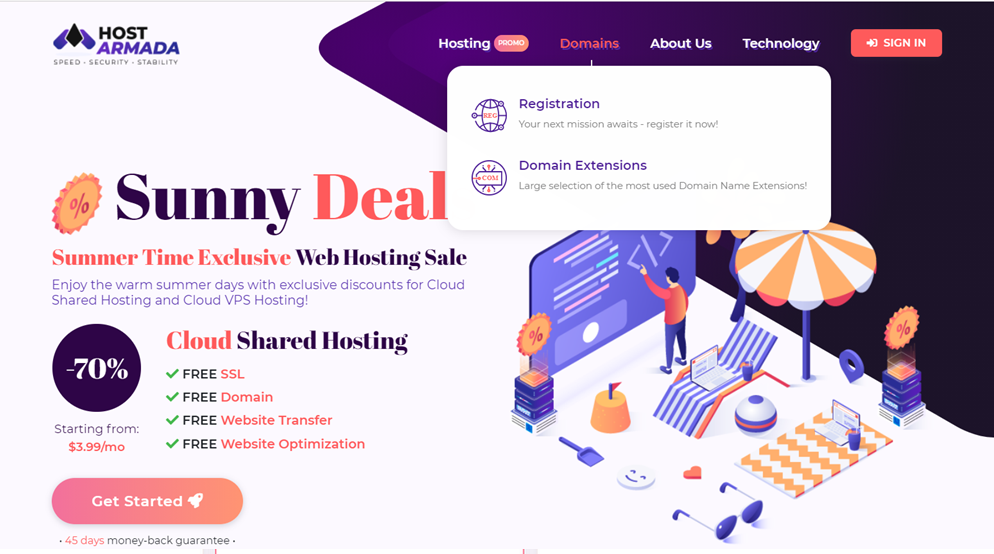 Step 2:
First register and then it will direct you to the following tab: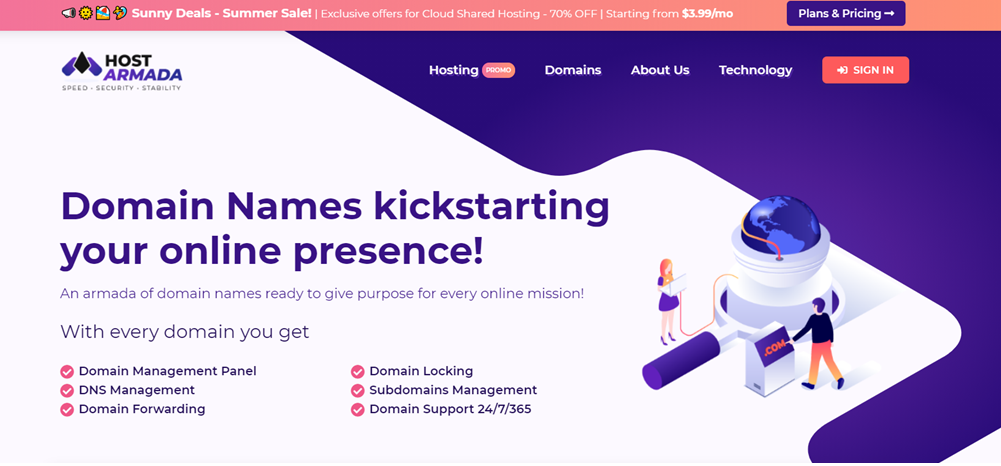 Step 3:
This page also enlists the advantages you will get from HostArmada. It offers vast benefits ranging from 24/7/365 customer support, domain notifications, flat pricing with renewal and choosing a domain name.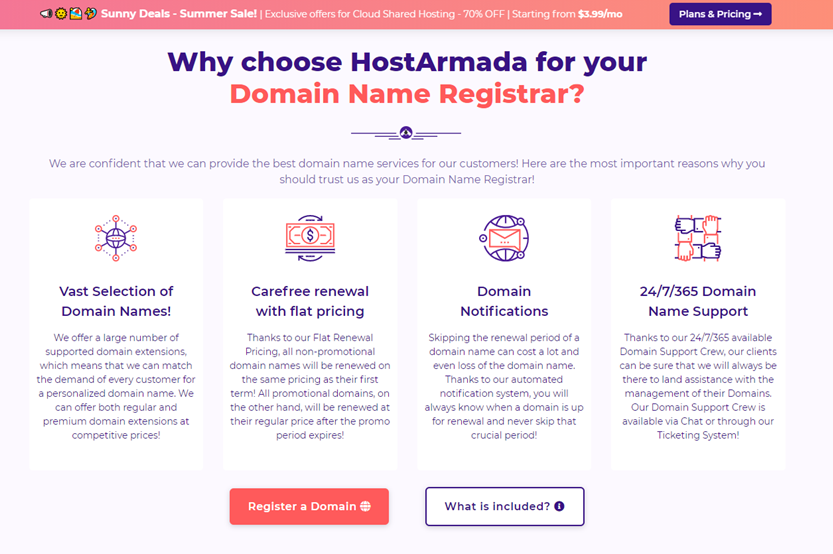 Step 4:
Register a domain and you will be directed to this page for further proceeding.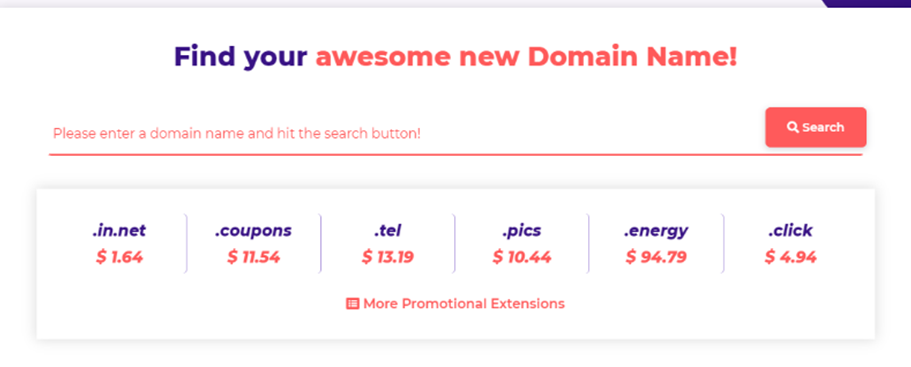 Step 5:
Below this, you will find exciting extension names for the domain it includes almost all extensions that are used throughout the world.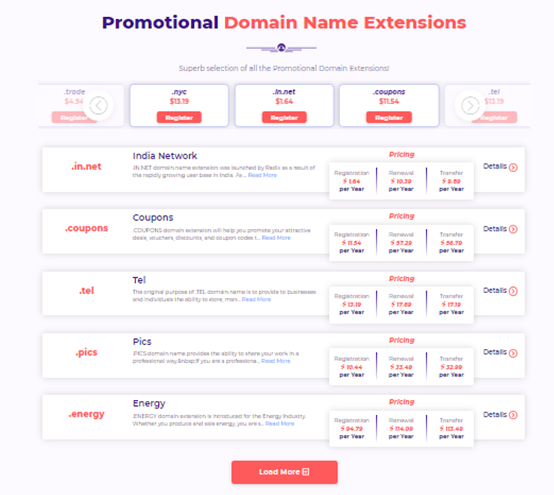 Step 6:
After selecting the required extension, go back to the top. Type the domain name in the given space and search for its availability:

Step 7:
Choose a unique domain name. We have selected the following dummy name as a demo.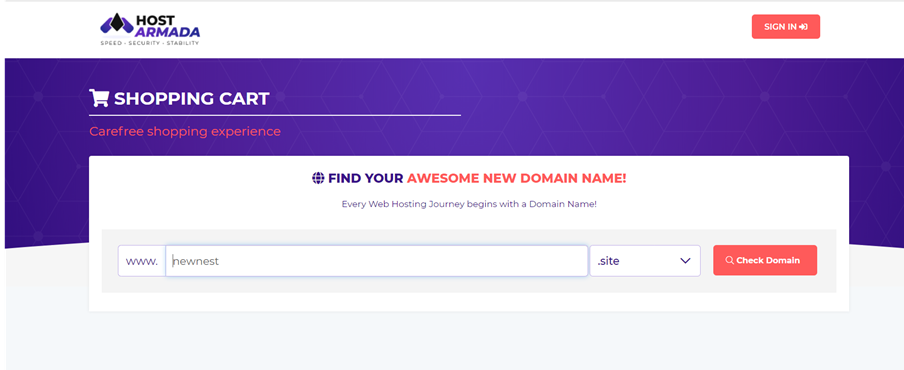 Step 8:
After entering the domain name and selecting the domain extension, click on the "check domain" button. If the domain name is available or not, you will be given a popup notification.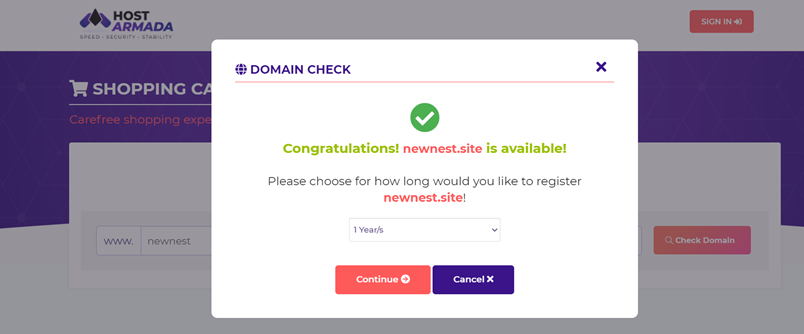 Step 9:
Select the duration you want to register with HostArmada with this domain name.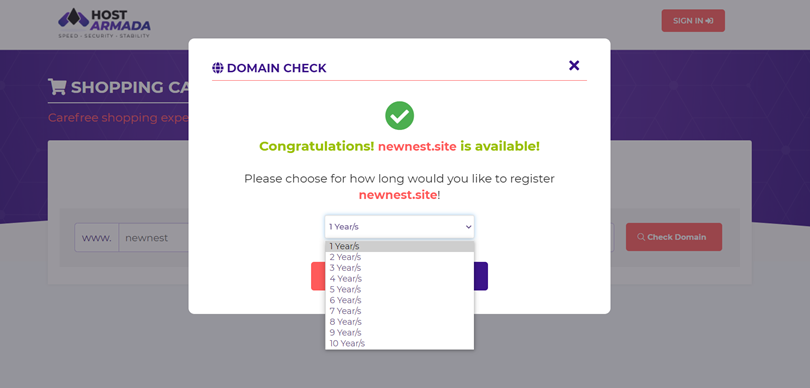 Step 10:
Now, tap "continue" so you will be directed to the checkout page.
At this stage, you can also add the hosting site for the domain before checkout.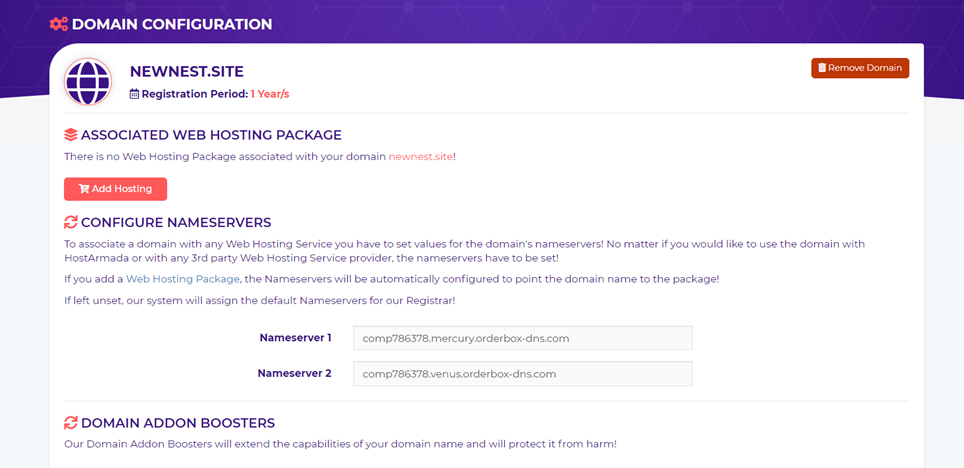 Step 11:
Here you can also choose the add-ons from the boosters given below. These will also protect your domain from any virus.

Tap the continue button and your domain will be protected from any cybercrime and will be under advanced safety.
Step 12:
Next, you can see the available services with the prices as well.

If you have any promo code, add it here to get exciting features and then proceed to checkout.
Tada! You have registered the domain with HostArmada!
Registering a domain for free
You can get free registration for high-level domain extensions. If you are interested to get free registration then possibly you should get a hosting package. Currently, HostArmada offers transfer and registration of the purchased domains for the following extensions:
.com.br.
.click;
.business;
.futbol;
.tokyo;
.uk;
.eu;
.ca;
.org.uk;
.de;
.info.;
.biz;
.us;
.org;
.net;
.com;
Transferring a site to HostArmada
It is a simple process. Yet, you should keep a few things in mind before you transfer the domain to HostArmada. It depends on the domain extension or top-level domain. Here are some of the most important ones;
WHOIS search should show the personal info on transfer or with the alternative words without enabling the privacy protection services.
The expiry date of the domain name should be set to fifteen days at least before the client applies for the transfer
The domain name should be registered already for a minimum of sixty days.
The client has to be given an EPP code of transfer which is obtained by the registrar name
The client is given access to the executive contact email that is used with the domain.
The domain name that is to be transferred should be transferable such as OK or ACTIVE.
Reviews from Users
What do the users think about HostArmada? We have searched different platforms to collect user reviews:
On TrustPilot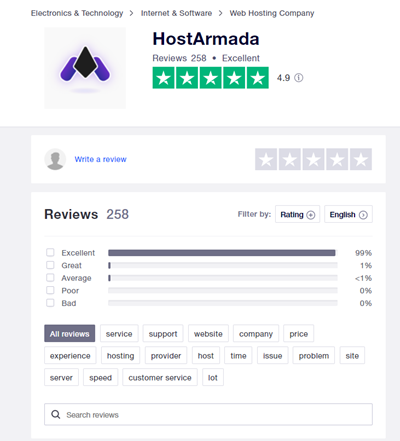 On TrustPilot, HostArmada has very good reviews (4.9 out of 5) and most users have posted happy reviews about their services.
On Facebook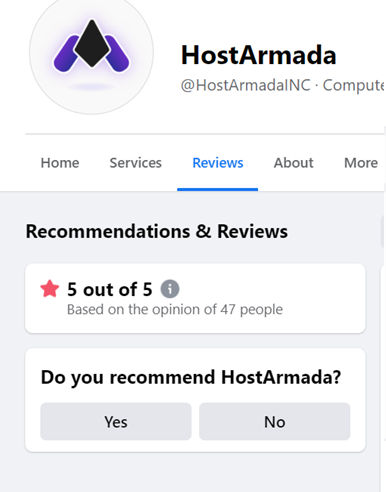 Facebook also shows 5-star ratings from their customers.
Therefore, customers who use HostArmada are pretty satisfied with the services and features offers by HostArmada.
Final verdict
HostArmada is a host that was established quickly in the online world as a top-notch hosting company. It provides 24/7/365 customer support, a secure and faster hosting service. The cherry on top is the extremely affordable pricing plans.
Besides, you also get a dozen of incredible hosting features such as SSD storage, backups, website migration and a free domain.
Are you still waiting and thinking? It is probably one of the most affordable hosting choices you will find.

As one of the co-founders of Codeless, I bring to the table expertise in developing WordPress and web applications, as well as a track record of effectively managing hosting and servers. My passion for acquiring knowledge and my enthusiasm for constructing and testing novel technologies drive me to constantly innovate and improve.
Expertise:
Web Development,
Web Design,
Linux System Administration,
SEO
Experience:
15 years of experience in Web Development by developing and designing some of the most popular WordPress Themes like Specular, Tower, and Folie.
Education:
I have a degree in Engineering Physics and MSC in Material Science and Opto Electronics.